25 Elegant Black & Silver Nail Designs in 2021
#20. Silver Floral Marble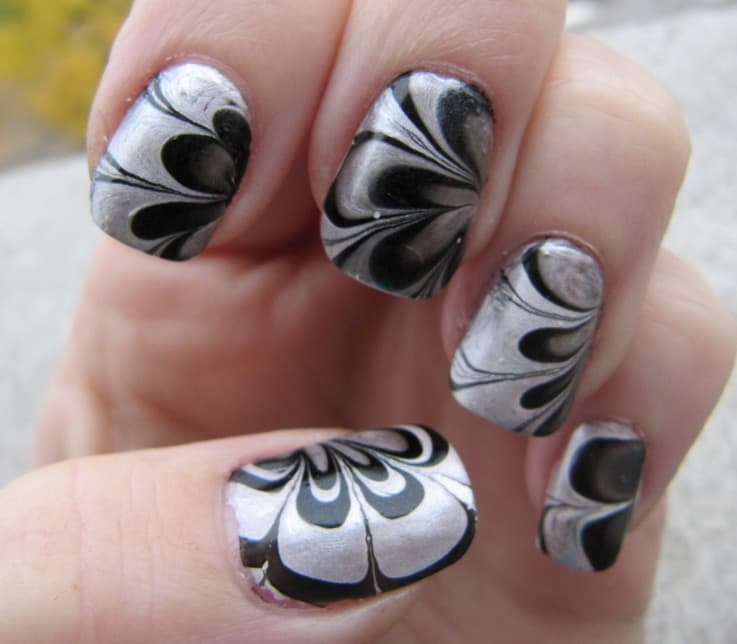 A nail trend we can't get enough with, marble nail art. A canvas of abstract art delivered at your service, with simple drops of nail colors infused in a bowl of water, and captured by your short squared nails. Combine nail design's hottest trend with the gorgeous shades of black and silver to get this floral marble nail design.
#21. Creative Chevron Design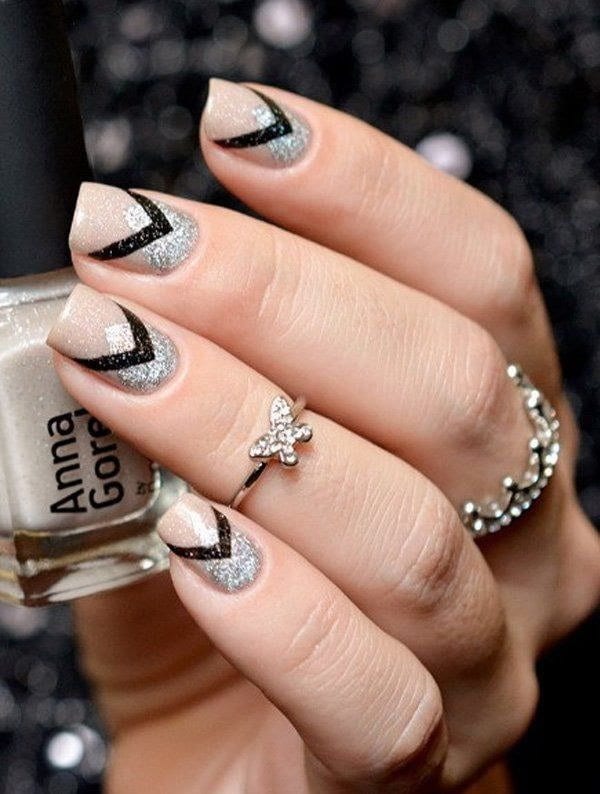 Nude, black, and silver glitter nails. What more can anyone ever ask for? Get sensational final appearance with this not so black and silver nail design. Chevron nails created with a hint of creativity and splash of glitter of course. If you're ever looking for a red carpet worthy appearance, these nails are your go to for that Hollywood vibe you're aiming for.
#22. Silver Tipped Black Nails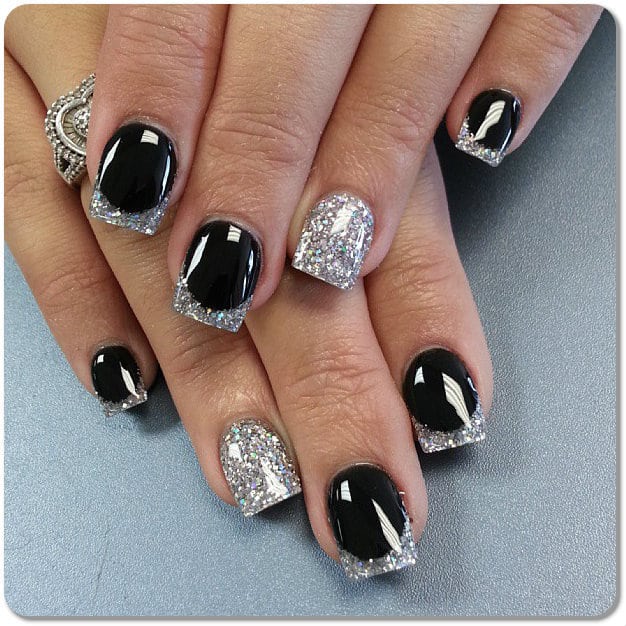 Wondering in the alleys of Paris the city of style and fashion, you pass by different shops and stores, small cafe's with the simplest eye-catching decorations, a bridge might be made for transportation but its beauty made it a tourist attraction, and once you raise your head just a bit above those old charming buildings, you see it, that magical architectural wonder; The Eiffel Tower. As you wonder in those alleys capturing all these photos, wonder fashionably with this black and silver nail design. French styled Black nail design tipped with silver gradients.
#23. Striped In Black & Silver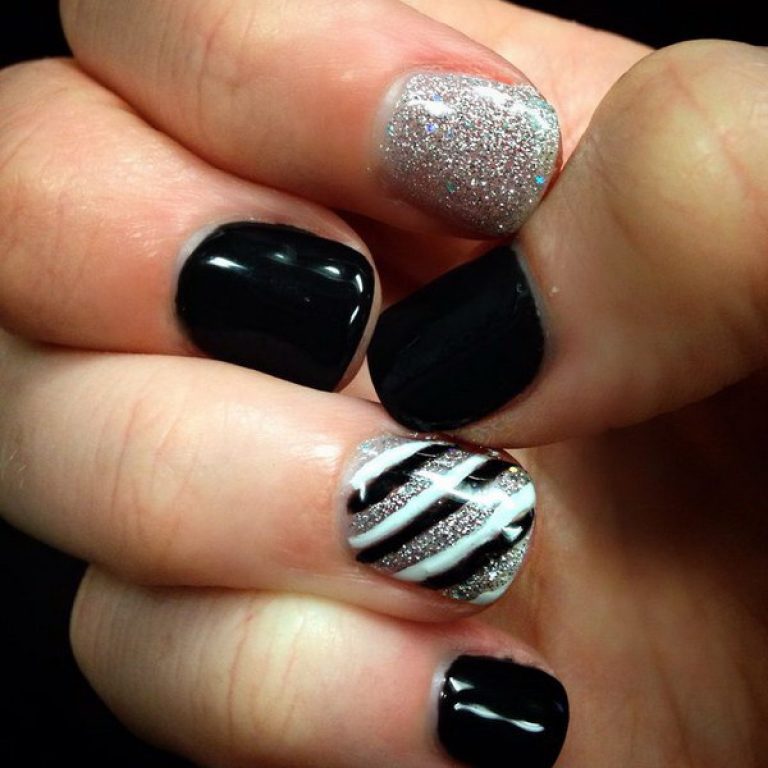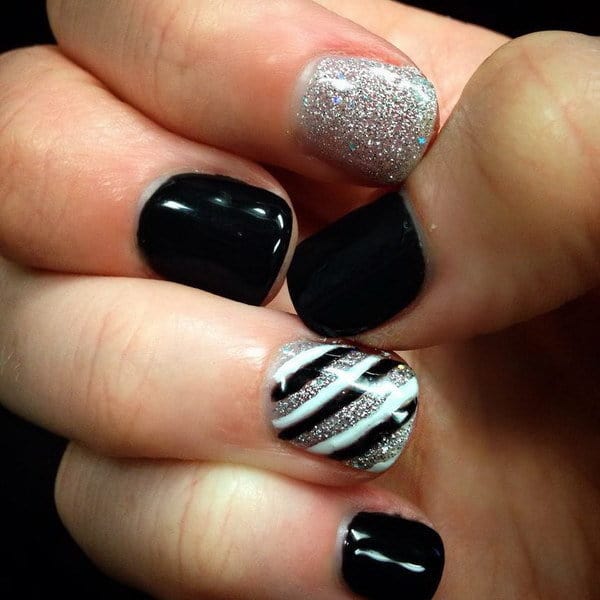 Twist it up a little. Why settle for a basic nail art, when you can mix all your favorite designs in the world of nail art. Combine the colors of elegance with glitter and stripes and you'll get this beautiful black and silver nail style.
#24. Cross Chained Design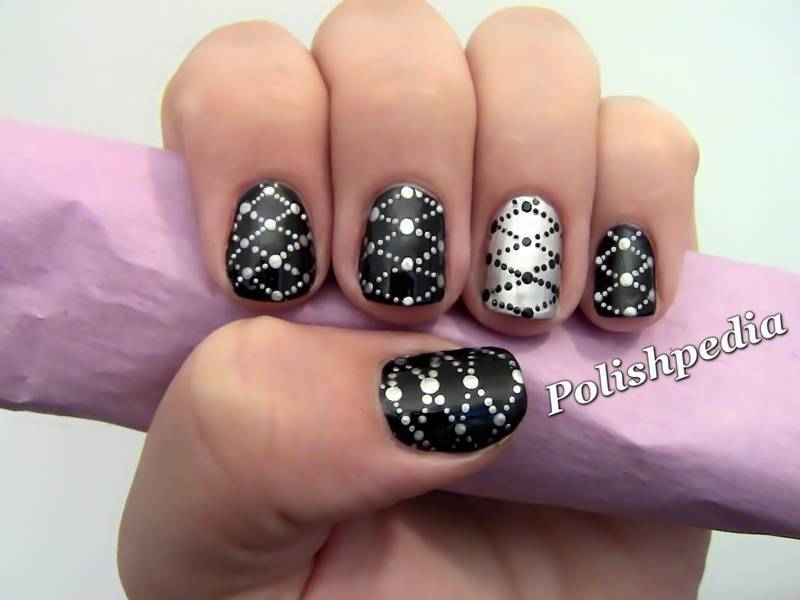 Show off your tough fierce personality with this edgy black and silver nail design, by creating these silver cross chains vibes on your plain black coated nails. Black has always been a color representing both violence and vulnerability, these stylish nails won't scare people away, but they certainly don't show any vulnerabilities.
#25. Silver Gradient Ombre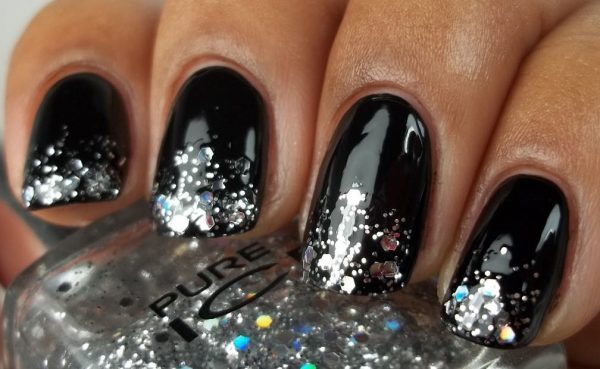 Bedazzle your regular glossy black nails, with fading silver gradients at the top of each and every black polished one. A design so glamorous in its simplicity, with these star-like gradients above the night's deep black sky.
Just as mirrors reflect our image, our outfit represents our mood and emotions… Haven't you heard the phrase "dress as you feel"? Our nails being an important aspect of our whole outfit nowadays, certainly unveil a part of personality. With nails designed with fierce dark black and creative joyful silver get everyone wondering what is hidden under your fabulous elegant style.