What Are Coffin Nails? All You Need to Know About
Try to imagine a coffin – how is it shaped like? The variation that I'm thinking of is not just a plain old one. There's this type with a flat head and it widens from the edges for a bit before narrowing back at the end of the cuboid shape.
Coffin nails will roughly resemble this design, depending on the filing techniques and your nail length. In this article, we will review some general guidelines and information about this nail shape.
Are Coffin Nails for Me?
Coffin nail designs are for you if you are attracted by sharp pointy nails but want something more manageable! After all, this nail shape is a trendy and elegant variation that you can try instead of the usual square, squoval or oval nails.
Whether you prefer your nails long or short, coffin-shaped nails can look awesome on any nail lengths! Even if your fingers are leaning more towards the stubby side, you will find that this nail shape gives the illusion of longer and thinner fingers.
As a bonus, you wouldn't need to worry too much about accidentally poking yourself as you might with stiletto nails designs. Coffin acrylic nails have just part of the sides filed off, so it's definitely stronger and more durable than the stiletto type.
20 Short Coffin Nail Ideas to Inspire Your Next Mani
Can I DIY This Nail Shape?
Sure you can!
If you're planning on using acrylics, you might want to consider growing out your nails a little first. This is especially true if you have the nail-biting habits that will keep your nails way too short for this design! The acrylics will need some space on your nails to stick and stay on.
Once you have grown out your nails quite some, you can start putting on your acrylic nails and shape or design them to your liking.
If you already have a comfortable nail length, you can start filing your nails at an angle that is just slightly diagonal from the sides so that your nails appear to narrow in around your fingertips. For best effects, keep filing in one direction!
After the sides have been filed off, square your fingernail tips using the file. You can consider rounding the edges of the tips a little if you don't want your nails to be too sharp.
As an added bonus, rounding the edges also helps to make your nails stronger so that they do not break off as easily!
Follow The Easy Procedure to Get Coffin-Shaped Nails at Home
Ballerina Nails vs Coffin Nails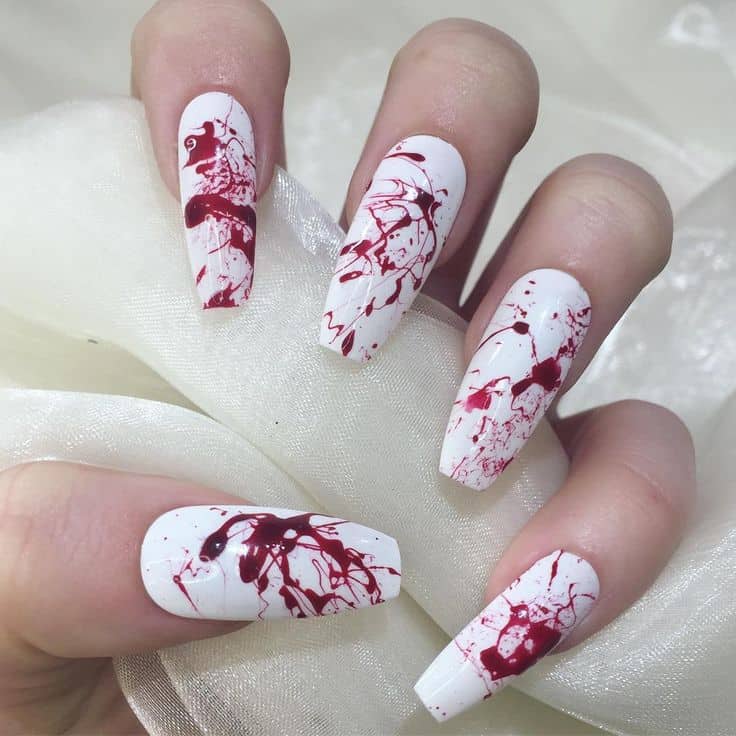 If you search for ballerina nails and coffin-shaped nails, you might the similarities very quickly. That's because they are actually different names for the same nail shapes! Both nail shapes are used interchangeably, and it's quite clear how that name came from!
The sharp edges of a stiletto or almond-shaped nails (depending on the length and form of your nails as you begin to file) are filed off at the end, giving it an appearance similar to a ballerina's slippers. Perhaps for those of us who prefer a less morbid term, 'ballerina nails' sound a lot better.
How Much Do Coffin Nails Cost?
Rather than having an absolute value for each nail shape, the cost is usually set for types of nails, such as acrylic nails, gel nails, so on and so forth. Nail designs and shapes which are more complex will also require a higher cost, but simpler ones such as short oval nails and ballerina nails with basic designs are most likely to be cheaper.
If anything, you should try visiting a nail salon once to experience it! In some places, you might be able to get a basic manicure for around $20 in low-end stores, and perhaps somewhere around $30 at the lowest cost if you're looking for full acrylic sets with certain nail shapes such as coffin.
The costs will soar up to the $100's and more at times if you want some special decoration, French manicure or holiday themes on your nails. As a general guideline, the cost increases along with your specifications and requirements. Of course, the costs will also increase as you visit more and more popular nail salons!
Anyhow, coffin nails are a must-have if you are going for an elegant look – perhaps for a wedding or an upcoming photoshoot, and it won't matter what type of nail polish colors you are using since this nail shape can easily match with any colors of your choice!