25 Cross Nail Designs To Uphold Your Christianity
A symbol can merely refer to which religion you belong to, it doesn't show how religious you are. The Christian cross is very popular among the Christian people, obviously, not all of them are pious. So, don't take the act of wearing a cross as the act of being pious. The cross is now widely used in many fashion designs. But you can wear the cross to uphold the religious identity of yourself. Anybody can get an idea about your religion from these designs.
The Christian cross is the representation of the biblical reference to the crucifixion of Jesus. And this cross is considered as the symbol of Christianity. In contemporary Christianity, the cross indicates to the sacrifice of Jesus and his victory over sin and death. If you want to have cross nail designs, you can read the whole article to get an idea.
Praiseworthy Cross Nail Designs For You
Cross nail designs are very simple to put into effect. It is nothing but two perpendicular lines intersecting each other. But, the length of two sides is not equal. Usually, the horizontal side is kept short. The Cross resembles the crucified body of Jesus, that's why the verticle side is long just like the body is longer than the hands.
You can draw the Christian cross both in colorful, black and white and grey nails to have cross nail designs. The cross looks good on every design if it is placed in the right place.
#1. Golden Cross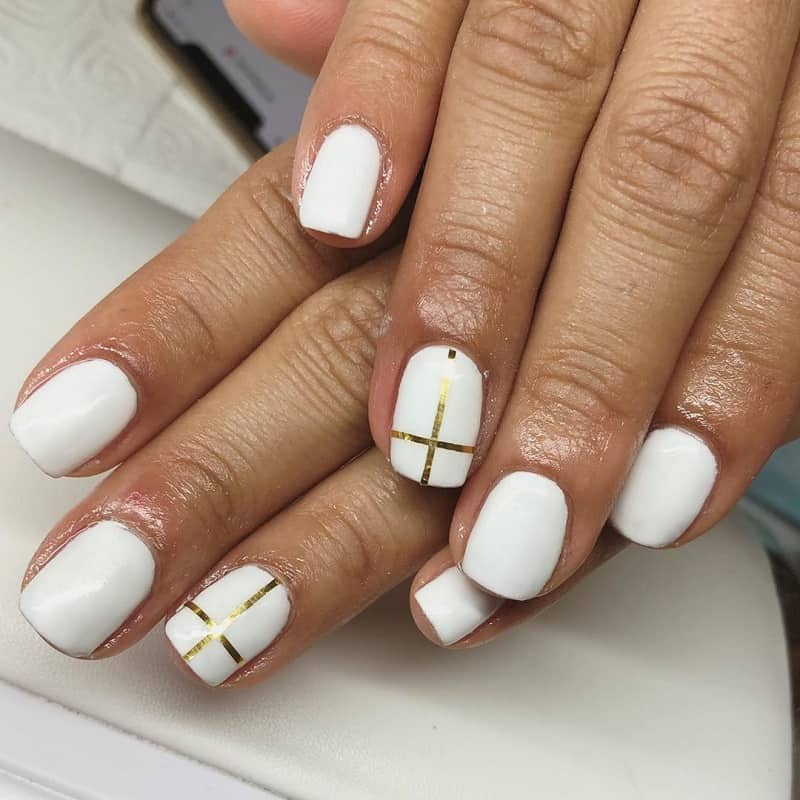 Upside-down cross nail design with golden thin lines will give your white nails a glamorous look. Apply the two lines on your rig finger and keep the nails short and sophisticated. 
#2. Hail Mary Red Nails
Wear Jesus not only in your heart but also on your nails! Red stiletto nails with cross design and small images with Saint Mary are all you need when Christmas comes. 
#3. Electric Green Nails with Cross
On a more gothic rebel note, cross green nails art that comes with a coffin shape will certainly get anyone's eye. They are simple but also sophisticated with a vibrant color that no one can not ignore. 
#4. Extravagant Christianity Nails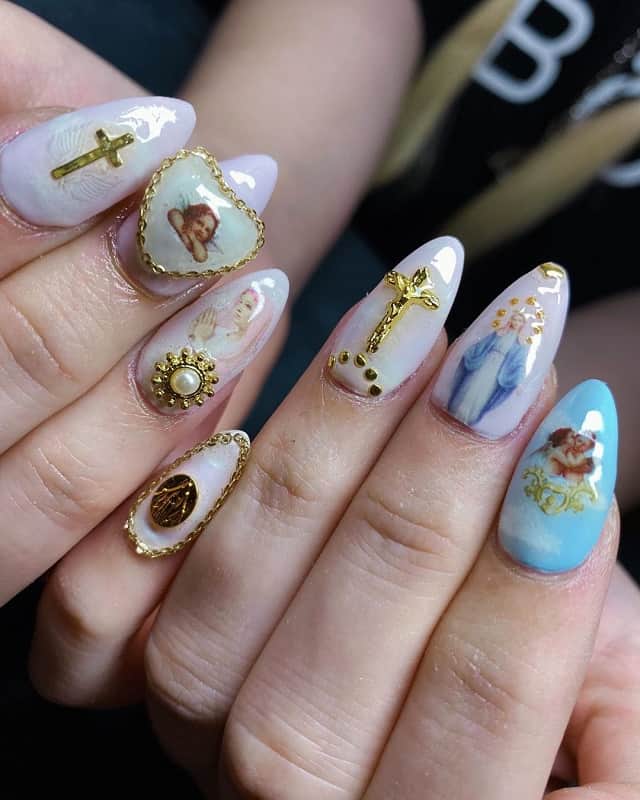 Around certain holidays we all become more pious. And you can definitely show that throw your artwork! If you adore this holiday, Easter cross nail designs that show small cute angels and cross should be on your to-do list.
#5. Gothic Nails with Highlighted Cross
When you want to state your status as a gothic queen, cross nail gothic designs will certainly stand out! Use acrylic to obtain that coffin long shape and apply on each nail decorative jewelry that represents your groundbreaking style. 
#6. Purple Cross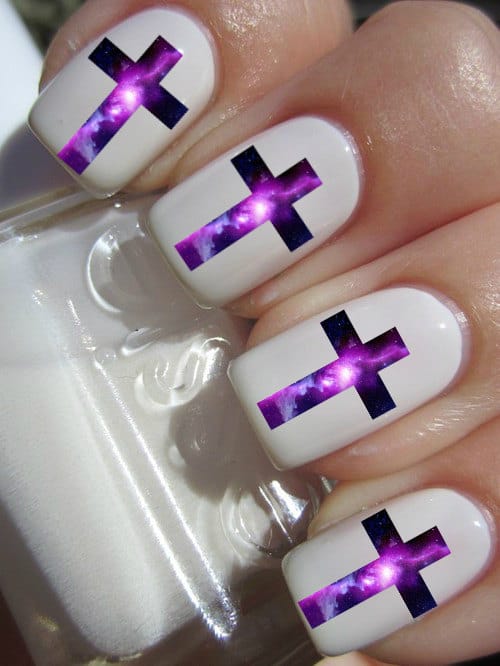 This design is very simple. Paint some purple cross on your white nails.
Thanksgiving Nail Art for Upcoming Festivals
#7. Crucified Stones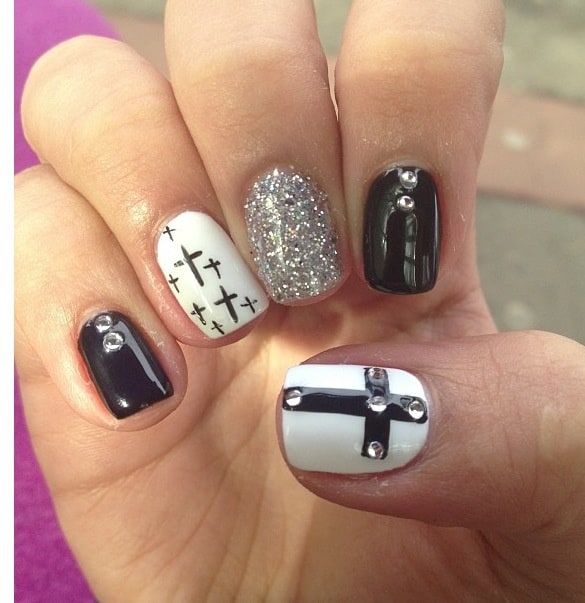 You can use rhinestones on a black cross illustrated on your white nail. Put the stones in the central and marginal point of the cross as if the stones were crucified. You can use glitters to give a bit extra shine on these cross nail designs.
The cross can be used very effectively to enhance the beauty of your red nails. Paint all your nails with neon red and keep one of them white. Then draw a golden cross to have gorgeous cross nail designs like this one.
#9. Negative Spaced Cross
Negative spaces can be used to have cross nail designs. Keep the cross-shaped part of your nails blank and paint the whole nails with black. Or, paint the cross shape with black and keep the whole nails blank. Thus, you will have your desired cross nail designs.
#10. Glowing Pink
This design is simply gorgeous. The pink glow of these nails is increased to a great extent with the presence of this cute and shiny cross.
#11. Around The Neck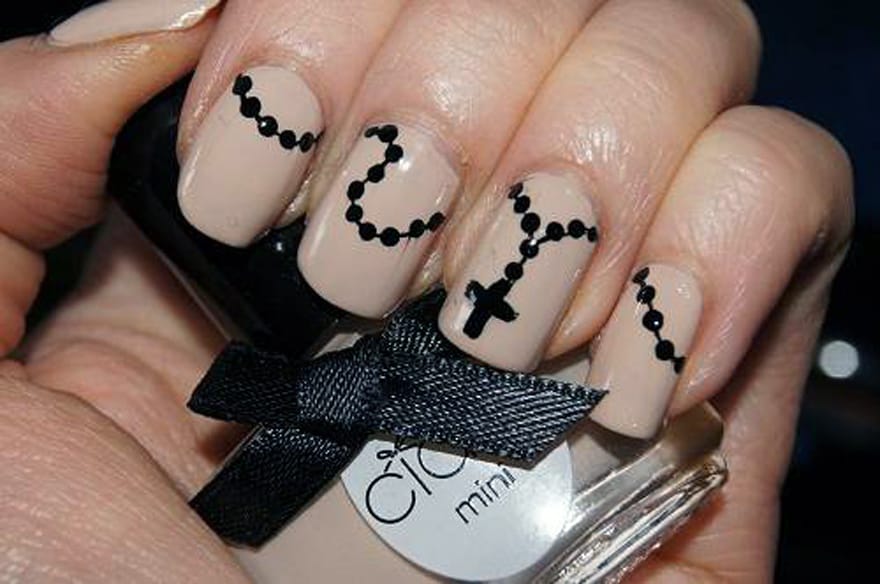 The conventional way of carrying a cross is hanging it around the neck. Since you can't hang this on your nails, let's let's create the image by painting. This is an interesting and creative cross nail design.
#12. Golden Cross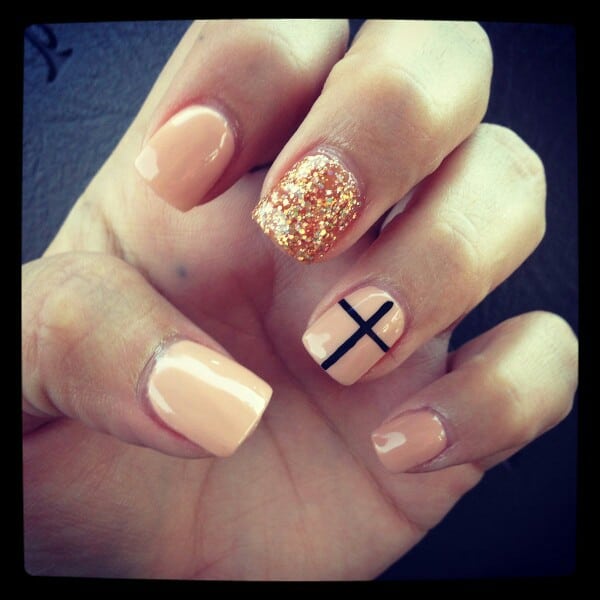 A glittery golden nail associated with a black cross is the theme of this design. You can have these cross nail designs done very easily.
Carry Good Luck with Ladybug on Nails
#13. Diversity
You will find diversity in these cross nail designs. Glue some diamonds on the nails giving it the shape of a cross. You can draw snowflake patterns and striped patterns along with the cross. Put a star on the plain red nails to add more diversity.
#14. Black And White Cross
The inseparable bond of black and white can be used in cross nail designs too. Draw some tiny black cross on your white nails. You can pant a nail with a locket having a cross on the top.
#15. Innovated Cross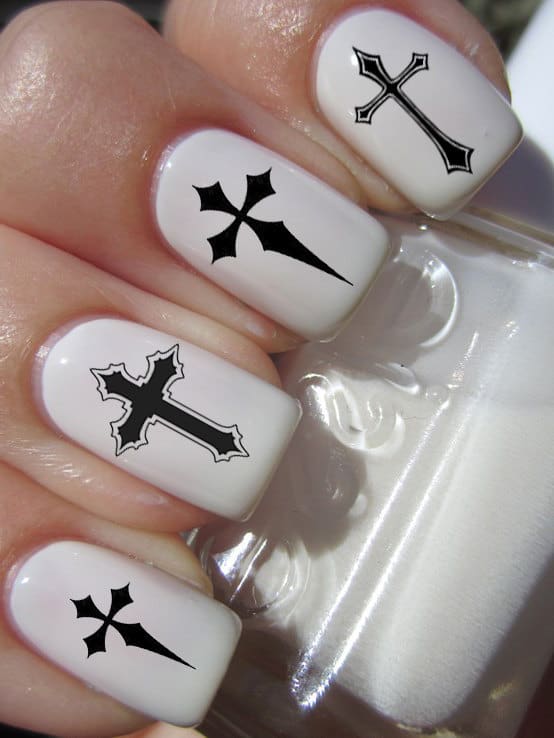 Bored with the plain designs of the cross? No worries, you can change them by improvising a bit. Conduct experiments with the marginal part of the cross. Don't change the proportion of vertical and horizontal sides. If the two sides become equal they no longer will resemble Christia cross.
#16. Shining Charm
If you want to have a shining charm, this is the right design for you. Shiny silver is used along with black color in this design. Draw some cross both in black and silver and you can paint these circular patterns too for your cross nail designs.
#17. Cross on Mosaic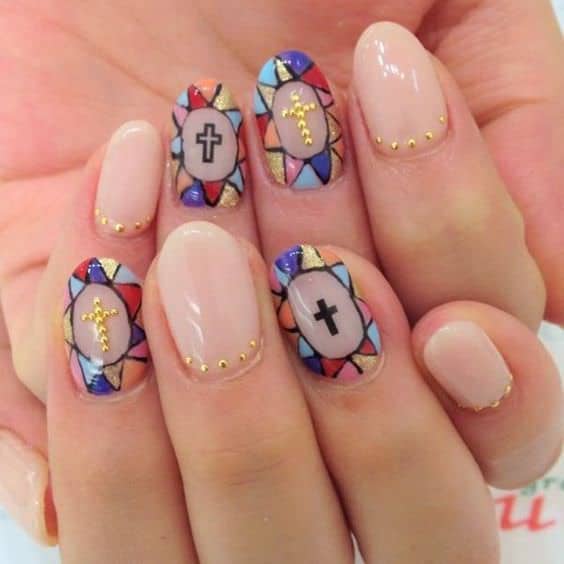 This design looks so stunning. At first, paint the edges of your nails with mosaic patterns using different colors. Then draw the cross in the middle of the nails. The use of tiny golden balls makes this design look more attractive.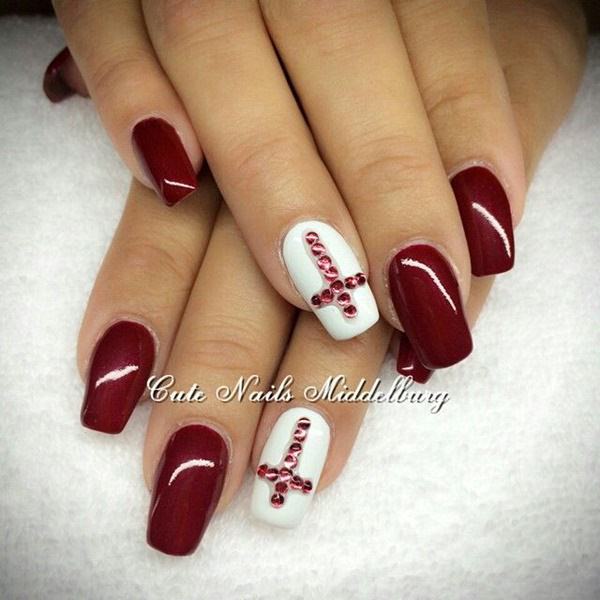 Maroon is such a color which complements any kind of designs. You can use maroon in your cross nail designs to have the magic of this beautiful this color.
#19. Cross Nail Art
This is one of the most wonderful nail art I have ever seen. The matte black pattern is so unique. You can design your nails like this. And paint the cross as if it was hanging on your neck. You must try such cross nail designs.
Trend Alert! Amazing Ballerina Nail
#20. Overlapping Cross
You can draw some cross overlapping each other on your nail beds. Use black, white and a deeper shade of blue color to paint the cross on baby blue nails.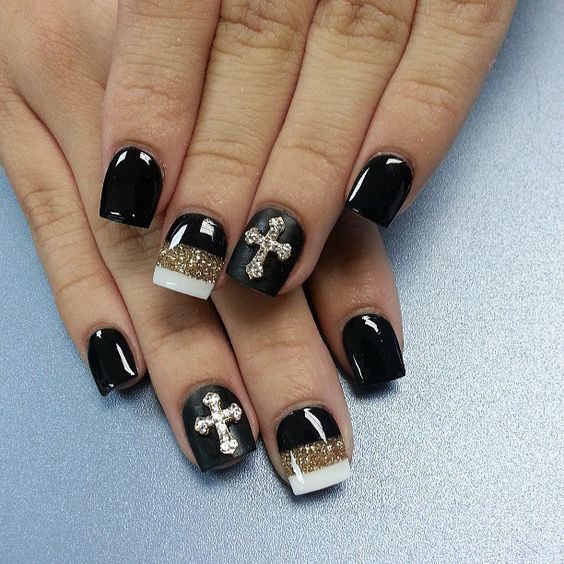 The use of black and gold glitter is very common and useful in nail designs. You can use both of these shiny colors along with stones and white to have your cross nail designs.
#22. Plain Plan
The plan is plain and simple here. Paint a bold and expressive black coss on your offwhite or grey nails. This will give a contrasting look to the cross nail designs.
#23. Dotted Designs
You can use black dots to give it the shape of a cross. Buff the drop of black colors carefully so that they look well-organized. shiny golden glitters used in the middle of the dots.
#24. Chevron And Cross
Chevron nails look beautiful for their simple but delicate designs. You can mingle across in between the chevron patterns.
#25. Beautiful Laces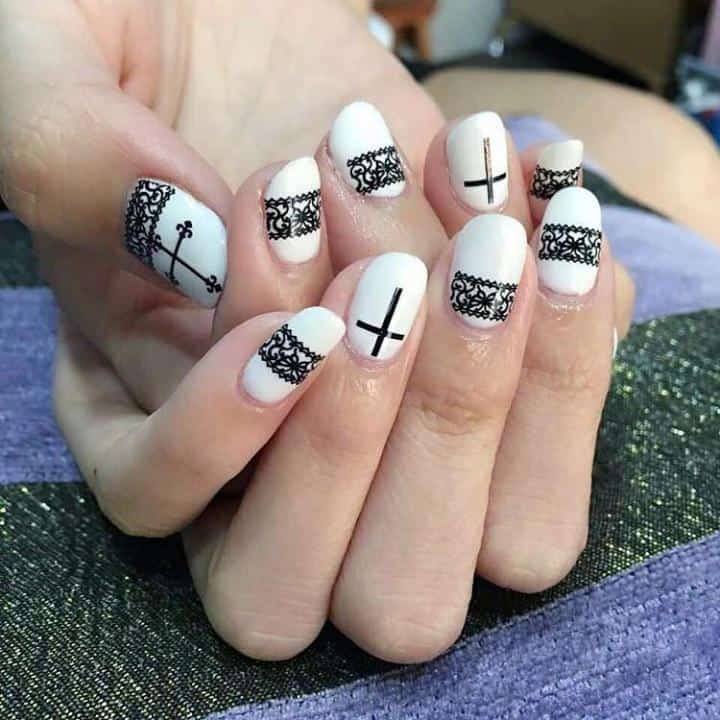 You can make the best use of lace designs by putting them in the middle of your white nails. Just paint a cross on any of the nails and you will get beautiful cross nail designs adorned with laces.
Fabulous New Year Nail Design To Celebrate
Alluring Cross Nail Designs to Try
The Cross is more or less identical to a specific religion. So, you shouldn't have any designs associated with this symbol which may hurt the feelings of Christian people. Your nail designs are not more important than communal harmony. I have depicted some flawless designs for you. Hope you all will find them useful.