55 Cutest Toe Nail Designs In-Trend Right Now
#11. Tropical Trees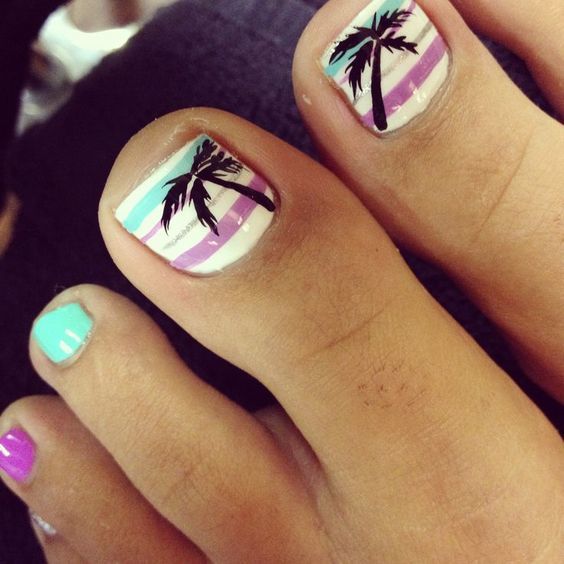 Are you sick and tired of all the stress lately and would just love to ship off to some tropical island with coconut trees and a great breeze to touch your warm cheeks and whip off your skirt's hem? Try this beautiful toe nail design!
#12. Coral Vibes

This shade looks great on a bright sunny day when you can go out for a stroll in the park or walk on the beach wearing your precious toe-exposing sandals. Decorating the big toe nail with fancy golden decals is always a great idea for further trendy looks.
#13. Neon Beach Lights

Celebrate summer with every limb of your body using this sparkling summer beach themed pedicure. Add all the seashells, sea stars, and pearls you want because they are plenty of creatures and colors in the sea and freedom of choice is something everyone should be granted of having! Using contrasting and distinct flashy neon hues only make this style more visually attractive and unusual.
#14. The Cherry Effect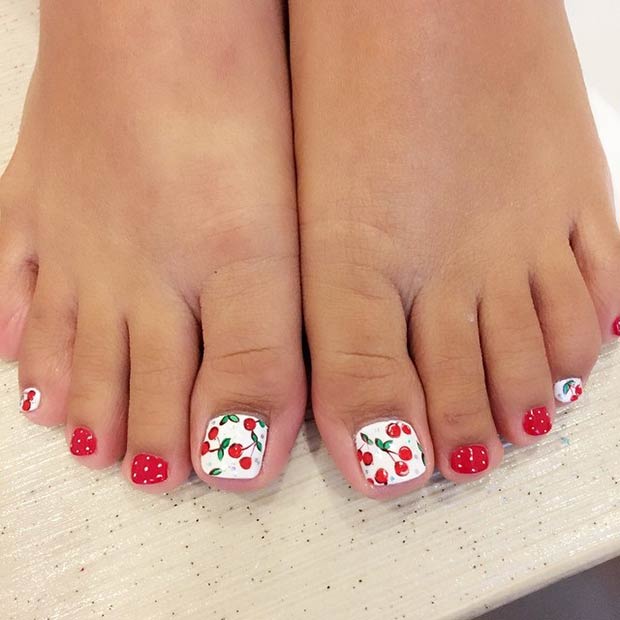 Cherries are considered more than just a delicious fruit in the U.S. They are famously known as a symbol of the cycle of life as well as death and rebirth. It seems like making cherries the centric part of your toe nail design is nothing but an inevitable fate of the circle of life. Very well then, -Cherry Mode On.
15. Flowery & Feminine Toe Nails
If flowers don't reflect feminine taste that I honestly don't know what will. Cute little flower of different shapes and sizes and bright light colors are the full packages to an upbeat summer vibe you have always been longing for.
#16. Polka Dots & French Tips Oh My!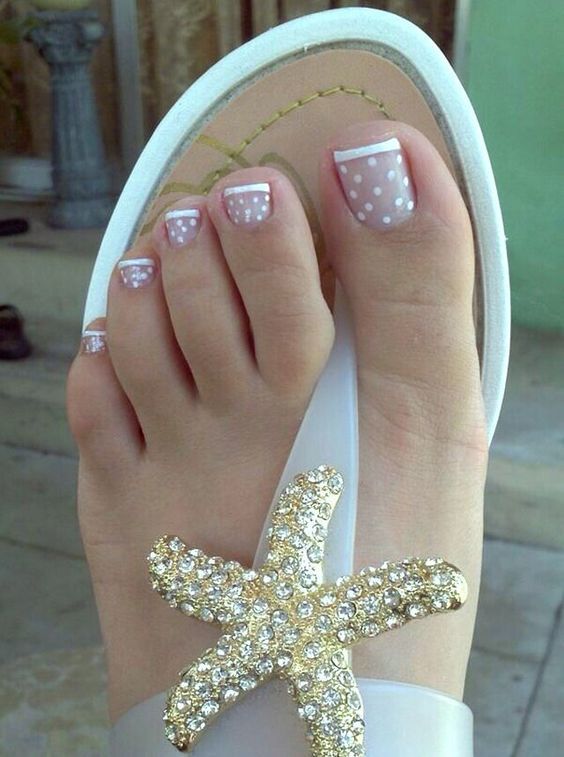 Now, this is a nail design that will rock your and everybody's world around you. It is something you would definitely want to put on because it would make everybody so eager to see what you've got so handsomely polished down there every time you go in for a dip in the ocean, wear a sexy pair of sandals, or just take your shoes off to feel the warmth of the grains of sand igniting your uncovered skin.
#17. Not So Steady Hands
A unique and elegant nail art that can make your toe nails beautiful! Keep it simple and easy and just stick on random colorful decals on a black base coat and send a picture of your fabulous looking toes to your BFFs because you've done it all!
#18. Neon Yellow & Pink Spots

One of the cutest toe nail designs. For this one, all you need is 2 of your favorite neon polish colors and you'll be able to create a simple yet stylish pedicure that looks great for parties and casual mall hangouts!
#19. Shape Matters

It's not always about the colors, shapes definitely matter and the secret to a great pedicure lays under a unique shape theme like the one above which would never fadeaways and would always be a great cryptic message for all those foot fetish people prying at your toes. Beware you there!
#20. Fun with Geometry

Geometry hating is only for little kids who are too lazy to do their math homework. Make the best of geometrical shapes and use them for a great theme toe nail idea that is guaranteed to make you look timeless and exceptional with those sky blue french tips and black dots on the end.