7 Graceful Floral Nail Arts for Spring
As style goes up and down, trends appear and others disappear floral nail designs remain our everlasting beloved trend. For, only one pattern had claimed its everlasting existence in the fashion world, and hence, in the nail art world; Floral pattern. A pattern inspired by nature and elaborated with creativity and imagination certainly would be beloved and favored ever since it appeared. Elegant, cute, and manipulated to suit your taste and reflect your femininity with forests' beauties.
Beautiful Floral Nail Arts
Some believe that floral nails are only spring welcoming nail designs. However, this pattern doesn't have an expiration date, you can rock such style in the coldest winters, warmest summers, blooming spring, and cozy fall… With a simple color manipulation and design alternation, you can get the best floral nail designs to suit the season and your style. With the help of these top 10 floral nail designs, you will certainly get a glimpse of how to rock this feminine design any day.
#1. Floral Decorated Pastel Base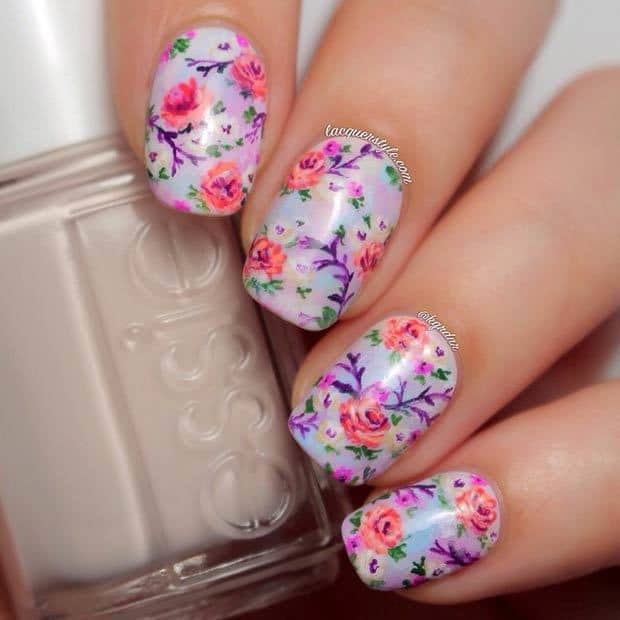 Here's a pastel purple base adorned with alluring roses in peach. A floral nail design inspired from vintage antique furniture and decoration but updated with these fresh modern color shades.
#2. Bold Floral Nail Design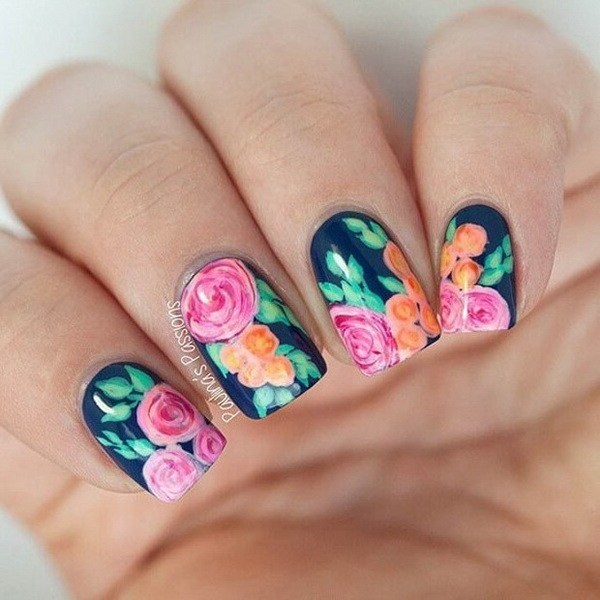 No better way to accent those artistic bold pink and orange flowers, rather than having a dark navy background… With such cool color selections, this design can be easily rocked with cold winter outfits.
#3. Blossom On Nude
Why settle for plain matte nude nails, when you can get this upgraded cute design. With the simplest addition of multiple pink shaded tiny flowers and polka dots using nothing but a tiny brush or a toothpick. Easy, cute and fresh floral nail design!
#4. White Daisies Floral Nails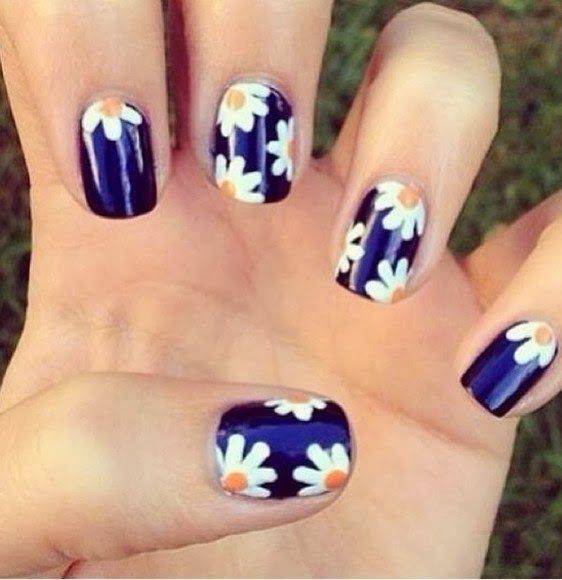 He loves me, he loves me not… Who hadn't held a daisy and plucked its petals wondering and hoping for a final petal saying yes. While others keep plucking those petals and waiting for that special someone to declare his love, go and paint those pretty daisies above your shimmering navy coated nails, and wait and see how he'll love you so.
#5. Classy Orchid Inspiration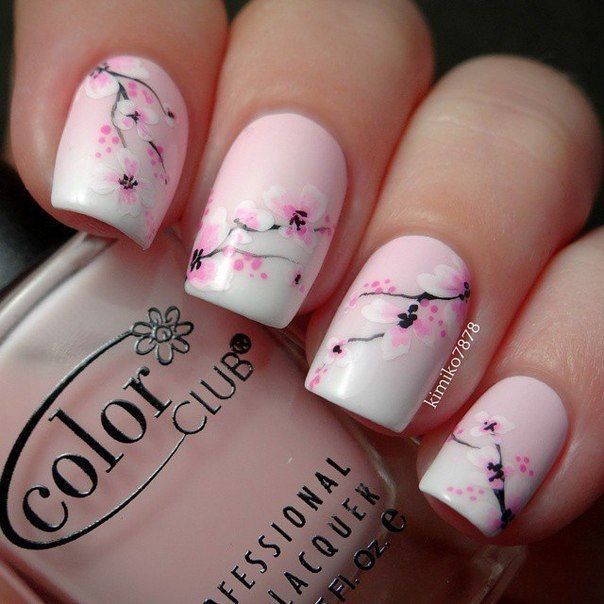 Pink orchids with all their sophistication and grace lying on your beautifully pedicured and baby pink manicured nails. With the selection of these joy and feminine reflecting flowers as your floral nail design be certain that your nails will WOW the crowds.
#6. Lavender Fields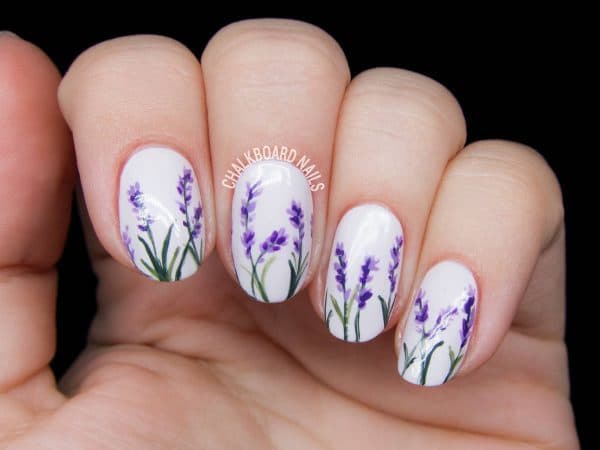 You can almost smell their sweet fragrance! Plant your light green base with these vivid lavenders. Finish this floral nail design with a clean coat of glossy varnish to showcase your love for lavender or simply everything floral.
#7. Cherry Blossom Theme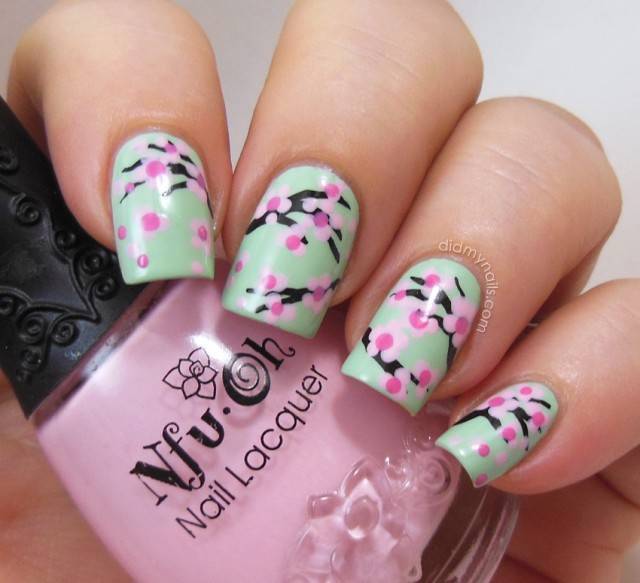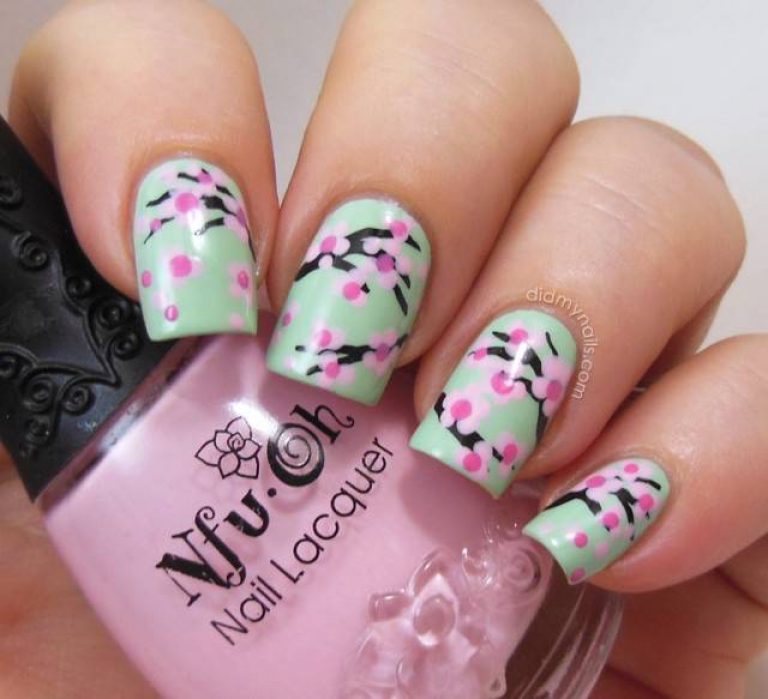 Cherry blossom is one of the most favored floral patterns trending today where no one can get enough of it, it's just so simple and attractive! In this floral design, lilac flowers harmonized with a minty green background, this pattern will get you hung on it even more!
Dress up your nails with floral gardens for beautiful playful nail designs to you stay up-to-date any time of the year. And never forget to keep your personal touch when following hot trends. Keep in mind the shades that suit your skin and outfit. Also, be careful to create nail art that matches your outfit and the occasion. And, simply draw a design that reflects your own personality and individuality.