30 Spooky & Groovy Halloween Nail Arts to Ward off Ghosts
Halloween is a traditional and secular holiday, celebrated on the 31st October of each year. The most common and acceptable theory about its origin is that it is related to the Celtic festival of Samhain, when they used to wear costumes and light bonfires to get rid of the ghostly forces. Though the theme of this festival has been changing with the passage of time. Now, it's just a festival of celebration and enjoyment. People remain busy planning the Halloween costumes, buying Halloween candy to take part in trick and treating. And, in a festival like this, you just can't leave your nails blank. We are here with the best Halloween nail art for you.
Scary Halloween Nail Art 
The most exciting part of the celebration of Halloween is its costumes. People wait eagerly to outperform the others by planning something unique for them. As the trend is changing every minute, the pattern and type of Halloween costumes are also changing each year. But, pumpkin faces have always been there as the most dominating figure in Halloween celebration. You can use different spooky images on your nails as Halloween nail art. Let's see how you can do that.
#1. Halloween Eve
You can draw a ghostly night while designing your nails for the eve of Halloween. This kind of Halloween nail art is both beautiful and thematic.
Add Little Fun with Funky Nails
#2. The Mummy Returns
Mummys are often associated with scary and horror stories. This is a perfect element of Halloween nail art.
#3. Call 999
Draw some scary images on your nails to celebrate this Halloween. Call 999 if the party gets too scary. This could be a good choice in respect of Halloween nail art.
#4. Boo!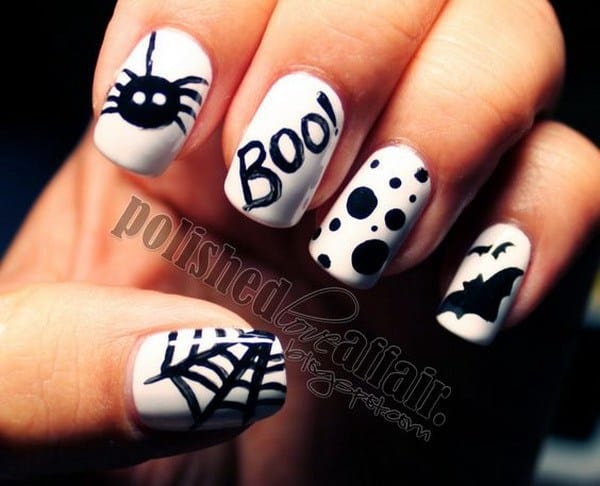 You can paint your nails with spider web, and bats to create this design. And, write the word "boo" which is universally used to scare the hell out of somebody.
Some phrases are widely known as magical spells to the kids mostly. Write some magic spell you know to have black Haloween art like these ones.
#6. Rock On
If you are a party freak and need just an excuse to do unlimited fun, this is for you. Lrt's rock the party with these beautiful Halloween nail designs on your nails.
#7. Hollow Faces
You can draw some hollow faces who are glowing to have nails like this picture. Draw each nail with different faces for creating variety.
#8. The Frankenstein
The novel character Victor Frankenstein is frequently used in Halloween nail art. You can also use his image on your Halloween nails.
#9. Spider Webs
Spider and spider webs together can make a deadly combination of Halloween nail art. These nails look stunning if designed perfectly.
#10. Dancing Skeleton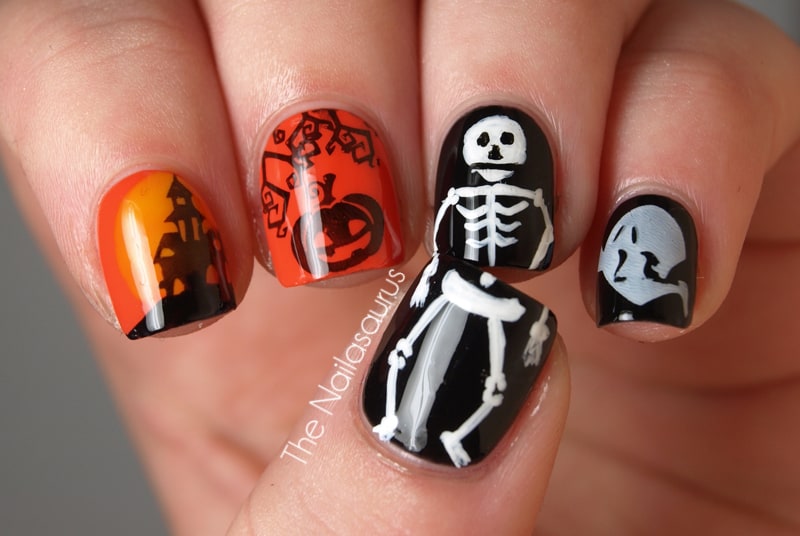 This is an interesting Halloween nail art. Paint the half of a skeleton on the middle fingers and the rest half on the thumbnail. Move your thumb as if the skeleton was moving its waist.
#11. B&W Halloween Nails
If you are a black and white lover, you can express your love through Halloween nails. Paint your nails with B&W Halloween nail art.
#12. Colorful Halloween
If you are planning a colorful costume then colorful nails are here to accompany you in Halloween parties.
#13. Hungry Monsters
These nails are really scary. Draw some hungry and ferocious mouths of the monsters to have Halloween nail art like this.
#14. Happy Halloween
Some girls don't like scary things, they can have these happy Halloween nails. Some smiling faces and polka dots will do good for this Halloween nail art.
#15. Devil's Eyes
You can draw two bloody eyes on the nails of the middle fingers to create this design. The devil's eyes can be accompanied by two white spider webs on black nails.
#16. The Lone Ghost
Imagine you are walking in a grave at a dark night, how will you encounter a lone ghost? Forget it, encounter the ghost on your nails by having this Halloween nail art.
#17. Trick or Treat
Trick or Treat is the most awaiting segment of a Halloween to the kids. They ring the doorbell of the neighbors for candy. Halloween candy is one of their favorite things.
#18. Frightening Joker
A joker is supposed to make us laugh. But this joker image is frightening because Halloween is all about being scared as hell.
#19. Pumpkin Faces
Pumpkin faces are the most commonly used element of Halloween designs. You can try them out on your nails on this Halloween.
#20. Halloween Nail Art Stickers
Stickers/decals are the secrets to realistic nail painting like this picture. You can transfer these complex designs very easily from nail art stickers to your nails.
#21. Creepy Halloween Nails
These faces look creepy and you'll not have peace looking at them. That's exactly what is needed for a Halloween nail art.
#22. Halloween Nails Pinterest
This Halloween nail art blew up the wall of Pinterest when it was posted for the first time. You can be inspired by the amazing designs of Halloween nail art from Pinterest.
#23. Halloween Crab
A large number of animals are used in Halloween designs. Crab is also on the priority list of the designers. Draw some crabs on your nails to get Halloween nail art.
#24. Flying Ghosts
You can draw some white and small flying ghosts on your nails to have this Halloween nail art.
#25. Spooky Faces
Draw some spooky faces from fictional characters to get this Halloween nail art done.
#26. The Living Skulls
The use of skulls in various designs is getting new dimensions every day. Nail art is no exception here. You can draw some angry skulls on your Halloween nails.
#27. Vampire Nail Art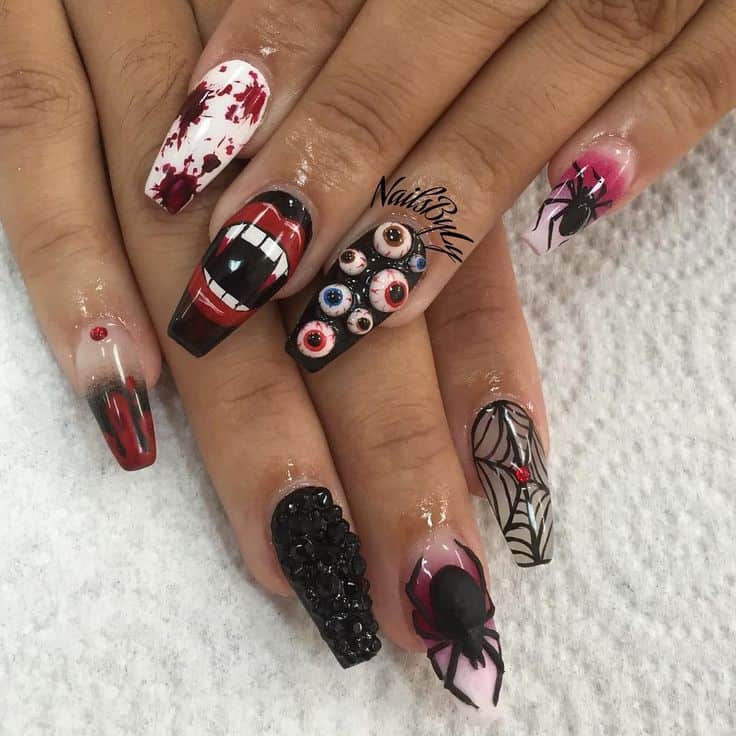 Vampires are imaginative creatures that will suck your blood till the last drop. You can use vampire nail art instead of Halloween nail art on the occasion of Halloween 2018.
#28. Bloody Masks
Blood is a common element of Halloween designs. The immense bloodshed of horror movies or scary stories influence the designers to use blood as a scary thing. And, wearing a mask is the easiest way to scare somebody.
#29. Let's Play a Deadly Game
Suppose you are home alone and a ghost came and offered you to play a game? How creepy is that? Let's play a deadly game on your Halloween black tip nails.
#30. Blood Sucking Bats
Drawing some splatters of blood is a better choice while doing Halloween nail art. You can paint some black bats in between your bloody nails to have this blood-sucking bats Halloween nail art.
Nail Piercing to Make Your Nail Scarier
Some Spooky Nail Design to Try On This Halloween
Before applying any scary Halloween design on your nails be sure about the audience of your nail designs. If these creepy nails get exposed to little kids they might get really scared. Which is not good at all. Other than that, make the nails look as frightening as possible. The best Halloween nail art is the scariest one.