20 Fascinating Light Green, Maroon & Airbrush Nails
Airbrush nail designs are rare, unique but pretty gorgeous especially in both colors maroon and light green. So if you wanna have a great look one day, don't forget that light green, maroon and airbrush nail designs are always there to help!
Maroon is one of the sexiest shades of the red color however, the light green color is one of the warmest shades of green. On the other hand, there is something called airbrush nail designs which is one of the most unique designs, it is rarely used in our surroundings but if it's rare that does not mean that it is ugly, in fact, it's epic! So, if you are searching for a nail design that makes you special, you are able to use the maroon or the light green color to obtain that, or you can apply an airbrush nail design that steals the eyes of all people and make all haters die from jealousy. And the below list of 20 epic maroon, light green, and airbrush nail designs can give you great examples for what you searching looking for!
#1. Maroon And Golden Fusion
Maroon and gold are one of the most attractive colors and when they are combined together they make the perfect combination. In this design, the thumb, middle finger and ring finger have the maroon base decorated with random lines of golden glitter, and the pinky and the index finger are decorated with maroon having a glittery golden base to make the perfect color fusion.
Get Fiery Maroon and Gold Nails
#2. Light Green And Silver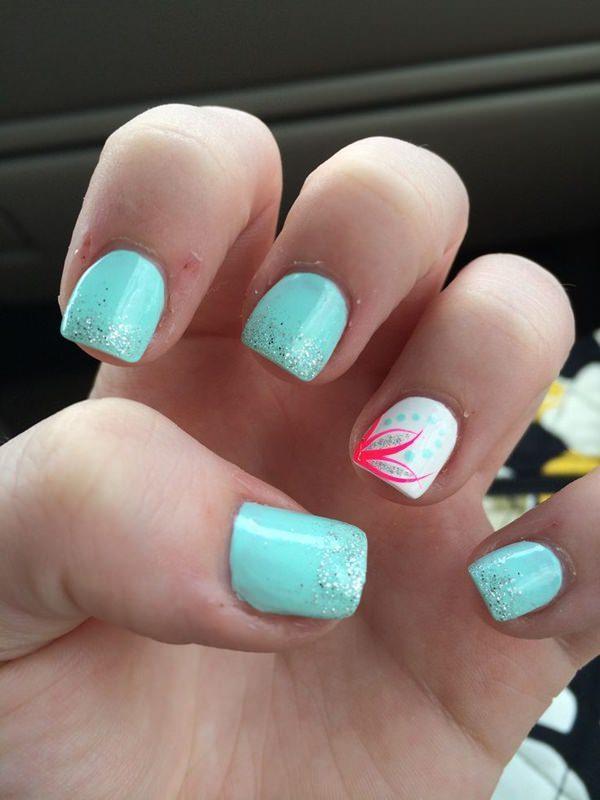 Light green is one of the cutest and the warmest colors ever used in nail designs. And what makes it more beautiful is the silver shimmer on the tips of each nail, in addition to the floral effect at the side of the ring finger of a white base that makes it look like there is a flower sprouting from the tip of your nail.
#3. The Cross
Maroon can be combined with many colors in nail designs, one of these colors is black. However, the black polkas combined with the matte maroon, eventually leave a sexy and hot touch!
#4. Golden Decals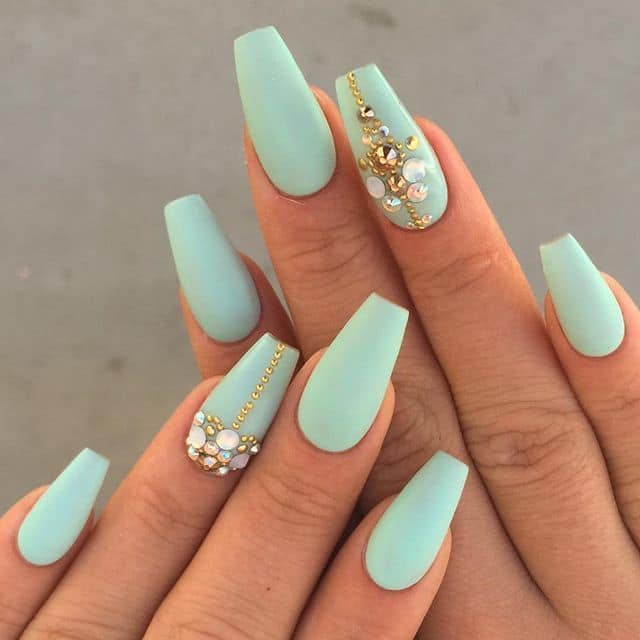 Squared nail designs give you the chance to have many decorations in it. So in this light green nail design, we are choosing the light green base and the golden decals of different sizes to decorate the squared tall nails.
#5. Floral Effect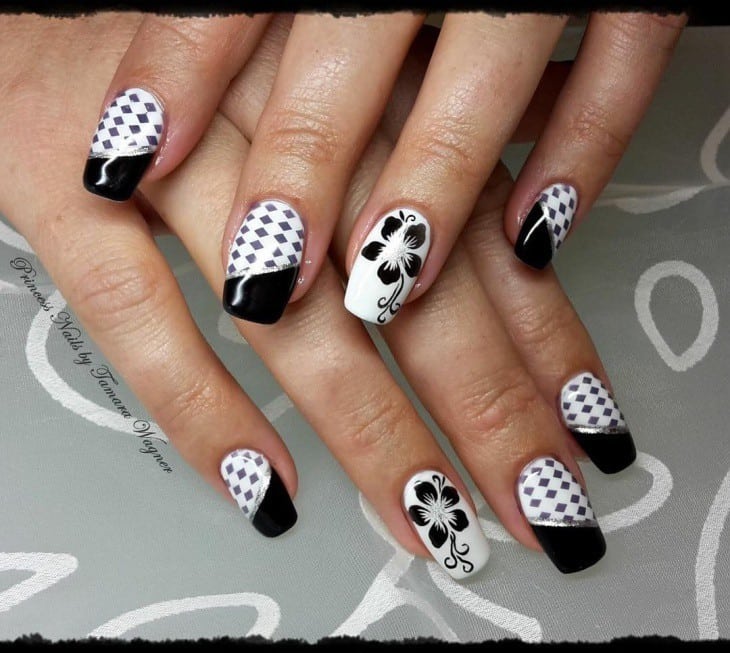 Designs in a nail do not always have to be a simple light green, maroon, and airbrush nail designs they can also be all patterned. In the ring finger we can see the floral design of a black flower and a white clear base, and in the other fingers, we see the oblique black tips with a silver line separating it from the pattern in the base of white and purple colors.
#6. Shine Bright Like A Diamond
The above design shows a variety of designs in each nail. The pinky is made up of the pink glitter pattern, the ring finger designed with columns of different colors, the middle finger made up of a white clear base with large shiny decals of different colors, and the index finger with column design of different shades of pink.
#7. Shiny Tips
The normal french nail design is a transparent base with a white tip. But in this nail design, we are breaking the stable rule of French nail designs by using a maroon tip covered with a phase of glitter.
#8. Pistachio And Silver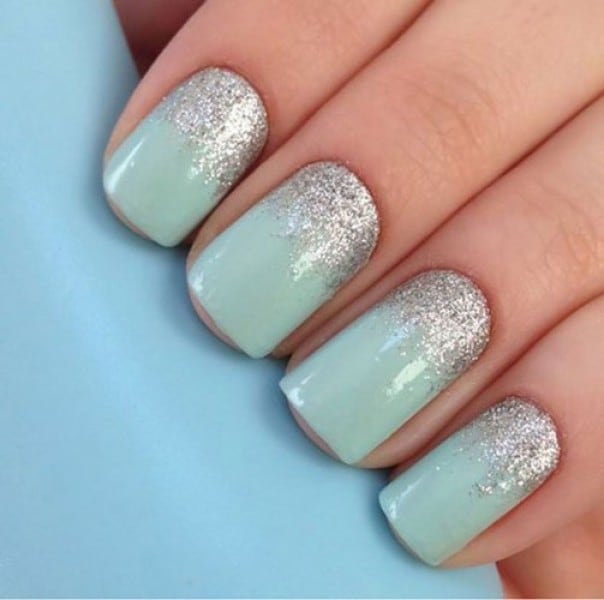 With the help of an airbrush, design your pistachio nails with a splash of silver glitter at the bottom of each nail.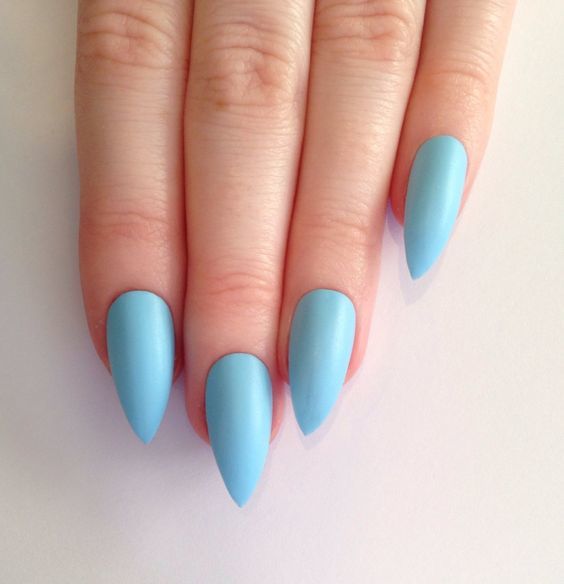 Stiletto nails are a trend nowadays. So if you want a trendy and simple nail design, you gotta wear this one, it's trendy and all sky blue.
#10. Hot Pink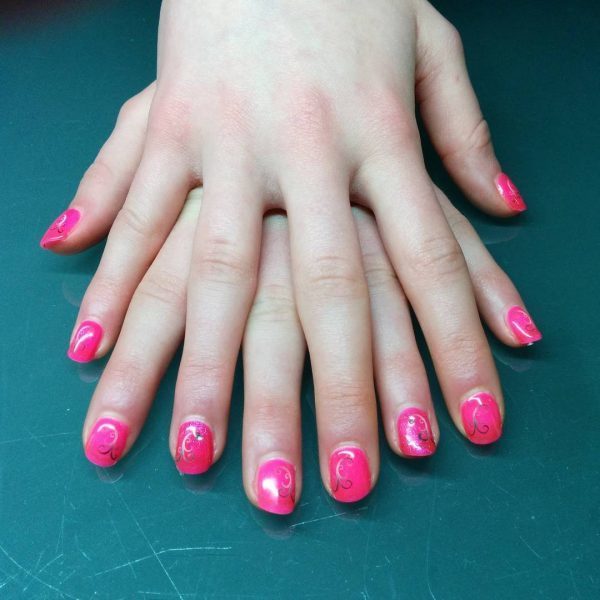 Light green, maroon, and airbrush nail designs are the best ones. Now talking about airbrush nail designs, this is a simple example of them by styling your hot pink nails with a simple sticker.
#11. A Green For A Teen
This is one of the best light green nail designs loved by girly teens. The flower in it grabs the hearts of young women and gives the teen a green nail design they always wished for.
#12. Flower Power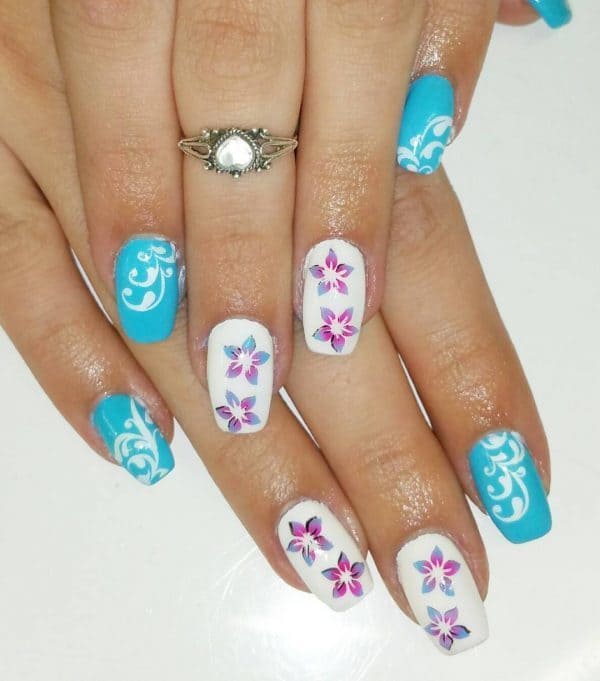 By the help of an airbrusher, make your own floral styled nail design of blue, purple, and white color.
#13.Brown nail
Wearing this airbrush nail design gives you a 100% beauty. The way the black tips are done with the golden touches is perfect, however, the shiny strass glued on the nails looks like small pieces of a mirror. So now when wearing this nail design and asking the following: Mirror mirror on the wall who's the prettiest one of all? The answer will always be you.
#14. Simply Chic
You don't have to be all colorful to be chic. Meanwhile, you can also be simply chic with the help of one unique color in your light green, maroon, and airbrush nail design.
#15. Cute Little Tie
Go stylish with the help of this maroon, and light green nail design. Initially, design your pinky and index fingers with golden stripes. Next, decorate your ring finger with a cute bow tie on the tips, your middle finger with a single golden decal at the bottom of the finger.
#16. Shadow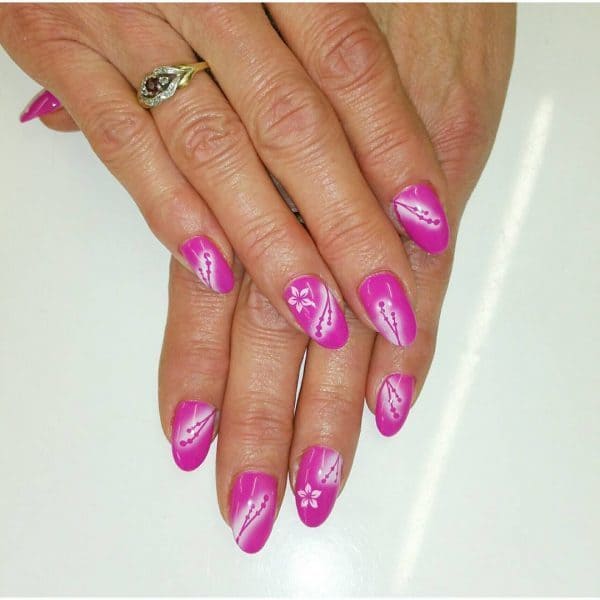 Among all light green, maroon, and airbrush nail designs, airbrush nail designs are the best! The above fuschia nail design has a white shadow around the flower and the leaves which gives a passionate taste to the design.
#17. Chevron Pattern
This chevron pattern is made up of different dark colors, and we all know that chicness comes from dark colors.
#18. Tick Tock
This is one of the most beautiful air brush nail designs. Formerly, the clock theme and the different shades of the gray color all make up an amazing combination.
#19. Floral Tips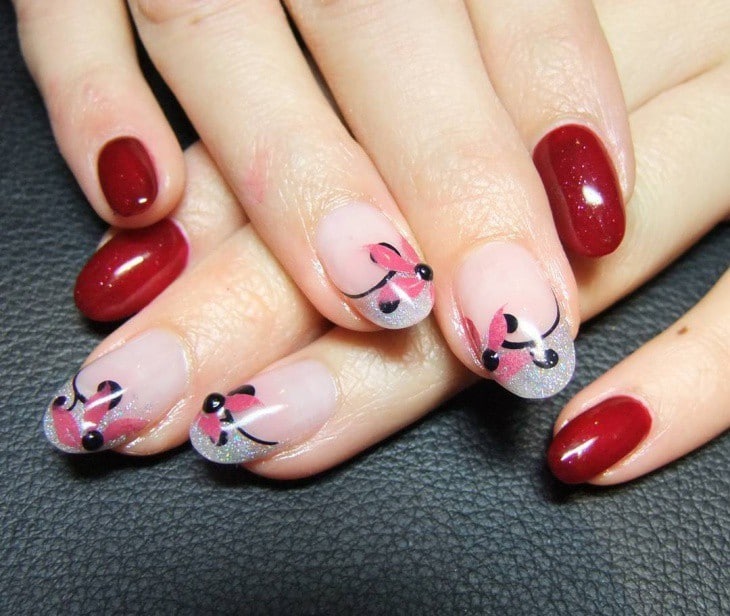 The red color in the above nail designs, gives it a hot look. Besides, the white touches at the tips are cute enough to make up a lassie look!
#20. Silver Stripes
In a light green, maroon, and airbrush nail design you always have to be creative! In this one, the striped pattern leaves a remarkable touch!
Attractive Light Green, Maroon & Airbrush Nails
Finally, you can see that maroon nail designs are sexy enough to attract people and kill haters. In addition to that, light green nail designs are cute and simple. On the contrary, airbrush designs are unique and epic. So, if you are searching for a nail design that fits you. The above list of 20 light green, maroon, and airbrush nail designs gives you all you need. Hope you enjoyed!