10 Most Awaited Red And Pink Stiletto Nails for You
Girls who tend to try something adventurous red and pink stiletto nails will always top their priority list. No other colors are parallel when compared with these two so-called girlish colors. The excessive use of pink and red in their outfits, pieces of jewellery, cosmetics arouses the demand to have red and pink nails too. If you own stiletto shape nails and are a fan of red and pink, this article is the torchbearer for you. Ten most desired stiletto nail designs are given to team up with red and pink.
Feminine Red and Pink Stiletto Nails
Red is considered to be a color expressing hotness and pink is considered to be a feminine color. For a different look, you can have both of them together. These two colors have a never-ending relationship with the girls. Stiletto nails are naturally bold, they can express intense hotness if colored with red. And feminism will flourish on your nails if pink is used carefully. Even if you don't want to mean anything by the nails, red and pink can be used for beautification.
#1. Red Matte And Stones
Red matte can be a simple way to make your stiletto nails look beautiful. Use matte base on the nails for a nonshiny surface. Then use red stones to do the shinning. It will be completely balanced design.
Elegant Matte Maroon Nail Ideas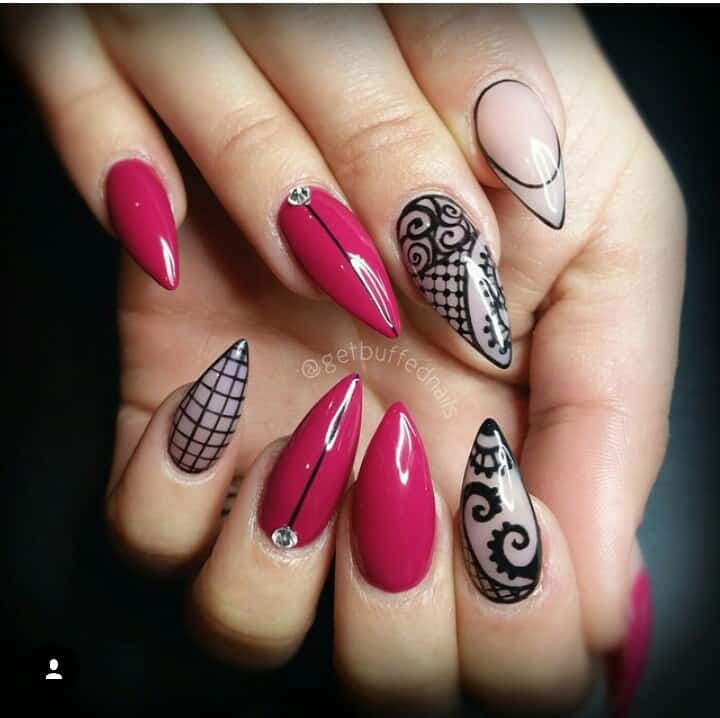 This hot pink and black combination is something extremely attractive. Using black along with other colors is a common trend. You can give this trend a new dimension by using pink in between black designs. A black stripe or a stone can also be used to make your red stiletto nails look stunning.
#3. Glittery Red With Rings
Girls wear rings to complement their nail designs lately. A choosy mind is very careful about her style. So, there should be a perfect combo of rings and nails for this design. You can use a shiny and glittery acrylic red and rings as per your choice for this design.
#4. Shining Bright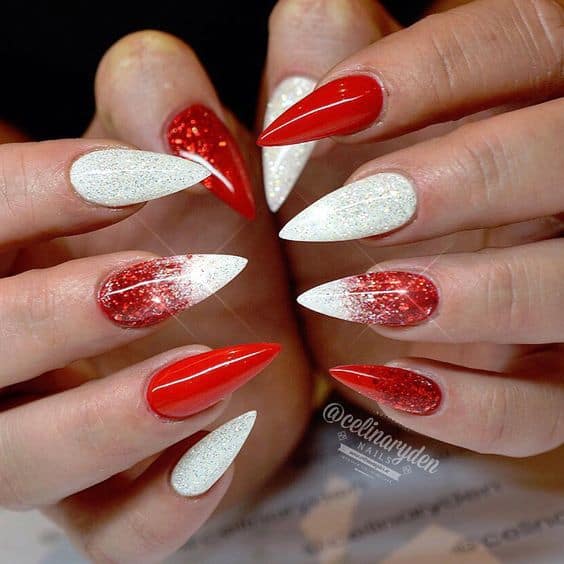 This design will shine brightly among all the other girls at your party. If you want to spellbound someone special's eyes with dazzling nails designs, it is a must try idea. The red color gets the appropriate shine with the help of white and silver glitters. Use red color of different tones for a better design. You will definitely shine bright.
#5. Charming Red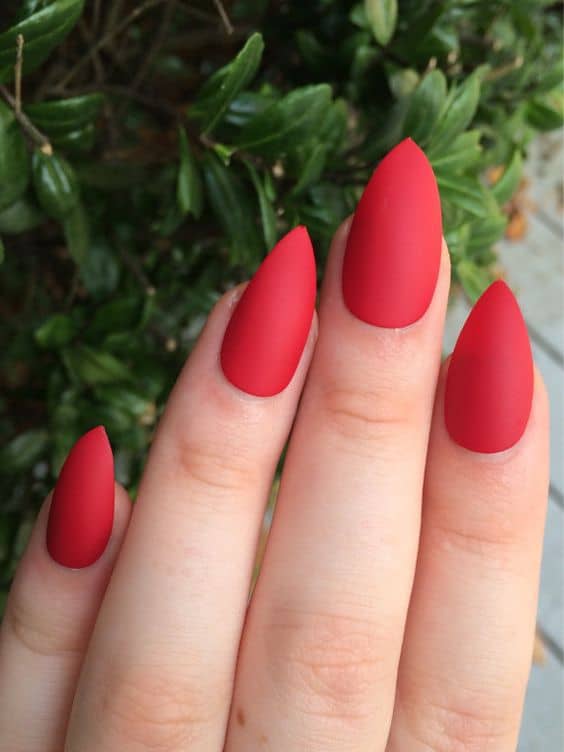 Red itself is a beauty. Try this very simple but adorable nail design for your stiletto nails. Use pure red to fill the base of your nails. You don't have to try anything different, just use a good red nail polish and brush it with full attention. That is the charm of pure red.
#6. Twinkle Pinkle
Shiny pink acrylic color and glitters are used to give this twinkling look. Silvery glitters are the perfect catalyst if you want to have a shiny look. So, your glittery pink stiletto is ready to be shown to the world.
#7. Divergent Pink
This design is perfect if you want to have a disparate design for your stiletto nails. Use rhinestones, light pink color, and black to give this look on your fingertips. Use black with the deep pink to create leopard design or anything you desire.There are no hard and fast rules, so use your imagination to give a better outlook.
#8. Pleasing Pink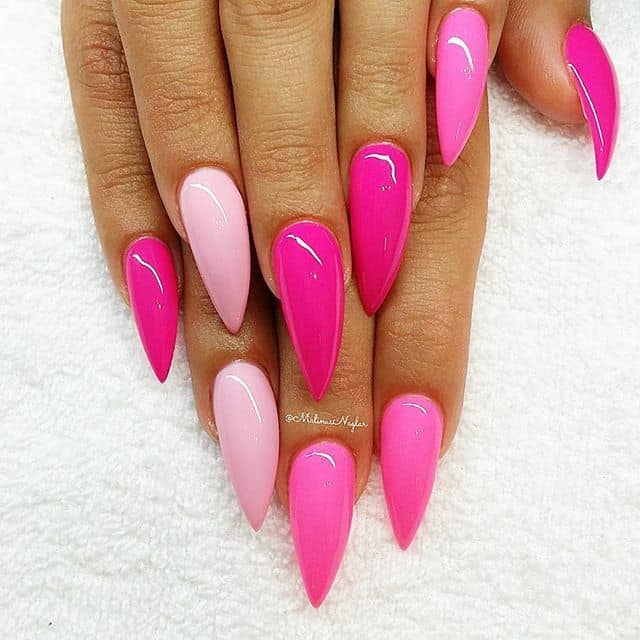 Pink is pleasant to be looked at sometimes. This design really is healing to the eyes. Different shades and tones of pink are used to give this amazing look. You can use little bit white or red color to have pink color of different degrees.
#9. Paint Dripping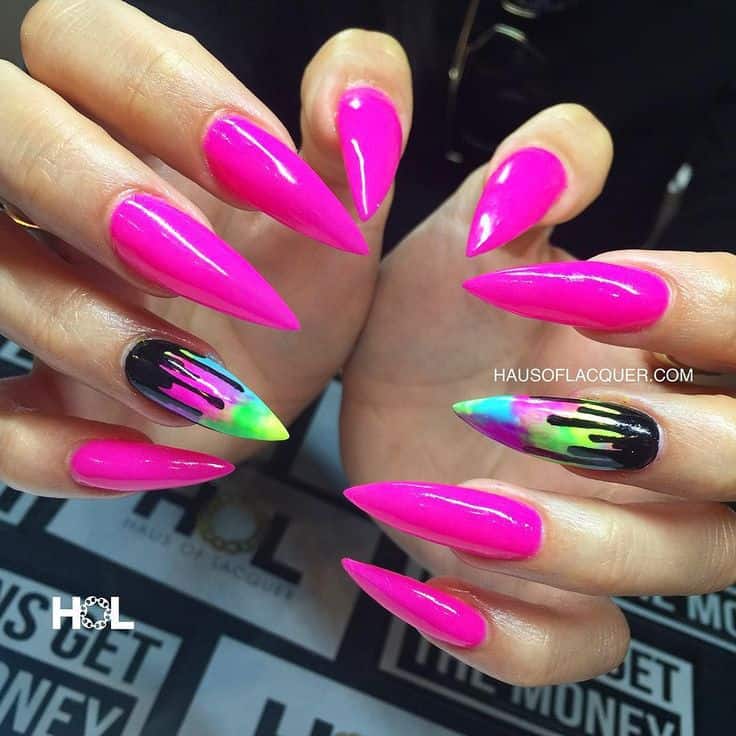 Your stiletto nails will look amazing in paint dripping. Paint dripping is a technique in which paint is splashed or poured on the canvas. A pink base drawn with the dripping of different colors looks absolutely stunning. You can use paint dripping to make the design different. Fill other fingers with nude pink color and have the dripping on two or three nails. Your stiletto nails are ready to be admired!
#10. Negative Space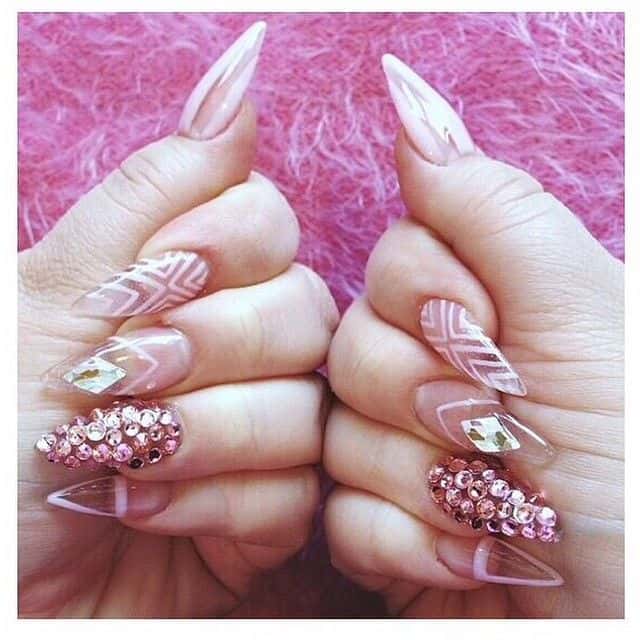 Pink can give a beautiful look with the help of negative space and rhinestones. Fill your nails with light pink color keeping angular shaped negative space at the bottom of the nails. Then use some rhinestones to complete the design. That is it! Your pink stiletto nails are ready.
Princess Vibe with Pink Nail Design
Red and Pink will never lose appeal among girls. Stiletto nails have also become the newest trend for nail design. If your stiletto nails are designed with red and pink this will turn out to be a fashionable look. You can have a look at our designs and combine them with your imagination.