Oxford dictionaries define "Cute" as an adjective meaning attractive in a pretty or endearing way. On the other hand, "Beautiful" is defined by pleasing the senses or mind aesthetically. Imagine you can have the super powers of both words cute and beautiful tangled up inside of you or even better, in the shape of a nail art design on your tiny nail beds. Wouldn't that be great?! Indeed, it would be a dream that I personally wouldn't want to ever wake up from!
The Cutest Nail Art Designs for Stylish Women
But hey! The reality is calling us with some big breaking news for all of  us girls out there sharing the same dream telling us that all of our dreams can come true with a simple nail design lounging on your nails! All we have to do is check out this list below of the top 50 stylish nail styles and you would be living the dream in no time!
#1. Glossy Black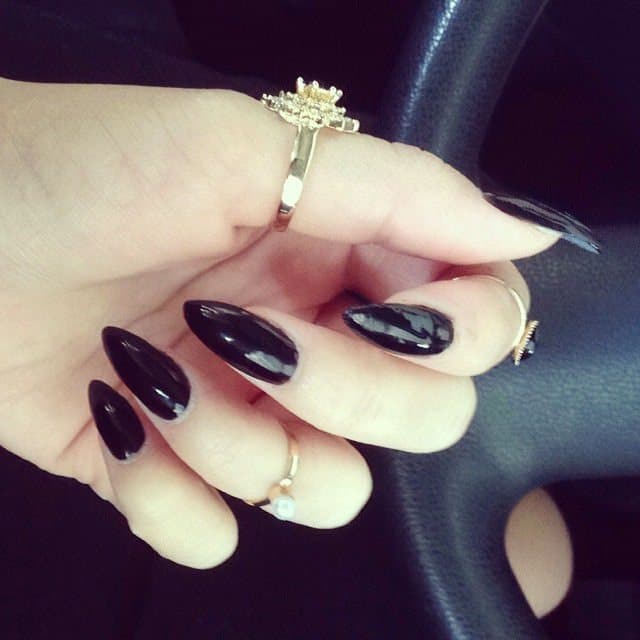 If you think black is classy then check it out in this glossy style and give it a try. Works for casual hangouts, serious business meetings or a date with your crush.
#2. Mulberry Purple With Grey and Gold Glitter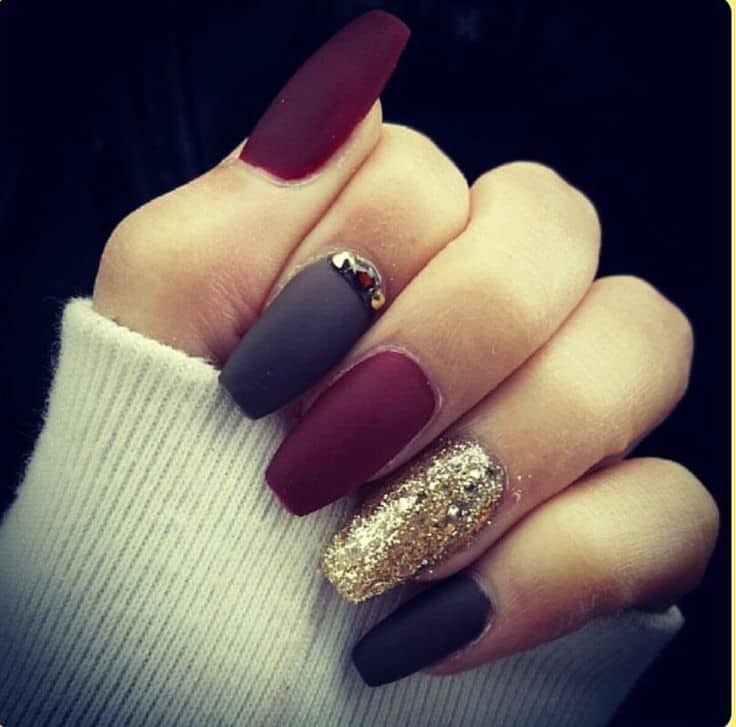 Splash that ring finger's nail with gold glitter and paint every other nail bed with mulberry purple and gray to get a trendy nail art design!
#3. Fancy Fingers

If you are a woman who loves to take over and possess power, then get yourself ready to gain control over your throne and reign with this exceptional style !
#4. Marble Black And Transparent

Black is never out of season,add some glitter and a column of gems  if you want to stand out as the girl with the marvelous nail design!
#5. Candy Glittery Red
Red is the ultimate seductive color that brings out all the energy in you and makes look as cute and beautiful as ever. Unravel all this energy and use it to spread your power!
#6. Marble Maroon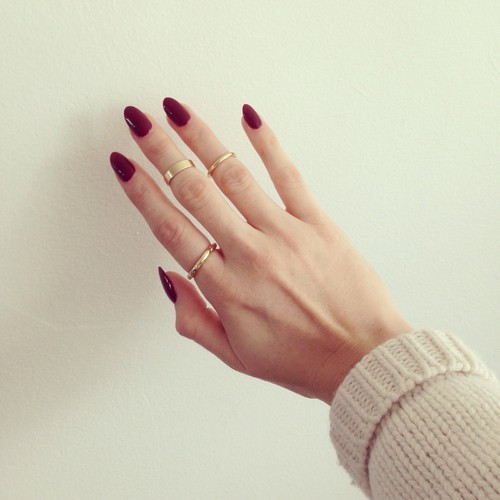 If your goal is to have a smooth style that looks both elegant in the workplace and sexy in the sheets then this the design for you!
#7. Starry Night Life Black And Red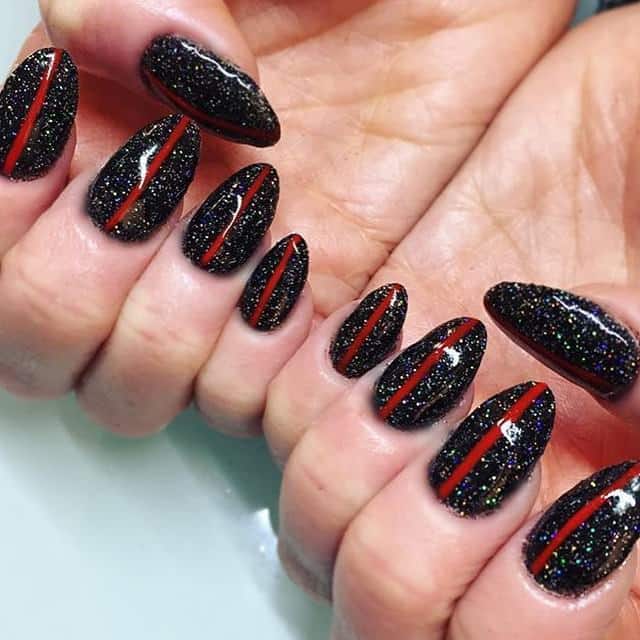 "Good friends are like stars, you don't always see them but you know they are always there." Add a starry effect on your red and black nail art style to have 10 new good friends of your own.
#8. Alizarin Red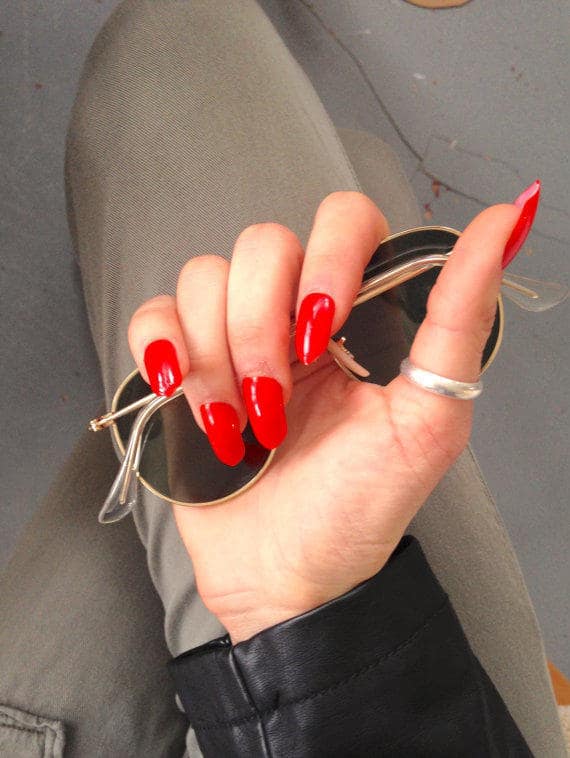 Try this uncomplicated design that works for everyday casual wear and goes perfectly with any outfit for all ages!
#9. Art With Tape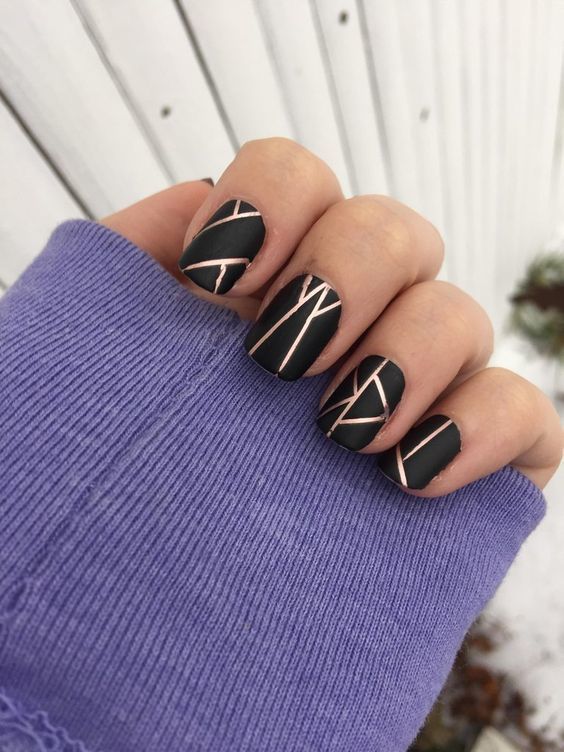 You would be astonished by the charming nail ideas these tapes can bring to life. Be the courageous one in your social group and try this style out!
#10. Geometric Black And Golden Foil Nail Art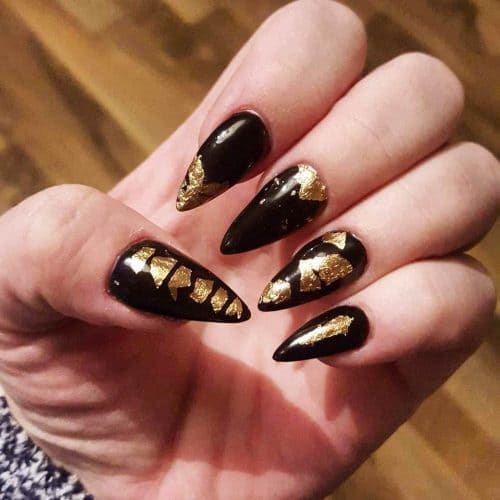 "Be yourself, everyone else is already taken."-Oscar Wilde. Be different and try this unusual design and make your own flawless identity.
#11. Ocean Blended With Navy Blue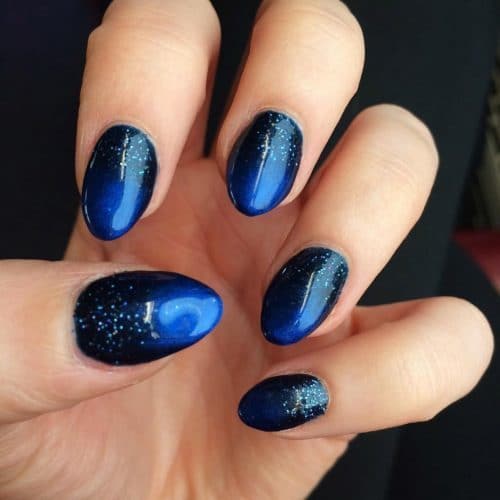 Make up your own ocean and reel in every fish in the sea using this unique design.
#12. Wine Red With Pinkish Semi Circles
This style is best for every woman aiming to look elegant and sophisticated at the same time.
#13. Maroon & Gold Nail Art Design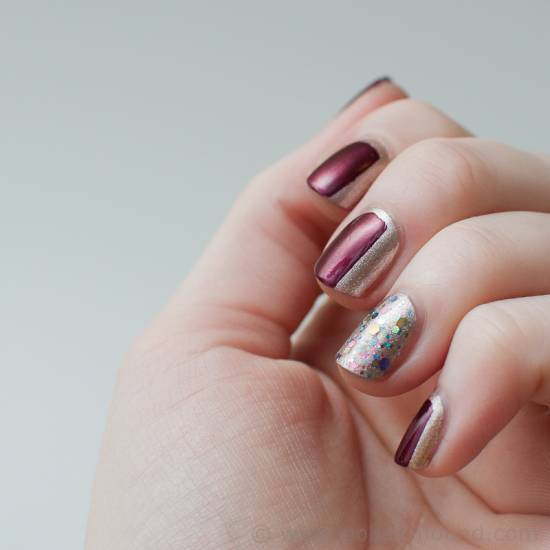 Cute and beautiful nail art designs are not only about the color diversity but also about the message it conveys. Try this delightful style to let the whole world know the kind of person you truly are!
#14. Baby Pink Flowers And Strass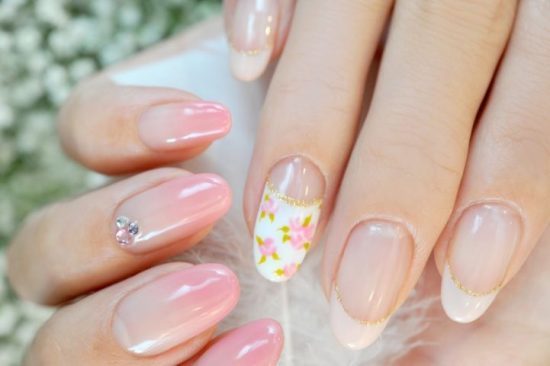 If you are seeking a feminine look then this is the ideal choice for you. Try it out and tell us how glamorous it turns out to be.
#15. Disney Animated Nails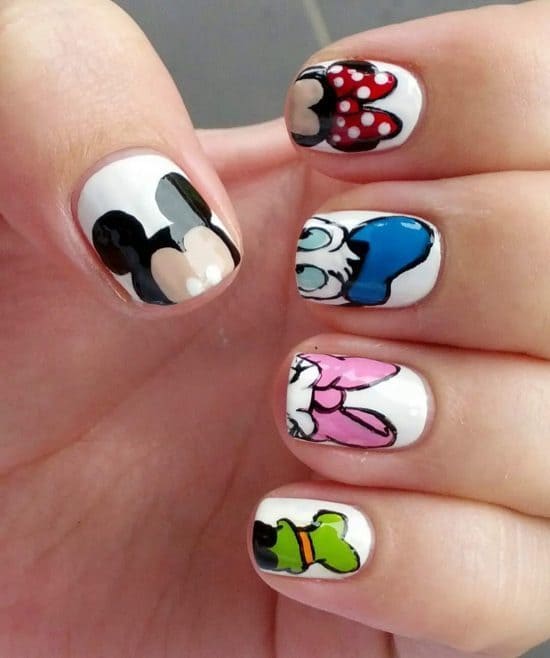 Nothing ever screams "adorable" like Disney animated nails! If you've still got that energy of a youngster inside of you don't be shy to show it to the world. Besides, no one ever sees a baby and walks away without expressing its cuteness and beauty out loud.
#16. White & Teal Tiger Patterned Nail Design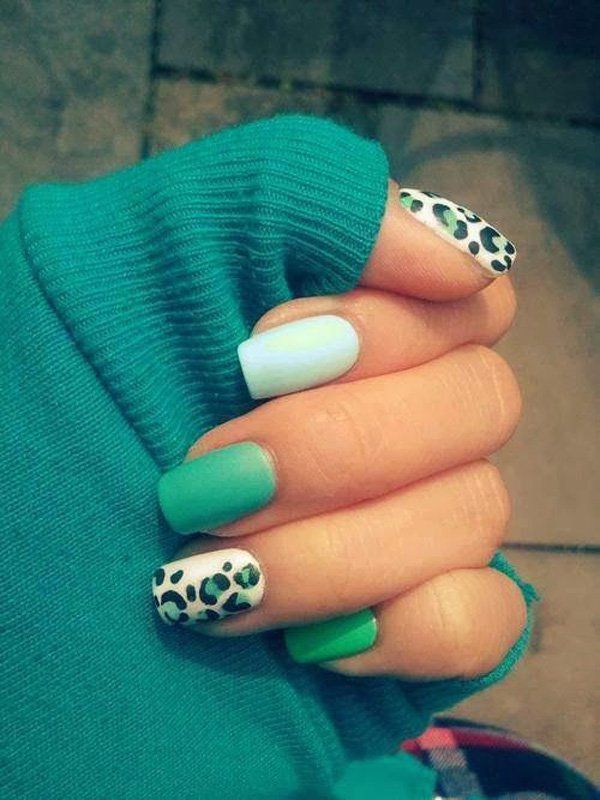 Who said that tiger patterns can only come in brown shades? Shake it up a little and use your favorite color that shouts interesting and mysterious with this artistic style.
#17. Emo Style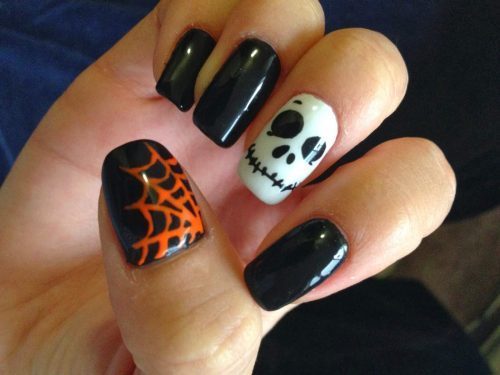 Everyone is unique in their own way. So while creating your nail design be sure to include your interests. For example, if you are drawn by the darkness and emo lifestyle don't hesitate and add all the skulls, bones, and spider webs that you desire.
#18. Pristine Sky Blue
I'm in love with this color! Aren't you? Everybody likes a clear sky on a sunny day. Keep it simple and use this crystal theme to tell your social norm you are as clear as a sky can be.
#19. Geometric Black Nail Art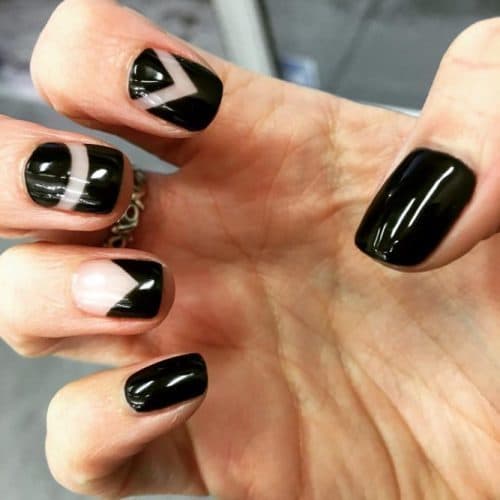 Have fun with geometry and shapes and use them to make up a dashing geometric nail art design.
#20. Ice Cold Strass And Sequence
If you're a girl who likes new experiences, try this new & beautiful theme. Don't hesitate to improvise and add accessories of your own choice. Strass, pearls, sequence and much more! You can do it all!
#21. Cherry Red Nails
Oh red, how you deceive us into longing for power and energy. Be your own master and try this shiny nail design.
#22. Raspberry Red And Gold Strass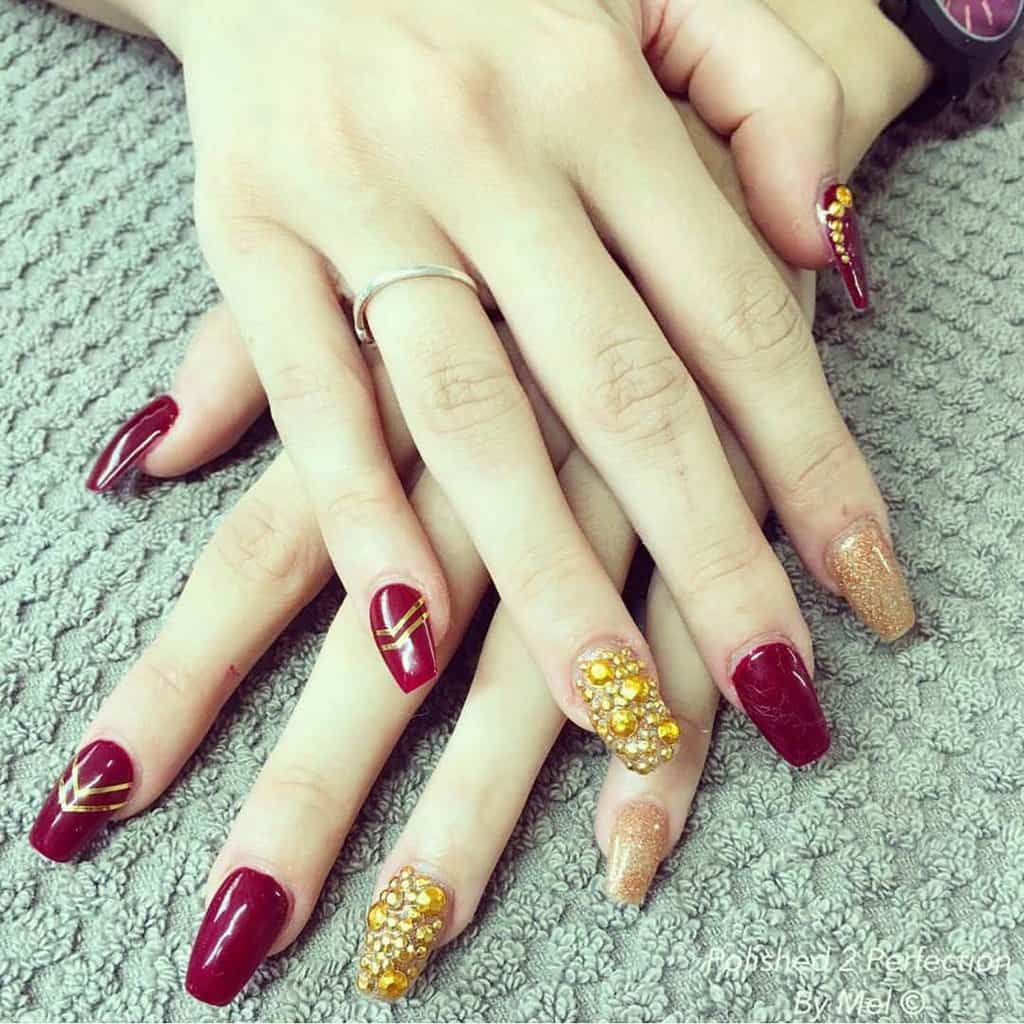 Don't let your creativity stop here. Improvise. Improvise. Improvise. And don't rest until you have the ultimate nail style.
#23. Rose Red With Random Beads And Decals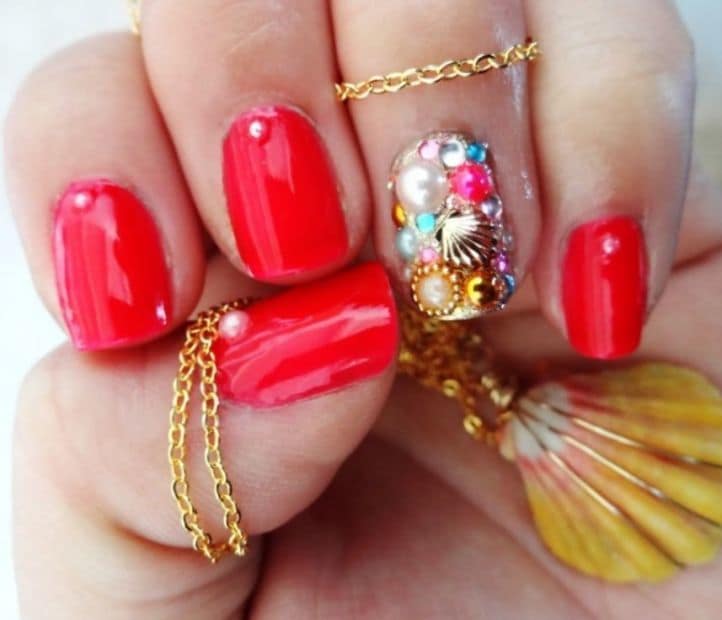 Pick out your favorite beaded shapes: shells, hearts, crowns etc… and spice things up with this complex and creative nail art design that looks best for a day out at the beach.
#24. Needle Drag Violet Nail Style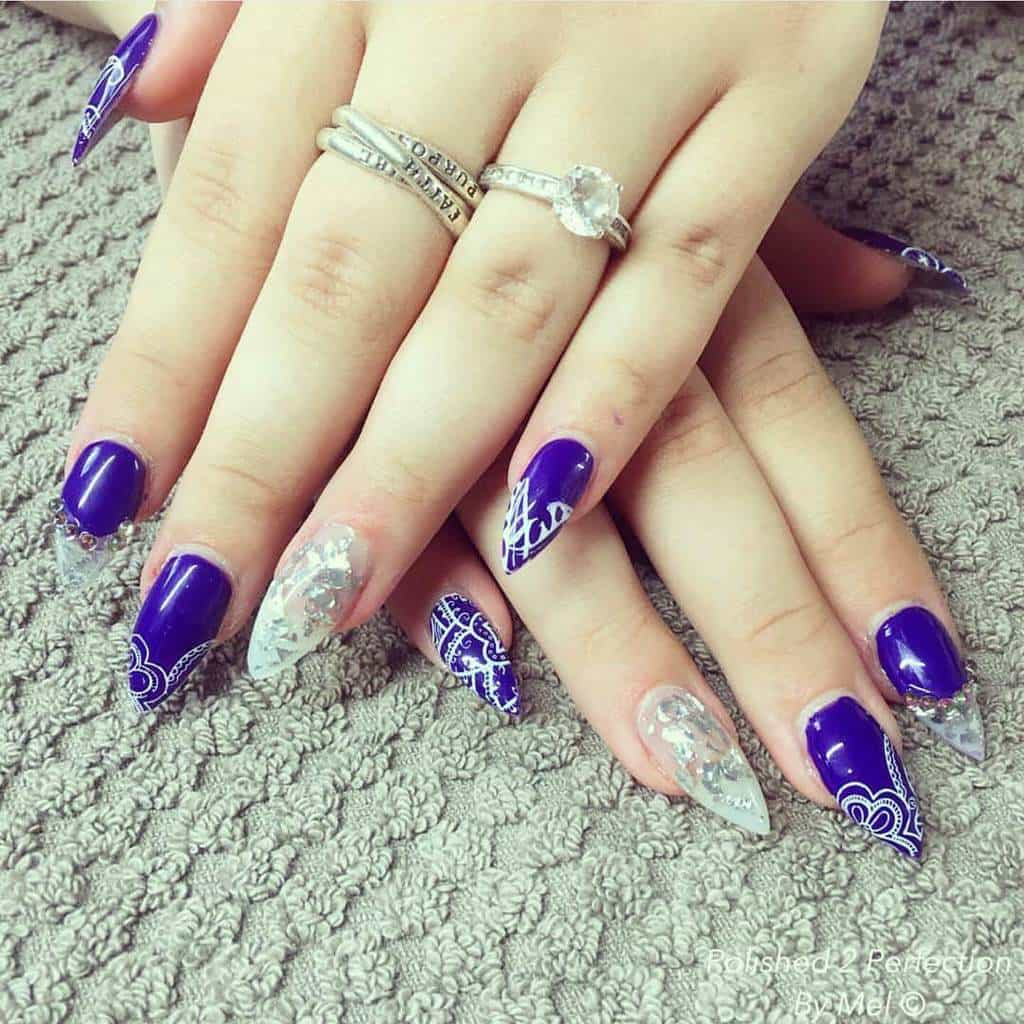 Unleash your inner artist and drag the needle over your nail beds to create an attractive and artistic nail art that looks good for a stroll in the mall. Add some strass and silver foil and there you have prom night nails ready to go!
#25. Golden Waves On Black Base Coat Design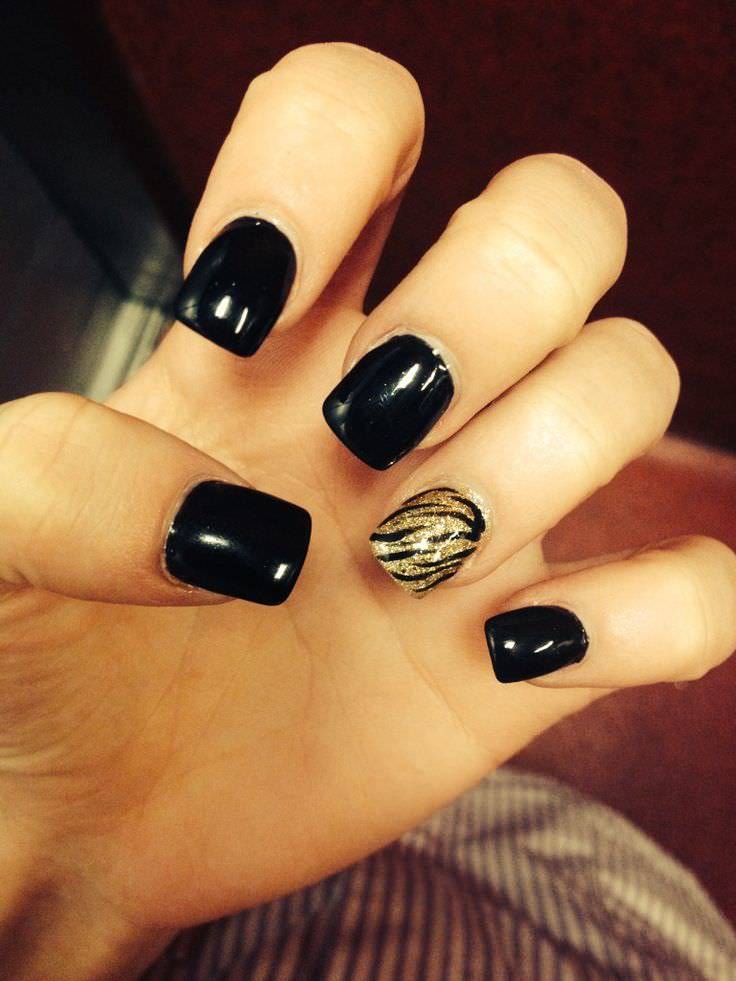 Go with the flow and apply this flawless nail style to make everybody's jaws drop with your impeccable choice.
#26. Strip It up With Rough Gold Nails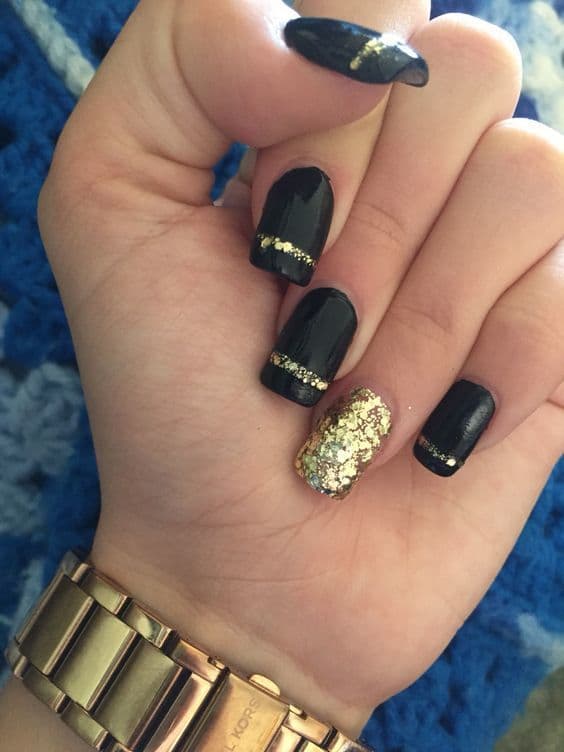 Well, what can make you shine more than the golden color itself? On a black base coat, the golden strips stand out most and make up a standing out style of our own!
#27. FreeStyle Stripes And Dots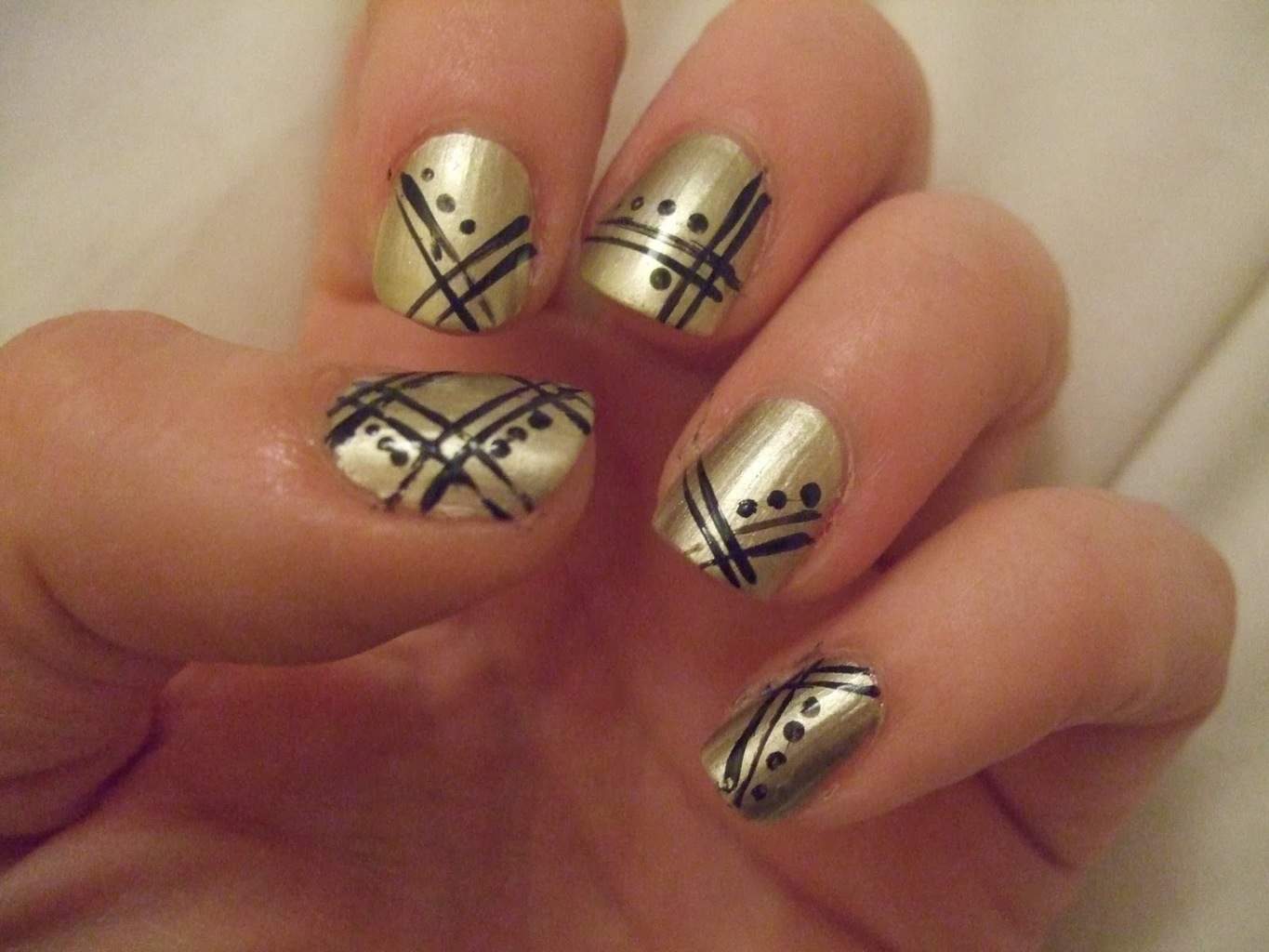 Picking the right nail art style is not an easy task but you can always have fun while doing it by choosing this freestyle design.
#28. Bloody Red With Chrome French Tips

Take a quick trip to France by trying this cute and endearing design on your own nail beds.
#29. Shine Bright Like A Nail Design
Shine bright like a diamond with this shiny nail art mixing it up with all the details possible. You're the star of your own life. Get under the spotlight. Make it count.
#30. Eggplant Purple With Colorful Glitter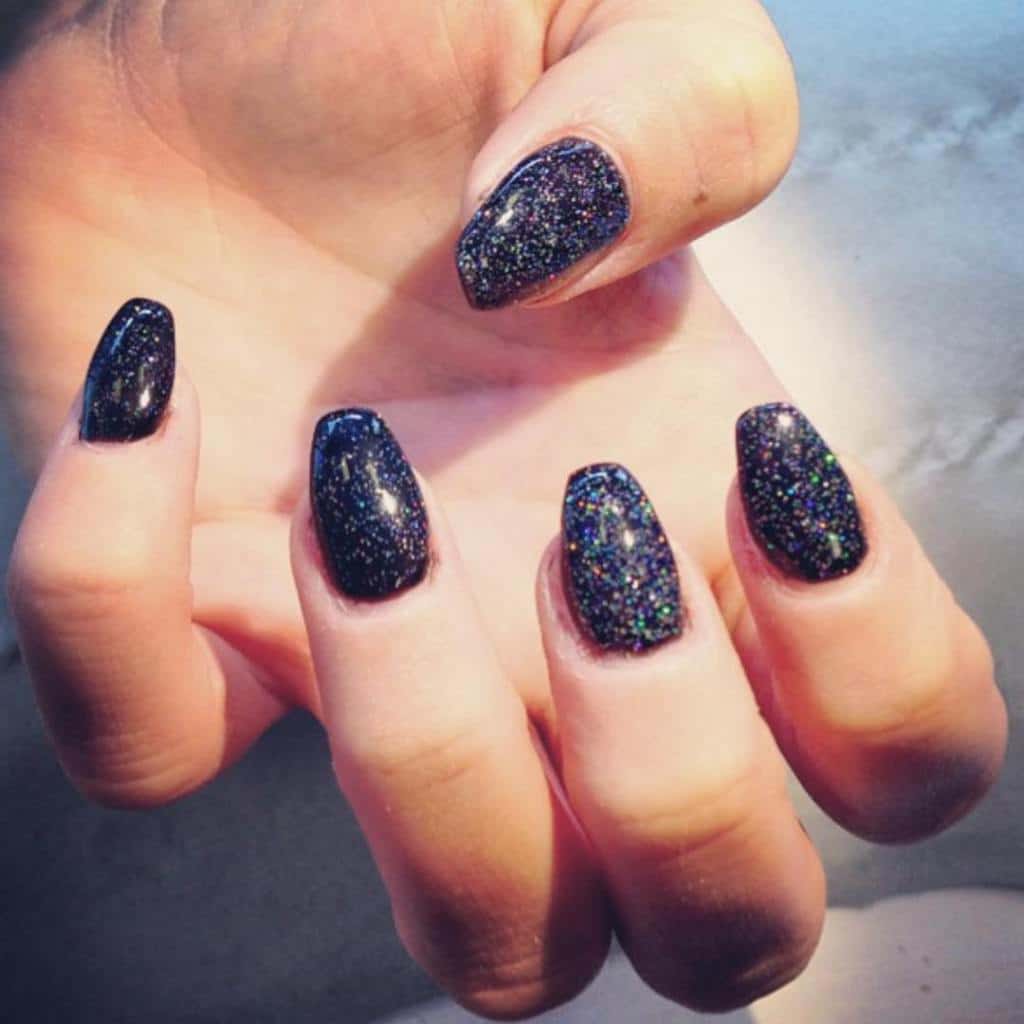 This style is the best for any occasion anywhere and easy to apply at the same time! Be sure to show it off to your friends and family.
#31. Bronze Strange And Ancient Freestyle Nail Art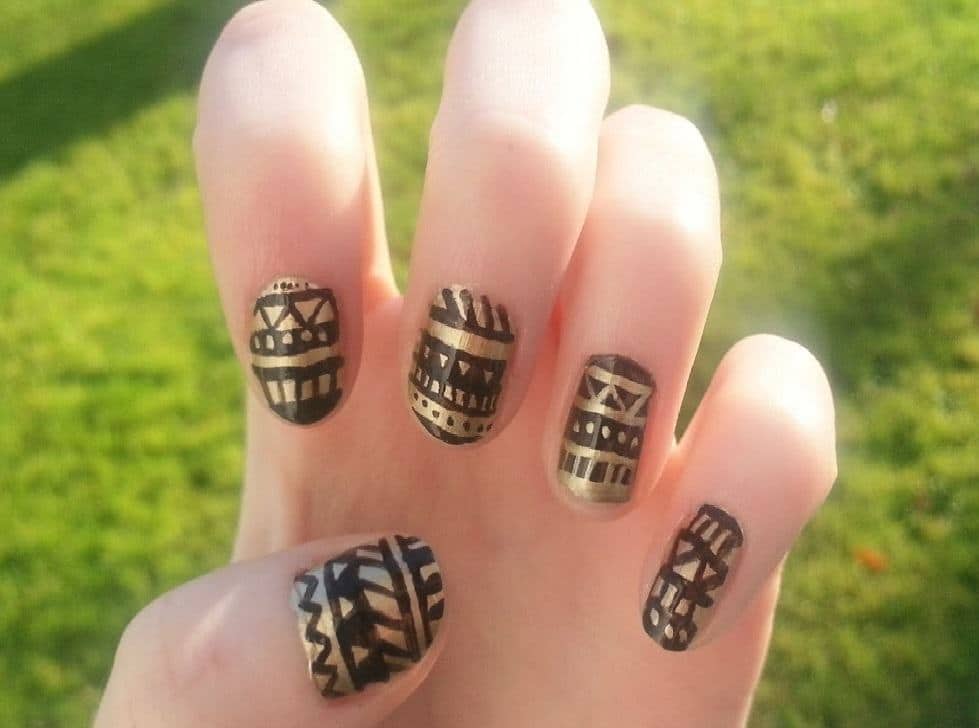 If you are a big fan of anthropology, geology, and the history of ancient tribes, this is another great theme  that you would love. Smother your nails with your passion for cryptic symbols of the ancient man.
#32. Baby Pink, Black, And Gold The Perfect Combination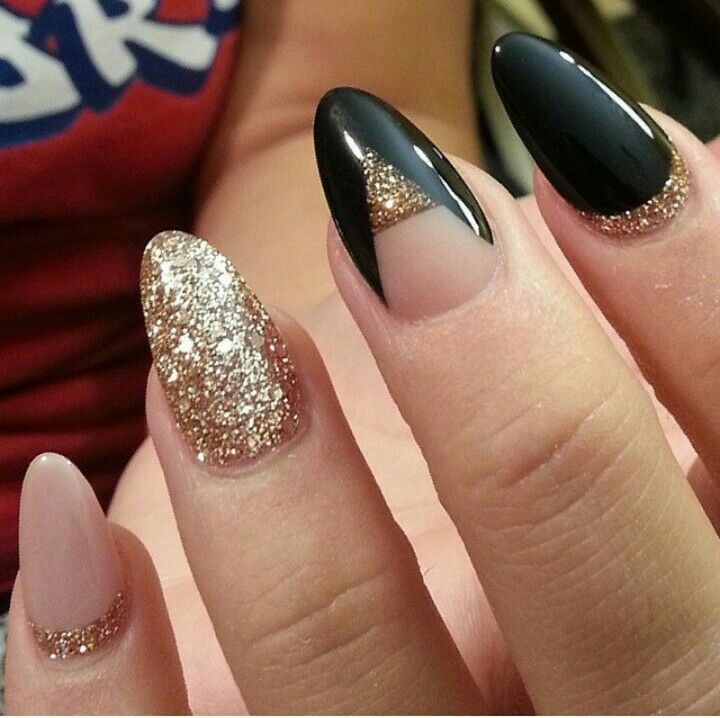 Adding the light pink color gives your nails a more feminine taste that makes this irresistible design even more adorable.
#33. Seaweed Green
This color is very stylish and trendy and works best for girls with bright skin color. Be sure to try it if you feel like taking breaths away.
#34. Egyptian Blue Nails With Double Gold Horizontal Stripes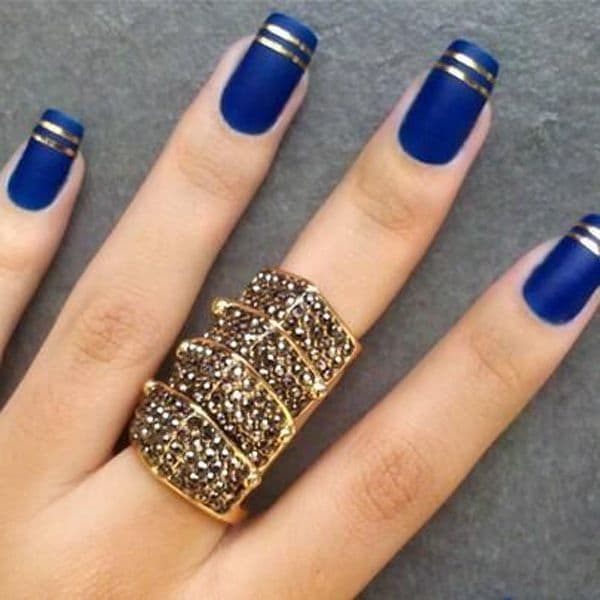 Feeling blue doesn't always mean sick and tired. This captivating nail art design is a great idea for graduation and engagement ceremonies.
#35. Pink Fade In Nail Art
Go ahead and get frisky with your nail polish brush to design fade in splashy pieces of art like this one. This style is great if are u feeling aesthetic or going to a slumber party.
#36. Electric Blue Base with Square And Glitter Details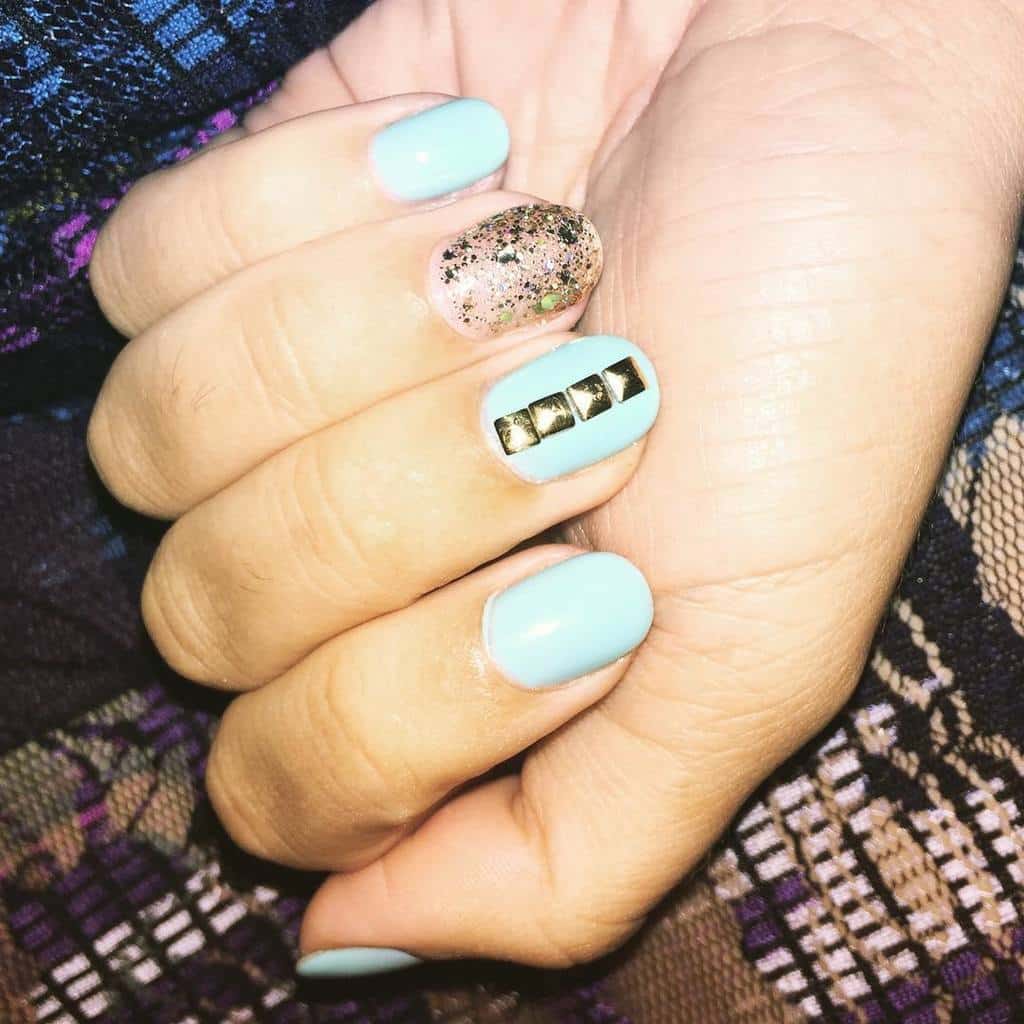 Be edgy and sexy and try out this nail art style to concerts and rock band meetings.
#37. Majestic Style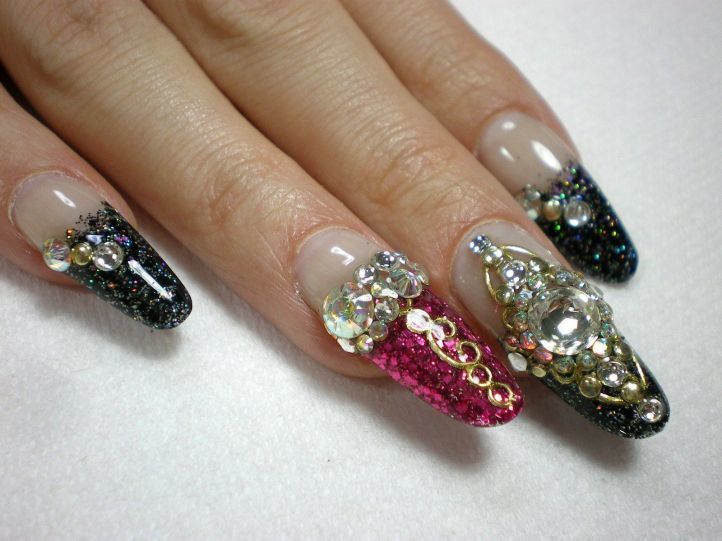 If you are all about fame and fortune then this cute imperial composition will suit you best with its unique strass details that imply a level of majesty and grace.
#38. Royal Manicure
" You majesty" is what everybody would be calling you if u go ahead and try out this honorable design. Get ready to be treated like royalty, you deserved it!
#39. Halloween Eyeball Theme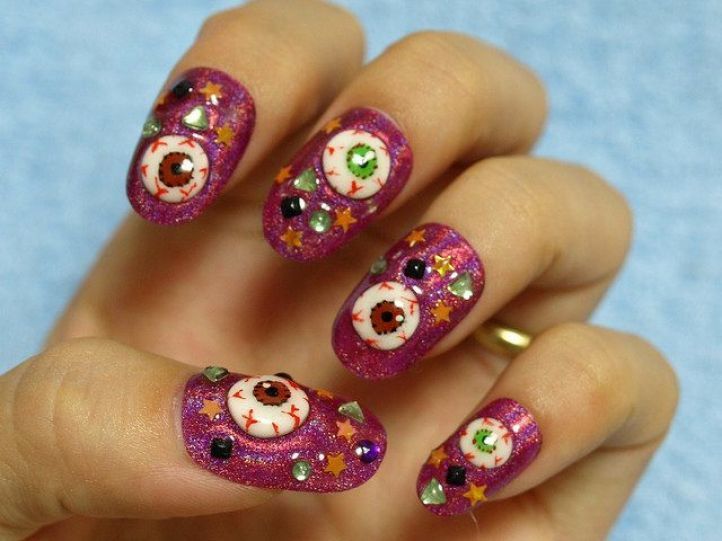 If you want to look unfamiliar on Halloween trick or treating then this spooky style would make a perfect pair with any costume you might pick.
#40. Nautical Manicure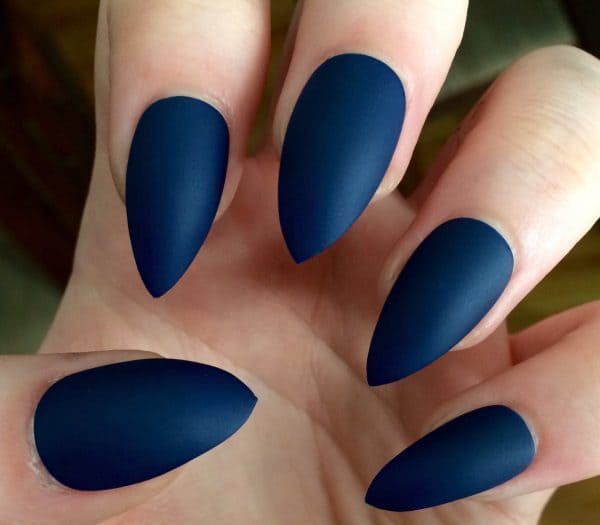 Claw shaped ultramarine patterns are the latest trends. Try this cute prominent design and you won't regret it.
#41. Claw Shaped Plain Black Nails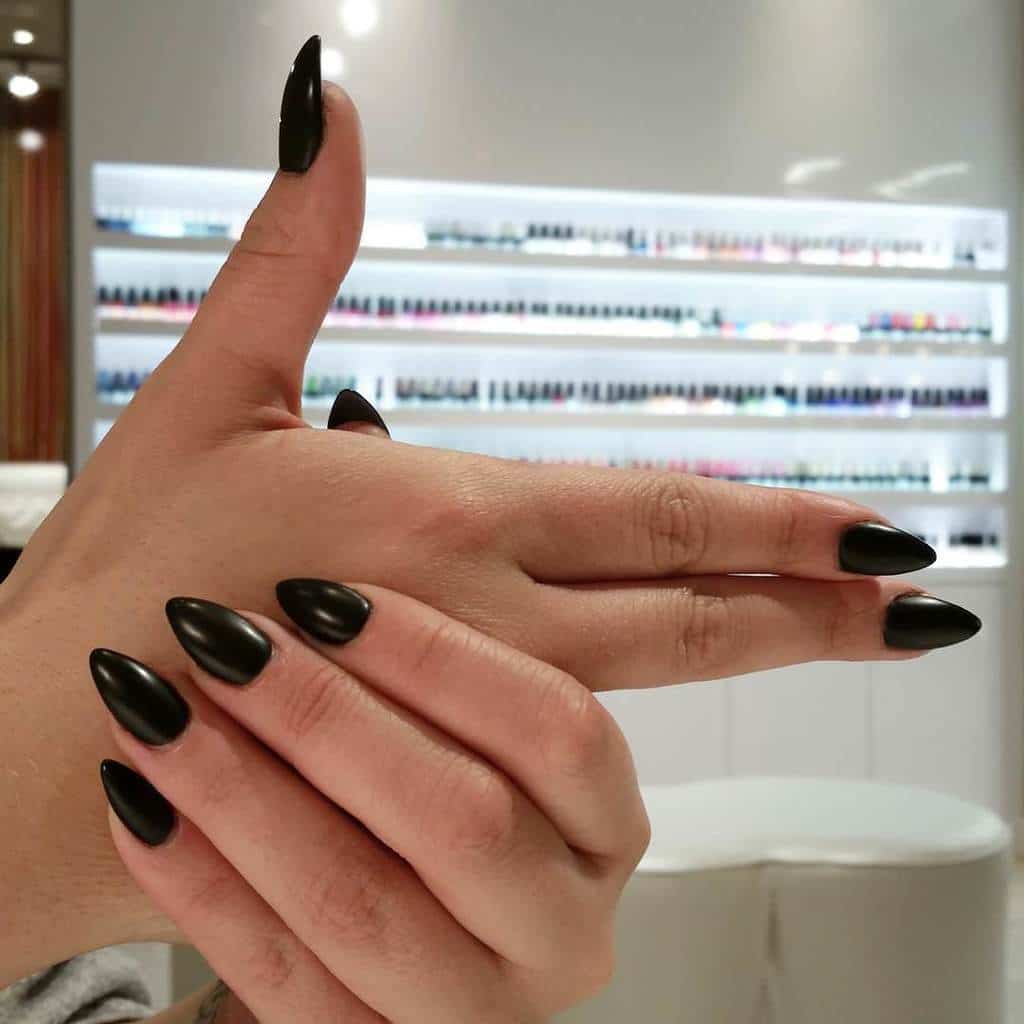 Plain black goes with any color and any outfit ranging from sporty to classy. It says it all !
#42. Pink, Black, And Golden Tiger Pattern
Unchain your inner tigress with this provocating and flirtatious nail art design.
#43. Fun With Stripes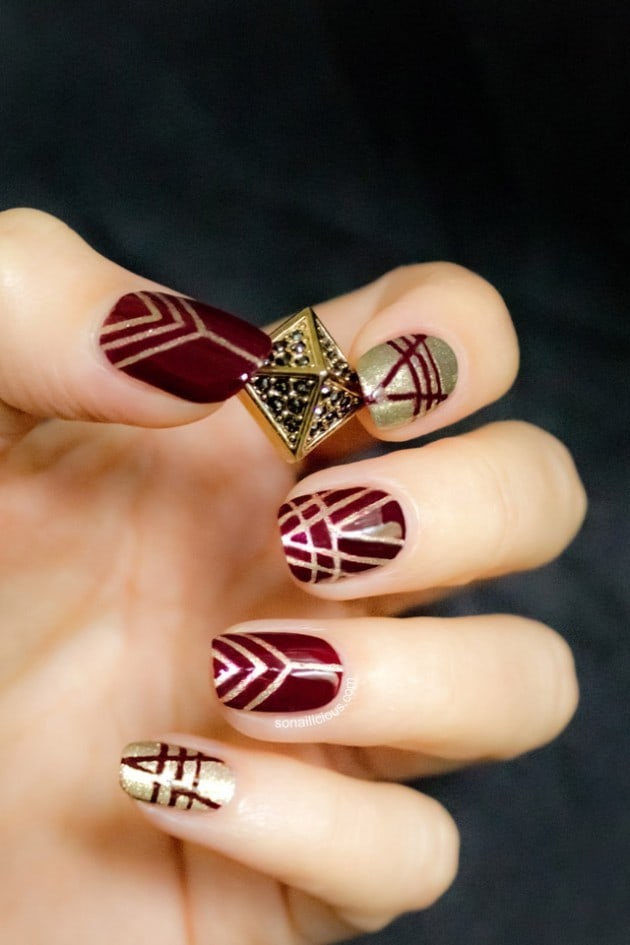 Create various shapes and figure from stripes to form a steamy look.
#44. Romance Collection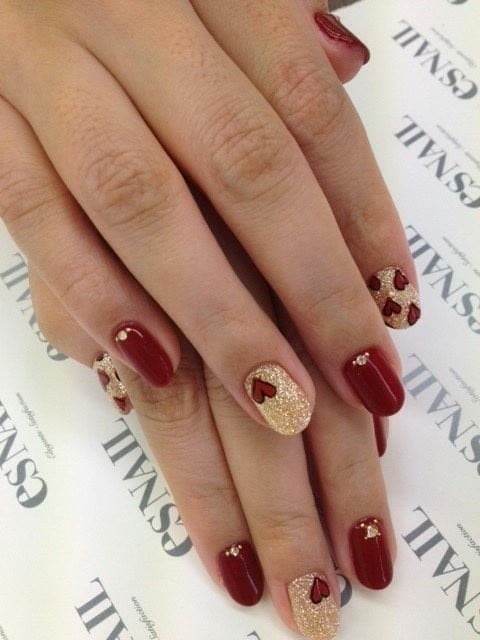 Let all your fingertips flaunt red hearts that just go like magic with dates, romantic dinners or special occasions like valentine's day or anniversaries with your special someone.
#45. Classic Black With Colorful Details
This classic shade of black adorned with little rounded colorful details makes a perfectly cute and simple nail art to wear in concerts, art gallery openings and wine tasting events etc…
#46. Can You Feel The Love Nail Design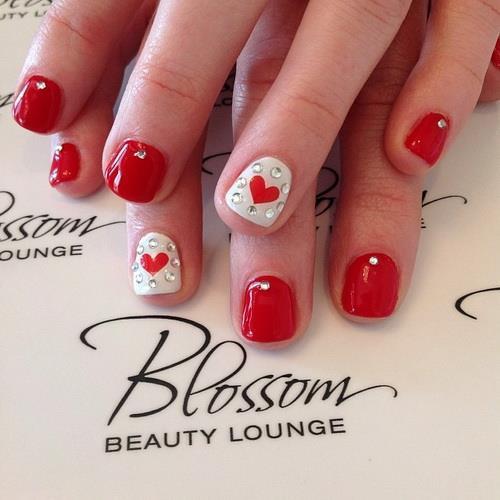 By just mentioning the word "Love", the first thing that crosses our minds is red hearts of all sizes everywhere. So what this emotional nail taste has to offer you is a style to wear whenever you feel like impressing someone because everybody knows that the heart wants what it wants. Try it to spread the love around you!
#47. Hawaiian Flora And Fauna Themed Style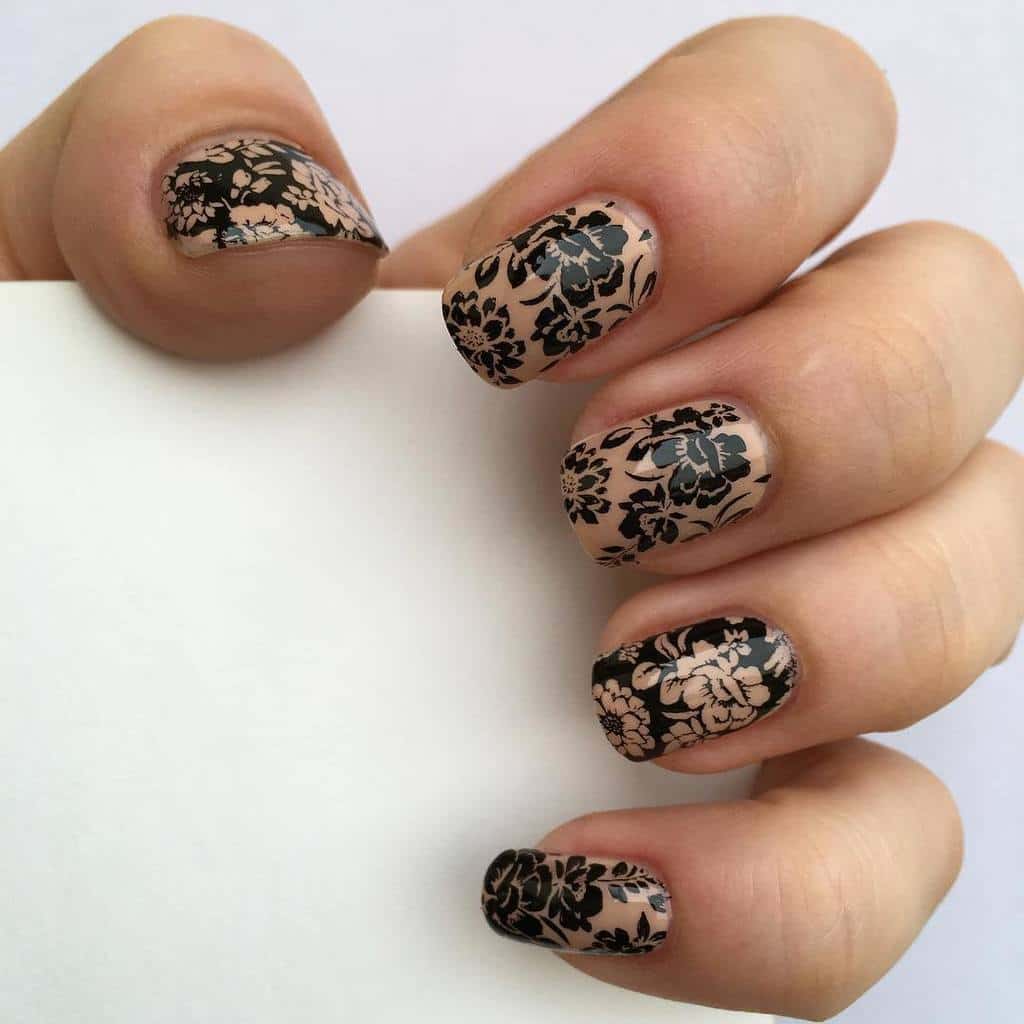 Flowers are elements of nature that we use as gifts to express our gratitude or pay our respects. It is suitable for both celebratory or painful events.
#48. 3D Bow Tie Animation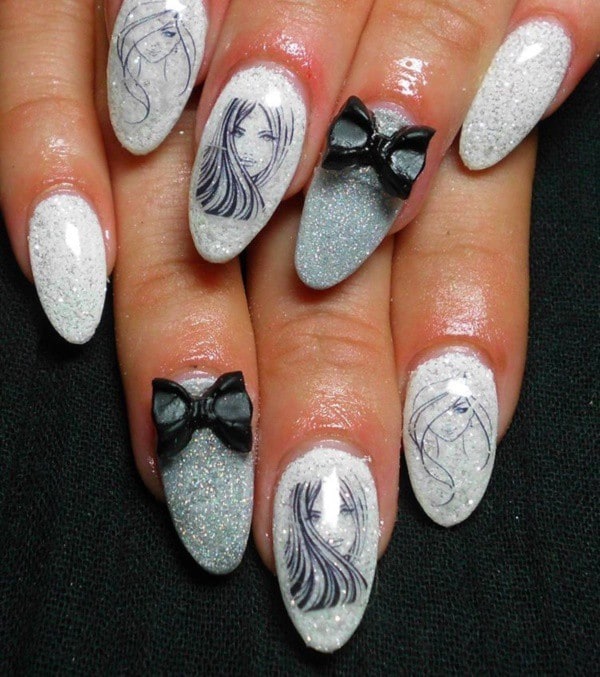 Black 3d bows, base coat, a few shades of nail polish , glittery silver varnish and awesome girlish stickers are the reason behind this three-dimensional real life-like style.
#49. Astrology Fan Nails
If you are curious about what really goes on in the night sky then this  dusk to dawn design is most suitable for you! With the addition of a few stars and crescent moons, you'll get the hang of it before you get the chance to notice it.
#50. Winnie The Pooh Themed Nails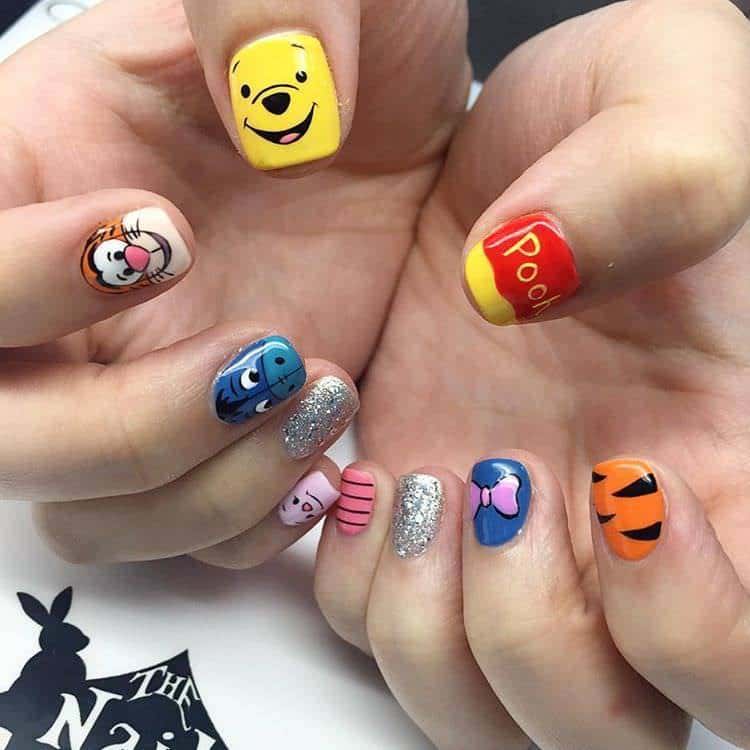 Nothing makes me reminisce my childhood days more than one of my favorite tv shows as a kid, Winnie The Pooh. And what yells "Cute" at you more than little nail bed sized animated characters staring at you with their smiles to their ears. Try out this youthful nail art design if you wish to look as cute as a button! Besides, you only live once, right?
Some More Designs That You Can't Ignore…
At last,we hope this impeccable list has saved you quite the trouble and a lot of time by providing the most leading and premium nail styles possible. Remember that, only a single stroke of a nail polish brush, a strass or stripe detail and a dash of glitter or sequence can change your ordinary world into a whole new exciting version. So be sure to pick out the design that most suits your interests and personality because once you go there is no turning back!