Are you sick and tired of trying so hard to grow your nails long enough for a decent manicure? Is the nature of your work preventing you from keeping track with the latest fashion trends because it needs excessive computer typing or plenty of manual participation? Wouldn't you really love it if you found spectacular short nail designs to fill the void in your empty fashion life?
Go ahead and do the honors of kissing all your troubles and so-not-fashionable days goodbye and welcome home each and every one of the stylish short nail designs you'll ever see.
The Wonders Short Nail Styles Can Do
If you like to keep your nails trimmed and dirt free, then you are just another girl who casts magic spells on people surrounding her without even noticing. Sure everybody longs for the limitless long luscious nails that allegedly make you look more feminine.
However, short nails have their own charm in store. Indeed, you don't need long nails (or fake ones) in order to impress someone and leave an unforgettable image of your memorable manicure in their head.
Despite what everybody thinks about the strong relationship between having long nails and having a successful manicure, you should be wise enough to not believe what you hear from just anyone. It's just a myth! What really makes a manicure so great is the design assigned to it not the length of the so-called nail bed!
Now that we have completely agreed that the crux of the matter is mainly nail design rather than nail length, let's check out the top 70 short nail designs list below and pair each one with an outfit from our personal closet.
#1. Short Acrylic Nails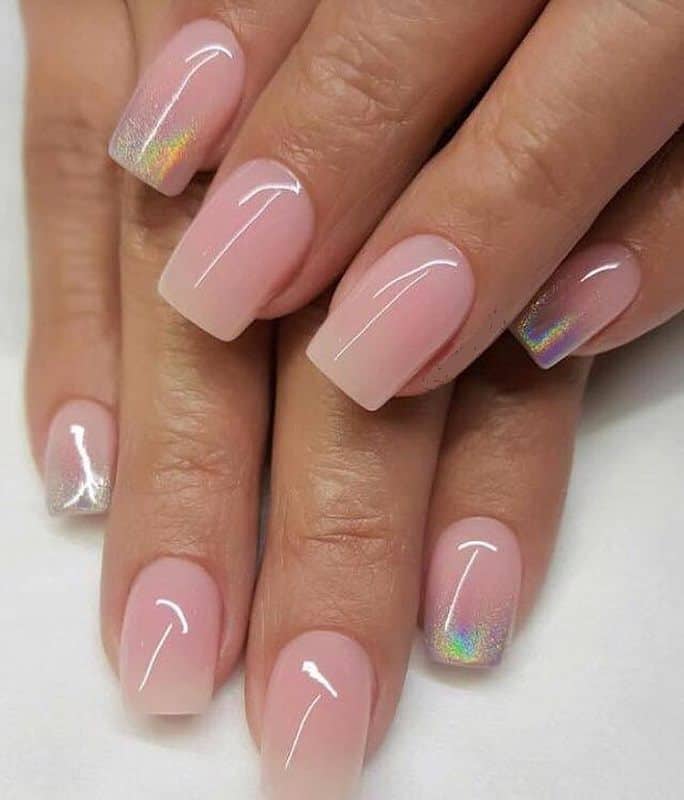 #2. Short Coffin Nails
#3. Short Almond Nails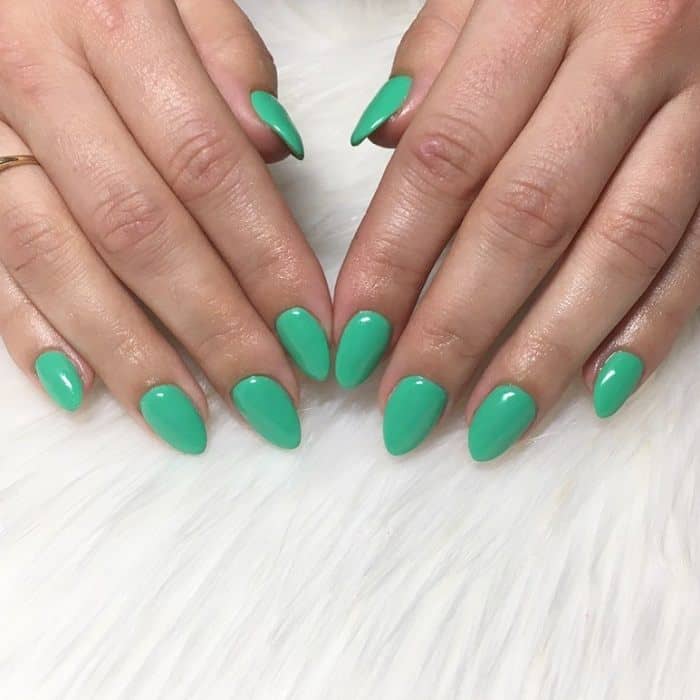 #4. Short Square Nail Design
#5. Short Stiletto Nails
#6. Rounded Short Nails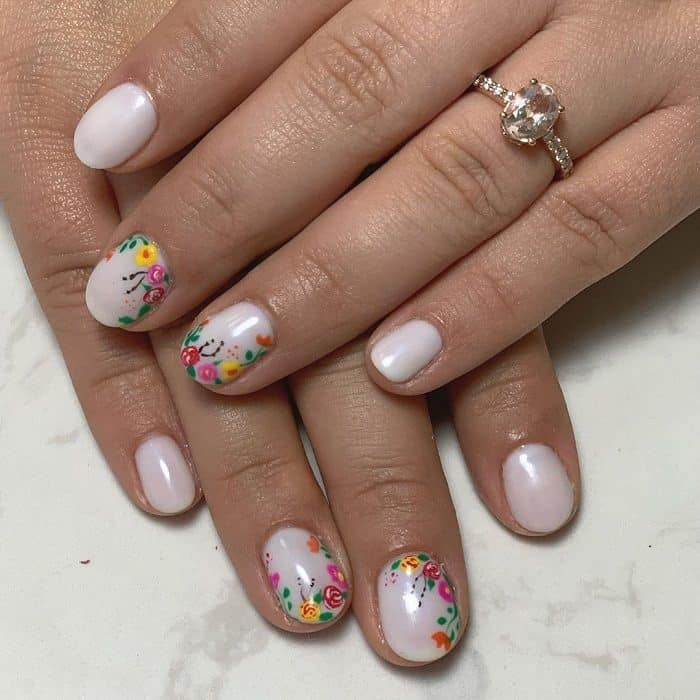 #7. Short Oval Nail Art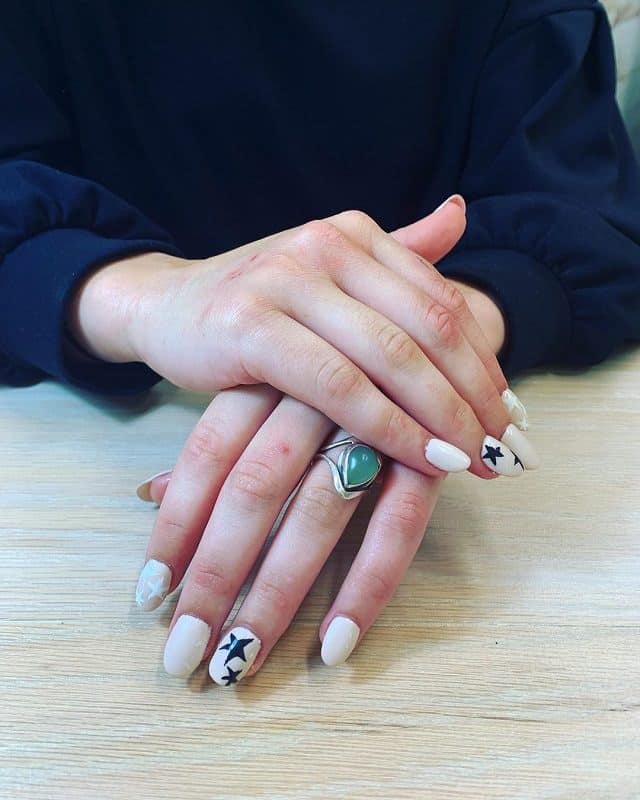 #8. Short Gel Nails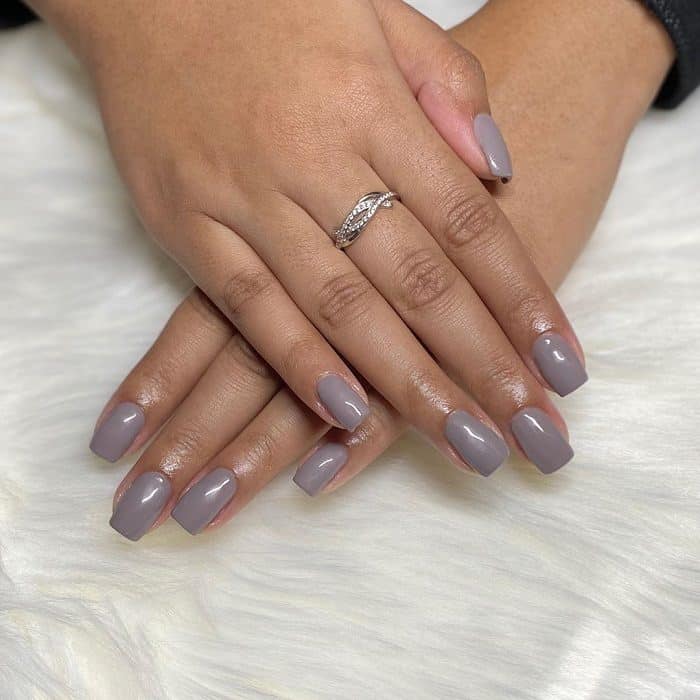 #9. Short Ombre Nails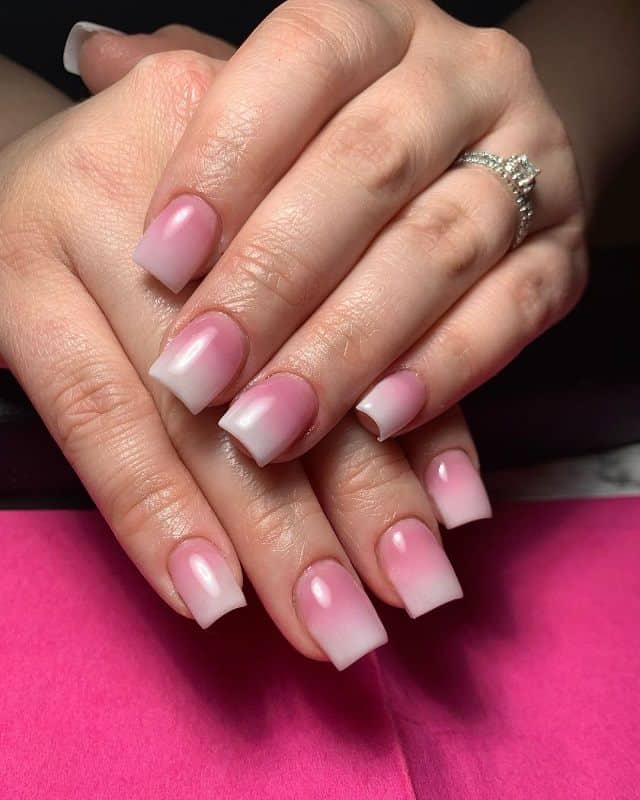 #10. Pointy Short Nails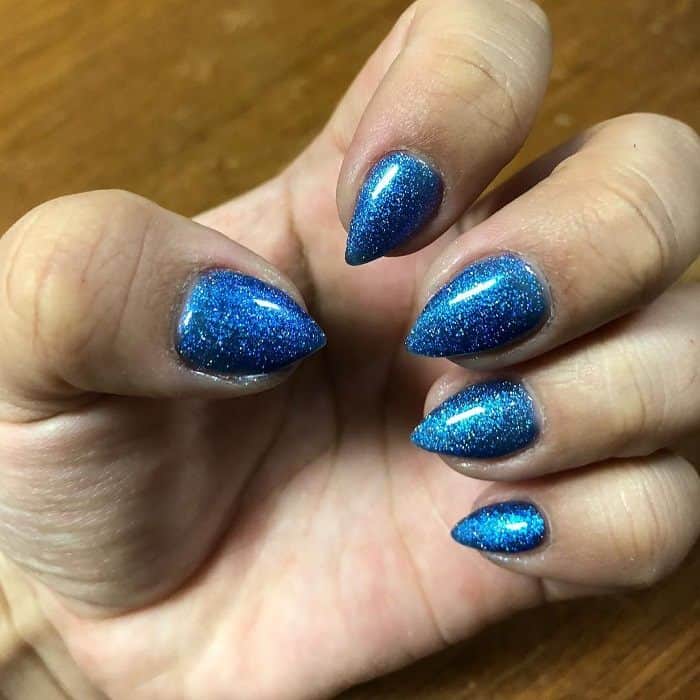 #11. Short Squoval Nails
#12. Short Nude Nails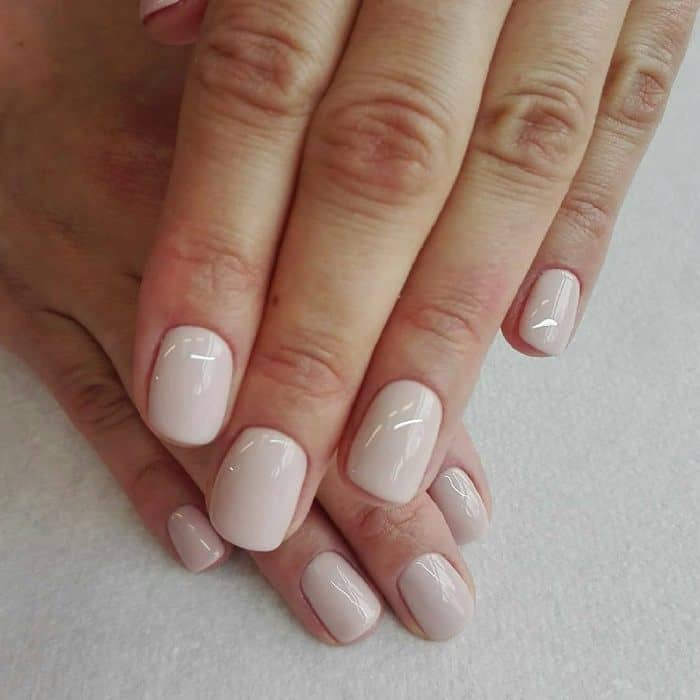 #13. Short Yellow Nails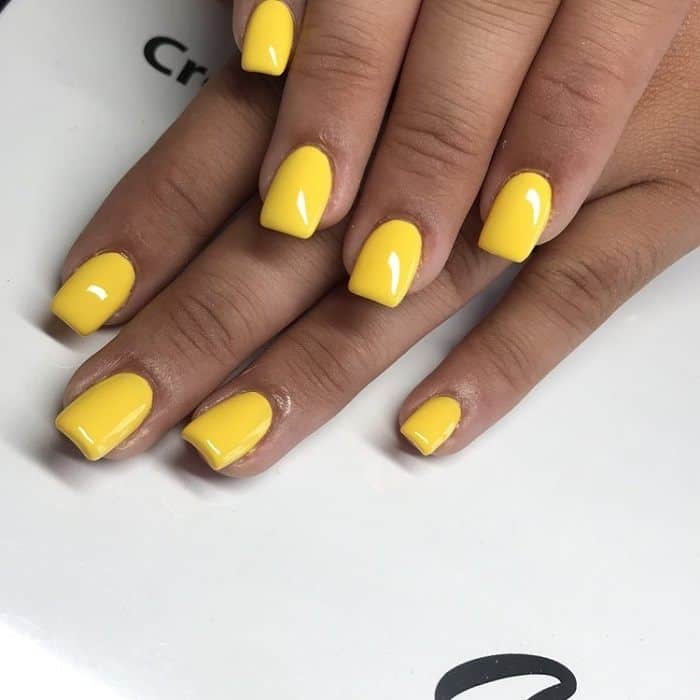 #14. Short Nails for Kids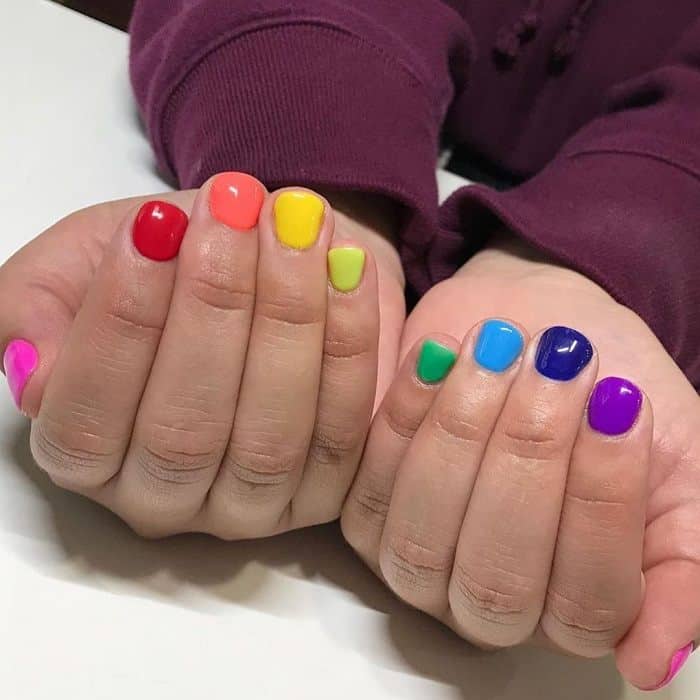 #15. Short Nails for Halloween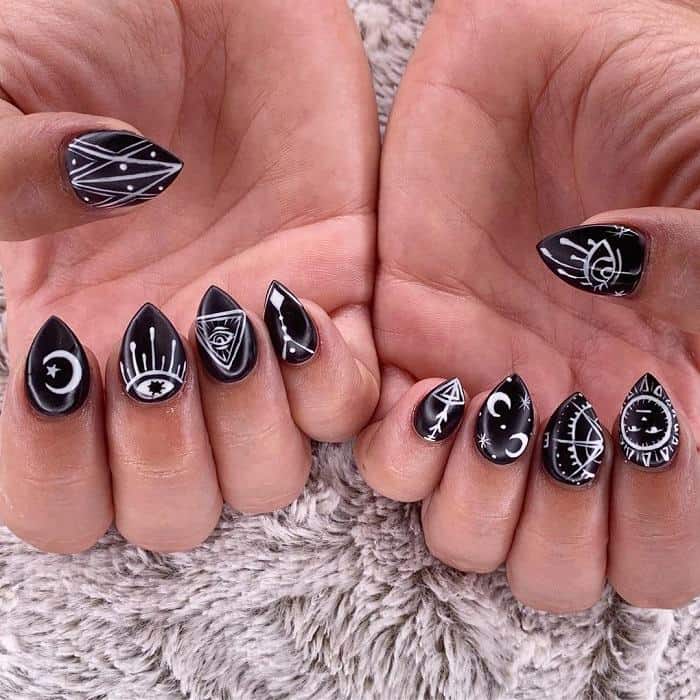 #16. Short Chrome Nails
#17. Short Marble Nail Design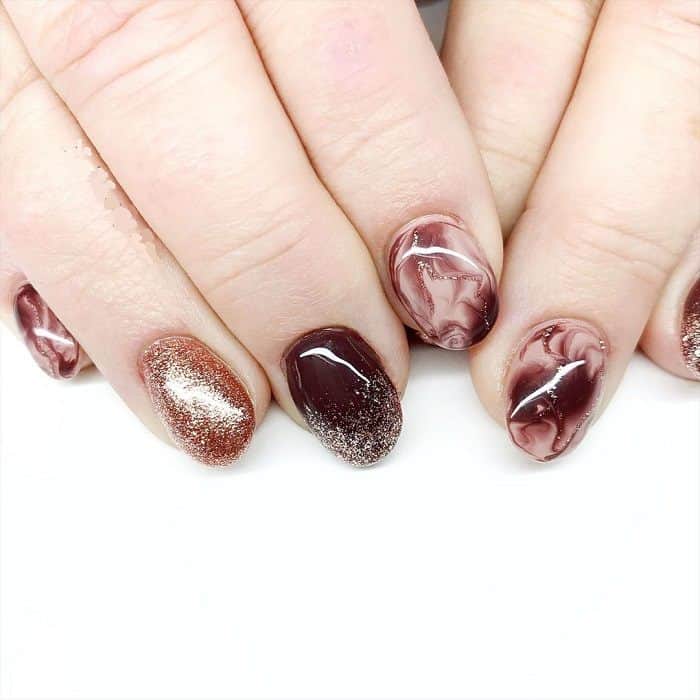 #18. Short Unicorn Nails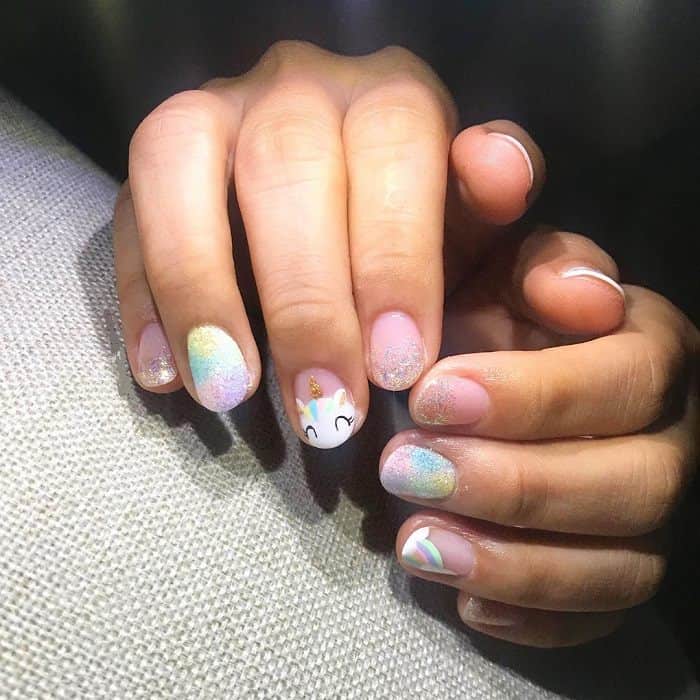 #19. Short Sunflower Nails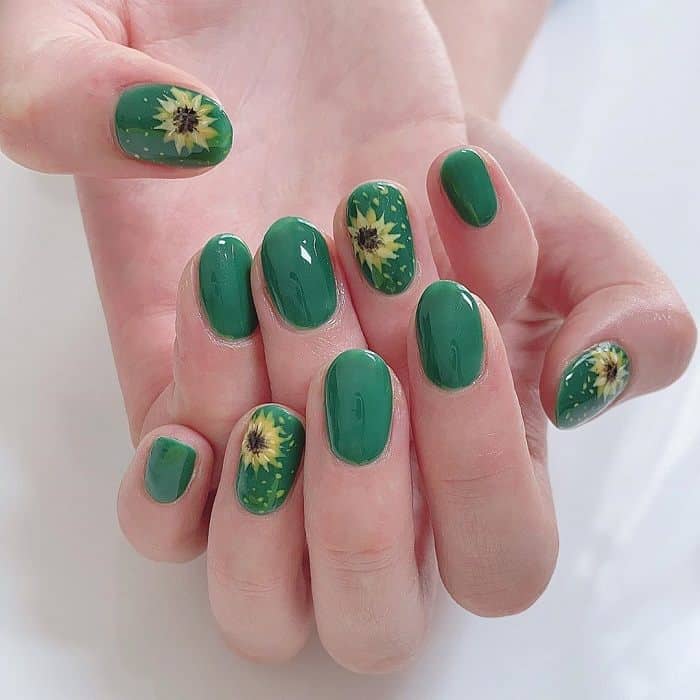 #20. Short Nail Design for Christmas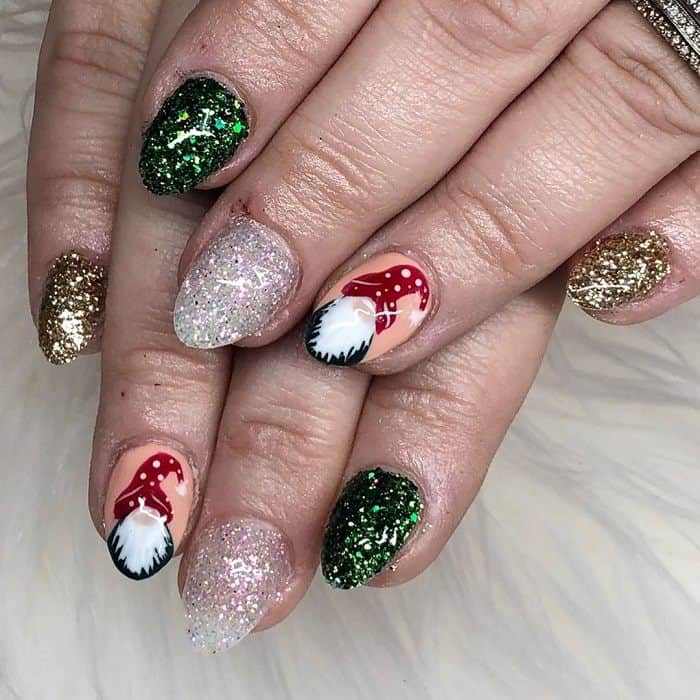 #21. Pink, Black, & White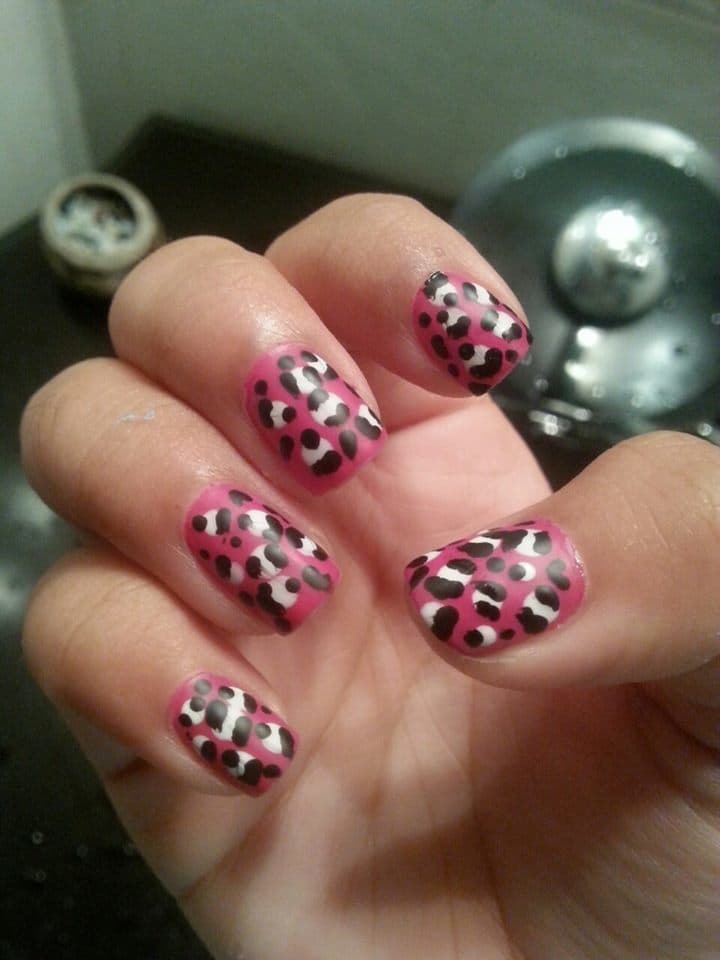 Everybody loves the freestyle manicures. Perhaps they are everybody's favorite and with this example, we can all see why!
You can splash on a magenta pink base coat and grab the black white thin brushes to randomly Polk-some-dots onto all the nails in order to get a funky nail style in no time!
Coolest Black & White Nail Designs You Can Copy
#22. Rainbow Waves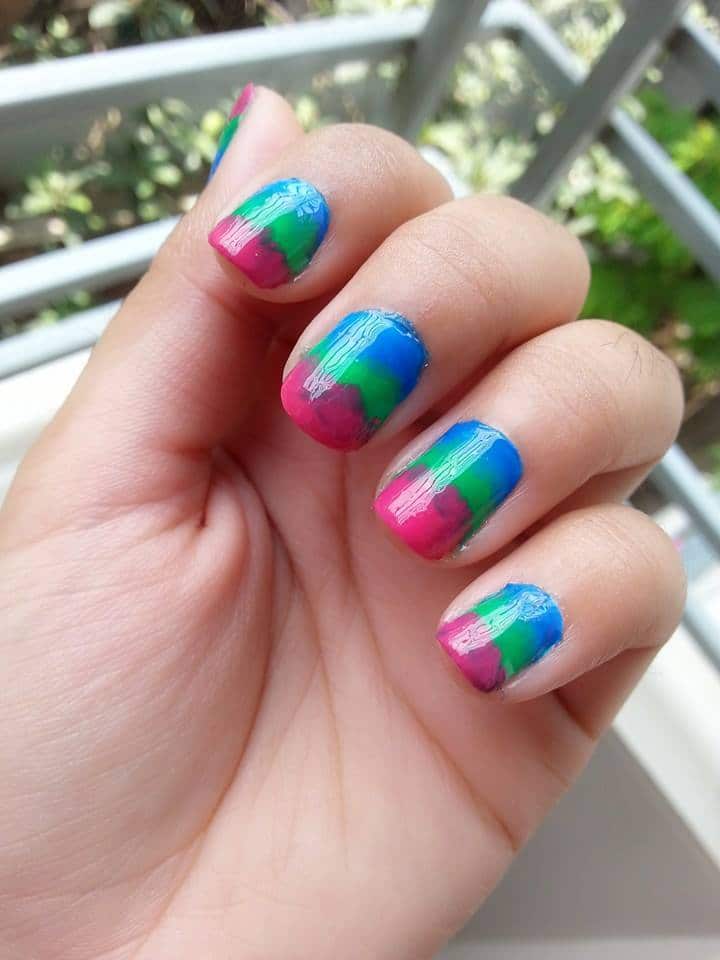 Who said nail manicures are all about precision? If you don't have a steady hand that doesn't mean you'll gonna have to be mani-deprived for your life!
Here's a nail style that you can do with your free unsteady hand and still benefit from the wavy shape you get from it. Choose three of your favorite colors or colors that compliment your outfit and apply away!
#23. Bold In Black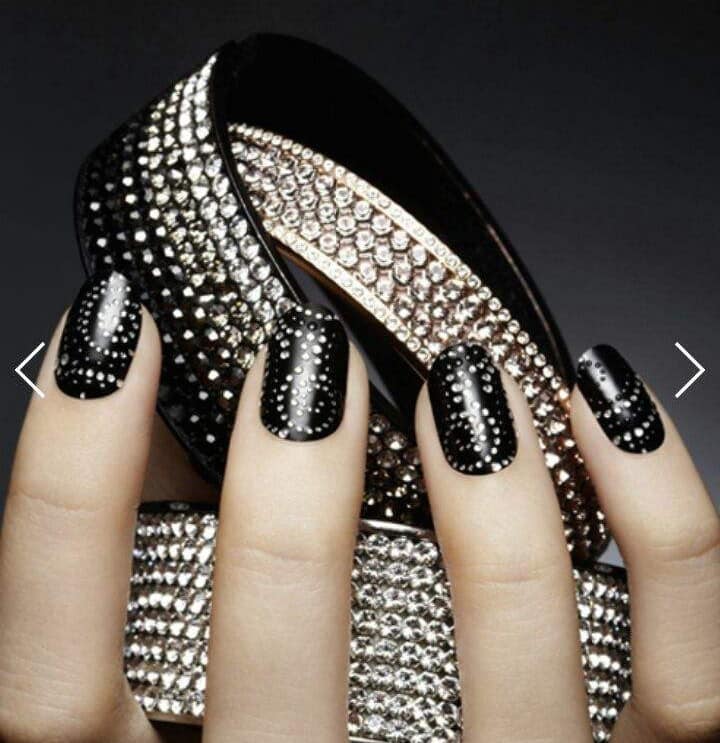 Are you rock 'n' roll fan? This hard metal your favorite theme? Then this bold black mysterious design might be the one for you!
#24. Tribal Chevron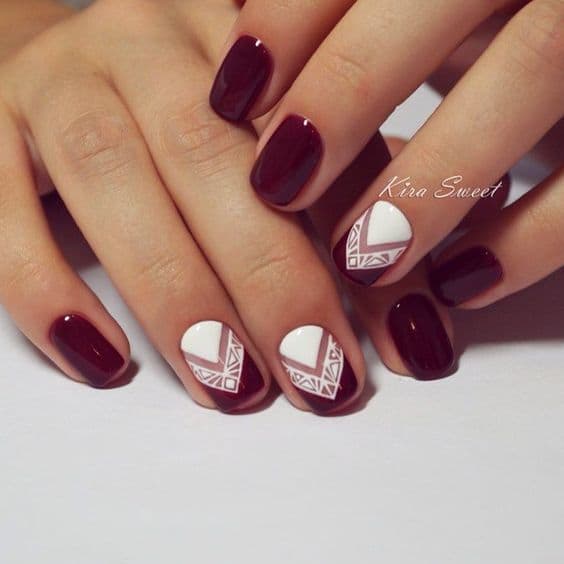 It is one thing to use the chevron style, but using it with the tribal theme takes it to a whole new fashion level with that wine red shade that makes it look more and more classy and sassy!
#25. Very Short Grey Nails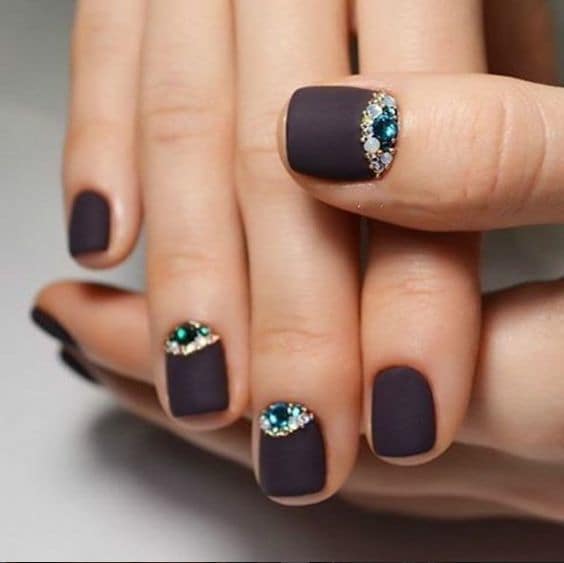 If you thought you're good enough with the graphite pens to draw pretty portraits then you are in for a treat with this graphite gray short nail design. Apply several coats of matte graphite gray polish until you get just the right shade you sought for.
Stick on decals that amplify the royal effect on the nail art by a factor of 10. Wear it to dance balls, charity galas, and business dinners while looking as majestic as ever.
#26. Robin's Egg Blue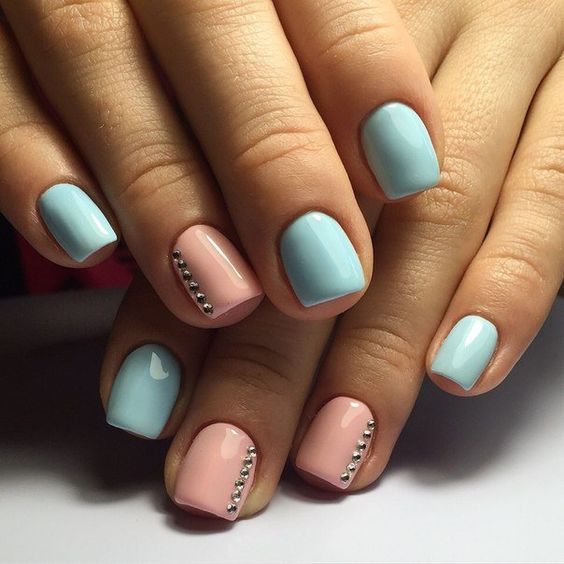 Just like a robin soars away into the sky from its nest filled with its blue eggs every day to get the daily ample nutrition needed for survival, you can leave your robin's egg blue short nails with watermelon pink accent nails behind and get down to your daily business.
Whether it is going out with the girls on a shopping spree, picking up coffee and dry cleaning for your crazy boss, or typing and proofreading your paperwork away until you're off the clock all day until you can go back home, spread your legs, and chill.
#27. Crystal Bright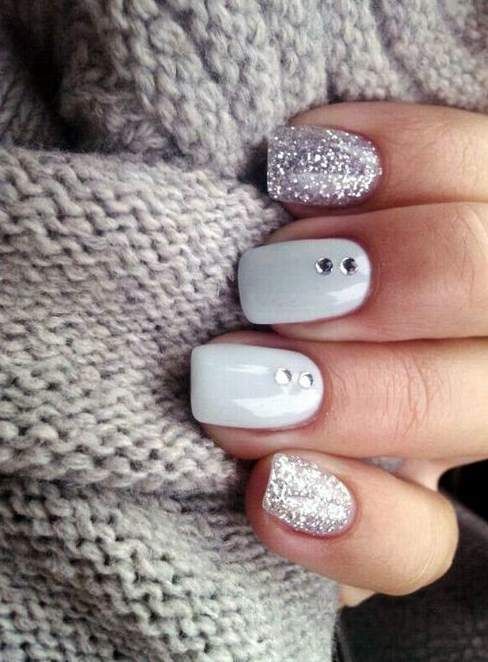 Shine bright like a diamond with this clear nail art that works for any attire and any occasion. It's effortless too!
You have to do is apply several coats of plain white polish to get the white nails and stick rhinestones on them (optional) while all glitter nails are the outcome of several coats of silver glitter varnish.
#28. Salmon Pink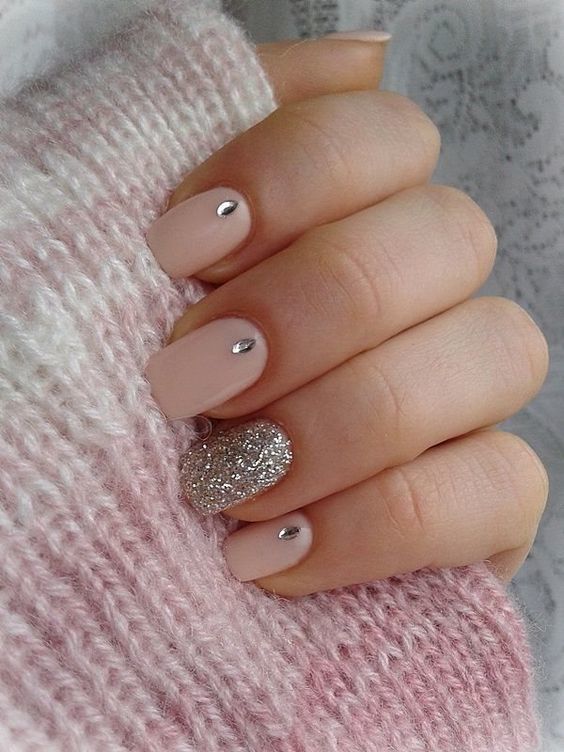 In psychology, pink is a soothing calming color assuring that everything will eventually be okay.
Especially if the light shades of pink are concerned. That goes to the example above showing salmon pink shade base coat with silver glitter accent nail and a silver detail on the inside of each nail bed.
Due to its elegant appearance, this style would be perfect for a formal calm event. It practically goes with any color combination you already picked for you dress and therefore it has a high chance of compatibility with a lot of girls!
#29. Plum Purple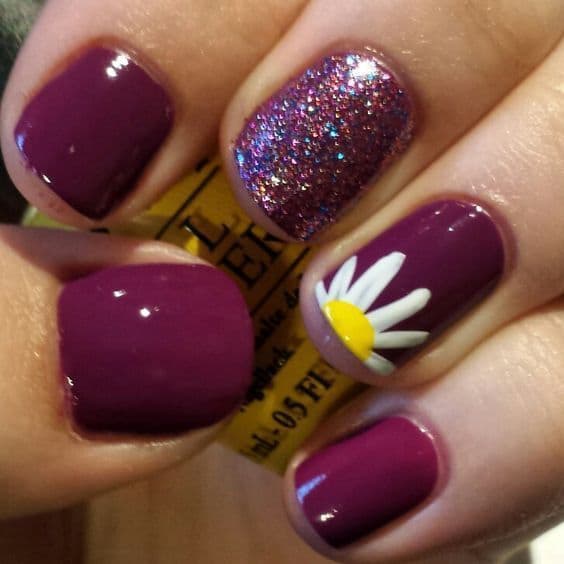 Purple is the color that reflects the image of a creative person who never sleeps until she reaches her desired goal. She's the miniature warrior in her own world and it's up to her to save the day.
Without the purple color she doesn't find the motivation to do it nor does she find the strength to keep going when everything falls out of place.
Trendiest Purple Nail Design Ideas
#30. Negative Space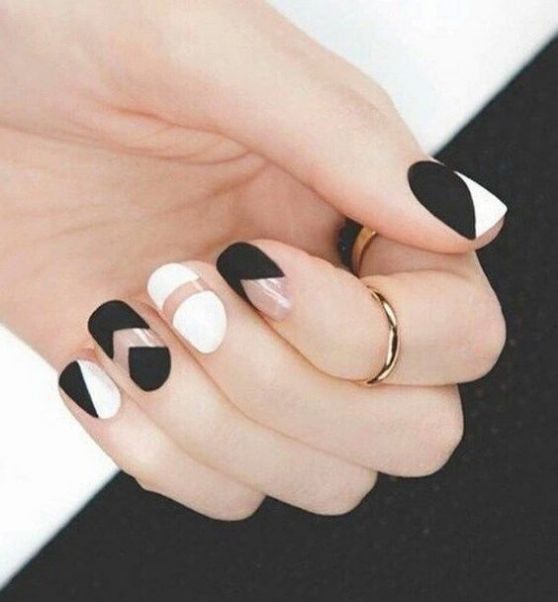 Before the rise of digital cameras, we had to spend hours working on the negatives until we could get solid photographs.
If photography taught us anything is that is essential to take good care of the negatives because without them we can't have positive results.
Try this style that uses the pattern concept not in only in positive spaces but also in the negative ones as well!
#31. Sea Secrets
Seas hold within their deep and vast spaces a wide range of uncountable secrets. They are the unspoken secrets of the prehistoric generations and how they managed to survive life as we know it before the birth of the technology age.
Be secretive, mysterious, and charming like a sea full of treasures and important history that are only revealed for the ones worthy of knowing all the intel. And celebrate the summer season with this shade of red and sea star accent nail!
#32. Gorgeously Geometric
Most of us fashion heads never enjoyed the complexity of math rules at schools and hated how everything had it's own steps that should be followed.
We loved unlimited areas and irregular geometry shapes that we could manipulate to create one of a kind design like the one shown in the above picture!
#33. Lavender & Teal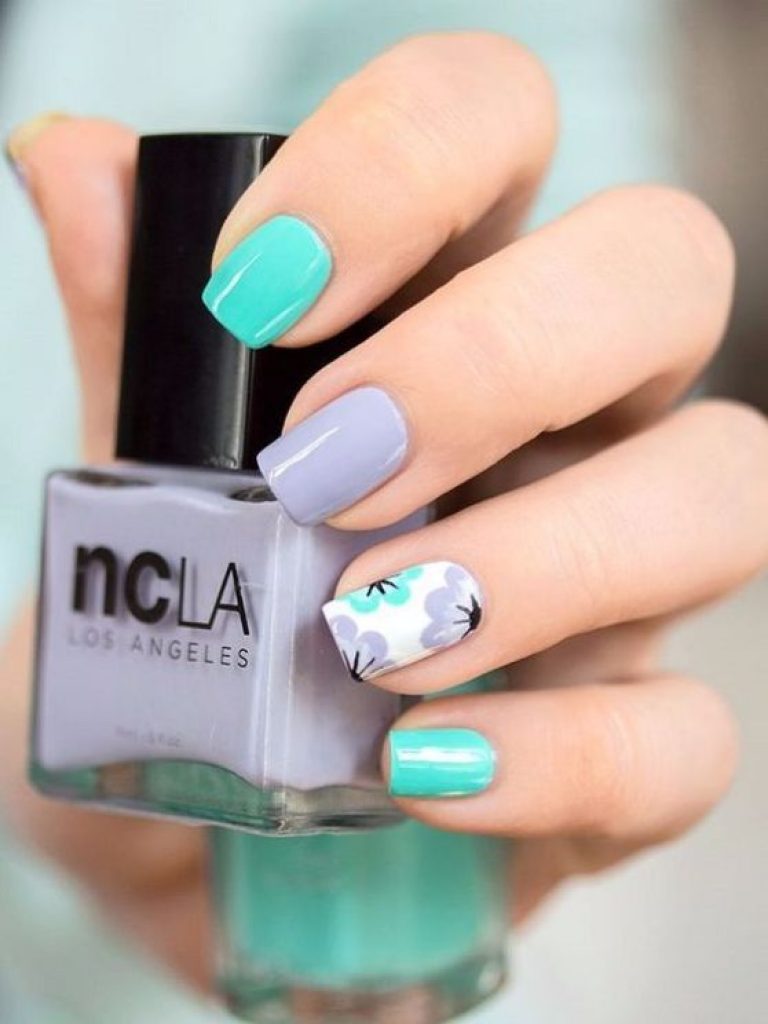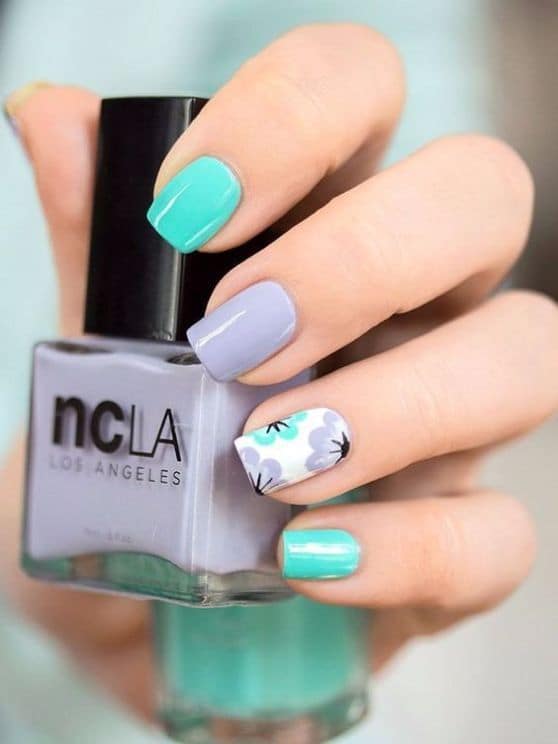 Nail art inspired by nature is always an epic hit in the fashion world. If you're an environment enthusiast and would love to go all green to save the trees then this style might be good for you.
It has the lavender purple shade combined with the teal hue that is actually the outcome of a mixture of the blue sky's color with the green field's color in the spring.
Make the accent nail the center of attention by applying cute flower scribbles popping from the edges of your nail bed!
#34. Tiffany Blue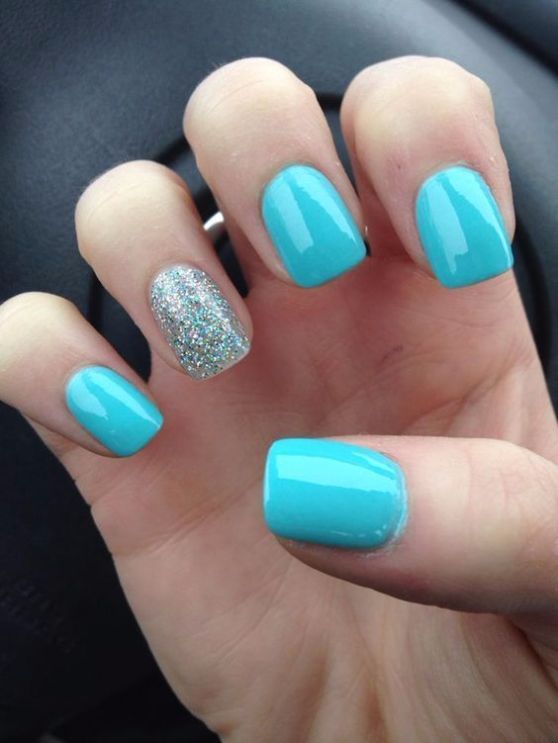 Tiffany blue is the brighter shade of robin's egg associated with Tiffany & Co. the famous jewelry company. Crowned with glitter varnish on the accent nail, it conveys peace and new beginnings.
#35. Golden Sparkles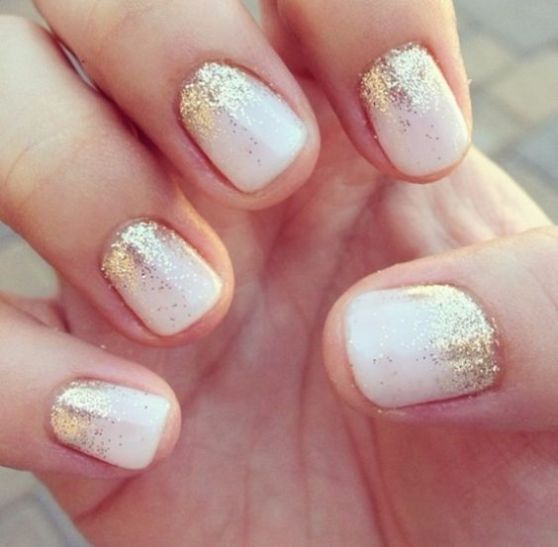 Sparkling glitter nail art is that kind of art that can be easily mastered by just anybody! No skills required.
#36. Chevron Cherries
A cherry nail a day keeps fashion emergencies away. Be the queen of the fashion world with this rare shade of cherry red applied along with baby pink chevron pattern and golden decals to make it more realistic.
#37. Zebra Print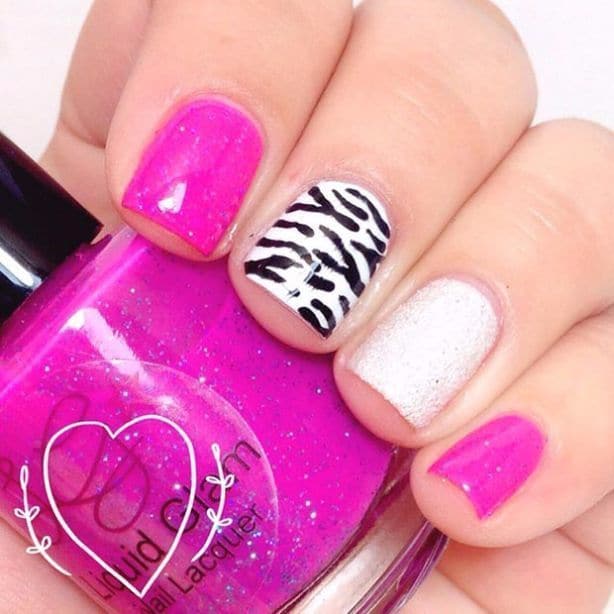 The zebra texture is widely popular in the fashion business so why not use it in short nail designs as well? While it might seem ultra-complex, after actually trying it out you will realize that is is deceptively easy!
#38. Buffalo Check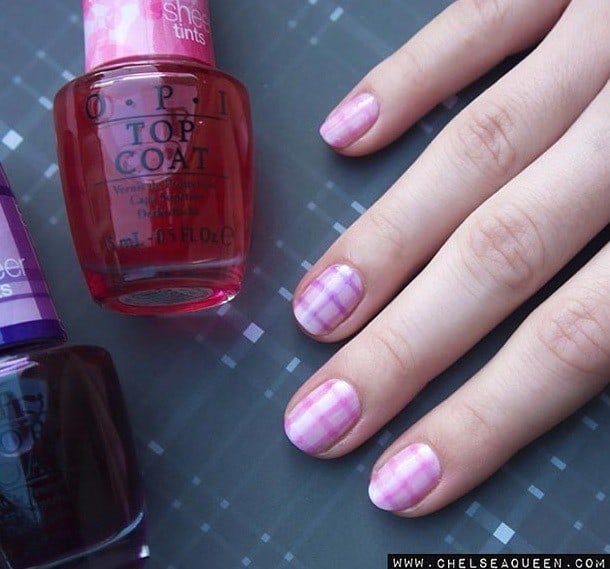 While this style might look like it is inspired by your grandmother's table cloth, buffalo check is a very popular pattern and falls in the country category.
#39. Polka Dots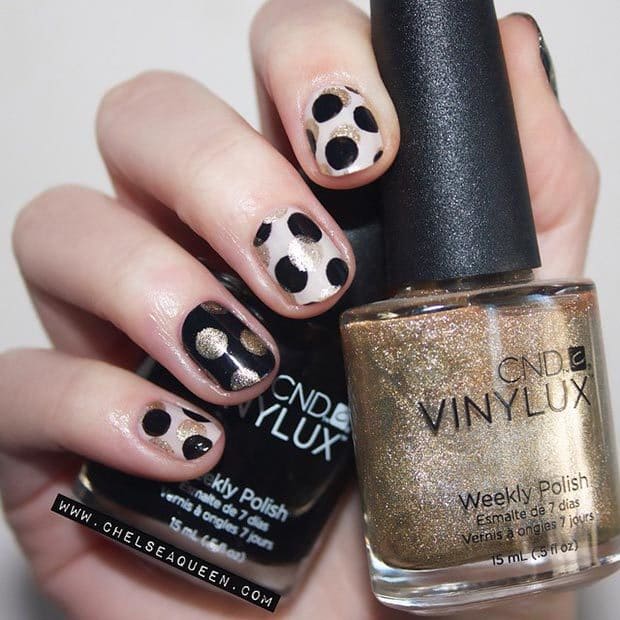 On a recessive color base coat, apply bold polka dots to always be in style!
#40. Short Natural Nails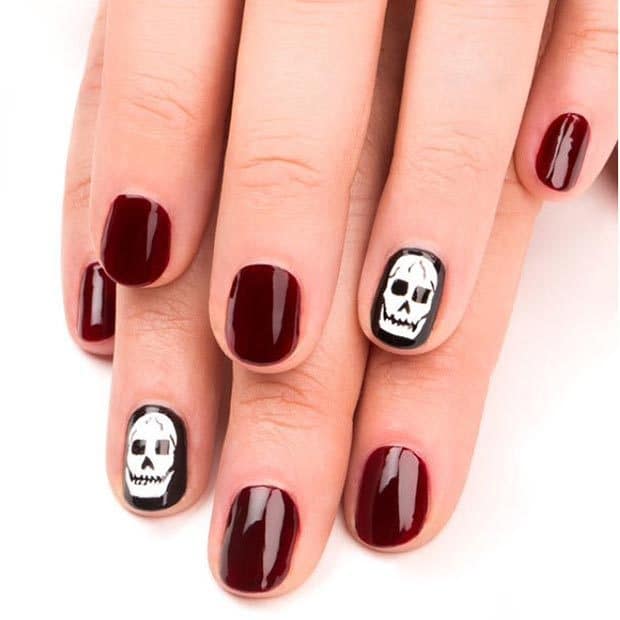 Buy yourself a ticket to the underworld with this spooky nail art design combining both bloody red nail polish and skull themed accent nails to make it favor the frightening spirit.
#41. Chevron & Glitter
Chevron white and gray with a splash of silver glitter to go along with baby pink nails is the perfect combination for a pretty short nail design.
#42. Lantern Lights
We all have that soft spot for the famous Deepawali festival of lights when people celebrate to welcome an old religion theory ( we don't want to get deep into because it is off topic) during which lanterns are set free to light the dark night sky.
Get inspired by everything around you to start applying creative nail art like the one above inspired by the different colored lanterns sparkling in the nightfall.
#43. Bambi Theme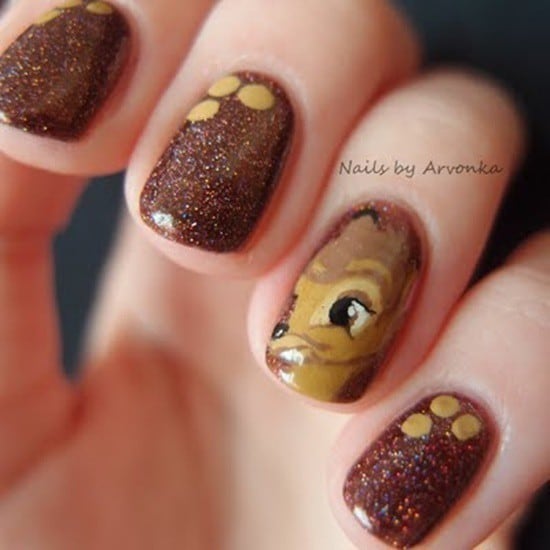 Now here's a one for professional nail artists to fangirl about. The Bambi-themed nail design is inspired by the Disney original movie Bambi in which our beloved Bambi fights his way into adulthood after the tragic loss of his mother at a very young age.
Use Bambi as your daily motivation that helps you overcome every hardship you encounter and don't forget that persistence is the key to true success.
#44. Cherry Blossoms
Flowers come in various infinite shapes and sizes, each with a different symbolic meaning. Cherry blossoms are the kind of flower appreciated by the japans culture as it the symbol of new beginnings and rebirth.
Start over with a clean slate after whatever mess you made with this cherry blossom symbolic nail art.
#45. Lapis Blue
If this is not right blue hue for you, then I don't know what you're gonna do. (Rhymes, Yes!!)
Put your feet in cold water and relax after a stressful day at the sight of this soothing nail style adorned with pretty blue flowers in the white base coated background.
#46. Tropical & Gradient
Haven't we all dreamt excessively about that long relaxing vacation after we have been knocked head over heels at work with all the endless tasks and responsibilities tangled above our heads and seem like they will never go away before we die?
How many times have you secretly imagined yourself sitting on the beach sand with your sunglasses on to protect you from UV rays and your body oil smeared all over your tanned body wearing your favorite swimsuit that makes you look sexy and confident in a way none of the other bikinis do, all of this while enjoying a cold refreshing coconut drink under the shade of a palm tree?
Dream's Over! You need to get back to reality because the nearest vacation you'll ever witness is at least months away so the only thing you can motivate yourself with every day until then is an inspirational gradient tropical nail design inspired by your own dreams!
#47. Heart Beats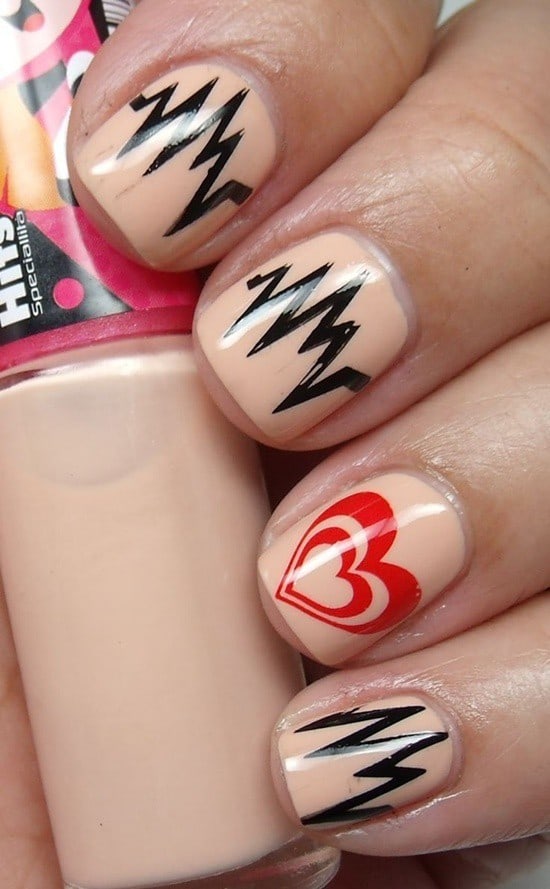 If it ain't love that is making your heart skip a beat whenever you see him, then why does it feel so good? Use your irregular heart beats as an inspiration for your upcoming short nail design!
#48. 4th Of July Theme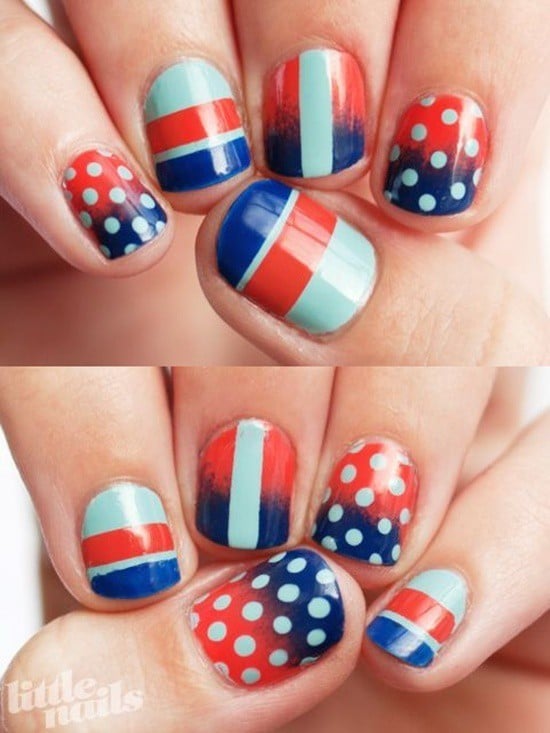 Independence day is practically the only holiday you get to show your devotion to your country in. And what's a better way to celebrate independence than a 4th of July themed nail design that will knock your fireworks off!
#49. Double Trouble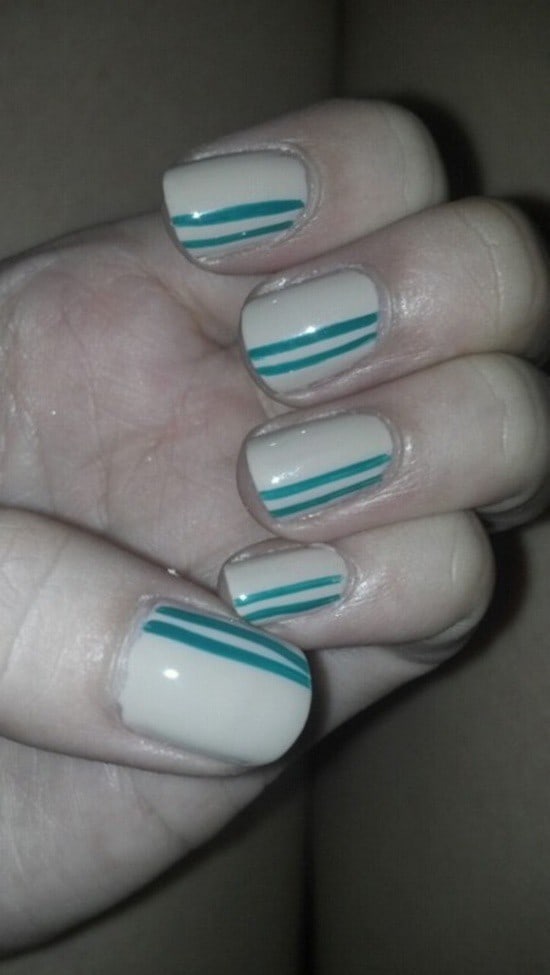 If you think one teal stripe is enough, then this double striped style will make feel like you just got yourself into deep emotional trouble after all the attention you have drawn yourself when you were finally brave enough to wear this style outside the house!
#50. Shape Matters
It's not always about the length of nails or the color of the base coat.
If both aspects were to be ignored while maintaining a good shape concept, then there is nothing stopping this style from becoming the new ultimate nail design. Pick whatever shape you like and be yourself!
#51. Gradient Zebra Print
Mix up two blue hues with the zebra print in a gradient theme nail style to show that you are calm yet secretly seductive when you want to.
#52. Black & White Freestyle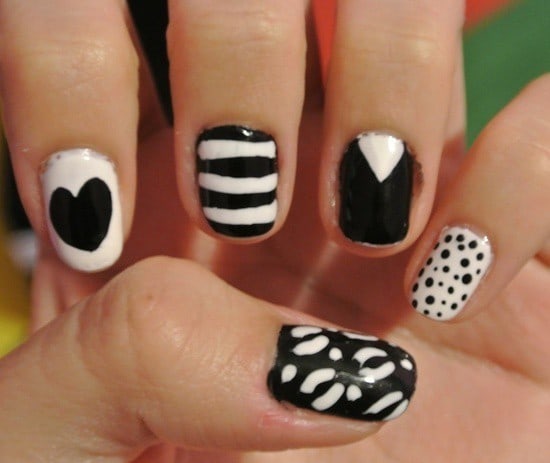 We should never forget to have fun while we apply a new manicure because that's clearly the most important part of designing short nails. Freestyle your own nail design and tell us all about the fun you had!
#53. Matte Sky Blue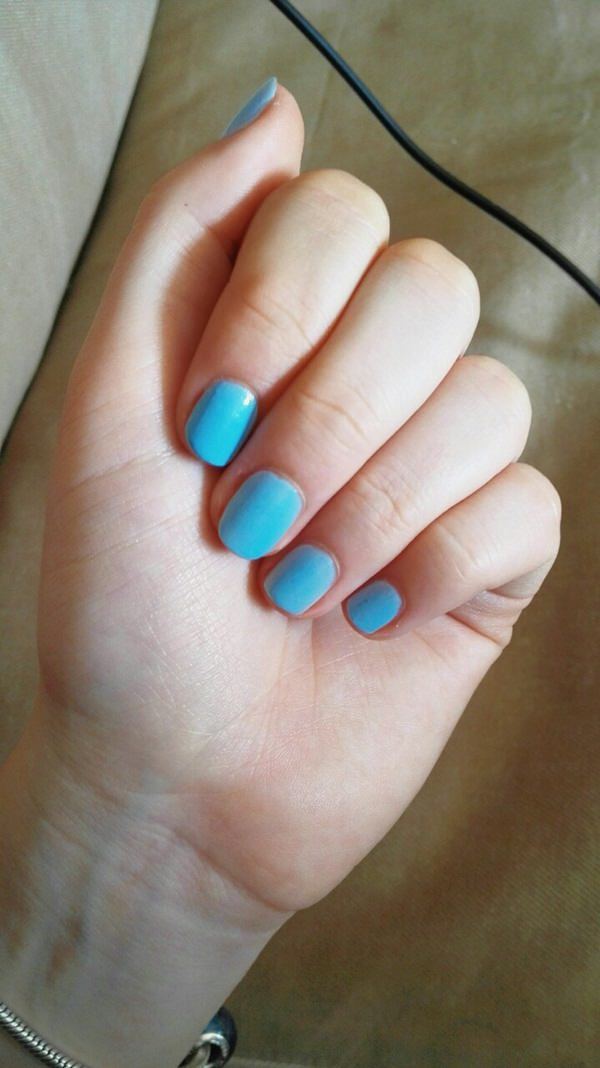 Coco Channel was clear when she was asked about simplicity. It is the keynote to true elegance and that's what everybody should start thinking about from now on.
#54. Love Me Like You Do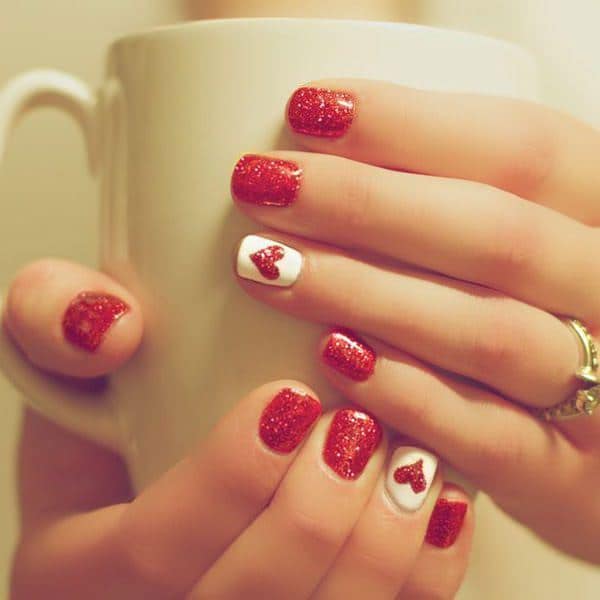 Have you ever wanted to throw a fist full of glitter into the open air while closing your eyes and make a wish that involves you being with your special someone until death does you apart?
If you have ever wished for something like that then it must have been true love that drove you in that direction. But it is the time you tell him how you truly feel. Drop a hint with a lovely nail design like this one!
#55. Be My Valentine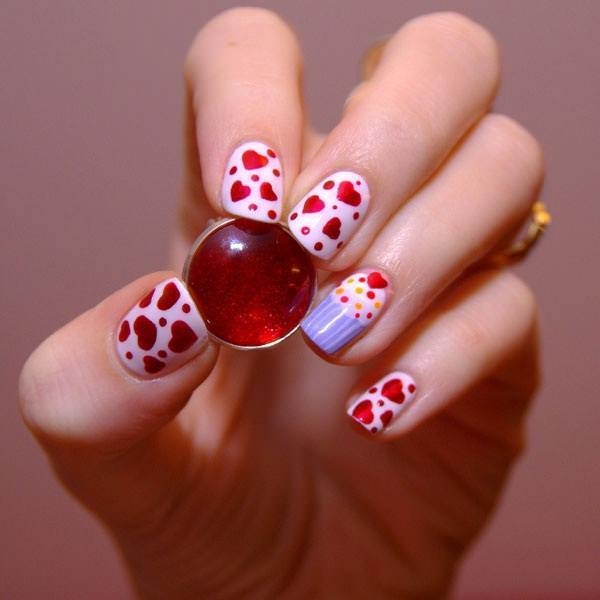 If he already makes your heart skip a beat and gives you the warm 'n' fuzzies each and every time you see him walk through the door then maybe you should finally say yes when he asks you to be his valentine on the 14th of February.
And stop your mind games because life isn't getting longer and it's too short for you to spend it without enjoying it to the fullest.
#56. Lavender Gradient
Turns out that lavender doesn't only make an outstanding fragrance, it also makes a great hue be used with white in a gradient nail style.
The Black Nail Designs You'll Definitely Love
#57. Just Chic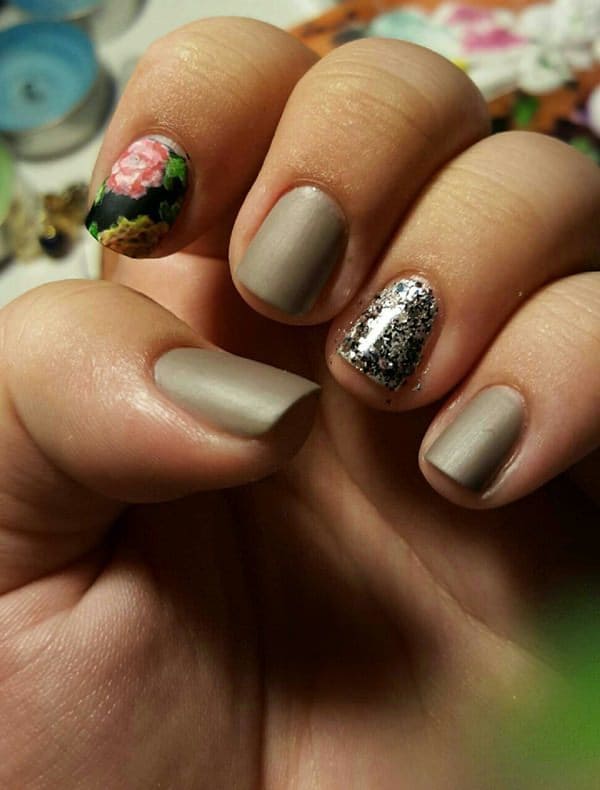 Who says you only need long nails to look chic and glamorous? With an Auber-stylish nail art that includes matte tortilla brown, glitter, and florals you'll look as gorgeous as ever even in trimmed nails!
#58. Chocolate Tips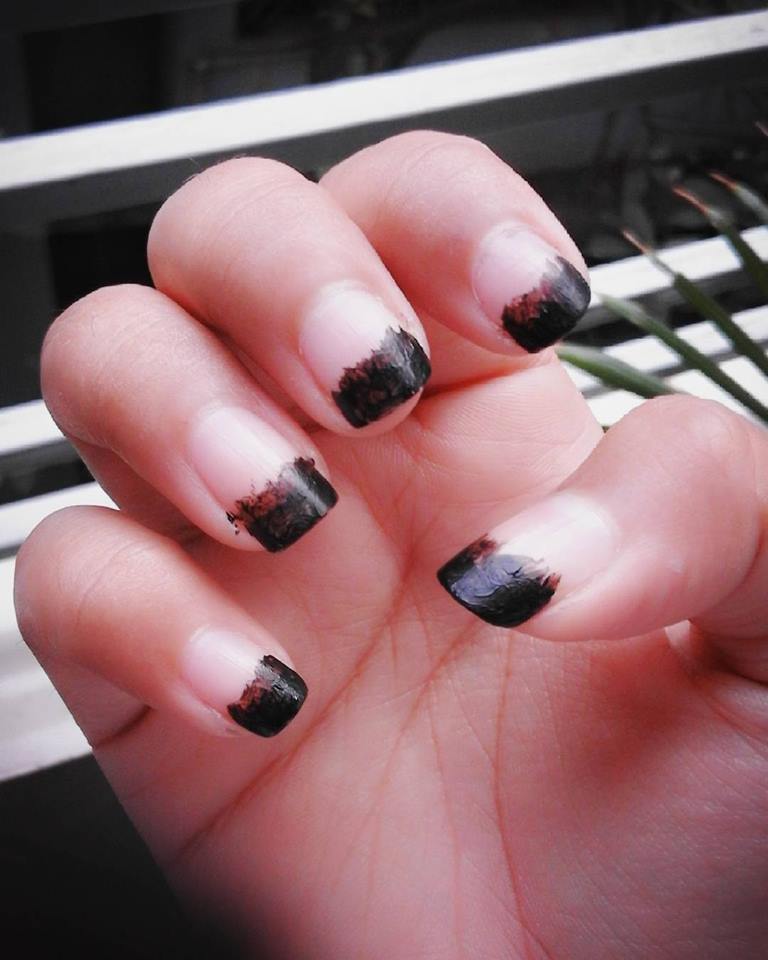 If you're a foodie then this creative short nail style might be the one for you. Make your nails seem as if they have been dipped in chocolate and you're about to lick them off with this realistic nail style!
#59. Arctic Drops
Extract hues from your surrounding environment and spot some arctic blue dots on a navy base coat for a nail design that can be worn as your everyday manicure.
#60. Mermaid Themed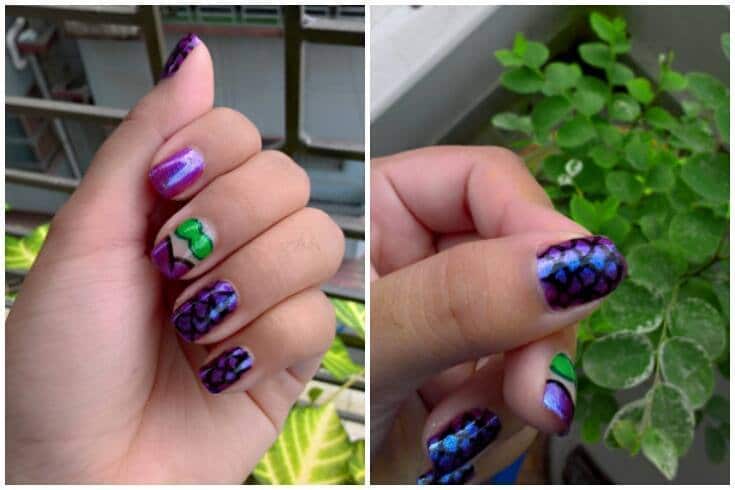 It is said that there are plenty of fish in the sea. But each and every one has its own unique qualities that make it different from the others. A mermaid is already special by possessing both human and aqua qualities.
For a more creative and different reputation, you can always use this type of nail that is for sure not worn by anyone else. Make a statement and show them that you're not like everybody else. Be unique. Be you.
#61. Swallowed In The Sea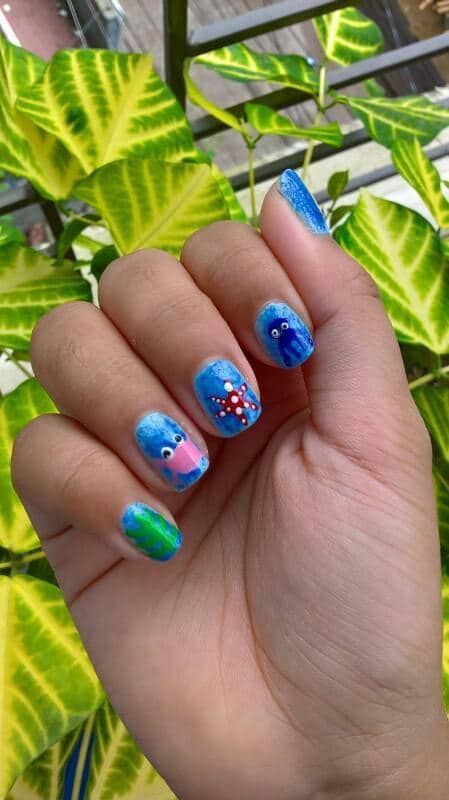 Now here's a design in which you can employ your animation drawing skills in. On a deep sky, blue base coat doodle some animated ocean related objects and animals to help you set the beach day mood.
#62. Journalist Nails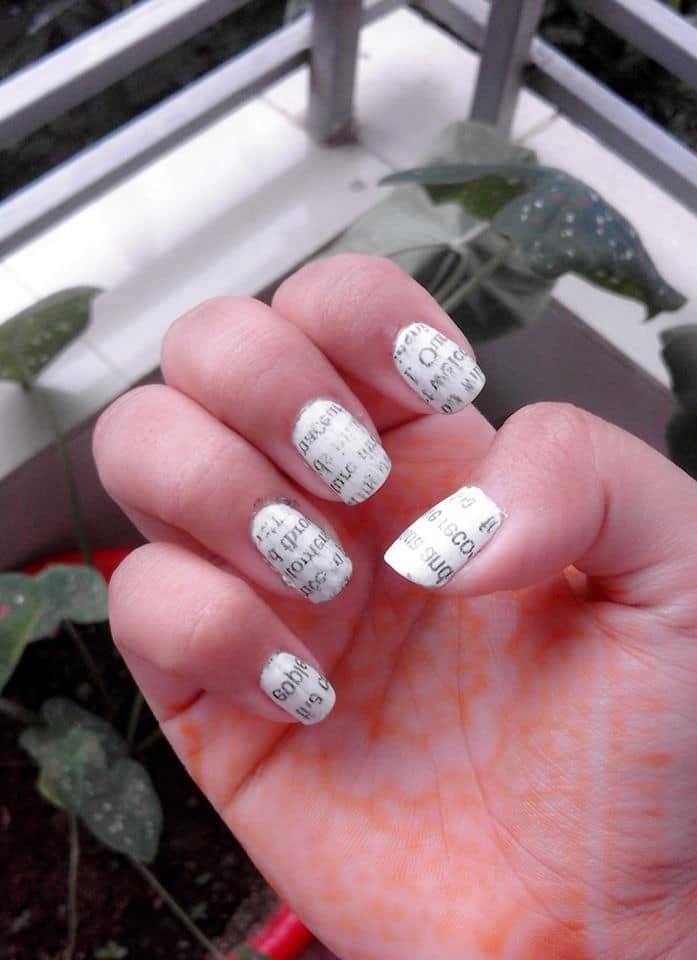 If you're a successful journalist in the field and can't seem to get your mind off the new article your boss needs due ASAP, then you might want to let the writer's block wear off as you apply this journalistic theme on your nails!
#63. Lilac Purple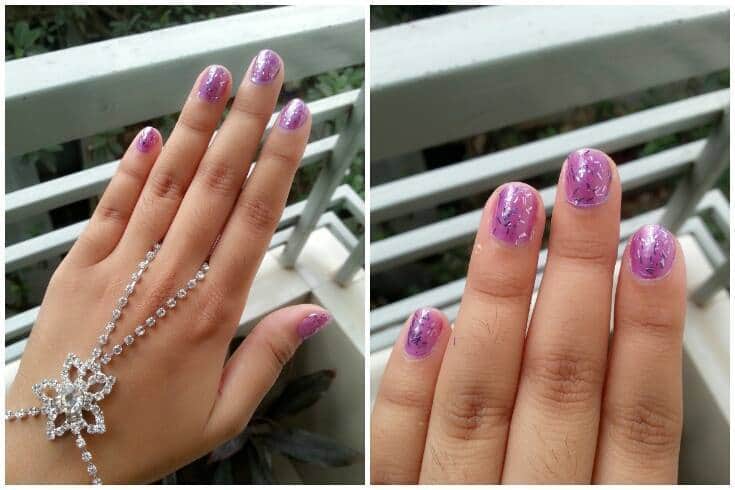 If purple is your favorite color, then you'll love this one. It's easy, simple, and incredibly fashionable!
#64. Freehand Scribbles
Not sure what to draw next? Go with the flow with your inner artistic emotions to get an unusually vivid mini-masterpiece right there on your nails!
#65. Quack Attack
Just like the baby chicks hatch from their eggshells, it's your turn to hatch from your own shell that isolates you from everybody and start communicating with your social norm!
#66. Mixture Mania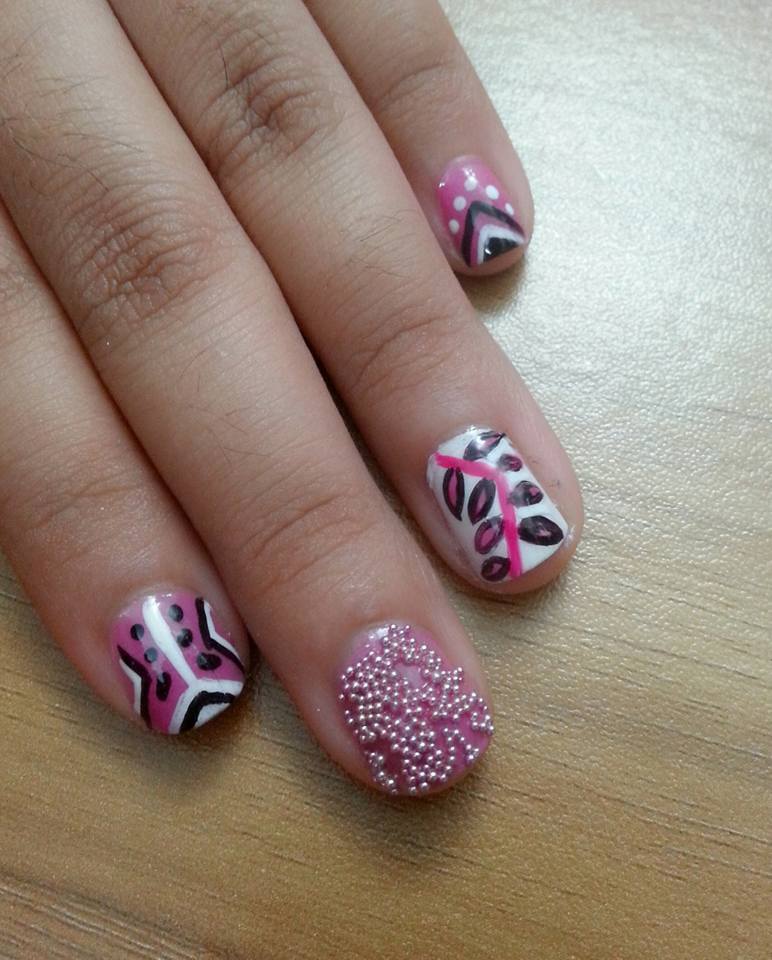 It's not a crazy trendy short nail design until you mix up all the combinations and patterns you can think of in one manicure.
#67. Tribal & More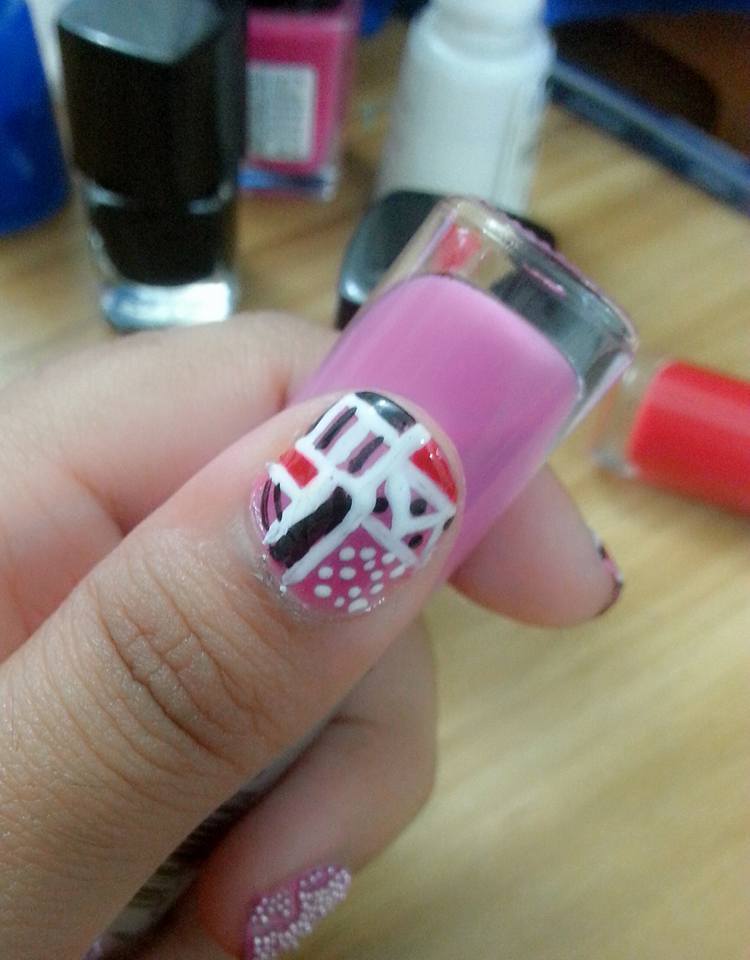 Ancient tribes had their secret codes and unusual weird writings scribbled on walls and left for archaeologists to decipher. Be as mysterious and important with this tribal collection.
#68. Red, Black, And White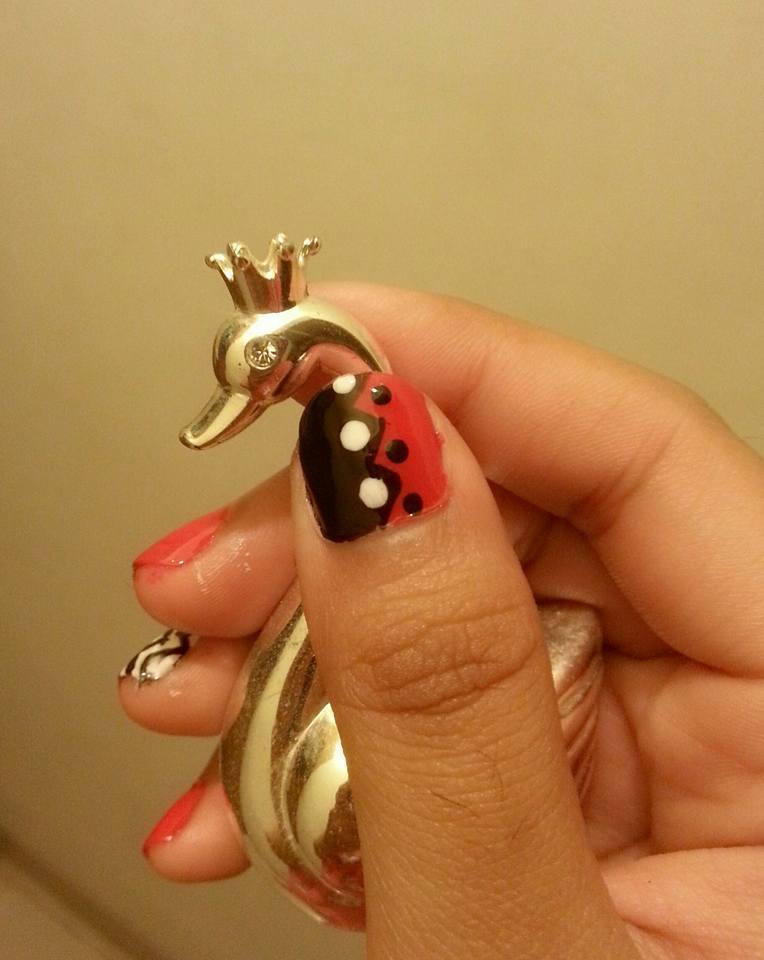 If the red, black, and white trio doesn't make up the perfect combination for every social event then I don't know what does! These three colors seem so inseparable when once put together!
#69. Panda Tips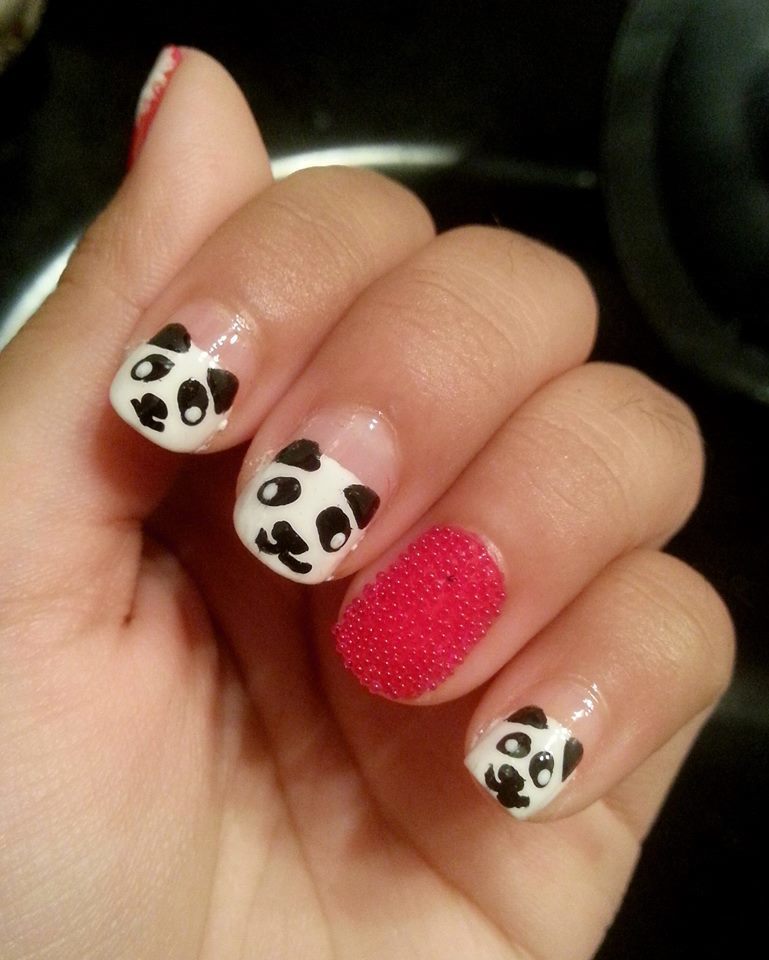 Panda is the most neutral animal and the icon that fights racism symbolizing that both black and white can live together as one whole. Send a message with these cute panda tips to the world!
#70. Glow In The Dark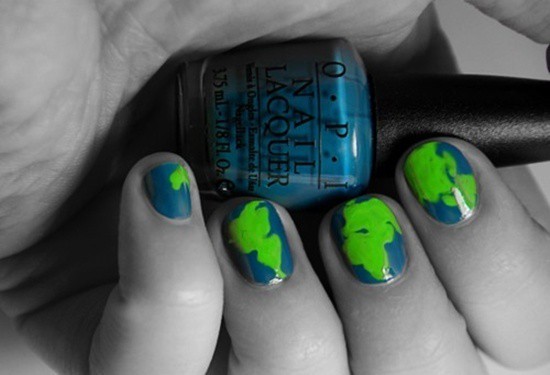 This short nail design might be popular with young women and teenagers who would love to find the suitable nail art for a music concert at night, and here it is a glow in the dark design for when you sway your hands with the flow of the music!
Take a Look at Some More Designs
Whenever you want to go beyond nail polish and dig deep into the heart and soul of nail art, you'll be lost in a world full of creativity and it won't be easy to pick the one you desire.
Choose wisely! For it defines you and reflects the image of your own true inner self!