Dark skin is beautiful just as fair skin is. And when it comes to nail polish colors, all you need to do is choose the right tone of any shade you like to accent your chocolaty complexion.
Keep it subtle with nude/neutral tones or go a little over the edge with bright and light colors that'll pop against your melanin-rich skin.
Coming towards the nail shape, coffin nails are simply the best. Being an edgy mix between square and stiletto nails, they are ideal to elongate the fingers.
Try out the following coffin nails on your dark skin and you won't regret it!
Coffin Nail Ideas on Dark Skin
Whether looking for something more casual or festive, this list has got you covered!
1. Embellished White Acrylics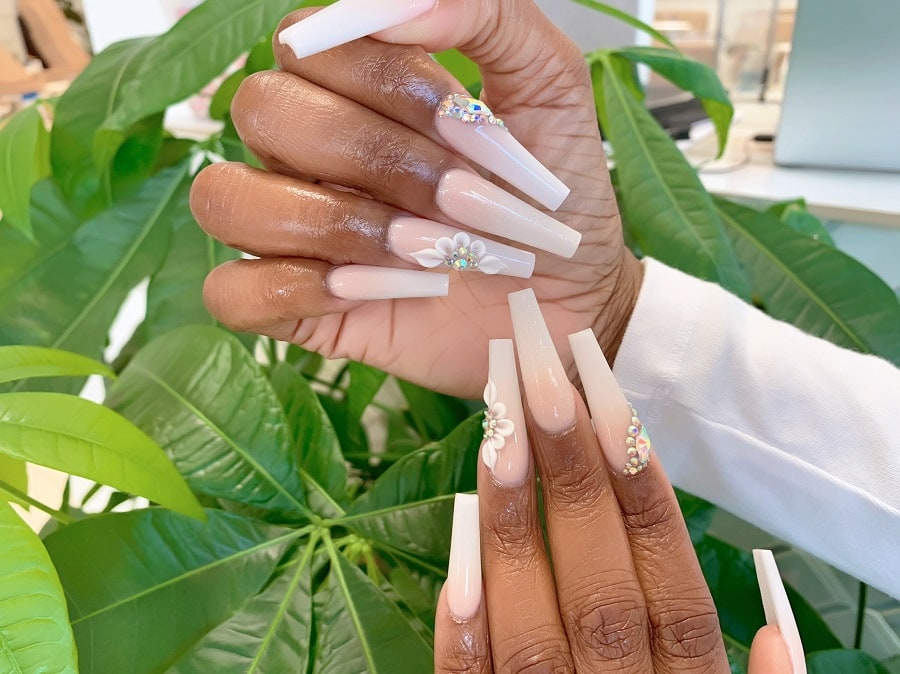 White looks far more attractive on dark hands rather than fair ones due to the sharp color contrast. Get long coffin nails for a wedding event and embellish them with 3d acrylic flowers. Add further bling with some rhinestones but remember to keep it elegant.
2. Outlined Accents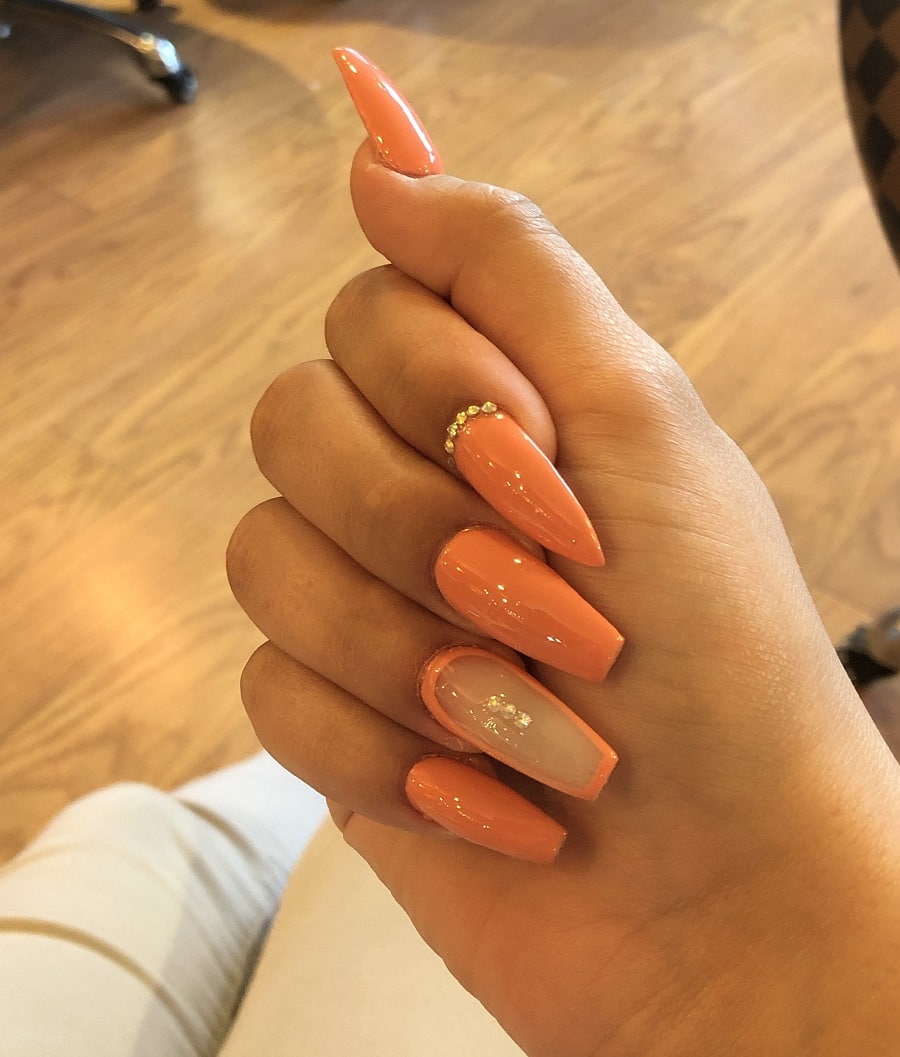 Light colors like peachy tones are perfect to brighten up your complexion. Personalize your manicure by getting one stiletto nail to stand against the coffin-shaped ones and an accent nail that is just lined along the edges while the others are fully painted.
3. Hot Pink Coffin Nails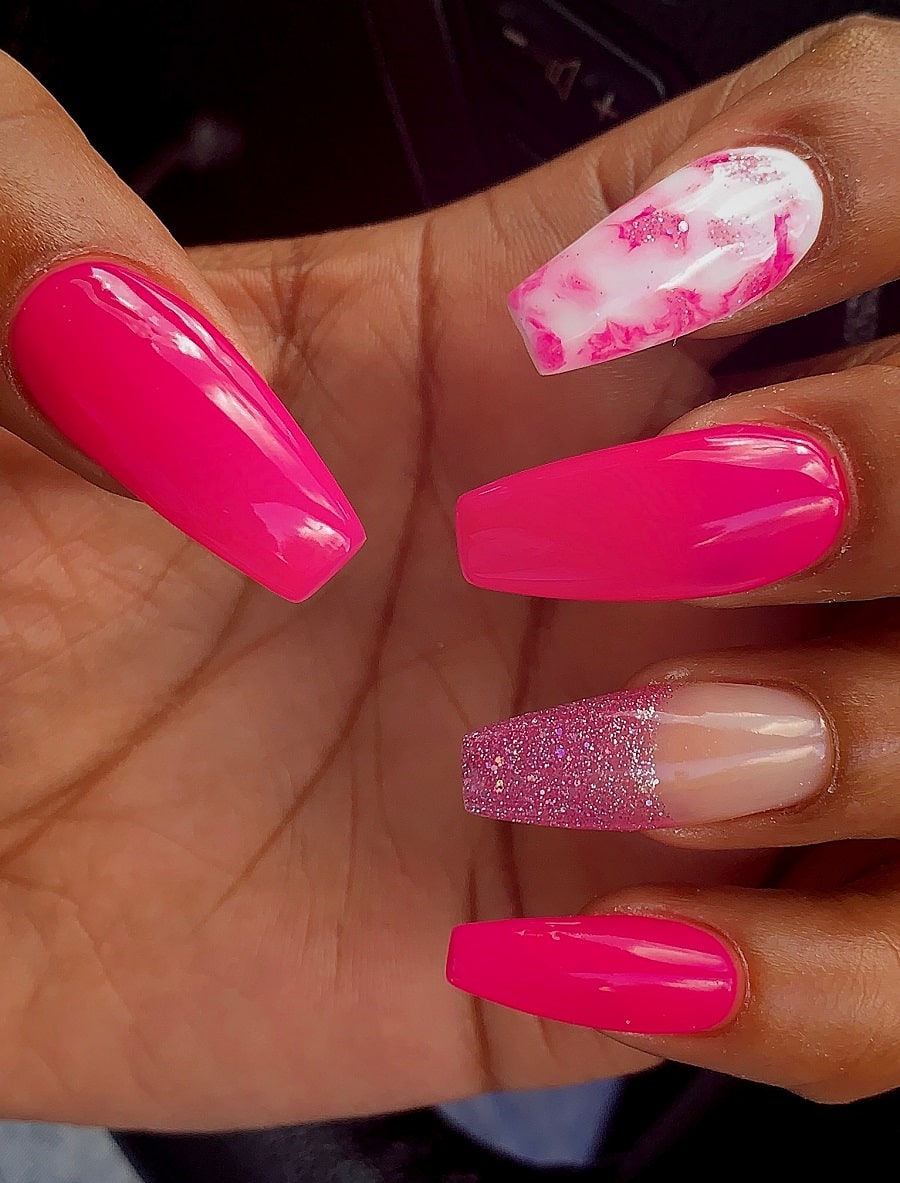 Hot pink coffin nails on dark skin are a dream come true for all the girly girls out there. Mix together some pink with white to obtain a marble design or add irregular strokes of pink on a wet white base. Add some glitter on top and that's it.  
4. Color Contrast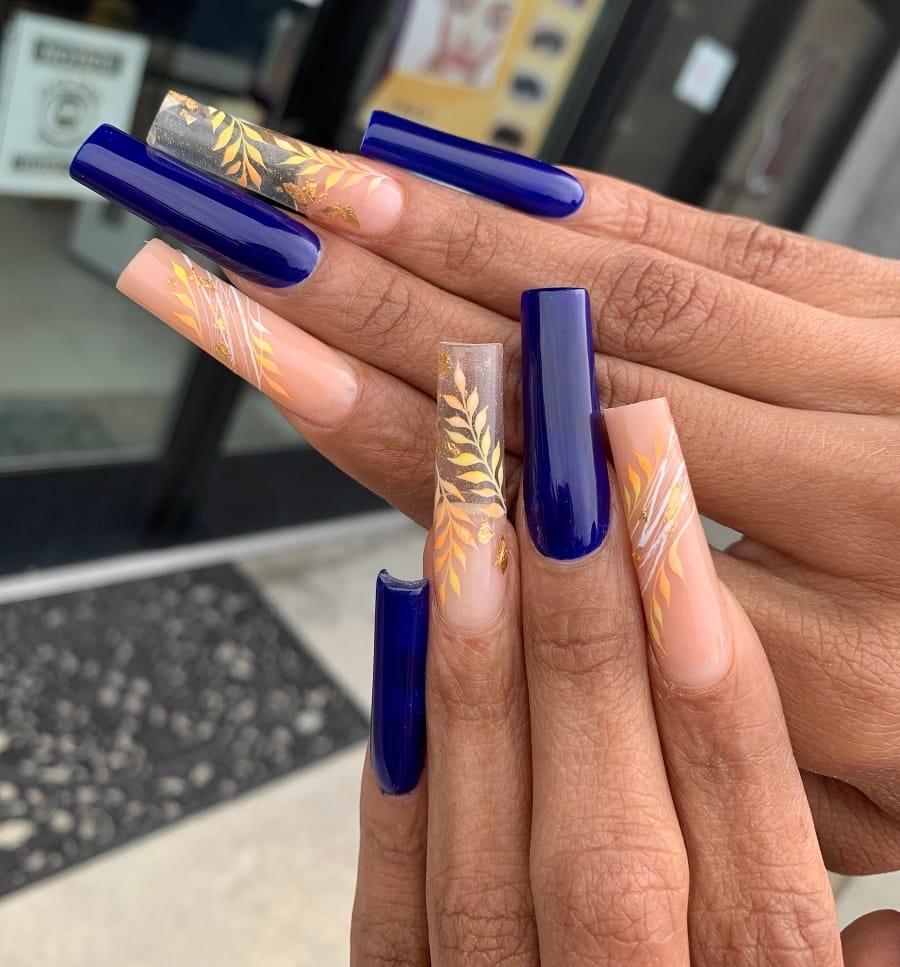 Dark colors appear lively while lighter shades look sultry and soft on chocolaty skin. How about rocking them together on your fingertips? Take this look as an inspiration featuring deep blue nails alternating with nude ones. Use gold leaf stickers on some nails for a detailed look.  
5. Textured Patterns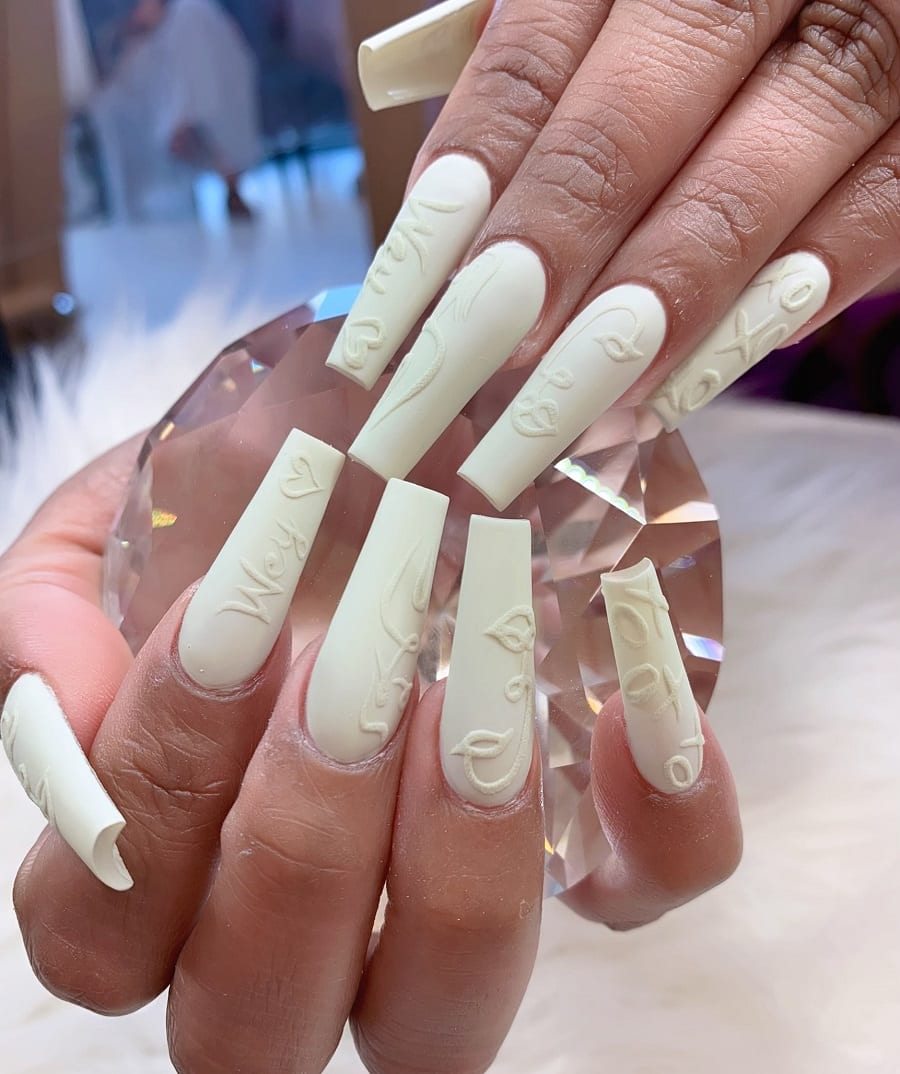 Textured nails are quite the hype these days and it is not difficult to understand why. Use gel polish on a matte base to draw any pattern of your choice and cover it up with acrylic powder. Again, white will look the best on a deep skin complexion.
6. Gradient Jelly Nails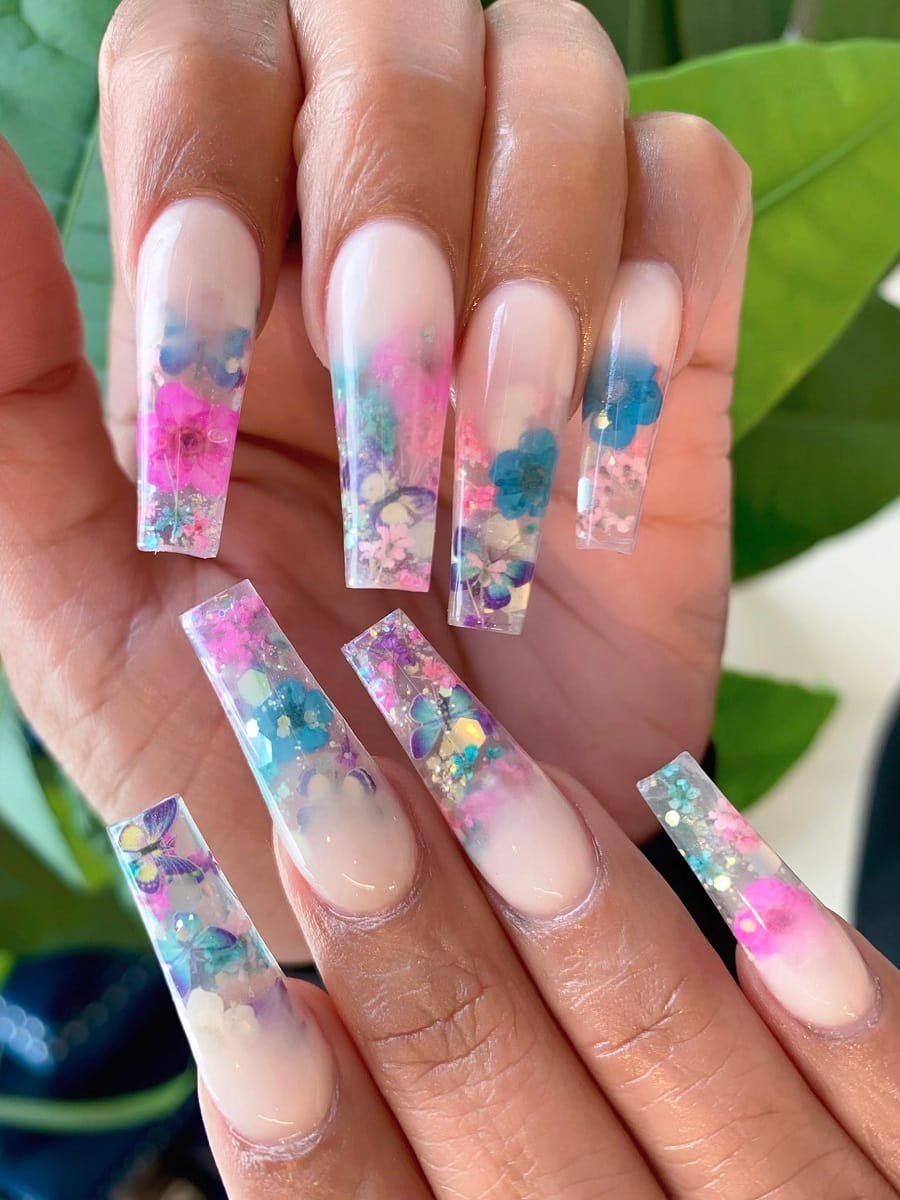 Jelly nails are named after their transparent glass-like appeal. Start with pastel pink on the nail beds that disappears towards the long tips. Add cute flowers, tiny butterflies, and chunky glitter for a dreamy look. Seal everything in place with a top coat.
7. Halloween Vibes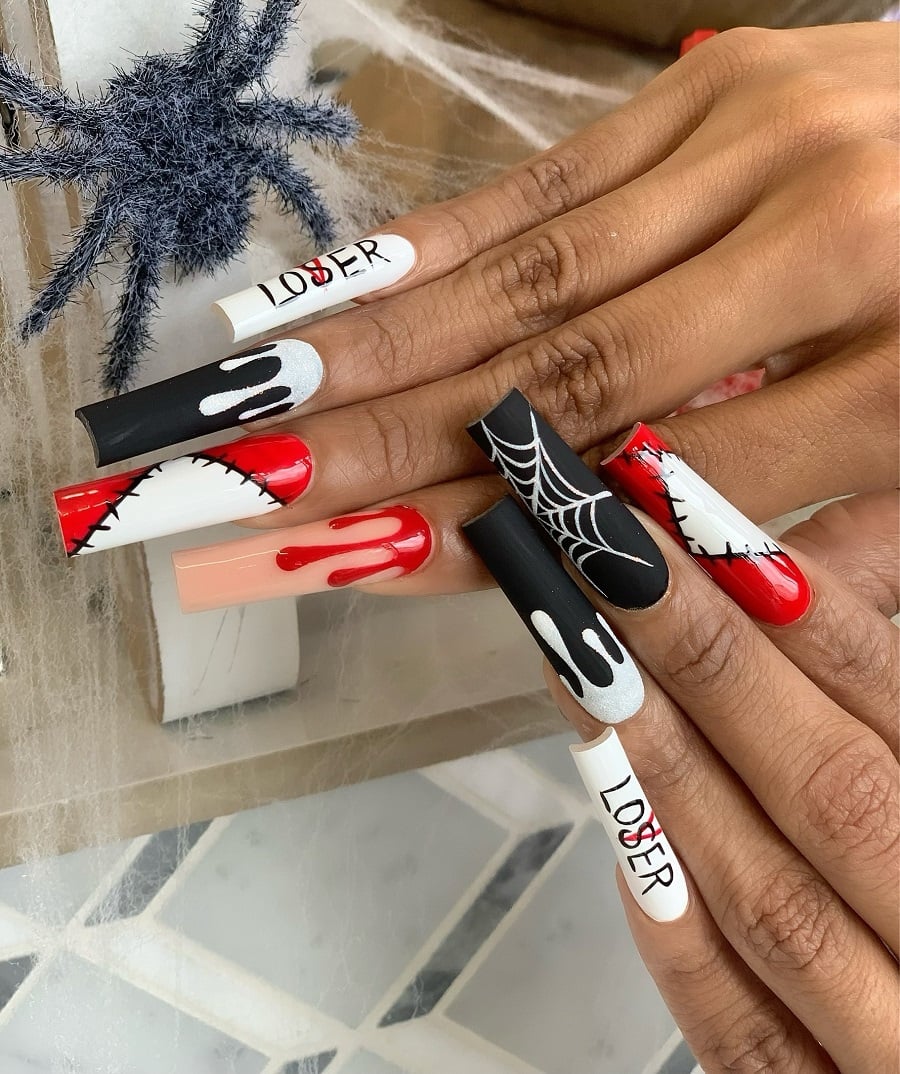 Steal the show this Halloween with these horrifying long coffin nails. Opt for a white, black, and bright red color contrast, and go for spider webs, stitches, and blood drips with some meaningful words on a nail or two. A fine brush and a dotting tool will be of great help.
8. Delicate Dried Flowers
Give yourself a jaw-dropping manicure at home by covering the base of your medium-length transparent press-on nails with nude pink acrylic. Extend the bead towards the tip to achieve a gradient effect. Decorate with dried flowers for a romantic look. Don't overfill your nails!
9. Nude Christmas Theme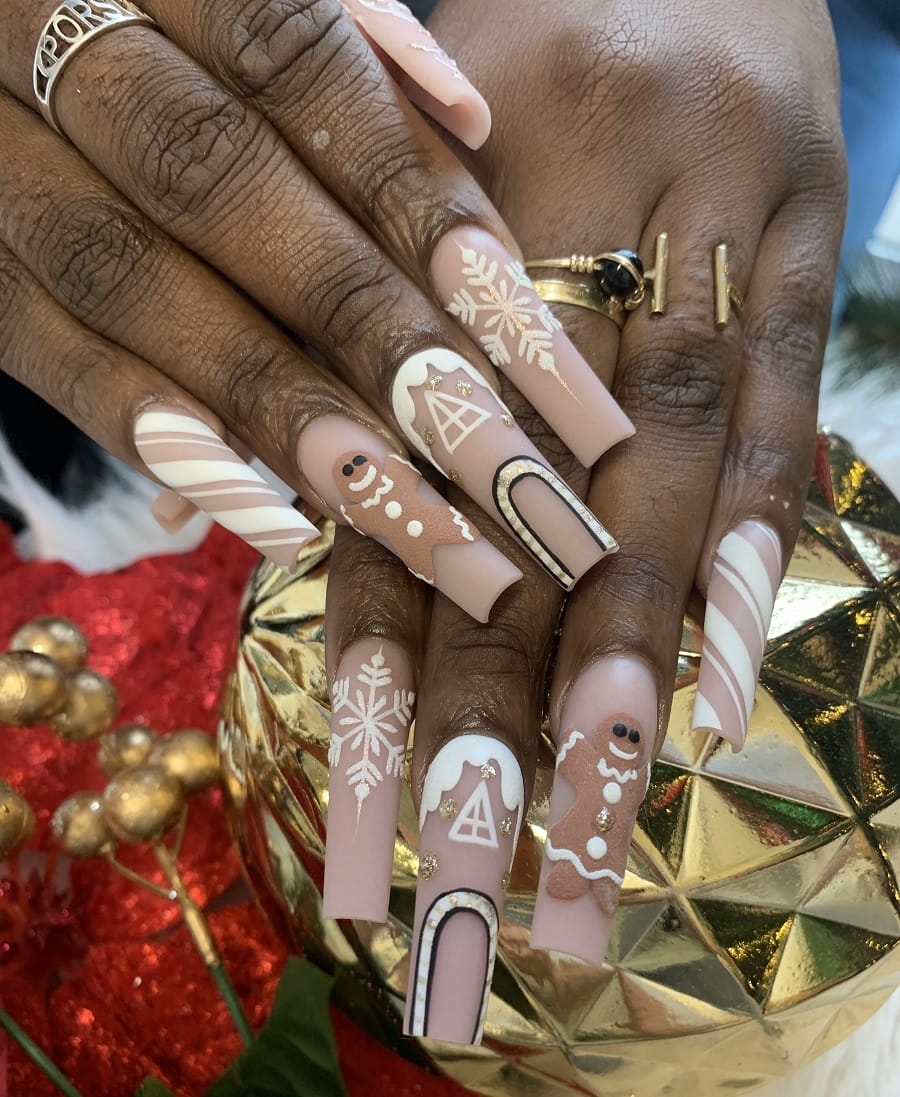 Nude colors complement deep complexions the best. Get ready for Christmas with these matte coffin nails on your dark skin and you are sure to drop some jaws.
Cute gingerbread men and houses, dreamy snowflakes, and candy cane patterns, there's a different design available for each one of your nails!
10. Red Fire
Keep it simple yet super classy with a bright red manicure. The coffin nail shape features softly curved sides with a sharp flat tip that make the fingers appear slender in no time. An iridescent jelly accent nail is not a bad idea too.  
11. Picture-Perfect Ombre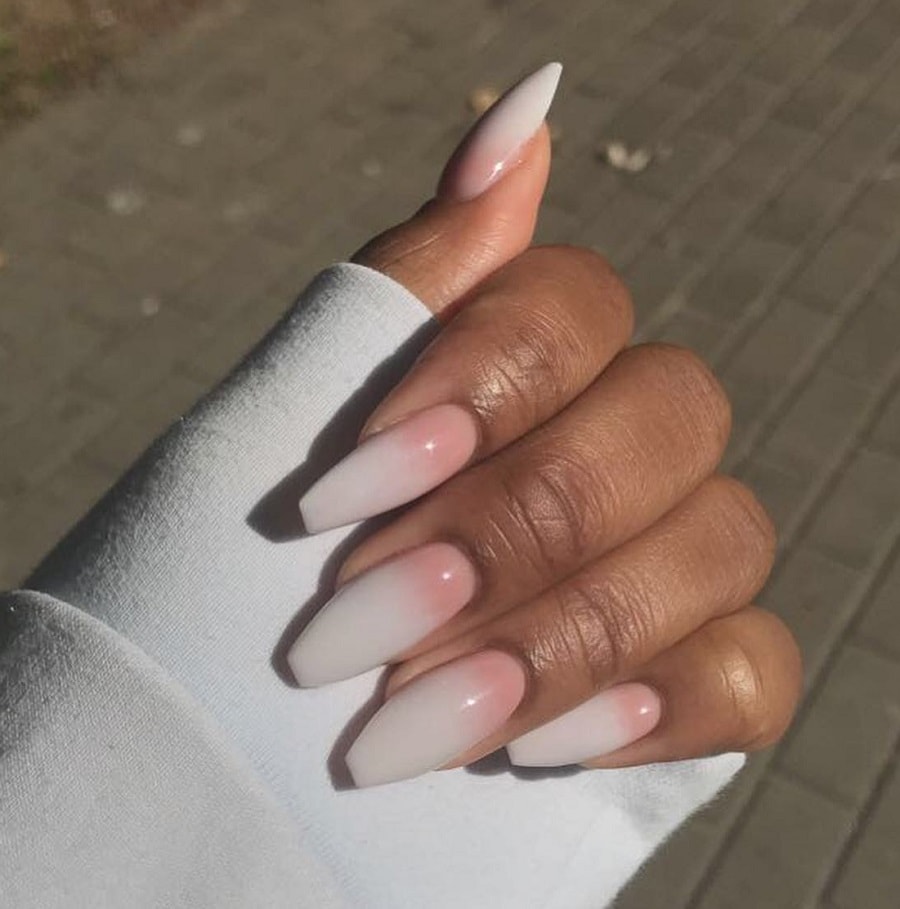 Dark-skinned beauties who find solid white nails a little boring can spice them up by experimenting with a nude color to achieve a gradient effect.
Use a fine brush to merge the colors when wet or apply them on a sponge before dabbing them onto the nail surface.  
12. Vibrant V-Tips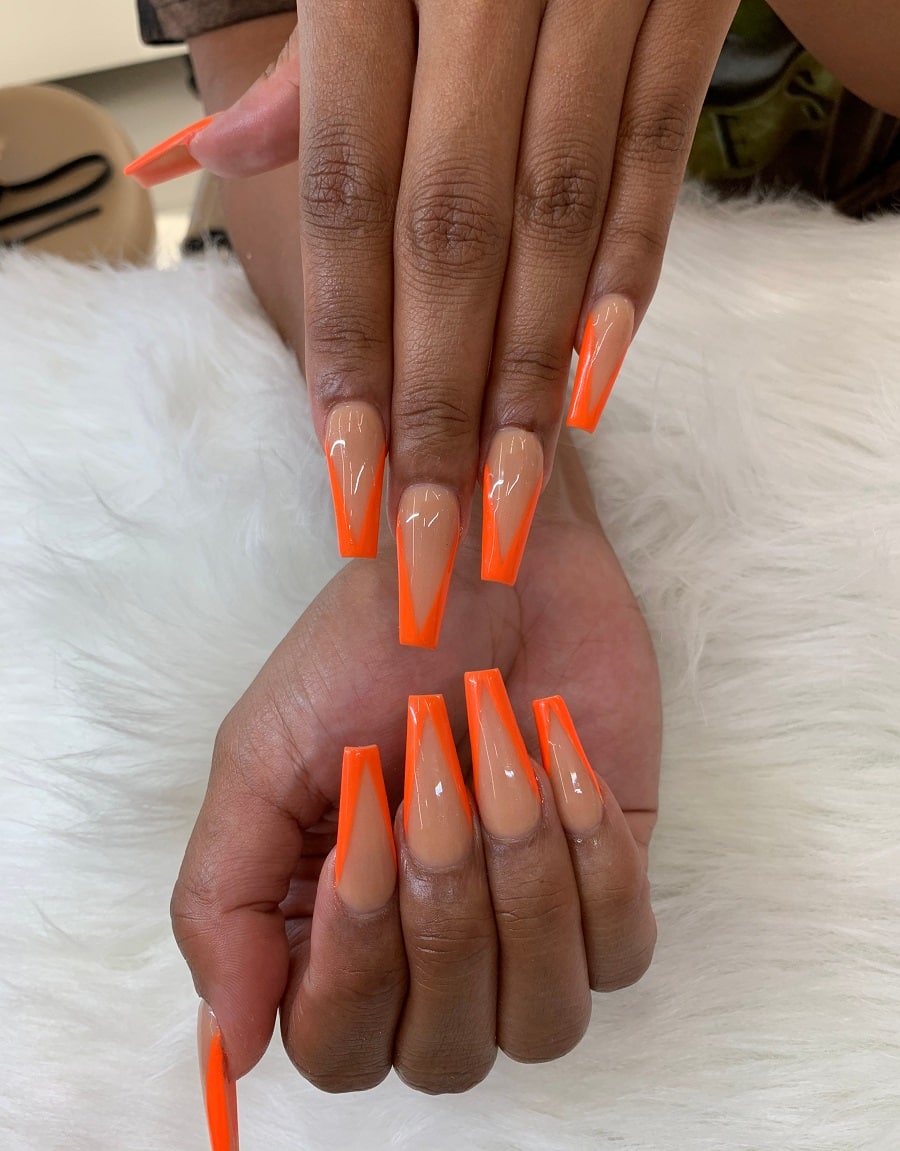 French tips come in all sizes, shapes, and colors but remain equally classy without a doubt. Instead of going for the usual white tips and nude base, retain the neutral portion but switch the white with any other vibrant shade for a pop of color that won't be ignored.
13. Cute Animal Print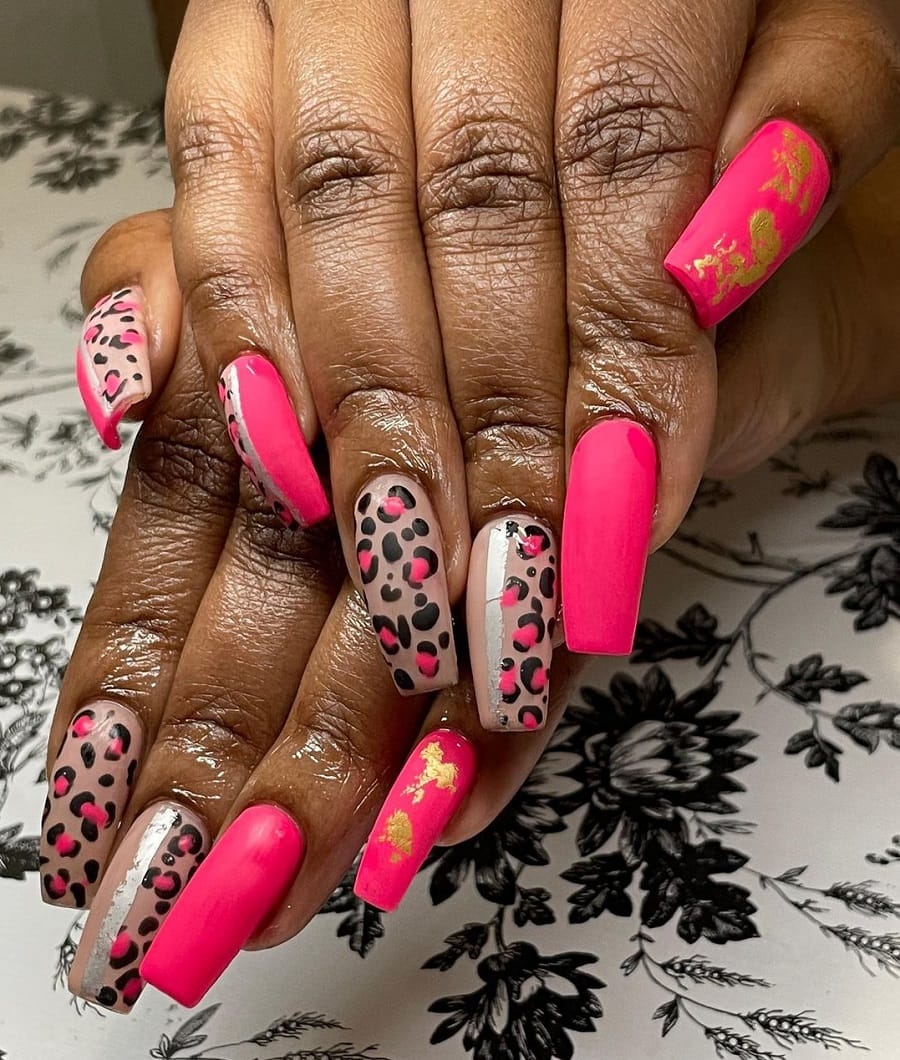 Animal prints have never really left the fashion industry. Recreate this luxurious manicure by adding random dots of pink and outlining them with irregular blobs of black. Finish off with a subtle hint of gold or silver. You can try the look with any of your favorite colors.
14. Multi-Textured Black Manicure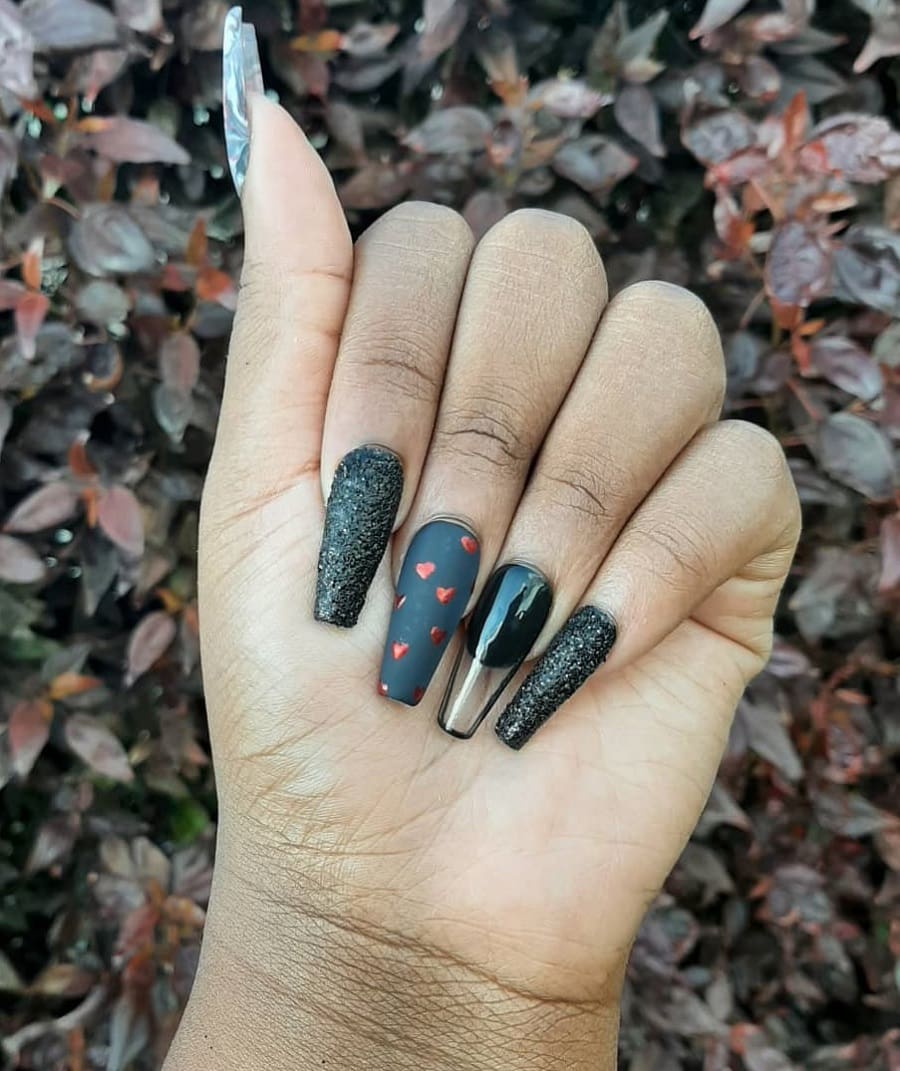 Multi-colored nails don't surprise anymore, but multi-textured ones surely will! Express your love for black by going for one or two glitter nails, a matte one, and another with an outlined transparent tip. A marbled nail is worth a shot too. Don't let any two nails look the same.
15. Orange Pop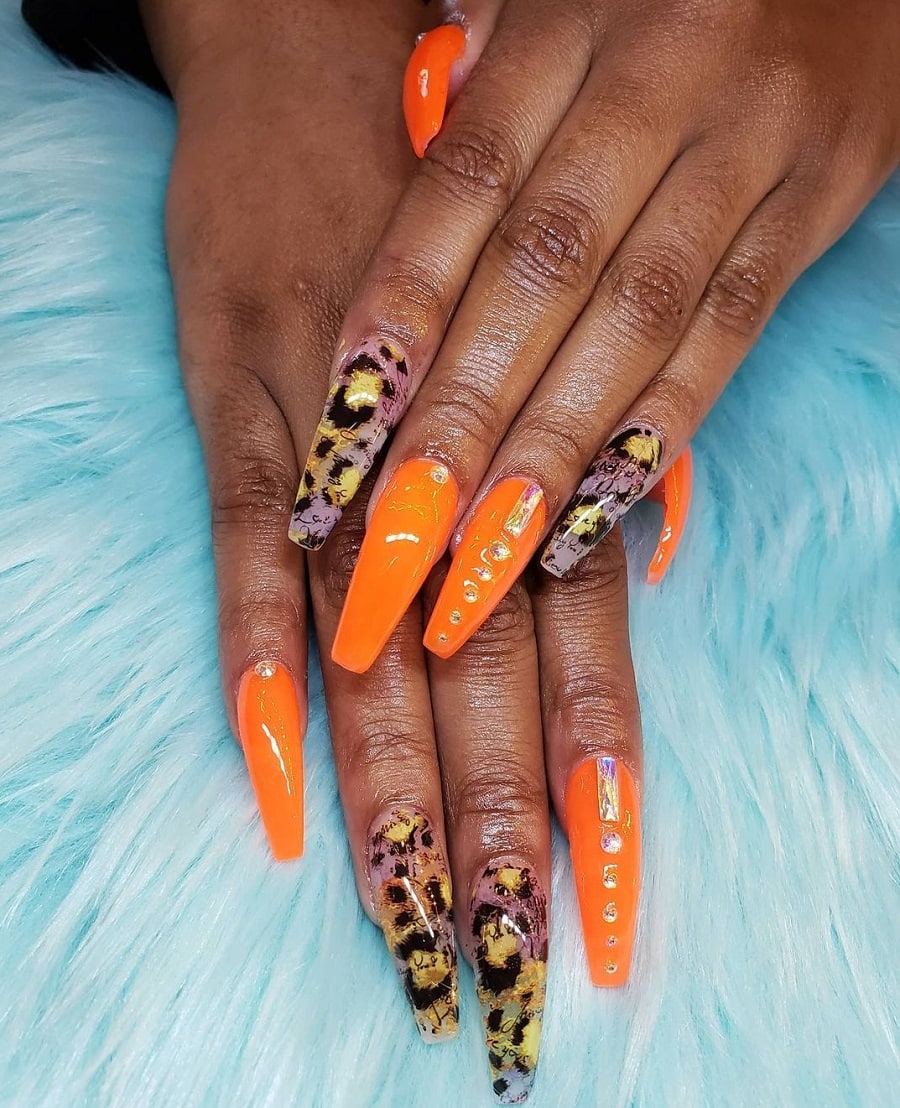 These orange coffin nails on dark skin are a true example of how bright colors pop against a melanin-rich complexion. Alternate your tangerine nails with leopard print ones for a stylish look.
Draw fine strokes of black for a realistic skin-like effect. Embellish with some shiny gems and done!
16. Purple Sparkle
Purple looks majestic regardless of your skin tone. Play around with different tones, staying preferably on the darker side, and sprinkle on some glitter for a festive look. How about trying deep plum coffin nails with a matte finish? Worth a shot for sure!   
17. Green Glory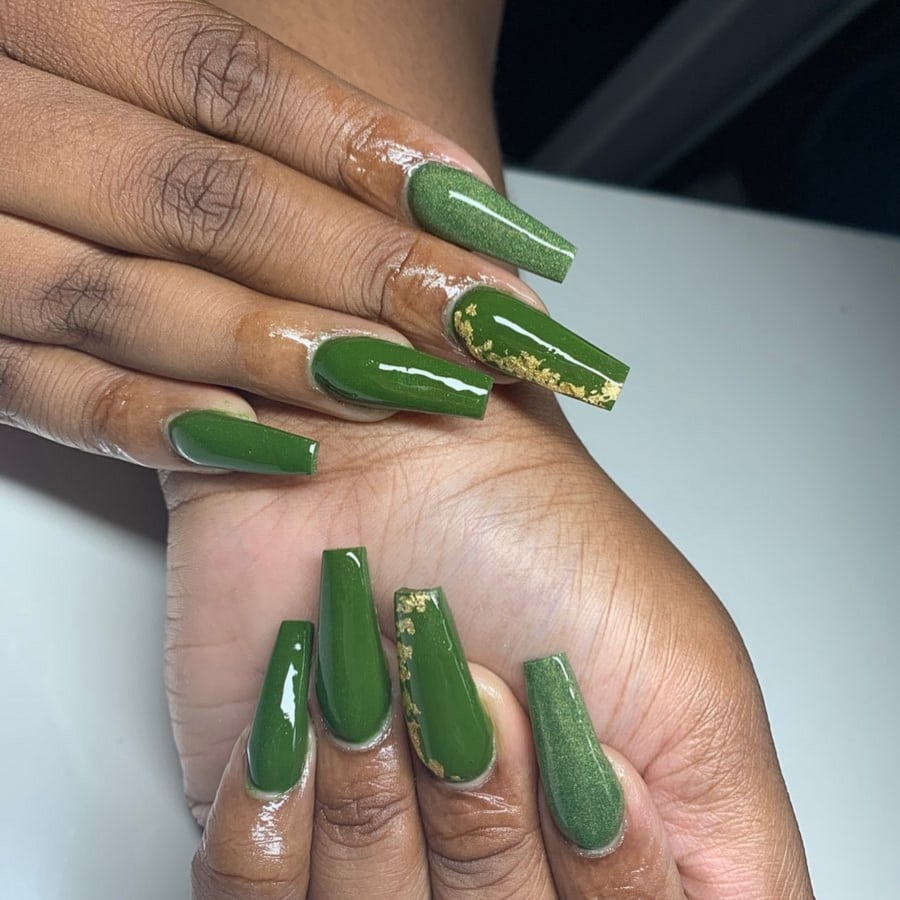 Couple your earthy skin tone with another earthy color for a nature-inspired manicure that is a must-try for the upcoming fall season. Paint your coffin nails with a coat or two of moss green polish with some delicate flakes of gold on the accent nail. Chic!
18. Toffee Brown Nails + Gold Design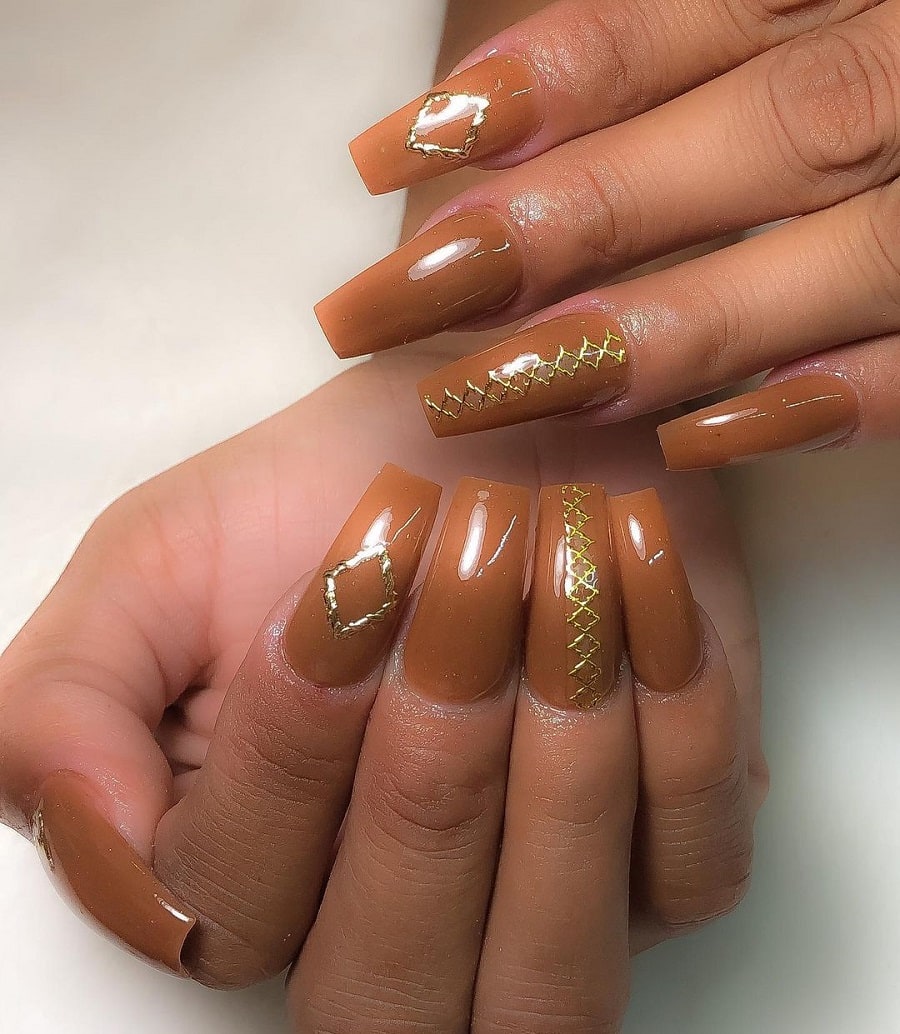 Add some warmth to your nails with a sweet toffee brown nail lacquer. Use a nail art stamping kit to transfer the finest designs and details onto your nails with ease. Cover up the patterns with shiny gold chrome powder for a grand finish.
19. Neon Moment
Make eyes pop from a distance by rocking the brightest neon shades available. Try painting each nail in a different hue. This family of colors is so bold that you might not need anything else to get your hands noticed apart from some confidence of course!
20. Yellow and Purple Interplay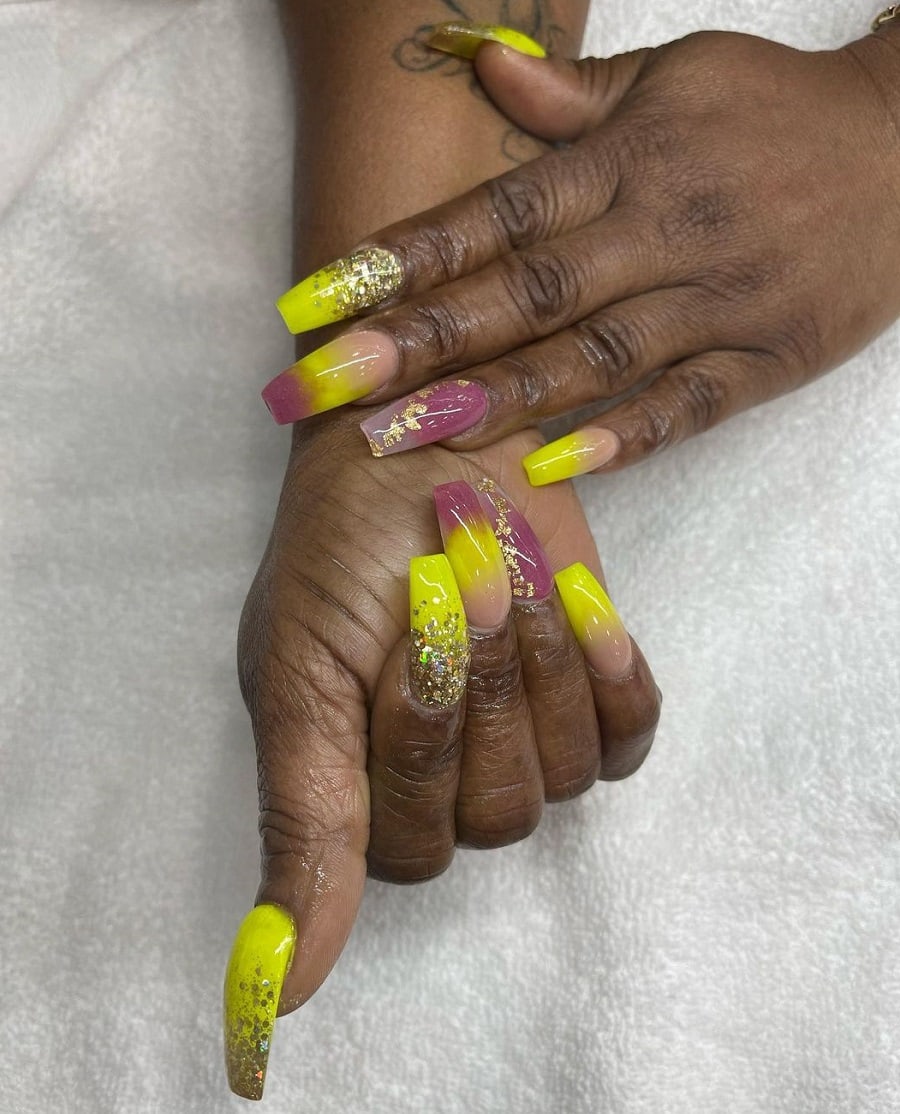 Yellow and purple, though pretty unrelated, complement each other in the most amazing and unexpected ways. Alternate solid nails with ombre ones and add gold glitter on top. This coffin nail idea on dark skin is perfect for the spring and summer seasons.
21. Winter Coffin Nail Design
Get your nails ready for winter with a glossy nude pink base. Add diagonal stripes of white, gold, and baby pink on some nails. For others, connect some dots and lines to end up with cute snowflakes and sweater patterns. A few rhinestones will make a big difference.
22. Lilac Dream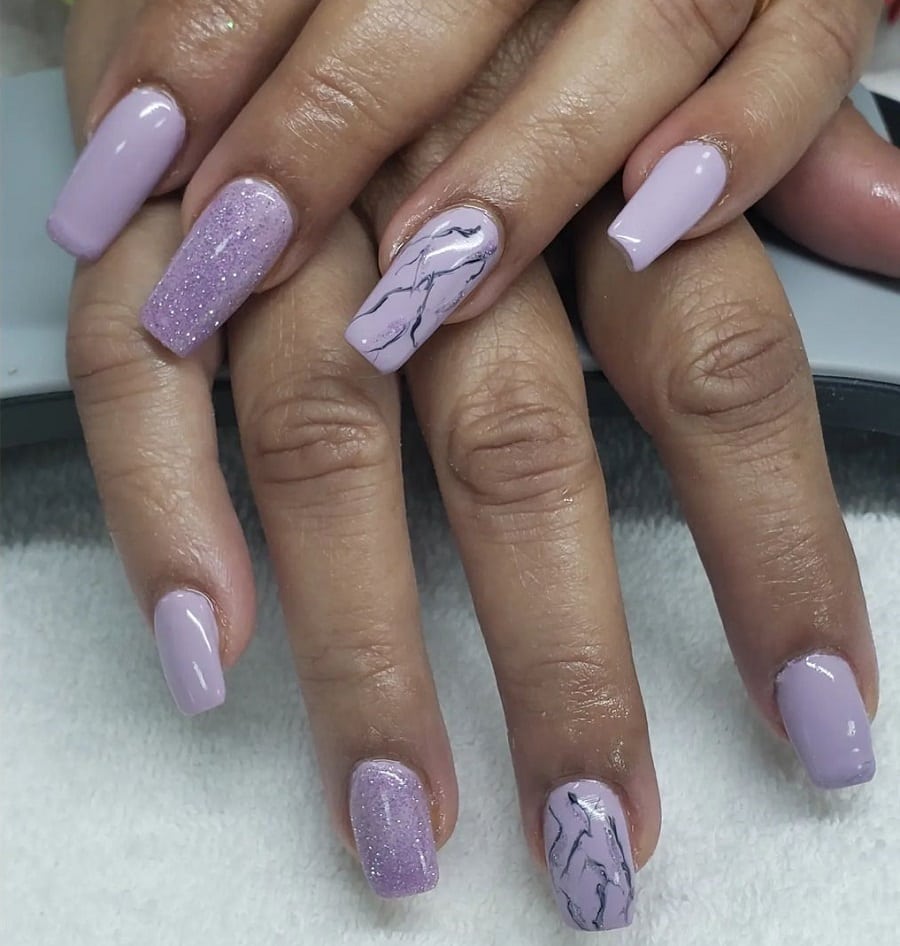 Lilac is a light pastel purple tinge that has been trending for a couple of months now. This frosted color does not need anything else to complement it but you can always experiment with a marbled design or some glitter. A few strokes of black and that's it.
23. Blue Beauty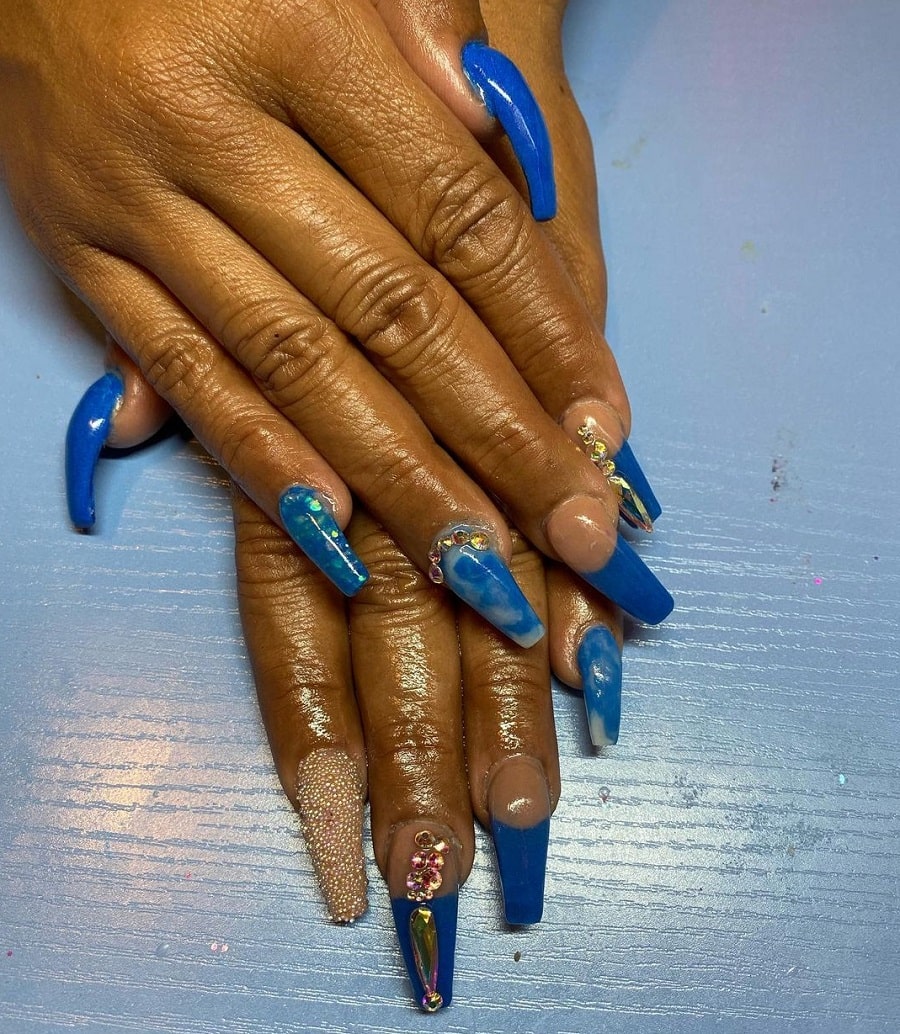 A bright blue manicure won't disappoint any dark-skinned woman ever. And although pastel and sky blues look cool, a vibrant cobalt blue tinge won't look any less when used to create French tips along with chunky glitter, nail gems, and caviar beads. Wild!
These coffin nails on dark skin feature both the best colors to compliment a deep skin complexion and associated designs suitable for different occasions. You can mix and match the shades and patterns and try them on different nail lengths. No rules to follow!