Have you ever just been in a closed off, sad, rebellious mood and wanted your nails to reflect that? If so, you need to check out the badass designs for emo and gothic nails we've gathered together.
Sure, dark or black is the prime nail color for emo and gothic nails, but that doesn't mean you can't get creative and use other designs to mix in for that moody look. Everything from punk patterns and characters to gothic Roman numerals can be used to spice up your emo or gothic nail design.
So try your hand at some one-of-a-kind nail art by you or visit a nail tech for that perfect design. Whether you rock an emo or gothic nail design on long or short nails, the effect will be as moody and dark as you desire.
Popular Goth and Emo Nail Designs
You're probably thinking goth and emo nails mainly consist of black and gray, maybe some silver. All the dark colors, right? After checking out the 35 edgy emo and gothic designs below, you'll be awakened to a whole new world!
#1. Weird and Wacky
Use lime green and bright yellow to make checkerboard or striped patterns with black polish for these gothic nails. You can also use a thin white brush to make your own word art and draw a spiral on an accent nail.
#2. Pretty Emo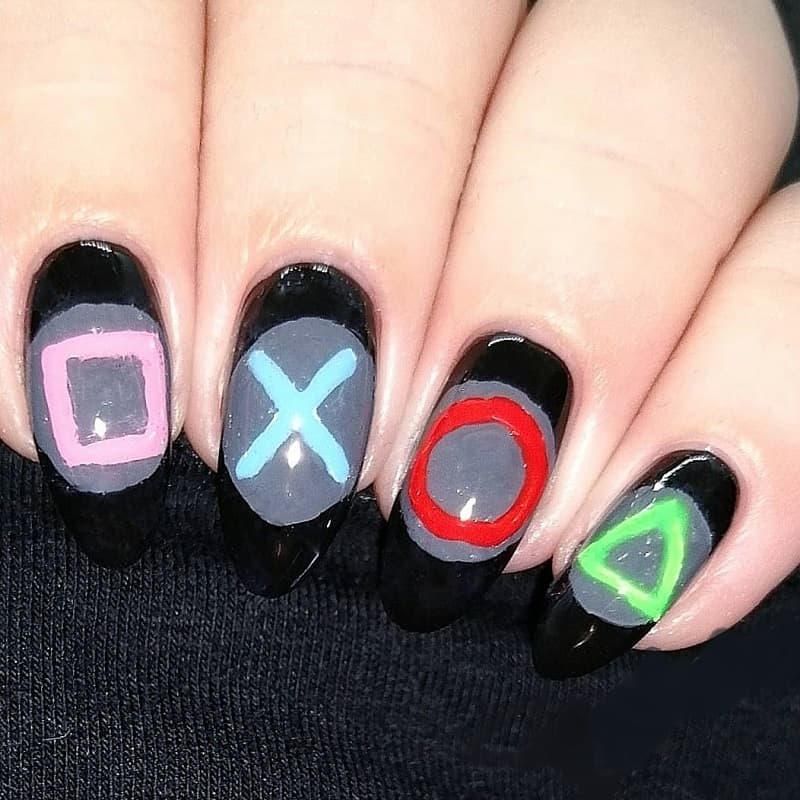 We told you emo nails didn't only consist of black! Play with color by painting a grey oval in the center of long black nails, then add circles, x's, and triangles in your favorite colors.
#3. Emo Scene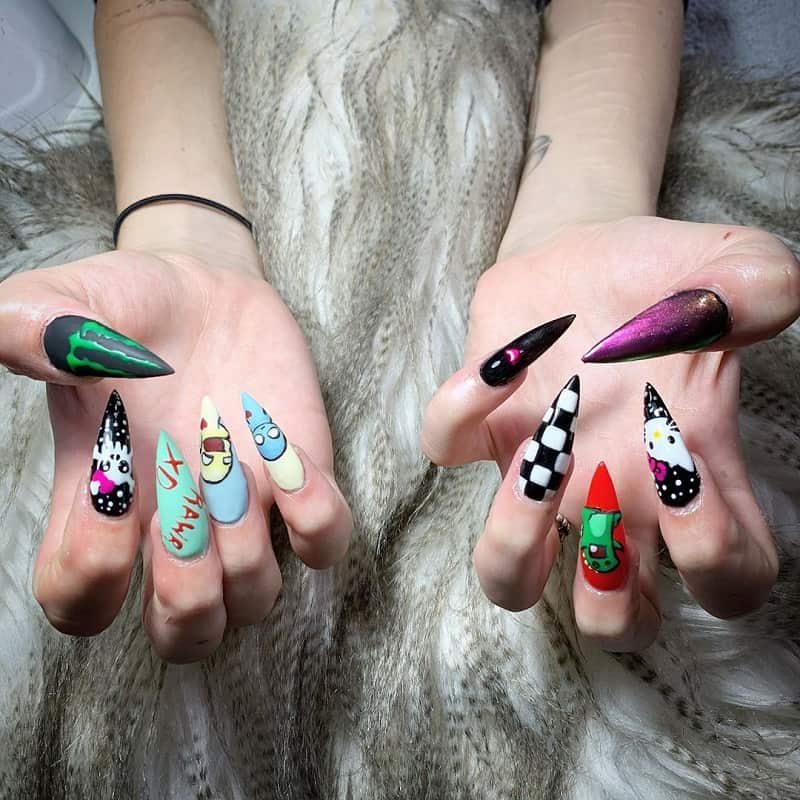 Think about your favorite characters from the emo scene and put them smack on your nails! These stiletto nails are very edgy and colorful, mixing bold black with pastels.
#4. Freddy's Nails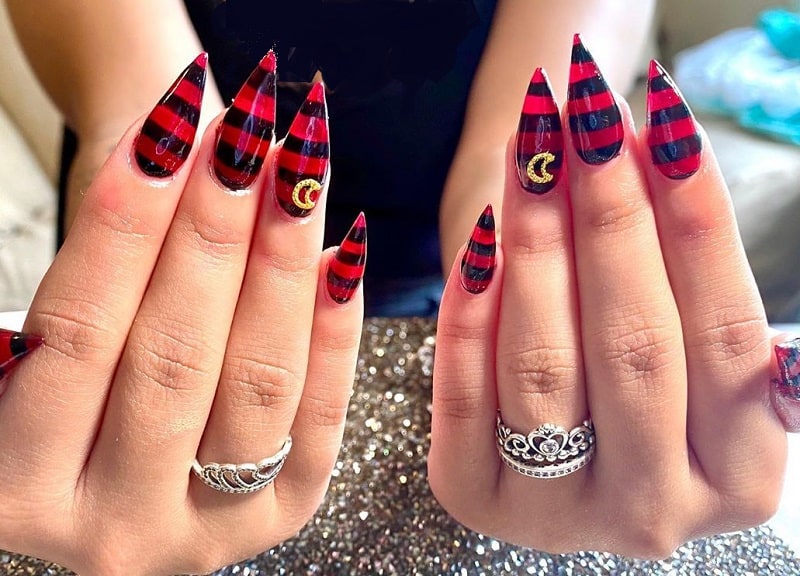 Who could forget Freddy Krueger and his infamous red and black striped sweater? Bring that gothic pattern to dramatic red and white striped stiletto nails.
#5. Emo Acrylics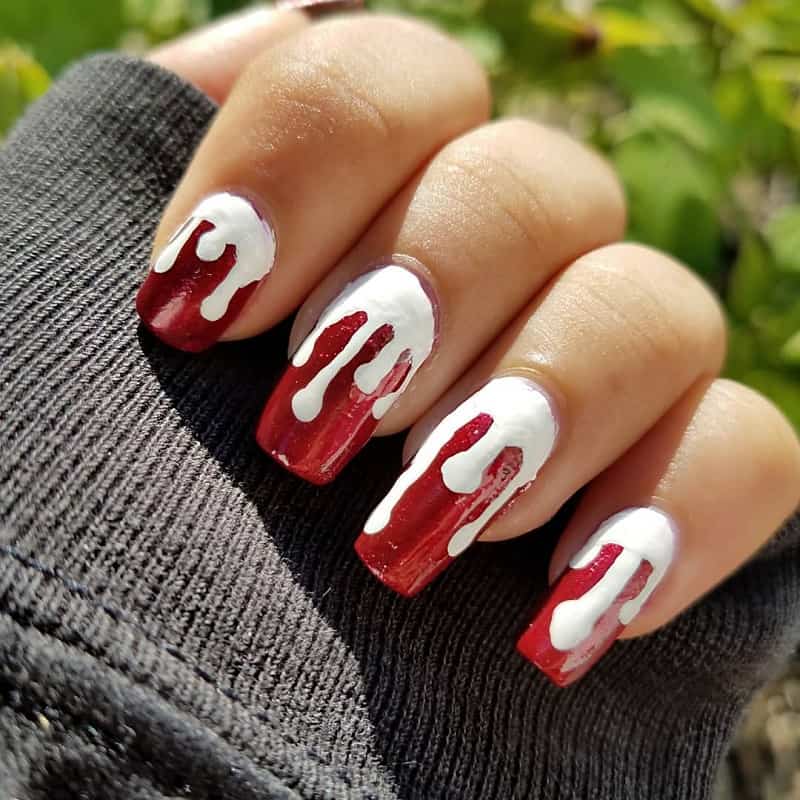 Wear your emo nails and be in the Christmas spirit at the same time by painting your nails a medium shade of red and adding white "drips" beginning from the cuticle.
#6. Gothic Lettering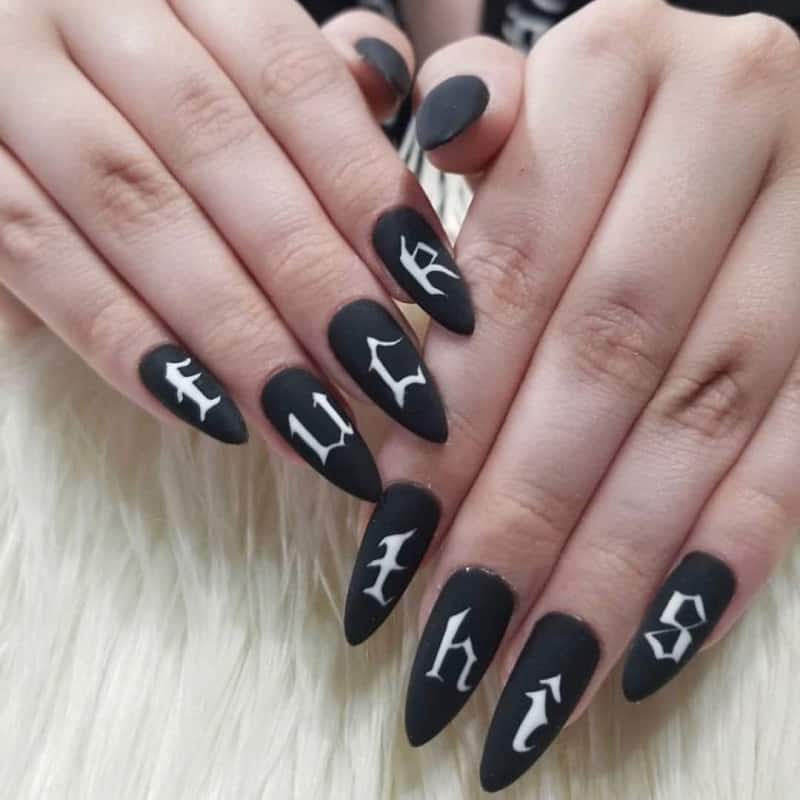 A matte black nail polish is the perfect background on long almond nails for featuring white Gothic lettering. Pick an in-your-face phrase like the one seen here or come up with your own!
#7. Classy Gothic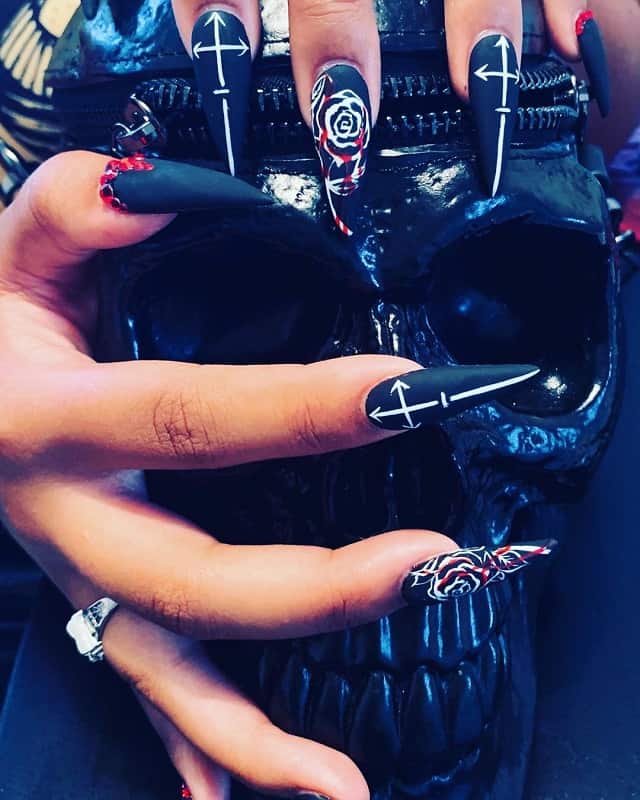 Somehow there's a sexy side to these gothic nails. The stiletto shape combined with matte black and white designs is very sleek. Some bright red crystals are perfect for decorating an accent nail.
#8. Gothic with Bling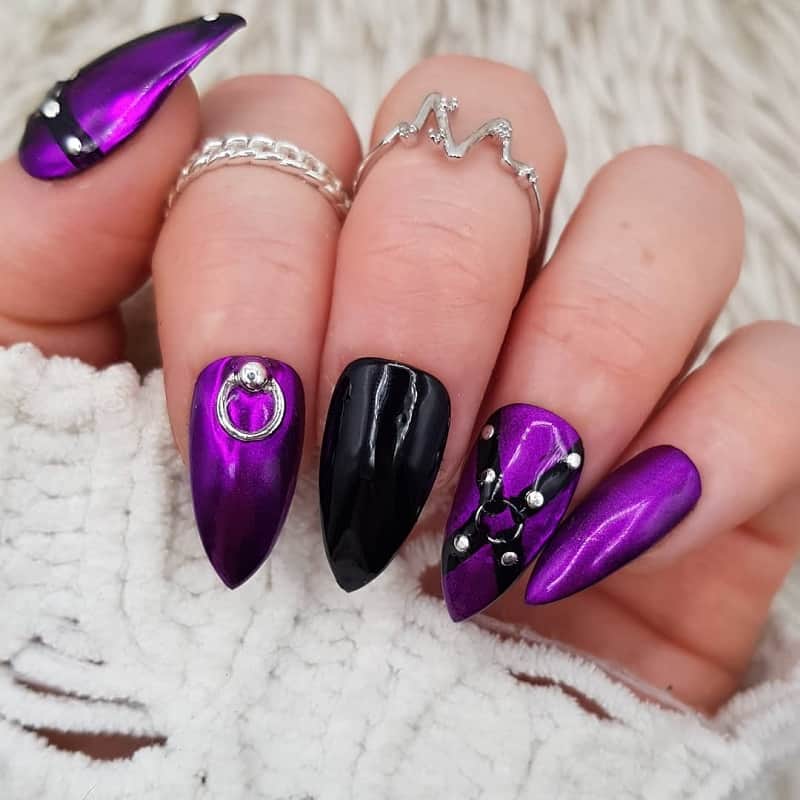 You'd never believe these are gel press-ons, but the shiny purple and black with their diamond details distracts from that. Easily make your gothic nails 3D with chain pieces and crystals.
#9. Gothic Wiccan
Whether you're a true Wiccan or it's just Halloween, we love these dark gothic nails. Nude nails fade softly into black tips where a tiny gold detail is waiting to shine.
#10. Bright Red Goth Nails
When the moon is full and your attitude is turning dark, it's the perfect time to flaunt gothic stiletto nails with bright red pictures on an almost transparent black tip.
#11. Goth Acrylic Nails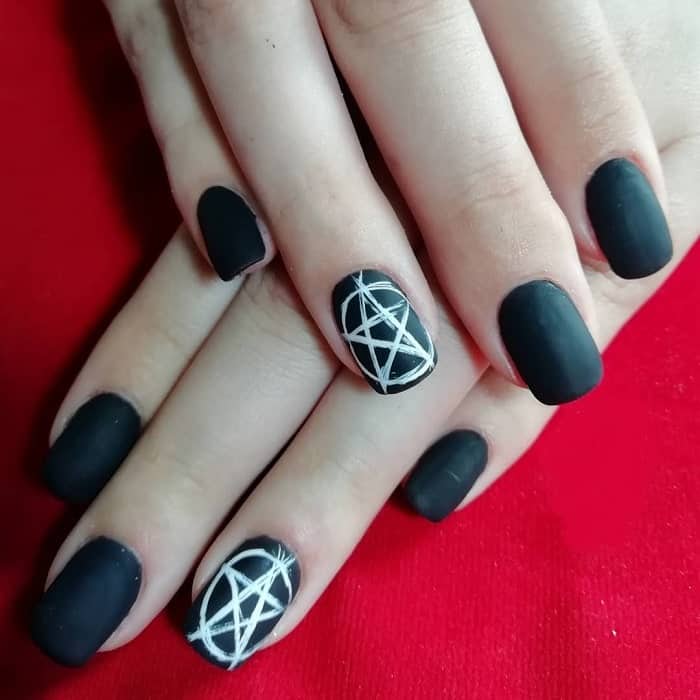 For short rounded nails, rock a matte black with a white pentagram for accent on the ring finger. If you like a little more shine on your nails, you can always add a top coat.
#12. Goth Stiletto Nails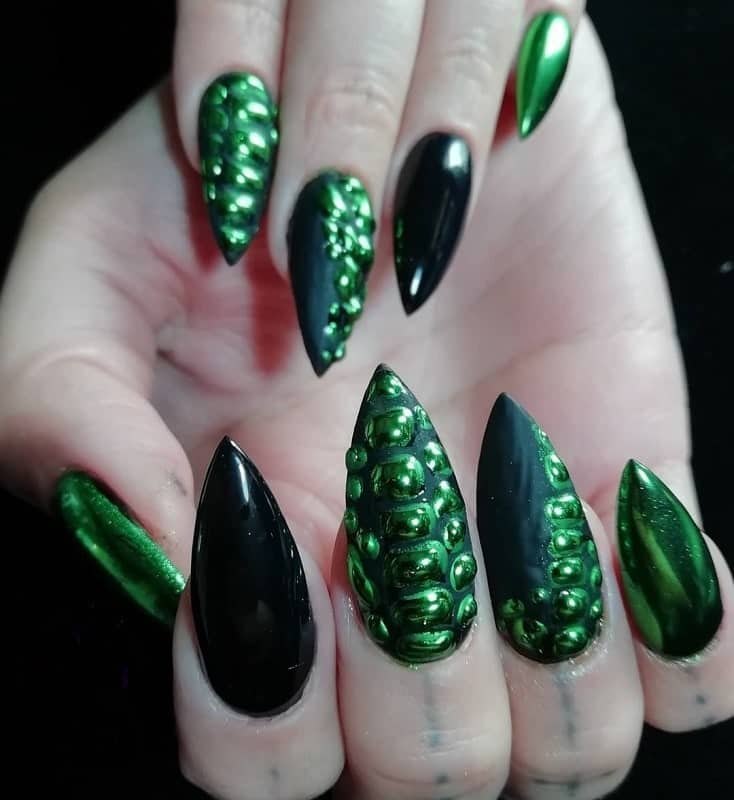 An emerald green is one way to class up gothic nails. The textured print mixed with solid black and green nails really livens up this stiletto nail design.
#13. Short Goth Nails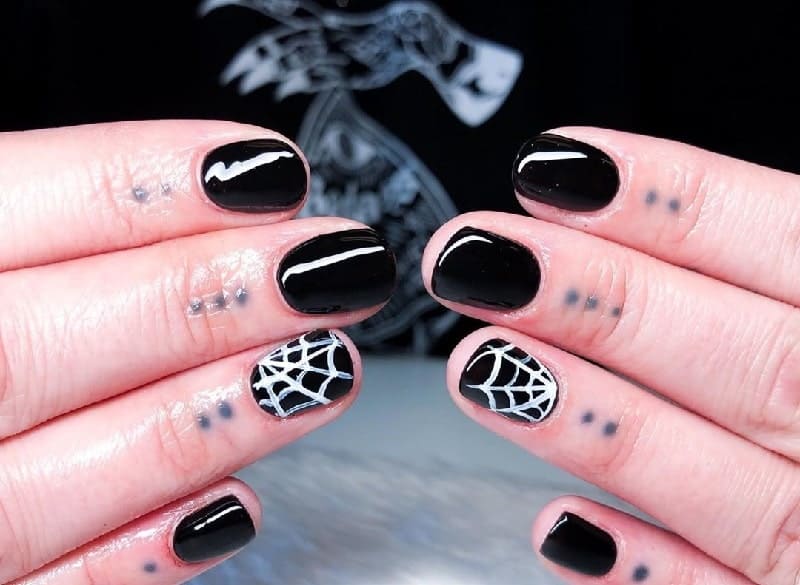 For a soft emo nail design, go for short rounded nails. A plain black nail with white spiderwebs for accent is very tasteful.
#14. Emo Acrylic Nails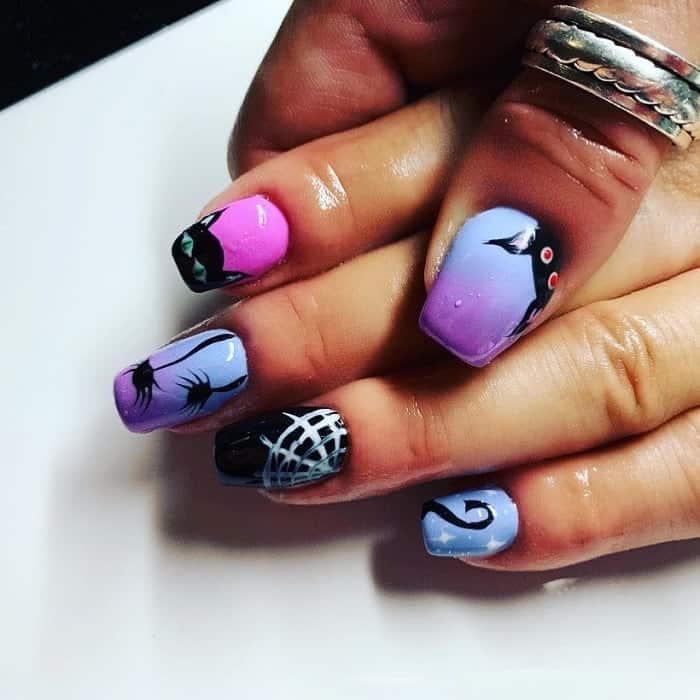 Feeling festive? For Halloween, you have to try these purple-blue gothic nails. The design is airbrushed and features the tail of a cat, some spiders and their web, and of course some cat ears.
#15. Gothic Coffin Nails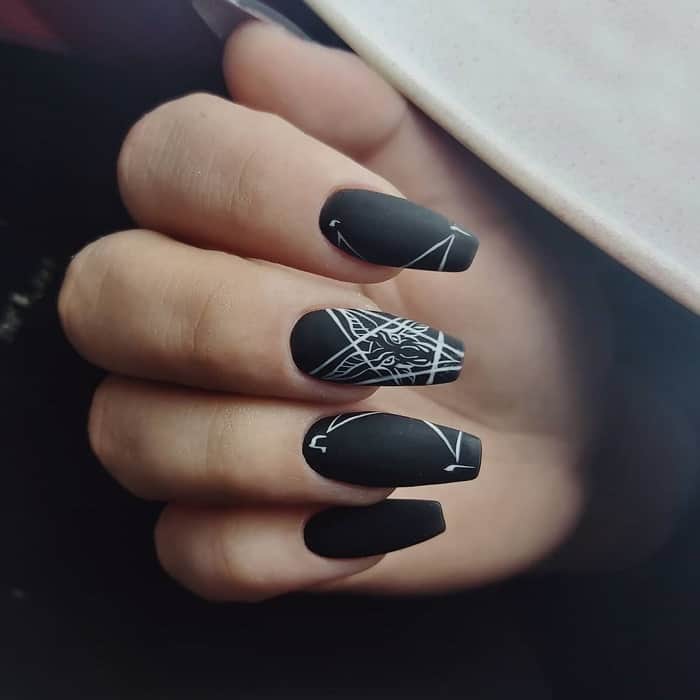 We love a dramatic gothic nail on coffin nails – it is so fitting! Just add matte black and use stencils or a nail tech for the white designs.
#16. Pointed Gothic Nail Design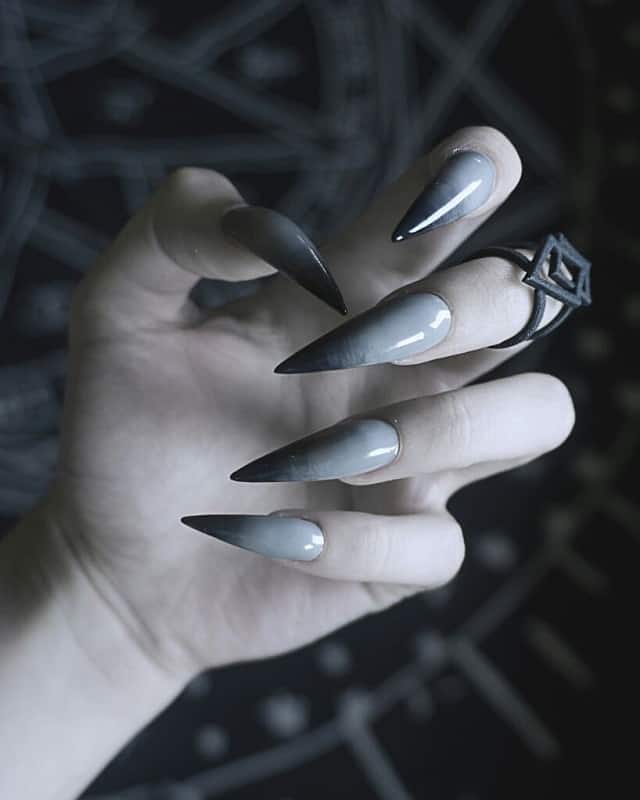 Pointed gothic nails, or claws, are perfectly scary for Halloween. Try a grey-black ombre to get your spooky point across.
#17. Goth Nail Stickers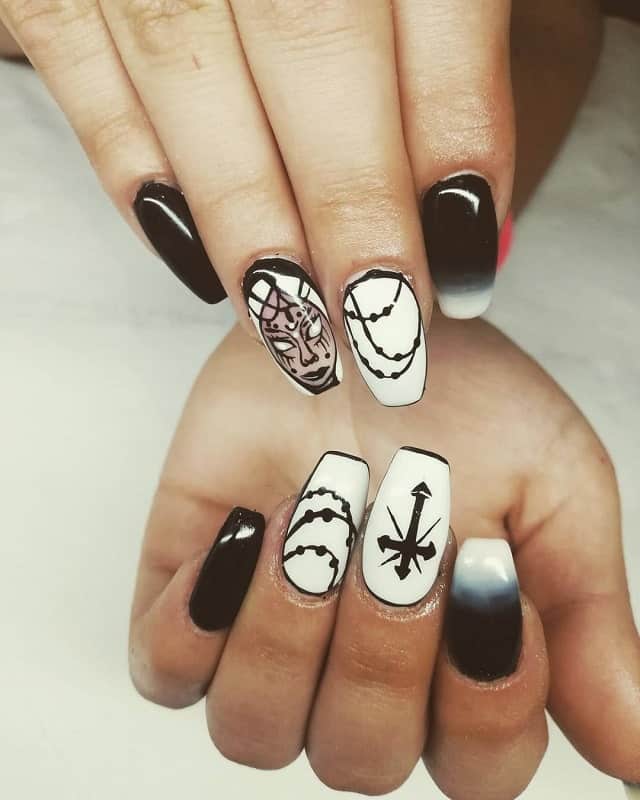 If you're not too steady with the nail polish and don't want to visit a nail tech, consider purchasing some gothic nail stickers to add to medium length square-shaped nails.
#18. Gothic Valentine Nails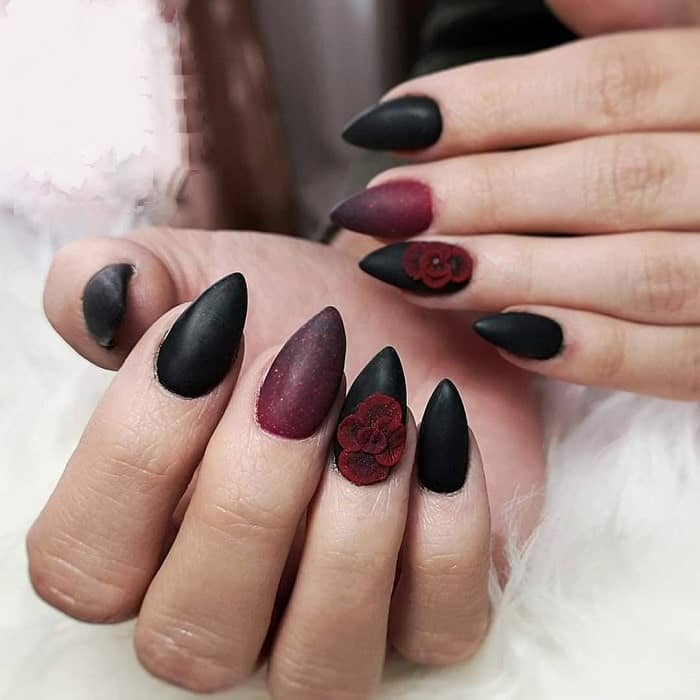 Will you be mine, Valentine? Make it a gothic Valentine's Day by opting for black nails with a cute touch of 3D rose art.
#19. Gothic Nails for Christmas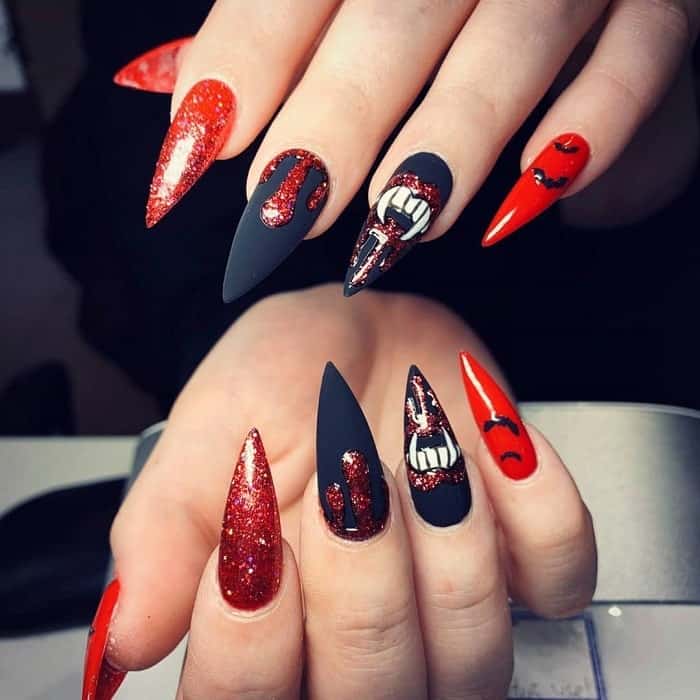 For Christmas or Halloween, a bright red nail for gothic vibes is a must. Mix matte black, shiny red, and a glittery red with either bows or fangs for a memorable style.
#20. Emo Fake Nails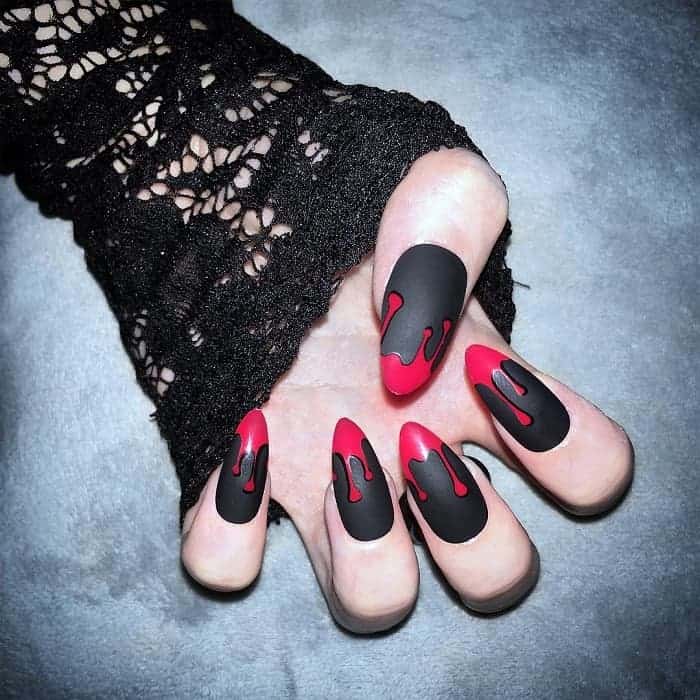 Is it just us or are press-ons like a gift from God? When you're in a rush for your gothic or emo nails, just do press-ons with red and black colors.
#21. Goth Wedding Nails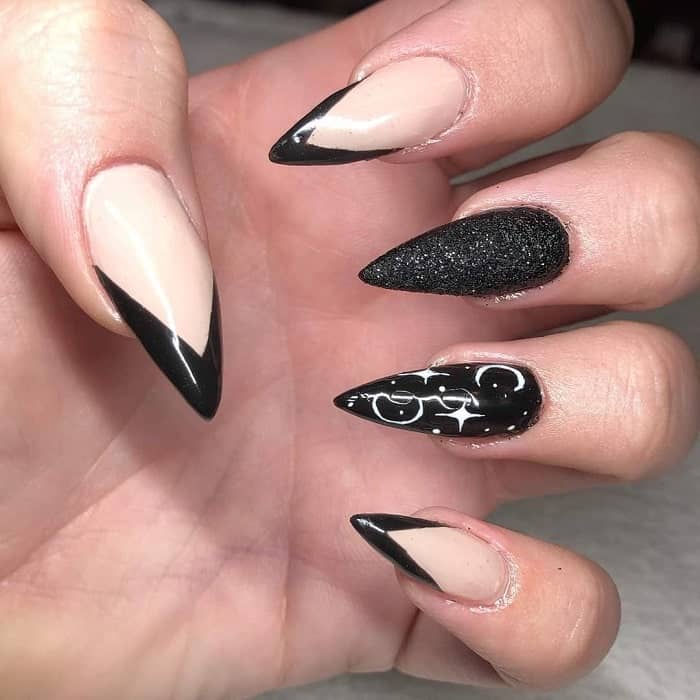 Not everyone has a white wedding these days! With gothic nails featuring a nude base and black tips, your wedding will be memorable for years to come.
#22. Ombre Goth Nails
To give your gothic nails a soft vibe, choose a black ombre. Nude or beige fades to grey and that fades to pure black.
#23. Purple Goth Nails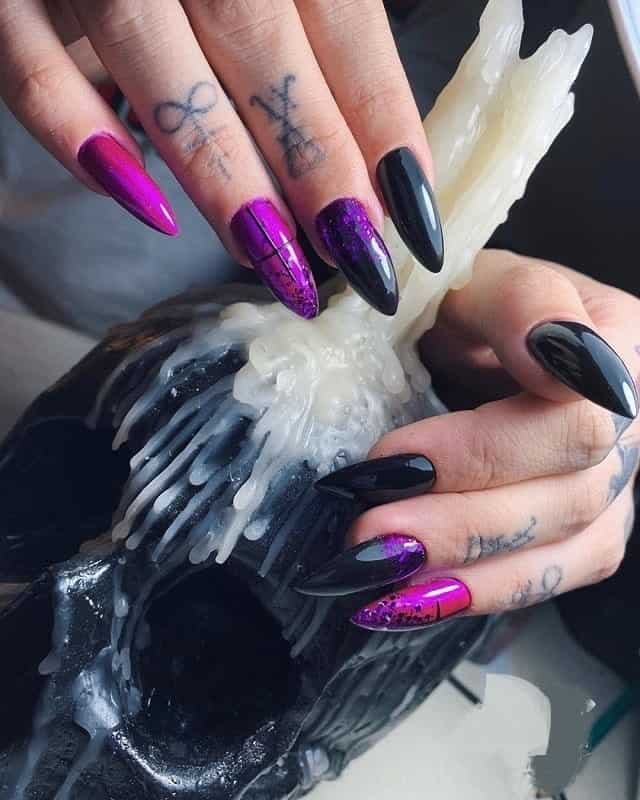 Shiny peppy purple is the perfect pop of color on gothic or emo nails. For sparkle, stick on some dark purple sequins or silver crystals.
#24. Emo Gel Nails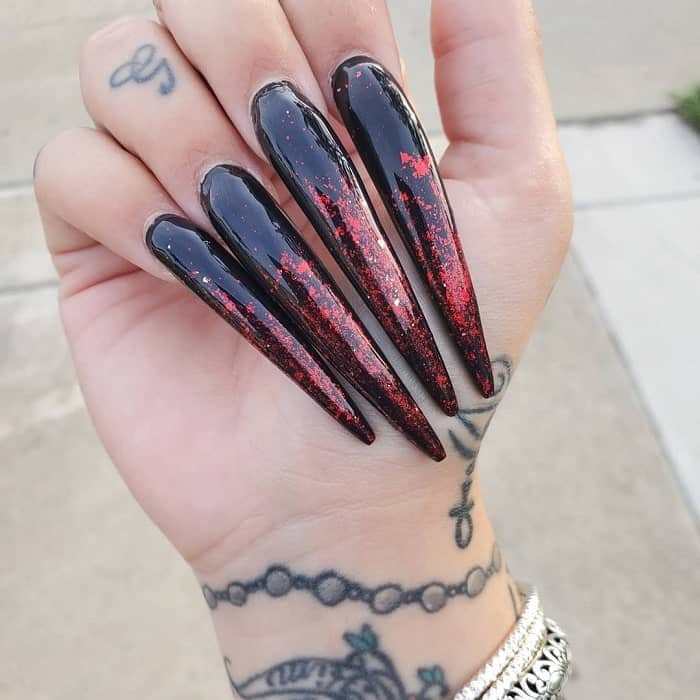 We get it, you're extra! Make your nails match that "extra" personality of yours with maximum length and emo colors black and shimmery red.
#25. Simple Goth Nails
Simple style in a flash just asks for shiny black nails and a fun white drawing or sticker of Jack Skellington.
#26. Black Goth Nails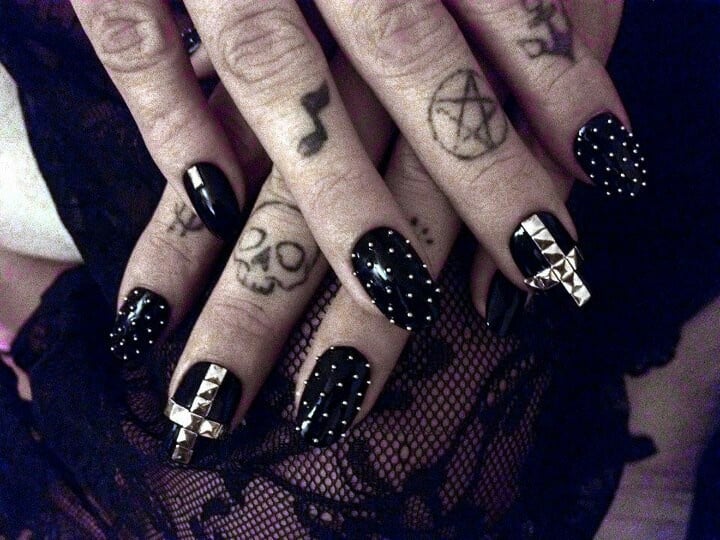 This is a basic design for gothic nails. Very simple to have. You can draw a pentagram and skull on your fingers to enhance the intensity of the gothic nails. Pentagram and skull are often associated with the concept of black magic.
#27. Pastel Goth Nails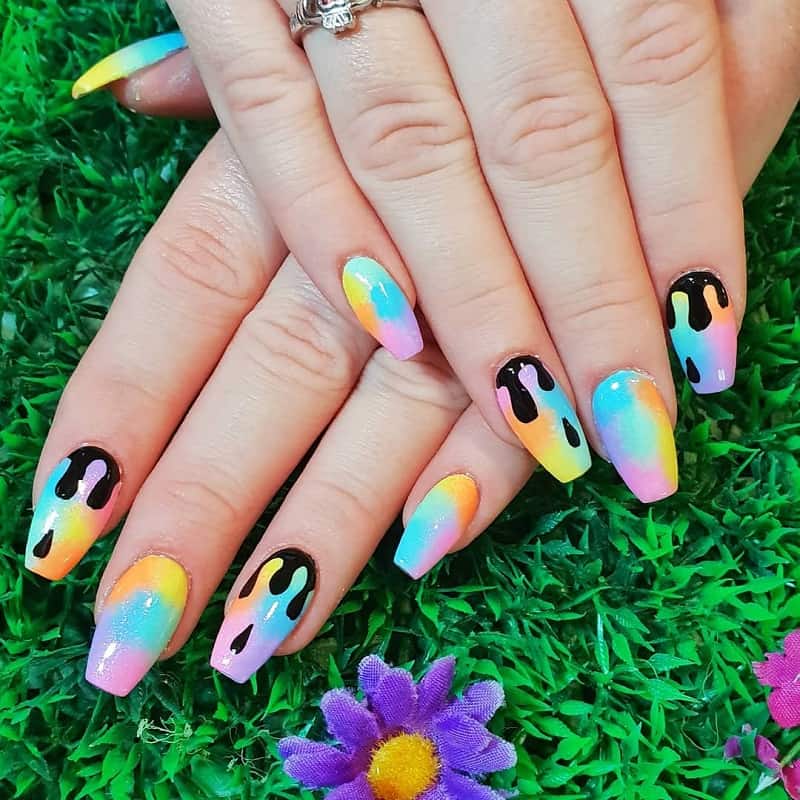 You can use pastel colors for your goth nails. Whatever the base color is, the pattern or designs must be in black for goth nails.
#28. Red and Black Emo Nails
An emo has an ocean of feelings and emotion. He/she cant tolerate the pain being too much impulsive. This design with red and black is a perfect depiction of emo people. They try to hurt themselves after being hurt by someone else.
#29. Goth And Black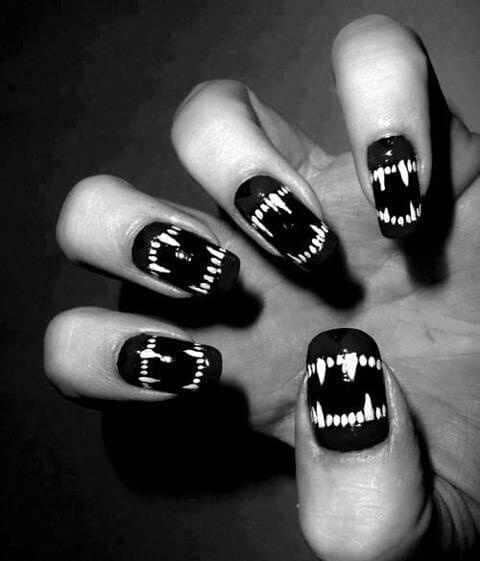 If you are using black dominantly, your gothic nails are already half-done. You don't need to add a lot of patterns for gothic nails. Keep it goth and black.
#30. Broken Hearted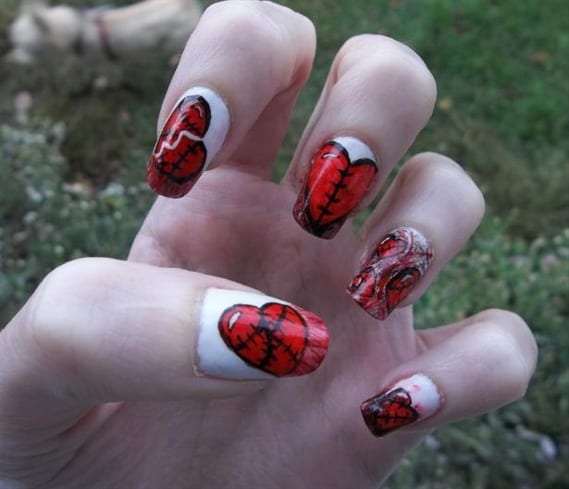 "I'm so lonely, broken angel" if this is your favorite song, this will be your favorite nail design.
Draw some stitched hearts stained with bloody red resembling broken hearts. Emo persons are normally broken, this could be a good choice for having emo nails.
#31. Dark Gothic Nails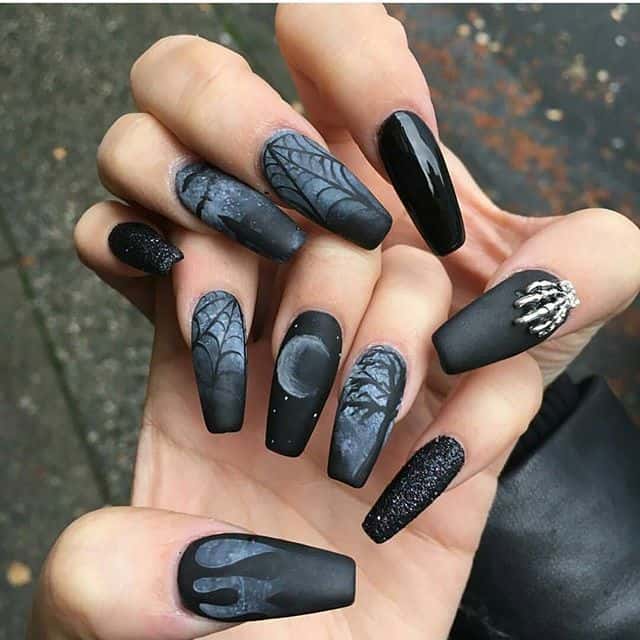 Night time is the favorite time for the gothic people. They love darkness more than anything. You can have this image drawn your nails which is the perfect resemblance to a dark night.
#32. Emo Prince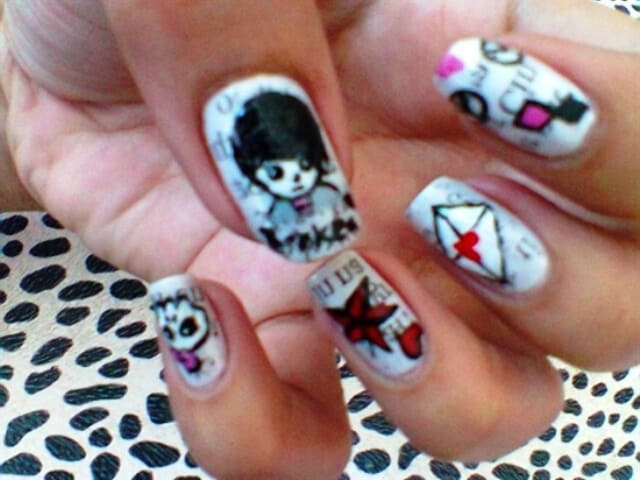 This is the stereotyped image of an Emo boy having long hair covering one side of the face.
There is an envelope marked with red love. All these symbols are the perfect reflection of the emo theme. So, you can undoubtedly have them as emo nails.
#33. Emo Princess
Any emo girl will love this design. There are a love sign and a cross sign of a skull side by side in this design. Which indicates that love is dangerous.
And the word EX indicates that this girl used to love someone, but now she is depressed. Emo nails couldn't be any better than this.
#34. Lunatic Goths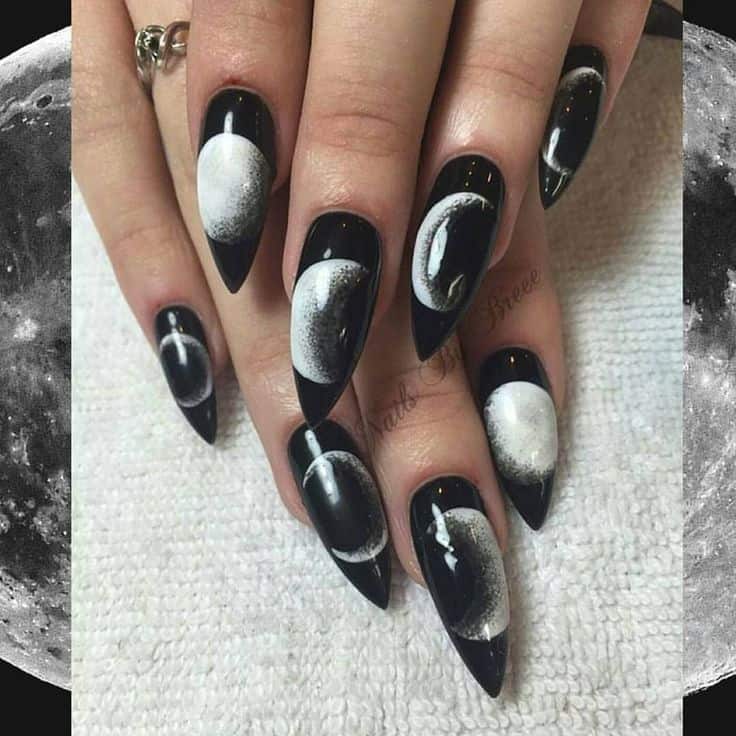 For some unknown reasons, goth people use chrome designs in their art. Maybe because it refers to the time of night.
And ordinary people like us sometimes think that goths are lunatics for their different attitudes, which is not right. You can have this design for your gothic nails.
#35. Goth Skulls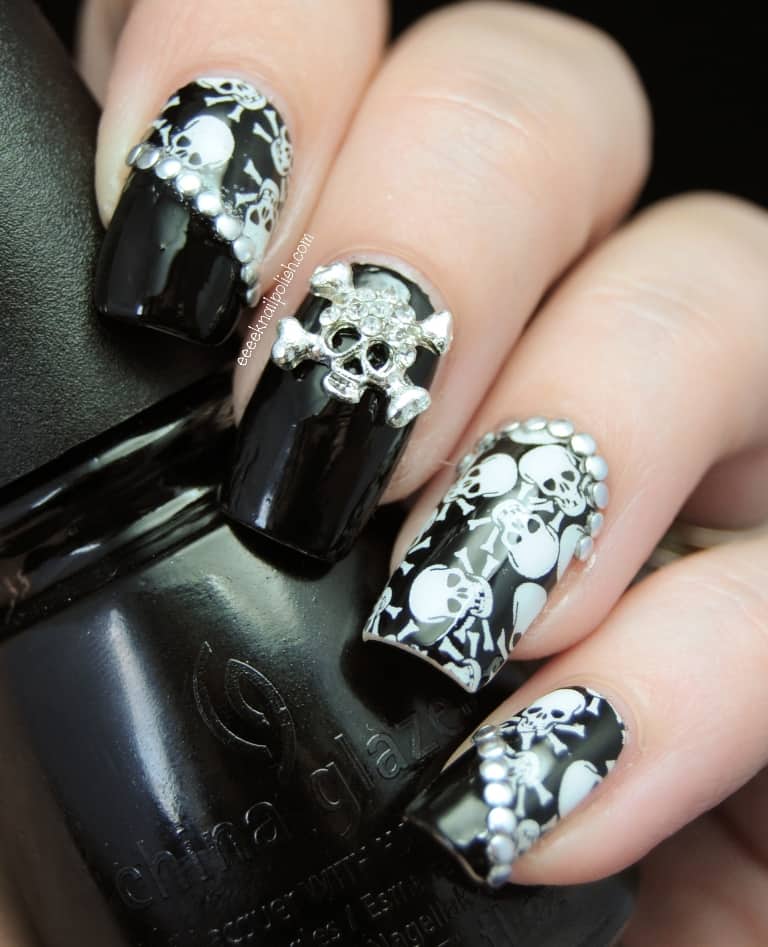 Skulls are commonly used in goth nail art. You can draw some images of human skulls on black nails for this design.
Skull face deals with the theme of death, and death is a significant thing for gothic people. So, you can have your gothic nails painted with skulls.
Emo and Gothic are the people among us who feel and believe a bit differently than us. That doesn't make them bad or evil. We must practice liberalism in every sector of our life. Let's not be extremist.
However, I have tried my best to give you some ideas regarding emo and gothic nails. Be yourself, do what you feel but, of course, don't hurt anyone's feelings or beliefs. Hope you'll find these emo and gothic nails useful.