Want to go nude on your nails whilst staying on the darker side? Taupe nail colors will be your best shot!
'Taupe' is a French word referring to all the shades that result from a mix of two completely unrelated colors; gray and brown with subtle hints of mauve, pink, and beige.  
These neutral shades are perfect for all seasons and occasions. So if you want your nails to make a statement without a pop, check out the list of taupe manicures below.
Also, keep in mind that the perfect neutral/nude shade is defined by your skin tone.
Taupe Color Nail Ideas
All of the following nail ideas are defined by two things; elegance and class!
1. Matte Granite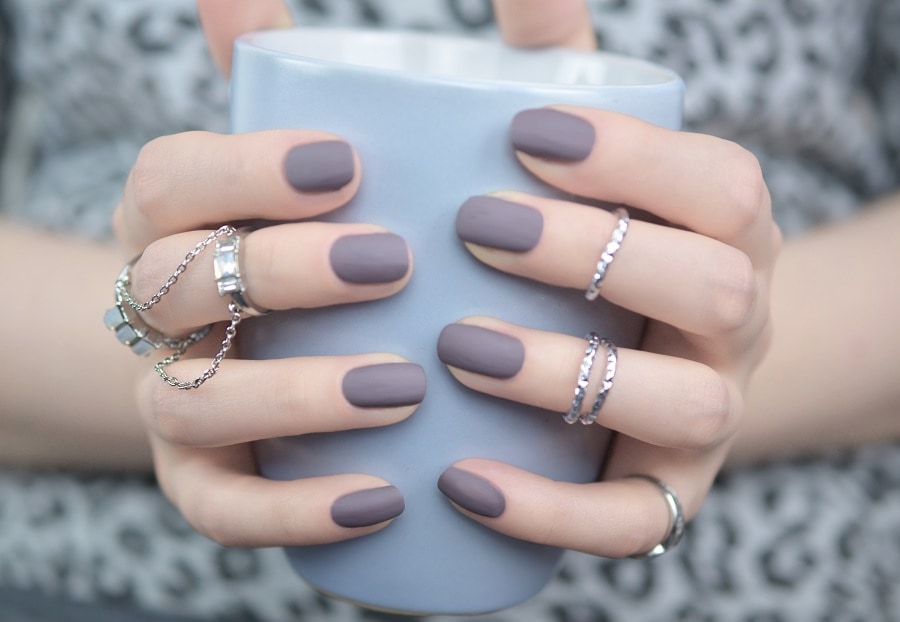 Spice up your short nails with a medium granite gray nail polish. This color gives off a subtle hint of violet under bright light that goes perfectly well with all outfits. Opt for a rounded square nail shape and finish off with a matte top coat for a high-class look.  
2. Beige Beauty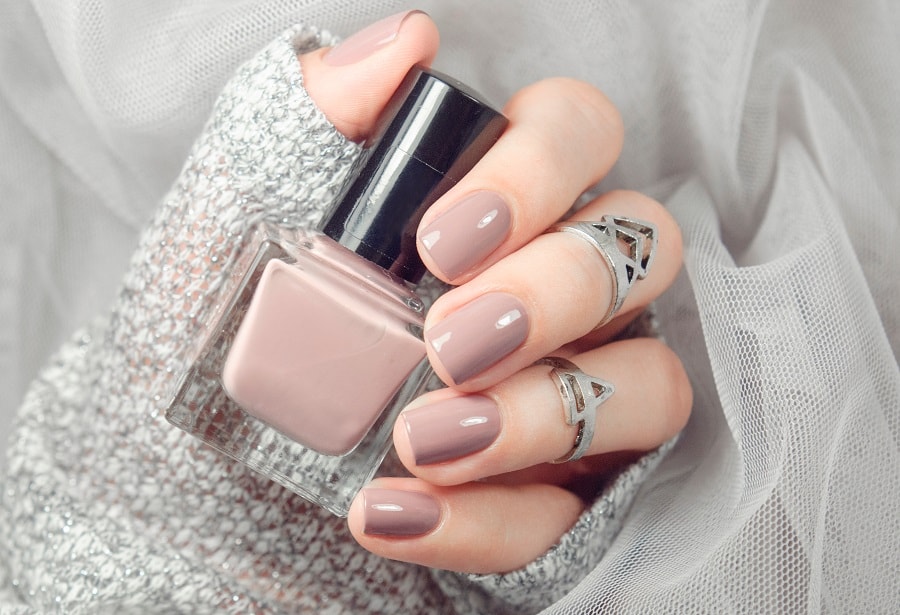 Want a more neutral look? Consider getting a coat or two of beige lacquer. Just as mentioned earlier, keep in mind your skin complexion when choosing a nude hue as a neutral beige polish suiting a fair skin tone might not work for darker complexions.
3. Lavender Love
Ladies trying taupe nail colors for the first time should definitely give this shade a try to avoid completely colorless nails. The shade is a mix between brown and gray with a soft yet noticeable lavender tinge. Draw a lace pattern with a darker shade of purple and that's it.
4. Greige Almond Nails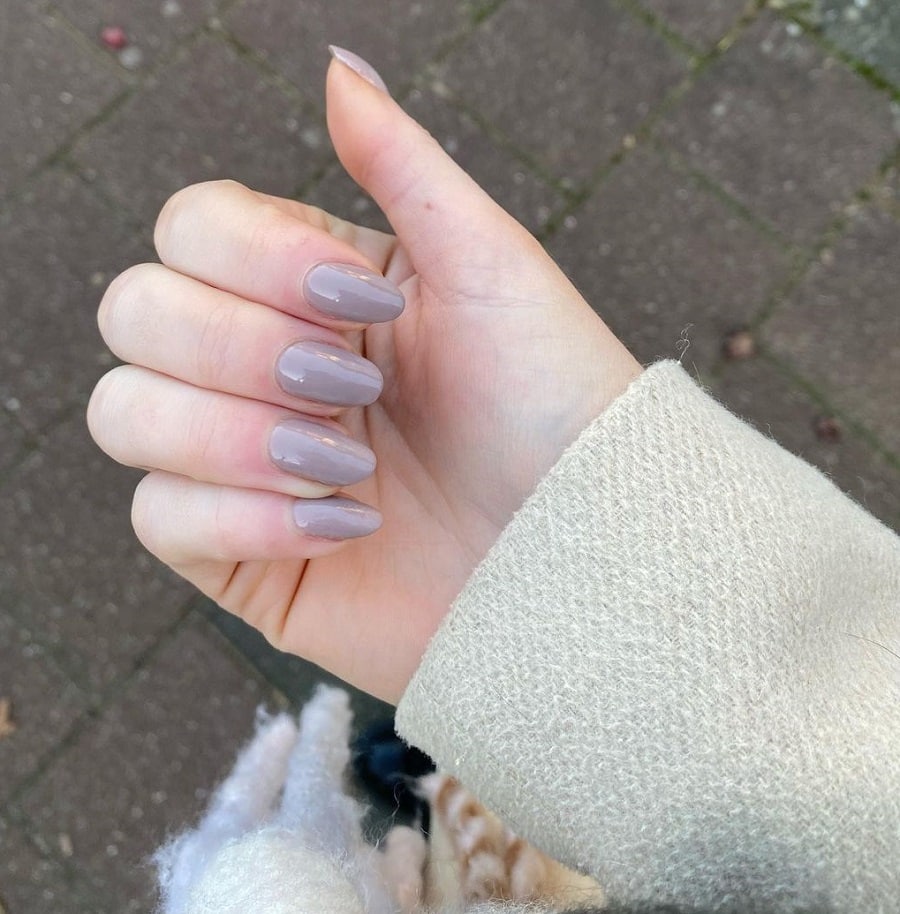 Just as the name suggests, greige is the combination of gray and beige. The one shown here lies on the lighter side of the gray color spectrum and is ideal for fair-skinned women. In case of a deeper complexion, find a shade that has more brown in it.
5. Smokey Taupe
Talking of darker lacquers, smokey taupe is a neutral deep gray color that works well for warmer skin tones while still appearing neutral. Although you can opt for any shape and length for nails, short squoval nails will be ideal for a basic yet chic manicure.
6. Mauve Move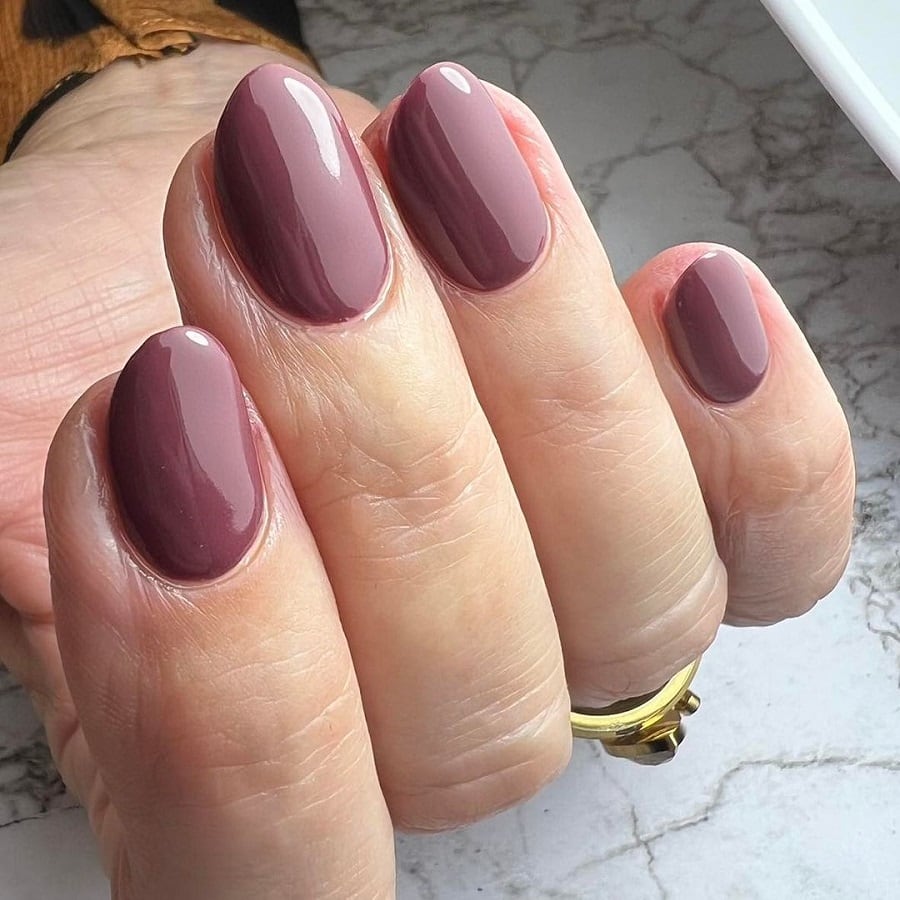 Taupe nail colors with pink and purple undertones are the best! Go for a deep mauve gel polish that'll last for some weeks while protecting your nails. Instead of a single color, experiment with varying shades of mauve to achieve flawless gradient nails.
7. Coffin Nails + Hint of Pink
Medium to light taupe colors can be coupled ideally with brighter hues. Make your matte hot pink nails pop by accentuating them with one or two nude pink nails. Add further detail with a stamped design using the same color combo or other nuances like gold and slate gray as depicted here.
8. Muted Olive Manicure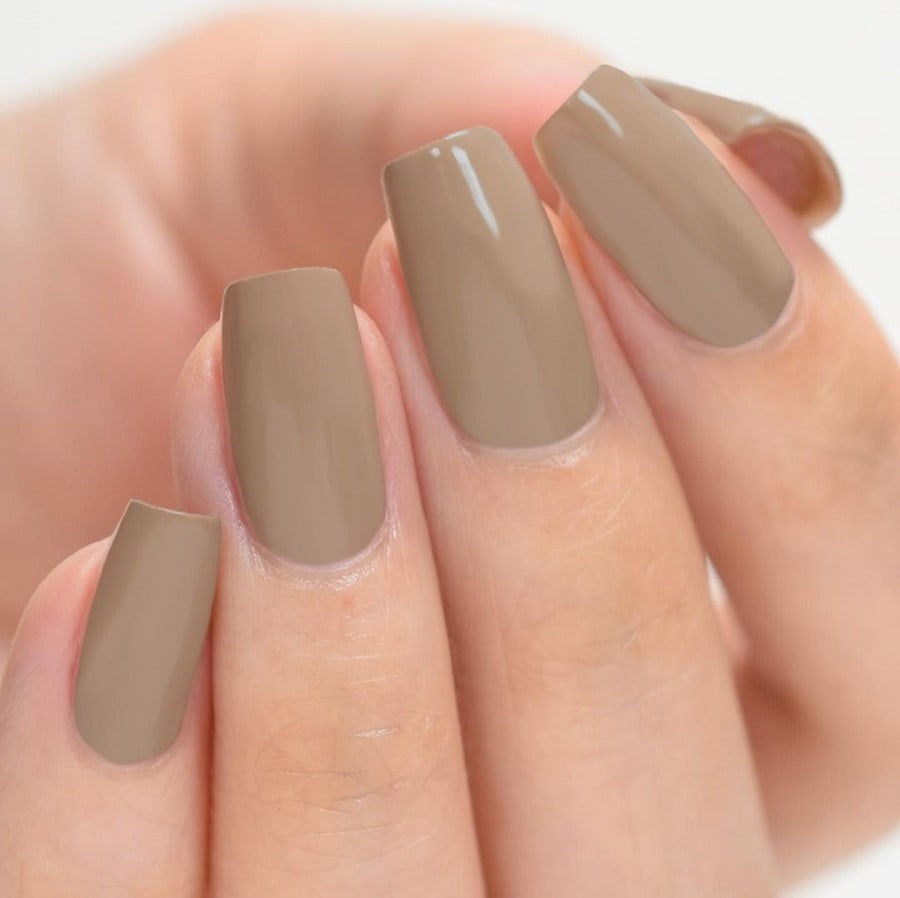 Those who are bored of the usual taupe colors in tones of gray, brown, and beige can rock a muted olive green tinge to stand out from others. Opt for square nails and add a tiny leaf in dark green for a nature-inspired minimalistic mani or don't! Whatever you prefer!
9. Mud Brown and Nude Square Nails
Level up your nail game with a deep mud brown nail polish. Go for two or more nude beige nails and use a thin brush to add wavy swirls of brown on top. Repeat the same for your darker nails too or keep them simple. The choice is yours!
10. Dark and Light Tones
Magnetic nails look magical and are a lifesaver for women who can't choose between any two shades. Copy this nail idea by asking for a dark mauve base with a slate gray magnetic polish on top. Now comes the fun part, use a magnet to create any pattern you like.
11. Panda White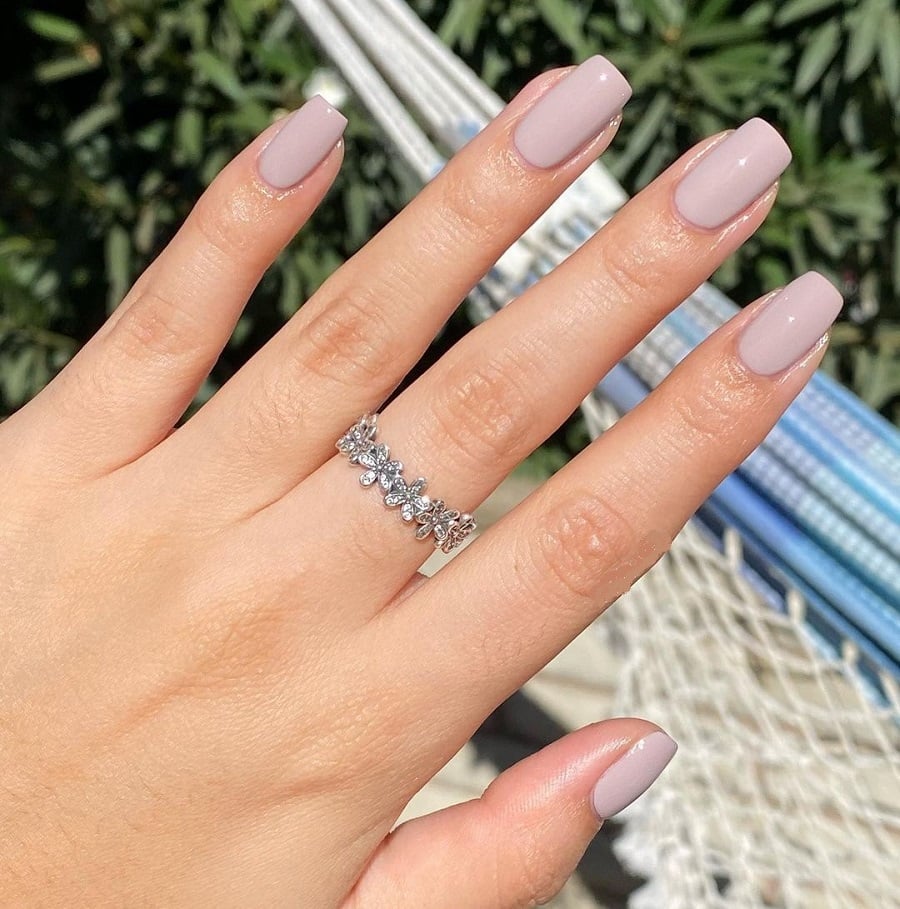 Whether you are getting ready for the beach or are going to attend a marriage ceremony of a loved one, these panda white nails have got you covered! The shade shown here is not white at all, instead, it has a barely-there pink undertone that'll never let you down!
12. Purple Mystery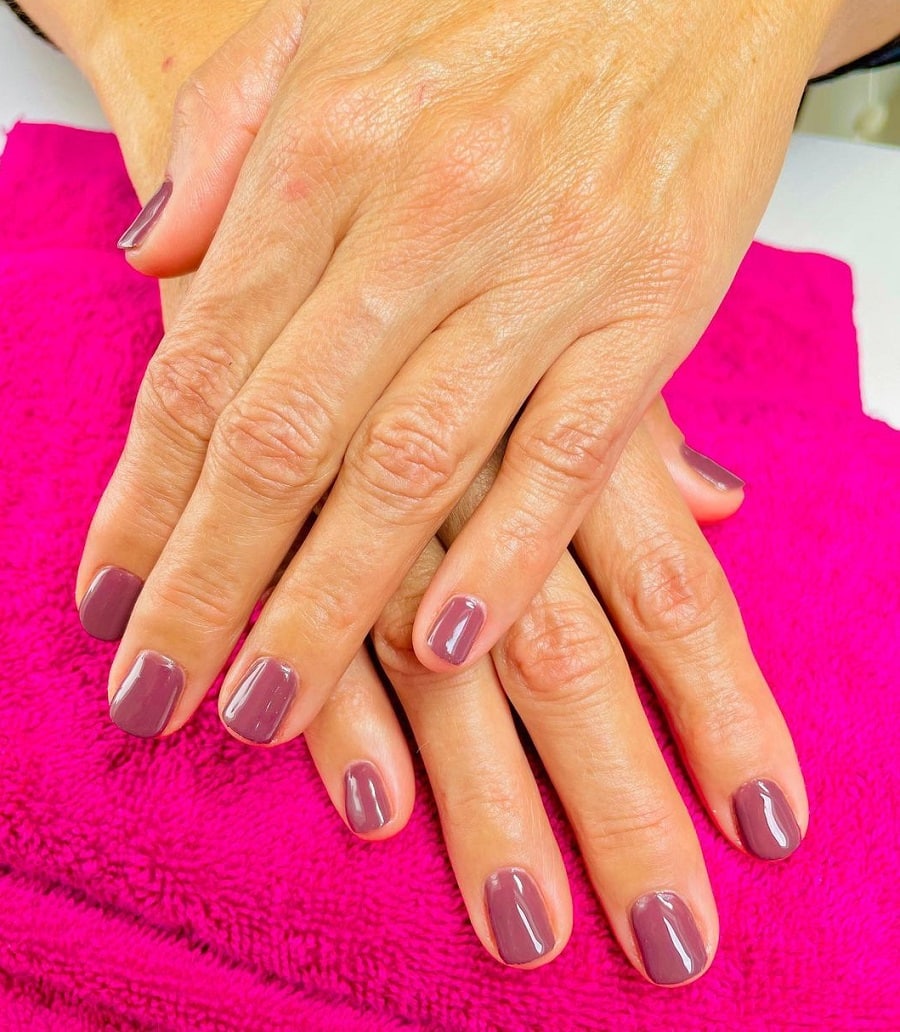 Though nude and taupe nail colors might still seem a risk to some, a mystic purple hue featuring a mix between mauve and plum will be your safe shot no matter what. This color goes well with all skin tones and nail types. Can't get any simpler!
13. Ice Blue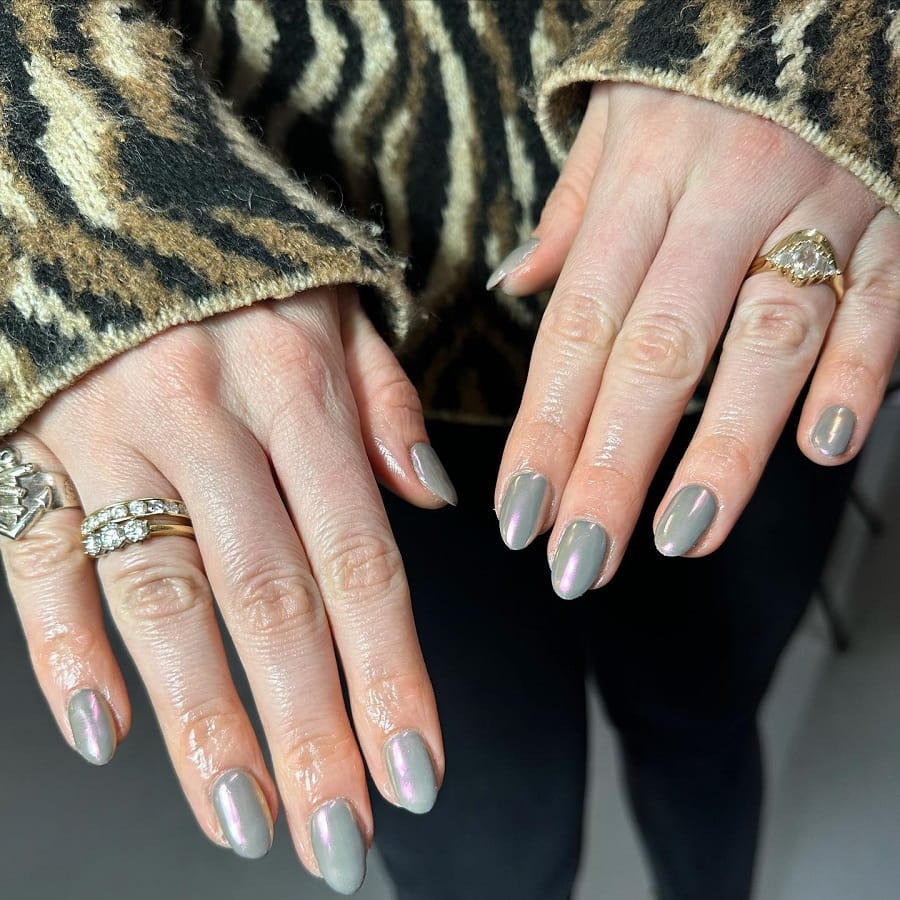 Mix some blue with your slate gray polish and you'll be surprised to achieve a shiny frosted blue tinge that is sure to turn around some heads when applied to the nails. Amp them up further by rubbing iridescent chrome powder on top. An ideal mani for the winter, isn't it?
14. Brown Oval Clay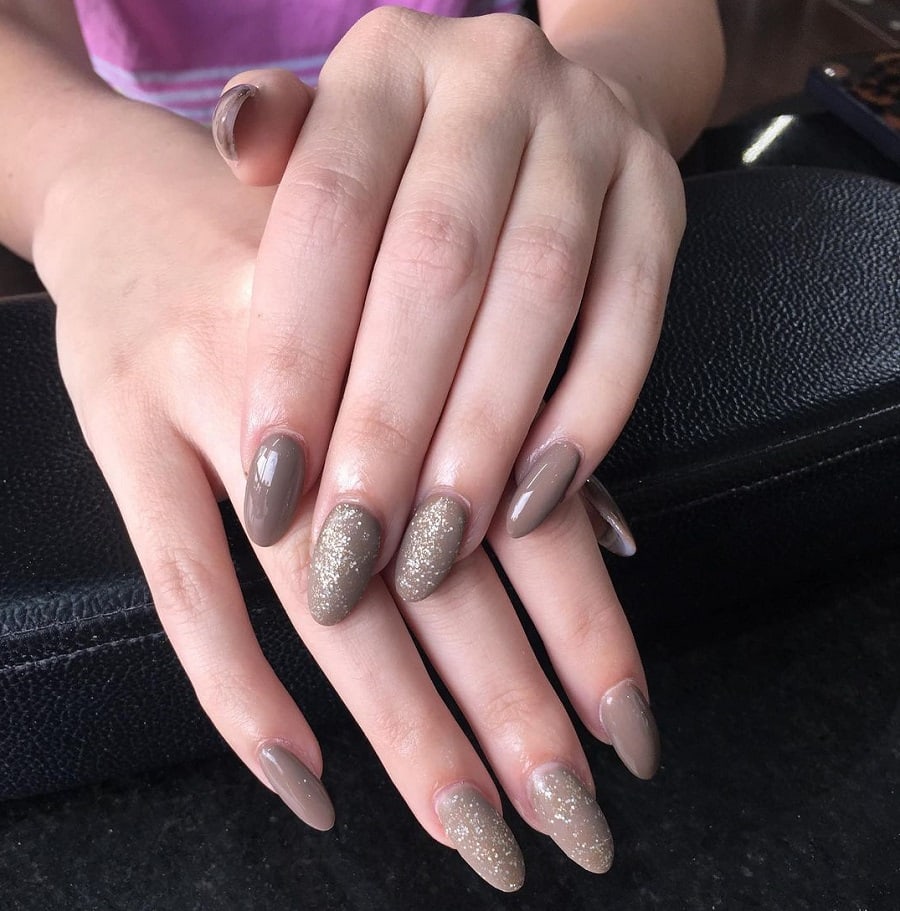 Those who love earthy tones won't be able to overlook these taupe-colored nails that are suitable for office-going ladies. Add some warmth to your almond-shaped nails with a clayey brown tinge and top off with a fine layer of silver glitter polish. Simply chic!
15. Ash Gray
Make sure your ashy taupe gray manicure gets noticed with a contrasting white accent nail. Copy the design from your favorite sweater using white gel polish, a thin brush, and translucent acrylic powder. Go for a barely-there glitter ombre on the remaining nails for a more festive look.
16. Rose Quartz
Can't take your eyes off, right? Pamper your long stiletto or almond-shaped nails with nude pink gel nail polish at home. Make sure you add the rhinestone before the lacquer dries out completely and seal them in place with a transparent top coat. Elegant without a doubt!
17. Taupe Green Squoval Nails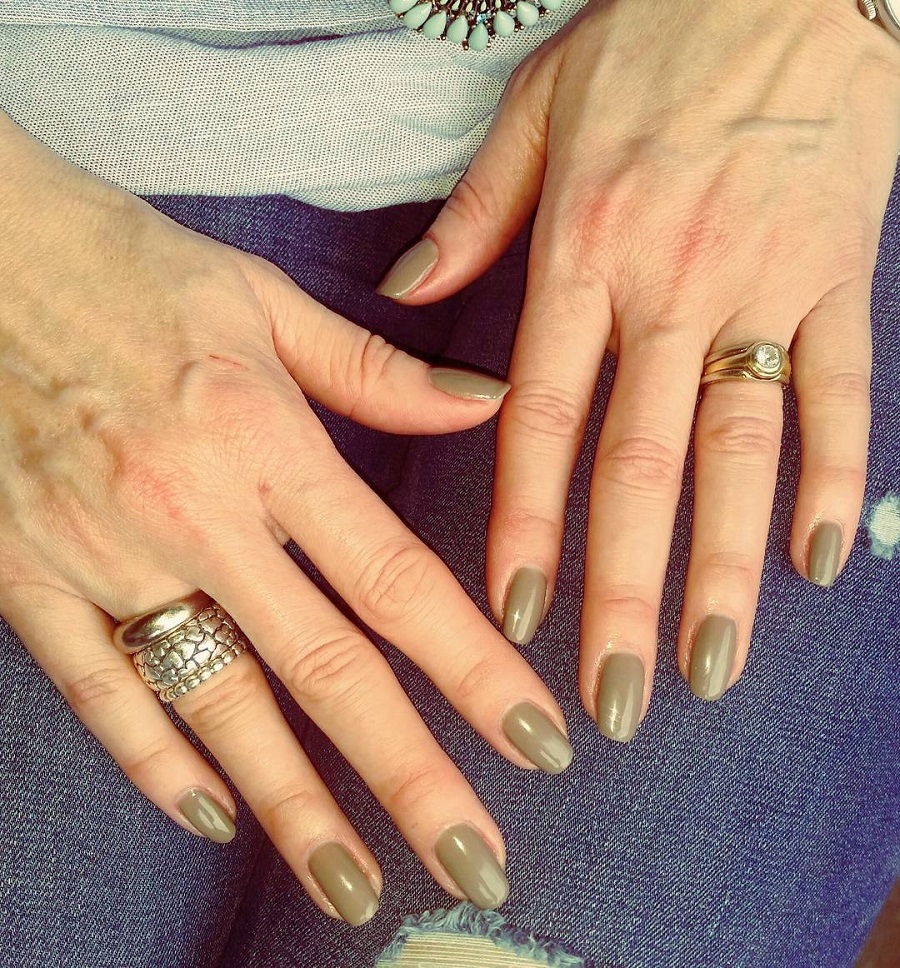 Rock a calming tone of green instead of its usual eye-popping shades for a change. Ask your nail expert for a cool taupe green lacquer on medium-length rounded square nails. You can also ask for a matte top coat rather than the usual glossy one to drop some jaws in silence!
18. Pastel Gray Square Nails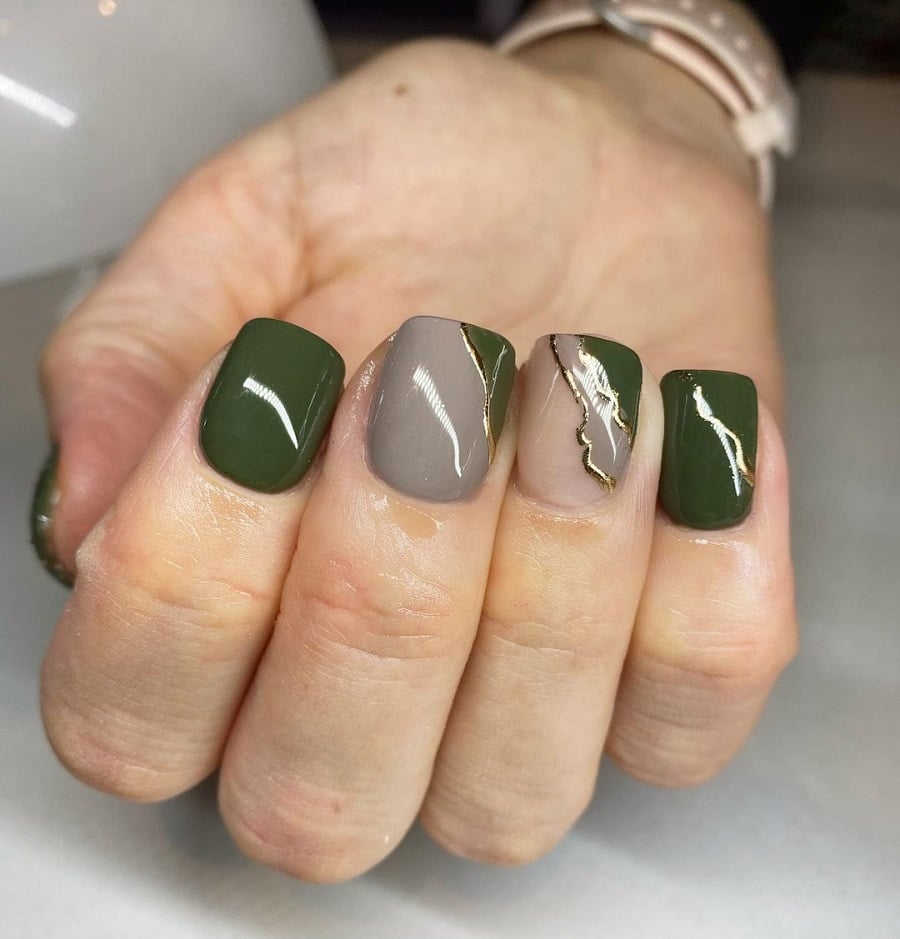 Pastel colors look super dreamy and so does this pastel gray polish when coupled with a deep forest green tinge. Let your short square nails shine by adding diagonal swipes of green on gray and vice versa with fine lines of gold along the borders for a luxurious look.
19. Purple Wisteria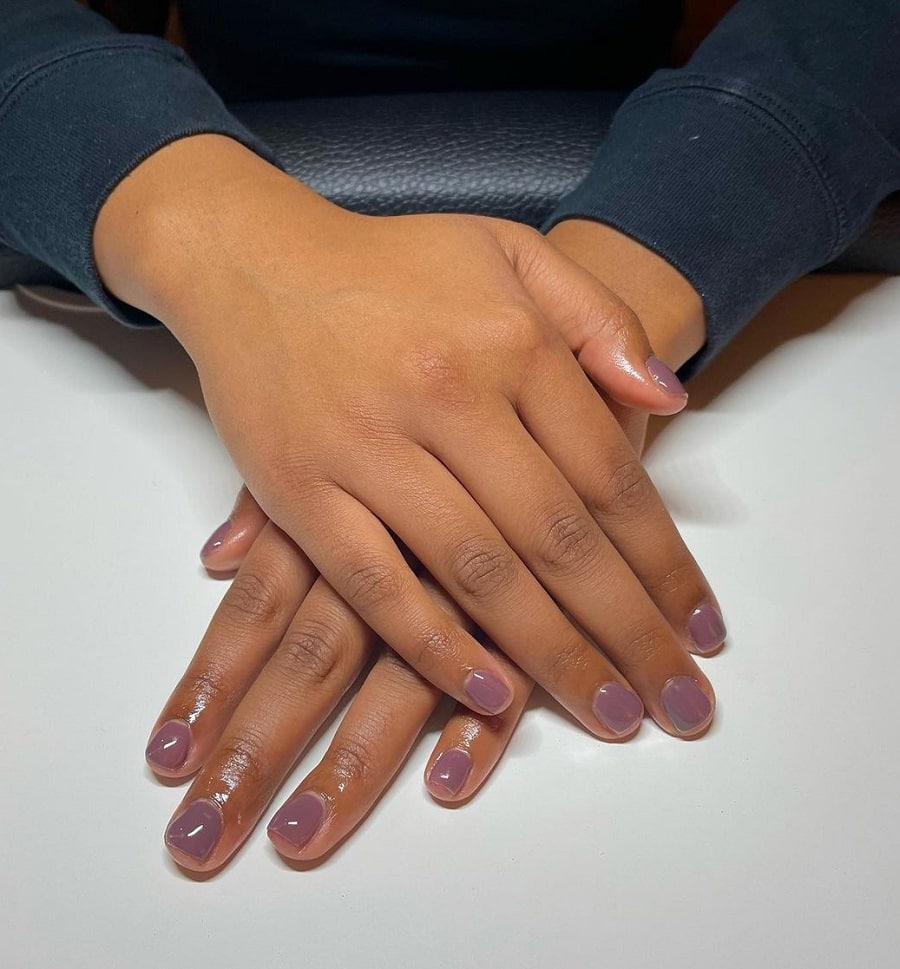 Wisteria purple is the ideal neutral purple tone for ladies with dark skin tones. Grab the color and add a coat or two even when in a rush to make your boring short nails up to date. In the case of long nails, try an accent nail with tiny wisteria flowers and you'll love it!
20. Dove Gray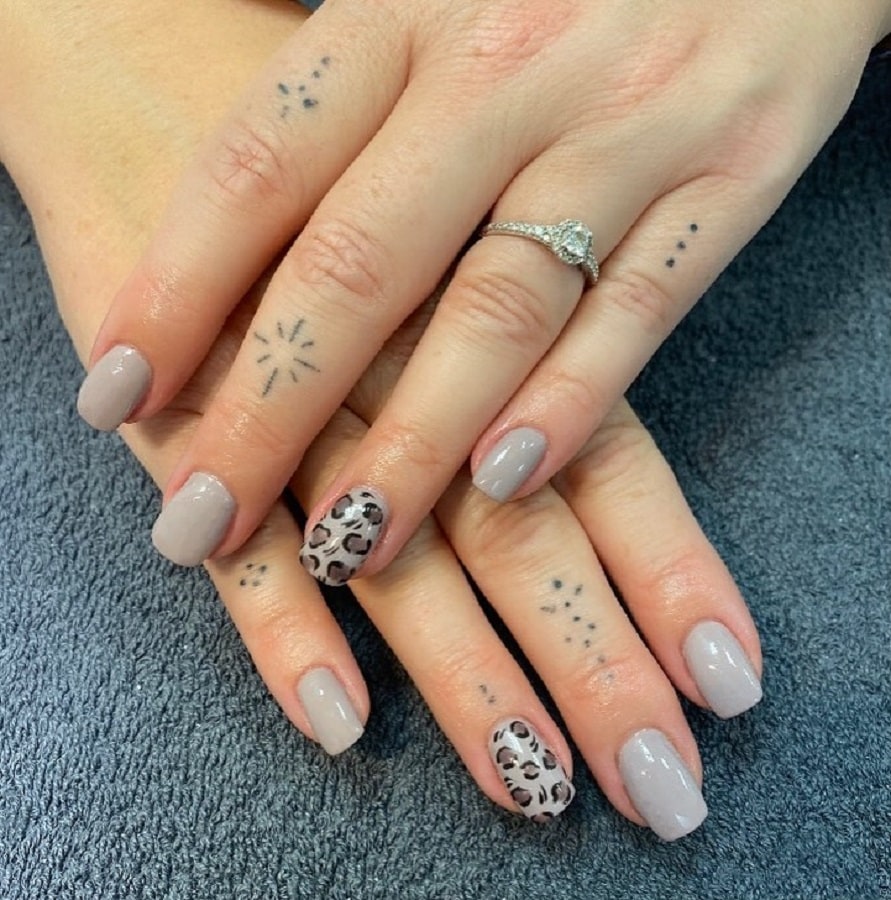 Dove gray is a cool light gray shade with beige undertones making it one of the best taupe nail colors to go for. It couples well with dark and light shades hence there is plenty of room to experiment with different nail designs. An animal-print accent nail will look good too!
There you have it ladies, all possible shades and variations of the color taupe! Opt for a solid color manicure or minimalistic patterns instead to make your taupe nail colors really stand out. So what's the waiting for? Time to book an appointment with your nail expert!