We all love shiny colorful gems and often wear them as accessories. Geodes are similar to that only, but with various balancing energies and healing powers. So why not get inspired by them and try these unique geode nail arts? Instead of wearing them as jewelry, let's wear them on our nails and look even more fascinating.
Choose any one from amethyst to quartz to agate and replicate it on your nails with these designs.
Amazing Geode Nails to Try This Year
These designs have been trending for quite some time now. You can use various color palettes along with golden tints for the specific look you want. Keep exploring for more crystal clear ideas to enhance your fingertips:
1. Amethyst Tips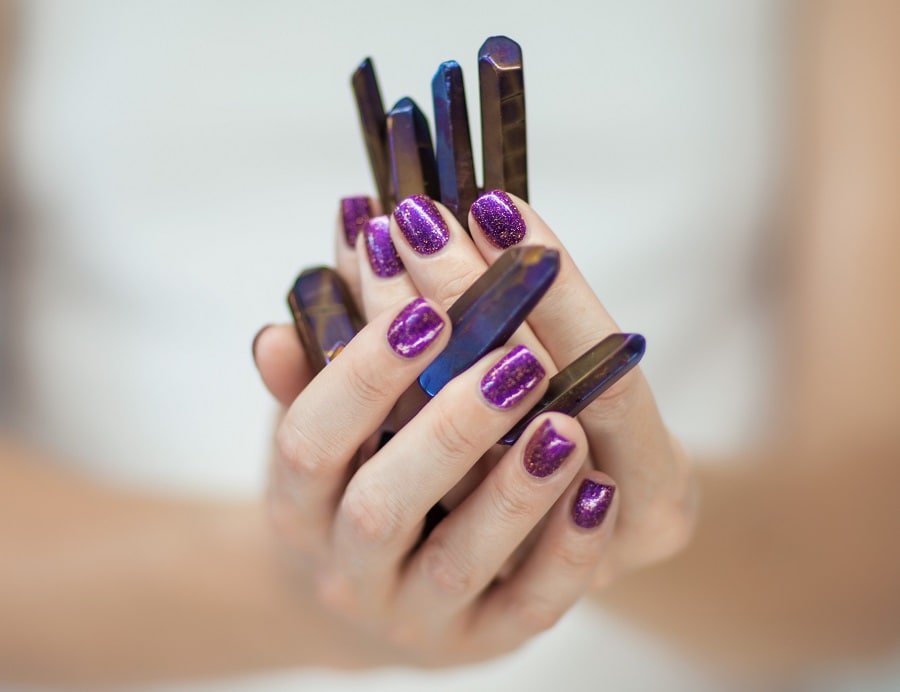 Keep your ideas expressive with these short magenta squoval nails. Better if you admire amethyst manicures.
Its idealistic theme and nail finishing are appealing to us. This warm purple geode nail art gives the appearance a little more depth.
2. Terrific Topaz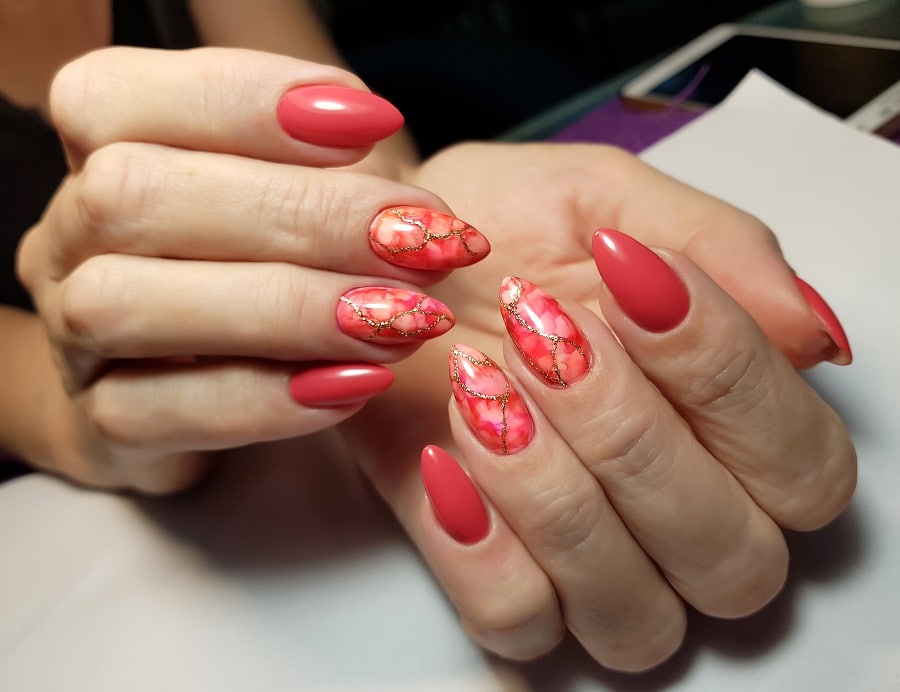 This interesting artwork of this oval manicure set needs to be pointed out. It has a stunning marbling pink base and a geode pattern.
It consists of many colored layers on top. Yet, it retains its simplicity and adaptability. Plus, it has a sophisticated vibe.
3. Pyrite Marble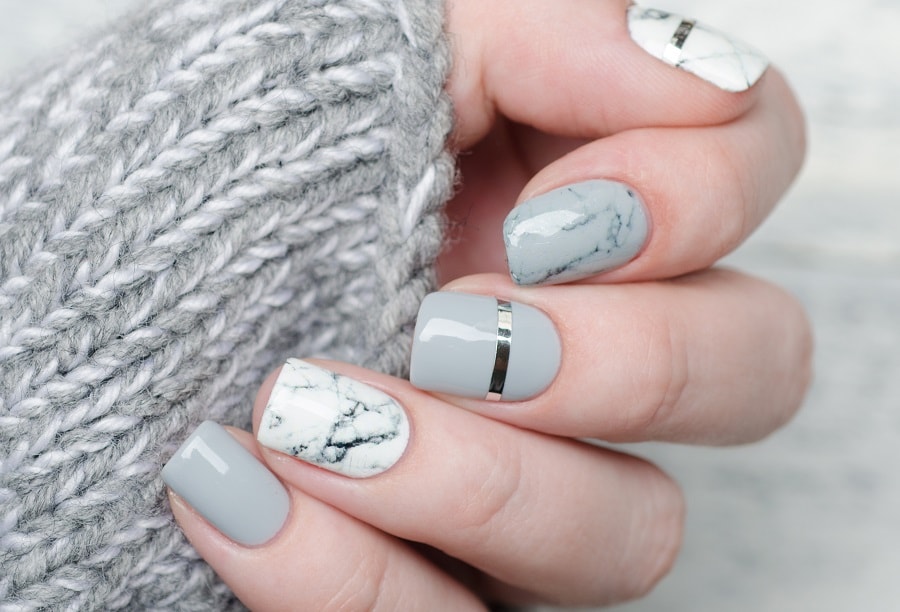 Over the base of the nail, you can draw a geode nail art. However, try a softer approach like this fingernail. Use a combination of the colors you like.
Get a brush and a silver foil for a touch of delicate glitter to enhance the effect. We adore this style because it features the ideal marble color palette for fall.
4. Aura Quartz Nails
We absolutely adore these short aura-inspired nails. Pink and blues are the most popular colors for crystal nails.
It is obvious truth that this nail combination is gorgeous. However, considering it uses iconic hues and patterns, it is certainly more vintage.
5. Gorgeous Garnet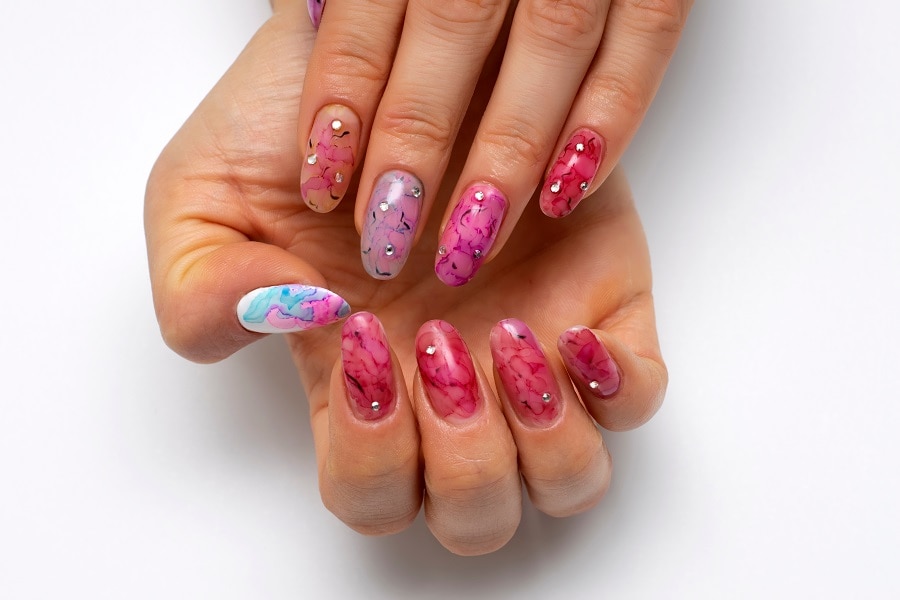 Among those who adore that strong yet stylized appeal. Here is a very sophisticated almond nail design.
This geode nail set combines pink and blue to create a perfect marble effect. It would also look stunning with silver embellishments.
6. Malachite Crystal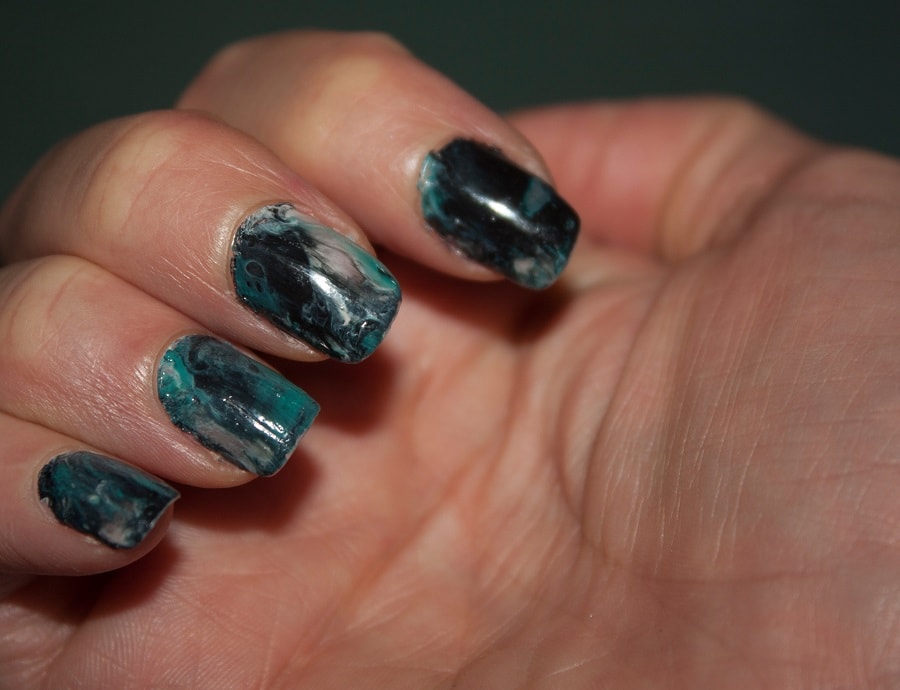 Your search is over if you're looking for the perfect green marble nails. This crystal nail look has that classic vibe that has been around for years.
Black texture enhances the short nails at their best. This look is trendy, chic, and elegant, almost perfect for an autumn and winter nail look.
7. Aquamarine Manicure
This nail design features a light blue and nude base with gold veins. It resembles a seaside shore.
A flash of gold on your large tropical fingernail keeps things tidy. These subtle geode accents are just enough to display the exquisite design.
8. Citrine Nerves
The brilliance of these almond nails just keeps rising. It has intensity and radiance. This combo would be at the top of our choices if we went to get our nails painted.
We adore how this nail art captures the real citrine quartz look with its various layers. This fashionable nail art would look beautiful with any cardigan attire.
9. Oceanic Cruise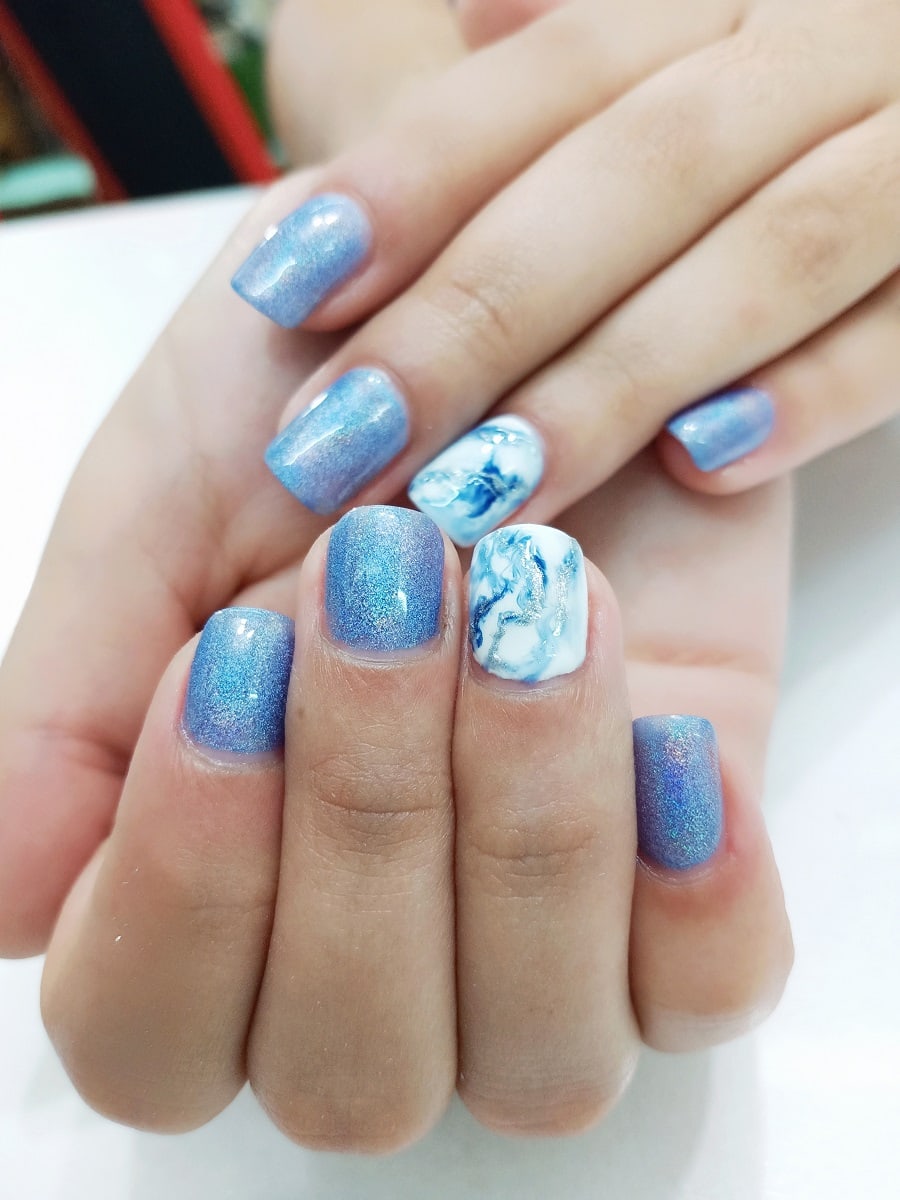 Please bring on the seaside moods. This textured, dreamlike blue manicure is ideal for wearing short nails while sailing.
When blue and white are worn together, a sparkly appearance is always the result. All you need for a manicure polish is volume and sheen, which these nails have.
10. Leopard Geodes
This magical oval nail art features caramel and hazelnut shades with tiger-inspired paint. The interwoven nail art design perfectly ties everything together.
The darker tone offers a distinctive appearance compared to other geode nail art.
11. Sedimentary Art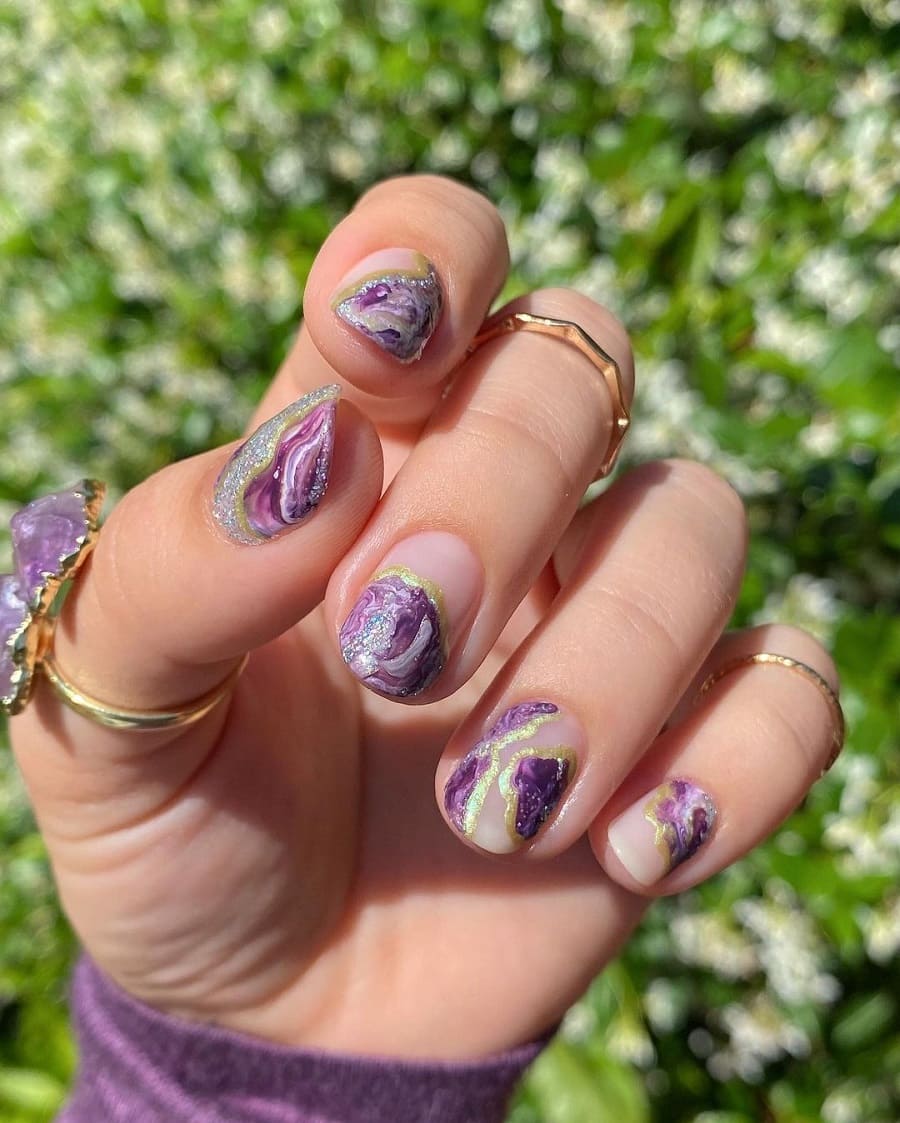 This look features a fantastic weave swirl created by fuchsia and lilac combined over a white base. The fact that this has less richness and contour.
It swings more toward a modern aesthetic and is terrific. Despite this, it still appears gorgeous, particularly with the melted silver lining.
12. Green Agate Vibes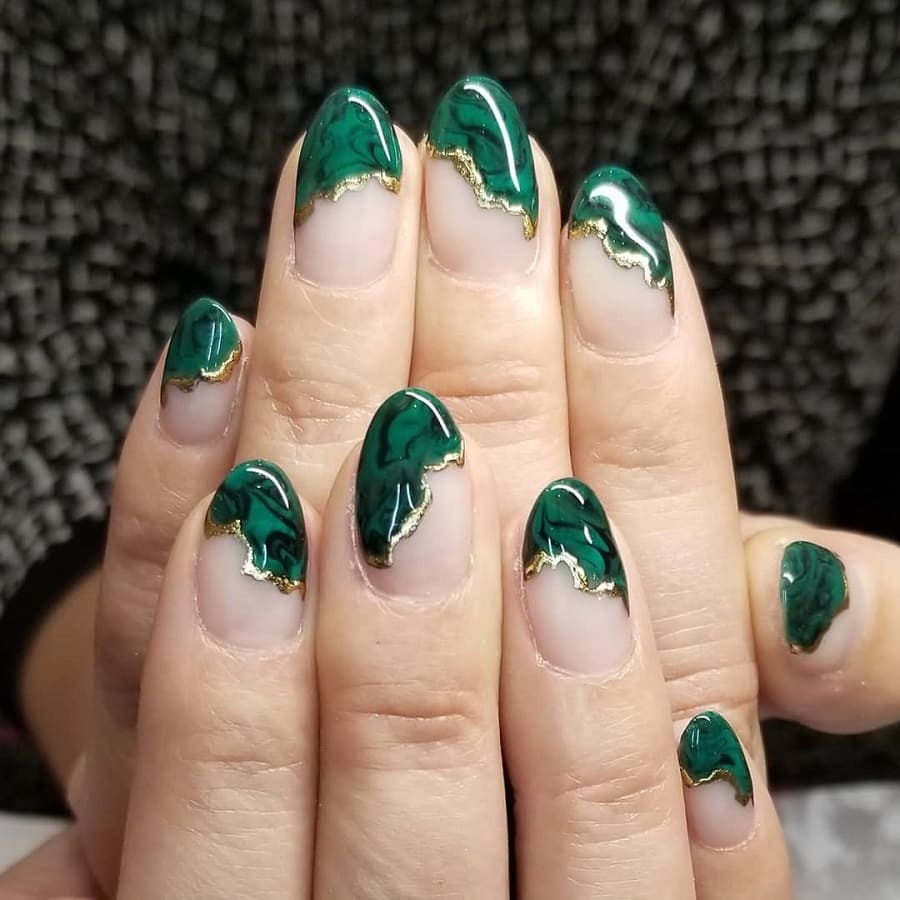 We're getting oh-so-gold feelings from these spiraling green and black tones. It is combined with a bare base coat and gold foil embellishments.
We adore the color scheme used in this manicure set. The metallic gold line gives more texture to the combination, which is absolutely lovely.
13. Agate Manicure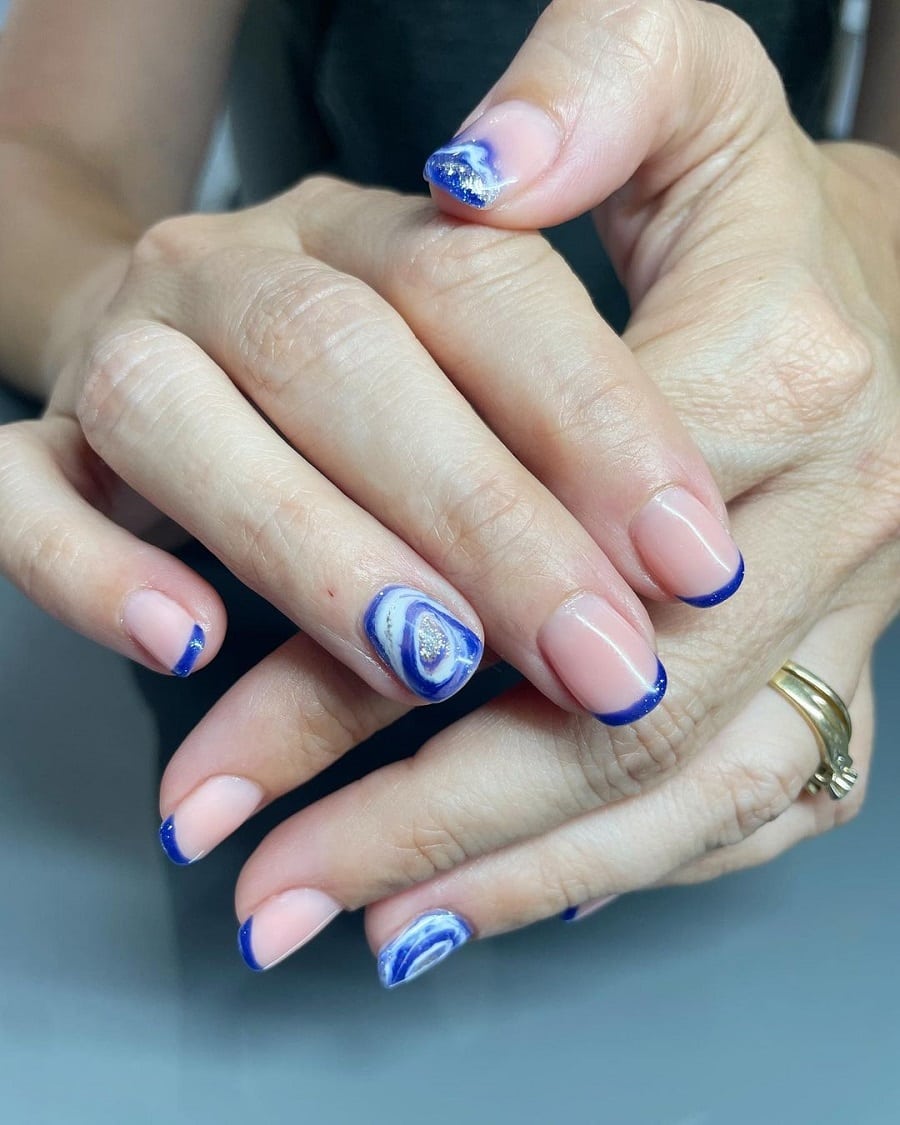 Sometimes all it takes to beautify your polish is a decorative nail. These blue and gray tones mix and create a shimmery, magnificent effect that is dramatic and mystical.
We adore how the blue gemstone-inspired fingers alternate with the pastel pink base.
14. Jolly Jasper
Although this is a simplified version of geode nails, they are still amazing if you'd like a little extra color.
This collection has a lovely combination of vivid and pale colors and swirls of glitter.
15. Sparkling Quartz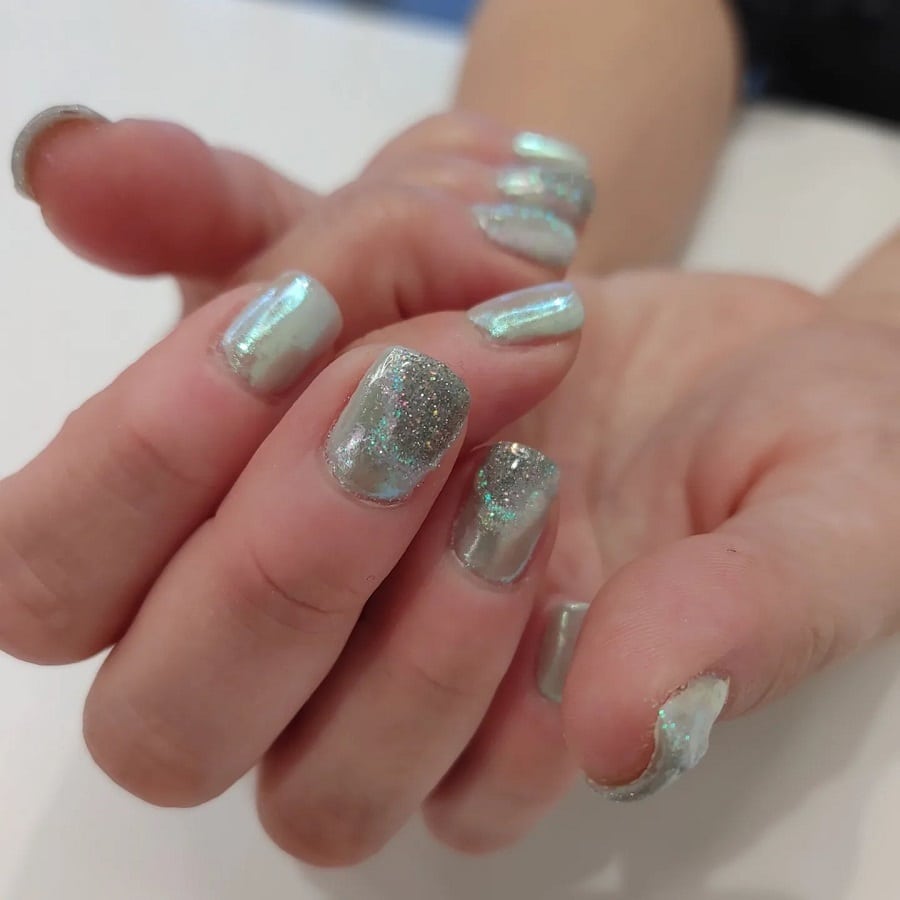 We have a creative nail art theme that is exciting and appropriate for the fall. Put a few drops of transparent nail polish in a small bowl with huge, dazzling glitter particles.
Some bright and dark nail art glitter can be blended in with the help of a pencil. The accent nail sticks out and appears fashionable.
16. Geode Toe Nails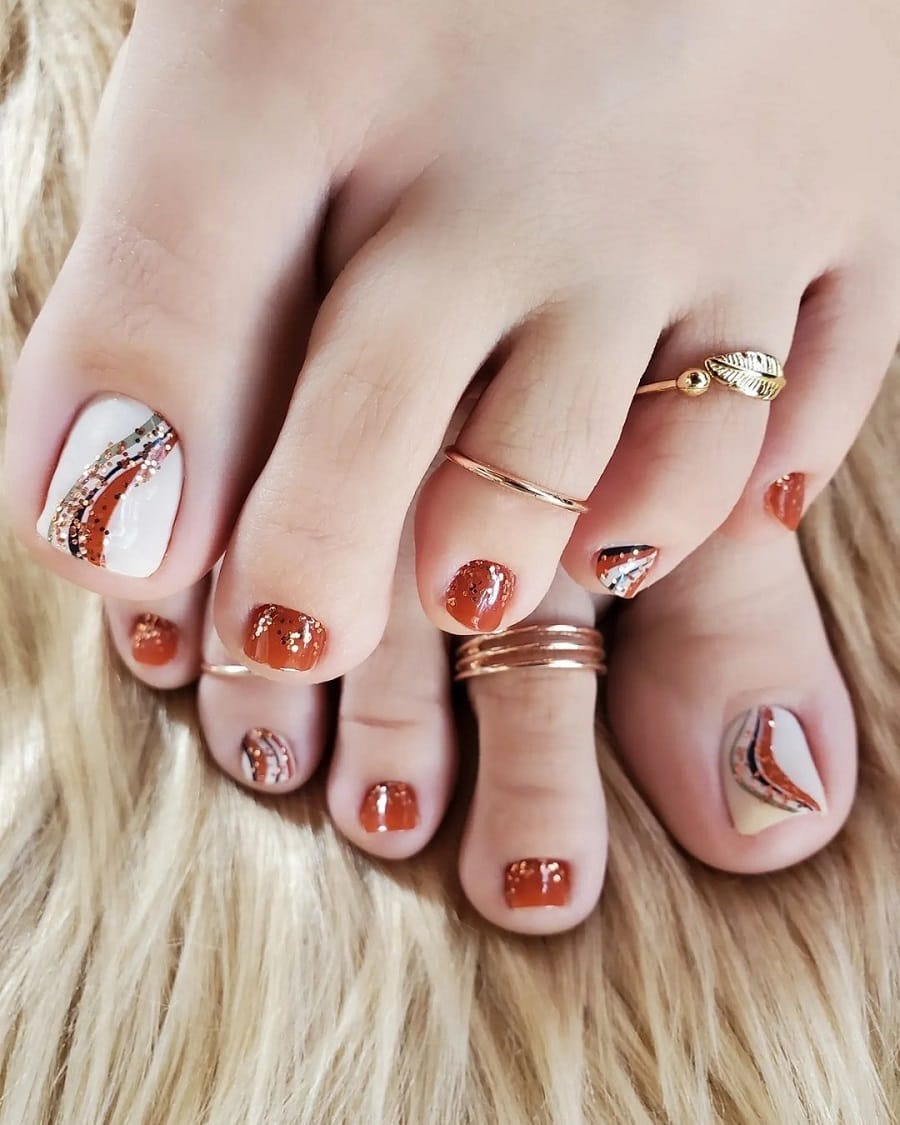 This design's sparkly concept is one that we particularly appreciate. The white matte base's lightness emphasizes the tangerine toenail geode.
The center of the overall nail set appears to have lovely swirls visible. However, this manicure design stands out. All because of the mismatch between the bright geode nails and the white base.
17. Space Vibes
What we adore most is a mystery—either the purple gold or the shimmery pink. Therefore, we'll use both. Geode coffin nails are combined with sparkly, space-themed coloring in this style.
It is deeply out of this realm with its personified dazzle. And the flawless merging of interstellar colors is a plus.
18. Rose Quartz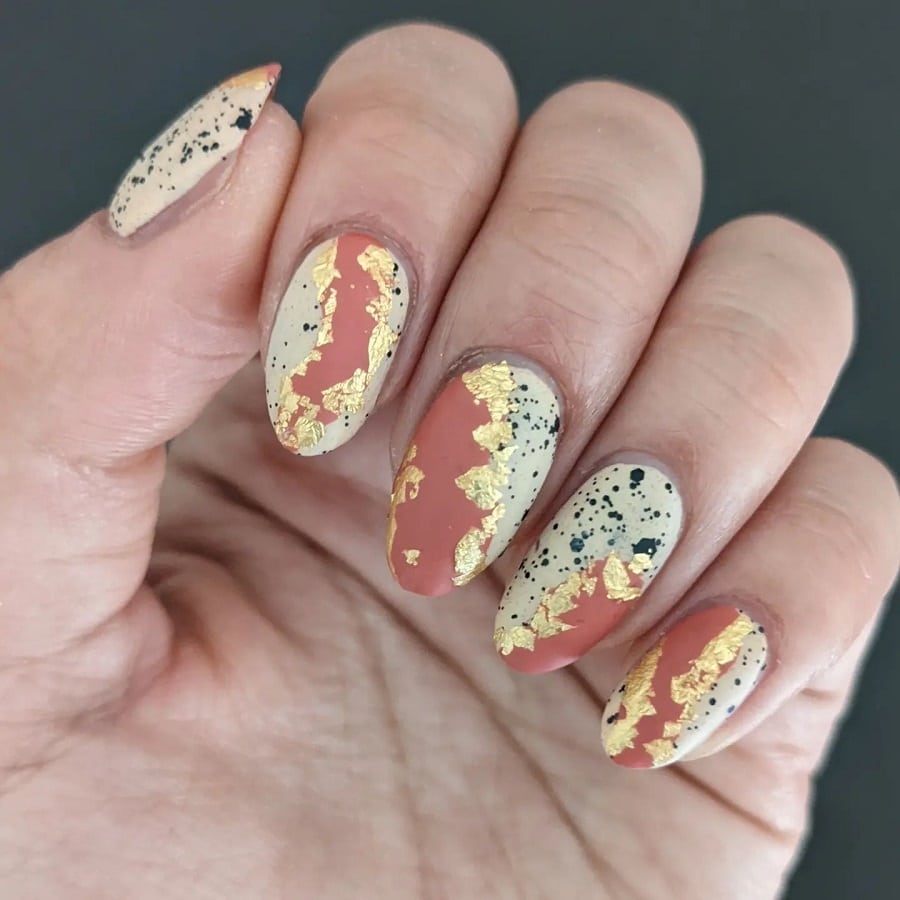 Even though crystal-inspired nail art is already stunning, you can put a gold foil to a flawlessly painted geode swirl. It gives it texture and just the right amount of flare.
Without question, these nails are beautiful. Any clothing would look great with these pink matte nails.
19. Violet Gloss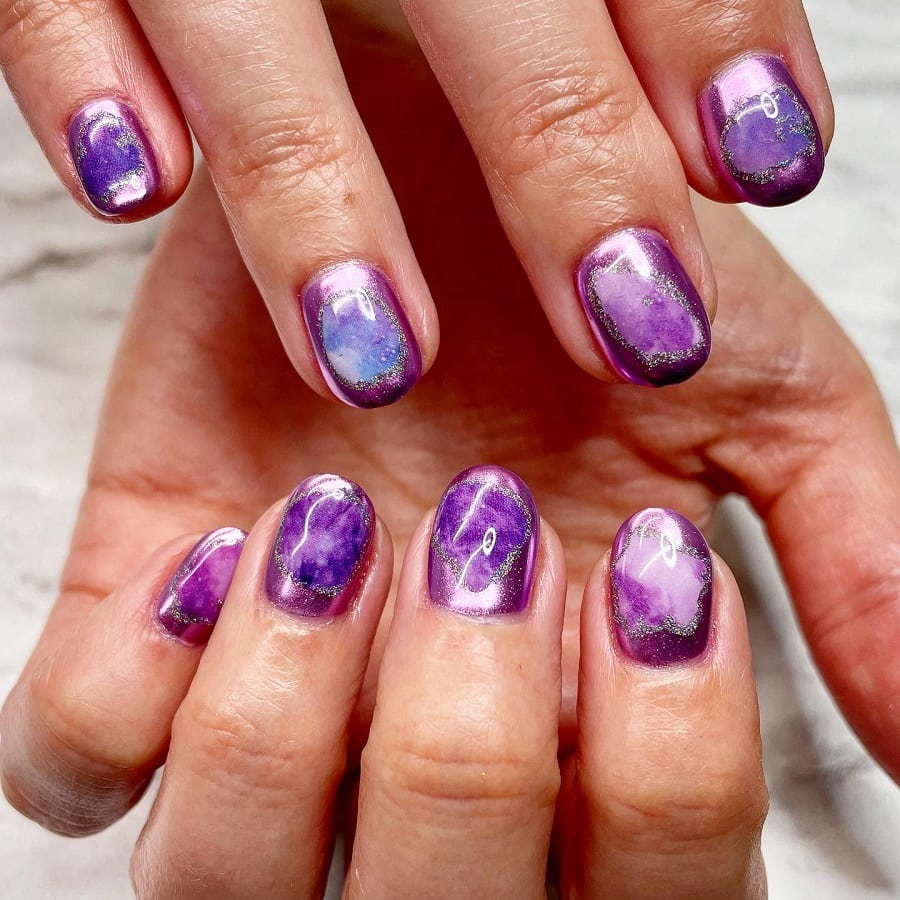 Even though it's a little unique, this is an even element to the mix. Be careful to apply a shiny base gel coat.
Or you risk dulling your nail's glittering luster. Instead, paint the top coat over the complete nail after adding the small pearls if you use them.
20. Basalt Gold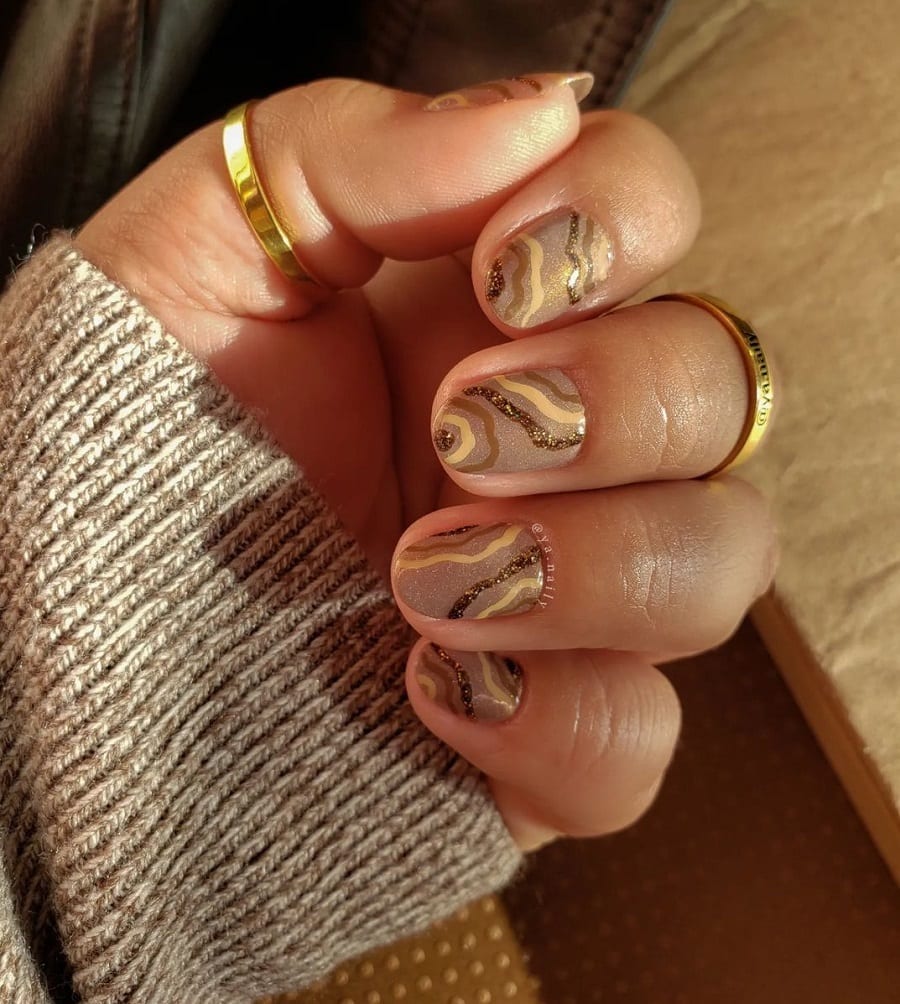 The base would be exquisite on its own. Beige nails enhance patches of gold paint with delicate texturing. It gives them the appearance of planets hanging in a pink sky.
These geode nail edges are nicely replaced by gold, giving it a luxurious appearance.
21. Ametrine Glitz
This gorgeous purple geode nail is mesmerizing. On top of a vivid white foundation, the creamy highlights and pink and purple smears stand out dramatically.
We adore how various patterns are combined, particularly the realistic crystal topping that binds the entire set.
22. Celestine Nails
This classic white nail set is ideal for those who merely want hints of the geode pattern. It's an amazing design that will surely mesmerize everyone.
It's incredible how they managed to carve these gems into the nails. It resembles a hidden stone inside another one i.e. stunning.
23. Tribal Hematite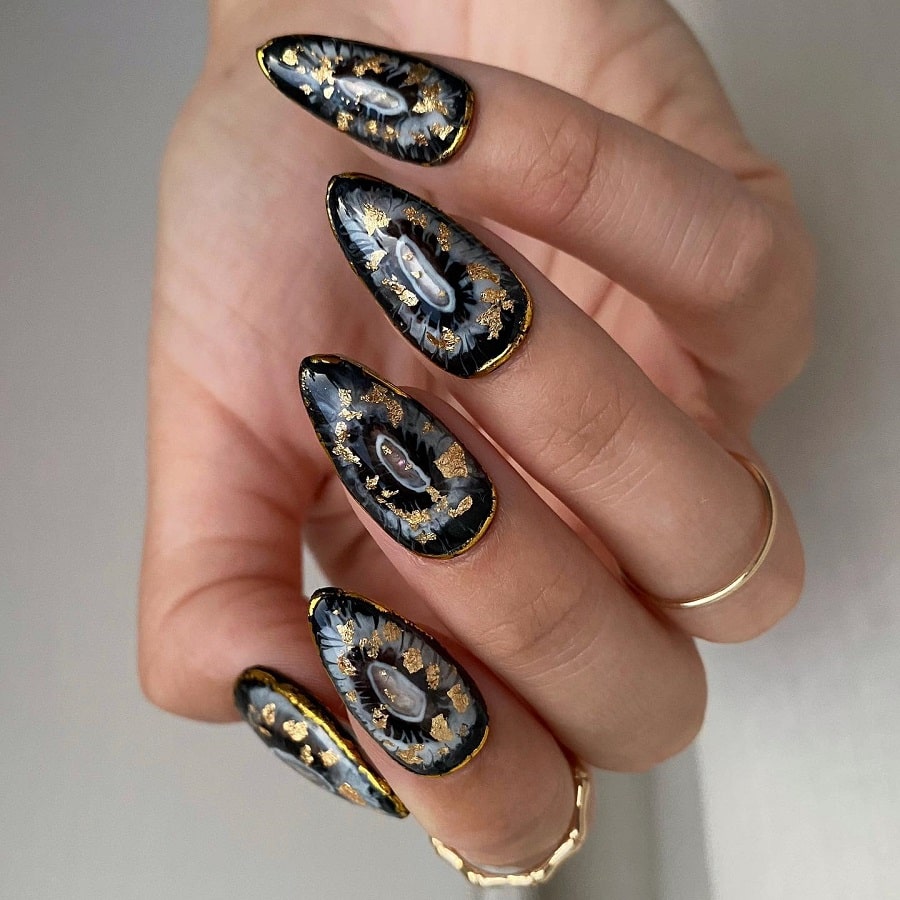 The beautiful motifs are created with accent nails. These are skillfully coated on a black base.
Compared to a traditional white, it shines out and nearly seems glowing. Amethyst, pink sapphire, and azurite appear to be combined in this stone.
24. Lavender Lush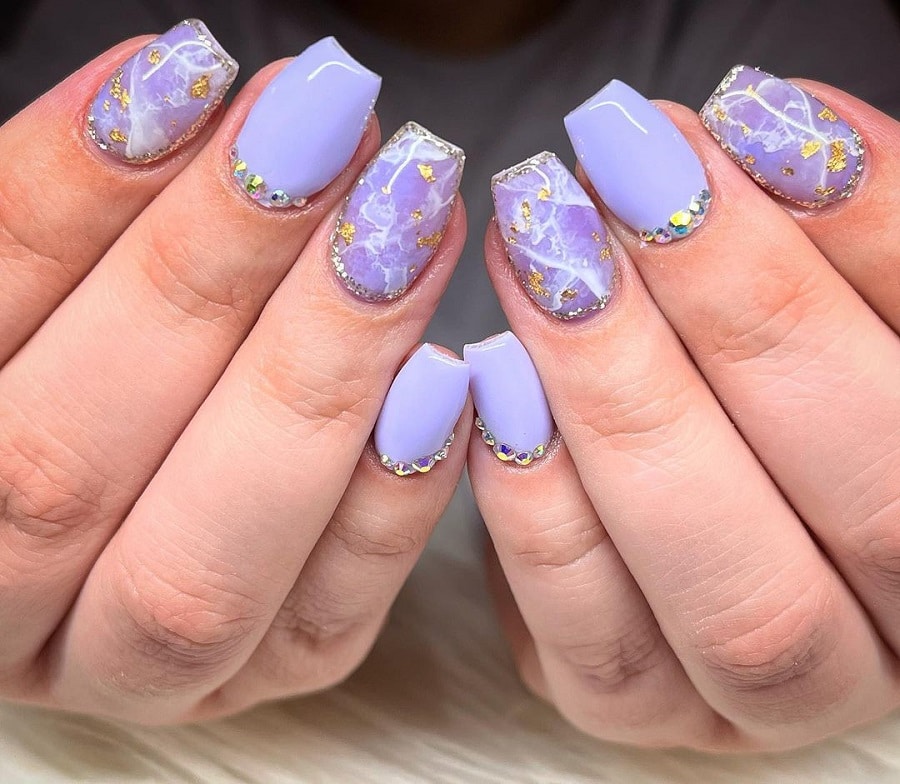 This gorgeous manicure features many colors, textures, and gorgeous stones.
However, the neutral pastel color scheme maintains everything unified and peaceful. Undoubtedly, it radiates such powerful energy.
25. Aesthetic Stilettos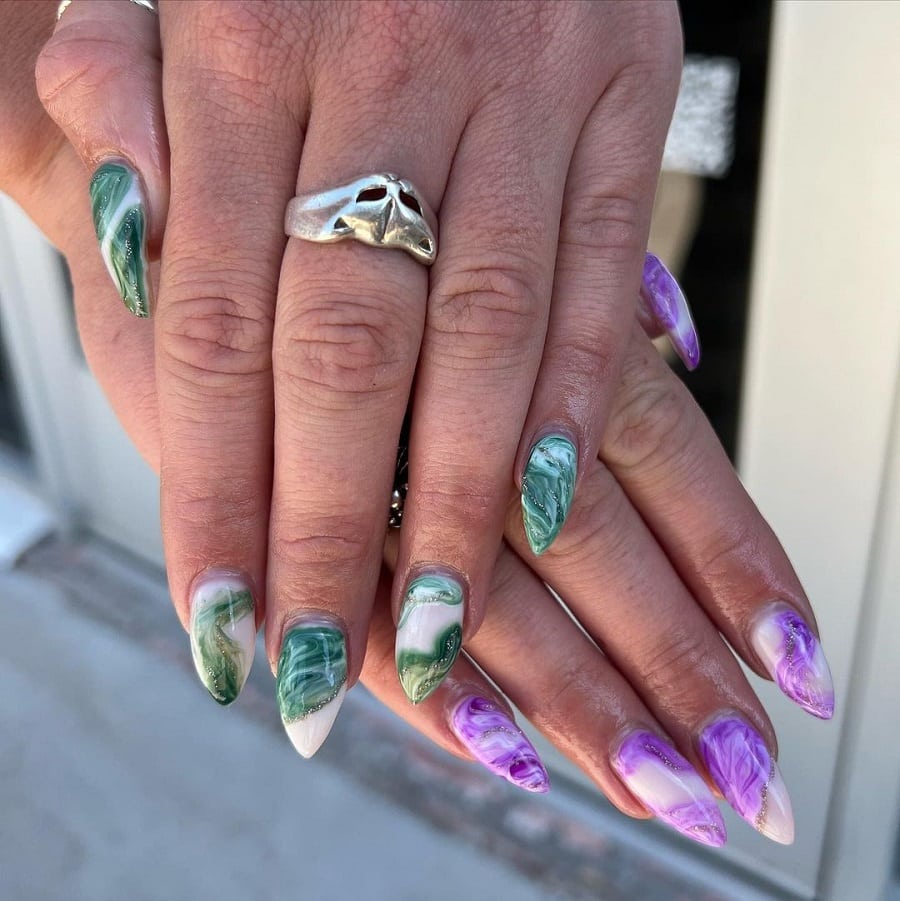 Here is a set of short, stiletto-shaped nails with a geode pattern in green and lavender. We appreciate how this subtle white polish merges together to increase the brightness.
This is easier to get the geode effect without covering your nail—that too with a bunch of rough materials.
The perfection and creativity of geode nail art make it the best choice for us. These crystal-filled stone designs have a distinctive pattern that increases their value.
Choose the stone, style, and color you want, and go for it. Flaunt your nails without any worries and accentuate your nail beauty.