Color block nails are the best when you can't decide on a single color for your mani and want a look that stands out and is colorful and vivid. Pick your nail polishes wisely and consult a color scheme to ensure they all work together.
Before starting the block nail job, ensure you have all the tools you need: liner brush for designs, polishes, or sticker designs. If you're not into drawing complex models, you can buy specific stickers or nail stamps online and apply them easily at home to animate your design.
Coolest Color Block Nail Designs
Moreover, the nail shape is also essential because some designs look better with a particular nail model. Include lines, glittery polish, rhinestones, and 3D patterns to make your design unique.
We have prepared numerous examples of color block nails, so scroll down and discover them in this article!
For this manicure, you need medium-long nails to draw that French line. Choose bright colors from the same color range for each nail. If you're doing an orange nail, then make the tips yellow or vice-versa.
2. Lollipop Nails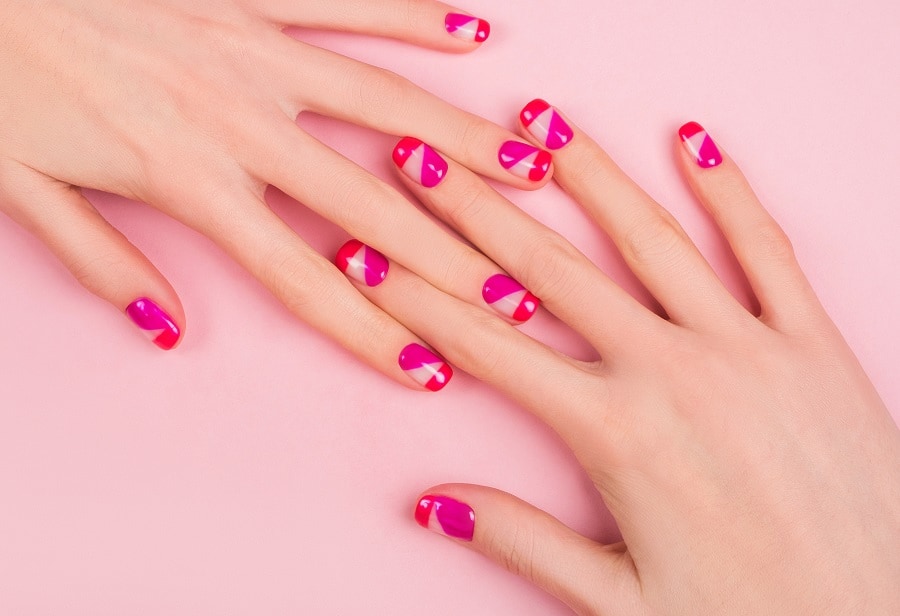 Color block nails with bright pink and red polish are so cute and feminine. First, you will need a clear base coat and red paint to do a French manicure.
Get a liner brush and use the fuchsia polish to connect one corner of the line built for the tips, to an opposite side of the cuticle.
3. Sea Nails
For this nail art, you will need pale blue and white polish and some rhinestones to decorate each fingernail.
Get a square shape and draw two lines from the corners of the cuticle that will meet in the center of the nail. Fill the space between with white polish and decorate the intersection of the line.
4. Color Block Nails with Golden Lines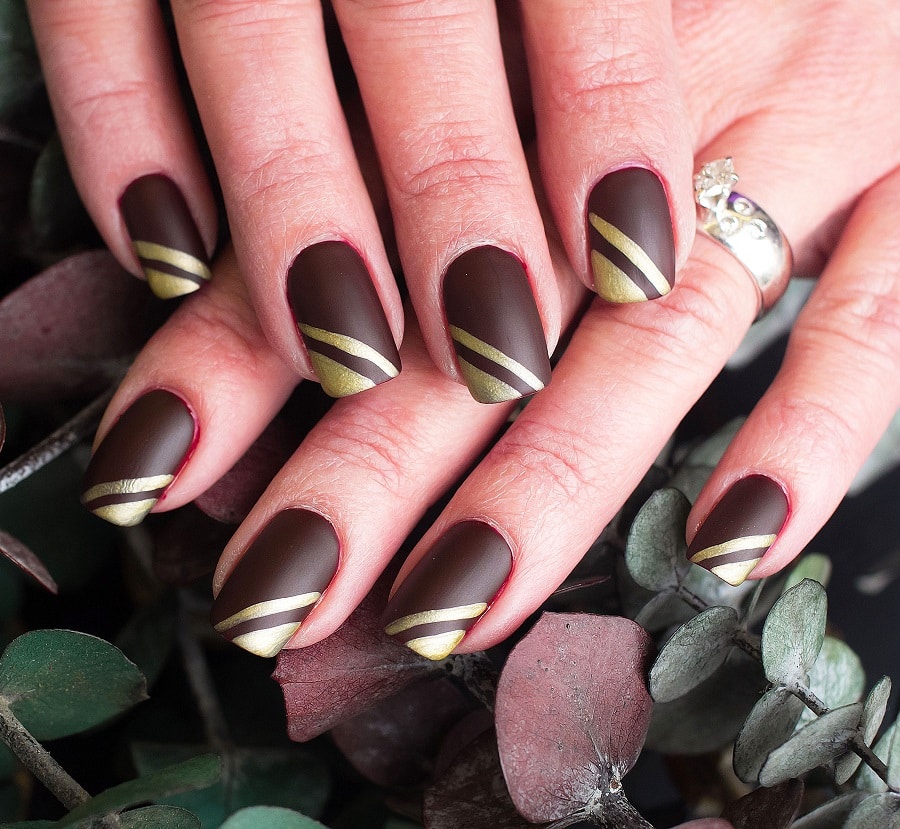 Combine a matte nail look with gorgeous golden glitter lines to create that stunning contrast. Apply a base, then continue with your brown polish. Dip the nails in powder to obtain that matte aspect. With a liner brush, decorate the corner of each nail.
5. Pale Green Toenails
A simple pale green nail polish with an uncomplicated design is what you need for your toenails, especially if you plan on wearing sandals.
For the big toe, apply a clear lacquer, and using a liner brush, draw a triangle. Use these lines as your guide, preserving the shape. Apply tiny rhinestones at the base.
6. Rainbow Nails
Color block nails in rainbow colors are so festive and playful and inspire so much joy! Paint them with a pale white lacquer and opt for rainbow colors and similar pale nuances of red, yellow, green, and blue. Paint the corner of each nail and back it up with a lighter line. 
7. Black, White, and Green Nails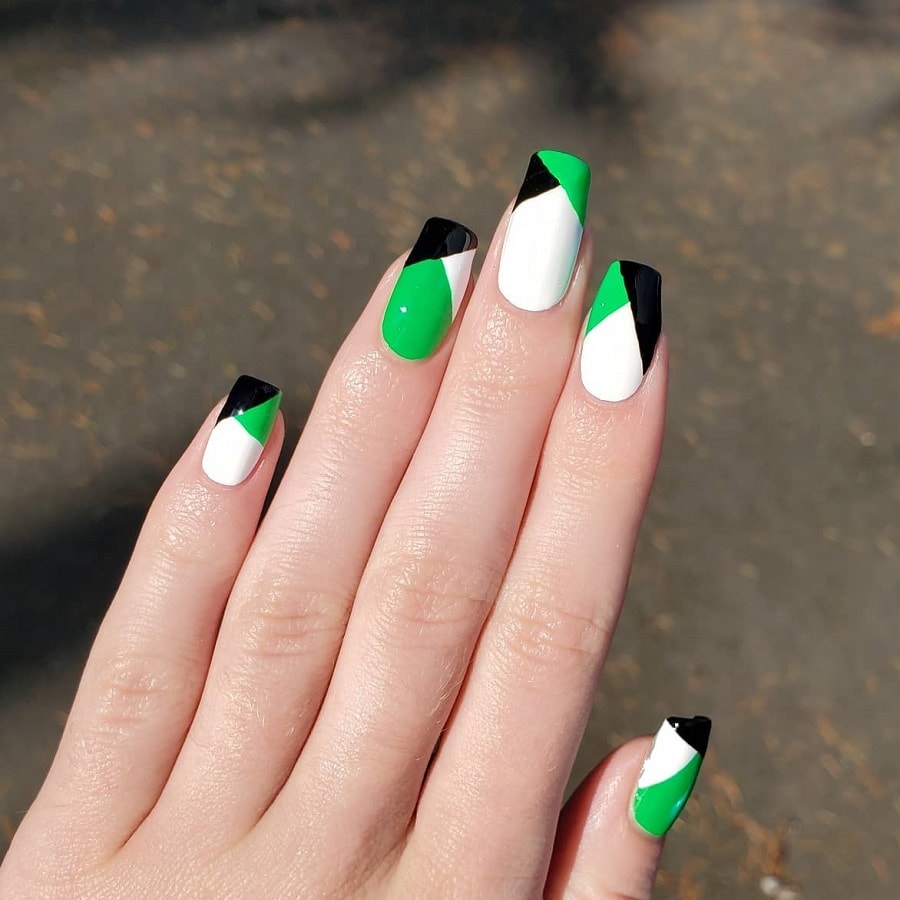 If you love abstract art, this manicure is a MUST try for you. Pick up the polishes you want to combine and get a liner brush to help you create a clean design with straight marks. You don't need to follow a specific pattern, just put your imagination to work.
You can paint each nail differently and start building your geometrical shapes from there. 
8. Color Block Nails with Sticker Lines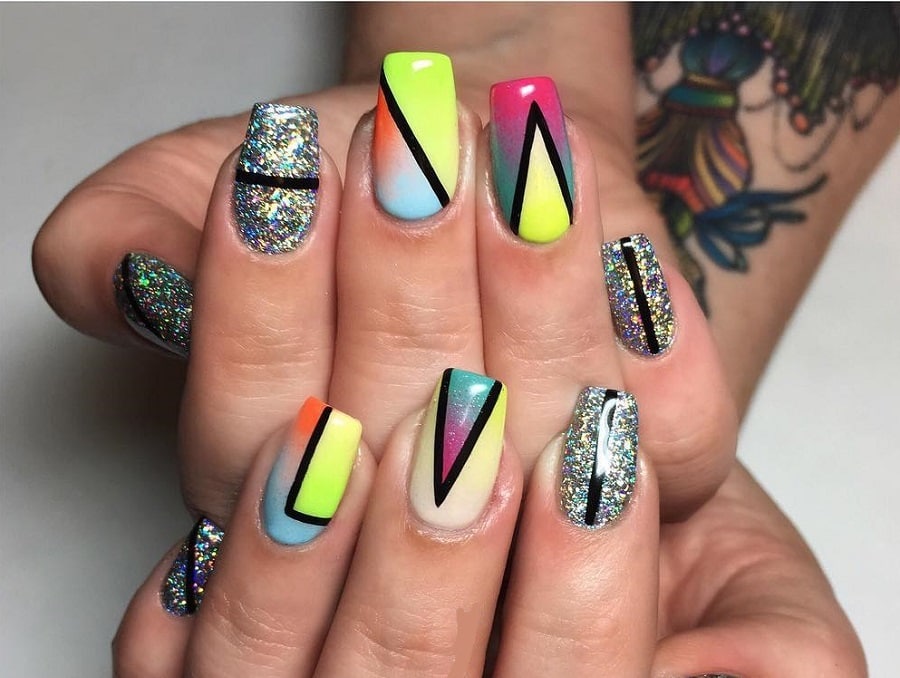 This intricate model is dedicated to those with experience doing intricate nail patterns, ombres, and gradients. You might want to get some striping tape to define each section better.
The most complicated part is for the middle and ring finger, where you will mix numerous colors. For the rest, apply glittery polish and use the tape vertically, horizontally, or diagonally.
9. Geometrical Shapes
For these long coffin nails, the best way to create a stunning model is to start by painting your nails with that dusty pink nail color. Using your liner brush, you will create diagonal white lines. Fill the space carefully with a thicker brush.
After the white coat has dried out, it's time to paint the final navy blue triangles and shapes.
10. Flowers and Glitter
These color block nails are cute and girlie and suit a romantic lady who loves sparkling nails and decorations. Choose a pale blue base polish and with a liner brush, draw two perpendicular lines that equally part the nail.
Paint two opposite sections with navy blue, let the nail dry and then apply a clear top coat with glitter. Once this layer is dried, use the same line brush to paint small dots resembling a flower. 
11. Multicolored Squares
Use your small pointy brush on a clear base to paint little black and colored squares. Choose vivid colors that will create such stunning contrast but also keep some blank spaces.
12. Half Color Block Nails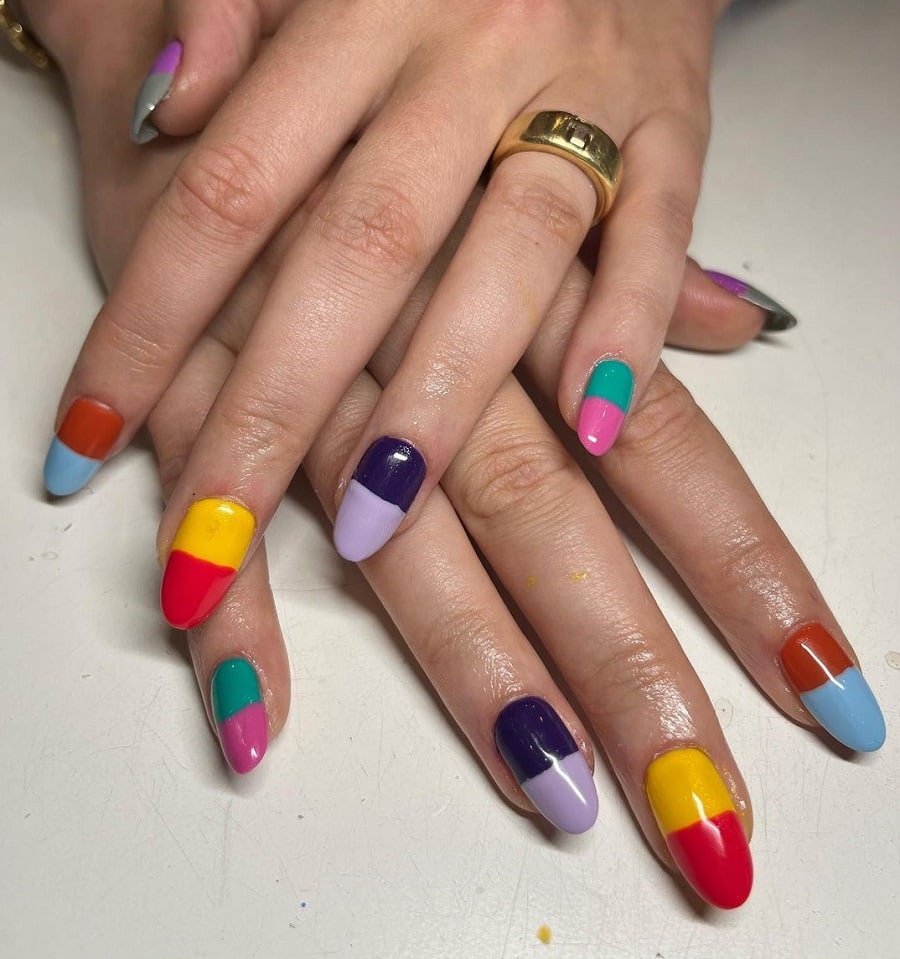 For this mani, each nail will be horizontally parted in two sections. You will paint each in a different color, so make sure all nuances fit together. You will need ten different polishes to make this electric look.
13. Painter's Nails
For those who love admiring paintings and have an inclination for fine arts, these short color-block nails will make them startle with joy.
Choose gray polish for a full index and small finger look, and experiment with brushes and colors on the ring and middle fingernail.
14. Sweather Long Coffin Nails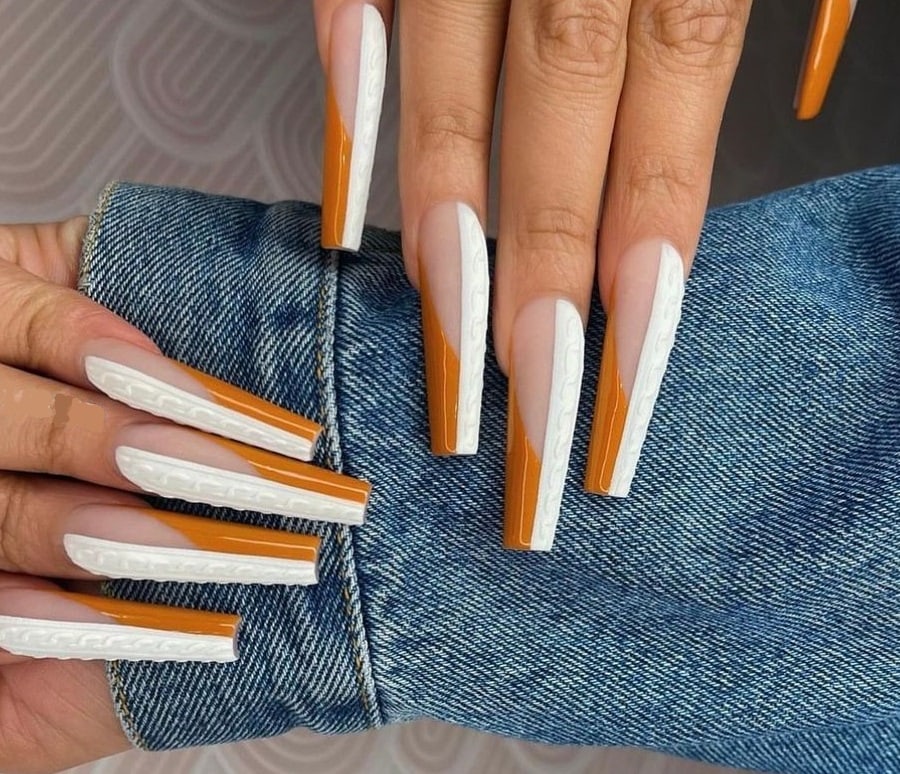 Sweater-weather nails can be easily done with acrylic polish. After you set up your base design, use a lined brush to draw a vertical middle line to separate the two sections. Paint small L shapes with the brush. Make sure you have a good amount of product on your tool. 
15. Red Geometric Pattern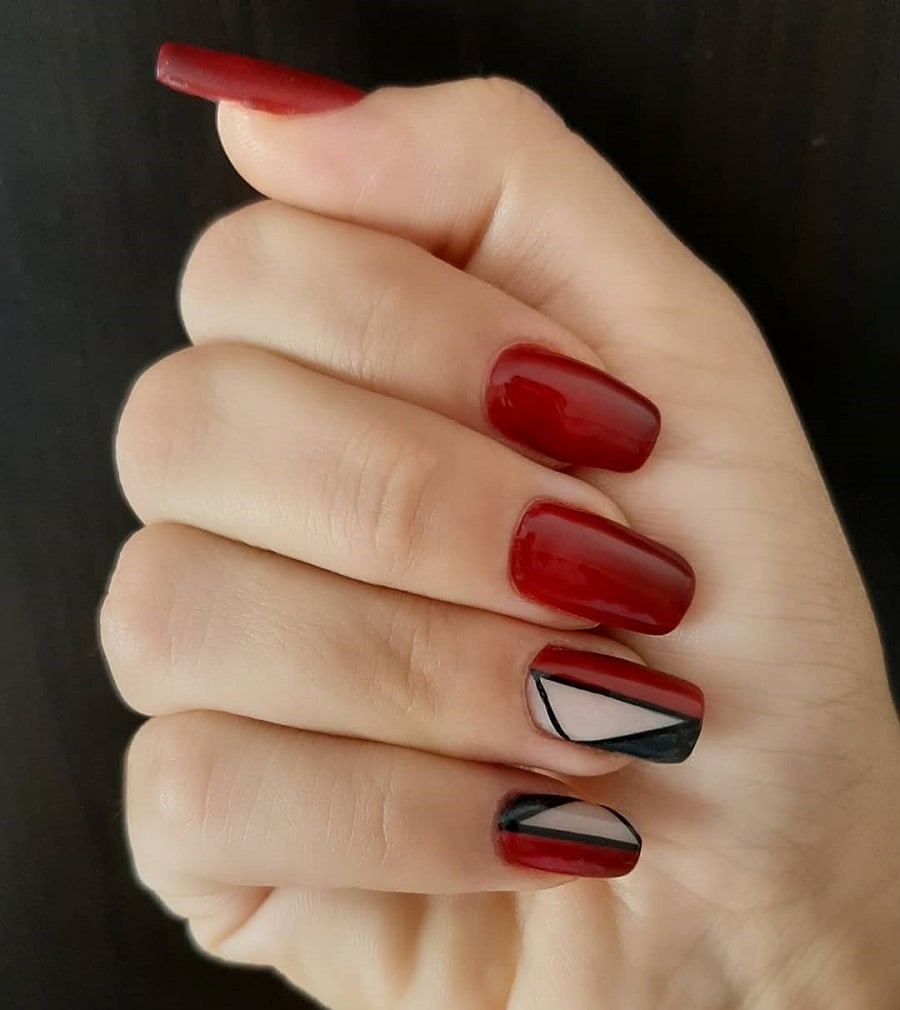 You only need a simple, gorgeous design to transform a dull red mani into one that receives all the hearts and likes. Use black nail polish to draw lines and shapes, and keep several pieces clear or painted with a pale white and a matte finish. 
16. Glittery Coffin Nails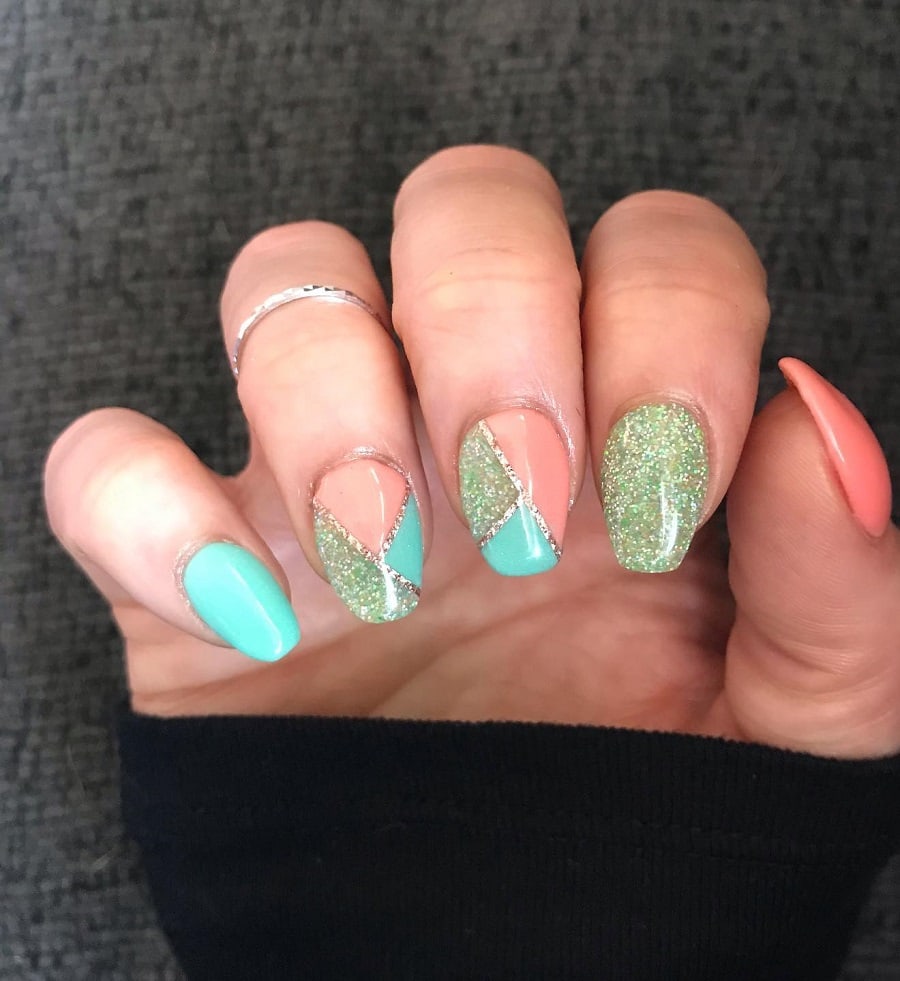 This manicure is so fabulous because you can pick any color scheme, and it will still look super awesome. Firstly, use a base coat, teal and pale pink nail lacquer, and glittery green polish. You will also need a top coat and striping tape to do those unique lines. 
17. Abstract Geometrical Model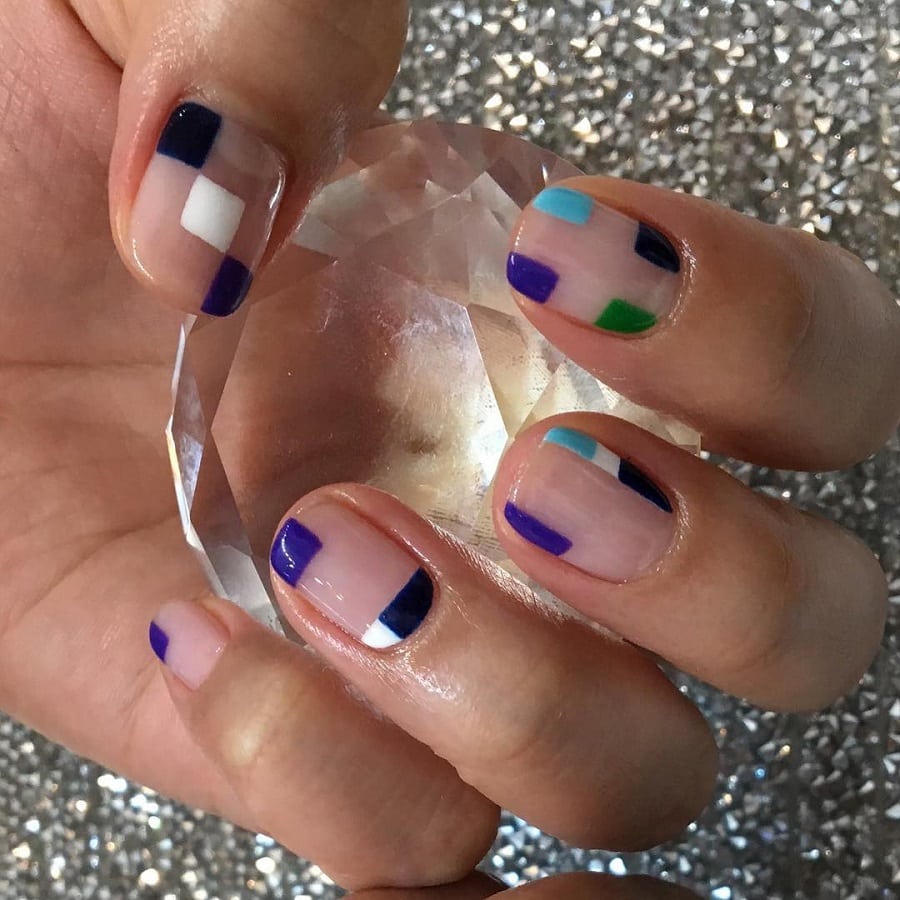 Spice up your simple mani with just a few colored square shapes sprinkled here and there. Keep the color block nails short and apply a top coat for more shine.
18. Multiple Design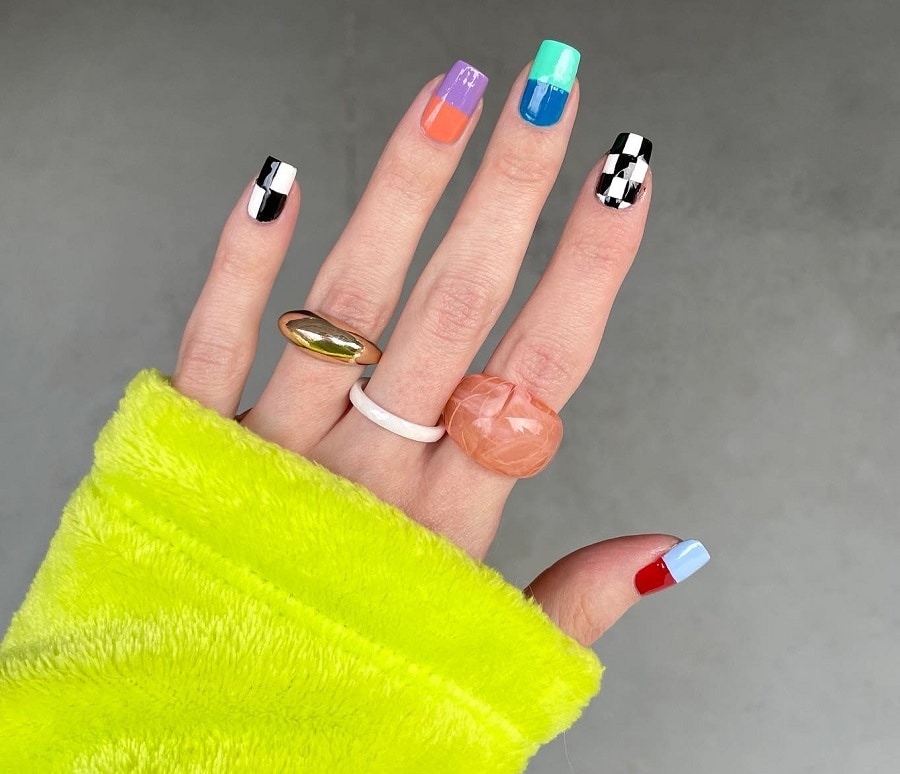 This manicure is a mix of styles, squares, lines, and patterns. It looks perfect on long coffin-shaped nails and will work with all your outfits. Wear different rings to draw even more attention to your hands. 
19. Half and Half Design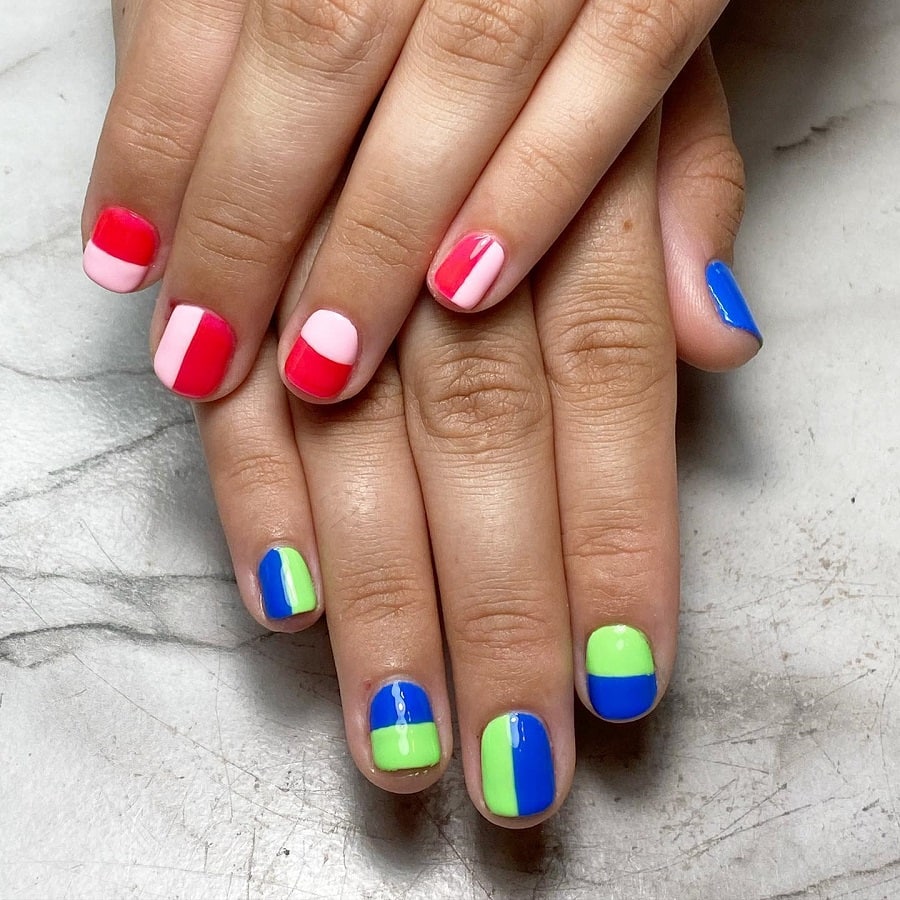 Color block nails won't be ignored if you choose a bright color combo like lime green and electric blue or red and pink. Part the nail vertically or horizontally and do each side with the duo colors. 
20. Colorful Stained Glass Nails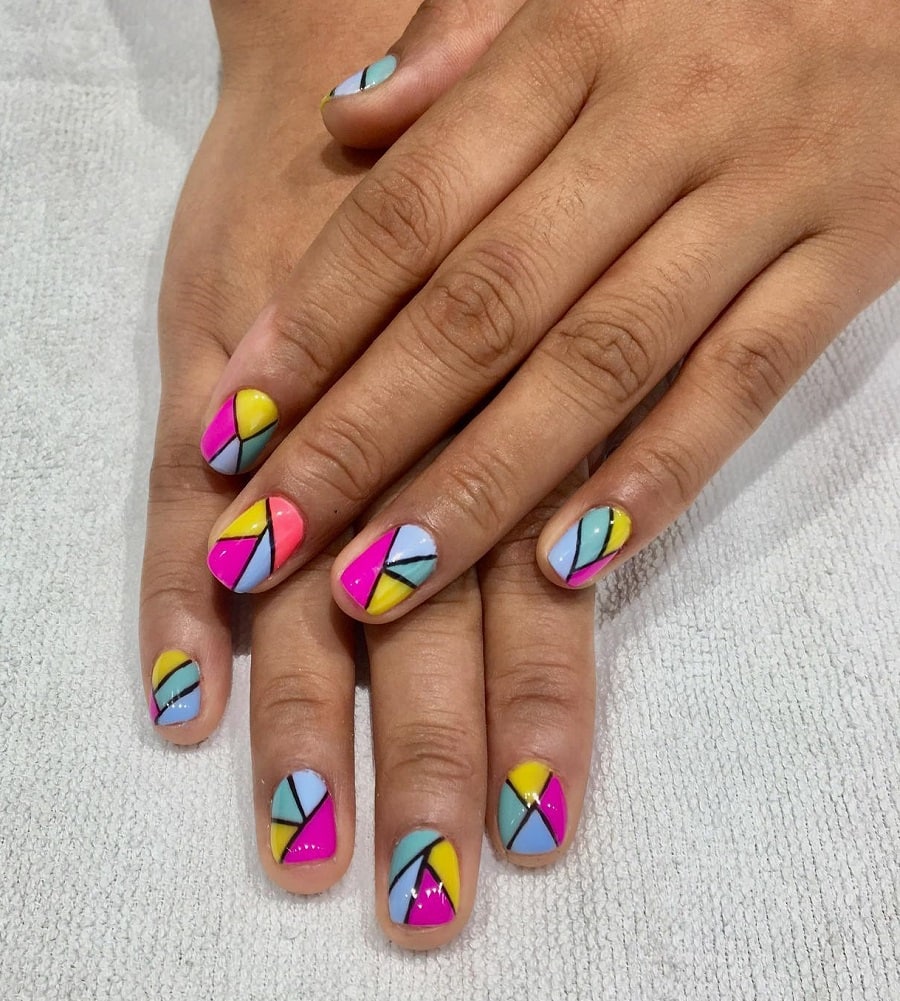 These stainless glass nails need no introduction! They are mindblowing, encapsulating bright colors, lines, and a ludic vibe in one design. To make them look even more spectacular, do a different design on each nail.
21. Playful Mani with Dots and Lines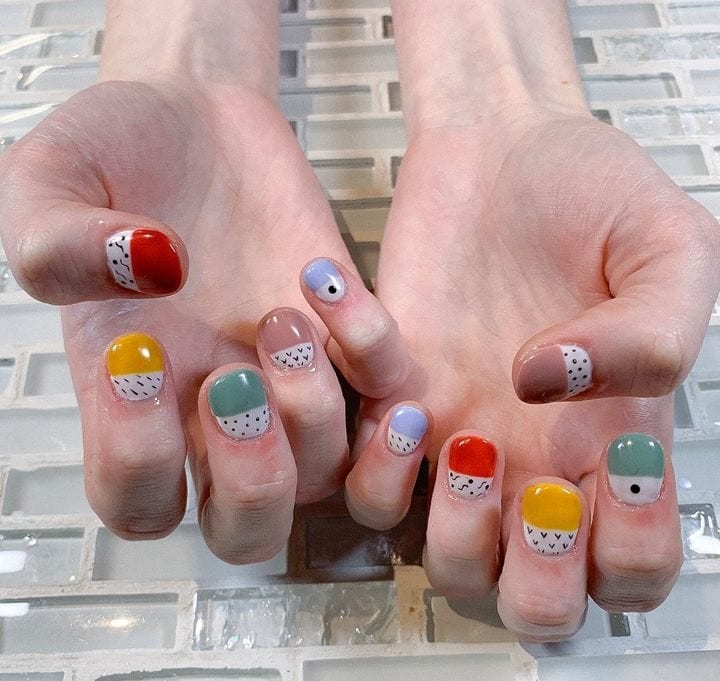 Split the nail into two parts and go for a white base. Choose pale nail polish colors and paint only the upper half. Once the nail is completely dry, draw small dots, lines, or circles on the white area.
22. Pointy White Nails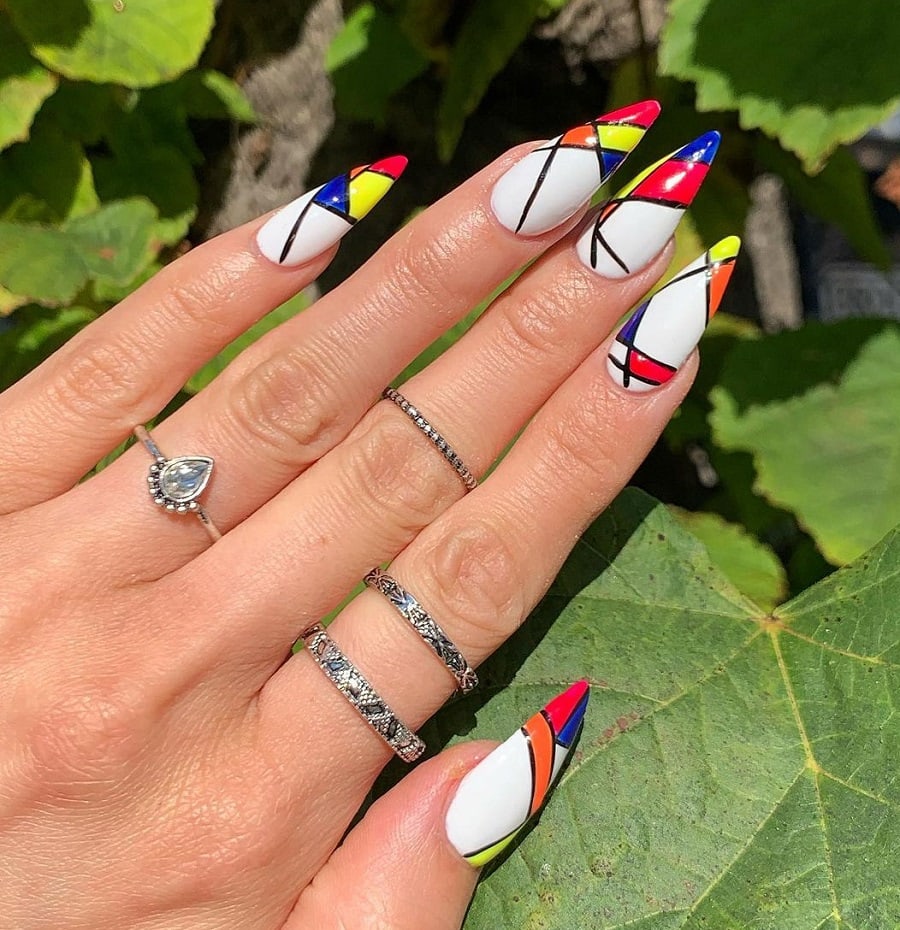 Pointy nails with a white base will look even more mesmerizing if you opt for an abstract design with black lines and blue, yellow, red, and orange colors.
Fill up the shapes designed by the lines. If unsure of your ability to draw such straight lines, use striping tape and apply it with tweezers.
23. Matte Square Nails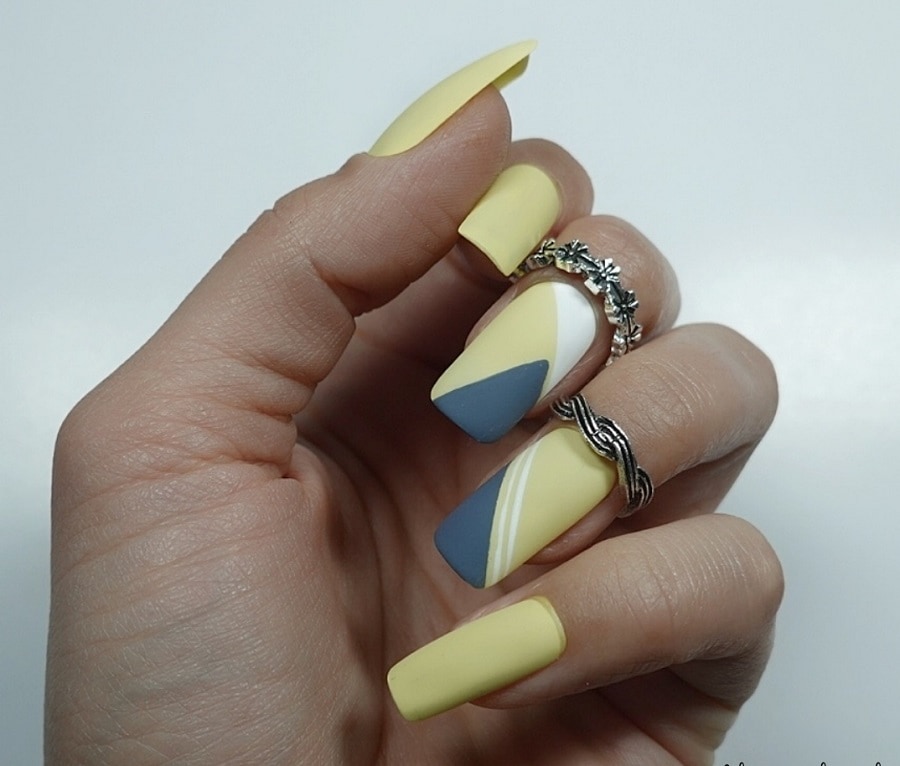 Color block nails look fantastic if you give them that super matte finish. Use acrylic gel to build that square shape for your nails. 
Apply a pale yellow base coat, and with a liner brush, draw small triangles you will fill out with gray and white paint. Use the same brush to paint two parallel diagonal lines.
Color block nails require some skills and time because, most of the time, you'll be painting your nails on layers. So, once you're done with the first coat, you need to let it dry before applying the next.
However, with a bit of practice, the outcome will blow your mind, and you will fall in love with this colorful model.