Every day, there's a new manicure trend that is glossy and fabulous. And for those of you who have dark skin, we can honestly say that no shade will look unsuitable. However, this year continued the hype for bright yellow nails on dark skin and you should try them at least once.
This vibrant manicure creates a remarkable contrast between dark skin and polish. And these contrasts are a great magnet for all eyes, so if you love stealing attention, next time you book an appointment with your nail technician, consider yellow nails.
Best Yellow Nail Shades on Dark Skin
Yellow nails can be electric, pale, with a matte finish, and even in a mustard tone. Check out the examples provided below and follow our recommendations.
You will discover great ideas for both short and long nails, with intricate decorations or simple designs.
1. Coffin Nails with Glitter
Never tried bright yellow polish? Well, this nail design is certainly going to convince you to give this eye-popping nuance a try. Combine it with a pale pink and create an ombre. Use a glittery top coat to make it even more sparkly.
For the ring finger, feel free to unleash your creativity and build an acrylic flower that you will surround with rhinestones.
2. Leopard Print and Mustard Nails
Build these nails on dark skin with acrylic gel and apply a shiny mustard-yellow color. The index finger should be coated with a tinted clear lacquer.
While the product is still dry, use a pointy liner brush that you will dip in brown polish and make small dots. These dots will extend, creating a unique nail design that suits your rich melanin hands.
3. Golden Foil Nails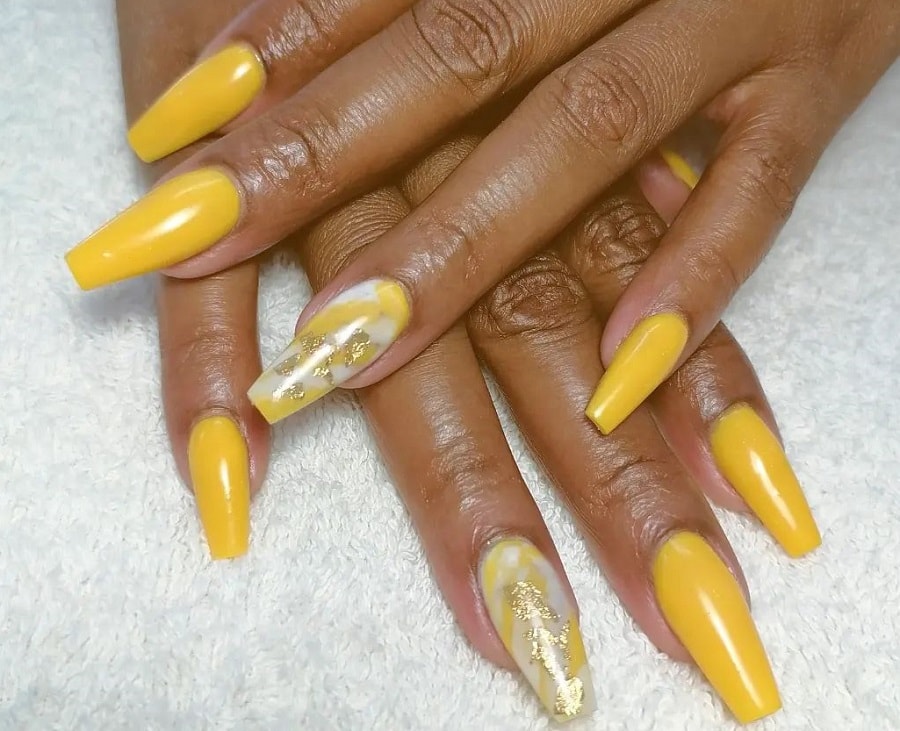 Go for a coffin shape for your nails and apply a yellow polish. On one of the nails, you can get a fantastic marble look that you can decorate with golden foil. Apply a top coat for more shine.
4. Short Yellow Nails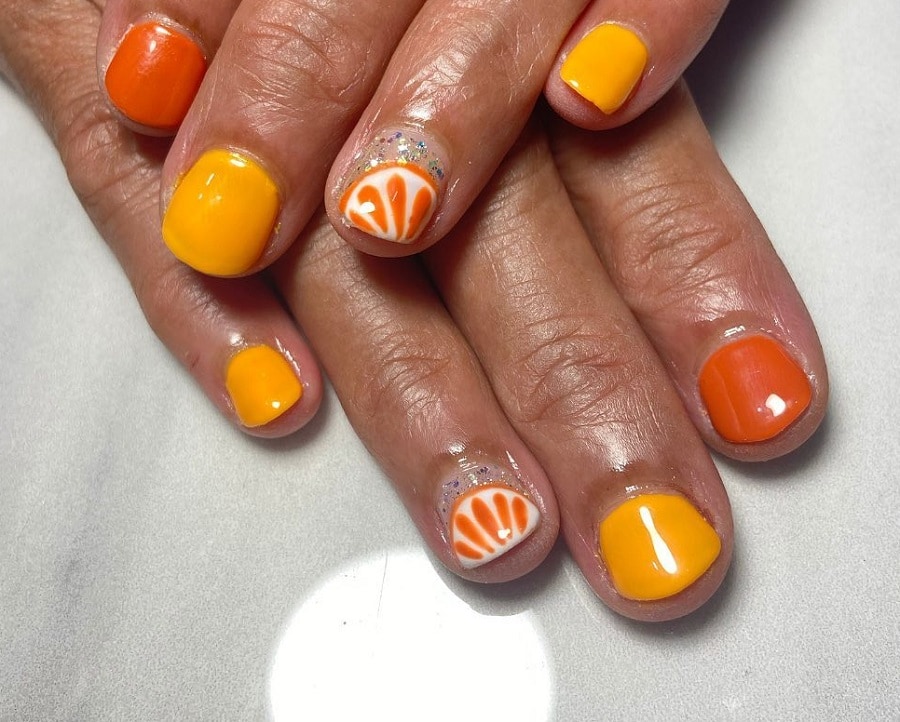 Cut your nails short and in a round shape. Paint each in yellow or orange and draw a half slice of orange on another. Paint in on the tops, leaving a blank space that you will feel with a clear glittery nail lacquer.
5. Matte Pale Yellow Nails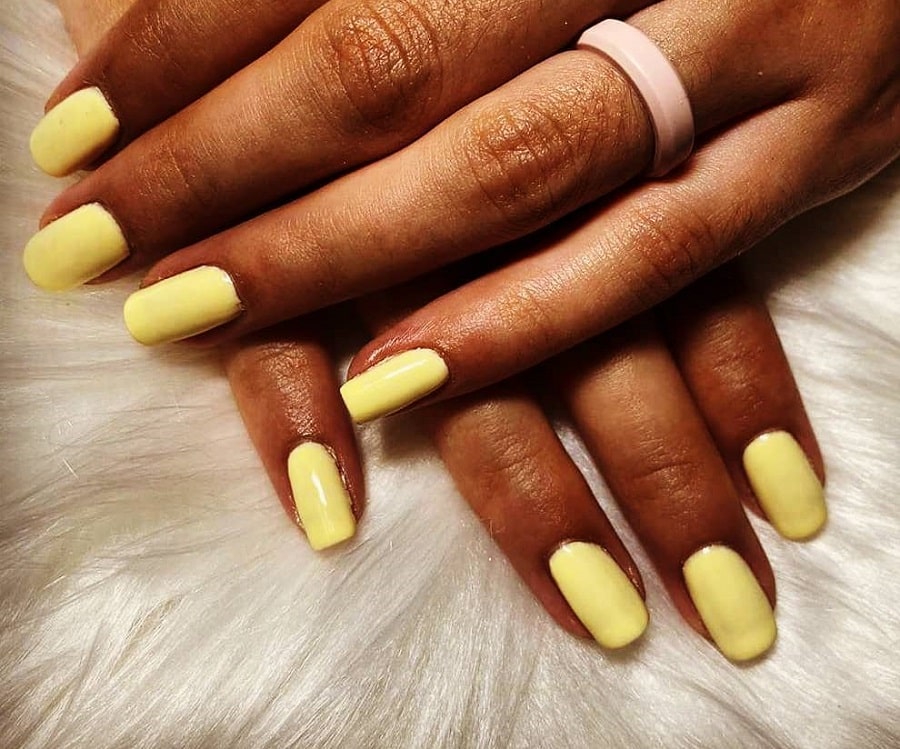 Give your nails a coffin shape and wear a regular pale yellow polish. Before painting the nails, trim your cuticles. Once you're done, apply cuticle oil to improve their aspect.
6. Electric Yellow and Matte Nails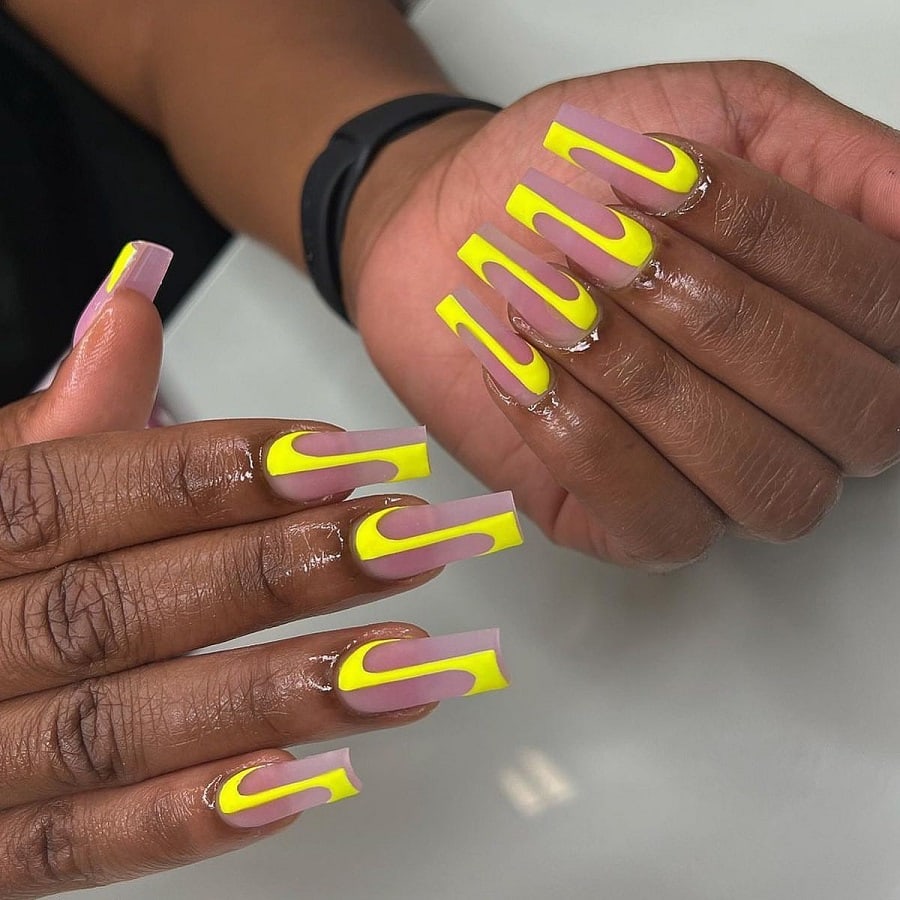 These nails are certainly an attention grabber for dark skin tones. First, build that square shape with acrylic and tips and make them look matte. Get a liner brush and a yellow fluorescent polish, and carefully draw your design. It should have a stylish S shape. 
7. French Line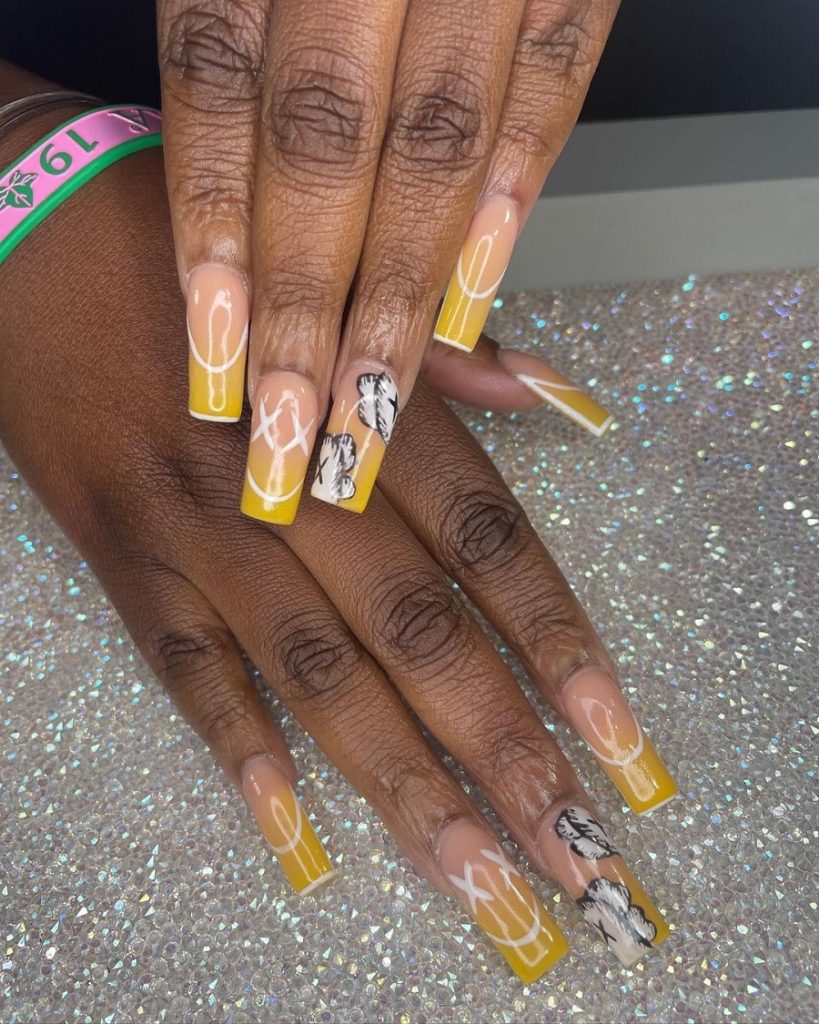 For this nail design, you will need to build an ombre. Create a base color and let it fully dry. You will use a sponge that you paint with the two colors. Dab it on the nail and repeat the process until you get the right amount of color on the nail.
Add a top coat, and you have your ombre. Now it's time for the design! You should use a liner brush to highlight the tips and draw Xs and other patterns.
8. Lace Long Nails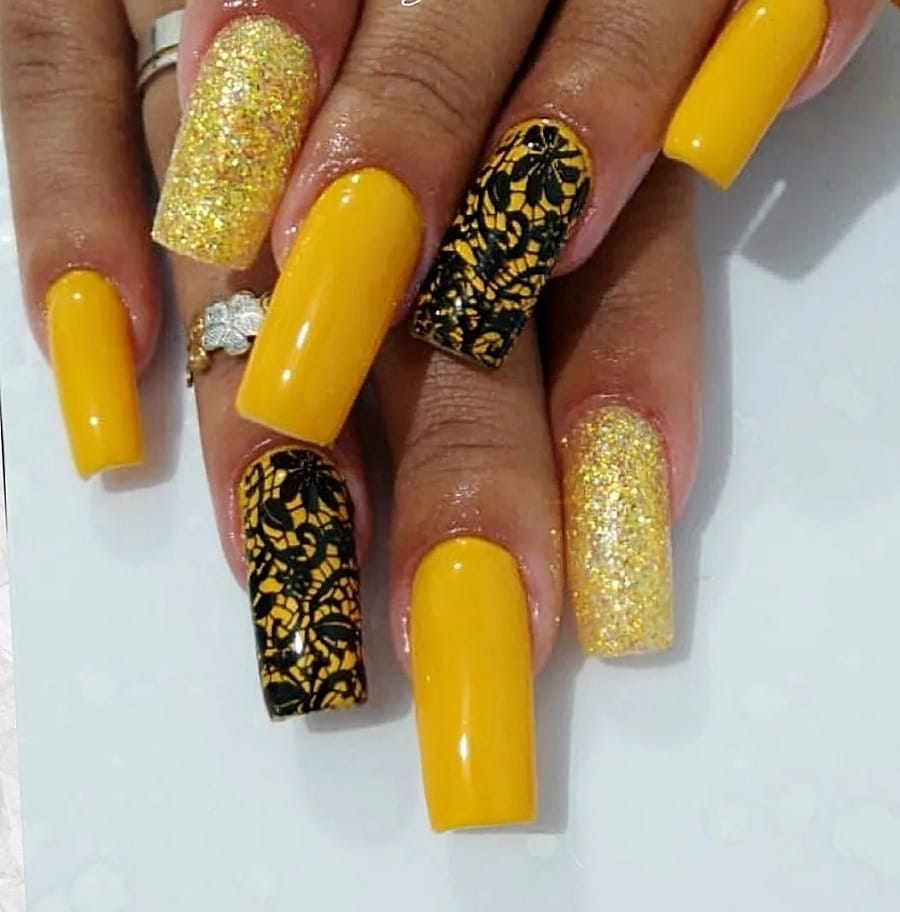 For this mesmerizing design, you will need a lot of patience and skills. If it's your first time making lace patterns, don't worry if you don't get it right the first time. Paint the nail in a bright yellow color and add a glittery topcoat for some of the nails.
As for the lace pattern, you can encapsulate real fabric, or if you find this procedure too complicated, buy nail stickers and apply them with tweezers. Also, nail stamps can be handy when you want such a nail model.
9. Butterfly Deco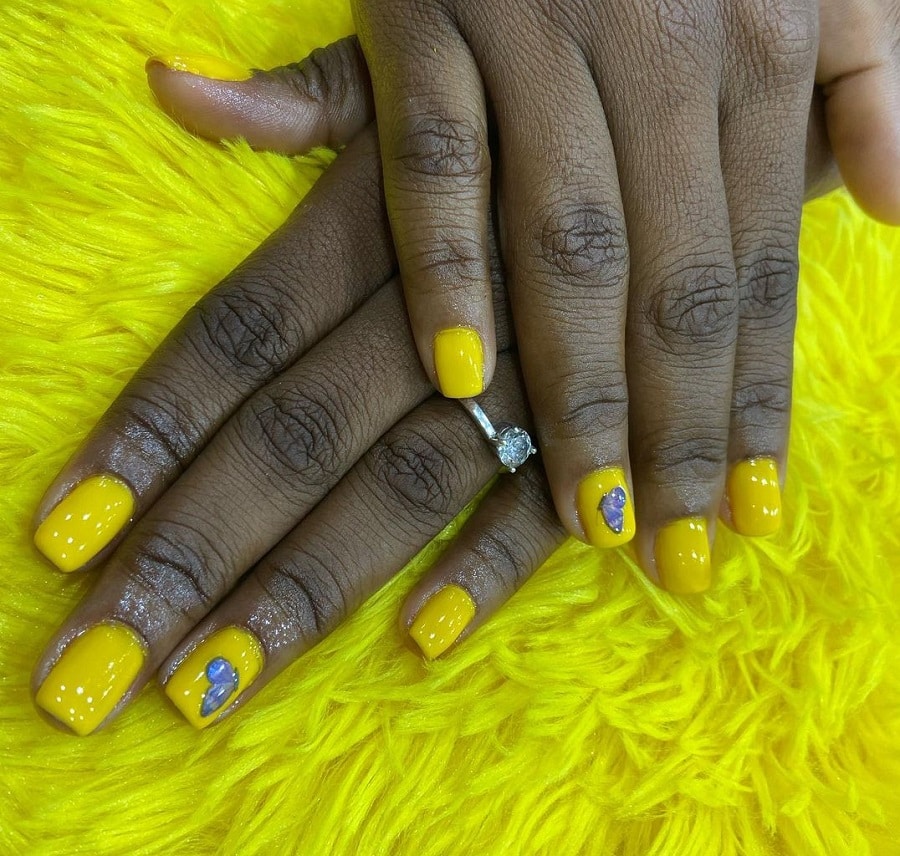 Neons are probably one of the best colors for your rich melanin skin. These yellow nails for dark skin are trimmed in medium length, in a square shape with slightly rounded corners.
Over the vivid color is applied a top coat that gives them a shiny aspect. You can spice things up and decorate them with a butterfly sticker.
These nails are a combination between a square shape and a flare. Before applying the acrylic, clean the nail with alcohol and apply a primer. Also, give them more shine with a top coat.
11. Fluorescent Yellow
Create the same shape as the previous nails but choose a white base color. You will style French tips, and draw snaky lines with fluorescent yellow and glittery polish.
You can also decorate some of the nails with rhinestones of different sizes.
12. Golden Glow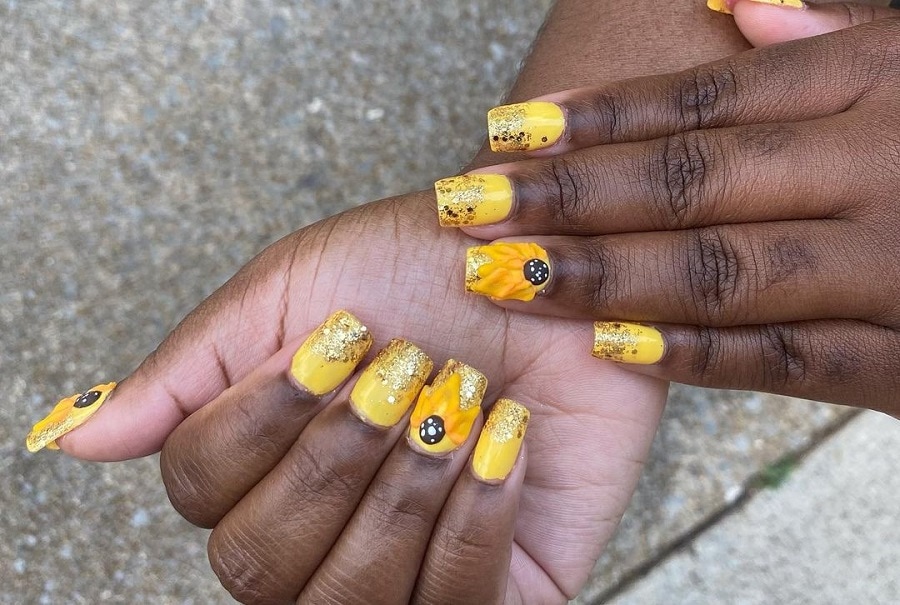 These intricate nails are quite a statement, and they feature many elements, a bright yellow color that will flatter all those with dark skin. T
o get that outstanding nail model, use a golden glittery lacquer and apply it abundantly on the tips. You can even add golden foils and build 3D designs with acrylic gel.
13. Yellow Toenails
Yellow toenails on dark skin are playful and joyful and will boost your mood each time you see them. You can keep this design simple, with a well-defined nail shape and just a few small rhinestone decorations applied in the big toe near the cuticle.
14. French Crocodile Nails
These crocodile nails are really mindblowing. Do the French tips so your nail will have an almond inner look. The tips should have a square shape and be painted bright yellow. Draw small lines on the colored nail section using a thin pointy brush and acrylic. 
15. Barbie Glue on Fake Nails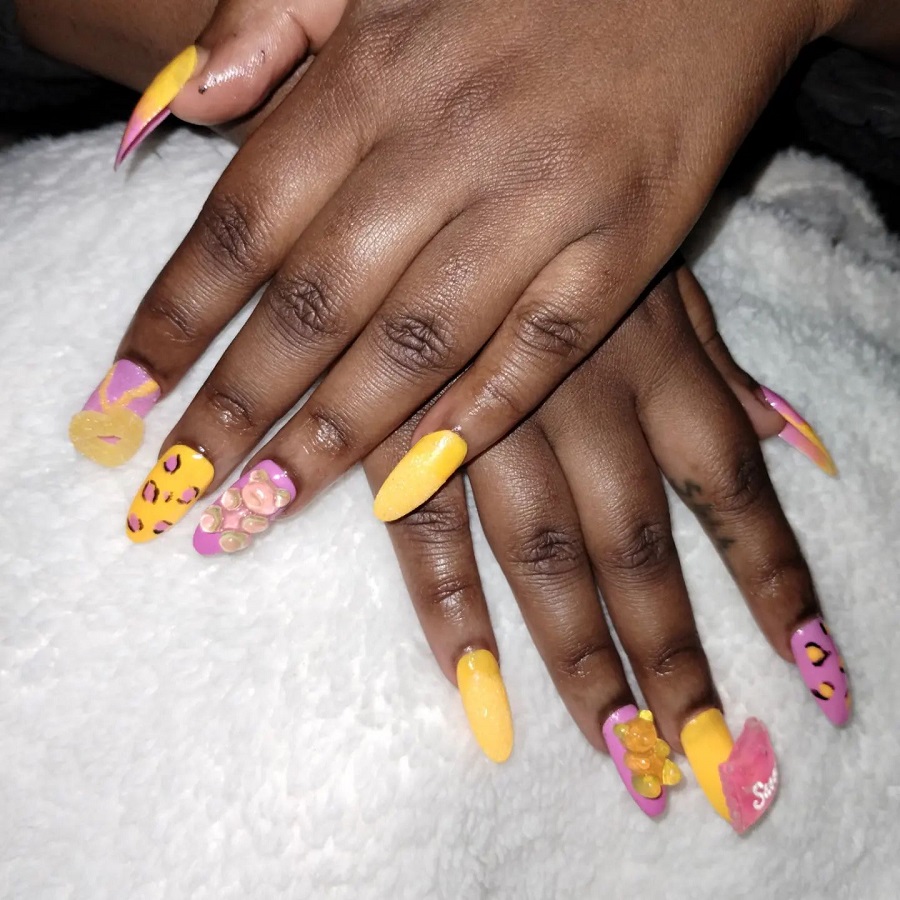 Don't have time to do such intricate nail models, or didn't find a free spot with your fav nail technician? A quick solution would be applying glue on fake nails. Make sure you get an excellent adhesive that keeps your nails attached until you can get a proper manicure.
16. 3D Effect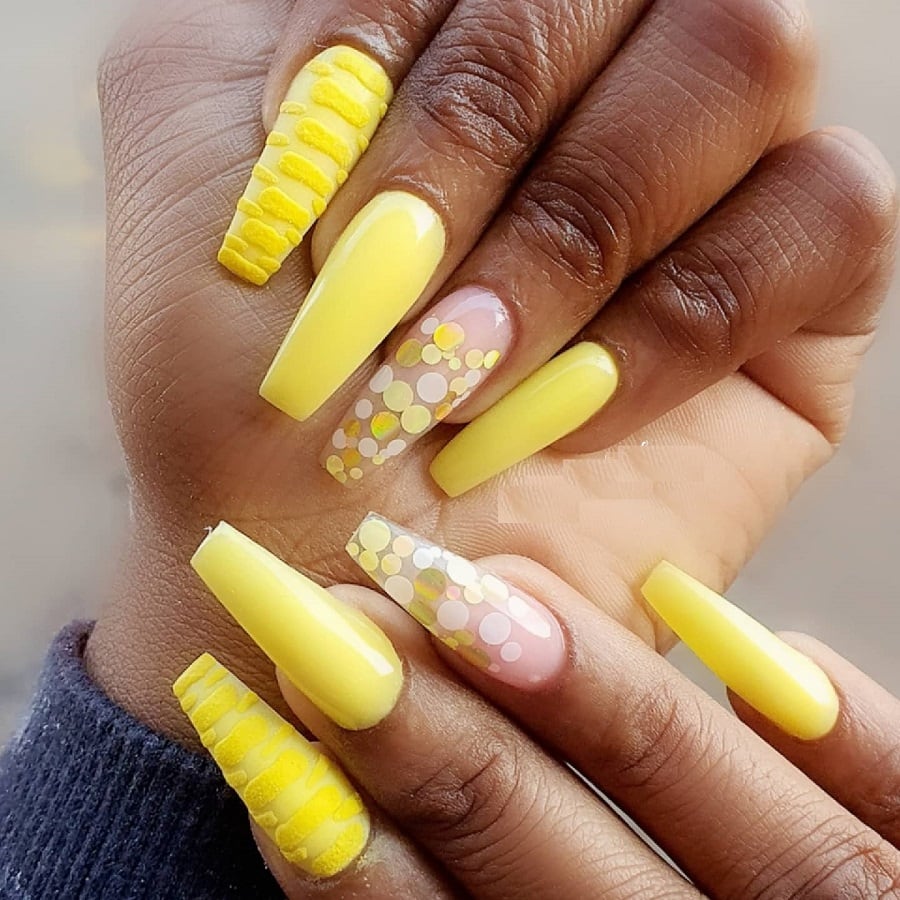 Mixing more patterns and elements will make your manicure look unique and cute. Create 3D lines with acrylic and give them a different texture by dipping the nail in powder.
On the ring finger nail, you can opt for a clear lacquer and small rounded sparkling applications that you will carefully place with tweezers. Moreover, you can find a nail polish that already contains these pieces and arrange them with a toothpick.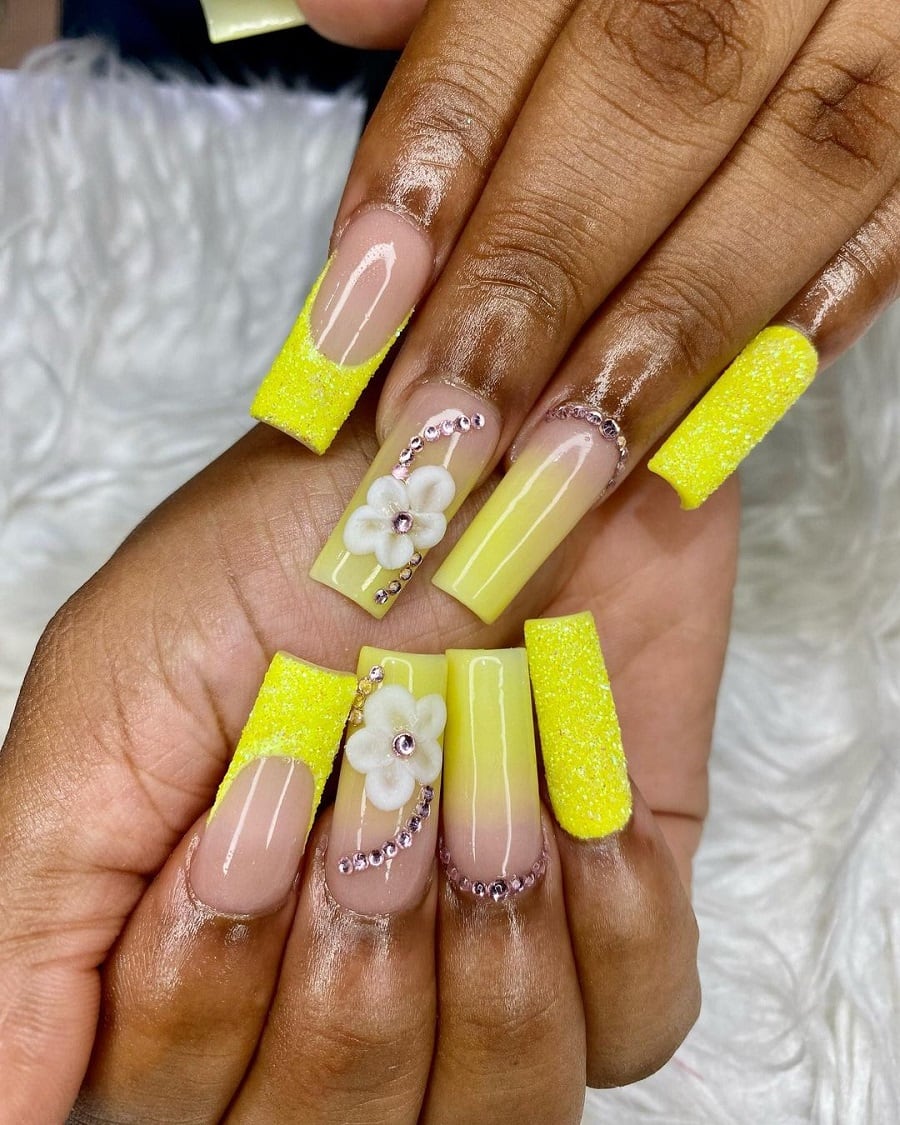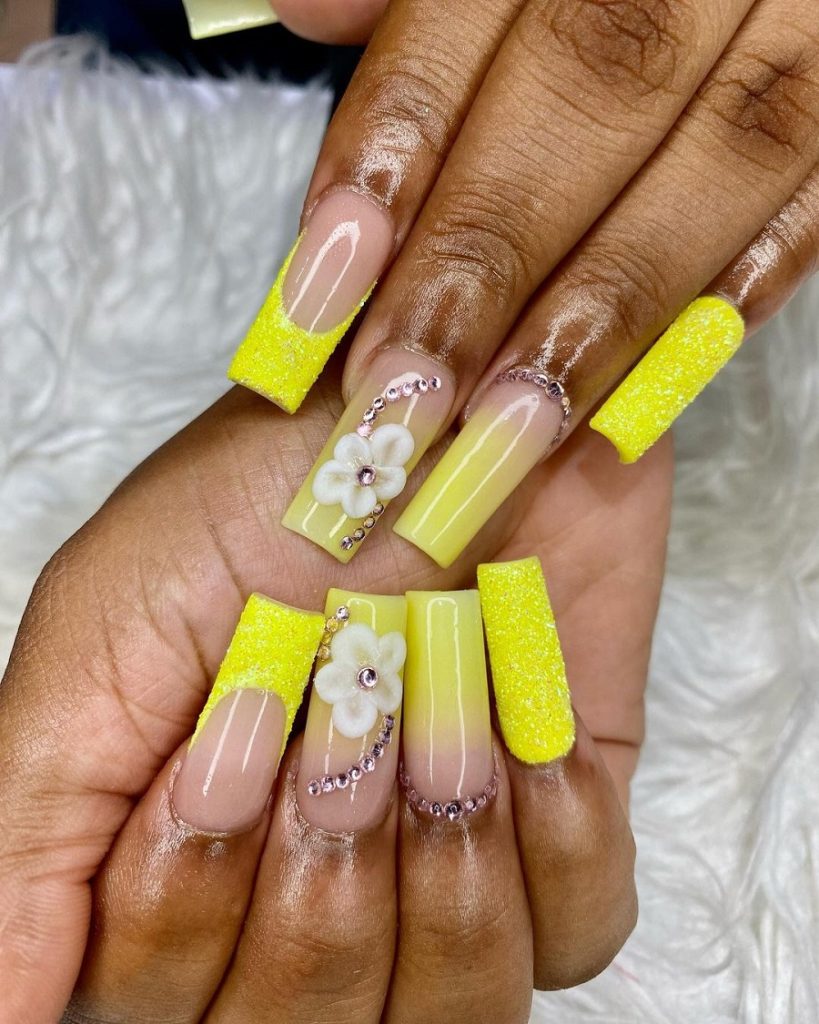 Yellow nails for dark skin that involve matte finishes with glitter, ombres, and decorations are the perfect manicure for moments when you want to be in the spotlight. Apply rhinestones, build 2D flowers with acrylic and enjoy all the attention. 
For those with dark skin, yellow nails are the new trend, and they create such a beautiful contrast. This manicure is vibrant, bright, and spicy! Embrace them and wear your new models with pride!