Fishnet patterns have been reviving on and off in the fashion industry since the 1920's. The design refers to a grid consisting of more or less repeating diamond or rhombus shapes formed by a number of lines or strings intertwined into a mesh.
Just like fishnet stockings, fishnet nails are increasingly becoming a style statement among women all over the world. There are so many ways to incorporate this pattern in your nail designs using stamping kits, striping tapes, or just your bare hands.
The following latest fishnet nail designs are here to inspire you before your next manicure.
Hottest Fishnet Nail Designs
Whether you are a professional or not, these designs will help you turn your nails into tiny pieces of art.
1. Fancy Fishnet Coffin Nails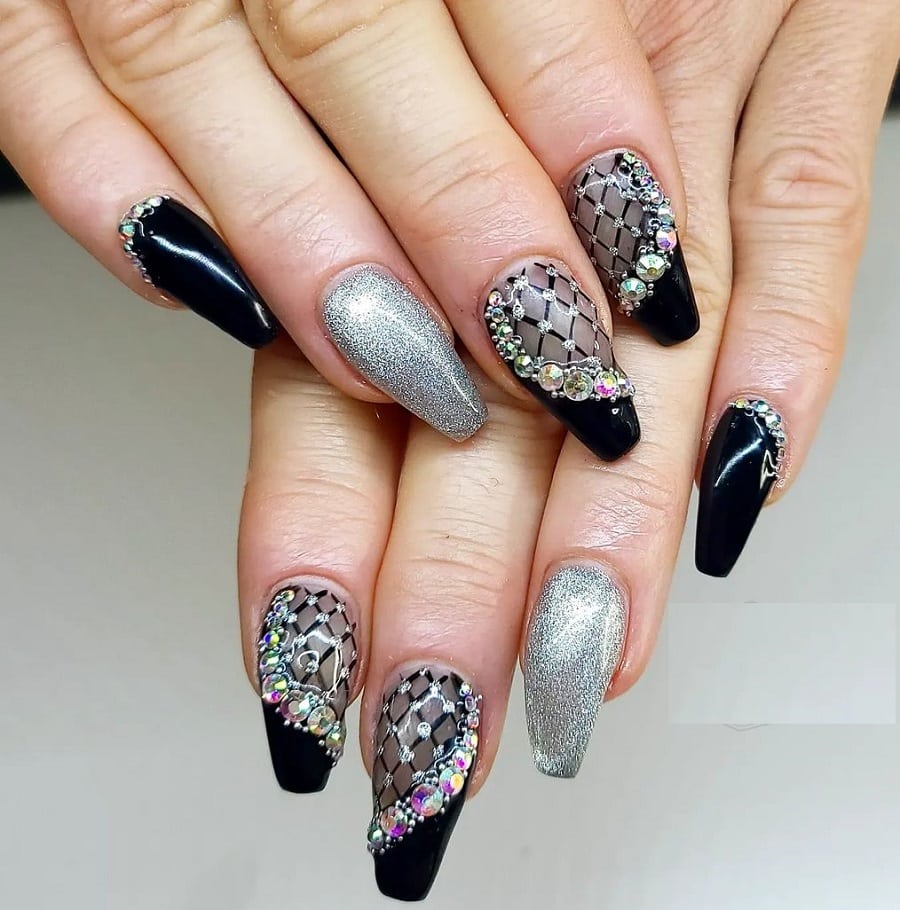 A fancy black and silver fishnet nails like this is sure to drop some jaws. Alternate plain solid nails with French tips and use the bare nail beds to draw a crisscrossed lattice in black. Place dots of silver at points of intersection and add shiny rhinestones in a C-shaped pattern.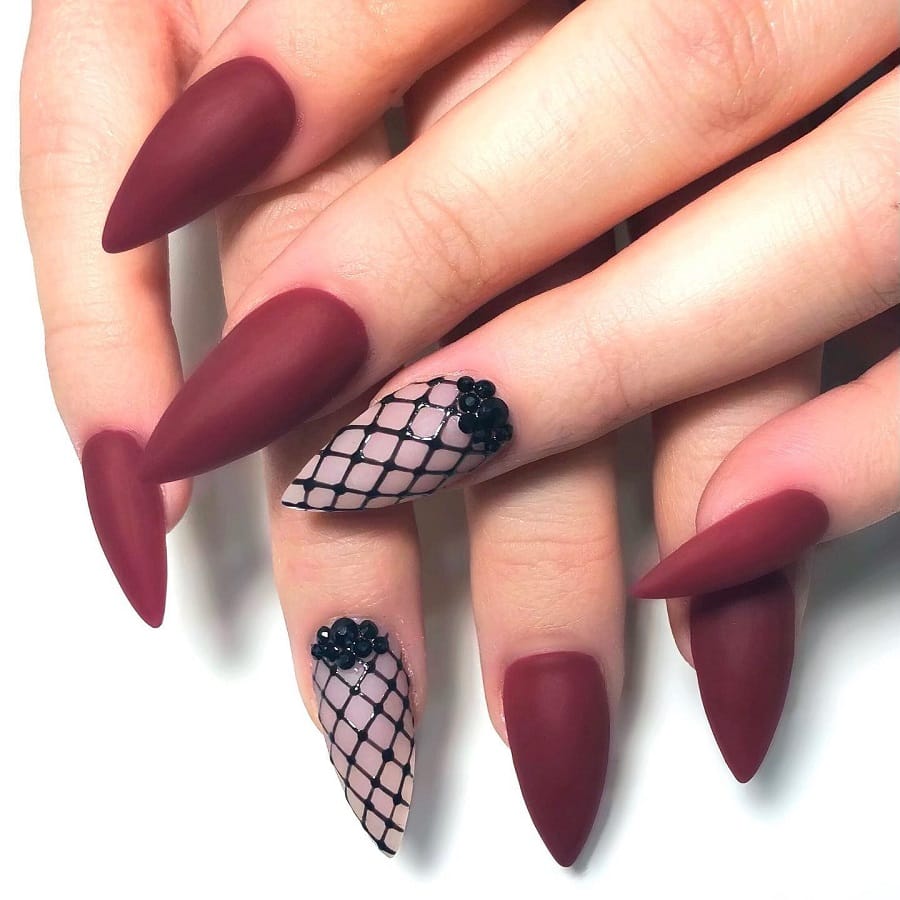 Showcase your manicure by choosing different colors and patterns for one of your fingernails keeping the remaining ones identical.
Go for matte deep red acrylic stiletto nails with nude ring finger nail beds consisting of a delicate black fishnet pattern. Finish off with a cluster of black gems near the cuticle region.
3. Purple Jelly Stiletto Nails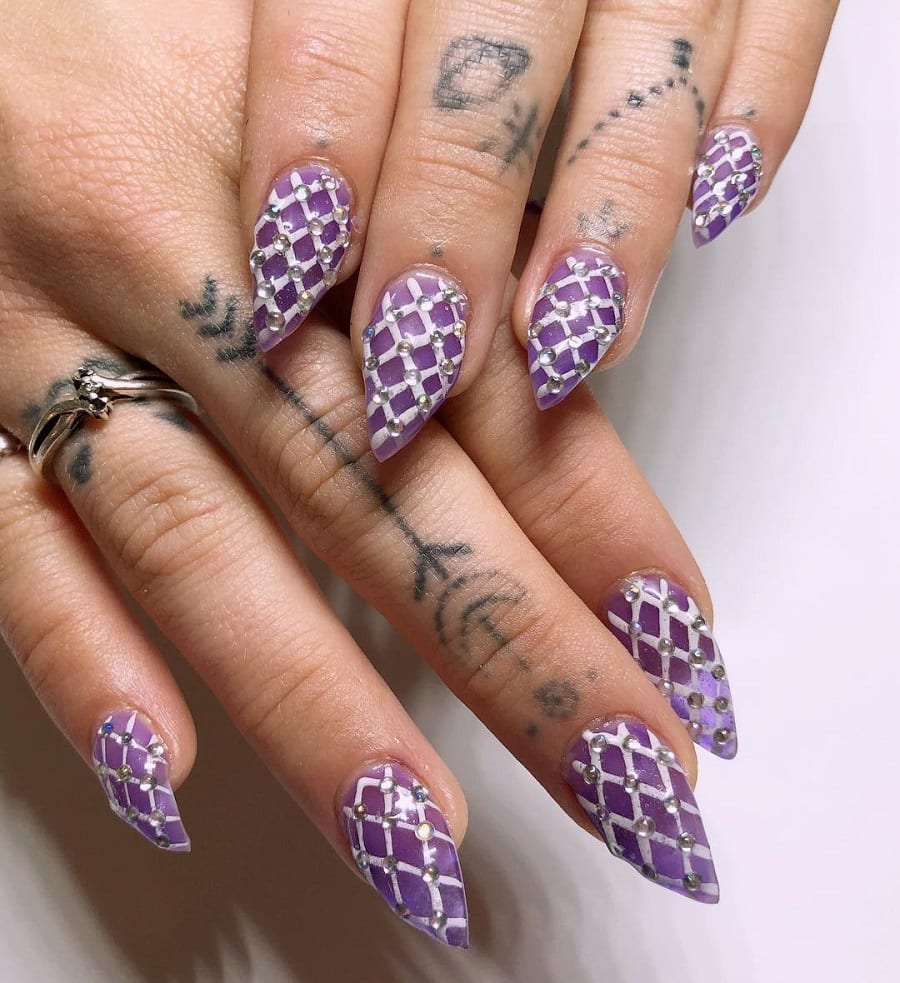 Jelly nails have remained quite a trend this year due to their attractive translucent look. Ladies bored of their salon-done see-through nails can spice them up at home by drawing diagonal lines with white polish to achieve a solid interconnected mesh on a glass-like base. Don't forget those tiny stones!
4. Tapered Honeycomb Nails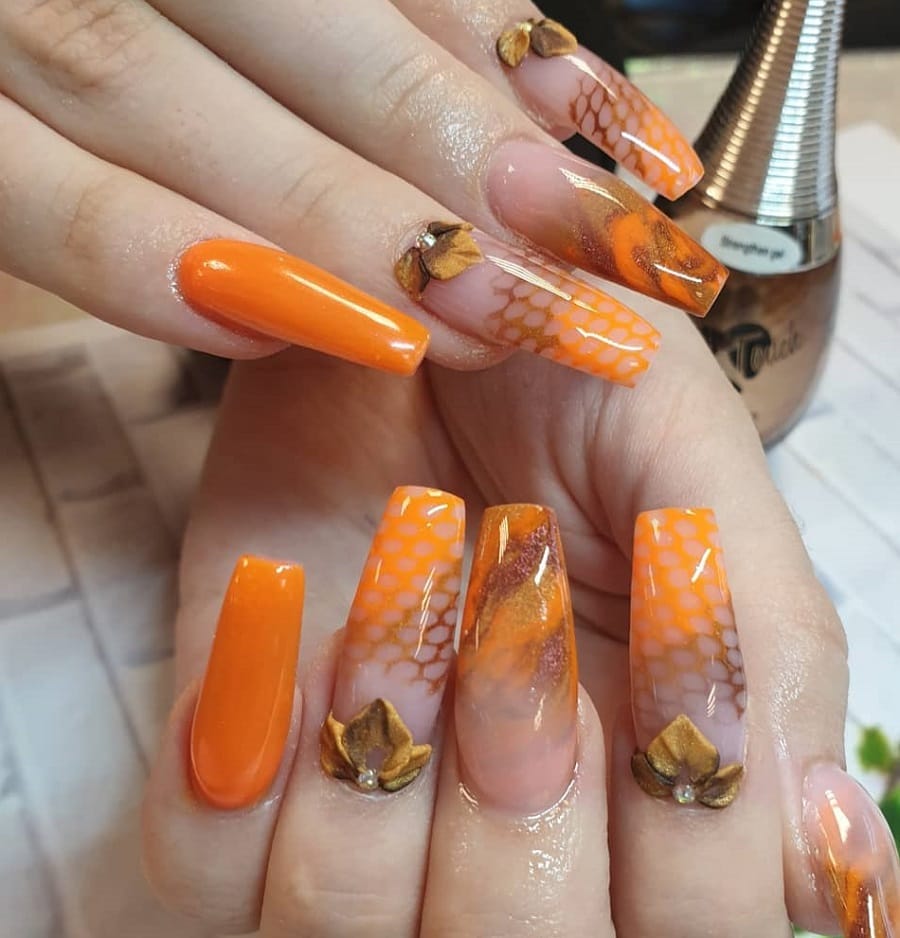 Stand out with these sweet honeycomb-inspired fishnet nails this season. Paint the underside of fine netting and stamp it onto the nails followed by tracing over the pattern for a more defined look.
Combine bright and deep tones of yellow/orange on long tapered square nails. The marbled design is worth a shot too!
5. Christmas Vibes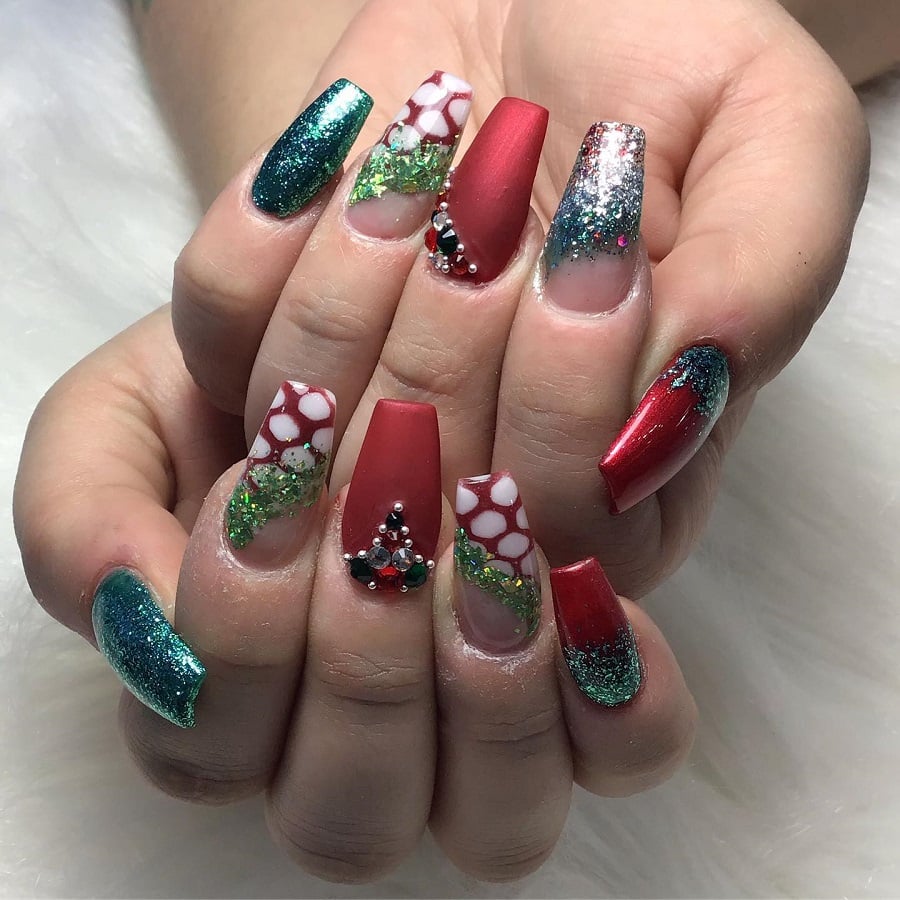 Get your nails ready for Christmas by opting for a red and green acrylic manicure. Press the netting into the nails when wet and fill in the spaces with a second color. The true fishnet pattern will be revealed once you file your nail beds. Throw in some glitter and rhinestones and done!
6. Blue Diamonds on Squoval Nails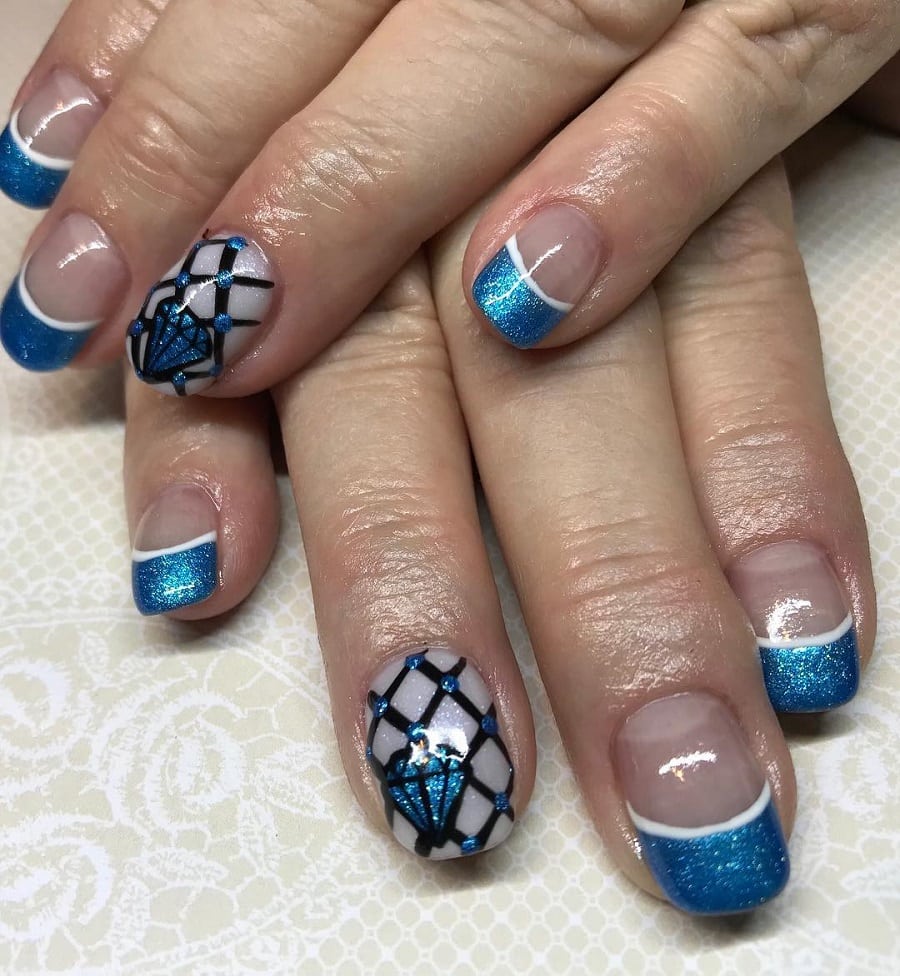 Though a true intertwined fishnet pattern cannot be achieved on nails, straight intersecting black lines will do the job. Opt for glittery blue French tips with white outlines and stamp on teeny tiny blue diamonds on squoval nails. Add further details with blue dots.
7. Sexy Blood-Drip Nails
Rock these super sexy blood-drip fishnet nails on Halloween and you won't regret it. Get a nude base with a black fishnet pattern on top. To achieve the dripping effect, place red blobs anywhere in the middle of the nails and drag them toward the cuticle. Do the same for your vampire lips.
8. Pink Lace Manicure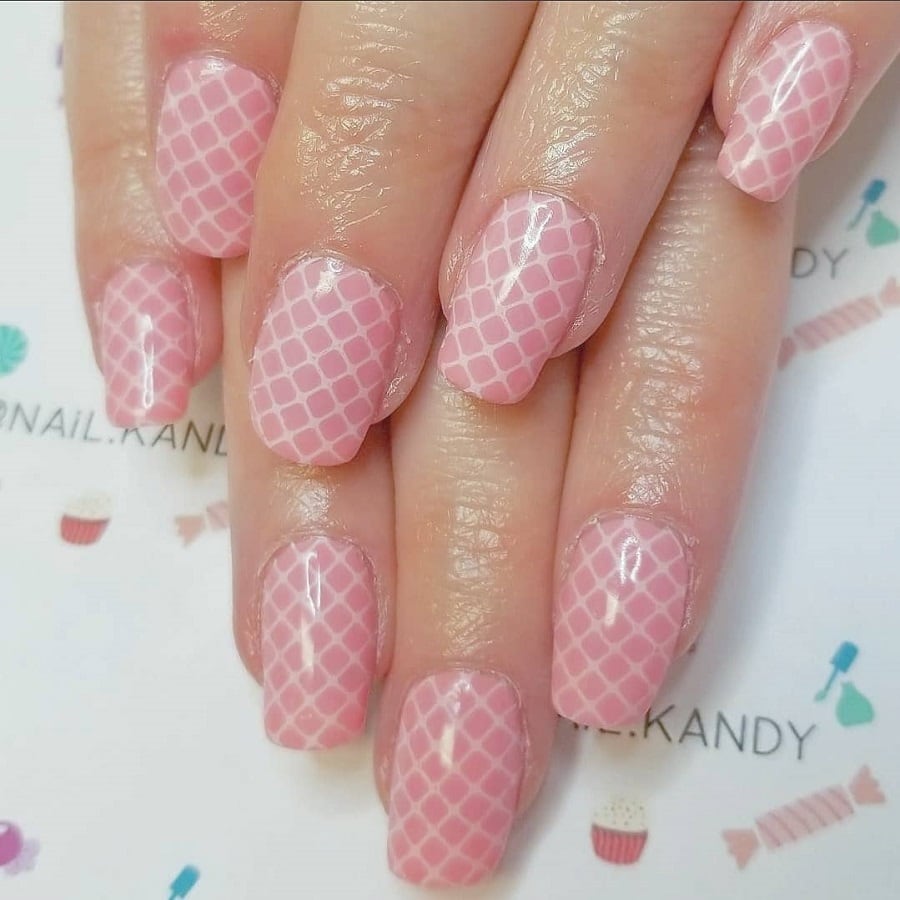 Keep it soft and elegant with medium-length baby pink square nails. Skip the hassle of drawing a fishnet mesh by using an appropriate nail art stamping kit. To stay on the subtle side, use a slightly lighter shade of pink for the net pattern.
9. White Fishnet Stiletto Nails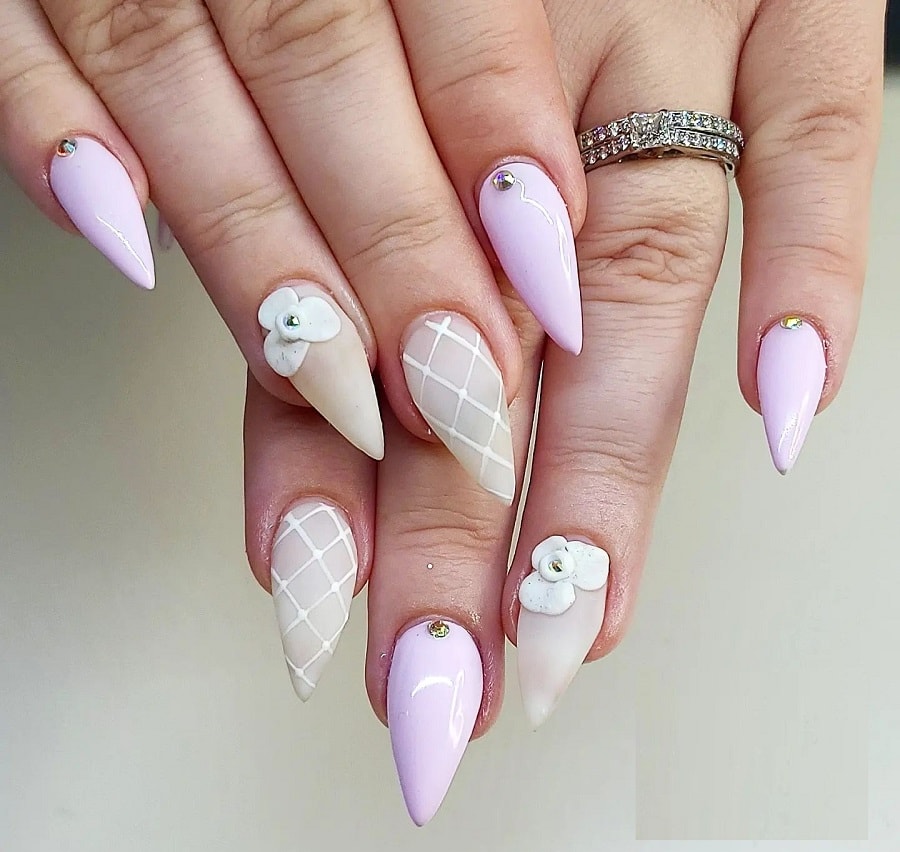 Talking about elegance, white stiletto nails are a must-try for all the brides saying 'I do' soon. Opt for a simple fishnet accent nail accompanied by 3D acrylic flowers and a sparkling rhinestone for each one of the remaining nail beds.
10. Goth Style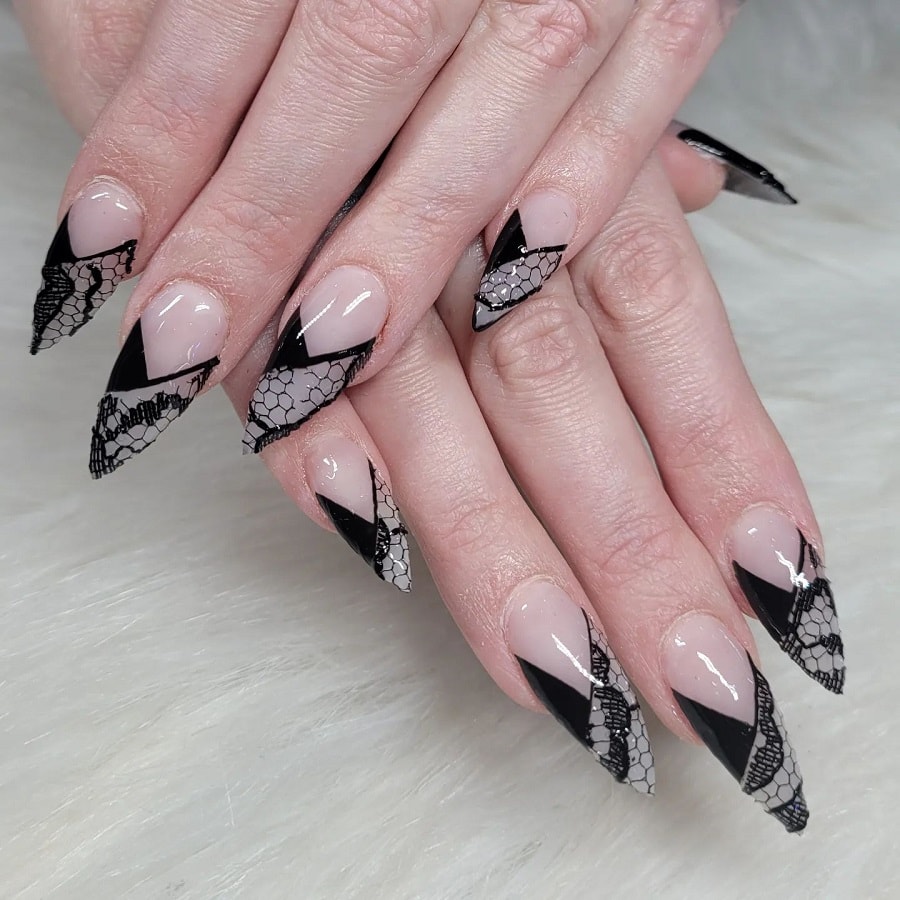 Channel your inner Goth with these bold statement-making French nails. Get long nude stiletto nails or almond-shaped ones with neat V-shaped tips having a solid black portion along with the netting pattern. Top off with a few scribbled lines for a messy yet sexy finish.
11. Ripped Fishnet Pattern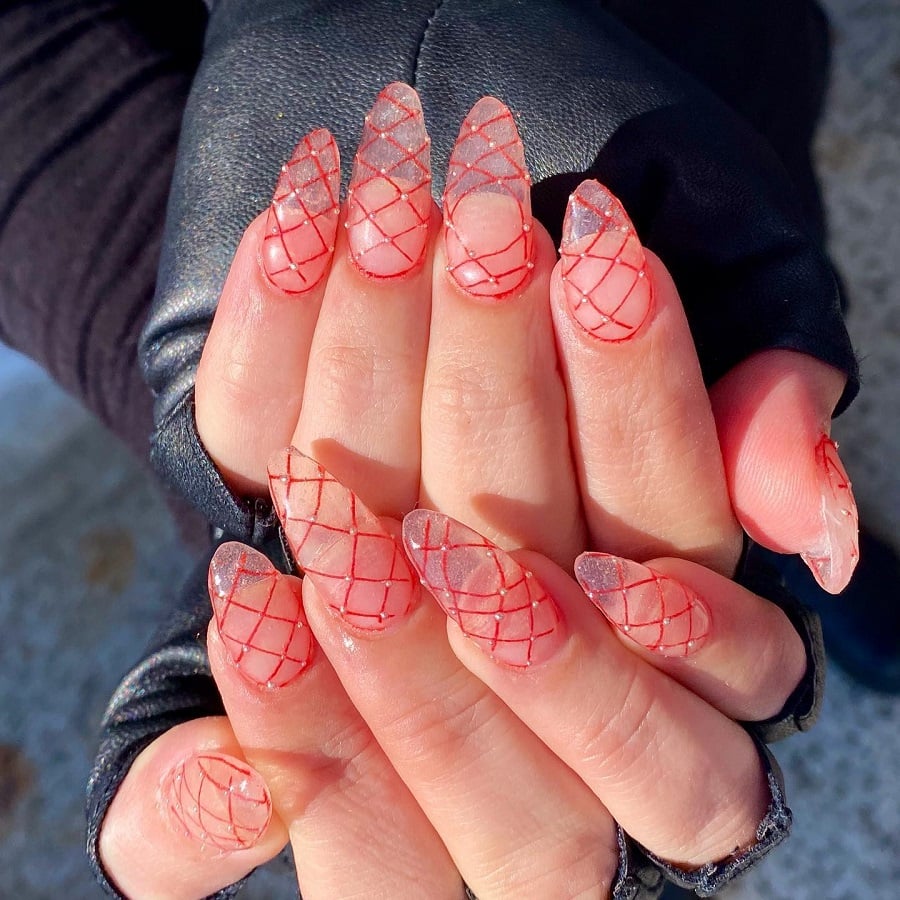 The first rip in fishnet leggings is a true heartbreak that almost every woman has felt at least once. Well, here is a minimalistic nail art design inspired by the exact situation featuring fine red lines on bare transparent nails with irregular spaces in between. Simply sexy!
12. Textured Long Almond Nails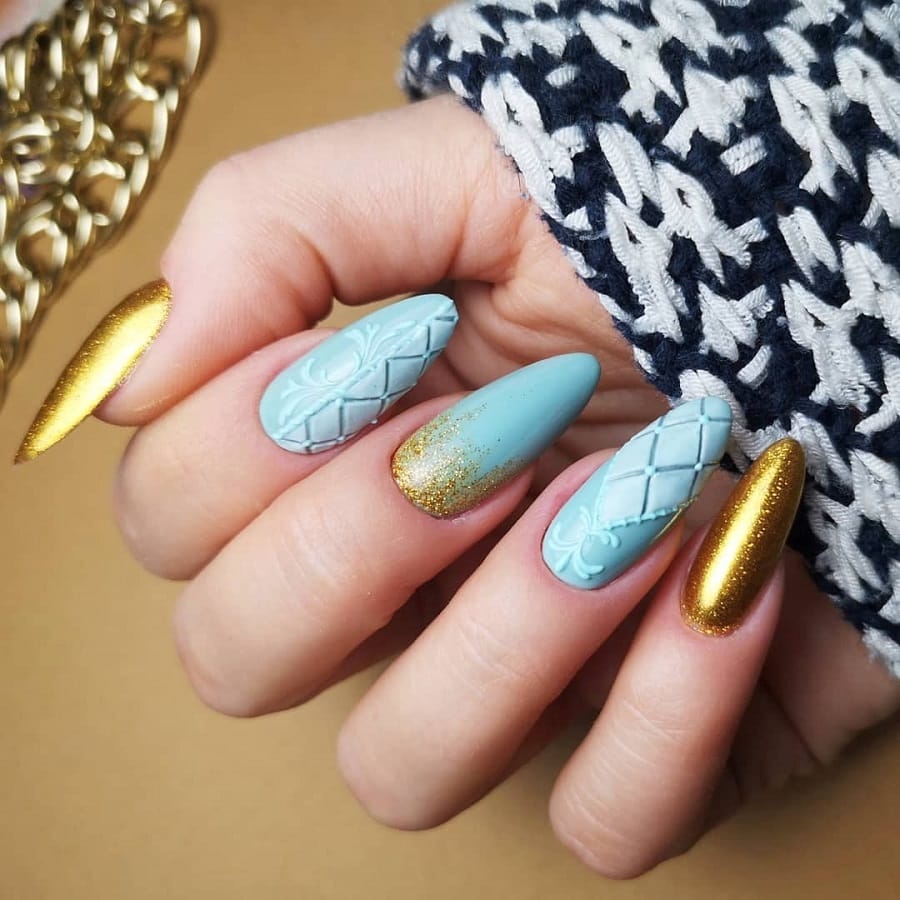 A cool pastel blue tone accompanied with a warm sparkling gold tinge is not a nail color combo you might see every day.
The same is the case for the delicate textured design featured here which can be achieved with fine netting and acrylic powder. Rounded long almond-shaped nails will be your best shot.
13. Black Fishnet Pedicure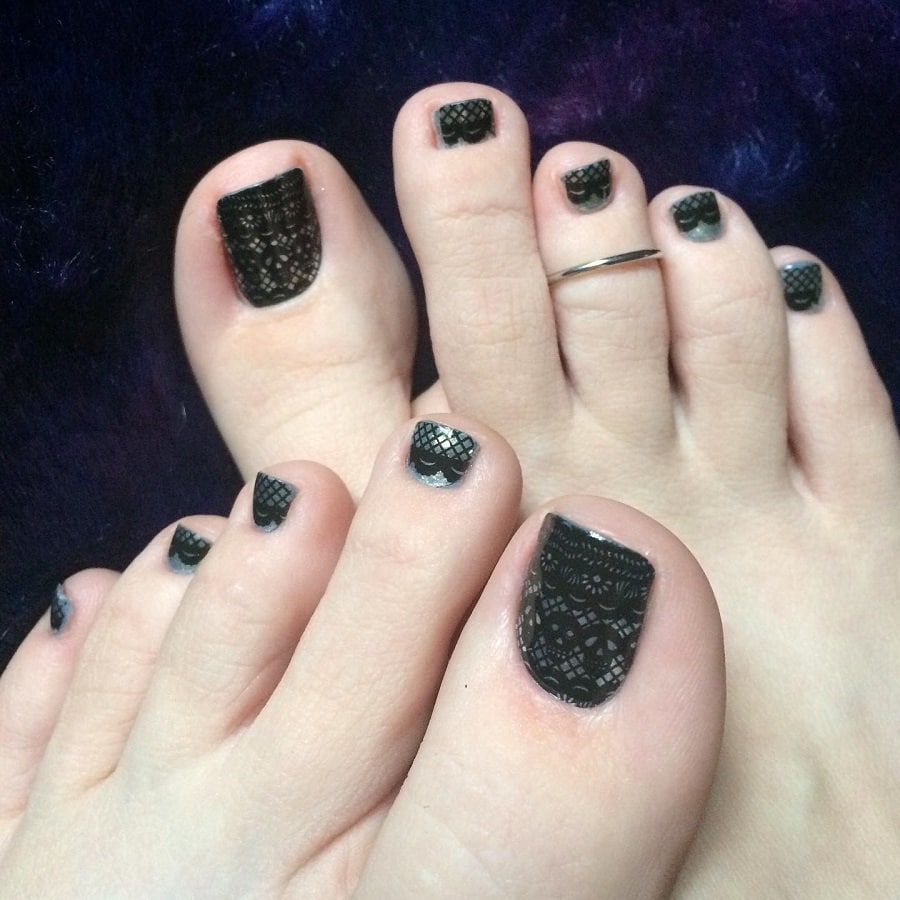 How about refreshing your toenails too when getting fishnet fingernails? Instead of carving out a complex lace pattern, use nail stickers or a stamping kit to achieve the design with minimal effort. Though you can opt for any color you like, black nails will beat them all!
14. Beach-Themed Tapered-Square Nails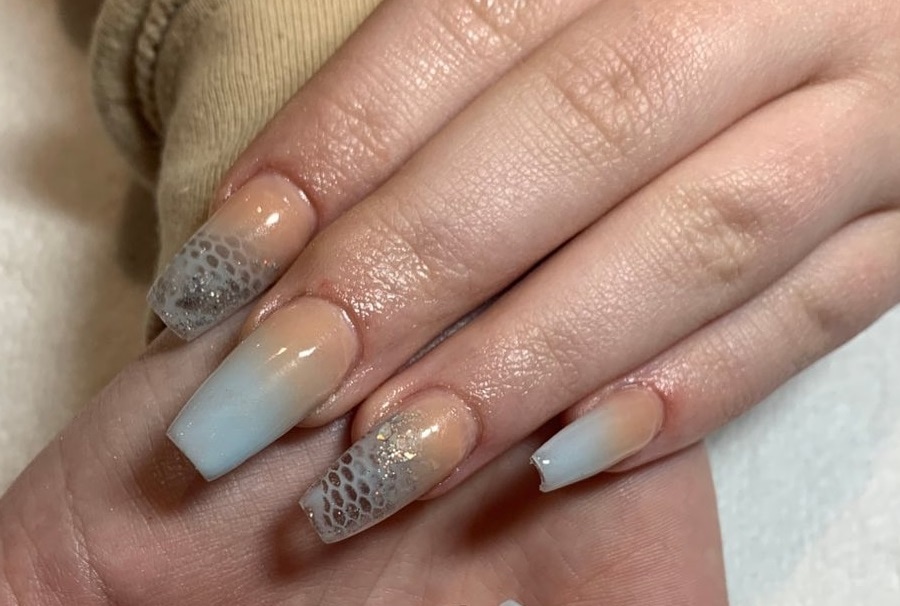 Those who love the beach can carry a piece of it wherever they go on their nails of course! Consider getting a muted peach-to-pastel blue gradient on long coffin nails with a barely-there fishnet design in between. Don't forget to add some silver glitter on top.
15. Perfect Crisscrossed Lines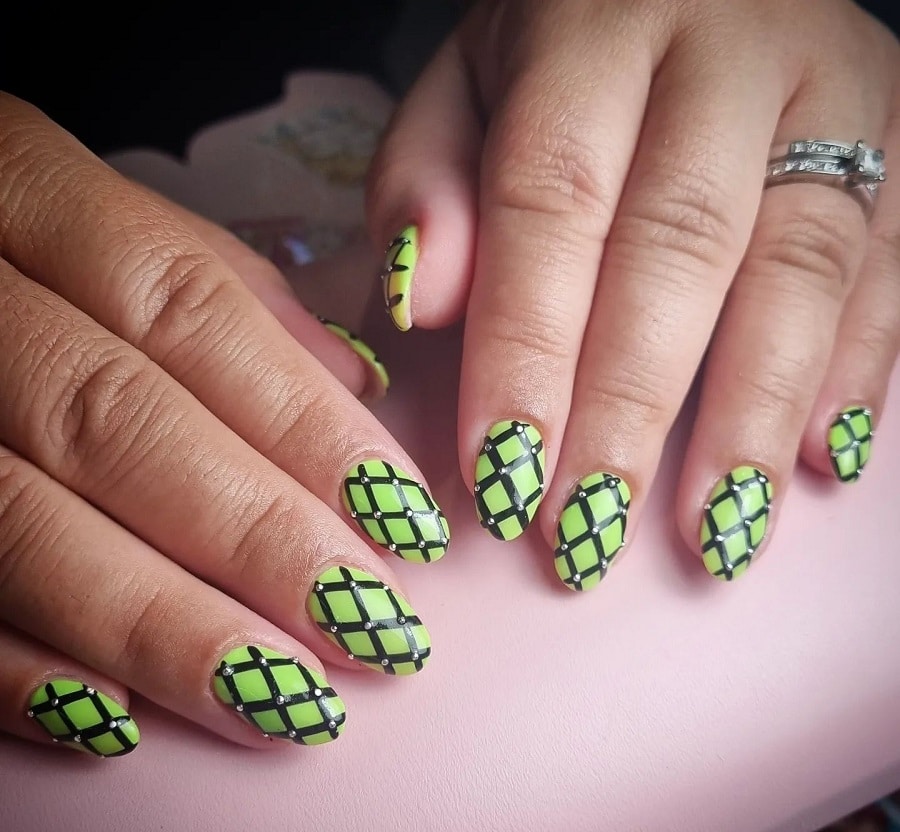 Considering all the non-professionals out there, skip an expensive salon appointment by painting your nail beds in any color you want and using a fine brush to trace out crisscrossed lines achieving jaw-dropping fishnet nails at home. Adorn with tiny gems and seal everything in place with a top coat.
16. 2D Fishnet Nails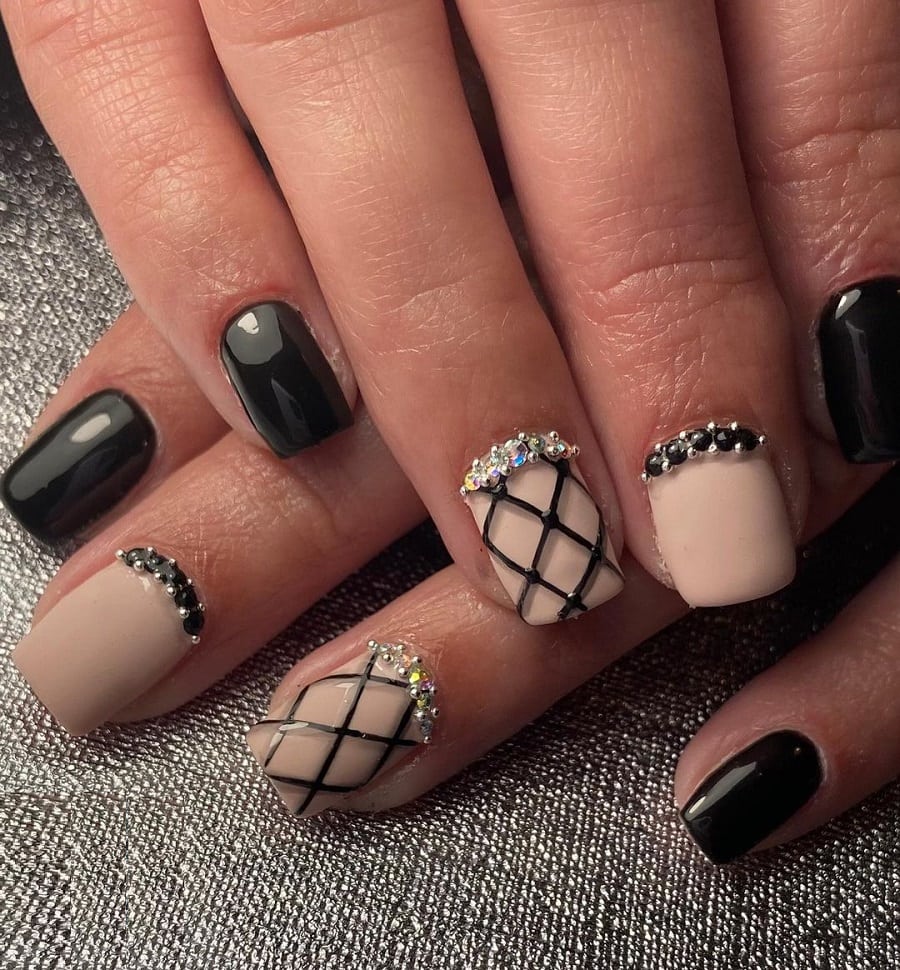 The shadow effect visible on the accent nails of this chic black and nude 2D manicure is just everything! The trick lies in using light gray polish to trace outlines along the prominent black ones. Try the look on short square nails with strips of sparkling rhinestones along the cuticles.
17. Intricately Stamped Pattern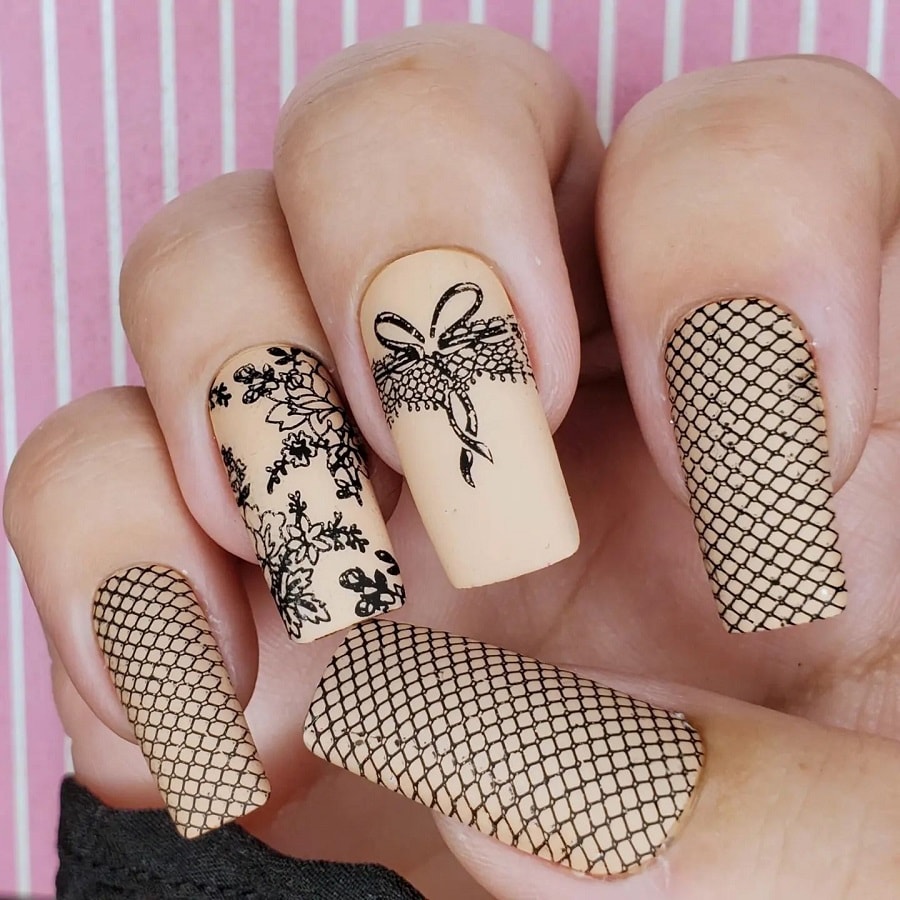 Achieving intricate nail designs has become so much easier with nail art stamping kits. Get one with fishnet patterns and use black polish to transfer them to your matte nude nails. A floral pattern on one nail will look good too.  
18. Bling French Tips
Set your orange French tips on fire with some iridescent nail tape. Place those fine strips diagonally parallel to each other to end up with a shiny fishnet design. Those wishing for some extra bling can add chunky nail gems on top.
Fishnet nails are no doubt the hottest nail design of this season. With just a few intricately placed lines, you can achieve a complex lace-like pattern that is super sexy and luxurious to look at. Take out your favorite nail paints and start practicing right now! Wish you luck!