The color purple has its own special place in the nail fashion industry. And while this shade has so many versatile tones to choose from, lavender nails have been trending for a while.
Lavender can be described as a light pastel purple with subtle bluish undertones. It is classy, elegant, and dreamy, and represents calmness, purity, and femininity.
There are multiple ways to rock a lavender manicure as it goes well with colors like black, white, pink, silver, and gold. Take inspiration from the following luxurious lavender nail designs that are ideal for all occasions. Time for a little magic!
Lavender Nail Designs
Bring some sophistication into your life by going with a lavender manicure this season.
1. Reverse French Manicure on Short Round Nails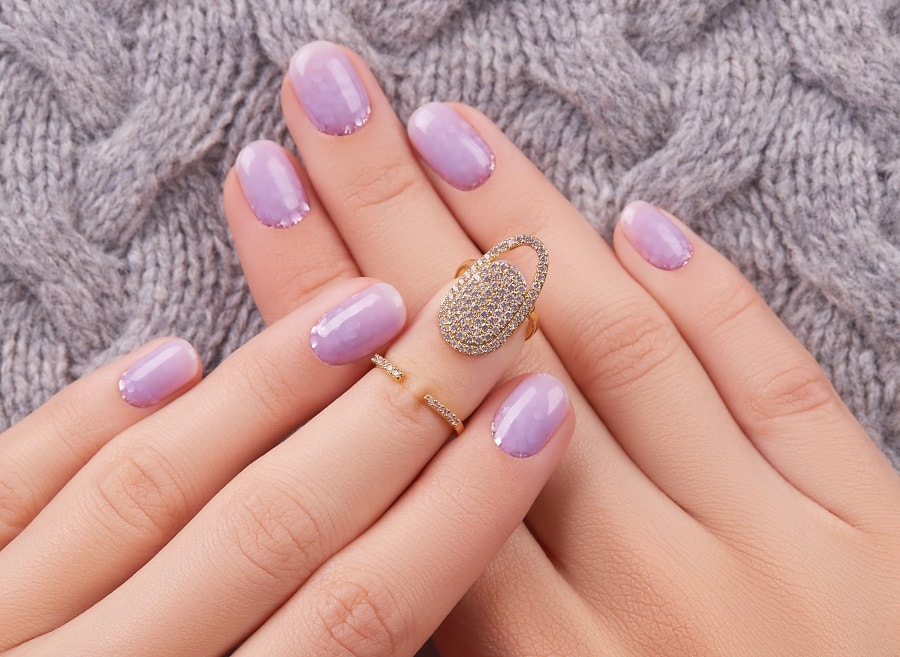 Just as the name suggests, the reverse French manicure is the exact opposite of its classical version featuring a different color at the base of the nails instead of the tips. Opt for a chunky glitter base and cover it with a semi-translucent lacquer sparing only a tiny portion near the cuticles.
2. Light and Dark Interplay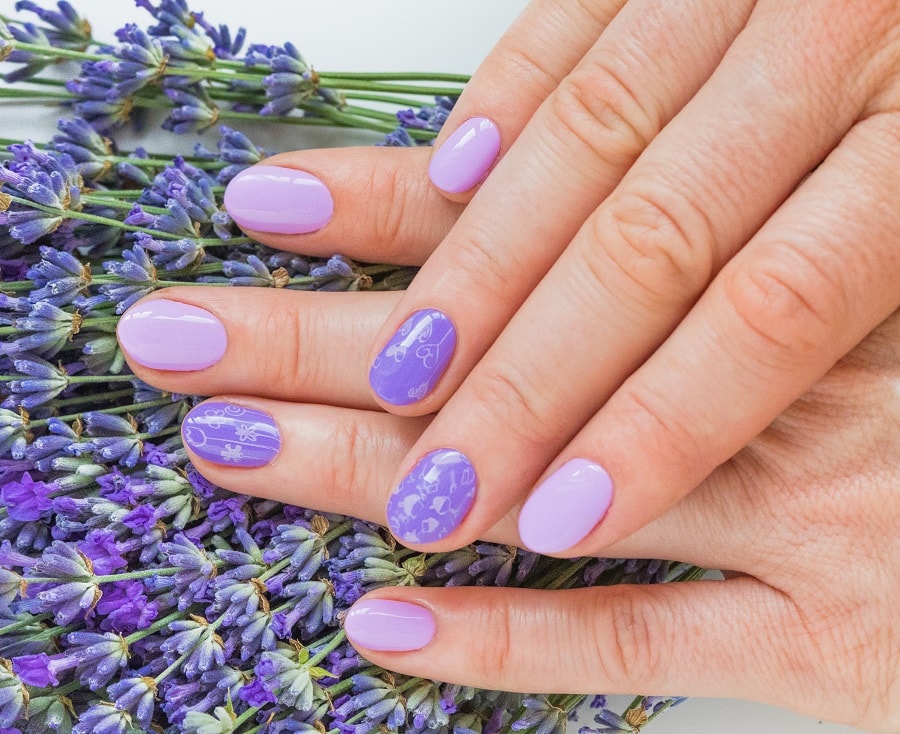 Although lavender is a shade of purple, it has further a number of tones that you can choose from. Create the perfect light and dark interplay by opting for two different hues of the lavender family and use a stamping kit to transfer the daintiest patterns onto your nail beds.
3. A Little Geometry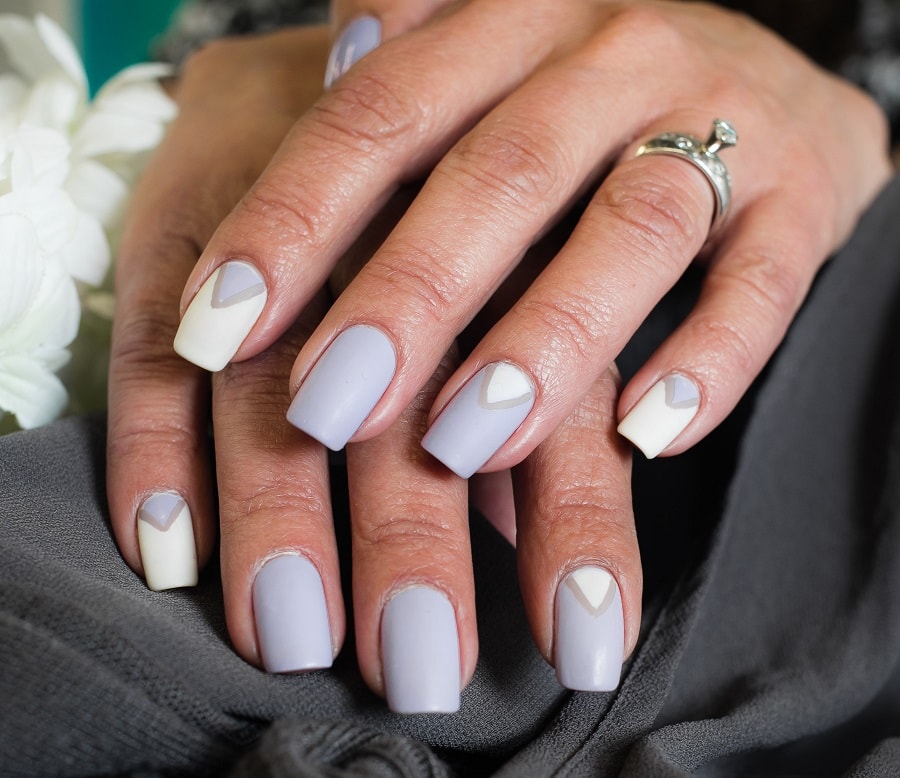 This simple yet chic geometric lavender nail design won't disappoint no matter what. Make that pastel purple tinge pop by accentuating it with a solid white nail polish. Use nail tape to achieve clean triangles and finish off with a matte top coat. Square-shaped nails will look the best.
4. Glitter Glam
A fresh manicure is incomplete without some glitter. Make your long almond nails stand out with a coat or two of lavender polish and matching glitter on top. This nail idea is a must-try for beginners who want to pamper their hands at home.
5. Silver Shine
Silver and lavender go perfectly together as both are cool neutral tones. Use silver chrome powder on your short round accent nails to stand against the remaining matte pastel purple ones. Put on some shiny nail rings and see jaws drop wherever you go.
6. Lavender Blossom Accents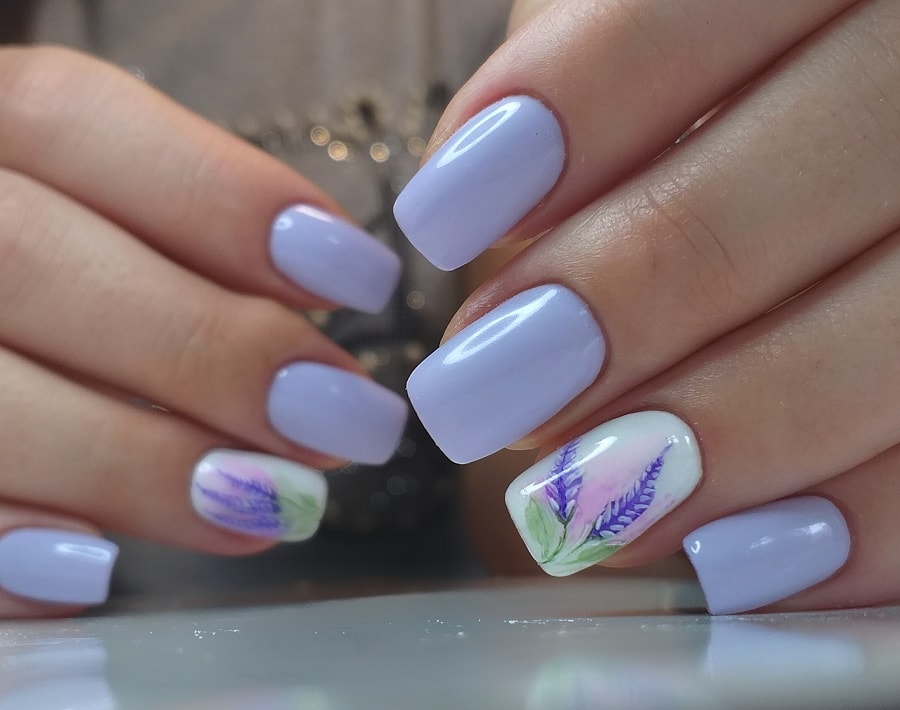 What's a lavender manicure without some true lavender blossoms? Channel your inner artist and draw teeny tiny crooked teardrop shapes with dark purple on a white base. Add light purple petals and some green leaves with a fine brush. You can also use nail decals for ease.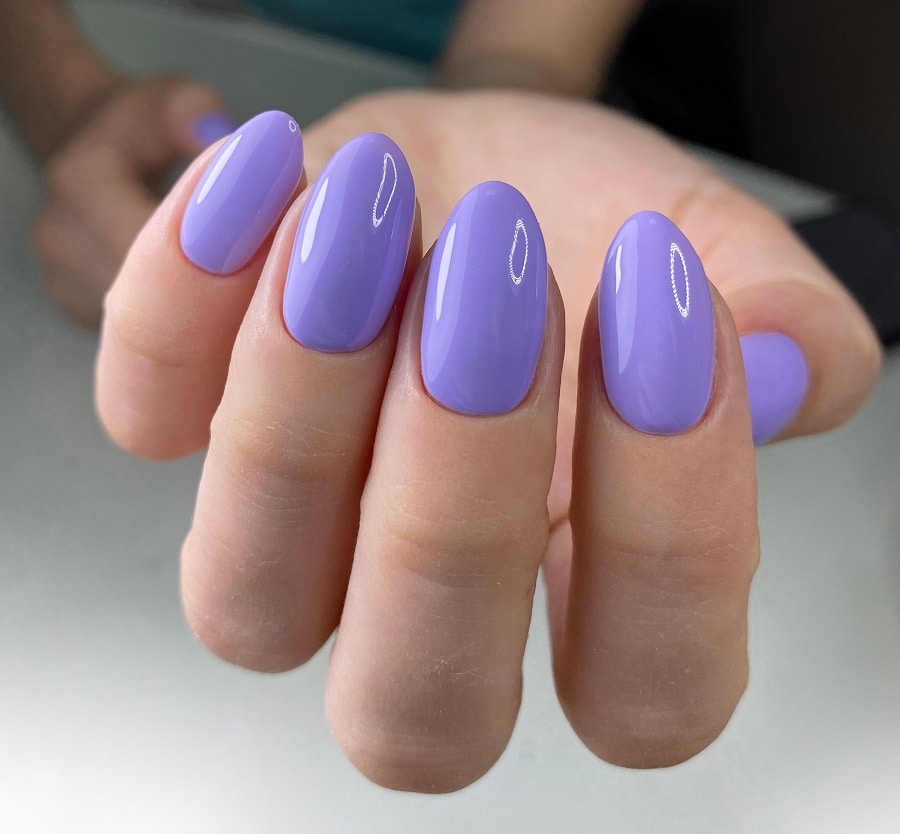 Solid color nails don't surprise anymore but these acrylic lavender ones surely will! Go for any nail length and shape you like although these medium round to oval nails will be the best shot for those who want to keep it sophisticated. Can't get any simpler!
8. Minimalism At Its Best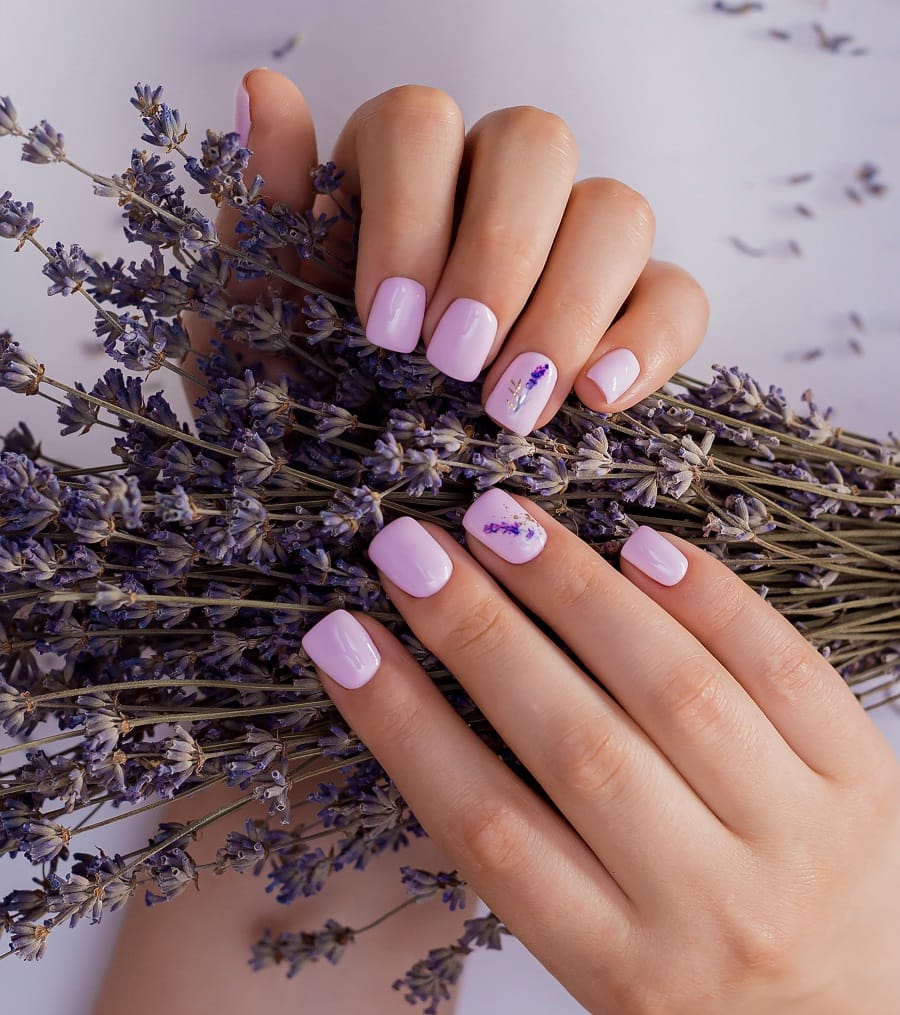 Talking about simplicity, these short square nails define what minimalism looks like at its best. Draw delicate green stems with some shiny gold leaves and mixed dots of dark purple and lavender on top. A nail art stamping kit or stickers might be of great help here!
9. Classy Square French Tips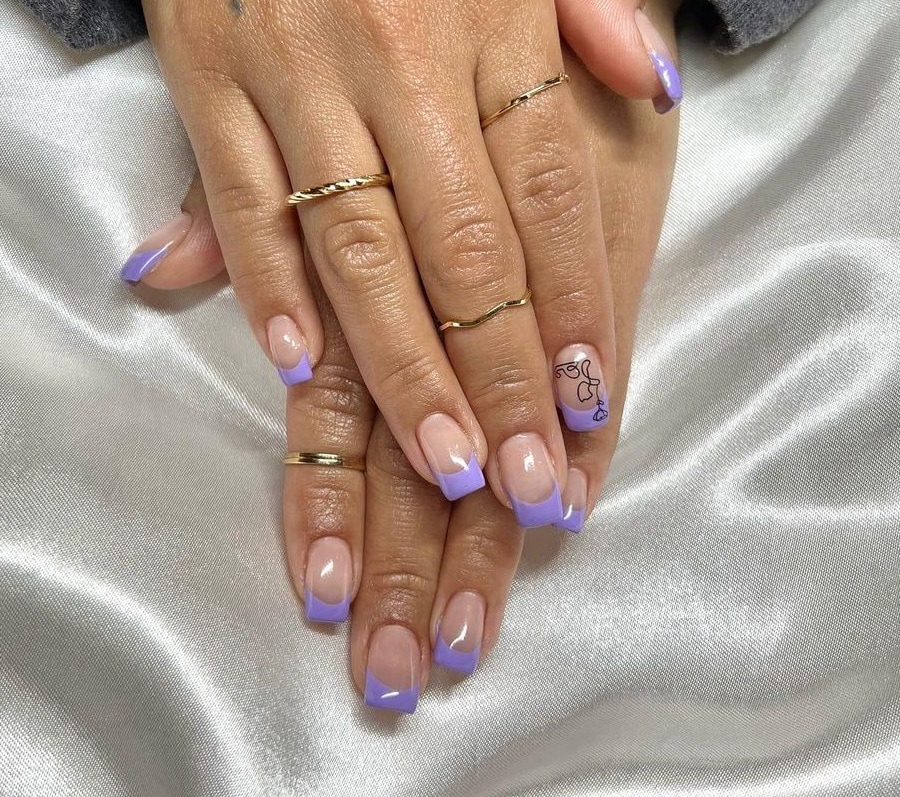 French tips are ageless and timeless. They can be created at home with any of your favorite colors. Choose a neutral base shade and paint the tips in a pastel purple tinge. Spice up your manicure further with a minimal abstract design featuring some meaningless lines and shapes on one or two nails.
10. Pink and Purple Pop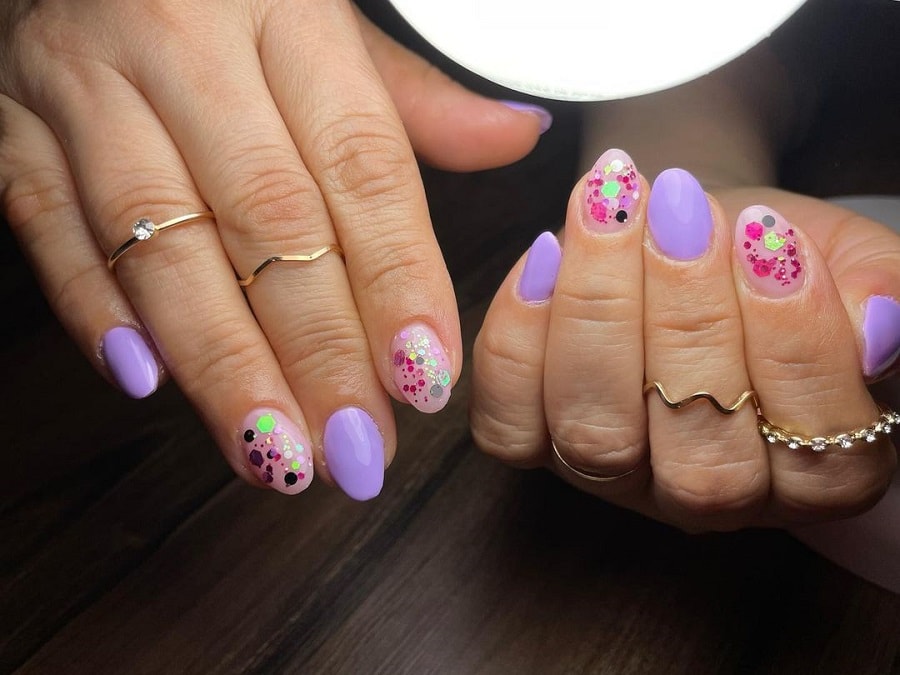 Another cute and feminine lavender nail design to celebrate your womanhood. Pink and purple are one of the best color combinations loved by ladies and girls all over the world. Alternate light pink glitter nails with light purple ones and you'll definitely love it!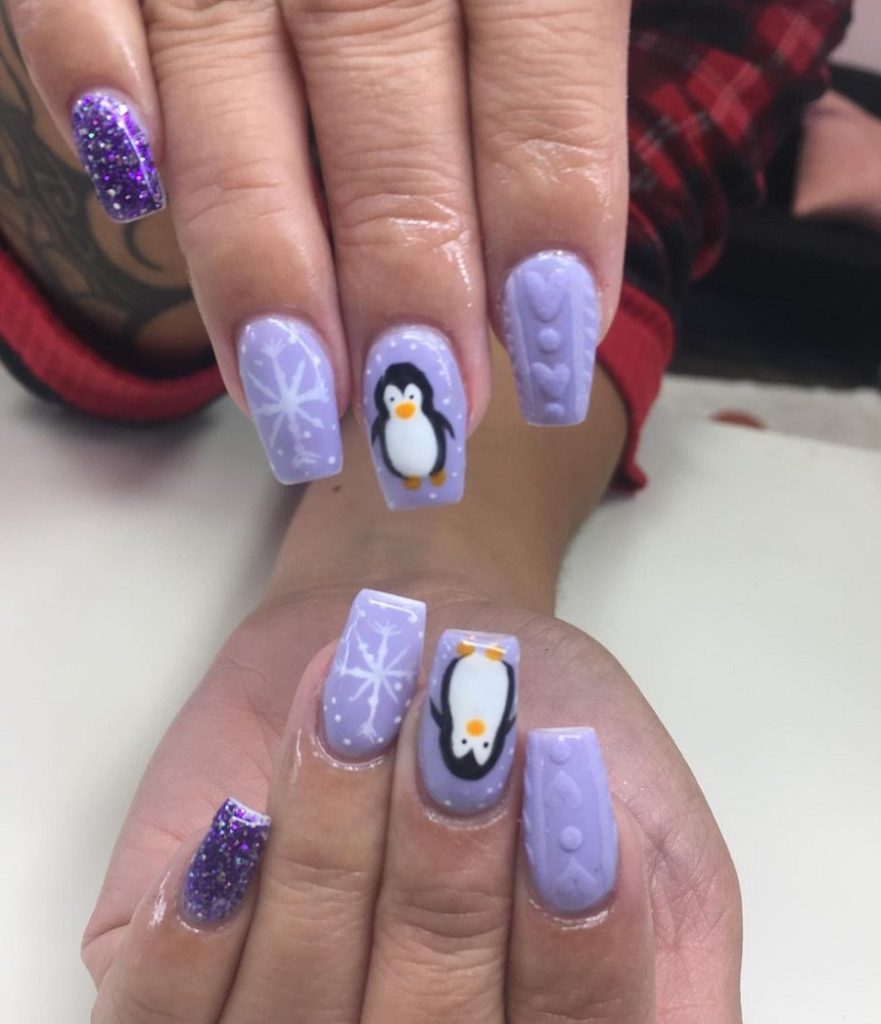 Lavender nails are preferably rocked during the spring and summer seasons but make an ideal winter manicure too. Draw your favorite sweater pattern using gel polish with clear acrylic powder on top. Finish off with a cute penguin on one nail and snowflakes on another. Voila!
12. Black Leaves on Long Coffin Nails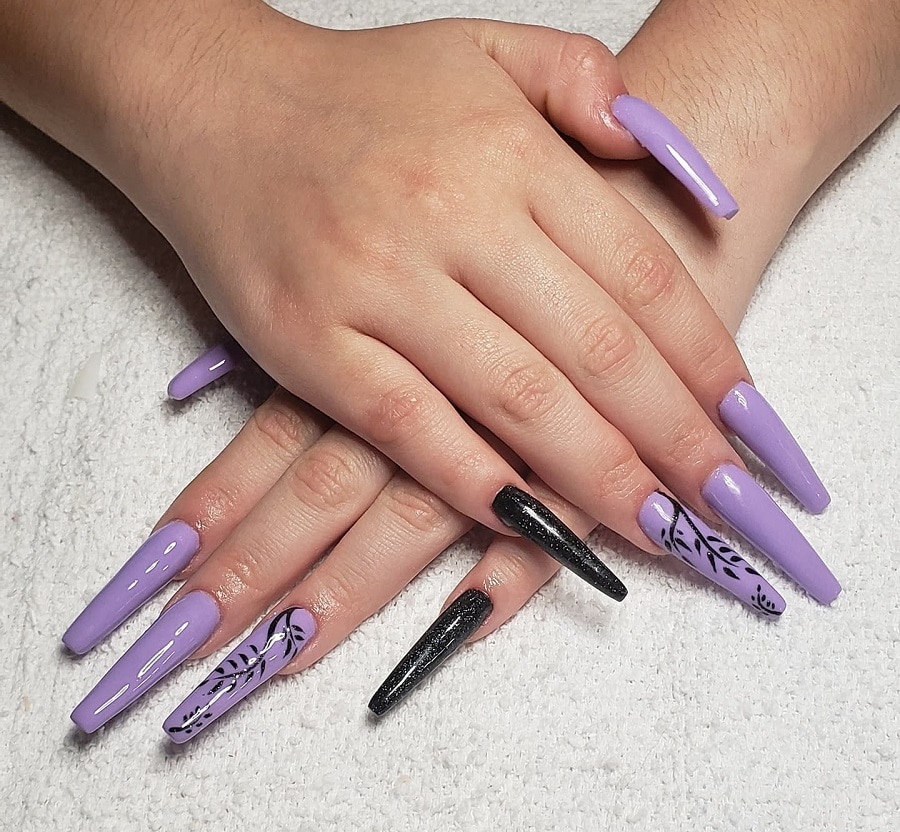 Add some black to your super long rounded lavender coffin nails to end up with a bold color combo that won't be ignored for sure. Paint one nail with black glitter polish and use a thin brush to draw some leaves and branches on the accent nail.
13. Dreamy Lavender Pedicure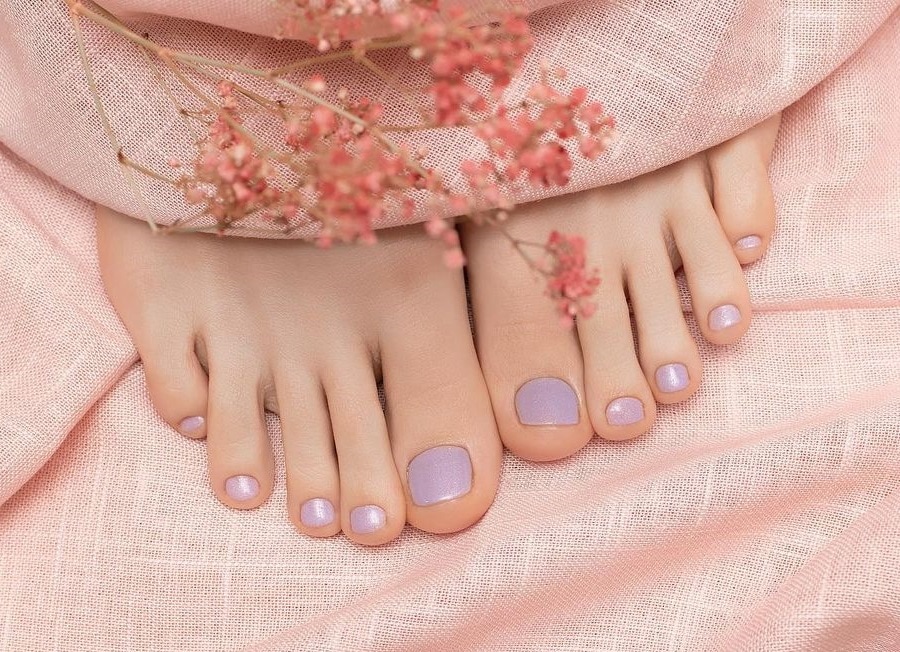 Your toenails deserve a makeover too especially during the warmer season when they're going to peep out of your summer footwear. File and buff your nail beds before painting them with a lavender nail polish. Rub some translucent chrome powder on top and you won't regret it.
14. Picture-Perfect Gradient Nails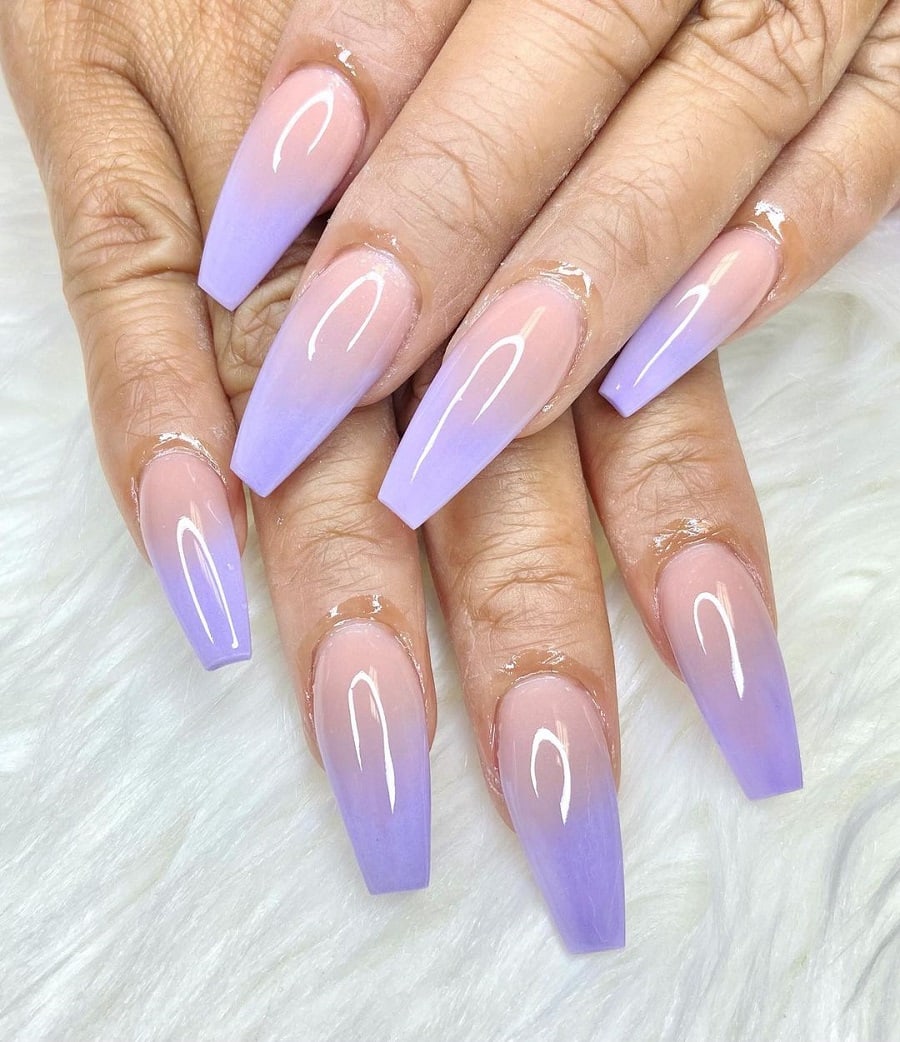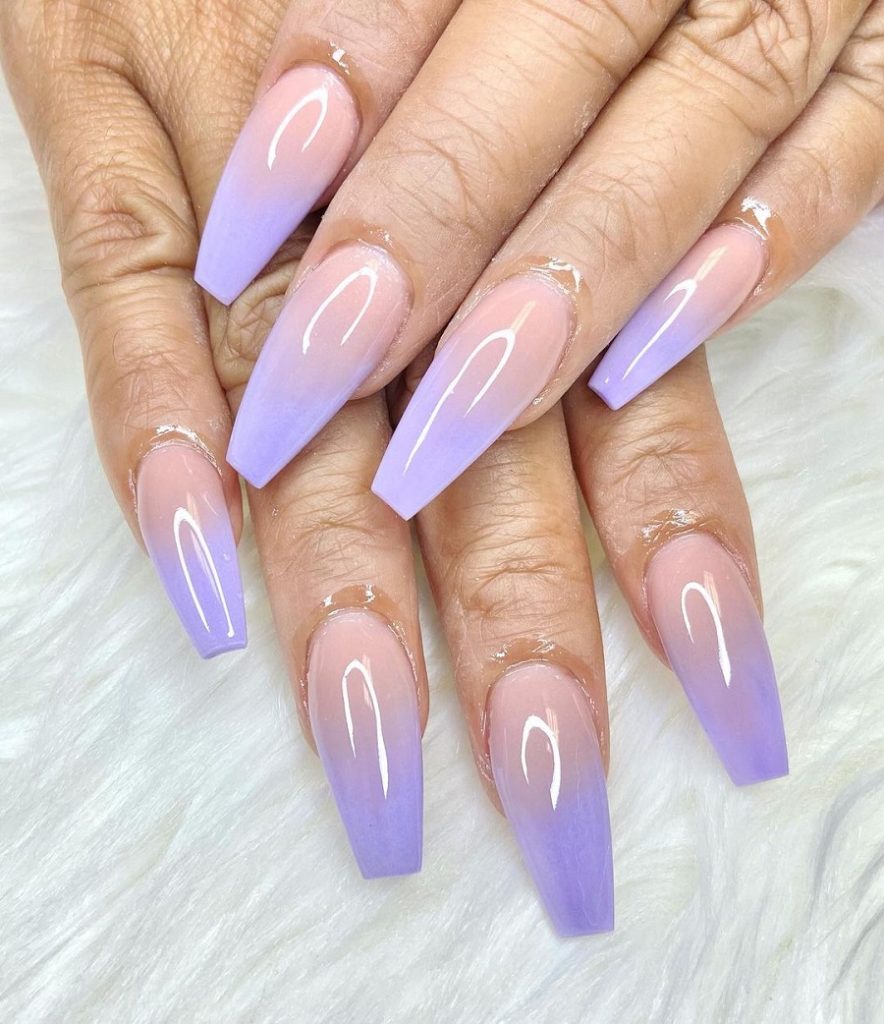 Set your coffin nails on fire by coupling a pastel pink color with a light lavender tinge. Place the two colors on a sponge and dab them all over the nails to achieve a seamless ombre effect. You can opt for a vertical or horizontal transition. The choice is yours!
15. Sparkling Rhinestones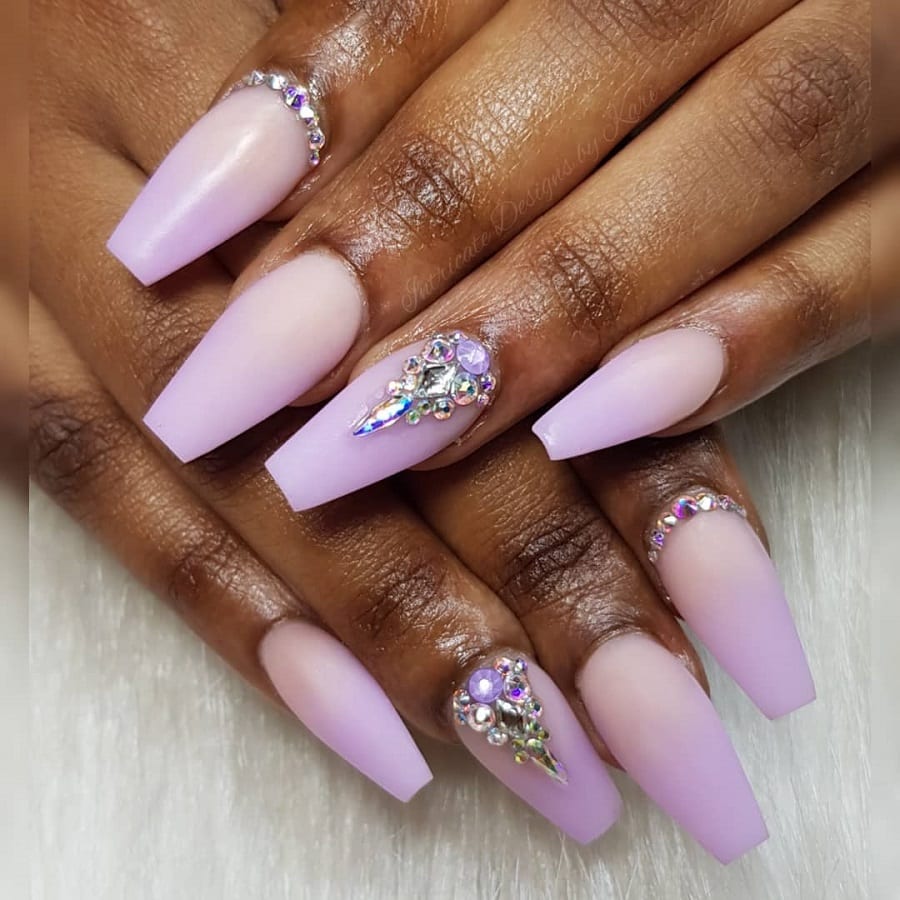 Ladies who like to go a bit fancy can consider this embellished lavender nail design without worry. The matte nails feature a pink-to-purple gradient that is barely noticeable accompanied by sparkling rhinestones on top. Use gems that give off a pink and purple shine for the best results.
16. Meaningful Patterns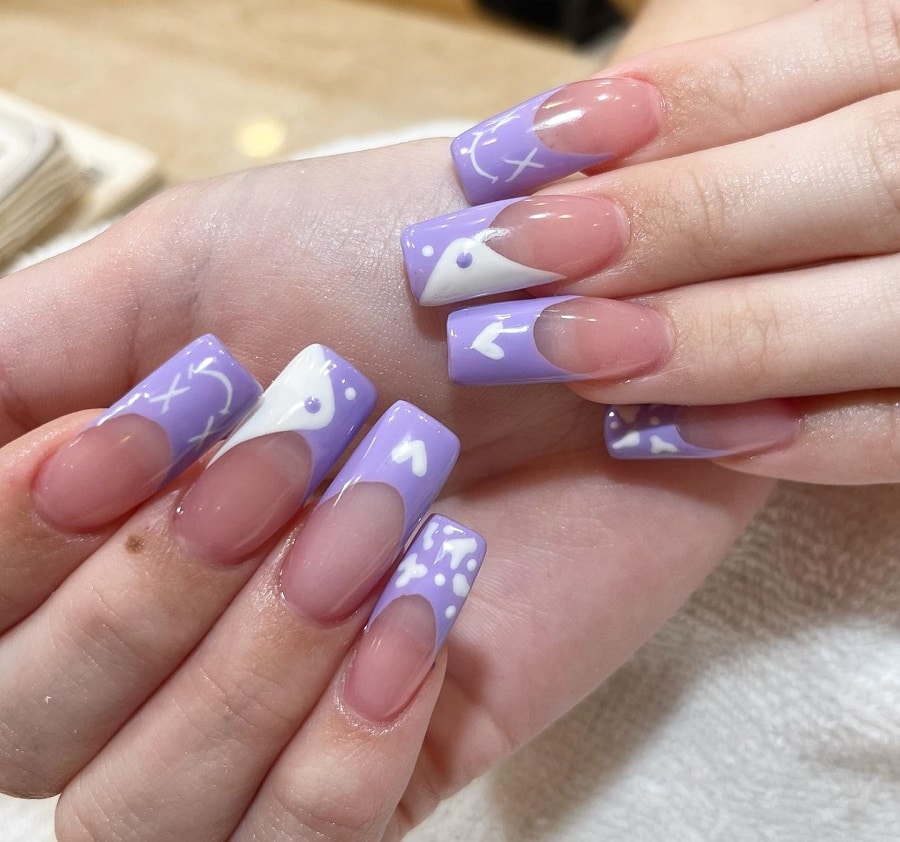 Turn your long French nails into one of a kind with just a little creativity.  Draw meaningful designs on the margins like hearts, animal skin patterns, funny faces, and a cute lavender and white yin-yang too! Dotting tools and fine brushes are all you need!
17. Hint of Gold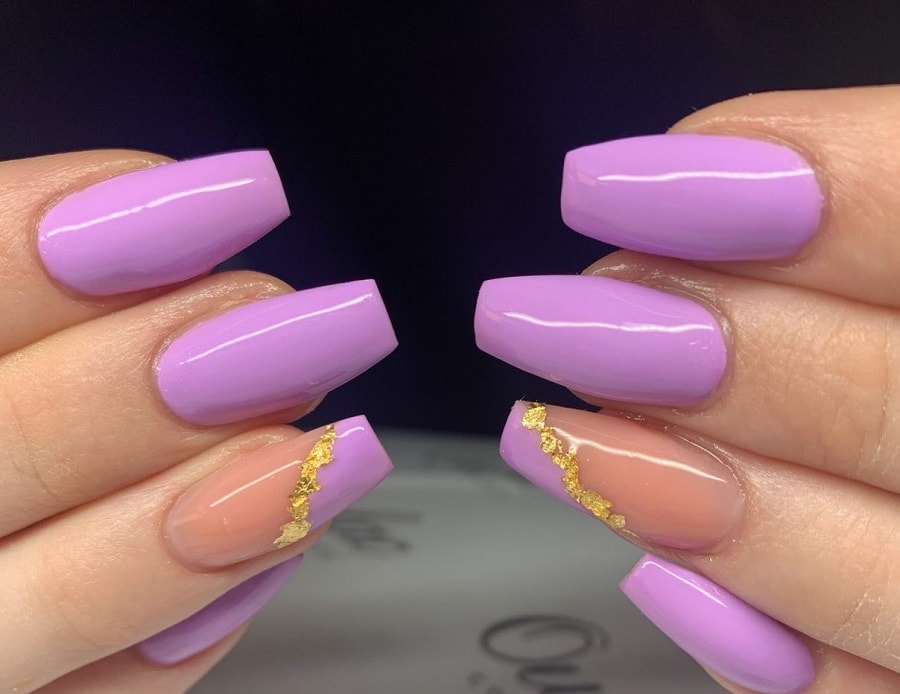 Decorate your solid-colored nails with some shimmering gold foil for a luxurious look. Opt for a diagonal lavender French tip and add bits of gold along the borderline. Repeat for other nails or leave them simple. Seal everything in place with a top coat.
18. Statement Lavender Nails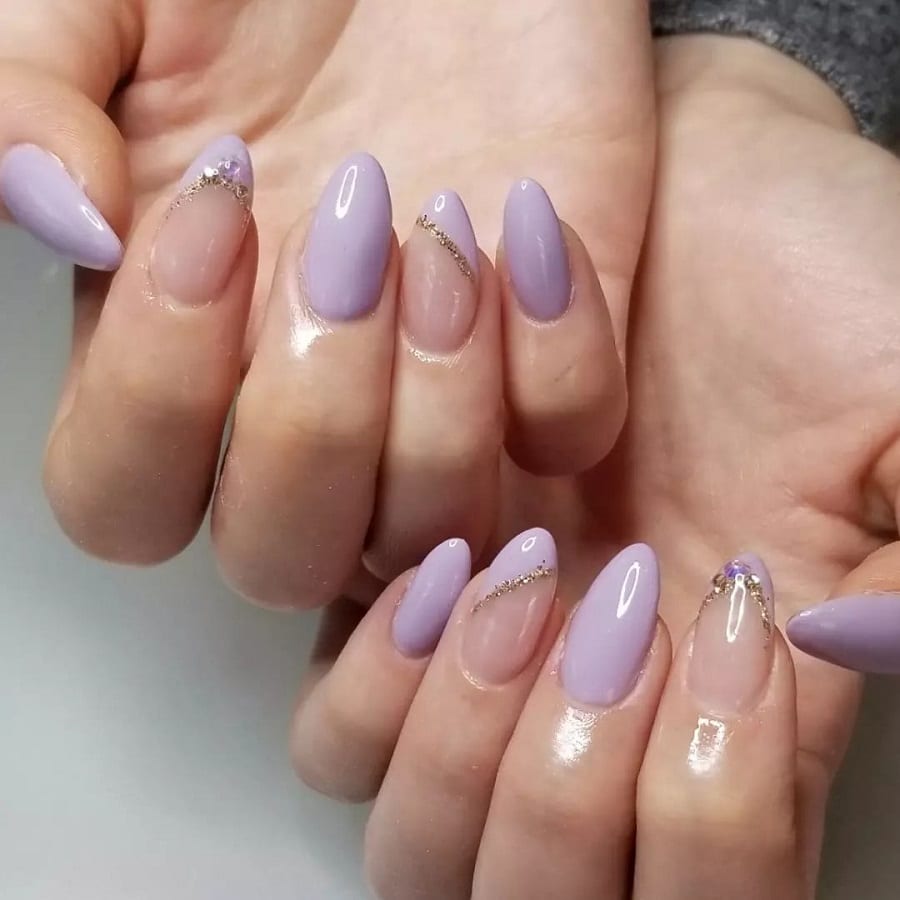 Those who don't like the look of lavender with gold can couple it with silver instead. Make a style statement by opting for French tips, diagonal tips, and plain nails, and adorn them with sparkling glitter and a few gems near the top.
19. Marble Effect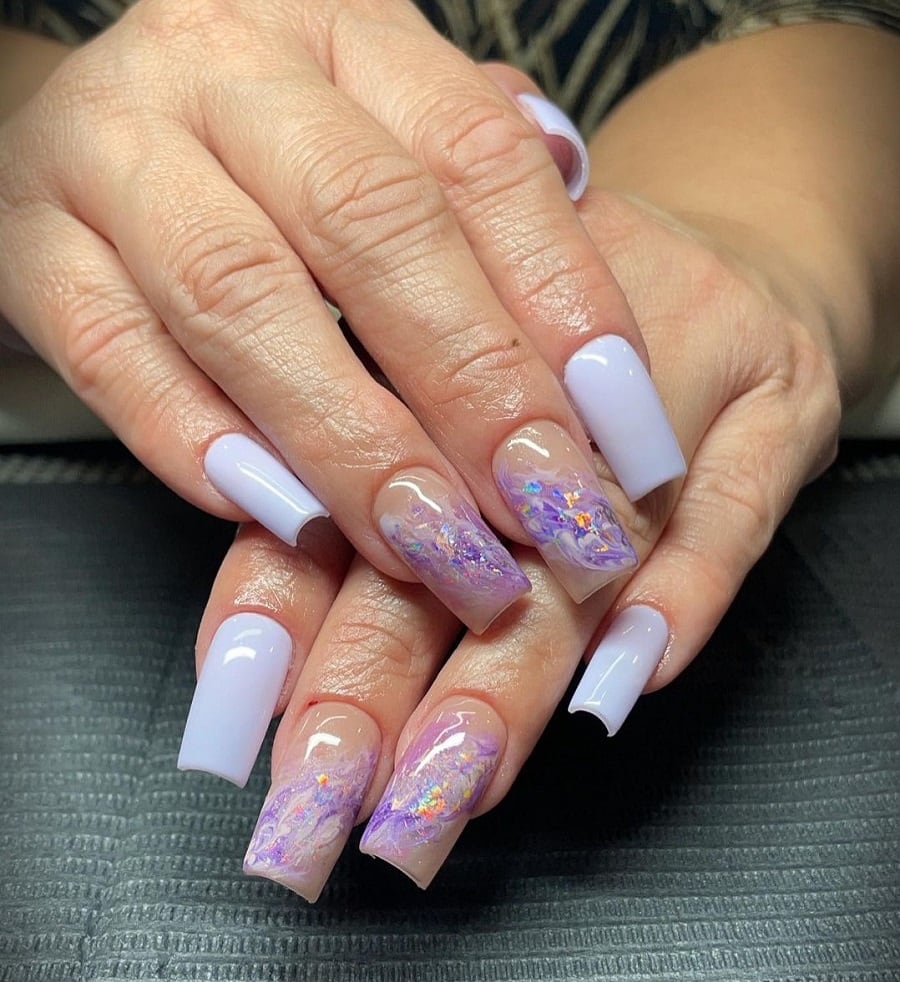 Here's a detailed lavender nail design to make your nails look like tiny pieces of marble. Mix purple, lavender, and white polish with thinner to draw random lines on a nude base that'll spread out on their own, or try the water marble technique instead. Finish off with some iridescent glitter.   
20. Extra Bling Almond Nails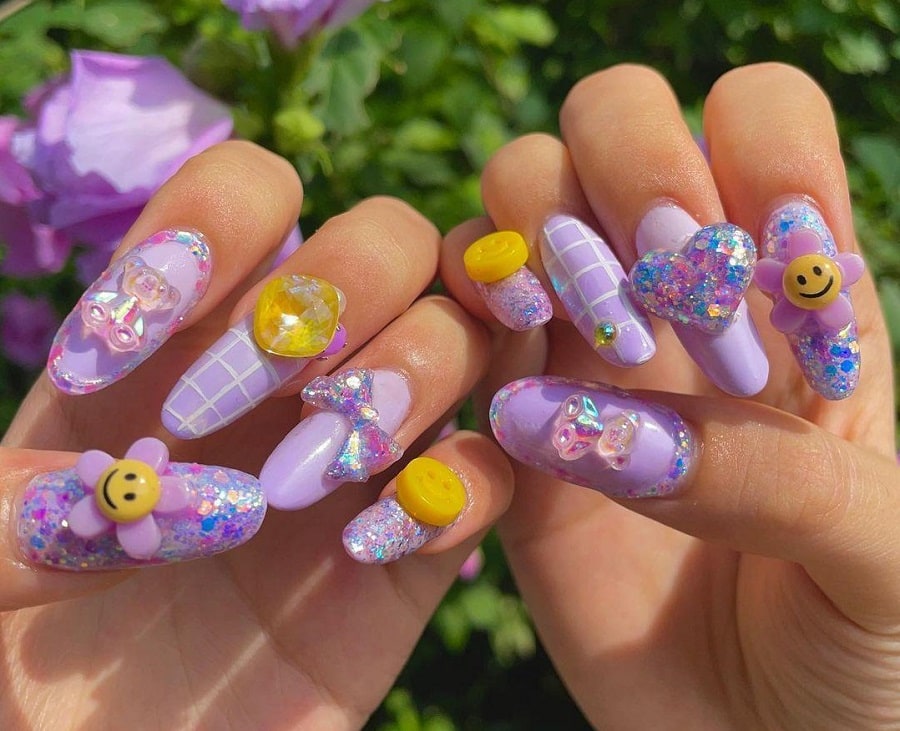 Can't take your eyes off it, right? Gather all of your favorite charms in whatever color like bow knots, smileys, teddy bears, and hearts, and place them on top of your glittery lavender nails. Make sure to secure everything in place with glue until no more space is left!
The lavender nail designs enlisted above prove that you can do anything when it comes to sporting this cool color on your fingertips. Whether you opt for minimalistic patterns or go a little wild with gems and charms, you are always going to end up with an elegant manicure. That's the beauty of lavender!