If you want to get gel nails for dark skin, you are on the right side of the internet. Your rich melanin skin needs a show-off, and you can do so by wearing the most fitting colors. And we're not only talking about fabrics and clothes that suit you but also about your hands.
A woman's hands say a lot about their personality, the way they carry themselves, and their passions. So your nails are just like a door open to your soul.
Best Gel Nails for Dark Skin
Therefore, you must choose the right shades and colors, to gain that dazzling effect that a manicure can have.
The colors that will do you more justice are shades of purple, green, teal, and red. Creating contrast can also be a fabulous way to make your manicure look absolutely outstanding.
In the article below, we have prepared for you ten ideas that will be stuck in your mind until your next nail tech appointment. So check out the best gel nails below for dark skin and get the one that suits you best!
1. Yellow Coffin Shaped Nails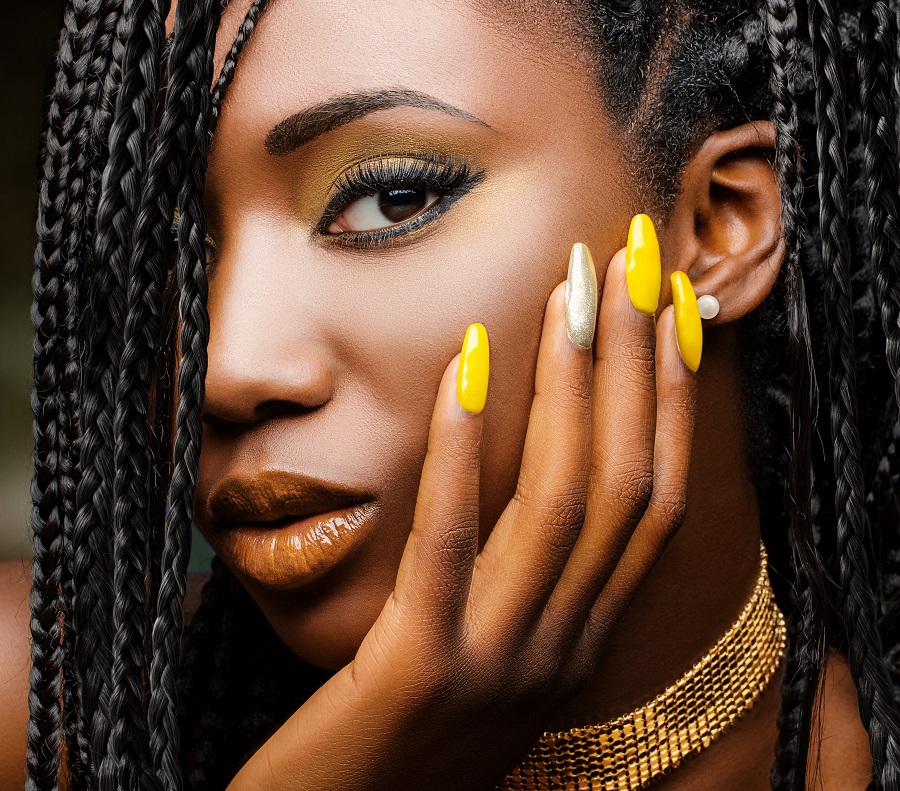 Among the most beloved gel nail ideas for dark skin, you can find a manicure with an almond shape and bright electric yellow.
Trim your cuticles to get that flawless look, and paint the ring fingernail with a glittery white that backs up that contrast.
2. Royal Blue Nails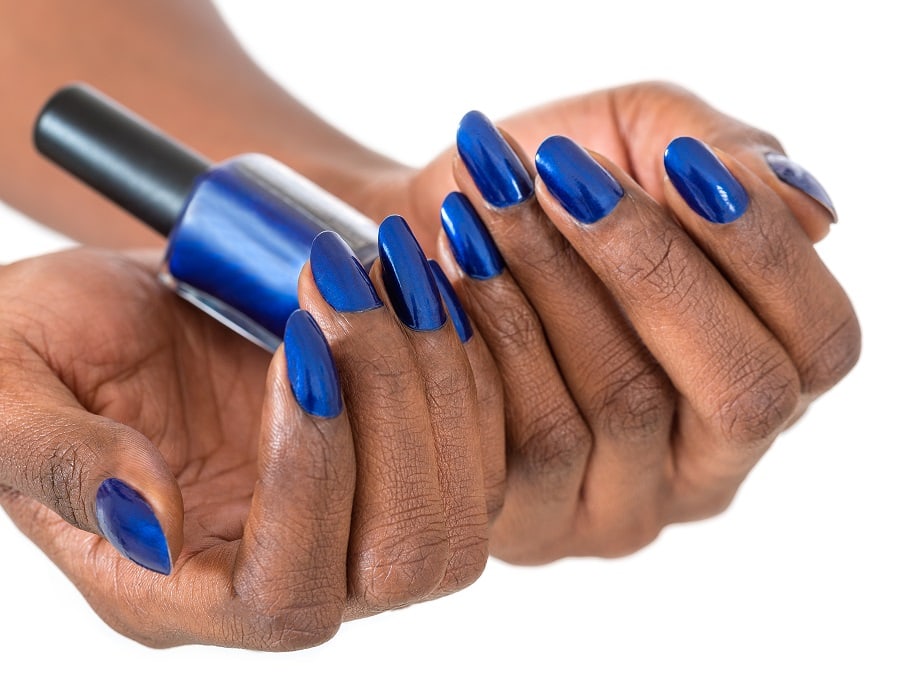 Metallic royal blue medium nails are one of the most efficient ways to add value to your dark skin. The color is deep, impressive, and glamorous, suitable for fancy outfits, and for women who don't want too many patterns and decorations.
Such a shade of blue has that instant effect, no matter your age and skin color.
3. Red and Gold Square Nails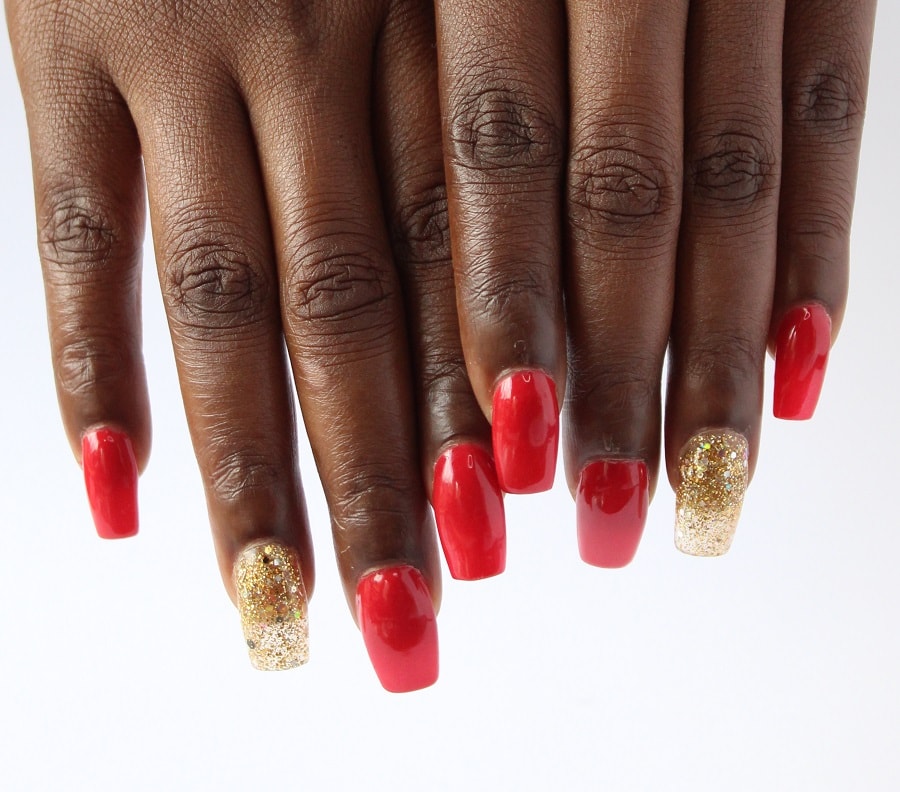 That vivid red is totally eye-catching, but the trick and the focus of this outstanding manicure lie in the mix between the fierce red and sparkling gold glitter.
To create that see-through nail, you must add tips and apply them perfectly, so the nail doesn't thicken too much.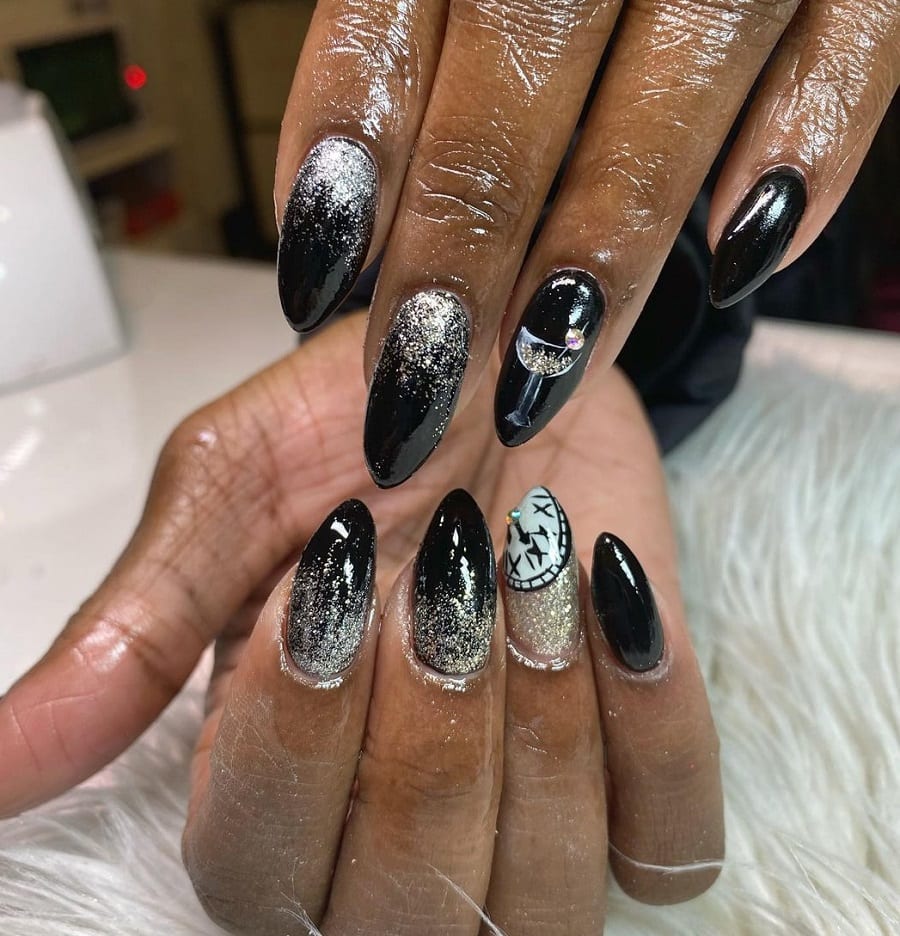 Black gel nails on dark skin are so versatile and can be decorated in such a stunning way with silver glitter.
Give those nails a slightly pointy shape. Apply the glittery powder at the base of the nail, creating a sparkling ombre.
5. Multicolored Gel Nails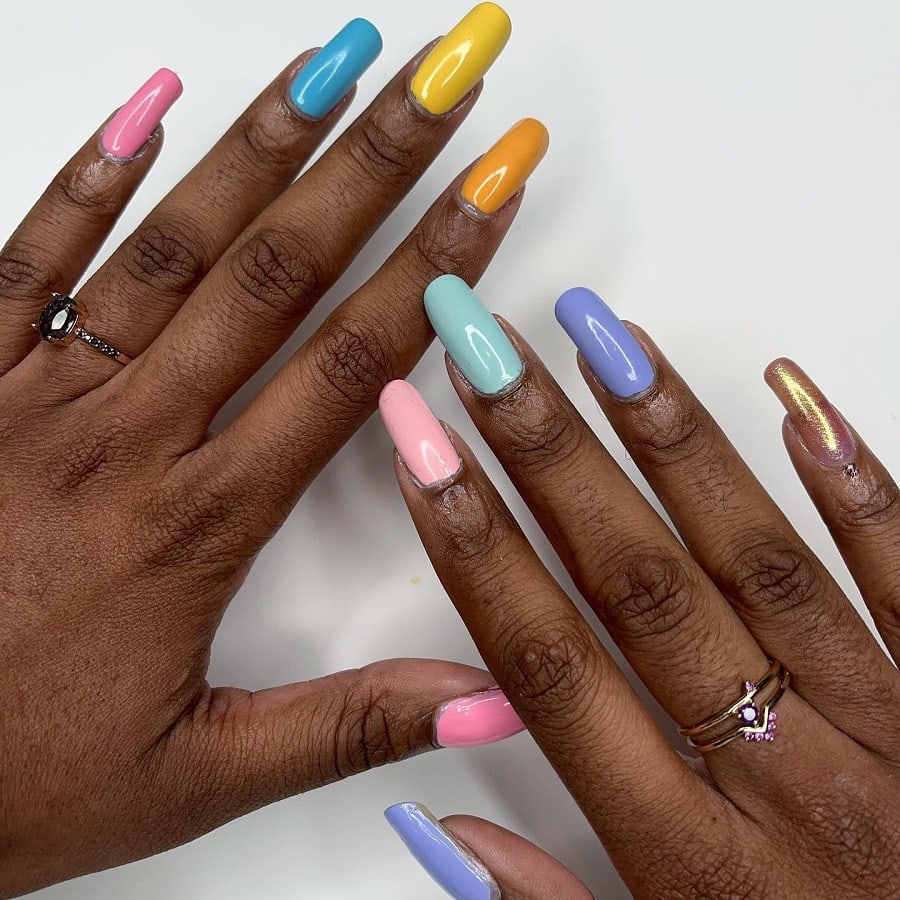 Pastel bright colors are among the trendiest manicure style this year. Mix different nuances and hues and give your hands that joyful and colored tone.
To spice things up, you can go for a textured sparkling golden polish for the pinky.
6. French Mani for Square Nails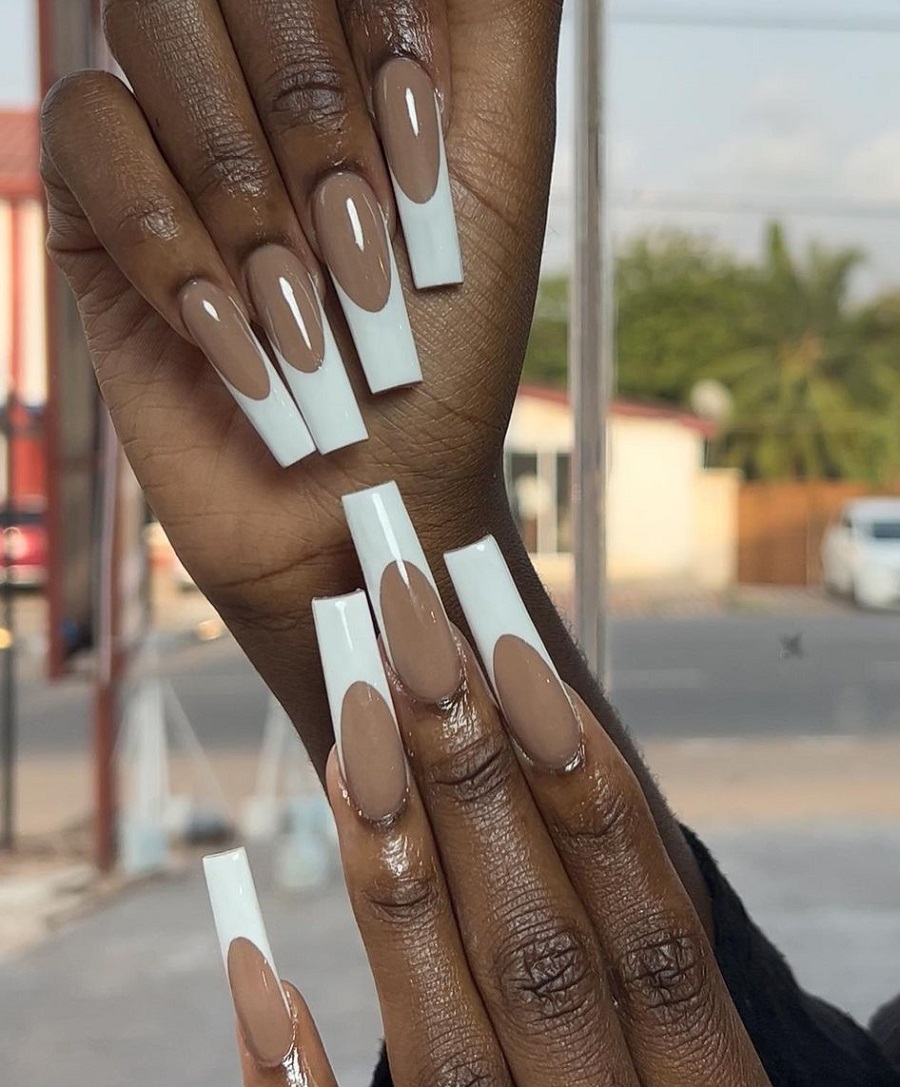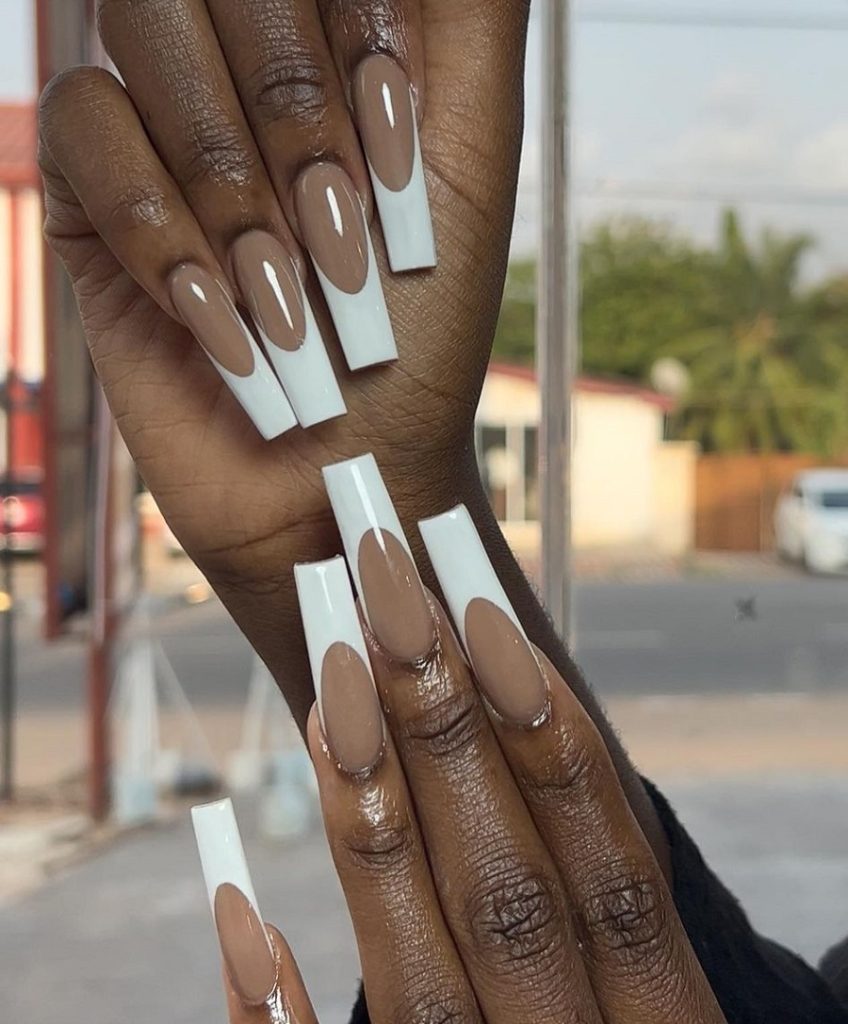 Want a manicure that makes a great statement? Then choose ultra-long acrylic gel nails with a French design. You can construct the nails on your own or use tips.
Make sure the white portion has almost the same length as the coffee-painted bottom.
7. Baby Pink Nails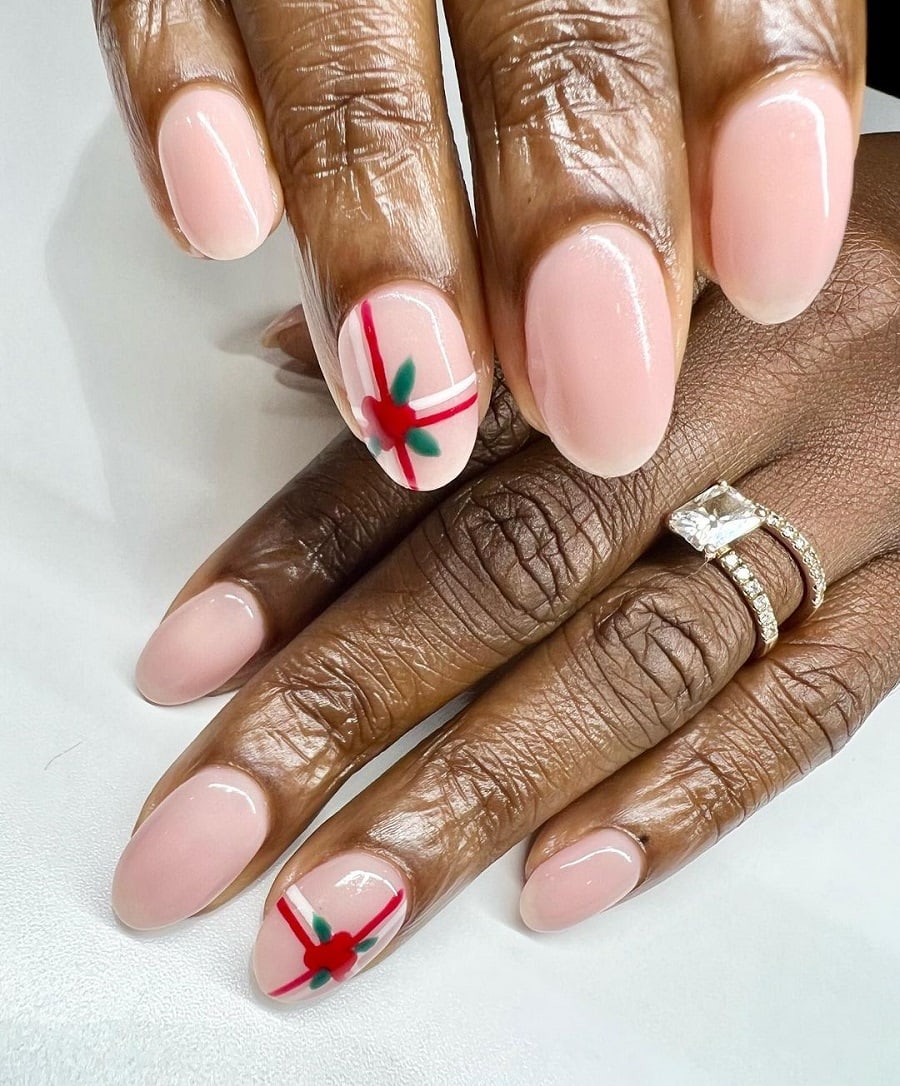 Baby pink gel nails for dark skin are some of the best options for a ravissant and elegant manicure. Keep your nails short, filed in a rounded shape, and decorate only one fingernail with red and white lines and a flower with small green leaves.
8. Glittery Orange Nails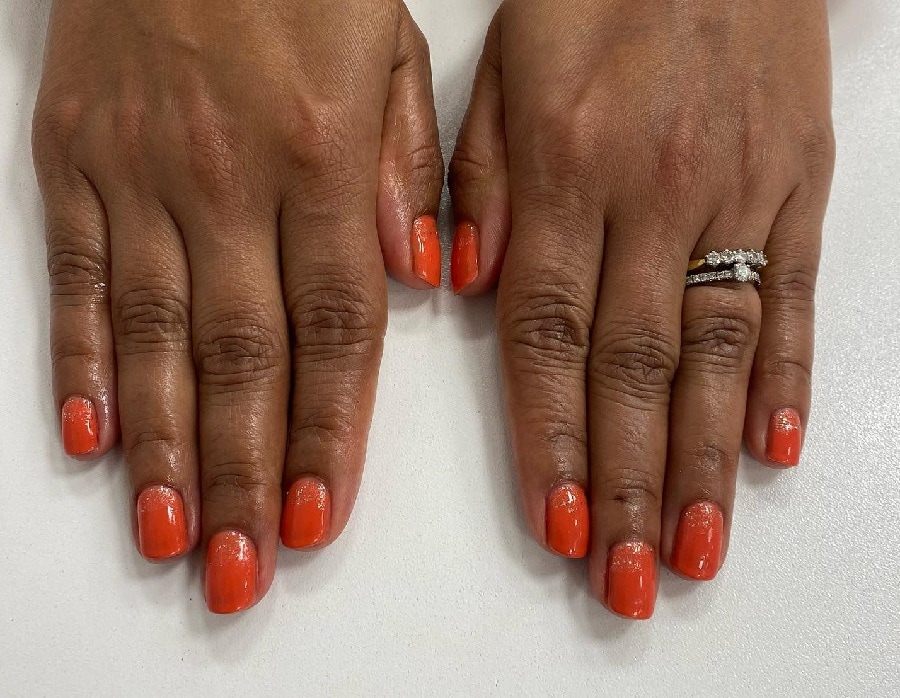 Orange nail polish is also one of the best colors for dark skin because it shows off the warmth of your skin. If you find a simple gel polish too dull, you can add some glitter at the base.
9. Nature Look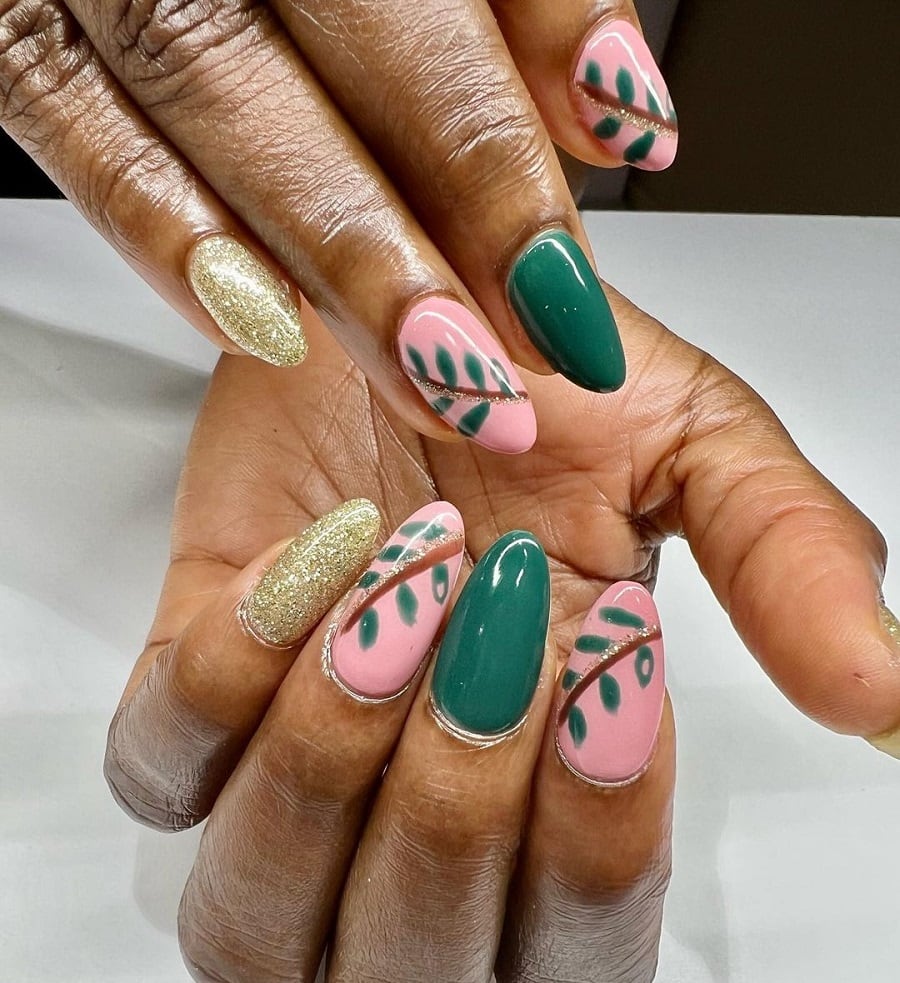 Combining several colors is excellent if you're craving a delicate mani with a beautiful design. Choose an almond shape and a baby pink nuance and get simple leaves design. Add some sparkles and complete the look with an entire golden nail.
10. Abstract French Mani
A simple French manicure can become an abstract piece of art for women with on dark skin. Gel nails that use a warm peach color can be decorated with black points and lines, outlines, and a sparkling glittery line.
Some of the best gel nails on dark skin are colorful, ultralong, and vibrant. But that doesn't mean you can't find more delicate options! Follow the tricks and tips this article provides and choose nuances that work to your advantage. Enjoy a stunning, long-lasting manicure that flatters you!