It is quite hard to choose only one nail polish color to go with when you are getting your nails manicured, am I right? But hey, listen, that's not your problem if you are an indecisive woman! The problem is in the system and the beauty factories. Drugstores are creating a lot of pretty new nail polish colors each and every day and making it practically impossible for us to choose. Oh, decision decisions.
What Nail Color Should You Pick?
Well, before we answer your question, you must answer a few of ours.
1. What are you getting them for?
2. What color is your favorite color?
3. What color is your least favorite one?
Now, after you've been truthful to yourself here is what you'll do next. If you are going to get them colored for a special occasion that you will be attending, you will look for your nails under that category. If you are getting them colored just for fun, check out the second heading where you can choose between ten of your favorite colors. Also, the colors you choose will tell a lot about you and the choice you've made. And if you are trying to avoid some specific colors because you are not a fan of them, then don't read those paragraphs where your unloved colors are mentioned. Got it? Good, now let's get down to business.
Different Nail Design Ideas for Different Occassions:
Prom
The most common period of time when girls tend to go a bit extra with their nails is their prom, but hey, who could judge them? Prom is a very important and special event in your lifetime and you deserve well polished and stunning nails. You should color your nails and accessorize them pretty much like in this picture, that is if your dress is somewhat near these color schemes. If your prom dress isn't as sparkly and pink, that's fine. This nail design, as well as the lighter colors, is the ultimate and perfect prom nail color to go for.
Birthday Party
You should color your nails something vivid, bold and fun if you are attending any type of a birthday party. Long nails with some dramatic colors are telling a lot about your personality, and that you are a party animal. Since the occasion you are attending is a birthday party, color your nails either blue or white, as a symbol of rebirth and infinite royal beauty.
Concert
Are you a real party hard animal? Coachella is a must go every year? When you are attending any type of a festival you want to be bold, edgy and noticed? Say no more, because these colorful nails are screaming you, and will bring you happiness and joy, as well as a guarantee for a good time if you go with them as your painted goodies. Make sure to match them with a smile on your face!
Job Interview
The appearance when meeting someone, especially in a business world, is a big thing. Your first job, as well as your job interviews, need to be done in the most formal way possible. We believe that a classic short French manicure is the best choice when coloring your nails for this occasion. They are the ultimate smart nails, look elegant, and will help you get the job when shaking hands in the meetings.
Vacation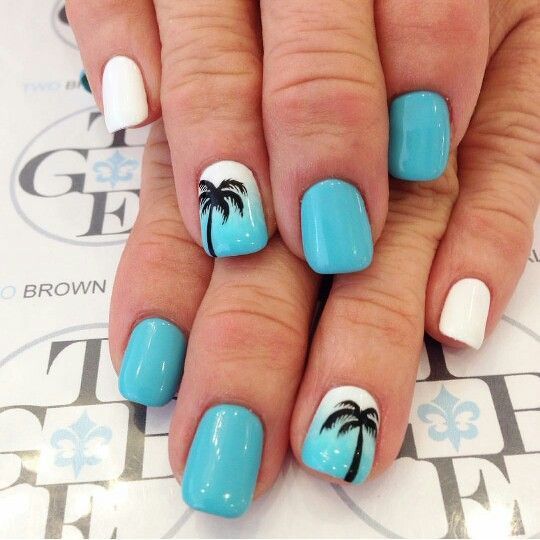 If you are off to a beach for your summer holiday, you know that the blue color is unavoidable. Pretty blue manicure with some hints of white or even yellow tones is perfect for the hot steamy days that you will be spending at the beach.
Go With These If Your Favorite Color is:
#1: White
White nails are a representation of something pure, clean, and new. White nail colors should be your choice if that is your favorite color, but as well if you are off to a wedding or if you want to have a nice contrast when you are back from the holidays, and you have that pretty tan going on. These nails are also giving out some information about you, and they say that you are a fan of minimalism, you care about others, and you are a really chill down and laid back person.
#2: Yellow
The yellow color is telling us that you love to smile a lot, and in general that you are a cheerful person. You should go with the yellow color if you consider yourself an optimist, a hyper person, and an honest one. Yellow color also looks nice on everyone, no matter if you have lighter skin tone or a darker one.
#3: Orange
Orange is the new black, a? You should paint your nails orange if you are creative and if you love to travel a lot. This color is the ultimate tropical one if you will. Women who paint their nails in orange are always in a good mood and like to have spontaneous fun. When paired with a right outfit combination these can have a full strike with men since these can look smoking hot.
#4: Red

The definition of passion is found in the red color. The color of love, passion, heat, and lust to be precise. Red can be your choice if you consider yourself a powerful woman who can conquer the world. Those Louboutin's don't have a red heel for no reason you know? Besides being the sexiest color, it is also the most popular and asked for worldwide.
#5: Pink
Pink color or baby pink will never be out of fashion. No matter where you are, what time of the day it is, what is the occasion you are attending, or how old you are, pink will always be a hit. Besides being so timeless, this color tells that you are an elegant and sophisticated woman. You are a real cutie pie with some elements of mystery and everlastingness.
#6: Green
Paint your nails green since this color stands for nature, fertility as well as harmony. This color also says that you are a real sweetheart with some chic moments. You are also caring, loving and you go along with everyone. You only see the good in people and you try to make piece wherever you go. Besides these facts, the green color is also a true hit when the summer arrives. Make sure to paint your nails green, or even neon green, if you are off to a beach and you will have a blast!
#7: Blue
Not only it stands for heaven and purity, the blue color is associated with faith, confidence, elegance, and loyality. No wonder the "royal blue" is called royal blue. Blue colored nails are such a statement color that women who are only loyal and bold will be able to wear. Always make sure to slay the blue nail polish with sass, because you are a true queen when rocking it.
#8: Purple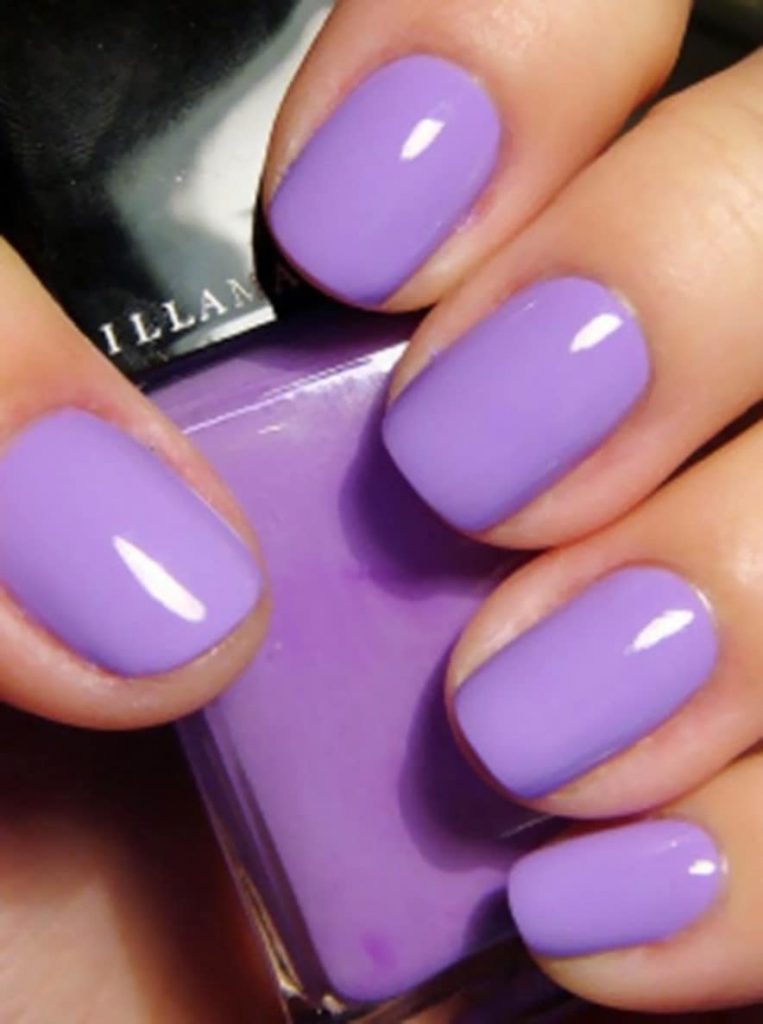 The color of mystery and creativity. You can't go wrong with the purple color. This color looks prettier on women with darker skin complexion, so keep that in mind. Also, one more fun fact. Did you know that almost 75 percent of pre-adolescent children prefer purple to all other colors? Do you remember your adolescents, and where you one of those? It would make sense because it is in a lighter spectrum and looks so nonviolent but perfectly violet.
#9: Brown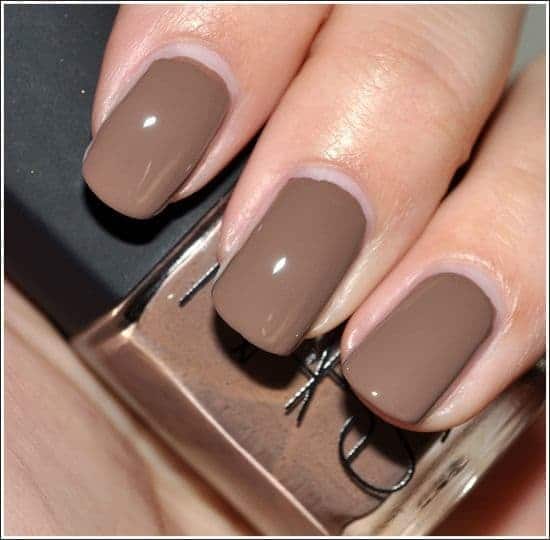 This color is the rarest one when it comes to nail manicures. It is a perfect nature color and says a lot about those who wear it. Since it is so rare, women who do go with it are considered as brave, bold, totally independent, and don't care about other people. They have a mind of their own and like to do everything at their own pace.
#10: Black
Elegance, formality, chicness, power; you name it! This color has it all. The most loved color worldwide because of its diversity. It can mean so much and stand for so many things while looking so casual. It is all about the details with this one. You can totally funk it up, make it elegant, or just super formal based on your wardrobe and accessories. Nevertheless your attitude! It is all about how you present yourself and how you wear it. So remember that if you choose to paint your nails black the next time.
As we said at the beginning, decisions, decisions. Sometimes it is harder to choose when there is so many options. But listen, you should make a list and make it simple and easy. Eliminate the colors one by one on off of your list by the simplest elimination process. Out of these ten colors, you are probably not going to love at least five of them. Give your most loved colors a chance so you can color your nails per your preferences. Hell why not, color every nail differently for the drama effect, or that is if you are too indecisive. The best part about this nail painting process is that you can switch them up any time you feel like it!