I don't know why I have a lot of interest in black and white nail designs! It is said that opposites attract and that's true because without opposites what do we really have left?
If you think about it this way, what's good without evil defying it with every shred and fiber in it, and what's light without darkness lurking in the shadows planning on taking over?
If you dig a little deeper you will realize that all of the things above that we praise lack any real value without their opposites. The same thing goes for black & white nail designs. They are the two totally opposite colors yet perfectly complementary to each other.
Most Fabulous Black & White Nail Design Ideas
Being the most contrasting colors on earth doesn't stop these two from being together! In fact, black and white nail designs have been widely popular ever since ancient manicure was born.
But why is that? Maybe, it is due to the fact that these styles are just suitable for everyone wearing anything at any time going anywhere!
Check out the list below made up of 60 different black & white stylish nail design options and get ready to look fabulous!
#1. Black and White Ombre Nails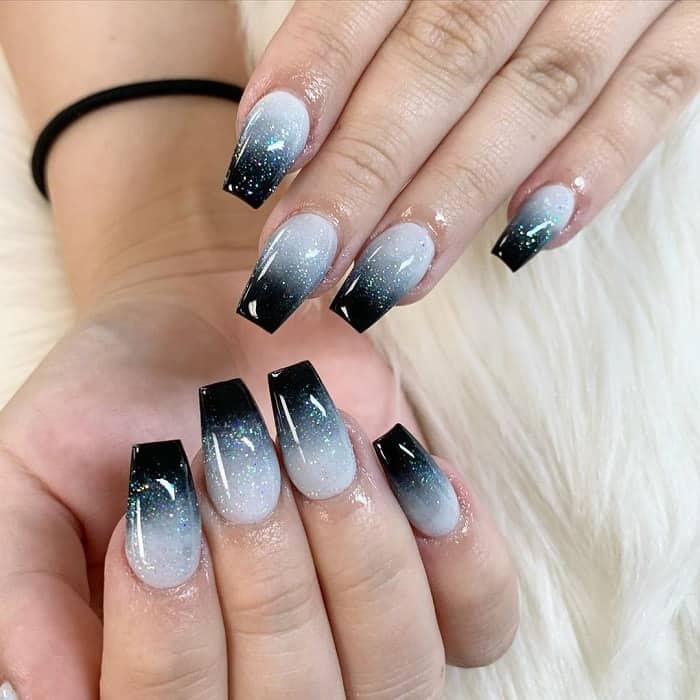 #2. Red+Black+White Combo
#3. Black & White Marble Nails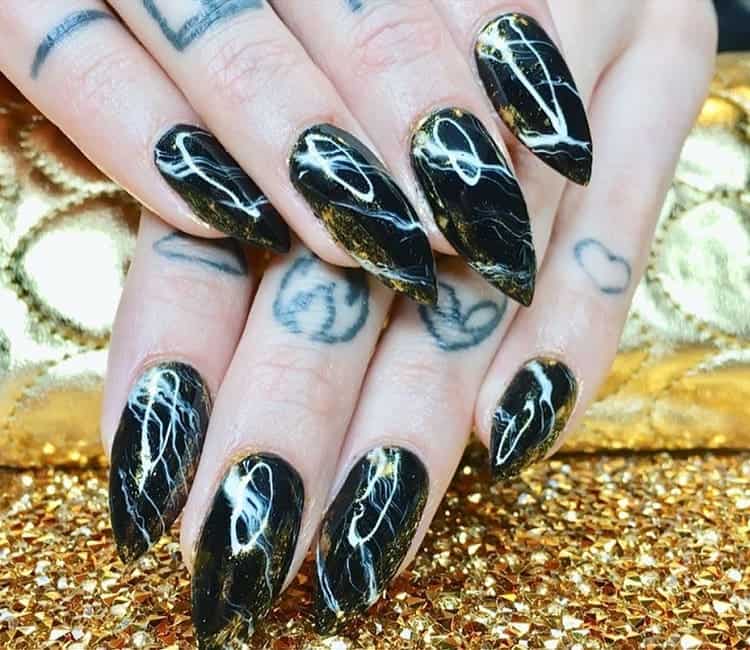 #4. Black and White Striped Nails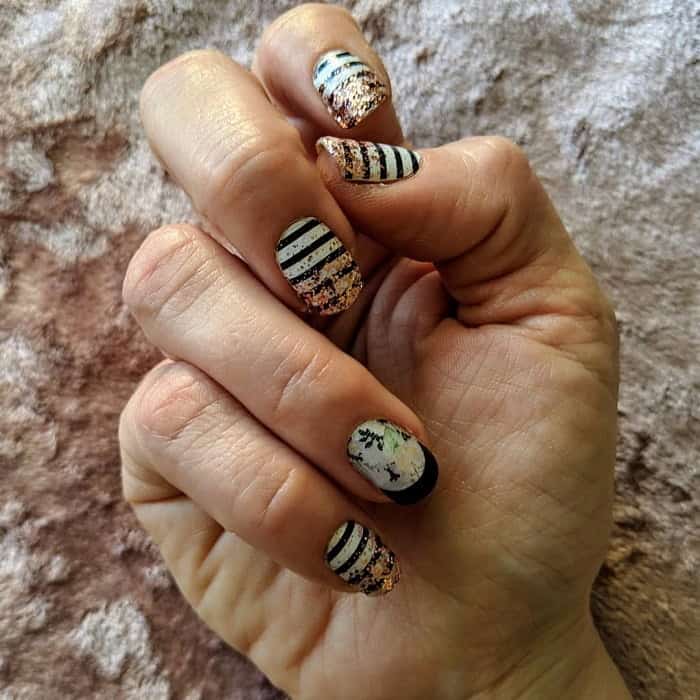 #5. Black and White Acrylic Nails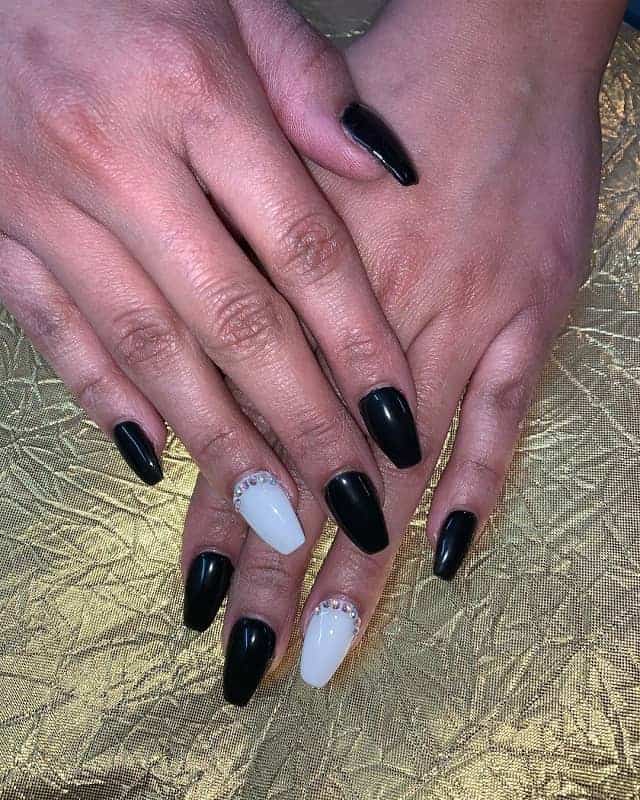 #6. Black+White+Gold Nails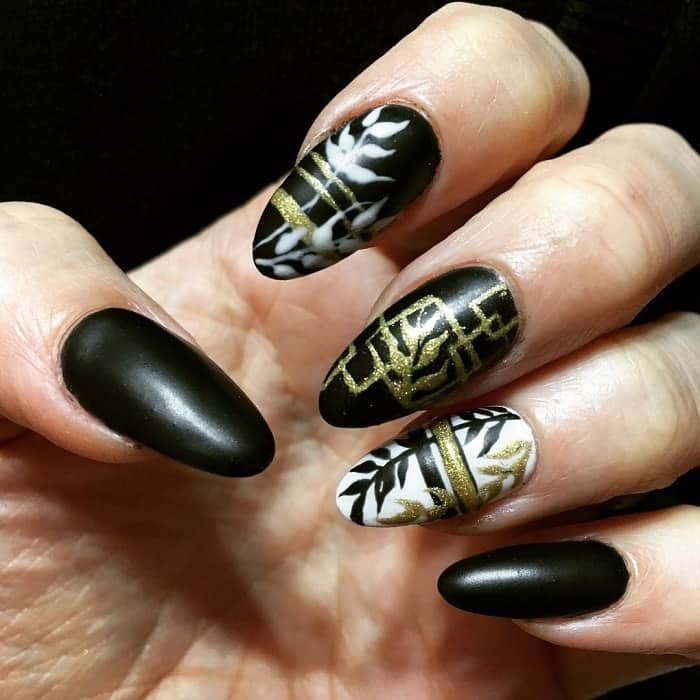 #7. Black & White Checkered Nails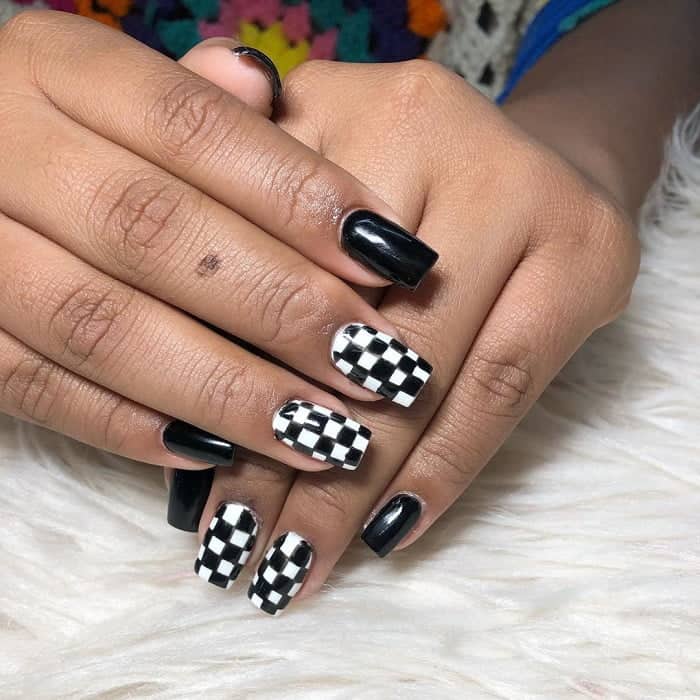 #8. Black and White Toe Nail Design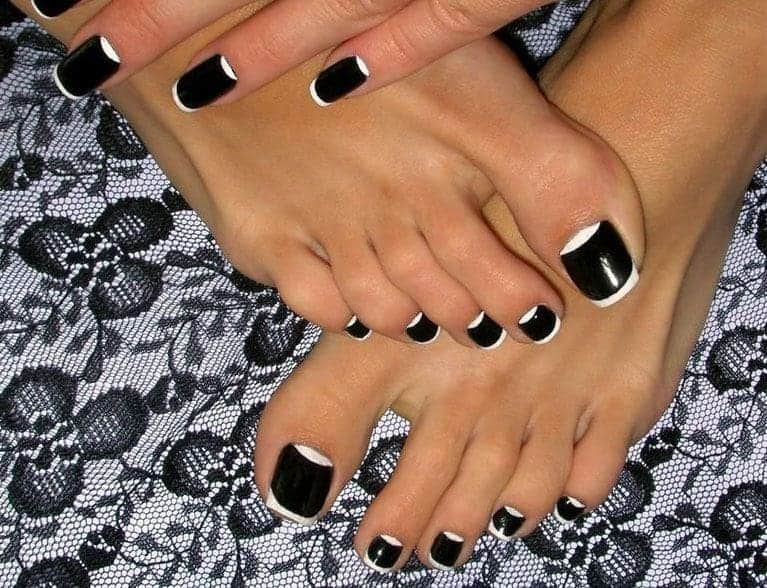 #9. Black, White & Silver Nails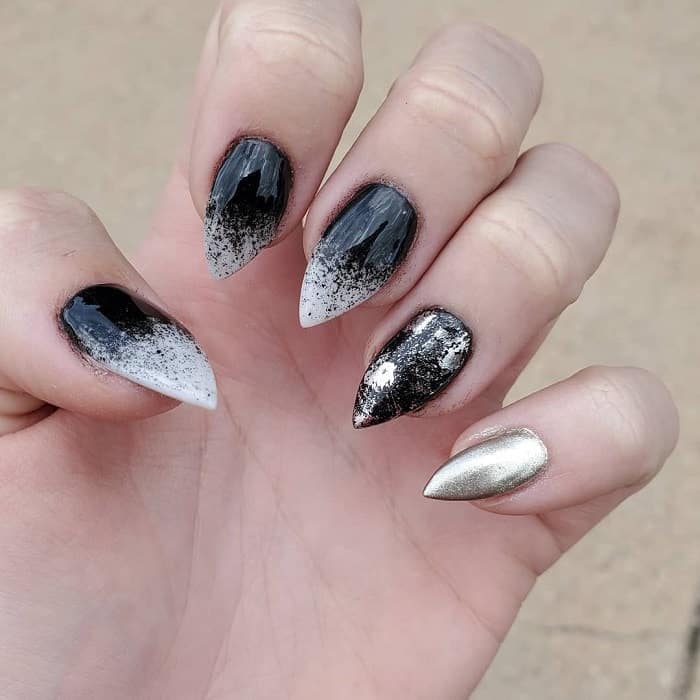 #10. Black and White Coffin Nails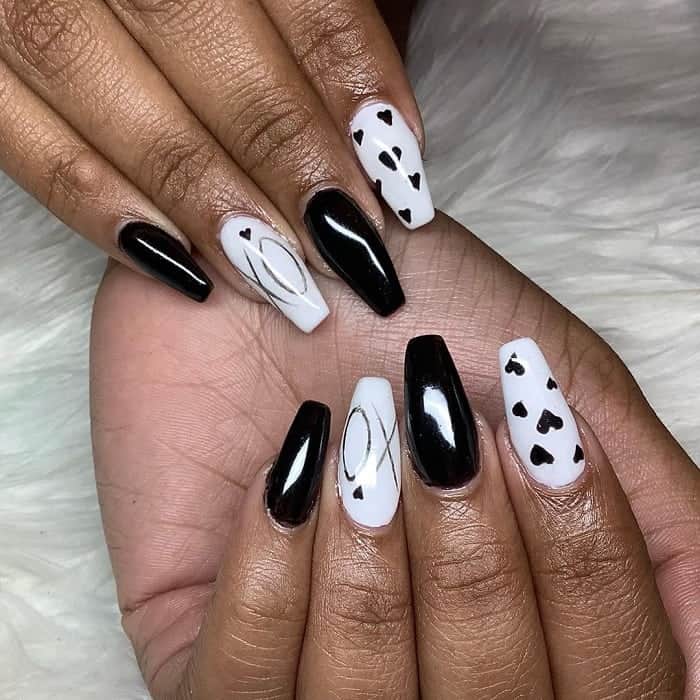 #11. Black and White Almond Nails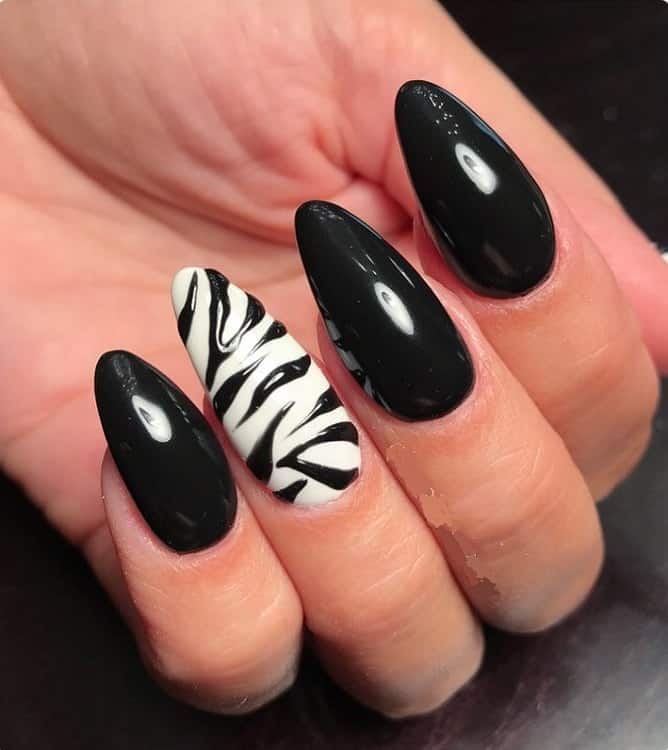 #12. Black and White Stiletto Nails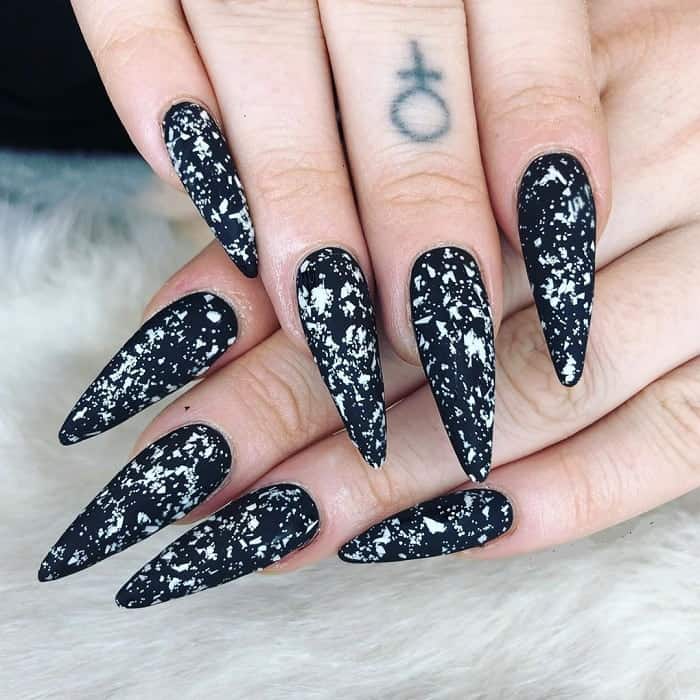 #13. Short Black and White Nails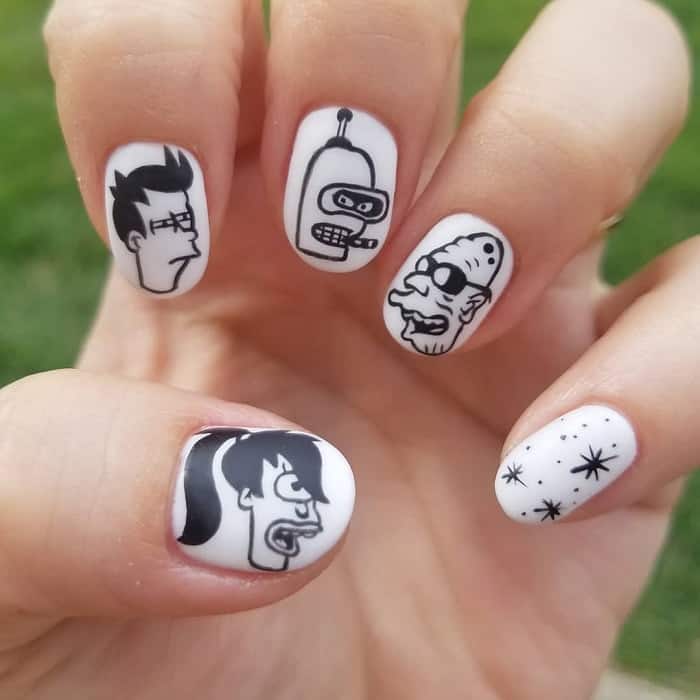 #14. Black and White Matte Nails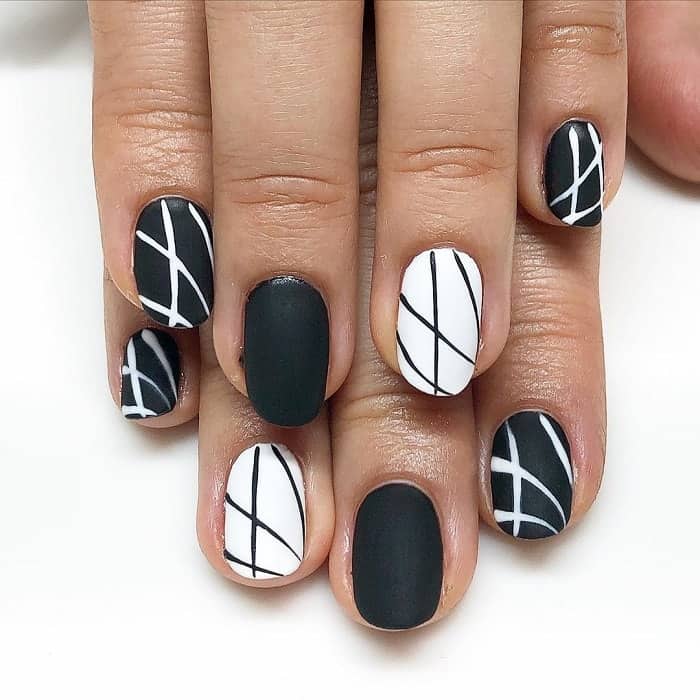 #15. Pink +Black + White Combo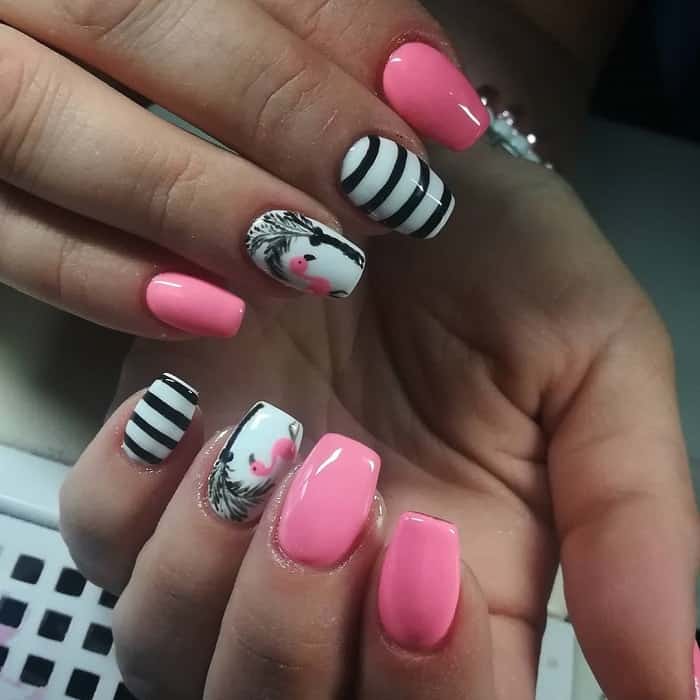 #16. Blue, Black & White Nail Design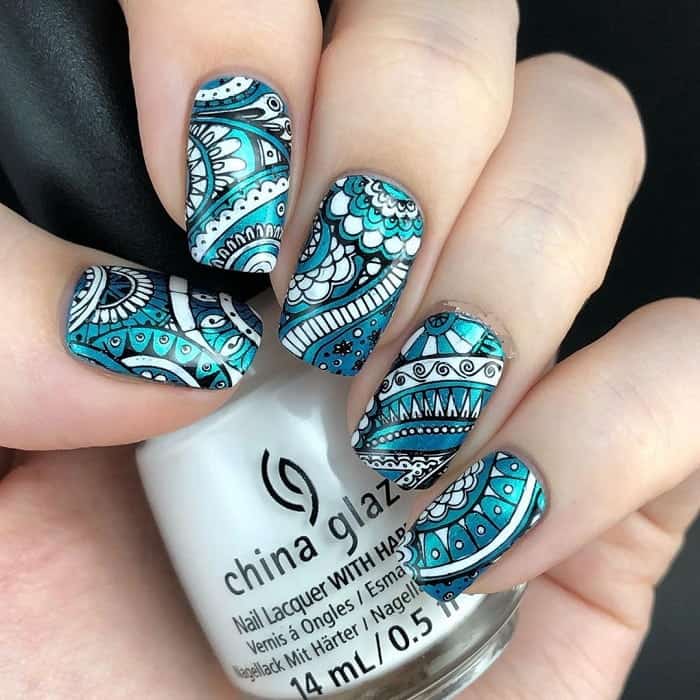 #17. Purple, Black and White Nails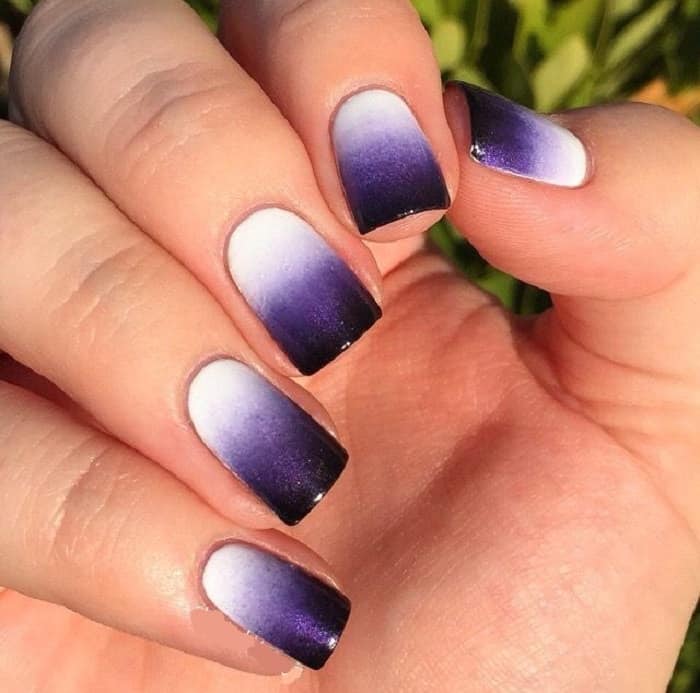 #18. Black and White 3d Nail Design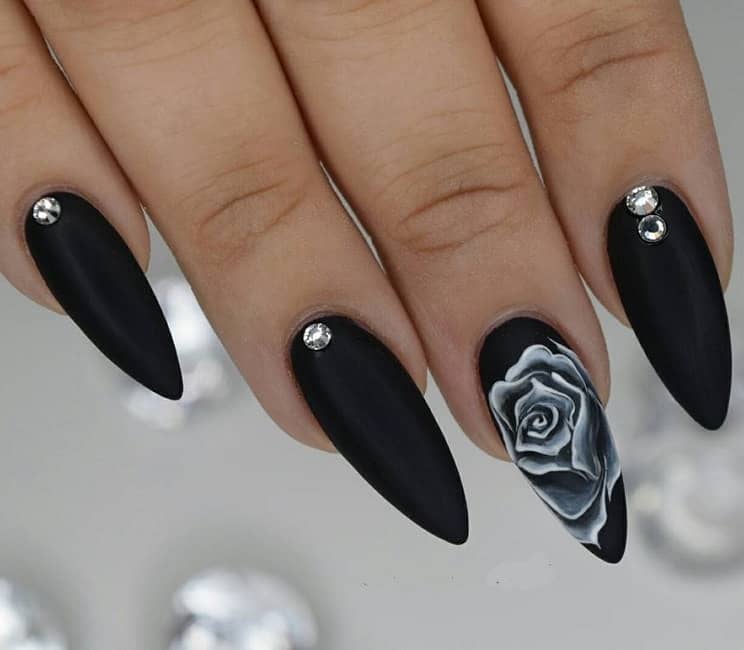 #19. Black and White Zebra Nail Art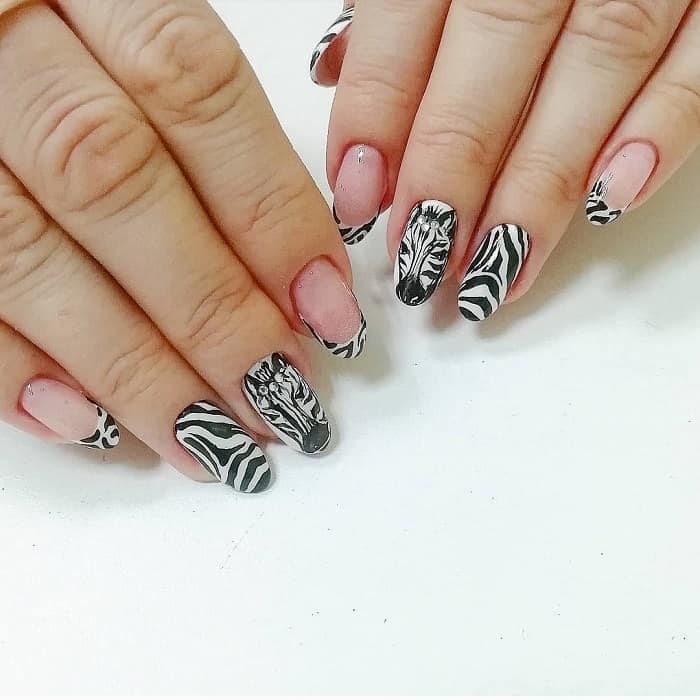 #20. Black and White Cheetah Print Nails
#21. Black and White Nails with Glitter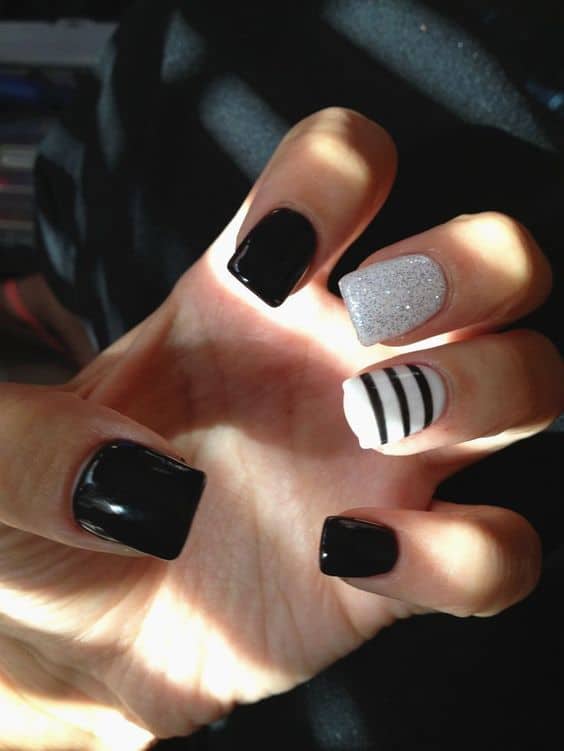 Square nails go best with long fingers and wide nail beds. Adopt a bumble-bee effect and stripe the accent nail to make it more memorable.
#22. Floral Attempt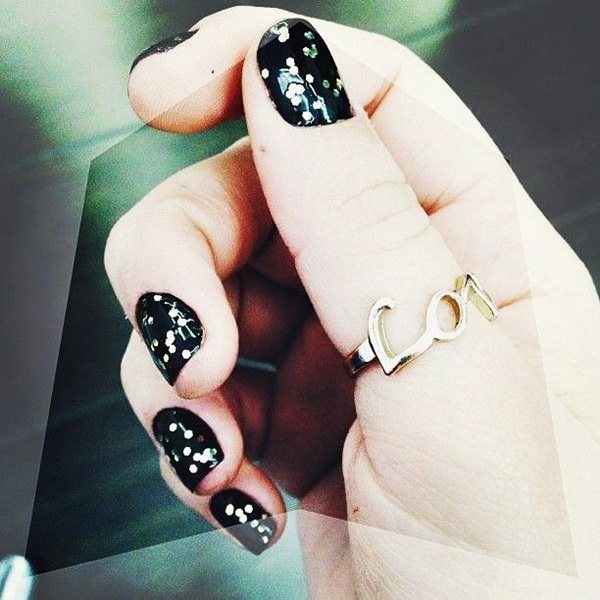 On plain round short nails, a floral concept is every metal girl's idea of a romantic nail design because it is applied on a black base.
#23. Cracked Theme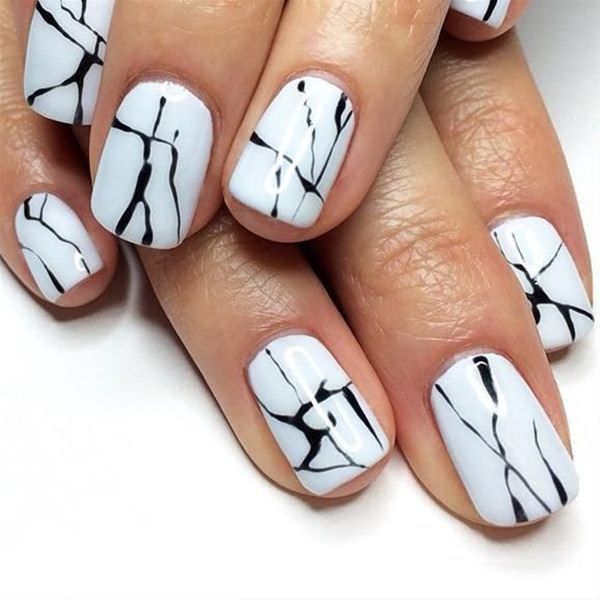 On a clean white base coat, drag your black needle polish and go with the rhythm of your hand to create an artistic freestyle design that makes it seem like you accidentally cracked your nails while being too busy being too fabulous!
#24. Tribal Collection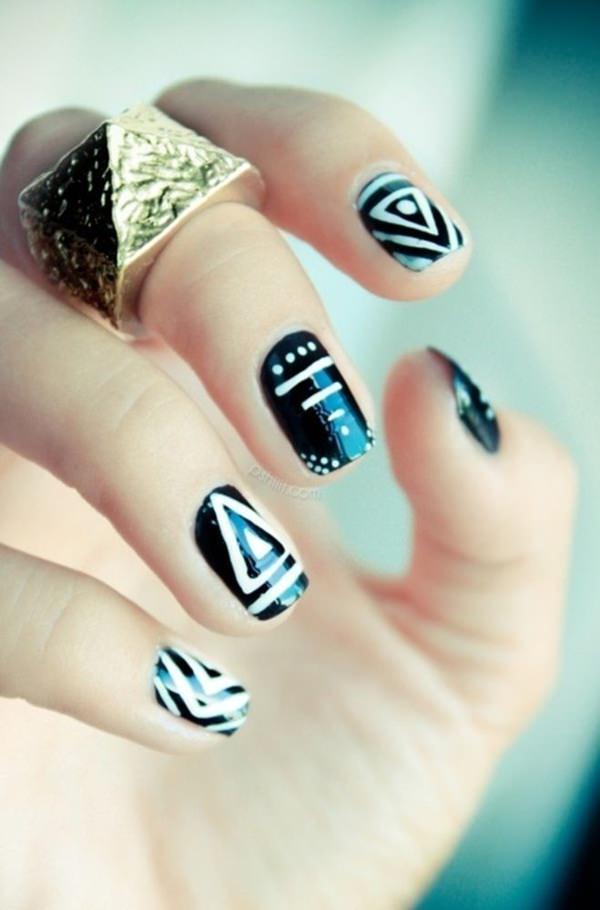 Symbolism is the art of unspoken words.This black background totally brings out the white signs and symbols and shed spotlights on this mysterious style.
#25. Chevron Black French Tips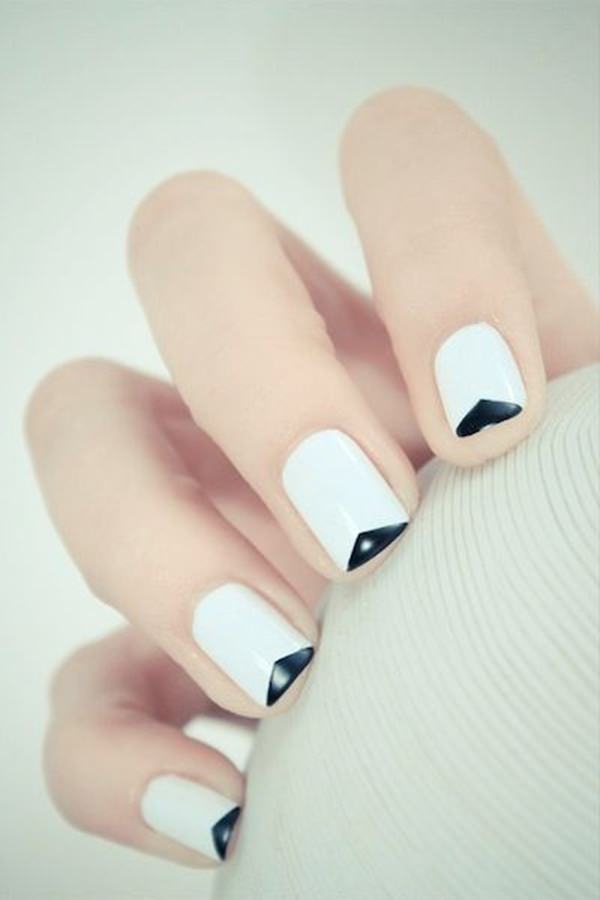 White wins! Just a hint of chevron french tips and you would be mani-ready! Also, if you are going for a highly elegant black and white nail design, then this is the right choice for you!
#26. Fluttery Eyelashes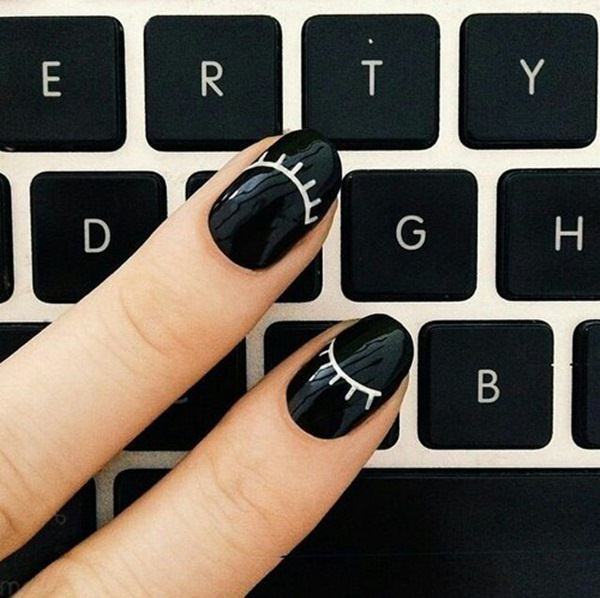 Draw some white eyelashes on your black nails to stand out as the girl with the funky and unusual style. Flutter those eyelashes and prepare to be worshiped!
#27. Easily Home-Manicured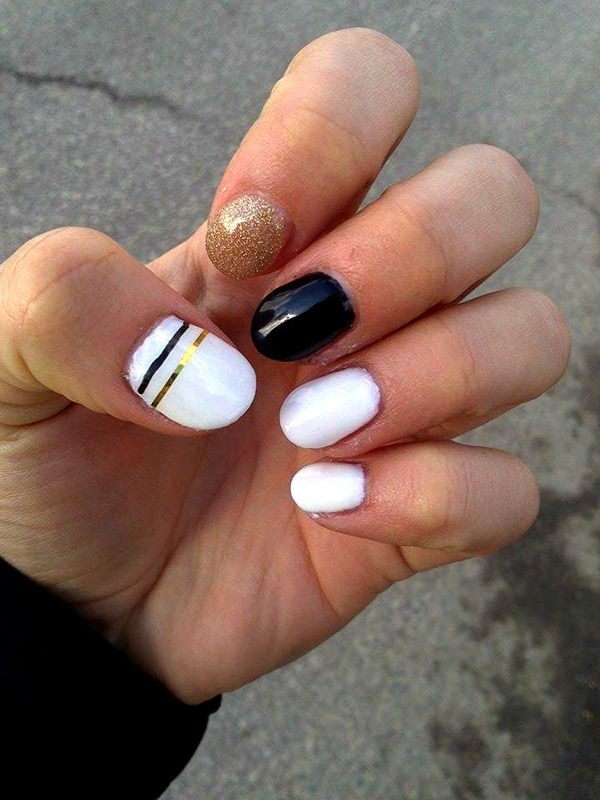 To get a fresh and ridiculously easy home-mani you could try combining black & white with golden glitter and stripes.
#28. Horizontal Or Vertical?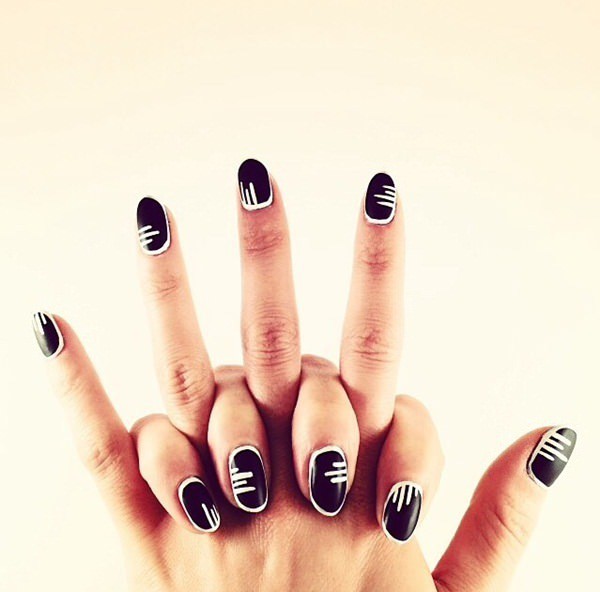 Using horizontal and vertical geometric lines of different lengths as an innovative nail style is rather than geometry is an exceptional idea I bet you never thought of!
Pick a side of your nail and draw these lines with a toothpick or thin brush on a black background to enjoy this ambiguity.
Most Beautiful Nail Art Designs
#29. Eclectic Animated Drawings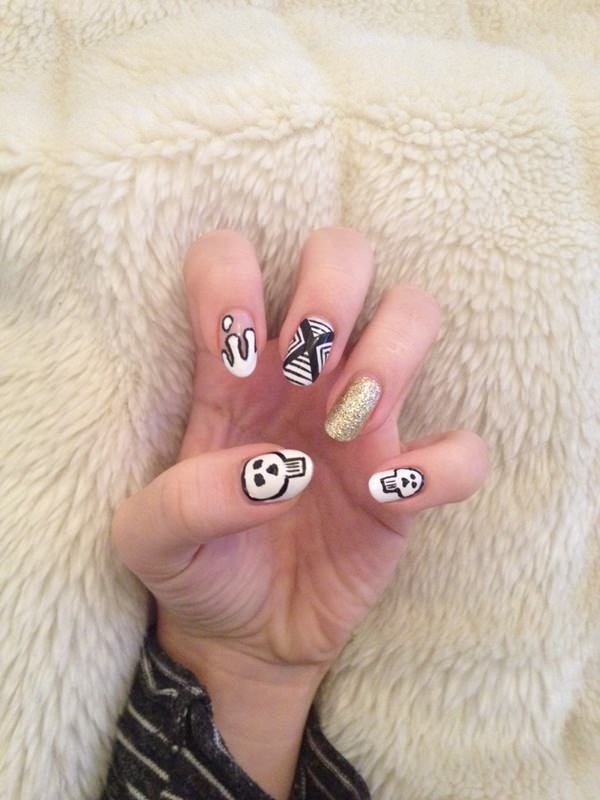 If you have always been a fan of the dark side or if you have never committed a sin in your life, applying a nail design with a broad range of drawings that are inspired by your own true emotions is a creative way to express yourself and a great idea for a new nail theme.
#30. Brighter Is Better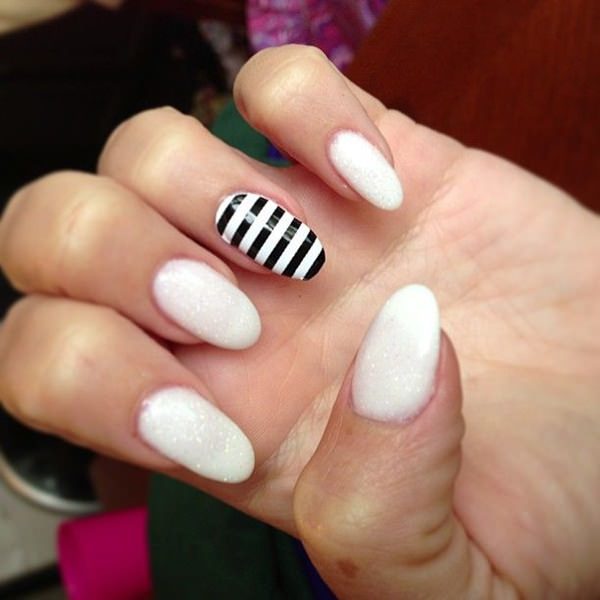 Using bright colors can lighten up your mood. By spicing up the accent nail with black strips and dipping the others in white glitter varnish you get a simple yet smooth black and white nail design.
#31. Silver Glitter French Tips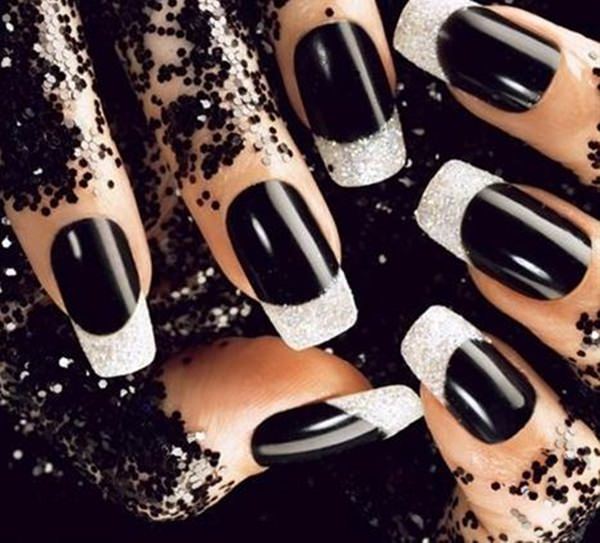 While keeping in mind that this design only works for special occasions due to its flashy and extraordinary nature, you must practice your catwalk so that you would be able to whip out these long squared babies and flash that sexy smile of yours whenever your eyes catch a target.
#32. Little Black Dress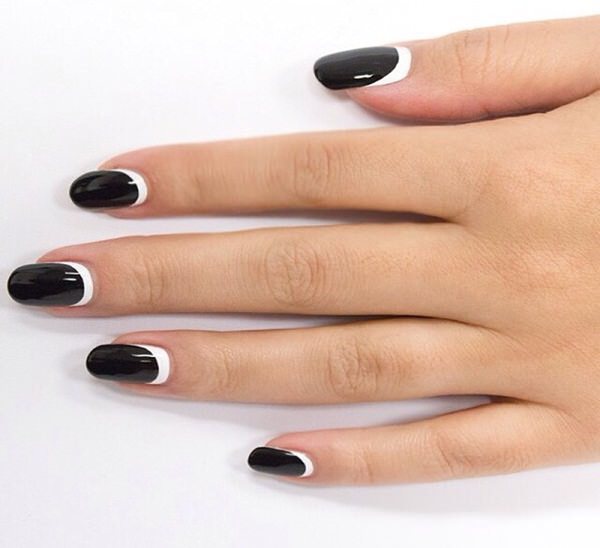 This is a design where darkness over-rules light and black is the dominant background color while white plays the role of the detached savior planning its gradual rise!
Wear it for a night out to have some drinks or to an elegant fashion show in which it would complement your short or tall black dress. Wear it for a romantic dinner or for cocktail parties to give the impression that you are a serious but warm female.
#33. Busy Bee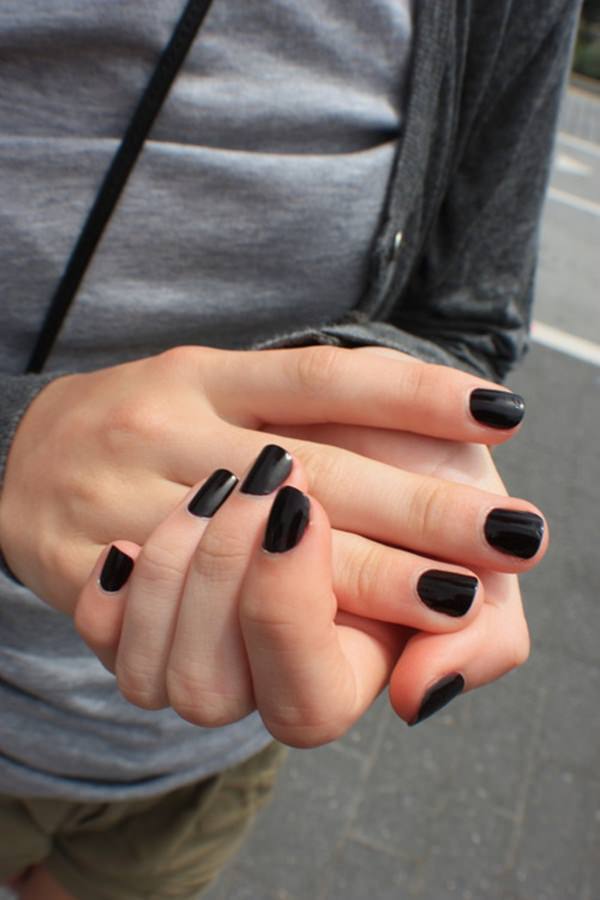 Working hard all week like a busy bumble bee can be an obstacle for us busy young ladies.
We tend to lack ample time to salvage ourselves from the horrors of everyday life like "black bags" under our eyes from staying up late all night trying to finish up that upcoming project that your boss is so intensely fond of, or waking up to new wrinkles you never knew they existed like the great aging magician just pulled a hell of a disappearing trick on you.
But thank god that despite all of that we are still able to take quick and good care of ourselves without resorting to looking totally neglected with this simple glossy black nail style.
#34. Chevron-Like French Tips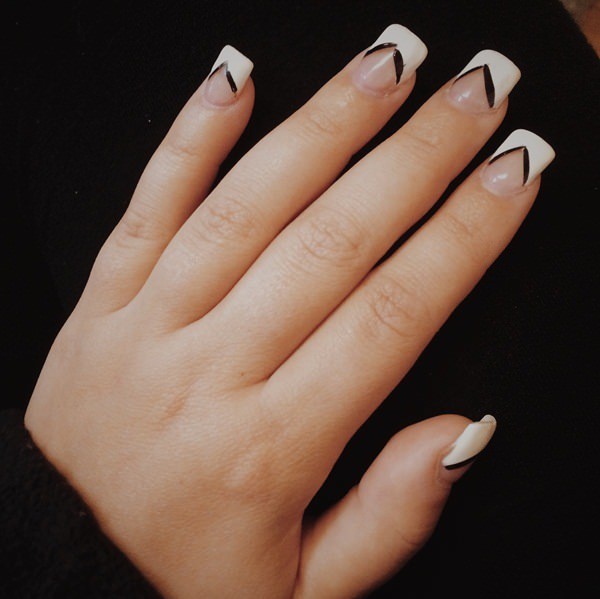 Being mysterious is all about the left-out parts of a video, the unspoken words of a witness in a murder, or the last missing piece of the puzzle needed to open a secret chamber to a whole new world.
But when it comes to nail art, mysteries can lay under leaving a smart part of the nail unpainted for your unconscious imagination to complete while gracefully placing a plane yet elegant french tipped style.
#35. Cute & Floral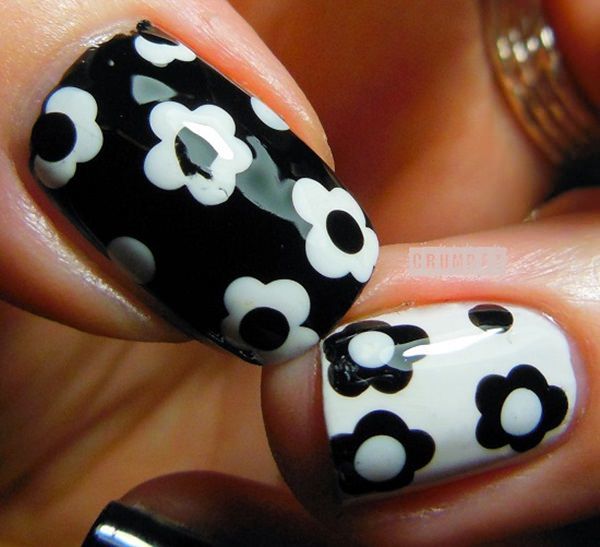 One certain truth is that flowers are just one of the things loved by everybody. Adding them to your black and white nail design wouldn't be a decision you would regret.
Flowers are cute and attractive. You could wear them for funerals and no one would think it is insulting because well, they're flowers and you just can't go wrong there!
#36. Black and White Nails with Diamond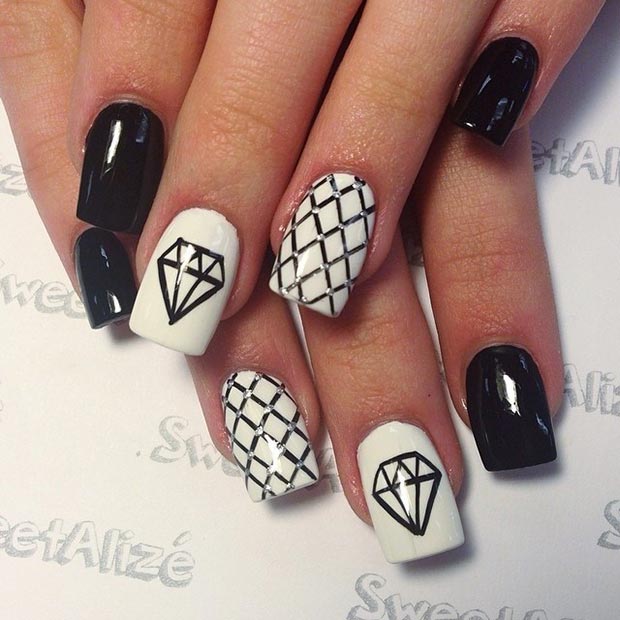 Diamonds are a girl's best friend, and they certainly look picturesque when drawn on nails in black and white!
#37. Polka Dots & Bow Ties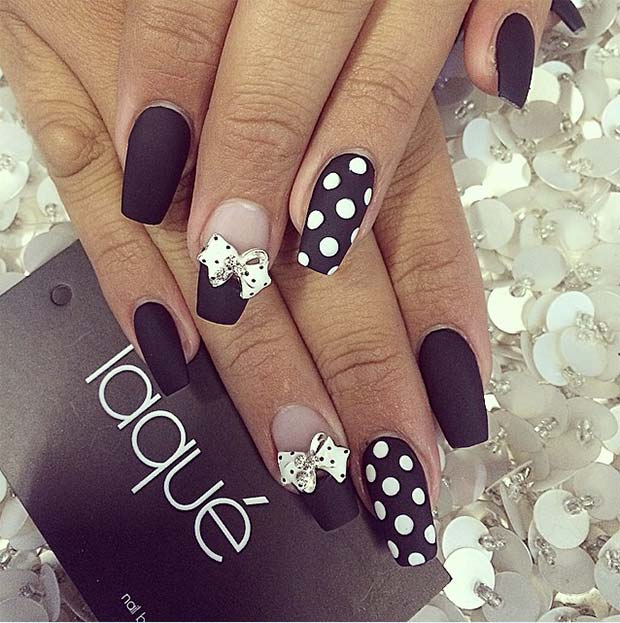 Sass it up and add some 3D tiny bow ties to your accent nail and shoot some white paintballs to get a trendy B & W nail art.
#38. Jail Theme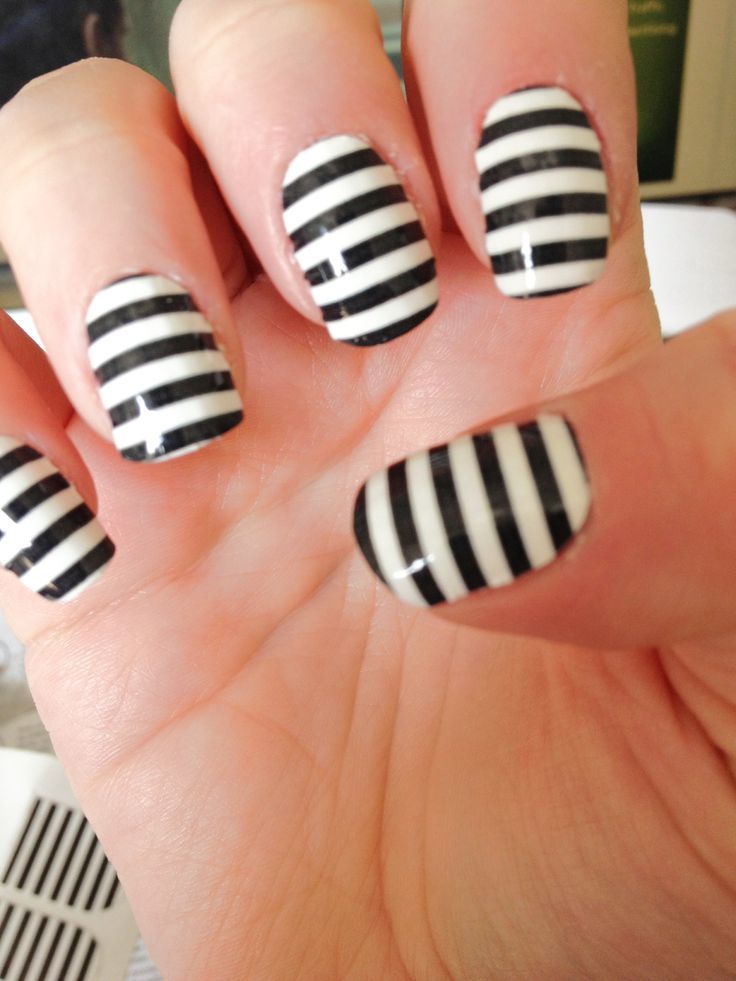 If orange is the new black and prison break is your favorite tv show, then you'll probably gonna love this one!
Stripes are a typical method used in nail art but when doing it in black and white they give that criminal look that not only seems dangerous but also mysterious and lets them know you are not someone they want to mess with.
#39. Animal Print Nails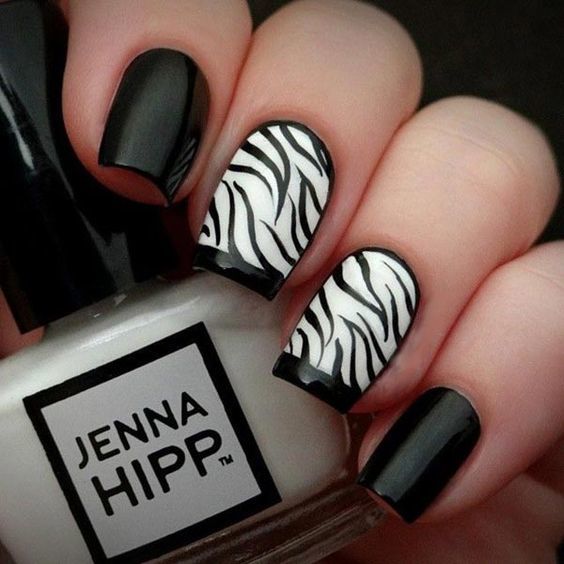 Animal print is never out of style. Spice up your nail polish with your favorite nail print and get a trendy and sexy nail design.
#40. Black Tie
If it is a formal event, then you need to be in a formal dress code. Yes, that's right, even your nail beds need to be formally dressed for the occasion!
Paint a black bow tie and black buttons to the white background that acts as the shirt and there you have an elegant and formal black and white nail design.
#41. Pretty In Polka Dots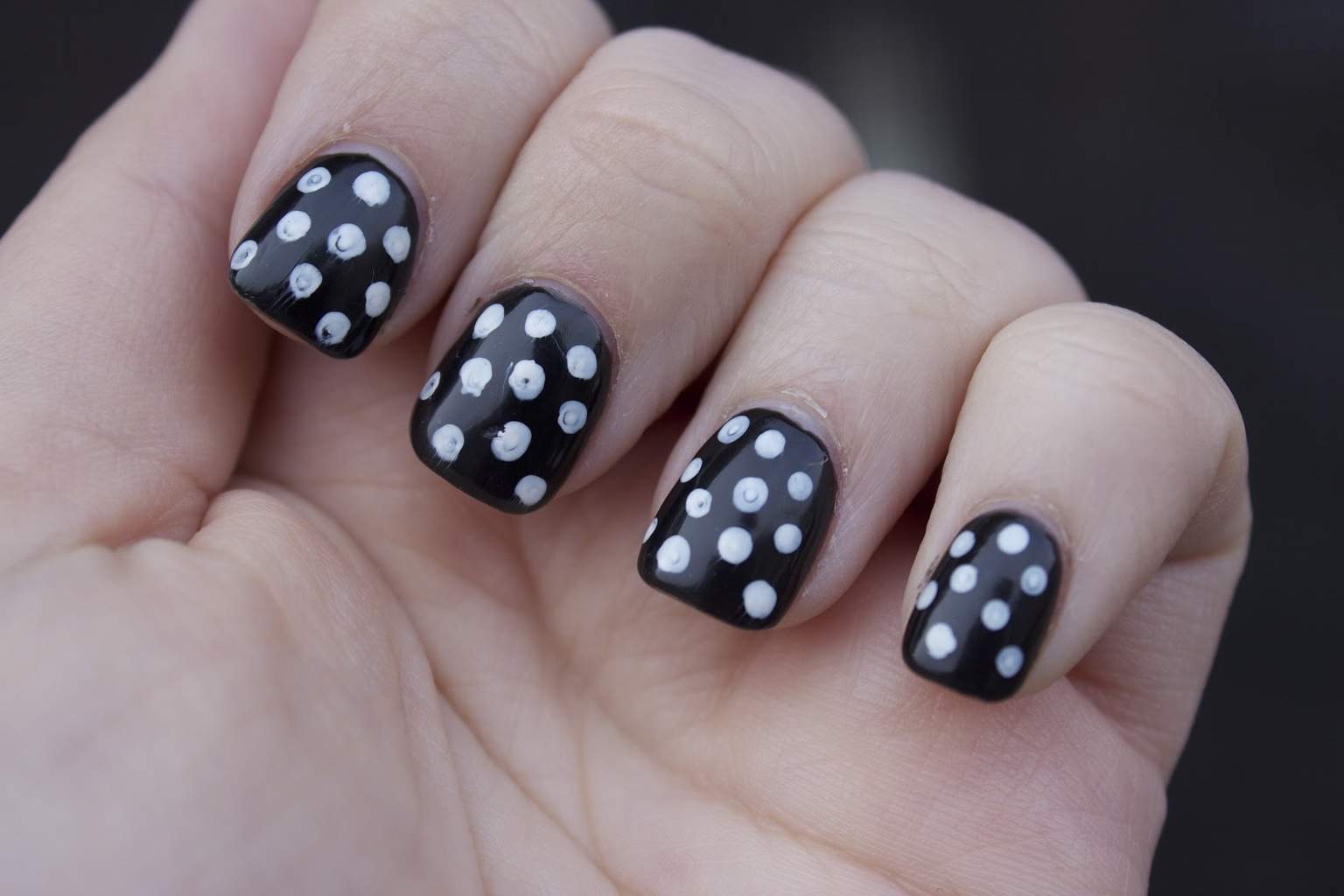 If you thought Pretty In Pink is a good movie then wait until you see what these pretty polka dots have in store for you!
#42. Net Pattern
This cute attractive nail design goes best with the square-shaped nail.
#43. Cutie Pie Nails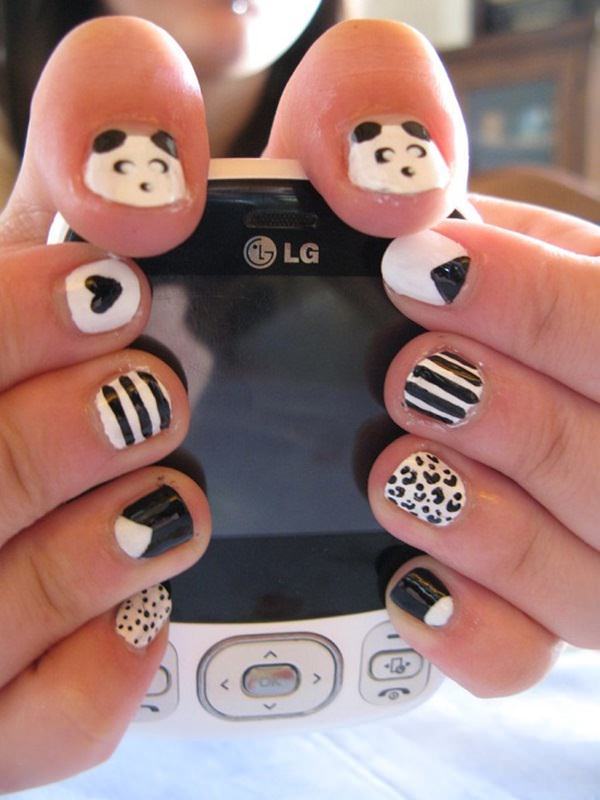 If you're going for a cutie reputation, then this black and white nail design is the one you are looking for.
Pleasant little pandas, leopard patterns, stripes of different directions, polka dots and any freestyle design that reflect your inner cuteness is a must in this style!
#44. Long Sophisticated Nails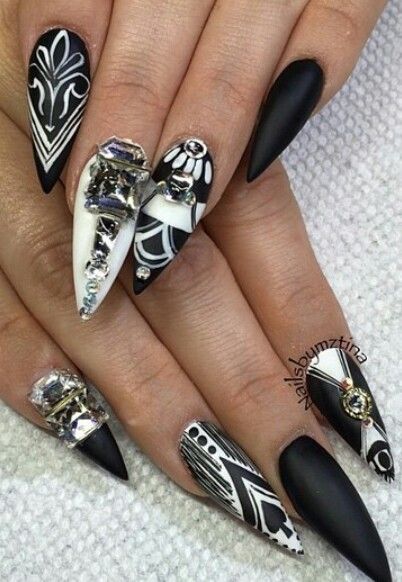 Applying artistic approaches is never easy, but they increase sensuality and playfulness by 100%.
The secret here is the good choice of black and silver studs and knowing exactly where to put them between all the different unusual drawings on the nails.
#45. Addidas Fan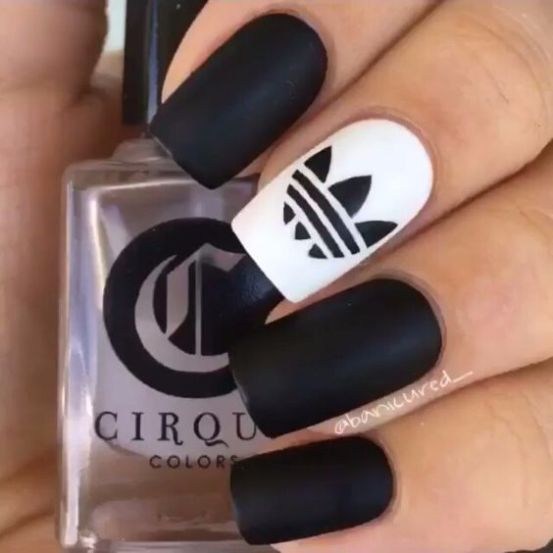 Sports are way too important for every human being. They regulate our heartbeats and keep us in shape. But how can we use sports to keep in style?
Why not try and use your favorite sportswear logo and make it the concept of your nail design? Pretty creative don't you think?
#46. Good & Evil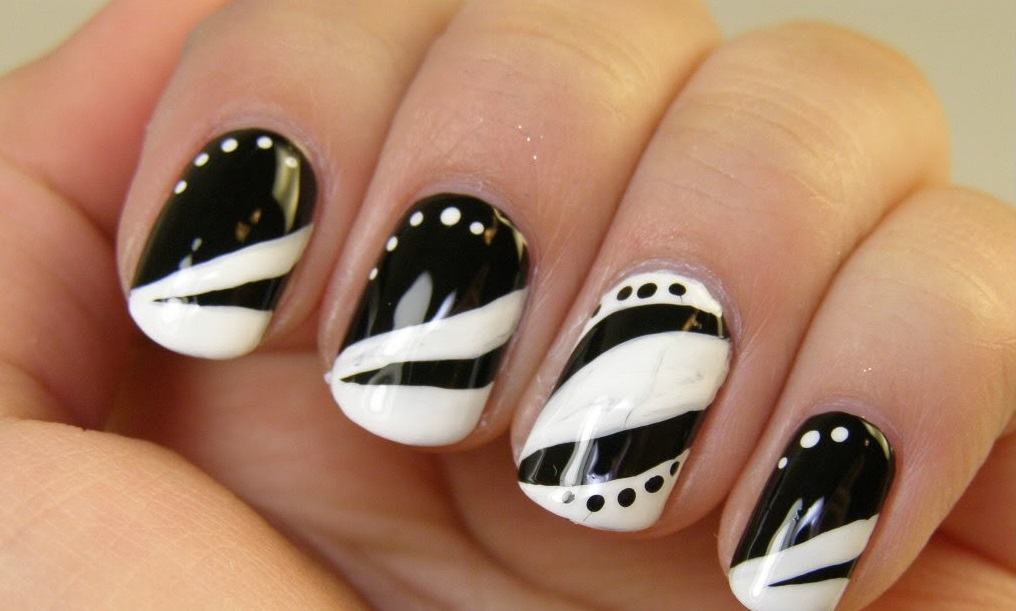 Everything has pros and cons. There's always good in every evil and a bit of darkness in every pure soul.
Spot some black in white-based nails and tiny dots in black based nails to reflect the concept of the circle of life right down there on your nails!
#47. Pattern Nails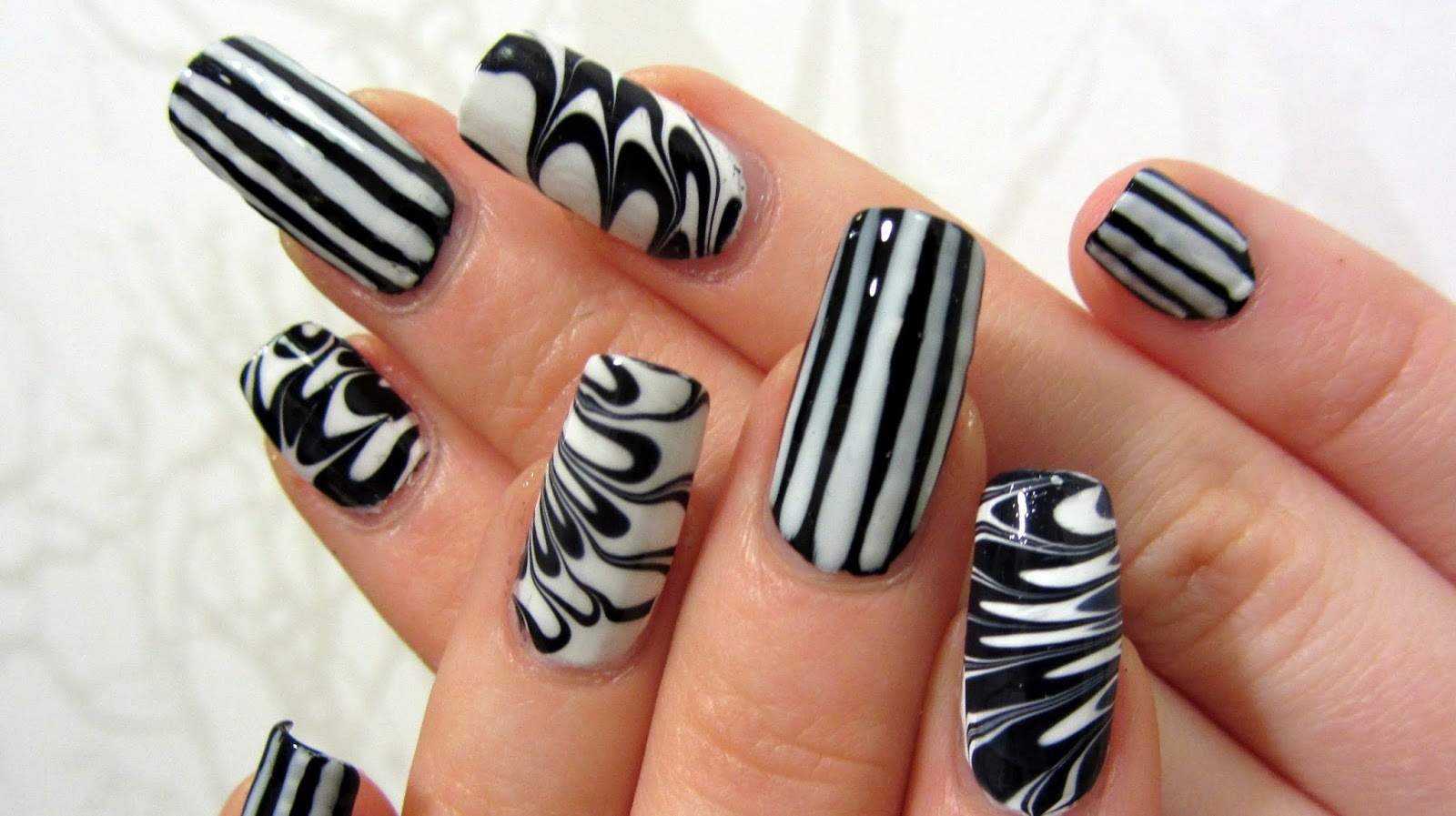 Making up new patterns and applying them is not simple. Moreover, they are time consuming and need steady hands and a little more effort than you think but they are so worth it!
#48. Lace Trace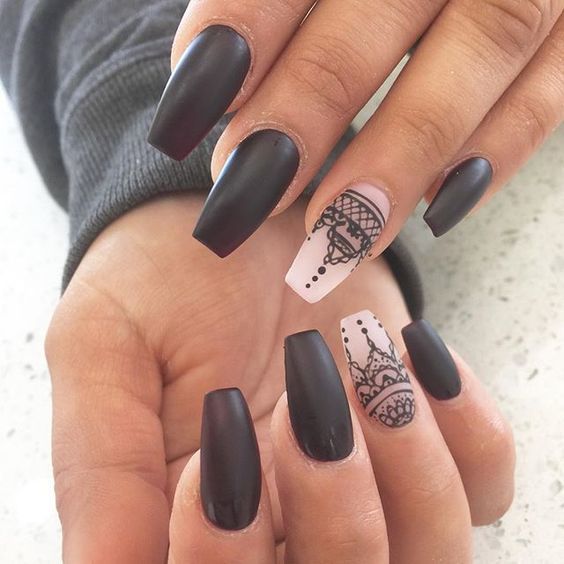 Embrace your accent nail with lace and visually attractive mandala-like scribles to get a guaranteed catchy look.
#49. Simply Successful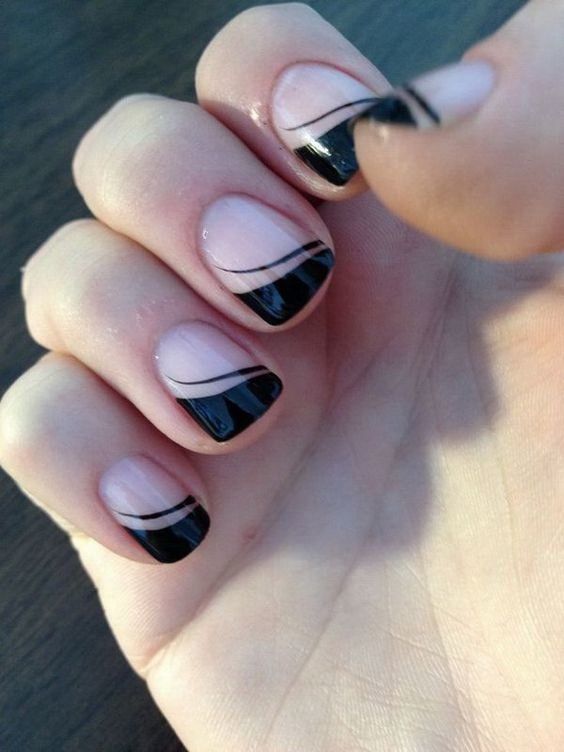 Success is often backed up by simplicity. And what's more simple that black french tips with a delicate stroke on transparent nail beds?
#50. Feather Weather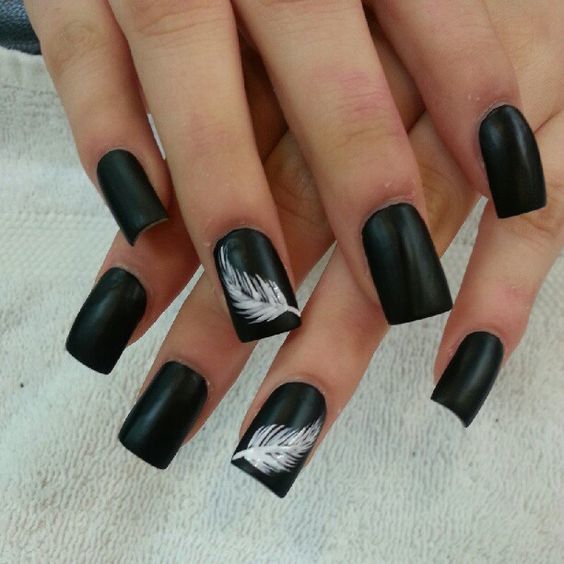 For an exotic look accessorize your accent nail with a rich looking feather.
#51. Glitter Shimmer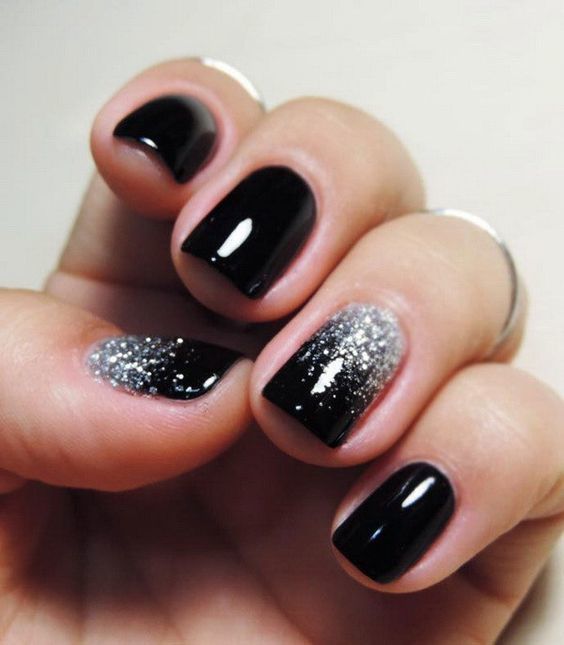 Silver Glitter on the black base is a style that will hardly fade away. You can wear it to celebrations because well glitter is used on special occasions. Don't wear it to funerals, sparkles were never made for upsetting situations.
#52. Live, Love & Laugh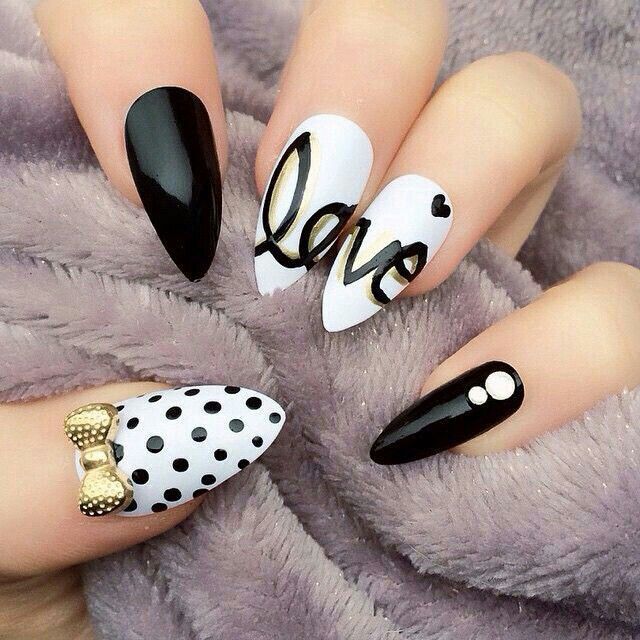 This is a design we definitely want to copy! Besides the word love we can write whatever we feel like: live, YOLO, smile etc…
#53. Chevron Accent Nail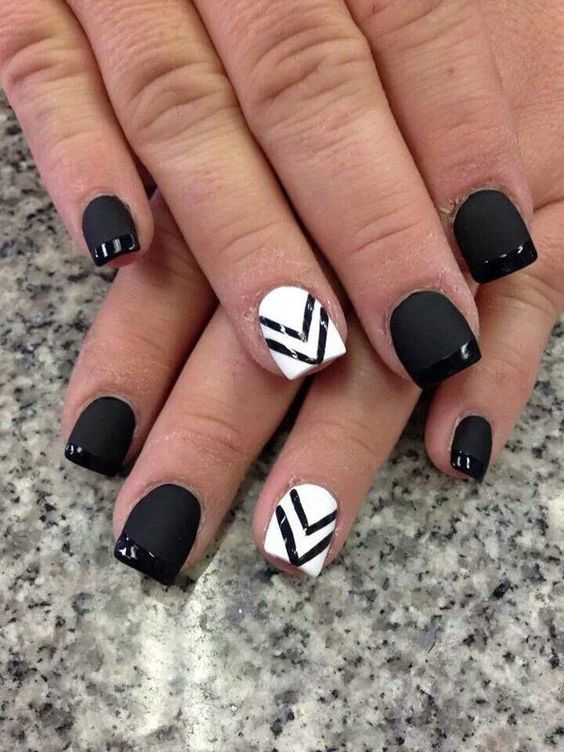 Black french tips on black based nails might not make them stand out but will definitely suit your dark mood. Break the darkness with the chevron white accent nail style.
#54. Orange Is The New Black And White
Combining orange, black, and white on your nails not only reminds you about the tv show but also makes you stare breathlessly at this original black and white nail design.
#55. Love Shack Baby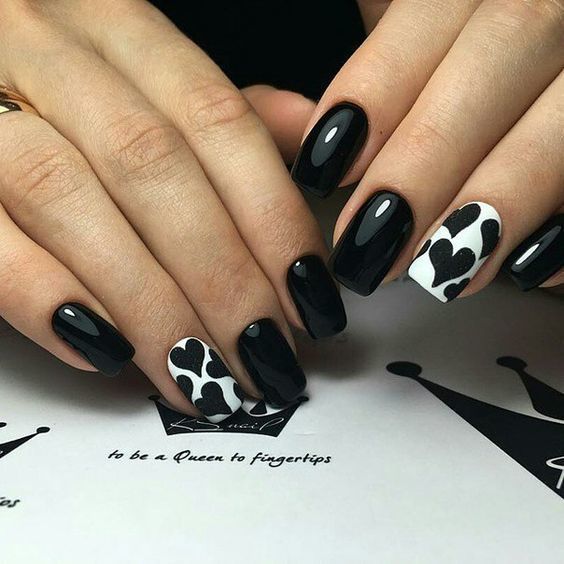 Are you in love? Do you have a crush on a certain someone? Or do you just have that special someone that keeps you up late at night?
While keeping it plain and simple with a glossy black nail coat on your nails, kick it up a notch with the heart patterned accent nail and feel the love!
#56. Shattered glass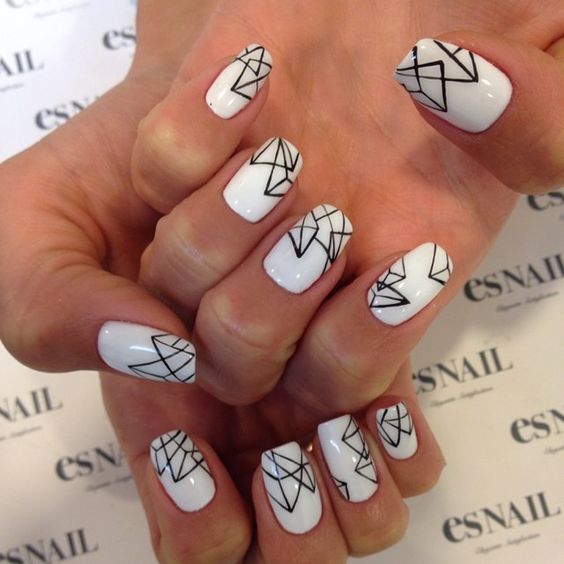 This is an innovative black and white nail design for all of the girls with short rectangular nails out there. Not as easy as it might seem to be, but the amazing results would make you forget all about the trouble!
#57. Negative Space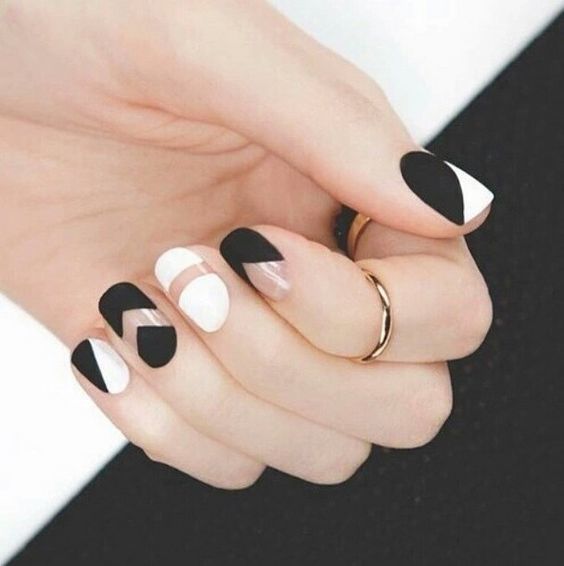 We need to take care of negative space as much as we do with positive space because they complete each other. This modern style works for every event and makes you look as confident as ever!
#58. Pattern Negatives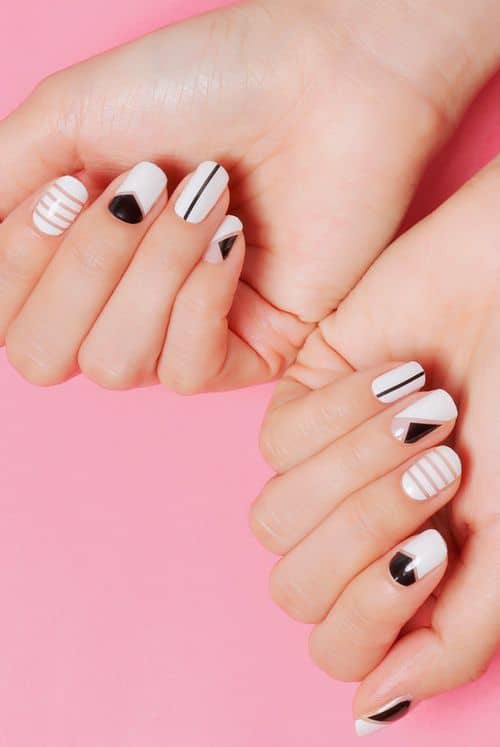 Before the rise of digital cameras, we had to spend hours working on the negatives until we could get solid photographs.
If photography taught us anything that is essential to take good care of the negatives because without them we can't have positive results.
Try this style that uses the pattern concept not only in positive spaces but also in the negative ones as well!
#59. X-Nails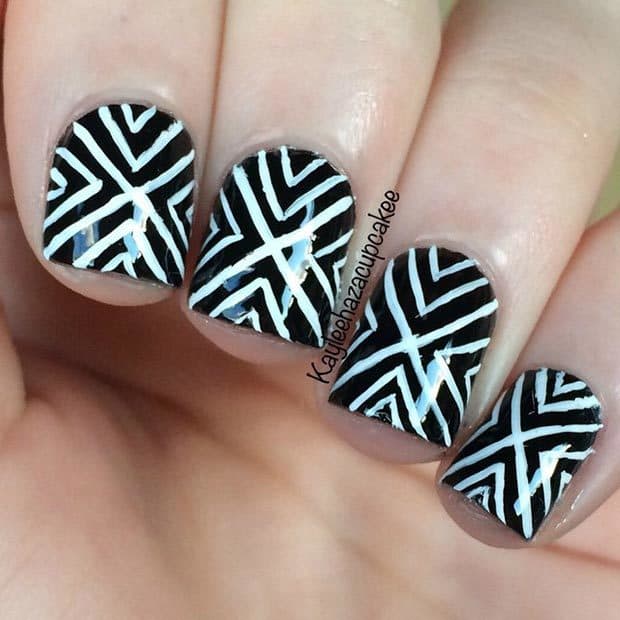 Sugar, spice, and everything nice. These are the ingredients for the perfect little girls (or at least that's what we've heard on power puff girls).
But we are not little girls anymore, we are ladies! Splash on some of that chemical -X and flaunt your X nails with grace.
#60. Make A Wish!
Blow your wishes to the wind to carry them into oblivion. Try this amazing black and white nail design to make all your wishes come true!
Take a Look at These Amazing Designs Too
Recreating original nail designs might not be facile. Choosing the right ones that go with the right occasion and increase your outfit by a factor of 10 is something only professionals are capable of doing. But that's what you've got us for!
We've got your back, and there is no doubt that these top 60 premium black and white styles are to die for. All that we can guarantee you is that any of these designs will make every male stare at them and every female wish she had them!