Black silver nail designs look breath-taking and make a loud statement, especially if you choose this combination of colors on long nails.
Black and Silver Nail Designs
Look no further if you prefer your nails to look unique and elegant, and if you are a girl that shouts glamor from head to toes.
#1. Black and Silver Acrylic Nails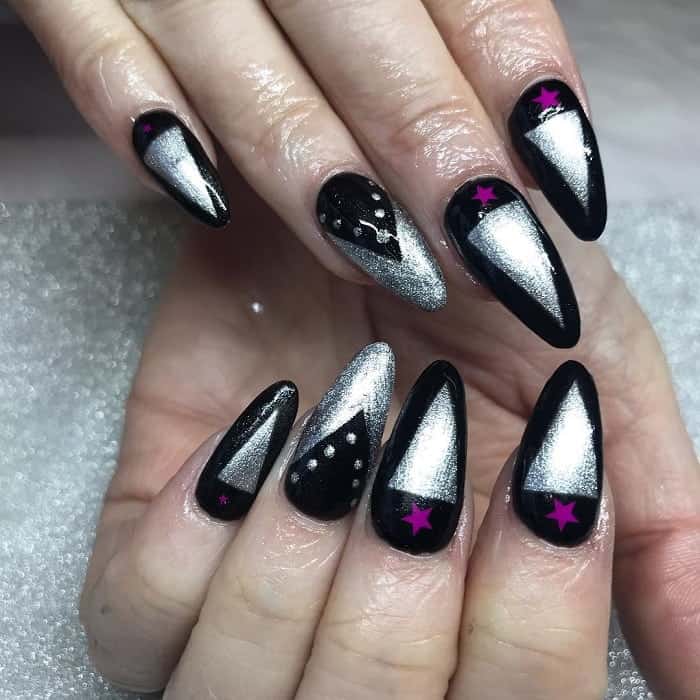 Construct your nails with acrylic gel and use black nail polish as a base. This way, you'll draw all the attention on the glittery silver details.
#2. Red + Black + Silver Combo
If you want your nails to be dramatic and bold, use glossy red and black nail polish and glittery silver for the ring fingernail.
#3. Black and Silver Ombre Nails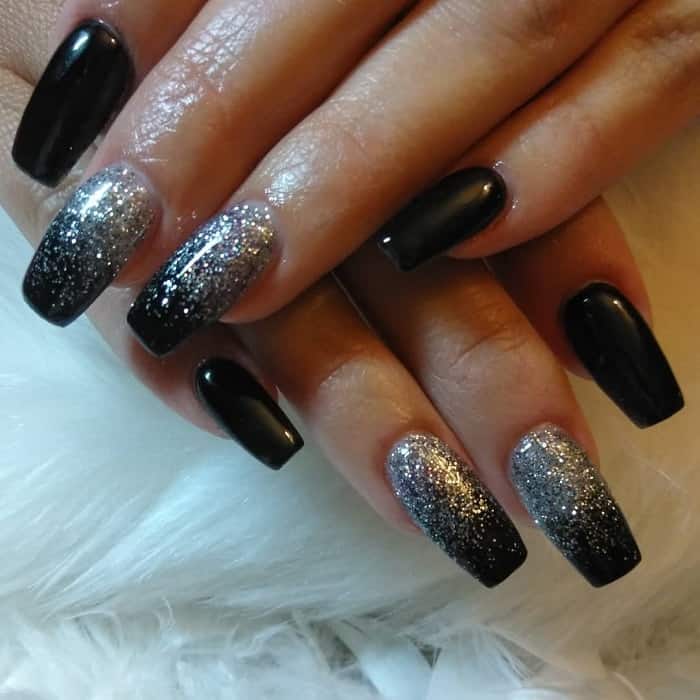 Step out from the crowd with these long square nails! For two of your fingernails, create a marvelous black silver glittery ombre. Paint the rest with shiny black nail polish.
#4. Black & Silver Chrome Nails
If you are the kind of girl that pays attention to details, this mani is something you can't just pass by! Chromed nails are astonishing in any color, especially when mixed with black polish.
#5. Black + Gold + Silver Nails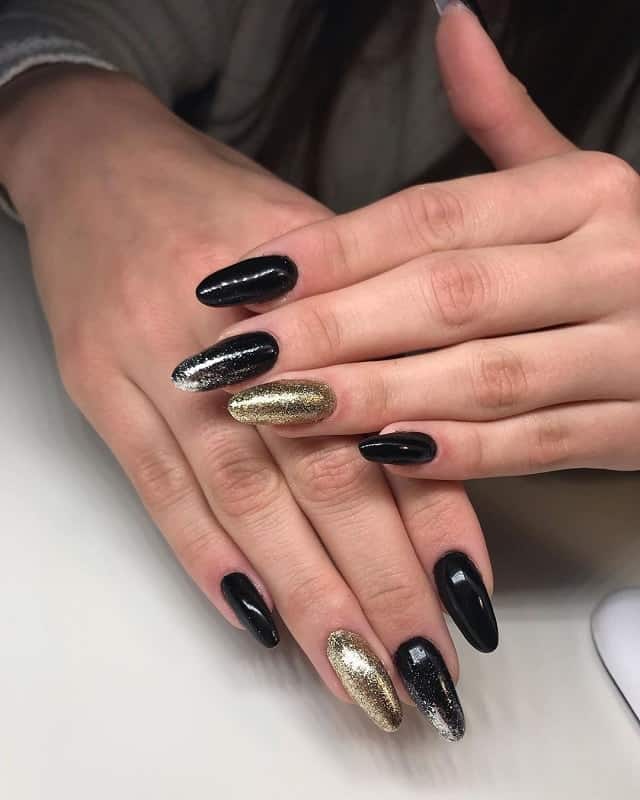 Girl, shine bright like a diamond wherever you go! Combine black polish with silver and gold glitter to obtain a manicure that's worthy of an award!
#6. Black and Silver Coffin Nails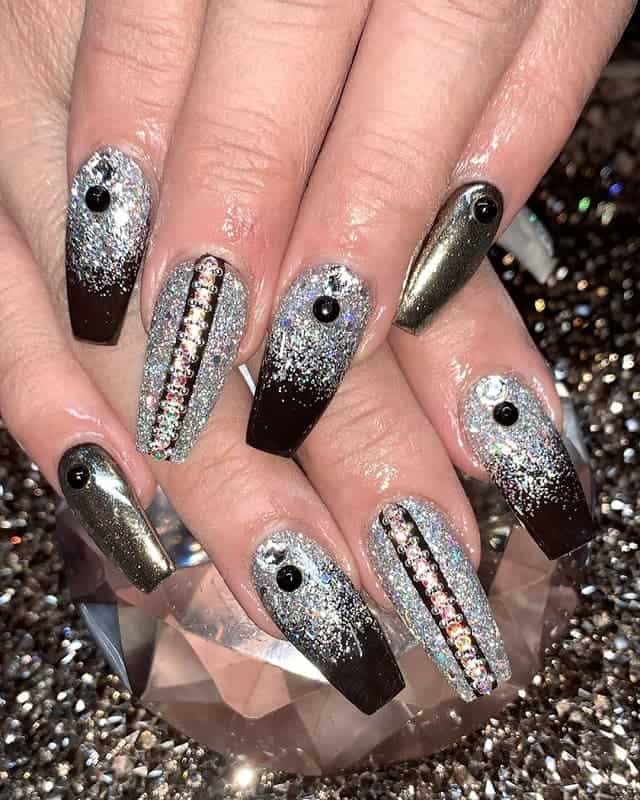 #7. Black and Silver Stiletto Nails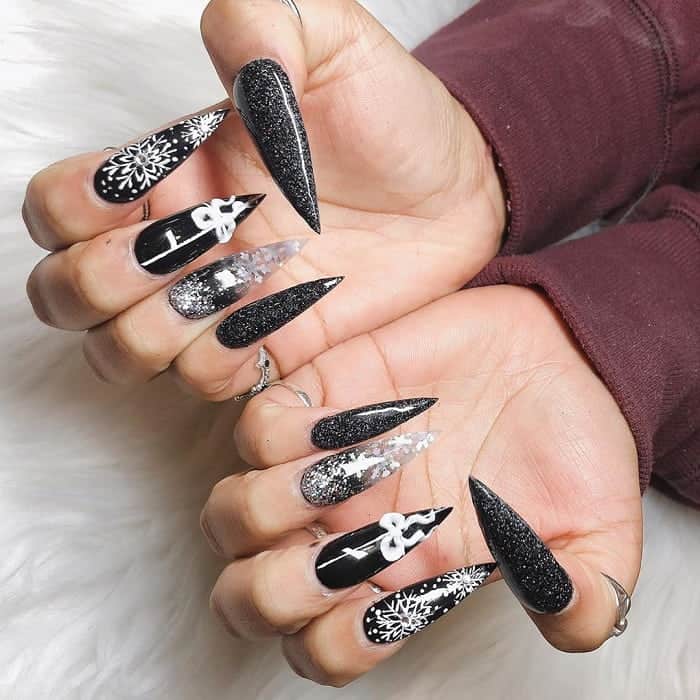 #8. Short Black & Silver Nails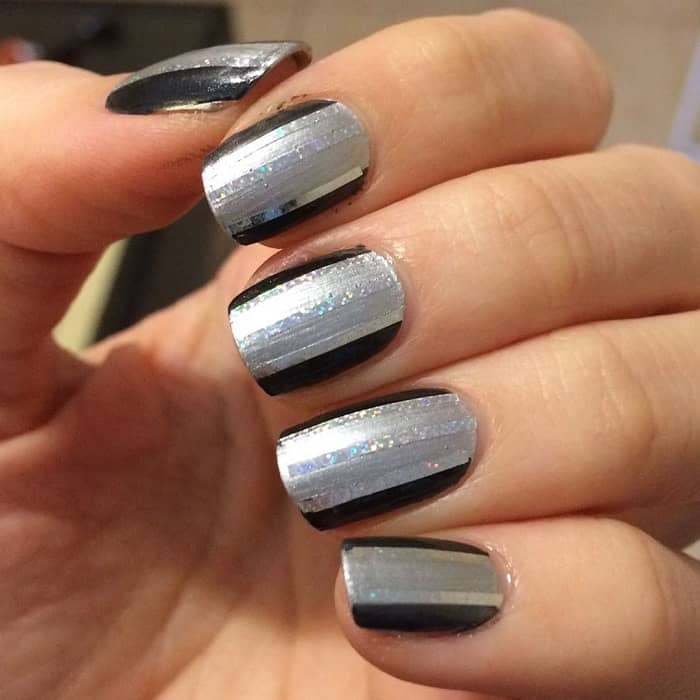 #9. Pink + Black + Silver Nails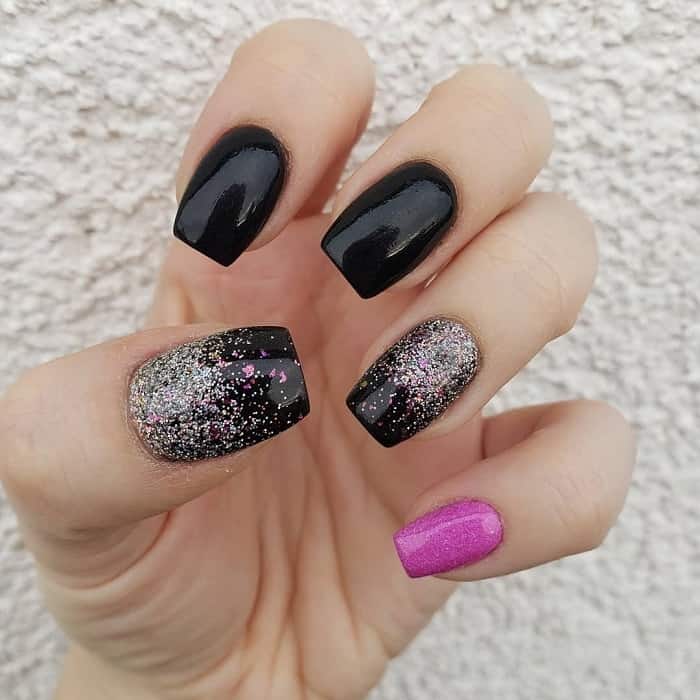 #10. Matte Black and Silver Nails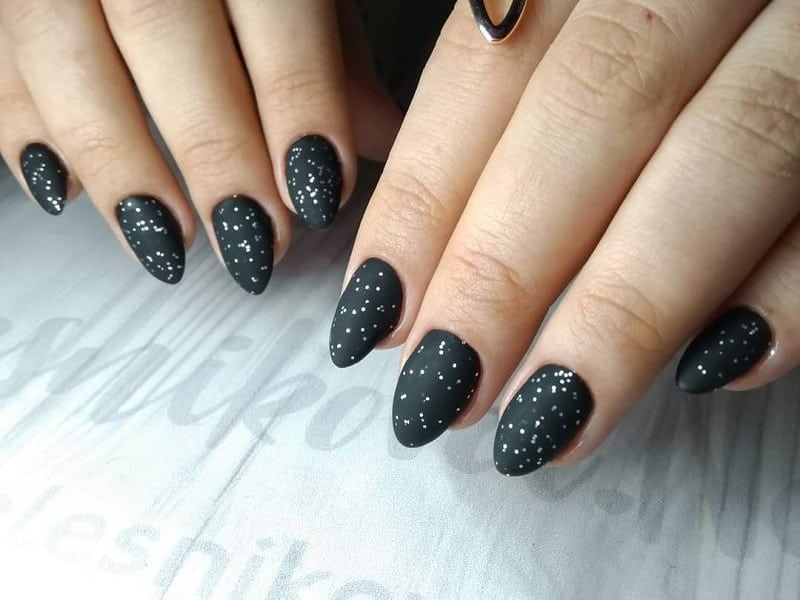 #11. Black and Silver Nails with Rhinestones
#12. Black Nails with Silver Tips
#13. Black and Silver Nails for Prom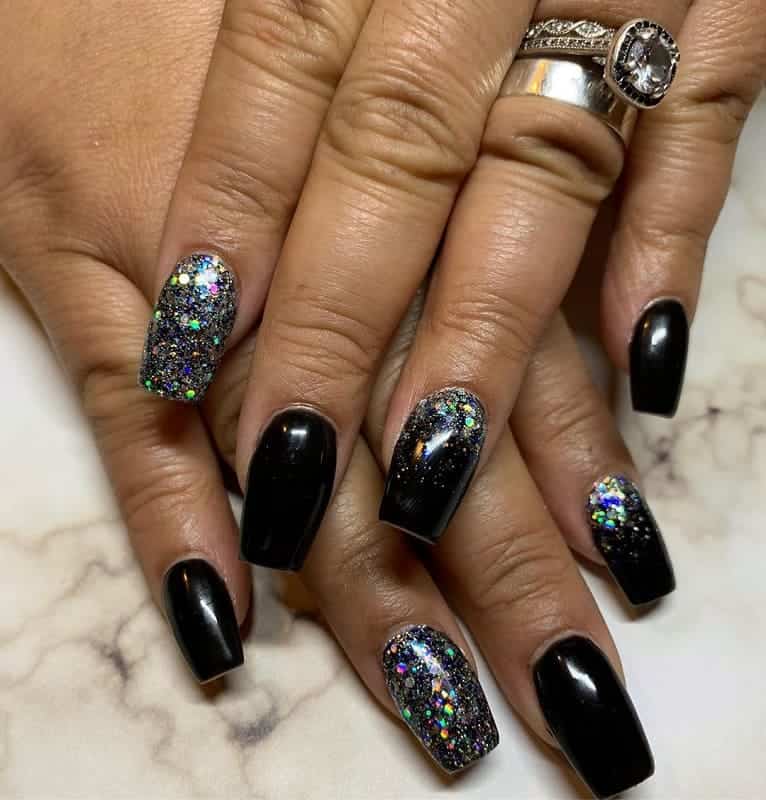 #14. Sparkly Silver Glittered Black Nail Polish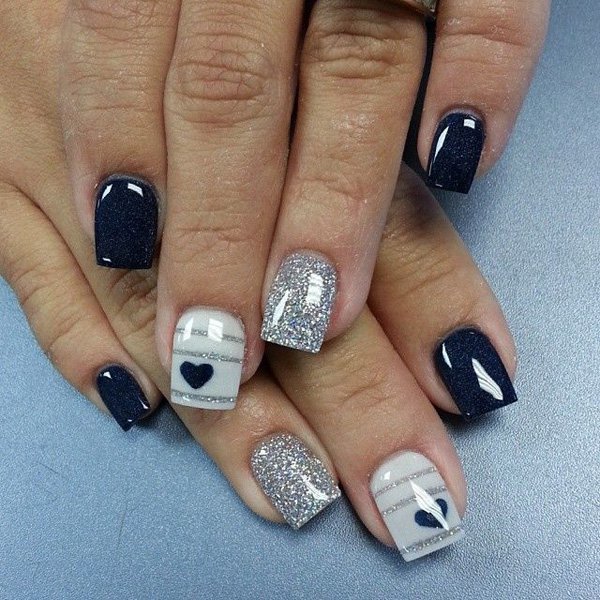 What best black-silver nail design combo other than black nail polish with silver gradients, a nail color that can dazzle by itself, however in this look this dazzling aspect is emphasized by the addition of bold accent silver glitter one.
#15. Metallic Silver Base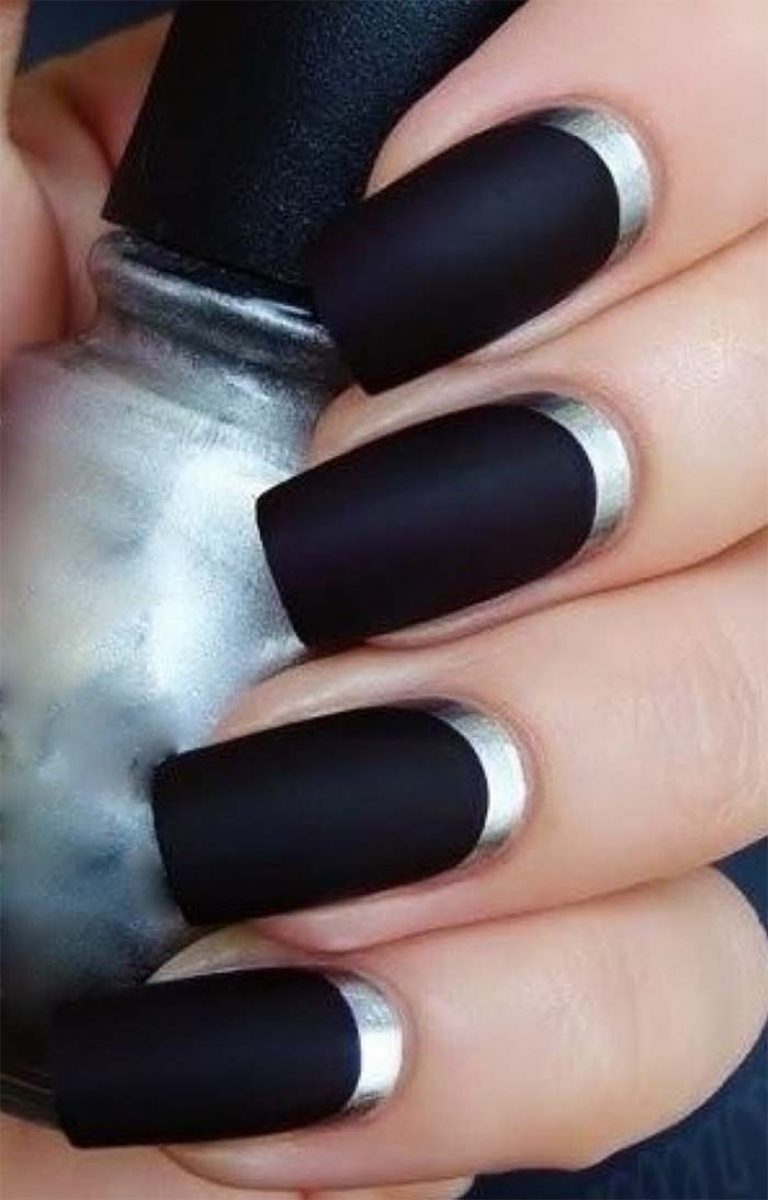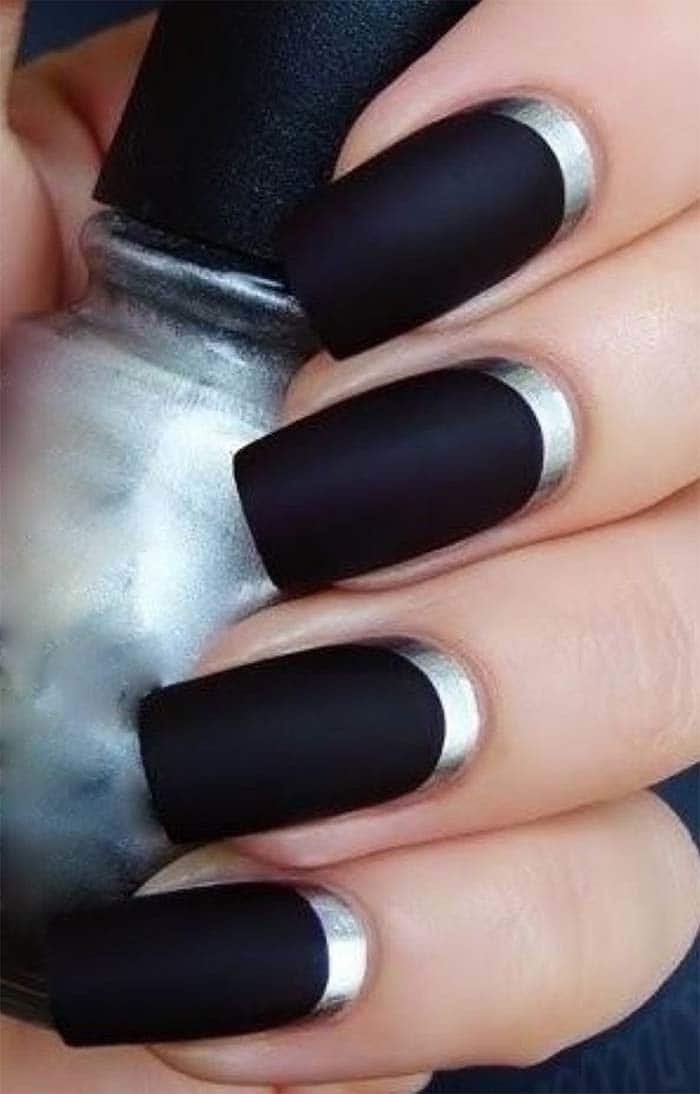 A base is an anchor, holding everything up and strong, it is the layer giving the whole body its shape and rigidity, and here is a design based on a chrome polish. Just near the cuticles, a base channeling this design from plain to amazing.
Above a matte black layer on your long squared nails lies a base of this metallic chrome polish, giving a modern appeal to your black and silver manicure.
#16. Black & Silver Caviar Style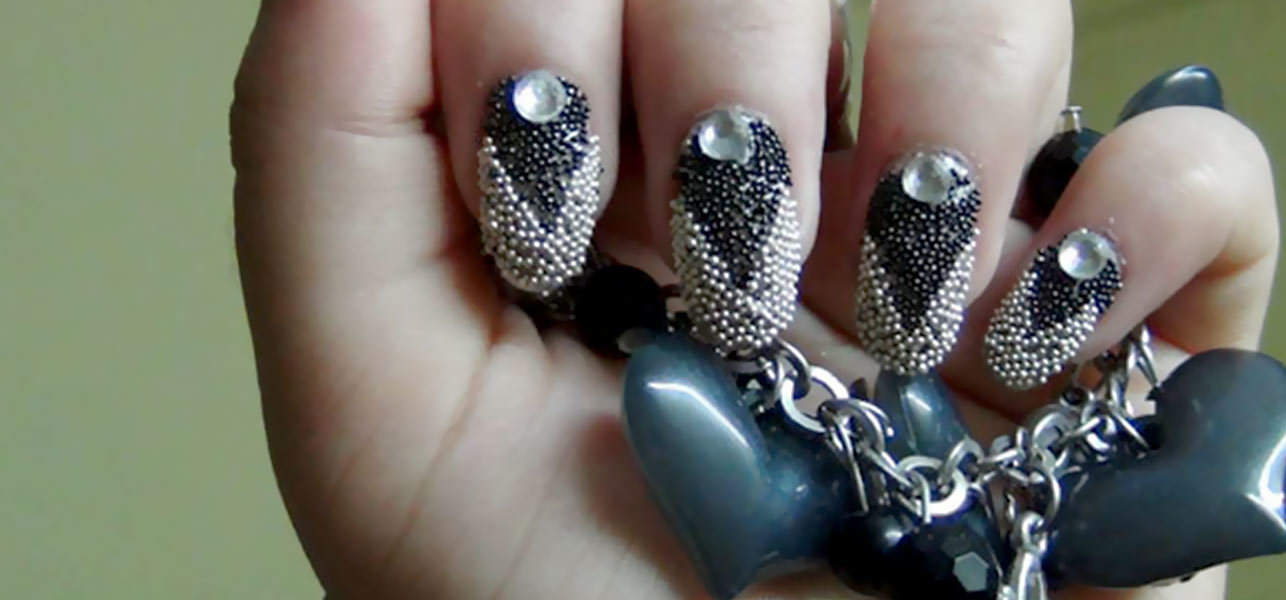 Just like in all those tales we've heard growing up, all those eye-patched wooden-legged pirates searching the seven seas and seven lands, to find that lost treasure in the deepest of seas, sailing from one island to another.
These caviar black and silver nails are the treasure you've been looking for to get a gorgeous nail design that'll complement your fashion-loving appearance.
#17. Silver Stamped Black & Silver Nail Design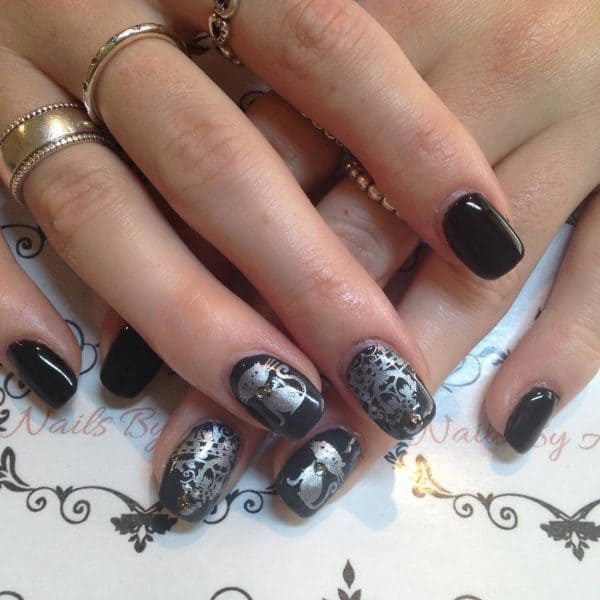 So your nails are all done with this simple coat of glossy black nail polish? And you're all ready to head out, start your day, and get done with your daily errands and responsibilities?
If you believe you're busy and got no time for an extravagant nail design, nail stamps are your solution. Choose your favorite patterns from your nail stamps pallet to get a quick and easy stylish black and silver nail design.
#18. Black, White, & Silver Theme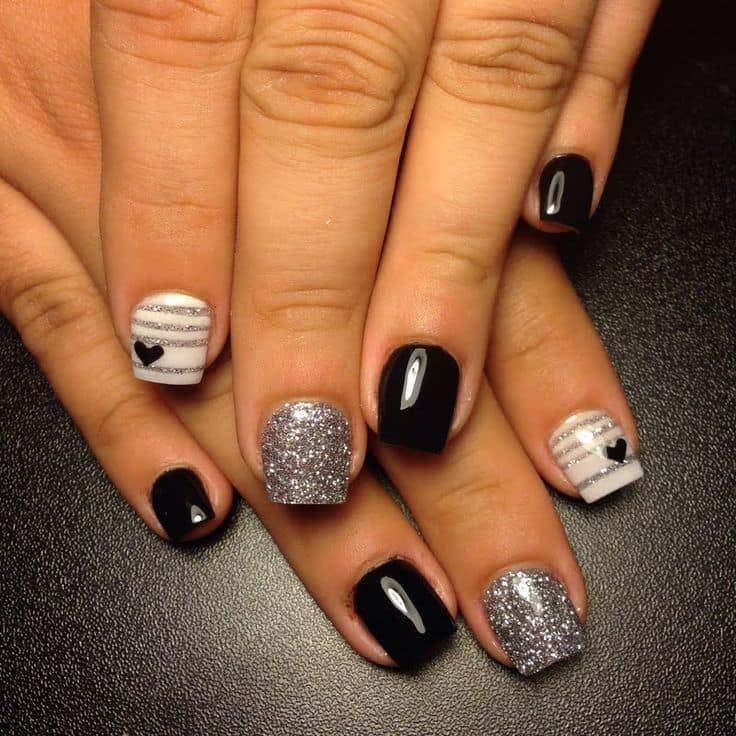 Express your love and adoration to glossy black shade and silver gradient one, with a third accent nail. The silver striped design on top of a fresh white coat, with the tinniest drawing of a heart.
#19. Creative Combo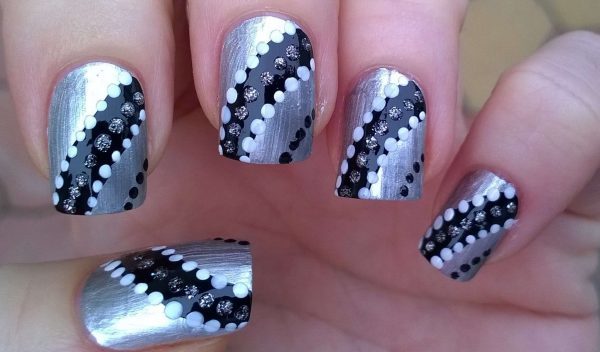 Polka dots in white, black, and silver glitter-infused within this silver and black coated nail design.
With this design, you'll randomly find yourself waving your hands in front of the crowds subconsciously to show off your attractive nails.
#20. Silver Floral Marble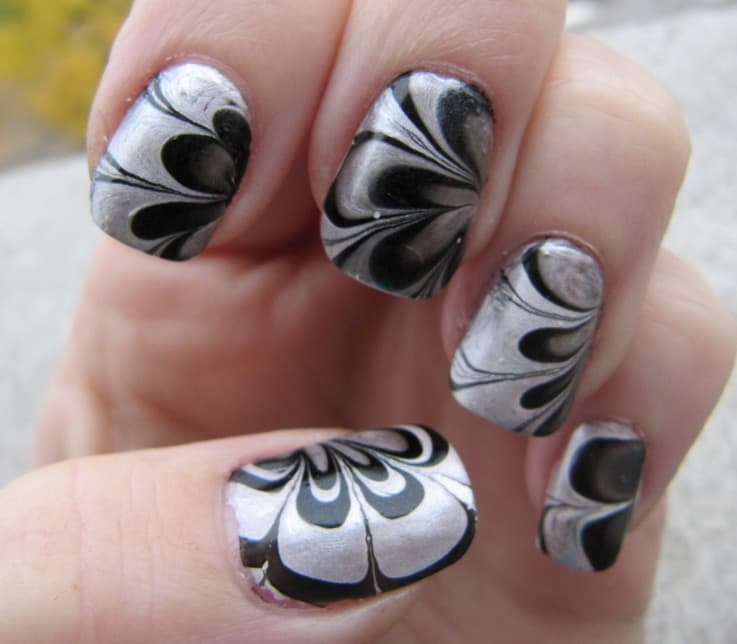 A nail trend we can't get enough of, marble nail art. A canvas of abstract art delivered at your service, with simple drops of nail colors infused in a bowl of water, and captured by your short squared nails.
Combine nail design's hottest trend with the gorgeous shades of black and silver to get this floral marble nail design.
#21. Creative Chevron Design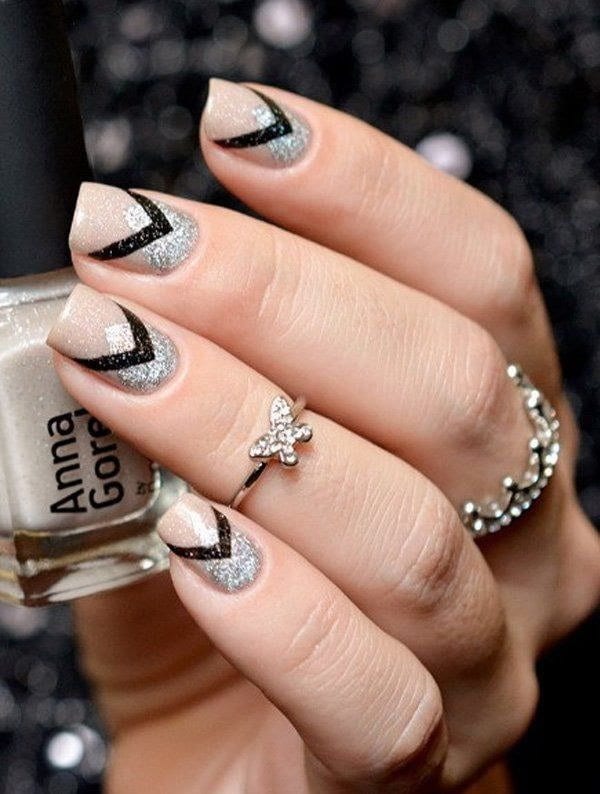 Nude, black, and silver glitter nails. What more can anyone ever ask for? Get a sensational final appearance with this not so black and silver nail design. Chevron nails created with a hint of creativity and splash of the glitter of course.
If you're ever looking for a red carpet-worthy appearance, these nails are your go-to for that Hollywood vibe you're aiming for.
#22. Silver Tipped Black Nails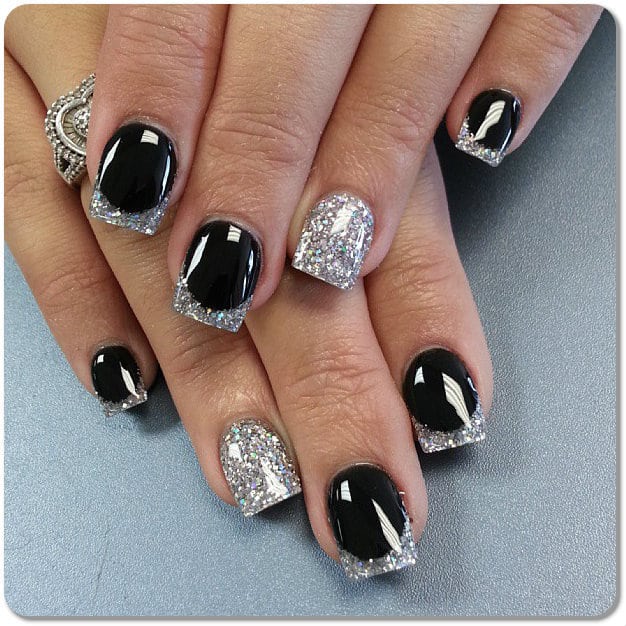 Wondering in the alleys of Paris the city of style and fashion, you pass by different shops and stores, small cafe's with the simplest eye-catching decorations, a bridge might be made for transportation but its beauty made it a tourist attraction.
And once you raise your head just a bit above those old charming buildings, you see it, that magical architectural wonder; The Eiffel Tower.
As you wonder in those alleys capturing all these photos, wonder fashionably with this black and silver nail design. French-styled Black nail design tipped with silver gradients.
#23. Striped In Black & Silver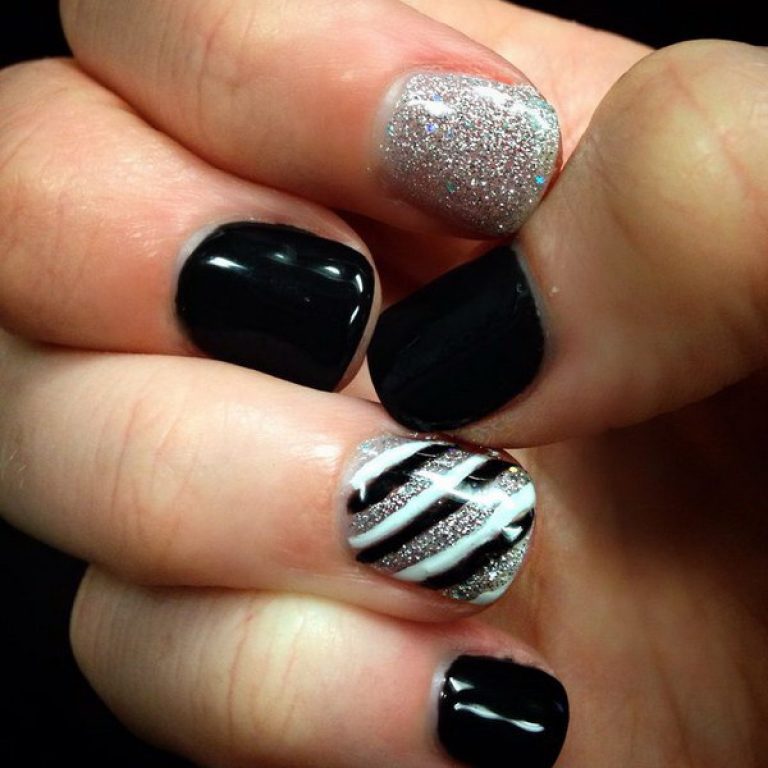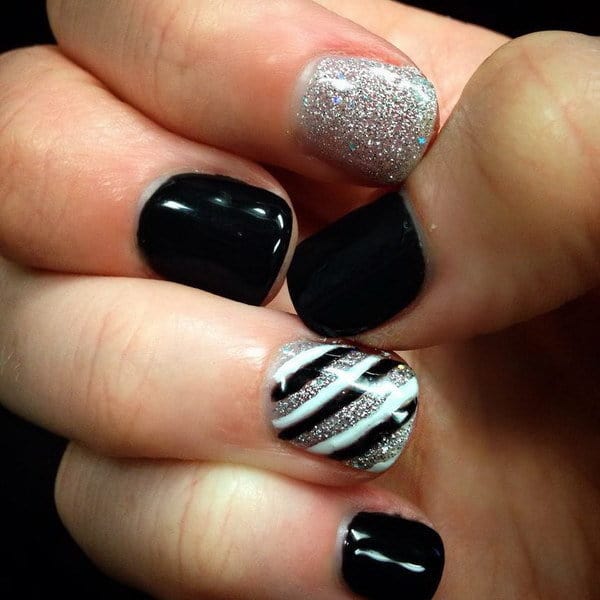 Twist it up a little. Why settle for basic nail art, when you can mix all your favorite designs in the world of nail art.
Combine the colors of elegance with glitter and stripes and you'll get this beautiful black and silver nail style.
#24. Cross Chained Design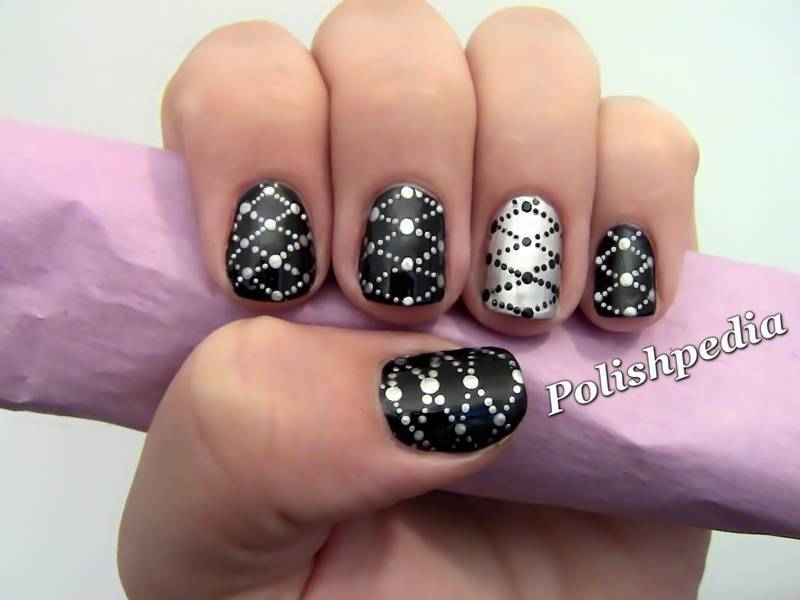 Show off your tough fierce personality with this edgy black and silver nail design, by creating these silver cross chains vibes on your plain black coated nails.
Black has always been a color representing both violence and vulnerability, these stylish nails won't scare people away, but they certainly don't show any vulnerabilities.
#25. Silver Gradient Ombre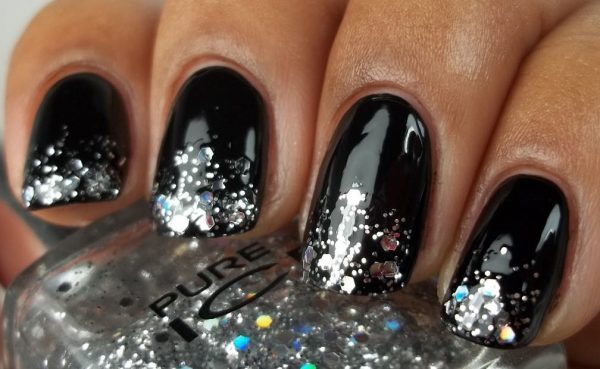 Bedazzle your regular glossy black nails, with fading silver gradients at the top of each and every black polished one. A design so glamorous in its simplicity, with these star-like gradients above the night's deep black sky.
Just as mirrors reflect our image, our outfit represents our mood and emotions… Haven't you heard the phrase "dress as you feel"? Our nails being an important aspect of our whole outfit nowadays, certainly unveil a part of our personality.
With nails designed with fierce dark black and creative joyful silver get everyone wondering what is hidden under your fabulous elegant style.