12 Elegant Black & Silver Nail Designs in 2018
Black has always captivated the crowds, a color holding grace and class in every aspect and any occasion, whether it's a little black dress, a black leather jacket or black polished nails. A color choice that might be daring and bold, unveiling the fierce women within you, however, combined with silver your styles will certainly reflect sophistication and elegance as well. Black and silver nail art is your go-to for a look reflecting grace and power equally.
Why Do We Love Black?
Why do we love black all that much? No one really asks this question, its just a given fact we all accepted, however, thinking of an answer we might believe that the reason lies in this color's impact on ourselves and others. Black is a color representing sadness as well as strength, isolation and force, plain and also elegance. A color holding all these conflicting characteristics within it has a bit of magic and it certainly charmed us all. Try these black nail designs if you wanna wear only black.
Black Nails Combined With Dazzling Silver
The color of grace combined with the color of imagination; silver, you'll get the perfect combo to represent the force elegant woman you are in this new feminine world. The addition of a metallic shine to your colorless nail polish, combined with your artistic skills, or your manicurist expertise, you'll get that modern nail design to flatter your style. In order to perfectly represent yourself and enforce your personality through your outfit and hence, your nail design create your own black and silver nail design. Check out our list of 12 black and silver nail design to inspire you and help you get a step closer to creating your own version of this nail art.
#1. Sparkly Silver Glittered Black Nail Polish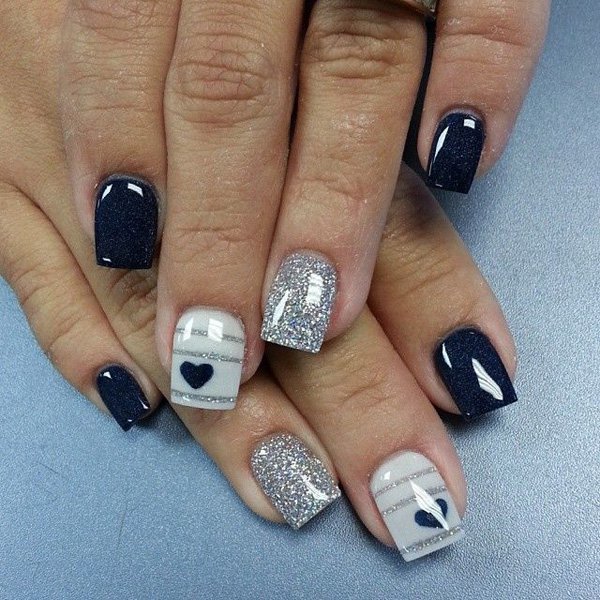 What best black-silver nail design combo other than black nail polish with silver gradients, a nail color that can dazzle by itself, however in this look this dazzling aspect is emphasized by the addition of bold accent silver glitter one.
#2. Metallic Silver Base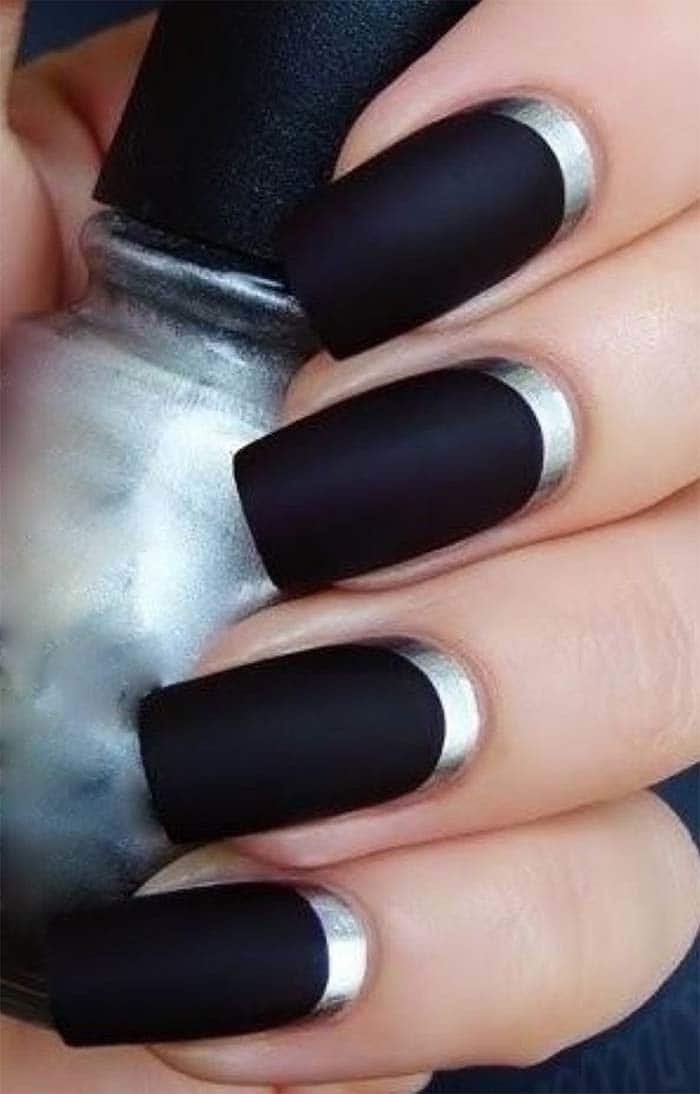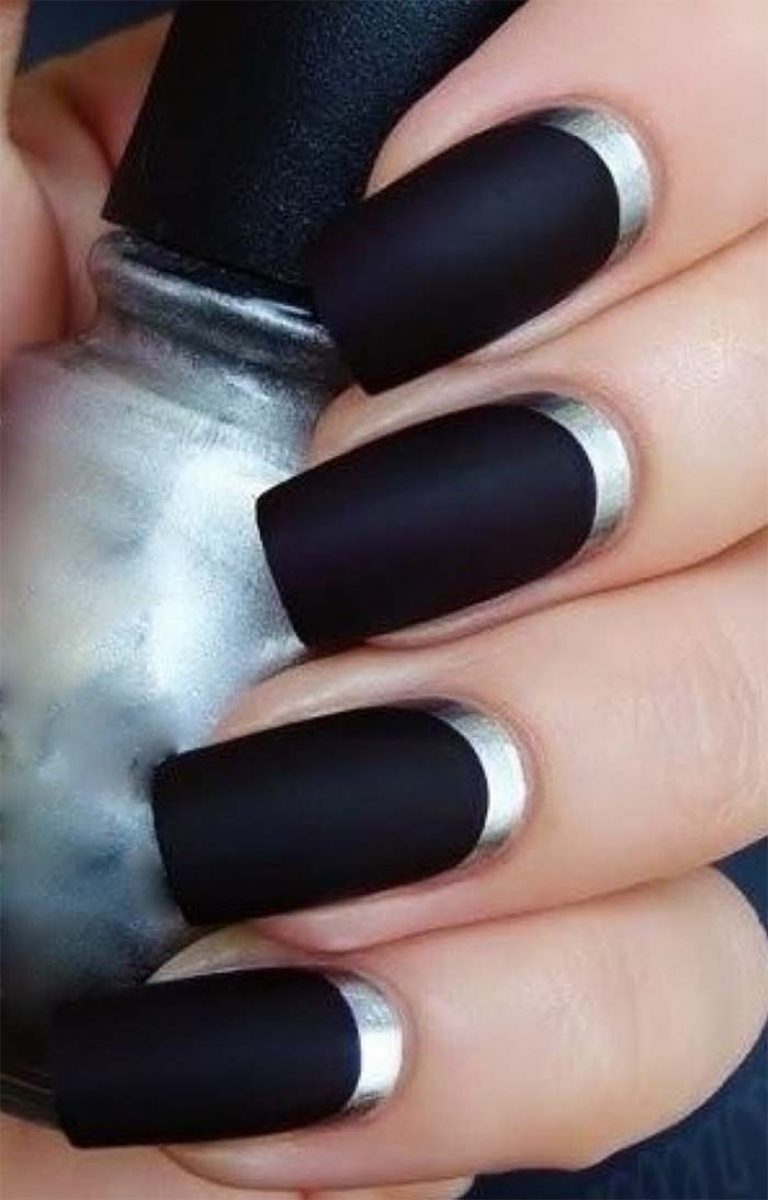 A base is an anchor, holding everything up and strong, it is the layer giving the whole body its shape and rigidity, and here a design based with a chrome polish. Just near the cuticles, a base channeling this design from plain to amazing. Above a matte black layer on your long squared nails lies a base of this metallic chrome polish, giving a modern appeal to your black and silver manicure.
#3. Black & Silver Caviar Style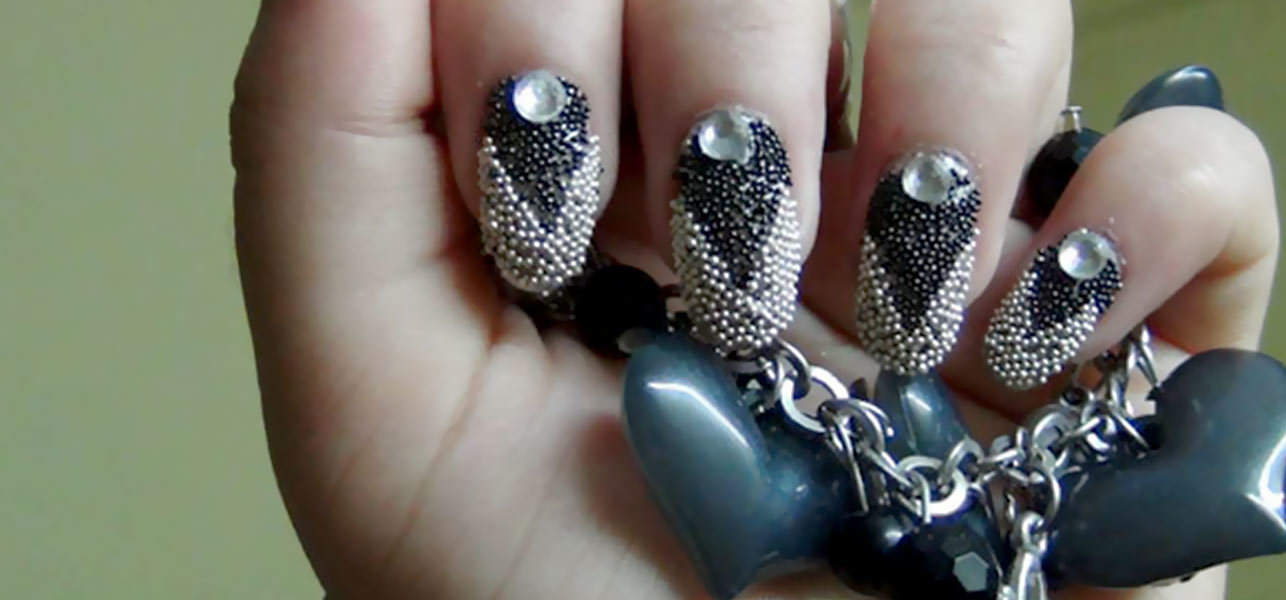 Just like in all those tales we've heard growing up, all those eye-patched wooden-legged pirates searching the seven seas and seven lands, to find that lost treasure in the deepest of seas, sailing from one island to another. These caviar black and silver nails are the treasure you've been looking for to get a gorgeous nail design that'll complement your fashion-loving appearance.
#4. Silver Stamped Black & Silver Nail Design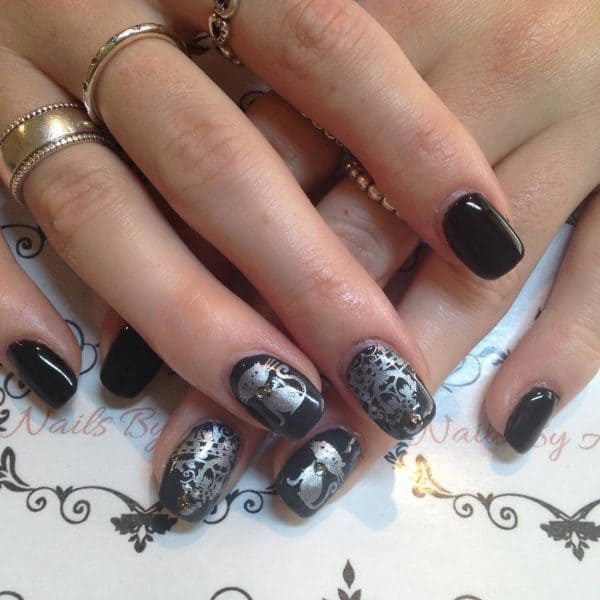 So your nails are all done with this simple coat of glossy black nail polish? And you're all ready to head out, start your day, and get done with your daily errands and responsibilities? If you believe you're busy and got no time for an extravagant nail design, nail stamps are your solution. Choose your favorite patterns from your nail stamps pallet to get a quick and easy stylish black and silver nail design.
#5. Black, White, & Silver Theme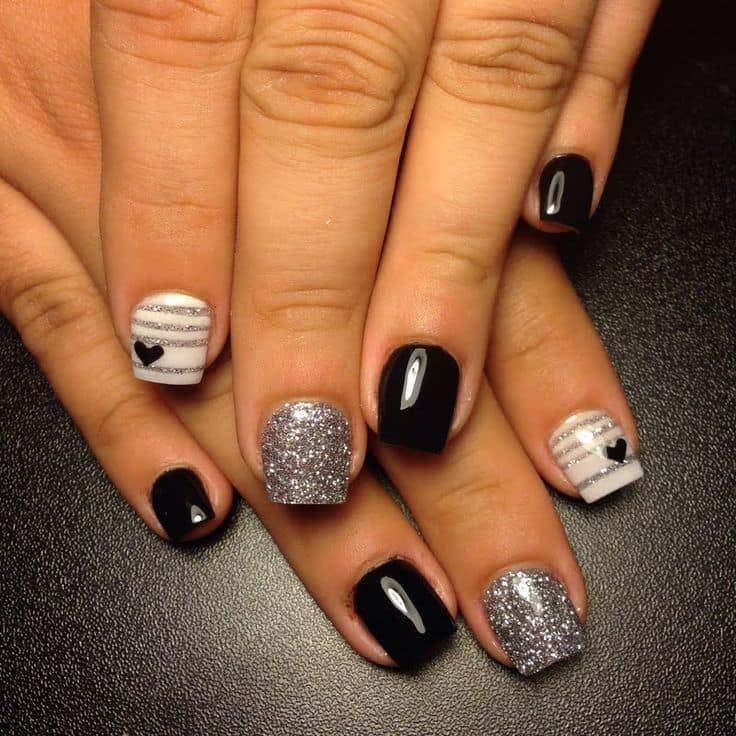 Express your love and adoration to glossy black shade and silver gradient one, with a third accent nail. The silver striped design on top of a fresh white coat, with the tinniest drawing of a heart.
#6. Creative Combo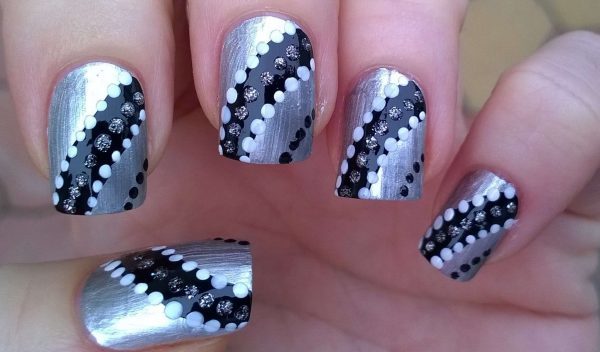 Polka dots in white, black, and silver glitter-infused within this silver and black coated nail design.With this design, you'll randomly find yourself waving your hands in front of the crowds subconsciously to show off your attractive nails.