Whenever you feel the need to get a simple but very effective look for your hands, try the light blue nails mani. This pastel color inspires joy, warmth, without being flashy.
Light blue nails are certainly sensational, and if you create some subtle designs or add a little bit of glitter, you will obtain a glamorous look.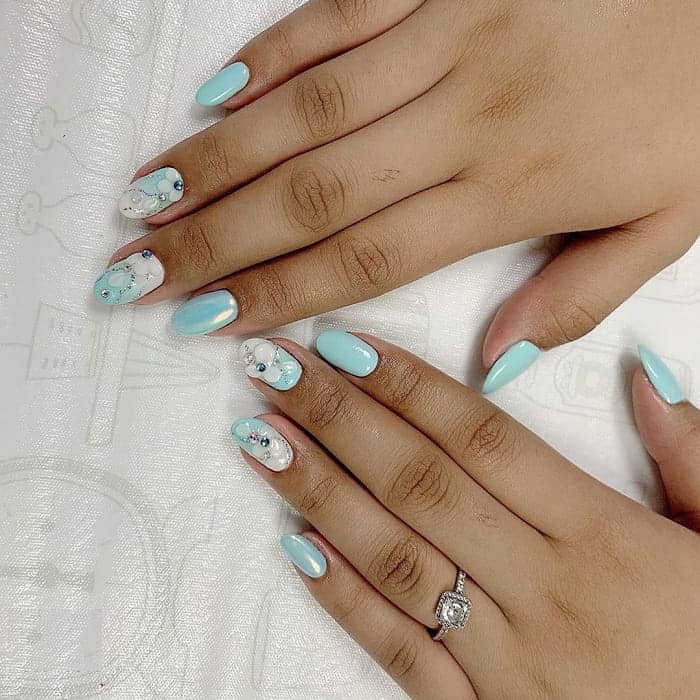 Who said that a simple mani isn't eye-popping! The best example is right here: a pale blue base and some flower nail designs can really make a difference!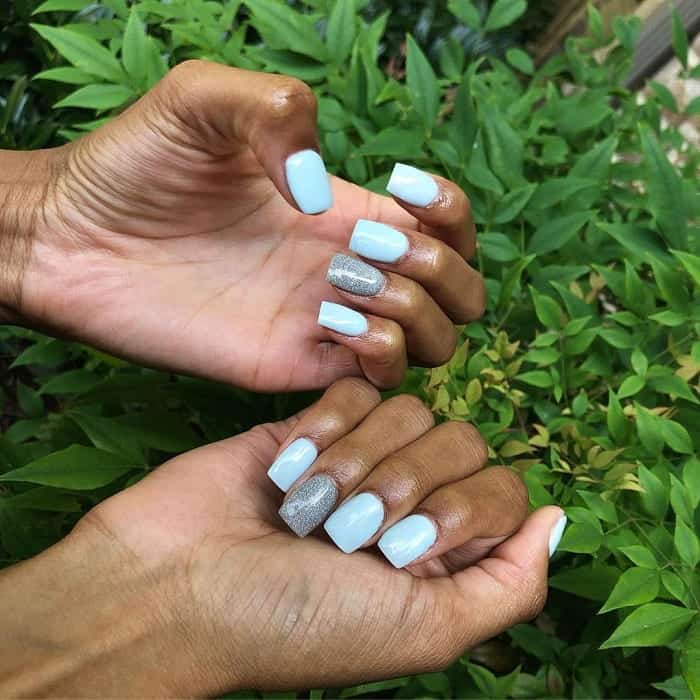 When you have dark skin, and you choose to use a pale blue color, your nails will get all the attention they deserve. For one of your nails, choose a darker shade with glitter for a sparkly touch.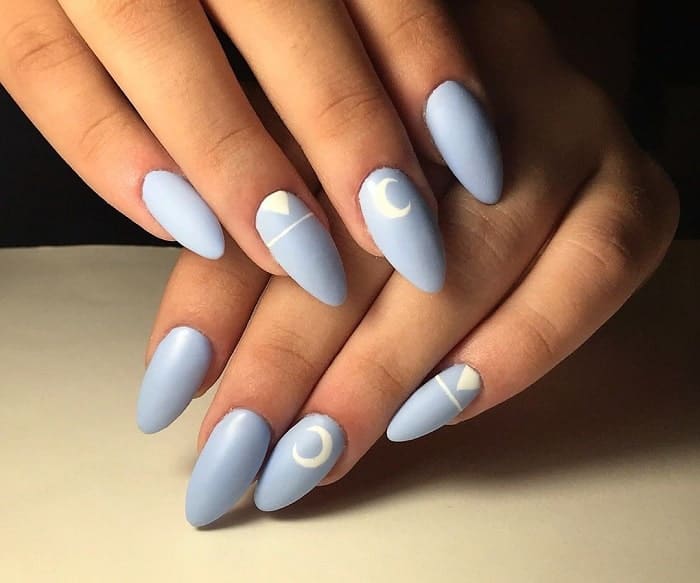 Create a dreamy look by choosing a gorgeous light blue color with mauve hues. You can also make some subtle designs with white polish: abstract paintings and a half-moon.
4. Light Blue Gel Nails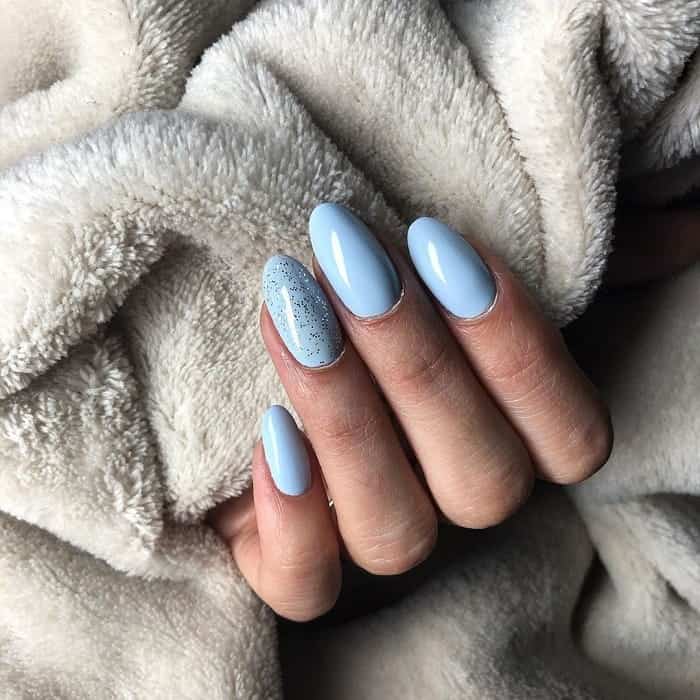 For a gorgeous mani like this one, you will need to use acrylic gel to build your nail. Paint them in a light blue color and add some silver glitter on one of your nails.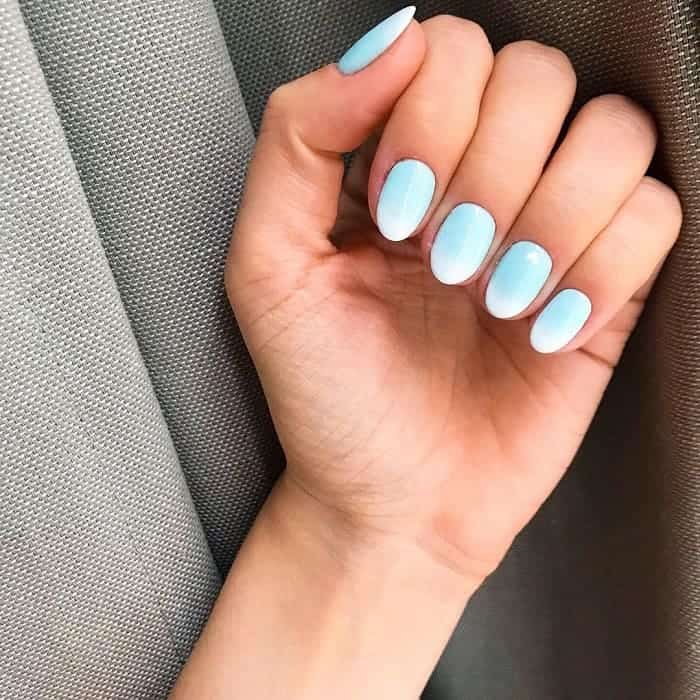 Blue sky nails look undoubtedly lovely and charming, especially thanks to that beautiful ombre that blends a light blue polish with white.
6. Beach Vibes
Rock this nail design when going to the beach. Add some white to the corners of blue nails with coconut and palm tree stickers on top. Finish off with a transparent top coat and get ready to enjoy the summer.
7. Blue Chrome Nails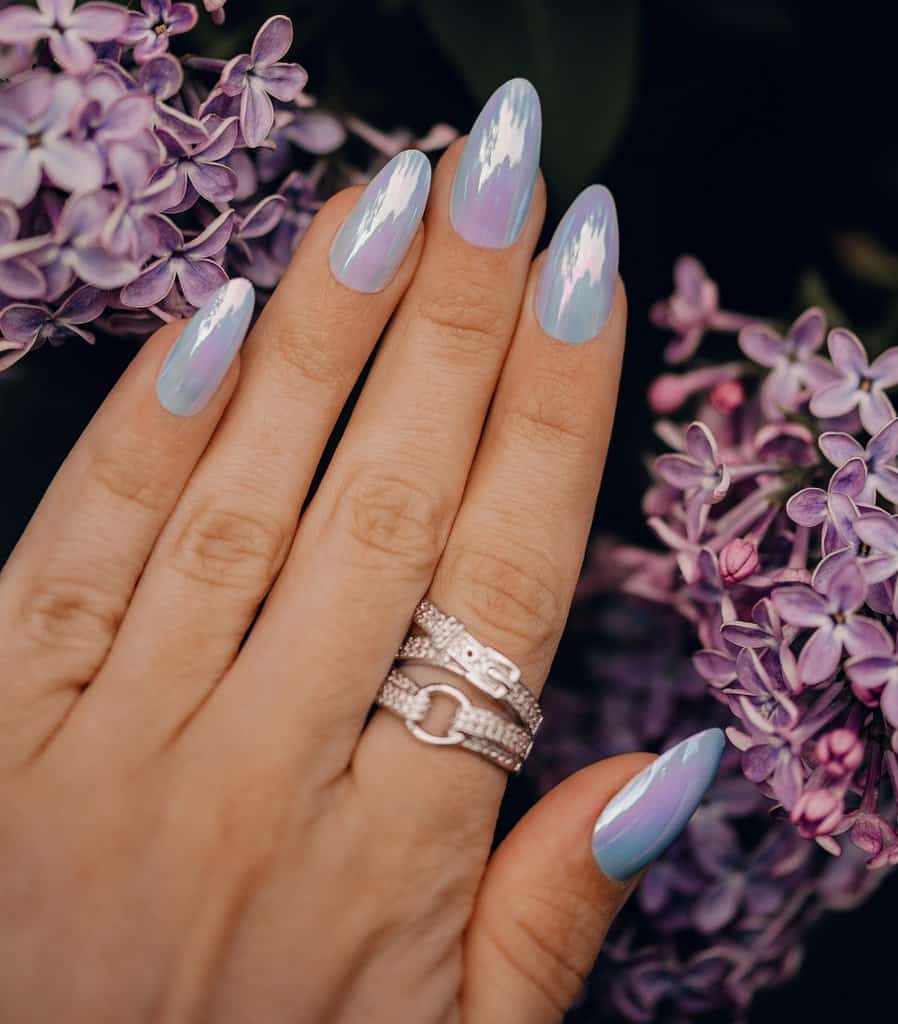 Here is another way to level up your nail game. Add a coat of lilac on the nails and cover them with light blue chrome powder. Brush off the excess to reveal a dichromatic shine beneath that is sure to attract some attention.
8. A Hint of Pink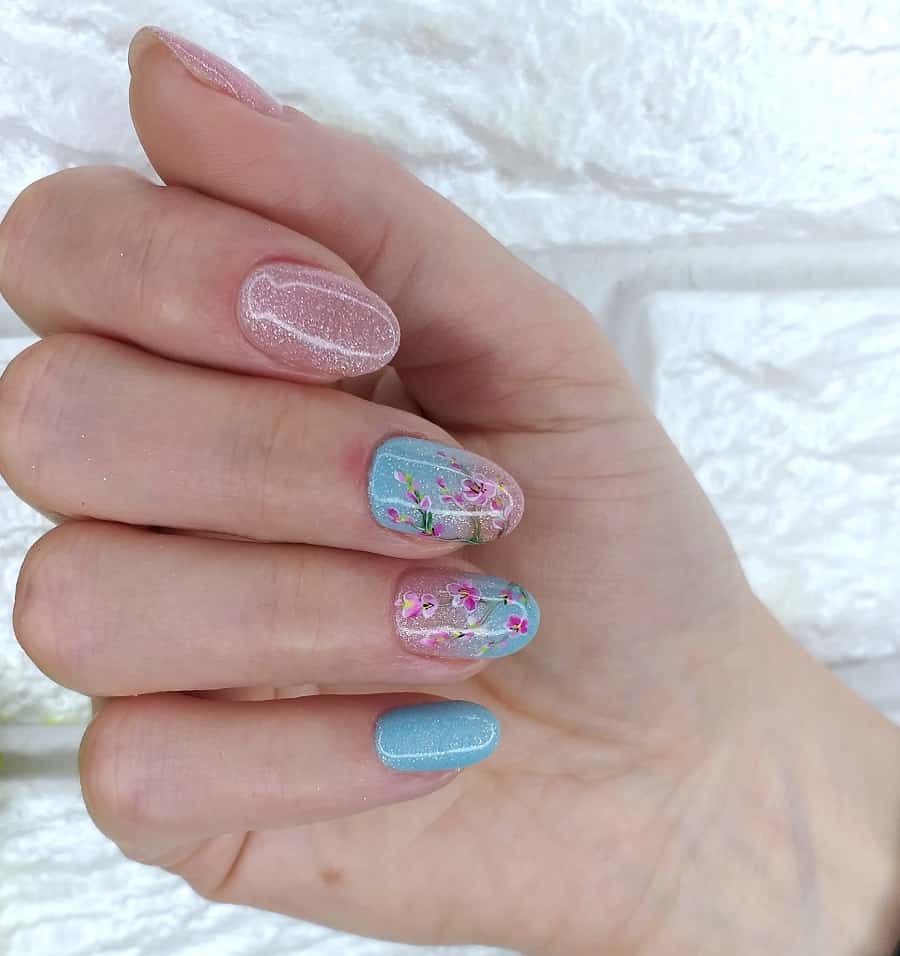 Pink and blue go perfectly together. Use glitter polish to create an ombre on some nails while keeping the others plain. Add delicate pink flower decals for a detailed look or draw them with a fine brush. Adorable!
9. Textured Design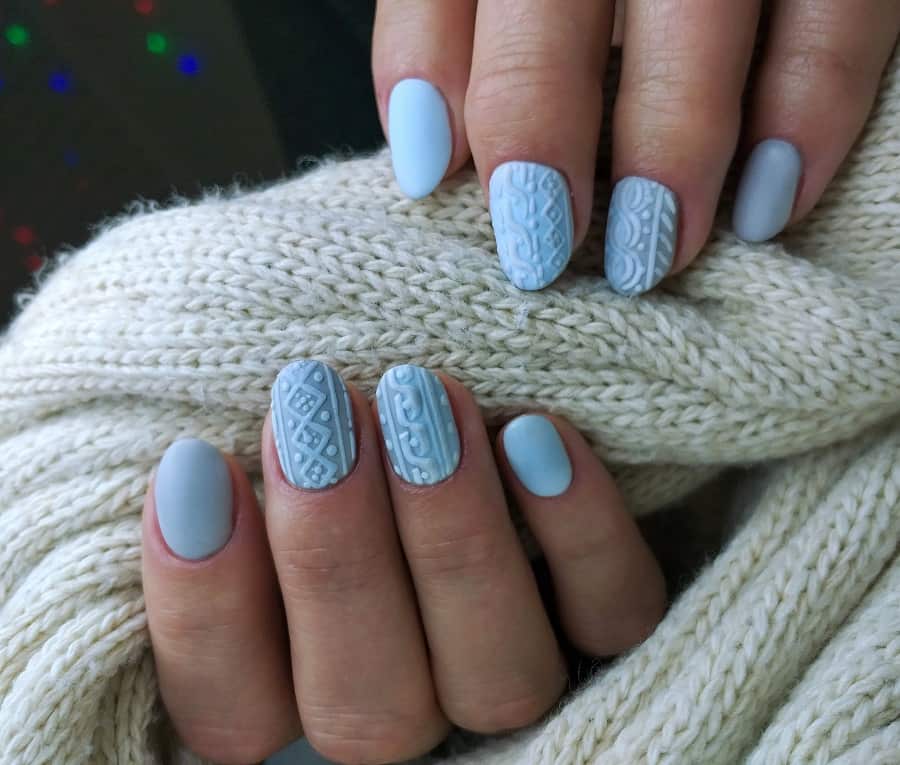 Textured nails have taken over all other nail designs and it is not difficult to understand why. Copy the pattern from your favorite sweater using matte gel polish and sprinkle on some translucent acrylic powder. Dust off the excess and done.
10. Stamped Pattern
Light blue nails look exceptional when coupled with nude ones. Go for a short square shape and place a hollow template sticker on any two nails. Paint it with polish and remove to reveal a gorgeous stamped pattern beneath. Easy breezy!
11. Pretty Daisies
Paint one nail with a light yellow tinge to contrast against the remaining ones and use the same polish to draw cute little daisy flowers. Place random dots, drag them towards the central dot and add a stalk. Voila!
12. Polka Dots and Stripes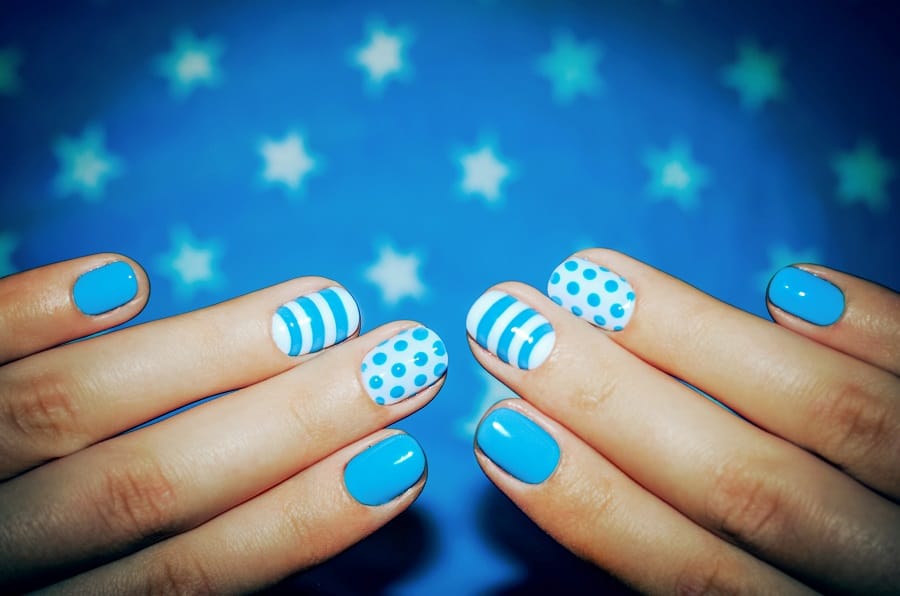 Polka dots look playful and are super easy to create. Go for a light pastel blue base and add aqua blue dots and stripes keeping the remaining nails plain. This design is perfect for short nails.
13. Add a Smiley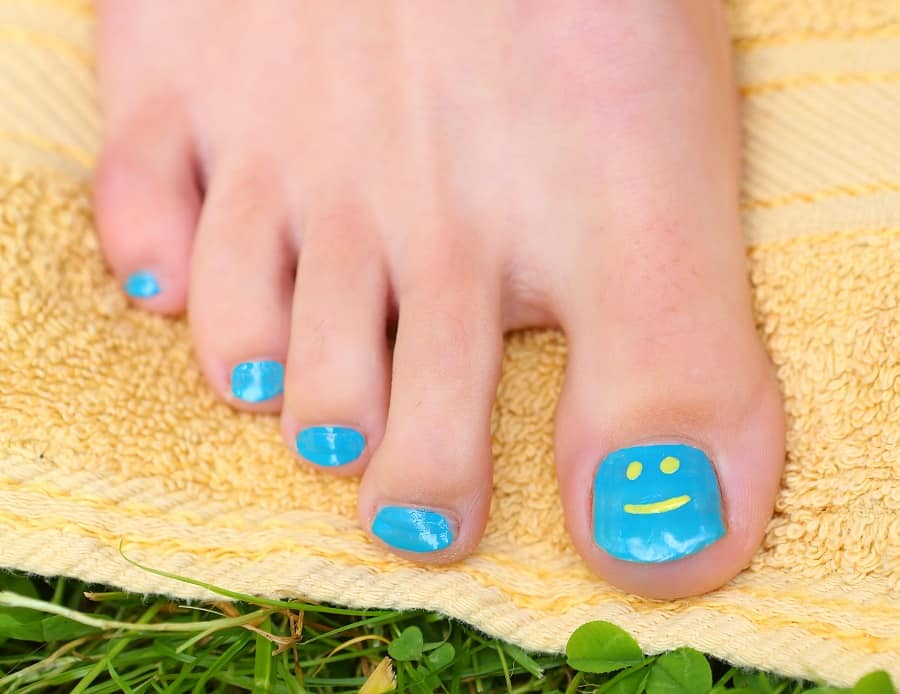 Bring a little happiness to your life with this cute nail design. Paint the nails with aqua blue polish and draw two eyes and a soft smile on the big toenail. There you go!
14. Light Blue Tips
Rock a chic French manicure by adding a coat of transparent nail polish with light blue tips. Add fine white spirals on the accent nail and finish off with another transparent coat. This elegant look goes perfectly with all nail shapes.
15. Glossy Jelly Glitter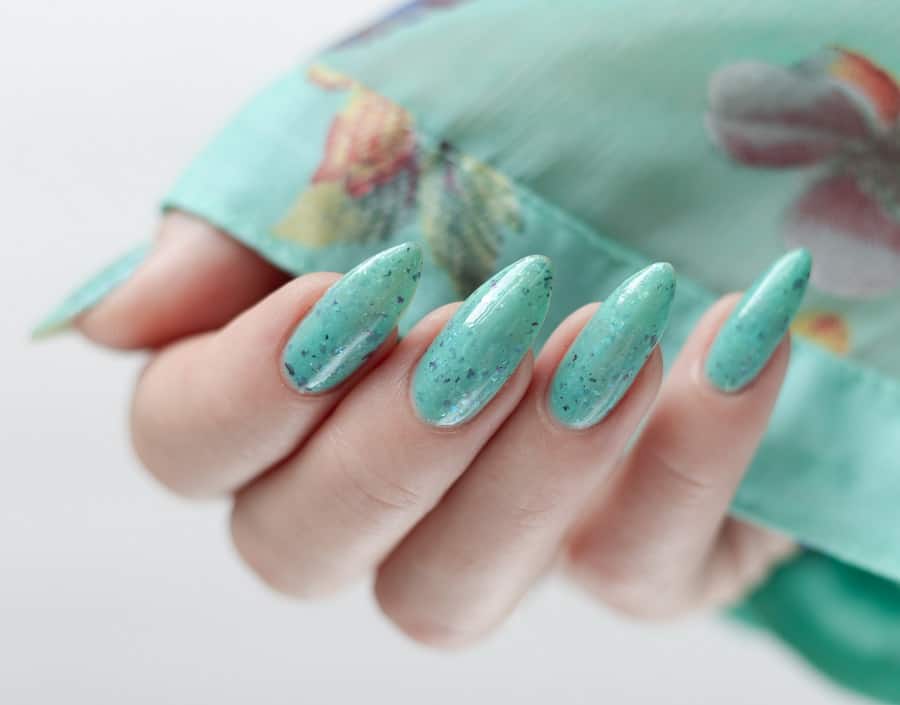 Make those long stiletto nails pop by painting them in a light aqua hue. Add two coats of multidimensional glitter polish or use nail foil in a matching shade to achieve a similar effect. Don't forget the top coat.
16. Color Block
Color blocking is suitable for beginners with shaky hands. Start with a nude base coat on the long square nails and use some tape to apply blue glitter polish on the upper half part. Top off with some white and aqua dots.
17. Floating Clouds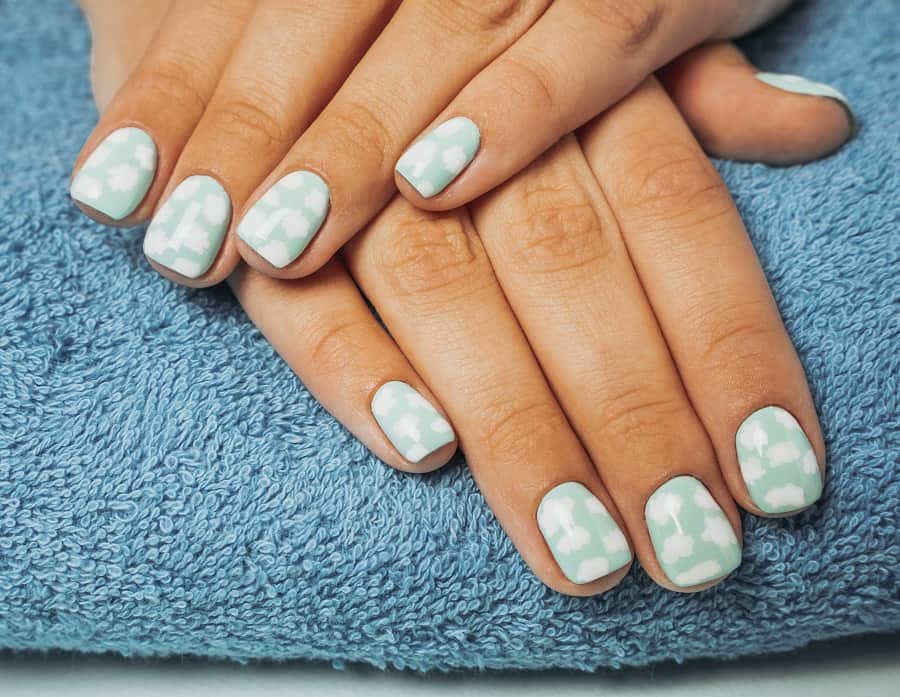 Bring the entire day sky on your nails! How? Add a coat or two of pastel blue on the nails and draw tiny white clouds on all of them. Place some random dots and merge them together. Repeat!
18. Simply Chic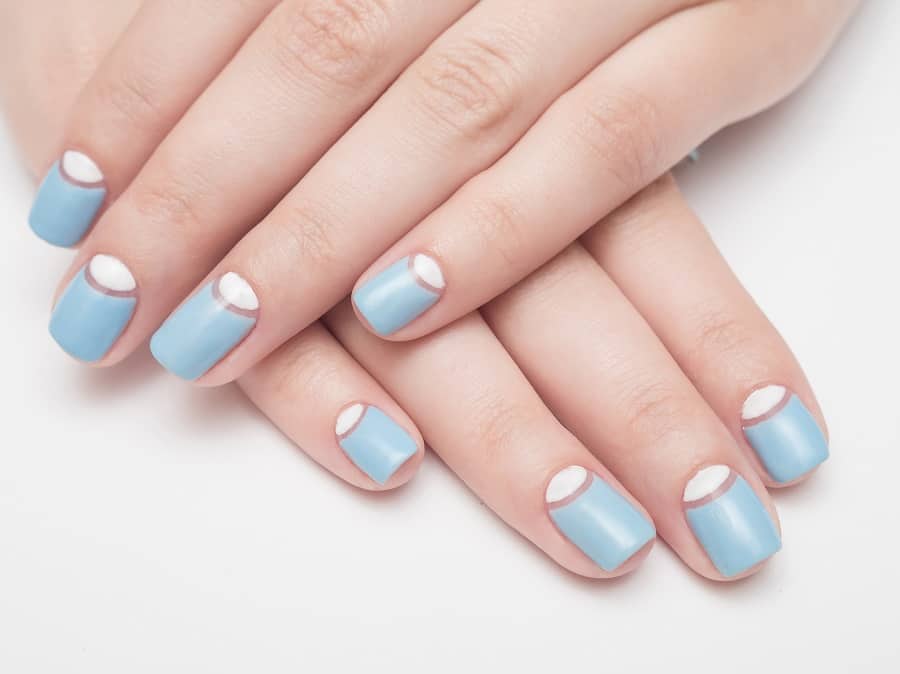 The simpler, the better! Apply white polish on the base of the nails creating half a circle and cover the remaining part in a sky blue color. The key is to retain prominent space between the two shades.
19. Floral Print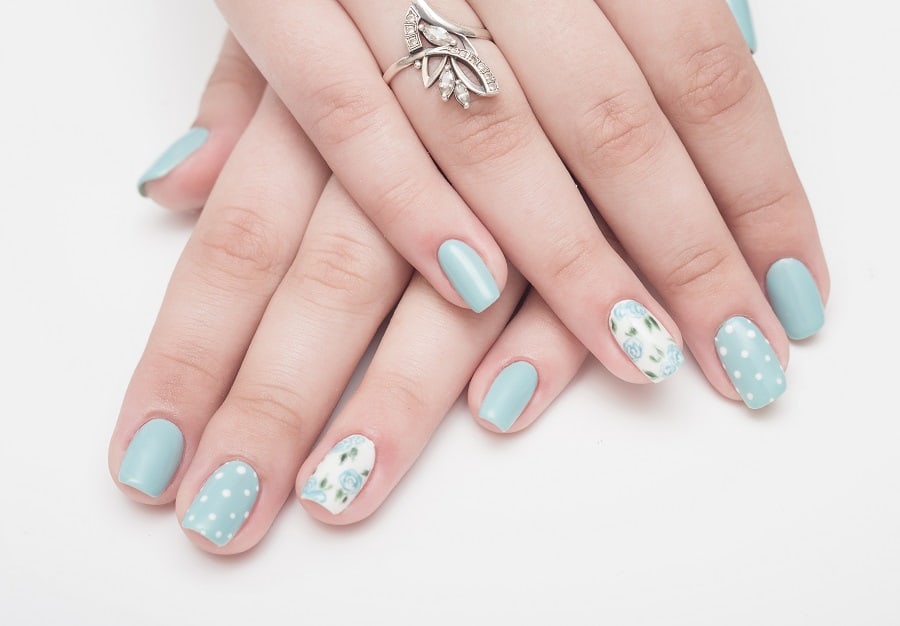 Nail decals come in handy when creating an intricate nail design. Recreate the look with light blue nails while placing delicate floral stickers on the white accent nail. Some polka dots surely won't hurt!
20. Diamond Nails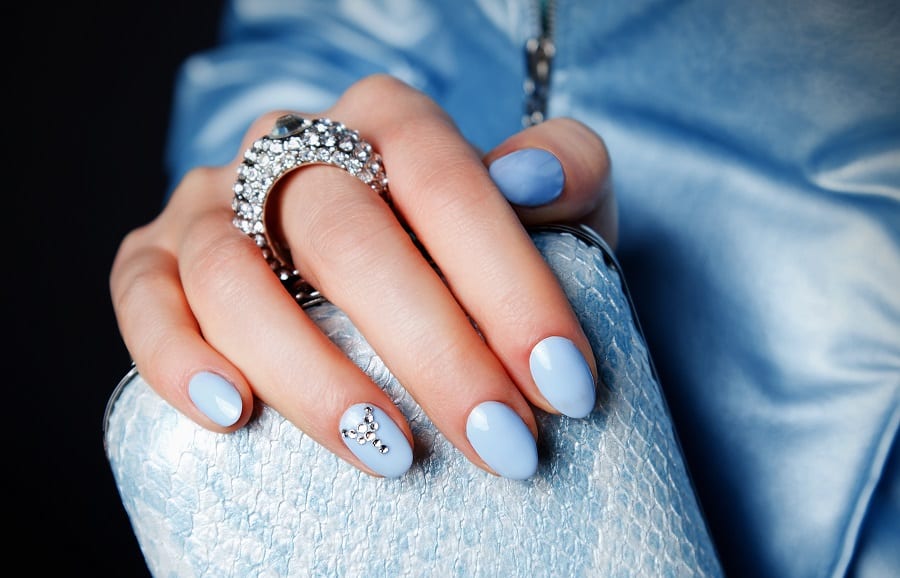 Liven up a boring plain manicure in just a flick. Add the rhinestones to create a dripping pattern or any other shape and fix them in place with glue. Put the gems on all nails instead of the accent nail only for some extra bling.
21. Go Wild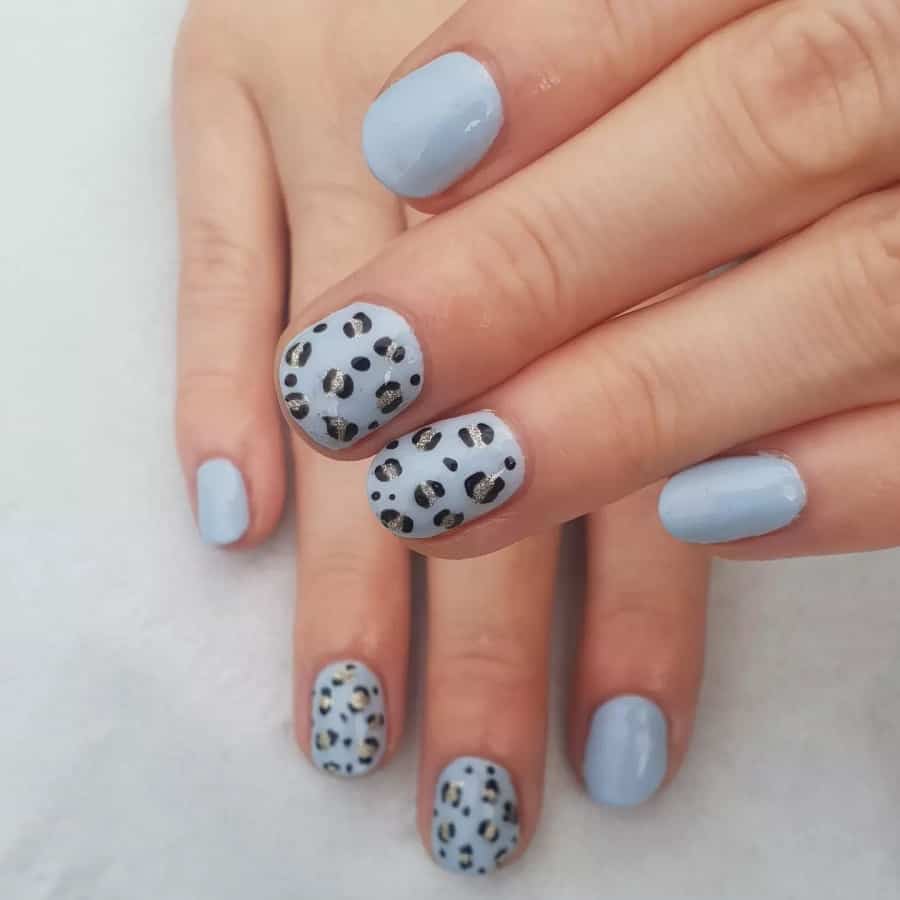 Express your love for wildlife by recreating a leopard skin pattern on the nails. Add random silver dots and outline them with black polish with a few specks of black scattered in between.
22. Transparent Tips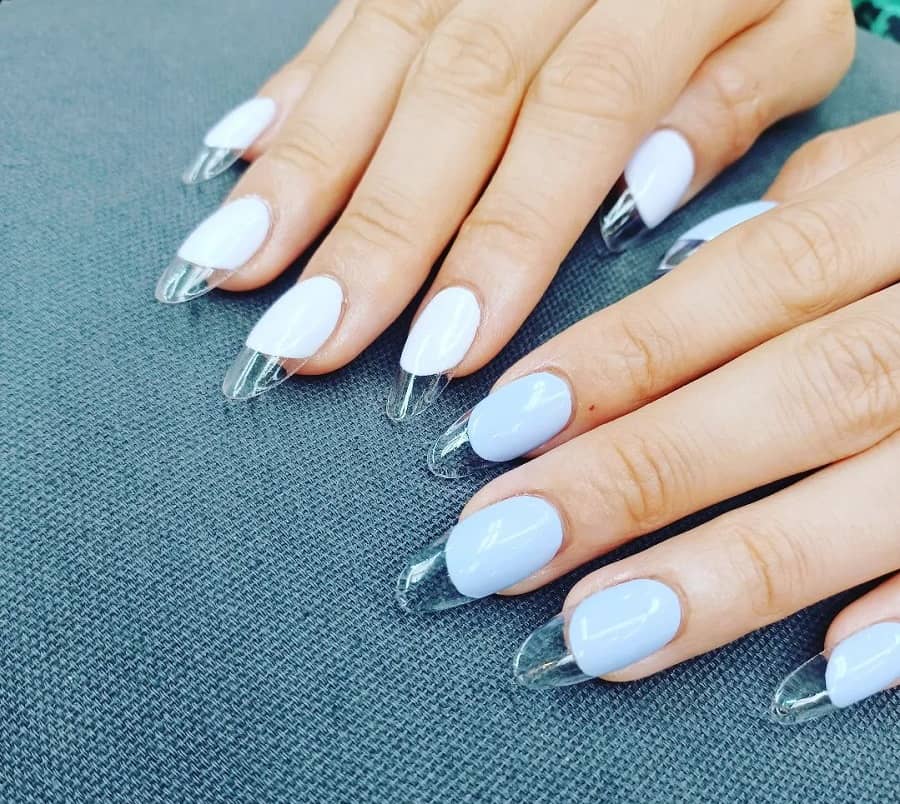 Transparent glass-like nails are the latest trend this year. Use press-on nails or go for the gel ones in almond shape and add a pop of color by painting them pastel blue sparing the long tips.
23. Christmas Look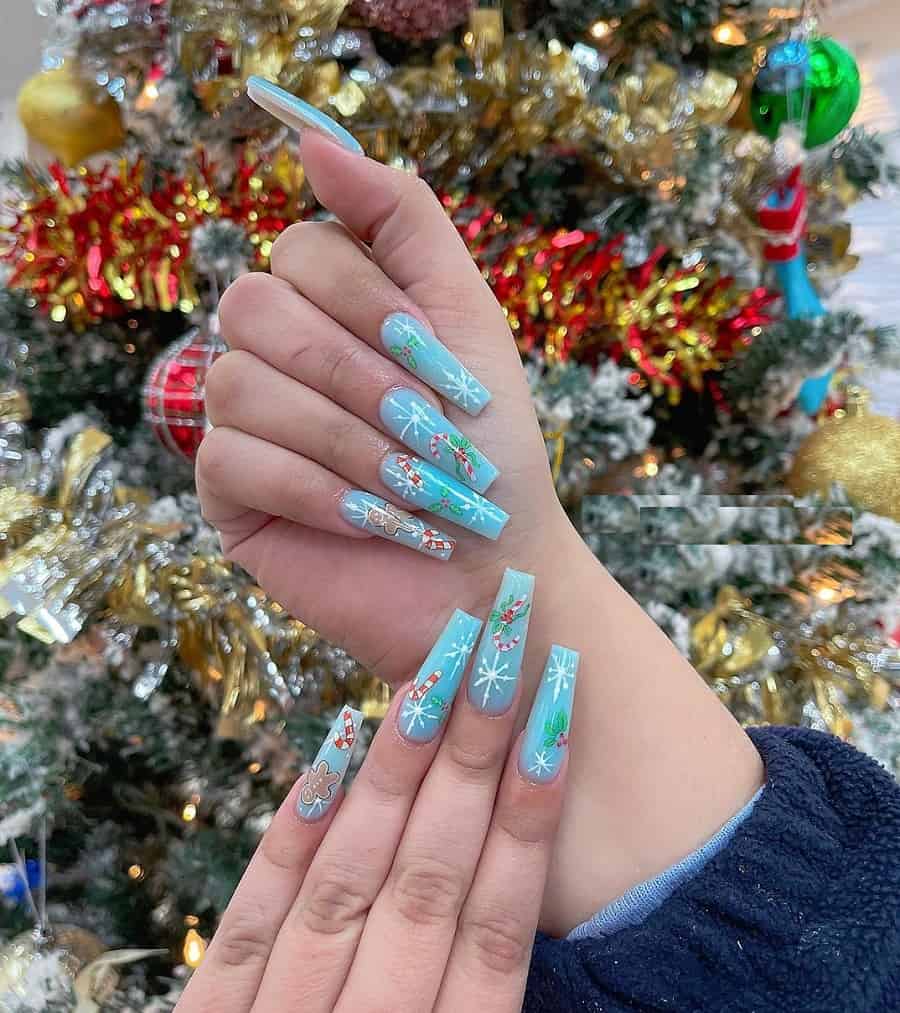 Celebrate Christmas with these extra-long tapered square nails. Connect some dots and lines to create snowflakes and set off the design with candy cane and gingerbread man nail stickers. Don't forget the top coat. Eye-catching!
24. Marble Design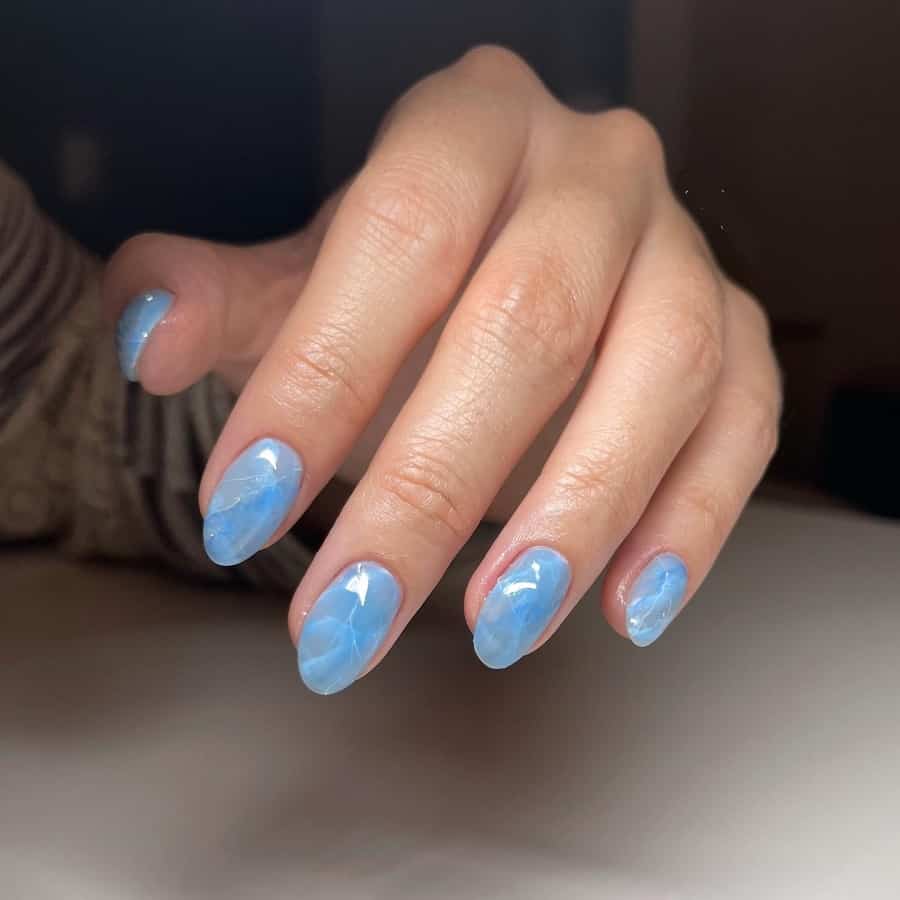 Make those nails look like pieces of marble by opting for a translucent base coat. Before adding stripes of white and darker blue on top mix them with some thinner for a more realistic effect.
25. Silver Shimmer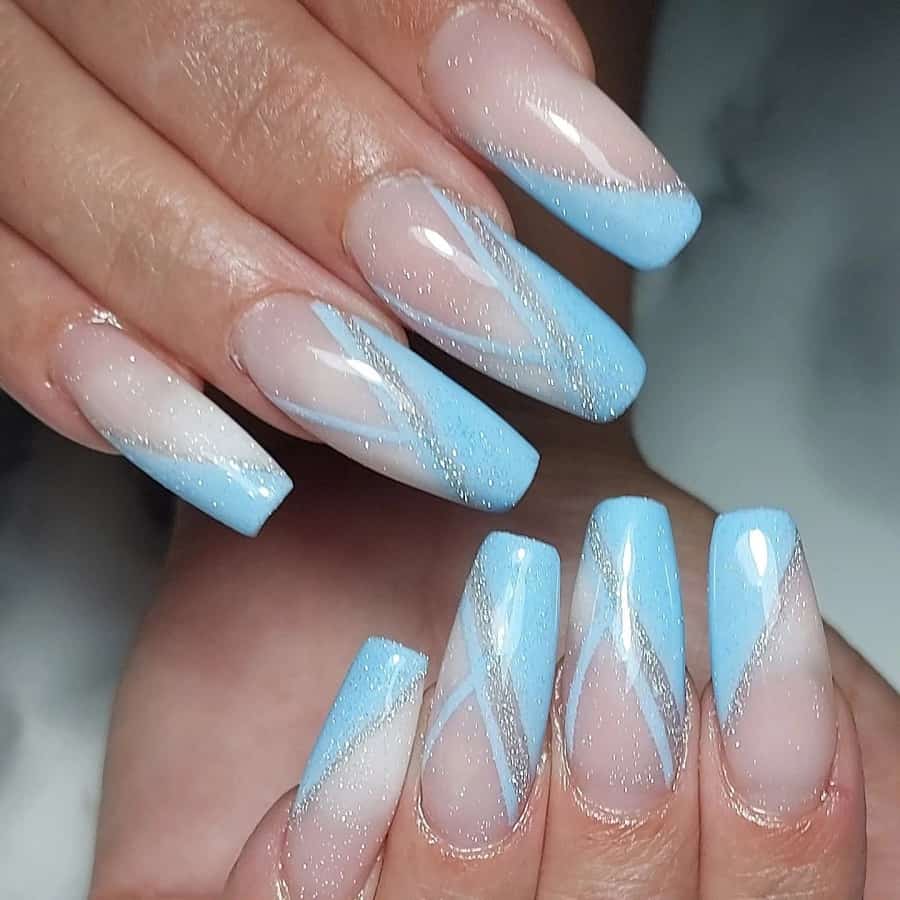 A subtle touch of silver is sometimes enough to set your nails on fire. Use sky blue polish to paint the tips of the long nude coffin nails diagonally and add fine lines of silver shimmer in between. Done!
26. Extra Bling
Creativity is off-limits when it comes to nail designs. Add some extra bling by placing shiny rhinestones on the margins of the glitter nails and finish off with cute little transparent heart and bow nail charms.
27. Cute Snowflakes
You are sure to love these nails even if you hate winter. Use a nail art stamping kit to place delicate snowflakes and snowmen on the blue French tip nails and sprinkle some glitter on top.
28. Accent Nail Design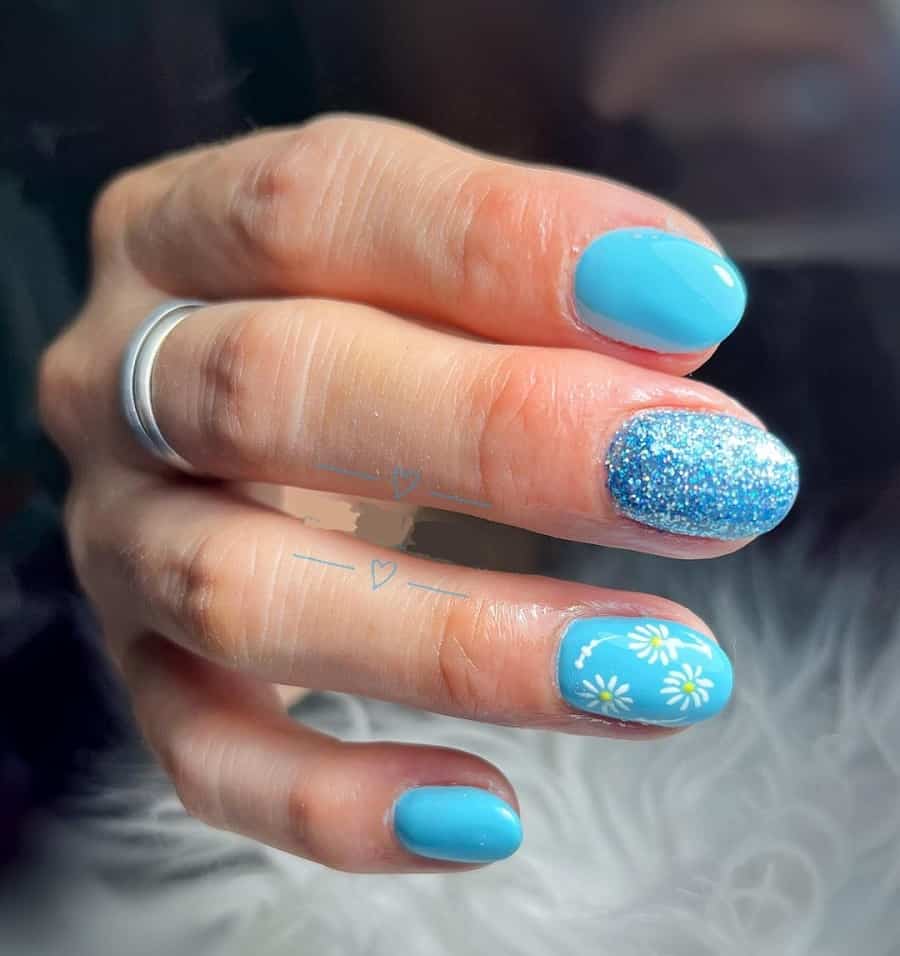 One or two nails styled differently from the others look exceptional without a doubt. Cover one of the nails in twinkling glitter and draw some daisies on another one. Simple and stylish!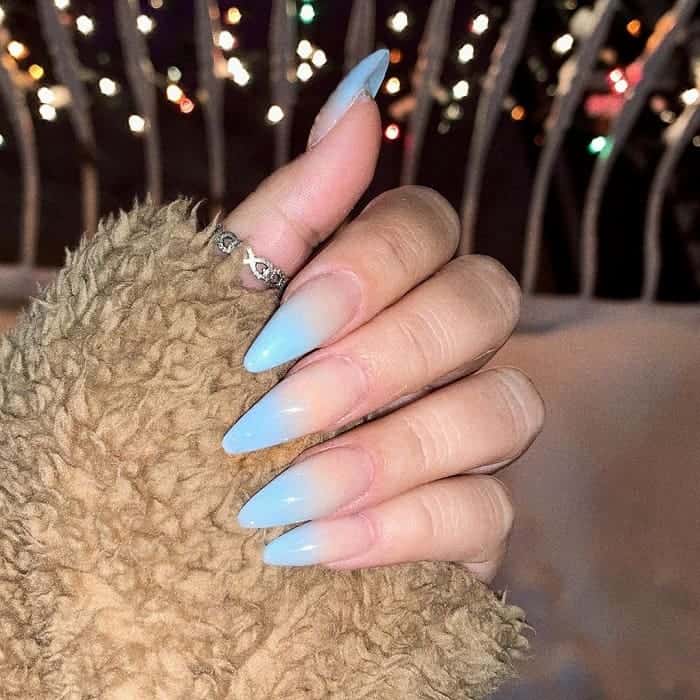 If you want to recreate this look, you need to build your nails with acrylic gel and create a gorgeous ombre from nude to light blue shade.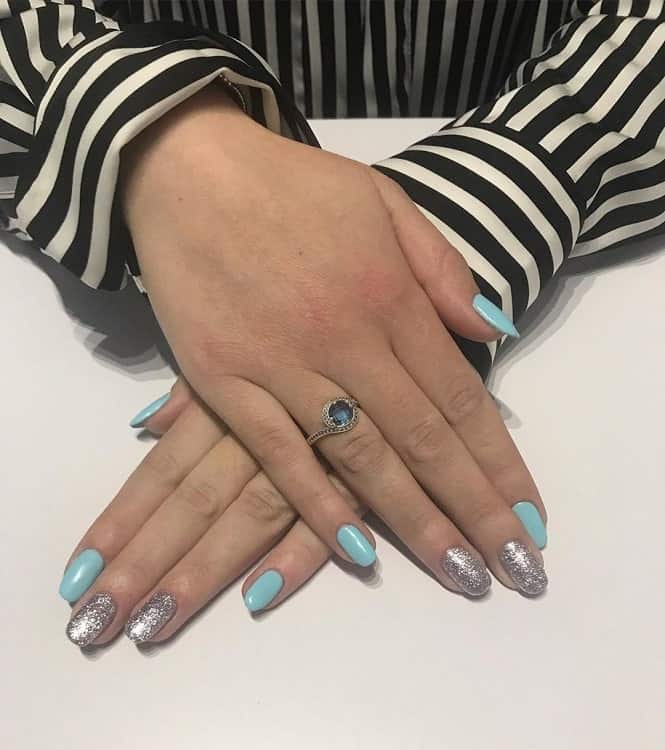 Get a surprising look with a pale blue hue and some sparkling silver glitter nails. Keep your nails in a square oval shape, and you'll spread happiness wherever you go.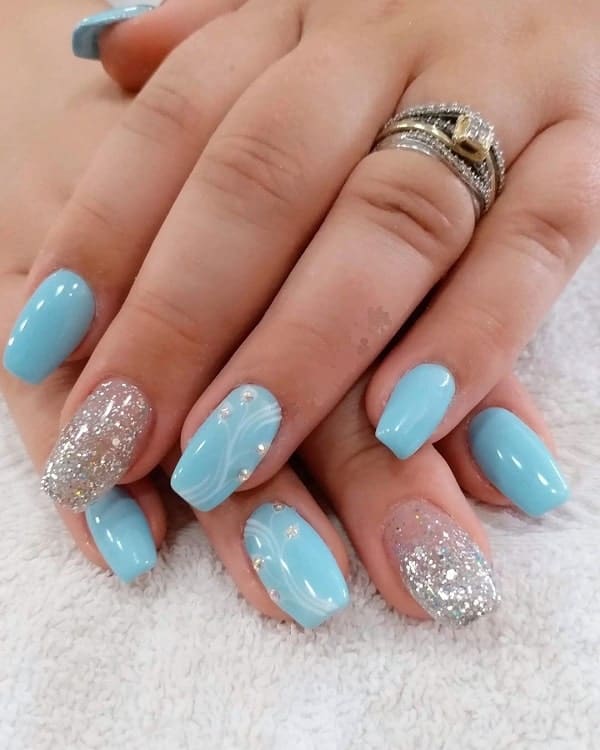 Make this light blue polish stand out with some subtle rhinestones and designs. Create a silver glittery ombre design on your middle fingernail and get ready to party!
32. Gold Foil Glam
Add a royal touch to a simple manicure without much effort. Place bits and pieces of shiny gold foil on the long ombre nails and seal with clear gel polish. Try the look with silver foil too.
33. Dripping Icicles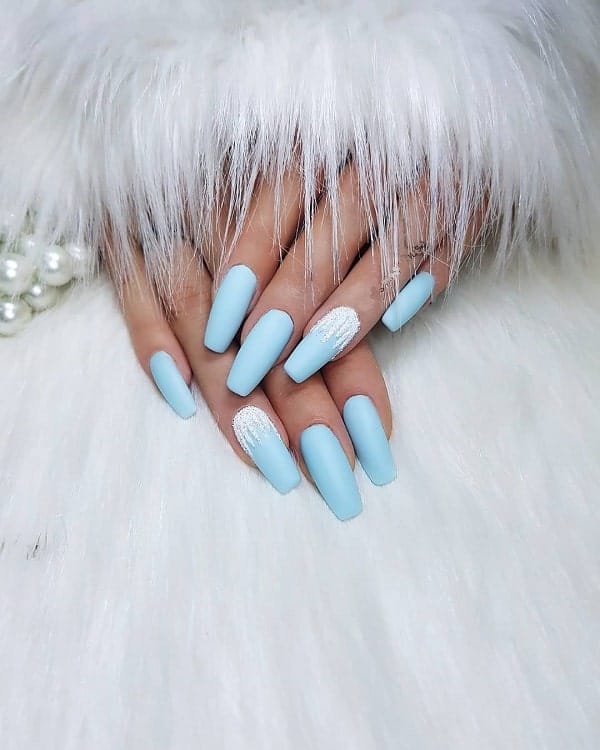 These matte light blue nails are to die for! Experiment with a ballerina or square nail shape and draw sharp icicles coming down from the cuticle using nail gel. Cover them with white glitter recreating the design exactly.
34. Bunny Theme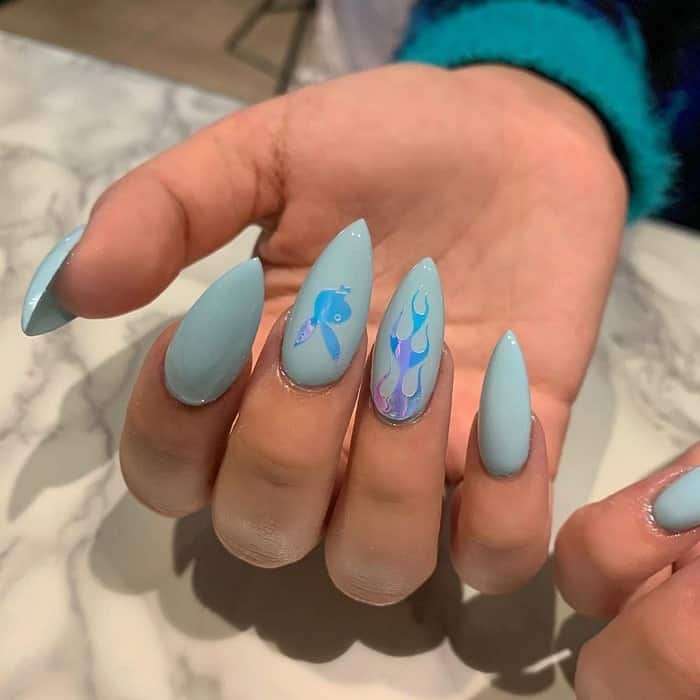 Why complicate when a basic design does the job? Sculpt long stiletto nails using powder blue gel and draw a sweet little bunny on the accent nail or use a sticker instead. Simply wow!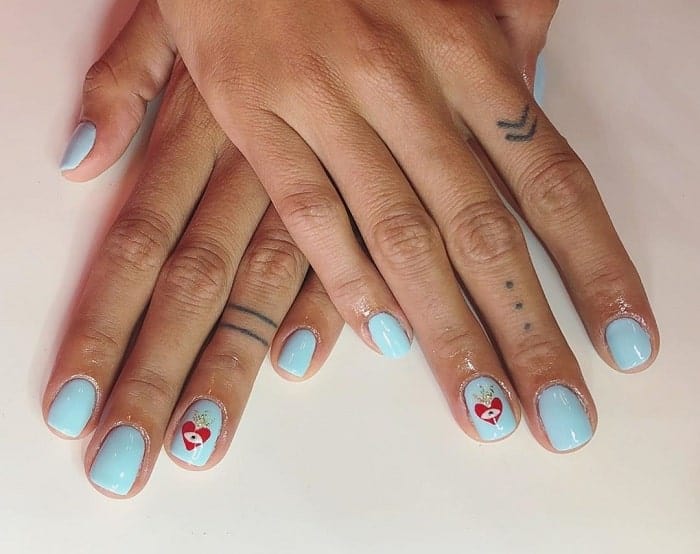 Blue is an ideal color to rock on short nails. Make them pop by drawing a bright red heart on one nail. Add an eye in the center for a funky appeal or skip it depending on your preference.
Whenever you want a simple mani that can't go unnoticed, choose a light blue shade for your nails. You can create subtle designs, emphasize it with some rhinestones, or create gorgeous ombres that will look absolutely breath-taking. Tell us in the comments below why you love this color so much!