The blue is a pure color that stands for trust, faith, and intelligence. If you are that type of a woman who likes to stick it to the neutrals, don't be!
We will change your mindset and you won't be able to say no to these royal blue nail designs.
Royal Blue Nail Designs
#1: Imperial Blue Coffin Nails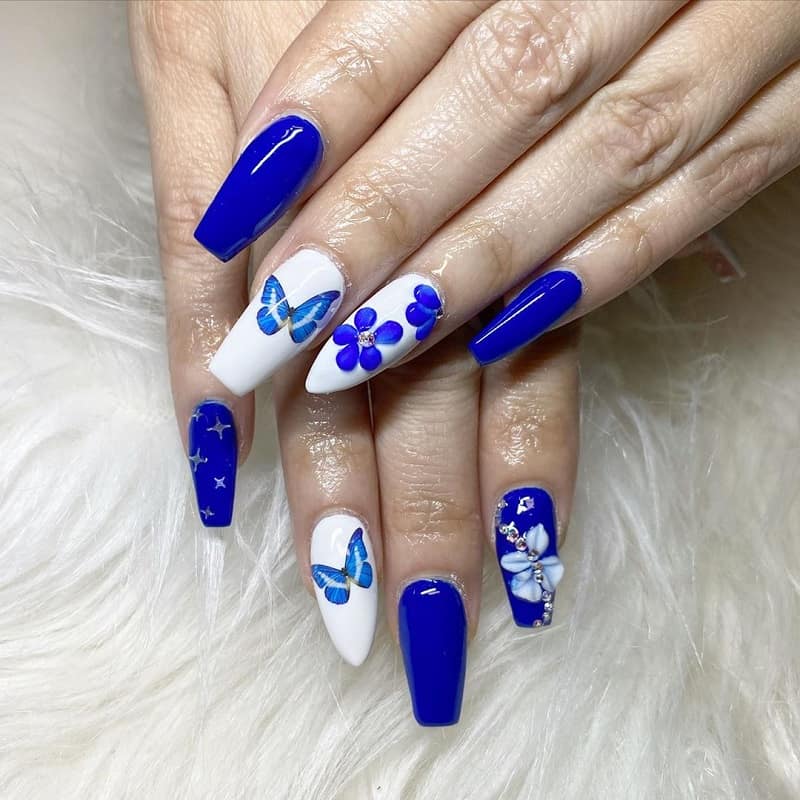 Royal blue gel nails look so imperial and classy. You can get creative and give the ring fingernail a different shape, like a stiletto.
Apply butterfly stickers on the white nails and for the rest, design flowers and use rhinestones to build your design.
#2: Metallic Stiletto Nails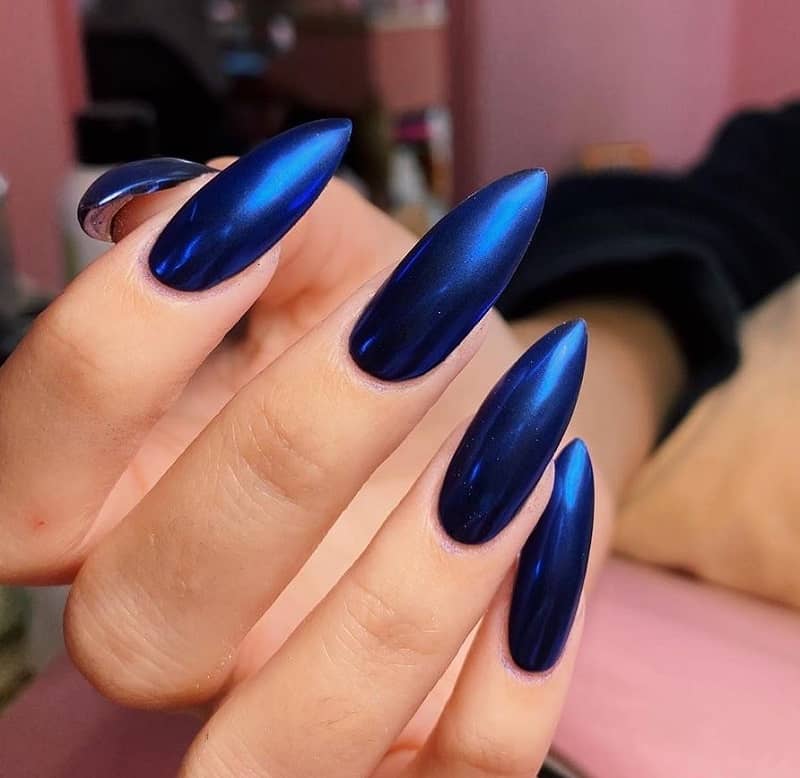 Royal blue stiletto nails are a true statement and will tell all around you that you're not the girl they want to mess with.
They show confidence and class and look so outstanding!
#3: Almond Blue Nails with Black Lines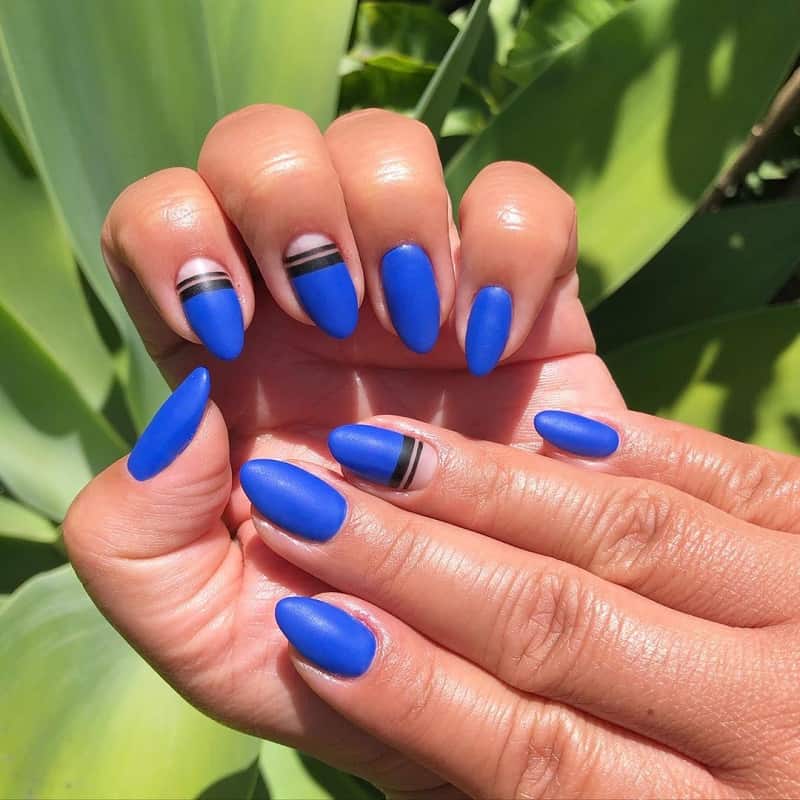 Pull off royal blue matte nails and spice things up with a double-lined design for some of your fingers.
Also, make sure the blue doesn't interfere with the lines so that you can reveal the true color of your nail.
#4: Royal Blue Toenails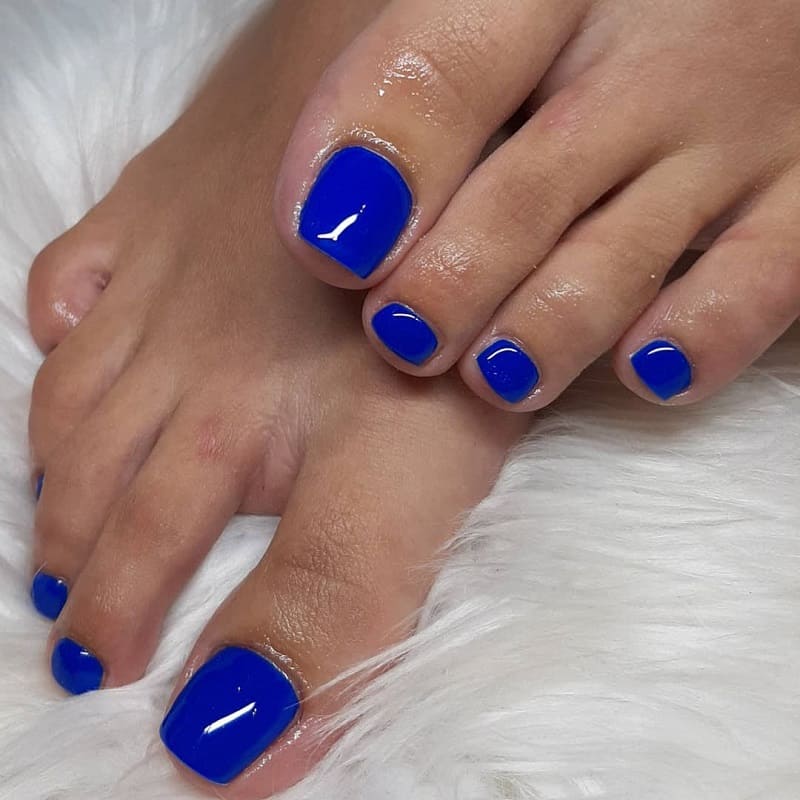 Royal blue toenails with a perfectly squared shape will attract all eyes like a magnet if deciding to wear flip flops or some exquisite sandals. Cut the cuticles if you want them to look flawless.
#5: Blue Nails with Abstract Design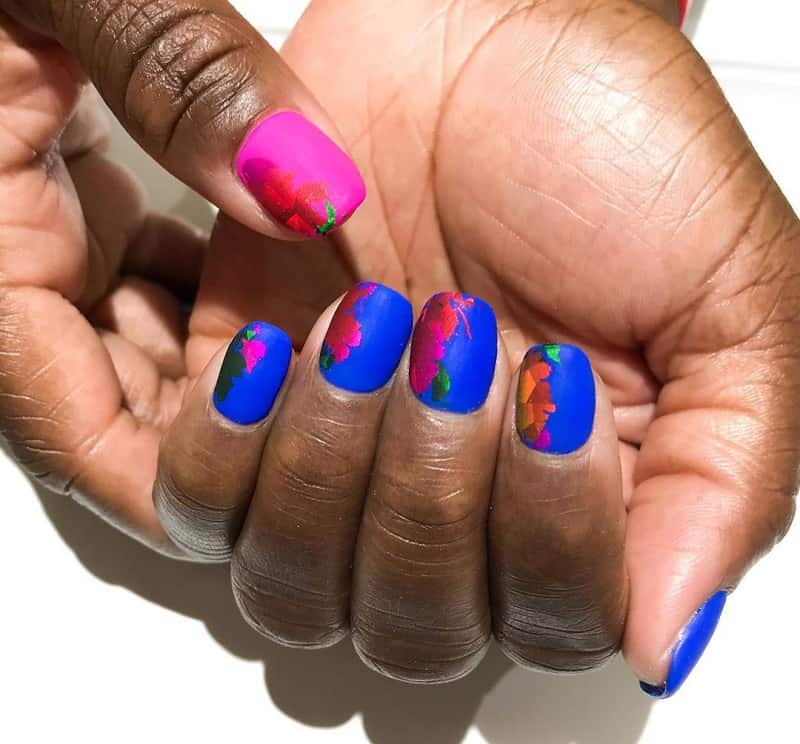 If you love matte finishes, you must try these royal blue and pink nails. Create a blue base and on the sides, use orange, green, and pink to create an abstract design.
Maintain the nails in a short, rounded shape, and they will look so classy and sophisticated.
#6: Royal Blue Nails With A Golden Line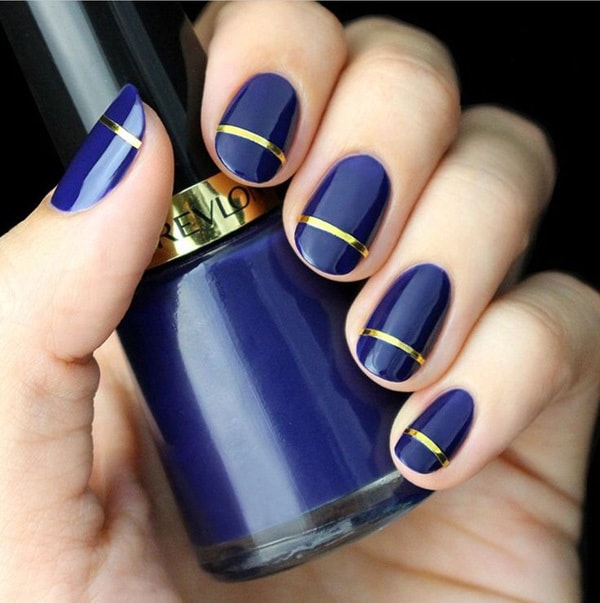 This royal blue nail with just one simple golden line on the middle is giving us chills. It is so simple yet hard to resist.
If you are struggling with leaving your comfort zone just try to do your nails this way. They are a perfect manicure for those little baby steps.
#7: Royal Blue & White Nails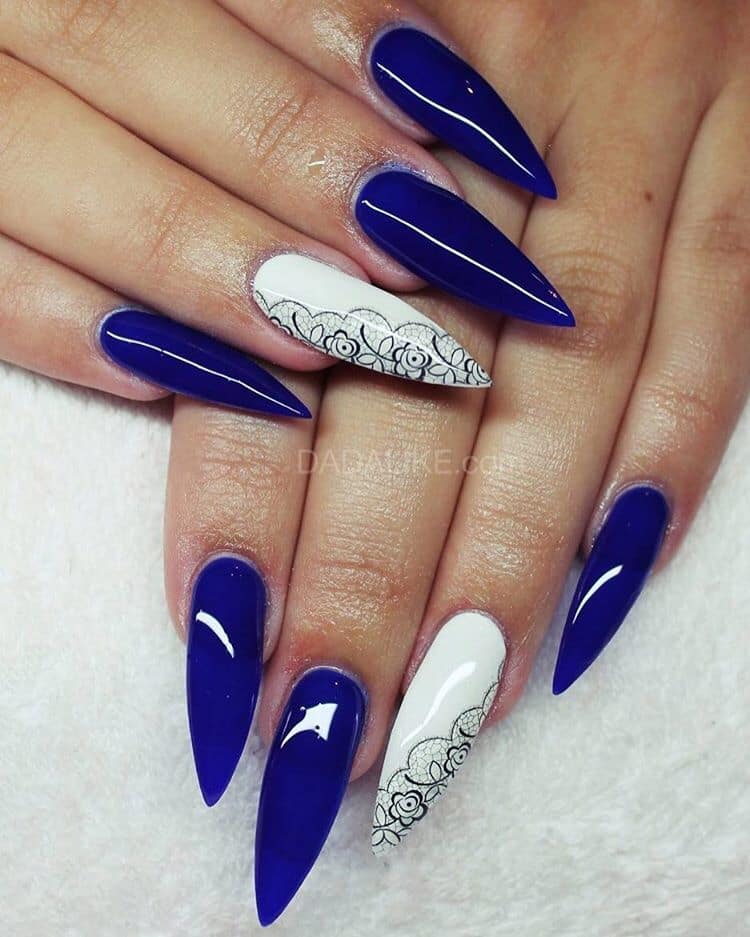 If you are an acrylic nail lover, blue color lover, and a white color lover what are you waiting for? Get these royal blue nail art now!
These nails are super long and look perfect for a party and a night out with the girls. The white details look sophisticated and elegant which is something you will love.
#8: Royal Blue French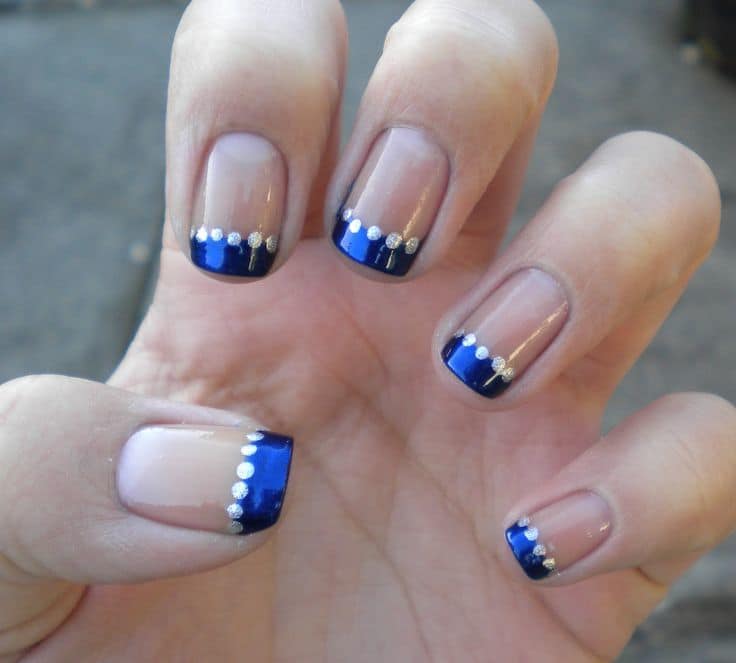 If you are a fan of french manicure you can spice it up a bit. Instead of going for a regular white tip go with the blue one.
It makes such a difference and is perfect for business women. You can look professional and casual at the same time.
Blue Nail Designs – Top Trends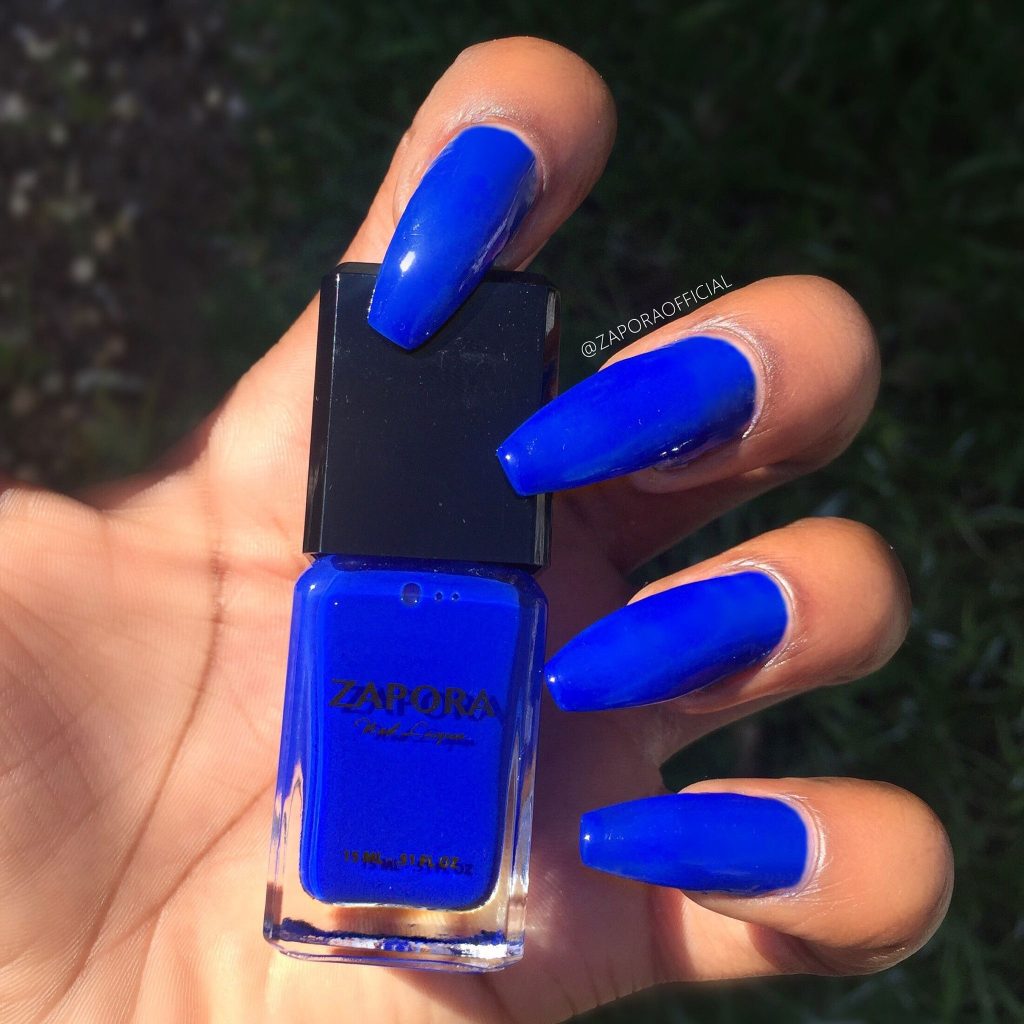 And who said that mono colors are boring? A solid blue color can look chic as well! It doesn't matter if your nails are glossy or matte, this can be your go-to option as well.
This is just a great example that your nails don't have to have tons of gems and glitter in order to be sexy.
#10: Royal Blue With Jewellery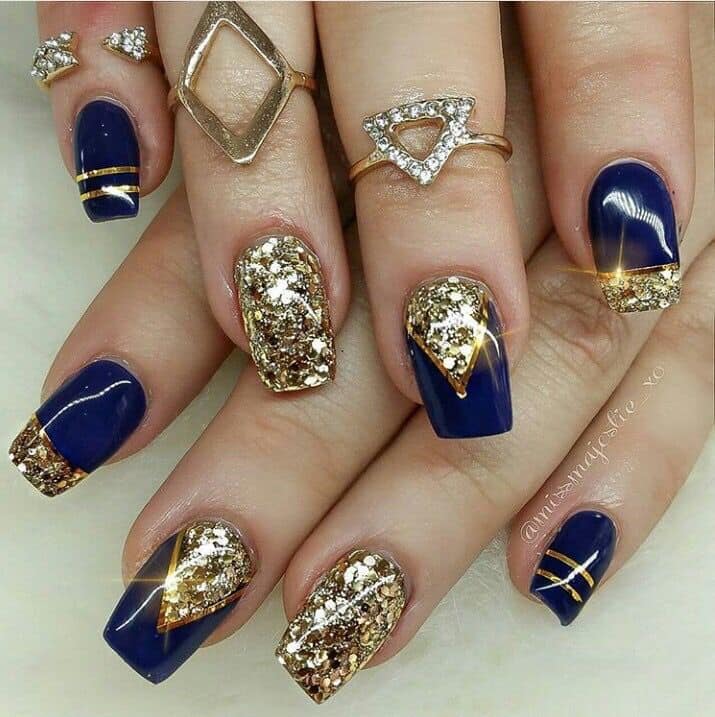 Jewelry is, of course, an option, but why avoid it? You will feel more feminine and charming if you have rings and bracelets on or just a simple watch.
They transform something stunning into the divine, and who wouldn't want that?
#11: Hints Of Gems
Some smaller golden gems should find their way up to your nails if you are still in school. You don't want to have too flashy of a manicure now do you?
Rather go with shorter nails and smaller gems and you will see that teachers will appreciate it more.
#12: Royal Blue Coffin Nails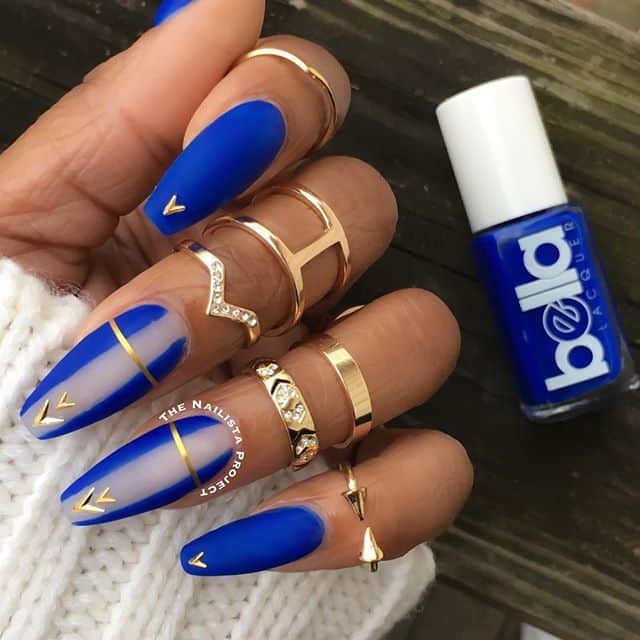 Golden jewelry transforms everything into a piece of art. And let's not forget that the blue color looks elegant with the golden.
These two mixed together are a total win! Just be sure to have some Forever 21 jewelry laying around and just throw it on.
#13: Royal Blue Nail Design With Flower
Those of you who like the royal blue color and the flowers on your nails will feel the magic happening once you get these on. These nails are very bold and not everyone can pull them off.
Also, you will need to be very careful not to break them. They are acrylic nails with a lot of nail art and they demand care and attention.
#14: Square Royal Blue
Square-shaped nails are an option many women nowadays avoid. A lot of them prefer stiletto or oval nails.
But why is that? Just look at these babes. They look like they've found inspiration at the bottom of the sea.
If you are going to be a mermaid this Halloween, you can totally be one with our royal blue square nail design.
#15: Spicy Stones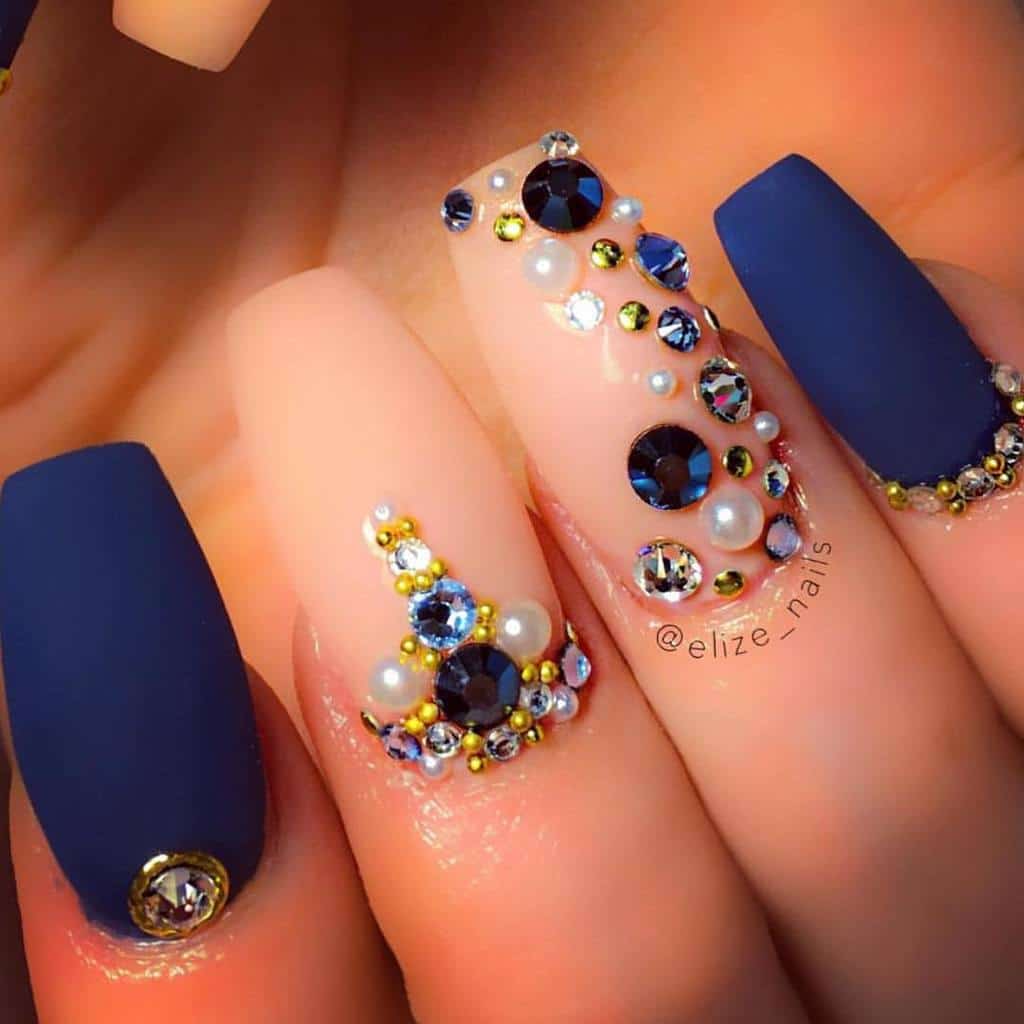 The royal blue nail needs some royal diamonds. You can place a bunch of different-sized diamonds just on some of your nails.
This way maintaining them will be a lot easier and you will still feel sophisticated and happy with your manicure.
#16: Royal Blue Nails with Silver Glitter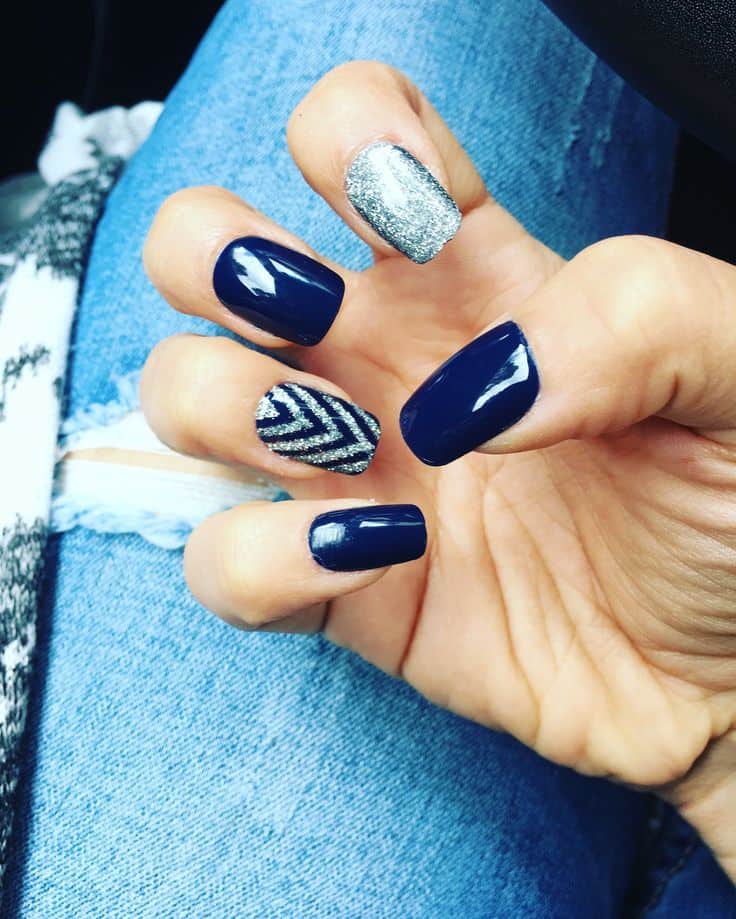 Since blue color is the color of the sky and water, it is no wonder you are falling for it.
In fact, you have probably switched to the blue nail design by now. Who can blame you when the designs are this stunning?
#17: Nude Blue
Nude color, flowers, and royal blue as well? Count me in! Those ladies who are looking for a perfect professional manicure should get this design.
The nails are short, oval and have got a little bit of an attitude. Just the right ingredients for a meeting.
#18: Naturally Beautiful
If you are someone who likes to embrace their natural nails you can go with this design. It is okay if you want to rest from acrylic nails as well.
Your short nails can look very appealing when done properly and at the right nail salon.
#19: Royal Blue Nails With Golden Glitter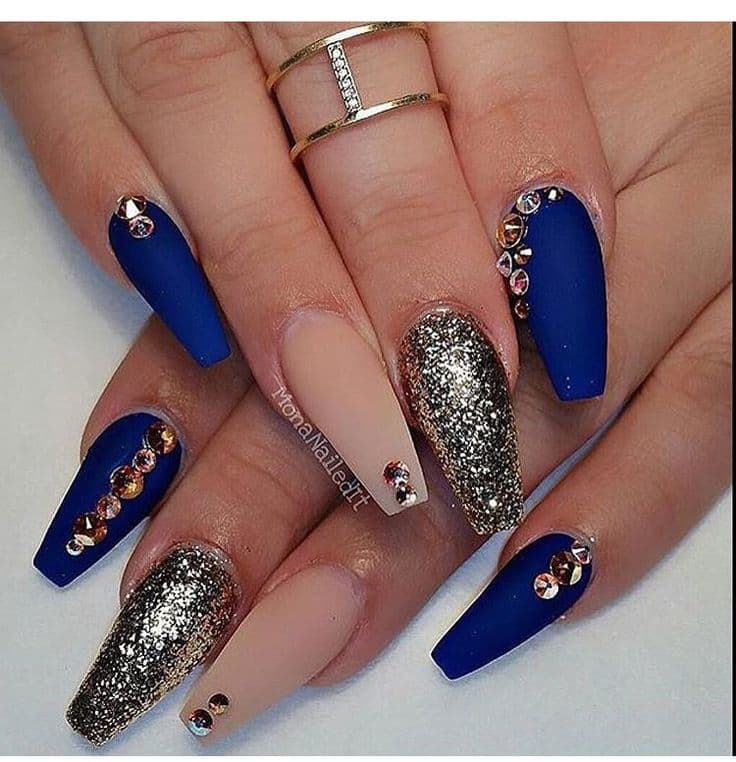 This nail art is really bold and hard to forget. Once you add the golden jewelry to it; it looks even more stunning.
We believe that your nail shape should either be ballerina or stiletto since these go the best once you have on vibrant colors and golden gems.
#20: Tribal Art
Little tribal print has never bothered anyone. In case you are looking for something extraordinary and chic this should be your option.
The pointy nail shape just gives this whole design attitude which people will love!
#21: Royal Blue Princess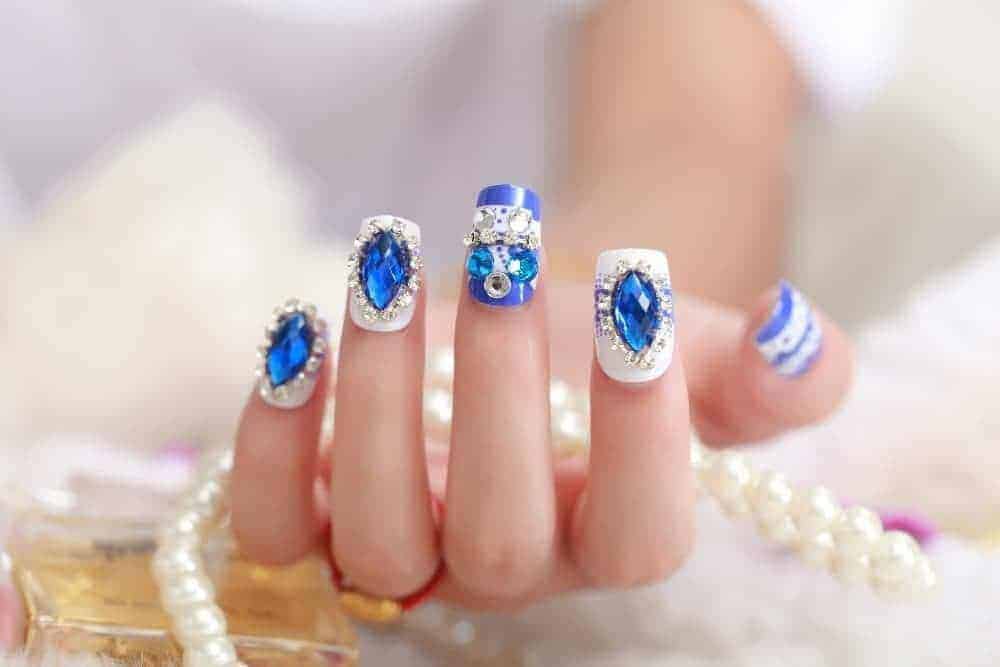 If you think of your self as of a princess you can see the resemblance. This royal blue nail design is just that-royal.
Women who love big bling and who care about their nails more than anything else should get this design. However, be extremely careful not to ruin them!
#22: Royal Blue Shimmery Nails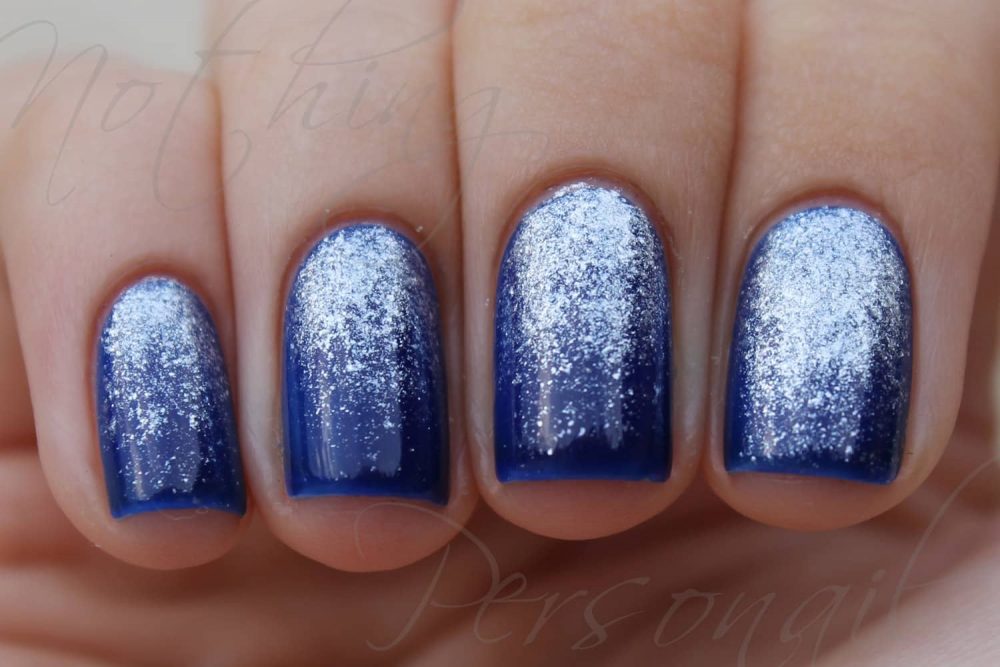 The nails that will remind you of snow and your favorite season of the year. They are perfect for colder days and look simply chic and fresh.
Don't forget that the ombre nail effect can be a great solution for your hair as well.
#23: Prom Perfect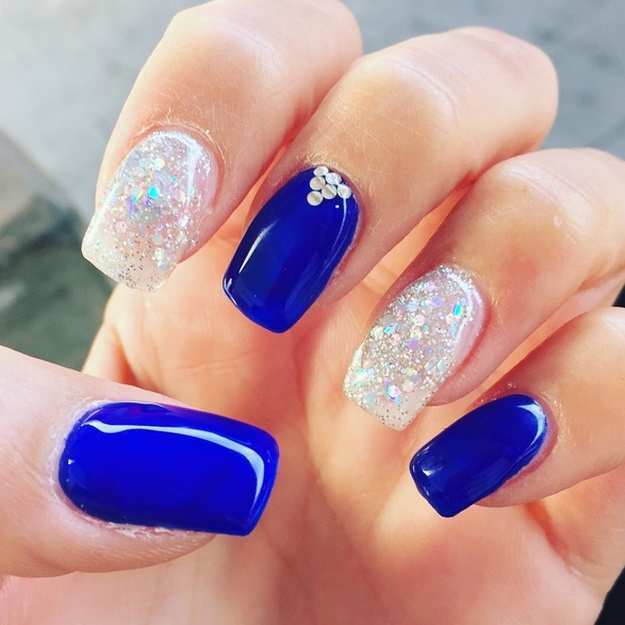 It's almost the prom season and you know what that means. A lot of sharp nails with glitter and nail art! Be a prom queen in a sequin blue dress and our royal blue nail design.
#24: Royal Blue Pointy Nails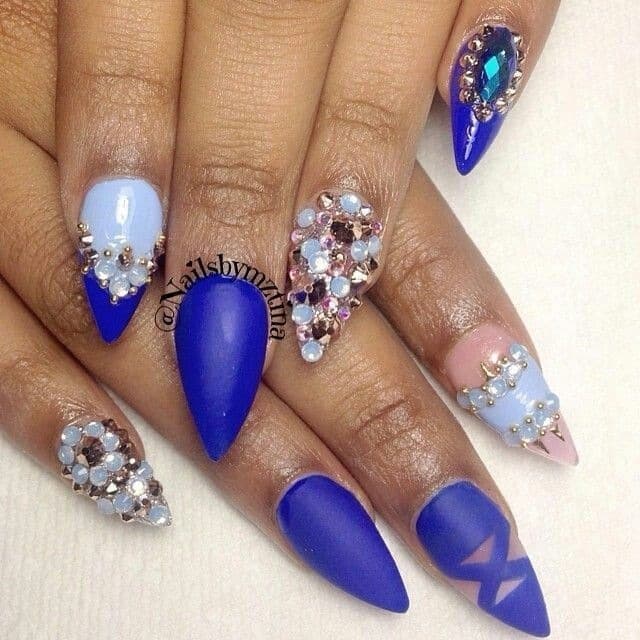 Since you are probably not capable of recreating this nail art on your own you can rush to the salon.
Your nail tech can do everything and anything once she has the right picture.
Next time make sure this nail design is your option and you will walk out of that salon happier and more satisfied than you'd think.
#25: Royal Blue Nails On Dark Skin
When you have nice blue contrasts you actually have a jackpot. Light ombre transitions when it comes to the blue color look unreal.
Don't these just remind you of something you only see on the TV show? And now you can have them on your hands.
Love to Wear Black? Try These Black Nails
Loving Royal Blue Nail Designs for an Attractive look
You are probably indecisive right now when it comes to these 25 royal blue nails. And we can't blame you because so are we!
Just make sure you have your picture with you when at the nail salon so that the nail tech knows exactly what is it that you want.