Red and black nail designs can make you look gorgeous on any occasion. Choosing a suitable red and black nail design with your dress isn't an easy task, but if you succeed in choosing the right one, you are going to enjoy your time to the fullest!
Beautiful Red And Black Nails
Sit back, relax, and enjoy your time picking out the suitable red and black nail design from the below 60 red and black nail designs list.
By the end of it, you should get your dream nail look.
#1. Red and Black Ombre Nails
Almond-shaped nails never looked better! These red ombre nails look complete with a sophisticated rhinestone design.
#2. Red & Black Acrylic Nail Design
If you want a cosmopolitan look, combine a red ombre with a mate black and simple red polish. Also, you can add a small rose motif on one of your bed nails.
#3. Red + Black + White Nails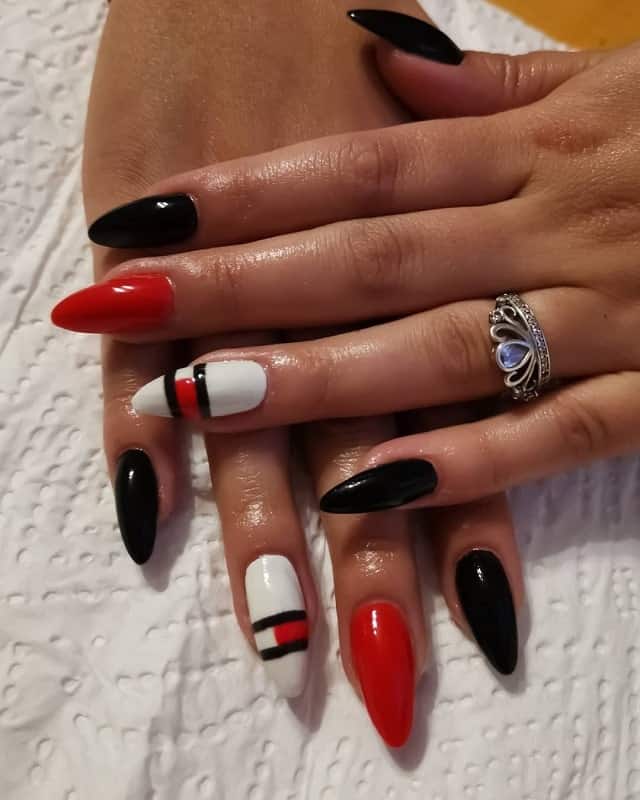 Those days when all nails had to look the same are so gone! Now you can beautifully combine more colors like, black, white and red to develop an outstanding painting on your nails.
#4. Matte Nail Art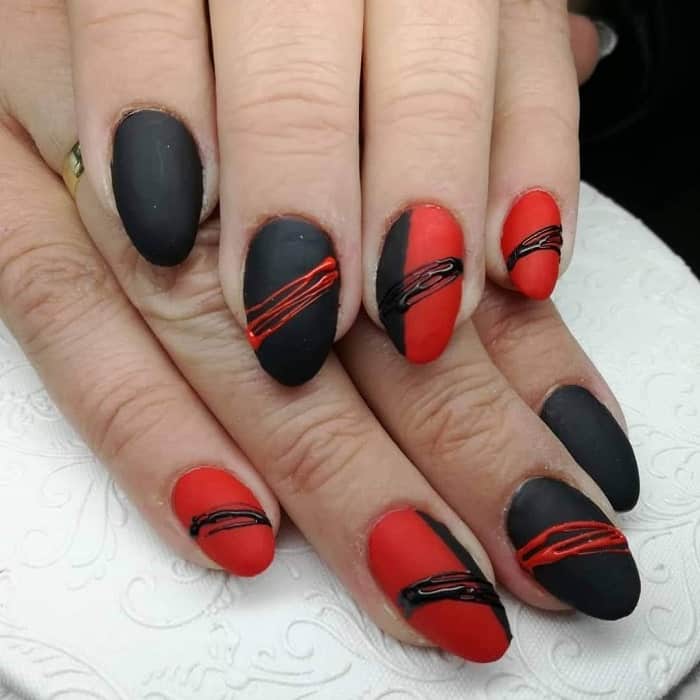 These round nails look spectacular thanks to that gorgeous mix of mate red and black colors. That "clumsy" paint spill on each nail takes the design to a whole new level.
#5. Red and Black Coffin Nails
This peeled effect is undoubtedly mind-blowing! Use red as a base and create a new layer of black nail polish if you want to recreate that design.
#6. Black and Red Stiletto Nails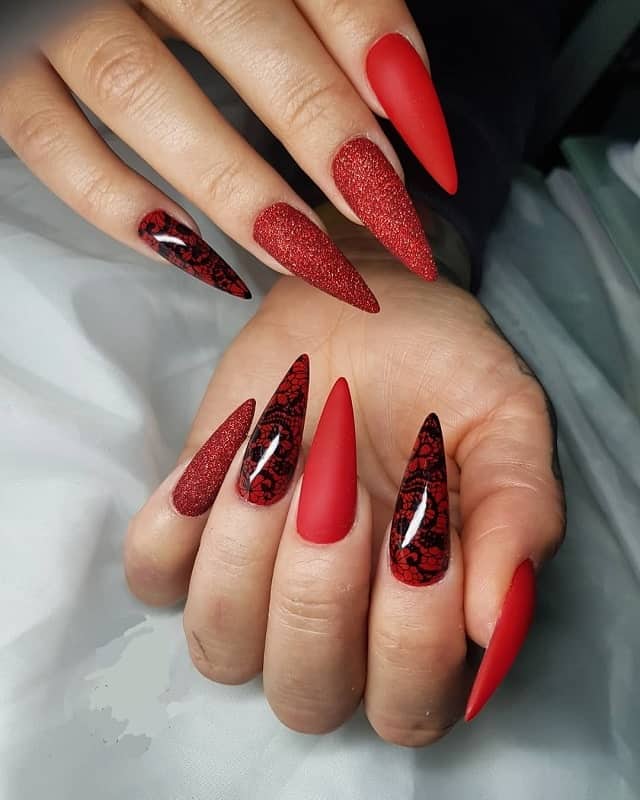 #7. Pointy Nail Design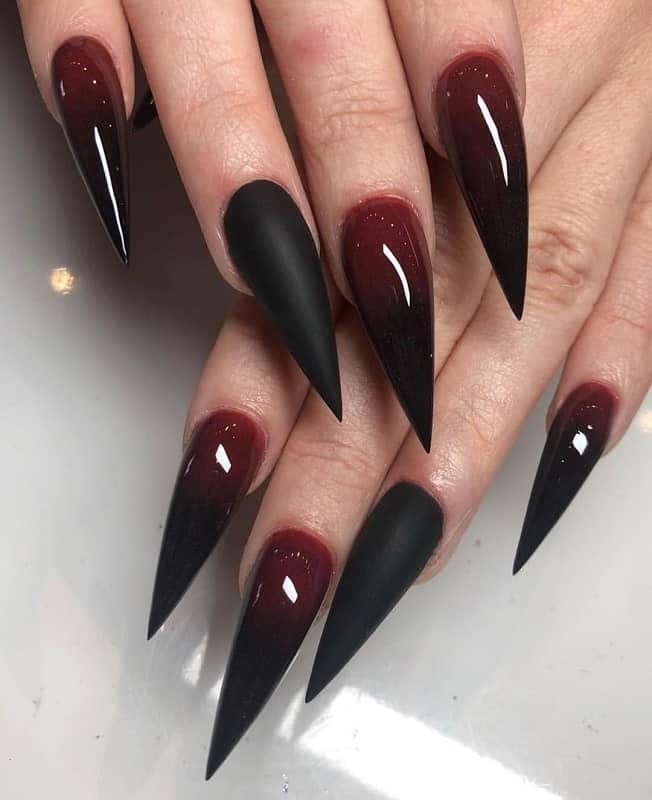 #8. Black + Red Almond Nails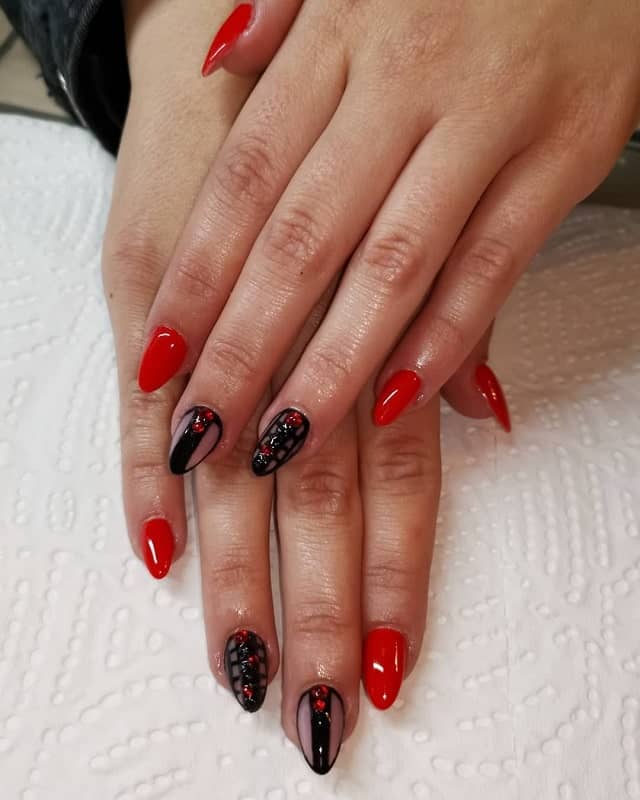 #9. Long Nails with Red & Black Combo
#10. Black and Red Halloween Nails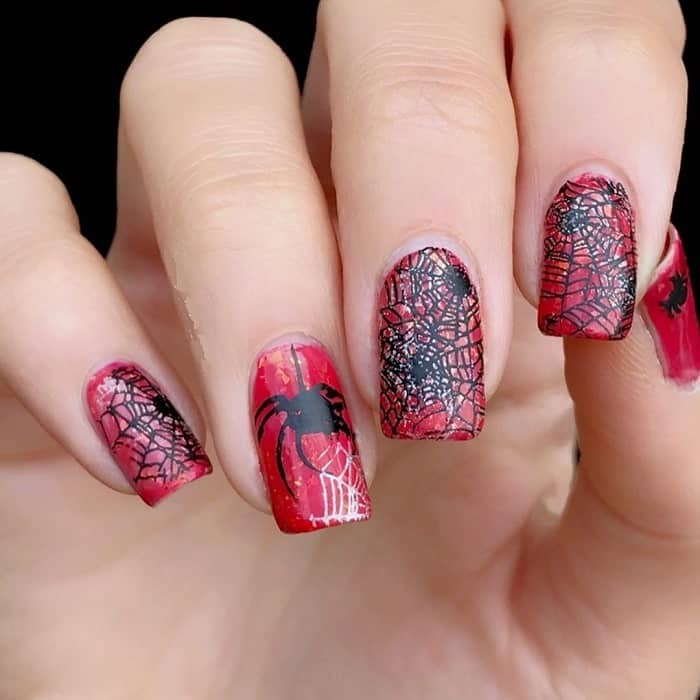 #11. Red + Black + Silver Combo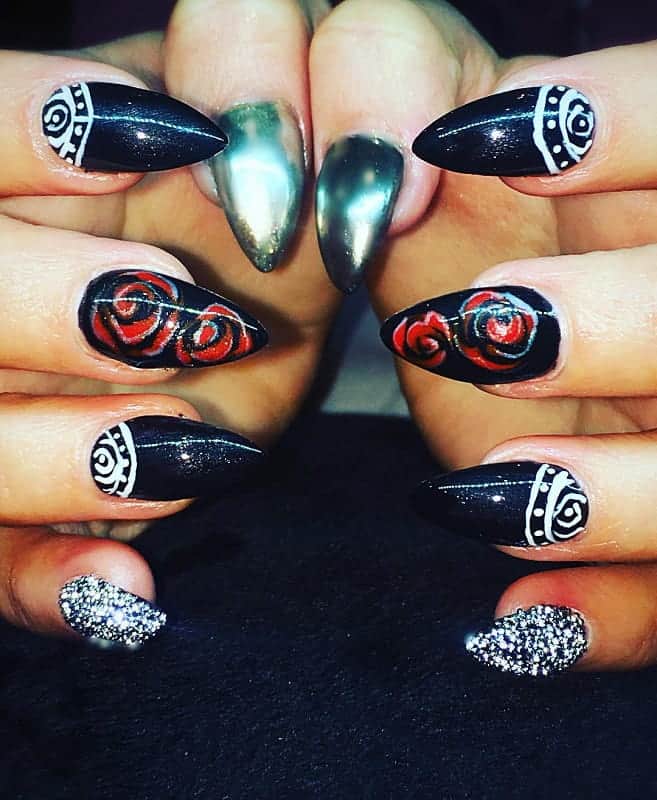 #12. Nail Design with Rhinestones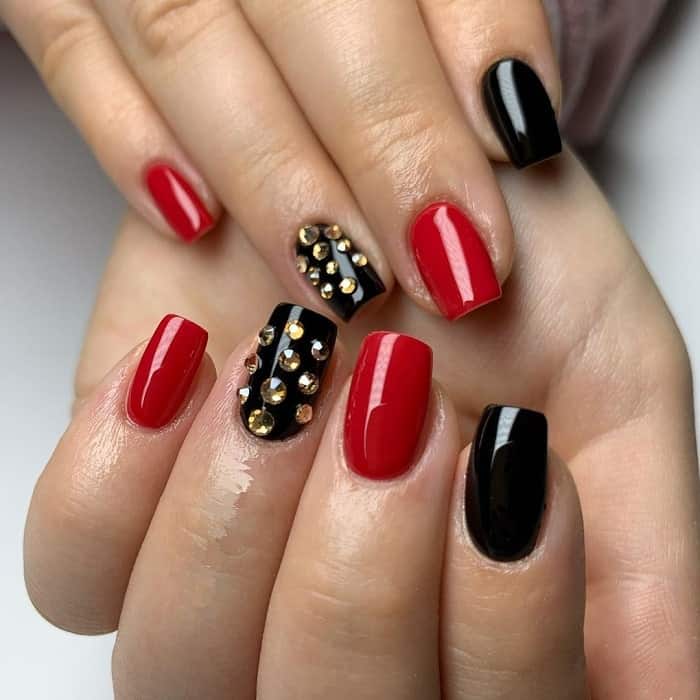 #13. Red Nails with Black Polka Dots
#14. Black and Red Chrome Nails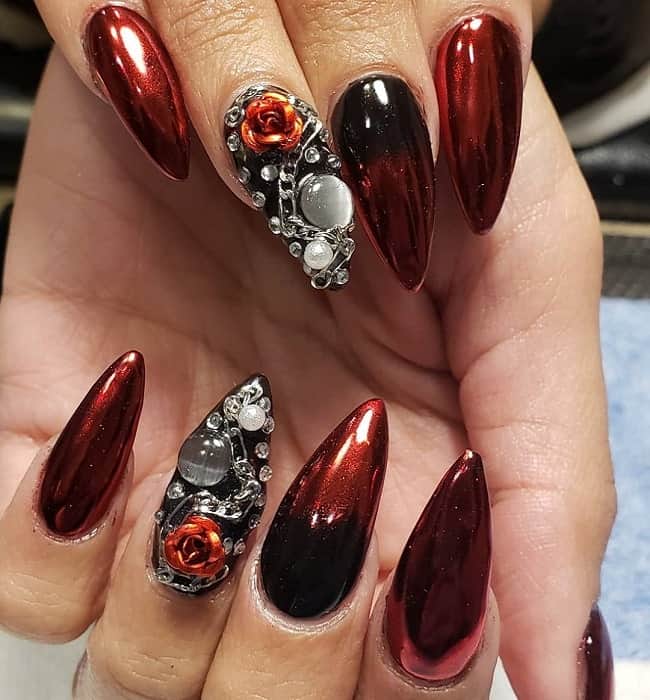 #15. Cat Eye Nail Design
#16. Black & Red Checkered Nails
#17. Black and Red Marble Nails
#18. Gothic Nail Art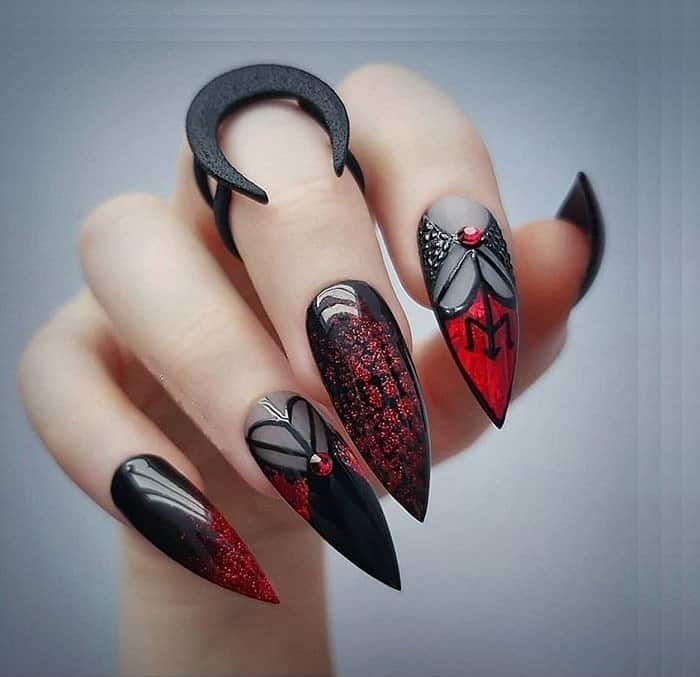 #19. Red + Black Plaid Nail Art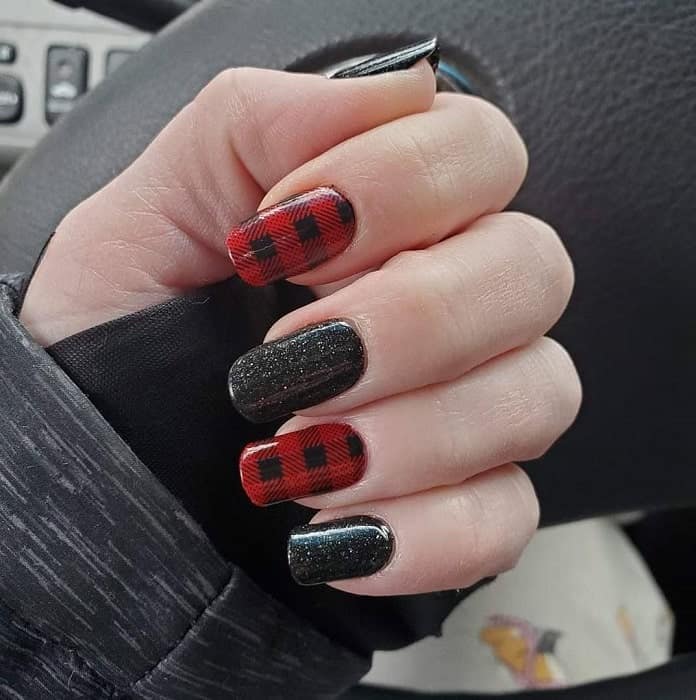 #20. Toe Nail Design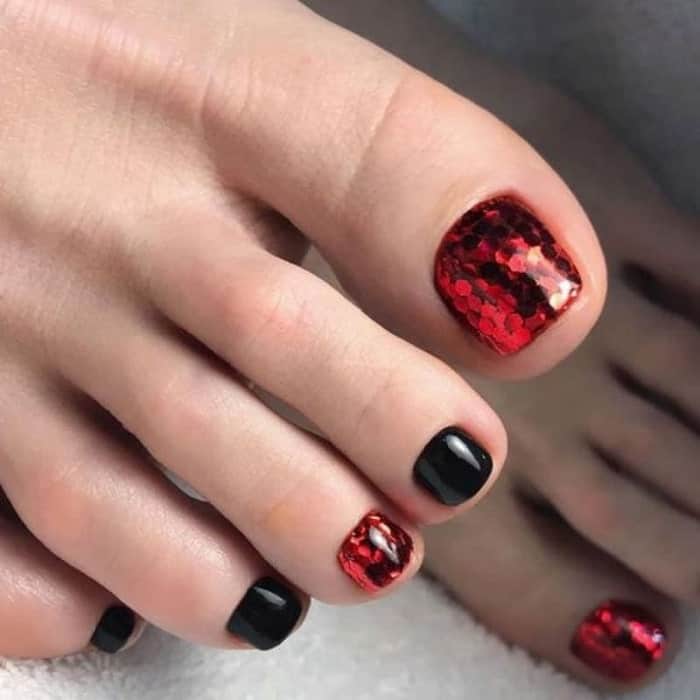 #21. Cardinal Blended Red & Black Nail Design
"Mirror mirror on the wall, will this style make me most prominent of them all?" The answer to that is yes!
This style will make any women look good as long as it's kept neat.
#22. Red and Crescent Black Nail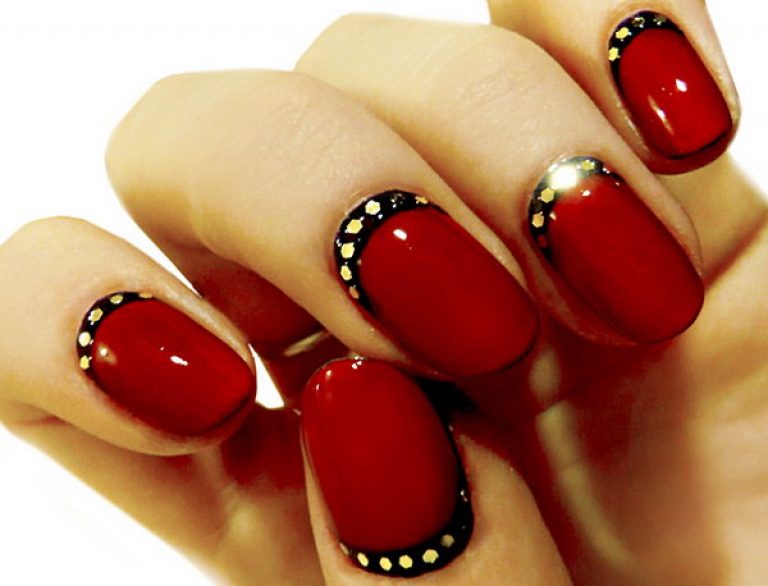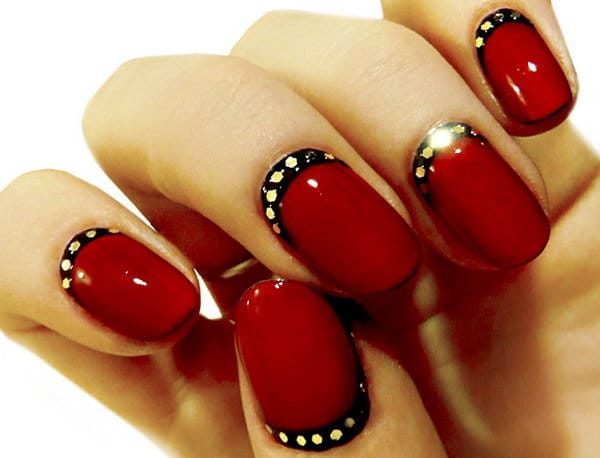 If you are going out clubbing at night then these golden details will make you shine like a crescent moon under the disco ball on the dance floor!
#23. Red & Black French Tipped With a Black Rose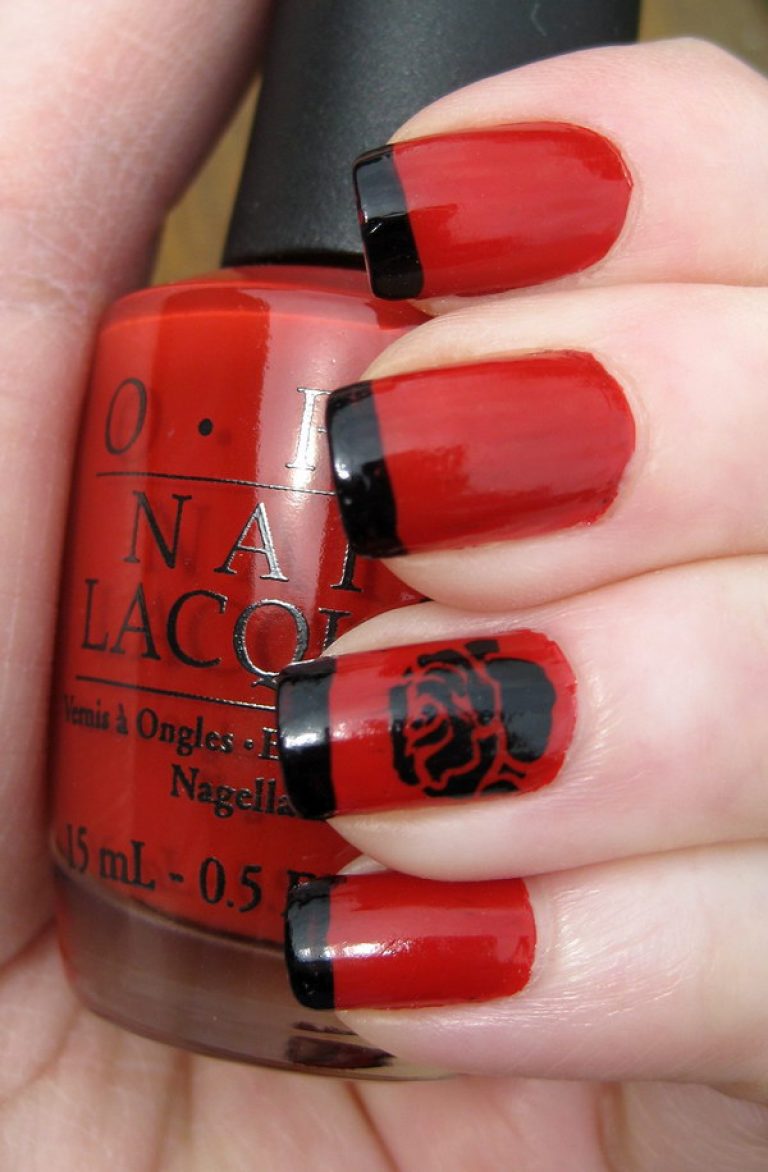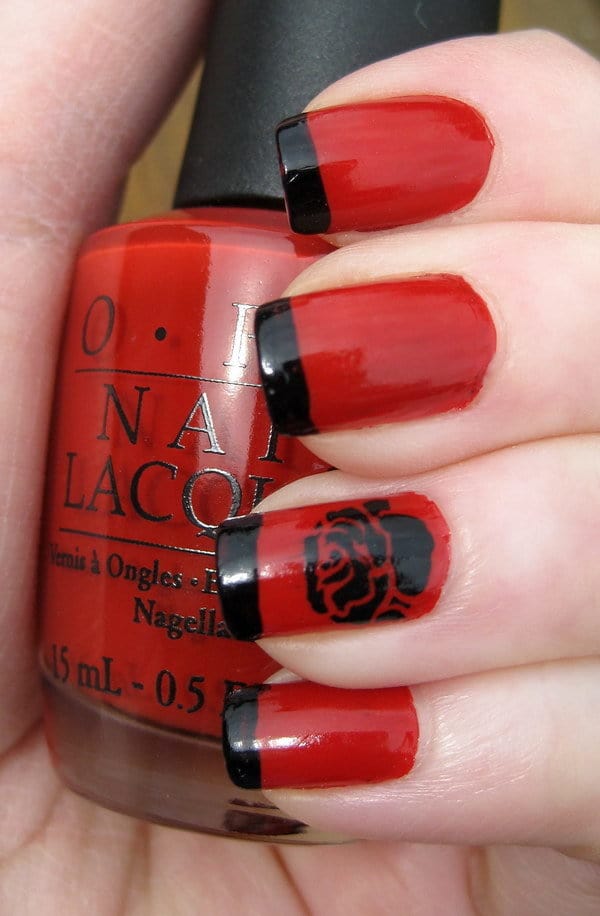 Be the hottest girl in the shed while flaunting your way in with a black rose on red base nail beds.
This red and black nail design makes you a star at a cocktail party while keeping your image as a respectable figure at work.
#24. Glittery Cross Section Red And Black Nail Design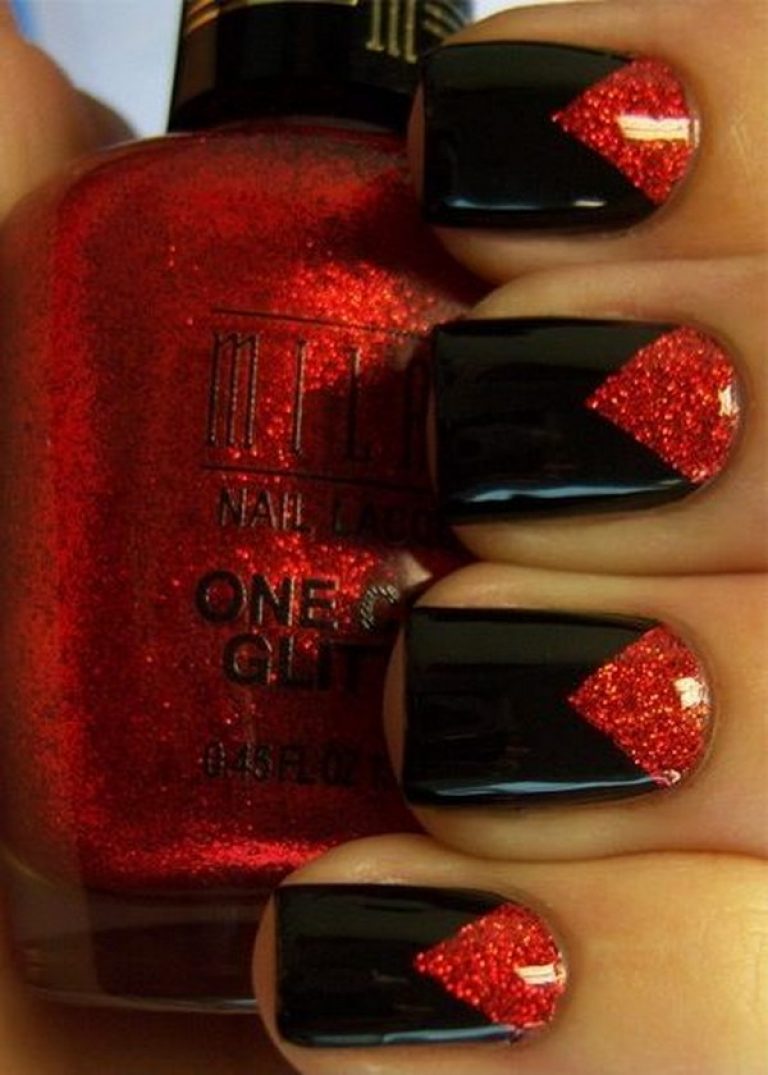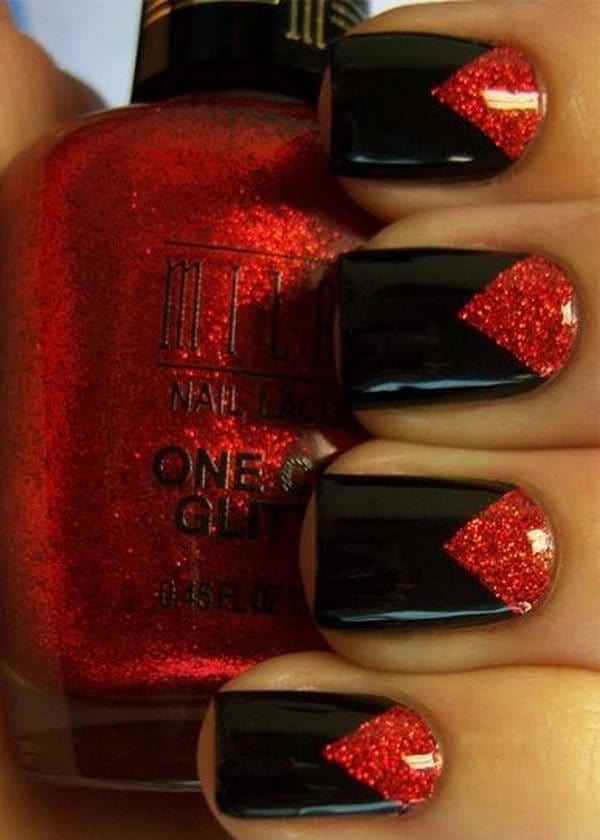 Glitter is every girl's best friend. Or is that diamonds? Who cares! It's sexy and sparkly and makes an ideal style for a party girl with all the energy in the world.
#25. Silver Striped With A Dash of Glitter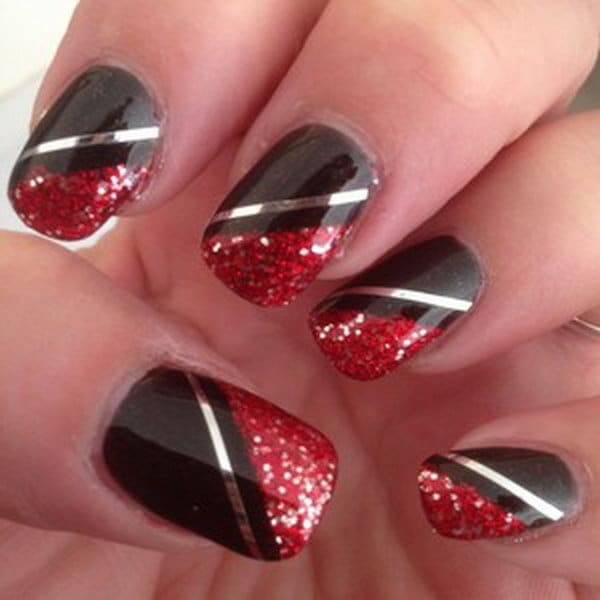 Mixing a dash of glitter and a silver strip with plain black is the recipe for a dashing style. It works on everyone and takes 5 years off your age!
#26. Black Leafless Treas On Vermillion Red Base Design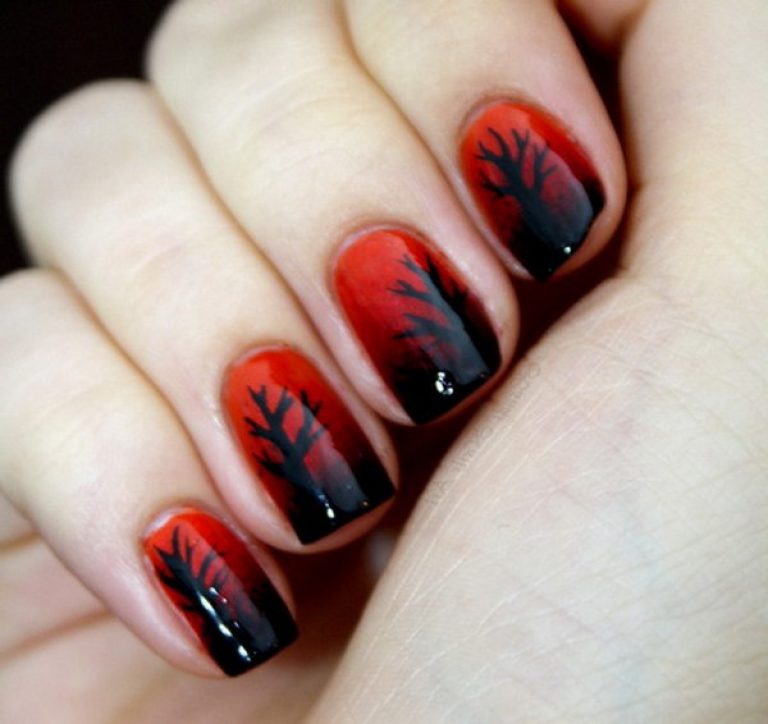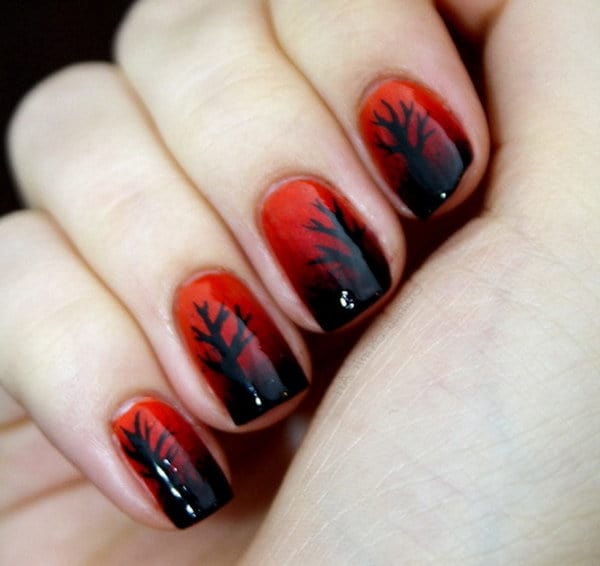 It's always adorable to find that eco-friendly person who cares about the environment.
So send a statement and choose this black and red nail design if you are the outdoorsy, calm but mysterious type!
#27. Black Hearts On Red Glitter Base Design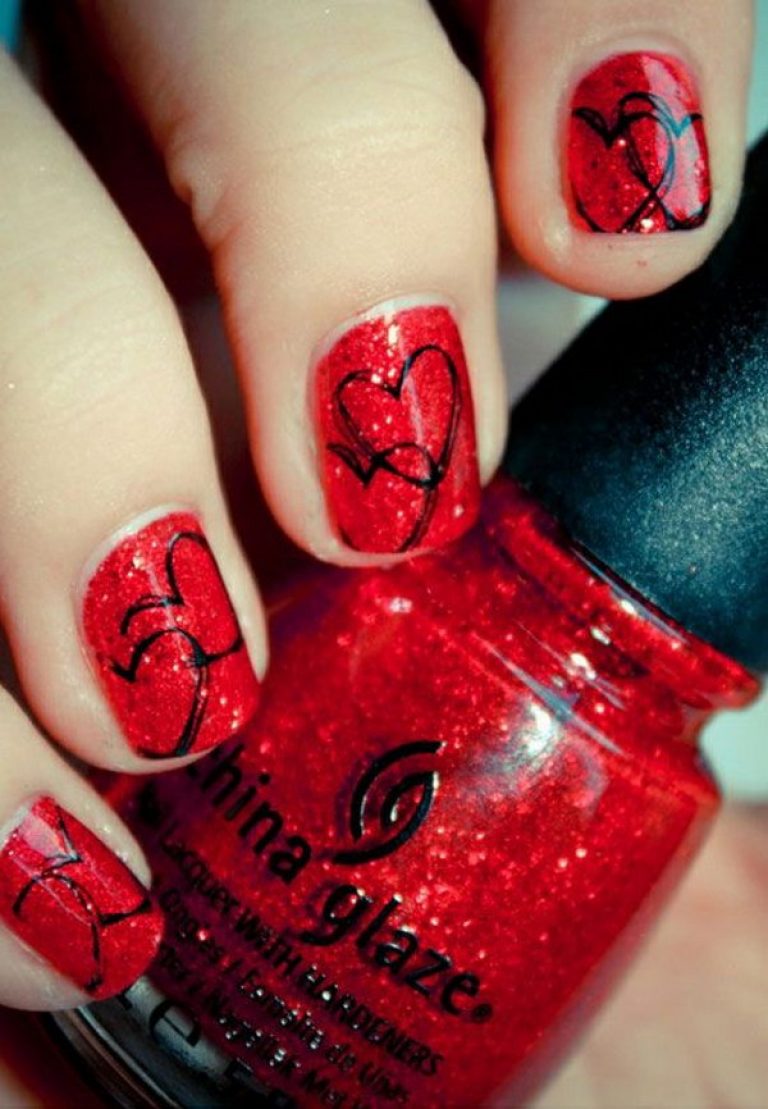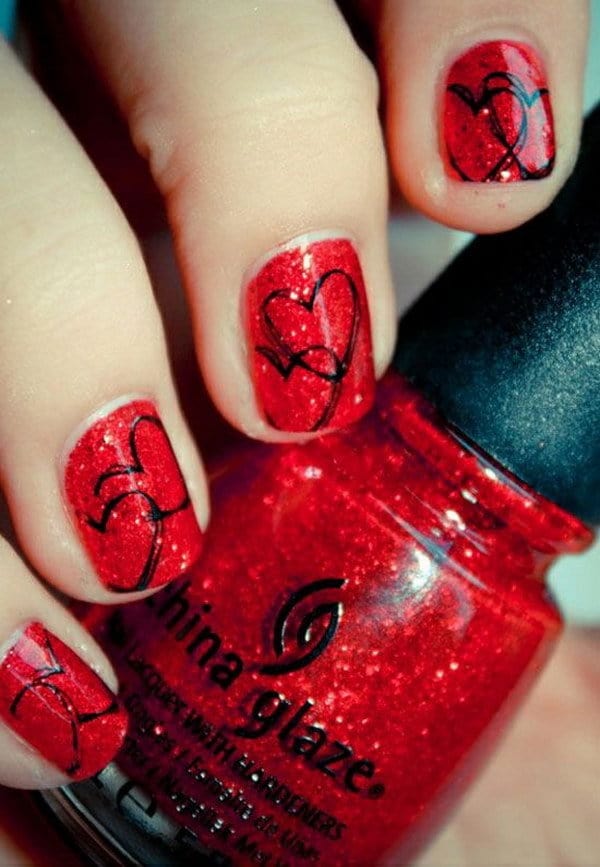 Apply this red and black nail design and get elected as queen of black broken hearts!
"Be My Valentine" is what everybody would be screaming at you the minute they see you wearing this fabulous red and black nail design!
#28. Smoking Hot Red And Black Nail Design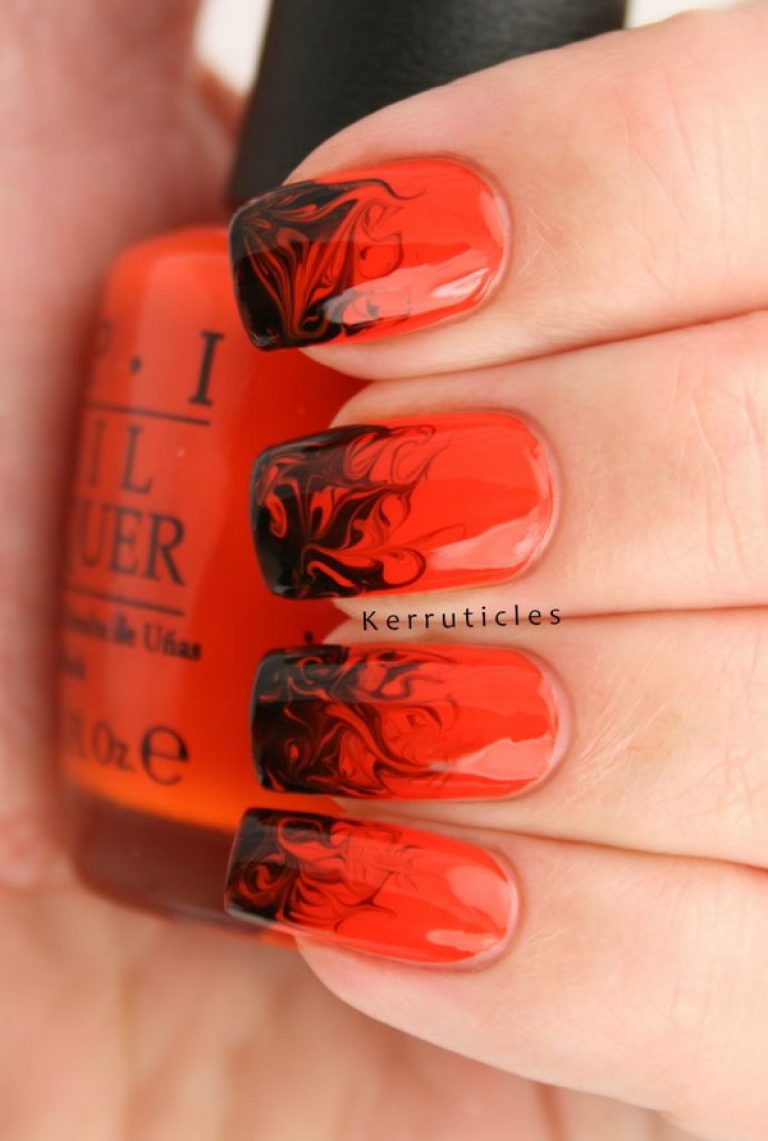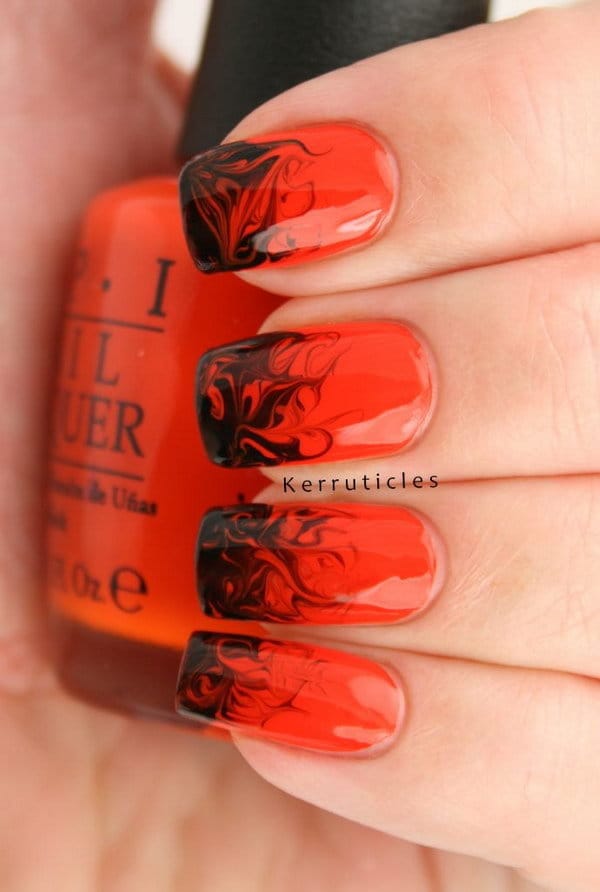 Make guys eyes pop with this hot scarlet red and smoky black nail design.
Rock Two Tone with Red Pink Stiletto Nails
#29. Red And Black French Tipped Nail Design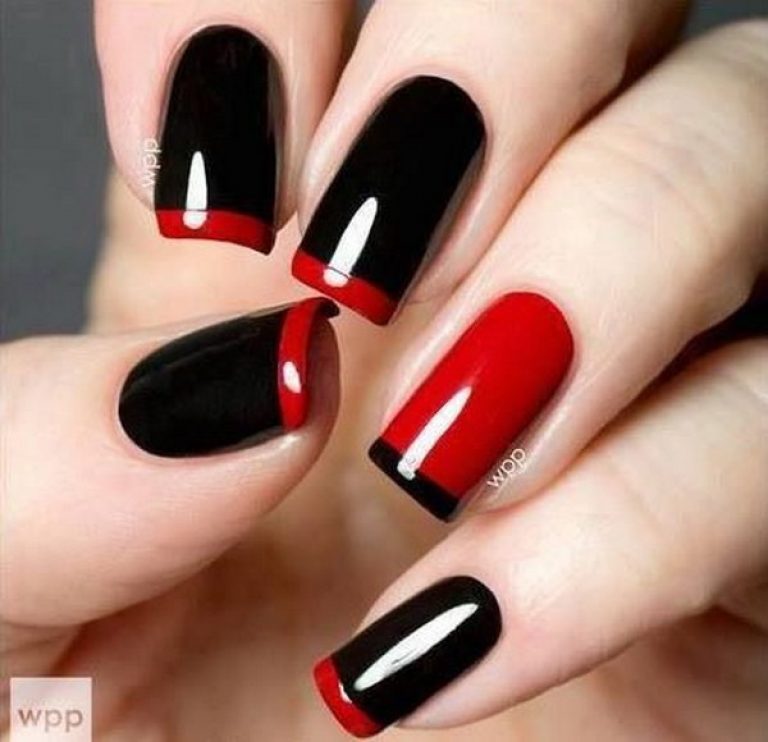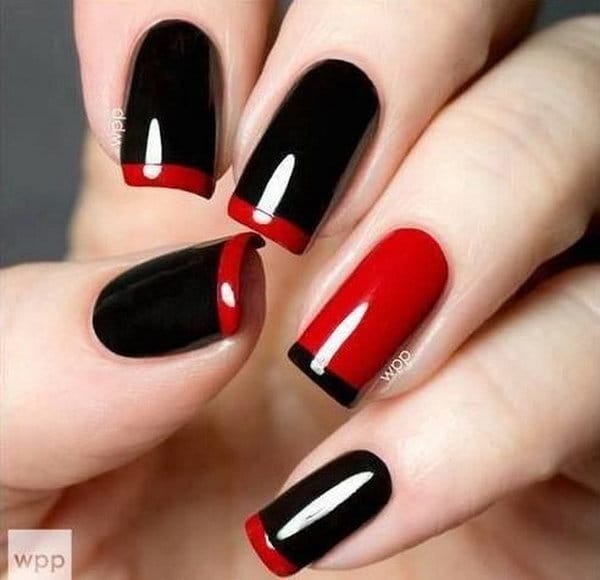 Stand out in the crowd and spice things up with this single red & black french tipped nail to make them all go crazy for you. Wear it with confidence, you earned it!
#30. Spidey Black On Crimson Red Base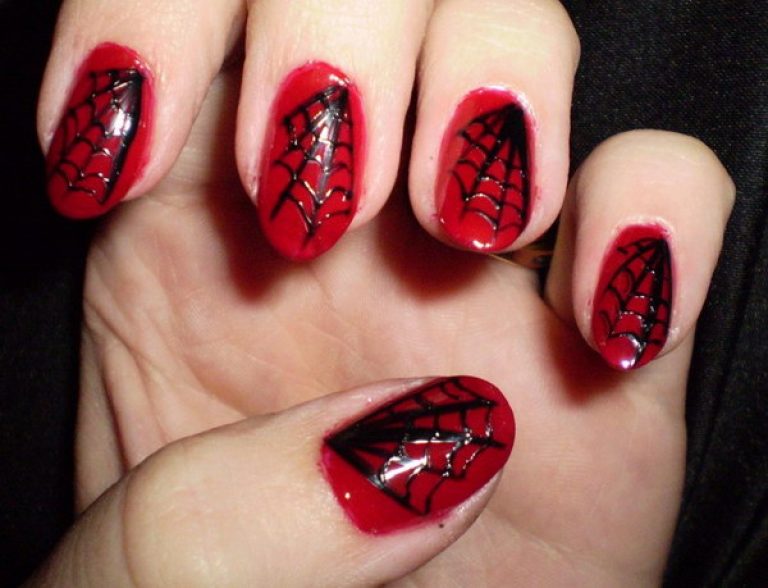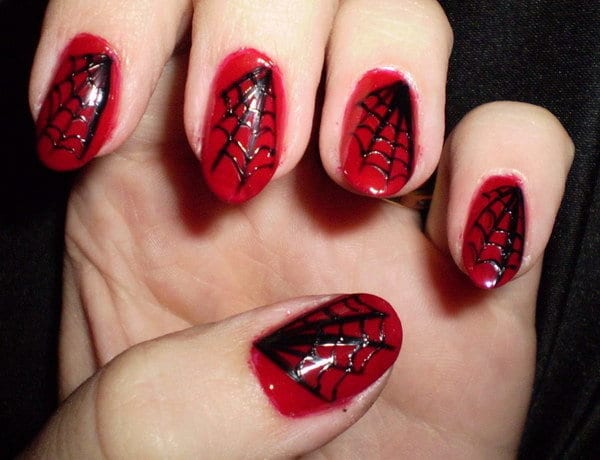 My spidey senses are tingling and telling me that these black spiderwebs are gonna help catch some real bait! So choose this red and black nail style for the ultimate occasions!
#31. Gothic Freehand Red Hearts And Dots On Black Base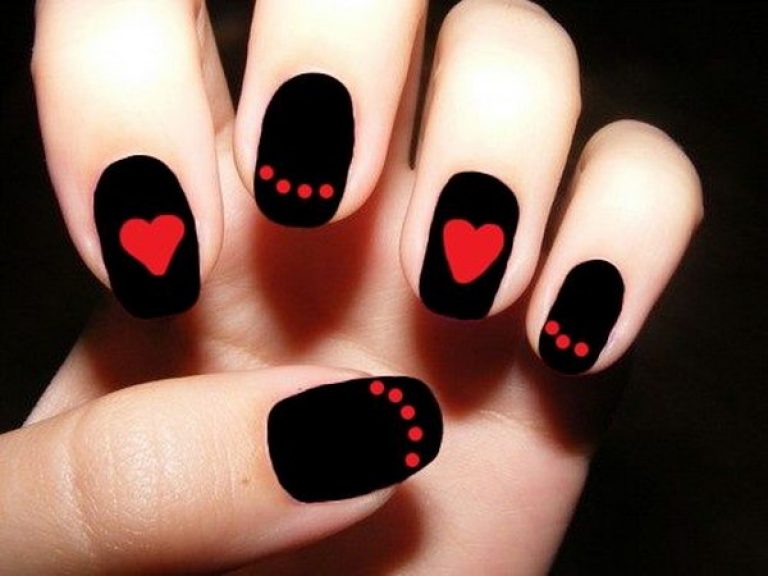 " Simplicity is the keynote to true elegance."-Coco Chanel. Keep it simple and choose this red and black nail design to look sweet and sexy at the same time!
Gothic Nail Design: Never Ending Mystery
#32. Starry Night Black & Candy Glitter Red Nail Design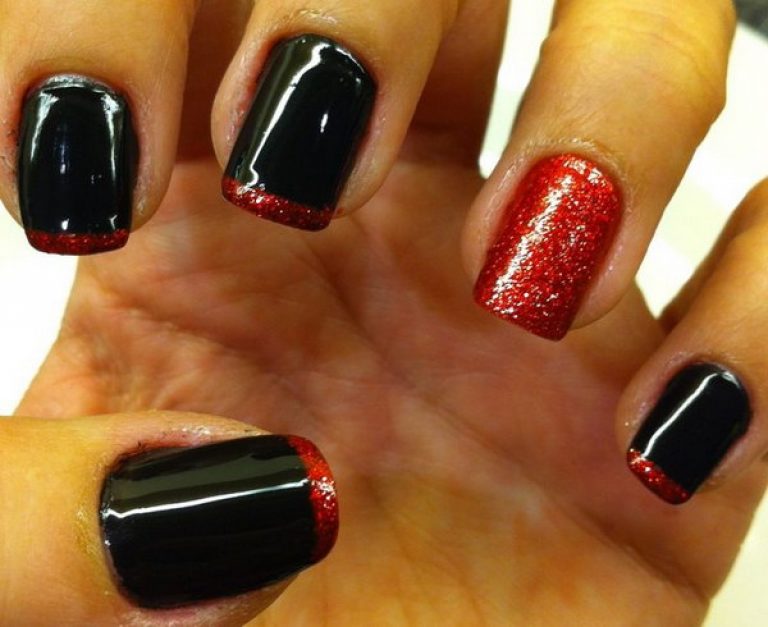 You can never have too much glitter! Adding glitter to a red and black nail design not only keeps it simple and pristine but also it makes you look fabulously fashionable.
#33. Leopard Themed Red And Black Nail Design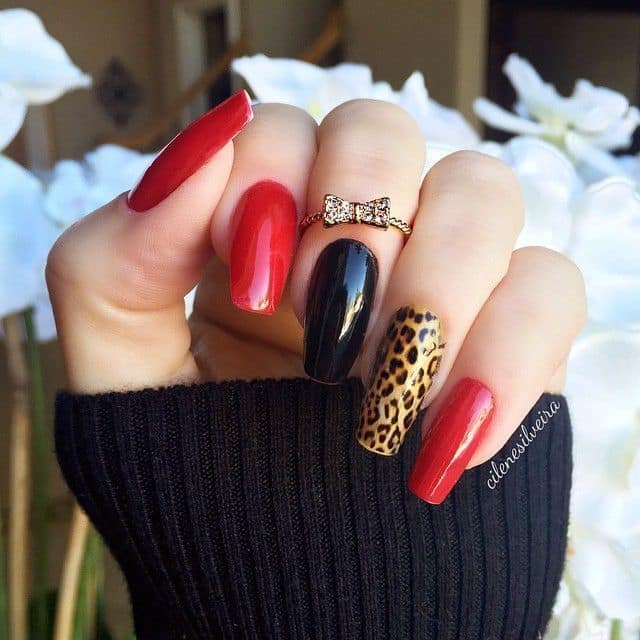 Shaking it up a little by adding a leopard themed nail to a red and black nail design stimulates you and gives you the power to make everyone else's pulse rate increase!
#34. Red Shattered Glittery Flakes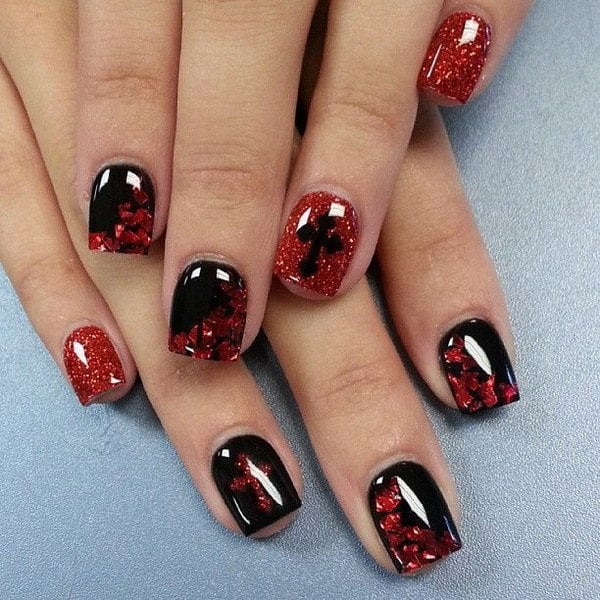 This red and black nail design is a wonderful choice for women who love new and unexpected experiences.
#35. Ruby Red with Black Gothic Styled Swirls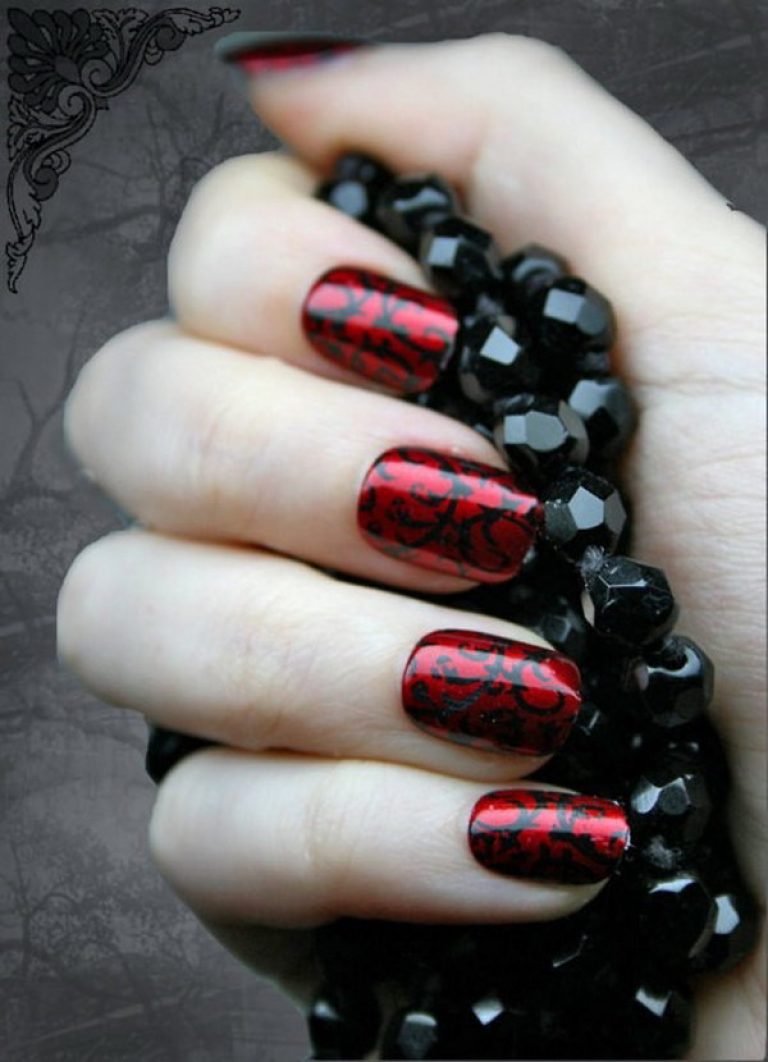 Red has never been more appealing with those vine shaped black swirls. This red and black nail design is best for women who want to look elegant and appealing.
#36. Red And Black Nail Art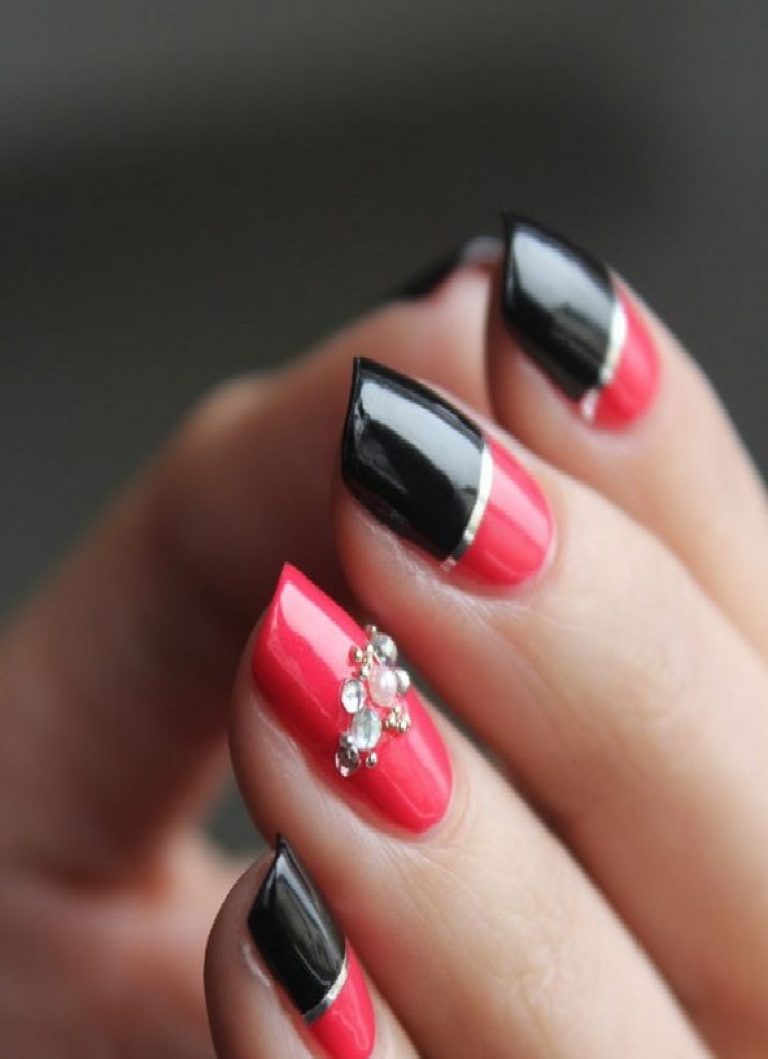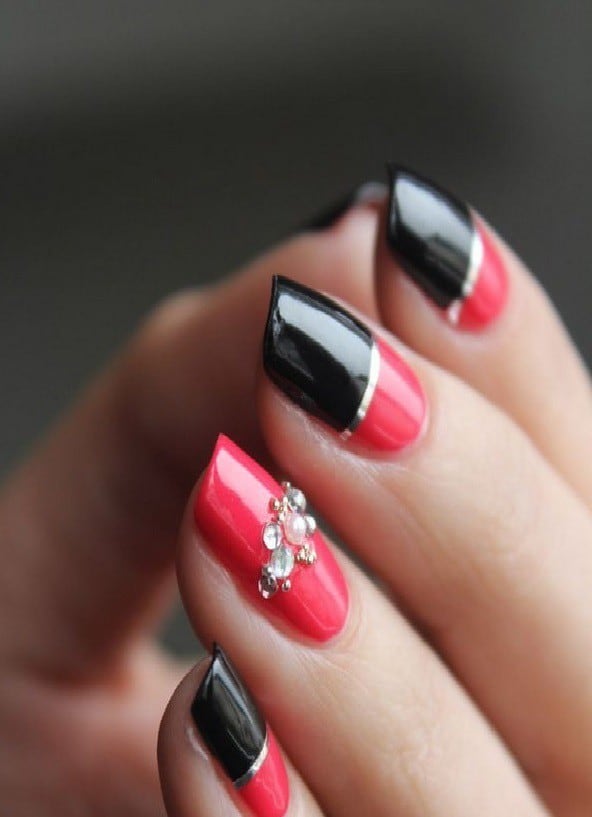 Don't be afraid to accessorize a little and add silver straps with strass beads to get the ultimate red and black nail design!
#37. Tiger Red And Black Patterned Style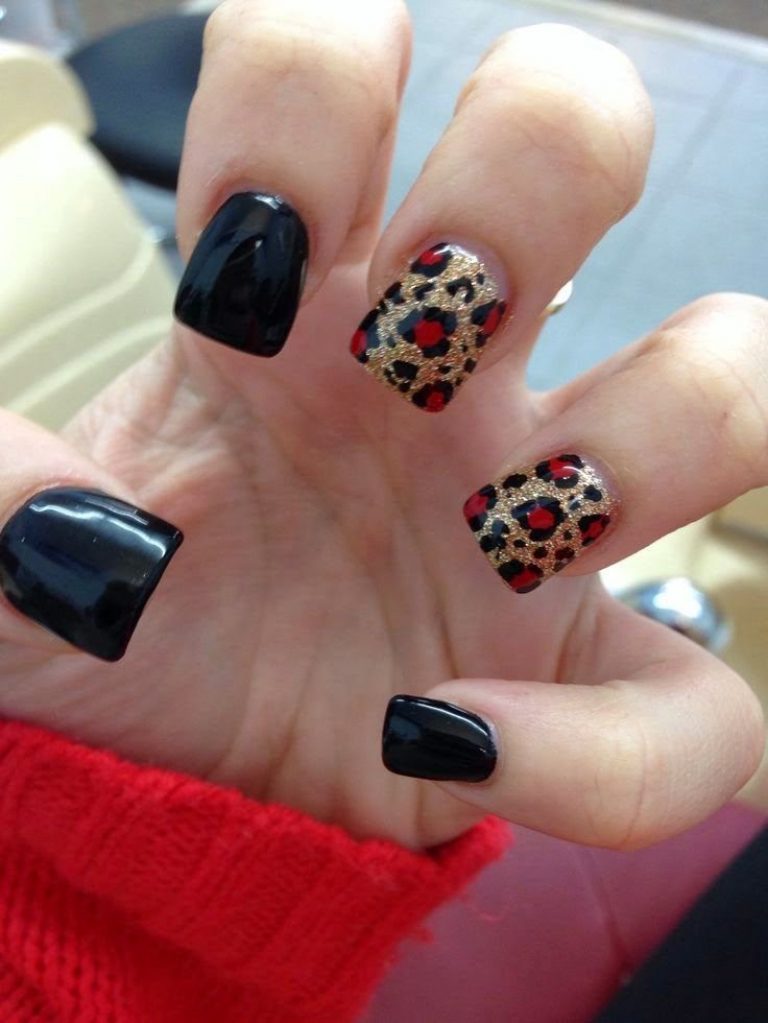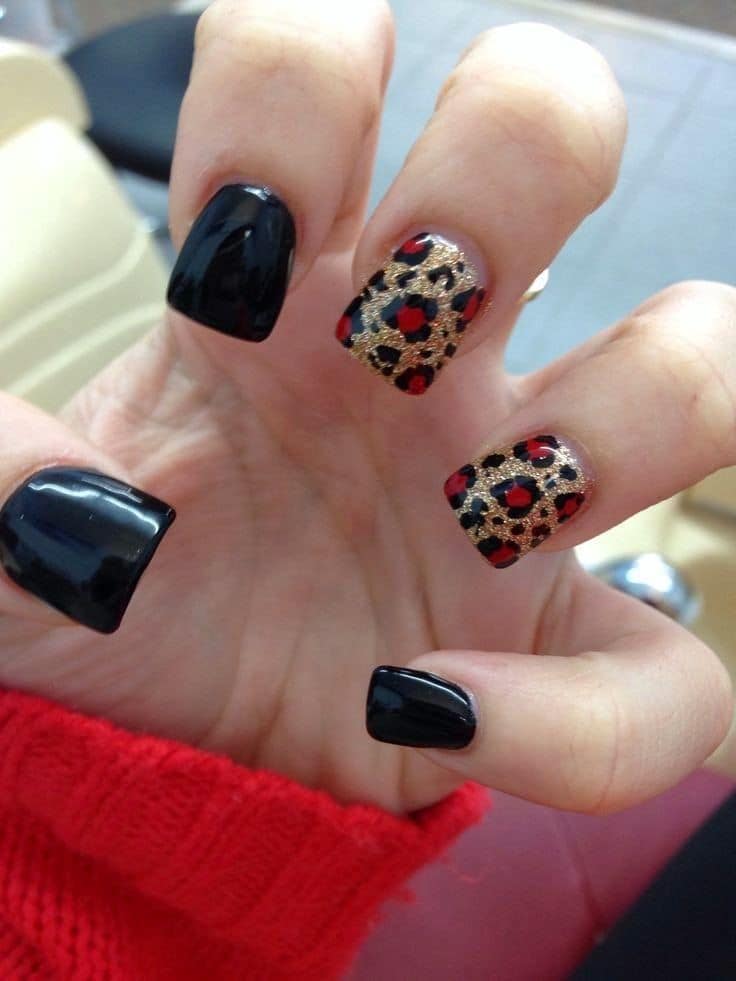 Add a tiger pattern to a red and black nail design and you get a party going on right there on your nails. Be sure to invite everyone!
#38. Raspberry Red And Black French Tipped Style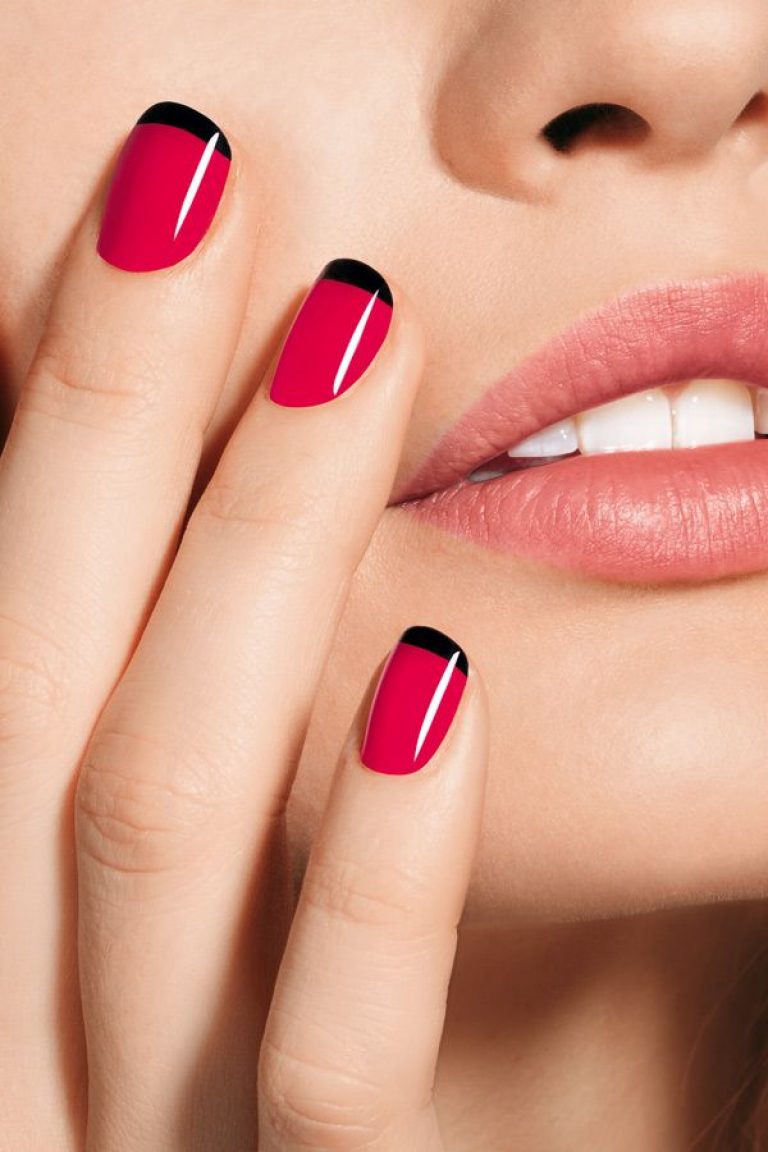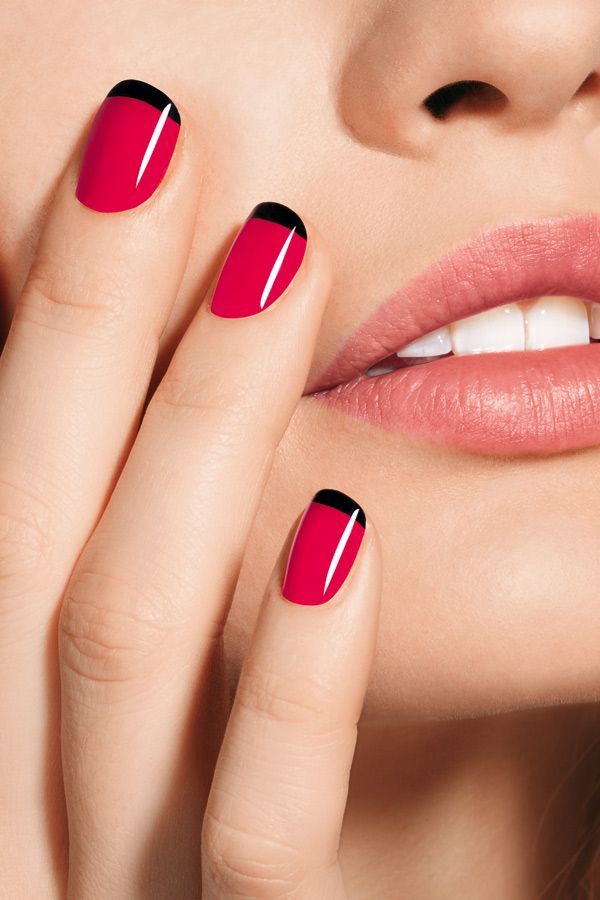 There are a million shades of red but if raspberry red is your shade then this red and black nail design is the one for you!
#39. Burgundy Red And Black With Golden Belt Details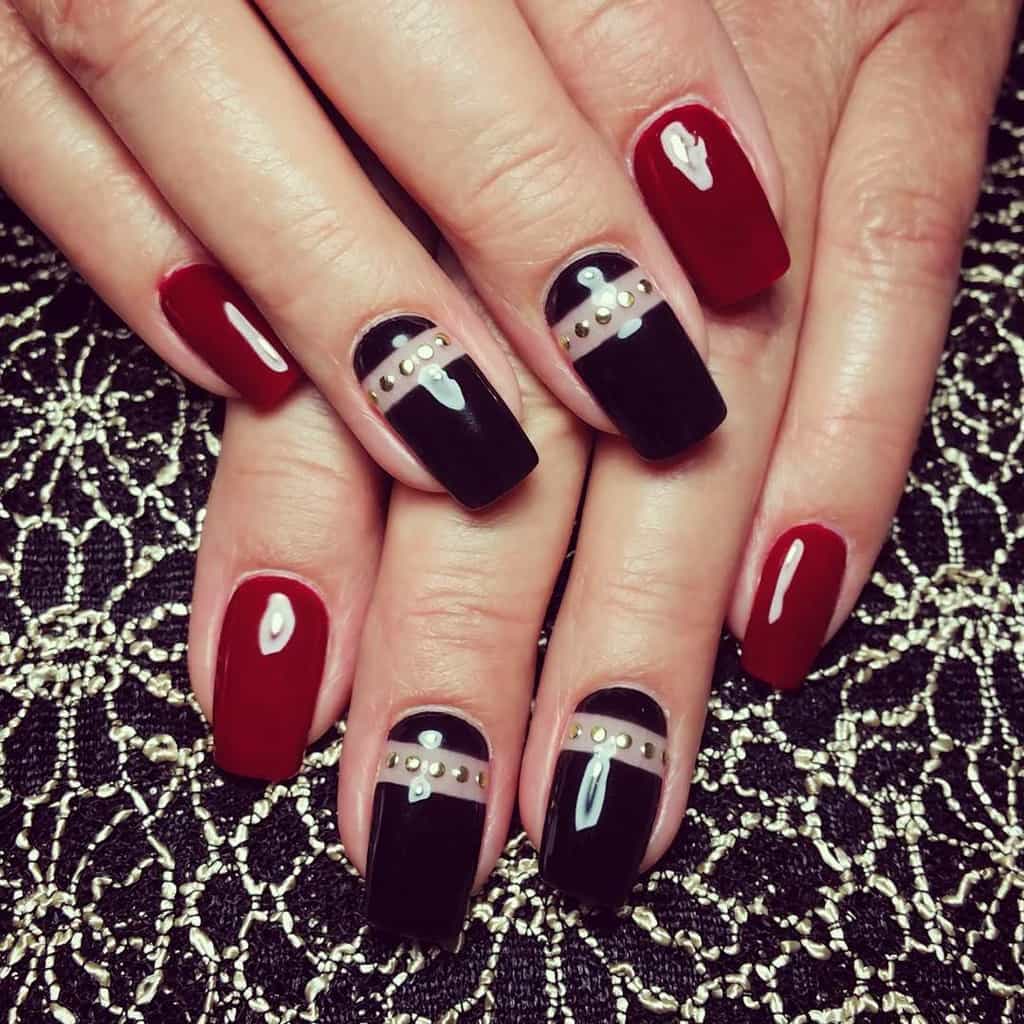 Who said belts are only meant to be on your waist? Flash some gold detail belts on black based nail beds and you've got the perfect combination for a great black and red nail design!
#40. Free Style Mix Of Red And Black Nail Design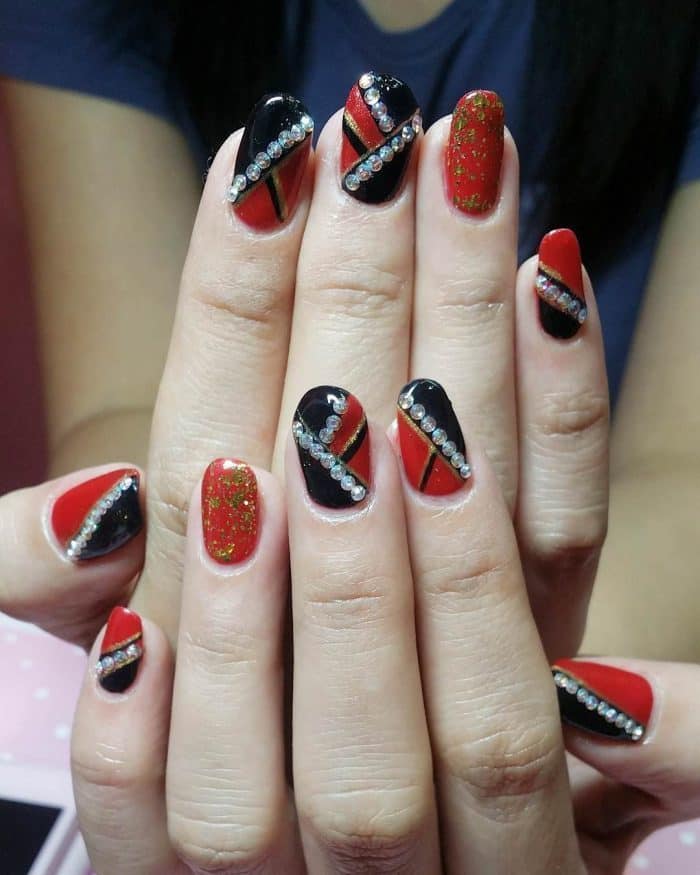 Mix it up with silver strass, gold detail coating on red and strips wherever you find it convenient. Unleash your inner artist. Your nails are your canvas. Make it unique and special!
Heart Nail Designs for Valentine's Day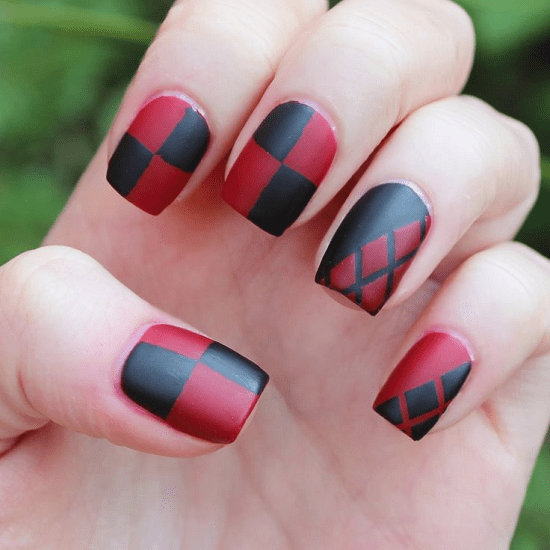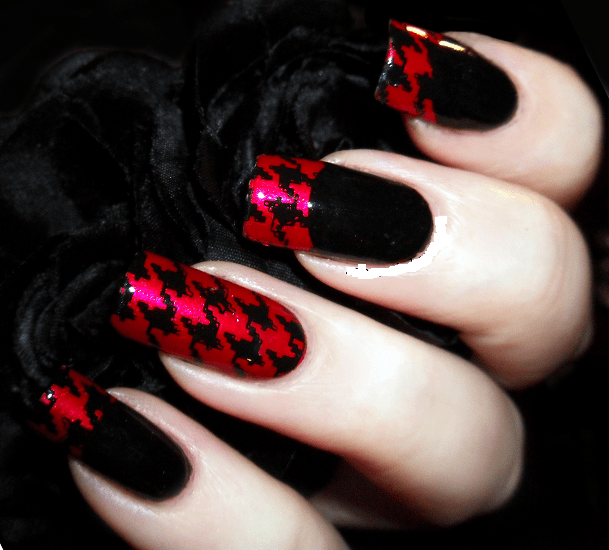 Red and black nail designs are in style! So choosing one of the above nail styles can't possibly go wrong!
Choose wisely, though, you are one black with red nail design away from determining the way you would be described by the people who see you in an event.