Maroon acrylic nails are trending a lot lately and the reason behind that may be obvious. They are simply gorgeous. A lot of the time women tend to get acrylic nails because they believe that kind suits them the best. Acrylic nails will make you feel glamorous and will last you forever, so no wonder you may want to throw on a pair.
Unique Maroon Acrylic Nail Designs
If you are off to something fancy you got to be dressed up for it. And we mean from head to toes. Makeup, hair, jewelry, nails, outfit, bag and heels. Maybe we can not help you with all of it, but we can give you the best ideas for your maroon acrylic nails.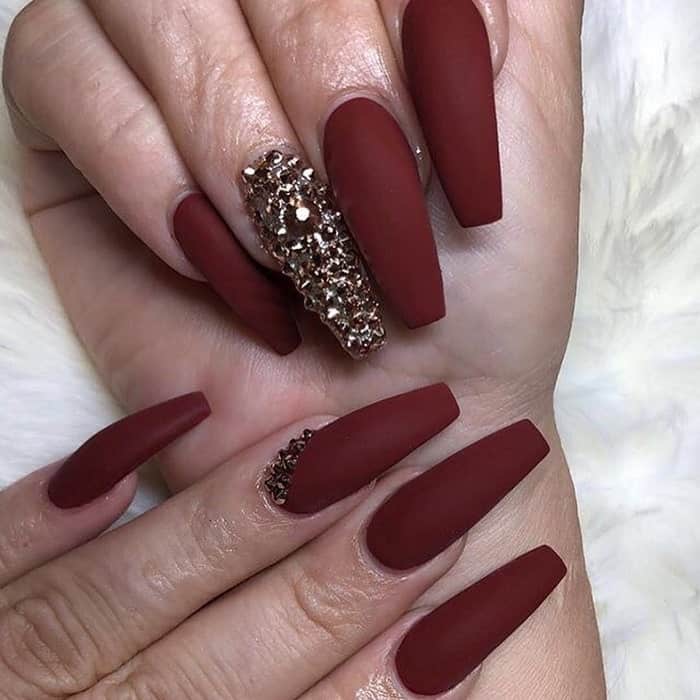 Give your super long nails a sophisticated touch with matte maroon nail polish. Construct them with acrylic gel and add metallic rhinestones to create outstanding designs.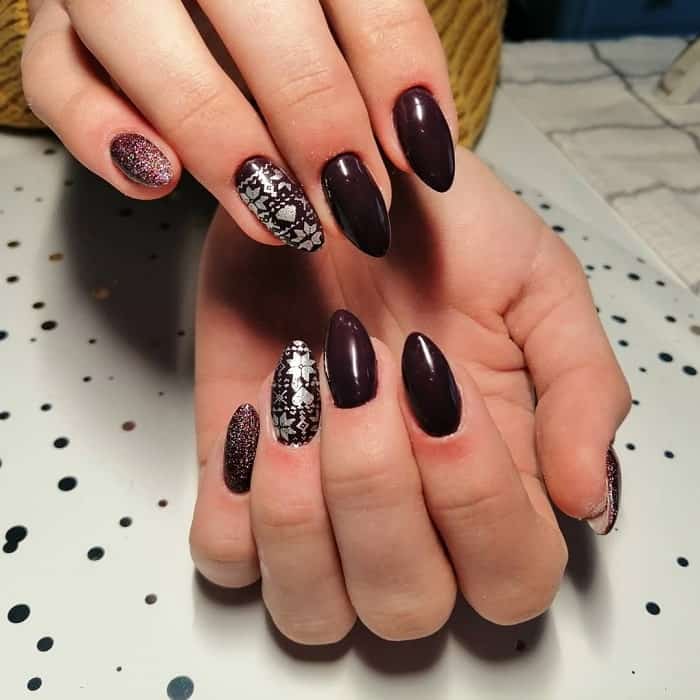 An exceptional combination of red and purple, this dark maroon color is a tremendous asset for your almond nails. Gold glitter an silver designs gorgeously mix with this dark hue.
#3. Maroon Acrylic Coffin Nails
If you wanted an outstanding look for your nails, your search is complete. Crisscross two small golden foils, use glitter and rhinestones for design and wear your nails with pride! They deserve it!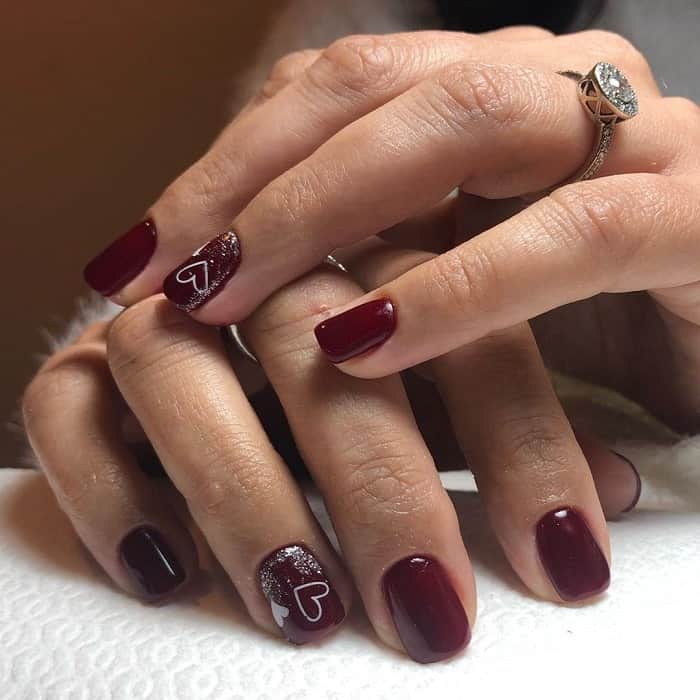 #5. Maroon Acrylic Nails with Glitter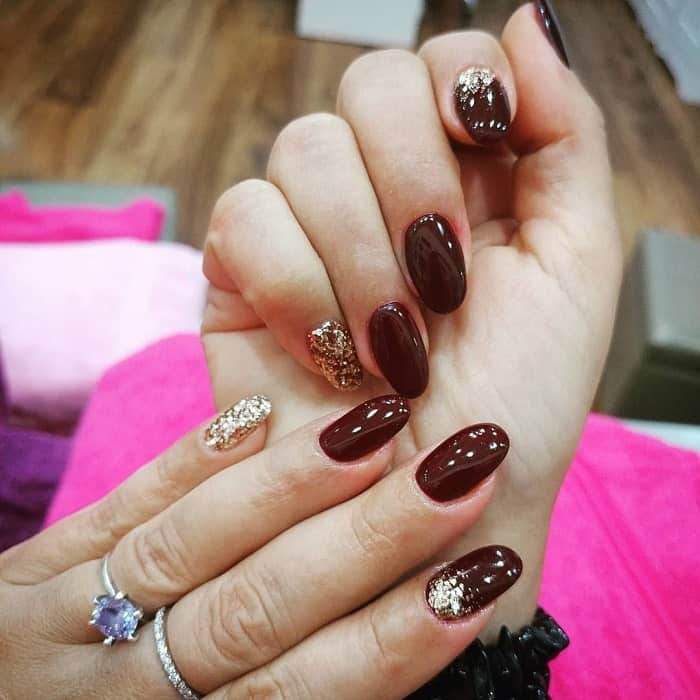 #7. Maroon Red Acrylic Nails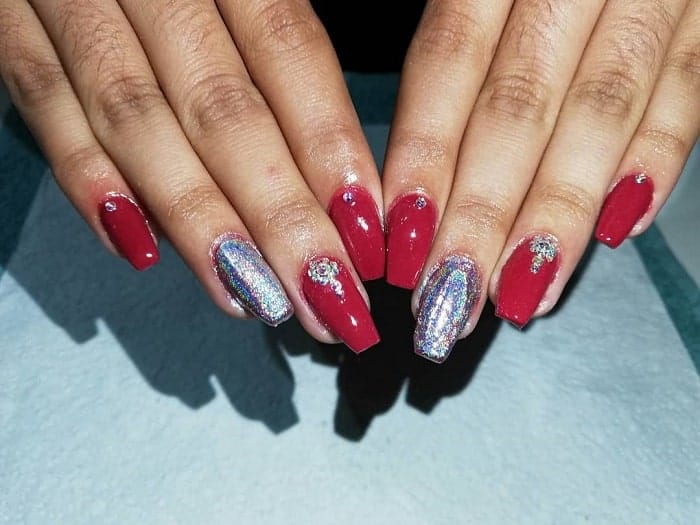 When doing your nails in the coffin shape you got to be prepared to put on a heavy color. This shape and this maroon color go so well together, and they are ready for your night out with the girls. Not many women are brave enough to pull this off, so you should be one of them.
#9. Flower Lover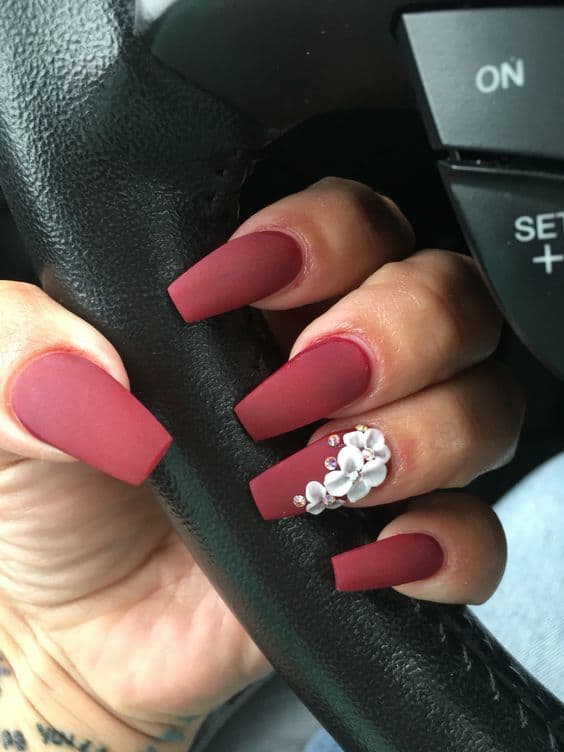 Maroon acrylic nails will look so stunning with the little flowers as your detail on the ring finger. Make sure you get something that is super light in detail because it will stick out better. If you've had a darker flower nail design wouldn't be as vivid as it is right now.
#10. Ombre Acrylic Manicure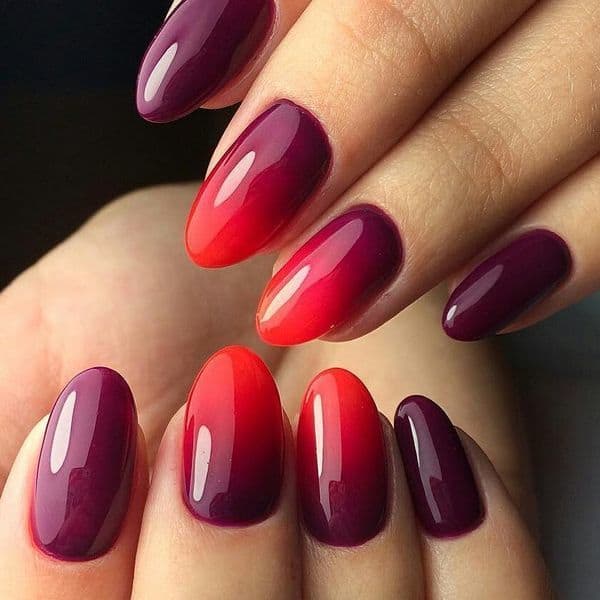 Since ombre has become a thing in the beauty industry you may want to hop onto this trend. Women are loving the transition colors when it comes to these designs. Doesn't matter if it is their hair, outfit, or even nails, they are obsessed!
The coolest part about this maroon acrylic nail design is that it can be worn at the office, as well as for the night out. It is just a perfect somewhere in between manicure.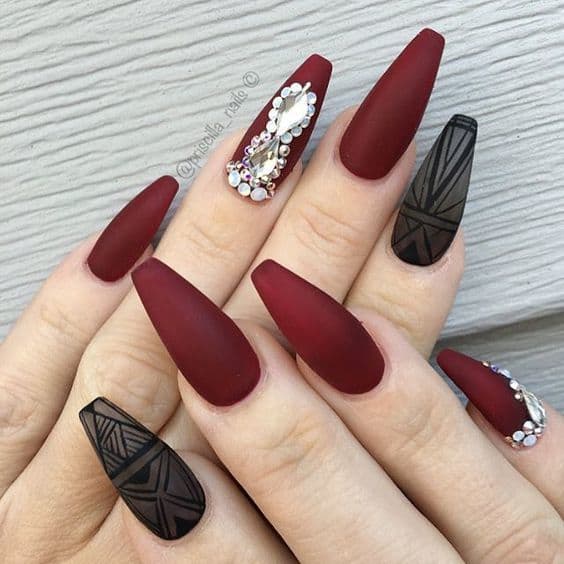 This design looks like it had found inspiration by looking at spiders the whole day. The criss-cross black detail gives out that mysterious vibe, while the rhinestones put back the elegance into it.
If you think of yourself sometimes as a princess and then the next minute you are acting like a fierce chick you should totally get this design. It changes with your moods, and you may want that.
#12. Perfect for Prom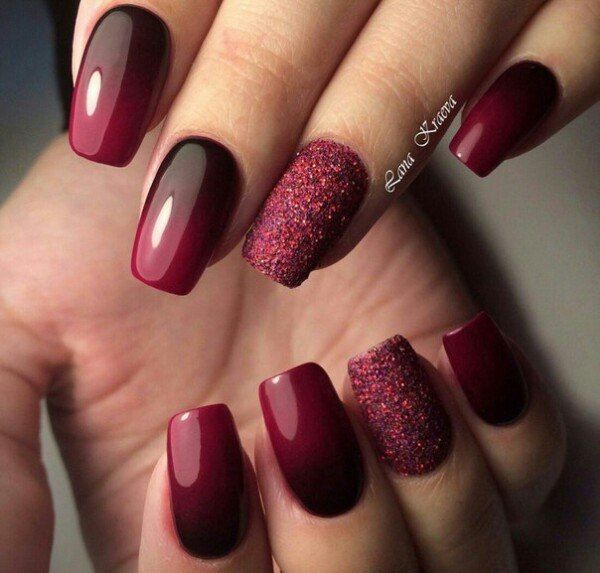 If you are looking for your acrylic maroon nail design for the prom it is right here! The square shape is the ultimate shape girls go with when attending the prom. And of course, let's not exclude the glitter on the ring finger.
Many of us love that simplicity but at the same time elegance. You can have it all with this design, so you better get it before someone else does.
The hottest and the sexiest maroon nails for you to choose are here. Making a decision sometimes is hard, and who could blame you, when the designs are this stunning. However, we believe that you will manage it. And know that whatever you do end up getting, in the end, will be a hit.