It's a common thing to face a problem with removing nail glue from nails and skin. Nail artist and the girls use nail glue to apply acrylic nails or any artificial nails to natural nailbeds.
Nail glue is very strong and has a firm hold and gets on almost anything. As most of the nail designs are done manually, it's quite natural to get unexpected nail glue on the skin and nails of your manicure.
This glue can come in contact with your skin accidentally and cause issues as the adhesive is strong and thin.
Learn how to remove nail glue from the skin as well as from nails to have a healthy skin and beautiful manicure.
Nail Glue Removal: Available Methods
There is one dominating method in the field of nail glue removal that is using acetone to remove nail glue. Be it skin or nails, acetone is the most used chemical to get rid of unexpected nail glue.
But, there are other methods too such as using hot water, petroleum jelly, vegetable oil, hand lotion, soap, etc.
If you want to remove nail glue without acetone/chemical, you can choose the products mentioned just above.
Though using acetone is the easiest way to remove nail glue from nails, some people don't want to expose their skin to chemicals like this. The method is very simple which is as follows.
How to Get Nail Polish out of Carpet
Ways to Remove Nail Glue From Nails
You can remove nail glue from nails simply by using acetone or nail remover. The process is very easy and the necessary suppliers are not rare to find either.
Here is a list of the supplies:
Acetone/ Nail Remover
Cotton Pads
Water Bowl
Hot Water
Baby Oil
You will be able to remove nail glue by using these three things only. So, nothing to worry about.
Let's deep dig and read out the following steps to know how to remove nail glue from nails.
Fill a medium water bowl halfway with hot water. The heat of the water helps the glue dissolve faster.
Pour a bit of acetone into the water and stir the mixture.
Dip your nails in the water for a few minutes at most 5 minutes to soak them fully.
Remove the nails from the bowl. The heat and acetone should make the bond of nails and glue weaker by this time.
Use a cotton pad to get the nail glue off. Rub the nails with a cotton pad soaked in baby oil to remove the remaining residue.
Ways to Remove Nail Glue From Skin
Skin is a sensitive thing. You can't be callous about the chemicals you are using directly on your skin. That's why some people don't suggest acetone while removing nail glue from the skin.
You can follow other methods which are lengthy and boring at times. All these different methods consist of similar steps, though the supplies are different.
The things you'll need to remove nail glue from your skin are as follows.
Warm Water
Soap
Petroleum Jelly
Lotion
Vegetable Oil
Almost all of the supplies work in similar ways. So, I am describing the steps in general for all of these products.
Soak your nails in warm water as that helps the nail glue weaken the bond of nail glue and the skin.
Remove the nails from water and pat them dry using a towel.
In this step, you can use soap/petroleum jelly, lotion, vegetable oil etc to rub the nails in order to get rid of the nail glue.
Keep rubbing and massaging the nails until the glue comes off from the skin.
After the removal is done, wash your hands to clean the extra glue or the supplies you have used to remove the glue.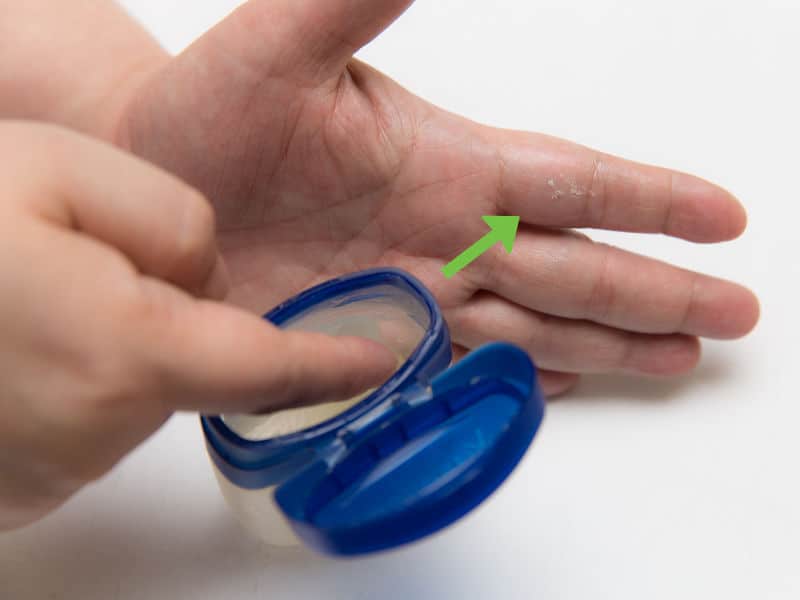 Bonus
Since you have known the ways to remove nail glue, now you can remove any kind of glue including the mighty superglue from your skin. All these adhesive is made of the similar chemicals.
So, the removal process is almost the same. You can get rid of any glue from any place of your body by following the mentioned methods.
But, don't do it yourself to get the glue off from the sensitive part of your body like eyes, lips etc. Consult a doctor in this regard.
Tips
Try to avoid the direct application of acetone on your skin. This may harm the skin. Before using the nail polish remover make sure you don't have your favorite clothes around you. It may discolor them.
And another important thing is, use a water bowl that you will not need for another purpose rather than to remove nail glue.
Easiest Ways to Remove Nail Polish
Whatever it is, nails or skin, it is an important part of your body. There is not enough space to be indifferent about these. Pay your full attention to the body which represents you as a beautiful individual.
Do the nail designs and nail removal the right way. We are here to guide you when you need any guidance.