Looking for a cartoon nail art to try on your child? Cartoons are the best thing to watch on the television for a kid. Though with the advent of internet devices, nowadays kids are not watching cartoons as kids from nineties used to do. Whatever the scenario is, the appeal of cartoons in our early life will never fade away. If you want to reminisce your childhood or you are still a child, you can have cartoon nail art on your nails.
Childhood is the best time one could have had in his/her life. In our early stage of life, we never realized the meaning of a quote saying "Don't grow up, it's a trap", but we know what the trap is now as we are growing up. Any normal kid knows how much he/she is addicted to cartoons.
Let's bring our childhood back or preserve the current childhood of yours through our designs.
Cartoon Nail Arts To Feel The Nostalgia
Every kid spends a large amount of time before the TV set. And they know almost all the schedules of several cartoon channels. Cartoon Network, Nick, Disney etc are the most renowned cartoon channels in the world.
Tom & Jerry, Mickey Mouse, Donald Duck, Ben10, Teenage Ninja Turtle, Power Puff Girls, Scooby-Doo, Barbie, Doraemon etc are known to the kids all over the world. Some kids are so obsessed with cartoons that they can't befriend anyone from the real world. All these characters from various cartoons are used in cartoon nail art.
I have tried to gather most popular cartoon nail art for your convenience. If you are a grown-up you'll feel nostalgic as I'm feeling now. And If you are a kid, you'll just fall in love with these nail art.
#1. Translucent nails with Cartoons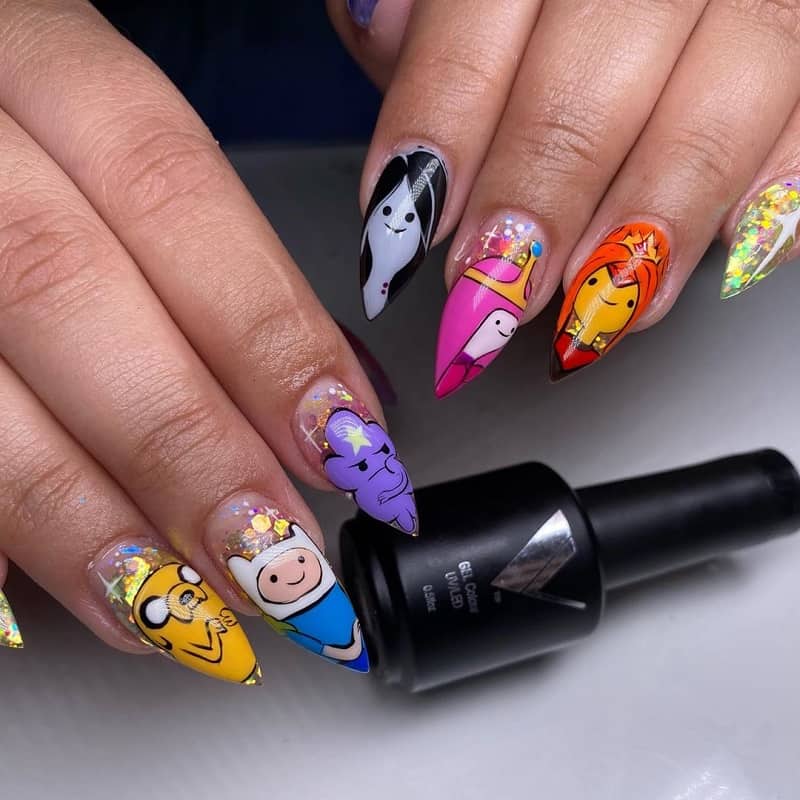 Stiletto nails can be the greatest canvas for your cartoon designs. Pull off translucent nails with glitter and small sequins and apply your favorite cartoon nail stickers. The manicure will be vibrant, joyful, and inspire happiness.
#2. Pink Squared Nails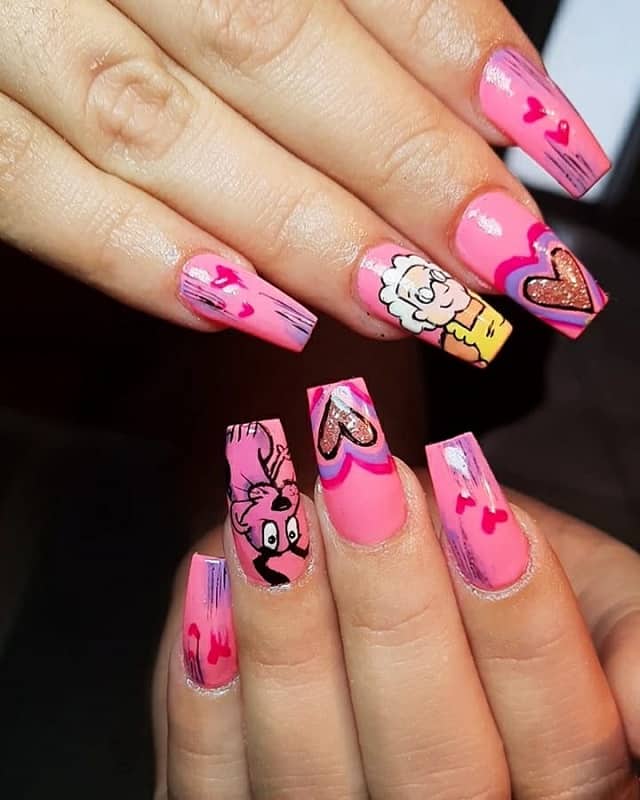 If you are in your 30's, you certainly loved Courage, the Cowardly Dog. Show your love for your childhood cartoons with comedy cartoon nails. Build the nails with acrylic, keep them long and in a square shape so your drawings will be more visible.
#3. Very Long Red Nails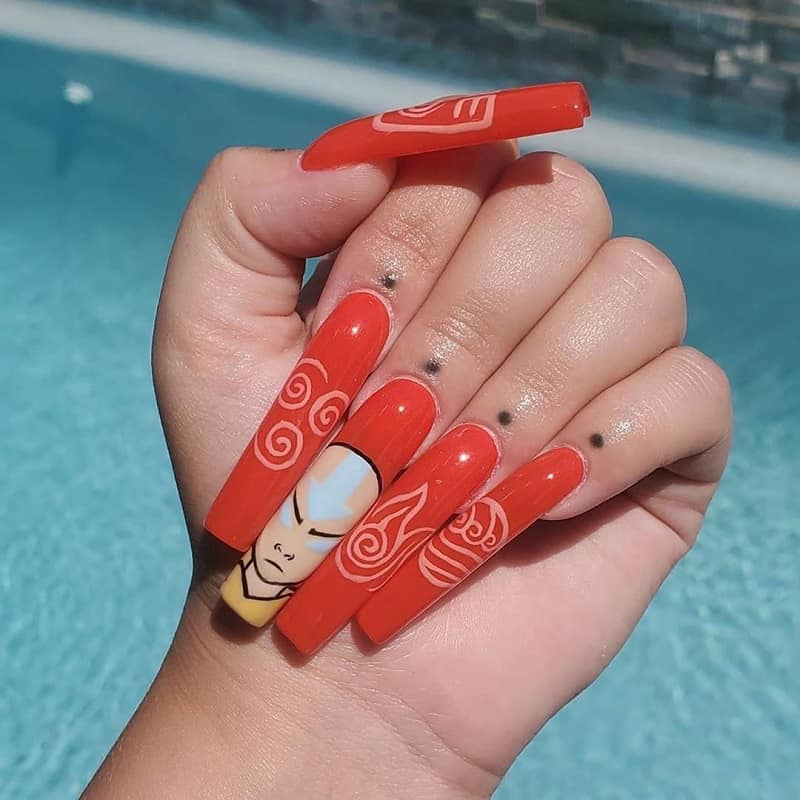 If you love manga and you are not afraid to pull off long fancy squared shapes, Asian cartoon nails with designs are the best way to show off what you like. They are true statements but be careful when using them.
#4. Pokemon Nails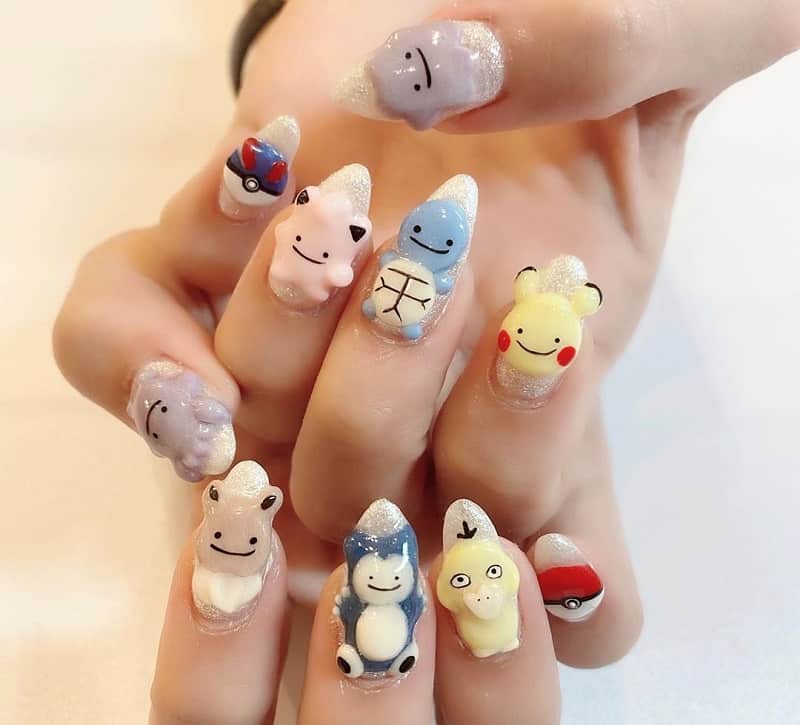 3d cartoon nails are so adorable! Give your nails an almond shape and apply white glittery polish. After coating the nails, apply these gorgeous small decorative Pokemons and get ready because you're gonna catch them all!
#5. Sylvester Almond Nails
Cartoon gel nails look fabulous, especially if you use eye-popping nail polish. In this case, the nails have medium length and simple, elegant almond shapes. Combining different textures like glitter with gray polish and 3D paws will certainly look gorgeous. And let's not forget about Sylvester and Tweety!
#6. Donald Duck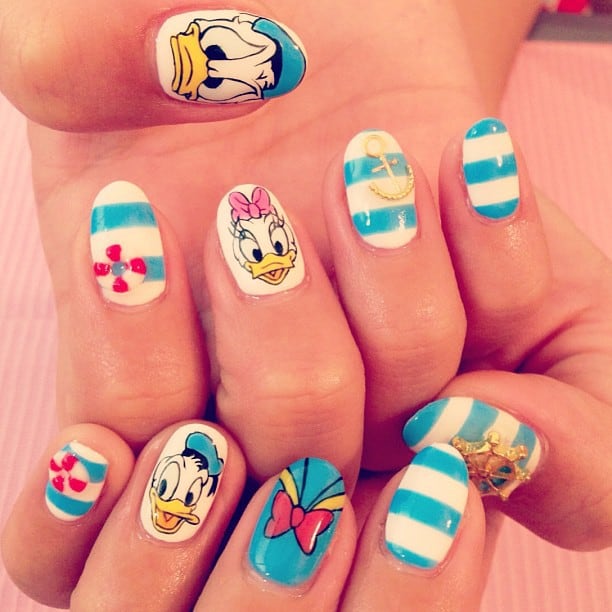 The faces of Donald Duck can be drawn on your nails for this design. You can paint an anchor, a steering wheel and bow on your nails for this design.
Love Elsa & Anna? Try Frozen Nail Art
#7. Scooby-Doo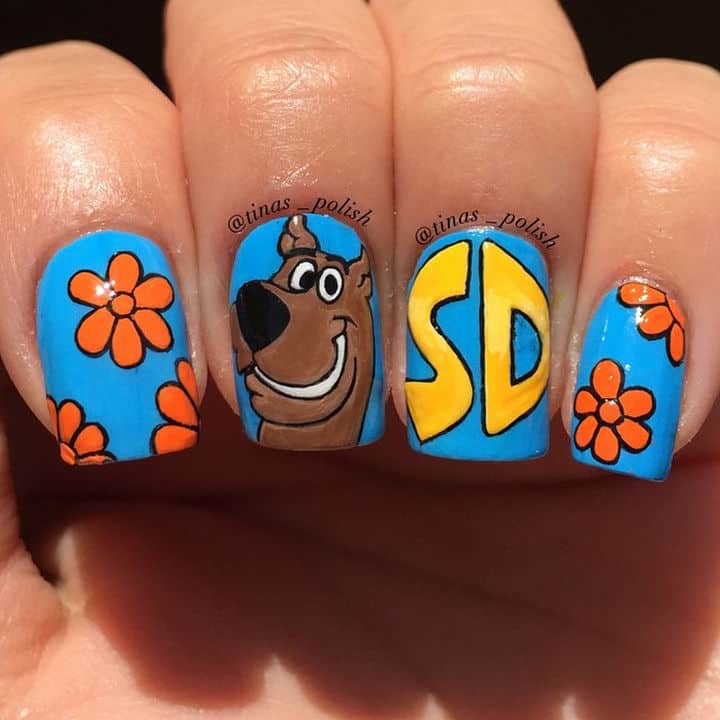 Scooby-Doo is the name of the protagonist of this cartoon, who is a dog. You can paint it's image on your nails to have cartoon nail art.
#8. Nick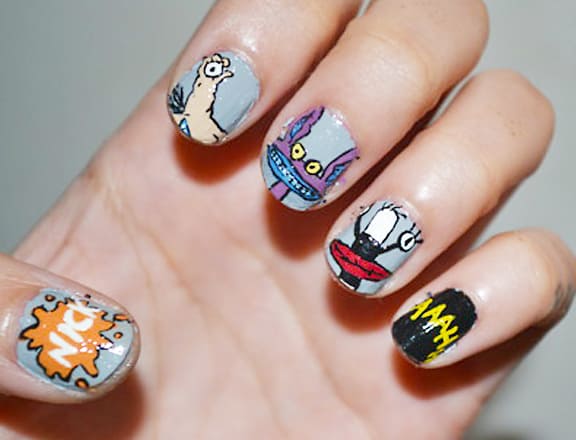 Some kids never change a single channel while watching TV. Nick is like one of these channels. You can have their logos, along with some characters, drawn for your cartoon nail art.
#9. Doraemon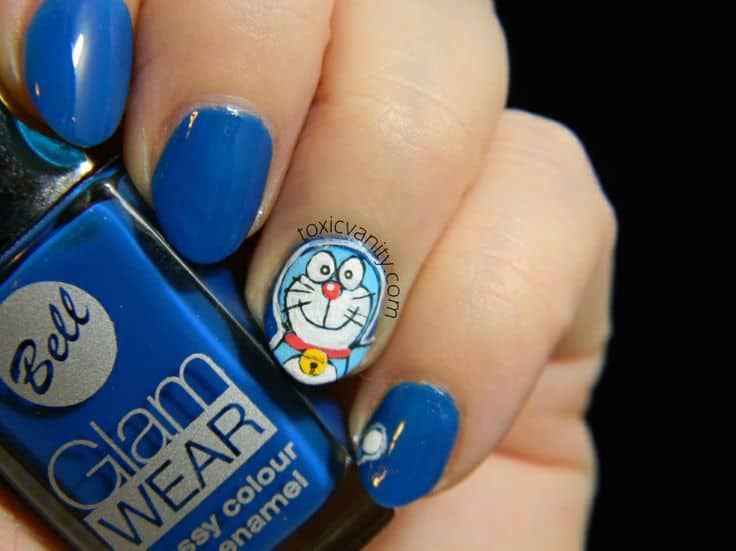 Doraemon is vastly popular in the Asian region. This cartoon has been translated into many languages for its immense popularity. You can have the image of Doraemon in between your blue nails. The face of Doraemon looks stunning in blue.
#10. Ben10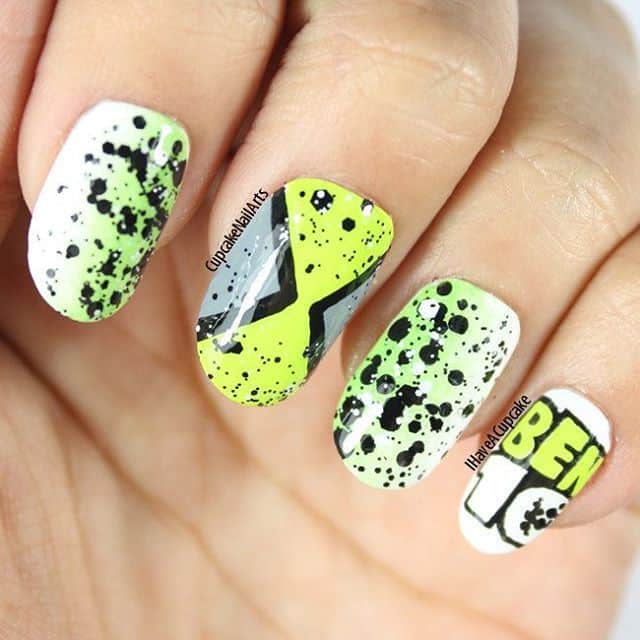 Ben10 is an exciting cartoon for the kids. A boy has 10 kinds of special power to fight the evil. You can use the theme of Ben10 on your cartoon nail along with neon nail colors.
#11. Ariel the Little Mermaid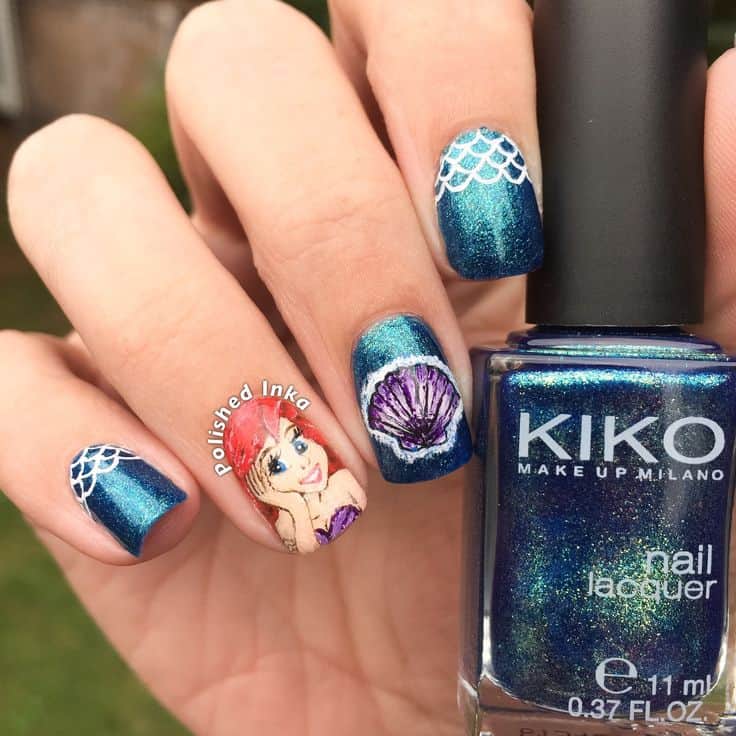 Ariel is a mermaid character of Disney. You can draw her image along with fish scales and seashell to depict the theme of underwater. This cute mermaid will enhance the beauty of your cartoon nail art.
#12. Barbie Girls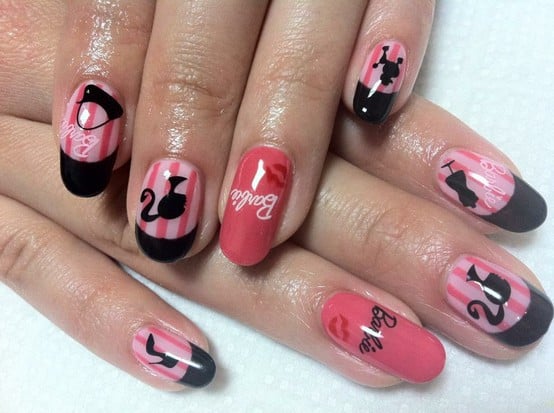 Barbie is a serial of Disney. This animated cartoon has different names and different stories with same barbie characters. These Barbie girls are so fashionable and have a feminine grace. You can illustrate the femininity of those Barbie girls on your cartoon nail art.
7 Spongebob Nail Designs for Your Inner Cartoon Fan
#13. Aladin Cartoon Nail Art
The character Aladin is extracted from an Arabian story. This cartoon is also popular among the children. You can draw the images of Aladin, the genie and other characters from that cartoon for cartoon character nail art
#14. Teenage Mutant Ninja Turtles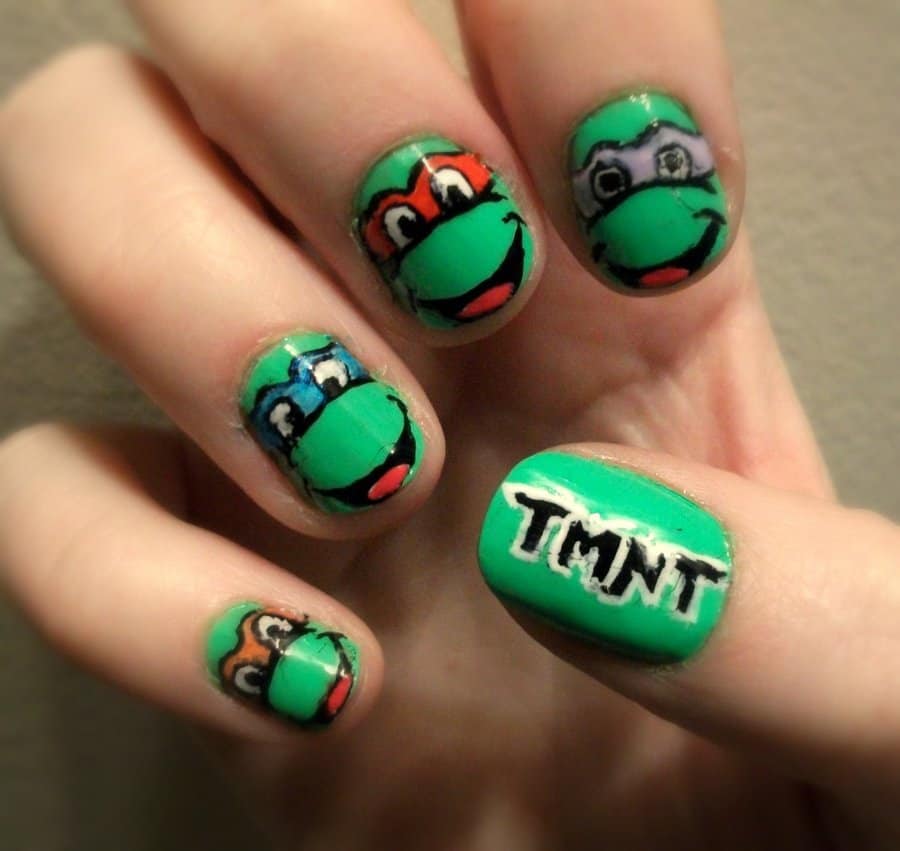 This is the tale of four fictional teenaged turtles having human-like attributes who fight for the good. You can draw their faces on your nails to have cartoon nail art like this picture.
#15. Angry Birds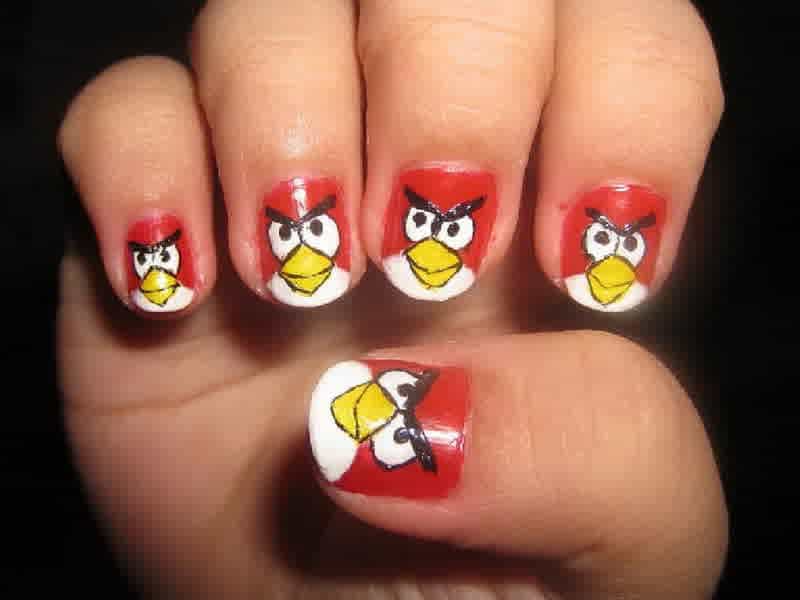 Angry Birds are popular among the kids of recent time. So, it is appropriate for the little kids too as they'll be able to recognize it. Draw the grumpy faces of red angry birds on the nails of your kids.
#16. Tweety Sweety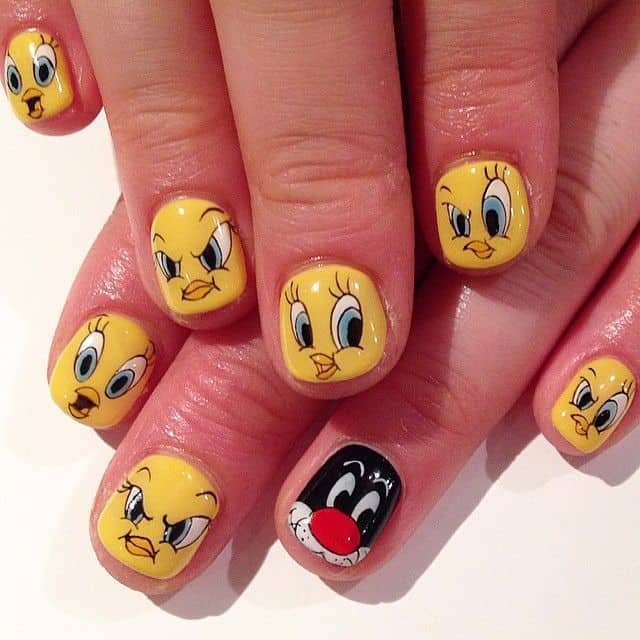 Tweety is a sweet cartoon character. You will fall in love with this cute little yellow bird. Paint the images of sweet tweety little bird with yellow nail polish to have cartoon nail design done.
#17. Walt Disney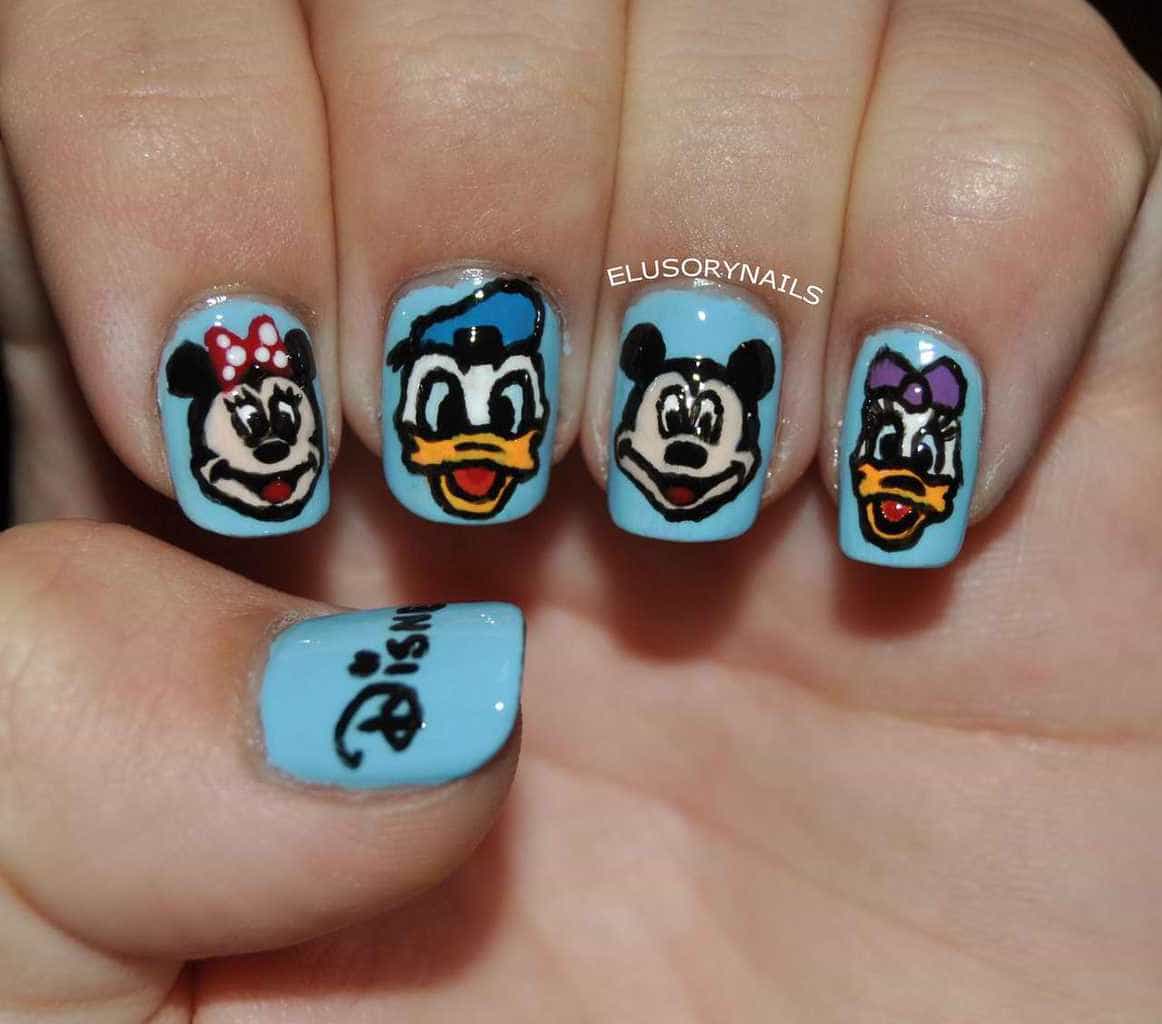 Disney also known as Walt Disney is a famous name in the world of animated cartoons and movies. You can have their logo and famous cartoon characters drawn on your nails.
Draw Cute Little Panda on Your Nail
#18. Powerpuff Girls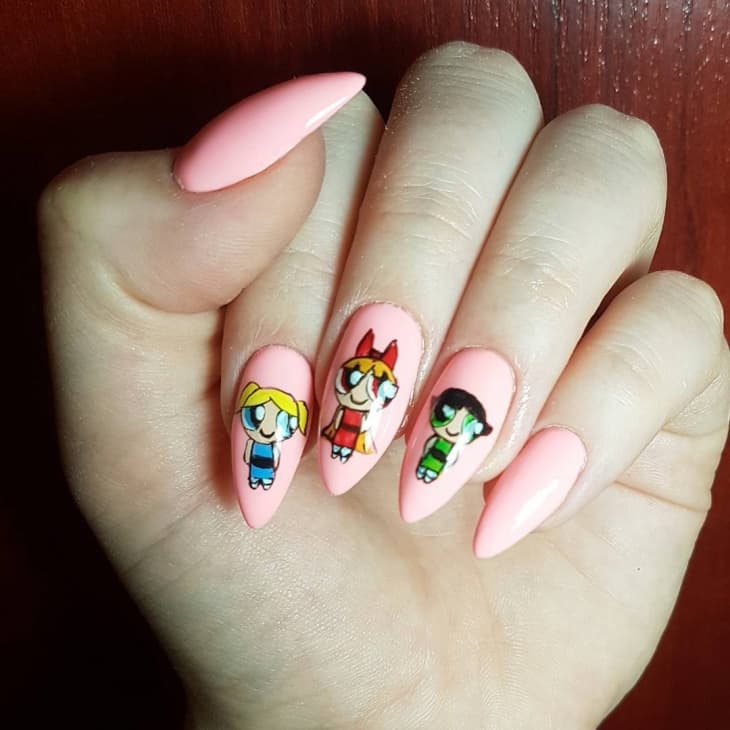 Three sisters namely Blossom, Bubbles and Buttercup have special powers and they always save Townsville from the evil forces emerging in their town. These Powerpuff girls are very popular among girls. You can have this cartoon nail art on your pink stiletto nails.
#19. Courage The Cowardly Dog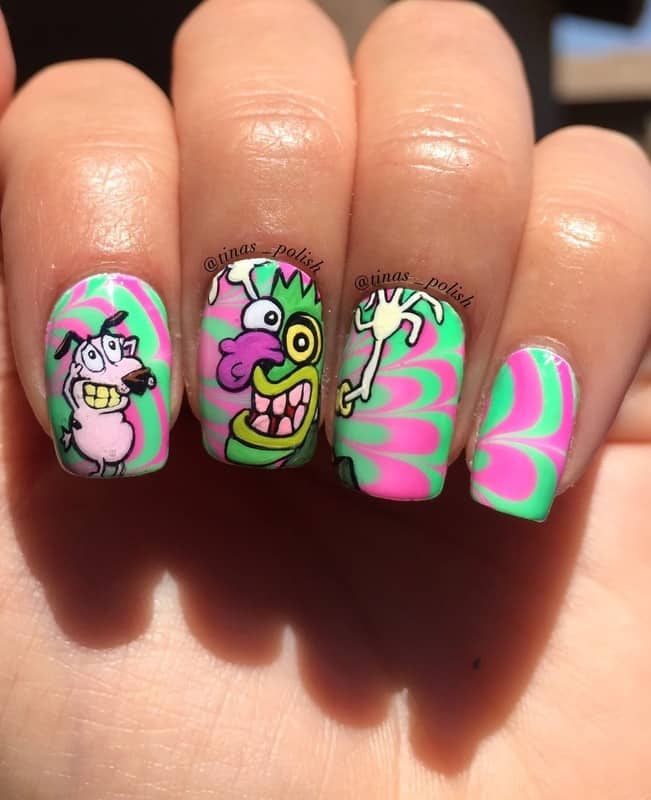 Courage is the name of a dog who have attributes exactly opposite to his name. This pink dog is very timid having paranoia problems. This is a funny cartoon depicting the weird activities of Courage the Cowardly Dog. Use water marble effect as the base of your nail art to complete the look.
#20. Looney Tunes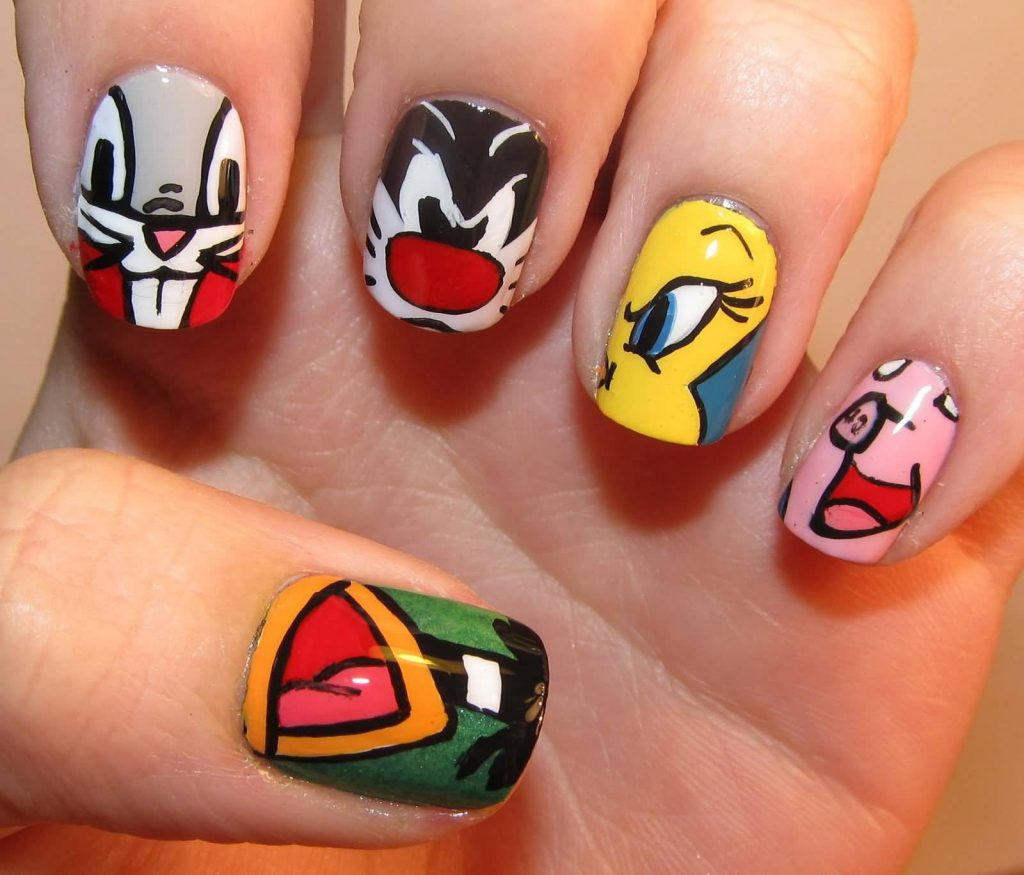 If you are a lover of Looney Tunes you can paint the central character of this cartoon such as Bugs Bunny, Daffy Duck, Tweety, Sylvester and many more on your nails as cartoon nail art.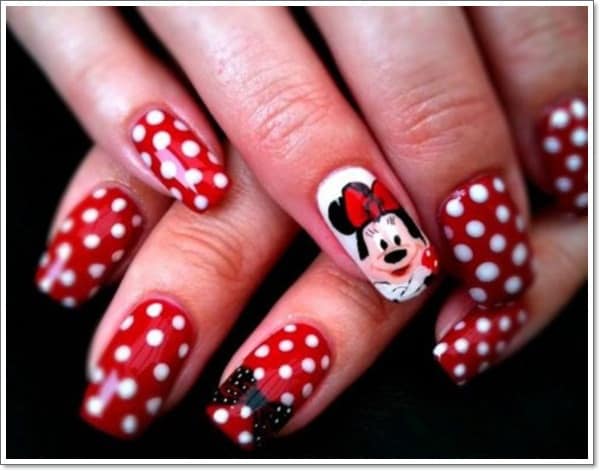 Minnie Mouse can give a luxe look to your nails if you draw its image along with polka dots and bow. This is a perfect girlish design. You can express your girlhood through these cartoon nail art.
Cartoon nail art cannot be imagined without the presence of Mickey Mouse. This cartoon character is one of the most loved and celebrated characters in the world. You can draw the face of Mickey Mouse with black color on your light pink nude nails.
#23. Tom & Jerry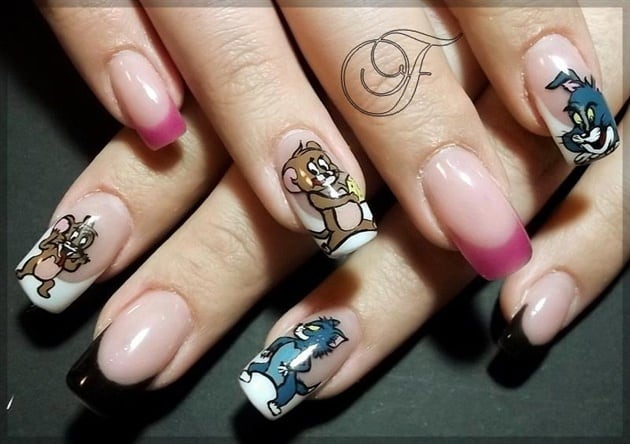 Tom & Jerry is a legendary cartoon which is equally popular to everyone regardless of age, race, nationality. This cartoon made our childhood. We used to burst out into laughter while watching this cartoon. The constant quarreling and weird friendship of Tom & Jerry touch our hearts just as before. Simply use some tom and jerry nail stickers on your beautifully done solar nail.
#24. Snoopy

Snoopy is a character of the Peanuts. You can depict the image of this naughty dog in your designs of cartoon nail art.
#25. Popeye the Sailor Man
Popeye the Sailor is mostly known for his spinach eating habit to grow in power. He also loves a girl very deeply in this cartoon. You can illustrate this design in your cartoon nail art.
Carry Good Luck with Ladybug Nail Art
Adorable Cartoon Nail Designs for Cute Looks
Every kid out there is a fan of cartoon more or less. And every grown-up used to love cartoons in their childhood. So, these nail art will produce a feeling of nostalgia among the adults and a feeling of excitement among the kids. You can try out our designs. If your favorite cartoon character goes missing here, give feedback. We will get back to you.