Dark red is the language of love and romance, so if you're aiming for a bold nail look to convey your passionate feelings and show the world your deep soul, dark red nails are a must.
Even celebrities like Bebe Rexha, Rihanna, and Charlie XCX know how a dark red nail design can work wonders in making a statement look. From ombre and matte to foils and colored tips, dark red is the easiest way to take your nails from blah to beautiful!
To make any of the dark red nail designs we're about to show you, you'll obviously need a dark red nail polish on hand. If you love adding details to your nails, a few other helpful tools include glitter nail polish in red, silver, or gold, and accessories like rhinestones.
All you have to do now is pick your favorite!
Elegant Ways to Wear Dark Red Nails
Set the mood of your date night, holiday party, or daily wear nails with dark red! We've got some gorgeous looks to serve up today.
Incorporate a minimalistic design in your long dark red acrylic nails by using white polish to draw thin lines, triangles, and dots. You can use other shapes as well, just make sure the lines are thin and dots are few!
2. Dark Red Coffin Nails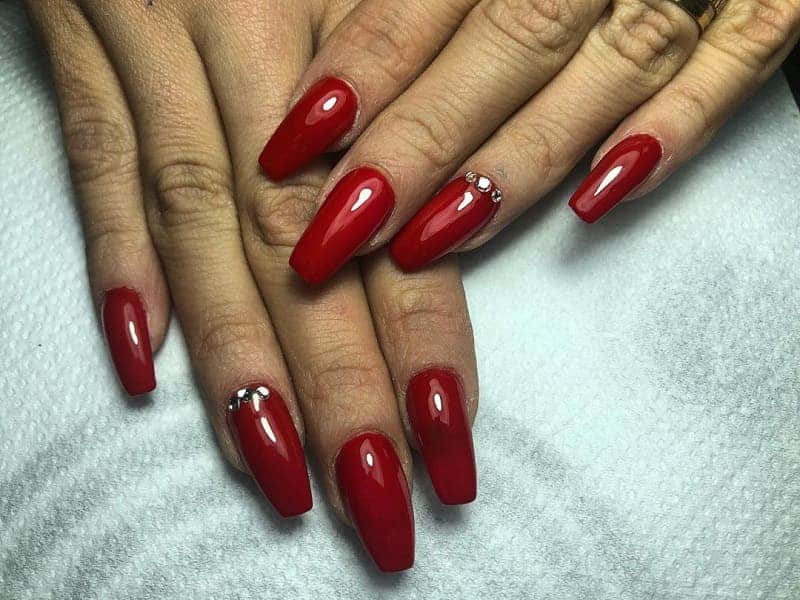 If you have a dark skin tone, these red coffin nails will complement it beautifully. On these long nails, the shiny red is set apart from every other red nail design by featuring tiny silver stones at the accent nail's crescent.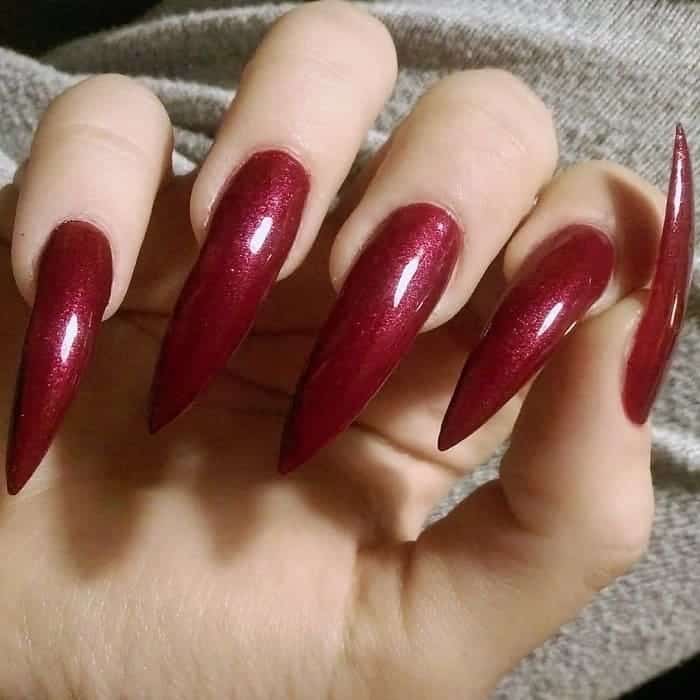 The dark red shade of polish seen here combined with its slightly glittery sheen ensure no one will miss your extra long stiletto nails!
4. Short Dark Red Nails
Do you have short nails? File them into square, squoval, or round shape as you prefer, then give them a coat of dark red. Beautiful and chic!
A matte dark red polish graces these short rounded nails. Matte polish is a good option for ladies who want a flat, smooth finish instead of the traditional shine.
6. Black and Silver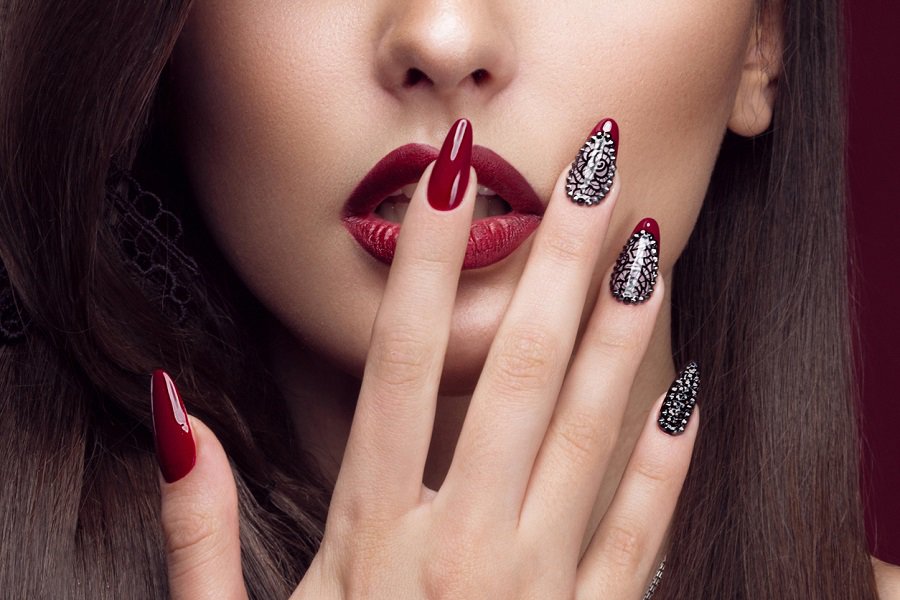 Bold colors on dark red stiletto nails show up amazingly well, so use it to your advantage to create cool designs. These black and silver web-like designs will give your glam nails an edgy touch.
7.Wavy Lines with Dots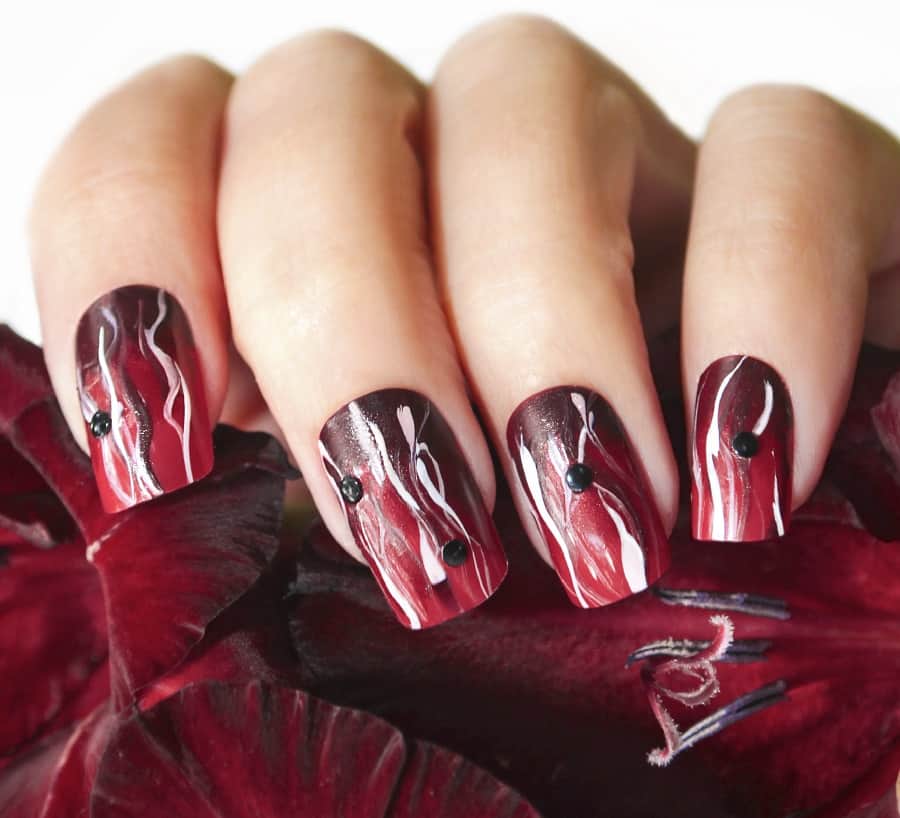 Using a combination of light and dark red, you can create these sexy waves on long nails with rounded edges. Accent them with black dots or jewels, placing two on one nail for a little something different.
8. Short Watermelon Nails
Another design dark red is perfect for? Making your nails into cute watermelons! With edges colored in dark green and black dots making 'seeds,' short nails instantly become a work of art.
9. Silver Word Art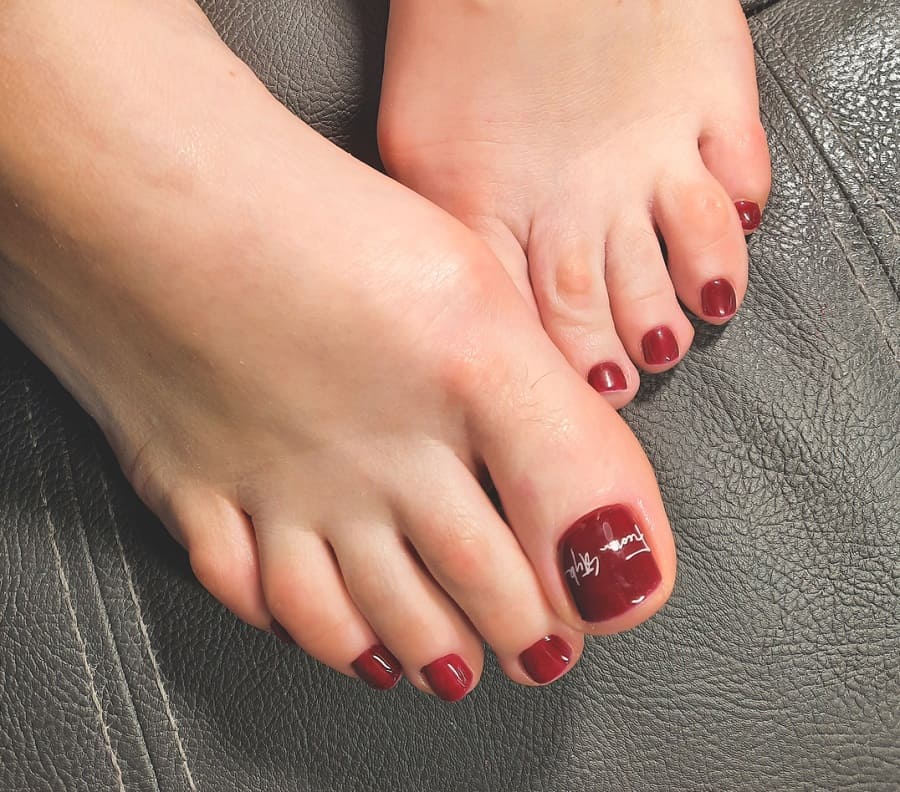 If you've already painted your nails dark red, treat yourself to a beautiful matching pedicure. These beauties are painted simply in red, but also feature minimalistic silver writing. Whether it's your name, an empowering word, or a symbol, the color will pop.
10. Long Matte Red
Long square nails make an impact all on their own – the only thing you need to do is give them color. If you choose dark red, try a matte version. It's understated yet still stylish.
11. Short Glittery Red
When the holidays roll around, get in the spirit by matching your nails to the occasion. Dark glittery red is sparkly and festive, and looks beautiful on short squoval nails.
12. Dark Red Gel Nails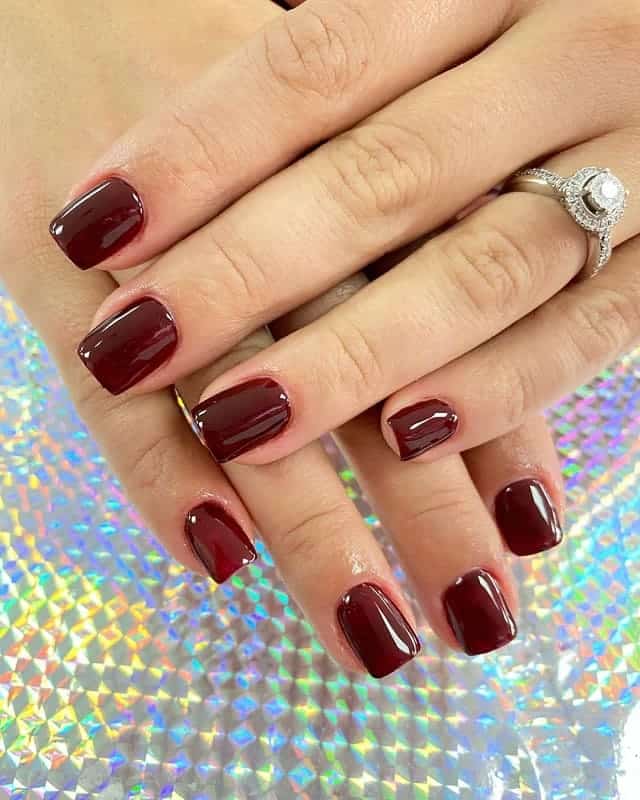 Treat your fingernails to gel polish in dark red! Aside from the polish lasting longer, its color is richer, so your short square nails will look as stunning as the ones in this photo!
Aren't the tiny gold clovers on these dark red nails super cute? In addition to drawing your own little gold pictures, you can paint the entire accent nail in gold to offset the dark red.
14. Glittery Dark Red Nails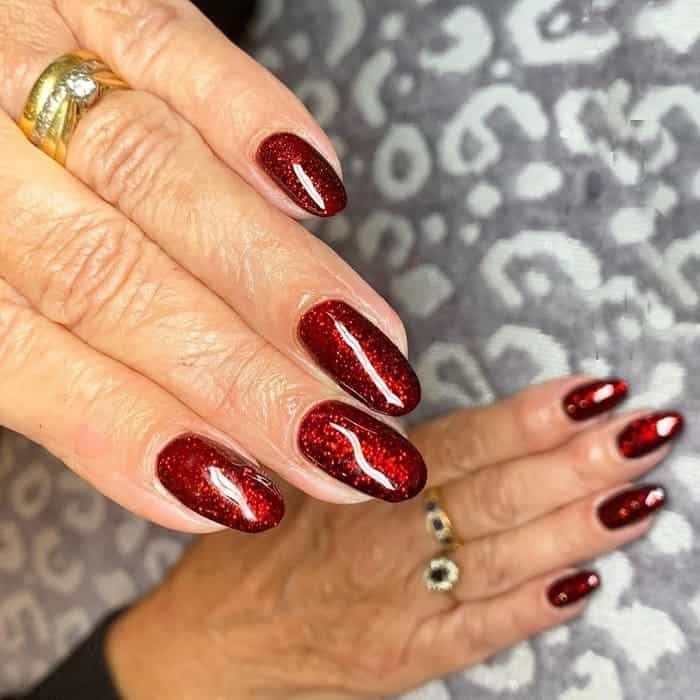 Around the holidays, a special manicure is a must! Opt for long round or almond-shaped nails in a dark glittery red to set the mood and bring the sparkle!
Create a truly creepy vibe by using both bright and dark red with black on your nails. The best way to feature Halloween scenery is by painting the black designs on longer stiletto nails or in an almond shape.
Ombre is never a bad technique to use on your nails! Here we see a smooth transition from black to dark red on short squoval nails. Keep the design like this or go over a few nails with a clear sparkly polish.
Here's another gorgeous dark red nail design that flatters women with a dark skin tone. The romantic shade looks very elegant on stiletto nails. Seal with a top coat for protection and shine!
Trendiest Red and Silver Nail Design Ideas
We're guessing you have a new love for dark red nails now! It's true: dark red nails are a winner when it comes to a romantic, elegant, and bold nail design. So go out and show off your lavish new nails on every person you see!