Nexgen Nails: The word Nexgen is short for 'next generation': an act of being unintentionally creative, or simply just ready for the next big hit. Are you ready for the Nexgen?
Chic and Trendy Nexgen Nail Colors
Our list of chic Nexgen nail designs is full of choices to satisfy any lady's preferences. From short to extremely long, mono to multicolored, and goofy to extra formal, we have it all!
#1. Sea Sparkle
You know us, we love a good sparkly nail! These long square nails show us all how it should be done: by mixing greens and blues at the ends of a clear base, and outlining in gold and green glitter!
#2. Just The Tips
If you're all about the drama, you must try long stiletto nails with a half glittered red and half black tip. White is used to create a cool swirl with a red rhinestone middle. Outline the tips in white dots for definition.
#3. Pink Polka Dots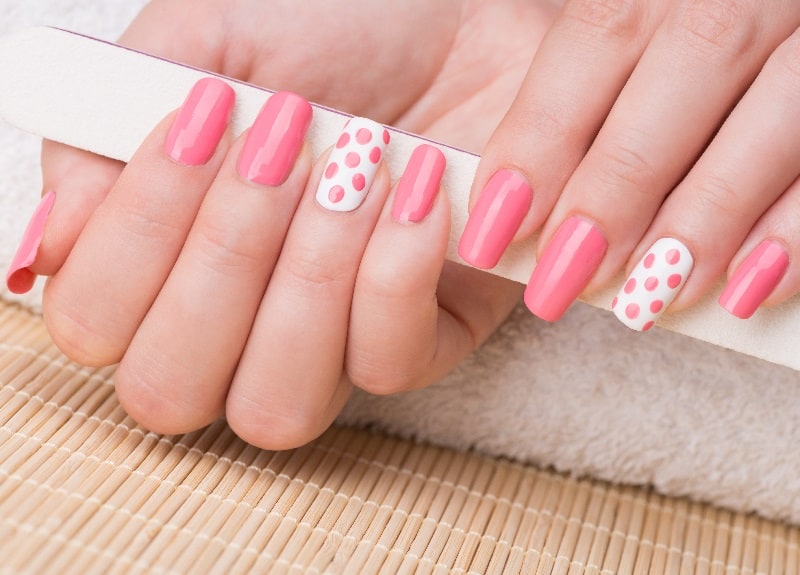 If you're on the hunt for an adorable Nexgen nail style, pink polka dots are just for you! A light pink graces the long square nails here, but the white accent nail is where those dots pop.
#4. Rainbow Iridescence
Long pure black nails with a rainbow iridescence are practically the definition of Nexgen. The easiest way to get this style is by using colored pieces of tape.
#5. Extra Long and Gold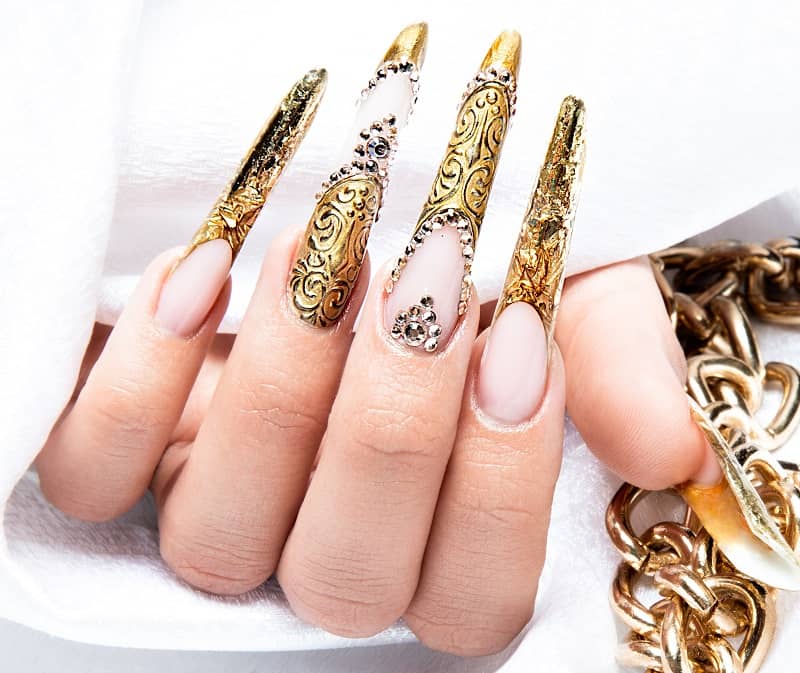 OK, when your special occasion calls for costume or glamour, you know these extra long nails won't let you down! Their Nexgen gold and nude nails beautifully show off black details and shiny crystals.
#6. Just Teal
Nexgen doesn't mean you absolutely have to have detail: a simple teal nail qualifies too! Use this gorgeous matte color on short squoval nails.
#7. Sweetheart Red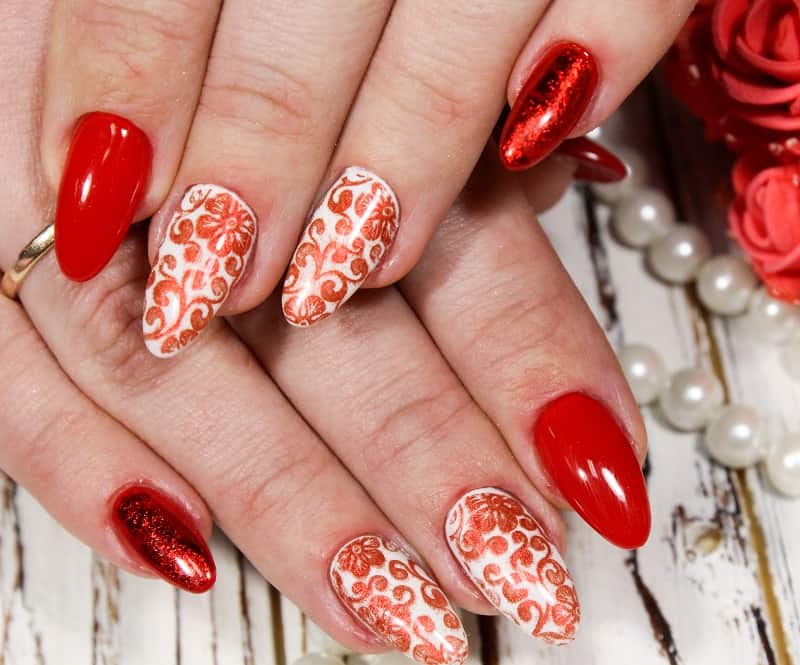 Don't stress over finding the perfect Valentine's Day nail style! These Nexgen nails are more than ready to show you off with their shiny red and white selves.
NexGen Nails Vs Shellac Nails: Which One Is Actually Better?
#8. Nude with Negative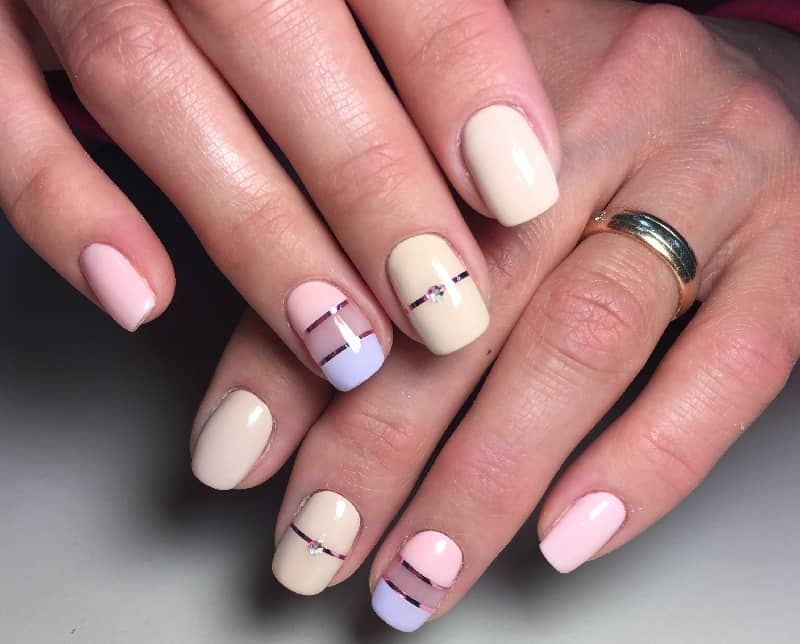 On short squoval nails, thin pink lines help to define negative space between pastel pink, purple, and yellow nails. Place one or two tiny crystals at the centers of lines for a little sparkle.
#9. Holly Jolly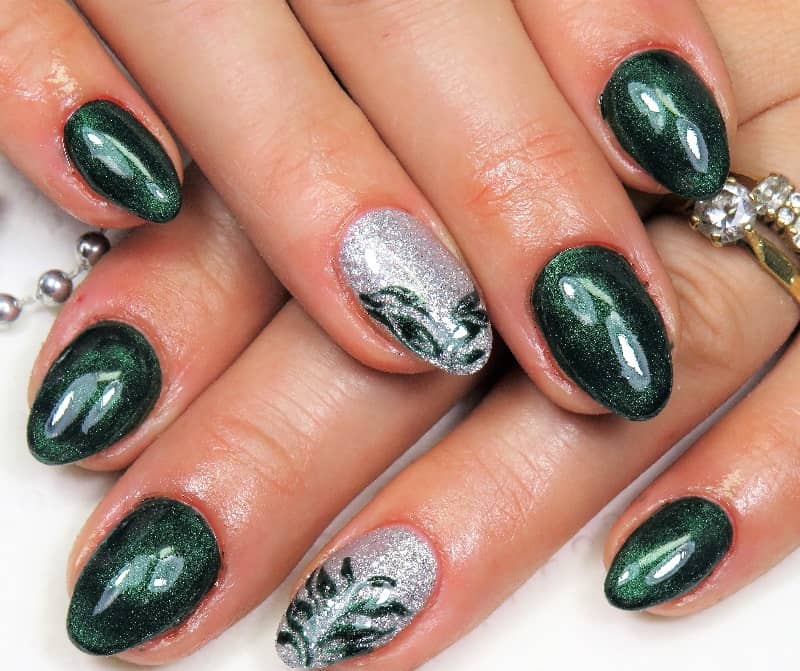 Start the month of December off right with sparkly green Nexgen nails. On your ring finger, break it up with a glittered silver polish and green holly.
#10. White Nexgen Nails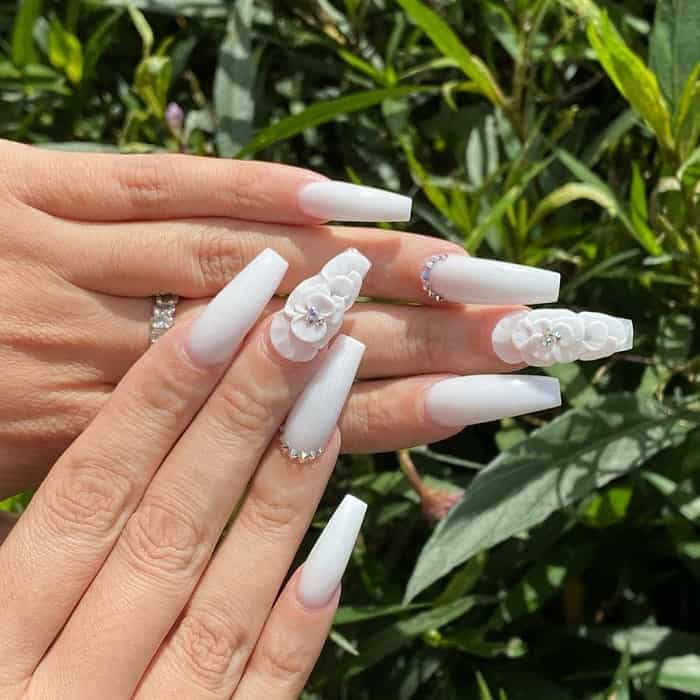 On your wedding day or when you're the bridesmaid, dress up your look with white Nexgen nails.
These long stiletto nails are painted in pure white, feature a crystal-lined cuticle, and show off large 3D flowers on the ring fingers.
#11. Red Nexgen Nail Design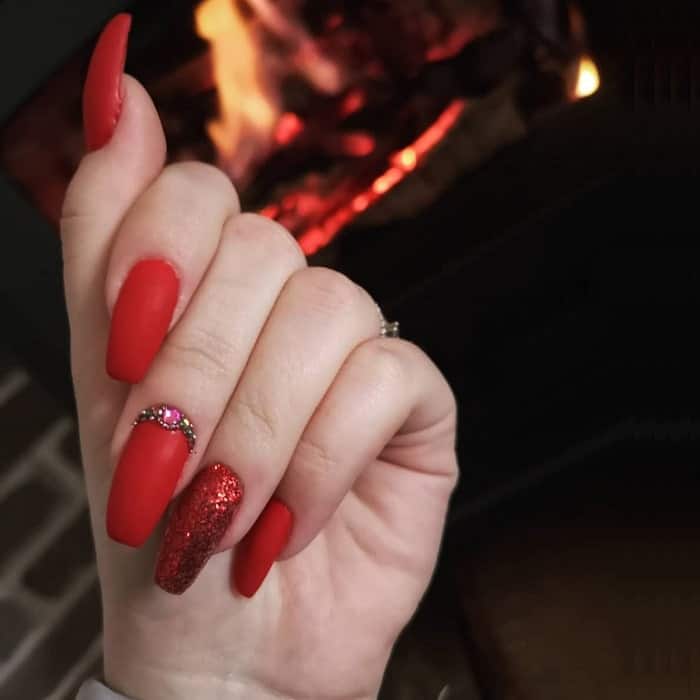 Whether it's Valentine's Day, Christmas, or you just love the color red, long square nails with a combination of red and sparkly red are gorgeous.
Use gold or silver crystals to line one nail, making sure to feature a colorful stone in the middle.
#12. Light Pink Nexgen Nails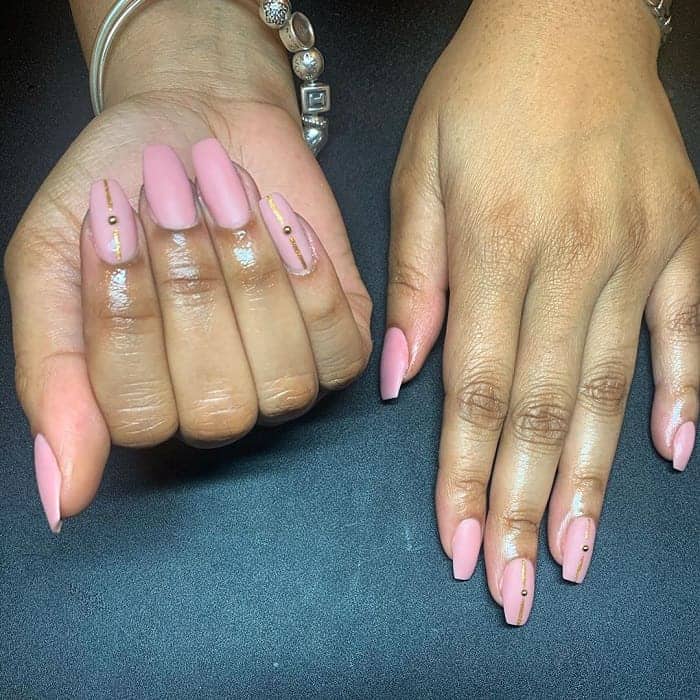 For those girly girls who want just a little sparkle on their Nextgen nails, opt for light pink with one thin gold line from top to bottom. You can either leave the line solid or break it up with a gold bead.
#13. Marble Nexgen Nail Art
We will never say no to a marbled nail design and these Nexgen tie dye marbled nails are no exception! Their colorful swirls are perfectly shown off on long square nails.
#14. Chrome Nexgen Nails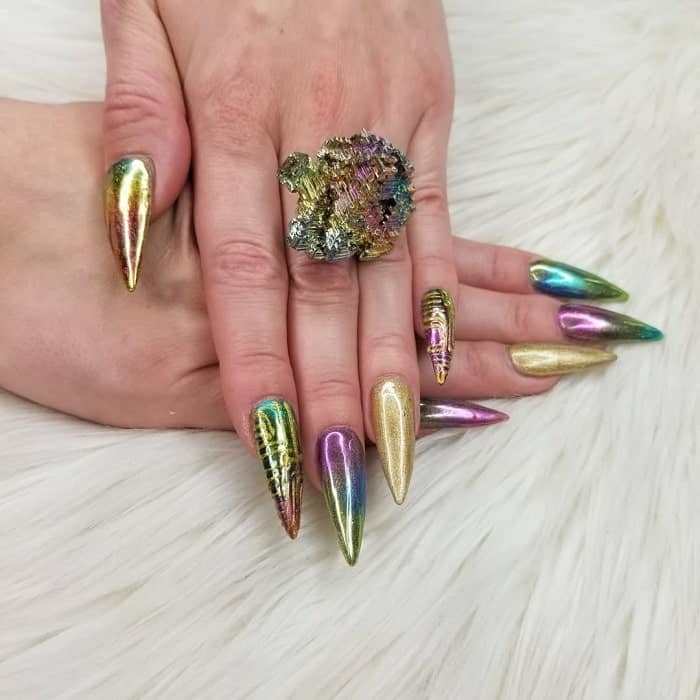 Chrome nail polish is another way to bring the shine and shimmer to Nexgen nails. Use a mixture of colors on a few of the nails and pick one nail as the feature for a single color, like the gold one above.
#15. Ombre Nexgen Nails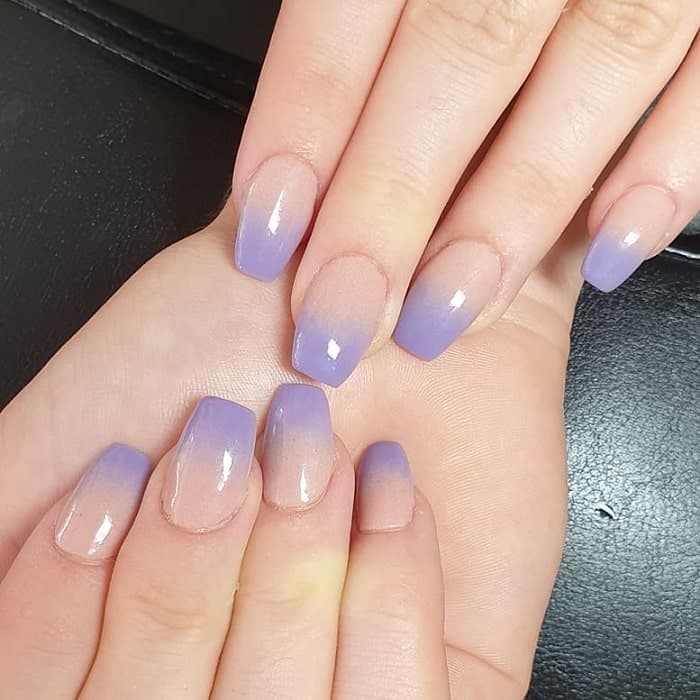 If you prefer a soft nail design, you'll probably love a pale lavender ombre. The soft transition from nude to light purple is as smooth as could be.
#16. Black Nexgen Nails
When your pure black Nexgen nails need some sparkle, just paint the tips with gold glittered polish. Not enough? Add a little more to that ring finger!
#17. Blue Nexgen Nails
With Nexgen nails in the colors of the Northern Lights, we are sure we're staring at the night sky. Leave them all the same color or make an accent nail with black polish and silver glitter dabbed on.
#18. Nexgen Nails for Christmas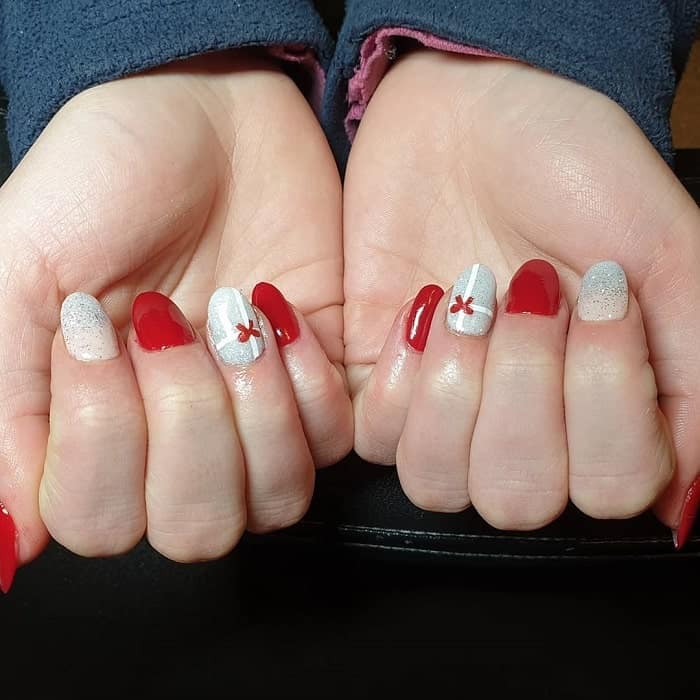 Those of us ladies who can never have too many Christmas nail designs to choose from will want to add these red and white ones to their collection. We love the white lines on the ring finger acting as gift wrap with a cute little red bow!
#19. Nexgen Nails with Glitter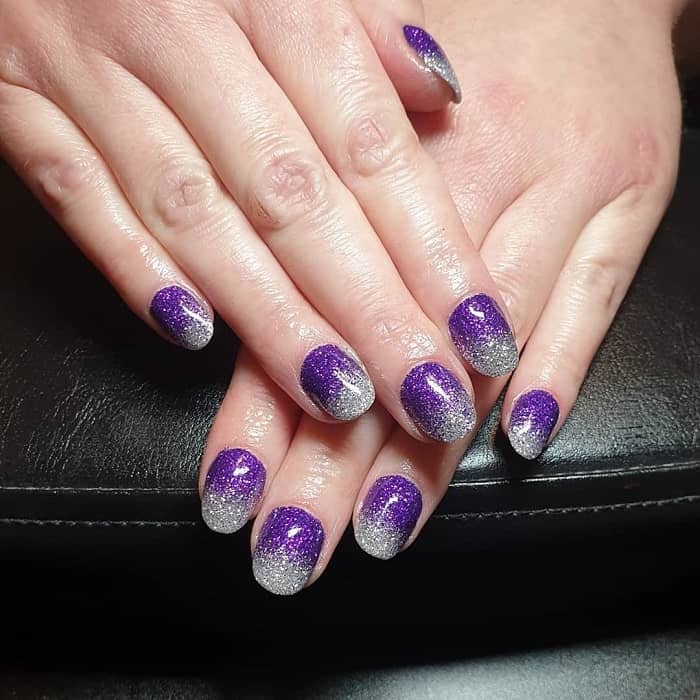 Glitter the day away with purple Nexgen nails and silver tips. A delicate look for short round nails that could be added to with silver crystals or beads.
#20. Nexgen Nails with French Tips
It seems the French tip manicure is always getting an update and this one is super pretty. Throw in a light pink glittered nail instead of a French tip to break up the monotony!
#21. Skyline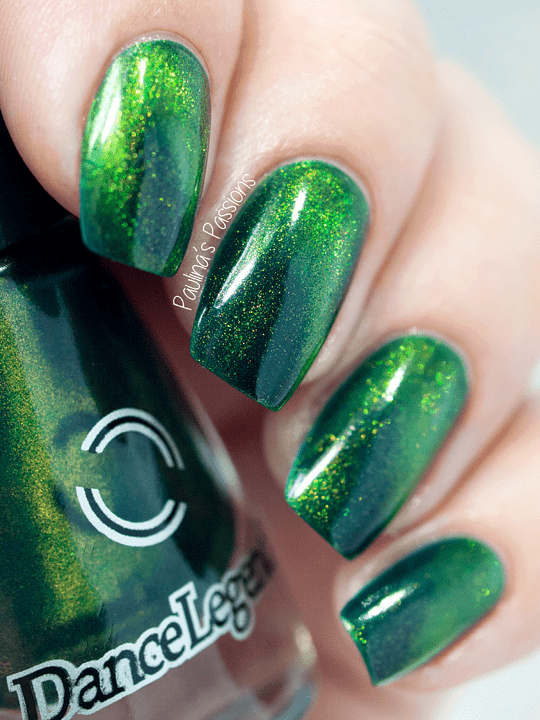 "Because you're a sky full of stars and I'm gonna give you my heart" as Coldplay sings in their song. This beautiful green skyline looks dreamy and delicious.
Perfect nail design for green color lovers, SI-FI movie lovers, and mysterious women who don't like sharing too much.
Wondering How Much NexGen Nails Cost?
#22. Dot Dot
All I see is dots and I love it. OPI has got a strong nail lacquer game and we can't deny their quality.
This beautiful nexgen nail design screams positive thoughts and cheerful vibes and is perfect for anyone who likes to make friendships on a daily basis.
#23. The Real Deal
Dark burgundy tones that transition so lightly into the dark almost black color will be a new hit real soon. These short nexgen nails are perfect for business women since they will look so dominating at the office.
#24. Nexgen Thick Nail Design
Short but extremely detailed nails will be the ultimate nexgen nail design. Since long nails will not be a hit everything will be in the precise but planned out details. These ones are so wintery that we can't wait for it to snow to start wearing them.
#25. Meow Down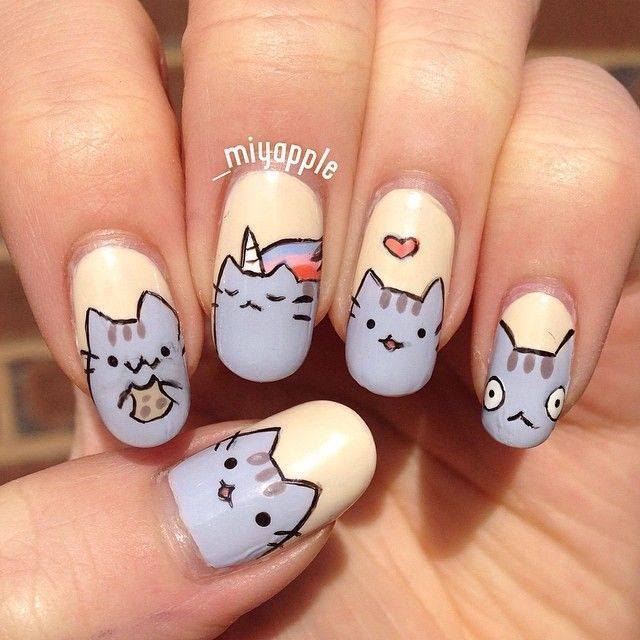 Are you an animal lover? Good, cuz we are too! Have some peer moments here and there and look cute with this NexGen nail design. Warning: Your kids or any little children near you will go crazy for these!
#26. A Glimpse of Naturalness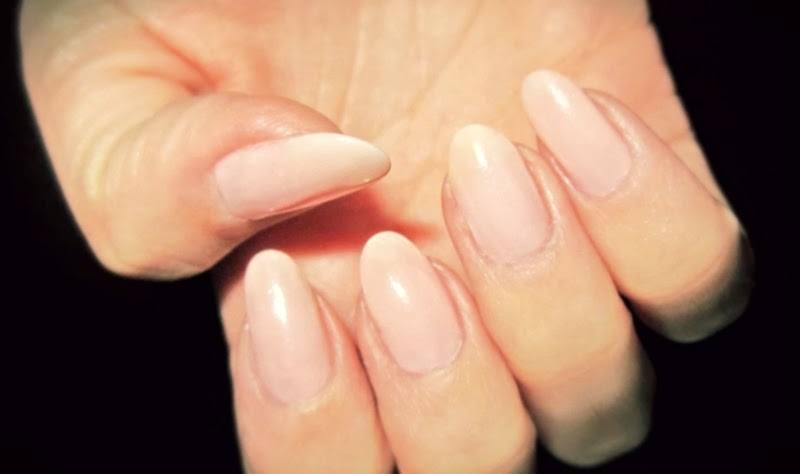 Natural nails should be spotted here and there, or you should just go for a long natural looking manicure at least once in a few months.
#27. Cherry Blossom
In Japan, cherry blossoms symbolize clouds due to their nature of blooming which we've found to be super cute and relaxing. This nexgen nail looks flawlessly made and super adequate for artsy women, or flower lovers.
#28. Everything Everywhere
Multiple colors with multiple designs look cute if you're indecisive and as a bit of everything.
Go for the lighter colors if you choose bolder prints, or for the darker colors if your nail prints are simple, that way everything will blend perfectly.
#29. Persian Princess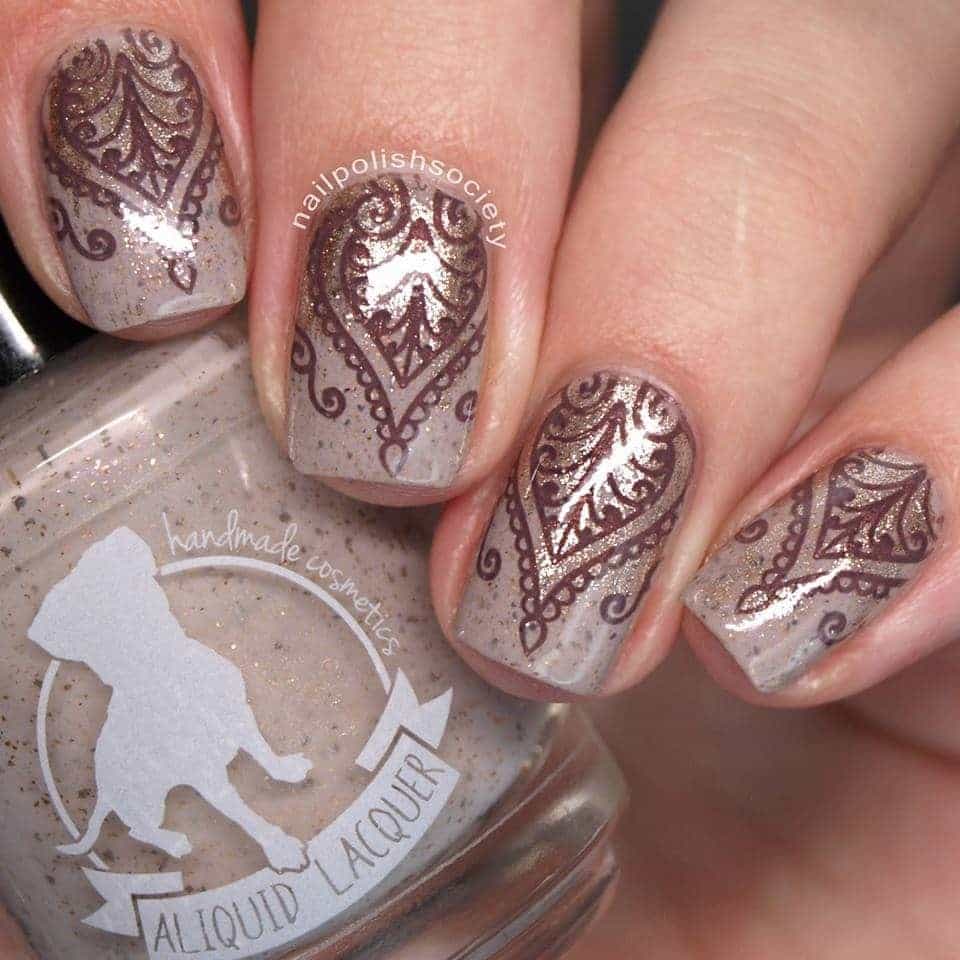 A Persian princess is you, my darling! That is each and every girl who has some class, beauty and simply looks gracious. She can easily be the main attraction wherever she is at.
She simply lures people with her glowing charisma and wins them over with some classy sense of humor. So, if you've found yourself in this description, you know which nexgen nails to go for!
#30. K Boom K Pow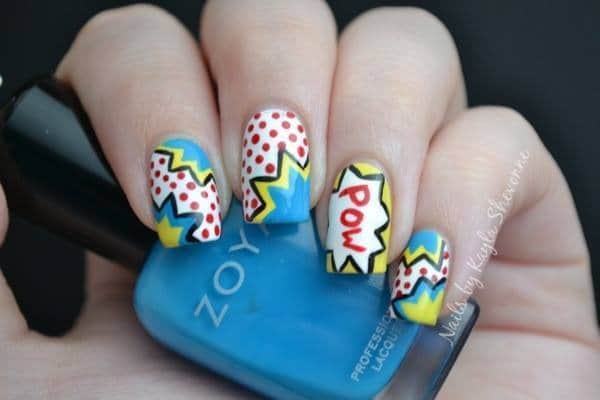 Cartoons, anime especially, will be a huge hit just in a few years. If you are totally chill and like to fool around, have fun, laugh a lot and look positive, go for these totally bold and vibrant nails.
#31. Drink, Eat, Repeat
Food lovers, a? Those who can say no to Pringles or Oreo's should be an endangered species.
These nexgen nails design will make you happy and everyone around you since they are so happy, colorful and most importantly filled with food and snacks.
More of these kitty prints for our cat ladies! These look even cuter than the previous ones and they are perfect for our younger audience. Now your little girl or sister can have an adequate manicure and look super fancy too.
#33. Yellow Class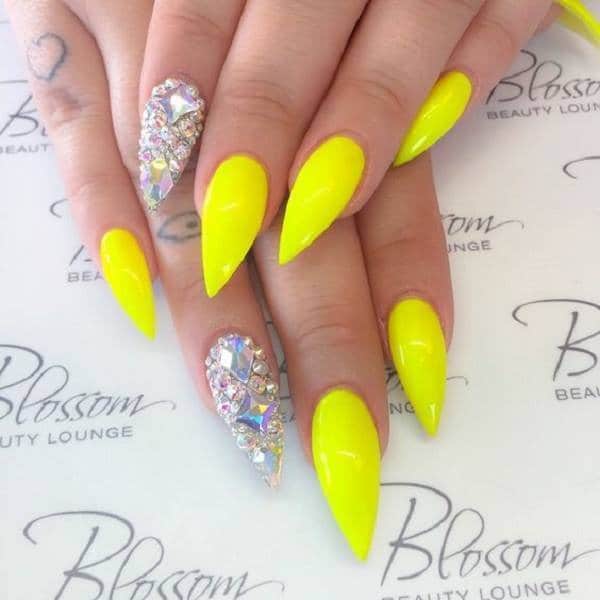 Dramatically long, drastically yellow, and definitely beautiful. This nexgen nail design is so up in your face while being so elegant.
Vibrant and happy colors will be worn mostly during the summer period, but don't be afraid to disobey the rules and be a trendsetter at winter.
#34. Neon Purple
Perfect for weddings, these purplish nails will be your go to nails for anything classy or formal. This huge pile of gems makes us feel like we are at a ball and we love it!
#35. Food For You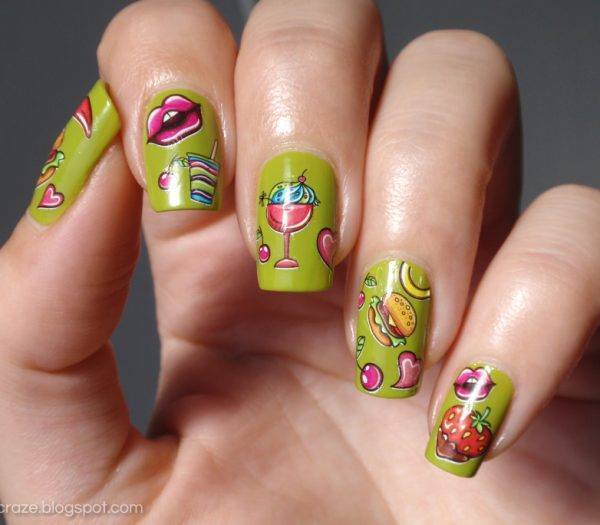 Look who brought more food! These press on nails look so goofy and fun, perfect for Halloween or just for your fun little moments.
#36. Love Me
Never forget to share the love and happy thoughts. This nexgen nail shows positivity and loveliness that should be spread and worn during the month of February due to Valentine's day.
#37. Mr. Gray
"Mr. Gray will see you now." We've all heard that one by now, right? Extra matte and long, these nails are for our posh primadonnas. Remember to wear this with your head and standards up high.
#38. Miss. Gray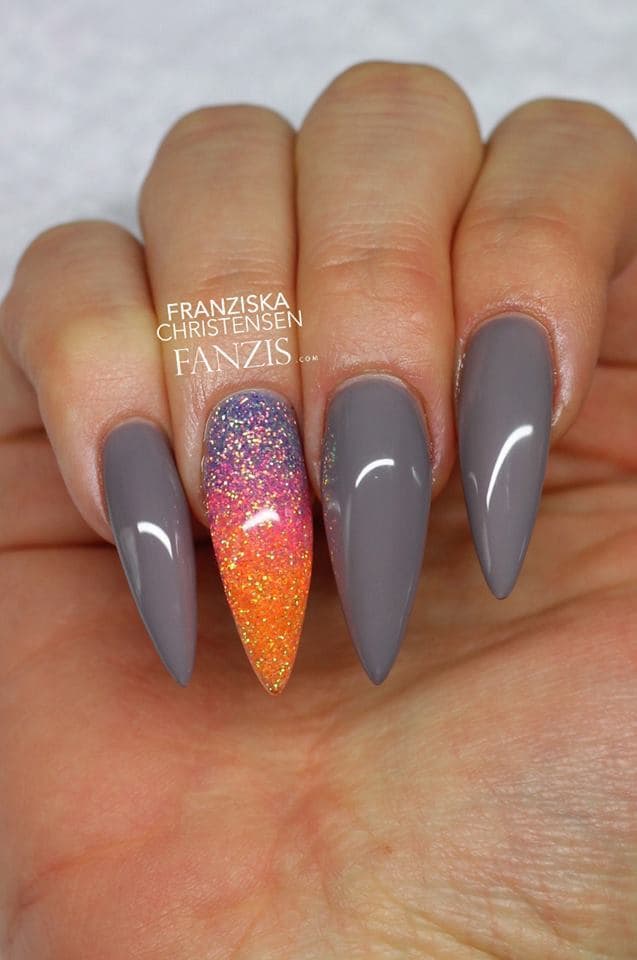 Could Mr. Gray function without Ms. Gray? I think not! That's why we have a partner for him.
These long nexgen nail designs with a bit of shine and color should be worn at parties or proms since they are so neat looking.
#39. Message Me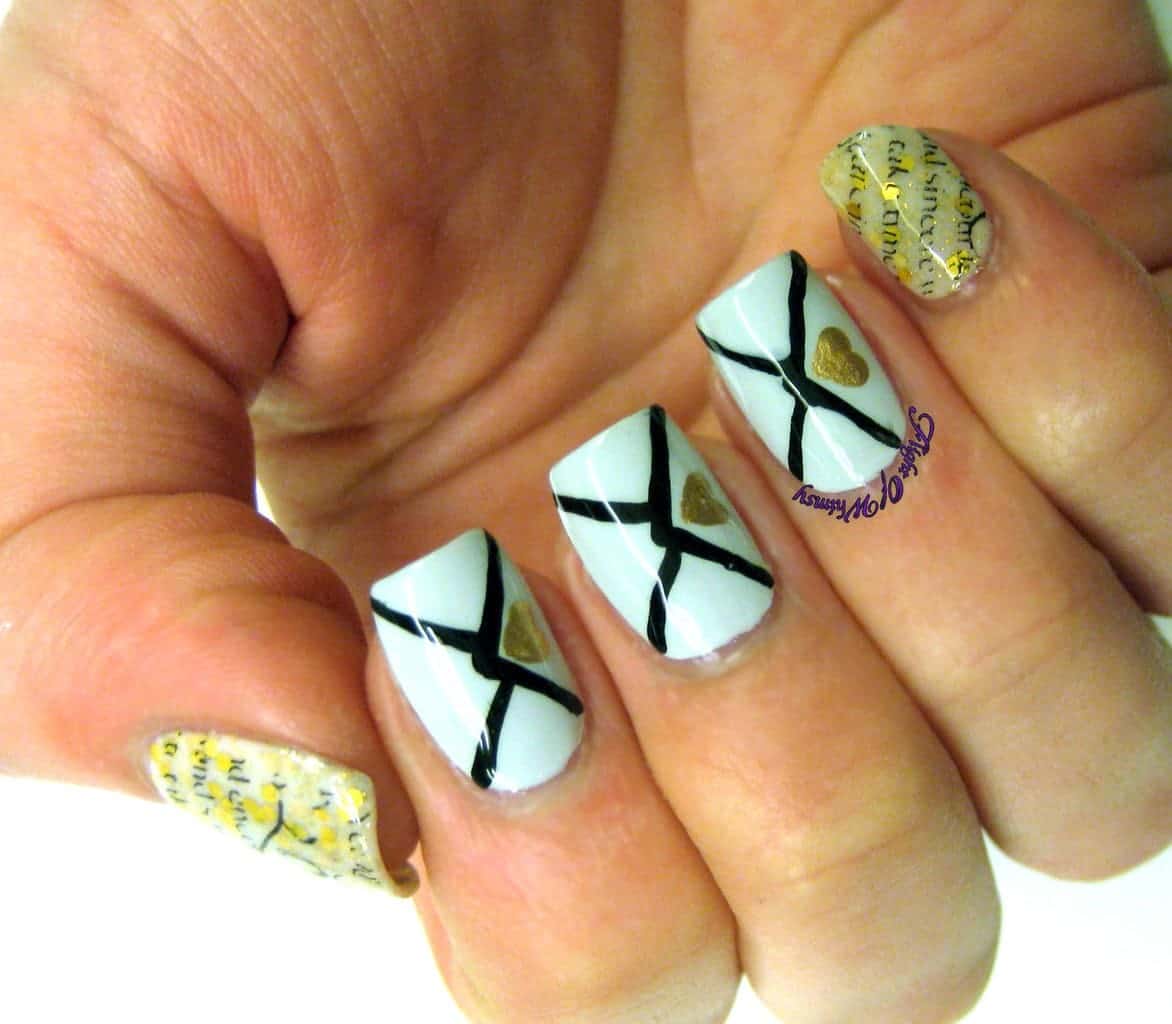 Messages are so old school now, imagine how it will be just in a few years? Embrace this print on your nails and have a blast with them while looking like a specimen of an old-timer.
#40. Short Neon
Do you see this glow? Perfect for a rave, party, Coachella or just anything festival, these nexgen nail designs should be your go-to party nail choice.
Women who like to be in the center of attention should also get this design and have a fun moment or two.
Love Your NexGen Nails? Make Them Stay Longer
Some Cool NexGen Nail Designs That Can't be Ignored
We hope you've found inspiration on our list for your NexGen nail design. Don't forget to share a photo with us when your nails are done!