The process of pedicure has come a long way from those home-drawn baths that our mothers used to draw out for us. Salons and spas offer a wide range of pedicures – fish pedicure being the latest fad to diversify their service.
However, we never really look beyond the apparent luxury of a pedicure. How about, how safe is this process for me. Turns out, the traditional pedicure is not as safe as we thought. A recently developed concept of a waterless pedicure, otherwise known as a dry pedicure, solves this issue.
"Dry Pedicure" an Efficient Yet Effective Treatment
Waterless pedicure offers nearly the same kind of benefits to a customer as does a wet pedicure, except that it does not include water swishing about in a tub. This may be unsettling for many, to whom the whole concept of dunking the tired, dirty feet in warm, bubbling water is an idea of heaven. Little do we know the risks we run by doing this.
Toenail Designs to Try in 2023
Benefits of Waterless Pedicure
Waterless pedicure works around some of the most glaring pitfalls of traditional pedicure:
More Sanitary: Traditional pedicure involves a tub full of bubbling water to cleanse away the grime and dirt under your feet. Even though the tubs are sanitized before use by each client, studies have shown that some harmful bacteria and slime persist in some obscure corners. The comfortable temperature and oxygen circulation in the tub create an ideal breeding ground for these microbes. In this pedicure, we avoid using water, hence the chances of contracting any infection are minimized.
Safe Enough for Use by Diabetics: People with health conditions are generally wary of washing their feet in the water at spas, considering the health risks these present. A medical condition makes the patients even more susceptible to infections, particularly diabetics. By reducing these chances, a waterless pedicure is a perfect option for diabetics.
Easier on The Cuticles: While it may be extremely comfortable at the time, soaking the feet causes the cuticles to absorb the water and swell up. Later, when dried, the cuticles tend to shrivel and peel, which can leave the region around the nails vulnerable. A dry pedicure limits the use of water so that the cuticles do not get affected negatively.
How Does a Waterless Pedicure Work?
A waterless pedicure is fairly simple to do. Here's a step-by-step approach for you to follow.
Trim and File the Nails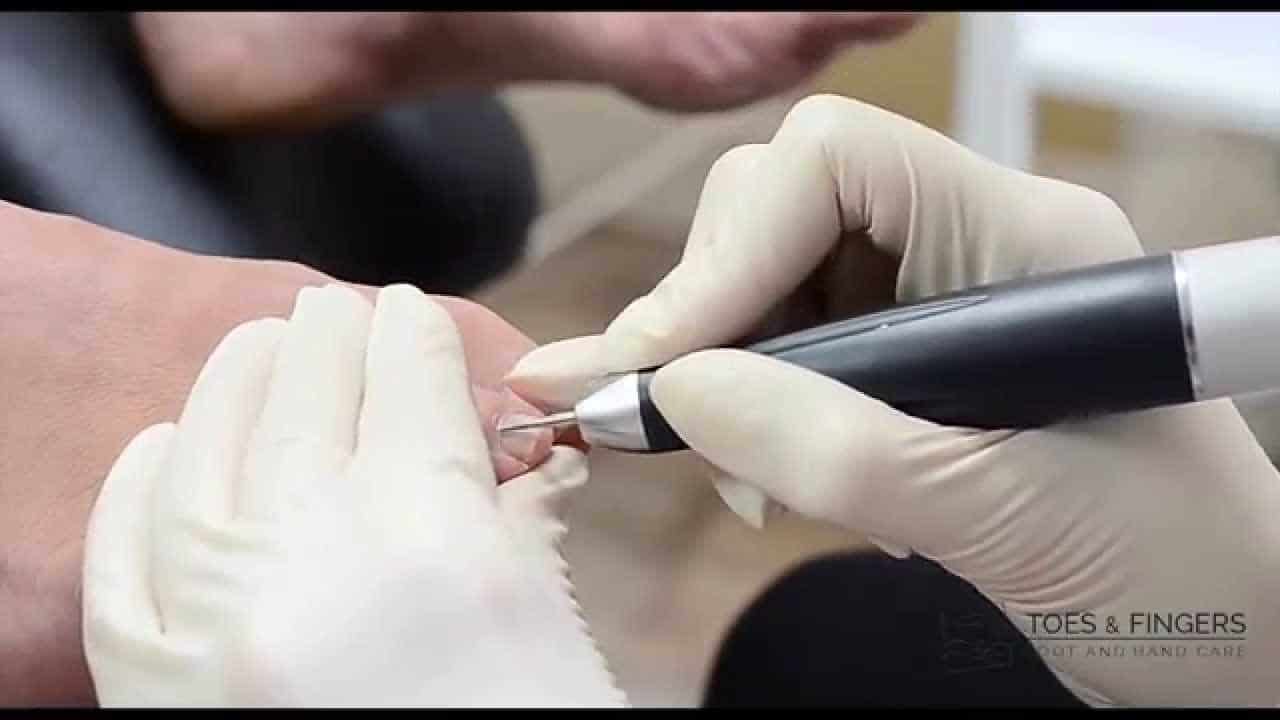 Start the procedure by trimming the nails to the right size and filing them to the right shape. Spray the feet with a sanitizing spray to keep your feet away from cuticle infections.
Wrap them in Socks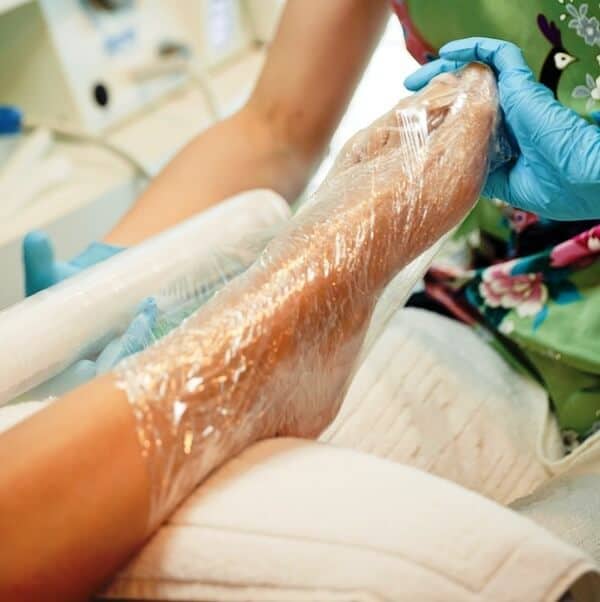 You can heat a towel with an electric heating pad or a microwave, which you then wrap gently around the feet, encircling the nails. You can additionally encapsulate the feet in plastic bags to prevent the heat from escaping.
Massage and Skin Filing
It is up to you how long you want the heat treatment to continue. Once done, you unwrap the towels and start massaging and filing away the dead skin.
Paint the Nails Now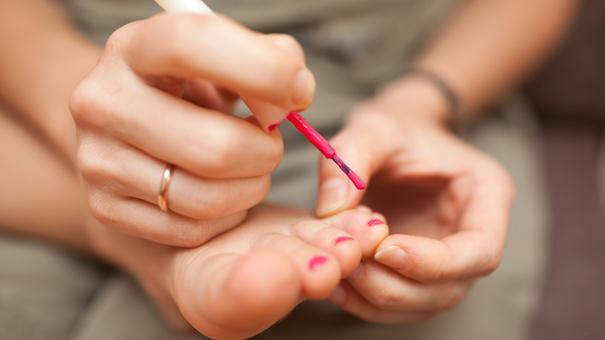 Note that the nails are taken care of properly and dry. Use the usual method of applying nail paints- base coat, nail polish, and top coat. Some salons also use paraffin pedicures which enhances the moisturizing effect of the process.
Watch the Video Tutorial to Get Simple & Clear Idea of Dry Pedicure
Advantages of Waterless Pedicure
The only key disadvantage of pedicure without water is that it may not be the best option to treat nails that are misshapen or have not been pampered in a long time. Such nails need some drastic actions and quite a bit of treatment, which must include water. Otherwise, as we have seen before, waterless pedicure comes with a host of benefits.
Cost-Effective: A dry pedicure is certainly cheaper than a traditional pedicure. For people who do not want to burn a hole in their pockets but would certainly like to have their feet pampered, a waterless pedicure is an excellent option.
Long-Lasting pedicure: Without all the moisture and the constant cycles of wetting and drying, the nails and the cuticles tend to remain in better health. This also helps to increase the longevity of the pedicure as nails adhere longer to nails treated by this pedicure. This happens, because, without the constant exposure to water, the size and shape of the nail remain the same throughout the pedicure process. So there is no chance of chipping or weakening the nail paint.
Environmentally Responsible: Water is a scarce resource and every profession owes it to Nature to act responsibly when it comes to dealing with water. Promoting a waterless pedicure is a small step towards conserving water and not using it for, let's face it, something as luxurious as a pedicure!
Nevertheless, for the vast majority, a dry pedicure is a lucrative alternative, with its plethora of benefits. This is a safe and responsible way of keeping your feet happy longer.
Related Interesting Topics: