Did you know that you can get rid of your dry, rough, and damaged cuticles using a cuticle nipper? Cuticle nippers are the most gentle and effective solution to removing pesky hangnails, ingrown toenails, and even the tiniest and most delicate fingernails and toe cuticles.
However, getting a quality sharp clipper to trim your cuticles without tugging is not easy when numerous clipper options to choose from the flooded market.
For instance, some clippers may have an overbearing spring load, making them difficult to open and close. Other clippers may have uncomfortable handles, making them difficult to manipulate. The possibilities are endless.
To secure you from the challenging task, we have researched and listed the 5 best cuticle nippers and the buying guide for you. Here's a sneak peek of the best cuticle nippers in 2023.
Image
Title
Editor's Rank
Price

Top

Top

Ejiubas Professional Stainless Steel Cuticle Trimmer and Pusher
Editor's #1 Choice
See Price

Top

BOXGROVE Professional Cuticle Cutter
Runner Up
See Price

Top

Opove X7 3/4 Jaw Extremely Sharp Cuticle Nippers
Best Value Cuticle Nippers
See Price

Top

Easkep Cuticle Trimmer with Cuticle Pusher
Best for Damaged Cuticle
See Price

Top

YinYin Cuticle Trimmer With Cuticle Pusher
Best for Travelling
See Price
Why Do You Need Cuticle Nippers?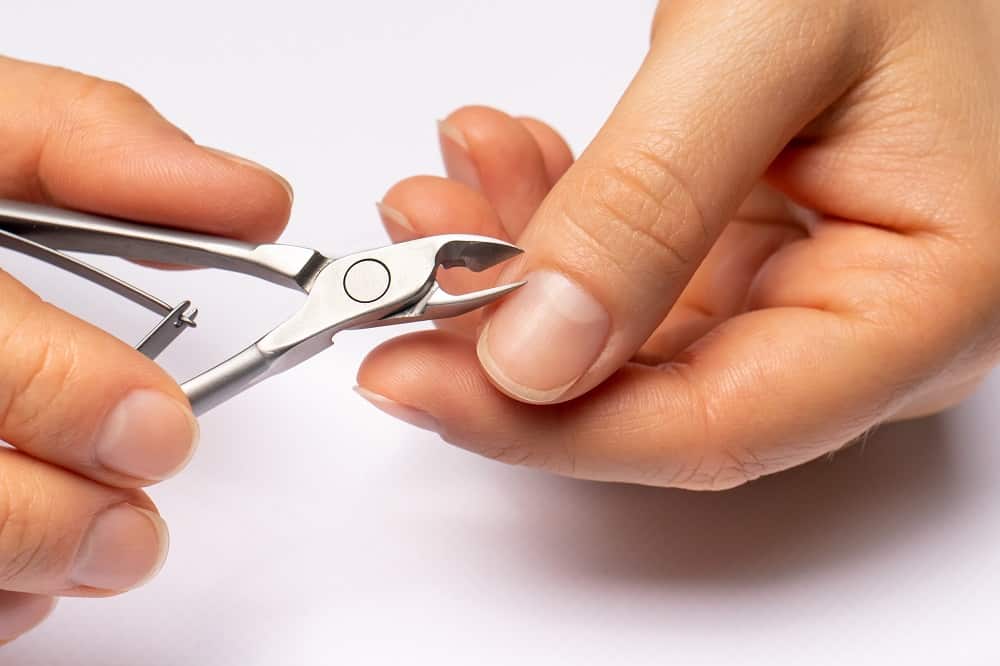 Cuticle Nippers are the first step towards beautifying your fingernails and achieving your hand hygiene because:
They aid in cleaning your nail ends, hence preventing the buildup of hazardous bacteria.
They help to remove the annoying cuticles to give your fingernails a clean and beautiful look.
They offer the most gentle and effective way of eliminating cuticles and hangnails without destroying the skin.
What Are the Best Practices for Using Cuticle Nippers?
For best results when using cuticle nippers, you need to:
Dip your hands or feet in lukewarm water to soften the cuticles and nails for quick and painless removal.
Use the cuticle pusher to push the cuticle back to the nail bed. Pushing the cuticles will help to raise the cuticles for an effective nipping.
Make tiny snips on the cuticle and then pull them gently to scoop the dead skin with the tip of nipper blades facing your nails.
Apply a moisturizing gel on the cuticles to hydrate and soften them after snipping.
Best Cuticle Nippers
Here they come the best cuticle nippers for dry and damaged cuticle one by one.
If you are looking for a cuticle nipper that offers a perfect blend of elegance, sturdiness, and performance, then Ejiubas Cuticle Trimmer is your ideal tool.
The handy cuticle trimmer is made of premium stainless steel to maintain a long-lasting cutting edge and avoid rusting.
The trimmer's non-slip rubber handle will prevent your hand from slipping to allow for more precise cuts during its use.
If you have painful hangnails or ragged cuticles, our top-rated cutter's jaw head snipper will isolate the problem areas and nip away the culprit to give your fingernails a new look.
Upon purchase, the trimmer comes with a dual-end nail pusher attached. You can use the sharp end of the dual nail pusher to scrap away ragged, dry and cracked cuticles.
On the other hand, you can use the curved flat end of the pusher to compress your cuticles and give your fingernails a seemingly longer and elegant look.
That is not all. In the package, you will also find a plastic tip and a PVC zip storage bag. You can use the plastic end to secure yourself against accidental stabs and pokes. You can use this cuticle nipper set at salons, spas, and even at home.
Pros
Easy to use at home, salons, and spas
Rustproof and durable
Cons
The long handle may be uncomfortable for people with short fingers
Beautify the edges of your fingernails and toes using the professional cuticle clipper by Boxgrove. With 100% surgical grade stainless steel, the Boxgrove's best cuticle cutter is durable and resistant to rust.
Its steel blades are sharp-edged to cut the hangnails and the unwanted cuticle without pulling or tearing your skin.
The cutter's premium quality double spring action will moderate your cutting speed to create some room for accuracy during its use. Also, the double springs will allow you to fold the cutter for safe storage after use.
Better still, the cutter's ergonomic design is a snug fit for your hands. As such, you can rest assured of the perfect grip and precision cuts even when dealing with the tiniest and hard-to-reach cuticles.
The clipper is easy to use and maintain and perfect for taking care of your cuticles. For instance, to clean the device, you only need to wipe it with alcohol to clean it or add paraffin oil on the pivot to lubricate it.
Pros
Durable with 100% stainless steel
Maintains sharpness for long periods
Cons
The spring action may grow weak with time
If you are looking for a unique cuticle cutter, the Opove X7 cuticle trimmer will mark the end of your search efforts.
Made of 5Cr15MOv stainless steel, the Opove's trimmer is well adapted to maintain its sharp-edged blades for long and overcome rusting. The trimmer further features titanium coating, enhancing its sturdiness and a smooth grey finish to add its elegance.
The cutter's razor-like blades will give you smooth and painless cuts.
Spring action between the handles will optimize your cutting speed during cuts to allow safe and precise cuts. We will also mention the excellent cutting experience you can derive from the ergonomically curved handles.
Better still, the manufacturer delivers the cuticle set in a gift box. If you had ordered it for a friend, you could melt their heart by personalizing the gift box with their name and a special message about the occasion they are celebrating.
Pros
It makes gentle and smooth cuts
Extremely sturdy nipping tool
Cons
The package lacks the safe plastic tips
Related: Infected Cuticles
Enjoy clean and beautiful cuticles using Easkep Cuticle Trimmer with Cuticle Pusher. The rugged cuticle remover by Easkep will allow you to remove the ragged and damaged cuticles on nail ends to create a space for the application of cuticle oil or gel.
The trimmer is made of polished stainless steel. The steel, combined with the protective titanium coating, accounts for the trimmer's sturdiness and resistance to rust.
That is not all about the Easkep's cuticle trimmer. Its ergonomically curved handles allow for a comfortable grip throughout the trimming exercise. As such, you can get precise cuticle cuts every time you use Easkep's cuticle trimmer.
Besides the trimmer, the package also comes with a dual-ended cuticle pusher. You can use the spoon-shaped side of the pusher to compress the cuticles to give your nails a more extended look.
On the other hand, you can use the triangle-shaped end of the pusher to clear any cuticle or hangnail remains without tugging.
Pros
Precise and accurate cuticle cuts
Easy to use and maintain
Cons
Some users have reported that the pusher gouges nails
Another top-notch cuticle set that you can use to remove your cuticles is the YinYin cuticle Trimmer with a cuticle pusher. The cuticle trimmer is made of stainless steel to ensure that the razor-sharp blades remain sharp and rust-resistant. The edges are also optimized to create clean and precise cuts without pulling your skin.
The cutter also features a unique double spring which controls the cutting speed to allow for accurate and even cuts.
Included in the set also is the YinYin cuticle pusher with dual ends. You can use the sharp peel away dead cuticles, while the spoon-shaped end is ideal for pushing cuticles into the skin.
The package also contains a cuticle peeler which aids in attending to the cuticles and hangnails.
Pros
The set contains lightweight and sturdy tools making it ideal for travelling
The set is cheap and easy to maintain
Cons
This cuticle clipper may not have all of the features you're looking for
Buying Guide
Now that you are aware of the five best cuticle nippers on the market, the next step is to learn about the benefits you can get from their application.
You should also familiarize yourself with other aspects surrounding their use and purchase. To spare you the hassle, we have prepared everything for you in the guide below.
What Should You Consider When Buying a Cuticle Nipper?
As earlier mentioned, choosing a cuticle nipper is not easy. You need to consider the following aspects to secure the best cuticle nipper on the market.
Shape
You can choose the round-shaped or straight-shaped cutter depending on your preferences.
Springs
A nipper can either have single or double springs. Typically, double springs are more comfortable to use as they involve little or no friction.
Jaw Size
If you are nipping for the first time, consider buying a nipper with a smaller jaw, as it would be easier to control than a nipper with an entire jaw.
Weight
A compact and lightweight nipper is more suited for the job than a weighty, oversized cuticle nipper.
6 of the Best Nail Scissors in 2023
Material
The nipper's body should be made of stainless steel to ensure its durability and resistance to rust. On the other hand, the blades should be made from surgical-grade stainless steel to ensure user safety and maintain their sharpness for an extended period.
Final Thoughts
The article outlines everything you need to know about cuticle nippers.  All you need to do now is to pick the best cuticle clipper that interests you most.
Take good care of your nipper choice to get the best results from it. You can achieve this by cleaning, lubricating, and sharpening your cuticle nipper regularly.