Whether you're a professional nail technician or just want a sturdy place to do your nails, portable manicure tables are a great way to step up your nail game without having to buy a massive piece of furniture. Move around comfortably while still looking professional with one of the best tables of the year.
| Image | Title | Editor's Rank | Price |
| --- | --- | --- | --- |
| Top | SUNCOO Portable Folding Station Desk | Best Overall | See Price |
| | Icarus"Exceptional" Black Manicure Nail Table Station | Best for Security | See Price |
| | Byootique Rolling Manicure Table | Best for Drawer Space | See Price |
| | VIVOHOME Portable Manicure Nail Table | Best for Air Quality Controls | See Price |
| | Yaheetech 37-inch Foldable Manicure Table with Swivel Chair | Best for Price | See Price |
Best Portable Manicure Tables
When looking for a new manicure table, think about what will best fit your needs. A smaller option can go a long way if you do house calls or don't have much space. For salons, larger portable tables look professional and contain all the space you'll need to hold your precious supplies.
Suncoo's portable folding station is a highly portable manicure table for an affordable price. The station folds down to 14 inches and weighs less than 20 pounds, making it easy to carry and store. For only $105.99, Suncoo is the most affordable option on this list.
Pros
All four wheels are lockable.
The station is durable and made of high-density fiberboard and metal.
Highly padded drawers.
The triangle rule bracket keeps the table from shaking.
This station comes with a wrist cushion.
Healthy and safe materials make up this durable product.
Cons
Instead of drawer space, this product comes with a carrying bag to hold your supplies.
It is not as spacious as other options, with a tabletop of 35 in by 15 in (about 525 in²).
There is no fan or dust collector.
Icarus "Exceptional" manicure table is an excellent choice if you are worried about the security of your nail products. With lots of drawer space, you can lock the cabinets to protect all your items. The downside is this table is quite heavy, weighing in at about 71 pounds.
Pros
Lots of built-in drawer space.
Removable drawer for tabletop display.
Collapsible tabletop for storage. You can lock it in place when in use to keep it from collapsing.
Tabletop dimensions are about 16 in by 18.5 in (approx. 672 in²), making for a spacious design.
Cons
Heavy and large. The table weighs about 71 pounds and is 30 inches tall.
At $340, this option is rather expensive.
This model requires some assembly.
Byootique Rolling Manicure Table is an attractive option if you have lots of tools and products. With ten drawers, Byootique makes sure you won't have to lug all of your equipment around with you. A larger option, this manicure table allows you and your customer to enjoy large surface space.
Pros
This product comes with a snap-on stand and USB port to accommodate an LED light.
The large tabletop is 33 in by 16.1 in.
A vent helps to remove fumes.
Cons
This option sells for $369.90.
Made from medium-density fibreboard, which is not very strong but is termite resistant.
This product requires some assembly.
A heavy choice, this product weighs 43.6 pounds.
VIVOHOME's folding manicure table is a highly portable folding table, like the Suncoo product, but comes with a fan and dust collector to keep air quality acceptable around your workstation. This folding table is a bit more affordable at $149.99.
Pros
A cheaper option, you'll pay $149.99.
Its steel legs create maximum durability and stability.
The tabletop is relatively small at 35.5 in by 17.5 inches.
At only 10.94 pounds, this is a light option.
Cons
The table does not have drawer space but does include a carrying bag for tools and products.
Unlike similar models, it does not come with a hand pad.
5 Great Ways to Save Money in Nail Salon
Yahteetech table comes with a tabletop for manicures and large drawer. A great choice if you want to diversify your service list, this table comes with a comfortable chair for you or your client to relax in. A cheap price considering its multi-purpose use, Salon City's chair and table cost about $169.
Pros
Large drawer under the table create built-in storage space.
An adjustable chair, table allow for maximum comfort.
CE certified (CE certification means the product conforms with European Union health, safety, and environmental standards).
This set comes with a detachable tray and hand pad.
Cons
There is no built-in fan or dust collector.
Portable Manicure Table Buyer's Guide
The features you'll need in a manicure table depend on factors like whether you're using your table for individual or professional use, the number of supplies you want your table to store, and the amount of space you have.
Think about what features will best suit your business if you're using your table for client work. If you're visiting others' homes to do your job, a lightweight and foldable table might be your best option so you can easily store your table in your car.
If you're buying your table for a nail salon, you may want to purchase a model with more drawer space to store your supplies. A lock is essential if you are an independent contractor who leaves their supplies at work.
For anyone looking to buy a manicure table, durability should be your most significant concern. Manicure tables are expensive, so you want one made of rigid material that won't easily be damaged by nail chemicals or break apart. Steel and high-density fibreboard are good things to look for when searching for a long-lasting table.
Features to Look For – Vents, Fans, and Dust Collectors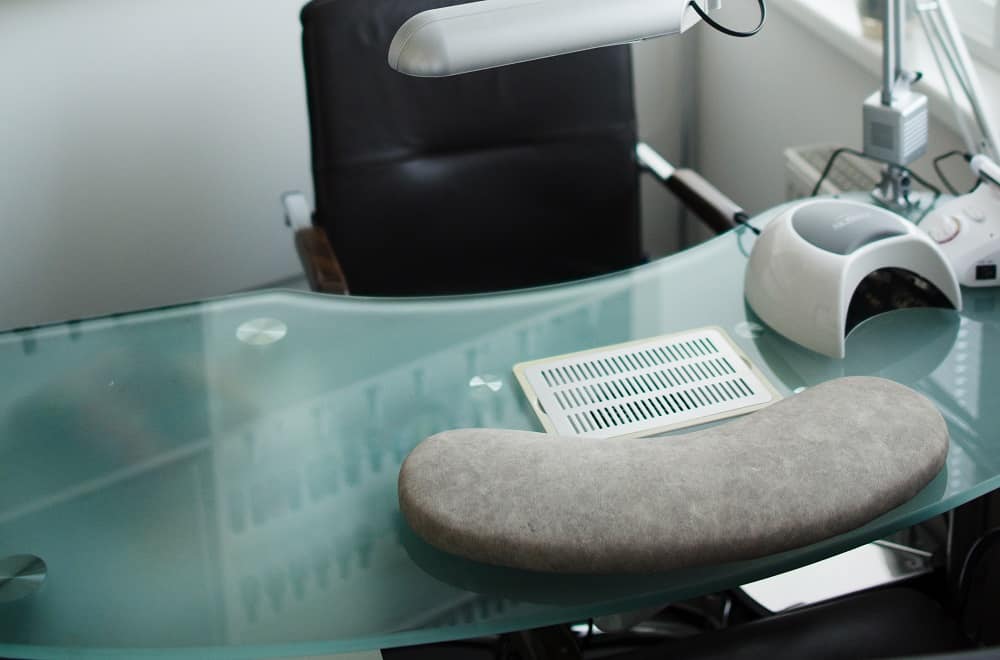 Many people underestimate the danger of nail products. Acetone, dibutyl phthalate, and formaldehyde are popular chemicals found in nail polish and nail polish remover. Prolonged exposure to these chemicals can cause headaches, nausea, irritated eyes, and even cancer. To help prevent side effects, especially if your work area is not well-ventilated, fans, vents, and dust collectors can be essential options for your manicure table.
Air quality features are critical if you work in a salon. The International Mechanical Code advises a certain level of ventilation on tables used in salons, and your state will have laws regarding air quality in the building. Be sure that your table meets regulation standards before making a purchase.
Understand the difference between air quality features on manicure tables.
Vents – Vents capture air and exhaust the fumes somewhere else
Fans – Fans blow air away from the face
Dust Collectors – Collects dust from nail filing and products
The Verdict
Overall, the best portable manicure table is going to be the one that competently fits your needs. Price, features, and durability are all going to be factors concerning which table you choose.
If you're looking for a cheap, highly portable table that is the best deal for the money, then the VIVOHOME portable folding manicure table is a superb option. At just $149.99, this is as light and moveable as the Suncoo table but has a fan and dust collector. The main issue with this model is that it lacks drawer space and all items have to be stored elsewhere.
The Byootique rolling nail manicure table has more desk area for a heavier alternative. It also has a lot of drawer space and more tabletop area than the others. The downside is that the table is heavier than many of the other tables, weighing in at 43.6 pounds.