Nail technicians must sit for long periods, so having the best chair available is non-negotiable. A nail tech chair with back support is vital for your well-being and ability to perform your job with excellence.
Most people experience back pain. When the pain is severe, it is aggravating and debilitating, preventing you from working. With many chair options available, you can find one that provides back support while also being stylish and versatile.
Before diving into fantastic options for nail tech chairs, here are three tips to consider when finding the best chair for you and your salon.
Top 3 Best Nail Tech Chairs That'll Support Your Back
With that background information in mind, now we're ready to get specific. Although many options are available, we've narrowed down three of the best chairs with back support for nail techs.
The Duhome work stool is eye-catching with a sleek, modern design. It's a beautiful addition to a salon with modern decor or looking to upgrade its style.
Although it looks expensive, this chair is reasonably priced. The Duhome chair has a unique circular design. The top of the circle is positioned exactly where your lower back needs support.
This chair sits on five casters and can support up to 245 pounds. The seat has an adjustable height of 19" to 24" with the chair height ranging from 28" to 32".
With a smooth 360 degrees swivel, you will easily be able to maneuver around the salon and multitask.
The comfortable padded seat and back support are made of quality PU leather. PU leather is a type of faux leather known for being more durable and stain-resistant. These qualities are essential for nail technicians.
Color options include black, grey, pink, and white. With these fun and fashionable options, you'll be able to find the right color to coordinate with your decor.
The Best Nail Dust Collectors of 2023
Your back will feel instant relief with this thick and comfortable padded chair. In addition, the tall chair back provides ample support to keep your spine in alignment.
The chairs are armless, so you can maneuver closer to your client without bumping the manicure table.
An under-chair lever provides pneumatic adjustments so you can find the ideal height to work ergonomically.
The adjustable seat ranges from 19" to 25" from floor to top of the seat. You'll also have two inches of cushion and an 18" seat diameter for stability and comfort.
Mayakoba also offers various highly rated pedicure stools, but this specific chair works well at manicure stations due to its height and high back.
The chairs are covered with vinyl material that is durable and easy to clean.
Another plus with this tech chair is the wide range of colors available. These options include burgundy, Toto red, coffee, pink, and black.
The ZENY swivel stool has substantial padding to keep you comfortable throughout the day. This chair has a more traditional and professional look, which may be the very style you need.
As a bonus, the backrest of this chair is removable, making it super versatile if you sometimes prefer the option of a simple stool.
The ZENY chair has a 360-degree swivel and noiseless, smooth casters so you can slide easily. The chair supports up to 250 pounds.
Seat height is adjustable from 20.86" to 27.55," but the back height can adjust up to 39.37." That's the highest of the three options on this list. If you are taller, this comfortable nail technician chair option is worth considering.
The ergonomic design of this tech chair includes a padded, supportive backrest. In addition, the well-cushioned seat is over three inches thick – another bonus.
The ZENY swivel stool is made of waterproof black bonded leather, which is easy to clean and maintain.
How to Find the Best Nail Tech Chair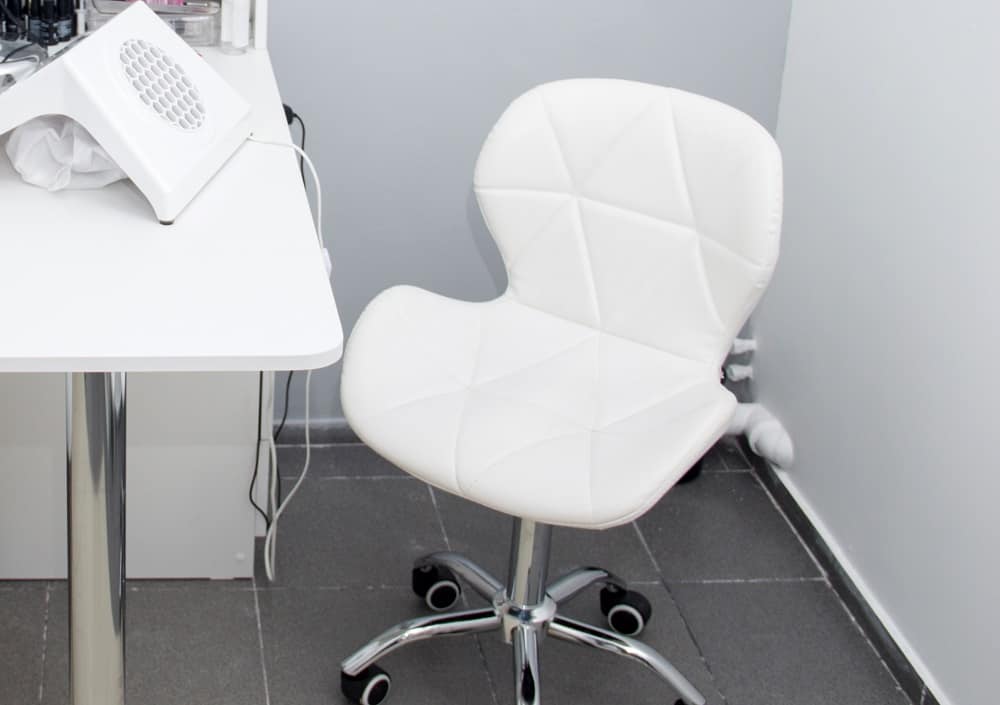 Here are three critical questions to ask yourself when searching for the right nail tech chair.
Is the Nail Technician Chair Comfortable?
Comfort comes first. You only know how comfortable the chair is if you can sit in it, so try to test out the chair before buying.
Make sure the chair keeps your spine in proper alignment. A well-designed chair allows your lumbar spine to maintain a slight curve while being fully supported.
Furthermore, the back and base of the chair should be well cushioned. You want supportive padding that will maintain its comfort and density over time.
An ergonomically designed chair must also be the right height for your work surface. Double-check that your chair has a pneumatic adjustment so your feet can maintain complete contact with the floor.
The Best Professional Manicure Sets and Kits
Is the Nail Technician Chair Attractive?
Salons are about creating beauty, and customers want to be served and pass their time in an attractive and pleasant environment. Therefore, your furniture and decor choices are critical to the customers' first impression and overall experience.
Look for chairs that are chic and stylish. At the same time, they must coordinate seamlessly with the overall look of the decor of your nail salon.
As you look for your chair, consider the design and color. Ask yourself whether it enhances your space.
Is the Nail Technician Chair Functional?
Finally, consider whether this chair makes your job easier to perform. A manicure chair should be made with durable, easy-to-clean material.
Nail tech chairs also need to slide smoothly, so you have the mobility to move to a new station, grab supplies, and navigate around the salon.
In summary, be sure to consider your personal needs, the salon aesthetic, and functionality when selecting the perfect chair.
Best Online Nail Tech Courses in 2023
In conclusion, salons need to provide excellent nail services and exceptional customer experiences. Nail technicians are a vital part of the client experience and must ensure they take care of their health in every way.
Correct posture is key to maintaining spinal alignment, avoiding injury, and feeling your best. When you sit for most of the day, the only way to ensure proper posture is to have the correct type of chair.
Finding a chair with adequate back support helps you as a nail technician; it also means your clients will receive better service.