Whether you offer manicures in a salon or the comfort of a client's home, you need to have the right tools for the job. Investing in some professional manicure sets will help you deliver a positive experience.
Here's a quick look at the best professional manicure kits you can buy in 2023.
Image
Title
Editor's Rank
Price

Top

AUTENPOO 26 In 1 Manicure Kit
Editor's #1 Choice
See Price

Top

Top

3 Swords Germany 23 Piece Manicure Pedicure Set
Most Durable
See Price

Top

FANDAMEI 20PCS Professional Manicure Tools Kit
Best Nail Polishing Kit
See Price

Top

QLL 3 Pack 7Pcs Manicure Set
Best for Travelling
See Price

Top

Litchi Electric Manicure Pedicure Kit
Best Electric Manicure Set
See Price

Top

ISTON 36-piece Professional Manicure & Pedicure Kit
Best for Acrylic Nails
See Price

Top

Yougai 18 Pieces Stainless Steel Manicure Kit
Best Budget Option
See Price

Top

Professional Disposable Manicure Kit
Best Disposable Manicure Kit
See Price
Best Professional Manicure Sets and Kits
A professional manicure set should include tools for cutting and shaping nails, removing cuticles, and preparing nails before applying nail polish. The following manicure tool sets are excellent options because they contain all these tools and are convenient to use.
This product is the best manicure set if you're looking for value. You'll get a total of 26 pieces at a very affordable price. There are five colors to choose from, and you'll get instruments that match the color of the case.
You'll get a mix of manicure, pedicure, and facial care tools made from stainless steel. The set comes with eyebrow clippers, acne needles, and a nose hair clipper. You'll get a total of four nail clippers in different sizes, a cuticle pusher and nipper, nail cleaning tools, and some nail files.
There are also three callus removers with different shapes and sizes, a nail picker, a nail scraper, and a peeling knife.
The main downside of this set is the case. It's not a hard case, and it uses fabric bands to hold the instruments in place. We recommend upgrading the case to keep the tools secure and organized.
Pros:
Great value and versatile selection of manicure and pedicure tools
Different shapes and sizes for nail clippers and other tools
Various colors to choose from
Cons:
You might have to replace the carrying case
You probably won't need the facial care tools
This manicure set does it all. Plus, it's from a manufacturer with a reputation for making quality products.
We like the luxury case with a zipper-closer, and it's a durable option for protecting and transporting your manicure tools. The case features elastic bands that will hold the different items in place.
It's a set with a total of 23 pieces. You'll get some cuticle scissors and nippers, nail scissors and clippers, three different types of tweezers, some scraping tools, sapphire files, and nail cleaning tools. The set also includes some helpful pedicure tools, like a callus remover, corn rasps, and curved blades.
The durable stainless-steel instruments feature a nickel finish for corrosion resistance. Overall, it's a comprehensive kit that is ideal for addressing ingrown nails and preparing nails before applying polish.
Pros:
Very comprehensive and versatile kit
Luxurious look
Durable stainless steel construction
The case will protect the tools and hold them in place
Cons:
There are a few facial care tools you probably won't use
Stock up on disposable manicure tools with this set. You'll get a total of 20 pieces you can use to shape and polish nails.
This professional manicure kit includes eight sanding buffer blocks to make nails shine and get rid of nail ridges. You'll get eight regular 100/180 nail files, a classic tool for shaping nails. The kit also includes two cushioned boards, a helpful tool to make the transition between regular nails and acrylic nails look more natural.
You will also get two seven-way buffers with different grit sizes to gradually shape nails. Each surface has a label that indicates what you should use it for.
Pros:
Great selection of disposable items
Colorful tools are fun to use
Seven-way buffers are a great addition to your manicure kit
Cons:
Not as comprehensive as other sets
These small manicure sets come with the basics you need to cut nails. You'll get three sets, and each of these comes with two nail clippers, a pair of nail scissors, a nail file, some tweezers, and some nail picks.
We recommend these sets for those who offer mobile manicures with back-to-back appointments. You can rotate these three kits and won't have to reuse tools before you've had the chance to clean and disinfect them.
The kits come in three hard cases with different colors so you can keep track of which ones you already used.
Pros:
All the essential tools you need
Three kits at a reasonable price
Stainless steel tools
Color-coded cases
Cons:
Other sets have more pieces
This women's manicure set allows you to deliver a nail salon experience even when visiting clients at home.
This kit features a small tub where clients soak their nails to make cuticle easier to remove. There is a nail drill with nine different attachments that you can use to grind, file, shape, and polish nails. You can also use it to get rid of cuticles, corns, and calluses. It works well on natural and artificial nails.
You'll also find a built-in fan to get base coats and nail polishes to dry faster.
Pros:
Effortlessly work on acrylic and gel nails thanks to the nail drill
Versatile tool with nine attachments
Built-in tub and fan
Keep the attachments organized
Cons:
We highly recommend this kit for those who work with acrylic nails. It's an electric nail file with 11 drill bit attachments that you can use to grind, file, polish, and shape nails. You can even use it to remove calluses or get rid of old gel and acrylic nails.
You can adjust the speed of the tool between 5,000 RPM and 20,000 RPM. You'll also get 20 sanding bands for polishing and shaping nails. It's straightforward to switch between the attachments by twisting the head of the tool.
This kit is ideal for mobile manicures because it's a cordless tool that you can recharge in your vehicle. You should get 10 to 18 hours of use for each charge. Plus, there is a built-in LED to improve visibility.
Pros:
Cordless nail file with 11 attachments
Adjustable speed
Long-lasting battery, easy to charge on the go
Convenient carrying case
Cons:
This 18-piece manicure set looks great with its fake leather case. It's a versatile case with a convenient carrying case for mobile manicures.
You'll get three nail clippers, a nipper, a pedicure knife, a nail file, and a V-shaped cuticle pusher. The set also includes scissors, tweezers, and more.
Most of the tools feature a non-slip handle for precision. This set includes everything you need for a basic manicure or pedicure, and the stainless-steel tools are easy to clean in between appointments.
Pros:
Comprehensive set with 18 pieces
The carrying case looks great
Stainless-steel instruments
Non-slip handles
Cons:
A few of the tools included are for facial grooming
These small disposable manicure kits are of great value. You can get a case with 100 of these sets are a reasonable price.
Each set comes with a double-ended wood stick, a nail file with 100/180 grit, and a buffer with 80/100 grit. You can use the wood stick to push cuticles back, the nail file to shape the nails, and the buffer to make nails shine.
Each set comes in plastic wrap. It's a great value, and these single-use tools are a hygienic alternative to disinfecting your instruments.
Pros:
Excellent value
Includes a file, buffer, and wood stick
Each set is individually wrapped
Single-use instruments are hygienic
Cons:
These sets will work as a complement to a more extensive set with more tools.
Verdict
After comparing different professional manicure sets and kits, we think the best option is to build your own kit with a few different products.
We recommend the 3 Swords Germany 23Pcs Manicure Pedicure Set because of the quality of the stainless-steel instruments and the durable case. You'll get all the essential tools you need to start building your manicure set with this kit.
Next, you'll need a reliable tool to work with acrylic nails. The Iston 36Pcs Professional Manicure & Pedicure Kit is an excellent option since this cordless nail drill is versatile and easy to charge.
We also recommend investing in some single-use items for hygienic reasons. The Professional Disposable Manicure Kit is an excellent value for single-use files and other items.
How To Choose a Professional Manicure Set: Buying Guide
The best manicure set depends on the services you offer. Read on to learn more about some of the things you should consider.
What Comes in a Manicure Set?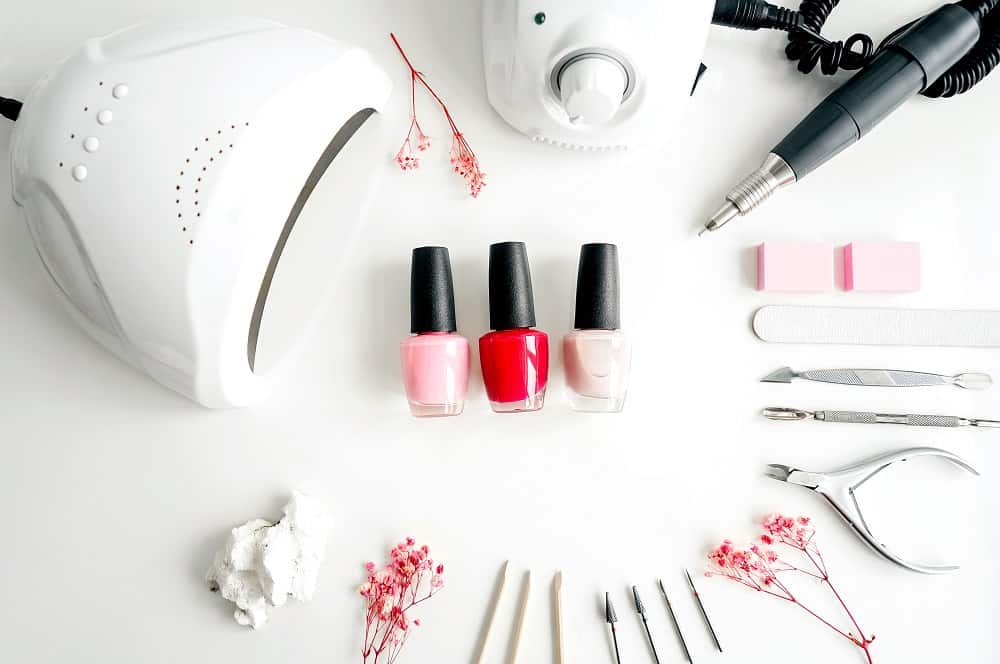 Professional sets typically have more pieces than those designed for non-commercial use. The number of pieces you get can influence the price, but it's generally a good idea to invest in a set with multiple instruments to make sure you'll always have the right tools for the job.
Here are some of the key pieces you should look for:
You'll need different tools to push cuticles back and cut them. You should at the very least have some cuticle pushers and nippers in your manicure kit.
Orange wood sticks are a versatile tool for scarping the debris that can accumulate underneath fingernails. You can also use these sticks to push cuticles back on clients who have softer skin. A nail brush is another good option for cleaning nails.
A good manicure set should include a variety of tools for cutting or grinding nails. Having different sizes of nail clippers will come in handy. You will also need some shaping tools, including some files.
Blades, picks, and scraping tools help treat a wide range of issues, from ingrown nails to calluses.
You should consider investing in a nail drill. A cordless nail drill can help you grind, shape, and buff nails faster. Plus, it will help you remove old acrylic nails in no time.
Your kit should include plenty of buffers and files to polish nails and get them to shine.
If you offer a hand massage as part of your manicure services, you'll need some massaging sticks or balls.
Offering mani-pedi combos is a popular option. If you offer this service, you'll want to pack a few additional tools, including pumice stones, callus removers, and toe separators.
Stainless-Steel Tools Vs. Disposable Instruments
Investing in stainless-steel manicure instruments is going to help you save money in the long term. When working on nails, your tools will come in contact with dead skin that can harbor bacteria and nail fungus.
We recommend using stainless-steel tools that use an alloy with copper since this material can kill bacteria within a few hours. You should also look into surgical-grade stainless-steel tools since this material resists corrosion better.
It makes sense to invest in stainless-steel instruments that can disinfect between appointments for things like nail clippers, cuticle nippers, or scraping blades. However, you should look for affordable single-use items like nail files and boards, wood sticks, plastic cuticle pushers, and more.
Look For a Durable Case
Pay attention to the case when shopping for a professional manicure set. Here are a few things to consider:
Can the case hold the different instruments in place securely? This feature is vital for mobile manicures.
Is the case hard enough to protect the tools? Does it close securely
Is there additional storage space so you can add a few items to the kit? You might want to store things like cuticle oil, hand creams, liquid tape, and more.
Can you disinfect the case quickly?