If you are passionate about nail fashion and beauty, and you are also equipped with a friendly personality, you already have the basic criteria fit for a nail salon owner! You will want your nail salon to give out a pleasant vibe and good skills for your customers to return after their first visits.
Getting Started with A Nail Salon
Your target market includes anyone at all that cares about their appearance and has some extra income to spend on manicure and pedicure sessions. This means that your target location should be somewhere in busy city areas! When you choose your business shop location, make sure that your shop lot is about 1,000 square feet in size. To help you visualize, that's about the size of a 2-car garage!
How Much Does It Cost to Open A Nail Salon?
Depending on the location you choose, you will need to pay anywhere between $75 – $125 per square foot, so you can be prepared to pay over $75K to build your salon from its base! If you are opening it in a busy city center, you might even need to fork out about $300 per square foot!
When you are just starting up your nail salon, it's best to have about 6 chairs and stylists to start. As you progress, you can choose either to make your services more exclusive by having just 3-4 expert technicians or so, but 6 will be good to start.
Do You Love Acrylic Nails? This One Is for You!
How Much Do You Need to Pay Nail Salon Employees?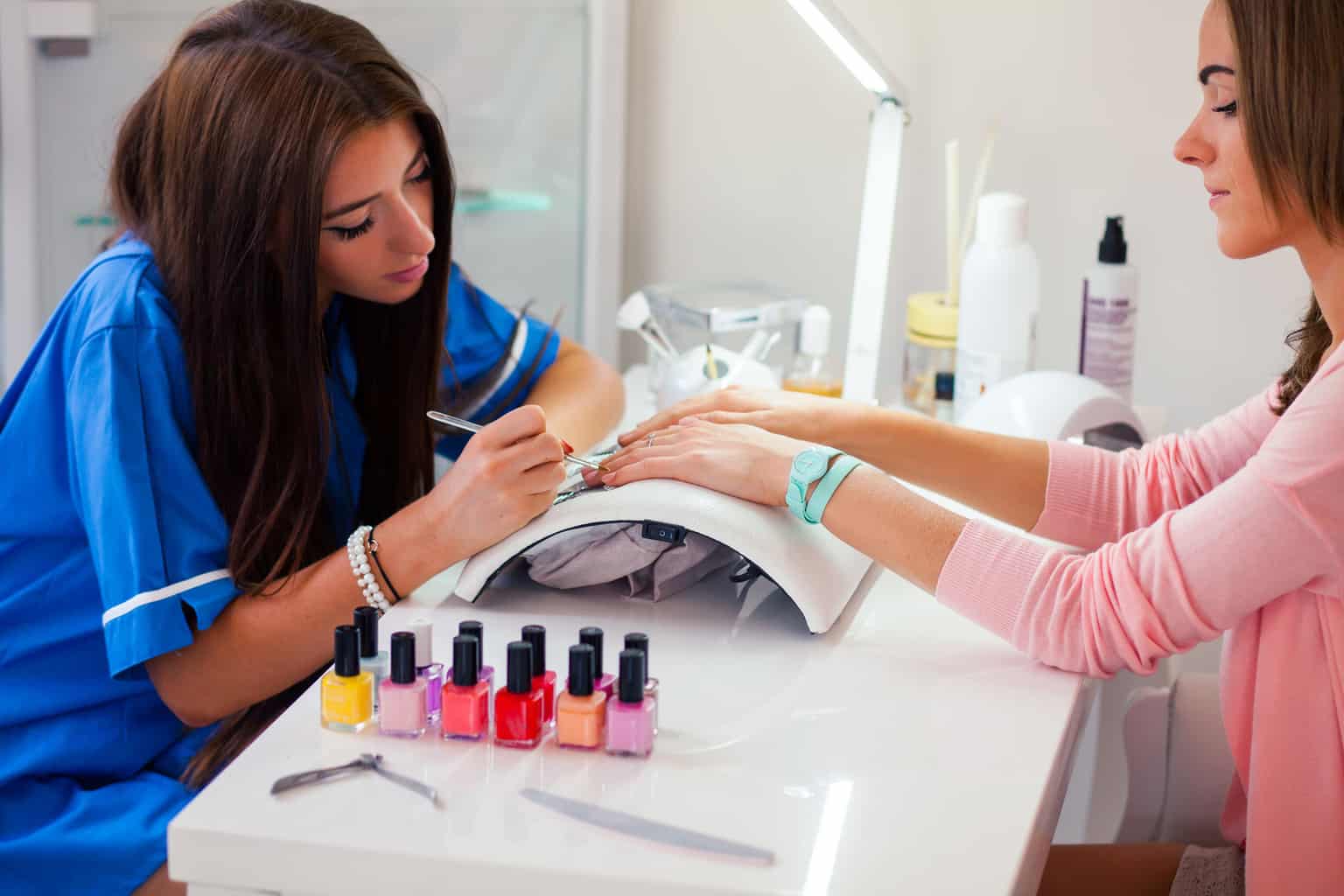 Nail technicians make anywhere $1850 to $3500 monthly, with most of their pay coming from commissions. They typically take anywhere between 35 to 60% of the nail treatments and services that they provide.
You can expect to hire a receptionist, a salon manager, an aesthetician, and a manicurist as your salon grows bigger! Working fees aside, other expenses such as ongoing training fees for your long-term staff could be a wise investment if you want your nail salons to keep up with the latest trends, techniques, and technology.
What Other Expenses Will I Have As A Nail Salon Owner?
Your expenses, while are mainly incurred towards employees, will also need to consider taxations, supplies, marketing, and insurance fees. You might also need to hire a lawyer and an accountant to help you set up the business at first. You can't really escape from product and property taxes, and marketing is important for your nail salon to expand. Most companies have some employee insurance benefits as well, so the only extra expenses that you can curb on slightly is your supplies.
However, you need to be wise about curbing these extra expenses! Your supplies such as your nail polish stock can sometimes be a huge contributing factor to your service's quality. The best technician still will not be able to do a good job if he or she is only provided with bad-quality types of equipment and supplies.
5 Tips to Save In Your Next Nail Salon Visit
What Treatments Do Nail Salons Provide?
Remember that your nail salon can also provide premium nail care products to your customers; these products can be outsourced from other brands, making your outlet a one-stop nail care solution. However, in terms of services, nail salons typically involve these packages:
Manicures (Between $15-25)
Pedicures (Between $25-45)
Silk nails (Between $10-15)
Full acrylic sets (Between $30-60)
Full gel sets (Between $45-75)
In-between services (Between $3-30)
In-between services refer to any nail fillers, nail polishing, and repairs between each full manicure or pedicure set. Of course, there are always more options than you can utilize as you progress, but these services should do for when you are just a new nail salon start-up.
How Much Profit Do You Get As A Nail Salon Owner?
If you own a single nail salon, you might be able to earn up to $75,000 annually. However, as your business grows and you open more branches, just keep in mind that some nail salon owners have made it into the list of millionaires.
Of course, this profit does not come with a snap of your fingers. You will need to continually upsell additional services and premium nail care products to your customers throughout your services.
Related Topics:
So, there you have it! We hope that this article has been informative for you. If you have any comments or feedback that you'd like to provide us, feel free to do so in the comments section!