Your birthday is that celebratory occasion that will never get old! Whether you're a teen or in your 80's you would want to celebrate it with a new dress, new shoes and yes new birthday nail design!
Birthday Nail Design Ideas to Look Festive
On your birthday, your outfit must be as special as y our special day, and there's no doubt that your nails are the key to transforming your look from plain to fabulous.
So don't be afraid to extend your birthday celebration to your nails. To help you achieve that full birthday suitable look, here's a list of 45 creative birthday nail designs to make your birthday happy and stylish.
#1. Acrylic Nails for Birthday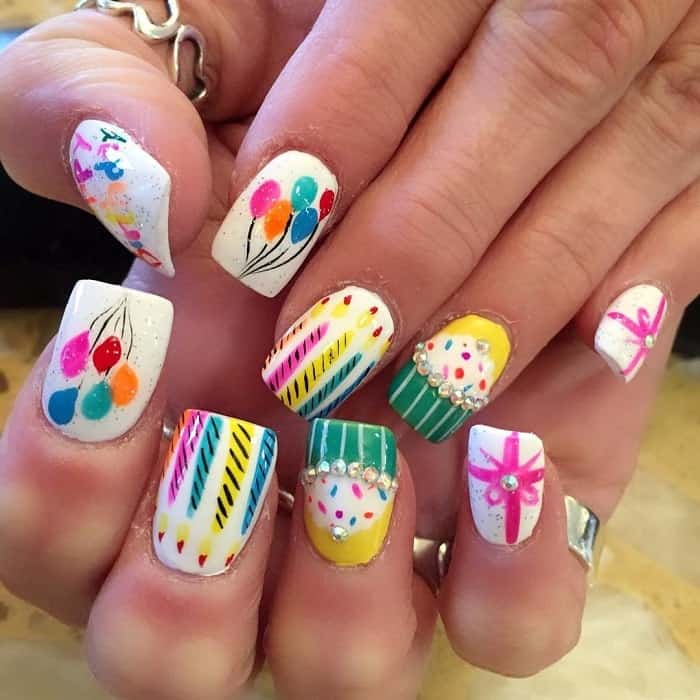 #2. Coffin Nails for Birthday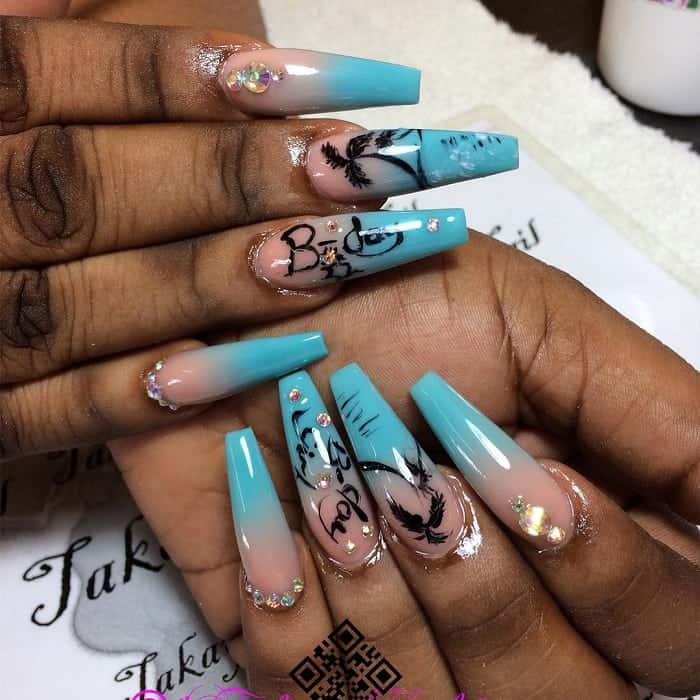 #3. 21st Birthday Nails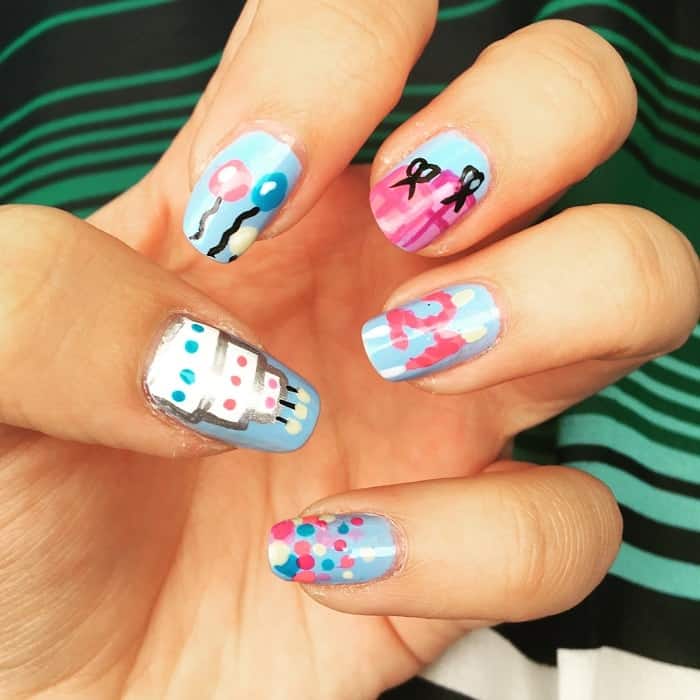 #4. 18th Birthday Nails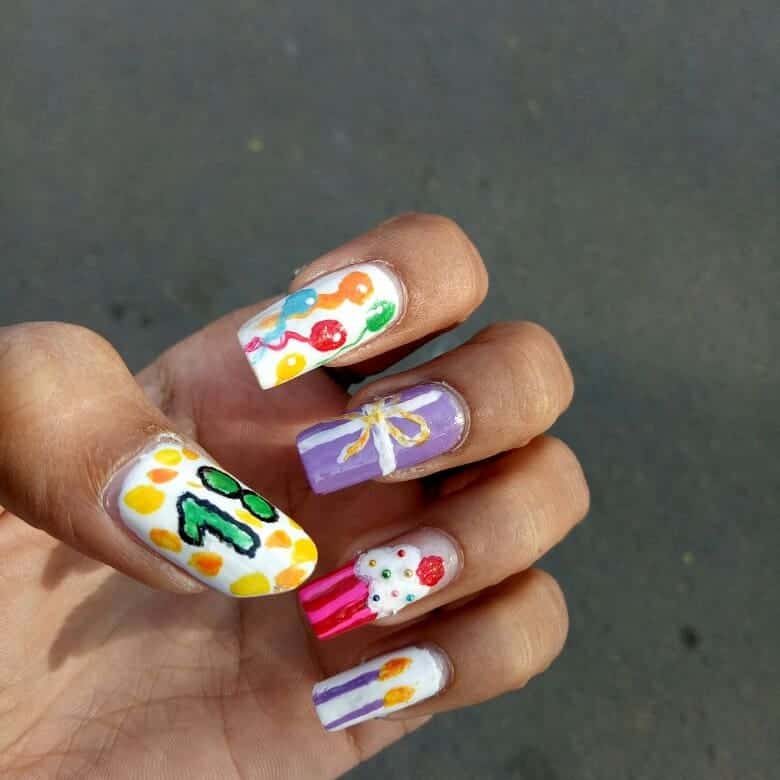 #5. Nail Art for 16th Birthday
#6. Long Birthday Nails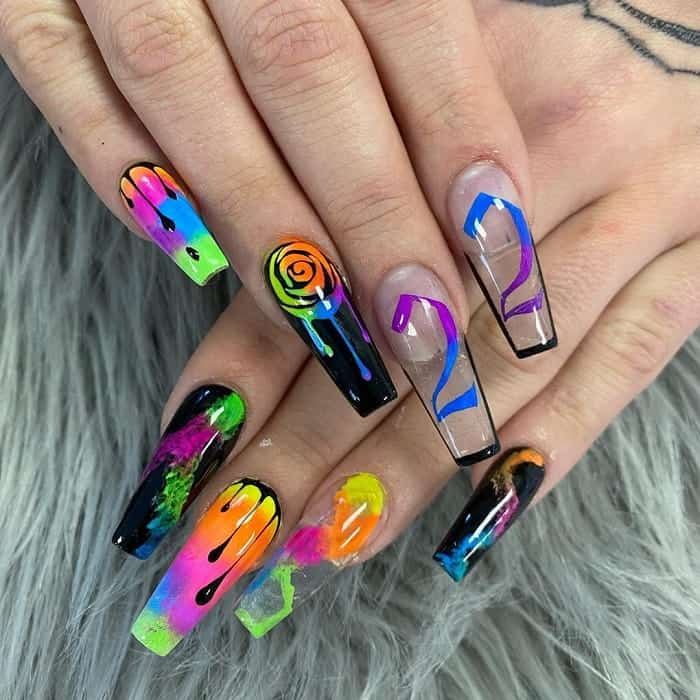 #7. Short Nail Designs for Birthday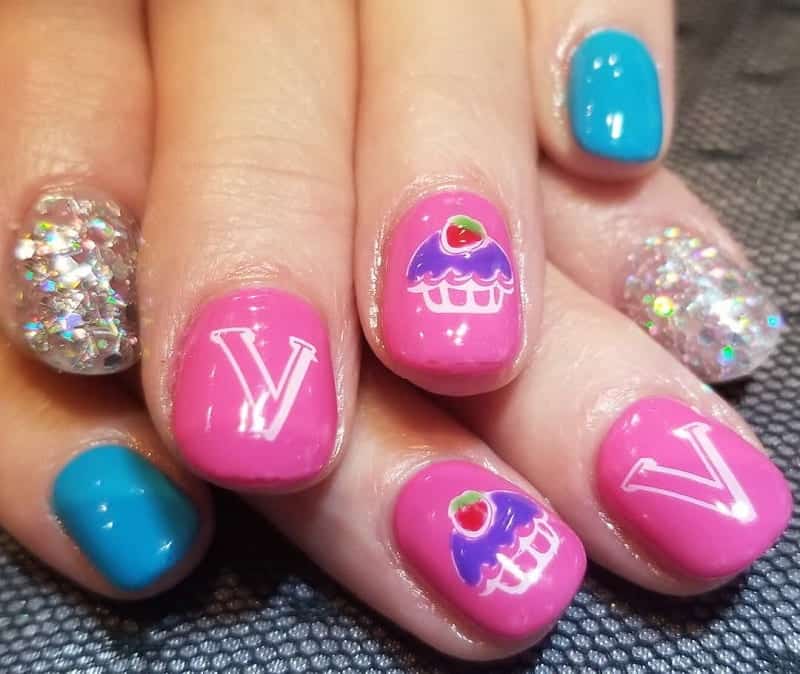 #8. Gel Nail Polish for Birthday
#9. Squoval Nails for Birthday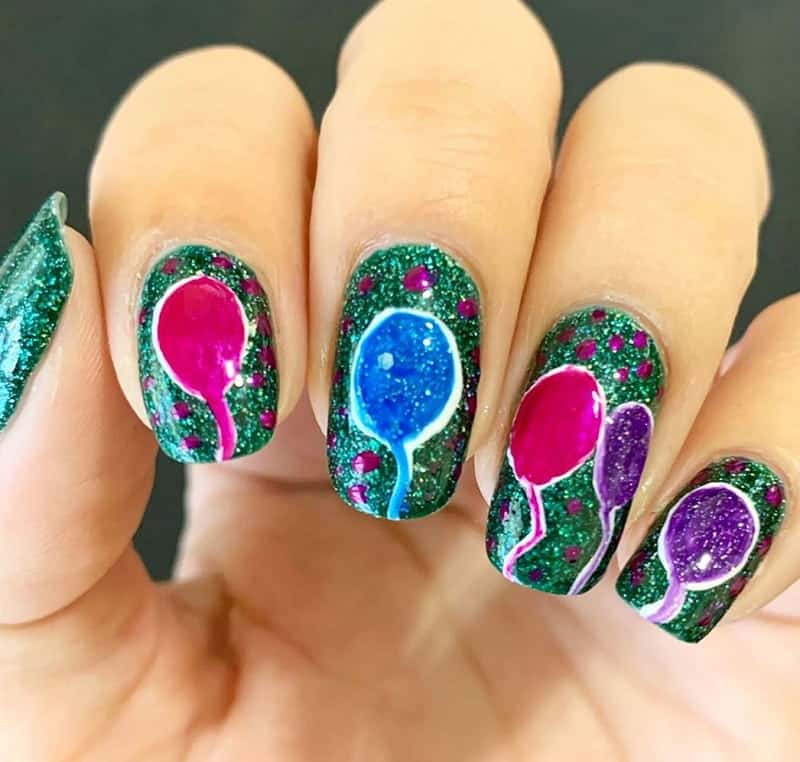 #10. Stiletto Nails for Birthday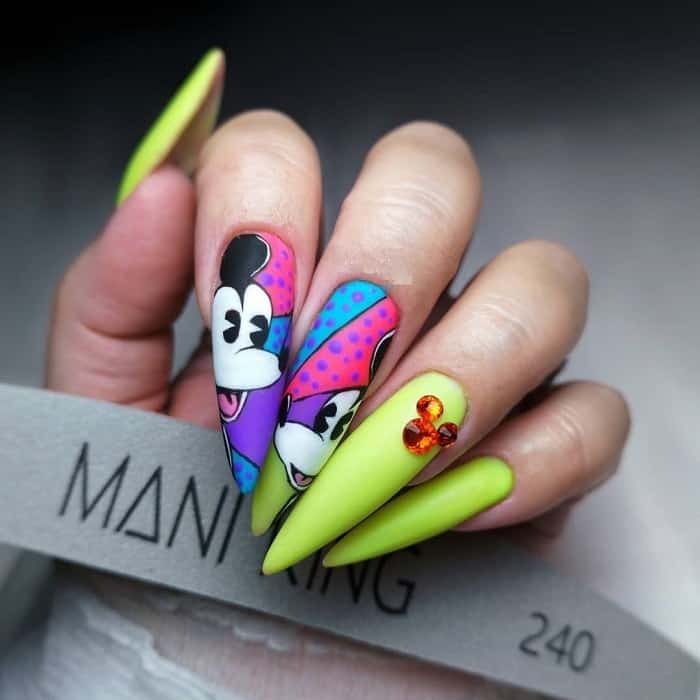 #11. Happy birthday Nails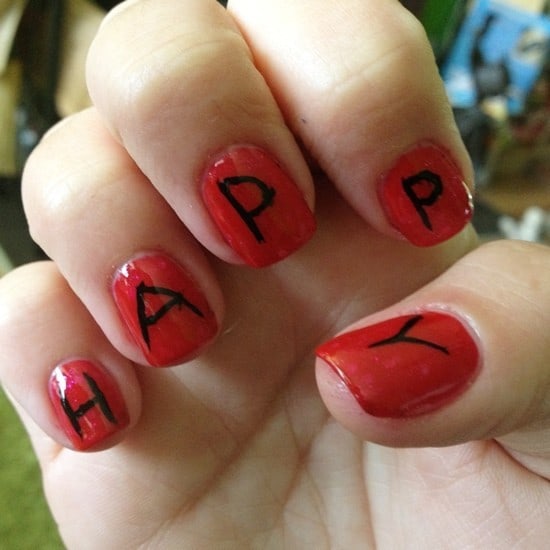 Simple, and fun design! With this screaming bright red nail polish that simply reflects the message of this day you can never go unnoticed.Keeping your mood happy and your outfit complete.
#12. Cupcake And Balloons
Don't be afraid to move your birthday decoration from your venue to your nails. Adding a cupcake or a balloon to your baby pink polish will be the twist to create the trendiest cute birthday nail design.
#13. Rainbow Balloons Nails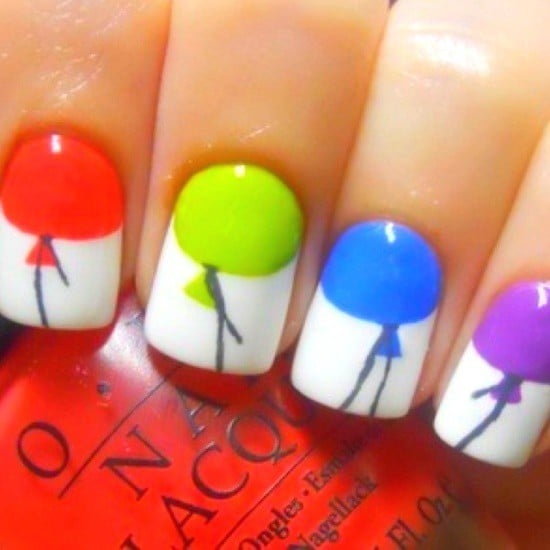 Everybody loves balloons, and on our birthday we wanna be hugged by plenty of them, so why not hug our nails with these colorful balloons to add a unique festive touch.
#14. A Candle For Every Year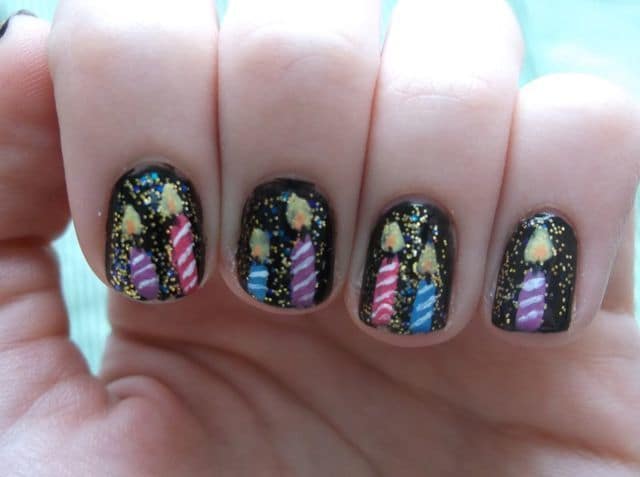 Blowing your candles will never be as trendy! Just put on your glossy black polish, add some glitter and don't hesitate to draw on your birthday candles on each and every nail to get that fancy design.
#15. White And Festive Nails
Release you artistic side with this birthday nail design. Start with a pastel color as a base and decorate your nails with the design of your choice using your favorite bright colors, and please don't be cheap with the glitter. It's a celebration after all!
#16. Bright Red And Glitter Birthday Nails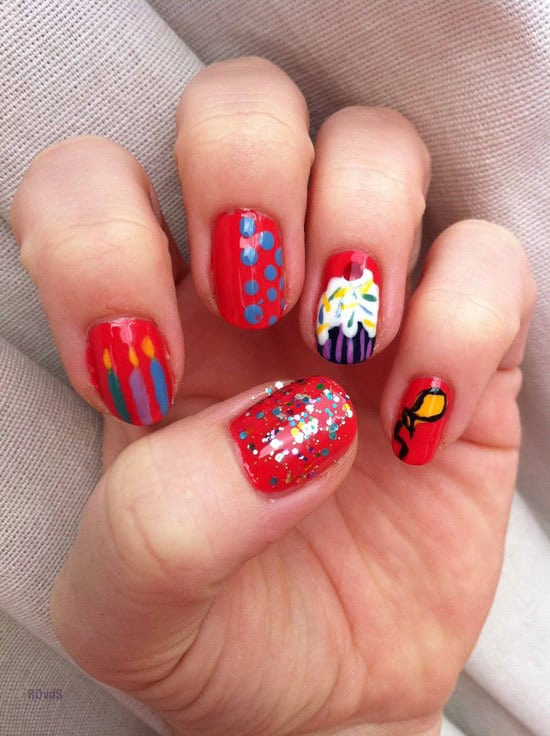 Everyone knows that red is the color of celebration, so if you wanna get ready to party choose such nail design to upgrade your birthday appearance and make it fresh and trendy.
#17. Colourful Birthday Nails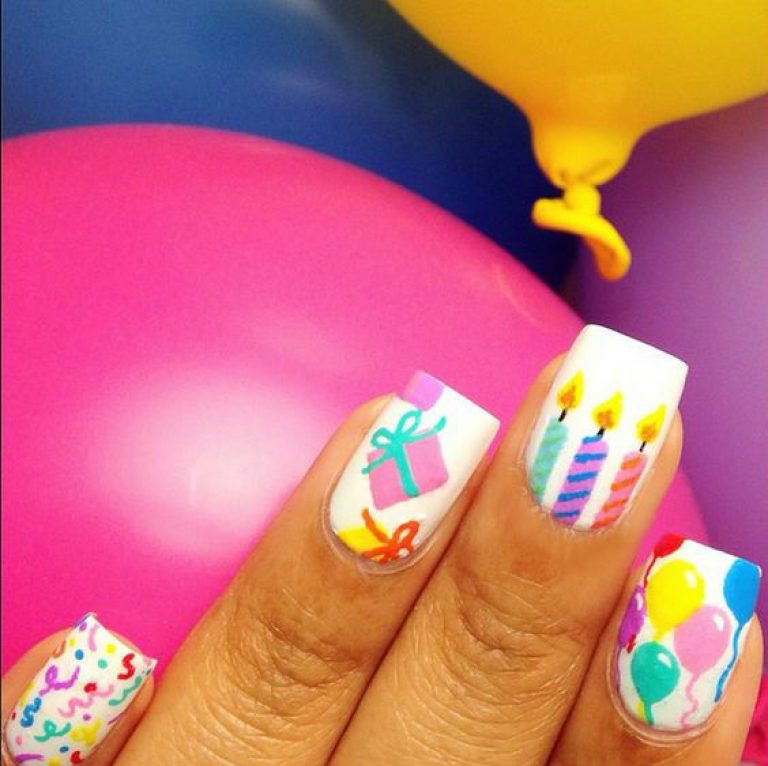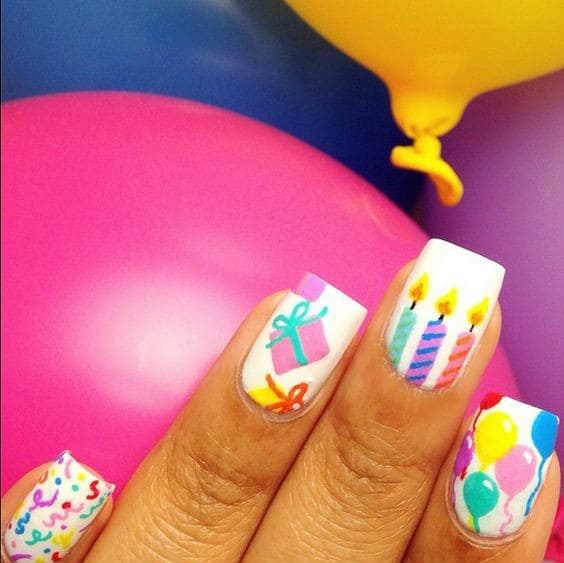 Adding Cute and sweet colorful twists such as ribbons and balloons on your white opaque nails will give you the perfect final touch to your birthday look.
#18. Mint Green And Purple Nails
Choosing your favorite polish colors will never go wrong on your birthday. However, adding a tiny bow and colorful strass to your design will take it to the next level that'll satisfy your hunger for style.
And if you're asking for a more extreme full impression paint a miniature cupcake on 2 nails of your choice.
#19. 3 Dimensional nails
Make your nails pop with this 3D birthday nail design to add a funky feature to your birthday nails.
#20. Coral Birthday Nail Design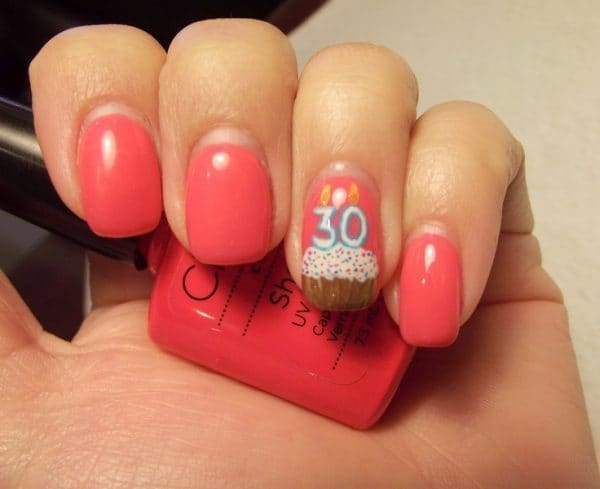 One of the easiest birthday nail designs anyone can master. First, pick the color that matches your outfit to get that full look, then, paint your age on your ring finger and that'll be the cherry on top of the ice cream.
#21. Birthday Cupcakes nails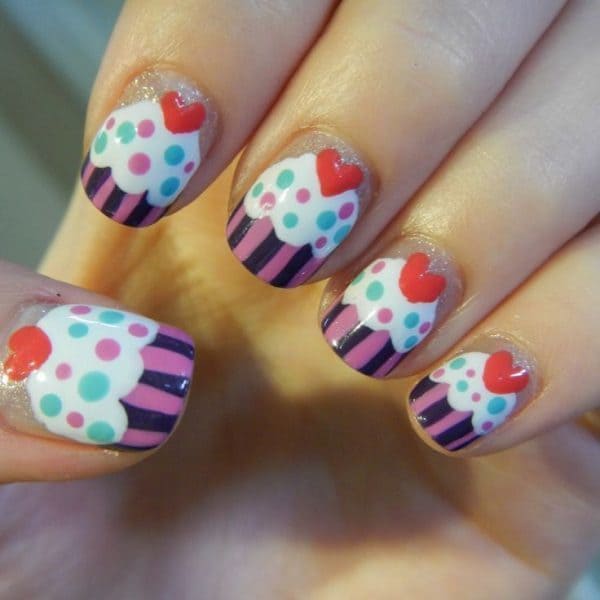 We all crave cake, don't we? Nevertheless, if it's our birthday cake. To achieve this delicious design invest in your painting skills to create that yummy looking cupcake on every nail.
#22. Mustard yellow and black dots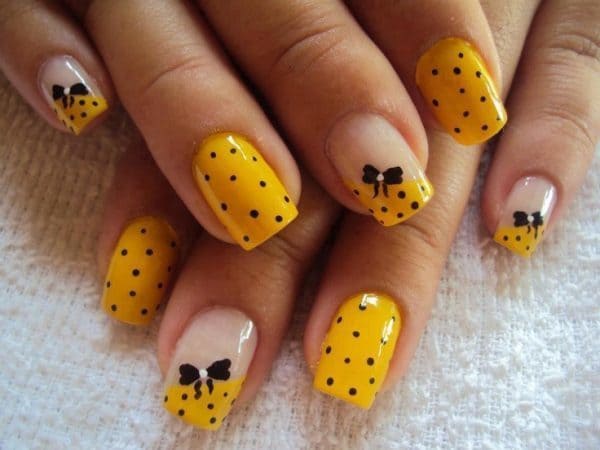 If you're one of those girls that chase effortlessness and elegance this is a design that'll suit you perfectly. Picking this color in particular reflects simplicity, respect and even happiness thus suiting your day perfectly.
#23. Yellow And Aqua Nails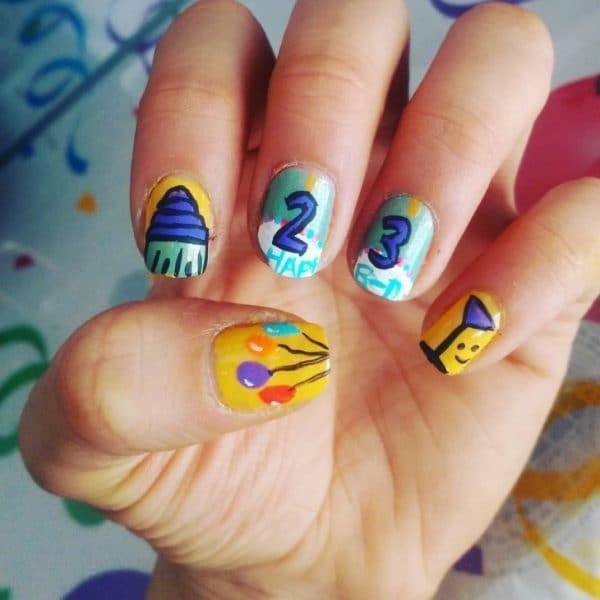 Nothing screams happy such as yellow and aqua blue, colors that'll brighten up your day. However, add an artistic touch to zest up your birthday nail design and brighten your day even more.
#24. Fancy Burgundy Birthday Nails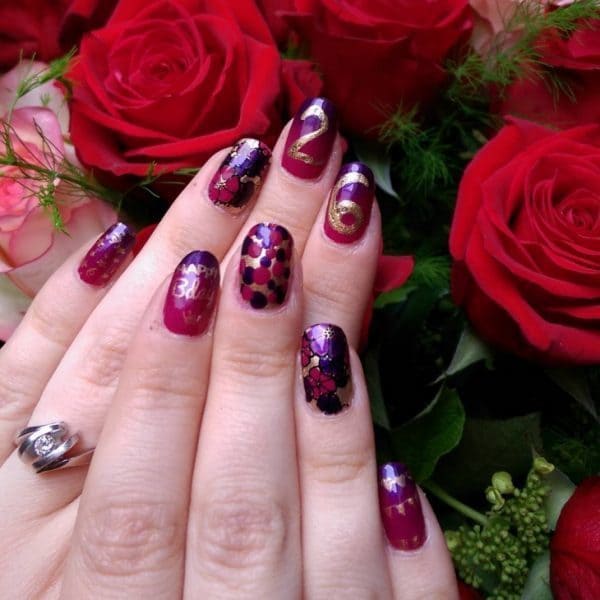 The color of elegance with a pinch of creativity and a golden touch is perfect for a birthday dinner date or a classy party.
#25. Cake With Sparkles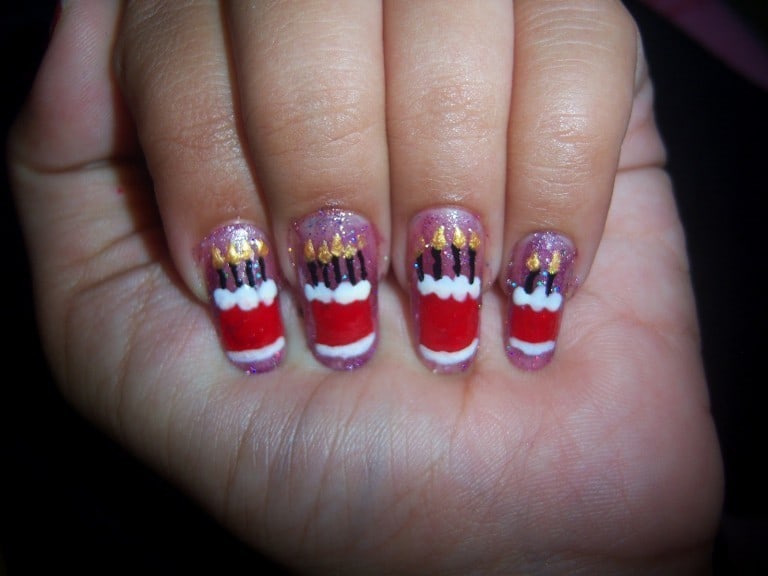 Go big or go home! If you're a daring girl, who isn't afraid of taking it too far this design will suit you perfectly.
Painting a version of your birthday cake on your nails is always a popular choice, however, such a design needs a bold outspoken girl that doesn't hesitate to claim her special day by her shouting birthday cake nails.
#26. Light Blue And Gold
Don't be shy to claim yourself the queen on your birthday!
Get a royal touch on your birthday with this design, the secret to this classy look is the use of a majestic color and a splash of golden glimmer here and there to achieve this effortless elegant style.
#27. White And Polka Dots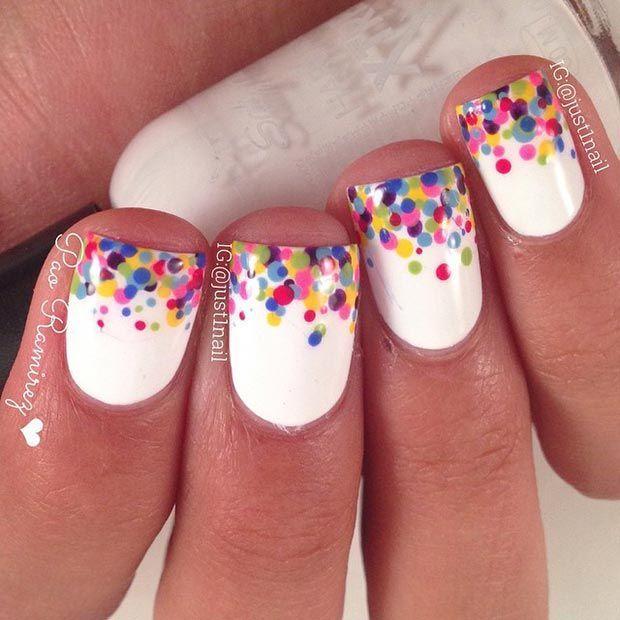 Elegance yet again starts with simplicity, to achieve a look that catches the eye in not more than 2 minutes all you need is a layer of fresh white polish, with the addition of festive colorful polka dots to give you that birthday nail art you're asking for.
#28. Abstract Birthday Nails
While most girls are satisfied painting their nails with their favorite color, you should divert to abstract nail design and mix up your favorite colors to get that trendy look that is popular lately.
Having such a design would be a true statement on your birthday, a statement that reflects your artistic feminine soul on the most important day of the year.
#29. Confetti Pink Nails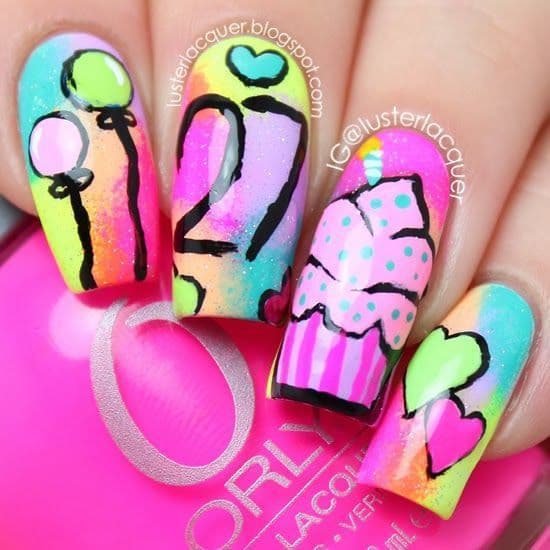 Mimicking your birthday decoration on your nails is always a go-to act. Here you can use the sparkly silver glitter to give the illusion of confetti on your pink nails.
And if you dwell on even more birthday screaming nails you can always add a miniature cupcake on the ring finger to get the final result that you want!
#30. Barbie Pink Nails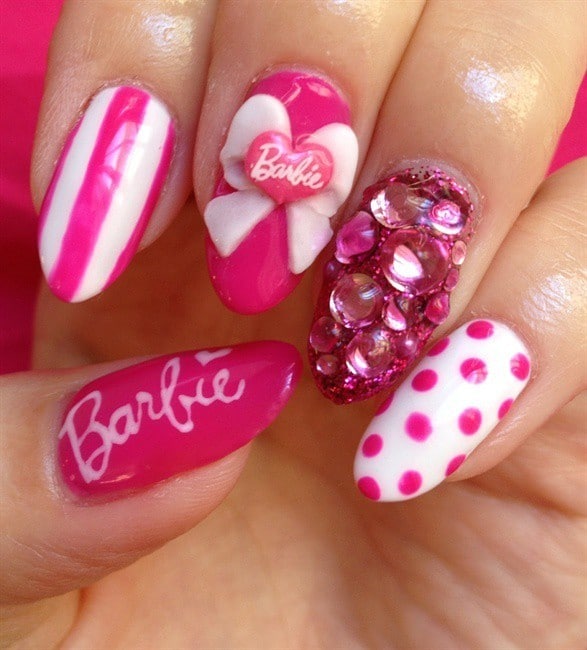 PINK PINK PINK…The most popular color in the feminine world of course won't be absent on this occasion.
To make your nails shimmer on your birthday try sparkly shades of pink and personalize them with birthday stamps and a 3D bow to give that fancy birthday effect that you aim for.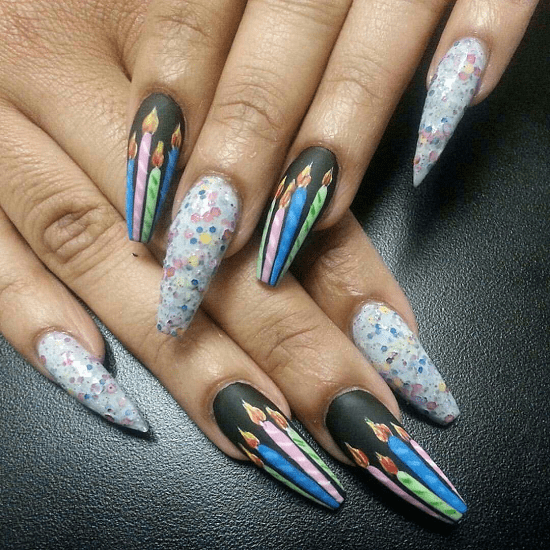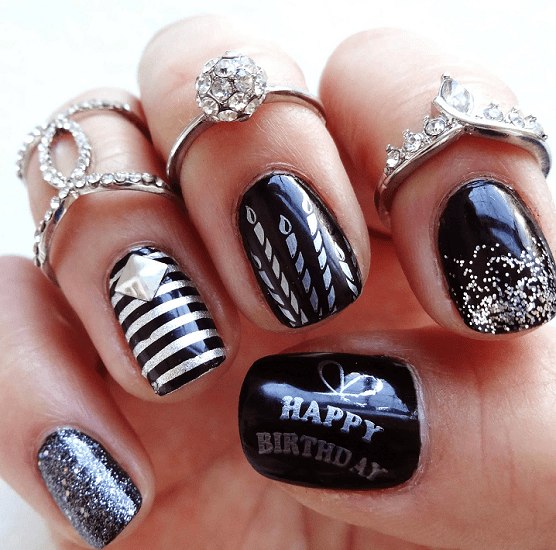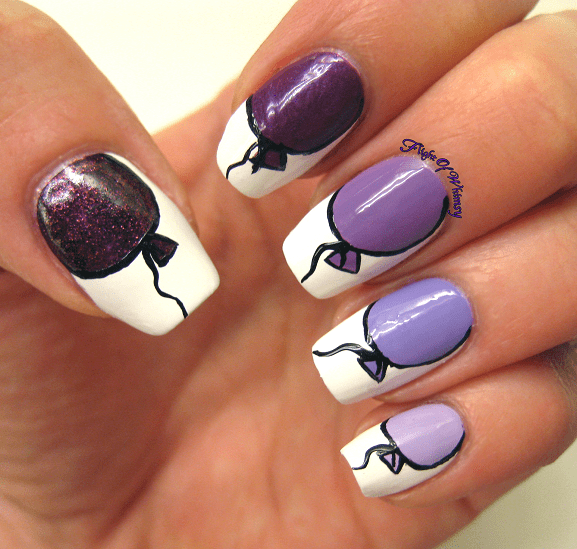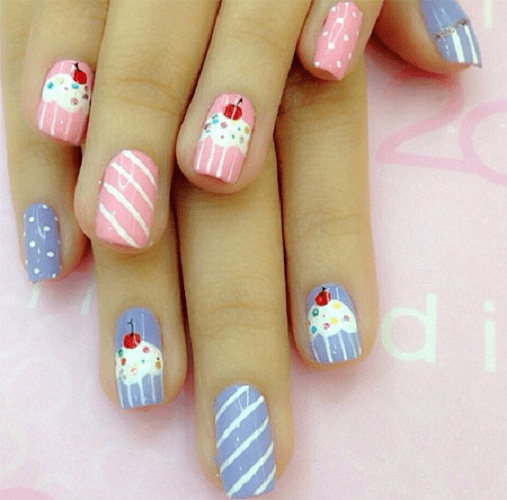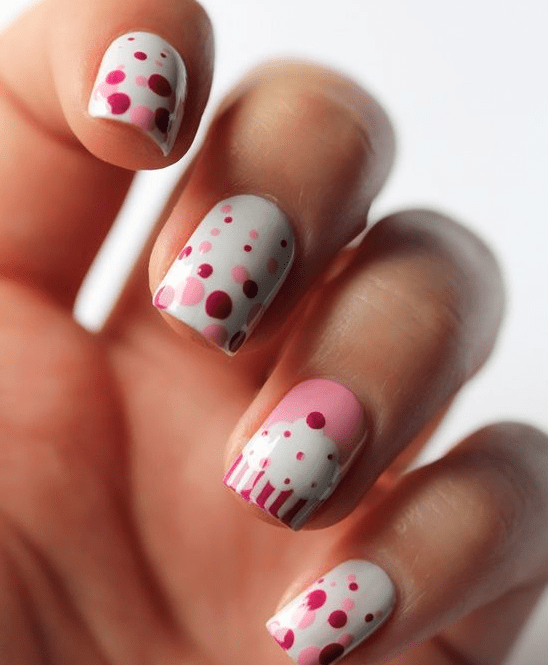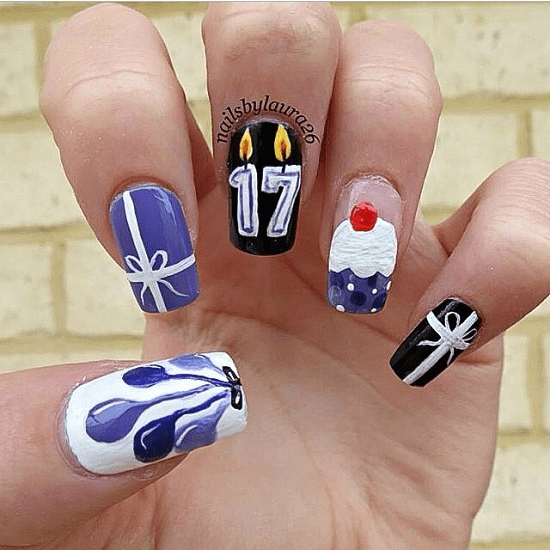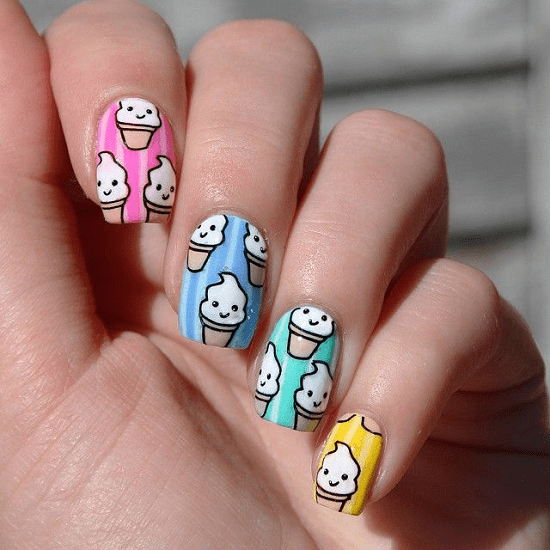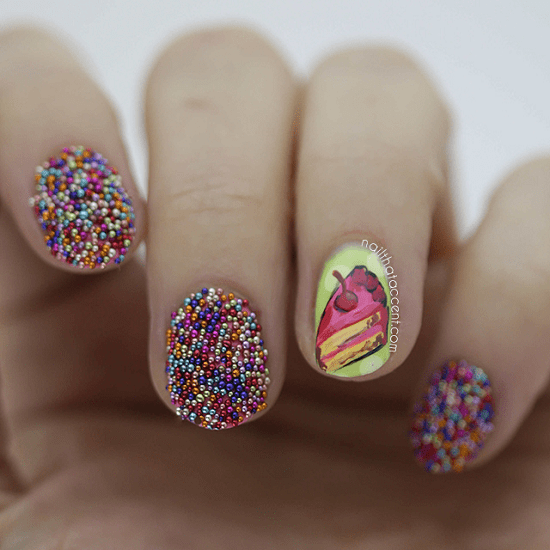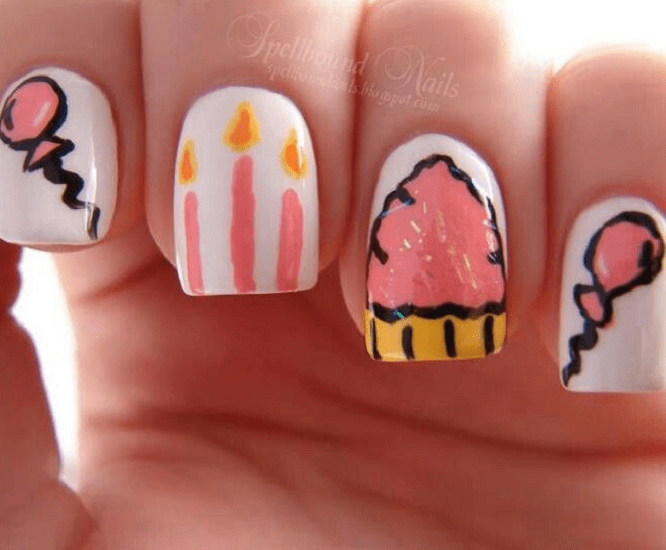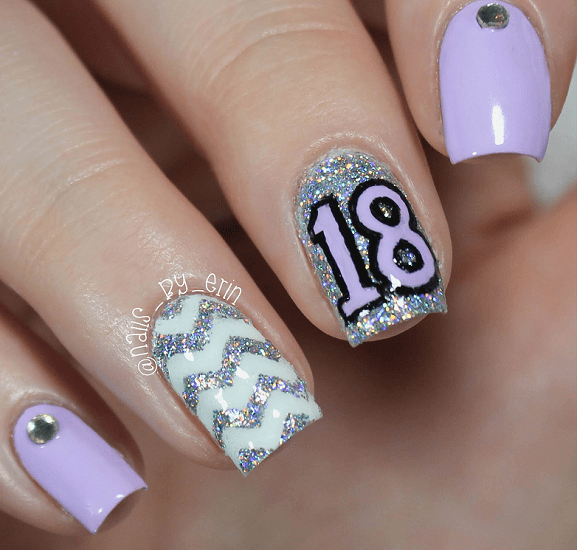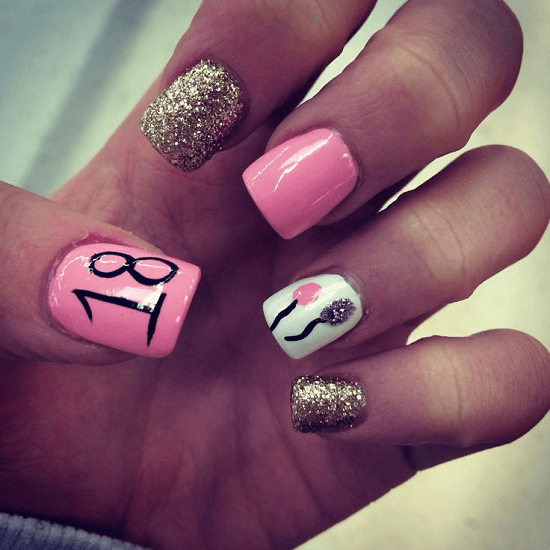 Girl, your nails are an extension of your appearance, they are the perfect accessory to enhance your personal style, so don't cut back when it comes to your nail polish design, nevertheless if it's your birthday!
We hope our list of 45 birthday nail designs was a step to help complete your style on your birthday.