50 Cutest Toenail Design Ideas for Any Picky Girl
Painting your toenails is way easier than painting the nails on your hands. It is due to the fact that you can literary use an extra hand in the making. Both hands can be employed to make up an amazing toenail design. So ladies grab your brushes and decals and get yourself ready for an intense toenail style session that you never saw anything like before.
Simple and Cute Toenail Designs We Love
Everybody knows that getting a mani is a traditional ritual for every girl in a good mood or a girl who wants to be in one, but nobody seems to notice that to get yourself in the best mood possible you need to take care of your whole body literary from head to toes! Speaking of toes, besides all the cliché stuff like getting a massage or your skin cleaned and cleared, have you ever thought of a pedicure that might be so awesome you'll have it as the highlight of your day? Especially if summer is around the corner and it's time to hit all the beach parties with your bare foot exposed to the world, you wouldn't want them to be plain and unappealing would you?
Sure you wouldn't care if it was winter when your feet are all curled up and hidden in a warm soft pair of snuggly socks but if they are out there in the open on beach sand for everybody to see (including the guy you have been crushing on since ever) you would definitely want to make a memorable scene wouldn't you?
Now that we are on the same page and agree that styling up our toenails is an issue we would want to take care of ASAP, let's take the easy way and check out this list below of all the greatest toenail designs we could try out because we've got no time to waste!
#1. Dreamy Grey on toenails

Since, unlike fingernails, not all nail beds are of almost equal sizes, there is one big toe and the others are way smaller. For this reason, we need to put in mind that we have less space to reveal our inner artist in, therefore most of the work would be done on our biggest canvas which is the biggest toe. For instance, this toenail style makes the big toenail the center of attention by drawing a flower silhouette with pink and blue while the others have plain white dots on the side.
Matte Nail Design Options to Try in 2018
#2. Golden Glitter On Teal Base

Amazing teal toenail design. Teal is the color that combines both the hues of a green field on a spring day and a clear blue sky on a summer day. It is the ultimate nature color that anyone can come across because it combines primary blue and green in one single color. It works best for environmental enthusiasts and girls with a green thumb for nature who work so hard to decrease deforestation and save the trees!
#3. Pink Toenail Design

Amaranth pink is a flashy color that screams "Look at me!". If your goal to stand out in the crowd as the sassy lady with the pink and rhinestones pedicure then this is the right style for you!
#4. Fandango & Flower Prints

There are more than 50 shades of pink and the Fandango shade is not one to be missed! It's a bright and upbeat color that works for both casual and elegant events! Adding a swaying flower to the big toenail is a good idea to grab attention and reflect a cute yet empowering personality.
#5. Chevron & Denim

One of my most favorite toenail designs. Now, this is the toenail design you totally would want to wear to every social event, every business meeting, every party, every gathering, every lazy day at home because … can you guess why? It just works for them all and makes you look ridiculously attractive and out of reach 24 hours a day, 365 days a year! Denim is a color initially made for fame and fortune, but really when paired up with chevron and silver decals it makes an invincible combination that has never witnessed a defeat.
#6. Full On Chevron

Geometry is everything. If you want to apply a smooth and feminine style that goes best with a silky sundress you might want to try salmon pink with black and white chevron touch for a bolder taste. You can always add decals that complement your outfit but be sure when and where to add them because decals are an important factor responsible for tying the whole look together.
#7. Color Festival

In India, there is an annual celebration called "Holi" which is a two-day Hindu spring festival known as the festival of colors or the festival of sharing love. It is defined by religious rituals done in front of a bonfire where people pray for their internal evil thoughts to be vanished and banished forever. The morning after that, a carnival would take place in which participants play, chase and color each other with dry powder and colored water. People of all ages would sing and dance and play instrumental bands while eating and drinking and having the time of their lives. This festival, like every other one, is an event that we as ladies should be prepared for! And what better way to show our support of enlightening events other than the rainbow colored pedicures themselves?
#8. Floral Frenzy

A cute toenail design like this will make your toe look elegant. Well, flowers have been a great sign of fondness over the years. They show respect and admiration and that's why girls (known as emotional walking creatures as they are) are bigger flower fans than boys. Unravel your inner girly girl nature and apply a floral toenail design with plenty colorful palettes and polka dotted backgrounds to make them pop!
#9. Freehand Brink Pink

Art is all about freestyle and freehand doodles and sketches. When it comes to pedicures, you can always give your hand a chance and equip it with a thin delicate brush to find its way while waltzing on a nail bed. Don't forget to accessorize with rhinestones!
#10. Easy Peasy-Bo-Busy
Are you in a rush between working all day and reconnecting with the girls after tiring tight working schedules all month? Would you really like to take a glance of yourself in the mirror every once in a while but lately you're too busy trying to pull all your busy days together and benefit from every extra minute to close your eyes and have some decent sleep while you still can? Well here is a fast and feisty style you can just throw in between outfit changing before you finally head out to a break with the girls! Who says if you're busy you have to look like it?
#11. Tropical Trees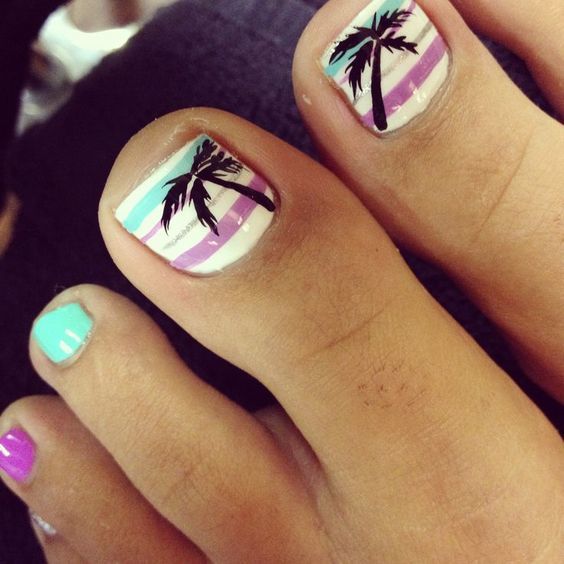 Are you sick and tired of all the stress lately and would just love to ship off to some tropical island with coconut trees and a great breeze to touch your warm cheeks and whip off your skirt's hem? Let's be real, your boss would never be okay with you just taking off like that and you would never want to risk losing your job so what can you really do? You could always splash on some tropically themed nail art that might let your demanding boss finally take a hint, or it might just put you in a couple of relax mode seconds before you are hit by the reality train and get back to your piles and piles of work. Sad but unfortunately true!
#12. Coral Vibes

This shade looks great on a bright sunny day when you can go out for a stroll in the park or walk on the beach wearing your precious toe-exposing sandals. Decorating the big toenail with fancy golden decals is always a great idea for further trendy looks.
#13. Neon Beach Lights

Celebrate summer with every limb of your body using this sparkling summer beach themed pedicure. Add all the seashells, sea stars, and pearls you want because they are plenty of creatures and colors in the sea and freedom of choice is something everyone should be granted of having! Using contrasting and distinct flashy neon hues only make this style more visually attractive and unusual.
#14. The Cherry Effect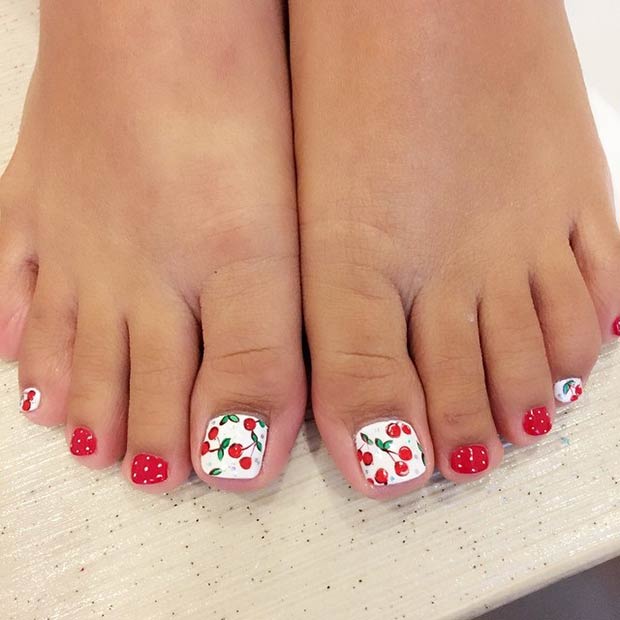 Cherries are considered more than just a delicious fruit in the U.S. It is ranked the most favored summer fruit with over 370 million pounds grown each year. They are famously known as a symbol of the cycle of life as well as death and rebirth. It seems like making cherries the centric part of your toenail design is nothing but an inevitable fate of the circle of life. Very well then, -Cherry Mode On.
15. Flowery & Feminine
If flowers don't reflect feminine taste that I honestly don't know what will. Cute little flower of different shapes and sizes and bright light colors are the full packages to an upbeat summer vibe you have always been longing for.
#16. Polka Dots & French Tips Oh My!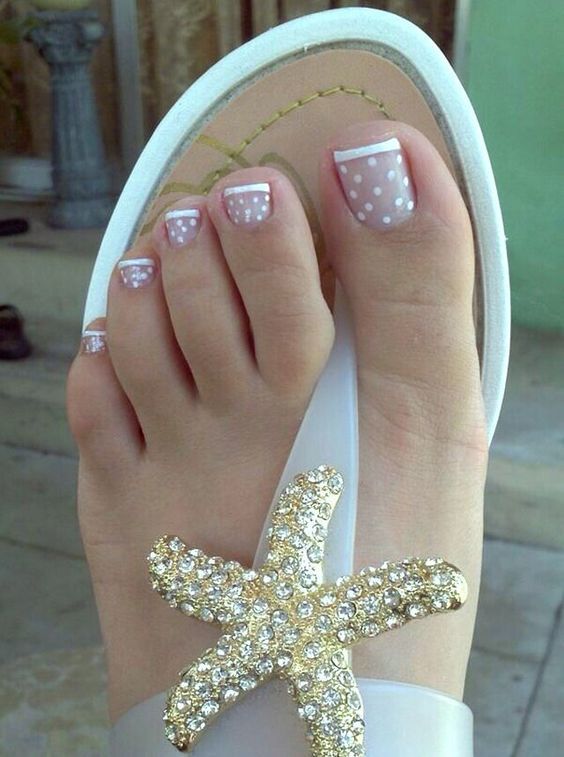 Now, this is a design that will rock your and everybody's world around you. It is something you would definitely want to put on because it would make everybody so eager to see what you've got so handsomely polished down there every time you go in for a dip in the ocean, wear a sexy pair of sandals, or just take your shoes off to feel the warmth of the grains of sand igniting your uncovered skin.
#17. Not So Steady Hands
If you don't have those steady hands needed to draw breathtaking masterpieces on your toenails and have shaky hands instead from all the coffee runs you do at work that keeps you from committing social suicide and from all those sleepless nights you worked so hard on to finish a project, then you might have a little crush on this toenail design once you really get to know how it fulfills your needs and says goodbye to shaky and so not neat pedicures. Keep it simple and easy and just stick on random colorful decals on a black base coat and send a picture of your fabulous looking toes to your BFFs because you've done it all!
#18. Neon Yellow & Pink Spots

One of the cutest toenail designs. For this one, all you need is 2 of your favorite neon polish colors and you'll be able to create a simple yet stylish pedicure that looks great for parties and casual mall hangouts!
#19. Shape Matters

It's not always about the colors, shapes definitely matter and the secret to a great pedicure lays under a unique shape theme like the one above which would never fadeaways and would always be a great cryptic message for all those foot fetish people prying at your toes. Beware you there!
#20. Fun with Geometry

Geometry hating is only for little kids who are too lazy to do their math homework. Make the best of geometrical shapes and use them for a great theme toenail idea that is guaranteed to make you look timeless and exceptional with those sky blue french tips and black dots on the end.
Black & White Nail Design Ideas
#21. Sprinkle & Twinkle

Twinkling in the night sky is not only for little stars. Sprinkle how confetti-like decals on various colored coats to obtain a ubiquitous style you'll never forget.
#22. Pink & Orange? Really?

Pink and orange might not be your regular color combination but they can look awesome together! With gold decals that bring out those two hues perfectly, you can totally be the queen of the beach this summer!
#23. Summer Vibes

A cute and simple summer toenail design you can try. Nothing sends summer vibes like palm trees, tiny little seashells, more palm trees, the famous summer color palette and even more and more palm trees! Make summer icons the center of your nail concept and you'll get a creative theme in no time!
#24. Gradient Nails

Gradient nails allow you to mix up with colors you love most. Even though they require some effort and are time-consuming the result they give is guaranteed to be worthwhile!
#25. 3D Decorated

Not only movies can be in three dimensions. Spice up your toenails with the right jewelry and pearls for the occasion to give them a 3D- effect that even movie directors can't pull off!
#26. Bubble Gum Pink French Tips

French tips have never looked better than this bubblegum pink shade and black hem marking the territory. Making your big toenail the center of attention is a cliché technique that never gets out of style. So don't hesitate it and copy this style!
#27. Beach Party

Beach parties are all about dancing your bare feet out in the sand and losing yourself to the DJ music for late hours. Rock the dance floor with these toes to impress everyone around you!
#28. Ocean's 10

Everybody was head over heels for the movie ocean's Eleven starring George Clooney, Brad Pitt, and Julia Roberts. So imagine what would this ocean-themed nail style do to your toenails adorned with tiny adorable sea stars and seashells
.
#29. Simple Pedicure

Some people say that the real secret behind every success is simplicity. While so many people would like to argue with that, simplicity intact implies a sense of sophistication and success. When scientifically it might not be true that every simple plain person is successful, possessing a simple look unconsciously makes you a person look successful. It is a trick you might want to add up to your sleeve.
#30. Flower It And Weep!

Well written touchy poems can make you get goosebumps or tear up because they strike a sensitive nerve or just hit the emotional button hidden inside of you. The same thing can happen if you see perfectly polished nails that go insanely well with the outfit worn to the right occasion! Go ahead, girls… Flower 'em and weep!
#31. Architecturally Inspired

Get inspired by anything and everything around you. Even stairs and other architectural elements would make a fancy icon for your big toenail! Be creative!
#32. Just Keep Improvising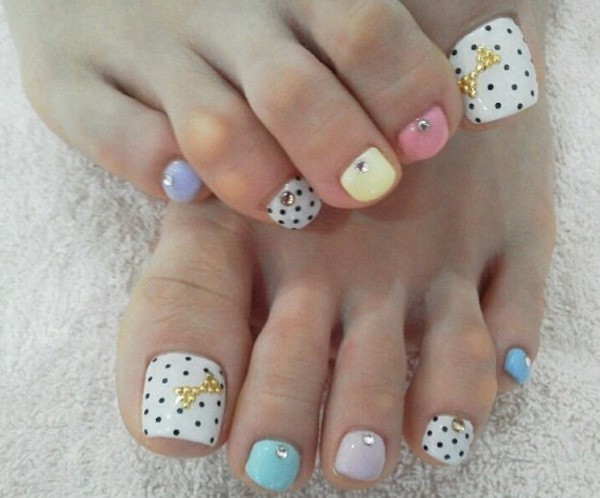 Unlike Dory in the famous Disney Pixar movie "Finding Nemo", we don't want to just keep swimming, we would rather stay dry on the shore and flaunt our creative toenail design! Bow ties, polka dots, decals, rhinestones, glossy varnish and much more. Make it your motto. Just Keep Improvising! Just Keep Improvising!
#33. Paisley Print Scheme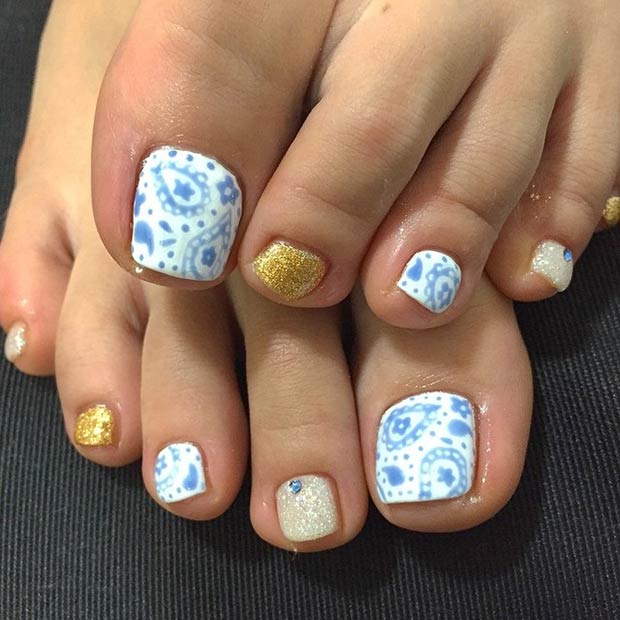 Employing several prints in your style can be a good idea to make your toenails stand out. Like many other prints, the paisley print has proven to be a funky looking and unusually vivid pattern that goes well with tons of events and social gatherings.
#34. More Flower Accent Nails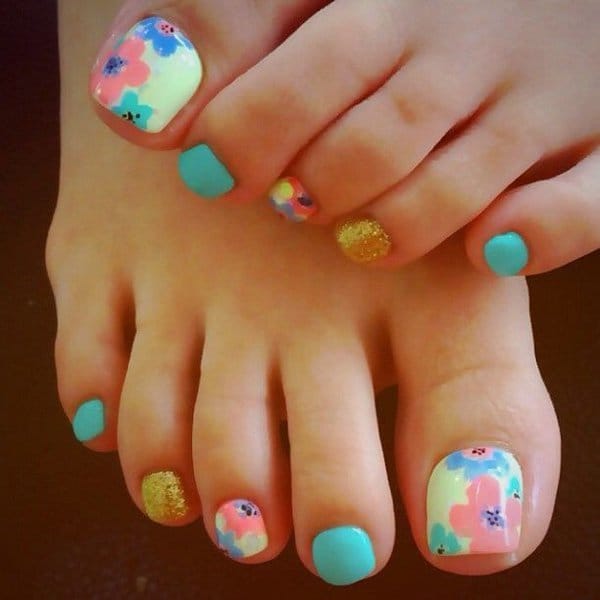 This style may seem elaborate yet it is so easy to establish. Simply incorporate an accent nail and make it the star of the show with this floral pattern while the others drown in ocean blue polish and golden glitter.
#35. Tectonic & Geometric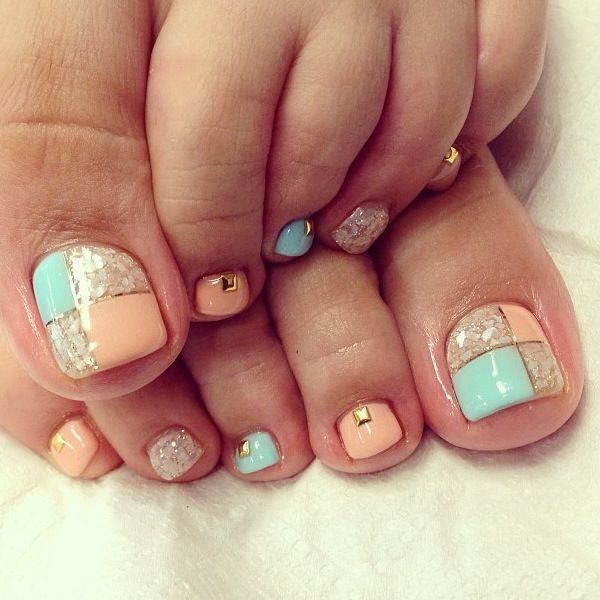 Slice up your accent nail into randomly sized rectangles and watch how it magically attracts boys like the magnet does with metal!
#36. Keep It Organized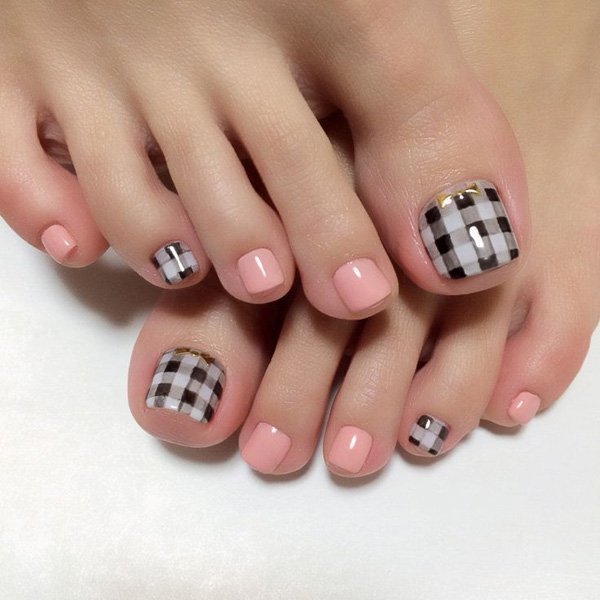 Get inspired by your Burberry perfume box or by your brother's newest shirt and choose a pattern to employ in your toenail design! You can always place a feminine touch like adding a little cute bow tie on the inside of a nail etc.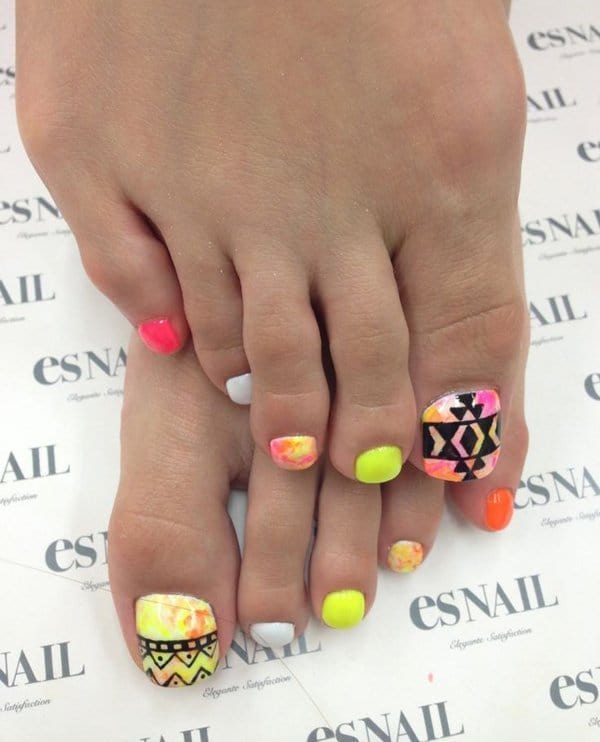 We are used to tribal themed nails to be in bold dark colors to convey mystery and ambiguity, but this style proves that tribal works can be done in just any color palette, even neon colors can do the trick!
#38. Hopelessly Geometric
When all else fails, and when none of the other styles are appealing enough to you or seem too complicated or too plain you can always go back to geometric shapes and figures that never get out of trend and are always guaranteed to give a satisfying outcome.
#39. Shimmer With Glitter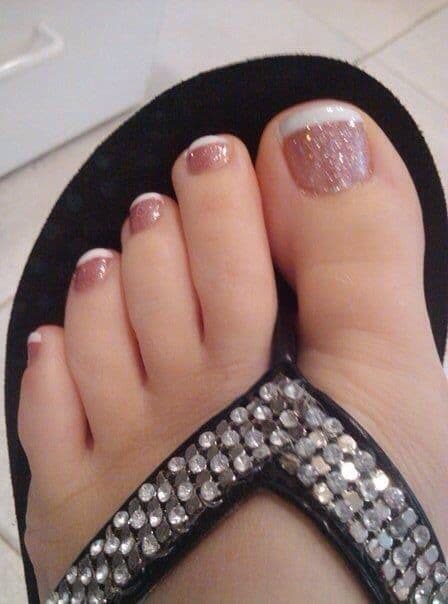 Glitter varnish and classic white french tips are a traditional combination that can trigger happiness in your inner nail artist heart. It is not pro-leveled art so you could always try it when you are not busy!
#40. All Aboard!
Hold on tight the nearest end of the boat you can find with nautical toenail design. Get ready to set sail and flaunt the beach sand with your catchy nails. This works best for girls who take up life-guarding as a summer job, girls who just like to sail in the open ocean, or are ready to party on private yachts.
Try Something New… Red & Black Nail Designs
#41. Fake It Till You Make It!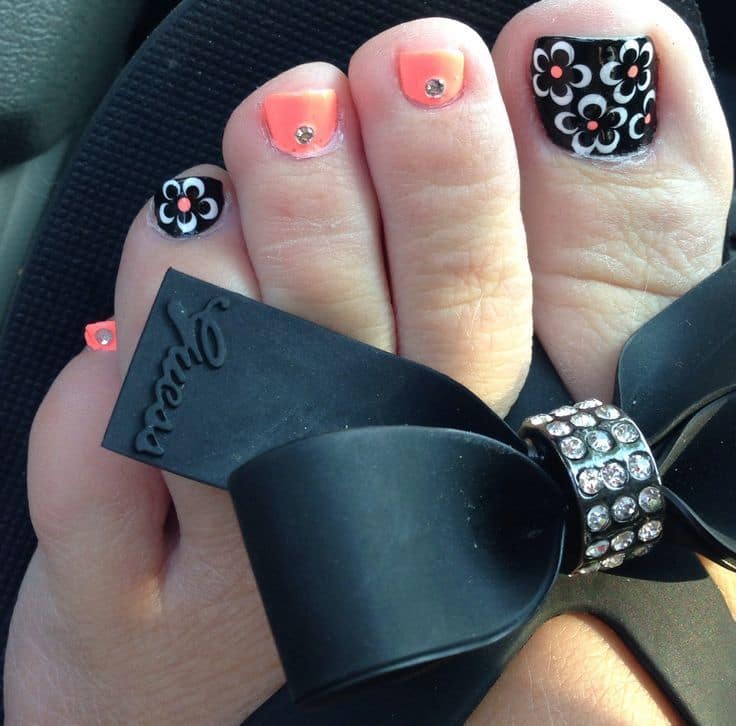 If you're new to nail art but would die to have one of those cool flower toenail styles that just scream "Summer" then all you have to do is fake it till you make it with printed flowers stickers and simple designs until you finally get the hang of it!
#42. More Flora Less Fauna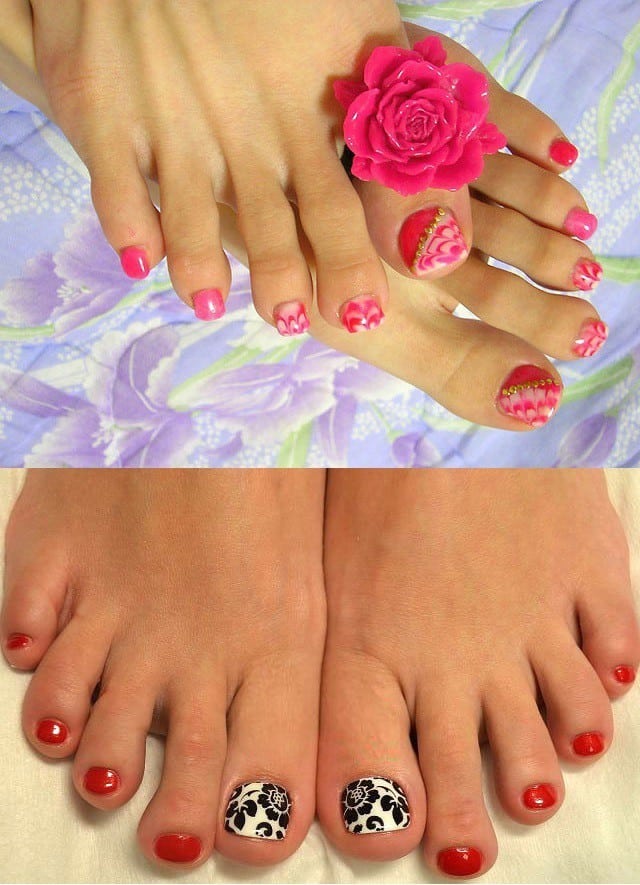 Take a quick trip to Hawaii with these floral themed pedicures that make you feel relaxed just by staring at them!
#43. Love Is In The Air
If you are all about summer love like the ones in best-selling novels such as the famous trilogy written by Jenny Han entitled " The Summer I Turned Pretty", then this heart scheme is the right design for you!
#44. Penguin Nails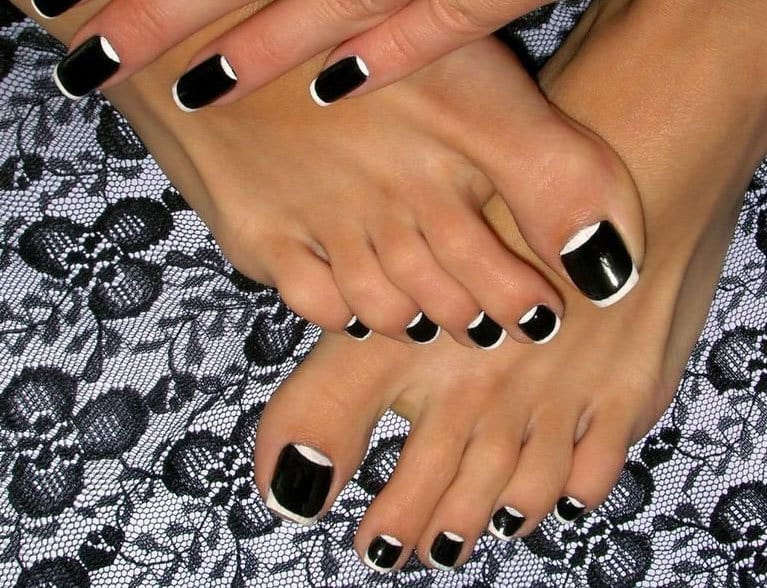 Applying a symmetrical white touch on both the tips and insides of a nail bed with another contrasting color can look very interesting and when done in black and white it gives a sense of elegance and sophistication. Everybody adores penguins, aren't you?
#45. Flaming Red
If you want to look as hot as fire truck then call 911 because with these toenails you are going to break so many hearts tonight and so many girls are gonna burst to flames from jealousy all because of your astonishing flaming red nails!
#46. Cartoon Toes
Up for a challenge? You can always be creative and showcase your favorite Tv character to be the new nail concept you're applying. But it won't be easy considering the how the nail beds on your toes get smaller and smaller. You can also try cartoon nails on your fingernails.
#47. Bolder Is Better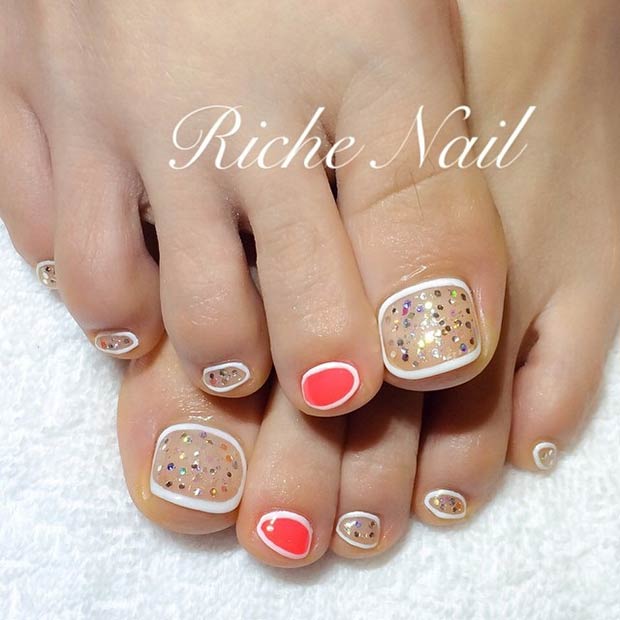 This is a design to apply when you feel most self-confident and want to stand out with a special and one of a kind style that would leave everybody in awe.
#48. Mad For Mandala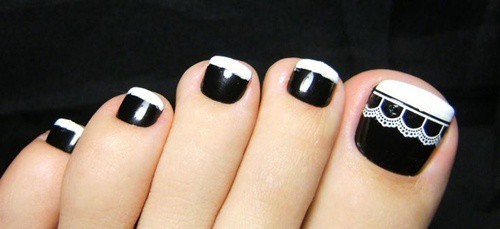 Contrasting colors like classic black and white combinations are timeless. Black is a color that reflects depression but when paired with white it totally gives an opposite mood impression and especially if you are madly in love with this mandala print on the accent nail like I am!
#49. Calm Palms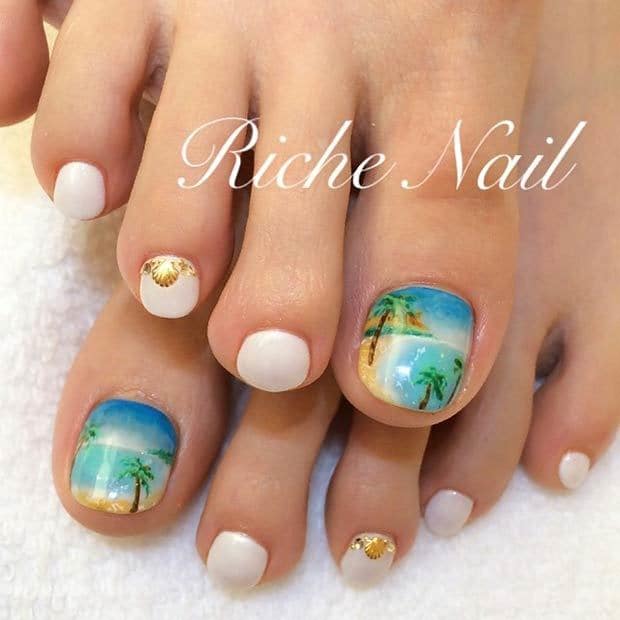 Nothing says "Chill" like palm trees and beach sand. Let go of all your problems, sit back and relax!
#50. Ombre Style
Now for the nail artistry win.. this is an easy to apply and sophisticated ombre fade-in design that is great for special occasions. Golden add-ons increase the elegance levels by a factor of 10!
We Love These Short Acrylic Nail Design
More Trendy Toenail Designs To Follow
All in all, whether you want to take your time and recreate a professional nail art design or if you just get it over with a slap on some toenail designs this list has everything you might need! Hope you enjoy ladies!