When you can't think of any nail color keep it classy with a timeless red manicure. This ravishing color has been worn by women, both on their lips and fingertips, for ages and has never disappointed ever since.
There are so many shades of red you can choose to bring out the beauty of your melanin-rich skin. These include poppy red, wine red, and mauve red. Coming toward the designs, the options are just endless!
Express your passion, love, and femininity with the following red nails that look perfect on dark skin.
Red Nails Ideas for Dark Skin
Throw in a textured design, some glitter, or another contrasting color to make the red truly pop on your nails.
1. Blood Red Tapered Square Nails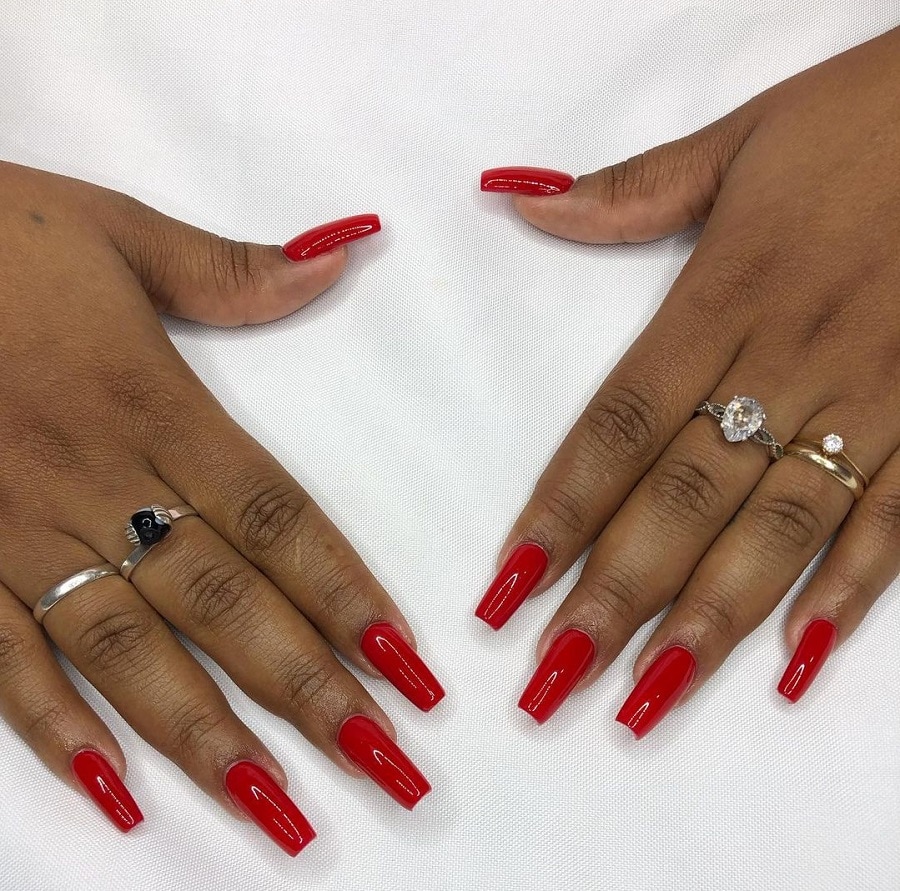 Rock the color of your blood on those fingertips and you will definitely love it. Opt for long tapered square nails that'll make your fingers appear slim while leaving plenty of space to try any nail design.
A plain solid-colored manicure will be enough though.
2. Matte Sweater Design
Textured sweater nails have a place of their own.
Use gel polish and a thin brush to copy your favorite pattern and cover it with translucent nail powder. The white accent nail will make the remaining red ones truly stand out. Set the mani on fire with a matte finish.
3. Scarlet Red Coffins + Glitter Accents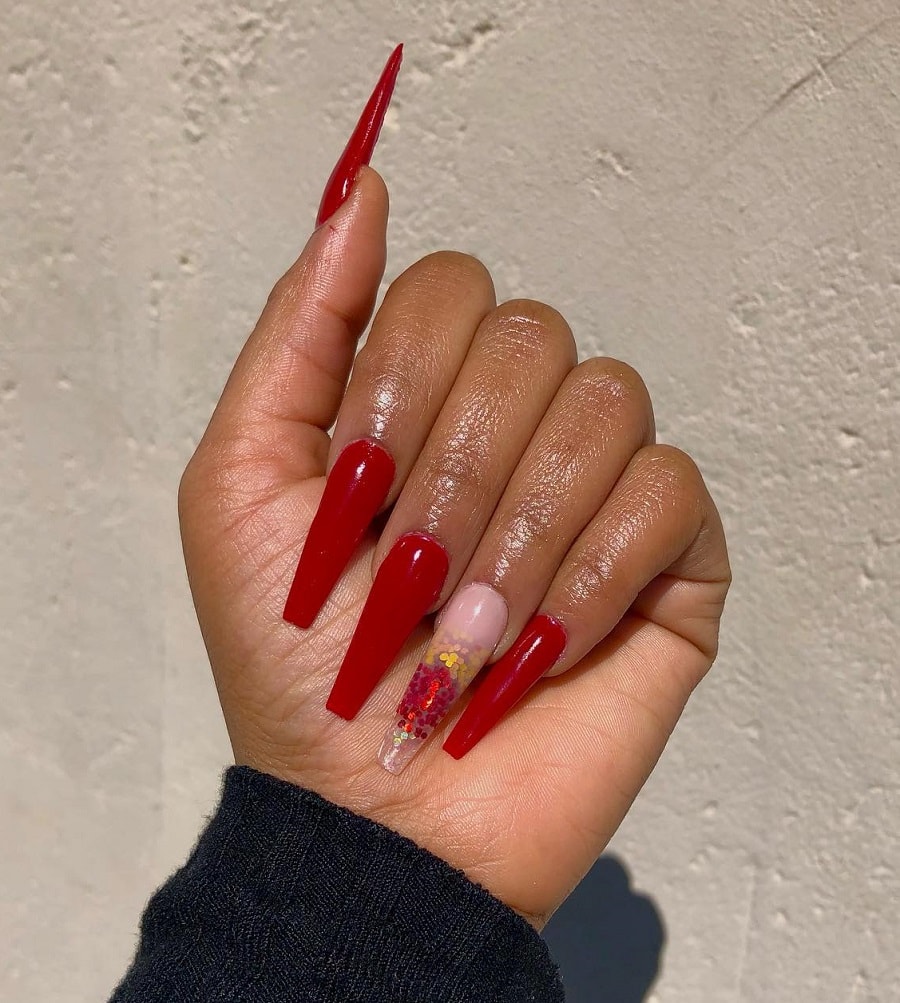 Bright scarlet red nails on dark skin are perfect to make your sun-kissed complexion noticeable from a distance.
Ask for long coffin nails to bring some drama into your life. For the ring fingernail, create an ombre effect using glitter in various colors.
4. Delicately Patterned Extra Long Square Nails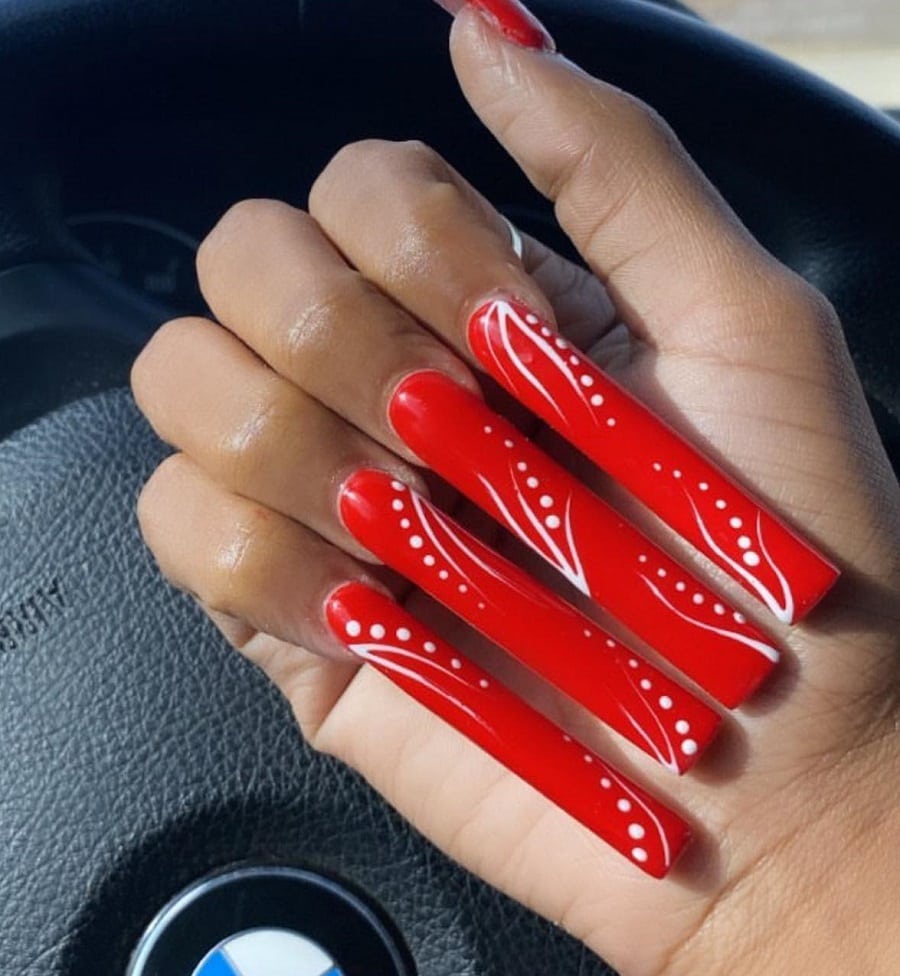 Talking of drama, what can be more dramatic than these super long tapered square nails?
Choose a scarlet red nail color and make it pop with a delicate design in white. A few random dots and squiggles will do the job! Replace the dots with gems for a fancy finish.
5. Fire Red Stilettos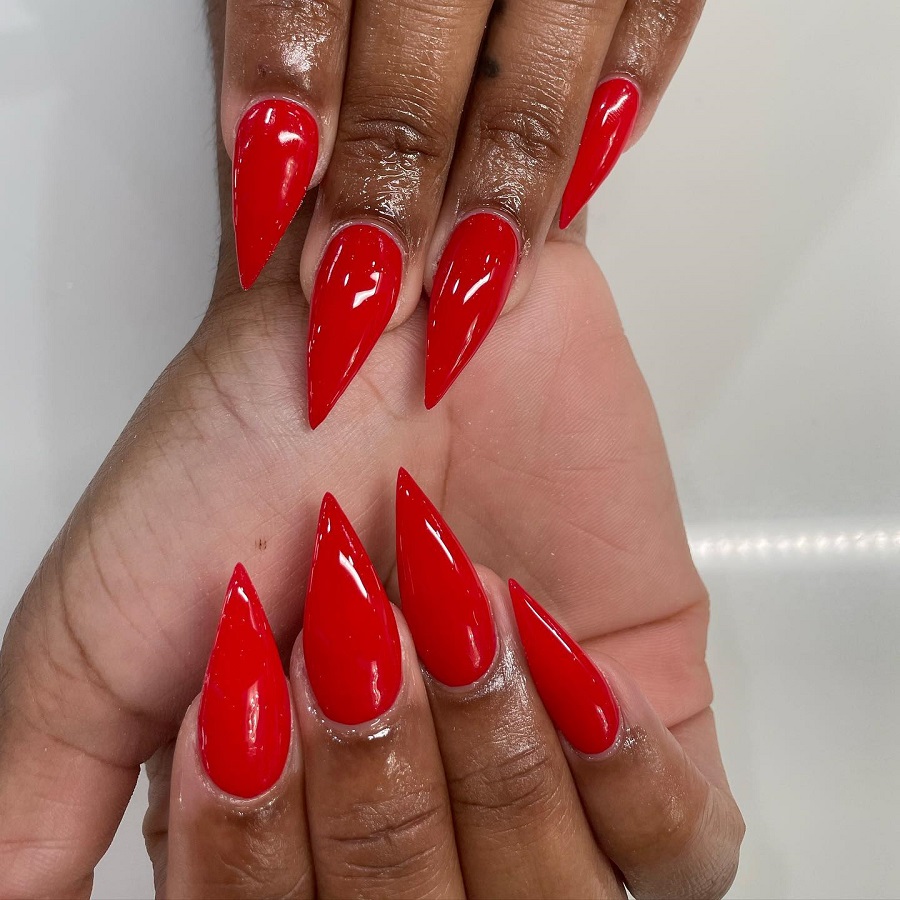 Put your picture-perfect pointy stilettos on full display with a fire red nail lacquer. The color exhibits hints of orange that contrast beautifully against a melanin-rich complexion.
You might need extra care to prevent those sharp claws from breaking or chipping off.
6. Raspberry Red Gradient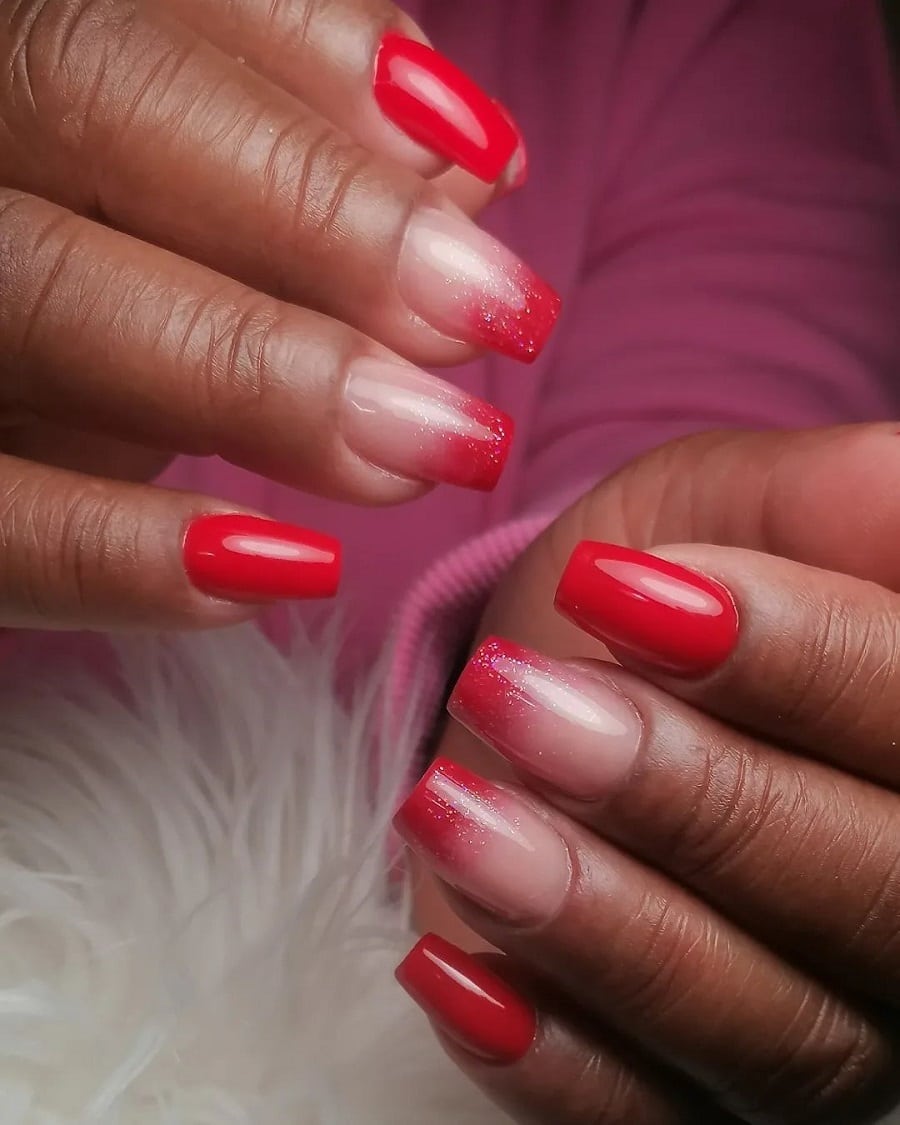 Ladies who want to stay close to pink can balance out a vibrant raspberry red nuance with a nude pink one. Try ombre French tips on medium square nails and use a sponge to merge the colors seamlessly together.
Finish off with a glittery top coat for a festive look.
7. Checkered Ferrari Red Round Nails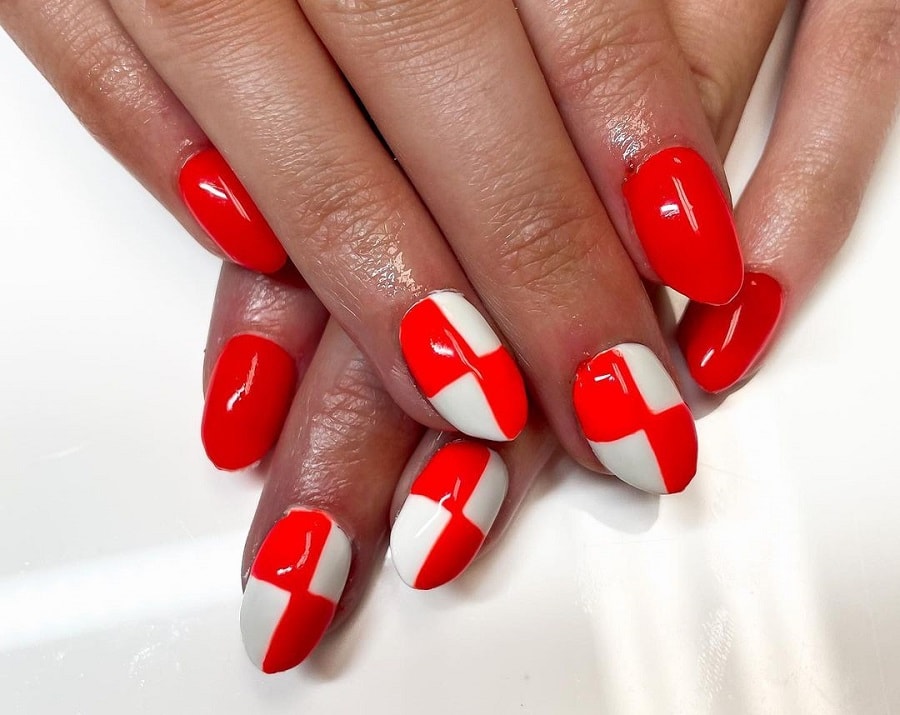 Checkered nails look cool without a doubt. Recreate this eye-popping manicure design by drawing perpendicular plus-shaped lines on a white base. Fill in the opposite squares with a Ferrari red tinge.
The greater the number of lines, the finer your checkerboard design will be.
8. Maroon Almond Nails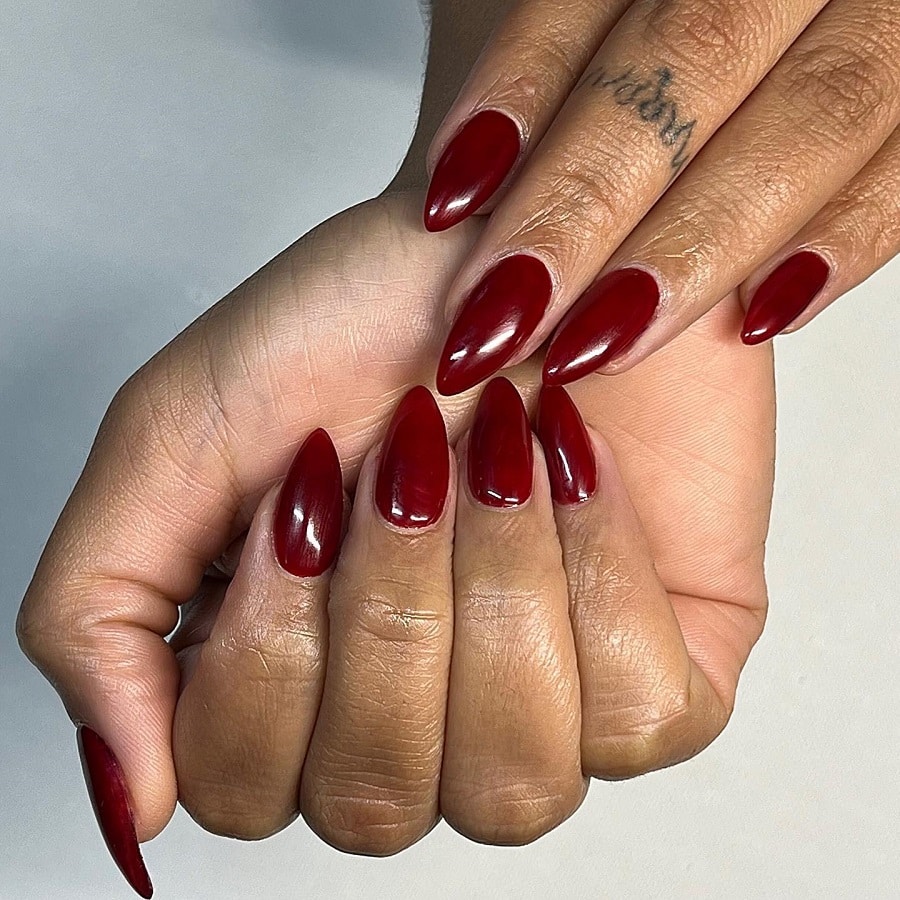 Maroon is the deepest shade of red and the go-to color for many dark-skinned ladies. Express your bold side with pointy almond nails and use gel polish to make your manicure last longer.
Though plain nails look chic, adding a gem or two to them surely won't hurt.
9. Salmon Red and Gold
Nothing can look more vibrant than these salmon red nails on that dark chocolate skin of yours. The shade looks more like a neon orange with a subtle touch of pink.
Experiment with matte polish and place strips of gold in the middle to align perfectly with the pointy nail tips.
10. Crimson Red Frenchies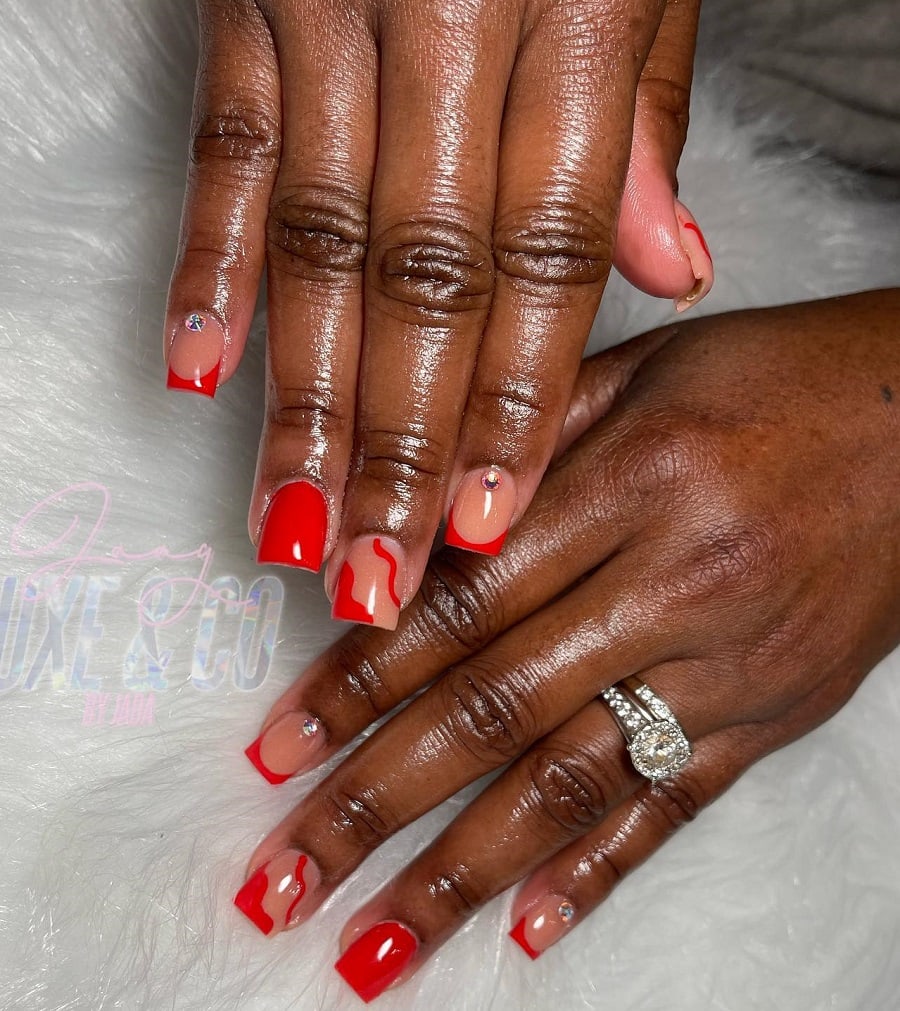 Show off your short square nails with a groovy French tip design. Accent the crimson red tinge with a peachy nude base shade.
Apart from going for the usual bright tips, draw wavy squiggles in a slanting direction on a nail or two and you won't regret it.
11. Easy Polka Dot Manicure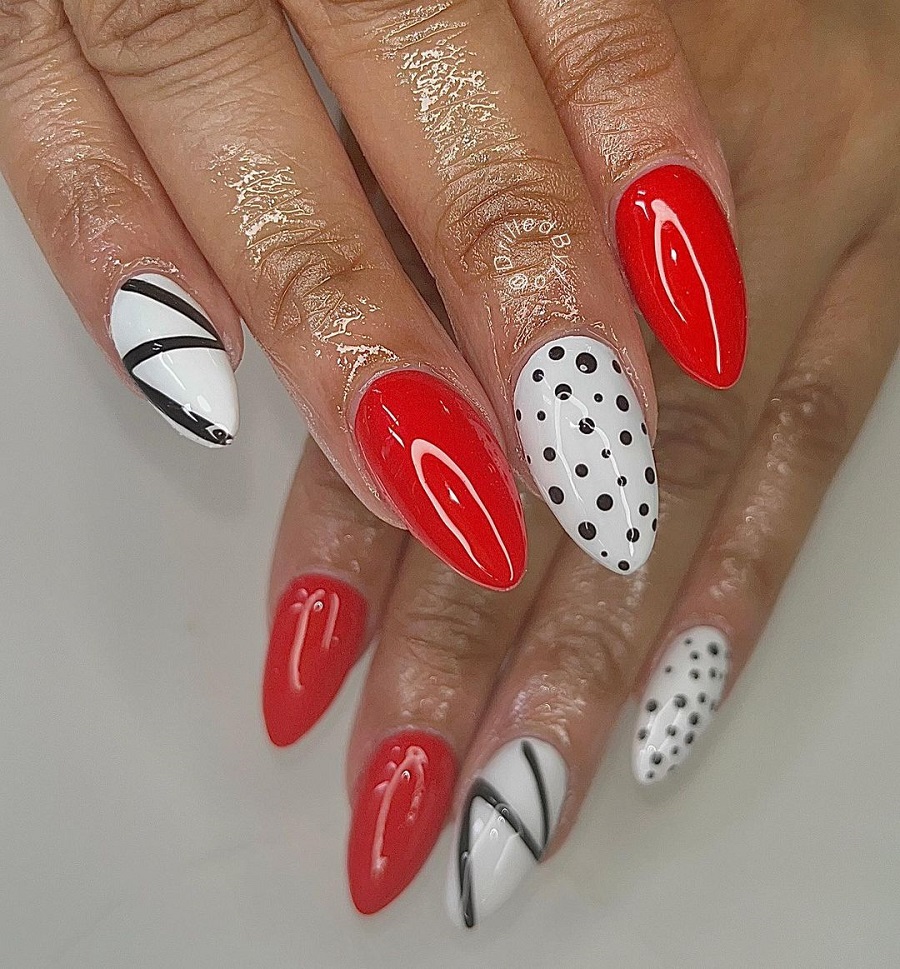 The combination of red with white and black is a classic one that never goes out of style.
Although you can place the dots in whatever color arrangement you want, white and black polka dots and lightning bolts in between the plain red ones will create an eye-catching color-blocked mani.
12. Chili Red Gel Nails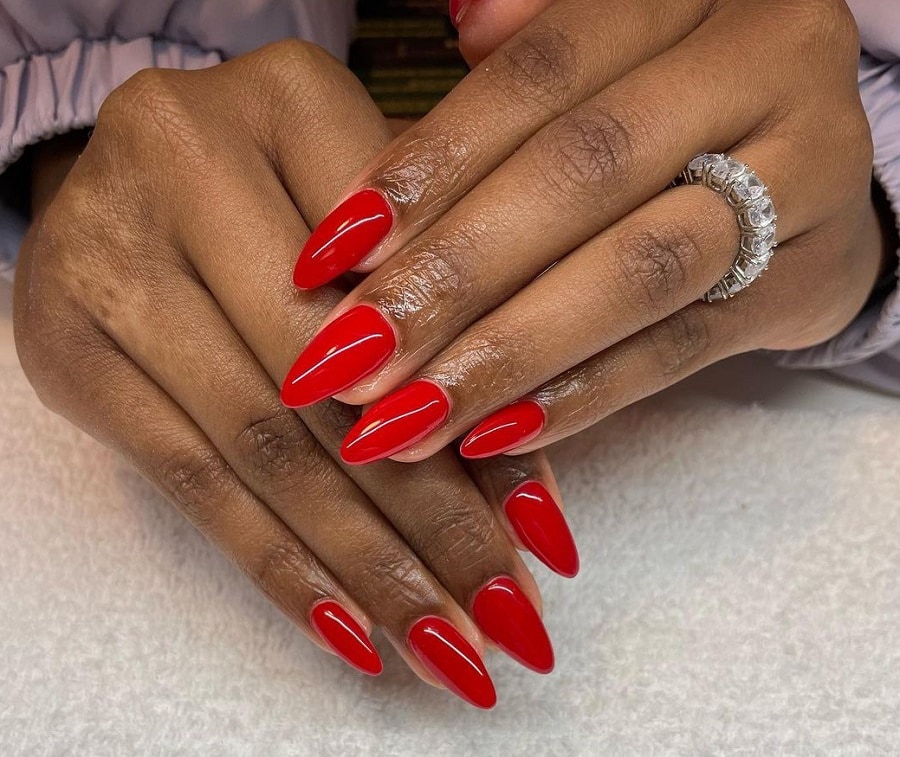 Simple is sexy and here is a look to prove it. Protect your precious nails with gel polish and go for an almond nail shape to make the fingers appear longer.
The trick lies in choosing a suitable bright red shade just as the chili red one depicted here.
13. Wintery Garnet Glitter Mani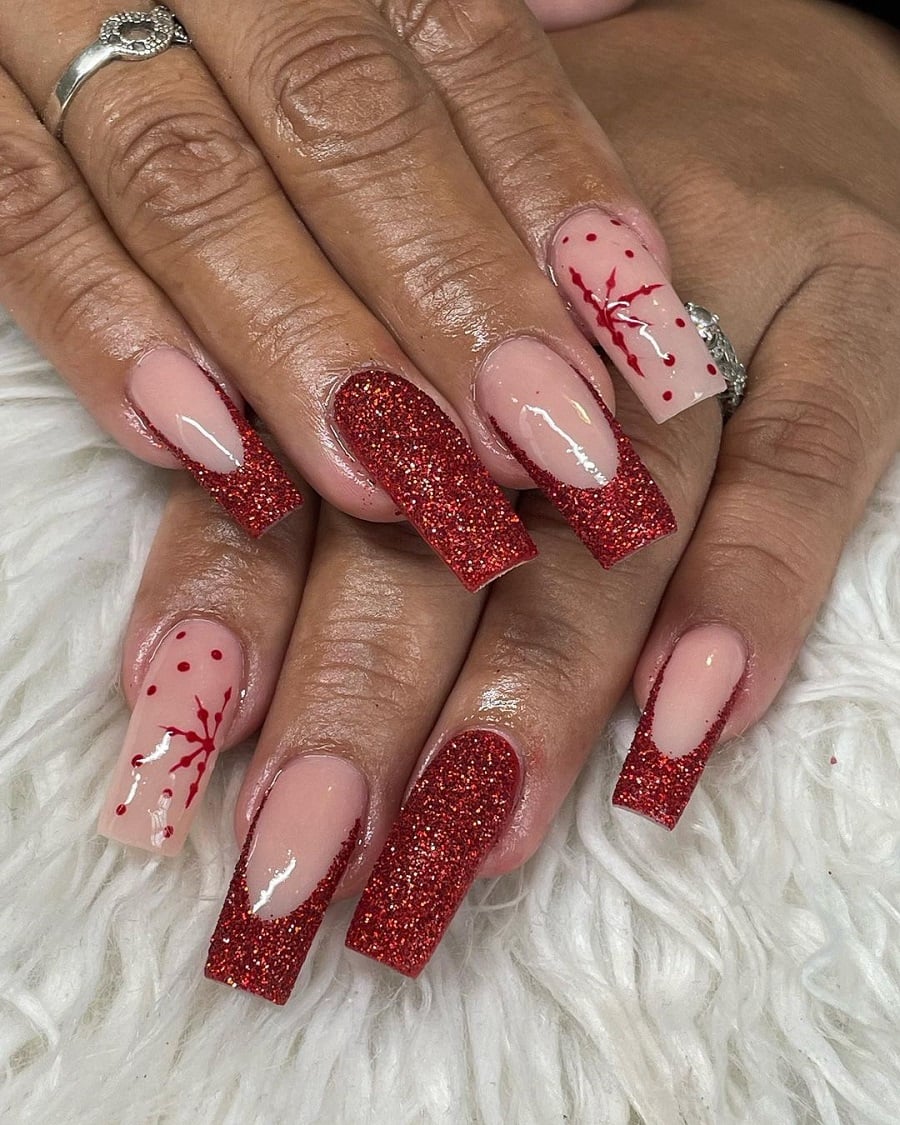 Celebrate the winter season with a glittery French manicure. Opt for a neutral pink base and cover the red details with deep garnet red glitter.
For the snowflakes, place symmetrical dots around a central one and connect them with thin lines. There you go!
14. Fierce V-Tips
Instead of going for the usual crescent-shaped nail tips, try V-shaped ones for a fierce and edgy look.
Use tape to achieve clean lines but keep in mind to dry off the pink base shade thoroughly or else you'll end up with a mess.
15. Matte Red Negative Space Nails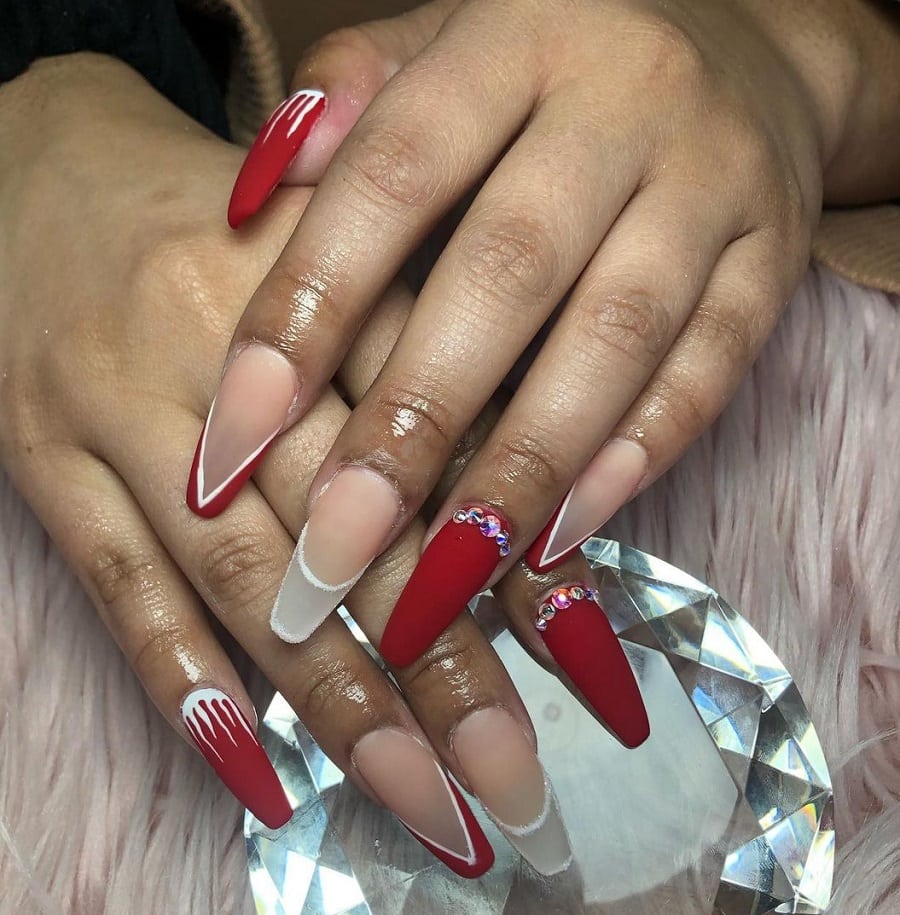 Negative space nails involve making your natural un-colored nail a part of your nail design.
Couple outlined hollow French tips with V-tips and solid-colored nails. Spice them up further with a delicate flame pattern and rhinestones along the cuticle. A matte finish will make a huge difference.
16. Medium Carmine Square Nails
Red nails on dark skin can work wonders for women who want a refreshing manicure without much effort.
Make your coffee-colored skin glow by choosing a deep carmine nail color rather than a bright one for a change. Add a coat or two on each one of the nails and that's it.
17. Poppy Red Pedicure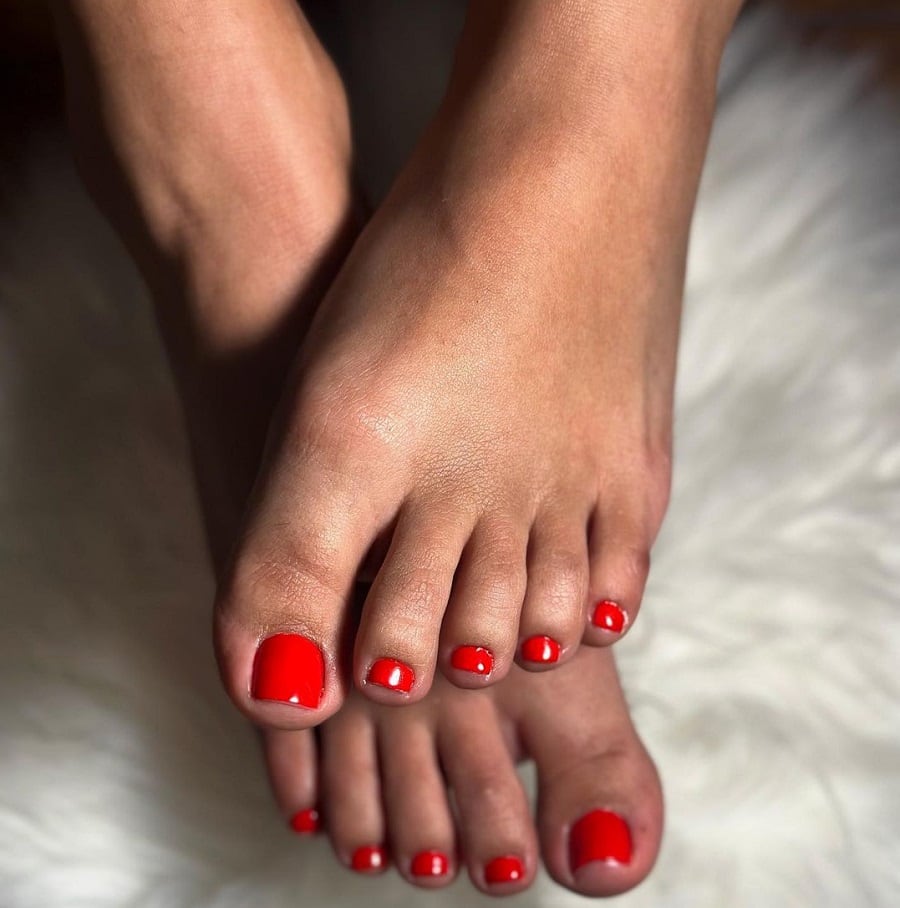 Why leave your toenails behind when pampering your fingernails?
Poppy red is a bright orange red hue that looks good both on short and long nails. Just add a few coats to make your feet more prominent this summer. Simply sexy!
18. Pink-to-Red Ombre Nails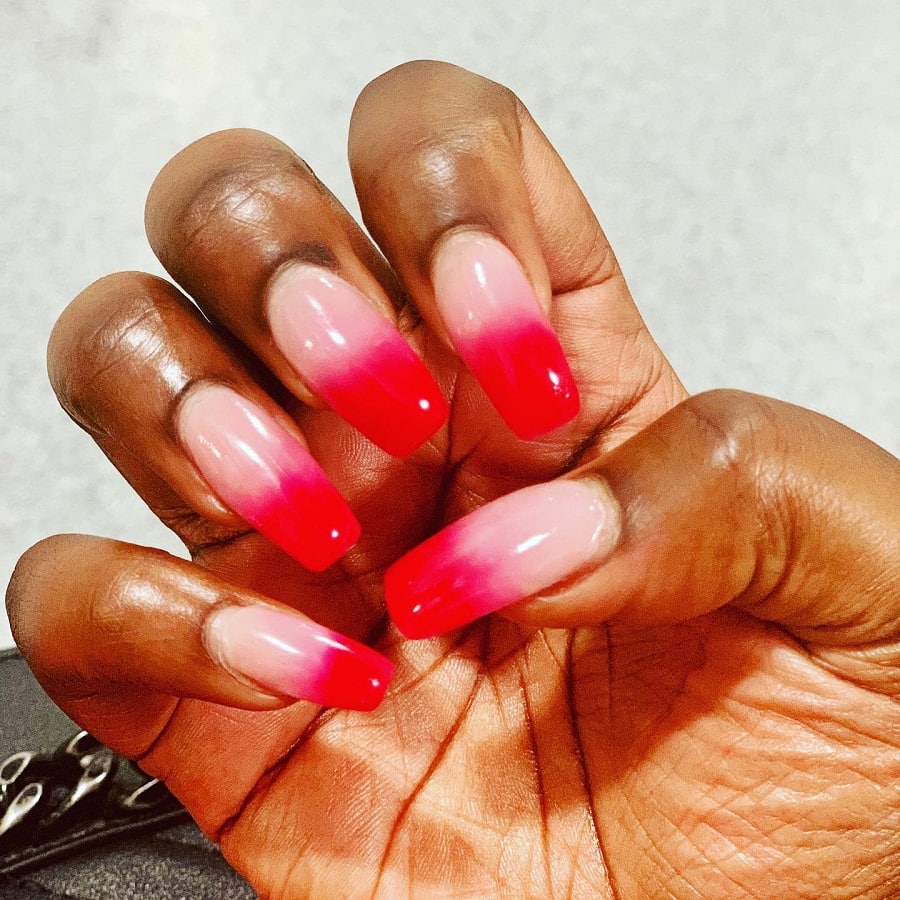 Pair pink with red to celebrate your womanhood this year. Balance out the vibrancy of red with a light baby pink tinge and use magenta as a transient shade in between the two.
Merging the colors together is the key to achieving a seamless gradient.
19. Matte Deep Burgundy Coffins
Stay on the darker side with burgundy nails that feature a mix of red and brown.
Add tiny hearts on top of a check pattern with glittery accents for some romantic Valentine's Day vibes. Place two dots together and join them at the base to achieve the perfect hearts.
20. Color Split
A basic color split nail design is enough to turn around some heads. Pair red with white or any other light hue and create horizontal or vertical divisions using nail tape.
Recreate the look with glitter for a sparkly look that won't be overlooked.
21. Extra Fancy Red Manicure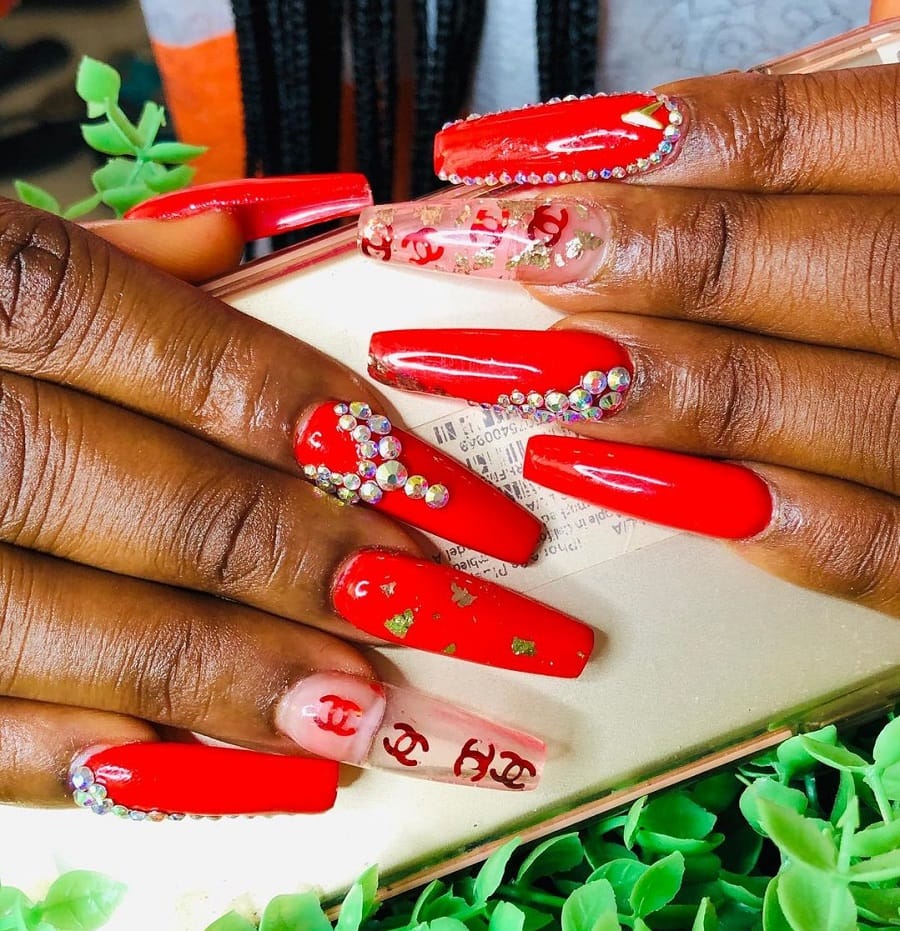 There's no harm in getting a little extra when sporting red nails on dark skin. Opt for long coffin nails with clear accents and decorate them with gold foil, nail stickers, and a handful of rhinestones.
Secure everything in place with nail glue and a transparent top coat to avoid any fall-off.
Red nails on dark skin look as astonishing as on any other skin tone. Opt for whatever nail shape and length you want along with any shade of red and nail design. Whether it's Christmas, Valentine's Day, or a casual office day, every woman deserves a bright red manicure every now and then.