35 Startling Nail Designs With Diamonds
Rock your best moments with cute diamond nail designs. Get the chance to be the prom queen or the beauty queen, just by wearing diamonds with creativity in your nail designs.
Fancy Nail Designs With Diamonds
The dreams of us girls are able to become true with a simple nail design with diamonds lounging on your nails! All you have to do is check out this list below of the top 35 diamond nail designs and you would be living the dream in no time!
#1.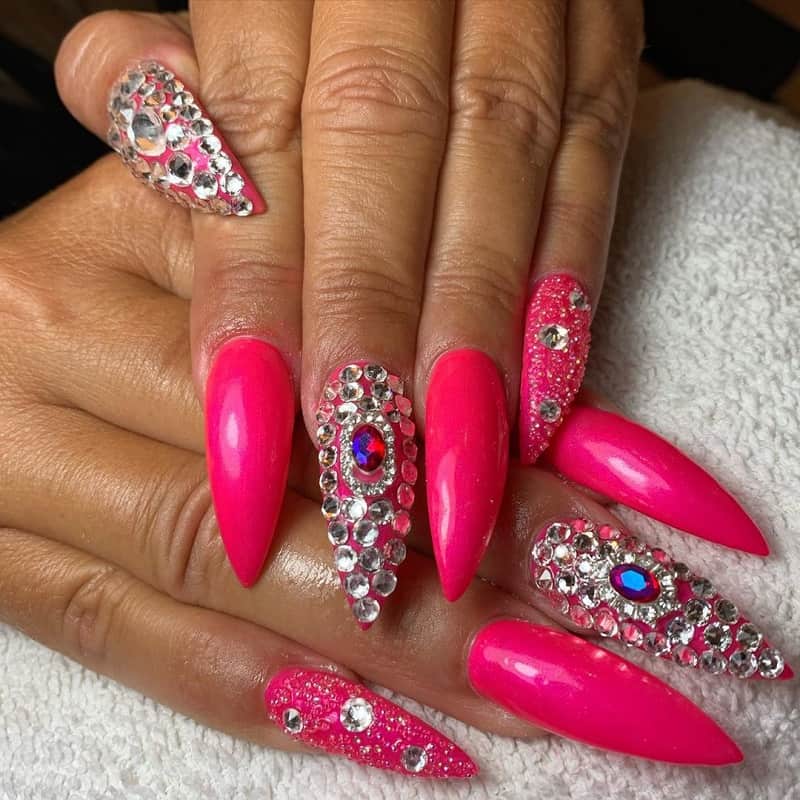 pointy nail design with diamonds
#2.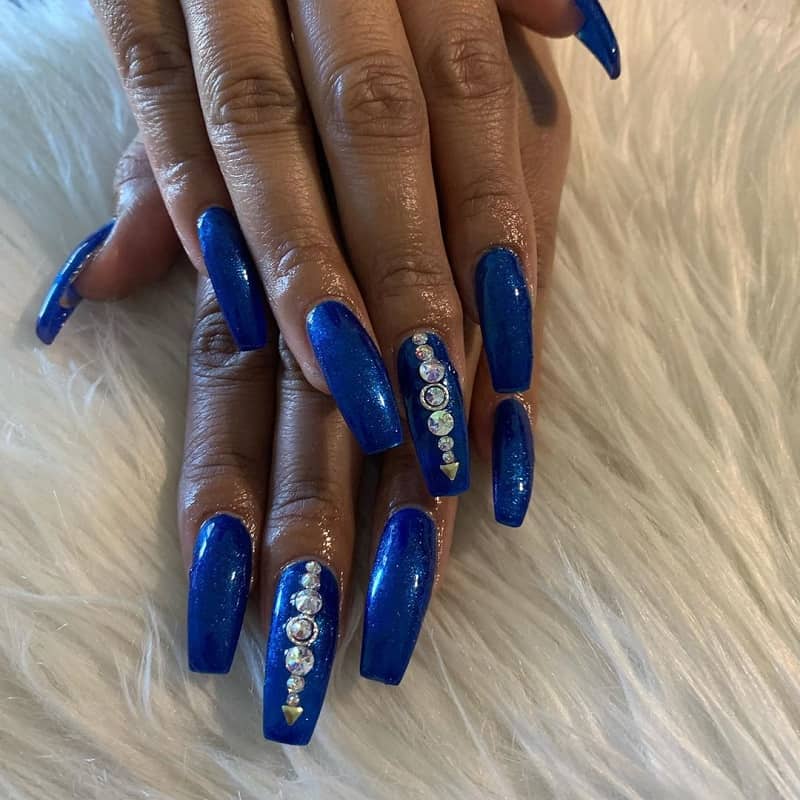 royal blue nails designs with diamonds
#3.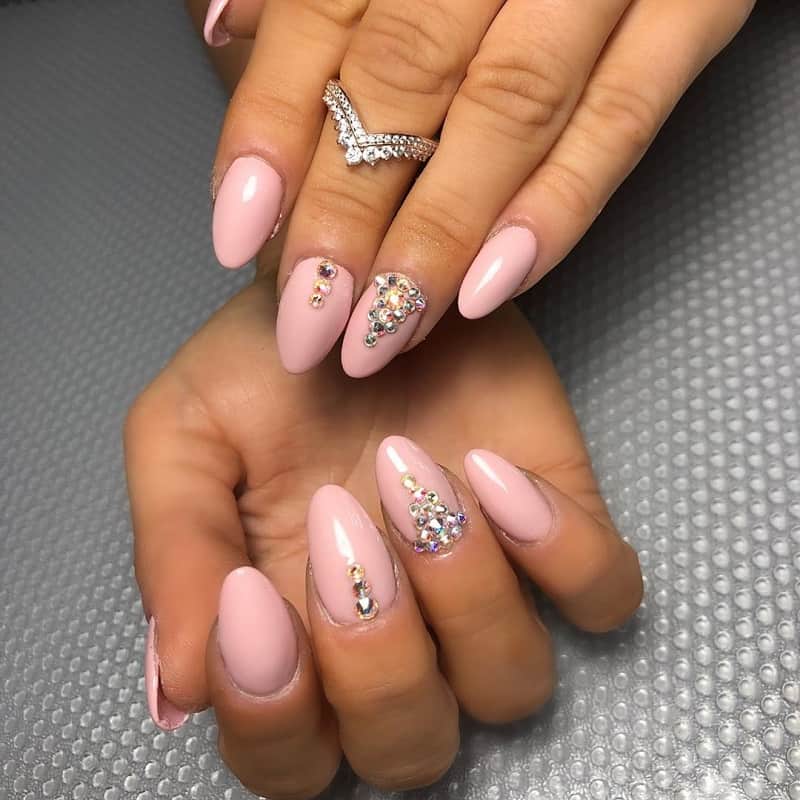 light pink nails design with diamonds
#4.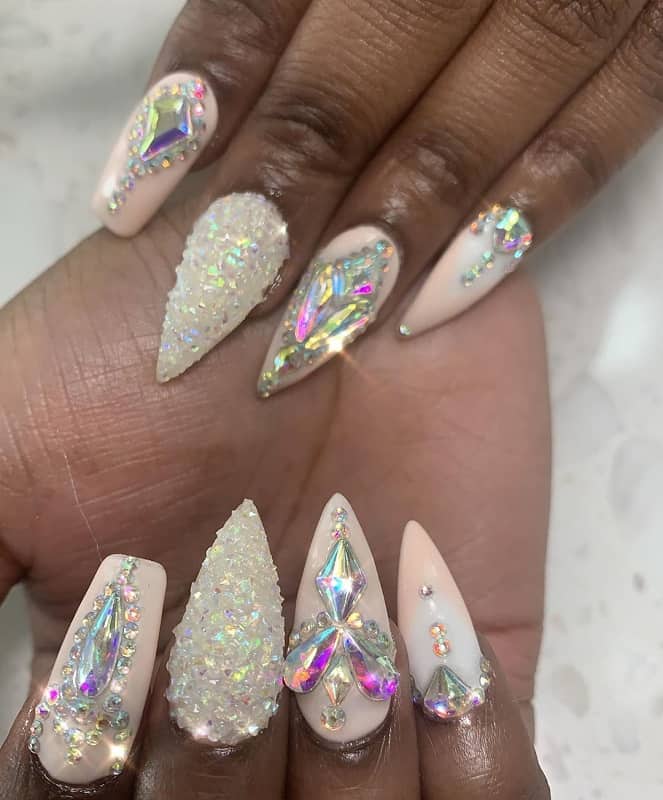 gel nail designs with diamonds
#5. Long Nail Design with Diamonds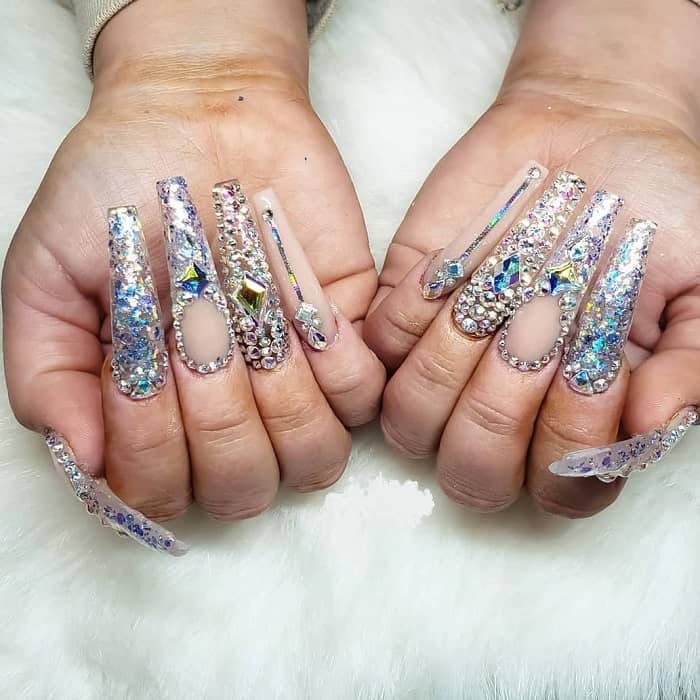 #6. Nail Design with Diamonds on One Finger
#7. Toe Nail Designs with Diamonds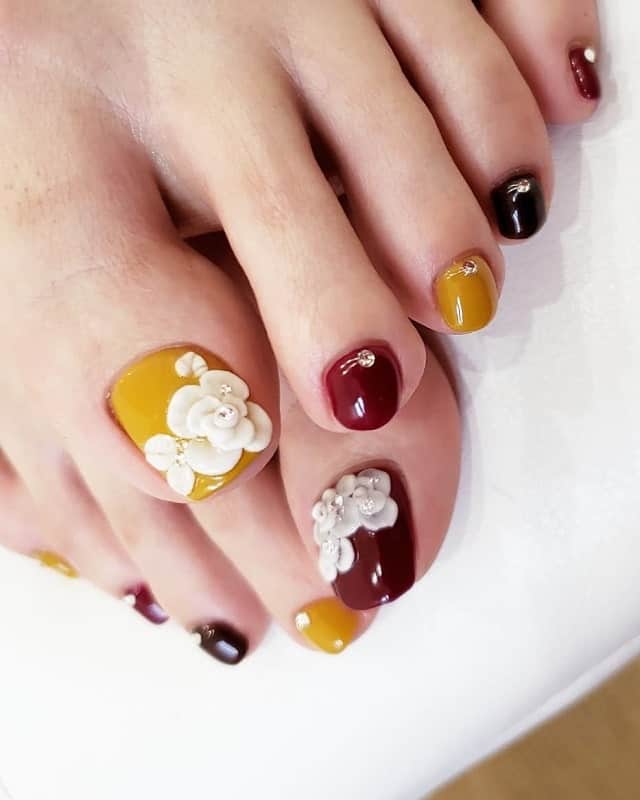 #8. Coffin Nail Design with Diamonds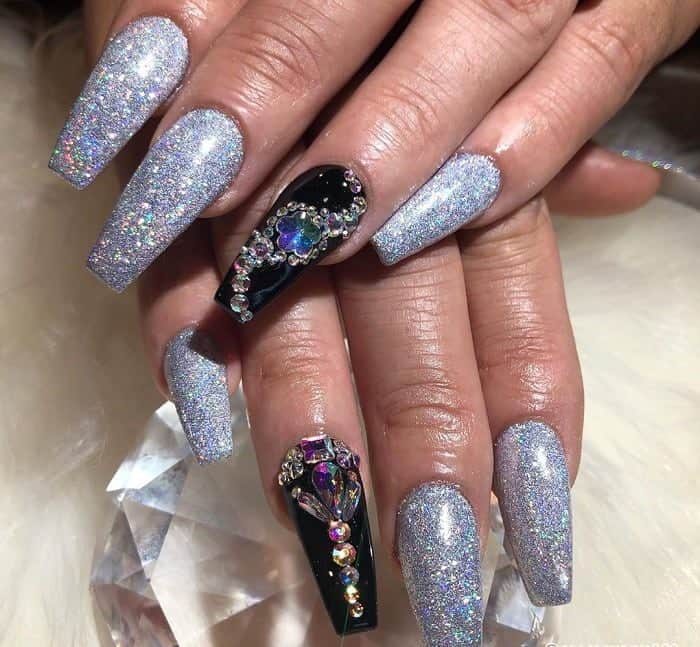 #9. Red Nail Design with Diamonds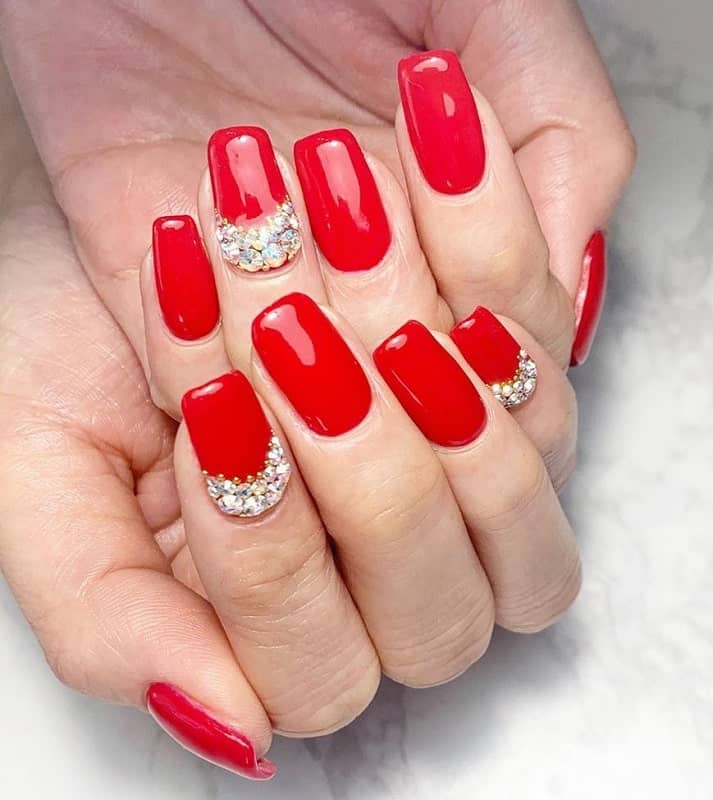 #10. Sparkly Nail Design with Diamonds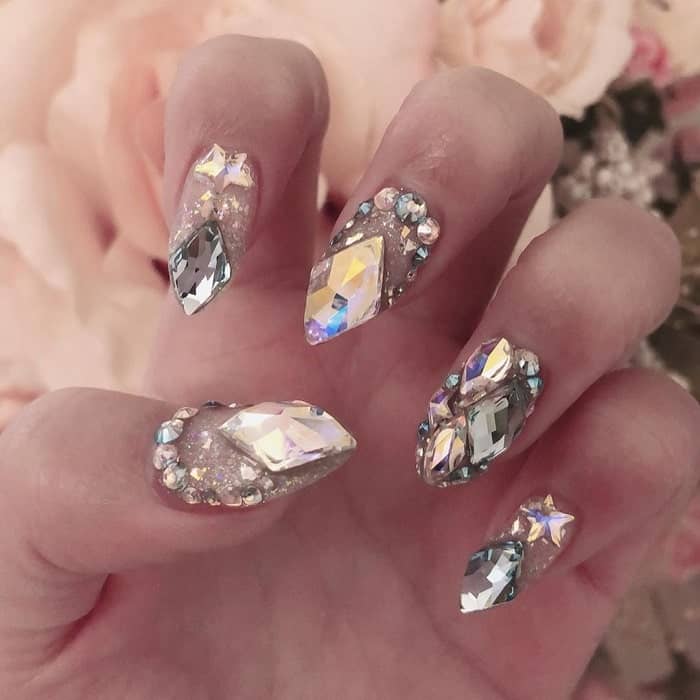 #11. Ombre Nail Design with Diamonds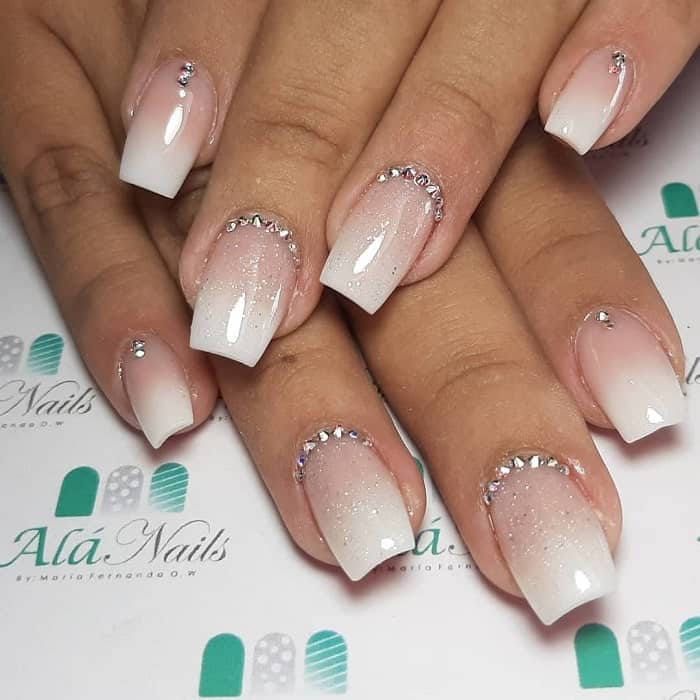 #12. Pointy Nail Design with Diamonds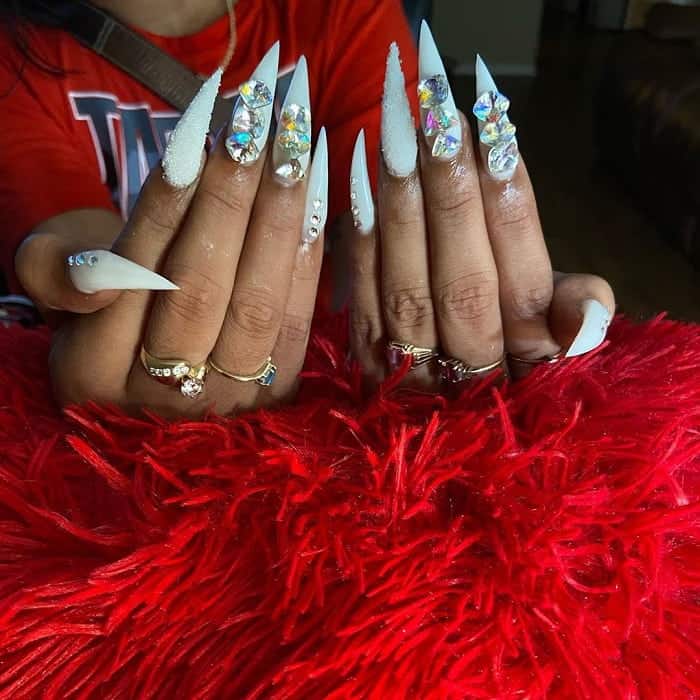 #13. Blue Nails Design with Diamonds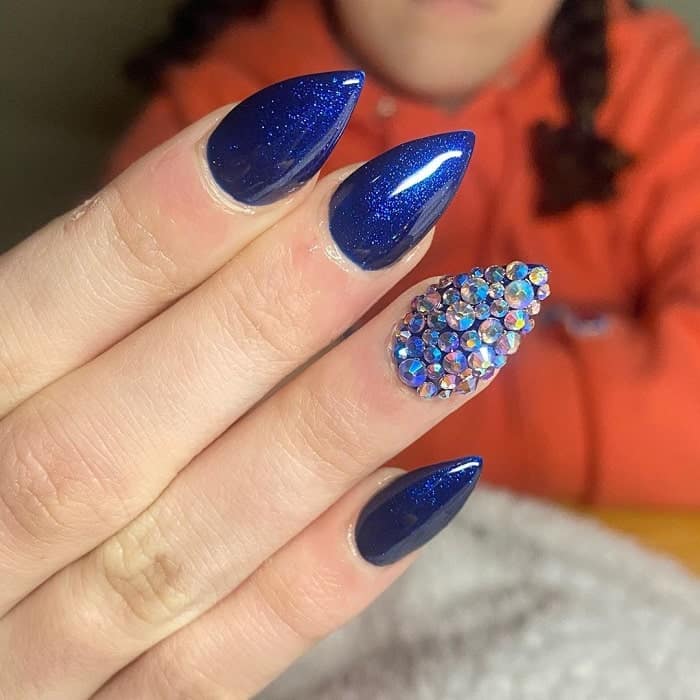 #14. Clear Nail Design with Diamonds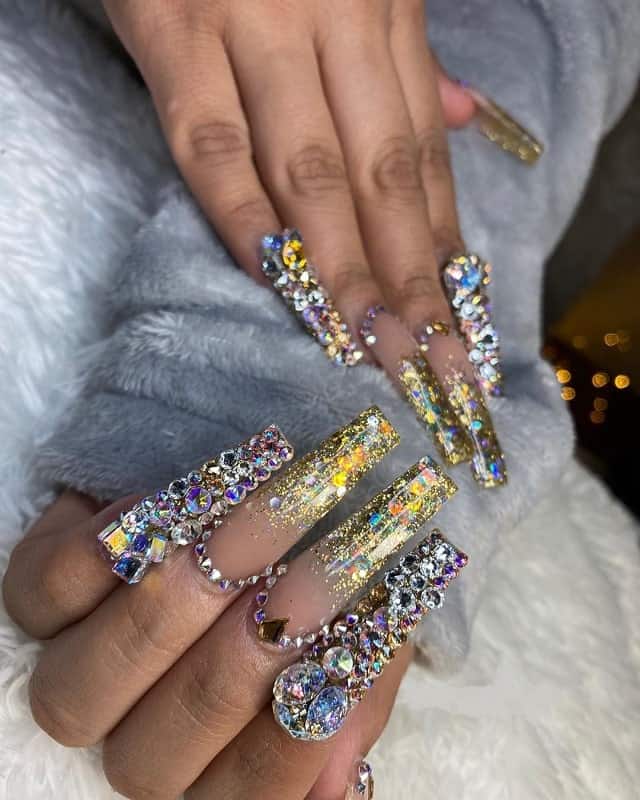 #15. French Nail Design with Diamonds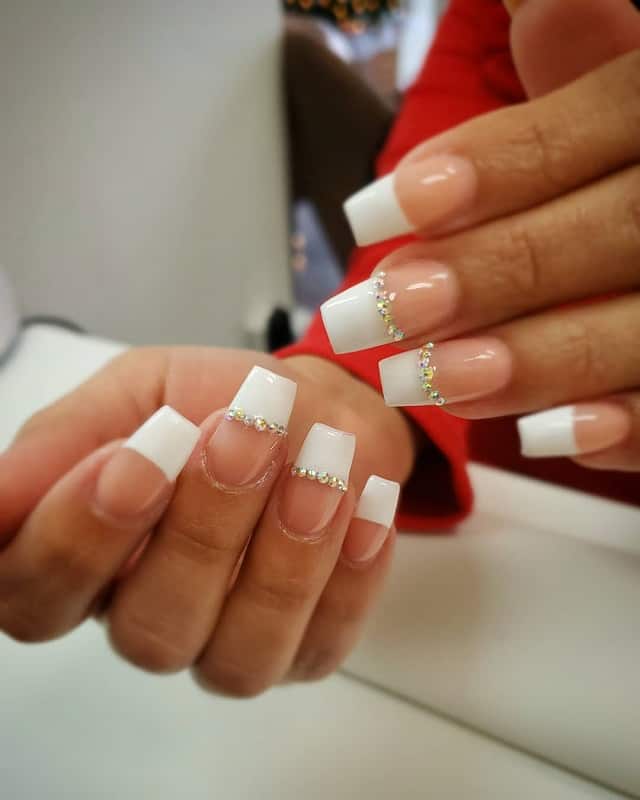 #16. Taffy & Diamonds in Nails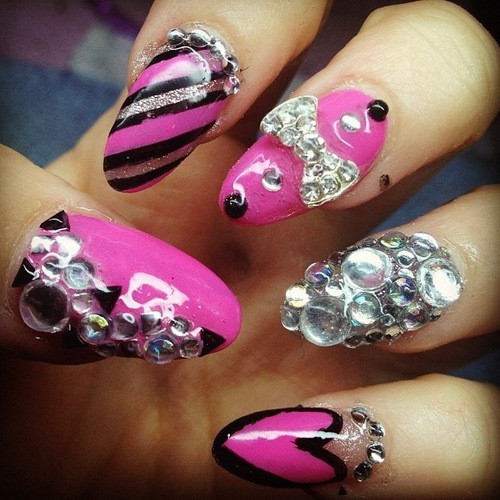 Splash the ring finger by covering it with diamond decals and decorate every other taffy painted nails with fewer diamonds to get a stylish combination.
#17. Shine Bright Like A Diamond!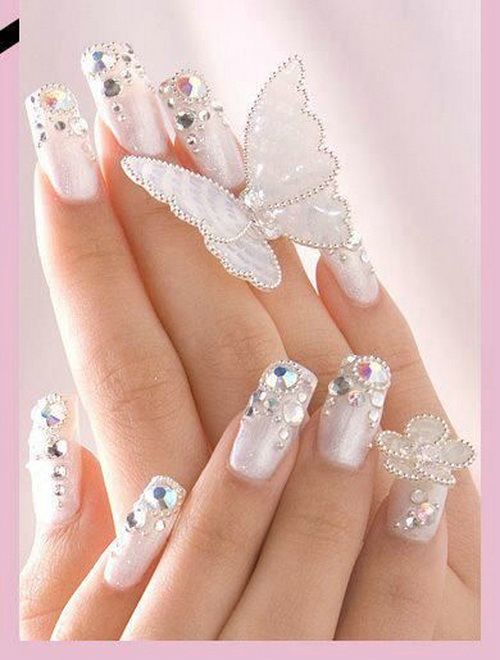 Diamonds are a girl's best friend. So to get a girl to cloud nine, just provide her with a design full of those decals that will make her believe in her beauty dreams and reach a point where she's going to shine up bright as a diamond does!
Top List: Best Black Nail Designs With Creativity
#18. Polka Dots and Diamonds Combo Nails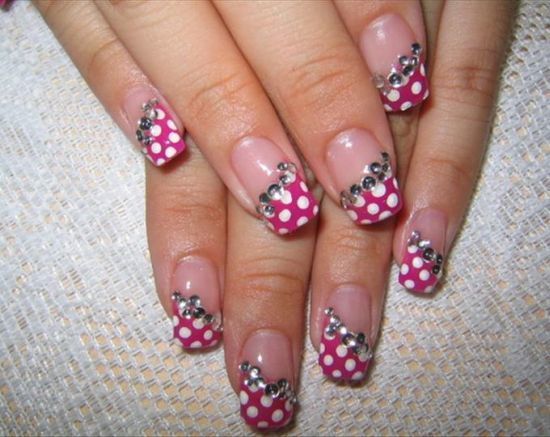 Go girly with this polka nail designs with diamonds! Decorate your french tipped nails of the hot pink color with polka dots to get a cute girly design, and with strass to add a touch of beauty to your design. Beauty and fame? What's better than that?!
#19. Hot Fuschia
Fuscia is the first color preferred by any young girl. It is the color that combines girly characteristics with cuteness, so if you still have that young one inside you don't feel shy to show it with this color.
#20. Royal Manicure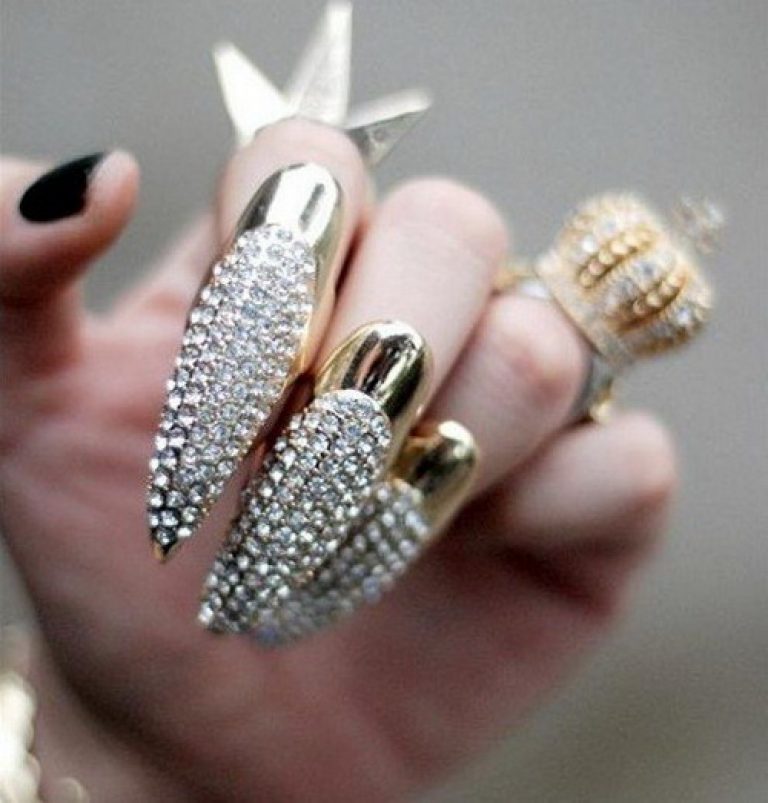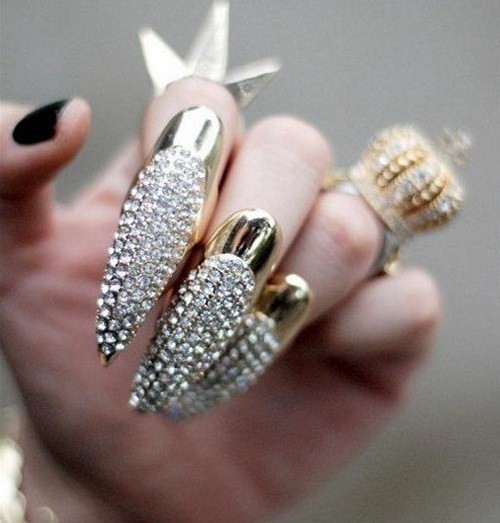 Are you from a royal family? Wanna be the idol of your people in nail designs and beauty? Well, don't worry about this cause this nail design got it all by covering the index , the middle , and the ring finger nails with the small white diamond decal of a golden base.
#21. Scarlet Love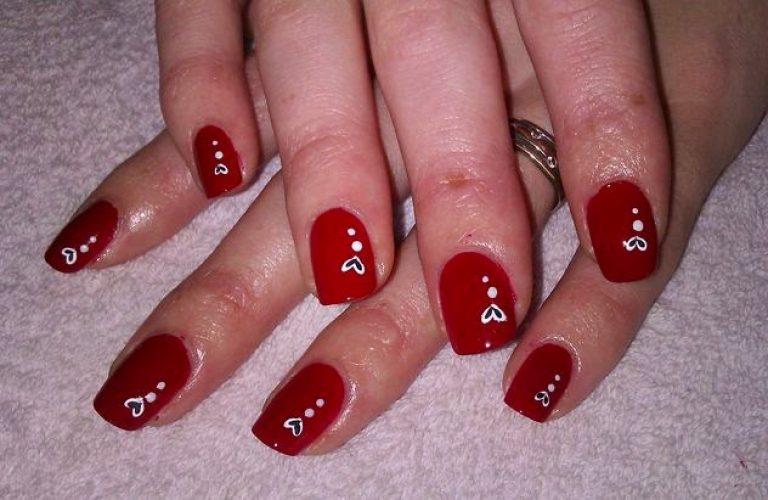 Go hot and sexy in tonight's party with this scarlet red nail design combined with these beautiful small hearts. But don't forget to call 911 because trust me, wearing this design will light up many flames of jealousy.
#22. Black And Blush Pink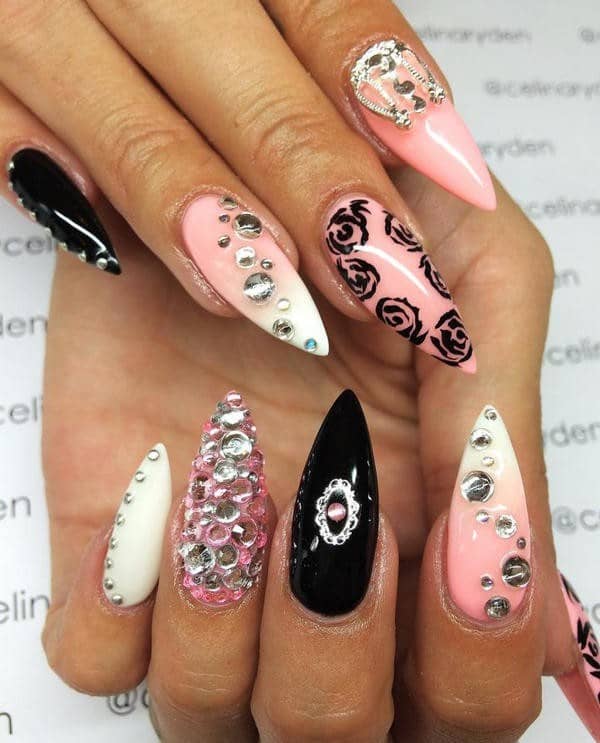 Diamonds are just a correct decoration in nail designs to put it anywhere. In this design, diamond decals are glued everywhere, it's all over the ring finger , at the edges of the pinky finger, in the middle of the middle finger, and in certain criteria in the index finger. But according to the thumb, it's decorated with black roses having a blush pink background.
Love To Go Black & White? Try These Nail Designs
#23. Cloudy Diamonds in Nail Designs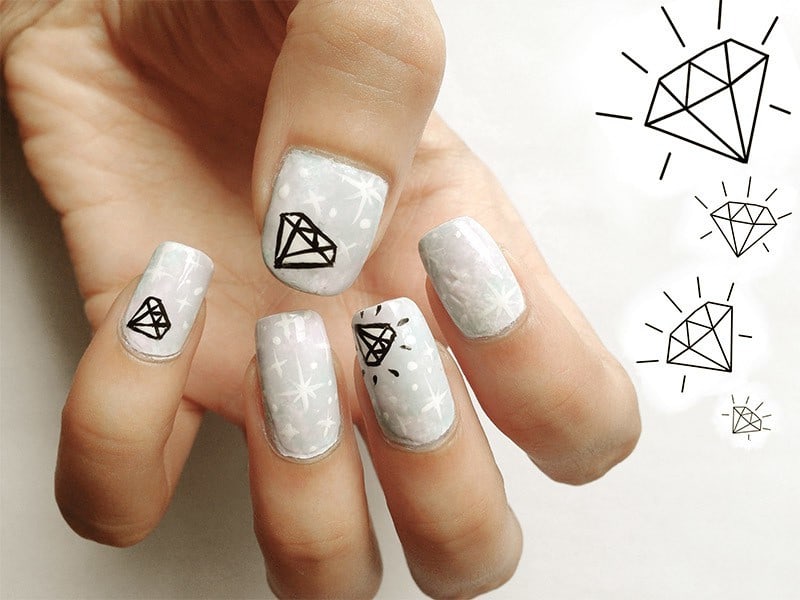 Celebrate winter with this calm diamond nail design. The cloudy gray is a hint for a cloudy day that looks like having a chance of snowfall. But this time you better watch it. It's not snow, it's diamonds!
#24. Black & Silver Diamond Nail Designs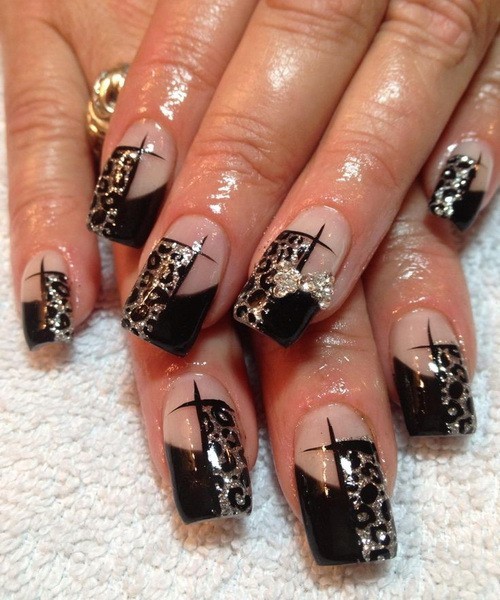 It's not necessary to always have rounded diamonds glued on your nails, bow tie shaped like ones can also work.So with this fancy cheetah black look , add a shiny bow tie diamond to your ring finger so that you can go super hot on your night.
#25. Shiny Nails with Glowy Diamonds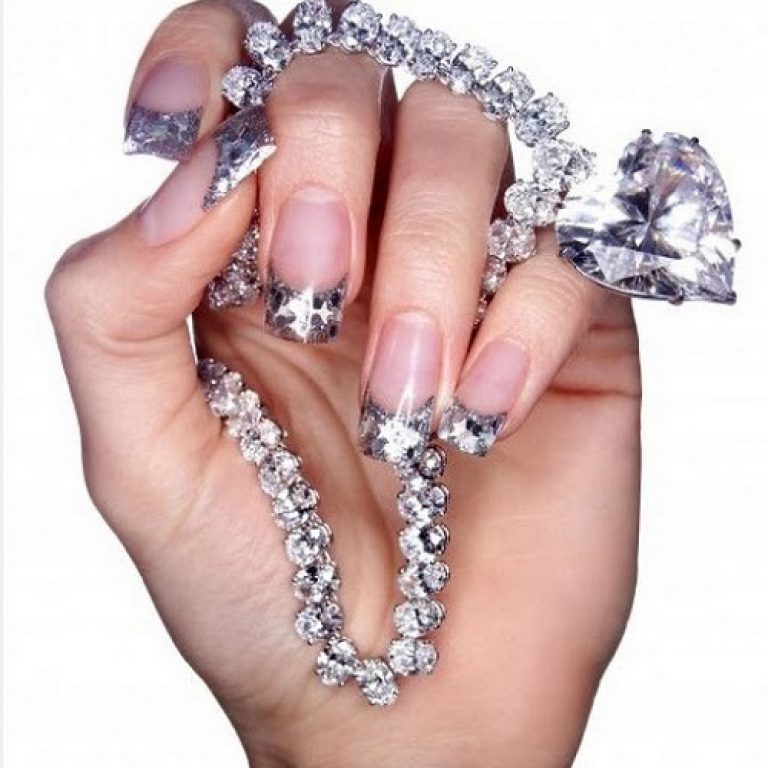 Have a shiny diamond like french tip nail design so that you can be confident enough by wearing the best fancy nail design.
#26. Tiffany Blue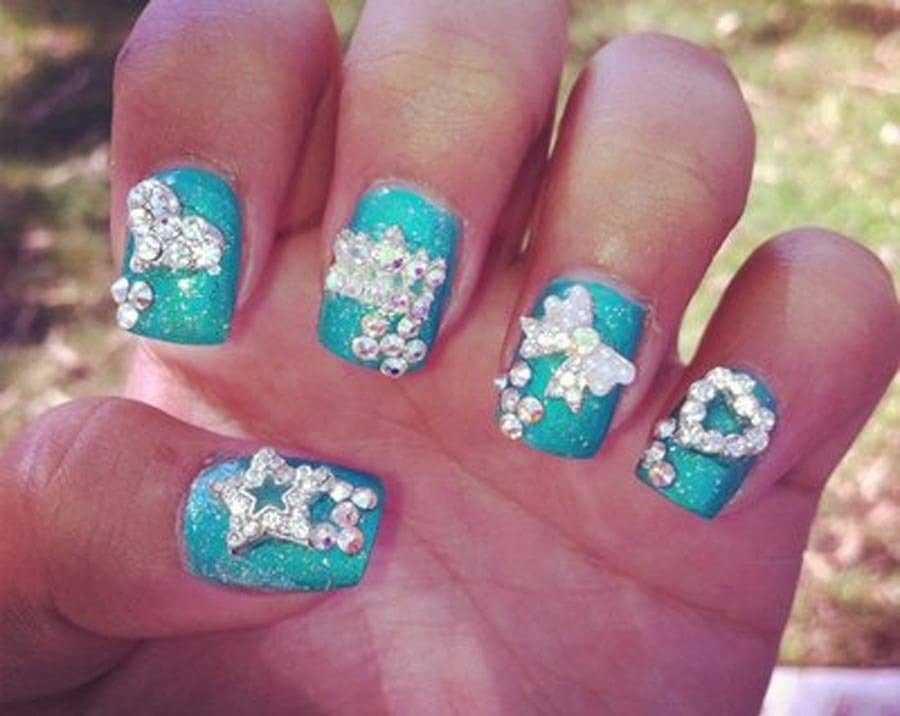 Blue is in the sky, blue is in the sea, tiffany blue is the best color of an epic nail design as you can see! To increase the beauty of this design add a variety of shaped diamonds to it , and here you go it's all yours.
#27. Matte Black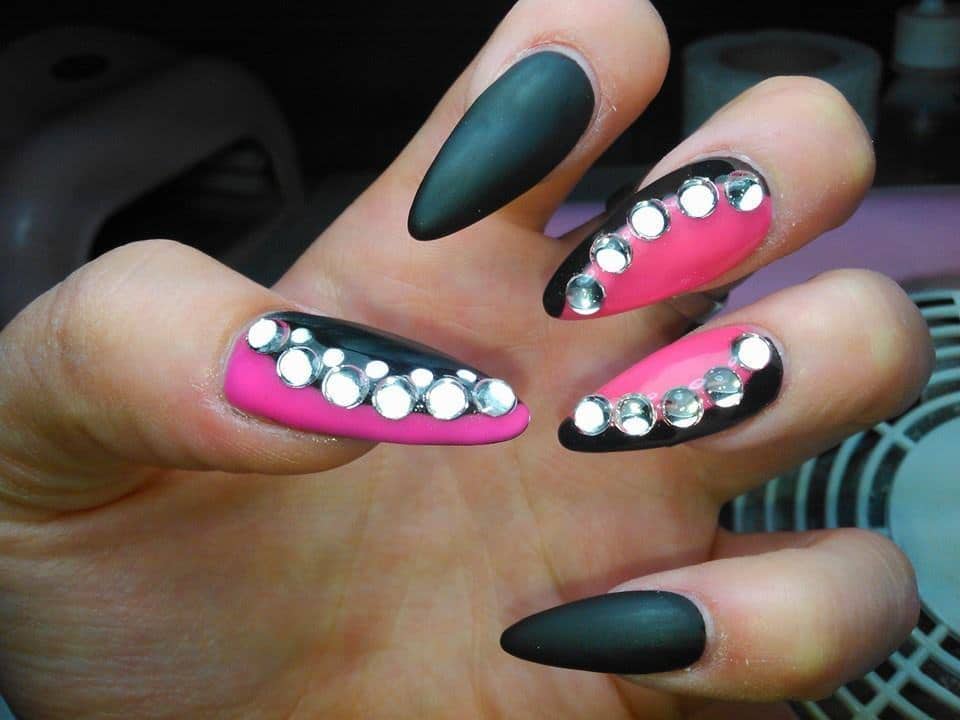 Add strass and hot pink to your dry matte black design , so that you can give it the party spirit which is suitable for your party dress.
#28. Animal Print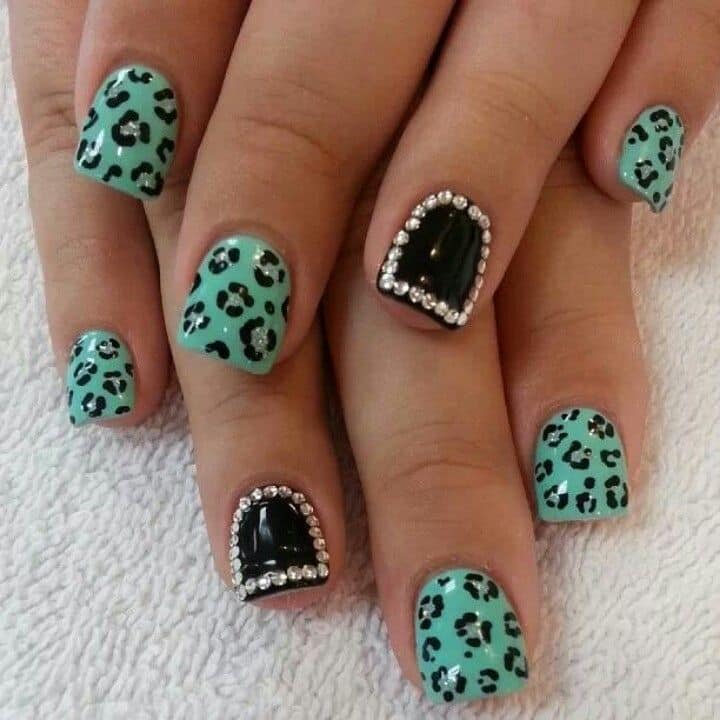 Break down the routine by changing the color of this animal print into tiffany blue, and add to your design a center of attraction that would be the ring finger polished with black and surrounded by tiny shiny decals.
#29. Calm White Diamond In Nails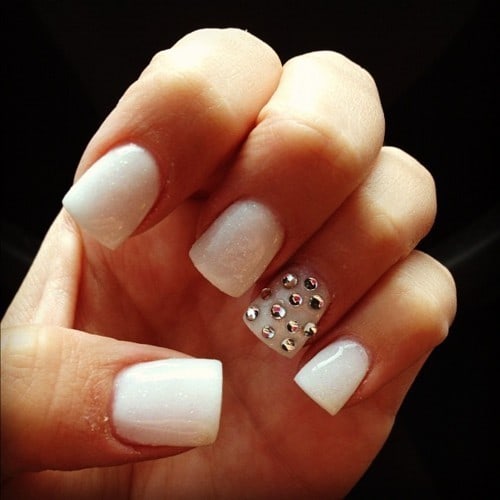 Simplicity is the best way to get a breathtaking look! The simple white polishing diamond nail design with a stressed ring finger is the best. You can wear it in the day or at night and it goes with any outfit you are putting on.
#30. Flamingo Pink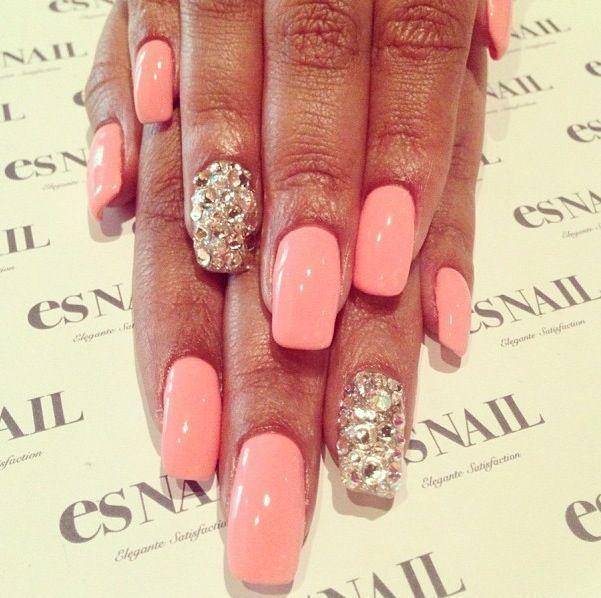 Flamingos are the type of shy birds but are dangerously attractive from first sight! They are the type that visually attracts you with their grace and style. Be a flamingo in your social norm and play the role of the magnet an iron field with this epic hue.
#31. Transparent Tricks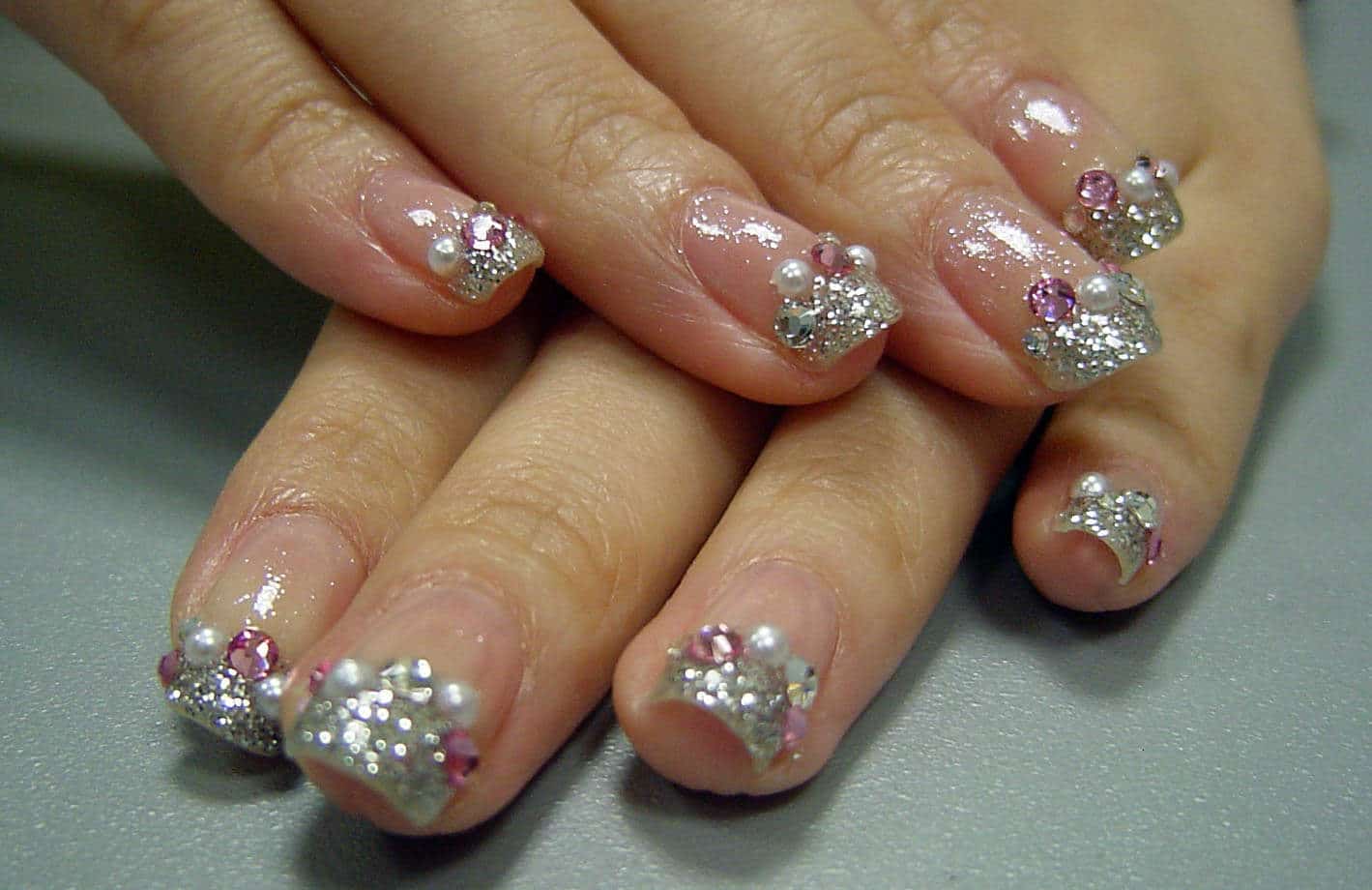 While everybody goes for black nail polish to bury their deepest and darkest secrets you should go ahead and be different with this transparent acrylic nail design to let everyone know that you've got nothing to be ashamed of, flaws and all. You can customize this nail design with diamonds to match your choice.
#32. Bow Ties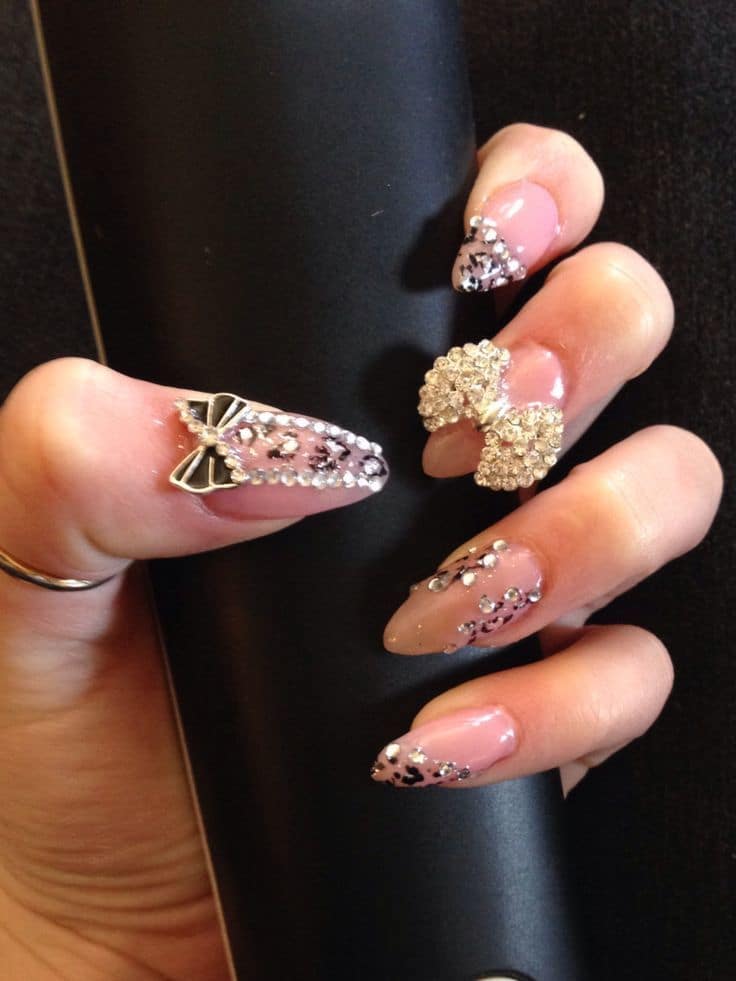 Style up the pink and black design with these shiny bow ties, and wear it on a matching dress so that you can have the chance to have the best look you are wishing for!
#33. Girl Power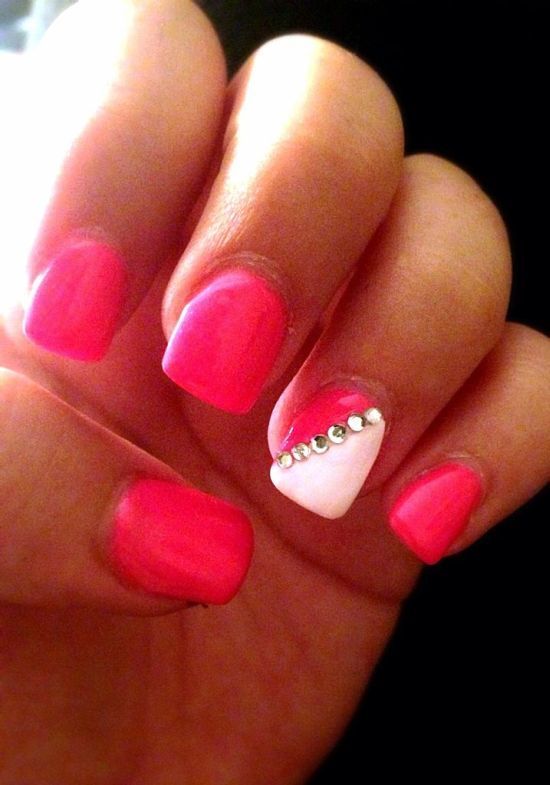 While fighting to be a super woman you have to look fabulous and fancy but you don't find the time to do it. Go easy and simple with pink polish that requires less than 2 mins of your precious and valuable time. Go Girl Power!
#34. Classic White Plus Diamonds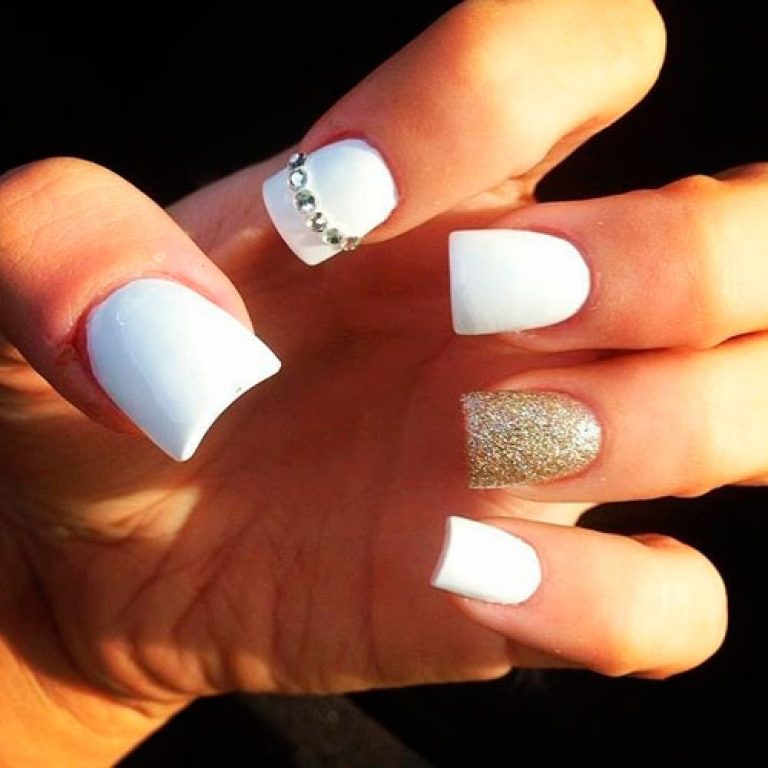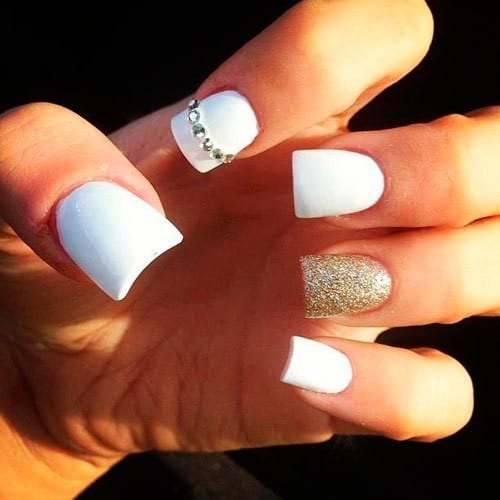 Enjoy your classic white nail design that suits any outfit you are wearing. It's easy, fast to apply, and goes with everything.
#35. Little Black Dress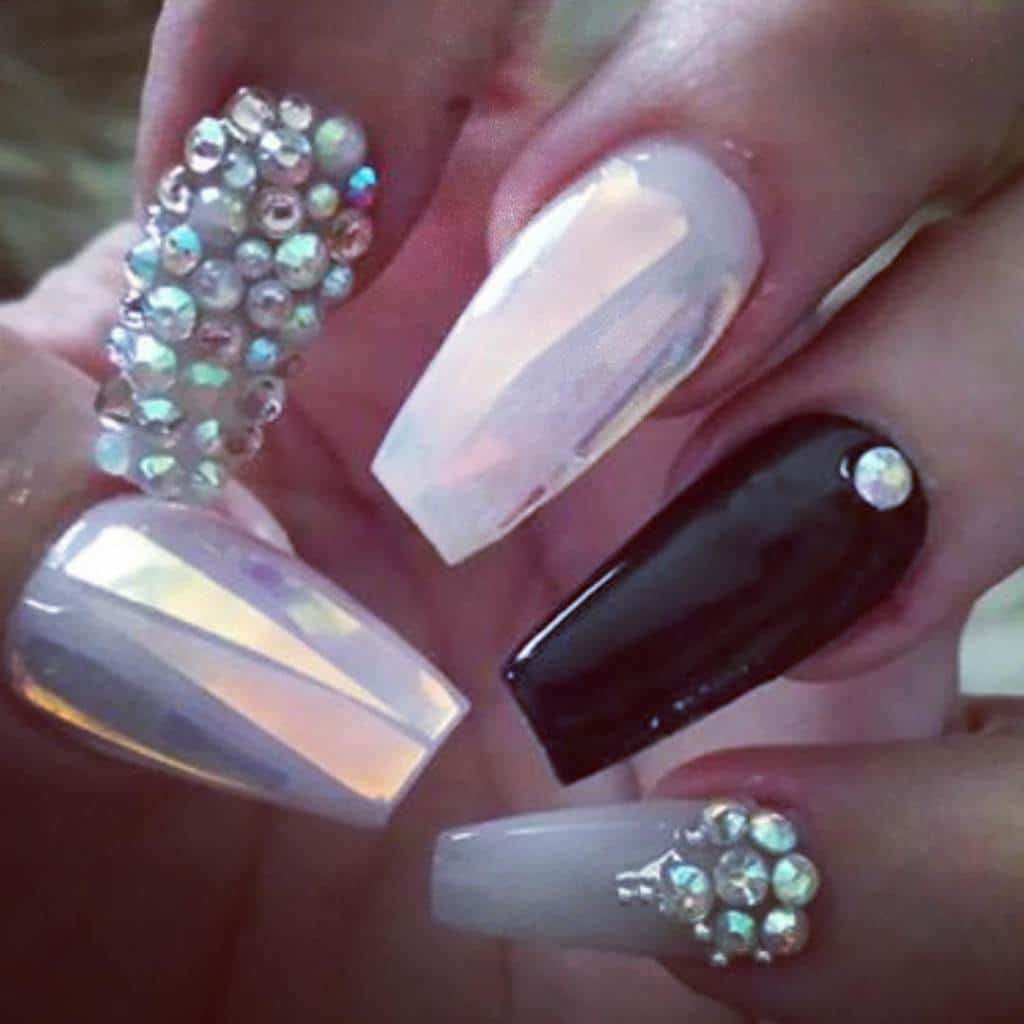 This acrylic nail style is of utmost importance to any formal event with black and white glossy base coat and silver decals including rhinestones. It seems to be a popular request for nail art everywhere!
Take a Look at More Startling Nail Designs With Diamonds
Finally, we can say goodbye to all the cliche nail designs free from diamonds, and say hello to our new nail looks you will wear from the above nail designs with diamonds. Hope you enjoyed!