It was Marilyn Monroe who said "diamonds are a girl's best friend." Although she wasn't referring to diamond nails back then, we're confident she would approve of the glam nail design.
Nails with diamonds offer plenty of room for creativity. The colors, sizes, shapes, and shades of polish or nail shapes and lengths you feature them on are numerous.
Some ladies choose to stack every nail with diamonds for a dramatic result Lady Gaga herself would rock, while others choose to go minimal and use tiny diamonds to enhance their favorite nail polish color.
However you decide to rock nails with diamonds, it's a guaranteed way to get noticed!
Fancy Nail Designs With Diamonds
If you're looking for a little more bling in your life, the answer is always diamond nails! We'll show you the most gorgeous ways to utilize diamonds in your nail design. Start reading!
#1. Hot Pink Long Stiletto Nails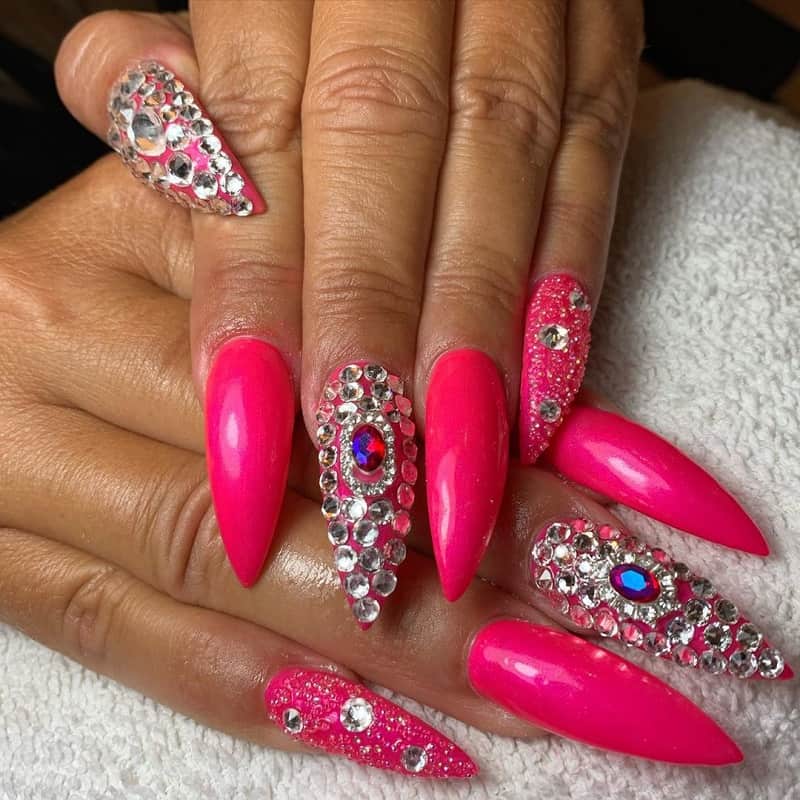 If Barbie were to ever approve of a nail design with diamonds, it would be this one for sure! Coat your long stiletto nails with hot pink before bedazzling the center and pinky nails with diamonds.
#2. Royal Blue with Diamond Line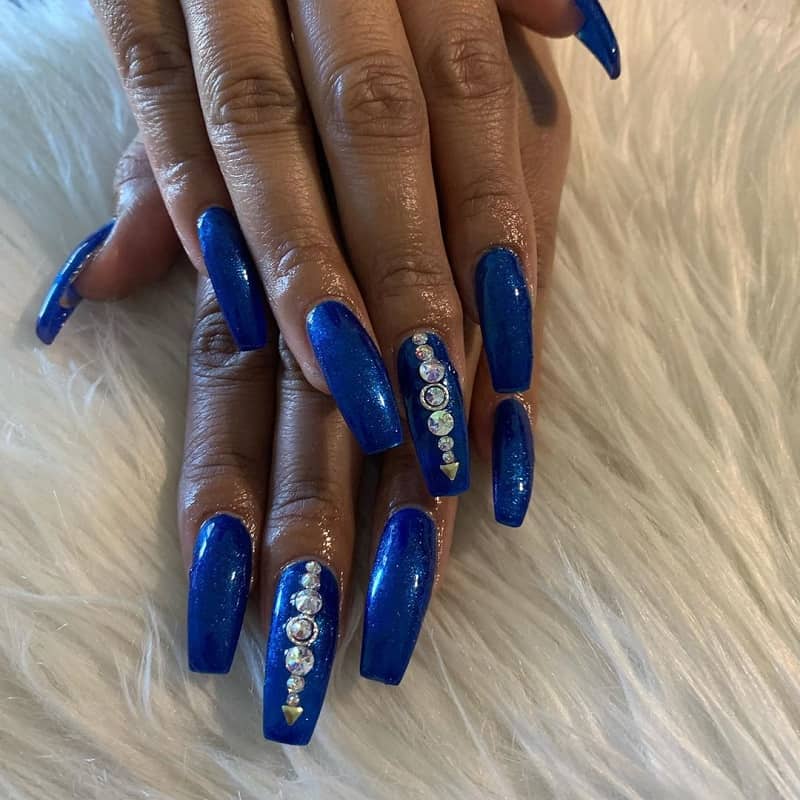 If you tend to stick with dark nail polish colors, you'll love these long square nails with their dark blue shade. On just the center finger, a vertical line of medium-sized diamonds sparkle.
#3. Light Pink Almond Nails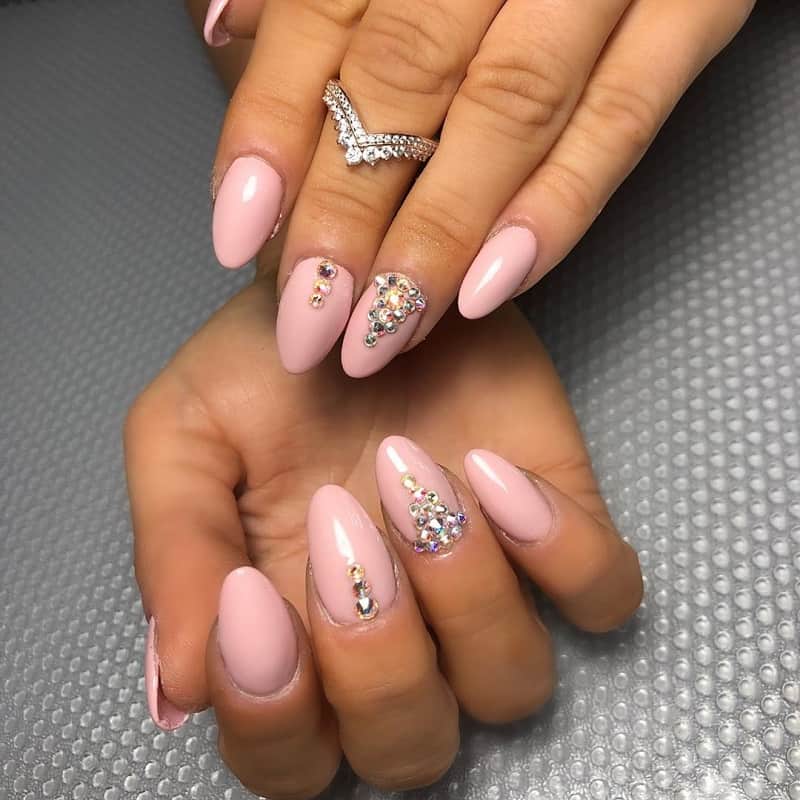 If your skin tone is light or pale, light pink on long almond nails is your color. Fancy it up with diamonds on the two middle nails.
Here, we see three diamonds in a lineup top on the ring finger and an upside-down triangle on the middle finger.
#4. Gel Nails with Large Diamonds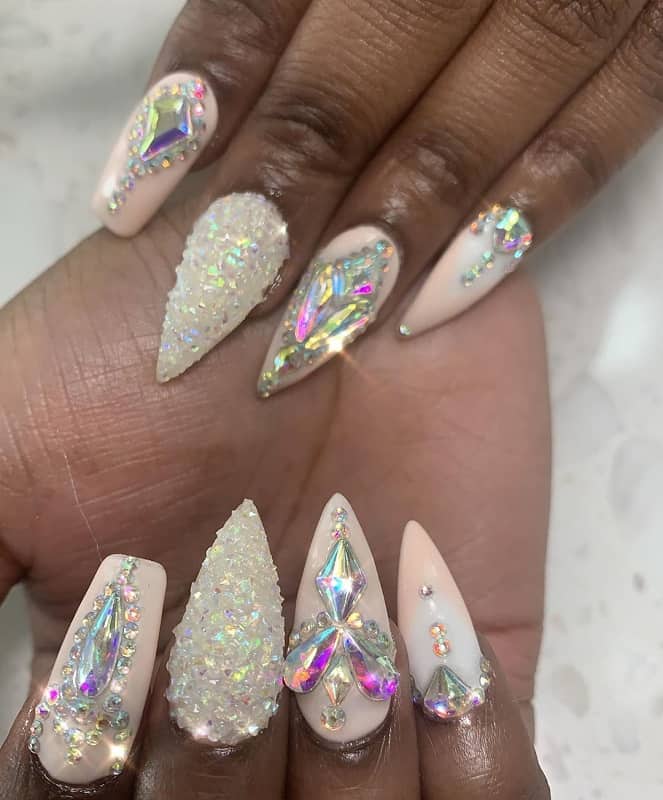 A very pale pink ombre is a gorgeous color for dark skin tones. We love how the attention to detail was focused on creating actual designs instead of only loading up the nail with diamonds.
#5. Long Nail Design with Diamonds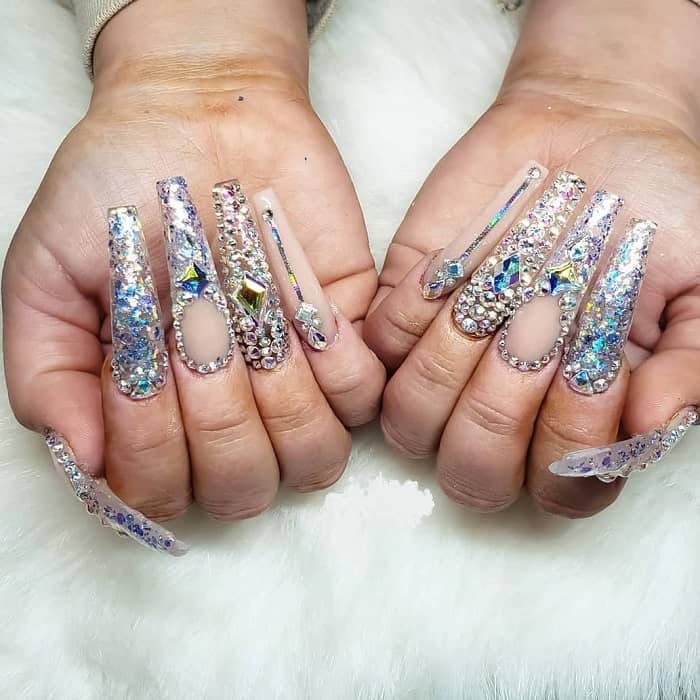 Extra long square nails like these are best saved for costume parties as their length can be a little difficult to work with. However, we can't ignore the impressive array of sizes and colors of the diamonds added to each nail.
#6. Nail Design with Diamonds on One Finger
As we mentioned before, some ladies prefer a minimalistic diamond nail design. Choose a light pink-white ombre to shine up long square nails, then add the smallest diamonds you can find on just the pointer nail.
#7. Toe Nail Designs with Diamonds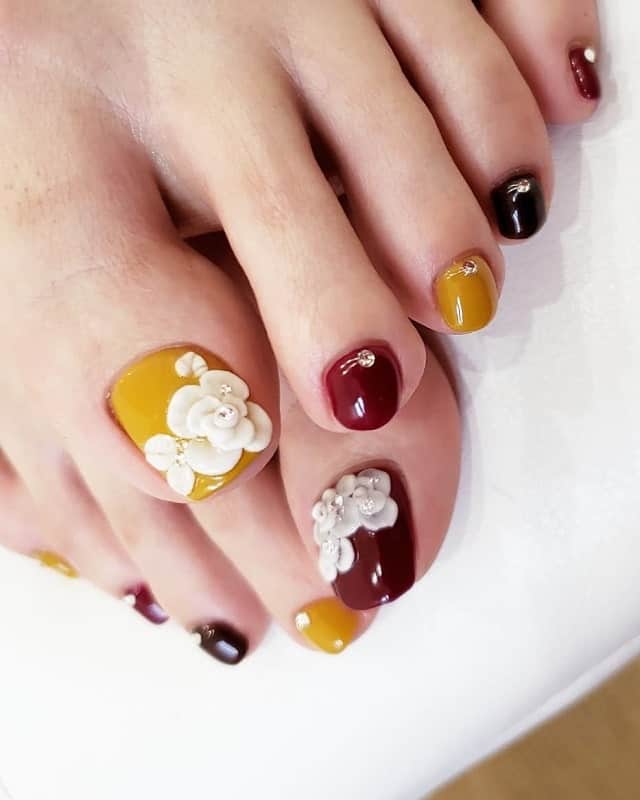 Give your nails their own special treatment! Pick two or three of your favorite colors to paint the nails with first. Then add oversized 3D charms with diamond centers on the big toe nail.
#8. Coffin Nail Design with Diamonds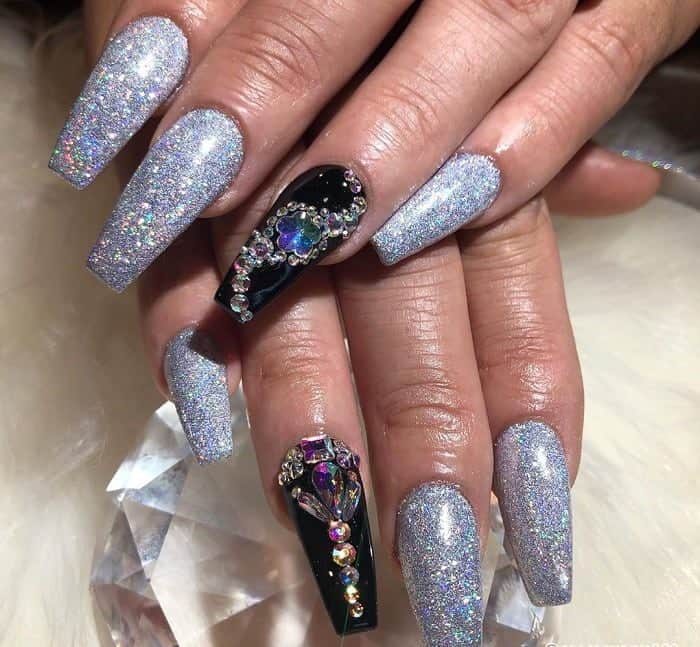 Crazy sparkly silver nails are just begging you to take them out to a party with shining lights. Off-set the silver with a bold black nail and iridescent diamonds in different shapes.
#9. Red Nail Design with Diamonds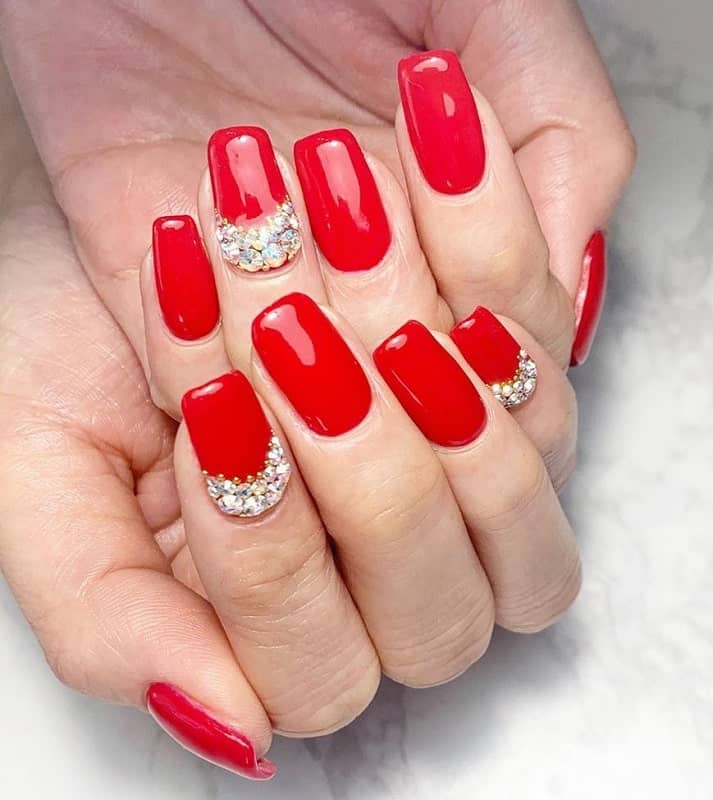 A juicy shade of light red stands out beautifully against light and pale skin tones. The wearer chose to layer their tiny diamonds at the cuticle of two fingers on each hand for a shiny top frame.
Nicki Minaj Nails: 21 Nail Designs to Wow Everyone
#10. Sparkly Nail Design with Diamonds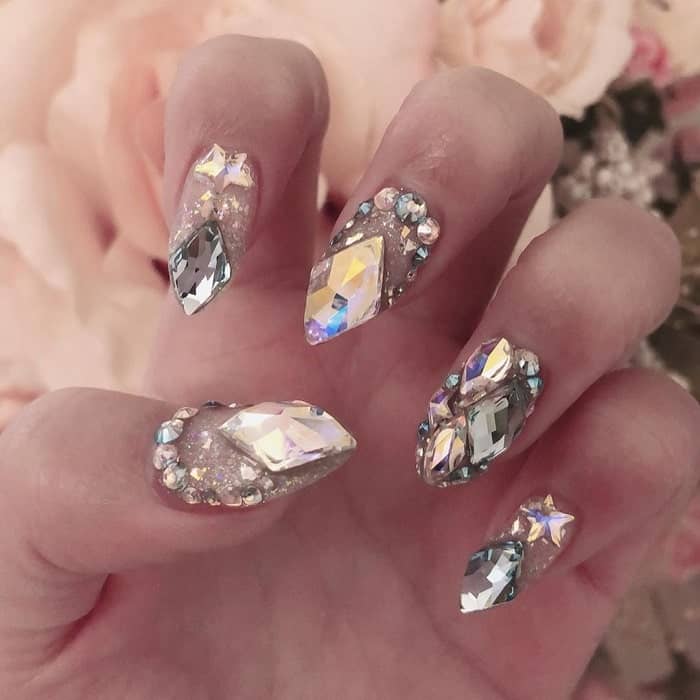 Long stiletto nails that feature jumbo crystals with diamond-shaped jewels are so reflective, you'll feel like you're looking in a mirror. Mix and match your favorite shapes to embrace your creativity.
#11. Ombre Nail Design with Diamonds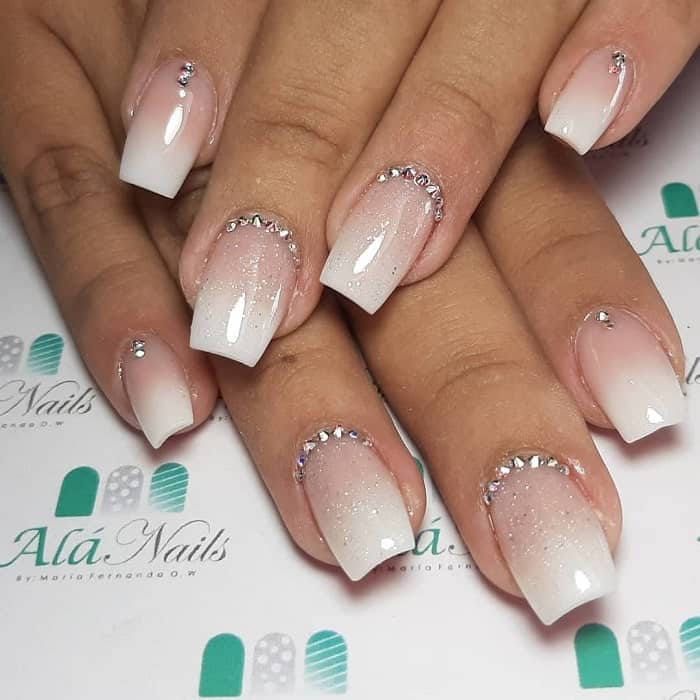 A special occasion like a wedding or prom night calls for an equally special yet dainty nail design.
Try these short square nails with tiny diamonds at the cuticles. Paired with a glittered French tip, it's the ultimate romantic nail look.
#12. Pointy Nail Design with Diamonds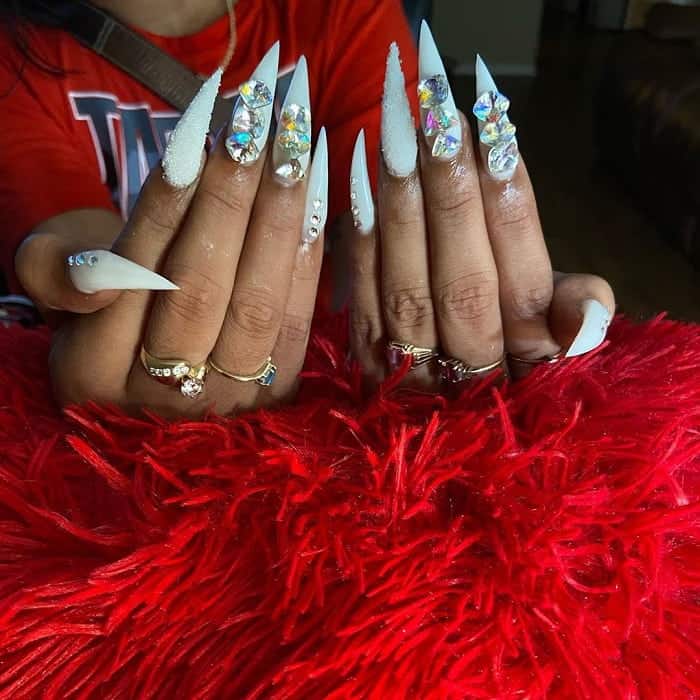 Pointy nails were practically made to be a diamond nail design. A bright white that is both smooth and textured boats three large diamonds on the two middle fingernails and three tiny diamonds on the pinky and thumb nails.
#13. Blue Nails Design with Diamonds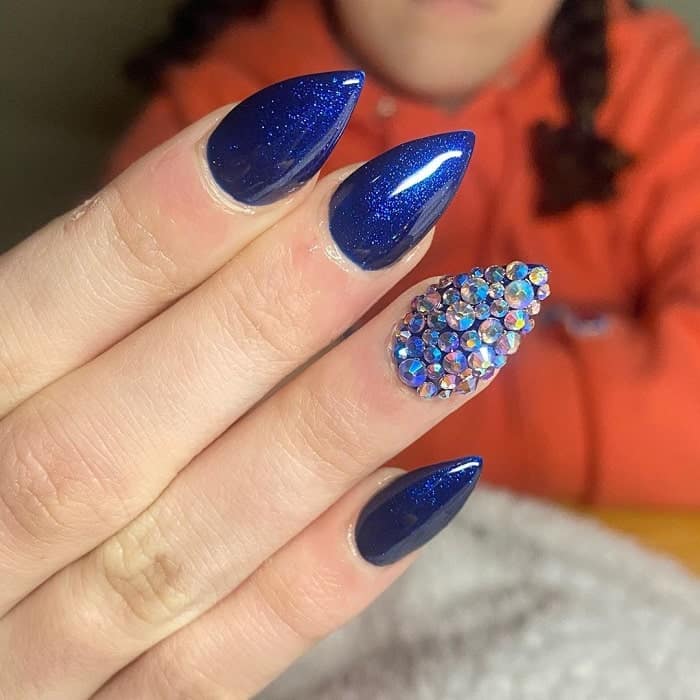 Simple yet statement-like is how we would describe short stiletto nails with a bunch of tiny diamonds on the ring finger's surface. A rich blue knows how to bring out a diamond's sparkly sheen.
#14. Clear Nail Design with Diamonds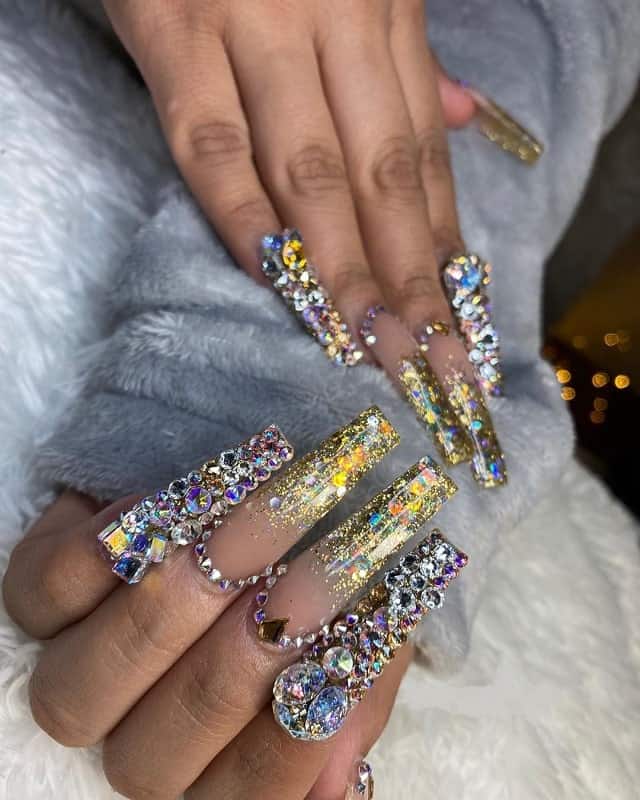 Can't decide which diamonds you like best? You can wear them all at the same time on extra long coffin nails.
Go crazy when you load them up on the pointer and pinky nails next to glittery-polished ring and center fingernails!
#15. French Nail Design with Diamonds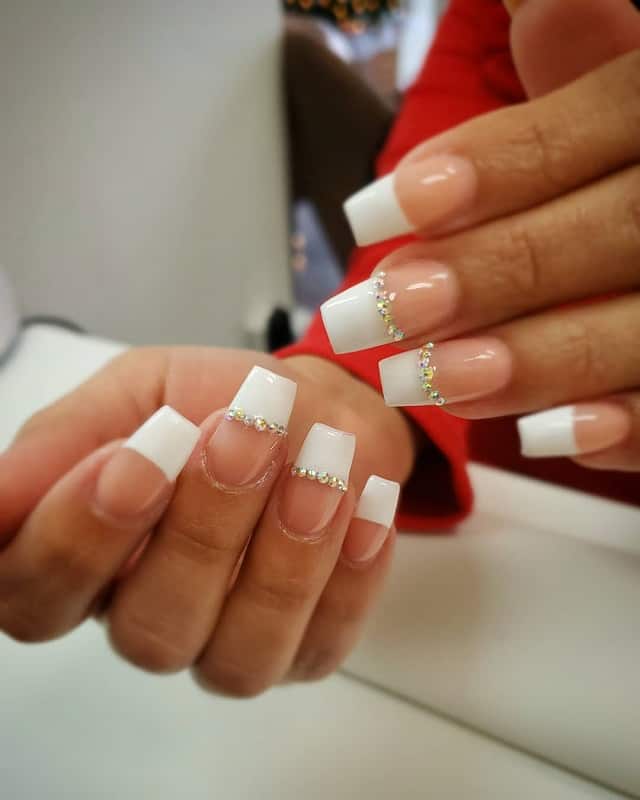 Thick French tips almost look like they're wearing tiny rings with the way extra tiny diamonds line their border.
#16. Taffy & Diamonds in Nails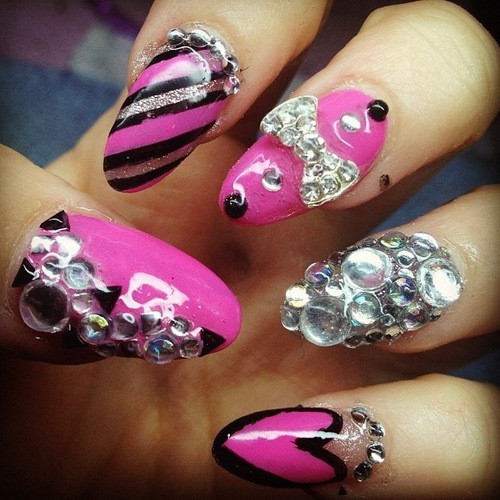 Splash the ring finger in both small and large diamonds, decorating every other hot pink stiletto nail with black hearts and smaller diamonds.
#17. Shine Bright Like A Diamond!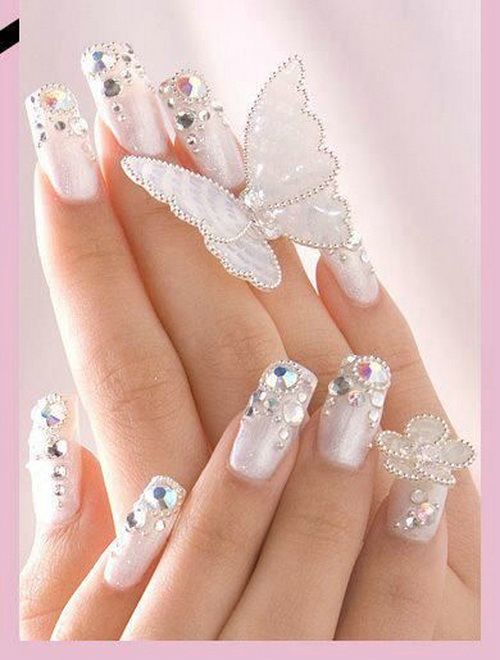 Diamonds are a girl's best friend! Find out why by opting for long squire white nails with large diamonds at the tips. Make it 3D with an oversize flower.
Top List: Best Black Nail Designs With Creativity
#18. Polka Dots and Diamonds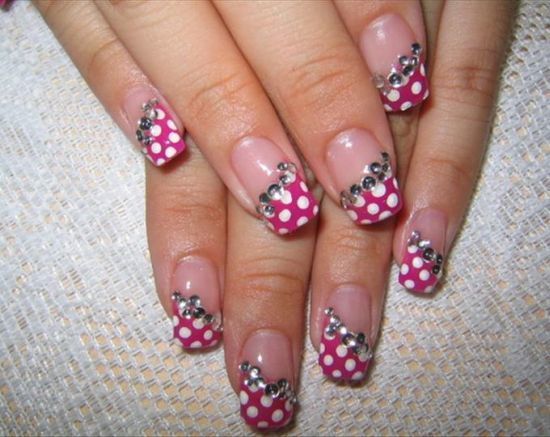 Go girly with this polka dot nail design with diamonds! Decorate your diagonal French-tipped nails with a shade of pink with white polka dots. Finish the design with a diagonal line of diamonds or sequins for sparkle.
#19. Hot Pink
It's no wonder many girls start out loving hot pink. The color combines sexy brightness with boldness, so it's a given that they would be worn with diamond nails.
#20. Royal Manicure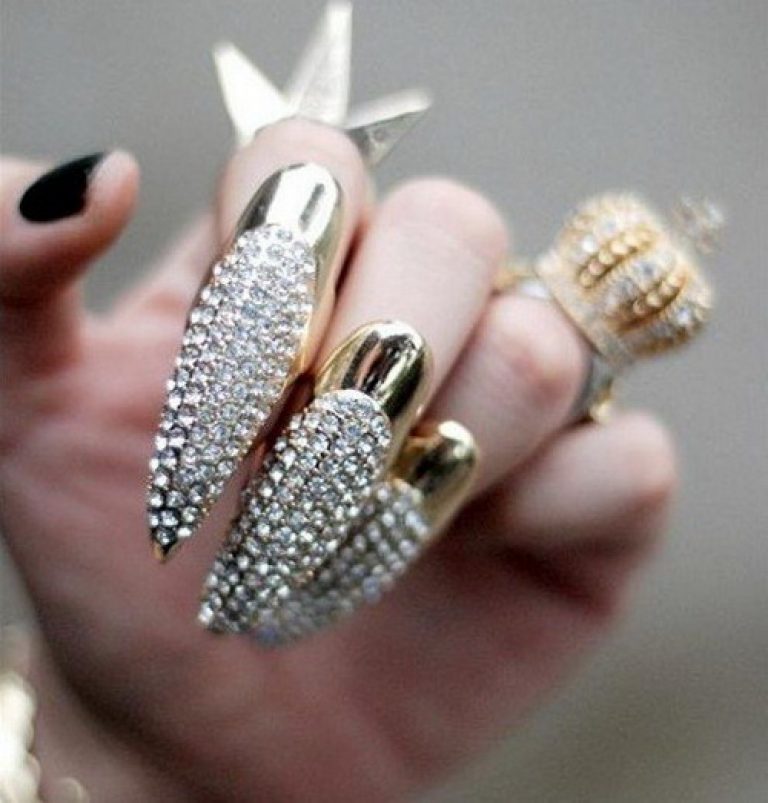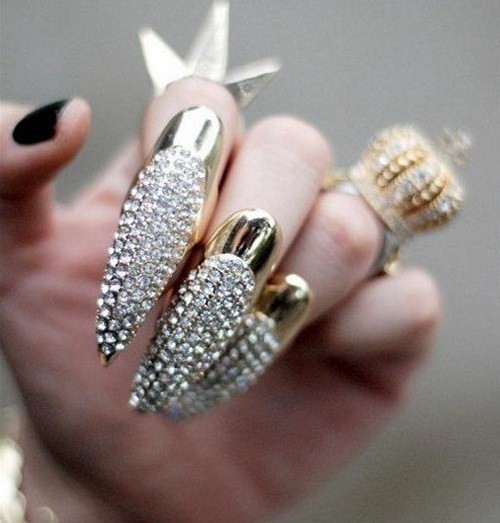 Nails this luxe are the epitome of diamond nails. The key here is heavy so cover every nail in small white diamonds. Define the cuticle with a large gold accessory.
#21. Scarlet Love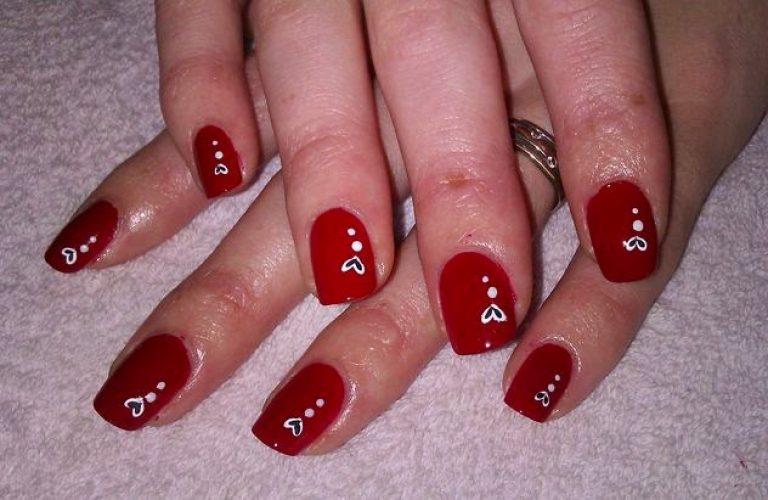 Go hot and sexy in tonight's party with this scarlet red nail design featuring tiny hearts with diamond bubbles. When you choose a shade of red this rich, the tiny white details balance out the design.
#22. Black And Blush Pink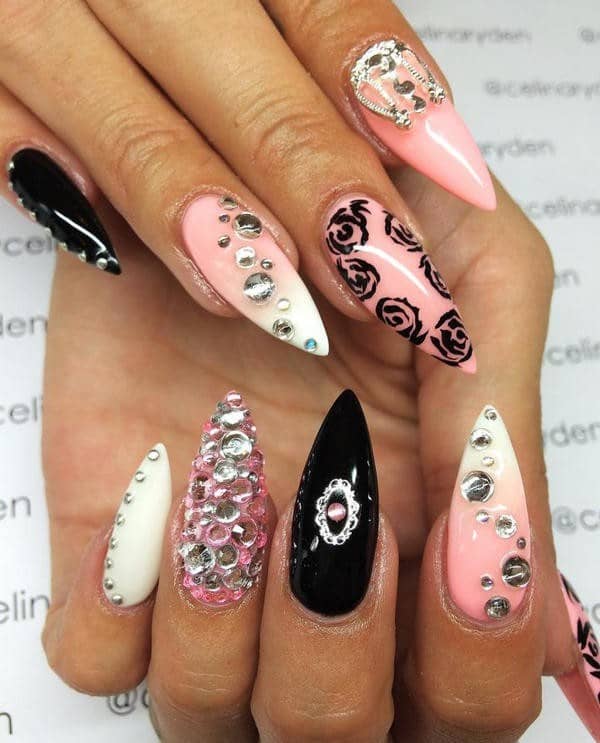 On long stiletto nails, diamond decals are glued everywhere. All over the ring finger, at the edges of the pinky nail, in the center of the middle finger, and in a wavy line on the index finger. The thumb nail stands solo with its black roses on a light pink base.
Love To Go Black & White? Try These Nail Designs
#23. Cloudy with a Chance of Diamonds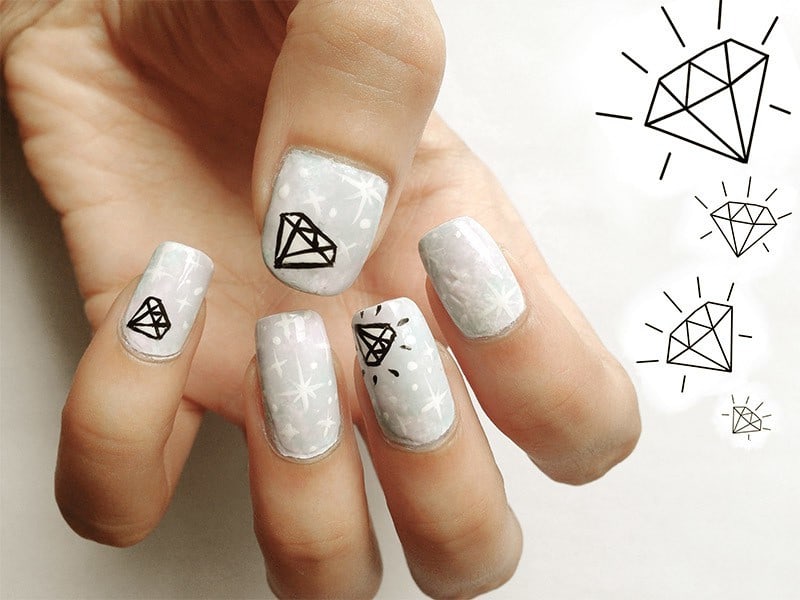 Celebrate winter with this calm diamond nail design. Choose a muted gray or very soft white to coat nails with before drawing on pure white snowflakes and black diamonds.
#24. Black & Silver Diamond Nail Designs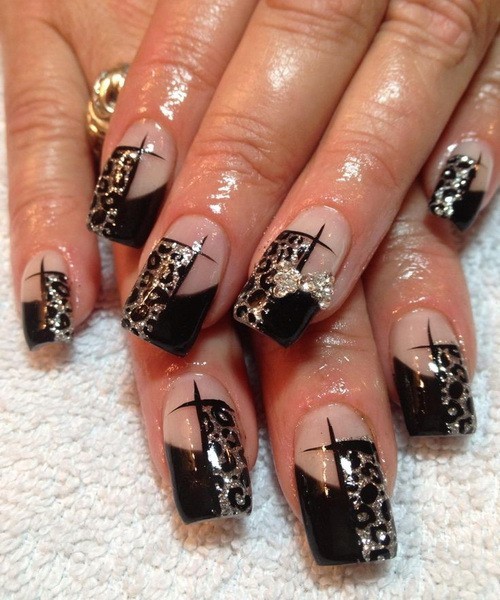 It's not necessary to always have rounded diamonds glued on your nails; bow tie diamonds can also work.
Like this fancy long square nail with half cheetah print and half black, add a shiny bow tie diamond to your ring finger.
#25. Diamond Tips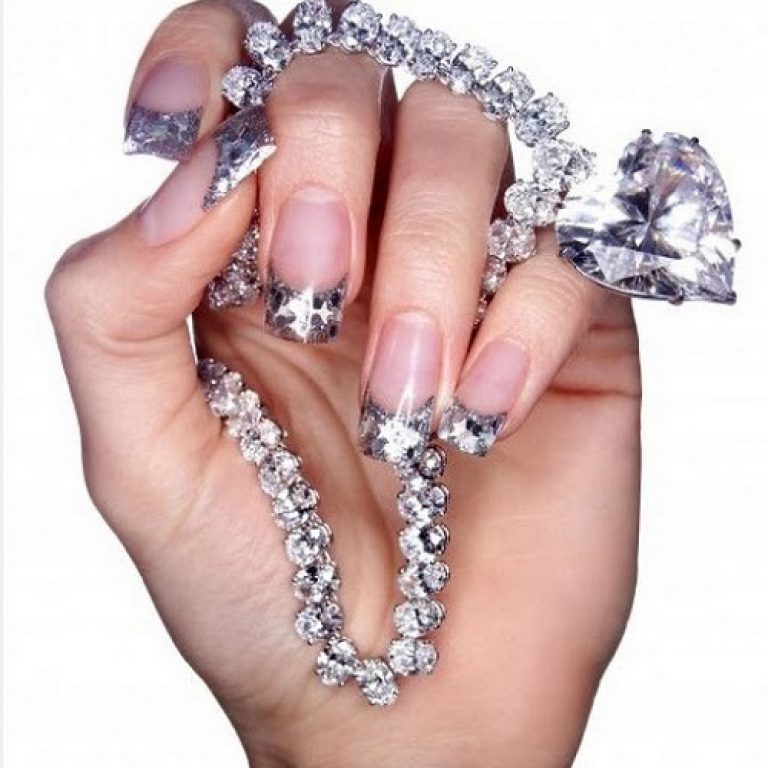 With nails featuring sparkly tips like this, you'll look like you belong in a nail commercial! You can either go with 3D diamonds in various sizes, or paint the tips first in silver before stacking diamonds.
#26. Tiffany Blue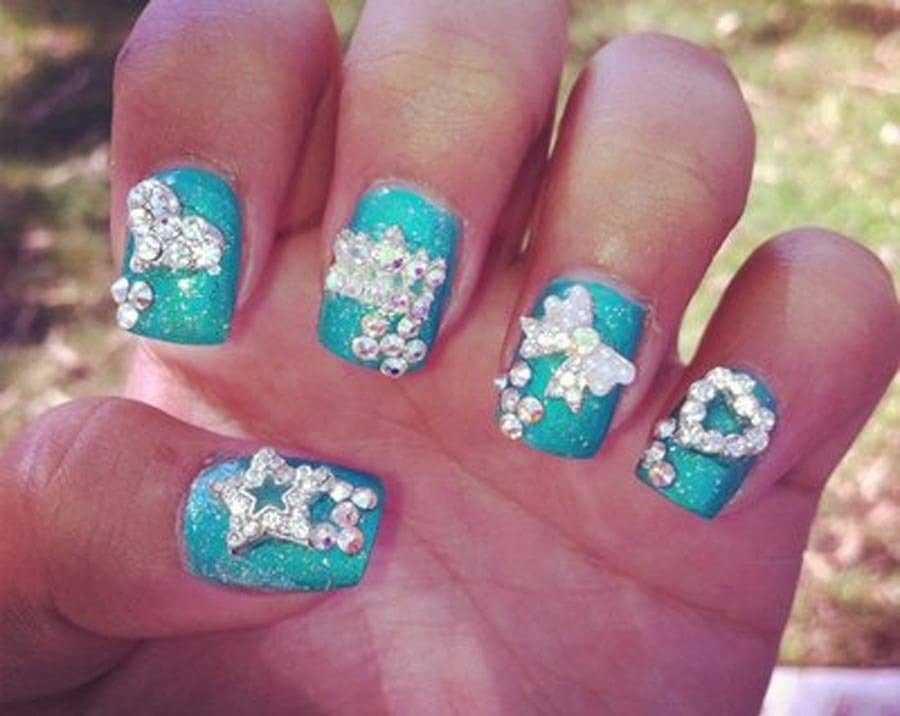 Blue is in the sky, blue is in the sea, tiffany blue is the best color of an epic nail design as you can see! To increase the beauty of this design, add a variety of shaped diamonds.
#27. Matte Black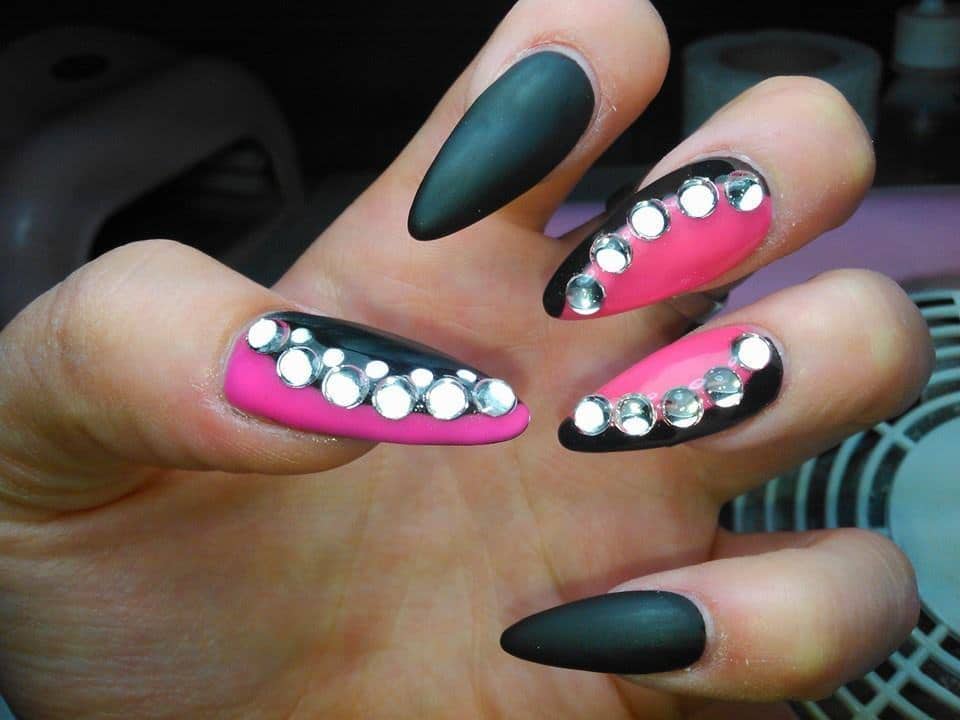 Add diamonds and hot pink to your dry matte black design to give it the party spirit to match your party dress.
#28. Animal Print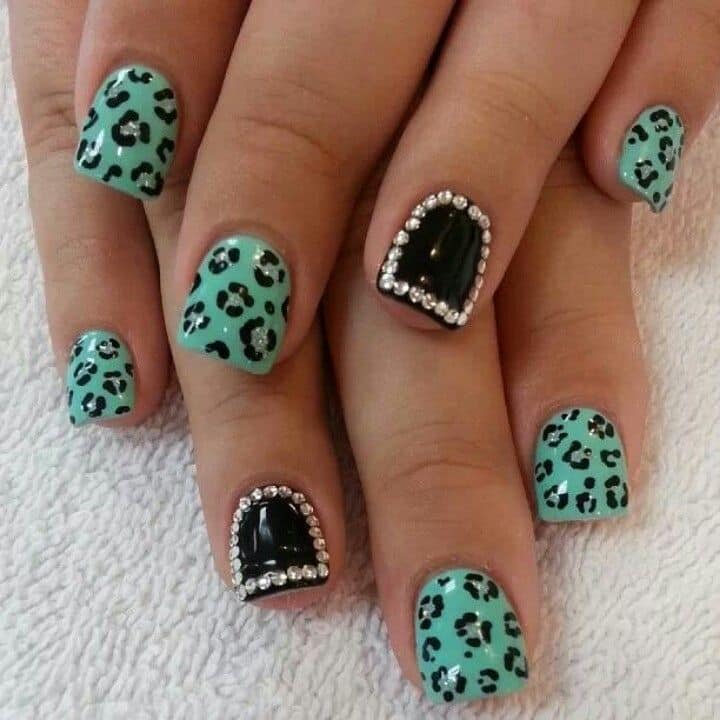 Break down the routine by changing the color of this animal print into tiffany blue, and add to your design a center of attraction that would be the ring finger polished with black and surrounded by tiny shiny decals.
#29. Calm White Diamond In Nails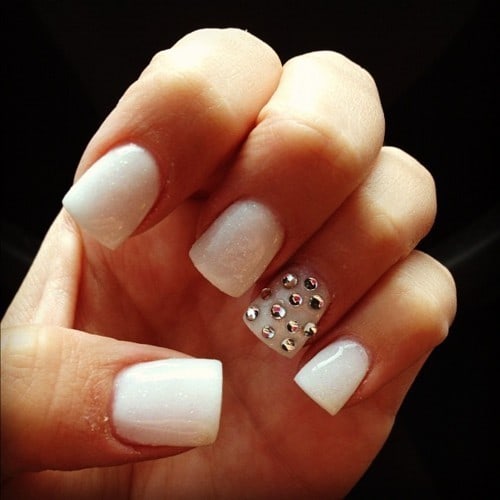 Simplicity is the best way to get a breathtaking look! The simple white polishing diamond nail design with a stressed ring finger is the best. You can wear it day or night as it goes with any outfit.
#30. Flamingo Pink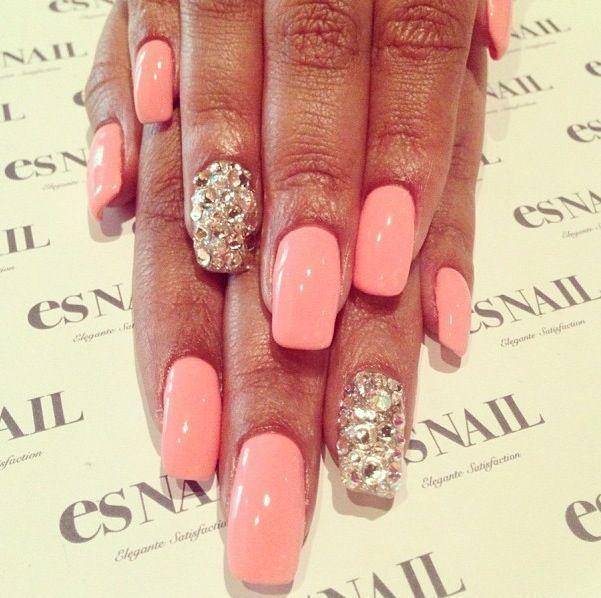 A tropical or light pink are two shades of the feminine color that'll look gorgeous on long square nails. Don't be afraid to stack the ring fingers with large diamonds.
#31. Transparent Tricks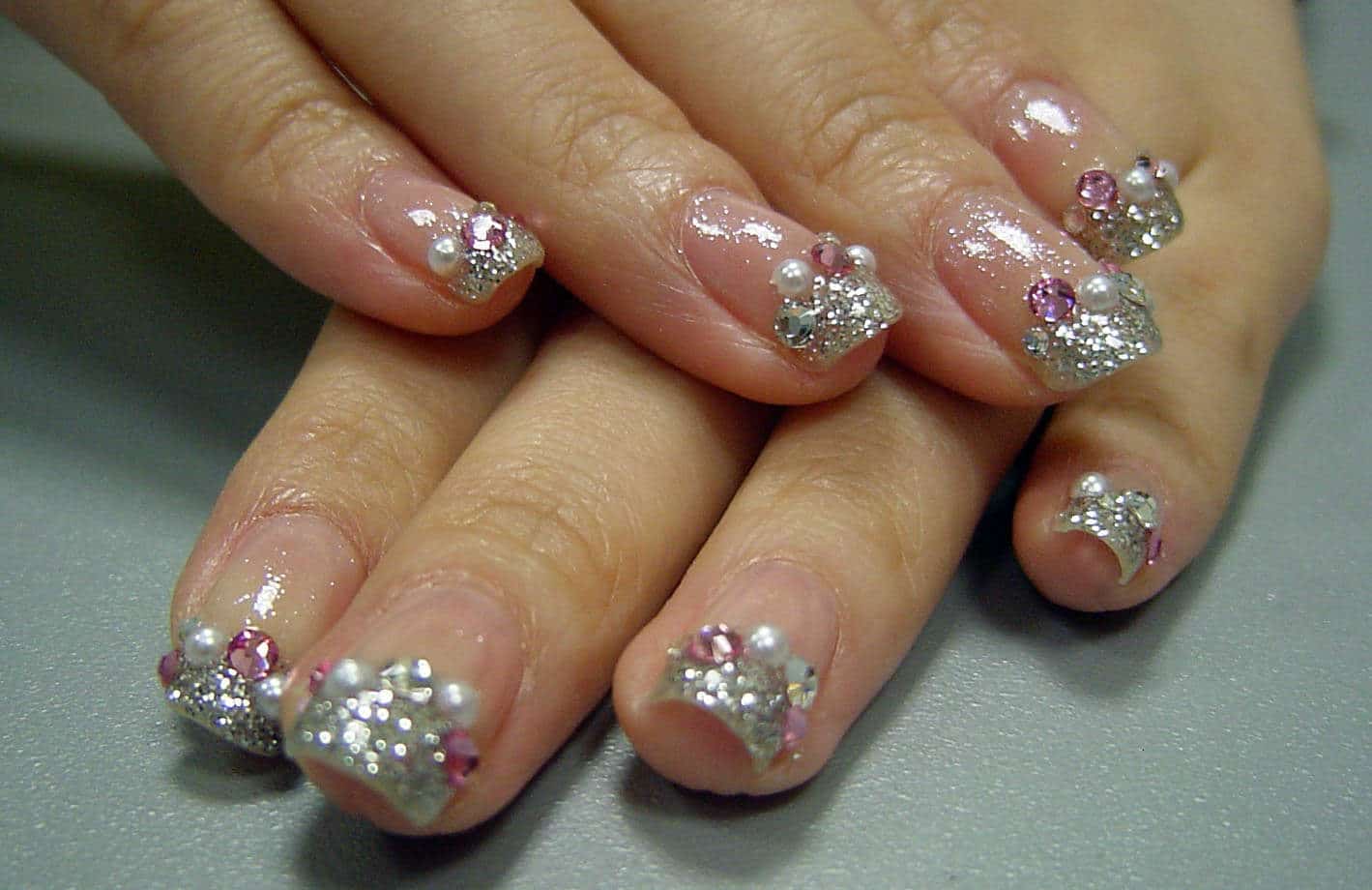 While everybody else goes for black nail polish to bury their deepest and darkest secrets, be different with this transparent acrylic nail design to let everyone know that you've got nothing to be ashamed of, flaws and all. You can customize this nail design with diamonds.
#32. Bow Ties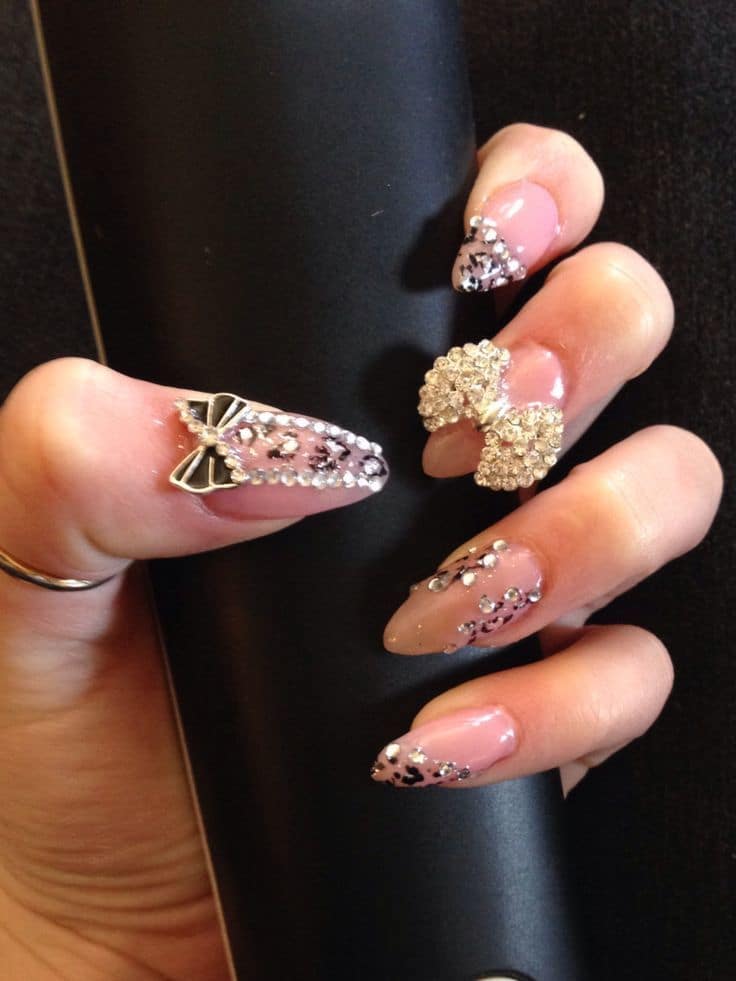 Style up the pink and black design with these shiny bow ties, and wear it on a matching dress so that you can have the chance to have the best look you are wishing for!
#33. Girl Power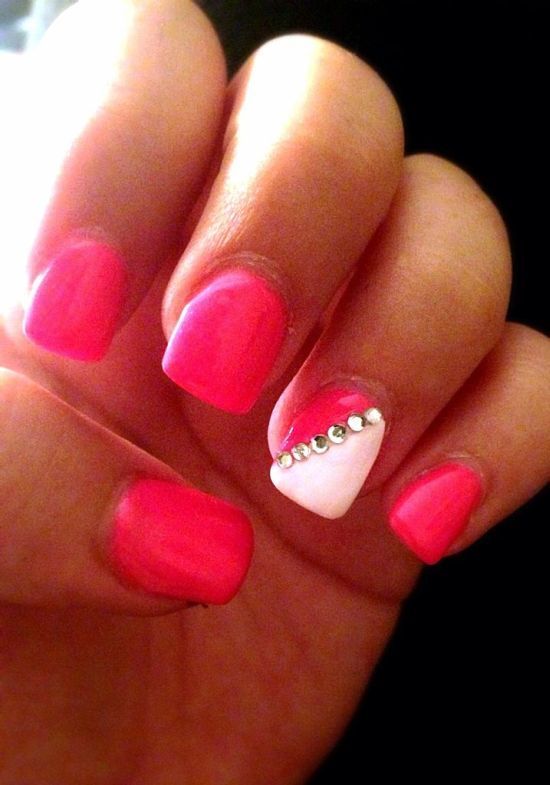 While fighting to be a super woman, you have to look fabulous and fancy but you don't find the time to do it. Go easy and simple with pink polish that requires less than two minutes of your precious time.
#34. Classic White Plus Diamonds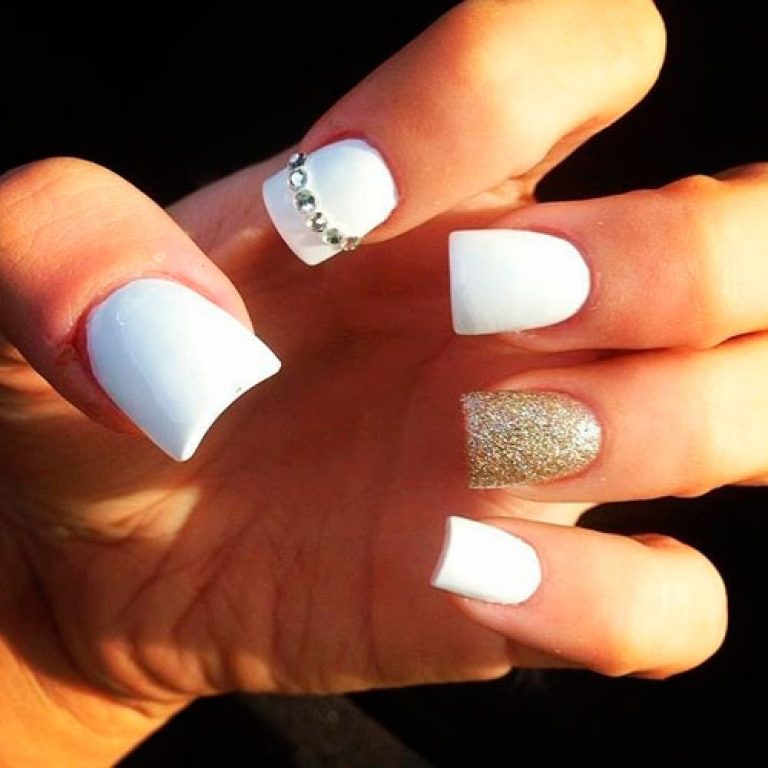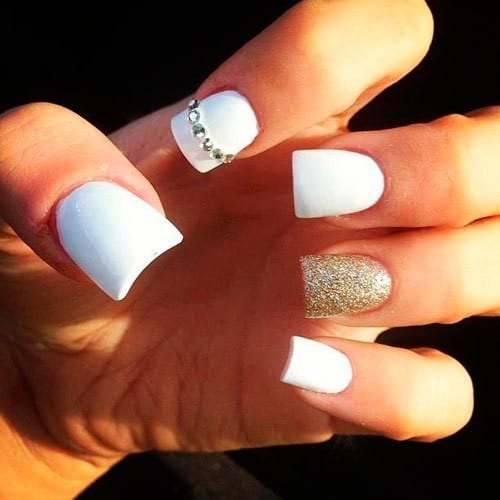 Enjoy your classic white nail design that suits any outfit you are wearing. It's easy, fast to apply, and goes with everything.
#35. Little Black Dress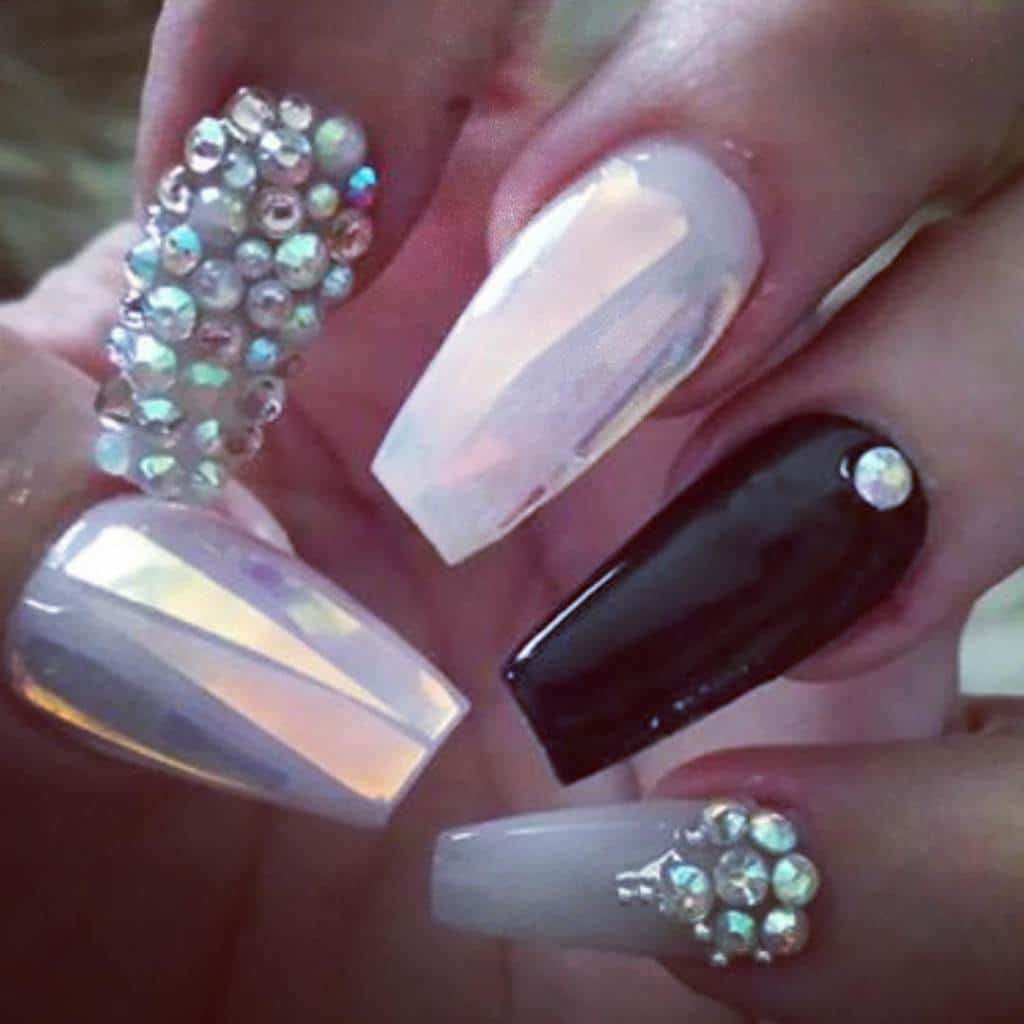 This acrylic nail style is of utmost importance to any formal event with black and white glossy base coat and silver decals including rhinestones. It seems to be a popular request for nail art everywhere!
Take a Look at More Startling Nail Designs With Diamonds
Finally, we can say goodbye to all the cliche nail designs free from diamonds, and say hello to our new nail looks you will wear from the above nail designs with diamonds.