Shellac nail colors have been considered a revolutionary invention in the world of the fashion industry. If you want the freedom to have your desired color for three weeks without any nail damage upon removal, shellac is the go-to manicure for you.
They are warmly welcomed for the long-lasting durability with high shine. And, these nail polishes have a wide range of different colors available to be applied to your nails.
You may get confused about which color to choose after knowing the existence of more than a hundred shellac colors. We are here to help you pick the best shellac colors.
CND Shellac Color Chart
You may be wondering thinking about what is shellac? Well! Unlike other manicures, Shellac mani is done within less time but Shellac lasts at least 14 days on average which may extend to a whole month at times.
Shellac nails are cured under UV light like gel nails. But, don't confuse shellac with 'gels' or 'acrylics', shellac is completely different created by Creative Nail Design(CND).
CND has come up with a variety of several colors which is exactly 116 to date. You can choose your favorite colors from their color chart given below.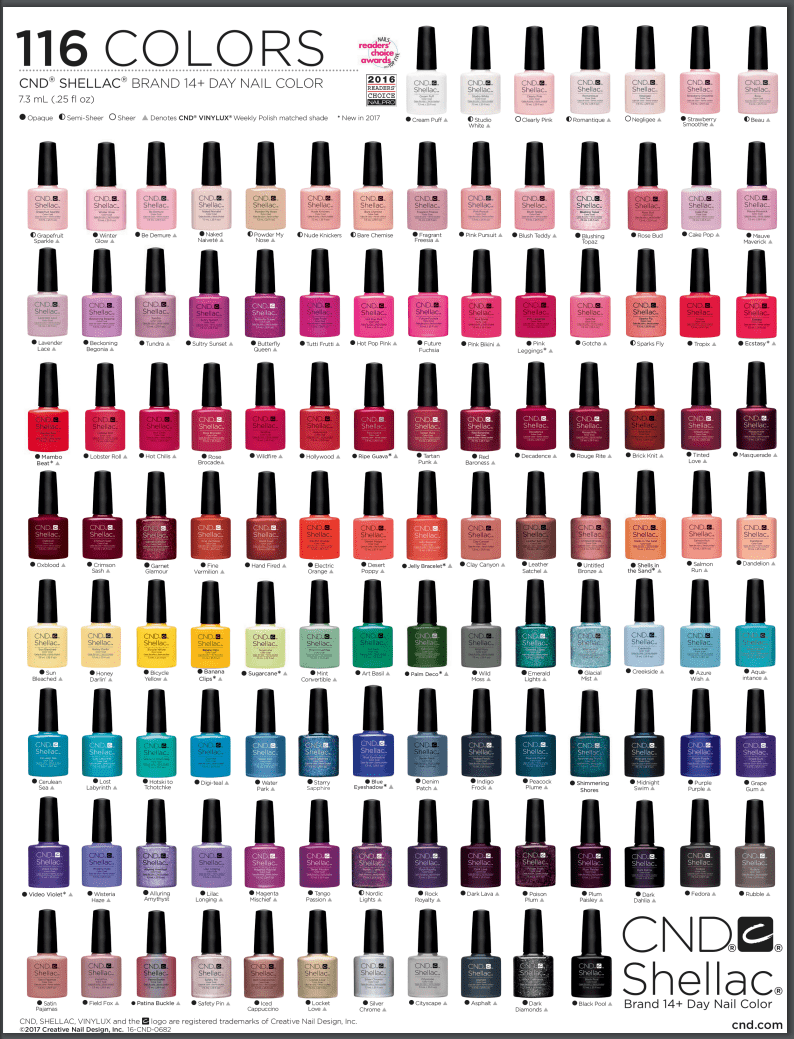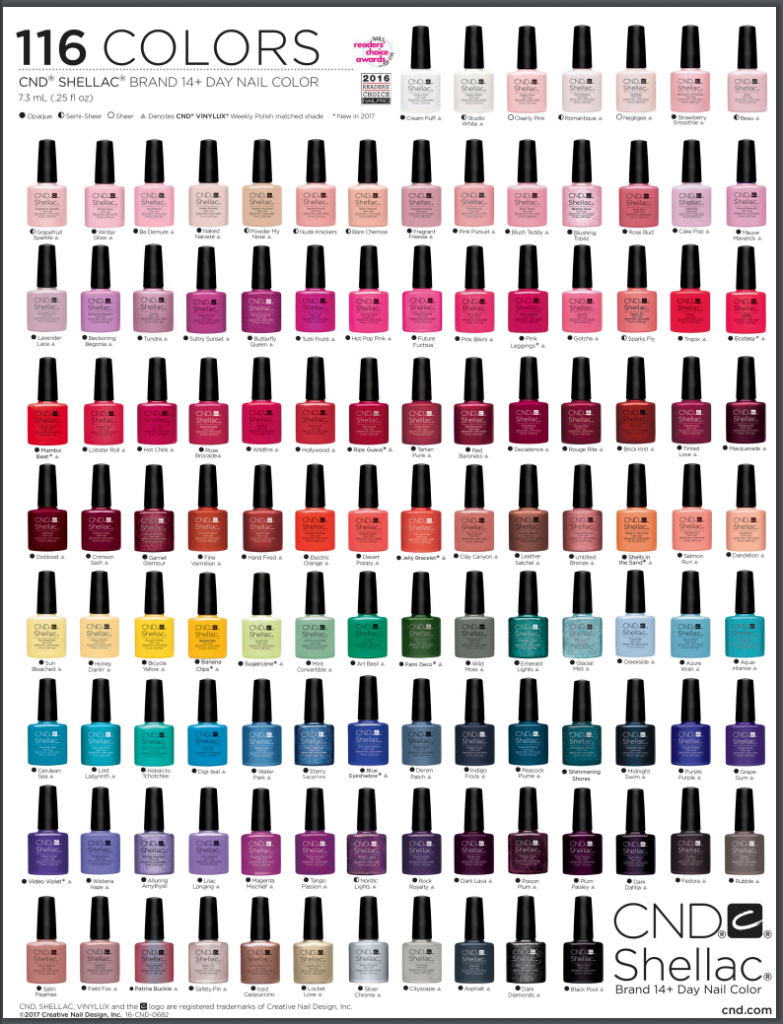 Best Shellac Nail Polish Colors
Shellac is a mixture of gel and nail varnish that helps the nail shine and last longer. The blend of polymers and monomers is the reason for the high-shine finish of shellac nails that last almost three weeks.
But, before having the shellac nails you must choose the best shellac nail polish colors for your nails. Because the durability and shine are all the same for every shellac color, the nails will differ from each other in terms of the shellac colors.
Since the advent of shellac colors, the manicure industry is abuzz with the praise of shellac colors. Here is a list of the most discussed shellac colors for you.
#1. Plum Paisley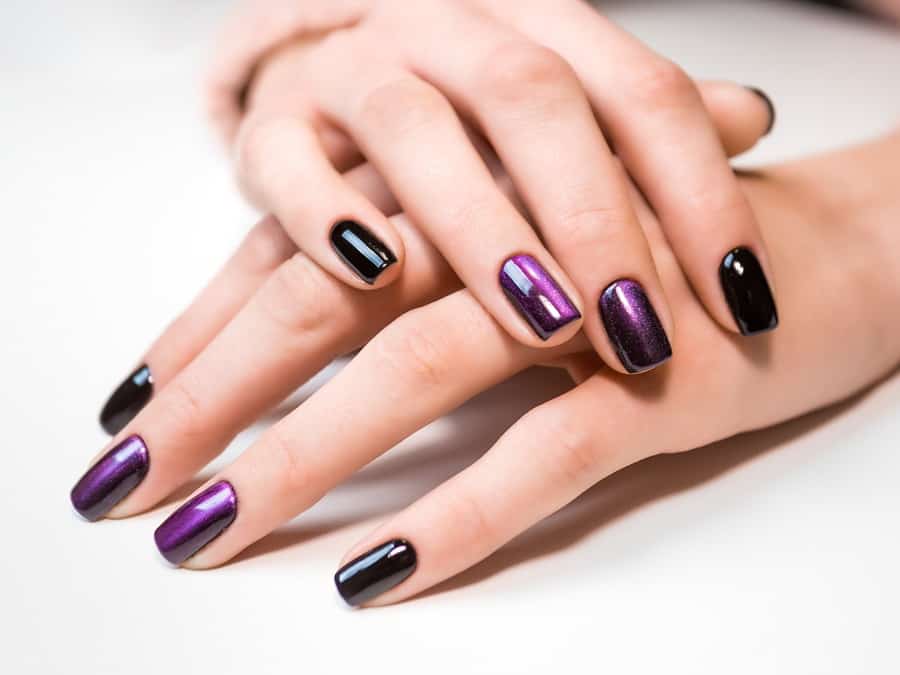 Plum Paisley is sure to add a sophisticated and artistic touch to your manicure.
It is a deep purple shade that almost looks black in the sunlight. Try the color on short square nails and you will love it!
#2. Banana Clips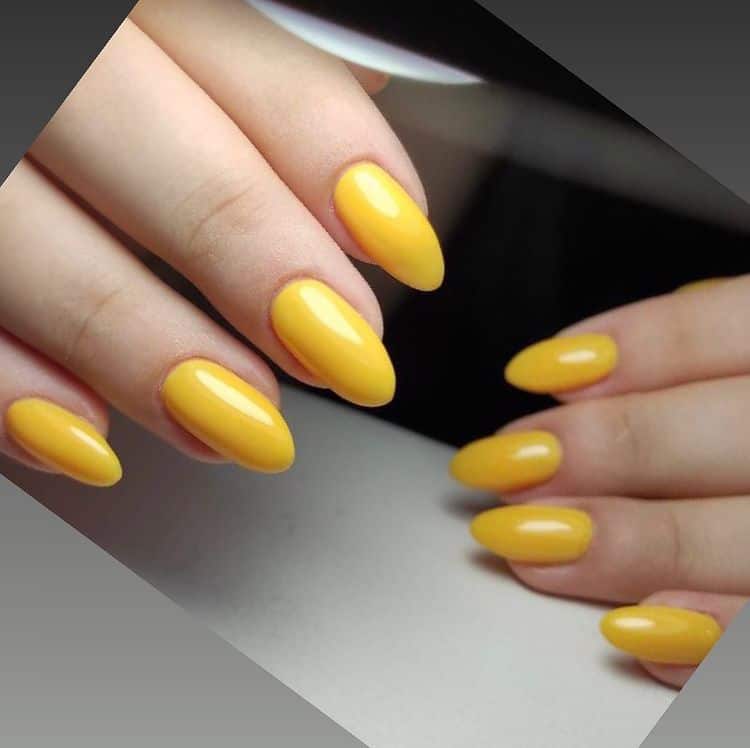 Love bright hues? Check out this vibrant yellow color that is sure to turn around some heads.
It is just the perfect shade being neither too dark nor too light making it ideal for all skin tones during the summer.
#3. Rooftop Hop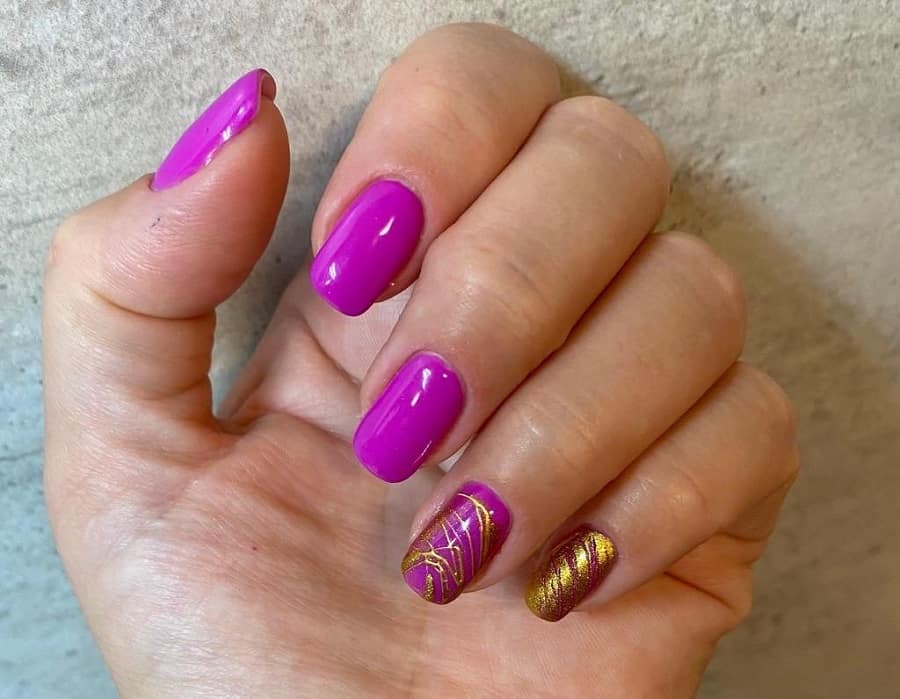 Pamper your nails with one of the hottest shellac nail colors named Rooftop Hop.
It is a bright magenta shade that symbolizes energy and creativity and is ideal for ladies who love different shades of pink. Add a few stripes of gold and wow!
#4. Safety Pin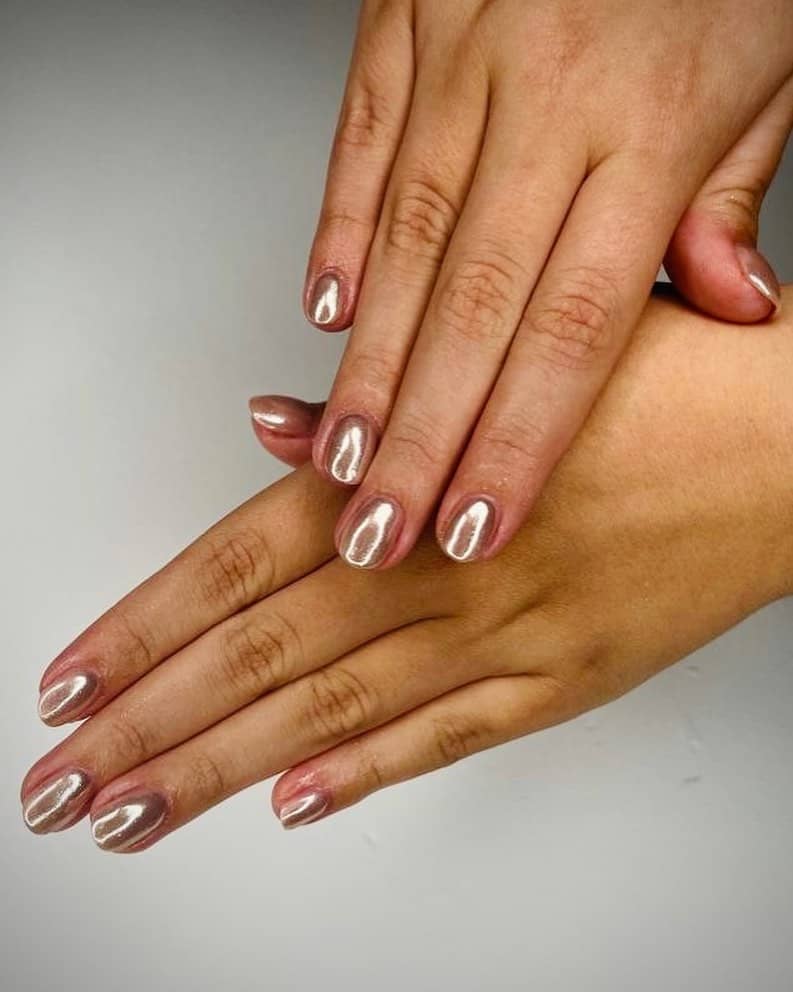 Those who love a subtle shimmer on their hands should definitely give this color a try.
The sparkle builds up with a coat or two making this silver polish suitable for all occasions may it be a new year party or an everyday look.
#5. Azure Wish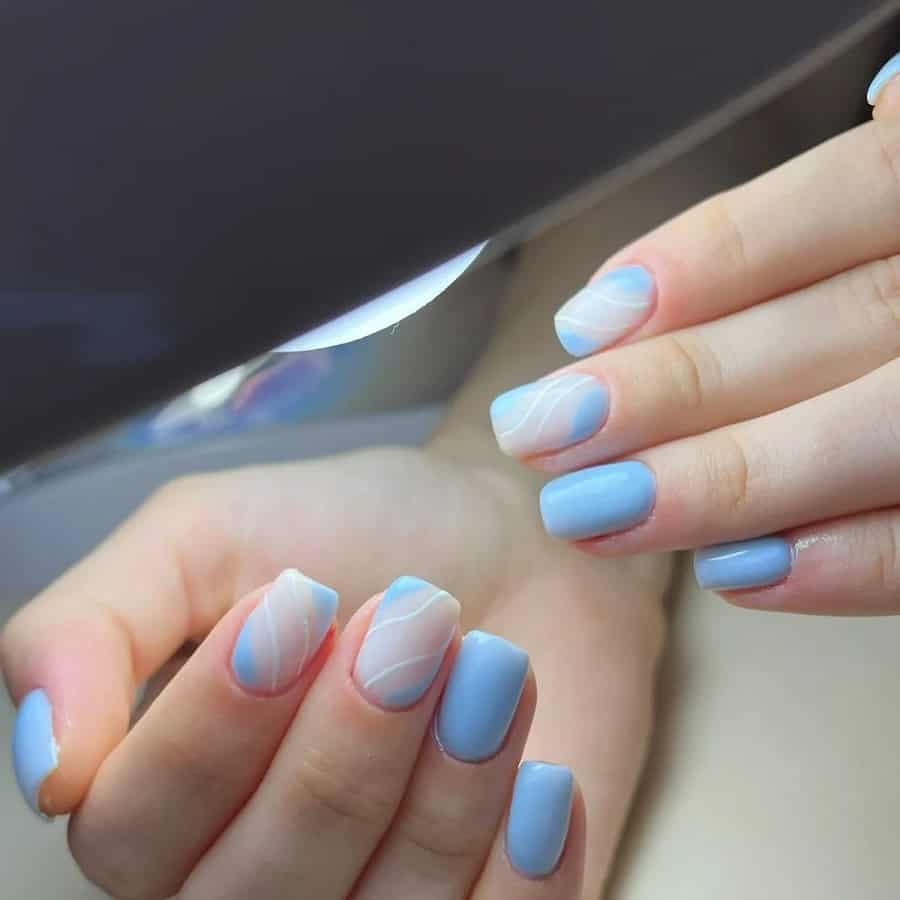 Azure Wish is a cool and calm tone of blue. It is a go-to shade for short nails but looks exceptional on long ones too.
This royal color is quite versatile and couples perfectly with almost all nail shades.
#6. Wildfire
No color beats the beauty of red. It is chic, wild, sexy, you name it!
Ladies with all skin complexions can rock this gorgeous shellac nail color on their long nails to set them on fire.
#7. Palm Deco
Keep your cool during the summer with this refreshing nail color.
It symbolizes nature and peace and can be rocked especially around Christmas or St. Patricks Day. Couple it with a leafy design and you won't regret it!
#8. Grapefruit Sparkle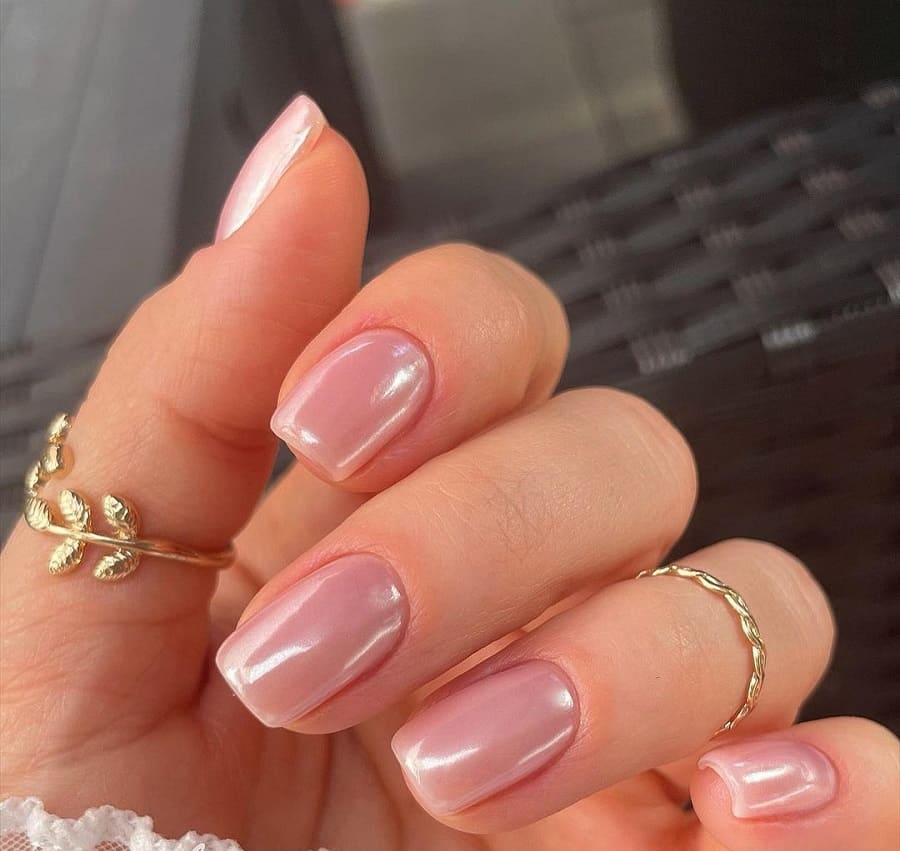 Love nudes? Then this is just the shade for you. Grapefruit sparkle is a soft pink nail paint that will make the nails look naturally manicured.
Use it as an everyday color and sprinkle on some glitter too.
#9. Black Pool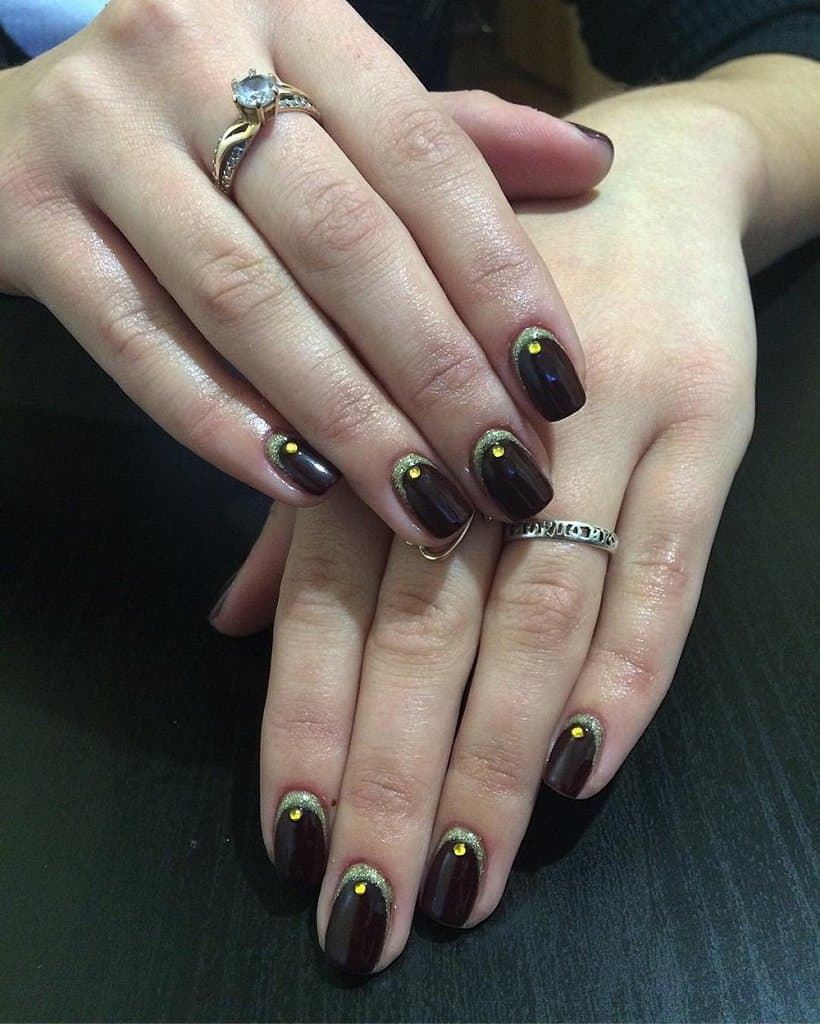 Black pool is probably the blackest shade you will find in the market.
It has a glossy finish and looks extraordinary on both long and short nails, regardless of skin tone. Don't miss out on this color if you love a dark manicure.
#10. Romantique
Romantic just as the name suggests! It is a sheer polish with the slightest hint of pink.
Use it as a single shade on the nails or as a top coat on vibrant bases like pink or blue to create a soft pastel manicure. Dreamy!
#11. Mint Convertible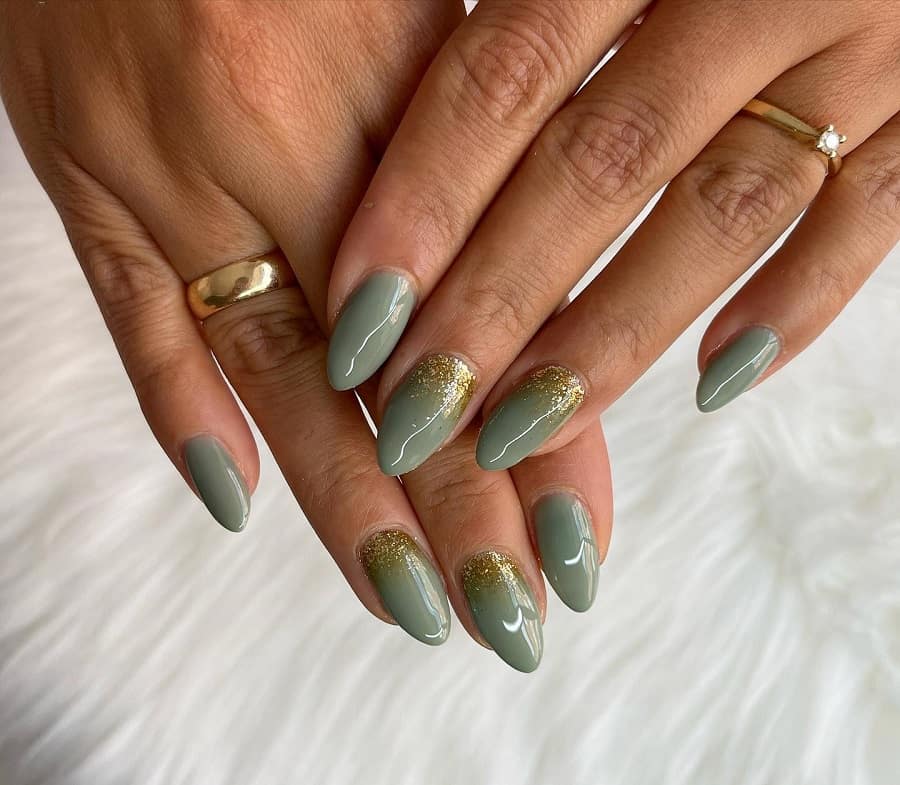 This shellac nail polish will make your nails look like precious gemstones.
It is a dusty green color with a shiny finish making it a must-have for those who like cool shades. Add a touch of gold to make your manicure breath-taking.
#12. Electric Orange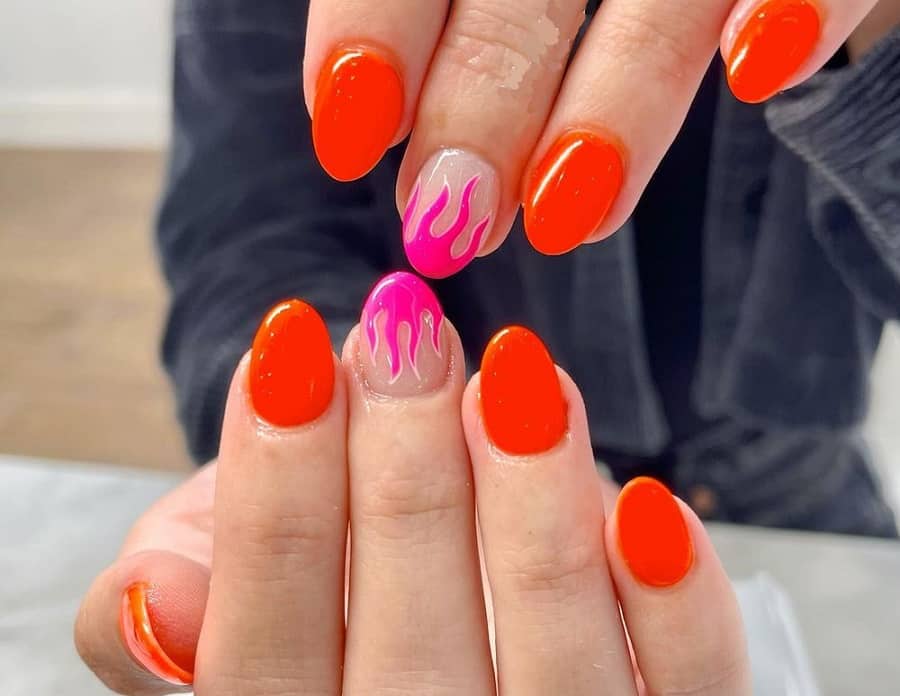 Bold ladies who love to express their wild side can make their nails pop with an electrifying orange tinge.
This shade, however looks better on lighter skin tones compared to the darker ones. Mind-blowing!
#13. Shells in the Sand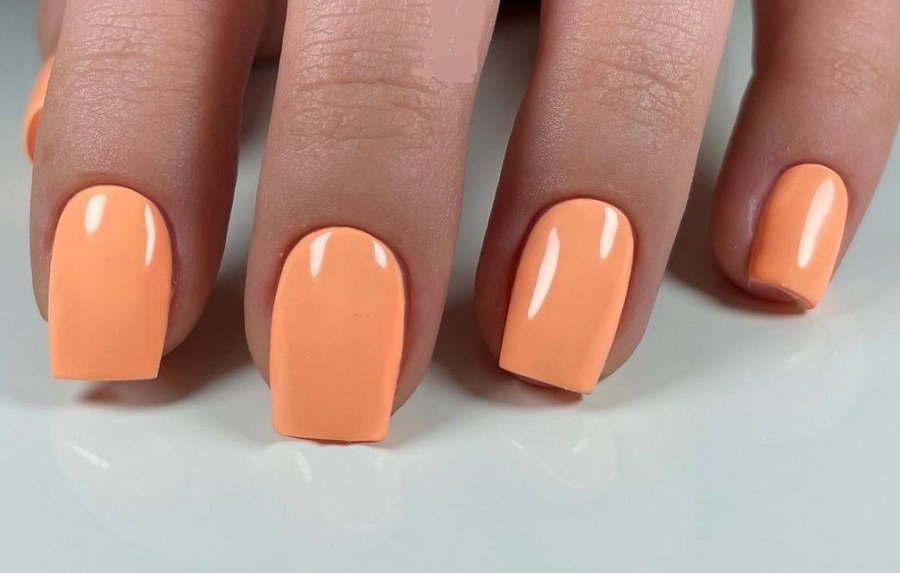 Those who find Electric Orange too vibrant can rock this softer tone of orange from CND's Rhythm and Heat Collection.
If you are going to the beach to enjoy the summer holidays, don't forget to add a coat or two on the nails.
#14. Butterfly Queen
Butterfly Queen is especially for the girls having cooler skin tones. The mixture of glittery pink and purple helps the nails look gorgeously shiny.
This nail polish is one of the newest shellac colors that is suitable for winter nail art mainly.
#15. Tartan Punk
This is a great nail polish color that suits both dark and fair skin tones in the same way.
The deep, vibrant and metallic look of this shellac color will spellbind anyone who will encounter the nails.
Tartan Punk can be worn on any size and shape of the nails. The maroon shade nails will look classy and shiny for sure.
#16. Tropix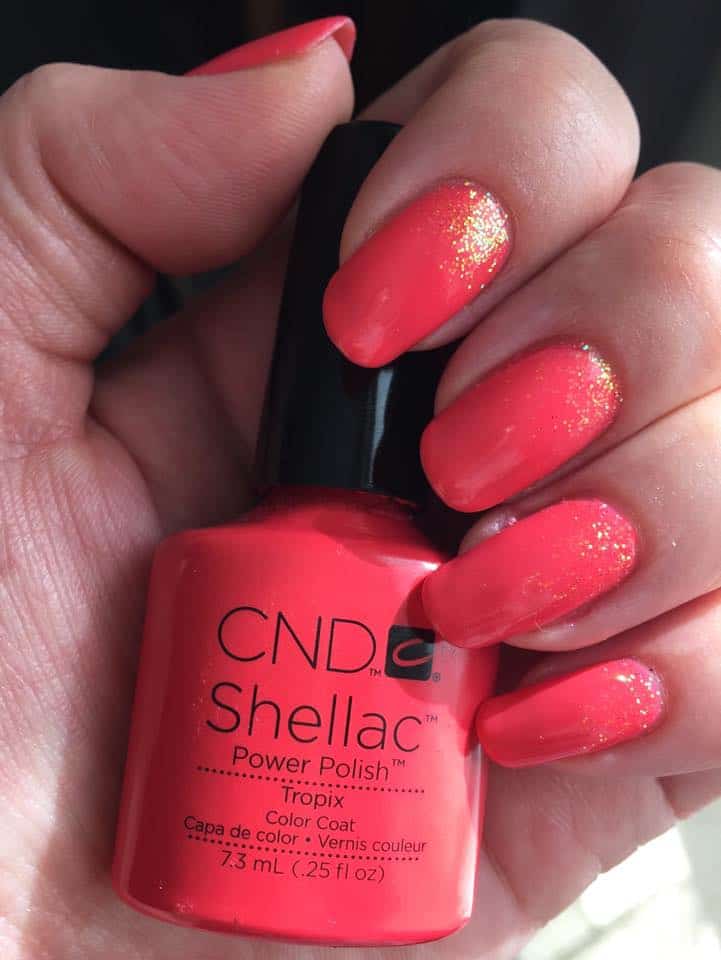 This bright color is invented mainly to design the summer nails. Tropix is a vivid and warm coral that looks great on holiday manicures and pedicures.
If you have a warmer skin, this is the best thing for you.
#17. Wisteria Haze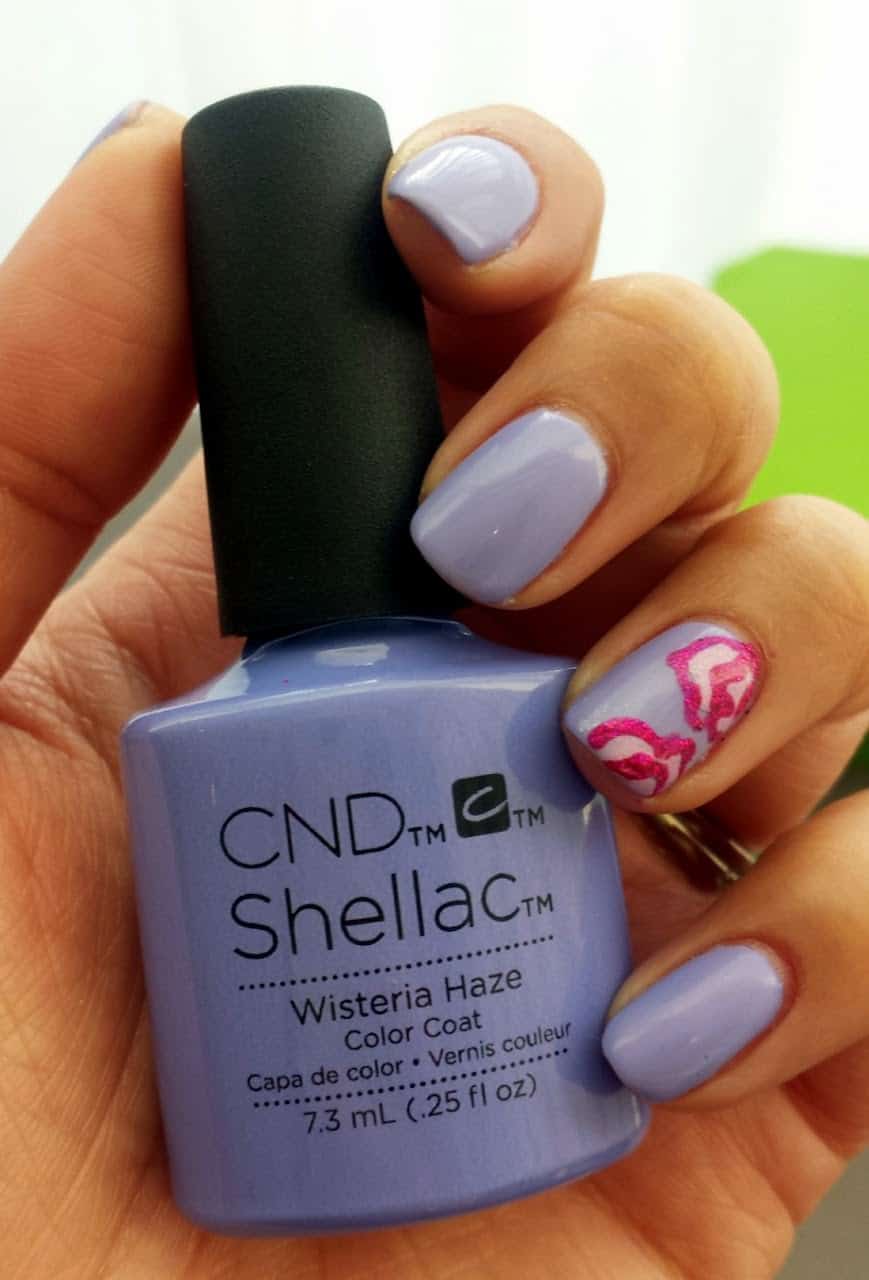 This is a decent-looking purple nail polish. The blue undertone of this shellac color makes the nails look purple on the nails.
Wisteria Haze is suitable for fair skin tones having shorter nails.
#18. Masquerade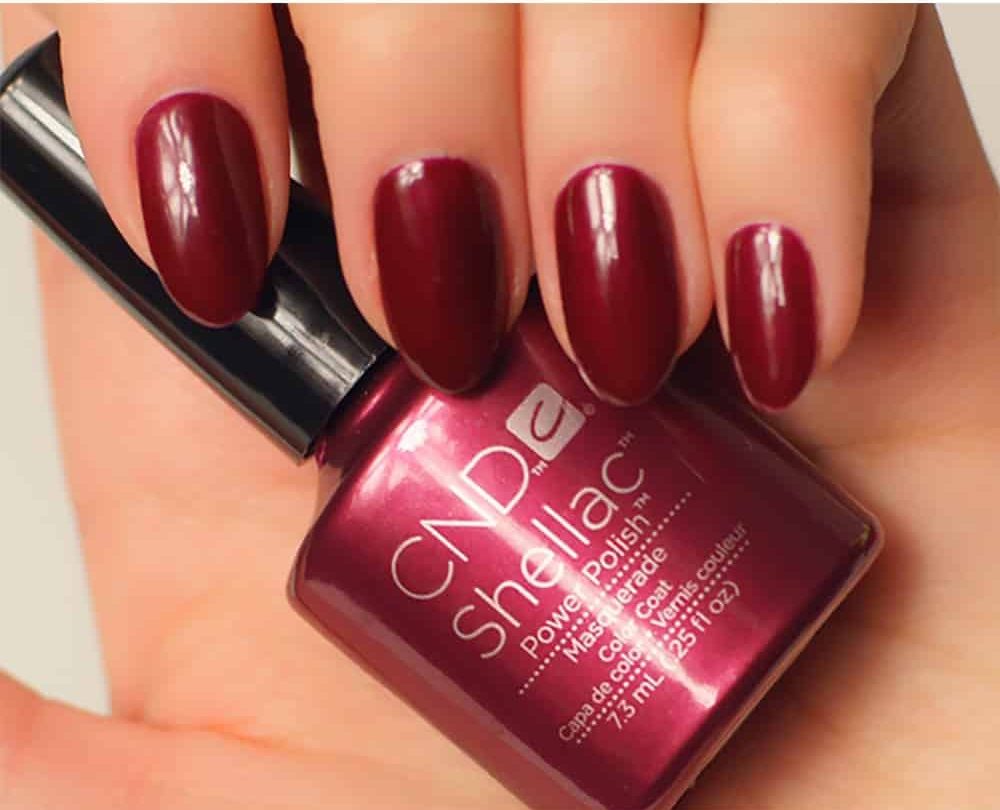 This shimmery red color is one of the most popular shellac colors. A deep shade of red with a few thin glitters can glam up your nails to a great extent.
And, Masquerade is the proof for this statement because they look incredibly glamorous on the nails.
#19. Beckoning Begonia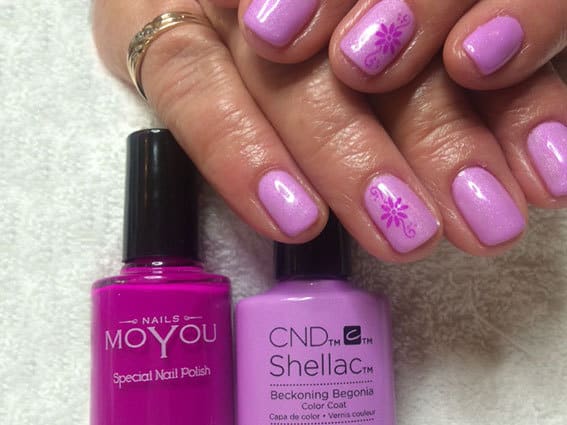 Shimmering pink, purple undertone and the extra shine of shellacs! What more you do you need to have a delicate nail art?
Beckoning Begonia has all the good things for you to make your fair skin look awesome.
#20. Field Fox
If you love nude colors, nothing to worry. CND Shellacs have covered that space too.
Field Fox is the ultimate choice if you want to have classic nude nails. This is such a color that suits every skin tone.
Some Spectacular Shellac Nail Design
Shellac nail polishes are an amazing option to have on your nails. They are durable, shiny and beautiful.
And, if you can pick the best color that suits your nails, the mani will look like something out of this world.
Hope this article will help you do the difficult task of choosing the right color easily.