Holidays have always been our favorite excuse to get fabulous nails, and that surely includes patriotic nail designs. From Christmas themed nails, birthday related ones, tiny Easter eggs decorating our nails… 4th of July certainly doesn't lag behind when it comes to nail designs.
Moving the decoration from our picnic tables and walls to our nails showing off our patriotic spirit in our hardcore American patriotic nail designs is the fashionable way to celebrate!
American Spirit Patriotic Nail Designs
As it's clear in the fashion world the American flag had involved from the sign of the land of the free to a fashion statement. Walking in the mall you see flashes of red, white, and blue on shirts, jeans, and jackets.
Such patriotic fashion statement has reached nail art enthusiasts and became a huge trend not only on special occasions but for everyday looks as well. Here's a list showing you 33 ways to get your patriotic nails designed.
#1. Stars and Stripes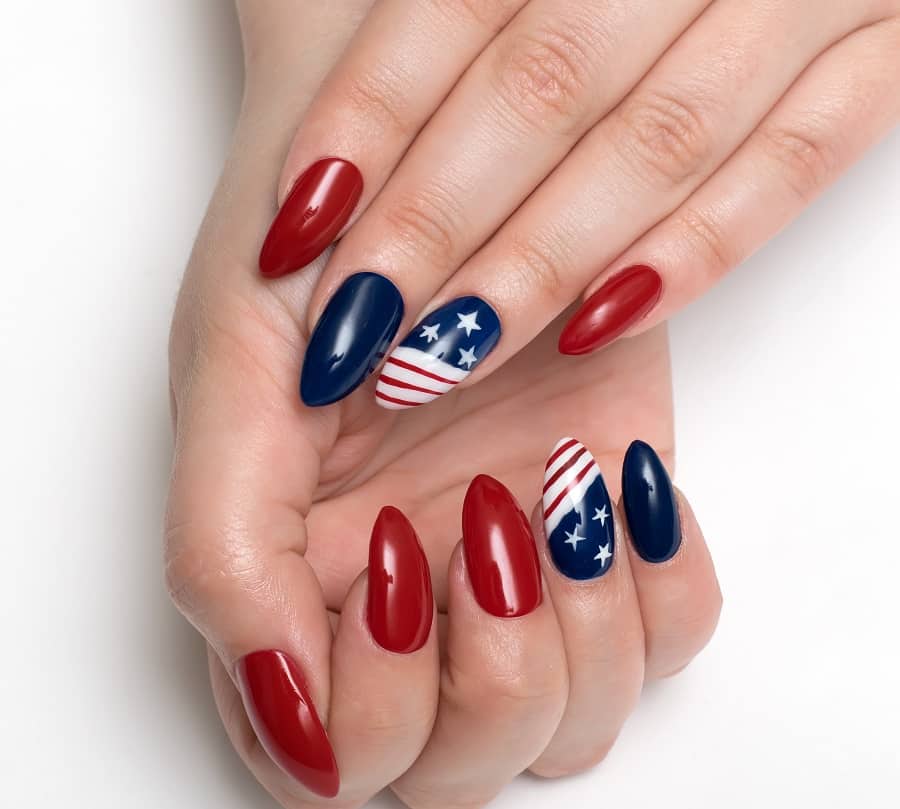 If you're a steady hand with the nail polish, there's no reason you can't create these stiletto beauties at home. Paint red and white stripes on a dark blue nail and accent it with white stars.
#2. Patriotic Tips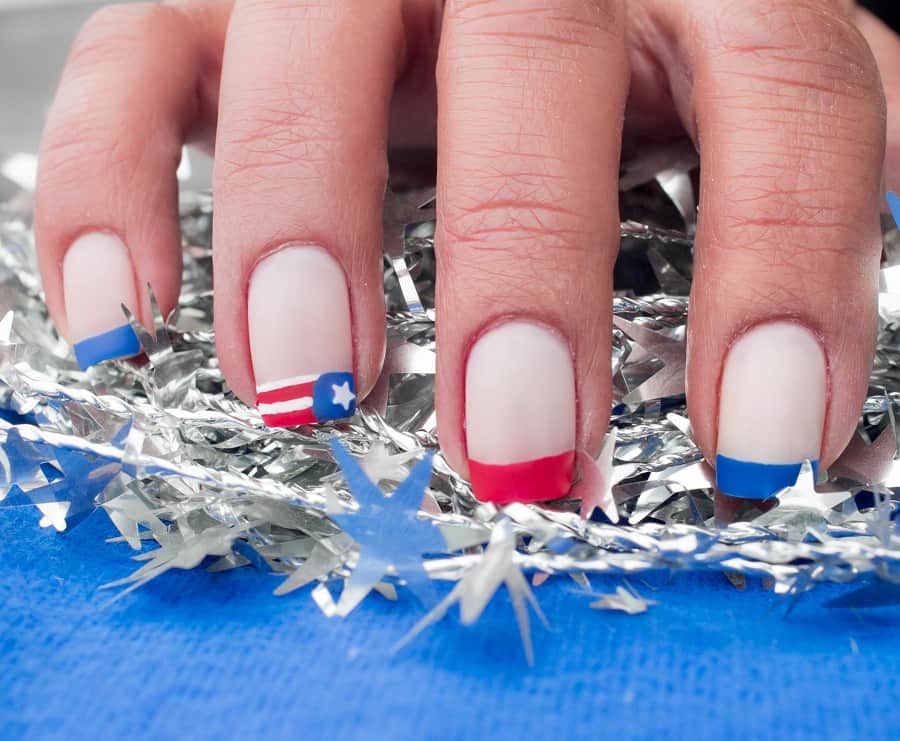 Define the edges of square nails in alternating red and blue. Leave the nail beds nude or beige to make the tips stand strong.
#3. Shiny Beige Beds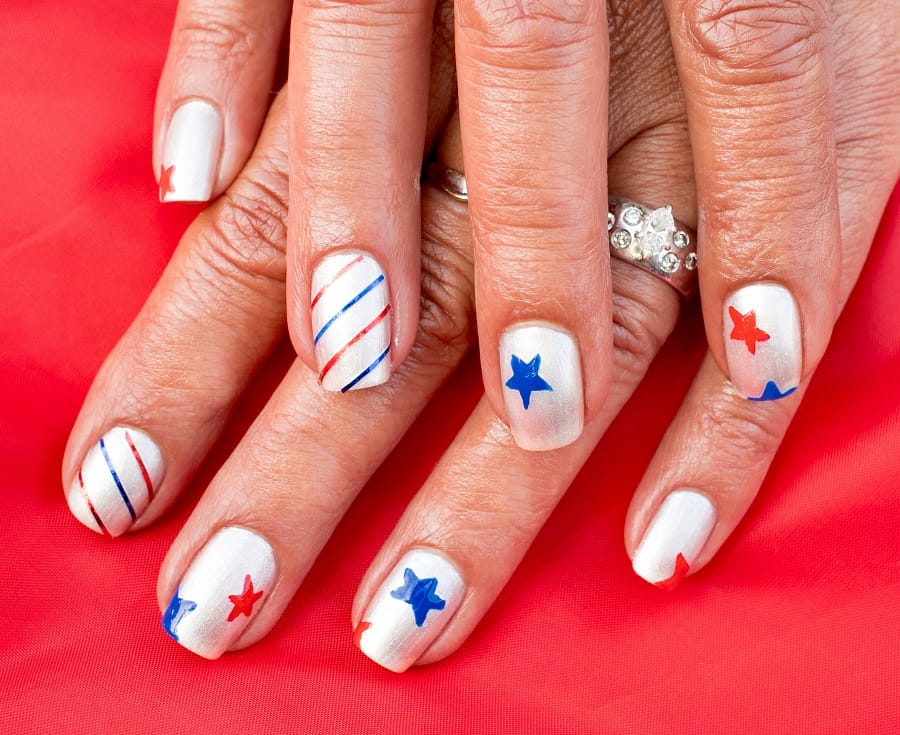 Red and blue stand out even more when their background is neutral. Try a shiny beige as the base, then draw on stripes and stars.
#4. Dots and Stripes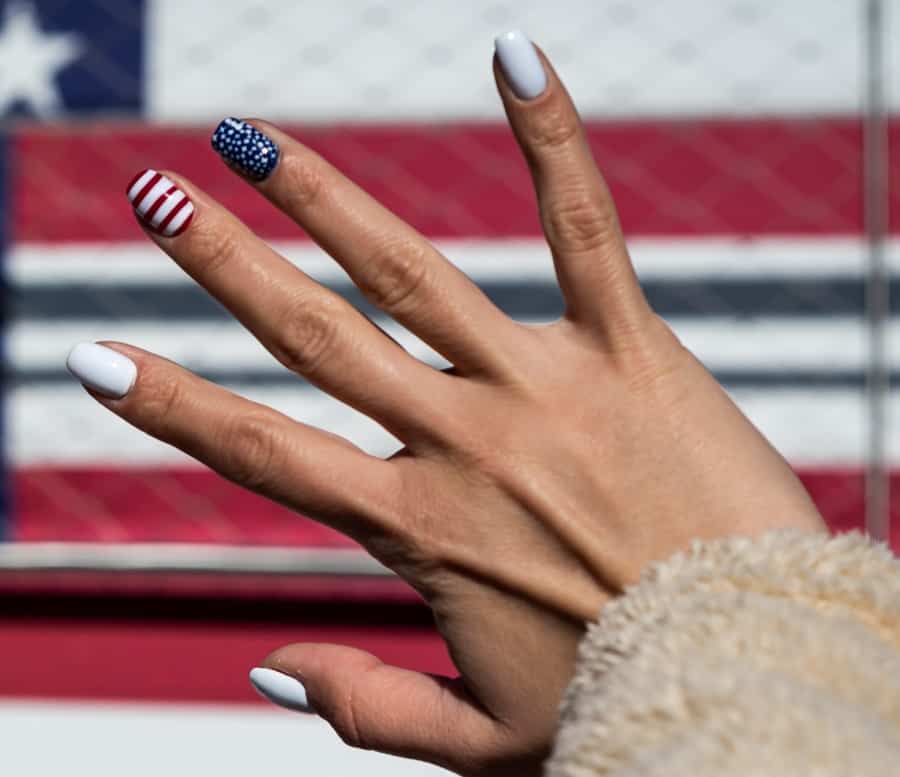 Dots make adorable stars too and we love the way they look over dark blue nails. Add red stripes to one more accent nail and leave the rest plain white.
#5. Patriotic with Gold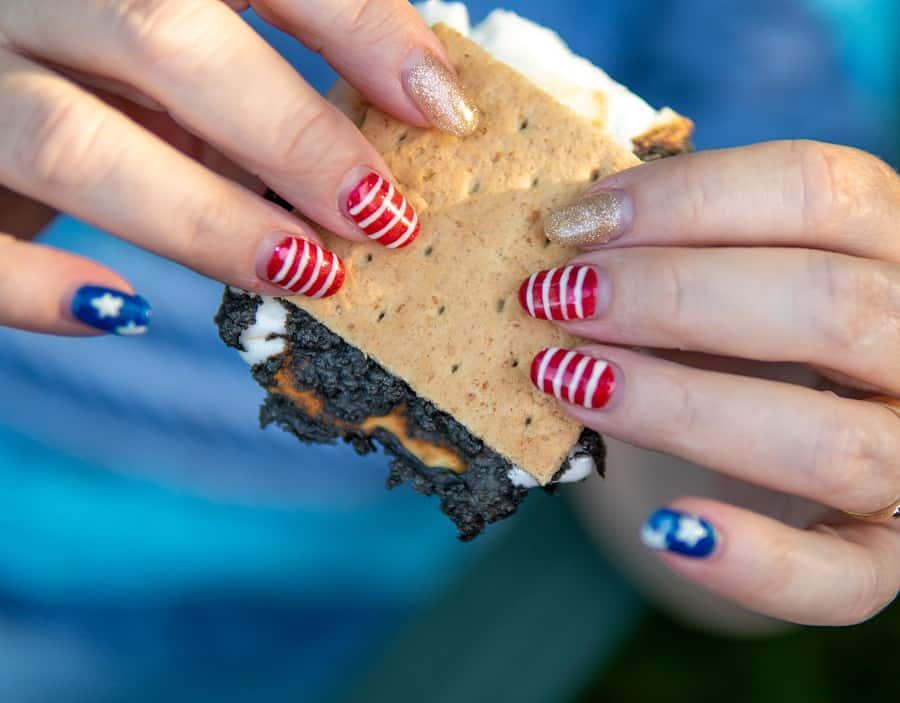 A glittery gold is a beautiful touch on patriotic nails. Make it the perfect accent by painting only one fingernail in the color, making whatever design you want on the other nails.
#6. Silver Nail Stickers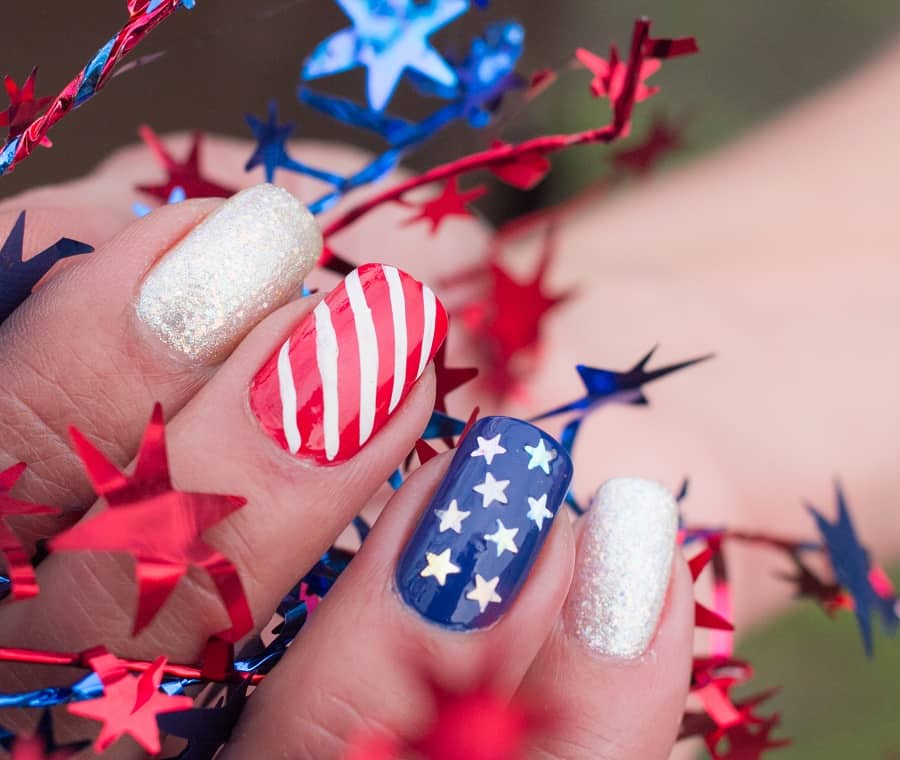 Nail stickers are an easy way to make any patriotic design look like you paid a professional for it. These shiny squoval nails are accented with silver stars and shiny neutral polish.
#7. Chevron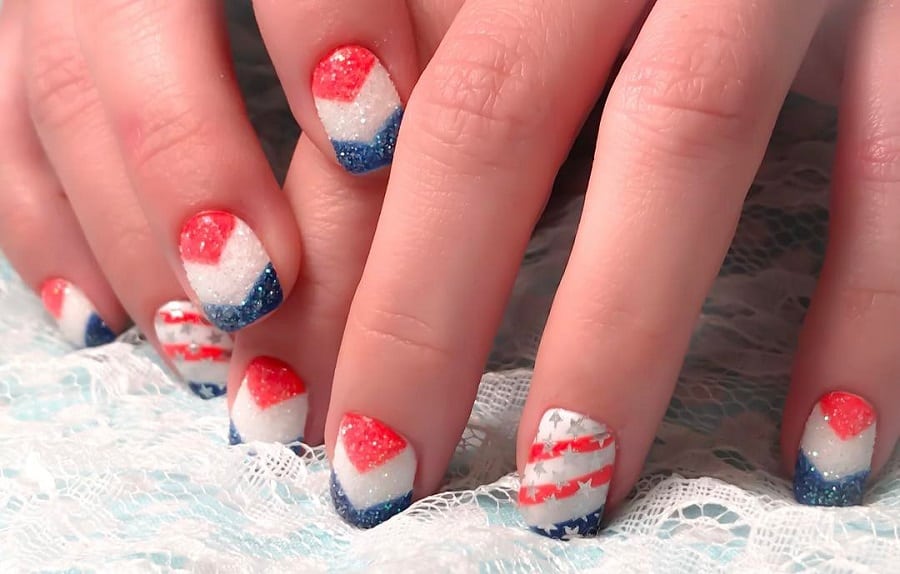 The chevron pattern is quite popular in nail designs, meaning your short square nails will be on trend the minute you incorporate red, white, and blue. Give it a little sparkle with a glittered clear coat.
#8. Patriotic Ombre
Melt red and blue together in an ombre, then top your nails with large white stars. Try this design on long nails for the largest space to flaunt the style.
#9. Patriotic Pedicure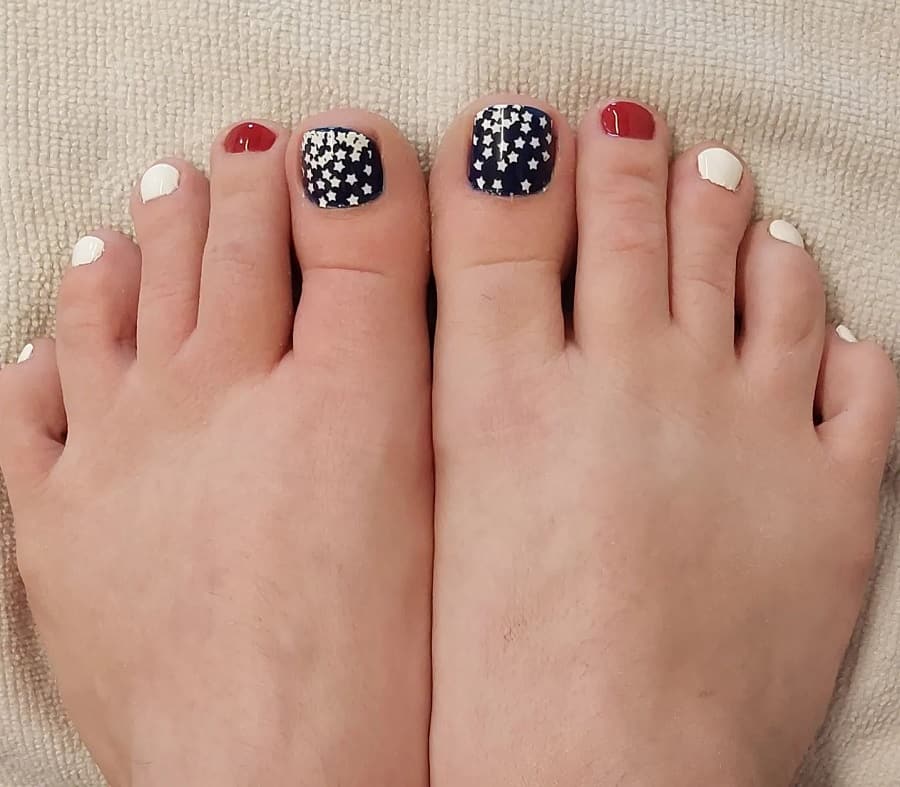 Bring the patriotism to your pedicure, too, by painting your big toe dark blue – dotted with little white stars – and your little toes red and white.
#10. Swirls and Stars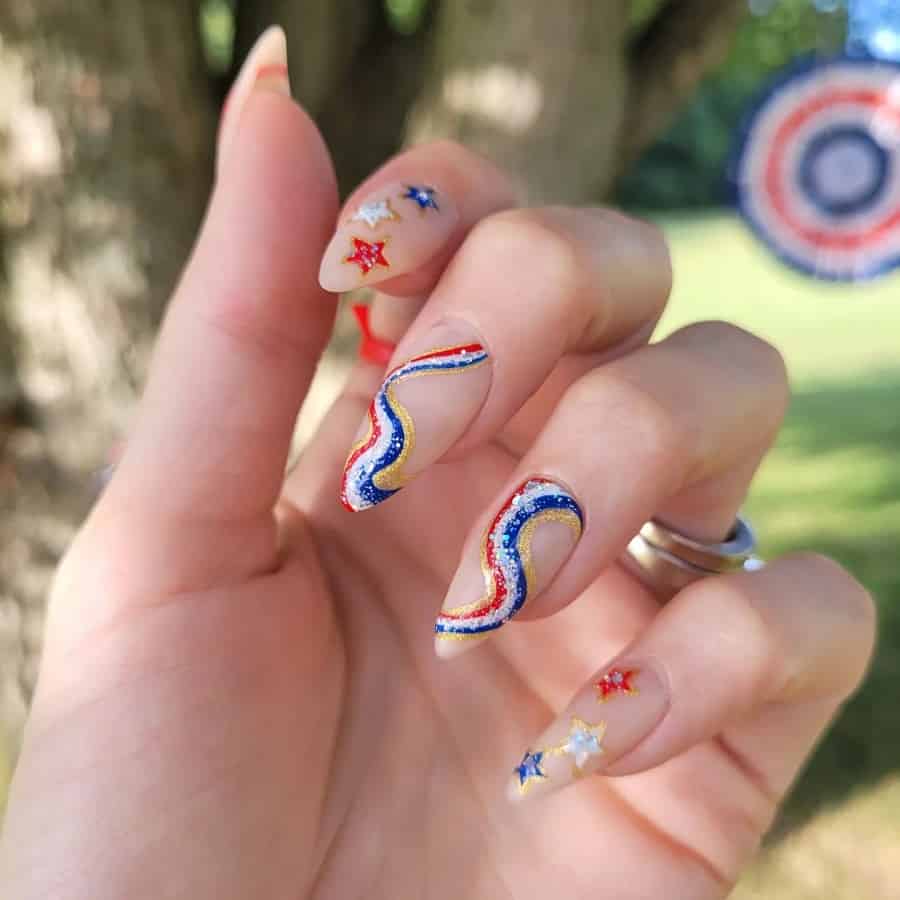 Long stiletto nails will beautifully flaunt flowing red, white, and blue swirls. Add the swirls to your two middle fingernails and stars on the end fingernails. You can even use gold to outline your designs.
#11. Patriotic Cupcake
Show love to your favorite Independence Day dessert on your manicure! These short squoval nails feature thick red and white stripes, classic stars, and cute cupcake designs.
#12. Pointed Stiletto Nails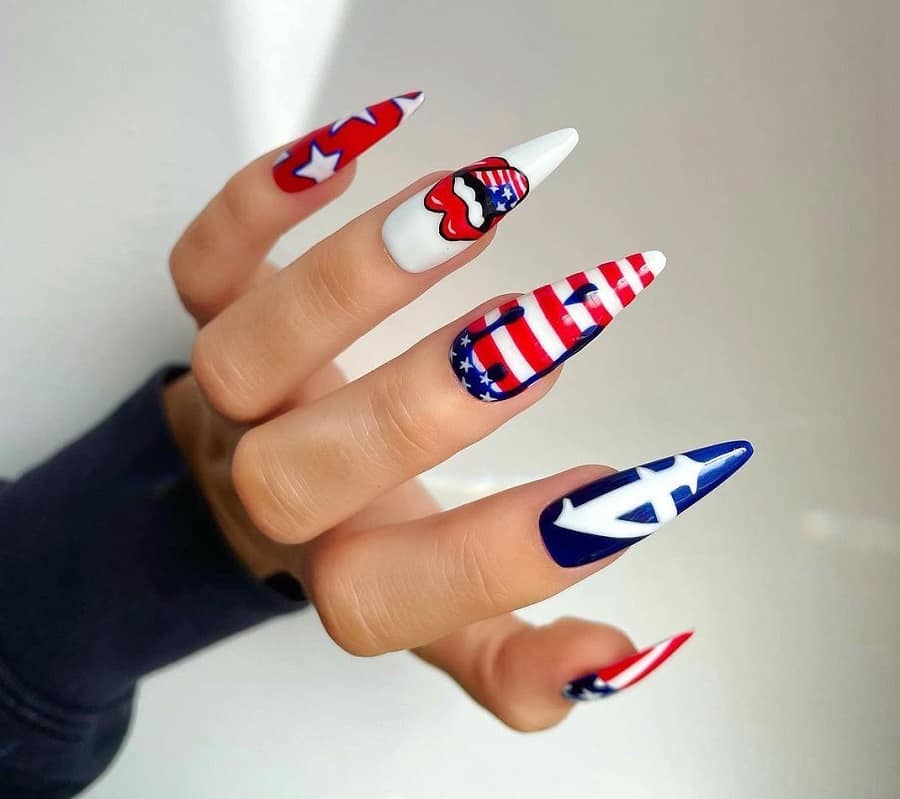 If you have a love for dramatic nails, the key is in long stiletto nails with a pronounced pointed tip. We like this combination of vertical and horizontal stripes and stars coupled with a punk-rock patriotic mouth.
#13. Independence Day Nails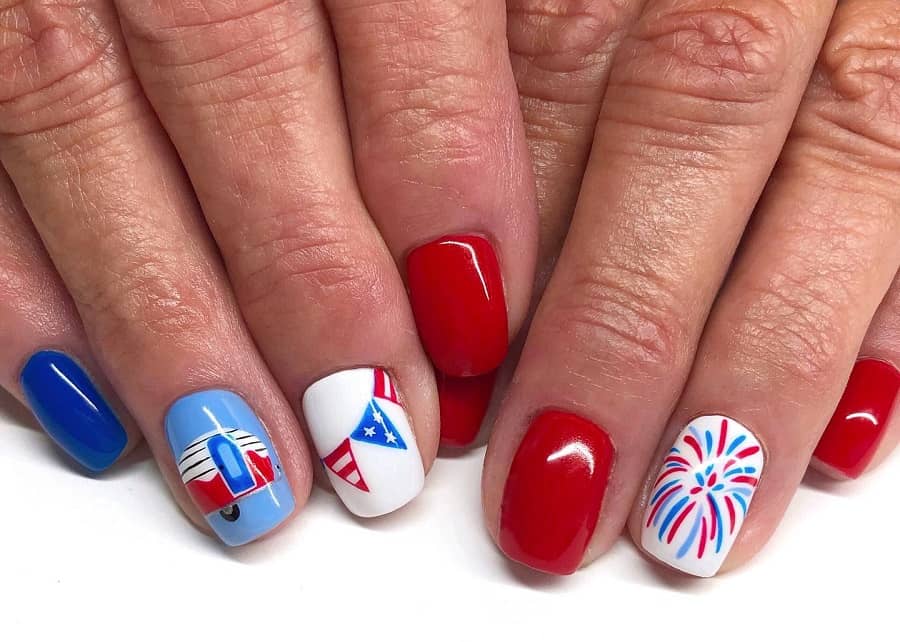 Fireworks, a cute camper, and triangular garland liven up shiny squoval nails. You can either use nail stickers or see an airbrush artist for the design.
#14. Polka Dots
White polka dots on blue nails are adorable and perfect for embracing your Independence Day spirit. Alternate them with thin white stripes in red nails.
#15. Ice Cream Love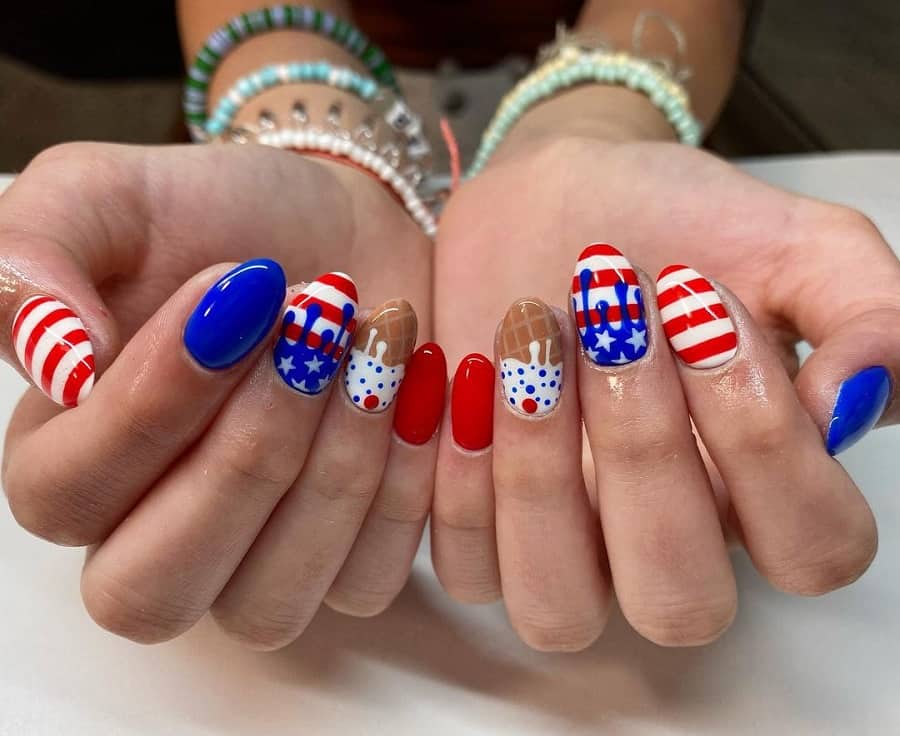 You'll be having all sorts of cool treat cravings when you rock patriotic almond nails that feature an homage to ice cream. Get creative with colorful sprinkles and don't forget to add the cherry!
#16. 4th of July Nails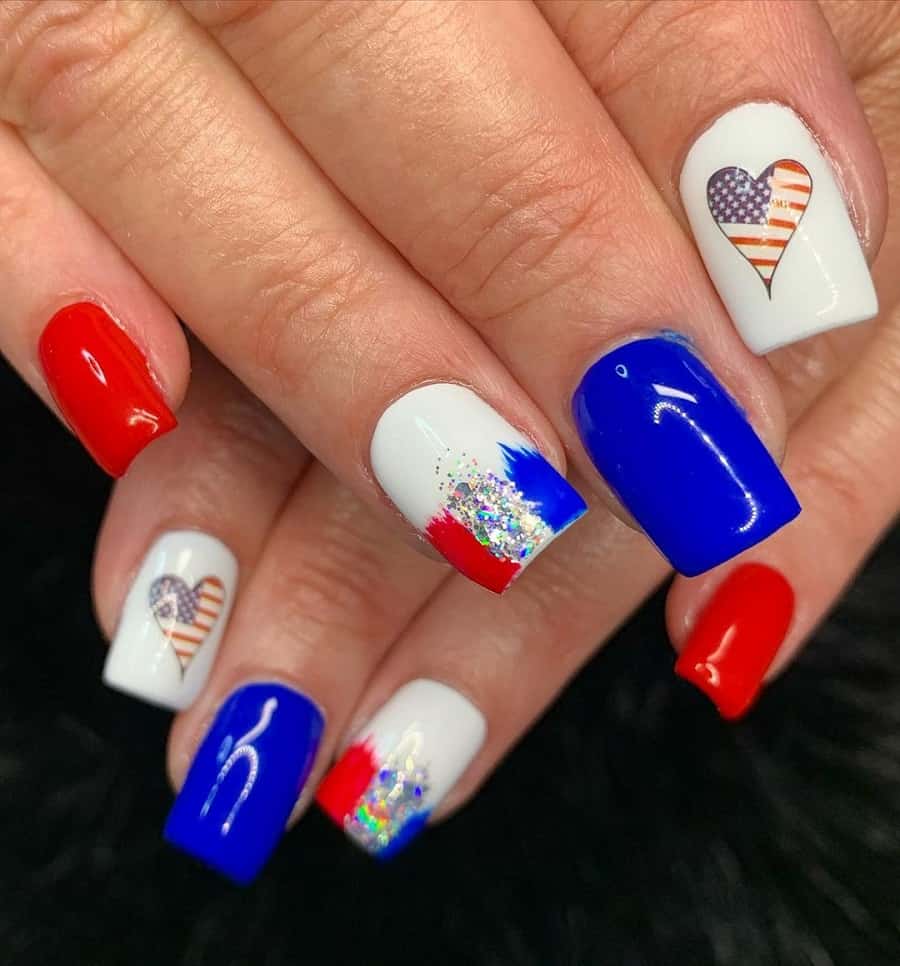 No one will doubt your love of the 4th when they see how your manicure is decked out in red, white, blue, and glittery silver. A cute flag heart is the final touch.
#17. Light Blue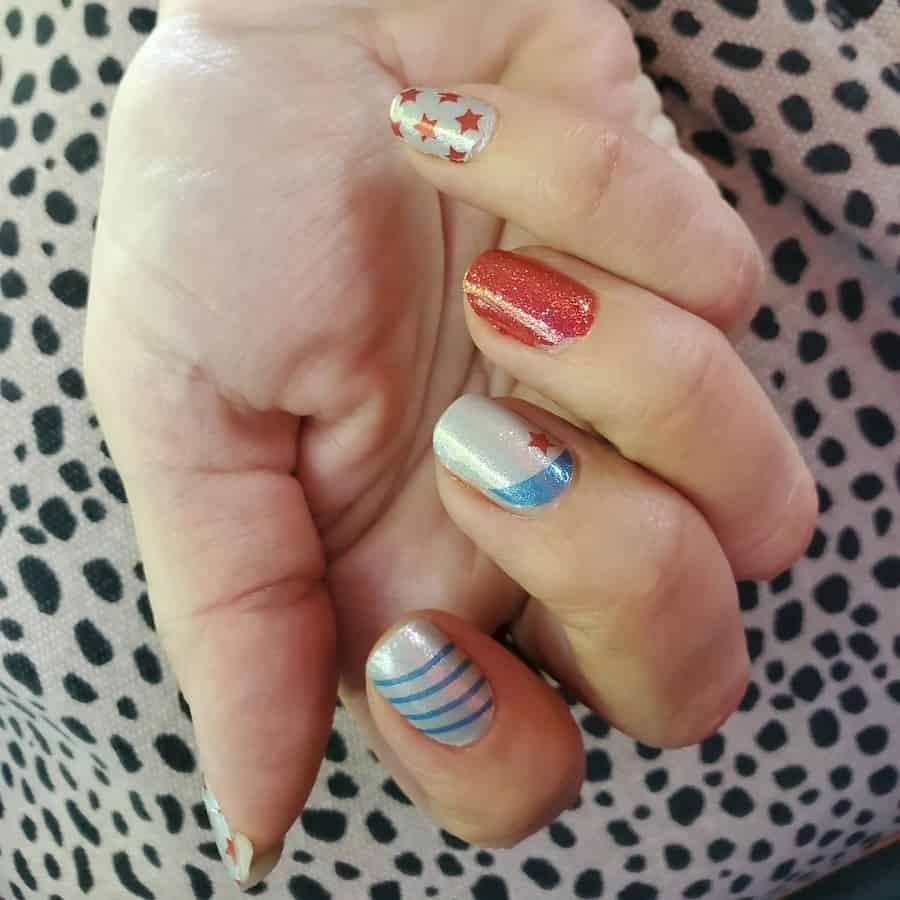 Many patriotic nail designs feature dark blue, but there's no reason you can't use a light blue instead. The refreshing color is an unexpected touch of lightness on short nails.
#18. Marbled Stilettos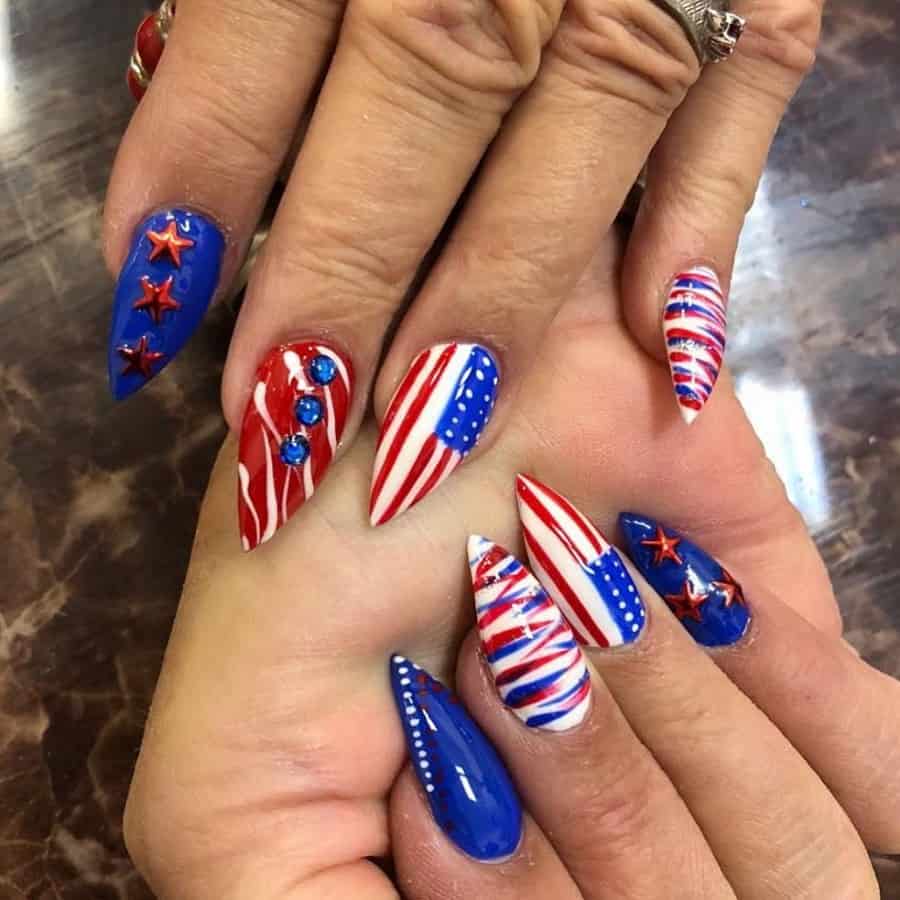 Artistic is the only way to describe these pointed stiletto nails with patriotic dots, stripes, and a marbled design. Use nail stickers or jewels to make your nails come to life.
#19. Short Round Nails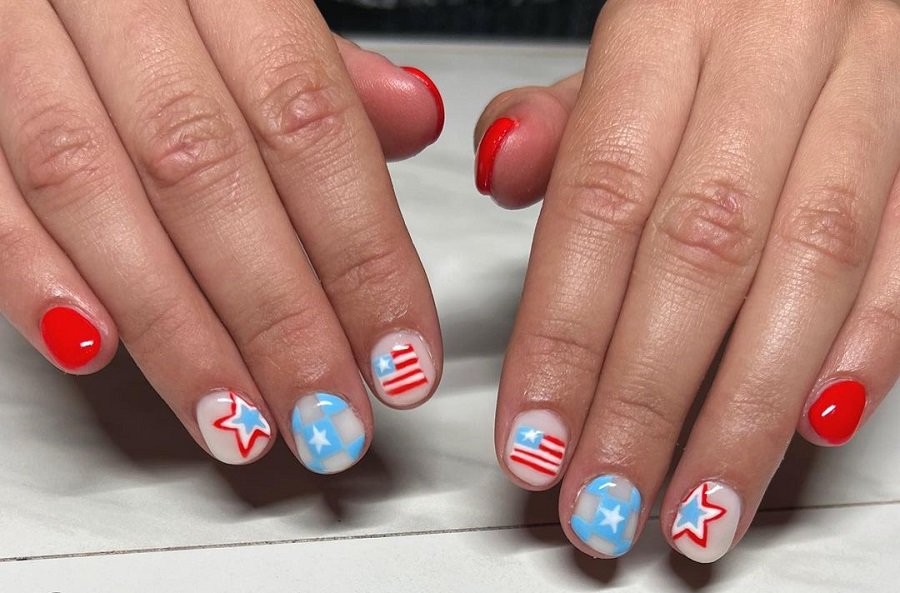 If you prefer to play it practical when it comes to your manicure, opt for short round nails. Light blue, red, and white will look fun but chic over a milky white or nude nail.
#20. The Best Summer
Show some love to your favorite American attraction by featuring Mickey Mouse on your nails! Get creative with abstract fireworks and use a combination of glittered and matte polish.
#21. Summer Nights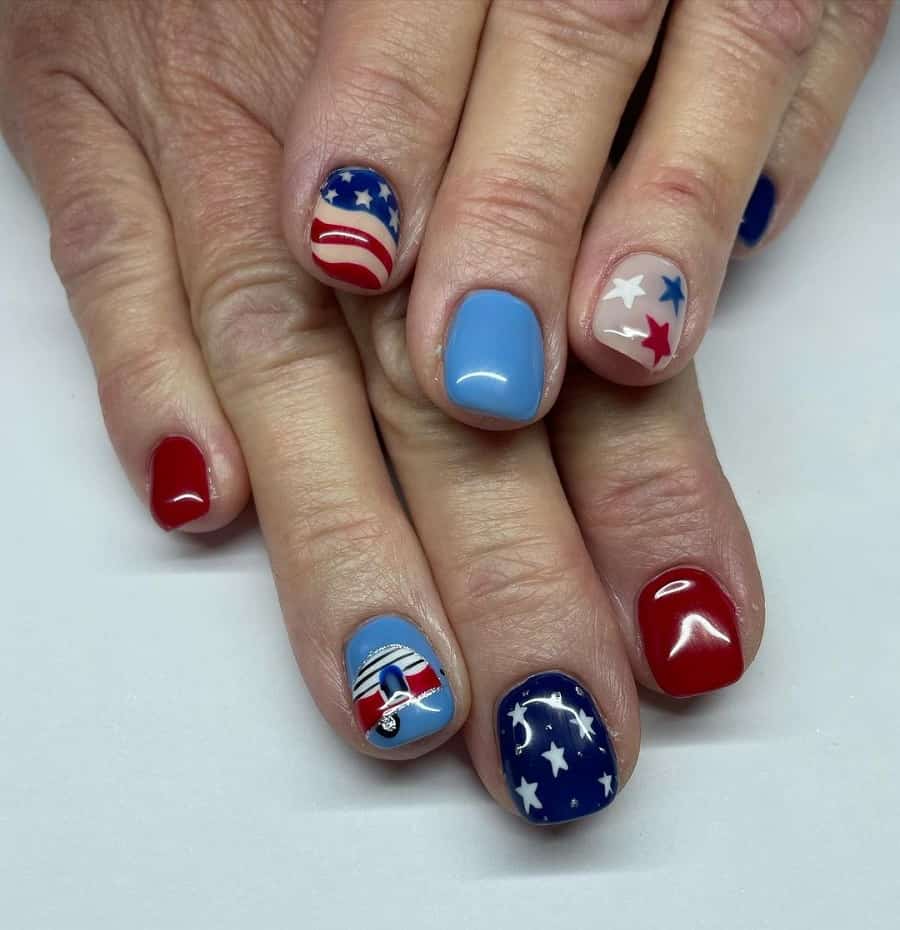 Camping under the stars takes on new meaning as a perfect airbrushed manicure. Short round or squoval nails are the perfect length for this adorable scene.
#22. Red and Blue Sequins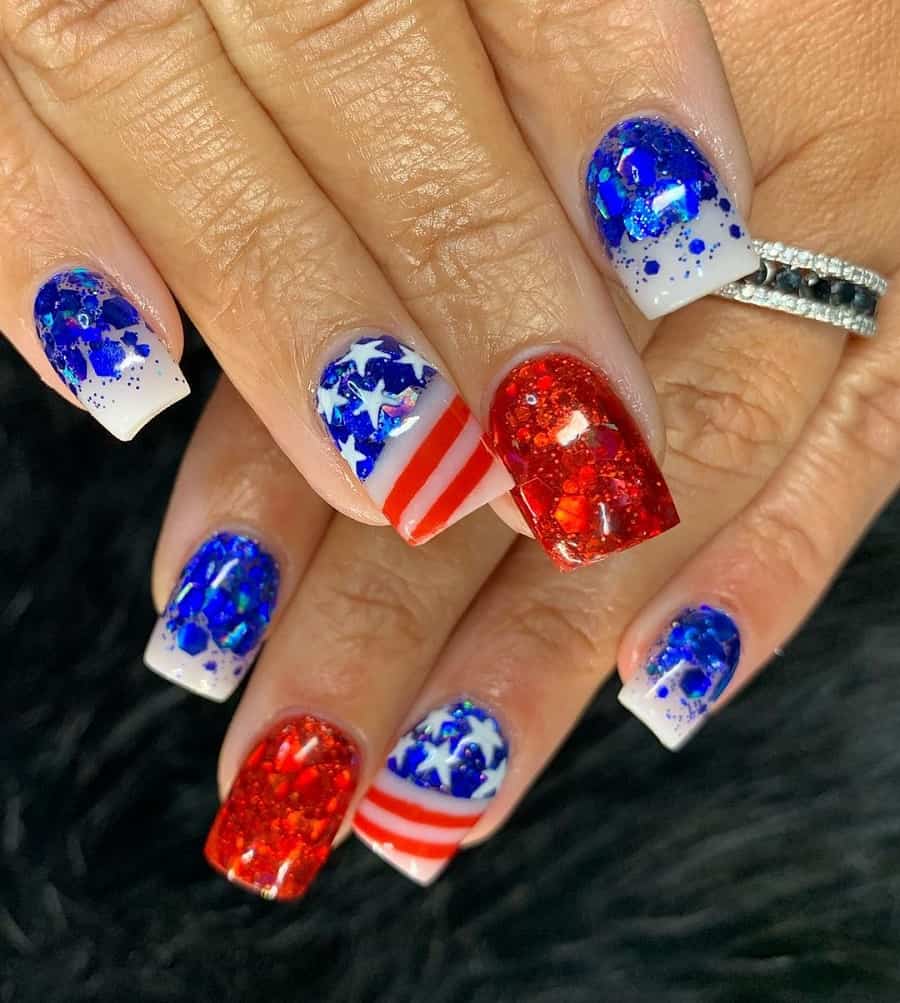 To get this shiny mani, choose red and blue polish in glitter or add red and blue sequins to your nails before letting them dry. They'll stand out better on a neutral background.
#23. Patriotic French Tips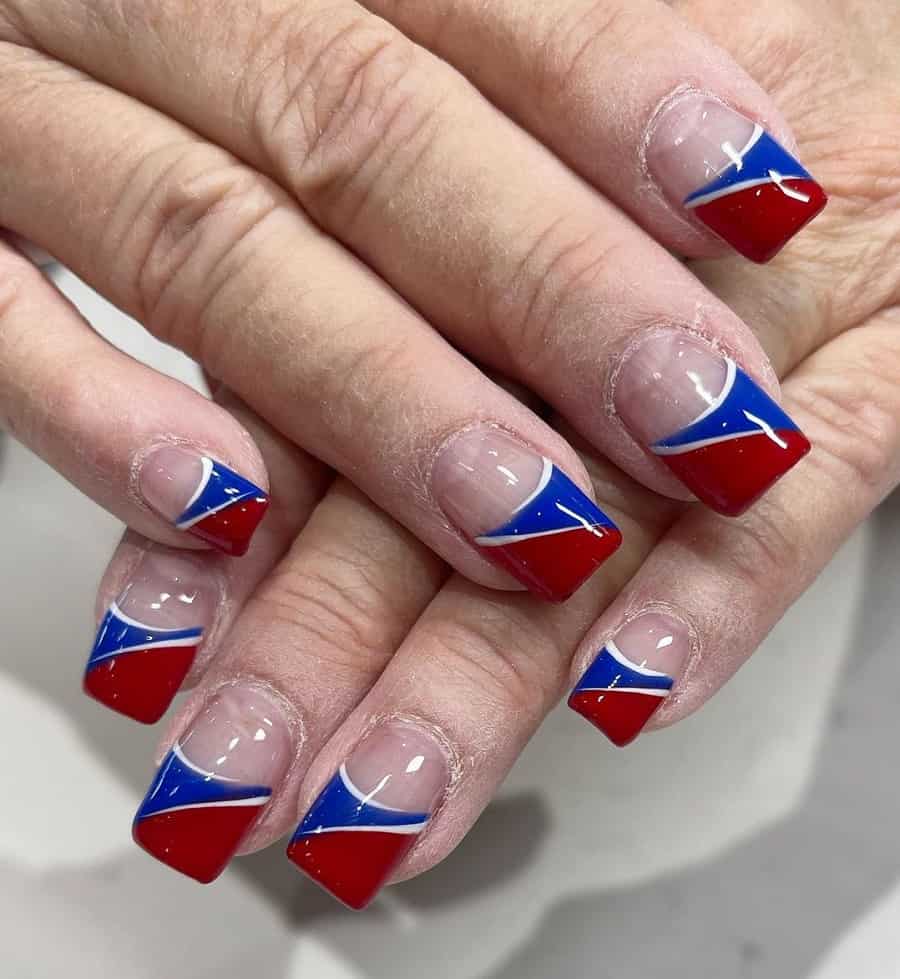 French tips are no longer only white! Now you can use your fingernails to flaunt your patriotic personality, too. Simply paint a white stripe over half red-half blue.
#24. Red For Strength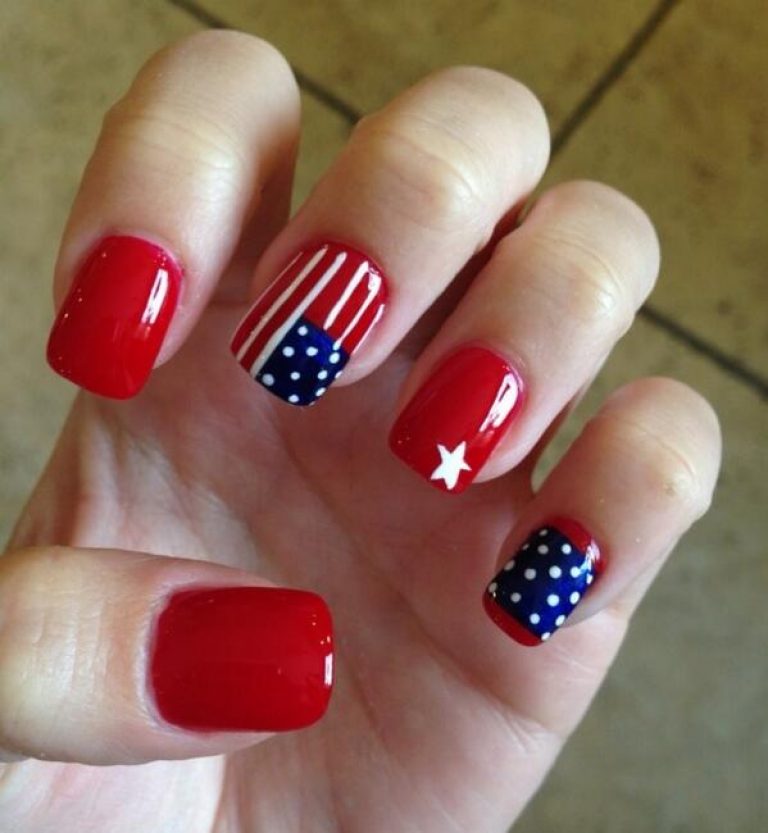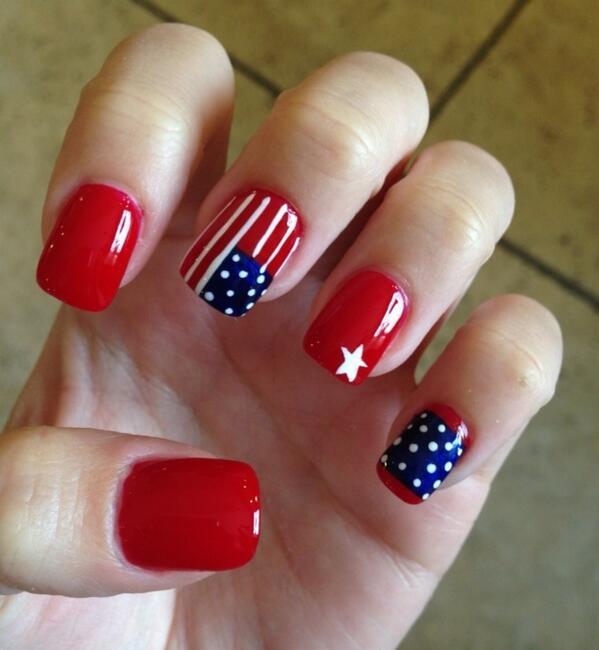 Let your nails be the symbol of your strength; in bold red. Create patriotic nail design to represent your tough character that matches the great soldiers that protected this country and help made it the land of the free!
#25. Wine To Celebrate
What's more American than wine red shade! Paint your patriotic nails with a glossy wine-red manicure and an accent flag-themed nail design, to get your independence-themed nails ready and set for the festivities ahead.
#26. Waving Flags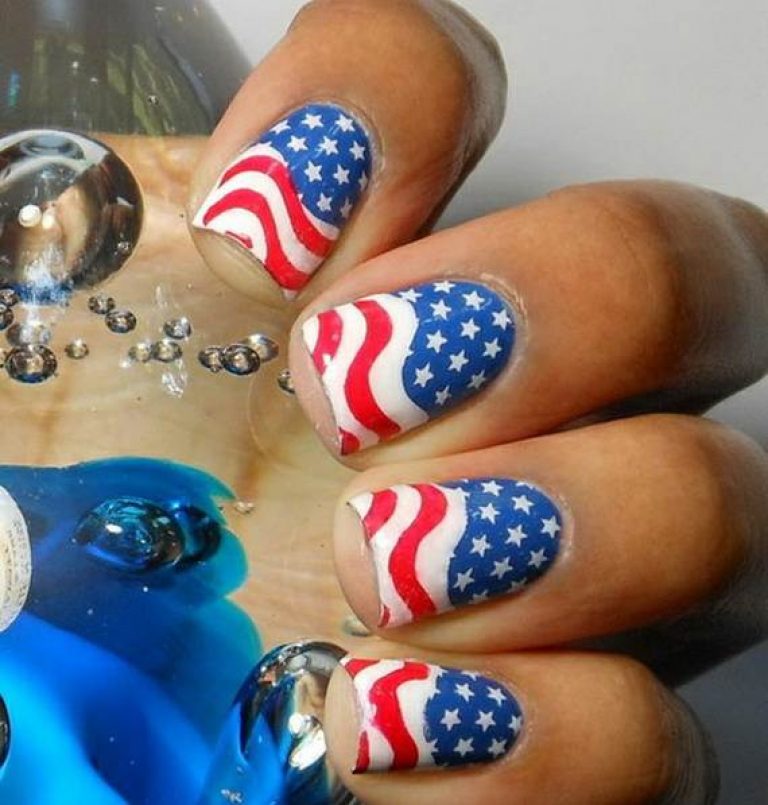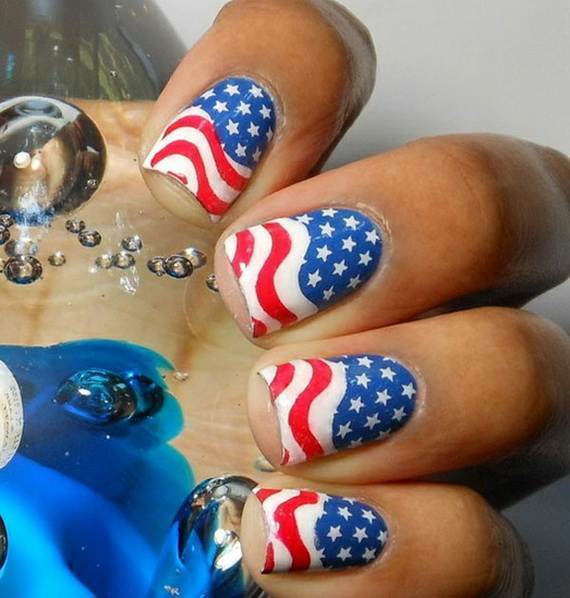 Get the American flag waving on your nails by recreating this patriotic nail design. It's always an obvious go-to escape to represent your American pride in the easiest way, though might be tricky at the first trial.
And just before you head out to the park and watch those fireworks, don't forget to add some star stickers on top of that blue background to get that flag really American!
#27. American Love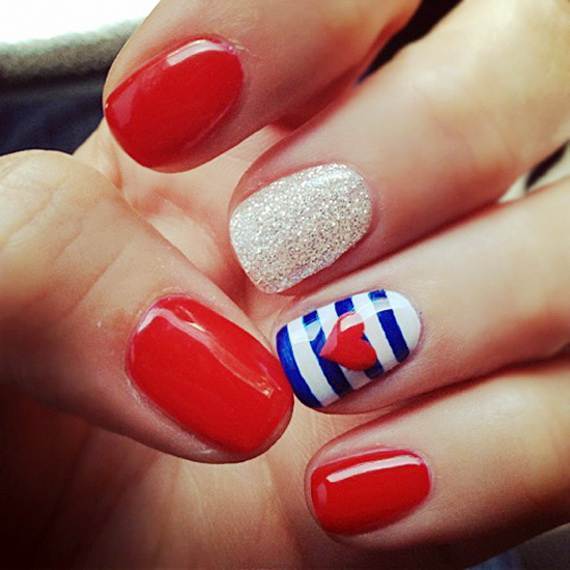 Show off the love you hold for your country in this adorable patriotic nail design, with obvious American inspired shades; cherry red, navy blue and white. A design suiting daily appearances, not just holiday exclusive.
#28. White and Blue Stripes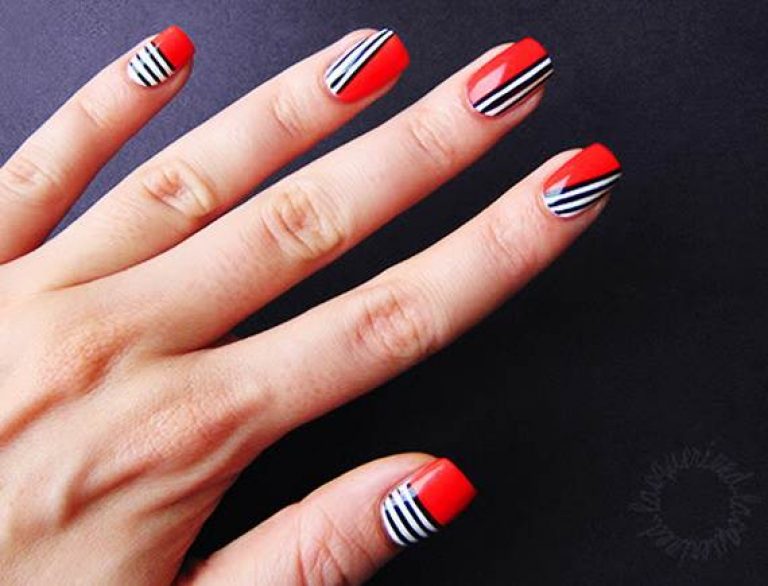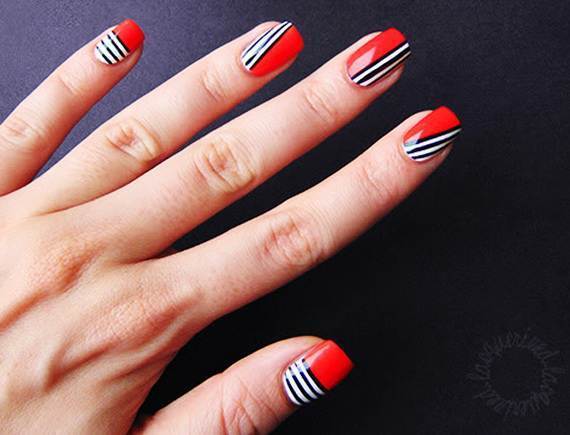 The white and navy strips have always been a preferred trend to show your love and loyalty to your beloved home.
Get your independence day's nails mimicking the flag's stripes in different horizontal, vertical, and oblique lines on your nails above a clean glossy red background.
#29. French American Nails!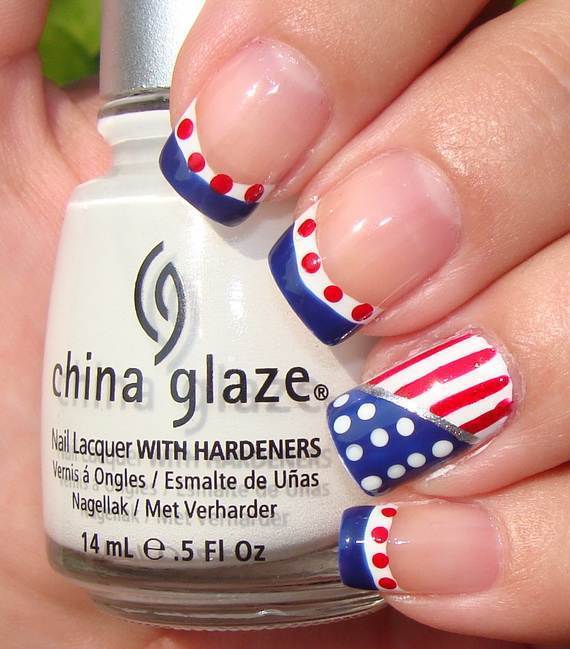 Display your American citizenship in French nail design! Style your patriotic nails with blue and red dotted-white French tips on top of a transparent glossy manicure. Accent your nails' nationality with a flag drawing on your ring finger.
#30. Wonder Woman Nails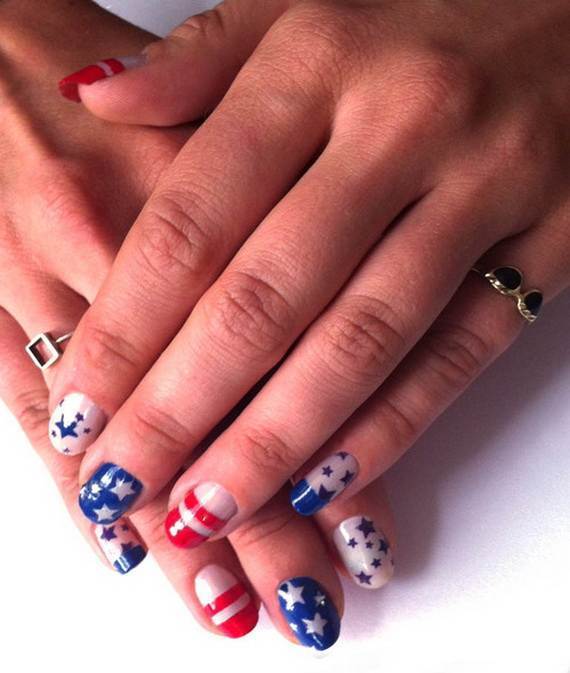 Get your super heroine nails on! Wonder Woman; the American savior that risks her life for her precious home every time, is a great inspiration for a trendy patriotic nail style idea.
#31. Simply American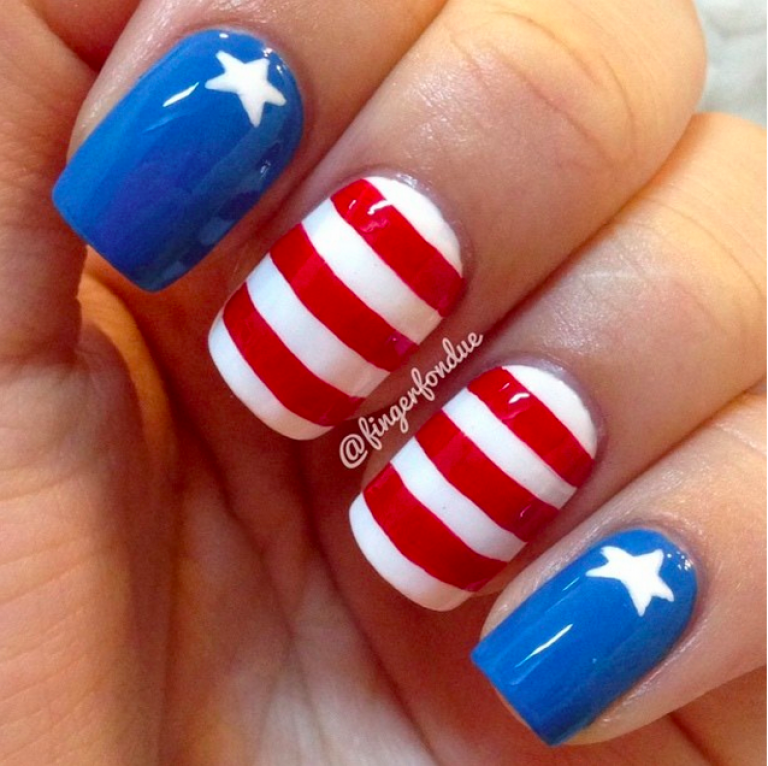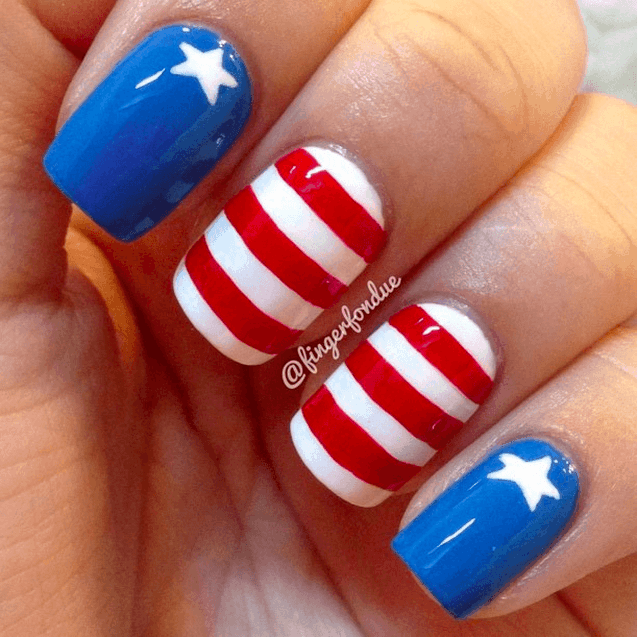 With red and white horizontal striped nails alternated with other blue coated ones, get the simple US themed nails.
Finish the look up with a coat of glossy nail polish for a clean sophisticated patriotic nail design.
#32. Festive Patriotic Nail Design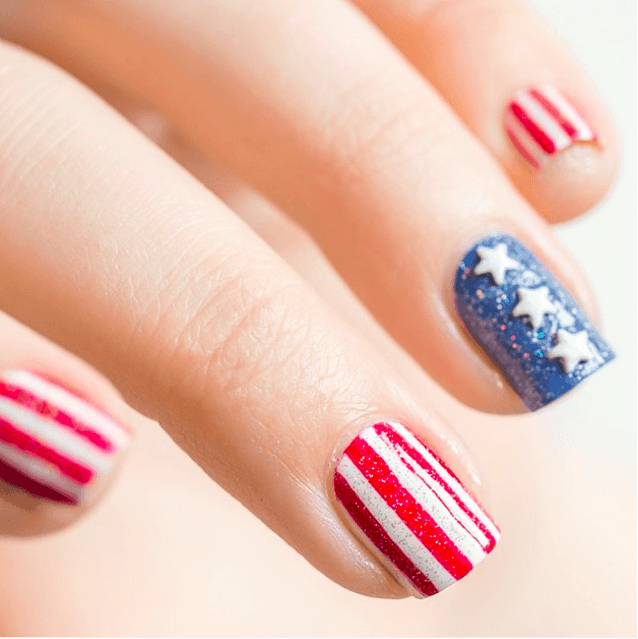 Shimmering in red, white, and blue. Get the independence festivities started with these patriotic nails, the tiniest addition of glitter and 3D star ornaments will help make this design stand out among million other flag-inspired nail designs.
#33. End Of The Day Fireworks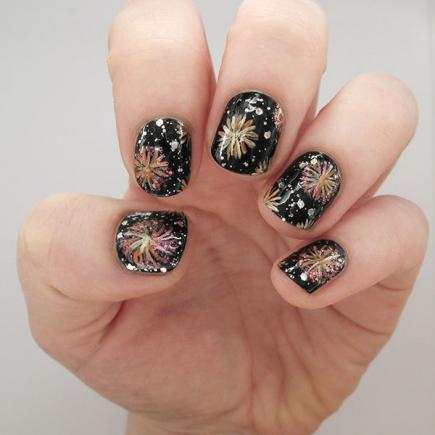 The best part for most of us on the 4th of July might be waiting for the fireworks just like 7 years old's! This glamorous manicure design shows our explosive patriotic spirit, with painted fireworks on top of a glossy black background.
Use a tiny nail art brush or toothpicks to get these tiny lines, and add a coat of sparkly transparent nail polish to get real fireworks sensation…Finally getting this fun patriotic nail design.
So, you've got no excuse to get your nails matching the waving American flag in your backyard. Get your 4th of July outfit complete with patriotic nail design screaming with national love and American spirit.