Holidays have always been our favorite excuse to get fabulous nails, and that surely includes patriotic nail designs. From Christmas themed nails, birthday related ones, tiny Easter eggs decorating our nails… 4th of July certainly doesn't lag behind when it comes to nail designs.
Moving the decoration from our picnic tables and walls to our nails showing off our patriotic spirit in our hardcore American patriotic nail designs is the fashionable way to celebrate!
American Spirit Patriotic Nail Designs
As it's clear in the fashion world the American flag had involved from the sign of the land of the free to a fashion statement. Walking in the mall you see flashes of red, white, and blue on shirts, jeans, and jackets.
Such patriotic fashion statement has reached nail art enthusiasts and became a huge trend not only on special occasions but for everyday looks as well. Here's a list showing you 10 ways to get your patriotic nails designed.
#1. Red For Strength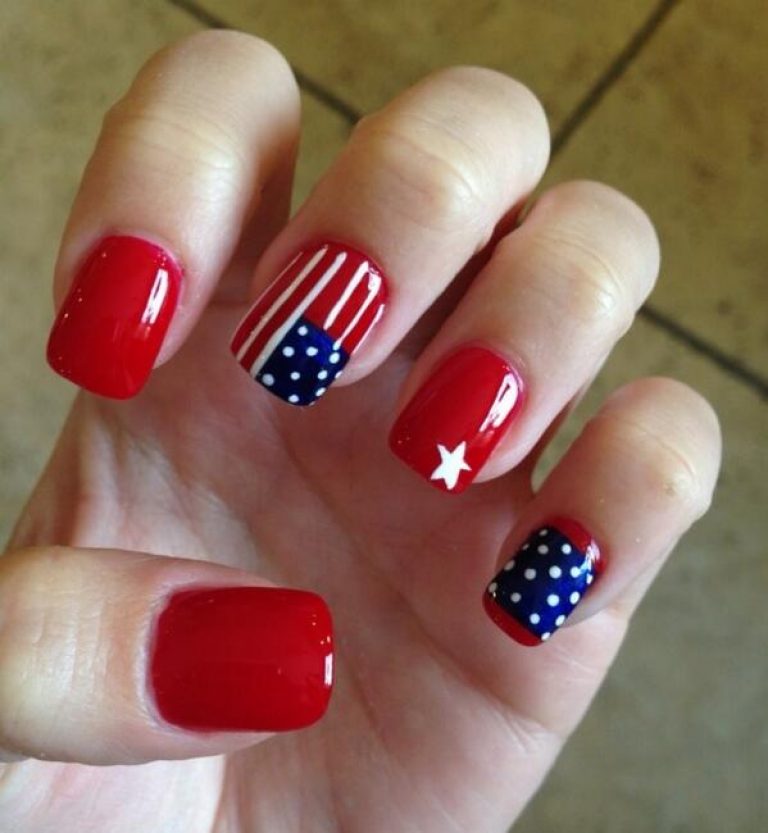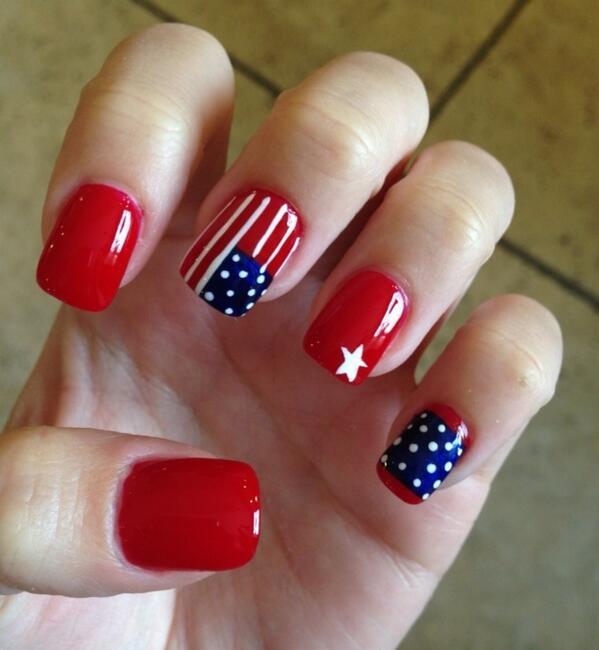 Let your nails be the symbol of your strength; in bold red. Create patriotic nail design to represent your tough character that matches the great soldiers that protected this country and help made it the land of the free!
#2. Wine To Celebrate
What's more American than wine red shade! Paint your patriotic nails with a glossy wine-red manicure and an accent flag-themed nail design, to get your independence-themed nails ready and set for the festivities ahead.
#3. Waving Flags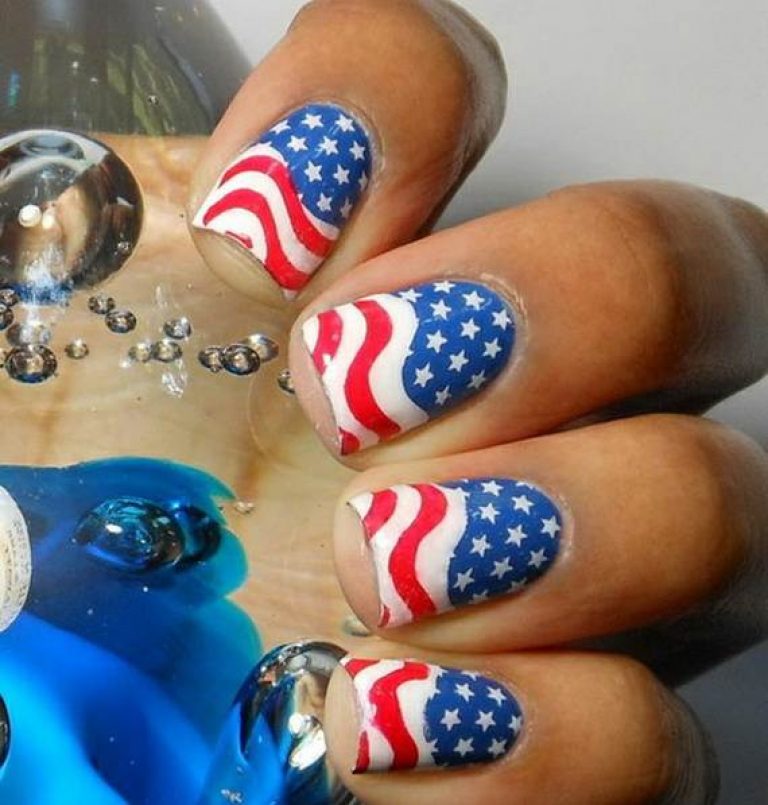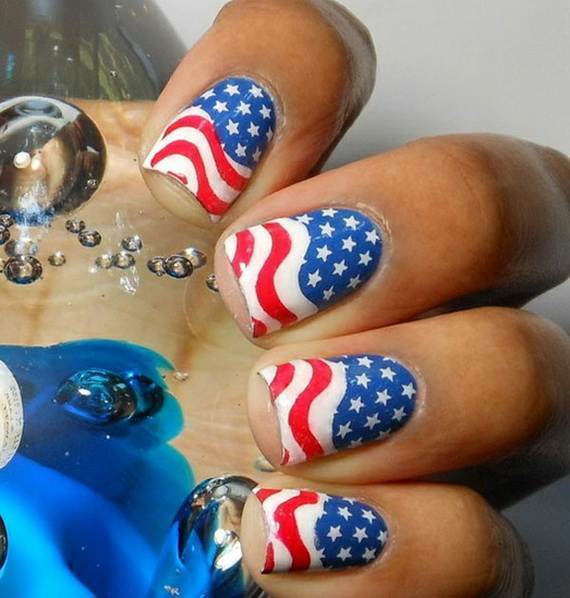 Get the American flag waving on your nails by recreating this patriotic nail design. It's always an obvious go-to escape to represent your American pride in the easiest way, though might be tricky at the first trial.
And just before you head out to the park and watch those fireworks, don't forget to add some star stickers on top of that blue background to get that flag really American!
#4. American Love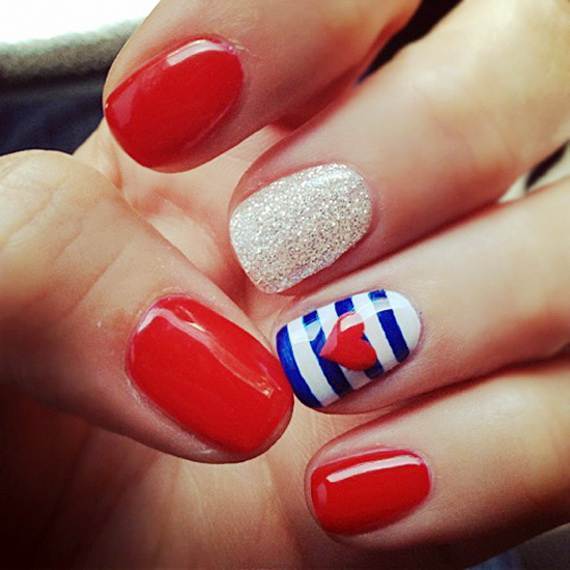 Show off the love you hold for your country in this adorable patriotic nail design, with obvious American inspired shades; cherry red, navy blue and white. A design suiting daily appearances, not just holiday exclusive.
#5. White and Blue Stripes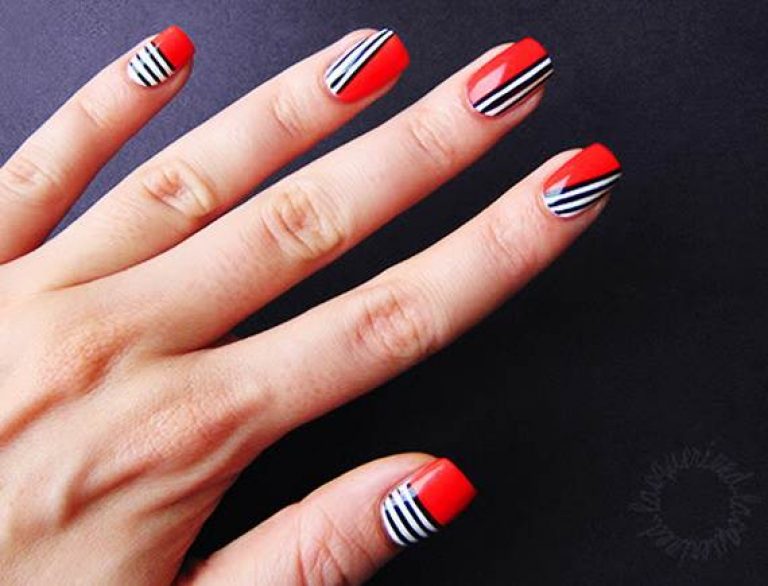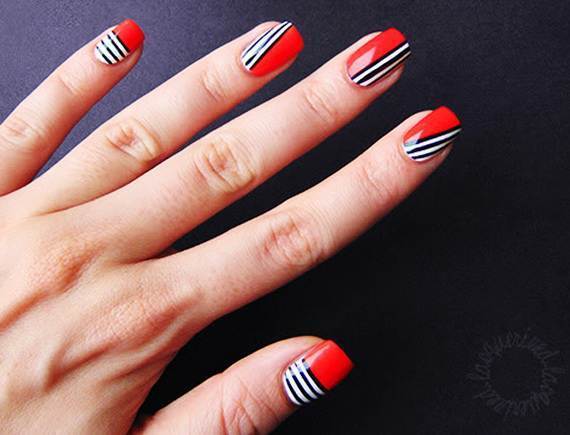 The white and navy strips have always been a preferred trend to show your love and loyalty to your beloved home.
Get your independence day's nails mimicking the flag's stripes in different horizontal, vertical, and oblique lines on your nails above a clean glossy red background.
#6. French American Nails!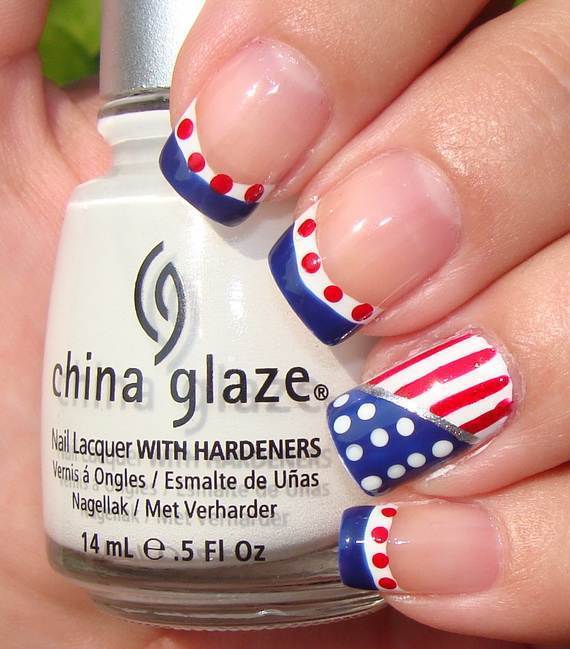 Display your American citizenship in French nail design! Style your patriotic nails with blue and red dotted-white French tips on top of a transparent glossy manicure. Accent your nails' nationality with a flag drawing on your ring finger.
#7. Wonder Woman Nails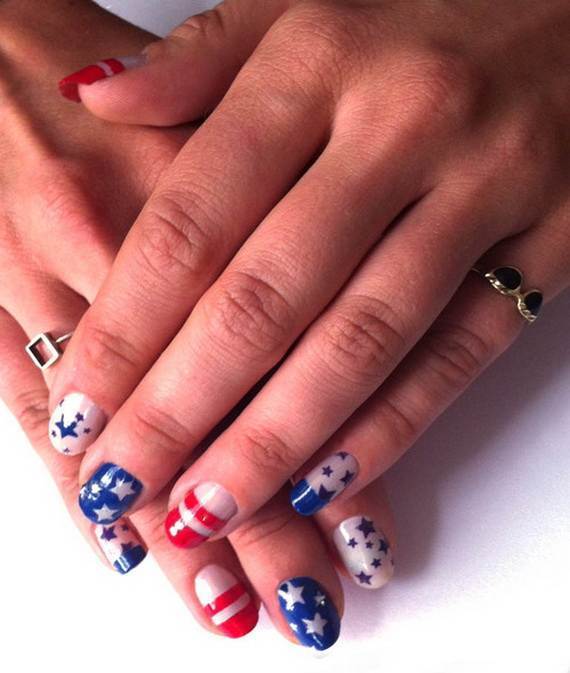 Get your super heroine nails on! Wonder Woman; the American savior that risks her life for her precious home every time, is a great inspiration for a trendy patriotic nail style idea.
#8. Simply American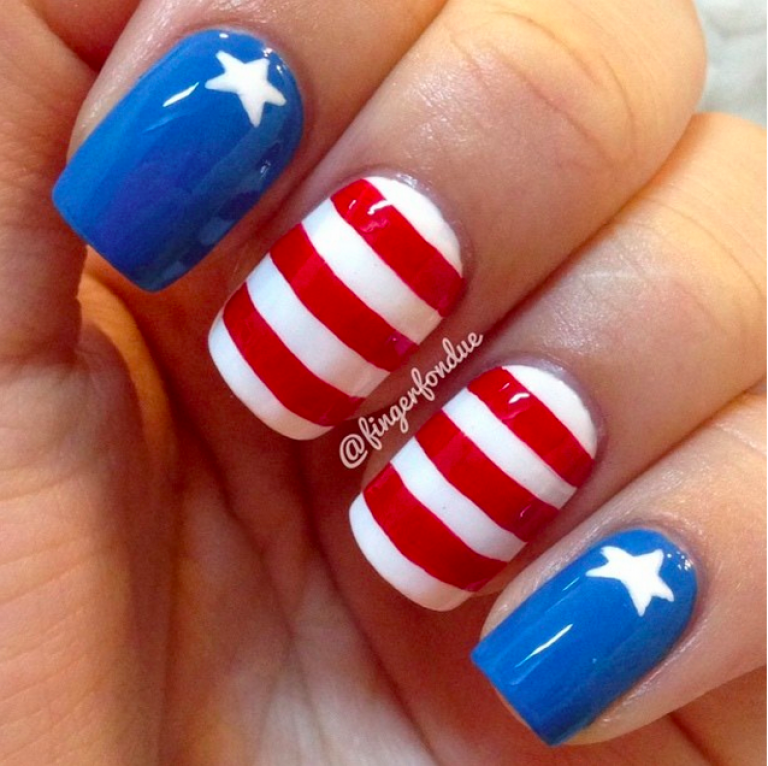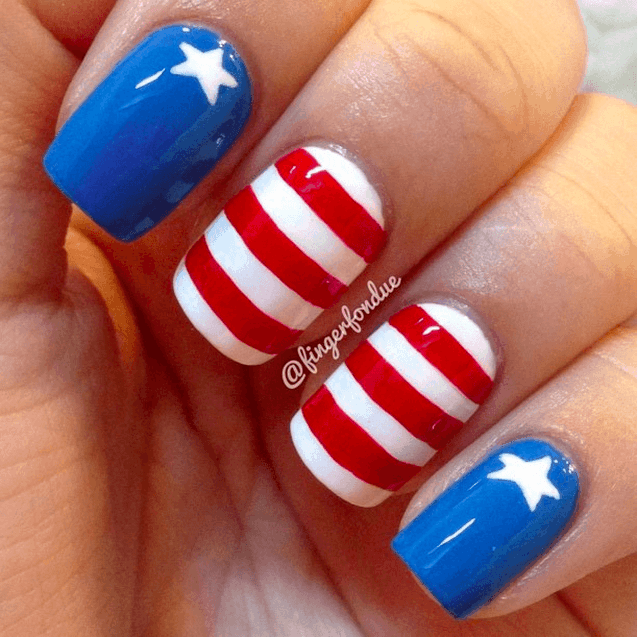 With red and white horizontal striped nails alternated with other blue coated ones, get the simple US themed nails.
Finish the look up with a coat of glossy nail polish for a clean sophisticated patriotic nail design.
#9. Festive Patriotic Nail Design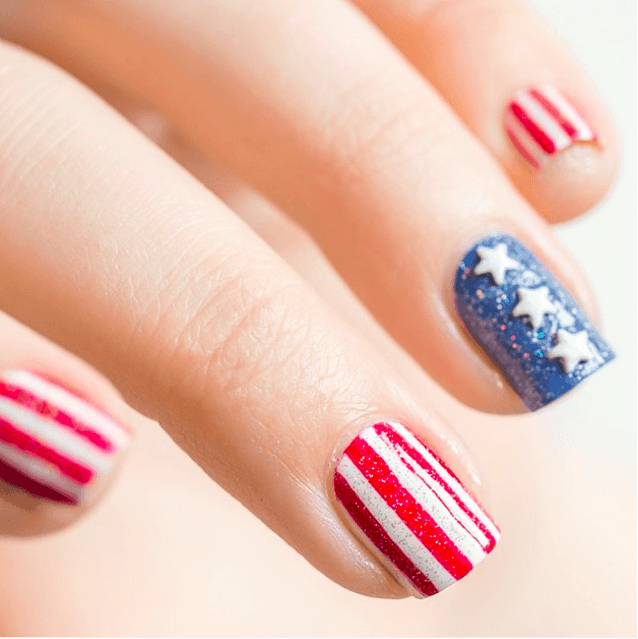 Shimmering in red, white, and blue. Get the independence festivities started with these patriotic nails, the tiniest addition of glitter and 3D star ornaments will help make this design stand out among million other flag-inspired nail designs.
#10. End Of The Day Fireworks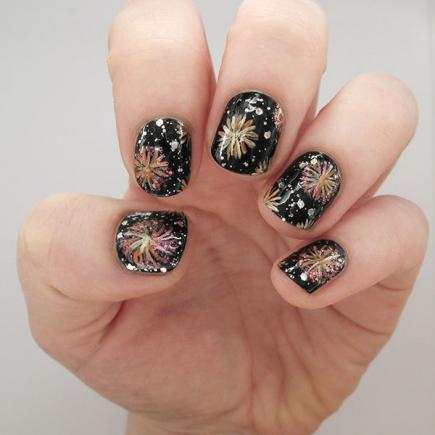 The best part for most of us on the 4th of July might be waiting for the fireworks just like 7 years old's! This glamorous manicure design shows our explosive patriotic spirit, with painted fireworks on top of a glossy black background.
Use a tiny nail art brush or toothpicks to get these tiny lines, and add a coat of sparkly transparent nail polish to get real fireworks sensation…Finally getting this fun patriotic nail design.
So, you've got no excuse to get your nails matching the waving American flag in your backyard. Get your 4th of July outfit complete with patriotic nail design screaming with national love and American spirit.