Sometimes you realize that wearing a simple nail design does not satisfy the rocking occasion you are visiting. Therefore, all you have to do is to wear a fancy feather and zebra nail design that shows that you hold the party wild spirit in you.
Beautiful Feather & Zebra Nail Designs
We are all familiar with nail designs made up of a certain color and designed with certain criteria using glitter, decals, stickers and others, but what we are unfamiliar with is animal prints being all over our nail designs such as the zebra nail designs and feathery nail designs. Such weird kinds of nail designs satisfy our beauty needs in some occasions such as Halloween parties and other wild parties that oblige us to break the rules of having simple nail designs and compete in being different.
#1. Dream Catcher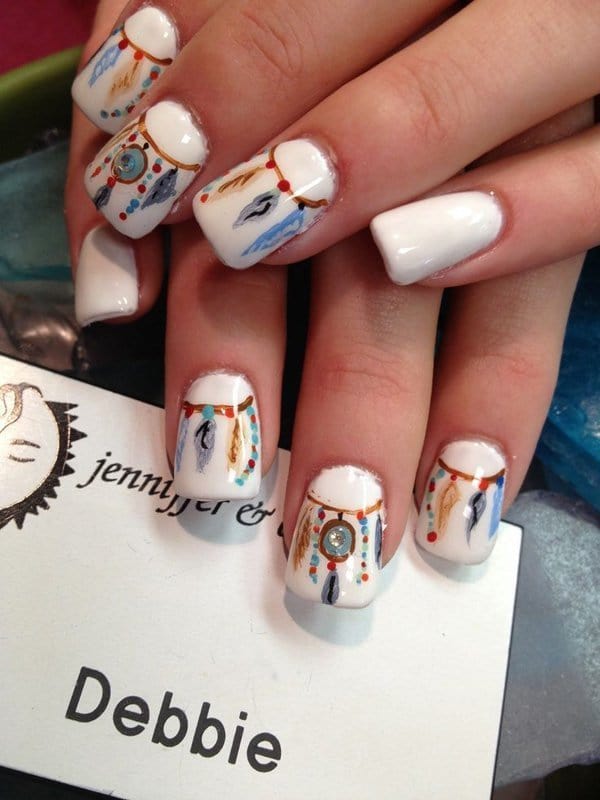 Are you a person that constantly remembers her dreams? Well if you are, try this nail design that will express you in your dreamy way that is full of techno and attractive colors of feathers and dream catchers all over your white based nails.
#2. Zebra Print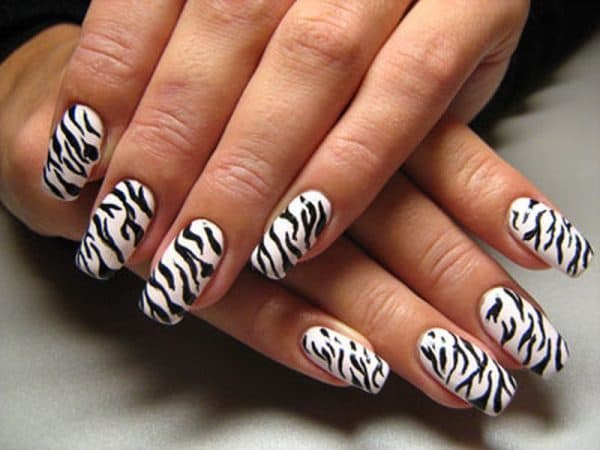 This nail design goes with everything! It fits any color you are wearing, also it is suitable for any occasion or any day, not to mention that its zebra theme gives a new taste to your nails.
#3. Peacock And Feathers
Are you well known as a self-love? Well if you are, don't miss this awesome nail design that contains a peacock and its feathers because it is the animal known by showing off and loving its own self since it owns a high beauty that most animals have not reached yet.
#4. Decorated Tips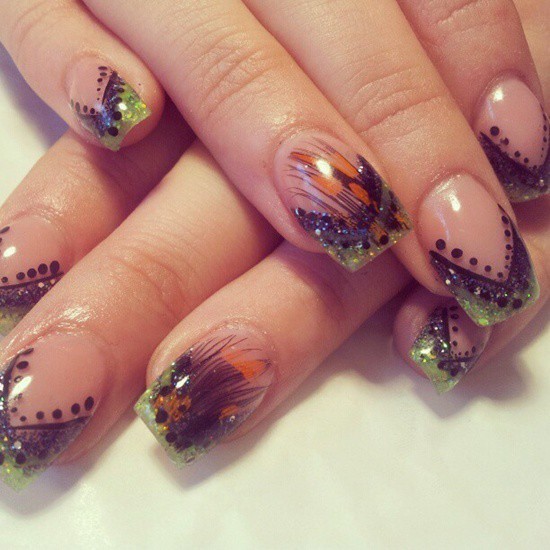 Your nail tips do not always have to be simple and white with a transparent base, they can be fancy by having glitter in them, black dots, and black and orange feathers that all together make up the perfect feather nail design.
#5. Shiny Zebra
If you are in love with the zebra print style manicure but bored from the usual black and white colors, well you have to know that now and with this design, you can get rid of the white base and replace it with a transparent base and fill the spaces between the black lines with silver shiny decals.
#6. Feather Weather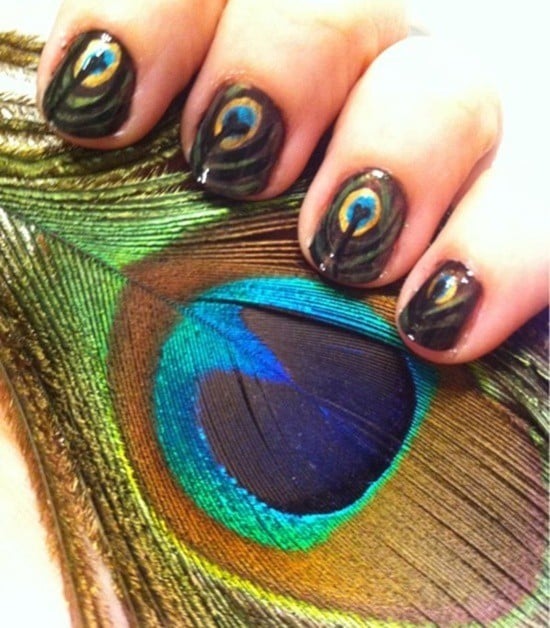 Wondering what to wear on a cold weather? All you have to do is to have a feather nail design on so that you can feel cozy and warm.
#7. Black Giraffe

A giraffe is one of the tallest animals in the color of brown and yellow, but in this nail design, we are combing the print of giraffe animal with the color of the zebra which is black and white, adding a pink color to the ring finger to make up a girly zebra nail design.
#8. Colorful Feathers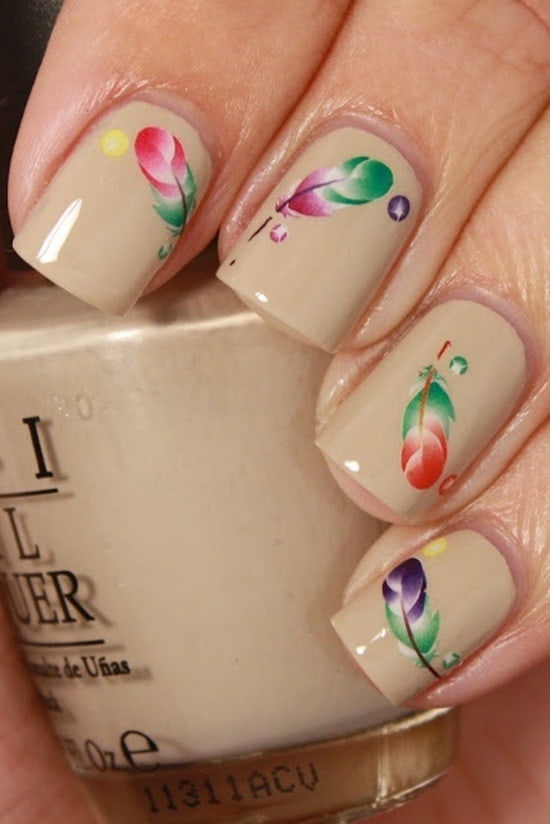 Now this is one of the chicest feather nail designs, and we can realize that from the background made up of the beige color, in addition to the unique feather print in each nail but there is a simple different in the color of the feathers differing from purple to pink to orange and others.
#9. A Female Zebra
Some say that when something is girly it all turns pink! Well, this is what happened to our zebra friend that turned from white and black into pink and black the minute she realized she is she, not he!
#10. A Wish Can Fly!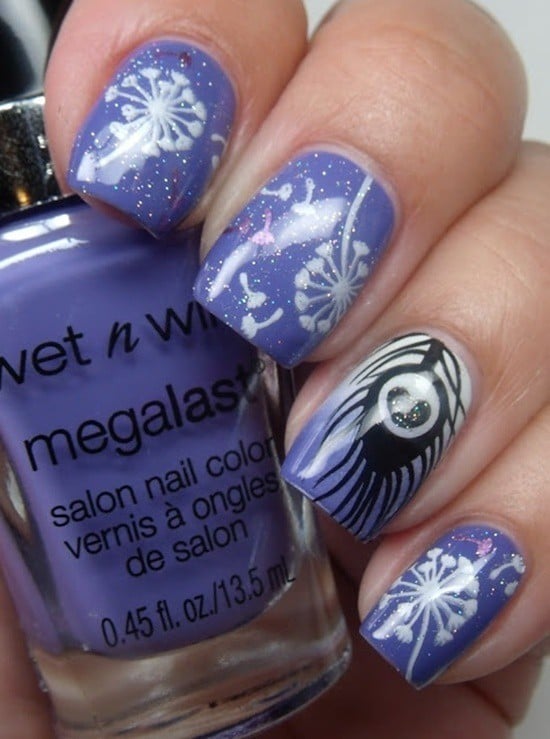 Many stories are told about this plant, they say telling your wishes to this white plant and blowing it causes your wishes to become true, so if you are one of this plants' lovers, why not to try this nail design on?!
#11. Not All Zebra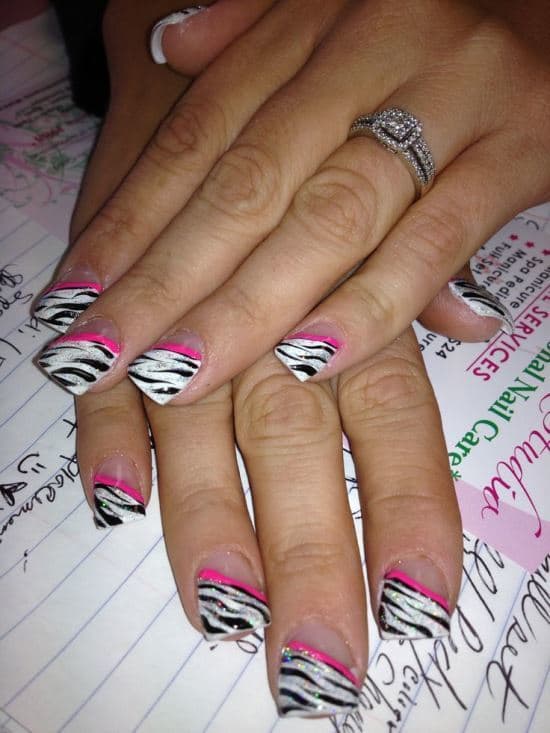 With an oblique pink line separate your transparent nail part from your zebra black and white print to have a weird zebra nail design.
#12. Purple Tiger And Zebra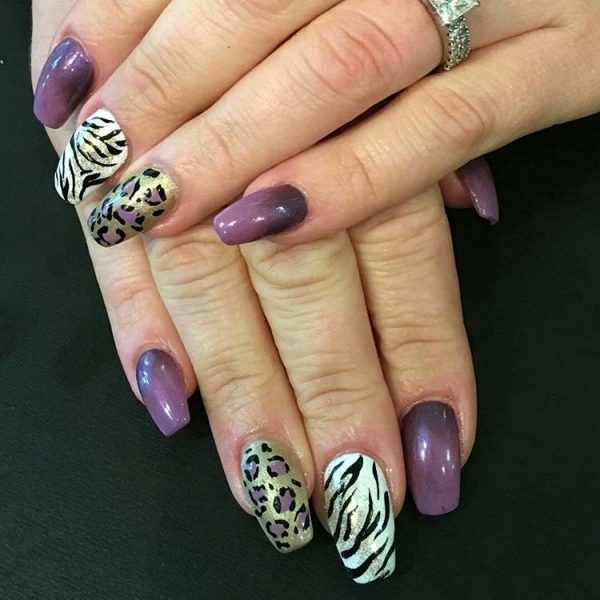 I see the jungle is all mixed in this nail design! Nail designs are moving from clear purple to tiger print, then to zebra print and back to the purple nail polish.
#13. Chevron Style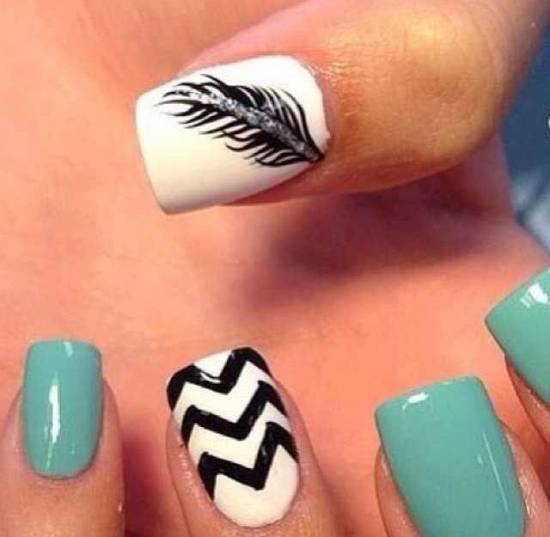 In a simple blue nail design, you better have a certain way to decorate your nails because people are already bored from those simple blue designs. The only way for fixing this is to add a chevron style in the ring finger and a feather in the thumb so that it wont be cliche any more.
#14. Azure Zebra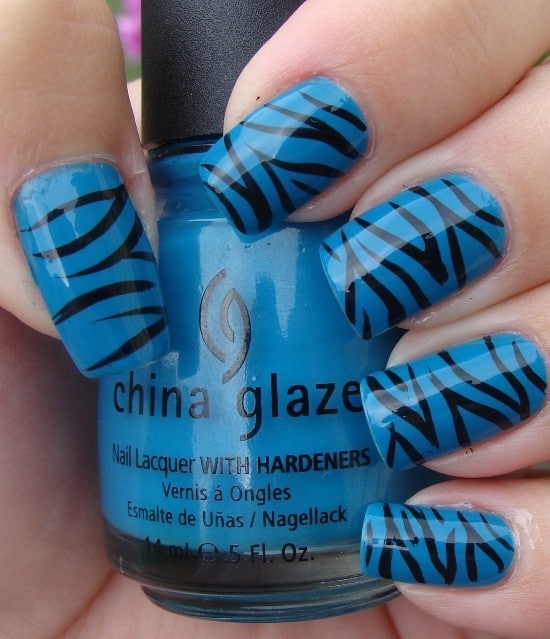 Confused between the zebra nail design and azure blue nail design? Well don't cause now you can combine both in one nail design!
#15. Neon Lights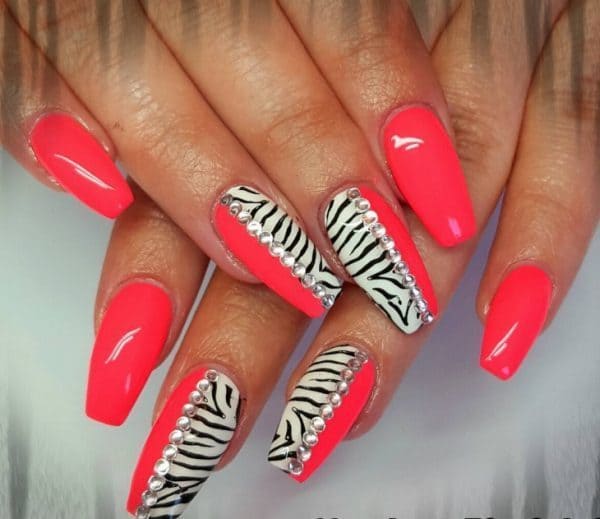 It lights up in nights, yes it's neon lights! Be attractive by wearing a nail design made up of a neon color cause neon colors attract all eyes in all sides as done in this design where the neon orange color covers the nails, but it's half zebra in the ring finger and middle one to make up an attractive zebra nail design!
#16. Winter Vibes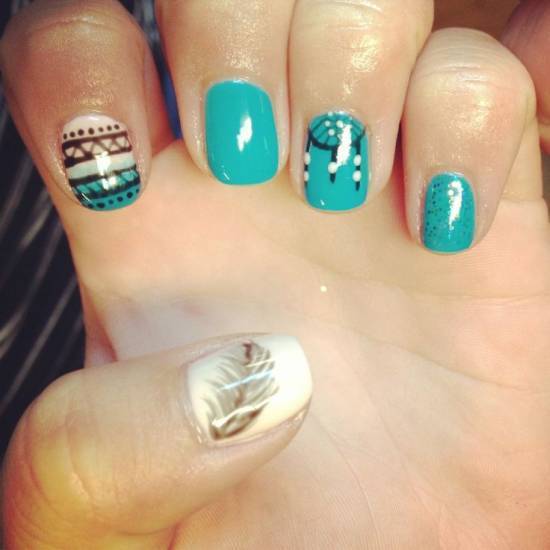 Spread winter vibes by wearing this feather nail design made up of from the winter blue and white colors, containing a winter clothing pattern in the index nail, a dream catcher full of feathers in the ring finger, and a brown feather in the thumb.
#17. Black Then White
Zebra print usually is white then black lines, but in this nail design we are breaking the rules by making it black then white in the ring finger and leaving it only black in the rest finger nails.
#18. Tiger In White
I don't know about you guys, but this nail design takes me back to Winnie The Poohs friend Tiger who's color is orange and black having the same animal print found in this nail design. So here we combine the zebra print colors with the tiger print to make up a tiger and zebra nail design.
#19. Standing Behind The Bars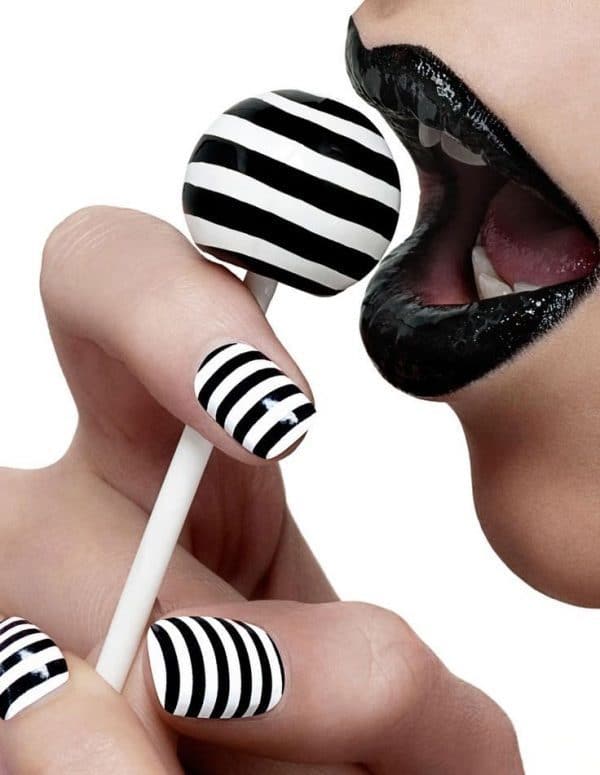 Prisoners in some jails in some countries wear this pattern of clothing, so this goes with the jail cloths, also it expresses the bars prisoners stand behind in jail.
#20. Complicated Zebra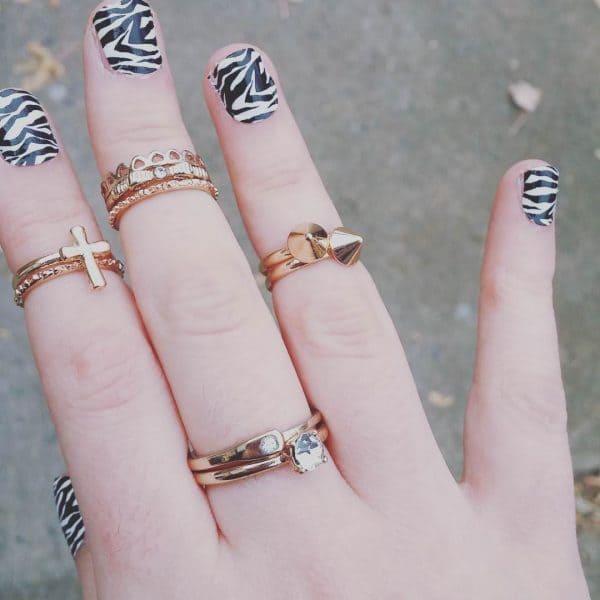 You can realize that in all of the above feather and zebra nail designs, the zebra nail print is clear. On the contrary, the complication of the zebra pattern here makes things different.
#21. Mocking Jay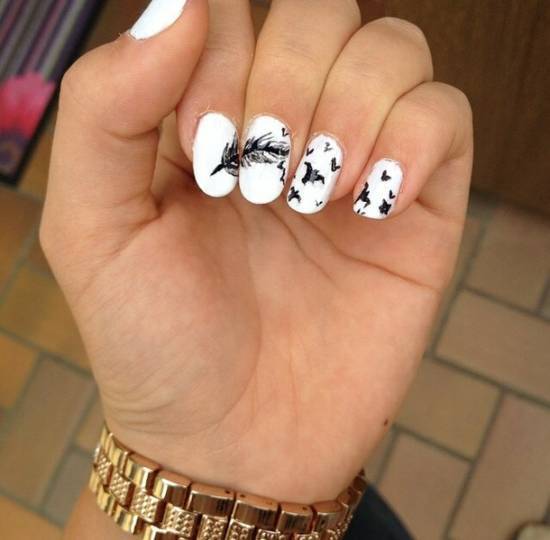 Simplicity is the way to true elegance. Eventually, having a black and white feather and zebra nail design can be elegant enough to give you the classy looks.
#22. A Feather Is All You Need
In a simple purple nail design, all you need is simple white feathers to draw all over each nail to have a cute purple feather nail design.
Here Are Some Funky Feather and Zebra Nail Designs to Try Out
Finally, you can notice that simple nail designs sometimes don not satisfy our fashion needs, and in those times we feel we are in the need of some weird and new nail designs that will make us compete in being the most trendy ones. However, feather nail designs and zebra nail designs are girly, fancy, and cool enough to make us satisfied. At last, hope you liked the list of 22 feather and zebra nail designs. Enjoy!