Nail designs are not only about a one unique nail polish color, french tip nails give you the opportunity to break your routine in your fashion style by tipping your design with a color you would like to look special through it.
French Tip Nail Designs We Love
Everyone knows that to get a girl in a good mood you have to take her into shopping and other stuff. But what no one knows is that a women's nails perfection brings her to a blissful state. In the world of nail designs, there is the french tip nail design that can highlight a picky woman's day.
Especially if winter is about to leave and you are wondering how to have appealing nails because now you don't have to hide your soft hands inside a pair of warm gloves.
So since you are reading this, let's have a sneak peek on the list below, because if you don't you will be missing something you don't want to.
#1. French Tip on Coffin Nails
#2. French Tip Stiletto Nails
#3. Long Nails + French Tips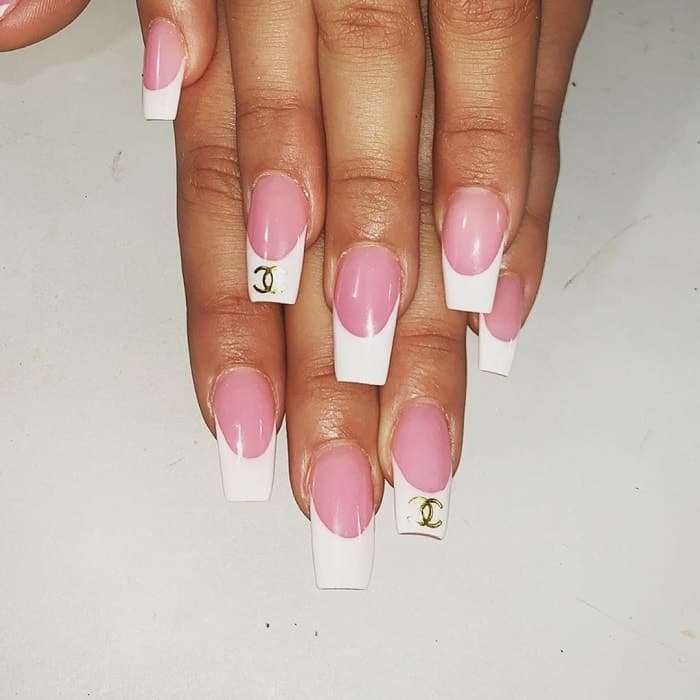 #4. Round French Nails
#5. French Tip Toe Nails
#6. French Tip Acrylic Nails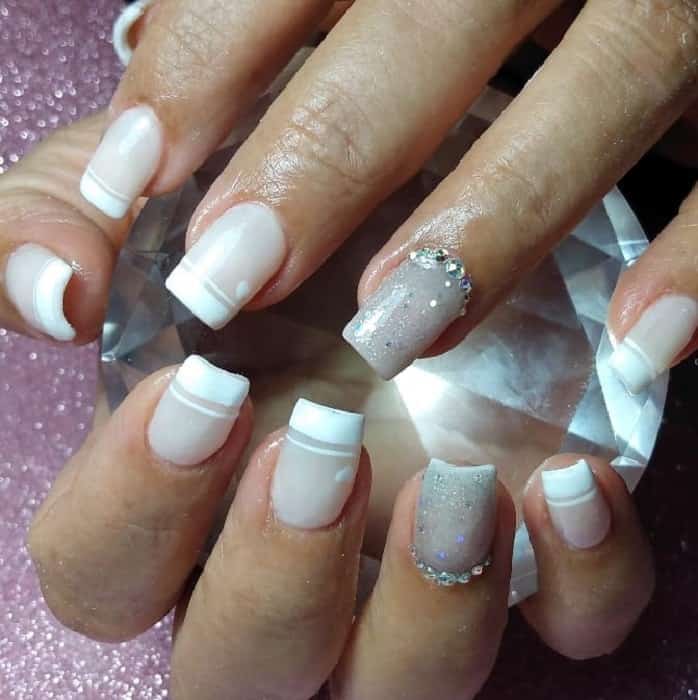 #7. French Tip Gel Nails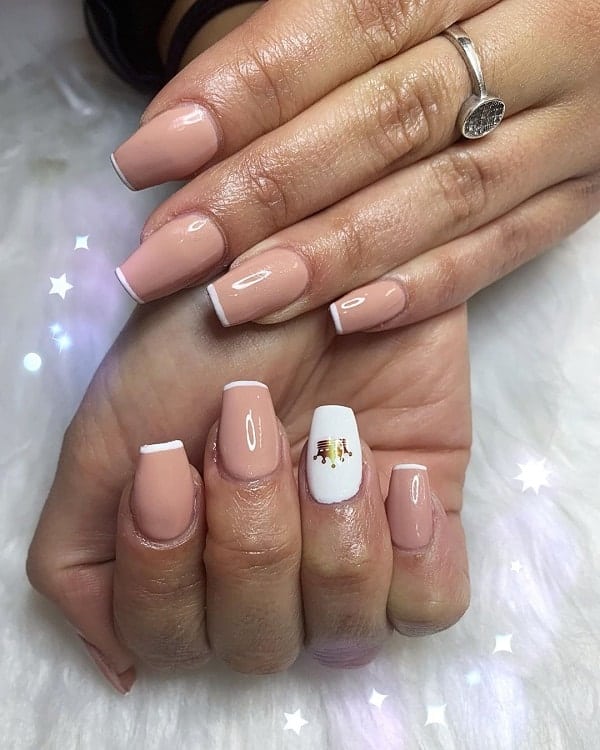 #8. Blue French Tip Nail Design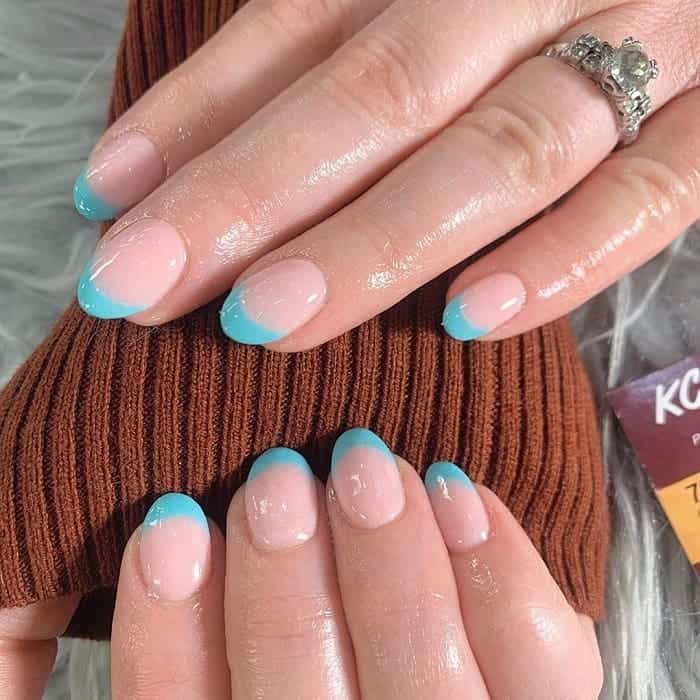 #9. Fake French Nails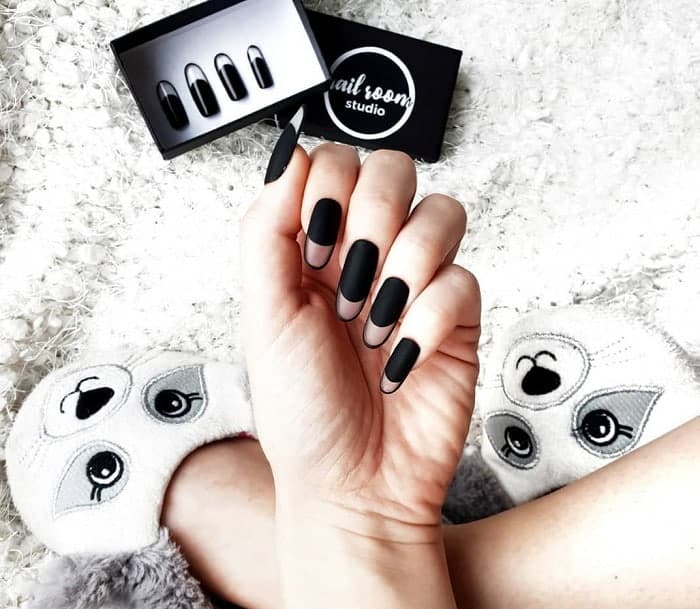 #10. Sparkly French Tip Nails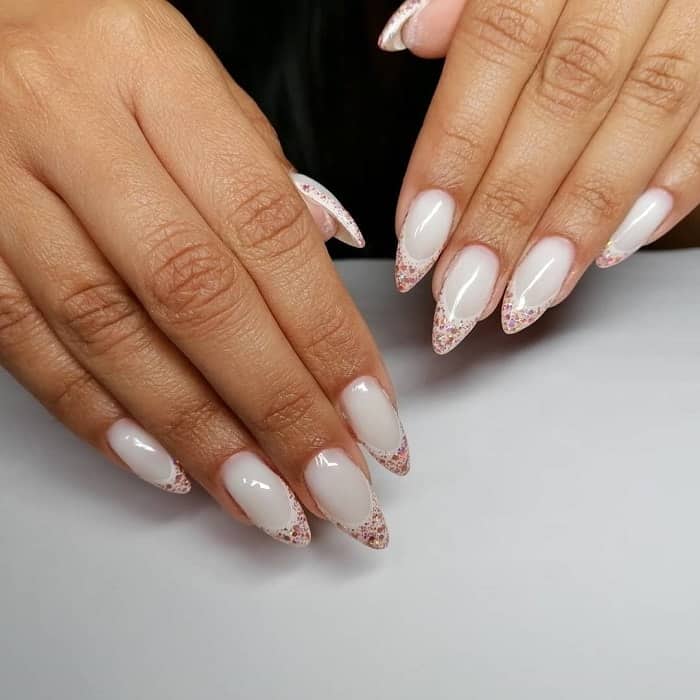 #11. Burgundy French Tip Design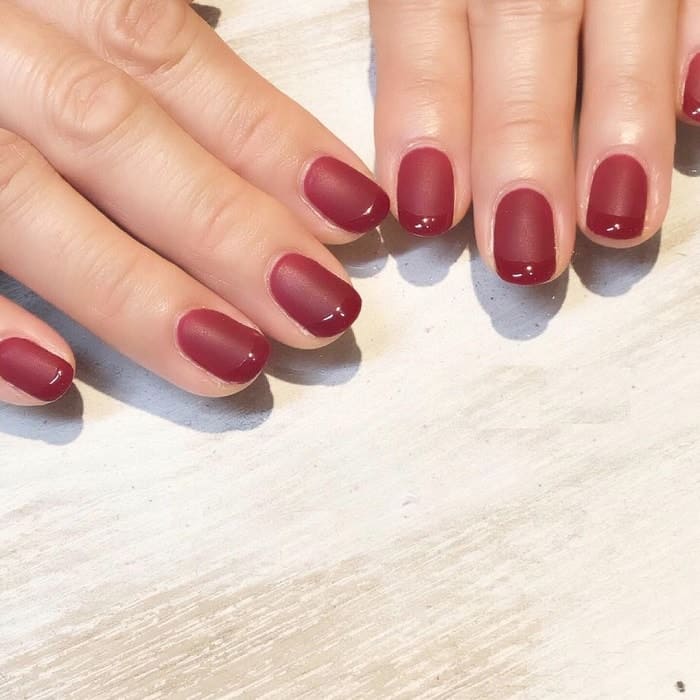 #12. French Nails + Diamonds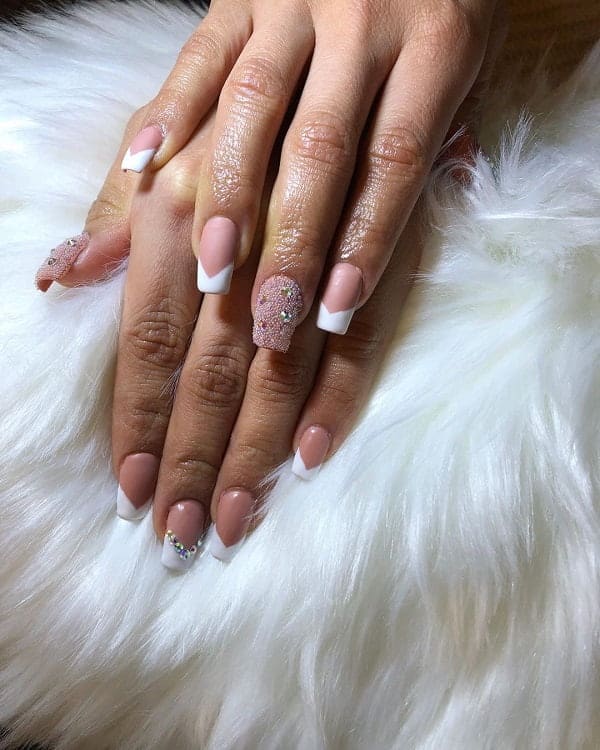 #13. Gold French Tip Nail Design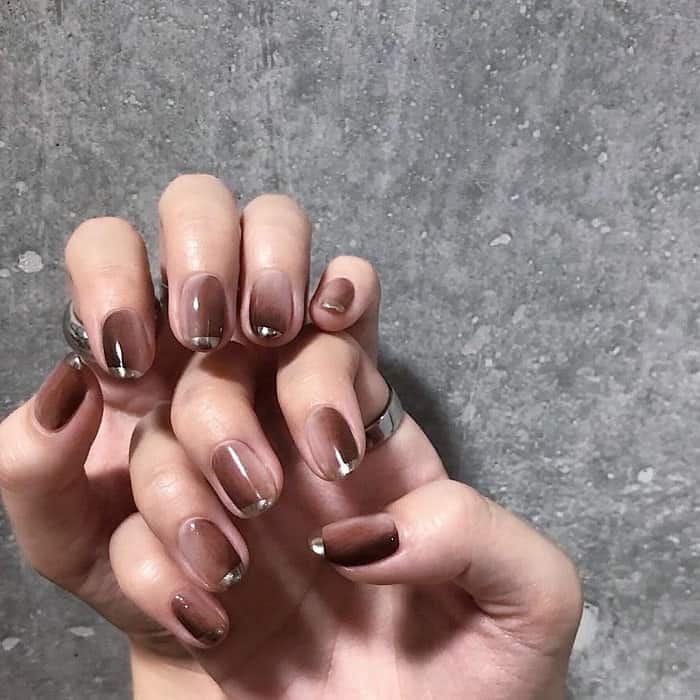 #14. Halloween French Nail Art
#15. Neon French Tip Nail Design
#16. Yellow French Tip Nails
#17. Green French Tip Nails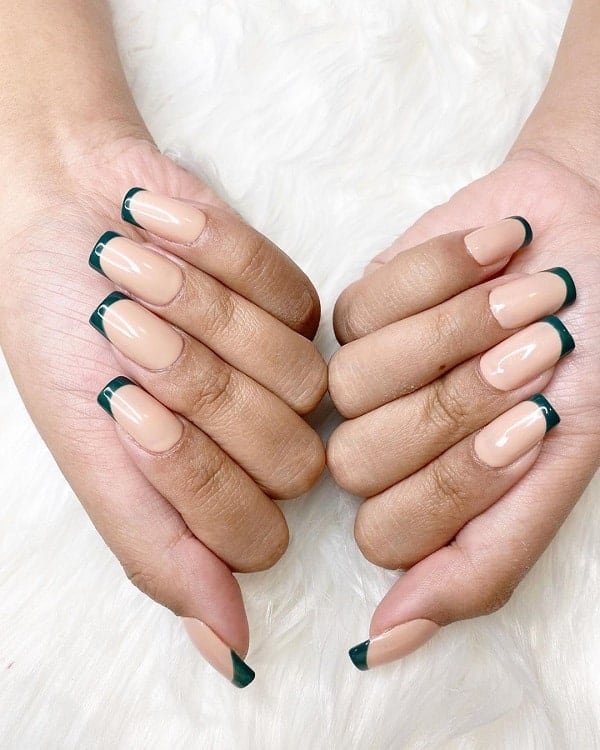 #18. Metallic French Nails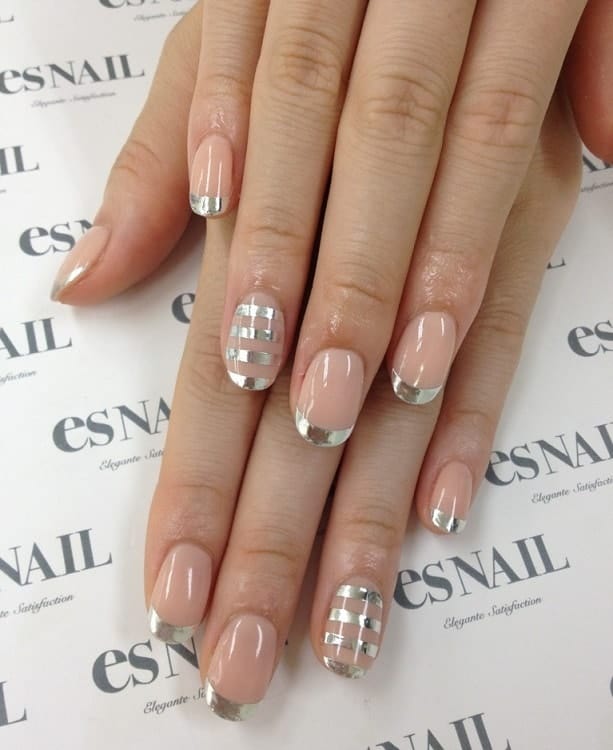 #19. French Tipped Coral Nails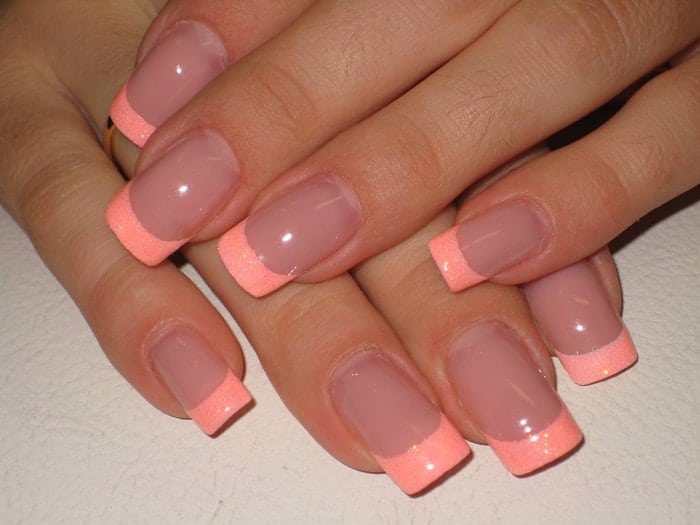 #20. Minnie Mouse French Tip Nails
#21. Red French Tipped Almond Nails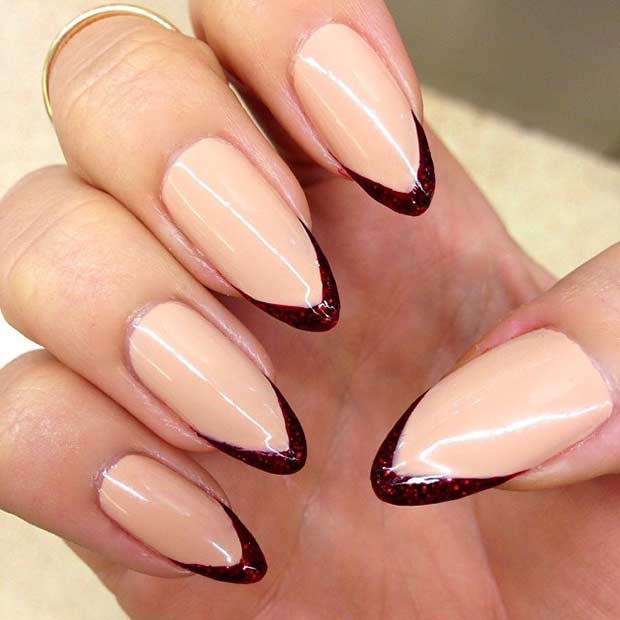 Having glittery red tips on your nail design makes a woman's hand the center of attention in a classy night party .
Especially choosing the bloody red color to be the one that would up your night, and give you the ability to attract the invited to the party (not to mention that this helps in winning the heart of a guy you may have a crush on).
#22. White French Tips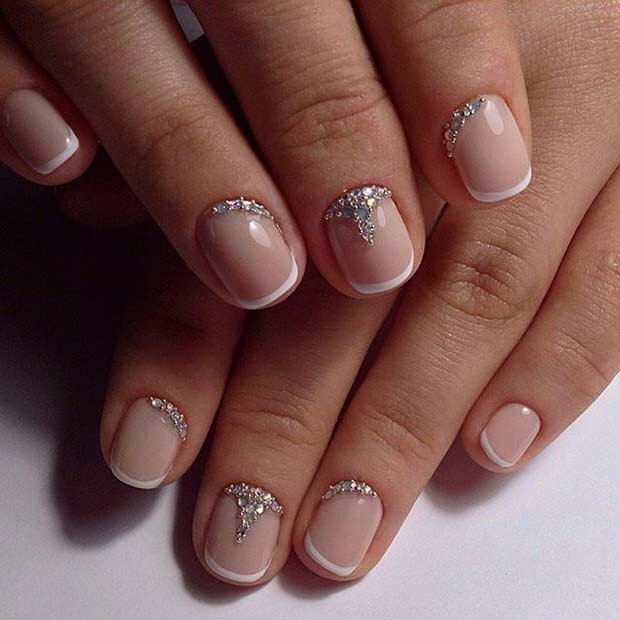 A transparent base and a thin white tip make up the most simple french tip design perfect for the brides. Actually, this combination is usually the standard and the well-known kind of french tip designing.
Adding chevron decals to the 3 mid fingers make them special having the middle finger as the center of eye contact, and the ring and the index finger as the less attractive ones but the specialized from the other not designed fingers.
#23. Glitter French Tips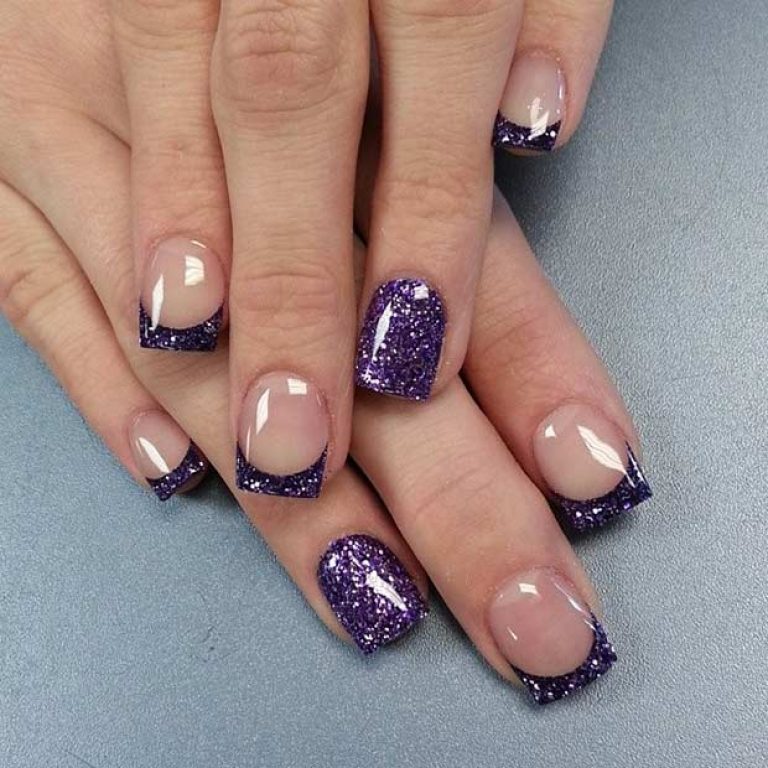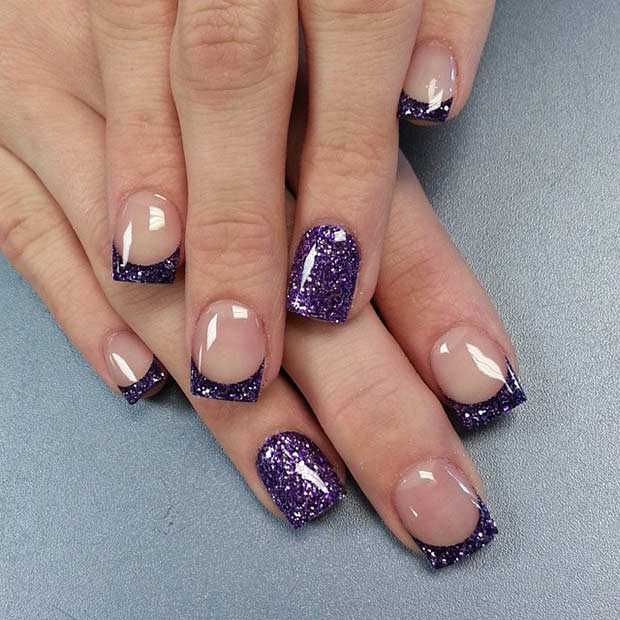 You are free to shape your nails in the way you like, but you have to notice that shaping your nails leads to the changing of the shape of your tipped fingers. Square shaped nails with glittery royal purple tips and a transparent base is breathtaking!
Especially when having the ring finger different from the others by having it polished with only 1 color which is the royal purple, not to mention that this shade of purple is the most classy one and we can recognize this from its name"The Royal Purple'.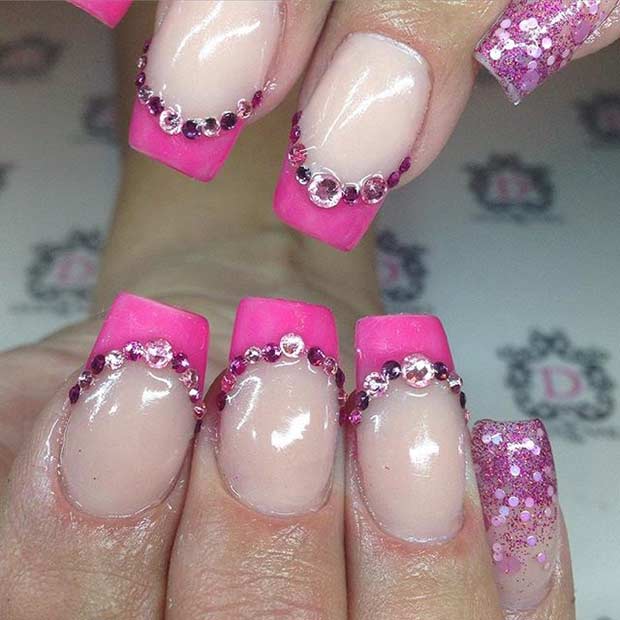 Going pink and puffy is what most women like. Young girls are not the only fans of pink, some women are also big fans of this color.
A woman interested in this color would be pleased by having it the color of her tip in the design and surrounding the tip with shiny pinkish decals.
#25. French Tip Wedding Nails
One of the best and easiest french tip nail designs. Such a design is wanted by a woman on her wedding day where she is all dressed with the bridal white color and her dress may include some silver edges.
However, the bride will be searching for an appealing design for her wedding nails, but at the same time a design that matches the style of her dress.
Therefore, a thick tipped nail with bridal white, a silver line between the base and the tip, and the middle finger as a center of attention polished by the silver color is all that a bride wants on her big day so that she can feel confident to show her hand to her handsome future husband when he puts the ring on her left-hand ring finger.
#26. A Piece Of Cake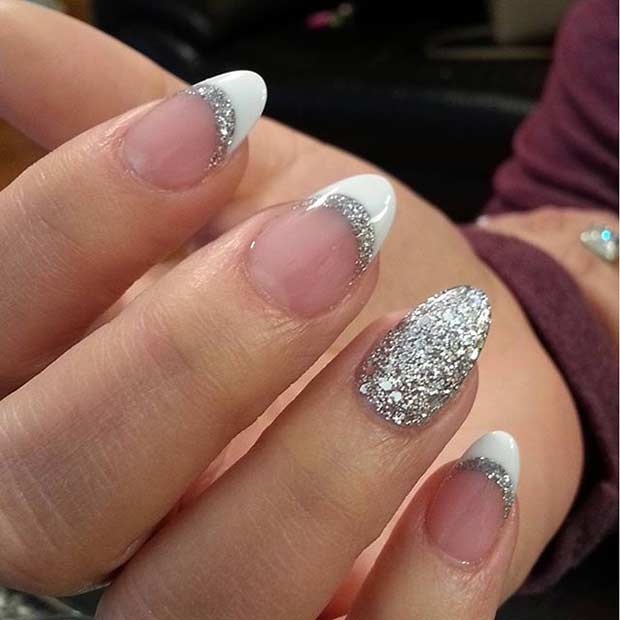 If you are searching for an easy and a quick french tip nail design but at the same time you wanna look fancy, well this design just wants you are asking for.
Going all the way from transparent to silvery and then to white is the best and the simplest order you will ever find. It's easy doesn't require your precious time, and here you go! It's yours now.
#27. Lavender And Shiny Magenta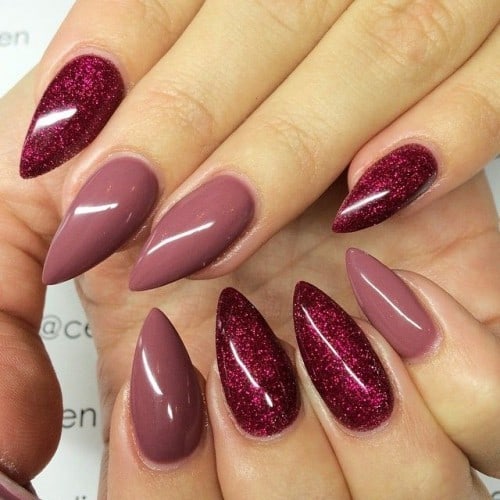 French tips aren't the only way to make women reach happiness, there are many other designs such as nail polishing of lavender and the glittery magenta for stiletto nails.
#28.Dreamy Gray With Pinkish White Tips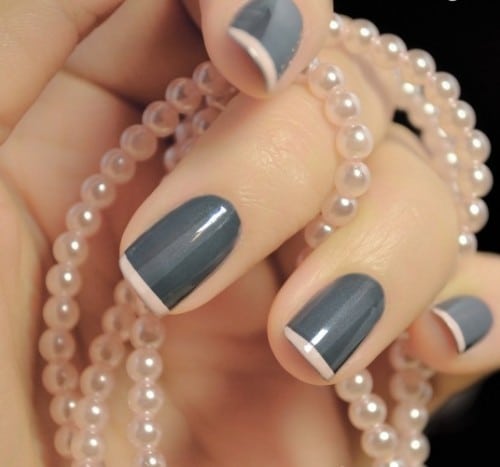 Unlike all the other designs these designs, this design can win a woman's heart even though it's all simple and calm.
Actually, in this design, we are not referring to a certain center of attraction, all fingers are alike having the dreamy gray base and topped with a very thin line of pinkish white. This design is all classy and warm and it's all that a calm woman with a strong personality needs.
#29. Stiletto And Black, Oh My!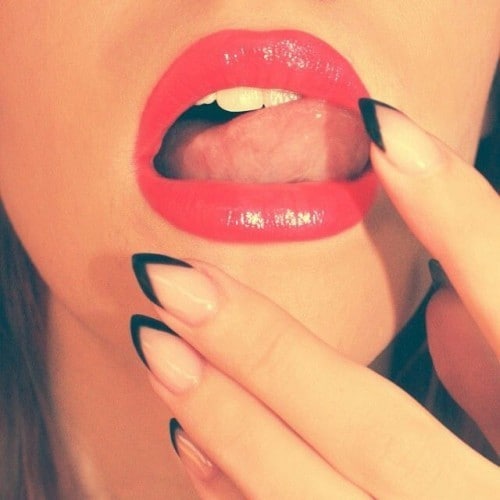 This is one of my best french tip nail designs. This is the look you totally want to wear to every event, every meeting, every party, and every important and meaning full occasion you're visiting.
Can you guess why? It just works for them all and makes you look crazily attractive. On the other hand, black is the color of fame and chicness and makes an invincible combination with stiletto nails.
#30. Glitter Is Everywhere!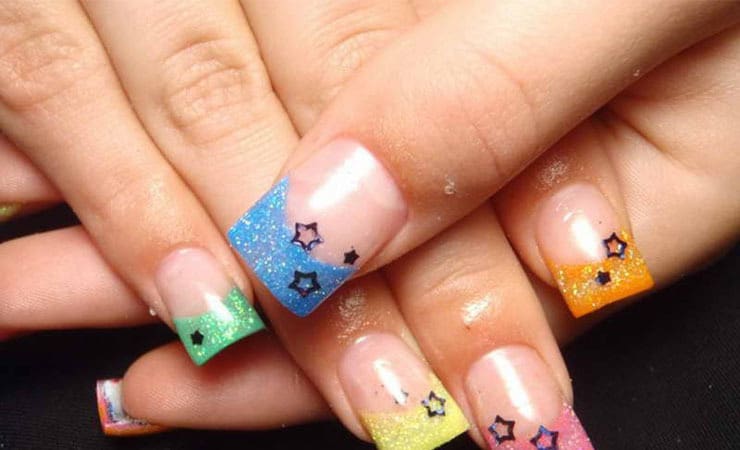 Not all women like to go simple and chic, some women just prefer to go shiny and colorful in their tipped nails just because they like to be exotic and extraordinary.
Glittery nail tips of different colors are the key to the heart of a fluffy woman who still has that young girl inside her.
#31. Pink and White French Nails
Get out of your comfort zone! now and with this design, you can stop being usual and start using oblique thick tips in your designs instead of normal ones.
Moreover, pink and puffy polka dots with an oblique glittery purple line marking between the base and the tipping make an outstanding combination.
#32. Purple French Tip Nails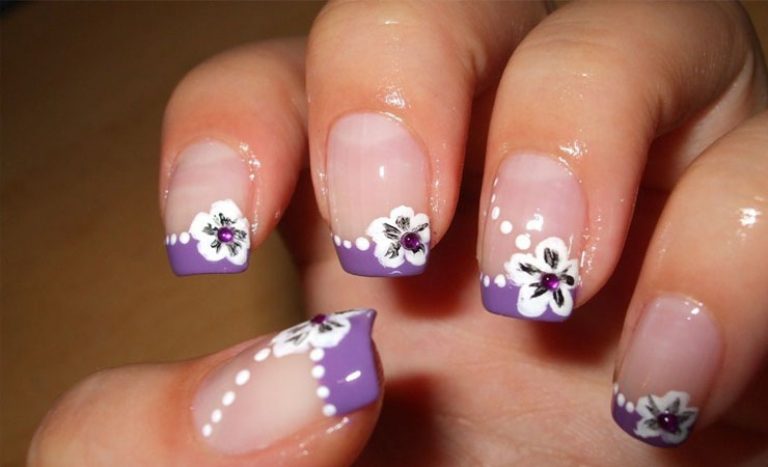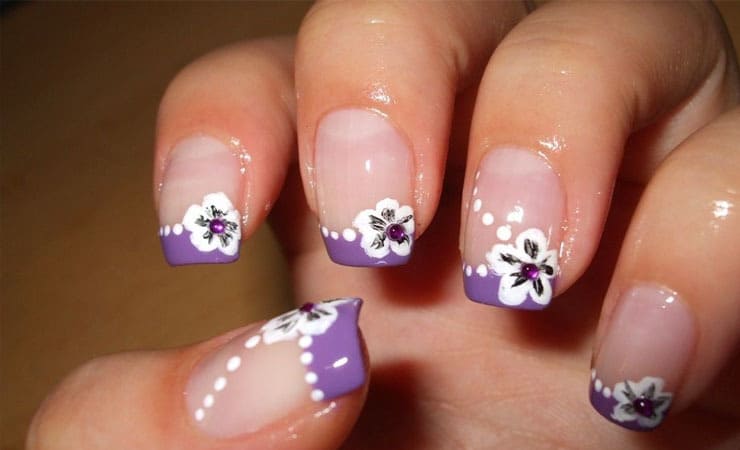 The transparent base tipped by the periwinkle color gives the design a showstopping twinkle, exceptionally when we add the white flower to the edge of the design with a purple strass as a center of the flower.
#33. French Black Tip Nails
Going fancy but confused between being simple or over the top? Well, this design is the solution.
When wanting to be simple, the black tip gives you what you are asking for, when wanting to be cloud nine, this transparent glittery base and the silver line, in addition to the sequence in the ring finger, pleases you.
#34. Full Of Chevron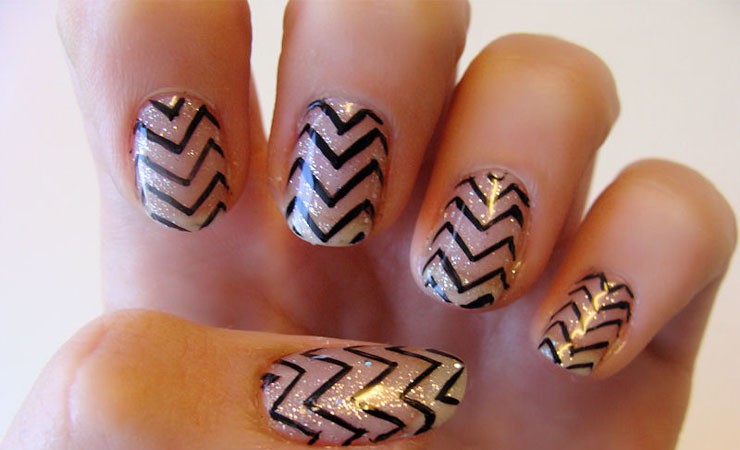 For party animals, glittery backgrounds aren't enough. To be satisfied you are free to add a chevron to your design to bring life to it and make it suitable for a party mode.
This design is just the standard design of french tip nails, but what makes it different is the zebra pattern in the ring finger that moves the design from boring into an advanced but calm zebra design.
As we all know, the common thing between women all around the world is that they all adore flowers because they see them as the principle of beauty.
Speaking of beauty, the thing that gives this ordinary design its power is the flower power. Do you love simplicity and flower? So… this is your design.
#37.Ocean Blue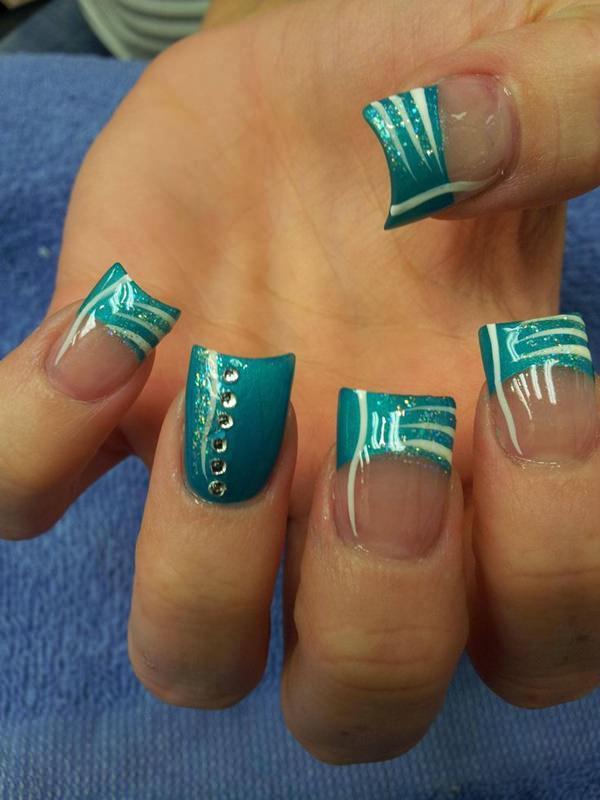 Deep inside a blue color, we can all see the calm ocean, the blue sea. The above thick blue tip represents the deep ocean we all know.
In addition to that we can see the wild waves through the white curls that move the see from the calm mode to a crazy mode. Such a design is specialized for sea lovers.
Mermaid Nails To Take You to the Deep Ocean
#38. Pink Roars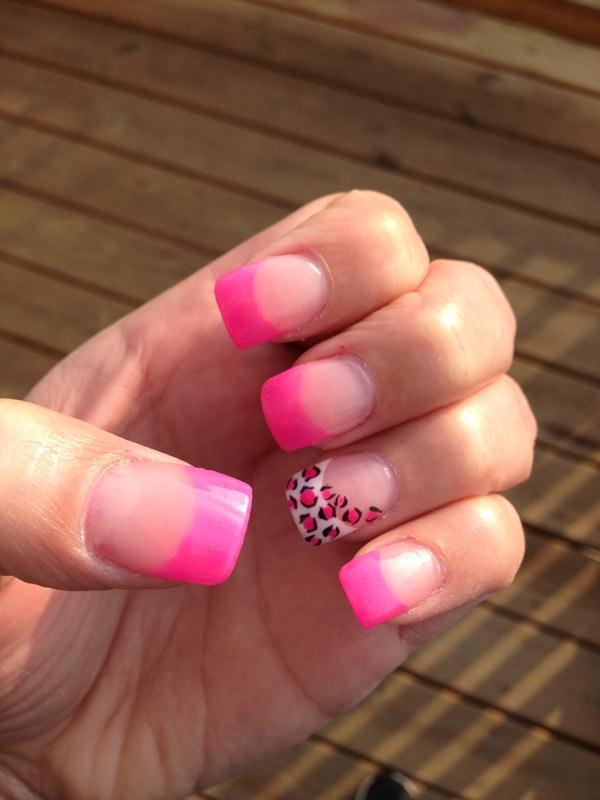 It's all about pink. A pink tip is another shape for a simple french tip design with a transparent base.
Going all fabulous and puffy with pink isn't that easy, a good management of the pink color in a classy way is not available to everyone. For example, adding the cheetah pattern here using the pink color is a smart touch.
#39. Shimmer With Glitter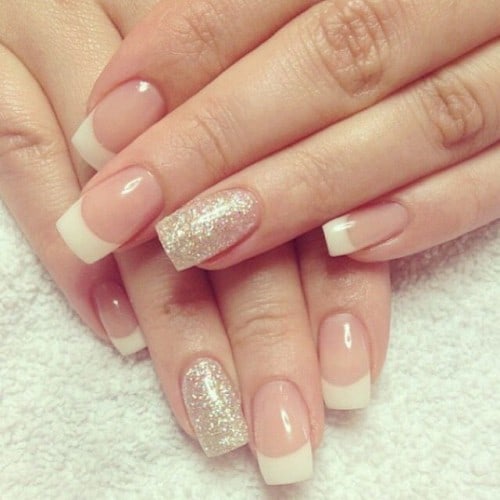 Glitter varnish and classic white french tips are a traditional combination that can trigger happiness in your inner nail artistic heart. It's not a design that needs skills for applying, it's just a piece of cake.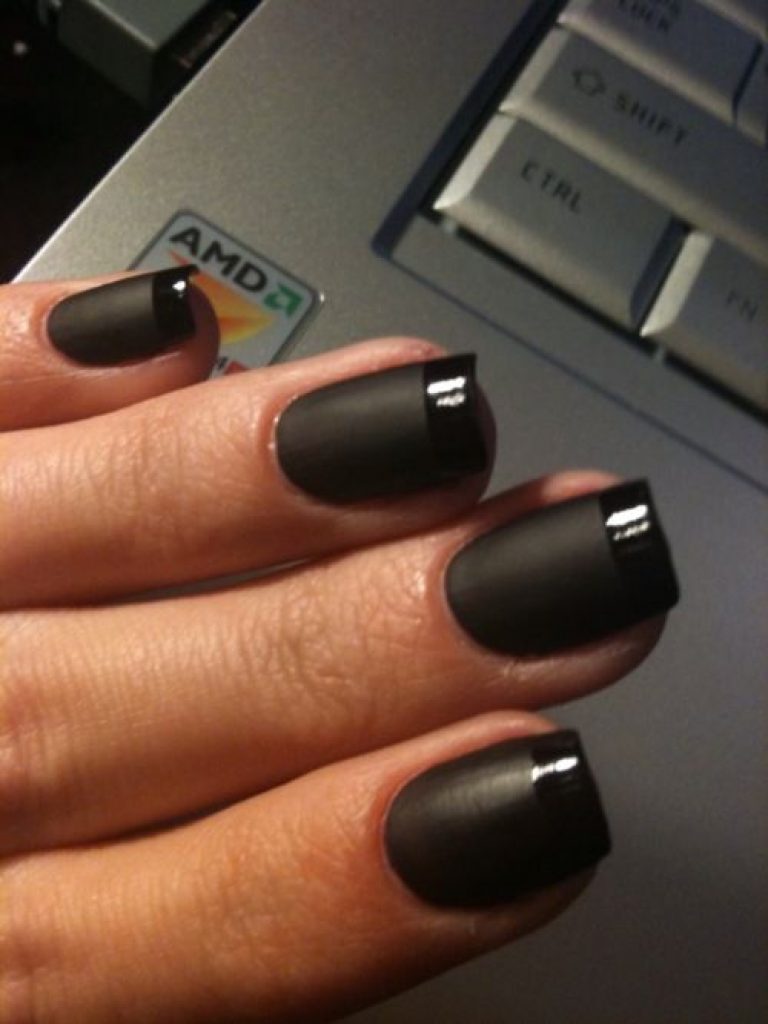 Black is the definition of chic, classy means black, and matte black is fame. Actually having a design made up of tipped black and matte black base is a genius.
It's just like combining perfection with beauty, this would give the best satisfaction that you will enjoy.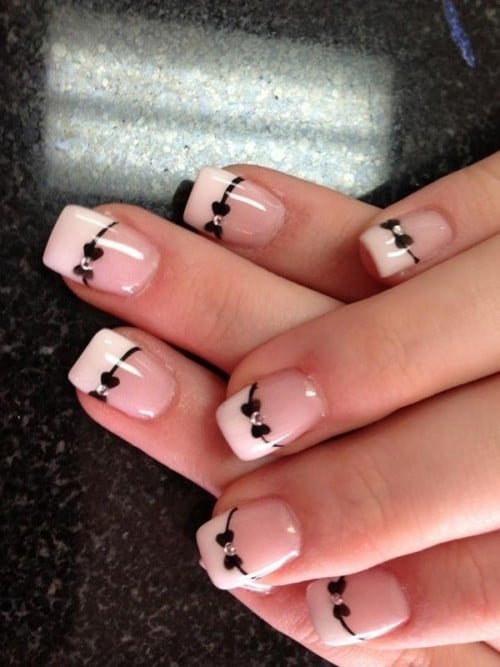 Pink white tips for a transparent base are normal, but adding the tiny cute bow ties to this design gives it a unique taste compared to the other designs. It's cute, simple, and can be worn every day.
#42. The X Factor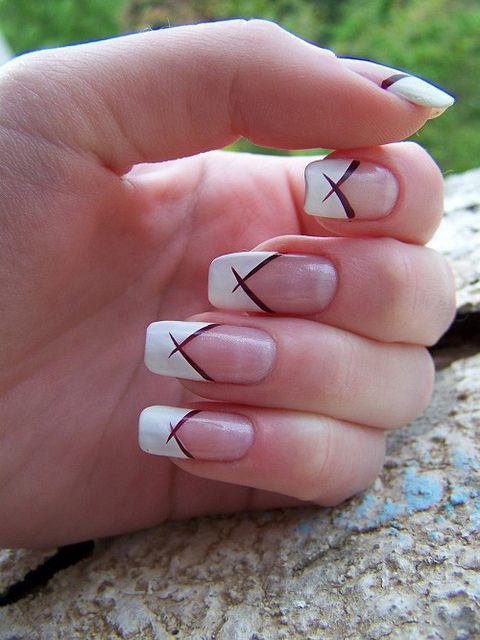 Just get rid of the danger, by crossing the white border by a slight red. Designing a french tip nail design having the X shape can have a different meaning and this alternates between one person to another.
#43. French Tipped Ombre Nails
Now for the nail artistry, this is an easy to apply ombre fade-in design that is great for special occasions.
#44. Silver French Tip Nails
If you want to look as hot as fire then call 911 cause this red nail design is so gonna light up many flames tonight. You better watch out, cause this silver tip is adding a dashing fuel to tonight's flame.
#45. Silver Fade-In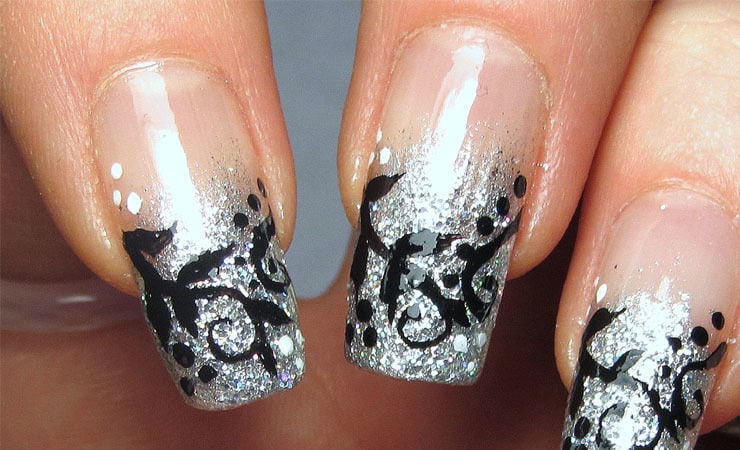 Fading of glittery silver is an outstanding design, not to mention that the black decoration plays an important role in adding life to a woman's nails.
#46. Christmas French Tip Nails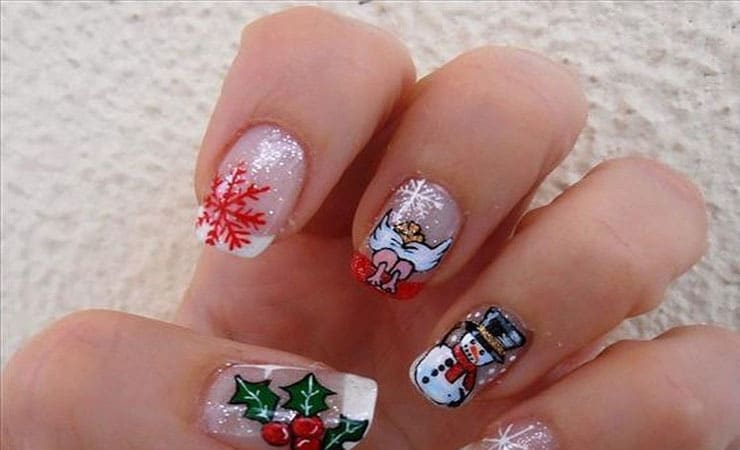 You better watch out, cause Santa clause is coming to town. This design is the perfect one for season greetings, the tipped nails with the white and red color, in addition to the drawings on each nail, all show the Christmas spirit you want to meet Santa with.
#47. Christmas Flames
Meet Santa with your glittery flame red and your Christmas spirit inspired by the candy canes. But wait, don't you dare to forget to call 911 because trust me, wearing this design on is gonna light up many flames of jealousy.
#48. Death Is Life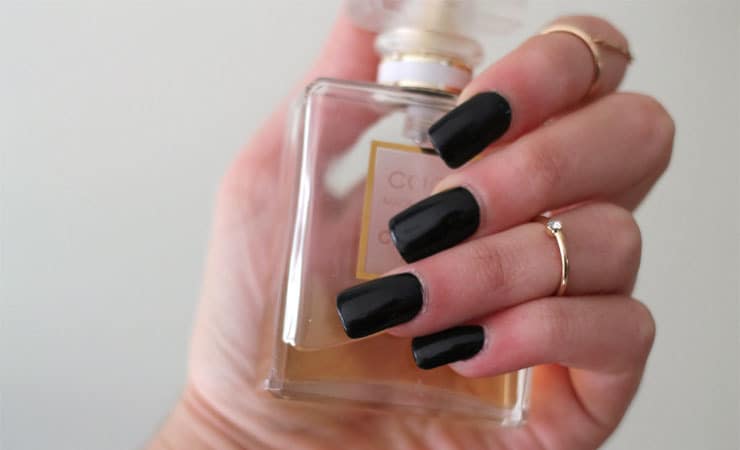 Black is the color we were in death ceremonies, but as they say:'Death is life'.When a person dies, another person is born, and so on.
But speaking of nail designs, black is the color that can bring a dead woman back to life even if it was a very simple design. But don't forget, its black.
#49. Bible Themed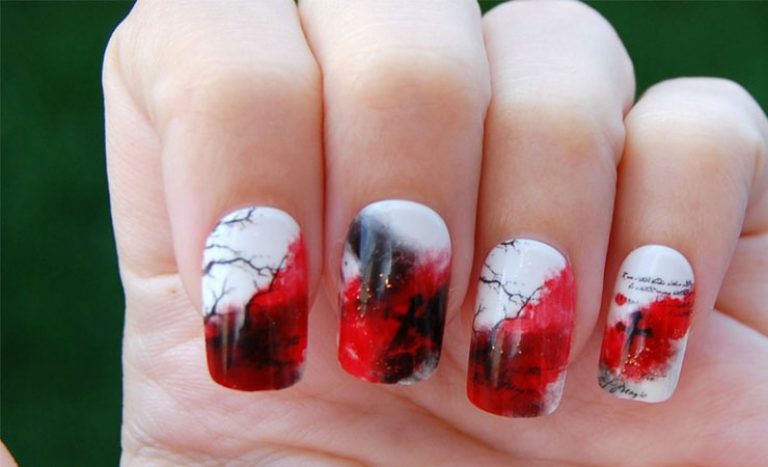 Kick-off your Christianity with this design. The cross image says "We love Jesus!" So if you love Jesus and you want him to be with you everywhere, this design is all you want.
#50. Colorful Glitter
Mashup your glitter nail polish to go wild and colorful in your party. This night you gotta hang out, have fun, and dance freely. No worries! Your epic tiny nails can handle everything.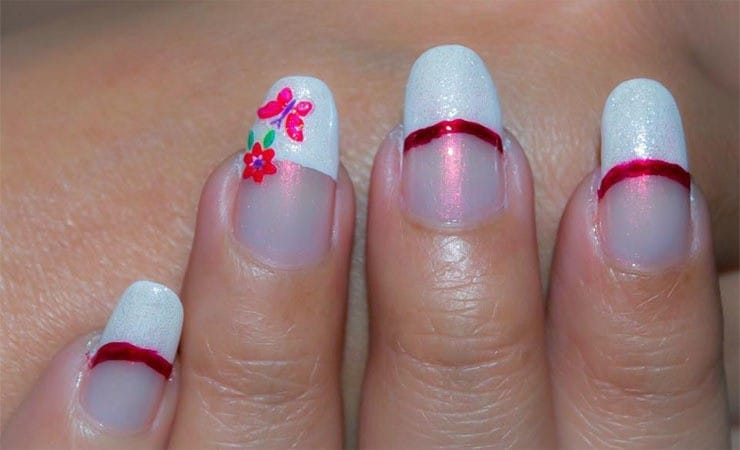 When summer comes up in a conversation, you automatically picture yourself on a deserted island wearing your favorite bikini and sunglasses.
But if you are wondering about the design of your nails, well just don't. This design is just what you want, it's a simple glittery french tip with a little summer rose and a butterfly filled with the summer fresh spirit.
#52. Fresh White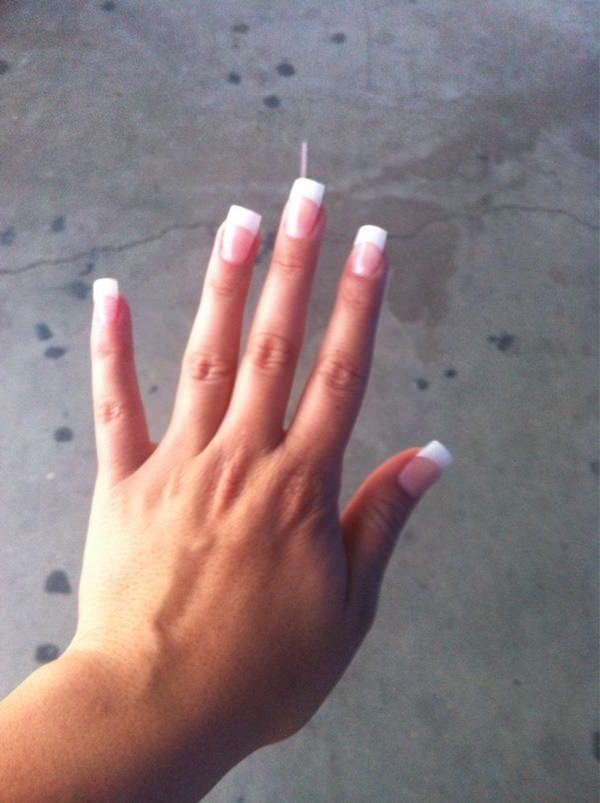 Go fresh go bright, it's bright white. Light up your day with your white color, feel free with wearing this design because it matches any outfit you are wearing, and it's suitable for any occasion or a place you are visiting.
Learn to Do French Nails at Home
#53. Fabulously Floral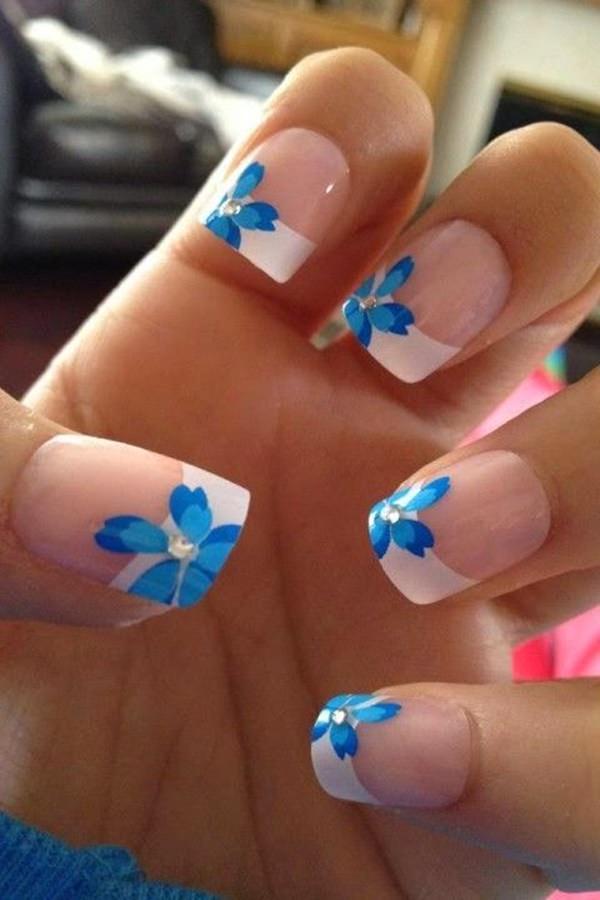 Ordinary French tip design is a design every fashion woman knows, but what she needs in a sunny summer fresh day on the beach is a touch of this blue flower that will spread summer vibes all over her soft hand skin.
#54. Matte Navy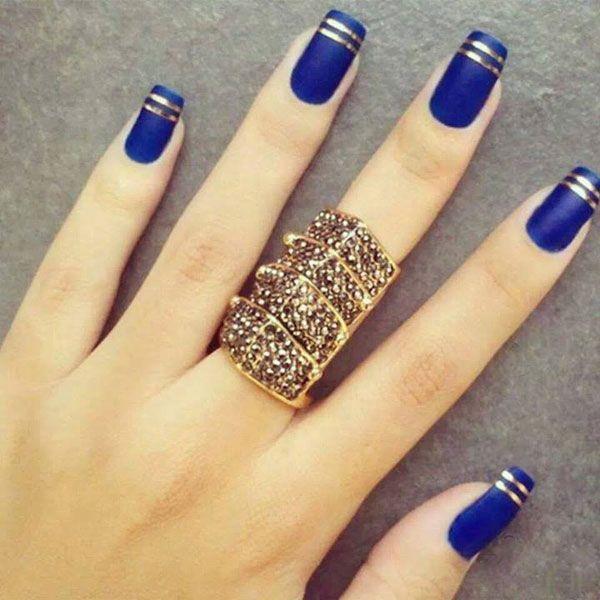 Silver stripes are not the whole story, but the navy blue is. This color is one of the best shades of blue, it shows elegance and luxury.
#55. Flower Power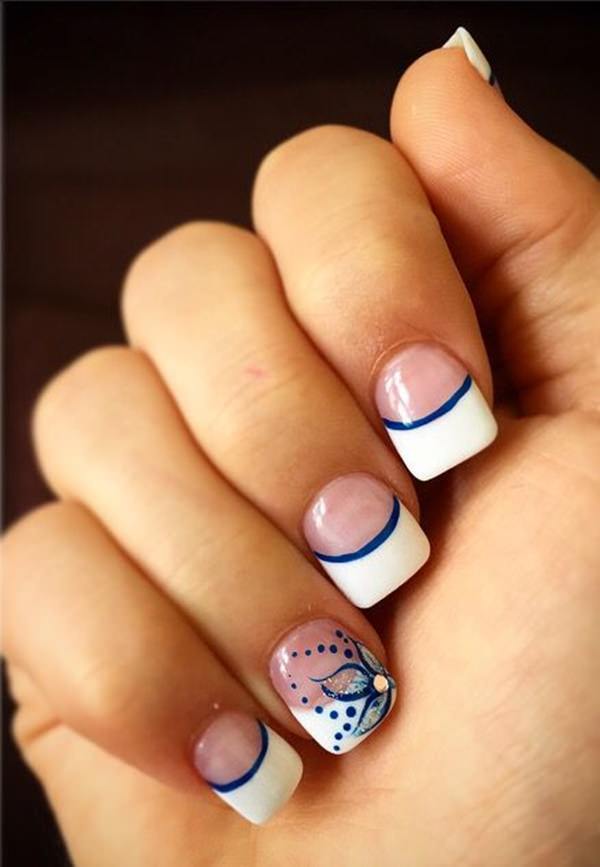 The navy blue flower placed in the ring finger between all simple french tipped fingers makes up the center of attraction and eye contact.
#56. Tender Flicks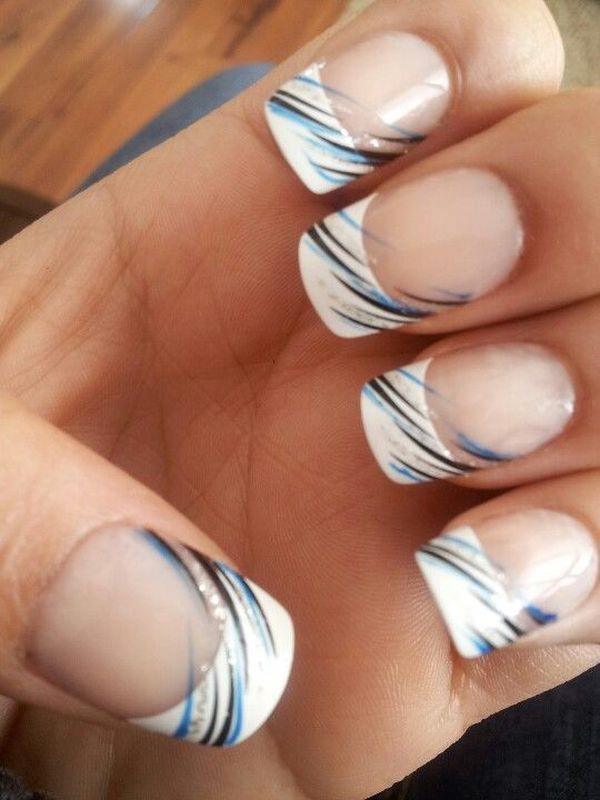 These blue and black and silver-colored tender flicks look like that a wind storm is generating from your tips.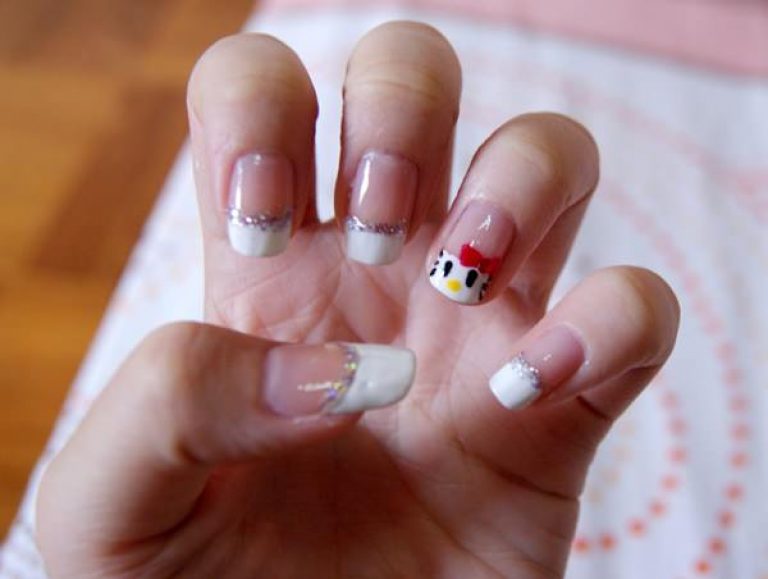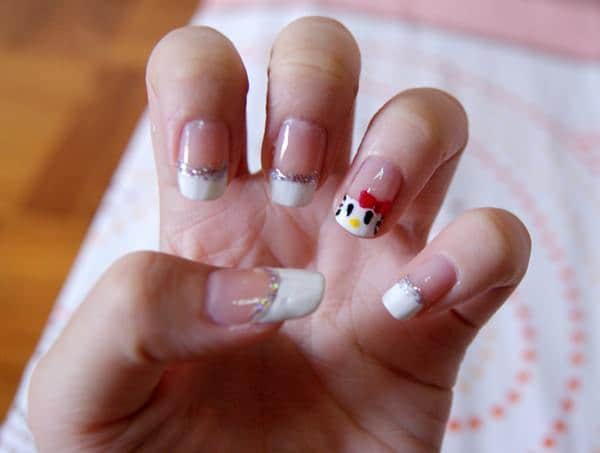 Bring out the young woman found inside you, and don't forget that once in those simpler times hello kitty was one of your favorite characters. Don't be scared of reminiscing, come on! Its hello kitty!
#58. Orange French Tip Nails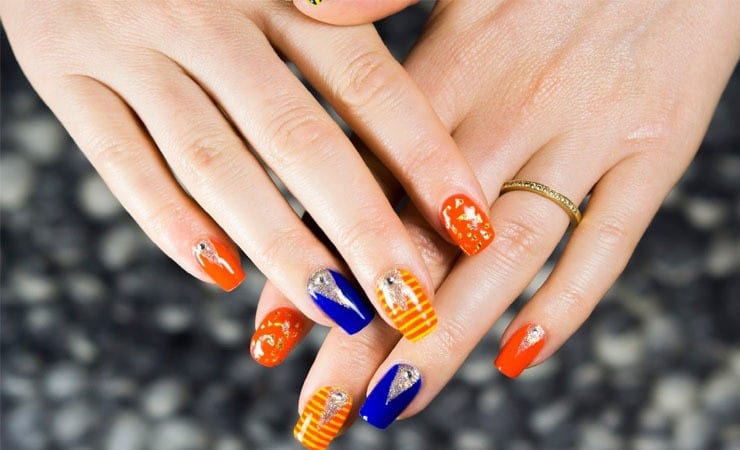 Wondering about how to look epic in your favorite day? No worries, cause this design is all that you want. The orange color and the yellow stripes are just two of the most powerful colors, so let's shine up.
#59. Unusual But Vivid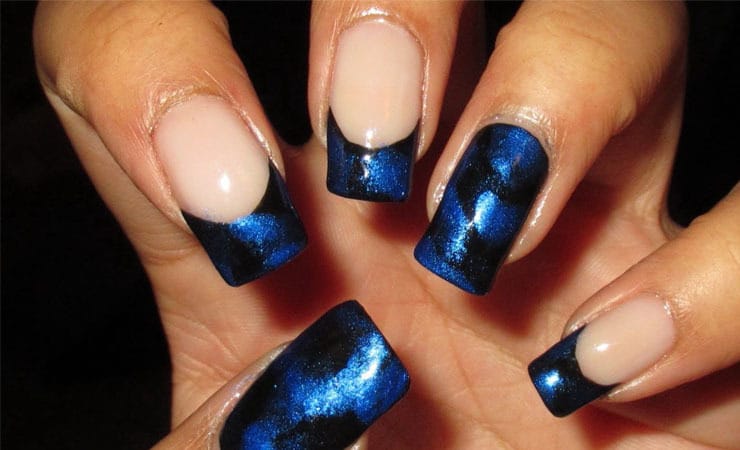 A weird design is a good one. Some of you just like to be special and unique, so why don't you try to wear such a design? It's an unusual one I know that but at the same time, it is vivid.
#60. Peek – A – Boo!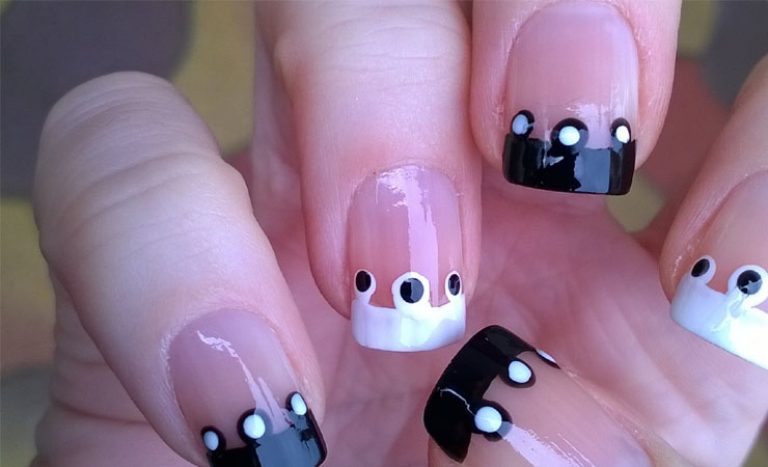 Don't miss any important event in your life, not even a single scene. But for this do you think it's enough to have only 2 eyes? Of course not, so with this design don't miss the chance of having an eye everywhere, even if it was on your nails.
#61. Rainbow Ramble
The minute you here rain and sun, you remember that this combination makes up a rainbow. If you are a rainbow lover, don't miss this colorful french tip design.
Play with Colors in Your Nails
#62. French Tip Nails with 3D Design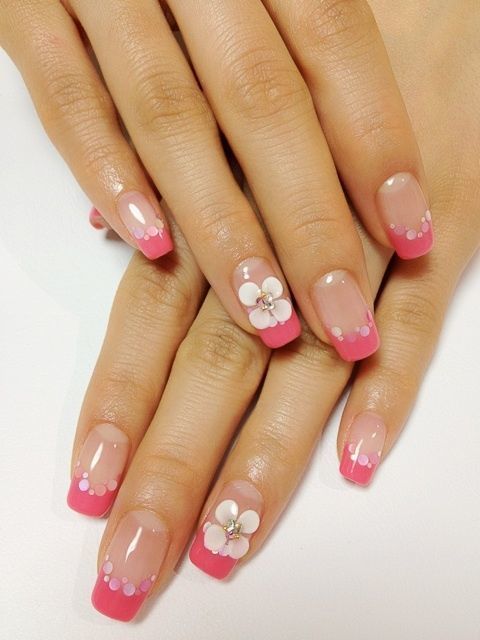 Flamingo pink tips with a white rose on the tip, looks like a flower is sprouting from your nails.
#63. Oval French Tip Nails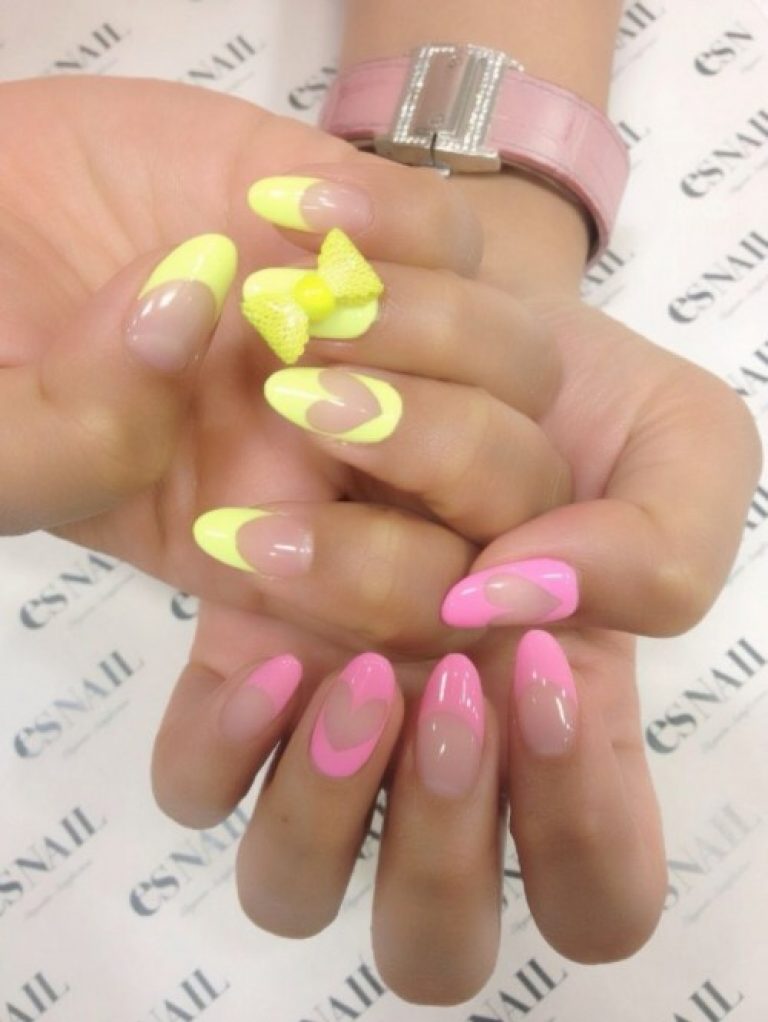 Show your love to your french tipped nails by shaping a heart at your ring finger. Also you can show love by a heart on your middle finger, and for cuteness add a bow tie next to it on the other finger.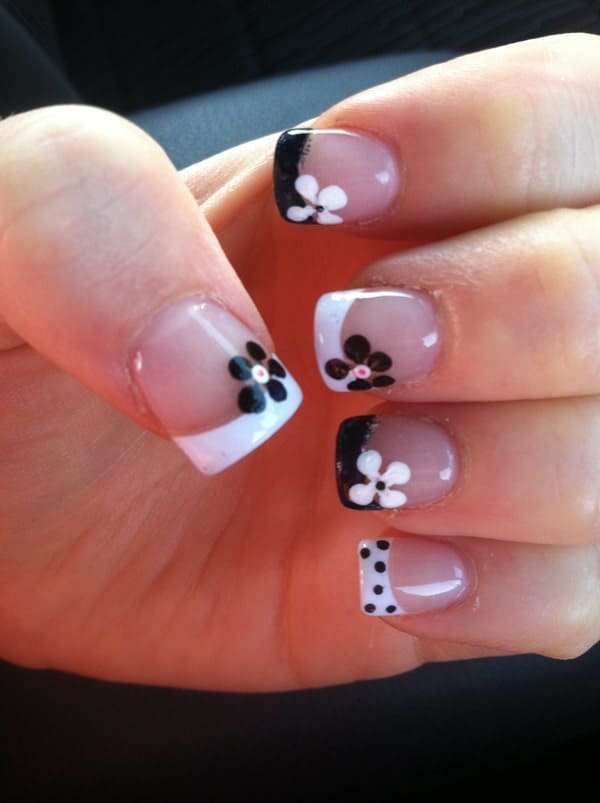 A sprouting flower from the tip is so cute, you would like to wear this design on casuals and for every day.
#65. Polka Tips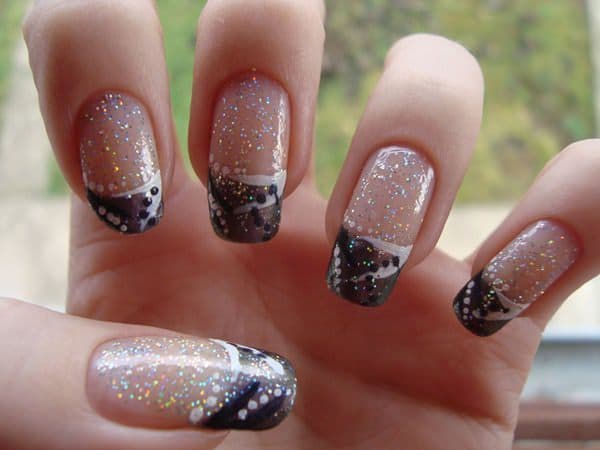 Shimmer with glittery nails that light up your night, not to mention that the black and white polka dots specialize this design for night parties.
#66. Cutie Pie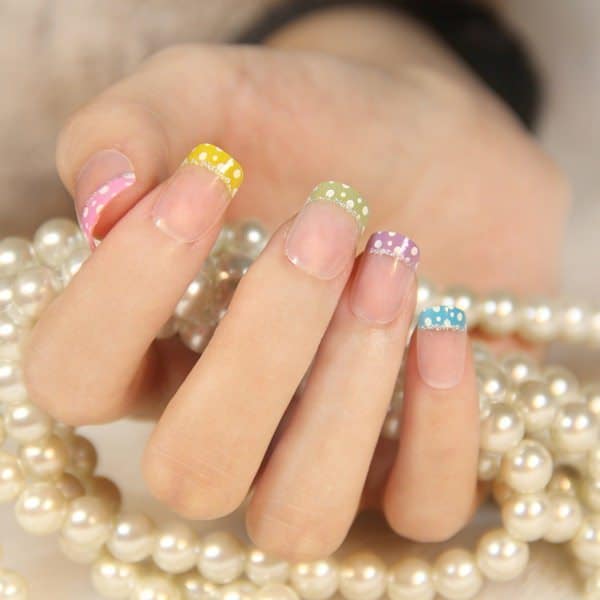 Mix polka dots with rainbow french tips to get the cutest combination ever. Color with white polka dots giver a strong girly image that you would like to wear in a girlfriend's sleepover.
#67. Short French Nails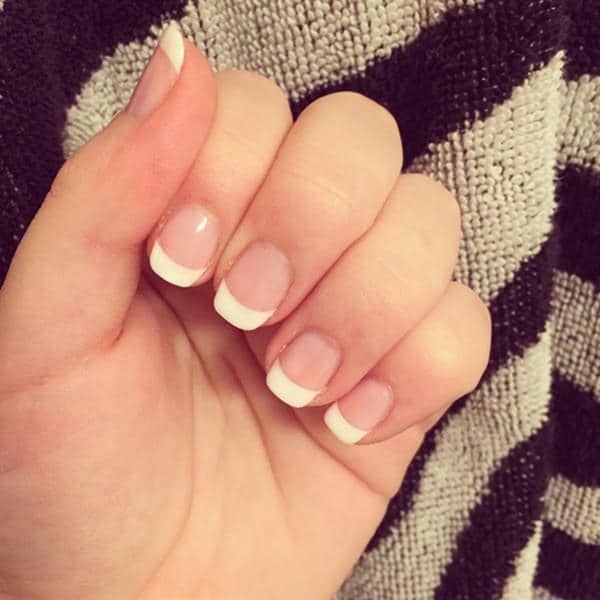 Coco Chanel says that "simplicity is the key for true elegance". You don't have to go puffy and glittery to look good, being simple can also present a woman in a good image.
#68. Squared French Tip Nails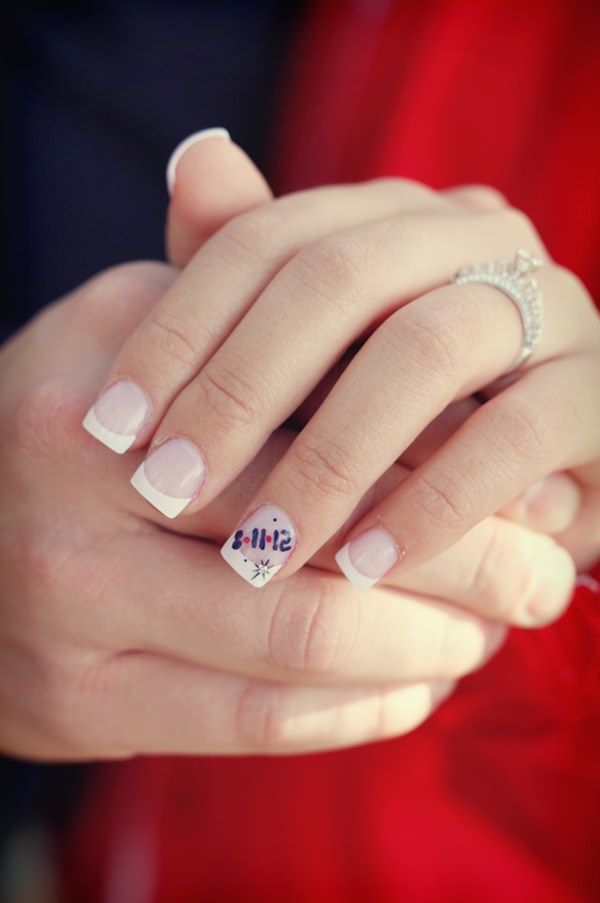 Adding a date to your simple french white tip design is a good idea to give importance to a day you would like to remember.
#69. Full On Black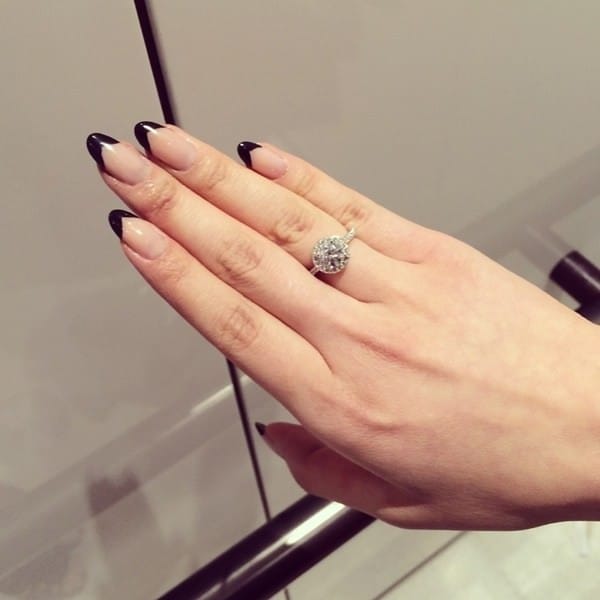 Easy as a piece of cake. Stilleto and black tips make the perfect match, especially when including a transparent base in your design.
50 Striking Nail Designs to Try
Classy French Tip Nail Designs to Follow
Finally, you don't have to worry about what design to wear anymore with this epic list of 75 french tip nail designs. Just style with grace, cause that's you!