15 Peaceful Pastel Pink And Yellow Nails for 2018
Pastel pink and yellow nails could be the best choice if you don't like it too bright or vibrant. Pastel colors are usually those colors which are eye-soothing, soft and they lack strong chromatic content as these colors have low to medium intermediate saturation. That's why they look calm and beautiful when you get your nails done with pastel colors.
Pastel Pink and Yellow Nails Are Pretty Perfection
Pink is one of the most admired colors by the girls. It is considered a feminine color by most of us. You can blend yellow with the enchanting pink to enhance the beauty of your manicure. Pink pastel color associated with yellow will give a stunning look to your nails. But, it's not mandatory to use pink and yellow only. You can use other pastel colors while having pastel pink and yellow nails.
#1. Pink & Yellow Flower Arrangement
You can use pink and yellow pastel colors in marble patterns to adorn your nails with this beautiful design. These pastel nails will look good on your nails.
Hottest Pink Nail Arts Trending Right Now!
#2. White Edged Pastel Nails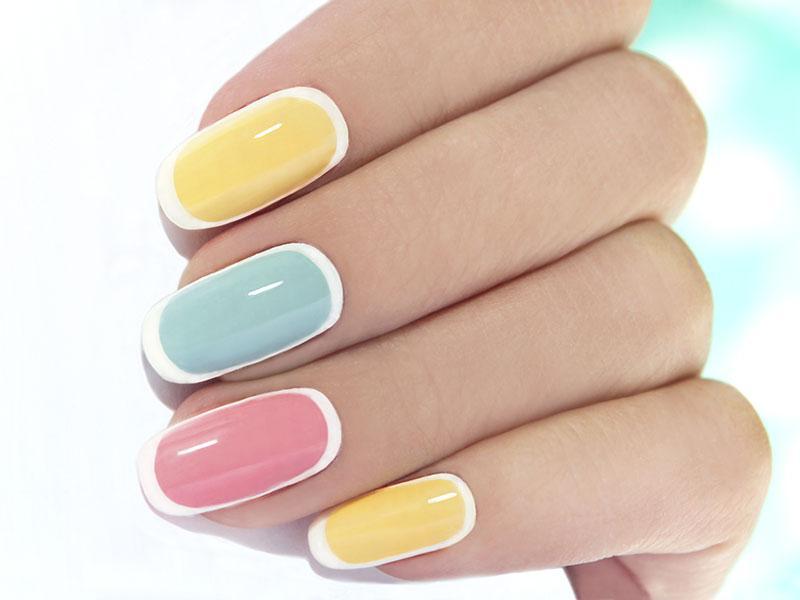 At first, paint your nails with pink, yellow and baby blue pastel colors. Then paint the edges of your pastel nails with white color to get this design. These white edged pastel pink and yellow nails are really amazing.
#3. A Band of Colors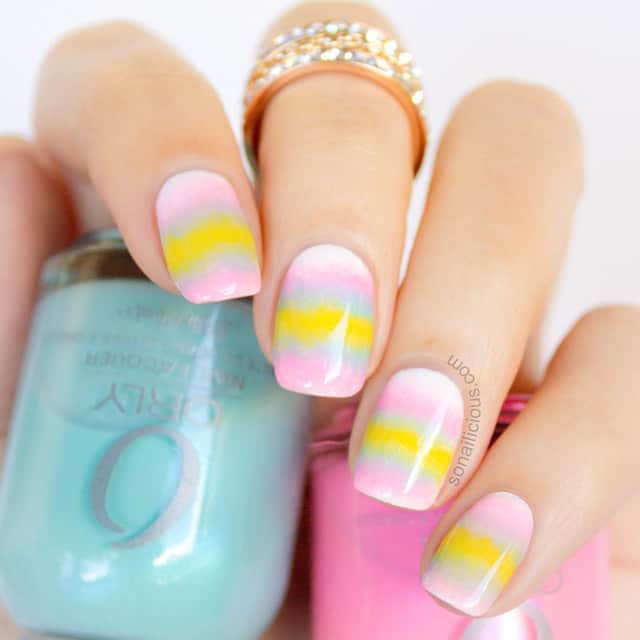 In most of the pastel nail designs, baby blue and pink are the most used colors by prominent nail artists. You can mix a shade of yellow, pink & white color to get this pastel painting.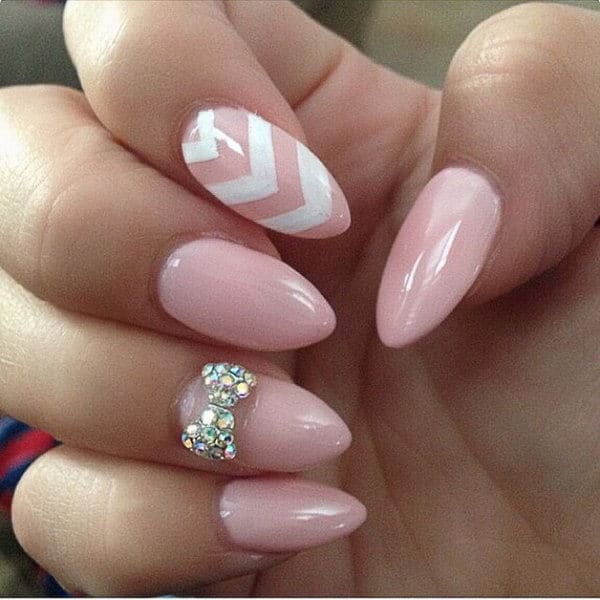 Bowtie is used in a lot of Nail arts to make the nails more gorgeous. You can tie a pink bowtie on your pink pastel nails to have these nails.
Just paint the two marginal fingernails with yellow and pink & adorn the other nails with any pastel colors as you like to get this amazing pastel pink and yellow nail art.
#6. Edgy Yellow
This a simple but unique design. Firstly, Paint your nails with pink pastel color. You can paint the bottom edge of your nails resembling the shape of lunula. Then, Design your nails with the gentle touch of yellow on the top edges of these pastel nails.
#7. The Pastel Team
Pink, baby blue, mauve are the main three colors that are widely known as pastel colors. You can add yellow to the team and paint you each nail with a different color. You can draw some polka dots to have a trendy design of pastel pink and yellow nails.
#8. Simple & Plain
If you don't like anything fancy, keep it plain & simple. Simply paint your nails with pastel colors & use pink and yellow as dominant ones.
#9. Elegant Pastel Nails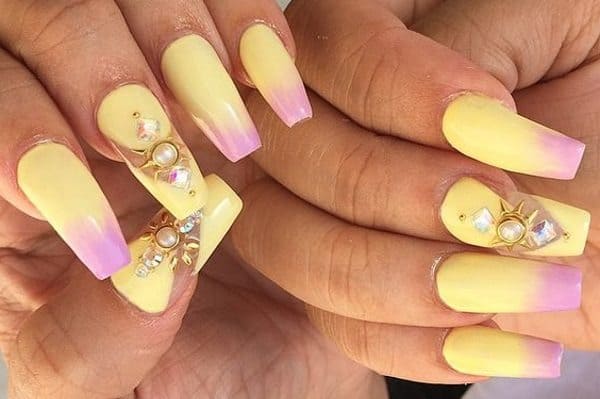 You can try this sophisticated pastel nails design having pastel pink and yellow nails. The stones and studs are complementing the ballerina nails.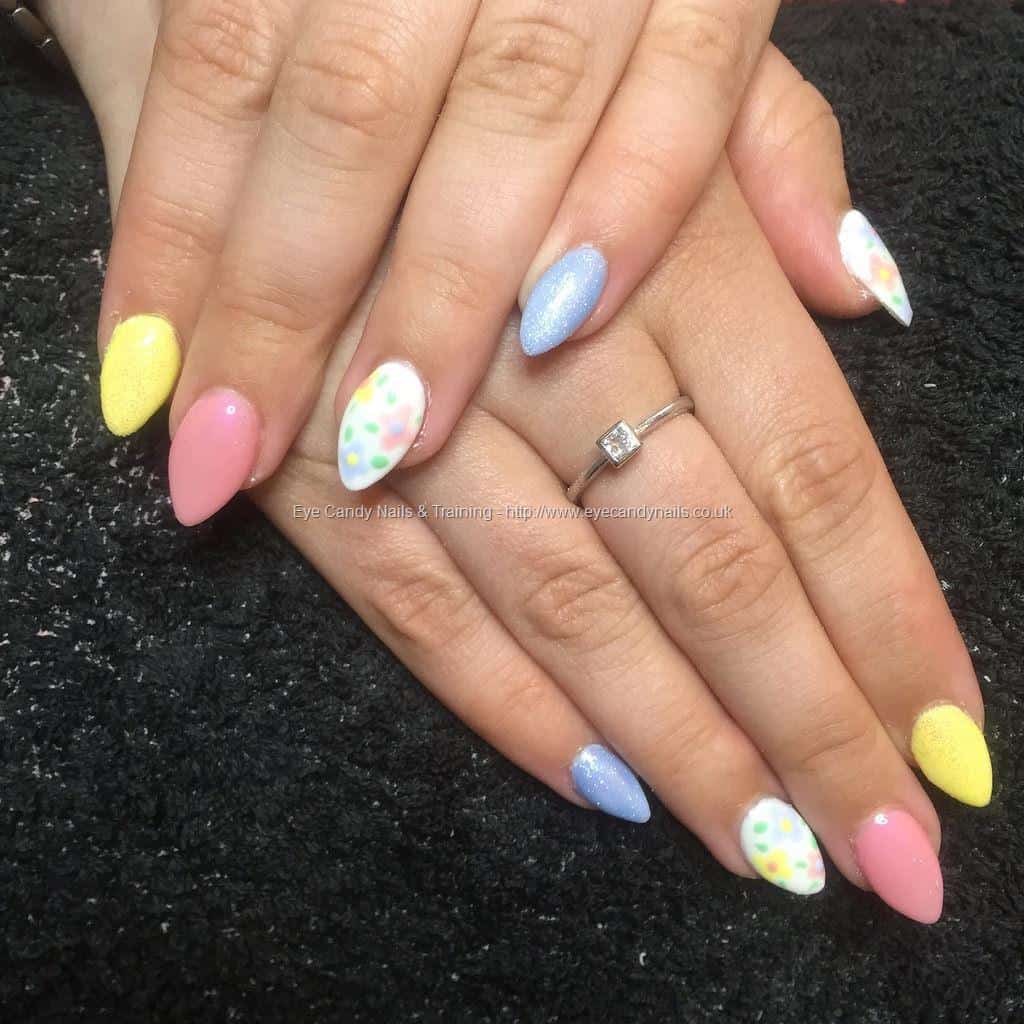 You can adorn your almond nails with the grace of pink, yellow, baby blue and some floral designs. These nails will look great if you can design them perfectly.
#11. Orange Patterns
If you cut an orange horizontally, a nice circular shape will be exposed. And, there will be some natural patterns drawn as default. Try these patterns on your nail. And color them with pastel pink and yellow.
Unique Orange Nail Designs to Look Vibrant
#12. Matte Pastel Nails
This design is not for the shine lovers. If you love to keep the surface dull and flat, this matte nail could be your go-to design. Use pastel pink and yellow colors along with other colors to get designs like this one.
#13. Mixed Leopard Pattern
Leopard pattern is a largely used design in nail art. You can draw some leopard patterns in between pastel pink and yellow nails.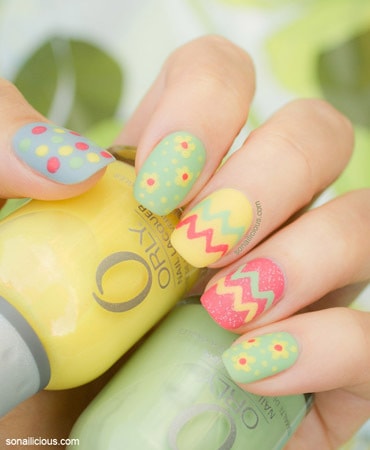 If you love the charm of different colors, try this design. Chevron patterns and flowery designs are the prime elements of this design. Other colors are used along with pastel pink and yellow nails.
#15. Cute Rabbit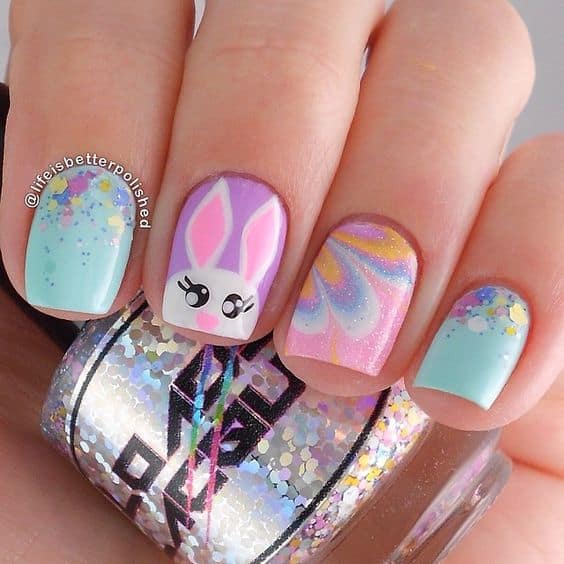 Being creative is always a plus point for the fashionista. You can use pastel pink and yellow colors in an innovative way as depicted in this picture. Green mint pastel color can be of great use to associate the pastel pink and yellow nails.
Cartoon Freak? Paint Cartoon Characters on Nails
You don't have to add much to beautify yourself with pastel nails. Pastel colors are beautiful themselves and peaceful to be looked at. If you want to have pastel pink and yellow nails, this article is especially for you.