Henna designs are mostly inspired by traditional designs. Most of the henna nail designs consist of lines and flowery designs. Some other patterns like that of geometric patterns and traditional designs are also used in henna nail designs.
Beautiful Henna Nail Designs
If you are planning to have henna nail designs, you should have a close look below. You can modify any existing designs, or create a whole brand new design to get a unique look.
#1. Black Henna Nail Design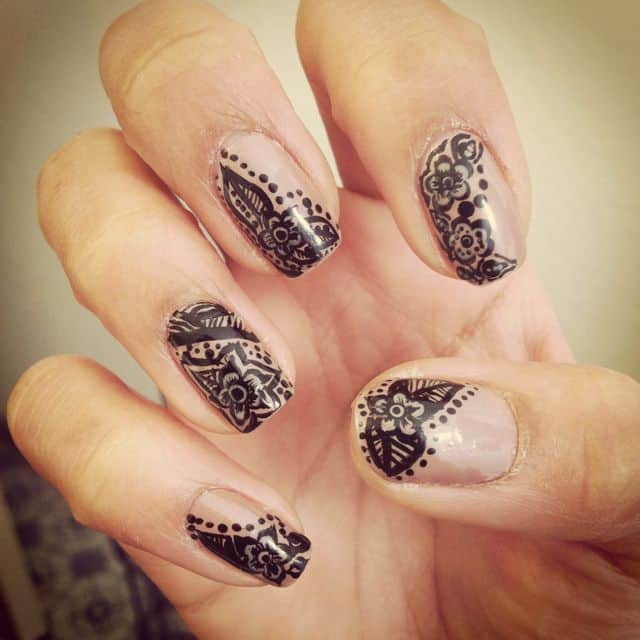 Flowers are supposed to be colorful. Since henna doesn't give colorful look naturally, you can have some leaves and flowers drawn on your nails with black henna color while having henna nail designs.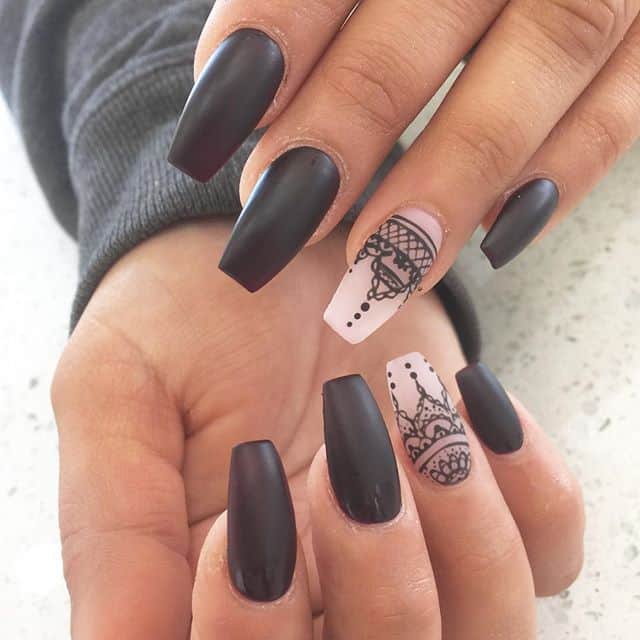 The word coffin creates the notion of a dead body but, in nail art coffin is a beautiful nail shape. You can draw some accentuated lively and alive patterns on one of your nails to have henna nail designs.
#3. Henna & Lace Combo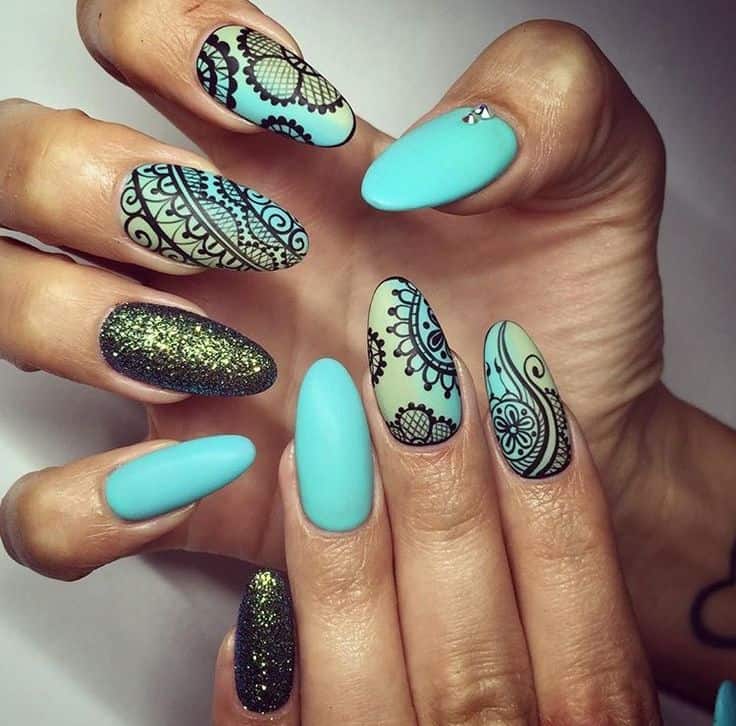 The combination of henna and lace nails has great efficacy in terms of nail designs. You can try out a henna color in lace patterns on the blue base of your nails. These henna nail designs look very impressive in henna colors.
#4. The Cohesiveness
This design looks good as a whole. All the nails create a good ambiance for henna nail designs together. You can have a cohesive nail design like this one.
#5. Black and White Henna Nails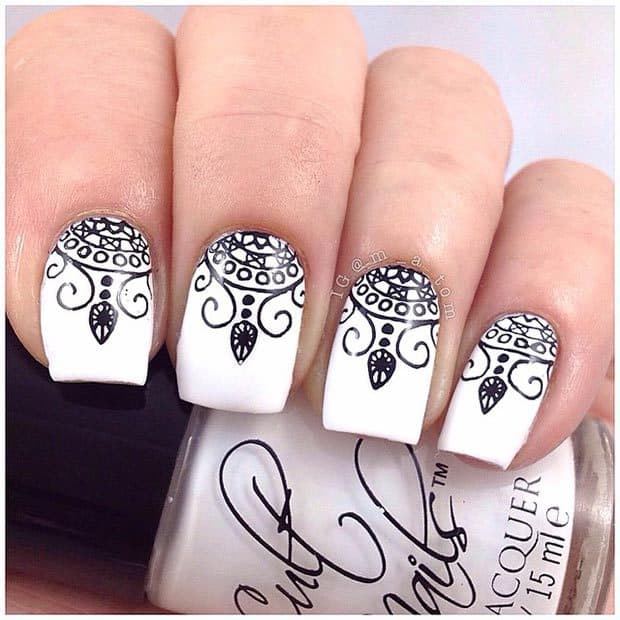 The pair of black and white can be used in henna nail designs very effectively. You can paint the patterns on your white nails to have these henna nail designs.
#6. Original Henna Look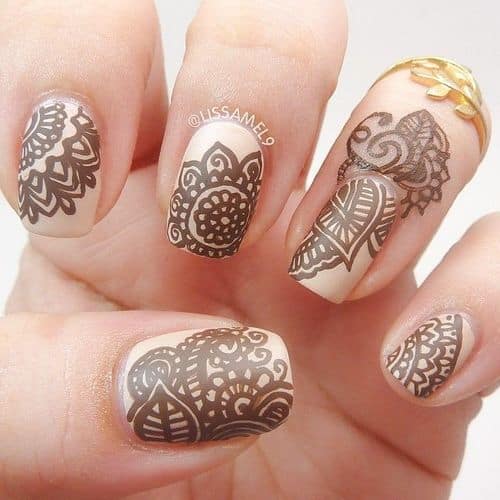 If you don't like any modification of the actual things, this design is only for you. You can paint your nails with different patterns with henna color. The reddish-brown color of henna will look amazing on your nude nails.
Abstract Nail Design to Turn The Head Around
This design is for the people who love to make their nails shine. At first, paint your nails with black color. Then draw some golden patterns on them to have these henna nail designs.
#8. Henna Nails With Round Patterns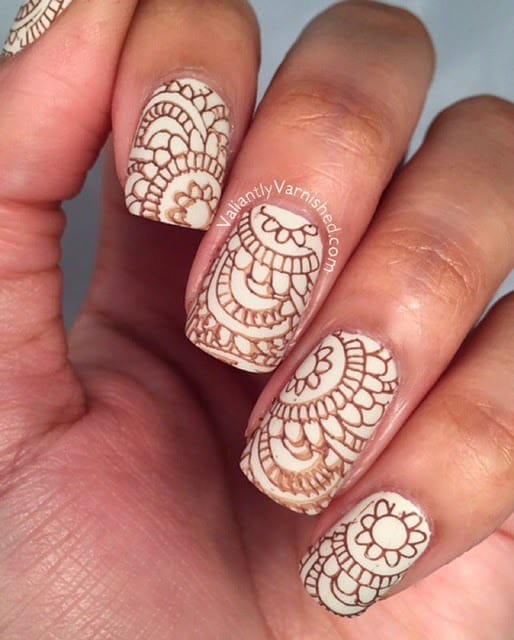 Rounded henna patterns on a square round nail look magnificent. Two curved parallel lines and tiny rooms in between them will do the trick for nail designs like this one.
#9. Leafy Design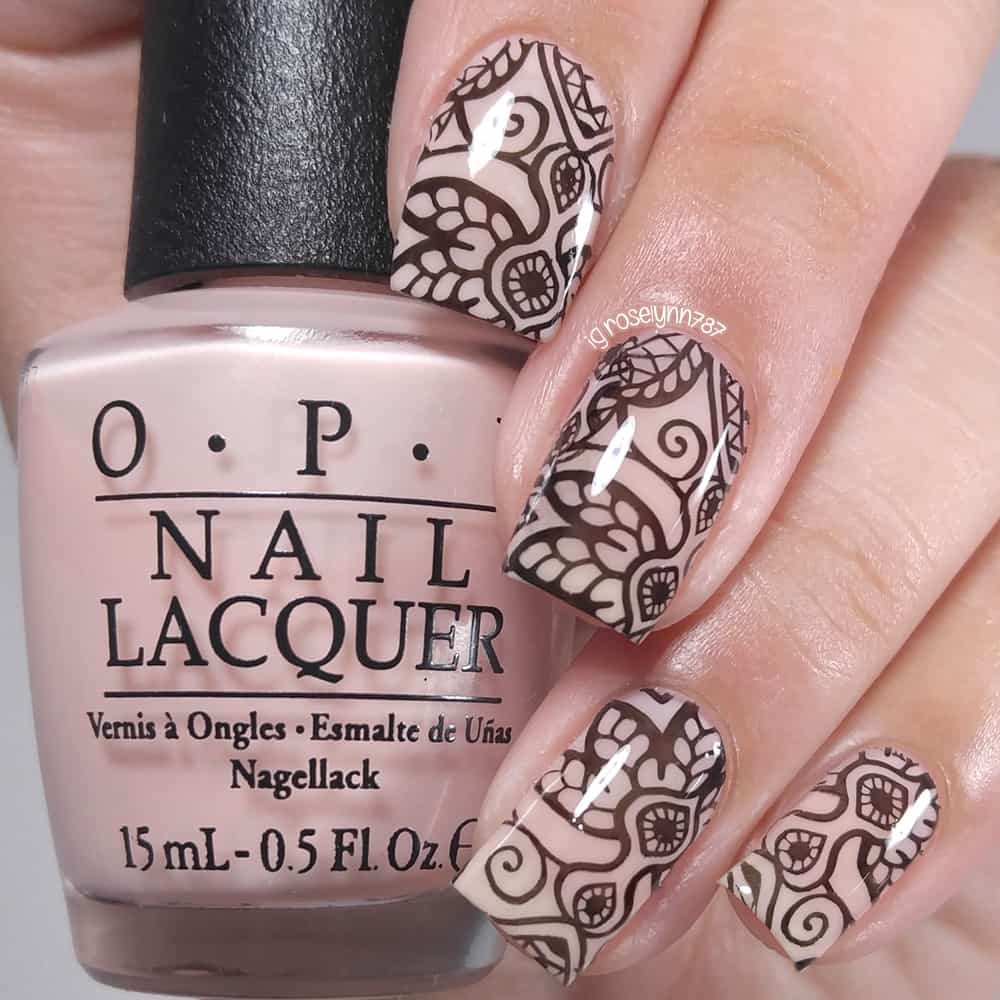 This is a henna nail art consisting of a leafy design. Different types of leaves are drawn on these nails to have this design. And the color resembles a dark shade of original raw henna color.
Football Nail Art to Support Fab Team
#10. Colorful Henna Nail Designs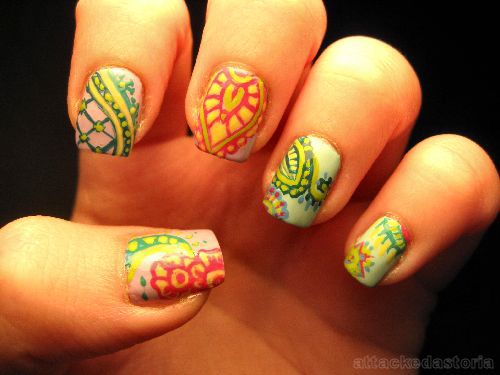 The patterns of henna designs have some distinct characteristics. Anyone can figure out the henna designs looking at the special sort of patterns. You can that kind of pattern in different colors to have your henna nails.
#11. Henna Nails With Traditional Patterns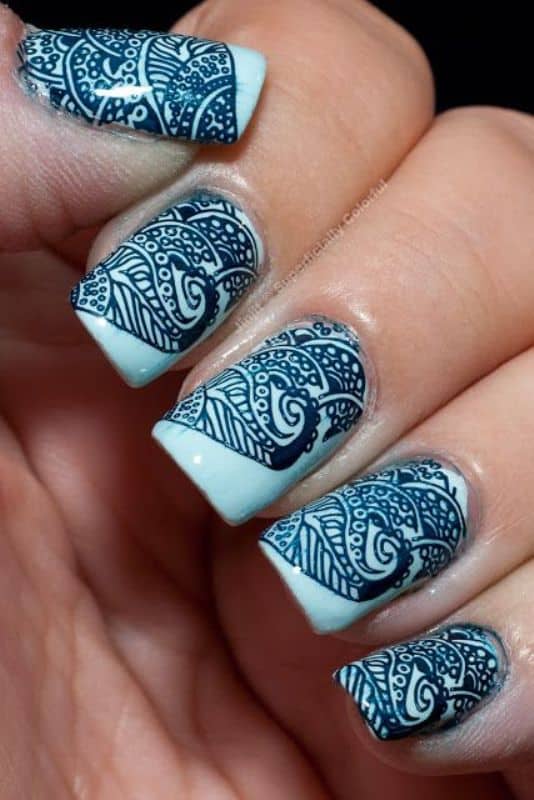 Some patterns are traditional in the sense that they have been used from the very beginning of henna designs. These traditional henna design on the nail is created using different shades of blue.
#12. Lace Work + Henna Nails
You can design your nails with designs inspired by intricate lacework. The designs of laces are quiet similar to the pattern of henna art, that is why laces and henna nail designs are compatible.
#13. Religious Significance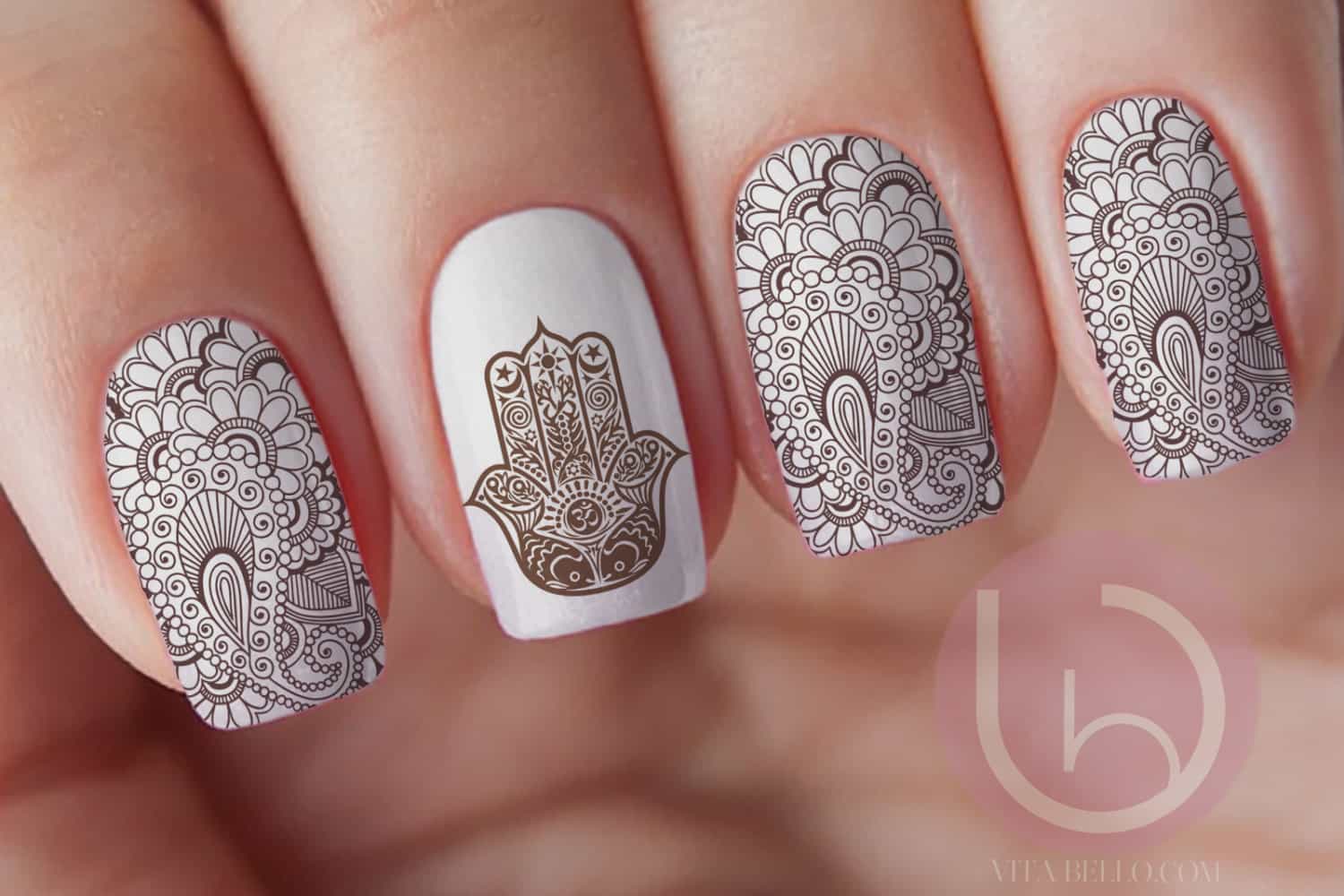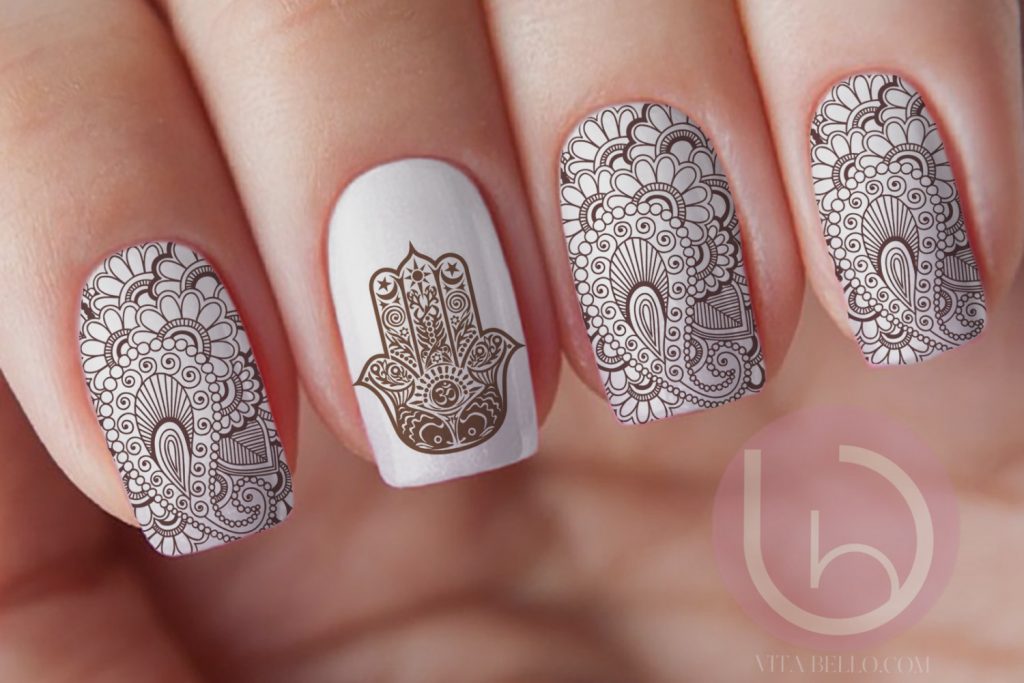 Henna is used in both Hinduism and Islam religion. It is a common sight in Hindu weddings and Muslim festivals. Besides, some patterns are identical to the rituals of Hindu people. You can have henna nail designs which have religious significance.
#14. Natural Look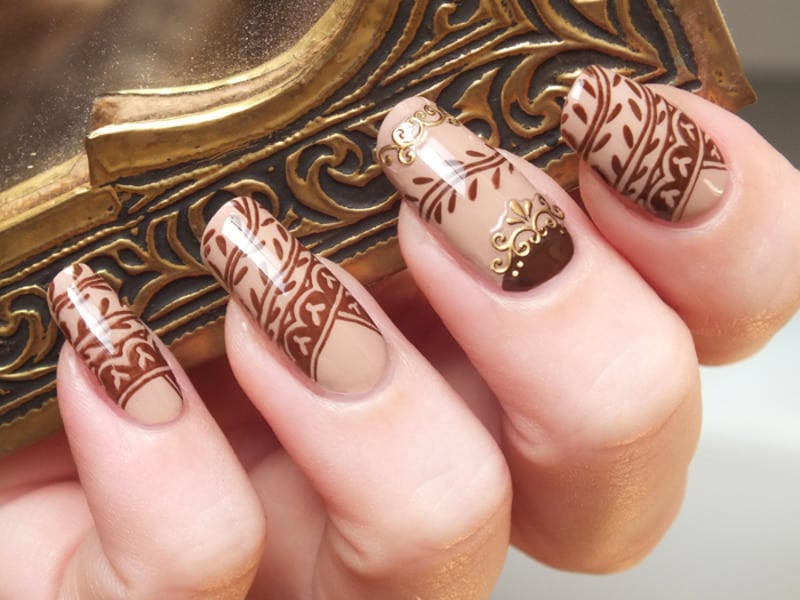 These nails are looking so natural. Both the color of the nude nails and henna are kept natural. The brown color of henna looks stunning on the nude nails. The patterns are also simple in this design.
#15. Grey Henna Nail Designs
Grey nails hold superiority in the realm of nail designs. You can promote grey nails by adorning them with the beauty of henna nail designs. Draw some simple patterns in henna color along with a gentle touch of pure white.
Henna nail designs consist of some common and conventional designs. You can modify these designs as per the occasion and mood calls. If you have already read this article, you already know what to do.