A manicure is only as good as the nail polish that you finish it with. Besides achieving a perfect shape and size, it is important to keep in mind the occasion for which the manicure is intended.
There could be no event at all, or it could be a wedding, a party, or even a picnic or a day at the beach. If you are confused about which shade to complement your attire with, nude matte nails are a sure answer.
Sophisticated Nude Matte Nail Designs
Matte nude nails are sophisticated and elegant and can elevate even the banalest get-up. Shade aside, a gloss is not always the solution to covering blemishes. In fact, a glossy sheen is hard to maintain. Also, it does not go well with every kind of make-up.
Sometimes, if you are heavy on the dress, it is a good idea to go matte nail polish on the nails. So imagine, the kind of effect you stand to create when you combine nude nails with a matte finish!
There are a few styles that can surpass nude matte nails in their grace. So let's take a look at the best 25 nails design that you can try on.
1. Long Matte Pastel Coffin Nails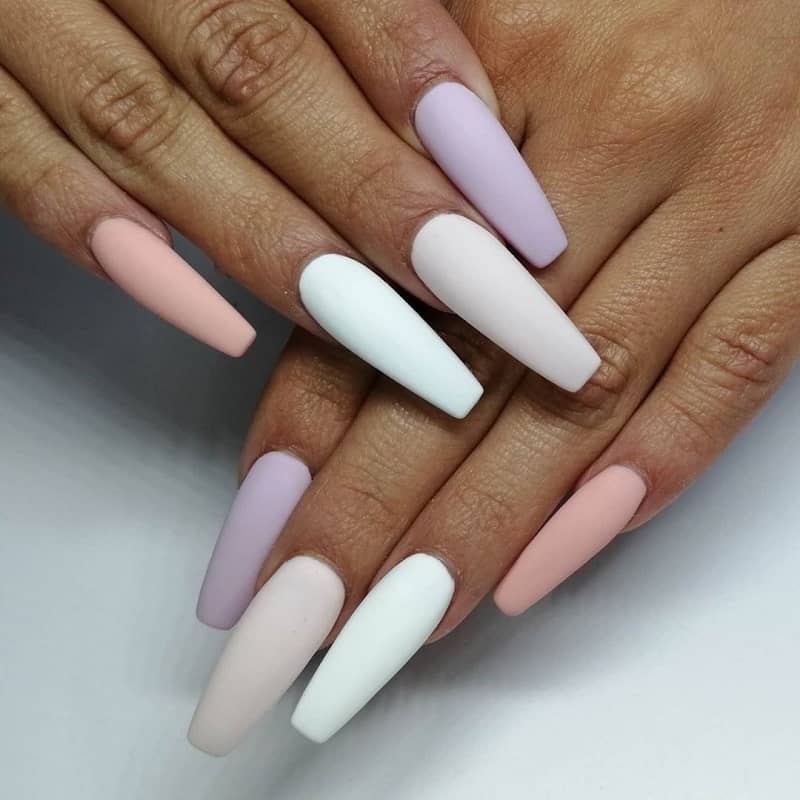 Nude matte gel nails look so gorgeous, especially on tanned or darker skin. They create such a nice contrast.
One of the downsides of these nails are their length because they can be unpractical so take great care when using your hands.
2. Matte Nude Nails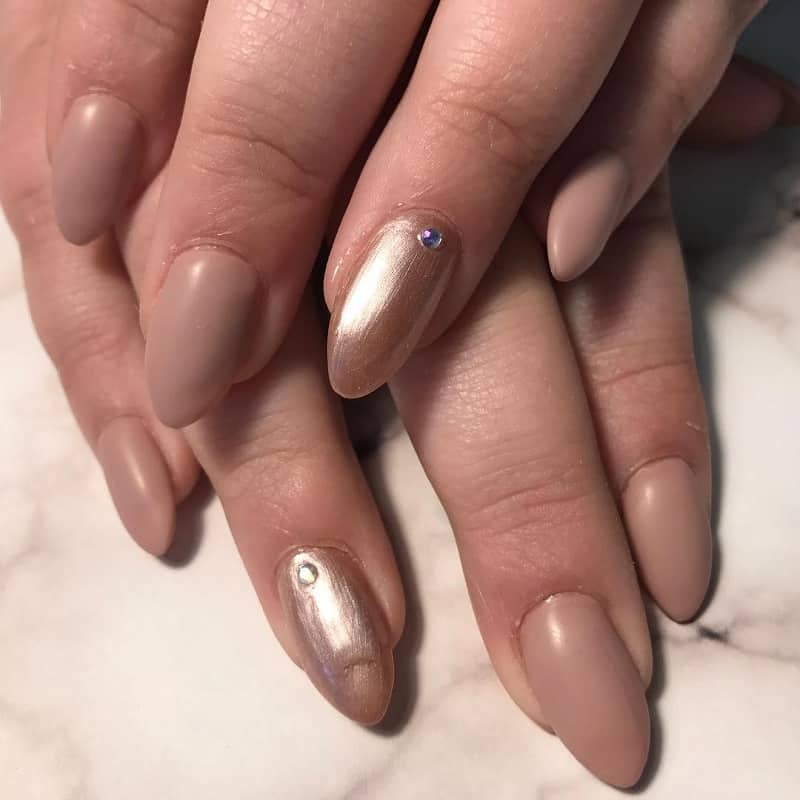 Go for almond-shaped nude matte nails, in medium length. They're not only fabulous, but if you are an active person who needs a manicure that is also practical, this might be the best option for you.
Apply a rhinestone on each ring finger for more elegance and a shiny finish.
3. Matte Orange Almond Nails
Orange nude matte oval nails are so vibrant and extravagant. Your hands look flawless and the color will certainly stand out, no matter how you dress. If matched correctly, they can highlight any outfit.
4. Short Matte Nails with Glitter
Sparkle matte nude nails are perfect for events where you need to look perfect, from head to toe. Apply a glittery nail polish only on the ring finger nail. Cut the cuticles to achieve a longer, impeccable nail.
5. Square Pastel Blue and Nude Nails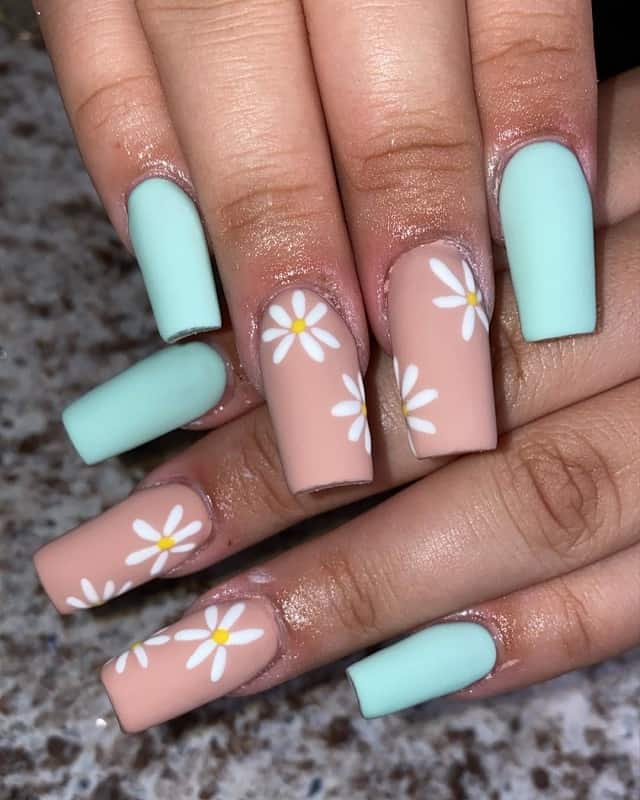 Matte nude square nails are never out of fashion and they can offer so many design possibilities. If you keep them long, they become a great canvas. Go for a simple floral design and mix nude pastel pink with light blue nuances.
6. Short Matte Nude Nails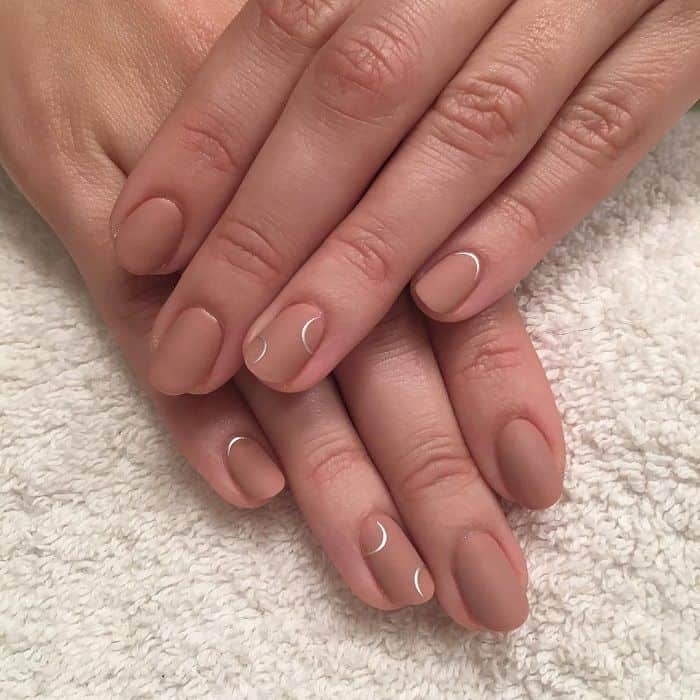 Short matte nails will look astonishing if you add a semicircle abstract design. Create it only at the base of your little finger and place some lines on the ring finger too.
It is such a simple yet effective design that can add a touch of elegance to your manicure.
7. Nude Matte Coffin Nails
Coffin nails built with acrylic gel can have all the lengths you want. They are resistant, the nail polish doesn't fade as it does for a regular manicure.
If you want nails that are long-lasting and look outstanding, this is the design you should consider.
8. Nude Matte Stiletto Nails
These stiletto matte nails are pointy and a perfect match for women who love an astonishing look.
Highlight your manicure with a few golden rings. They look great for all seasons so you can pull them off whenever you want.
9. Matte Nude Acrylic Nails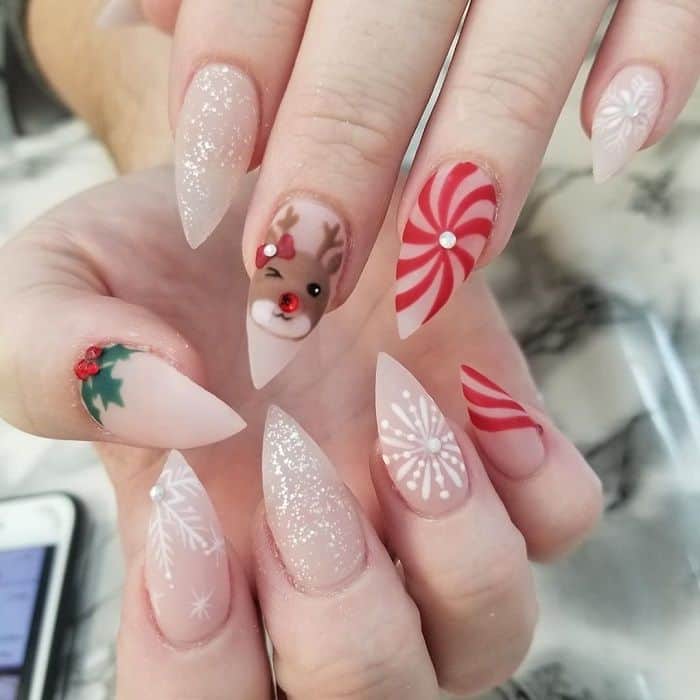 When Christmas comes, getting a themed winter manicure is the perfect way to show off your love for this holiday.
Create stiletto nude matte nails and use them as your canvas for snowflakes, mistletoe, reindeer and red candy.
10. Matte Nude Pink Nails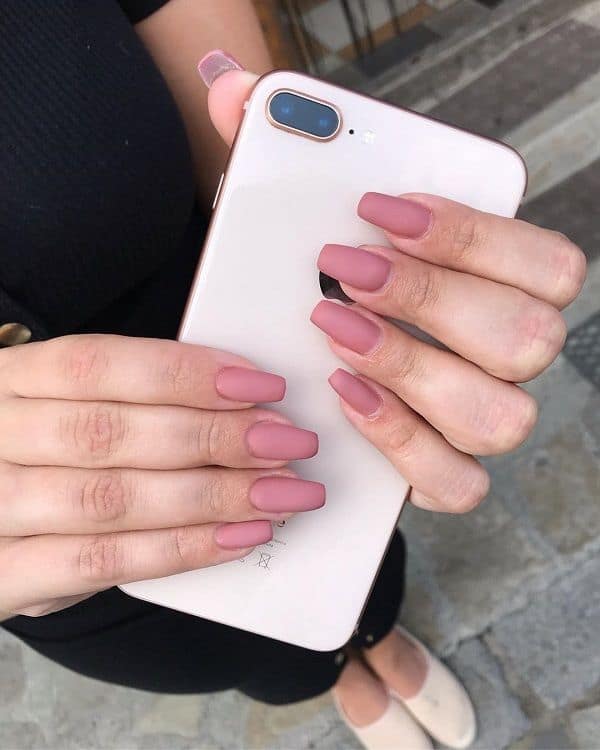 The perfect way to always look flawless and elegant is to choose a medium length for your squared nails. Paint them in a pink pastel matte nuance that matches your skin tone.
11. The Block Nail Paint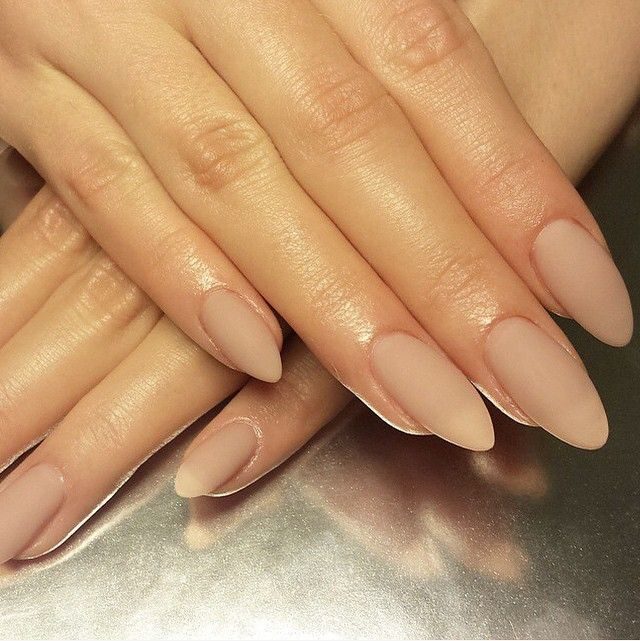 You can simply choose nude shade nails closest or most complementary to your skin tone, and two, opaque layers of the nail paint will be enough to transform your fingers into something regal. Perhaps the best form of showcasing a nude matte shade is to sport it on coffin nails.
Nude matte coffin nails provide a wide canvas to apply the paint on, which not only creates an illusion of length but also, accentuates the manicure.
Matte Coffin Nails Ideas to Steal The Show
12. Negative Space Matte Nude Nails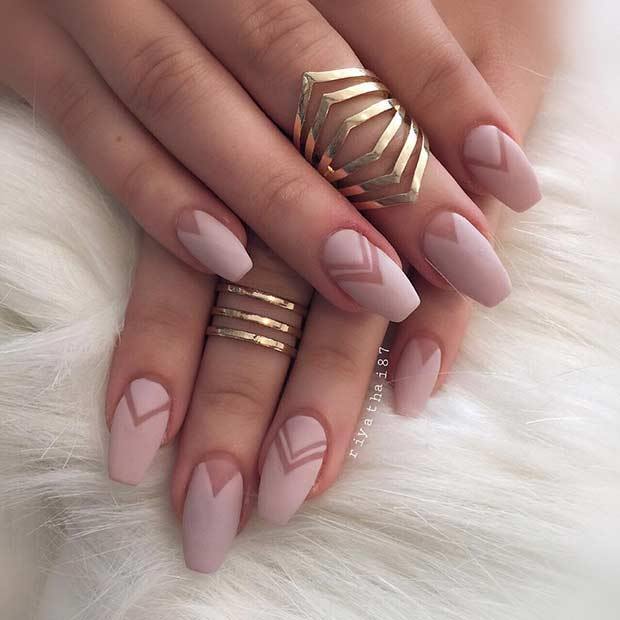 Nude matte nails are the epitome of barely there. If you choose the correct nude matte shade, you can easily incorporate negative spaces in your nail designs.
However, you must choose wisely, so that the pattern does not get lost due to its proximity to the natural skin tone.
13. Geometric Patterns Nude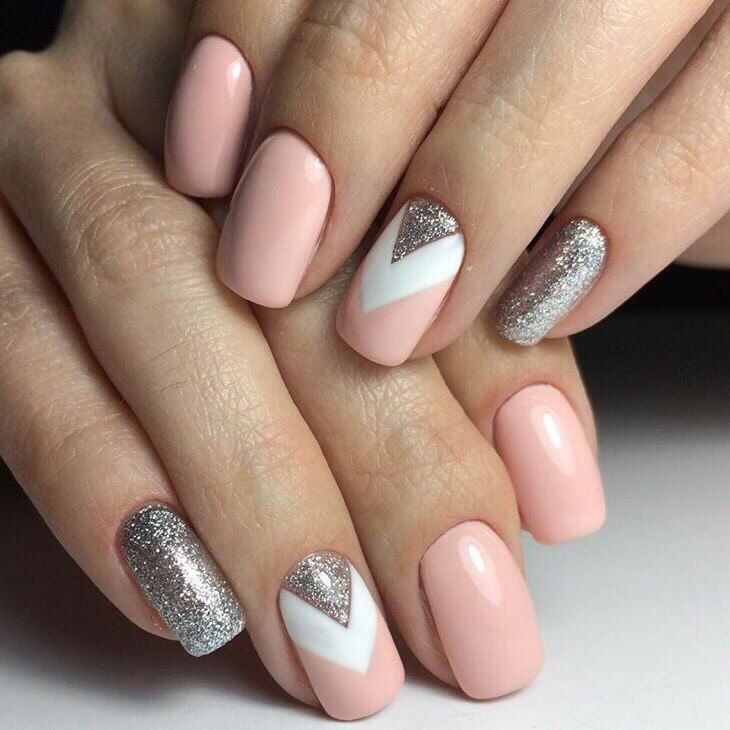 The matte in matte nude nails is crucial in creating a muted yet eye-catching base. Glossy nail paints, on the other hand, shift the focus towards their inherent sheen.
It is thus easier to paint geometric patterns on a nude matte nail in white or even some sharply contrasting shade.
It is a good idea to limit the pattern to a single nail, or at best two in each hand, so as not to steal the show of the nude nails.
14. Nude Nails with Rhinestones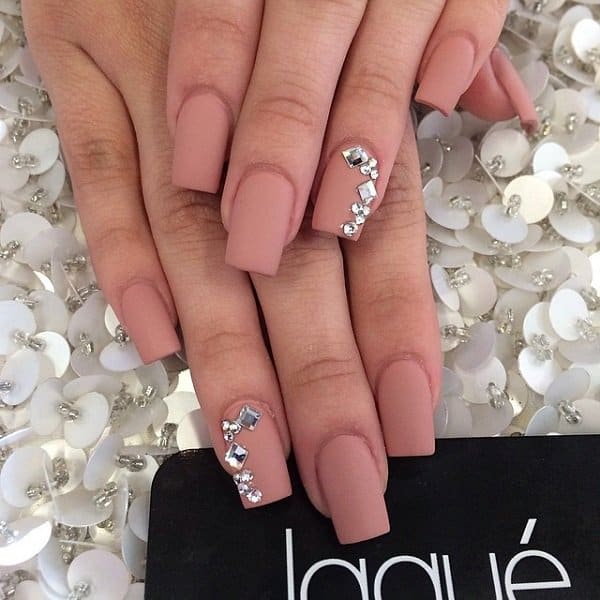 If matte nude nails seem too boring to you, you can jazz it up by incorporating rhinestones.
Rhinestones are sparkly and go well against a background that absorbs light, rather than reflects it. In that sense, rhinestones on nude matte nails can be an ideal add-on for parties.
15. 3D Art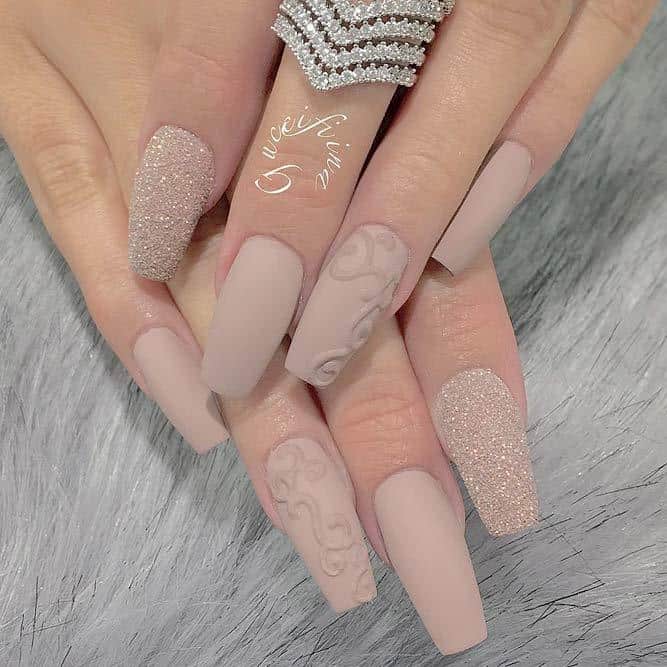 Expert manicurists also manage to pep up matte nude nails by adding a 3D art form on the nails, such that they seem like an extension of the nail paint itself.
This is a fresh take on the concept of matte nails that keeps people from labeling matte nude nails as too prudish.
16. Patterned Matte Nude Nails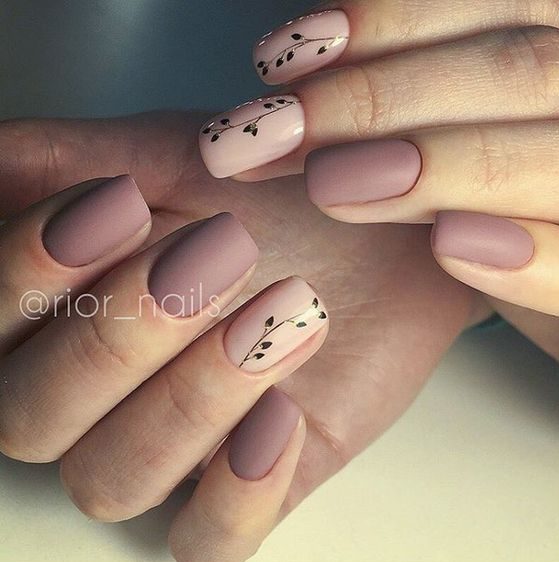 Another dainty way to make matte nude nails look prettier is to paint minimalist patterns-preferably in black or crimson over the nails.
This makes the nails look well-finished and out-of-the-ordinary, without having to go overboard on complicated patterns. In fact, the simpler the pattern, the stronger the impact.
17. Half-Moon Matte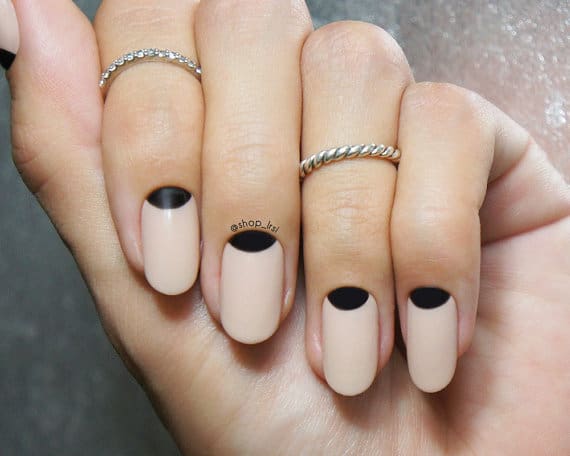 Creating half-moons on the nails is fun. You can fill it up in any style you want. You can use any pop color, or glitter or simply black. The same holds true for nude matte nails.
You can paint the rest of the nail in a nude shade and pick any style for the half-moon. In fact, you can even pair a matte shade with a glossy one, just to play around.
18. The French Manicure
The French Manicure is the third and final aspect of the Holy Trinity of Nail Art, the other two being nude and matte nails. This is undeniably the best way to wear your nails, on almost any occasion.
It showcases the clean and well-finished manicure while looking elegant and prim. No wonder the British Royalty swears by this style!
19. Lace Patterns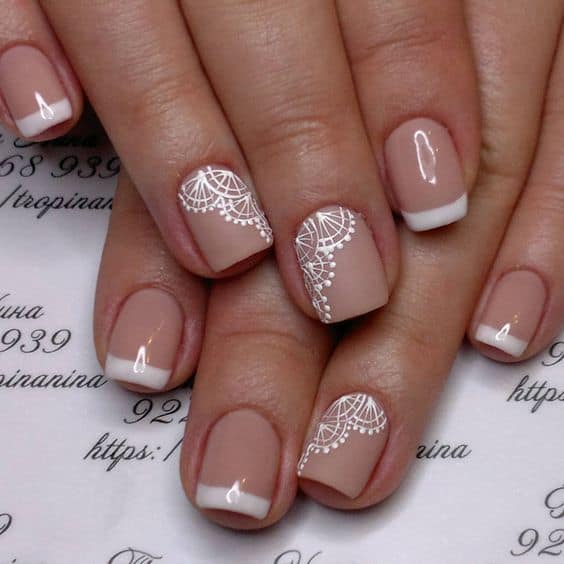 Using a matte, nude shade as the base, you can paint frilly, lattice patterns on the nail. The difference between these and the patterned nails is that in the latter, the designs should preferably be tiny.
In a lace pattern, however, much lie on the intricacy of the intricate design. The base is then only a palette.
Try Making Matte Nail Polish at Home!
20. Nude Ombre Matte Nails
Who does not love an ombre cast? The good thing is, you can sport matte nude nails and have them in an ombre style.
Since skin tones come in wide ranges, to paint a perfect ombre nude nail, you must choose the right matte gradient shades, so that no layer stands out too starkly.
21. Outlined Nude Nails
A simple yet smart way of spicing up nude matte nails is to line the border of the said nail with glossy nail paint in a dark shade.
Admittedly this look takes away the demure impression of nude nails, but, on the flip side, it retains a certain degree of muted appeal. The bold outline is an eye-catching feature, in an otherwise innocuous nail design.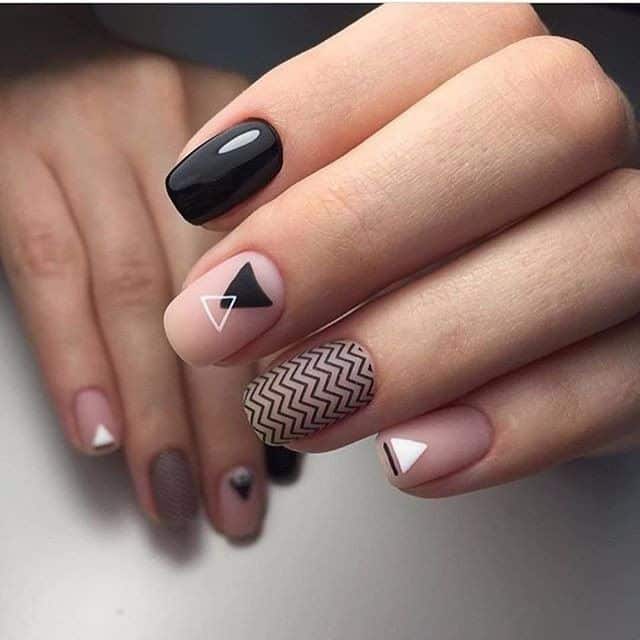 Instead of sneaking black design on tips and spots on nude color matte nails, it is a great idea to sport back majorly on the nail canvas.
If you can keep both the nude and the black shade matte, even better. You can choose any kind of pattern, although a geometrical dual-color design looks striking.
23. Sparkles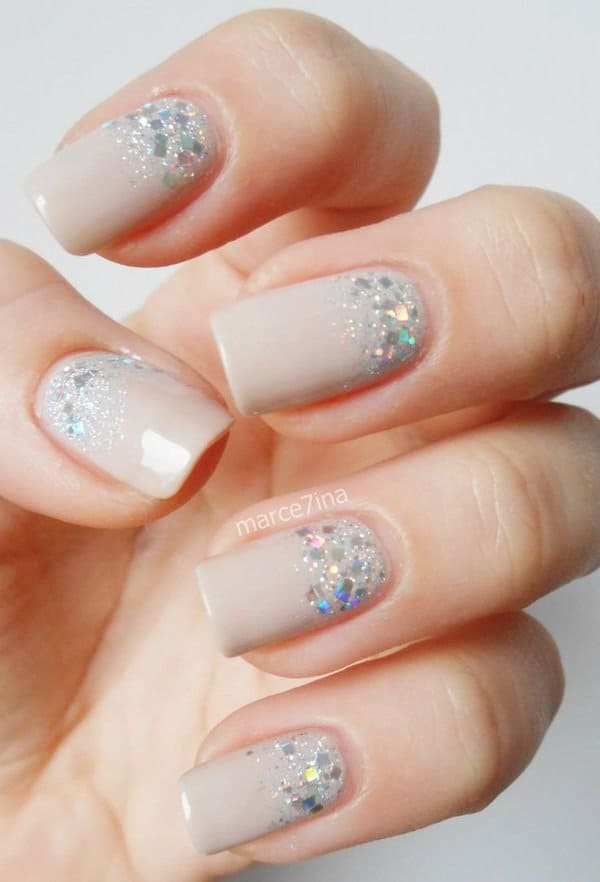 Instead of creating a single solid block of nude matte shade, you can add some warmth to it by sprinkling the tip or the cuticles end of the nail with sparkles. It looks like a smattering of fairy dust on the nails.
24. Modified French Manicure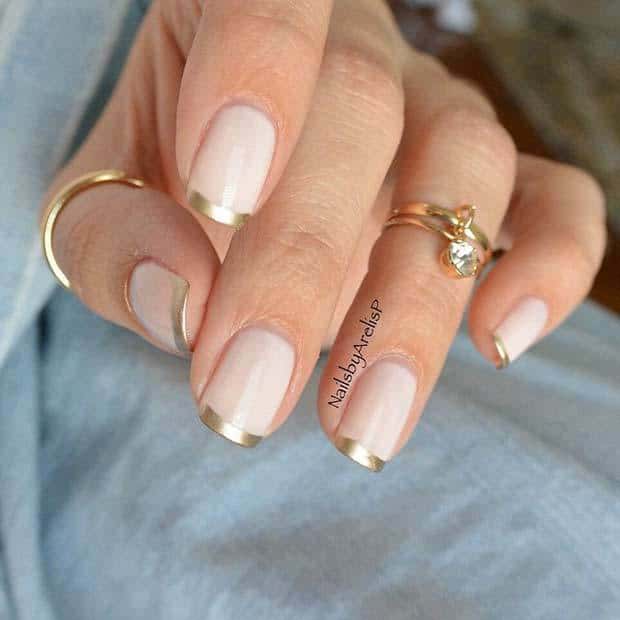 The most visibly elegant aspect of a French Manicure is the tip of the nail. In case you have nude color matte nails, it does not necessarily mean that you need to paint the tip in white or ivory or cream alone.
You can choose to have some fun with pastel shades, pop colors or even go gothic art with black. The nude shade itself sets the base for the French Manicure; almost everything else is adaptable.
25. The One-Glitter-Nail Design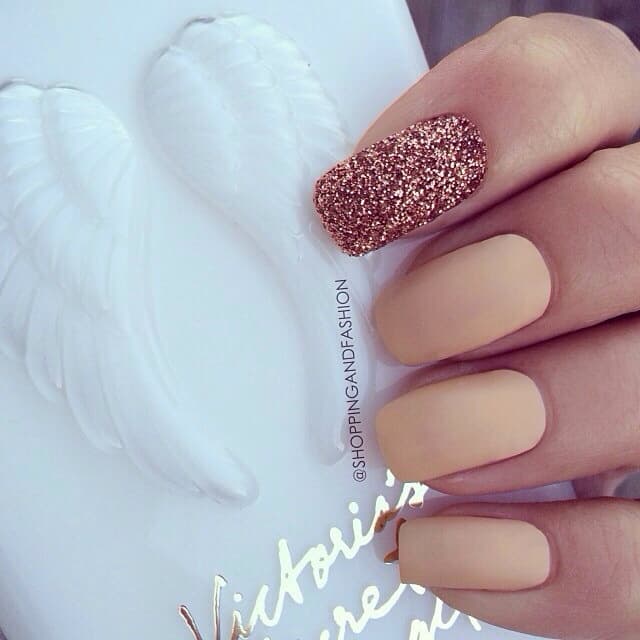 If you are headed for a party and don't have much time to redo your matte nude nails, the easy trick is to wipe off one nail in each hand and paint it awash with glitter nail paint.
Nude and glitter look terrific together. While the matte finish on the other nails soaks in the light, the glitter refracts it into a rainbow which embodies your personality of classy yet fun.
7 Exceptional Nude Stiletto Nail Designs
Nude matte nails are easy to achieve and easier still to maintain, as compared to other heavy-duty nail art forms.
This style has, however, been dubbed as boring by many, but only if you know how to glam them up, nude color matte nails are a fashion statement to contend with.