Do you wanna look so attractive for tonight's party? Well if the answer is yes, neon nail designs will be the perfect choice because they will really light up your nails and give you the most attractive look you want to have, especially in night parties!
Best Neon Nail Designs for Girls
Neon colors are very shiny and attractive. They are not only attractive in beauty but the neon light it self-grabs attention! For this reason, if you want to look hot, o fire, sexy, and a magnet that attracts humans especially men, this is your only chance to reach the heart of the person you have a crush on, or to attract a new man that enters your heart and loves yo just because the neon color lighted up his heart. So if you want to have this all at the same time, check out the below list  made up of 10 girly neon nail design that is going to blow your minds!
#1. Burning Up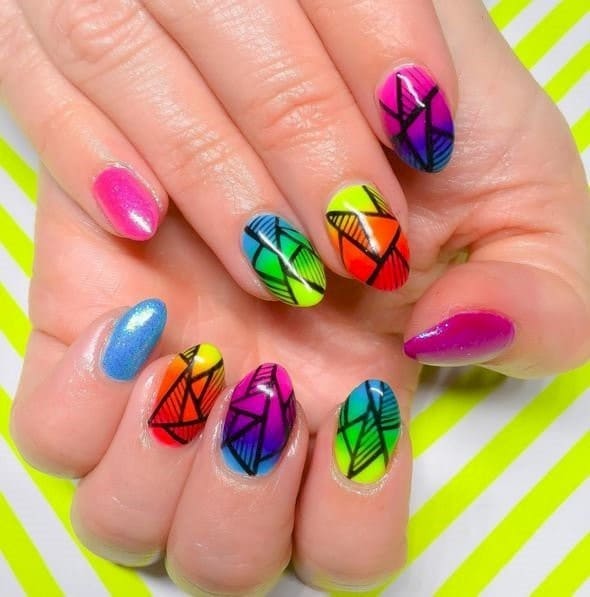 When we look at any neon color, we feel like it is a normal color shade but it looks like it is burning up. In this nail design, the burning up neon colors is combined in one nail design but divided as a fading style in each unique nail found in this neon nail design. Not to mention that the nails are divided into many triangles, one of them are shaded and some are not, by the help of a black nail polish.
#2. Yellow Neon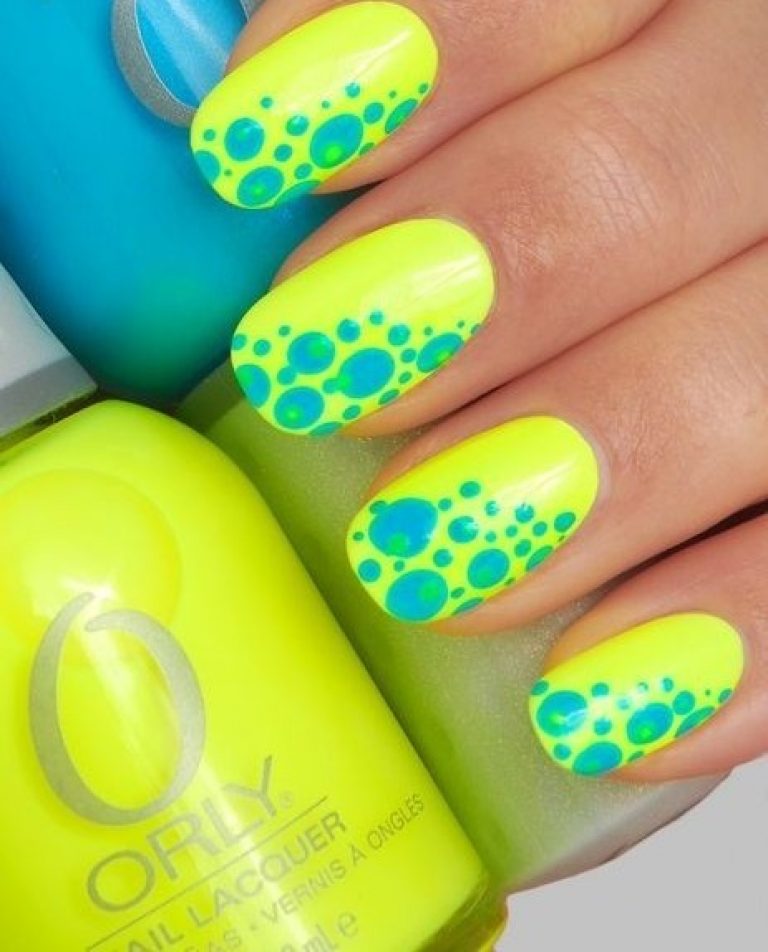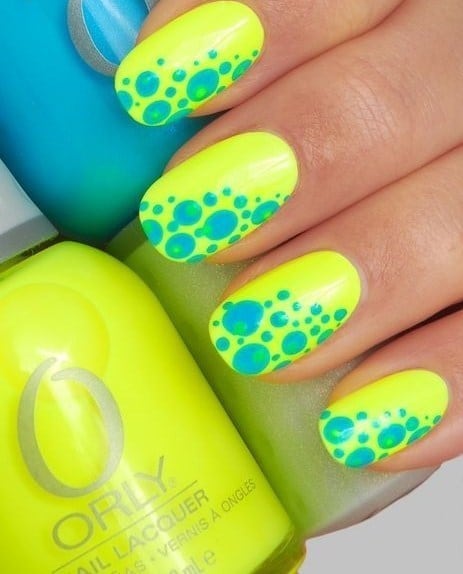 This simple neon yellow nail design is not really simple. The yellow neon color itself is an attractive color, in addition to these blue neon drops at the side of each yellow nail that looks like huge drops of water or rain to make up an attractive neon nail design.
#3. Summer Vibes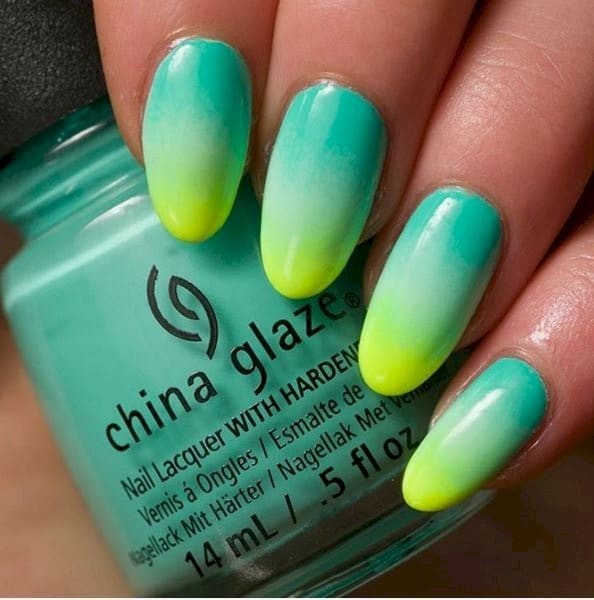 The colors used in this nail design represent the sea view we all like to look at in shiny summer days smelling the fresh cool summer air. The blue color at the bottom represents the sea that starts fading gradually in order to look like it is mixed with the sky represented in the white color, then makes a yellow fusion that represents the shiny yellow sun that lights our summer days.
#4. Orange Kiss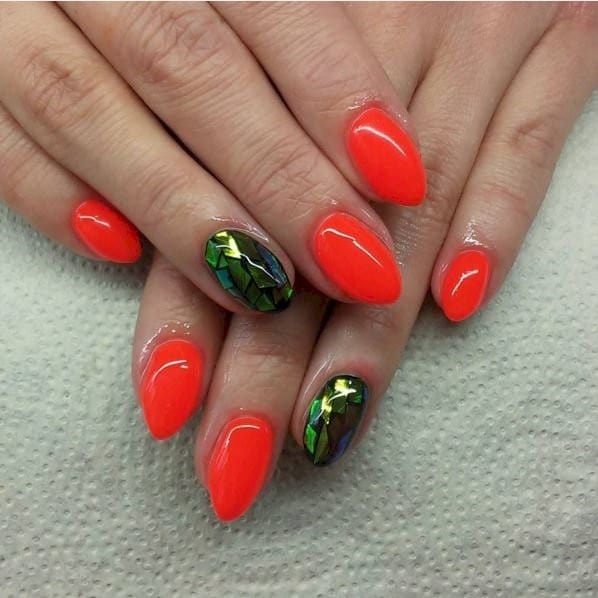 This neon nail design has the orange kiss style by using this neon orange color in all fingernails except in the ring fingernail, you are using green shiny decals to add a special touch to your nails.
#5. Like Neon Lights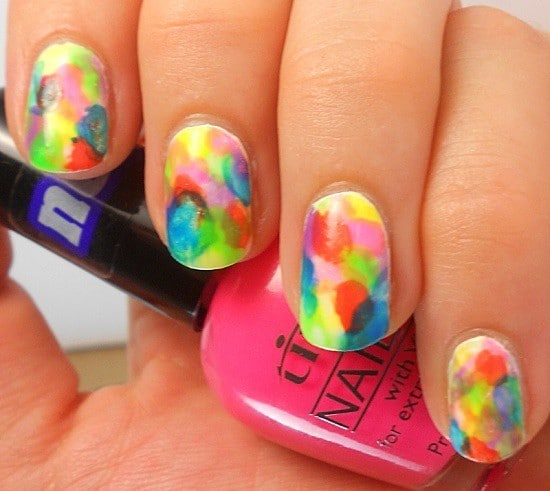 Wearing this nail design makes your nails burn up like neon lights. Neon lights have the neon color in them, but the light of neon lights is much stronger than any other normal light because it has the neon color. So in this nail design, we are combining many neon colors in one nail to have a cute and sexy look.
#6. Wild Neon Tips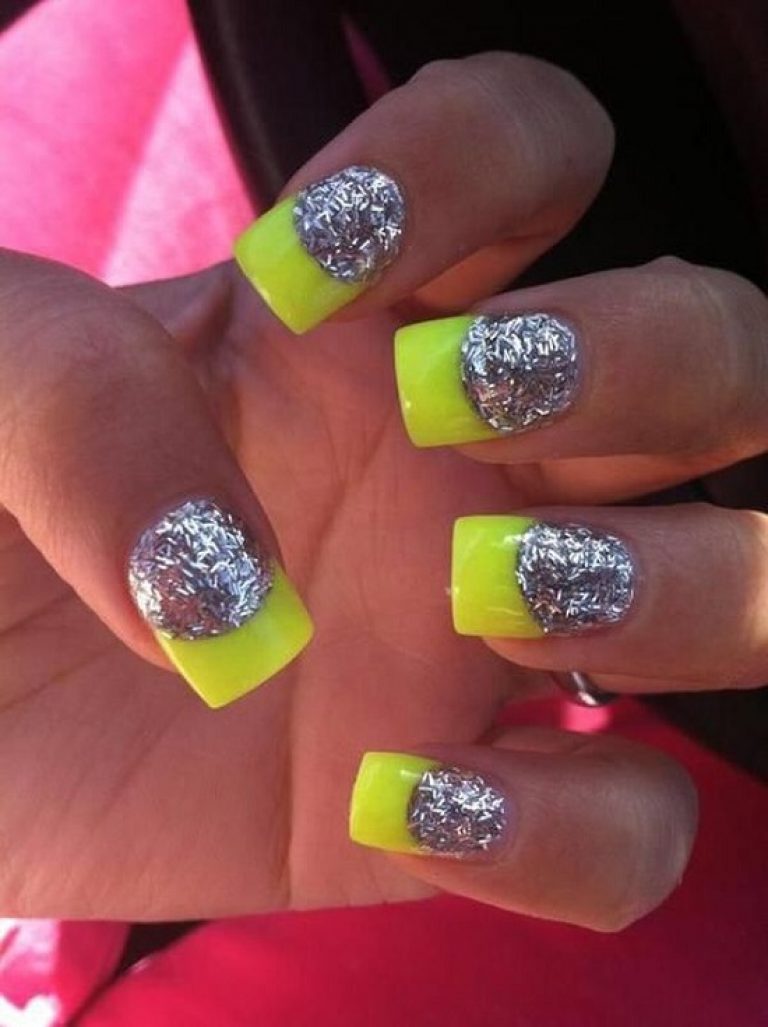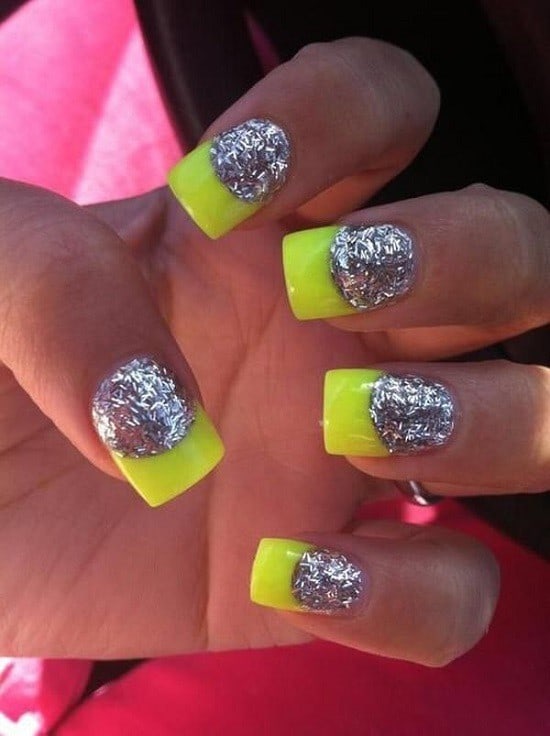 Even if having a shiny and glitter silver base, you are able to make your nails shine more by designing yellow shiny neon tips at the tip of each nail. This all makes up a weird neon nail design.
#7. Shooting Stars
In this white base, many shooting shiny stars are being gathered at the side of each nail to make up a shiny neon view, using neon colors in the shape of dots that are used to represent the shooting stars that are well known in their shine and attraction.
#8. Flames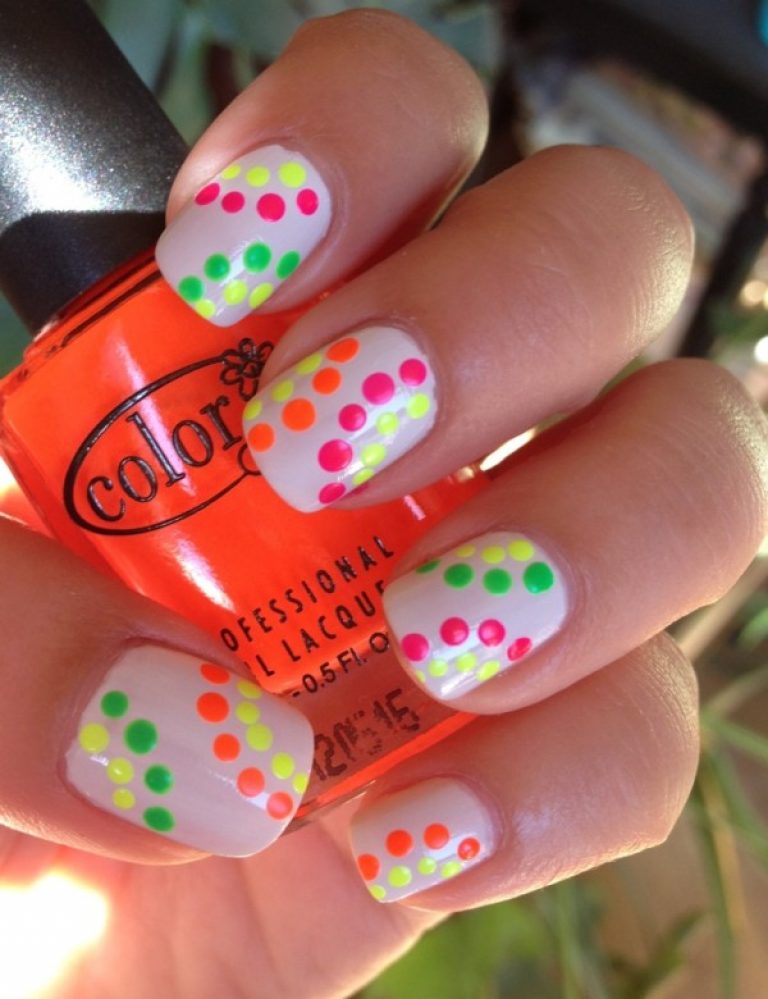 Burn up like neon lights by wearing this neon nail polish design that makes you look too hot. on fire, and flammable. Decorate this simple clear white nail design made up of a white base with polka dots of different neon colors such as yellow, green, orange, pink, and others.
#9. Cuteness Is Everything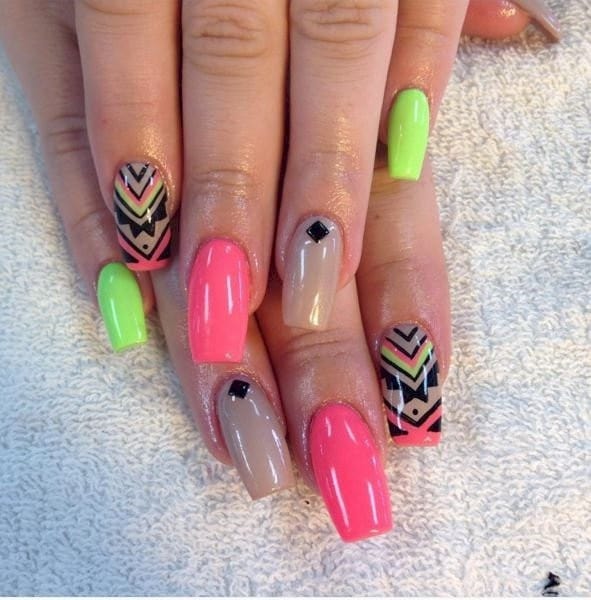 Besides the neon pink and green colors used in this neon nail design, this design is totally cute! The pattern used in the index finger and made up from four colors which are the brown, black, pink, and green is so cute girly, and the way the colors are distributed is nice!
#10. Yellow Love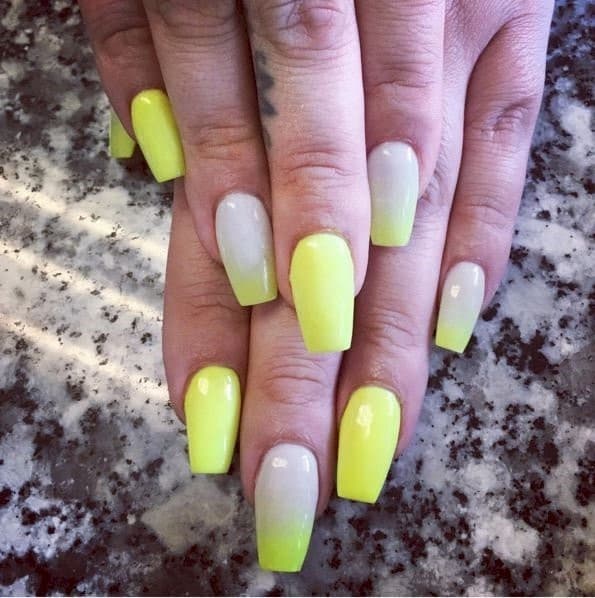 In the above nail design, the neon yellow color is used in two styles. Either in a simple yellow neon nail polish, or in the shape of fading style. Yellow starts at the tips and then fades to be white in the rest part of the nail and to make up a yellow neon nail design.
In conclusion, if you want to look special searching for a nail design to be added to your cloth and makeup that makes you look sexy, hot, and on fire. Well, why not to use neon colors? Neon lights are going to turn your beauty into flames that are going to burn up all people jealous of you, and this list of the above 10 neon nail designs are your only chance to reach your fashion goal!Hope you like it!