If you're only used to seeing plain one-colored nails, we think shattered glass nails are in your future! They're unique and just as you picture: nails that looks like shattered glass. But unlike glass, which is typically clear, your nails can take on color to make the design one-of-a-kind.
The effect is created using holographic paper or foil and applying it to a clear goat over nail polish. Sounds difficult, but it's pretty easy to do! And once you see all the amazing designs you can create, we have a feeling you'll be hooked.
Shattered Glass Nails at Home
To do your own shattered glass nail design, you'll need foil adhesives or holographic paper, which are available online, and your chosen nail polish color. Cut the paper into jagged glass pieces, strips, or polygonal shapes.
Start with a base coat, let dry, then add your nail color and let dry. Next comes a clear coat. Apply the paper to the nail, let dry, and apply a top coat.
Trendy Ideas for Shattered Glass Nails
Need inspiration for your own shattered glass nail designs? Use one of the below ideas for shattered glass beauty!
1. Gold Nail Stickers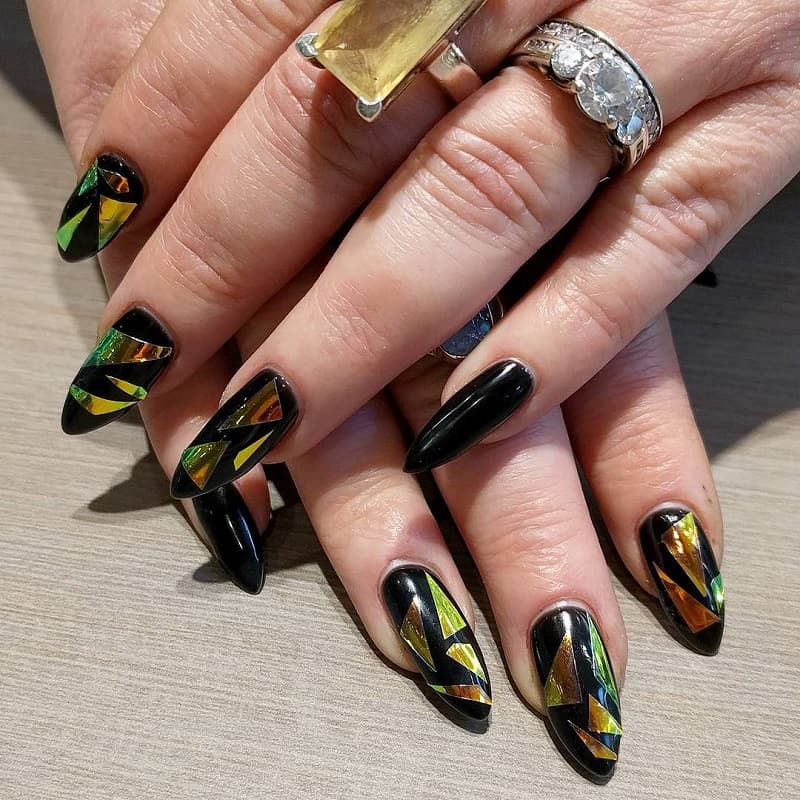 An iridescent gold nail sticker is cut up into triangles and applied to black nails on this shatter glass nail art. Whenever you move your fingers, you'll notice the gold flickering beautifully into a subtle green or orange.
2. Girly Shattered Glass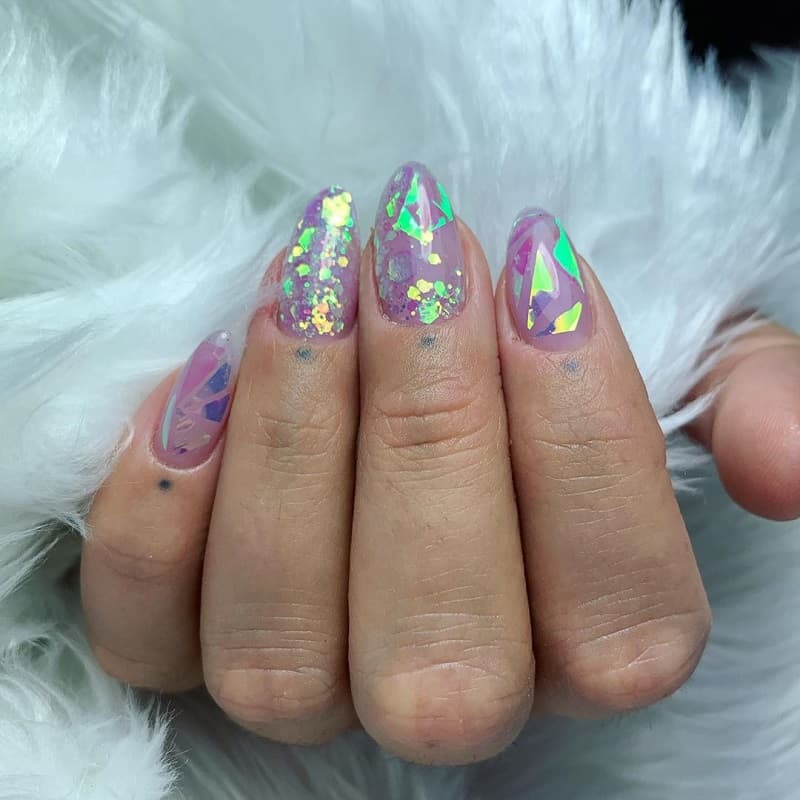 If you prefer your nails to be girly and feminine no matter what the design, start with a light pink nail before applying iridescent tape in thick triangles. For the accent nail, you can also add thick glitter.
3. Clear Shattered Glass Nails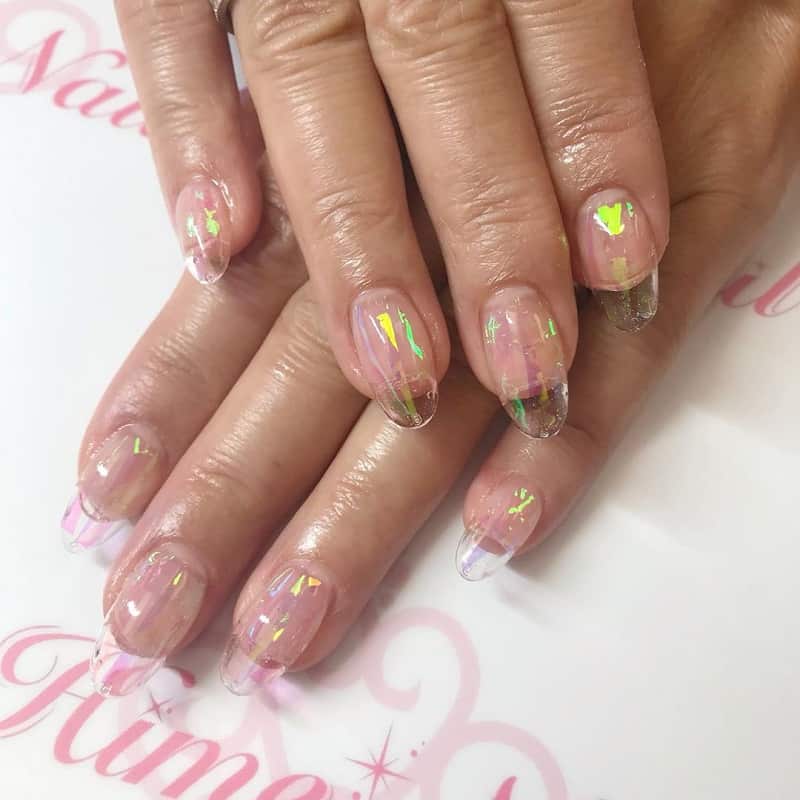 Not all dramatic designs require color! These long clear nails feature subtle iridescent tape pieces for its shattered glass effect.
4. Pale Pink or Nude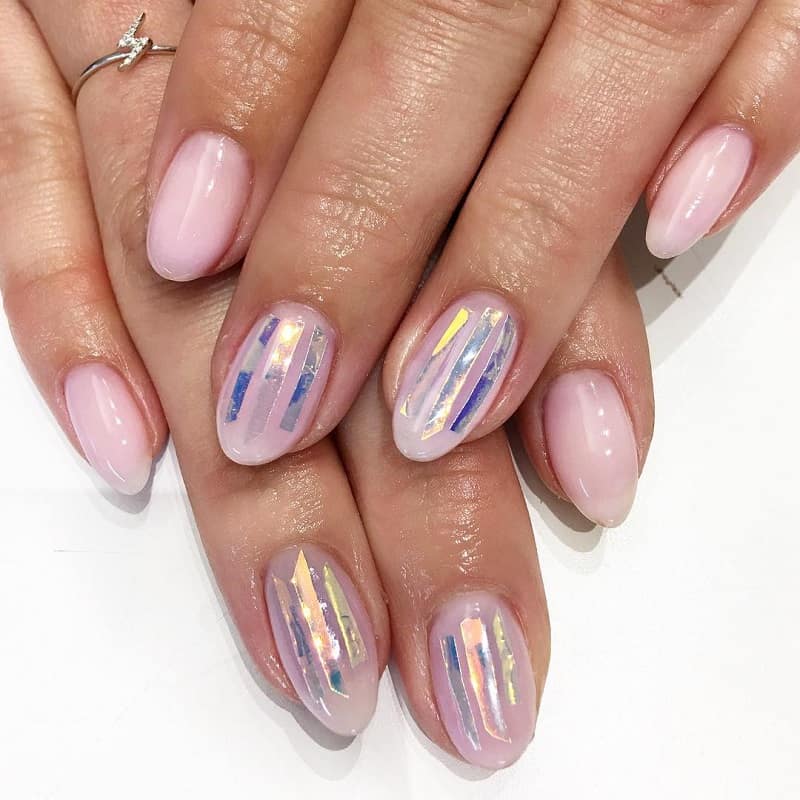 A pale pink or nude nail is the base for these short round almond shattered glass nails. Cut the iridescent tape into thick stripes before applying them to the center and ring fingers.
5. Holographic Short Nails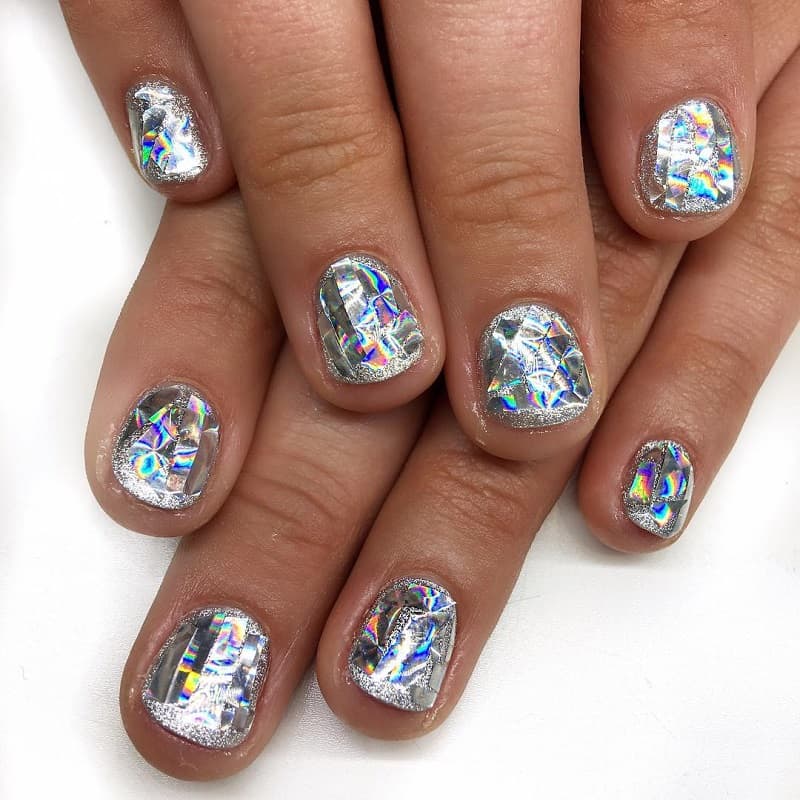 There's no shortage of shine on these short rounded shattered glass nails! Start with a sparkly silver polish, then add thick pieces of tape to cover the majority of the nail.
6. Long Stiletto Nails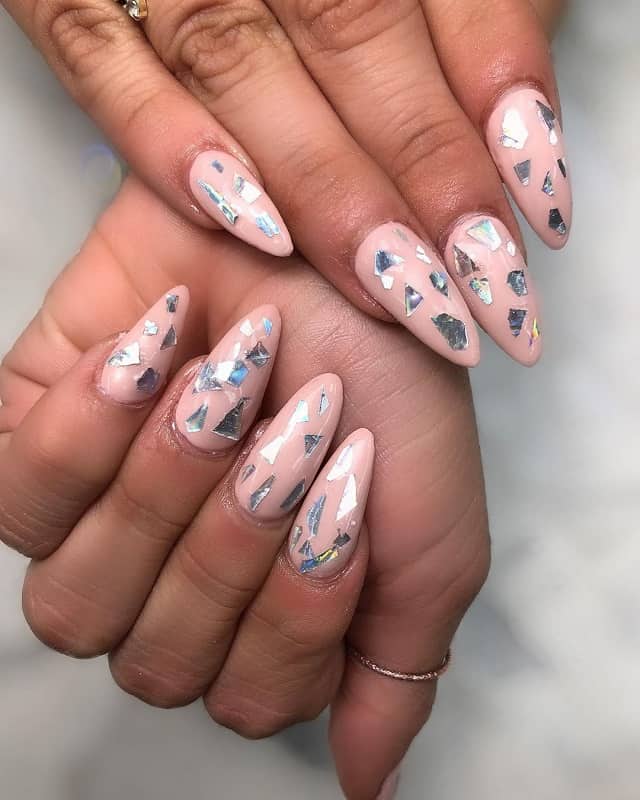 For a truly glam shattered glass nail look, paint long stiletto nails light pink. Then apply small pieces of foil, spacing them out so the nail isn't totally covered.
7. Black and Blue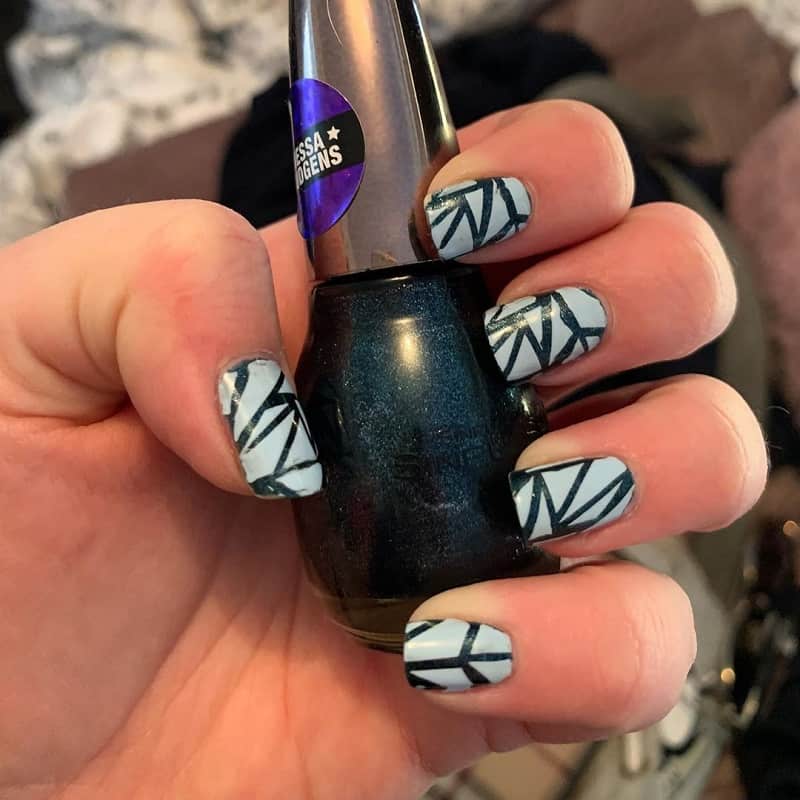 If you don't have foil or tape on hand, you can still get the shattered glass nails effect. We love the way a Sharpie was used to add black angled lines to the light blue nails here.
8. Purple and Pink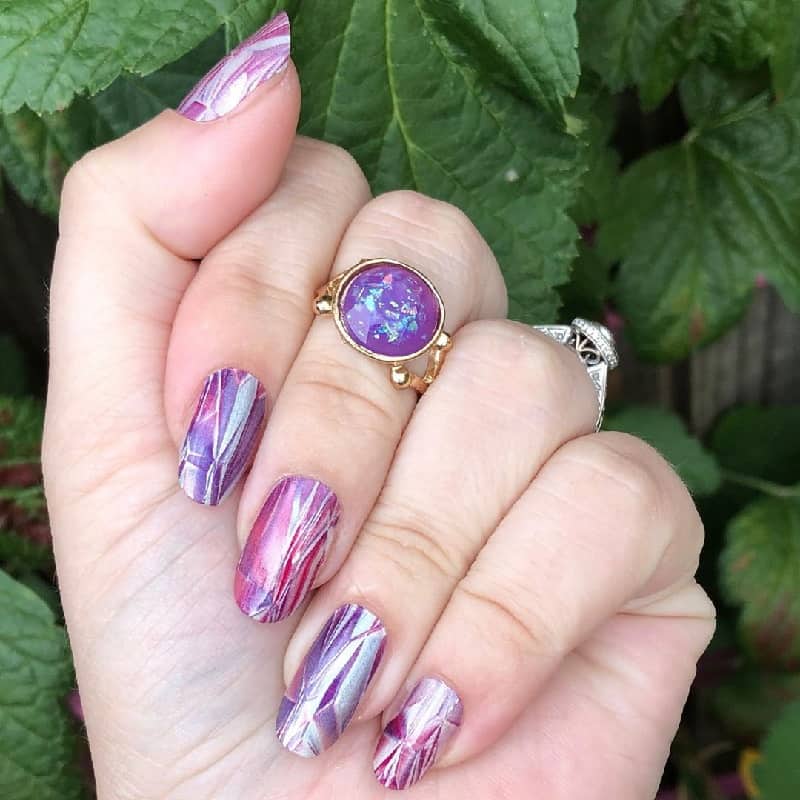 On long almond shaped nails, pink and purple shattered glass stuns. It may be easiest to find a colorful iridescent tape in these shades to cut up and apply.
9. Glassy Fragments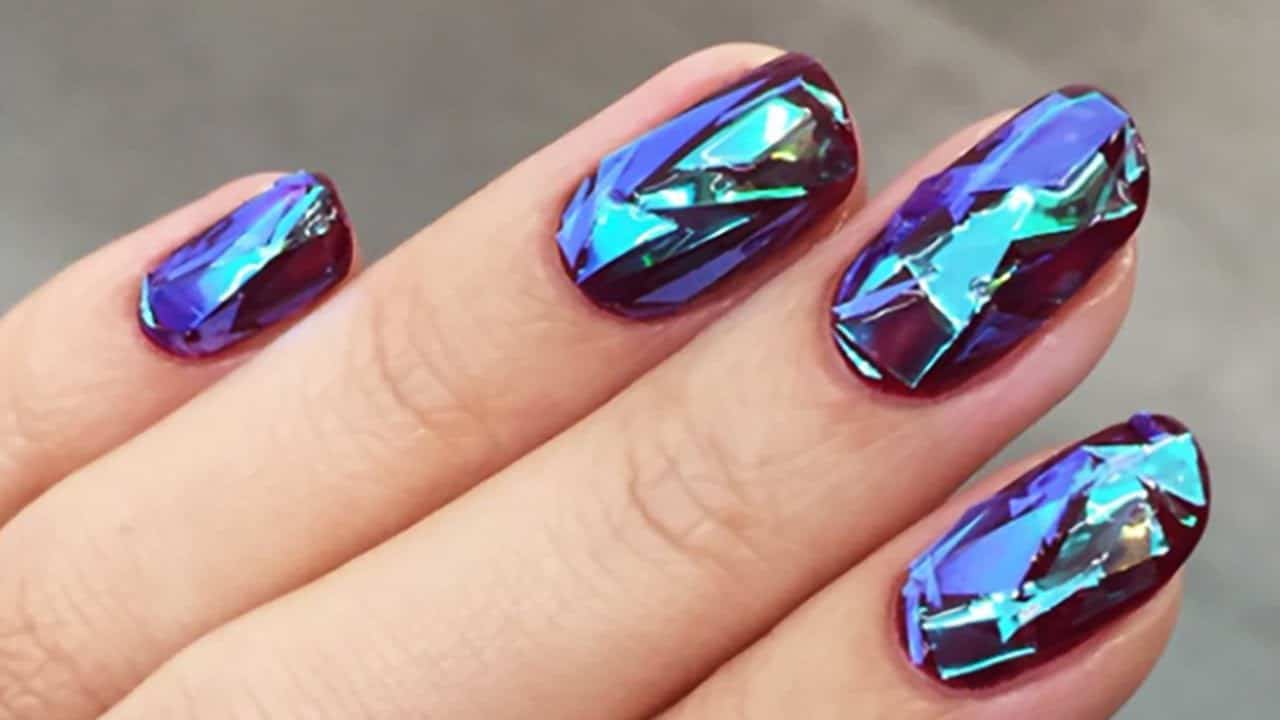 If your iridescent tape has a blue hue like this one, you will find black or other dark nail polish colors a good fit for the shattered glass look. Note that the sizes and shapes of these 'fragments' are irregular at best, which makes it look a lot more like broken glass fragments!
Try Amazing Chrome Nail Designs + How to Get It
10. Thin Broken Glass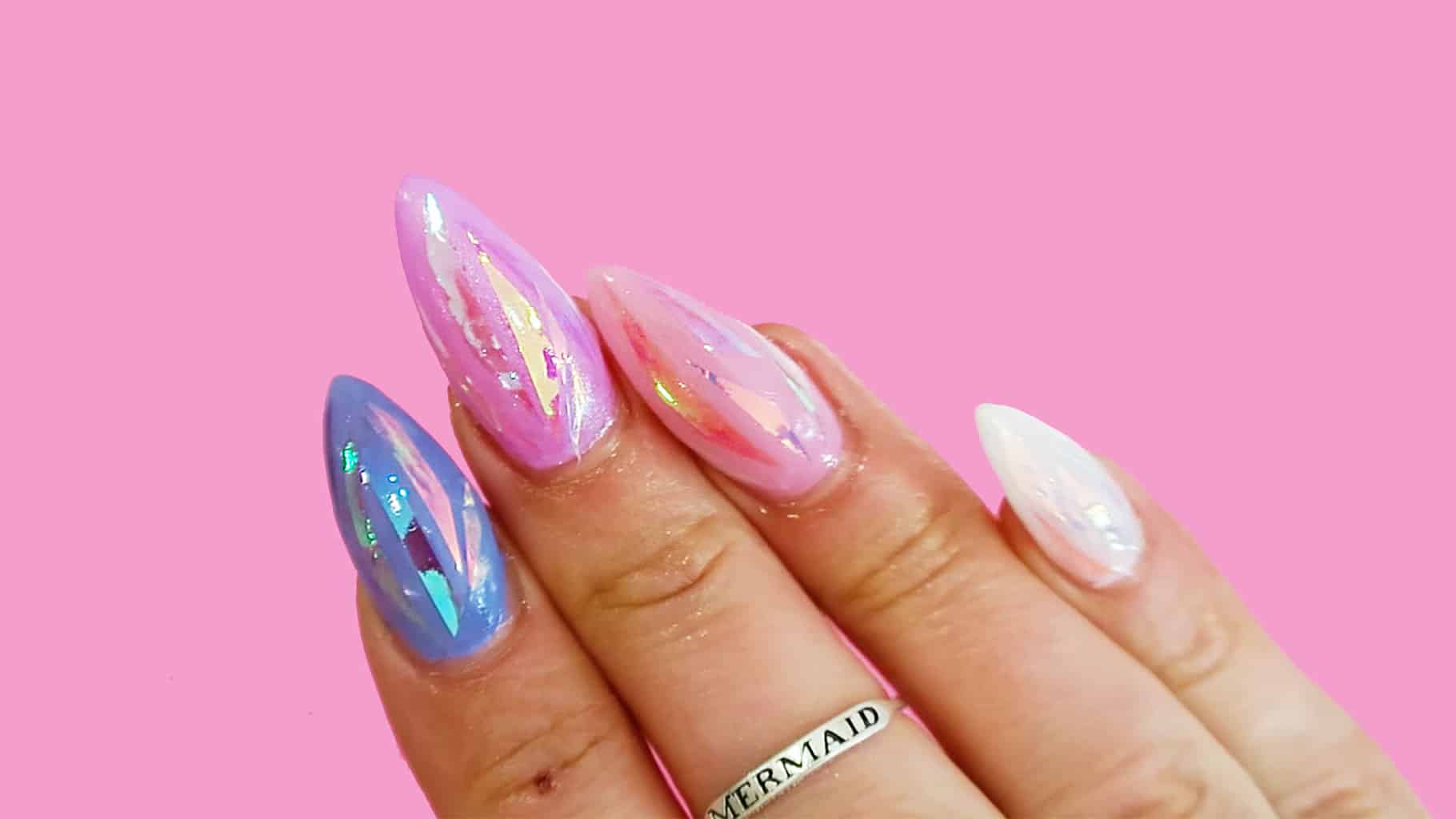 Instead of polygon shapes, cut the tape into long jagged glass shapes. Even a thin, striped tape nail art like this can work as an alternative broken glass nail look!
11. For Your OCD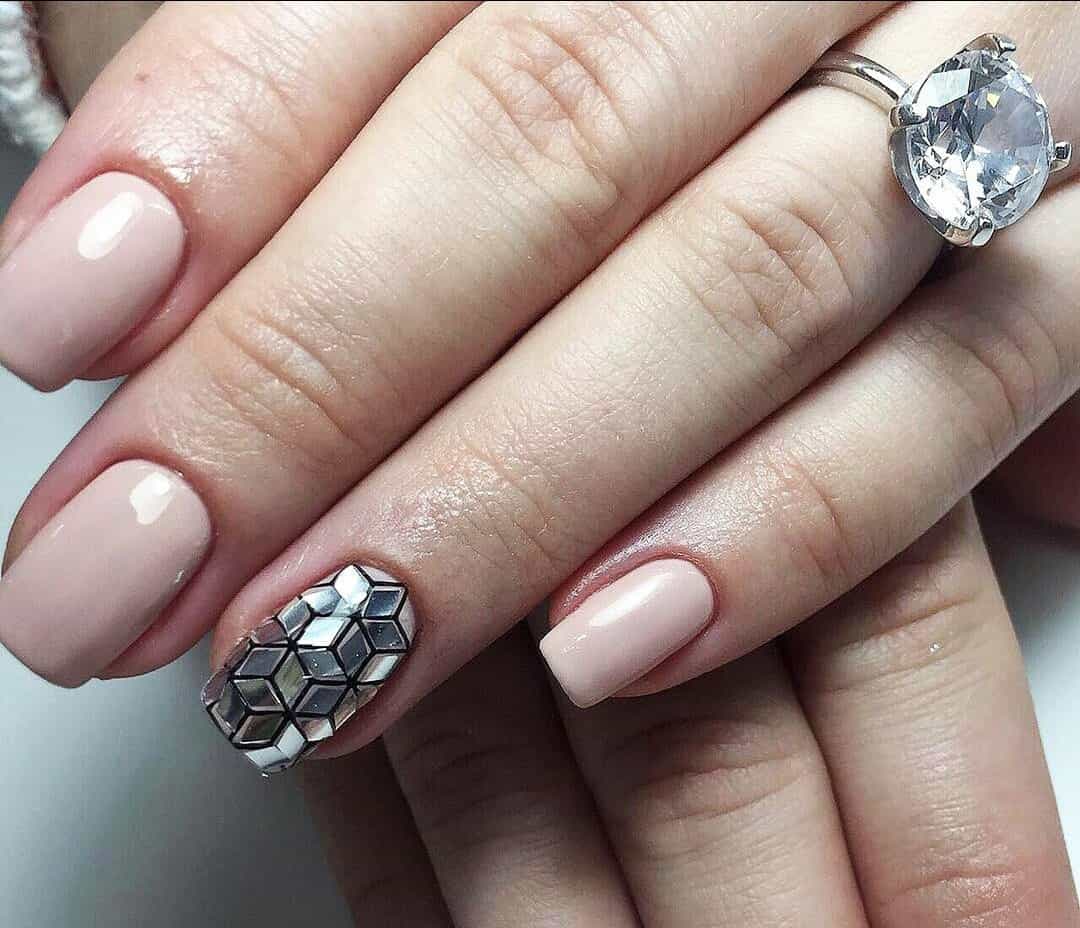 Don't want your shattered glass nails to look unorganized or messy? Draw interconnected diamonds as an outline, then cut your iridescent tape into diamond shapes and paste them on!
12. Just A Little Bit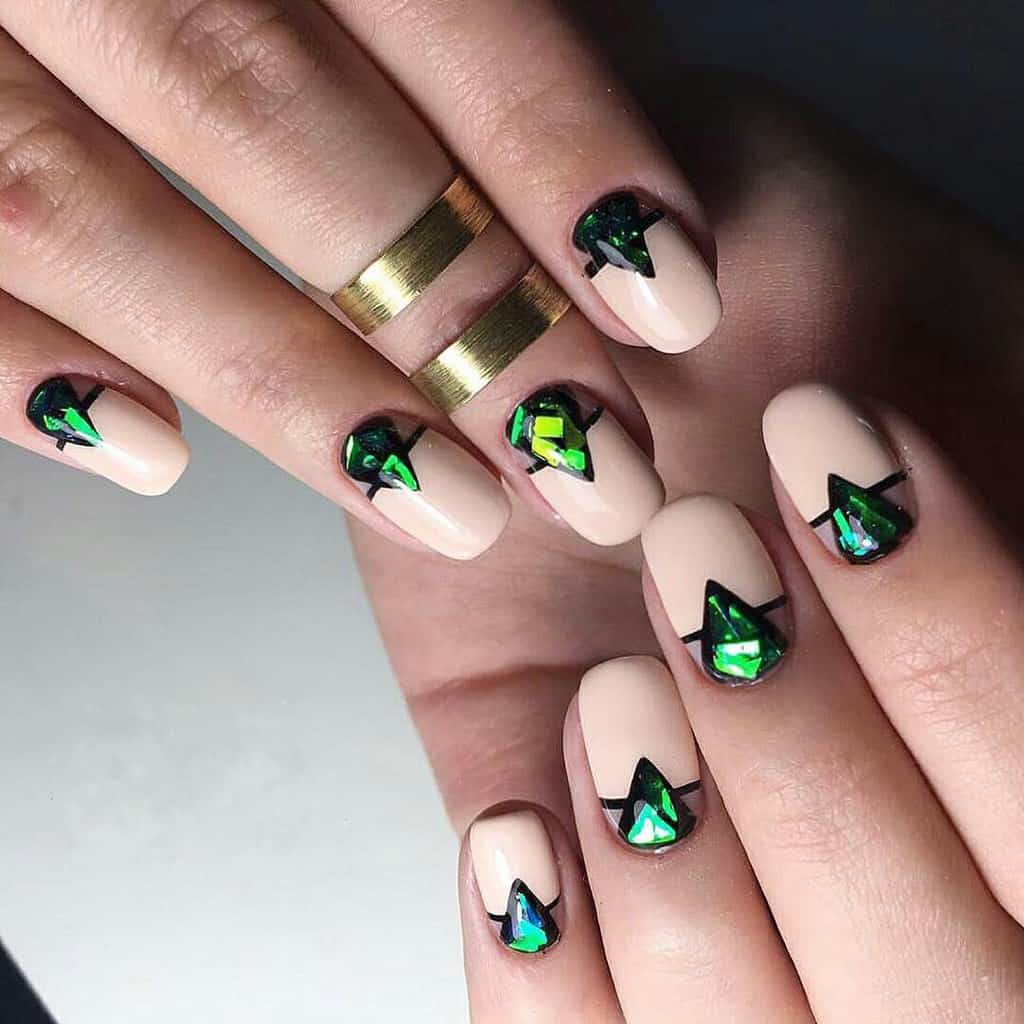 No one said that you have to apply those tapes all over your nails. You can also cut them up and paste it in just one small corner as well.
13. The Cheating Method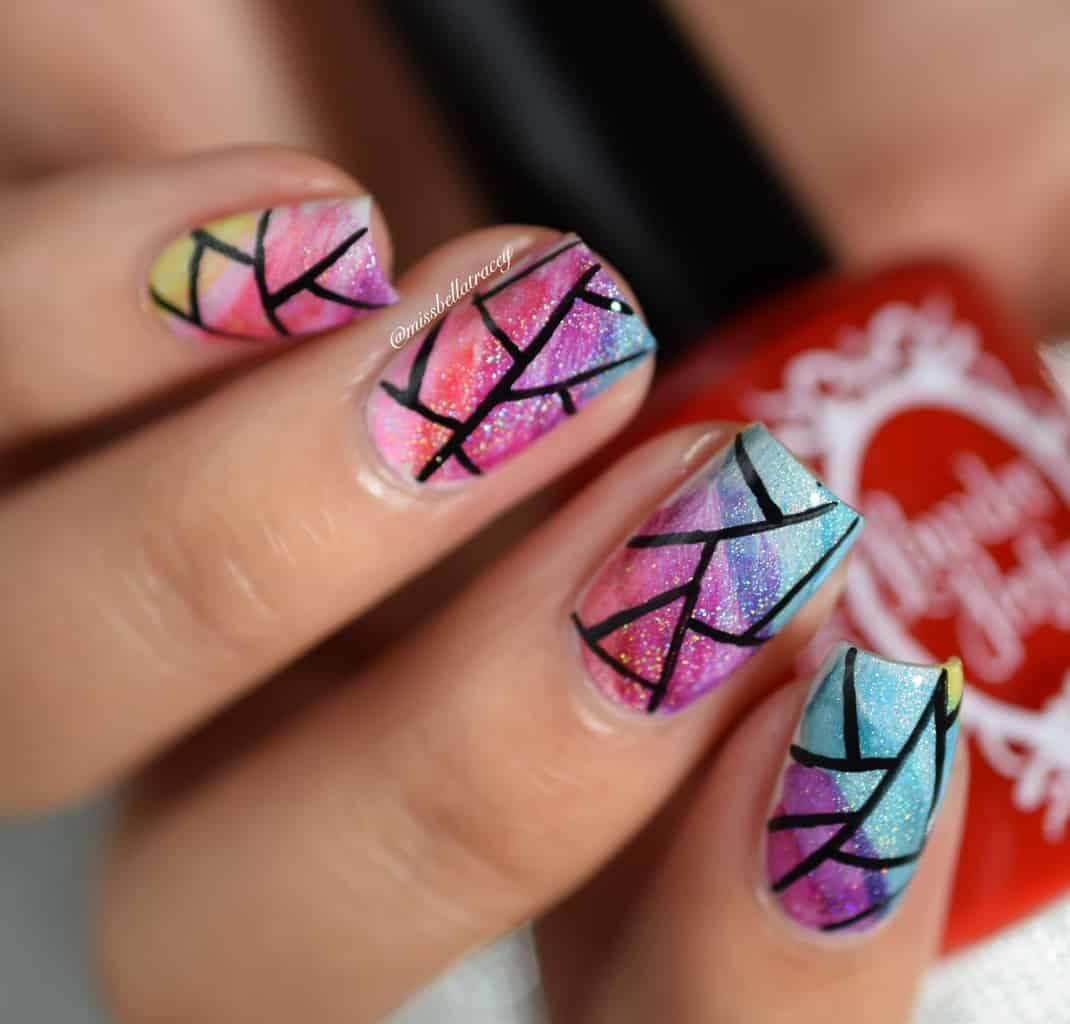 Shh, don't tell anyone about this! If you don't have tape, you can achieve a similar effect using any of your nail polishes and a Sharpie to draw random lines across nails.
14. Stiletto Nail + Shattered Glass Design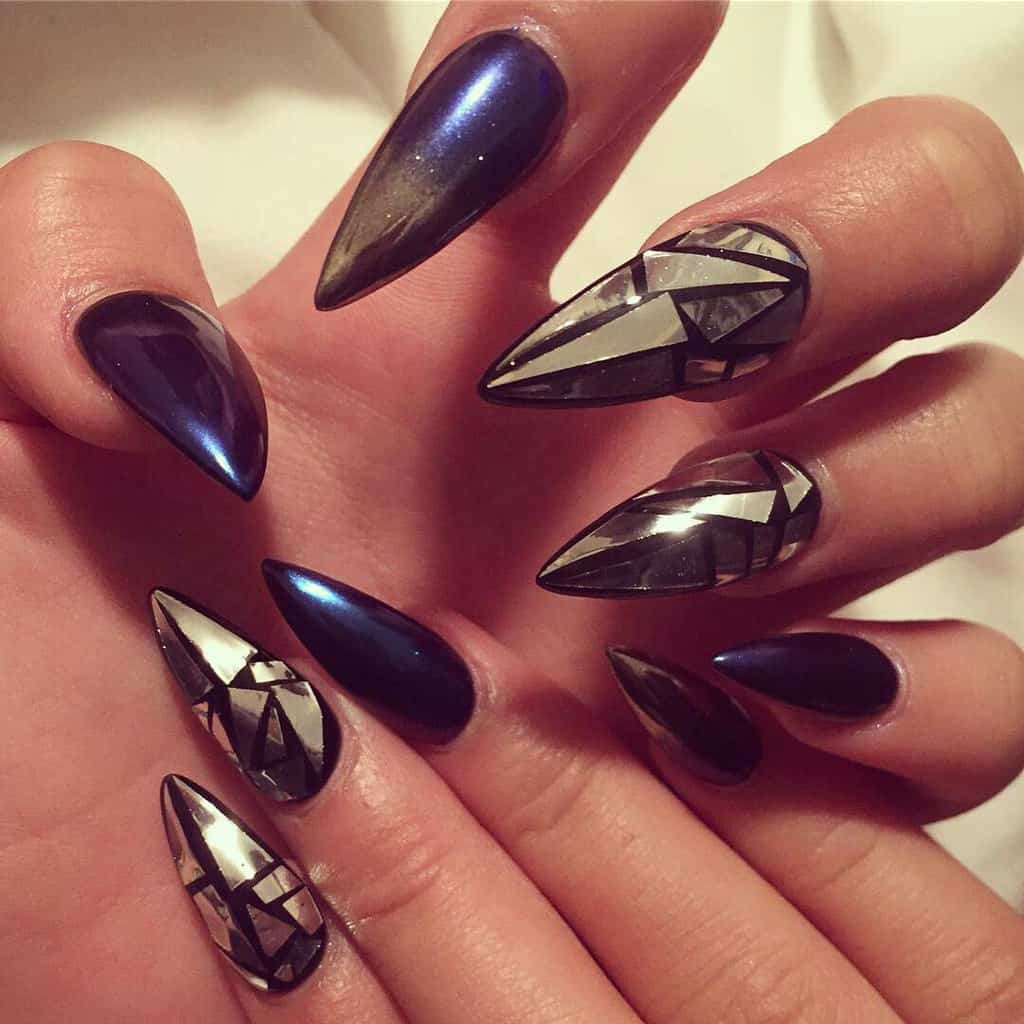 Just look at how fierce these nails look! The stiletto nail design pairs up well with the sharp glass fragments. With all the sharp bits pointing toward the tip, this design gives a new definition to sharp nails!
10 Dramatic Short Stiletto Nails You Will Relish
15. Delightful Colors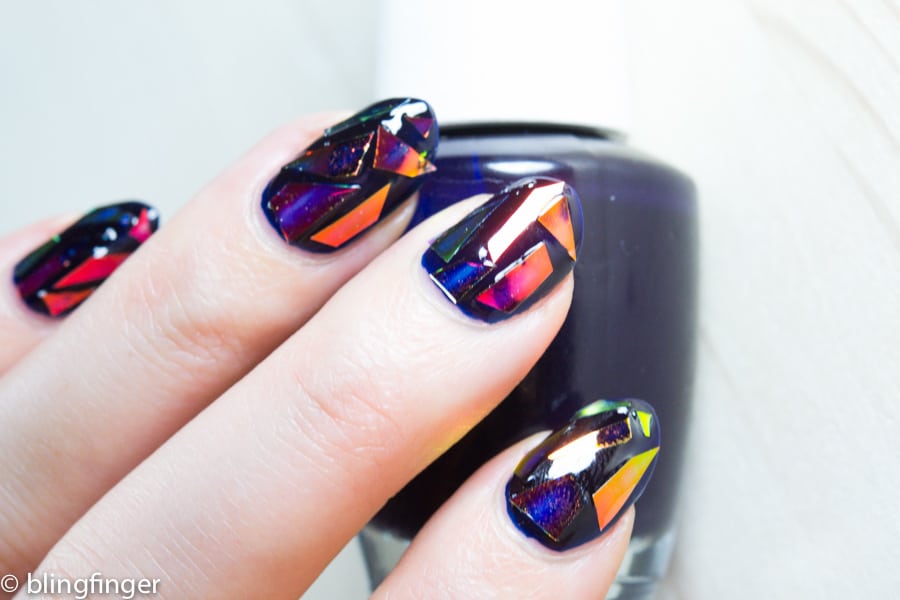 Your iridescent tape does not need to be super pale colored and this picture proves it. Even with darker shades, the colors shine through like a colored gemstone.
16. A Mix of Iridescence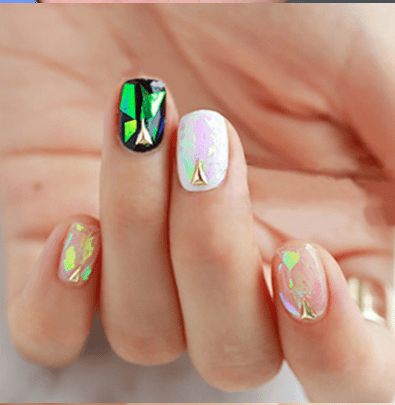 If you can't choose between the iridescent tape shades, go for a mix of everything! This design utilizes three different types of nail polish colors and tapes. Top this design with a decorative 3D nail art to really nail it.
17. Just Use A Pre-Made Tape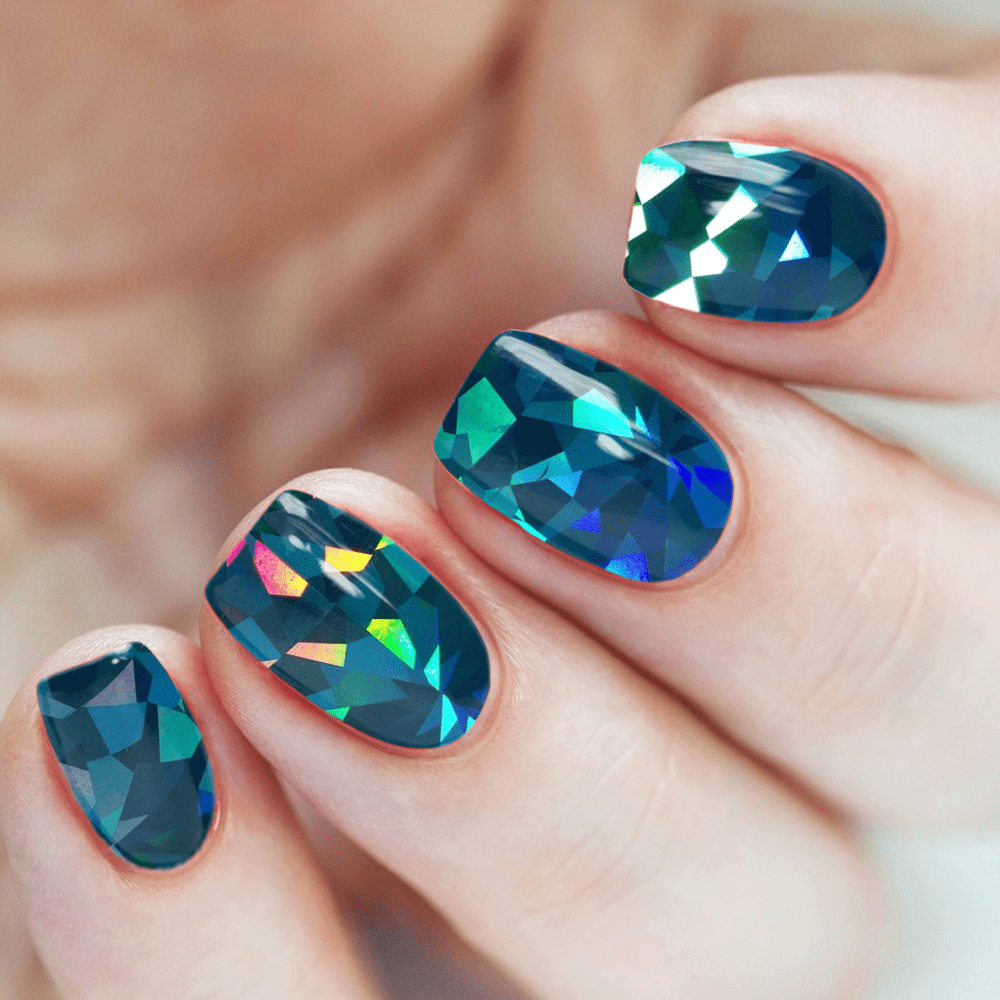 If you purchase shattered glass nail stickers, just cut the tape according to your nail shape and length and paste it on. Consider adding a top coat to protect the colors on the sticker.
18. Fragile & Almost Transparent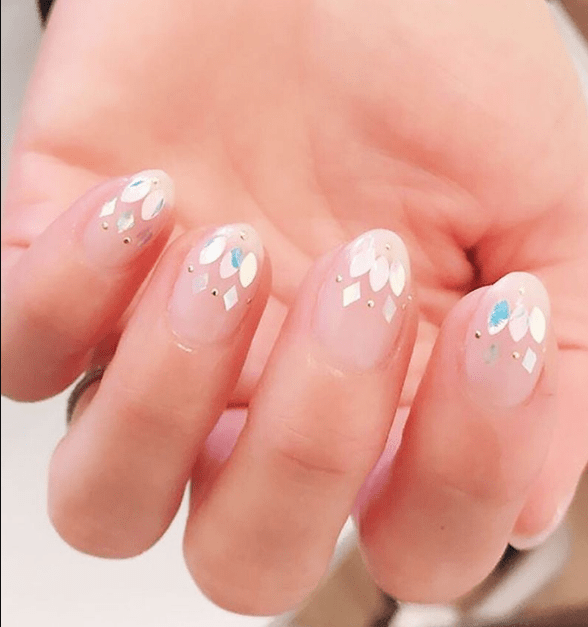 This white and gold nail design has got to be one of our favorites. While still using the shattered glass concept, this user has given it a twist.
By using a mix of a squoval-ish shape and a diamond shape, you are already halfway there. Add a few golden dotted details here and there and top it off with a top coat and you're good to go!
19. Only the Borders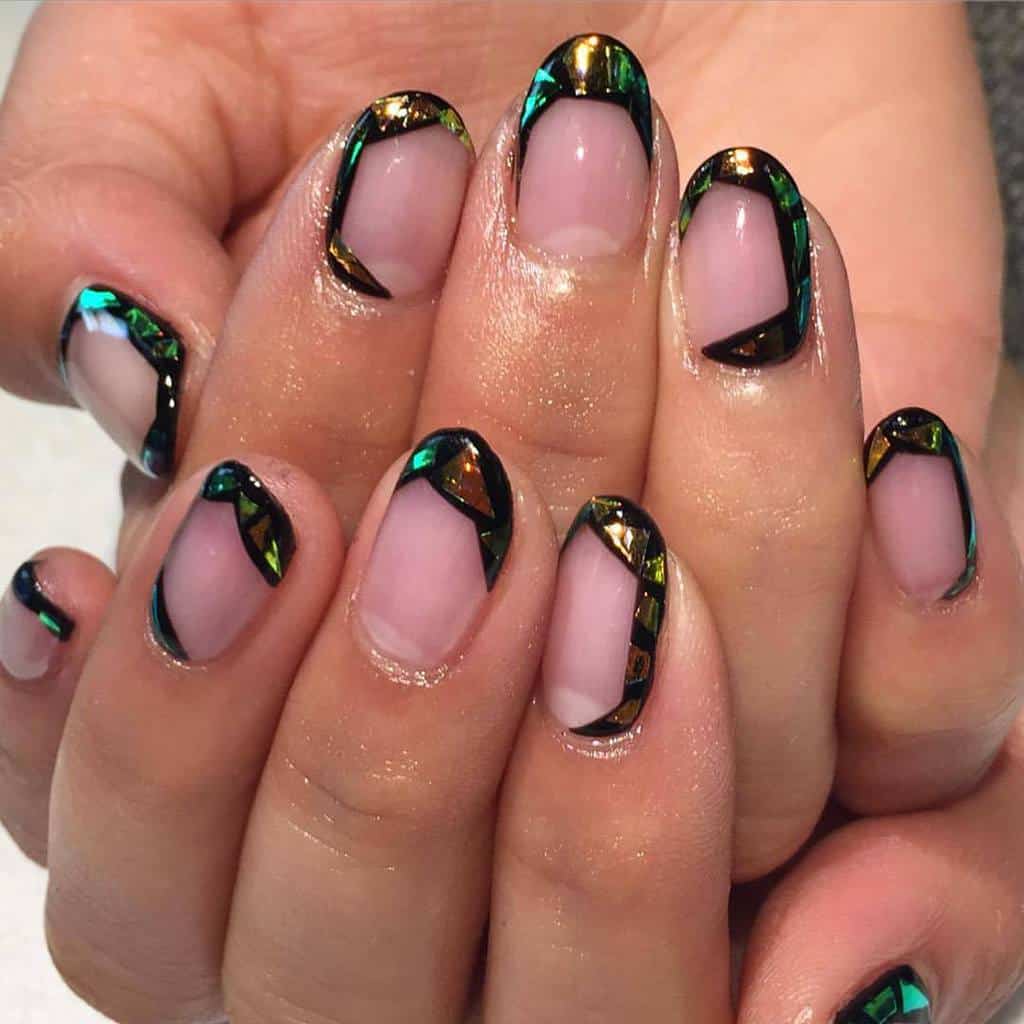 Have you ever seen one of those raw amethyst rocks? Those stones with sharp and jagged purple or pink crystals inside them? This black and gold nail design looks like the exact opposite of those rocks. The glass pieces seem to shatter anywhere and everywhere on your nails but the center!
20. Realistic Shattered Nails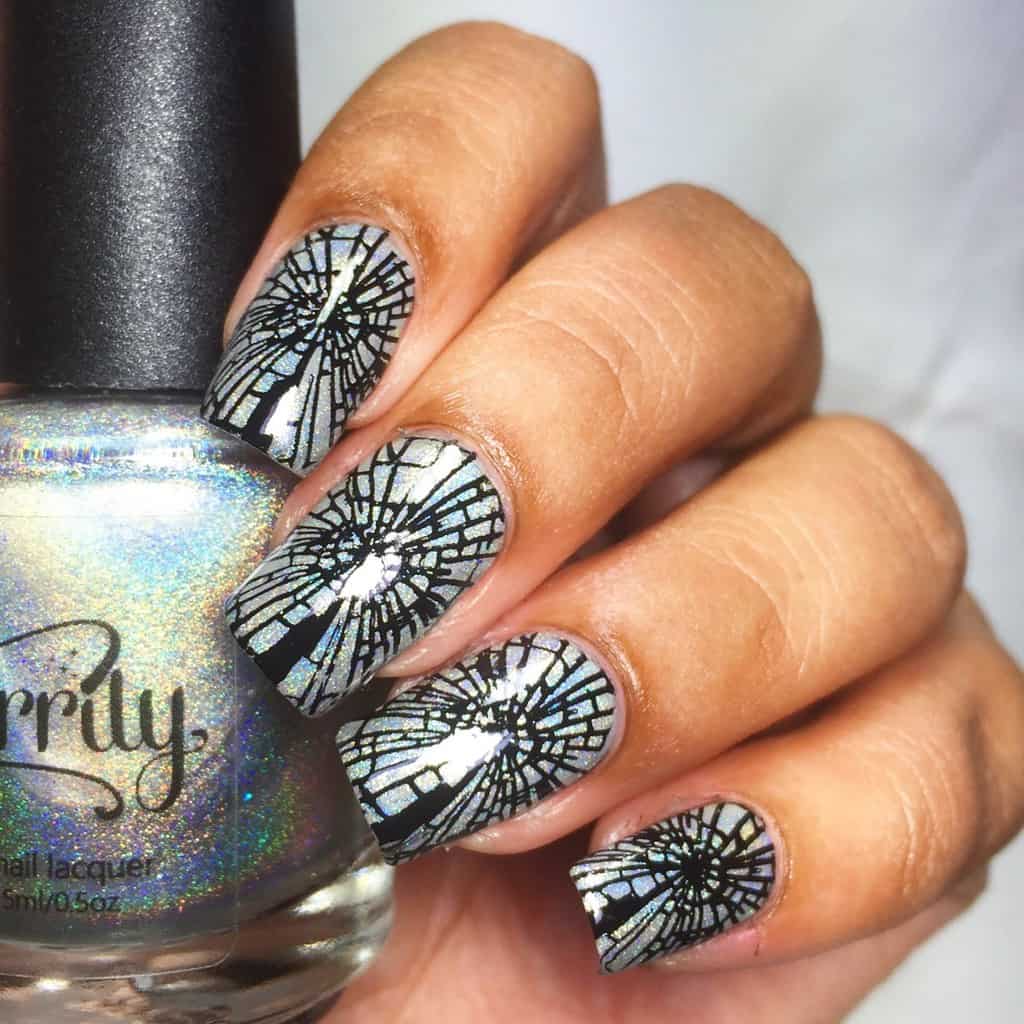 If something had shattered glass, the result would probably look like the nails above. An airbrush or nail stickers were probably used for this design, but if you're feeling brave, try your own hand at it!
10 Ultra Metallic Nail Designs to Get You Grooving
Have you attempted your own shattered nail looks before? If you haven't, refer to our list above for designs you can't go wrong with.