Palm trees are popularly known in countries with high temperatures. There are two types of palm trees mainly they are date palm tree and coconut palm tree.
Coconut palm trees are comparatively taller than date palm trees. Many nail artists use the images of these coconut palm trees in their nail art.
Coconut palm trees are associated with the theme of summer and beaches as they grow well in hot climates near the coastal area. You can use the images of coconut trees to have palm tree nail designs done on your nails.
Palm Tree Nail Designs to Feel Nature
If you are a nature lover, these nails are for you. Palm trees will represent the likeness of nature in you. And, if you use nail art decals of palm tree leaves, your nail will look like a green garden.
Palm trees are tropical species of trees. They are especially used in sunset nail art and beach nail art. You can paint these tropical palm trees on your nails while having palm tree nail designs. Some, palm tree nail designs are given here for your consideration.
#1. Palm Tree Pink Nails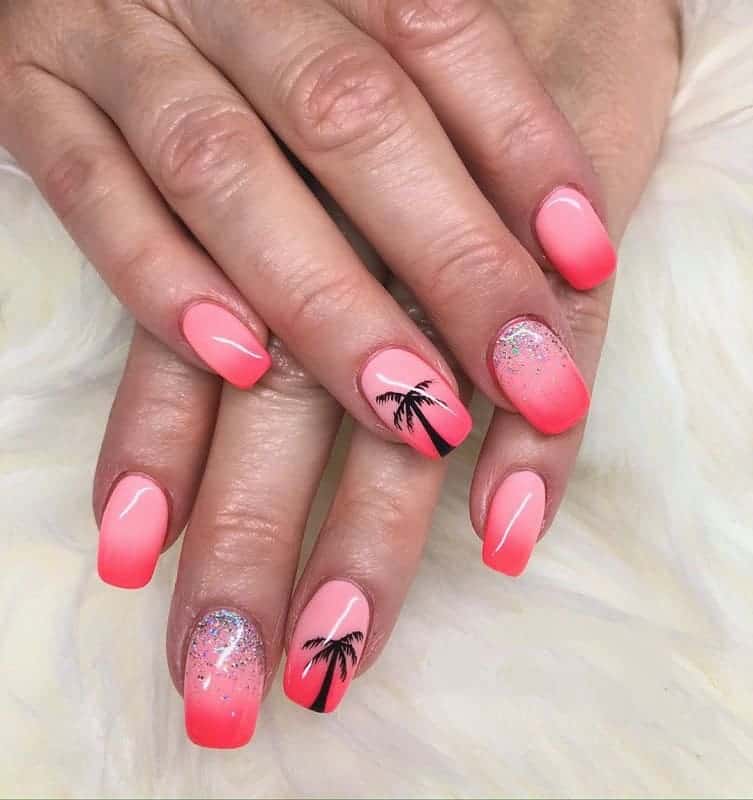 #2. White Palm Tree Nails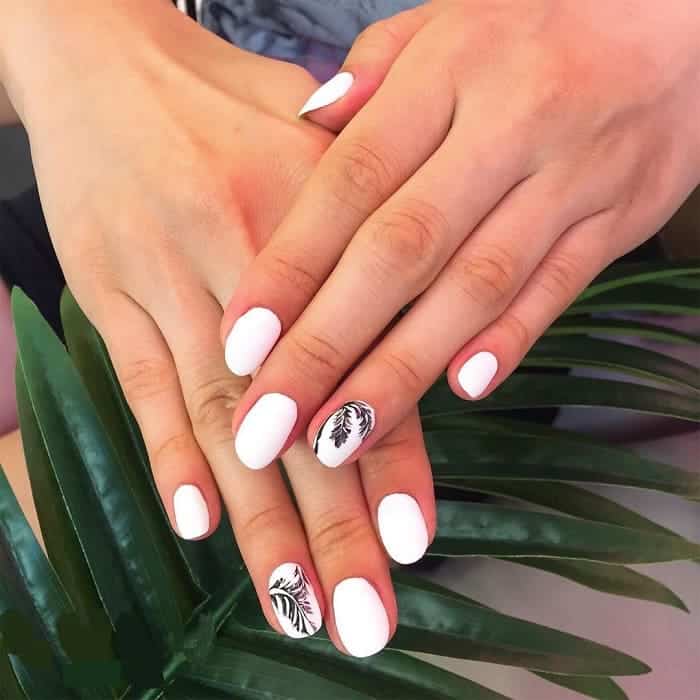 #3. Palm Tree Nail Art with Stickers
#4. Palm Tree Acrylic Nails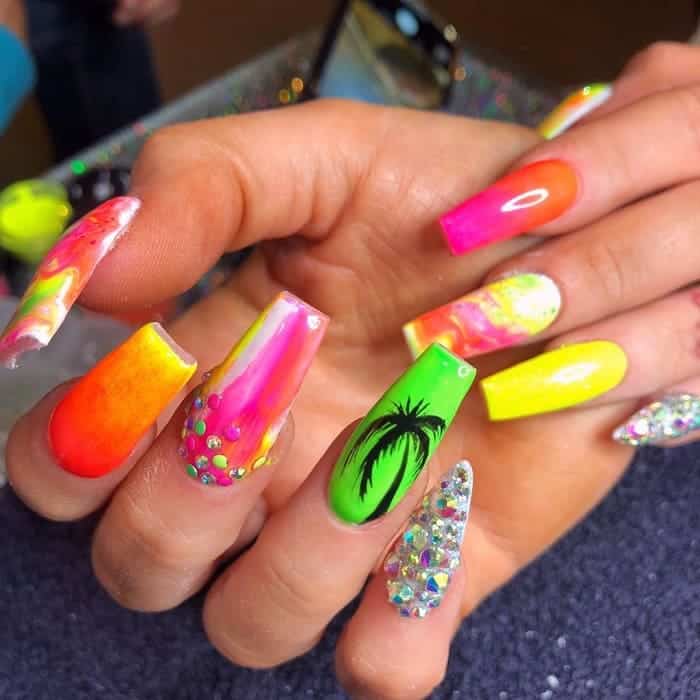 #5. Matte Palm Tree Nail Design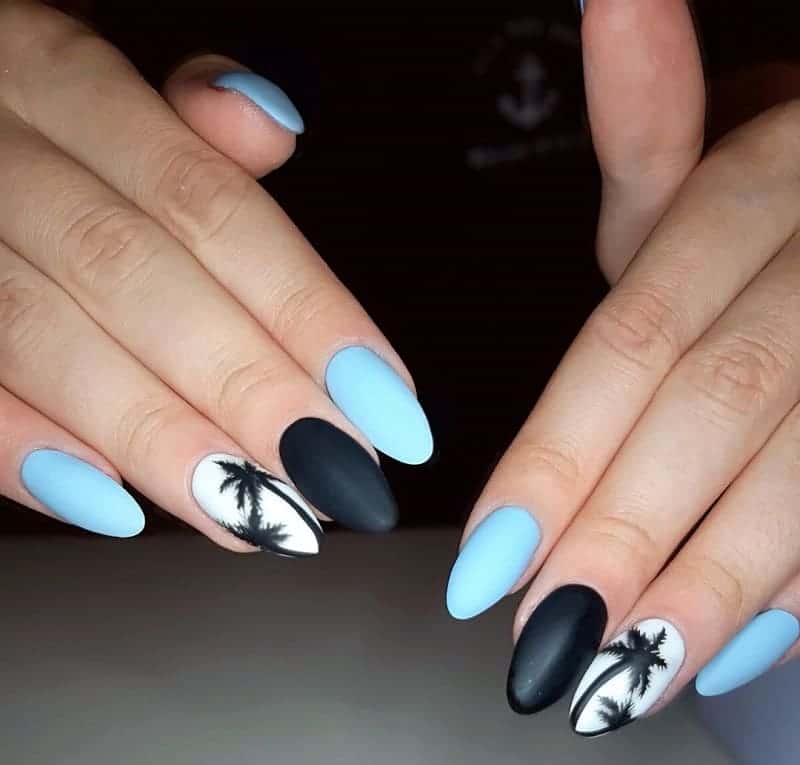 #6. Imaginative Colors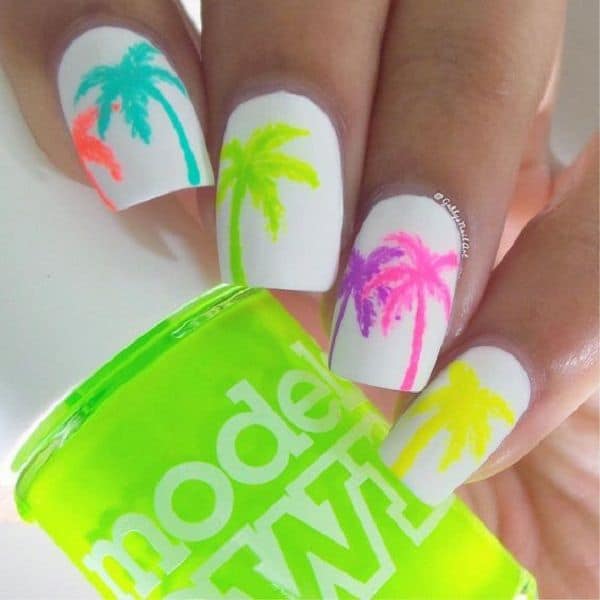 Palm trees aren't found in nature in many colors like this picture. You can paint your nails with any color you like to have designs like this one. These imaginative colors look good on palm tree nail designs.
Breezy Beach Nail Design for Summer Getaway
#7. Blue Sky
When we look at the trees from a distance place they look like as if they were leaning against the sky. You can paint palm tree images in front of the Tiffany blue sky of your nails.
#8. Palm Tree Toenails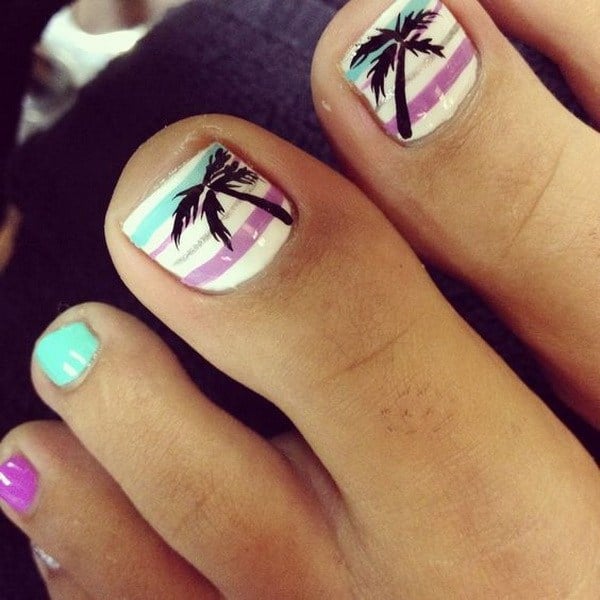 Many nail artists or individuals use palm tree images to decorate their toenails. You can paint black palm tree on your thumb only because other toenails don't have enough space. These palm tree toenails will complement your overall look.
#9. Ombre Palm Tree Nails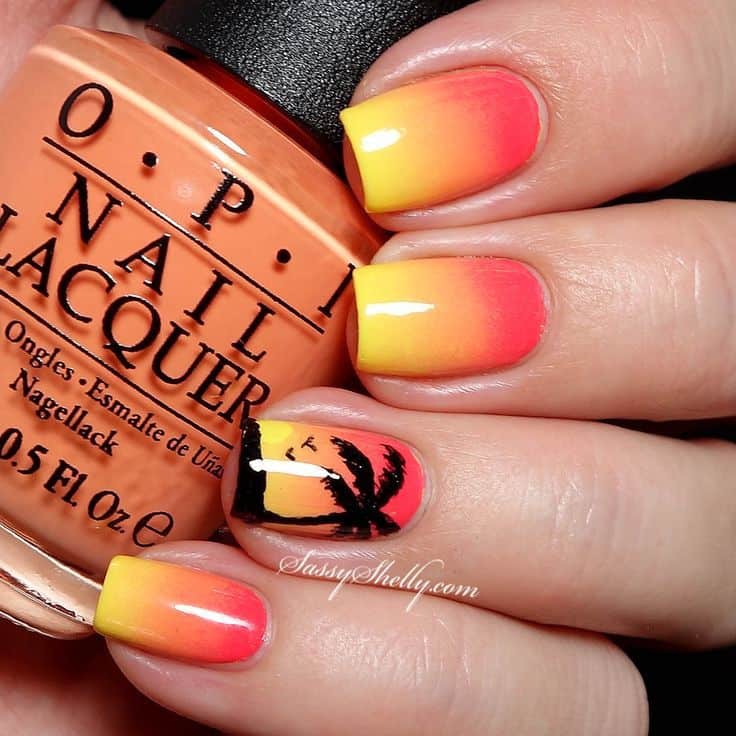 You can draw black palm trees and flying birds on your vibrant orange nails as palm tree nail designs. These ombre nails look beautiful.
#10. Simple Palm Tree Nail Art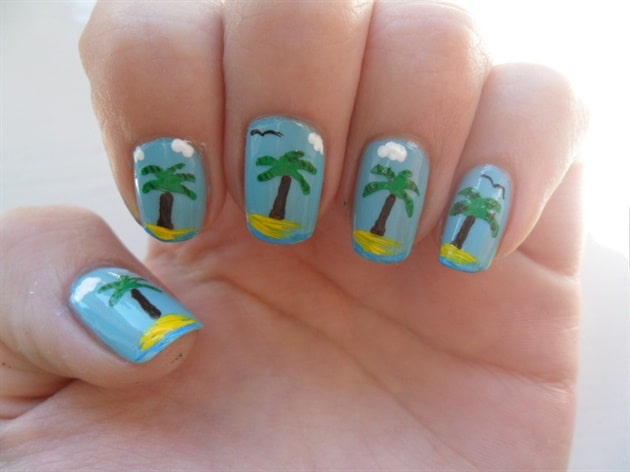 This is a simplified version of palm tree nail art. You can paint your nails like this one to get palm tree nail designs done.
#11. The Twilight
These nails are resembling the ambiance of twilight. Palm trees look awesome at the time of twilight when the sky becomes crimson and yellow.
#12. Coconut Palm Tree
Coconut palm trees are mostly seen near the beach. When the birds return home in the evening it feels celestial to look at them.
The image of the birds and the beach make a good couple in this type of design. Teal color nail compliments the whole look.
#13. B&W Palm Trees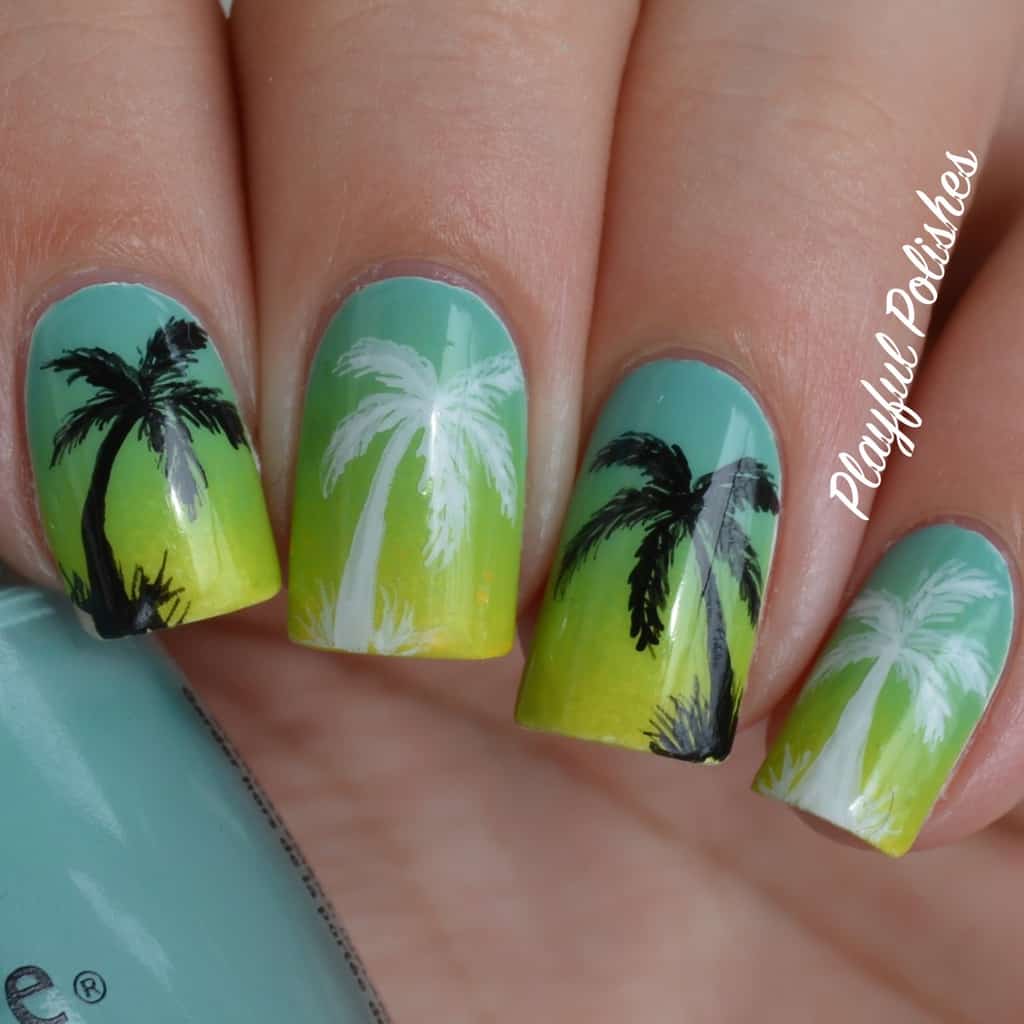 You can paint black and white palm trees on your green nails to have palm tree nail designs. These nails look quite natural though palm trees are not black and white in reality.
#14. Palm Leaves Tropical Nail Art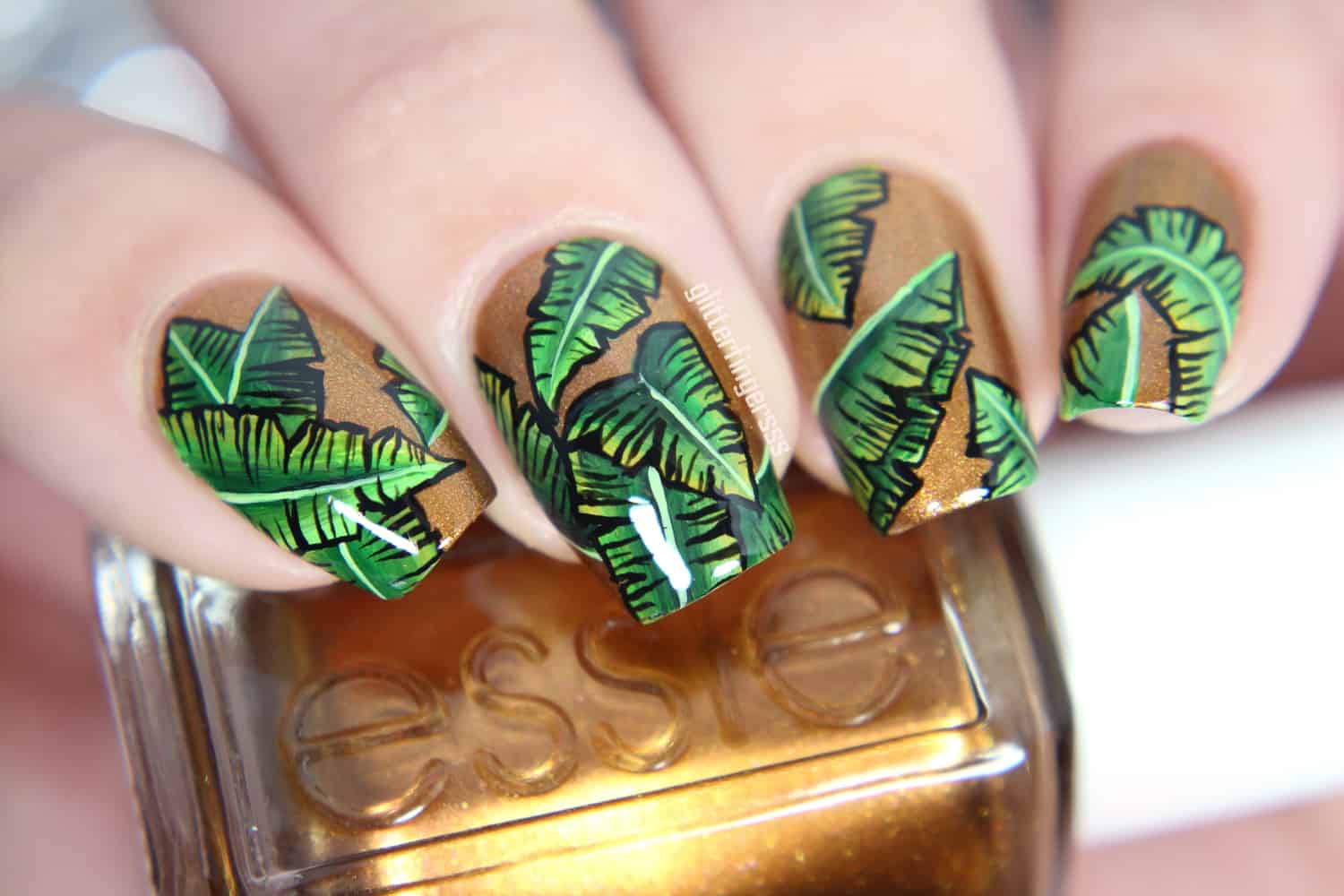 Palm leaves nail art decals can produce excellent designs like this one. Imprint the real like leaves on your golden nails by using decals and stickers on the gold nails.
#15. Rhinestones on Toenails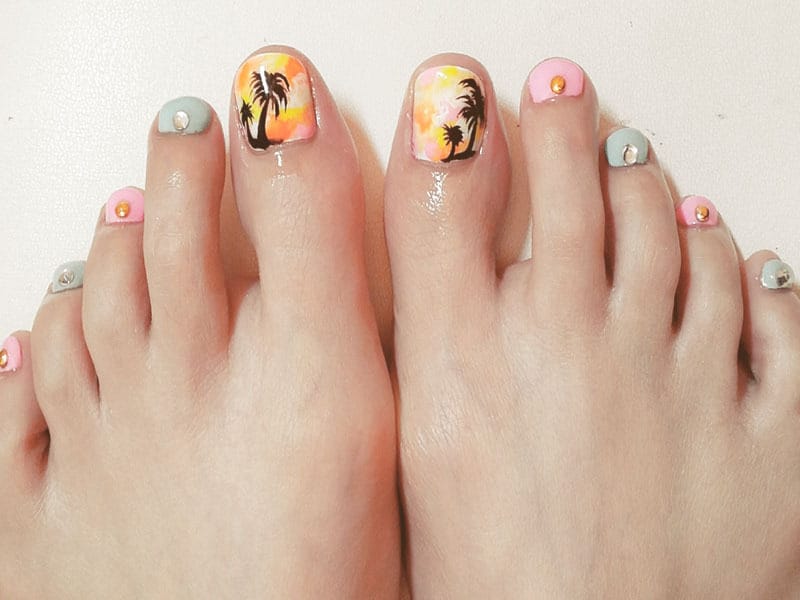 Toenails also look beautiful if you can design them efficiently. Rhinestone on the nails gives these toes the attention they need. These nails can add more fun to your vacation trip.
#16. Sunset + Palm Tree Nail Art
A lot of people love palm tree sunset nail art more than other palm tree nail designs. This sunset nail art looks so real that you can feel it right in your heart. So amazing to look at.
#17. Palm Tree Beach Nail Art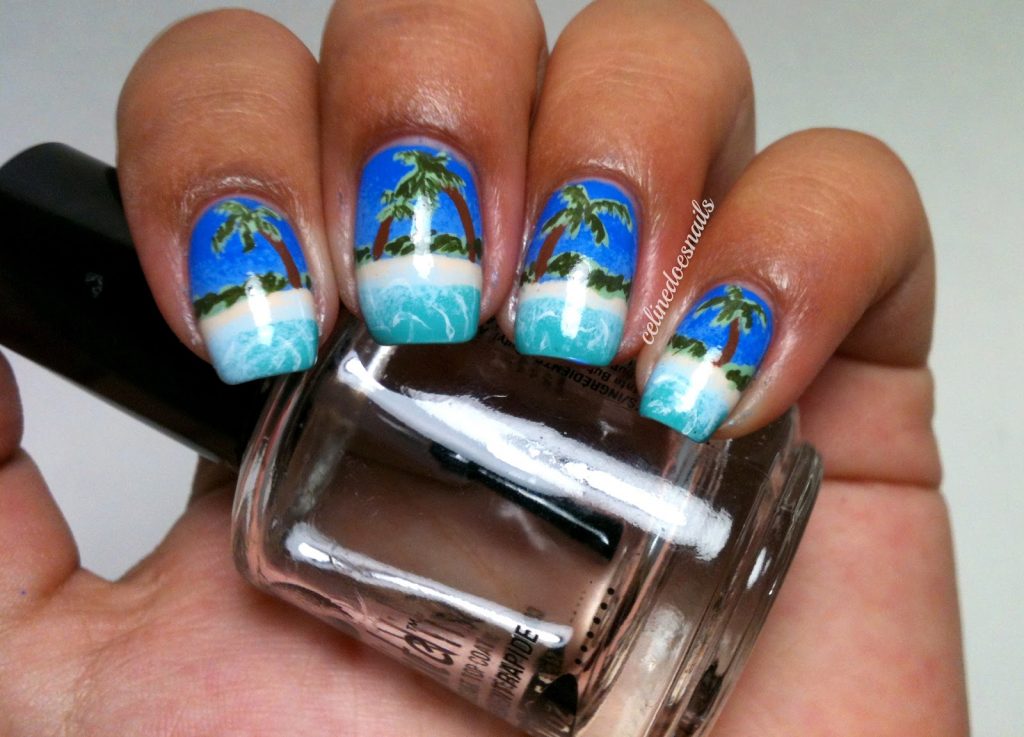 The palm tree is an identical tree to the sea beach. Almost every sea beach has some palm trees on its bank. You can have palm tree nail designs that resemble a real beach.
#18. Palm Leaf Nails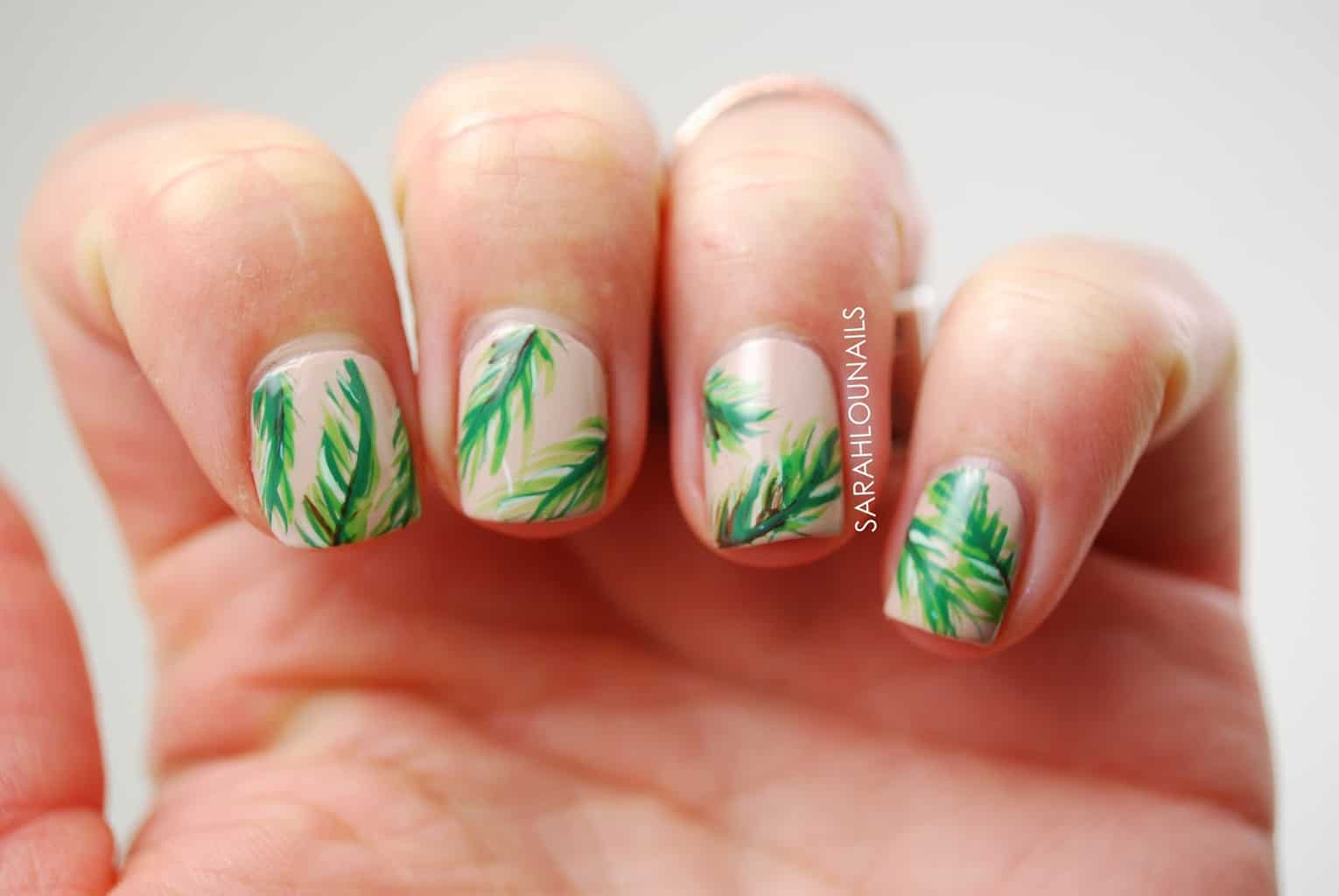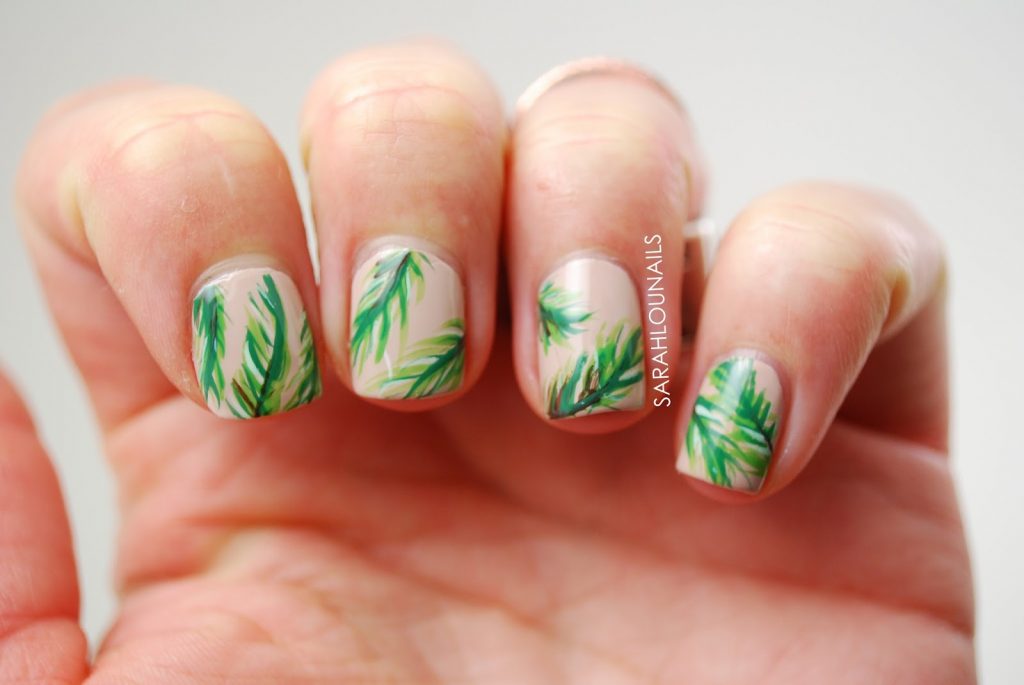 You can paint green palm leaves on your white nails to have palm leaf nails. This is a bit different palm tree nail designs.
#19. Lovers' Beach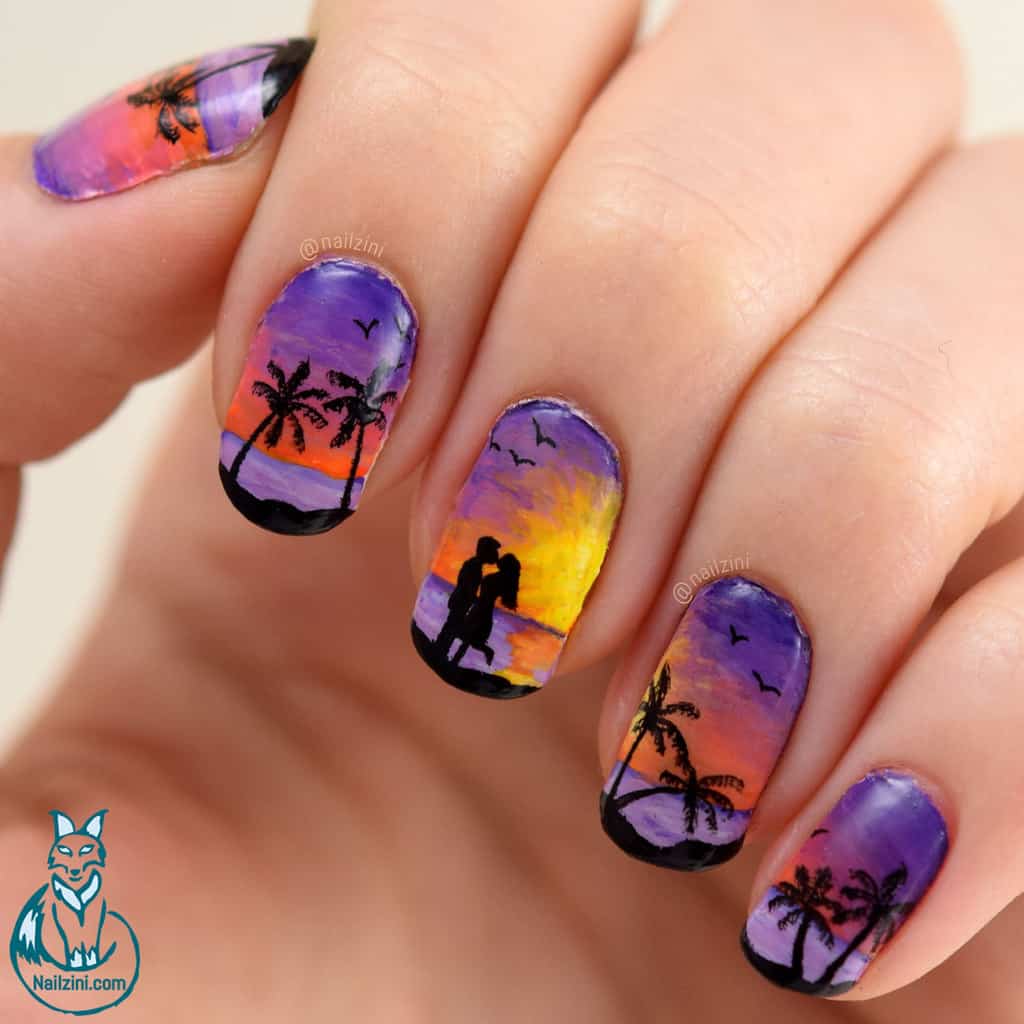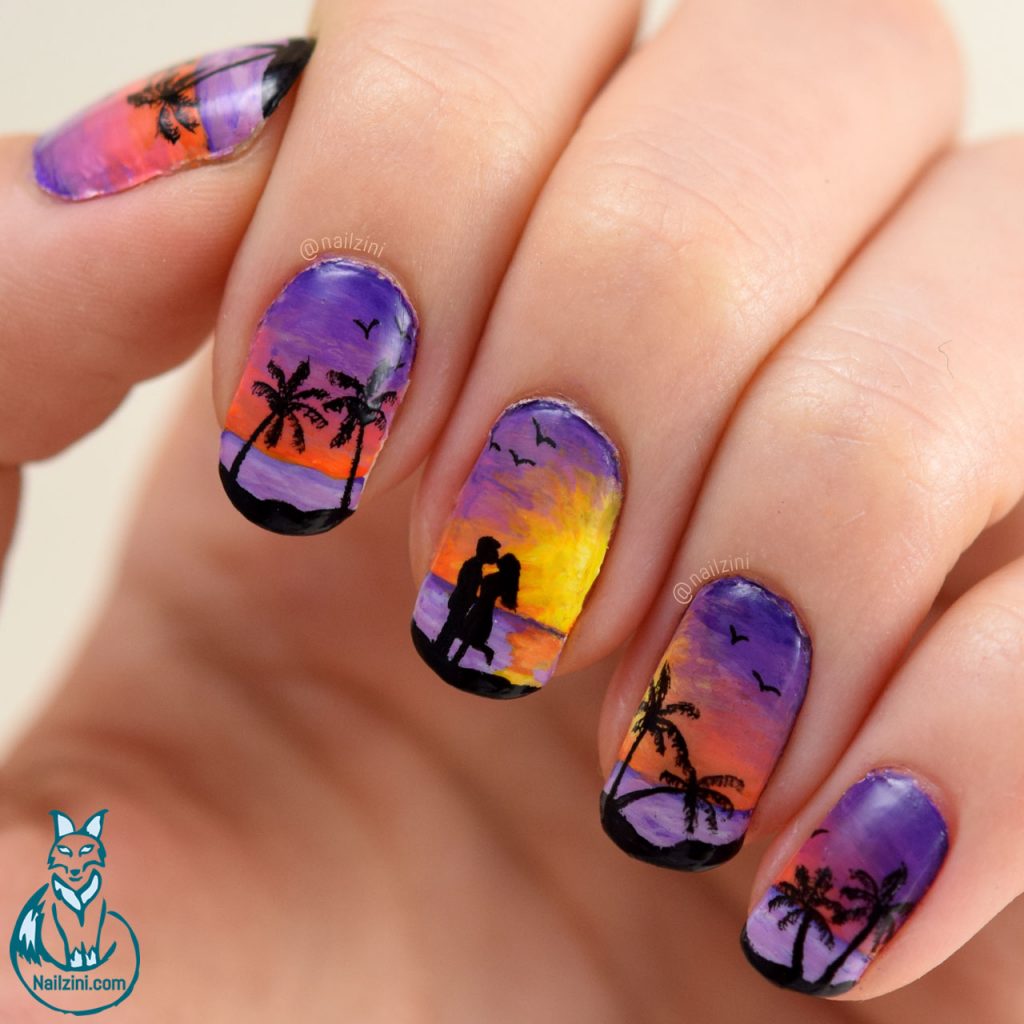 If you are so obsessed with the presence of your beloved in your life, you can place him on your nails too. Have love beach nail like this one painted on your nails to surprise him.
#20. Row of Palm Trees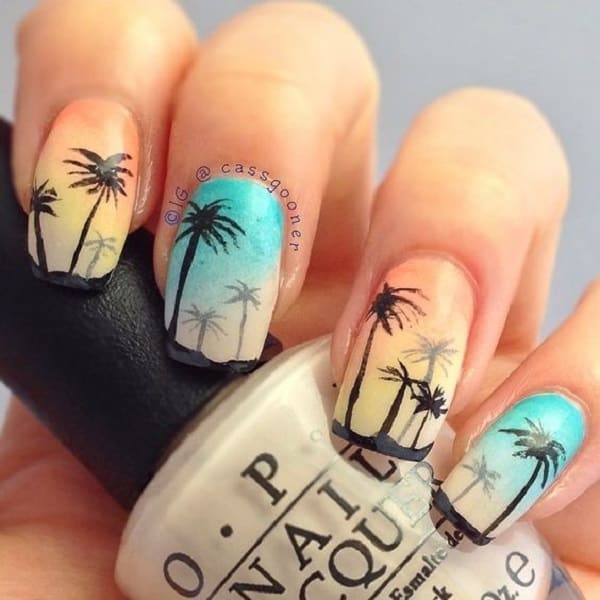 Enough with the beach and palm tree things. Now, suppose you are visiting some places where there are rows of palm trees.
It will surely look surreal. Draw some palm trees on your nails to have such wonderful palm tree nail designs.
Breathtaking Nail Design for Summer Holidays
Nail designs are no more confined to only the conventional designs. Nail artists are being creative and innovative. As a result, new nail designs have been invented every now and then.
Trees, flowers, beaches everything gets well-organized space on the nailbeds. These palm trees have also become a part of this huge nail art industry.